Anna Kendrick with wavy long hair at the "Pitch Perfect 2" World Premiere at the Nokia Theater 2015.
Anna Kendrick is a beautiful American actress and a singer. She has been in the acting field from a very young age. Her fashion sense has changed over the years and it reflects in her hairstyles as well. She has lovely hair and medium length hairstyles suit her well. At the premiere of the movie 'Pitch Perfect 2', she appeared in a hairstyle with soft waves. She kept it on one side and it made her look very attractive.
At another premiere, she parted her hair in the middle and had layers with soft curls. The brown hair color matched her complexion well. She also goes for the straight hair look. She looked sweet and beautiful with her straight hair made into a high ponytail at the 15th Annual Critic's Choice Awards. Her facial features are very sharp and nothing more accentuates these features than up-dos. Undone up-dos with some strands of hair lying on the sides make her look very sexy.
Check out Anna Kendrick's hairstyles over the years.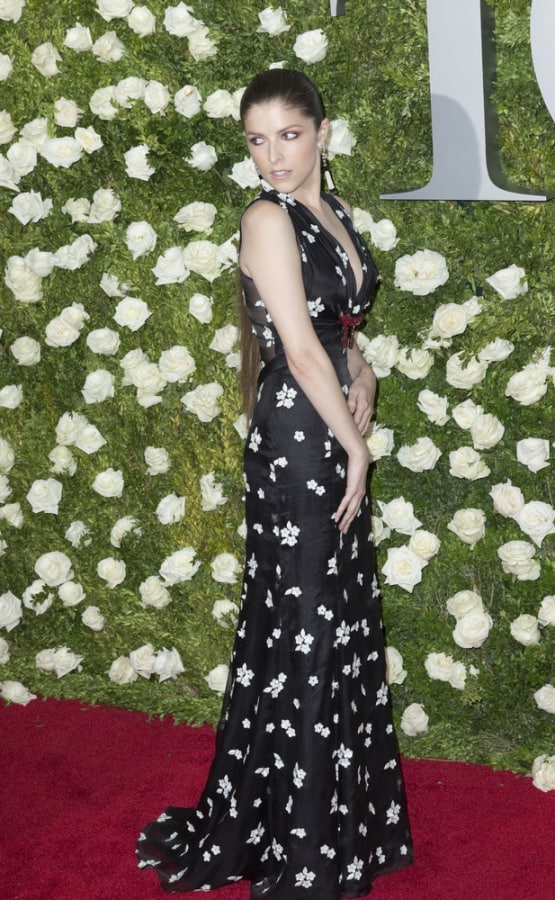 Anna Kendrick didn't disappoint the crowd as she attends the Tony awards 2017 at the Radio City Music Hall with an elegant black deep V-neck floral dress and pulled her hair back with a pin-straight low ponytail, giving her a simple and elegant feel. What do you think?
Explore Anna Kendrick's more inspiring and beautiful hairstyles here!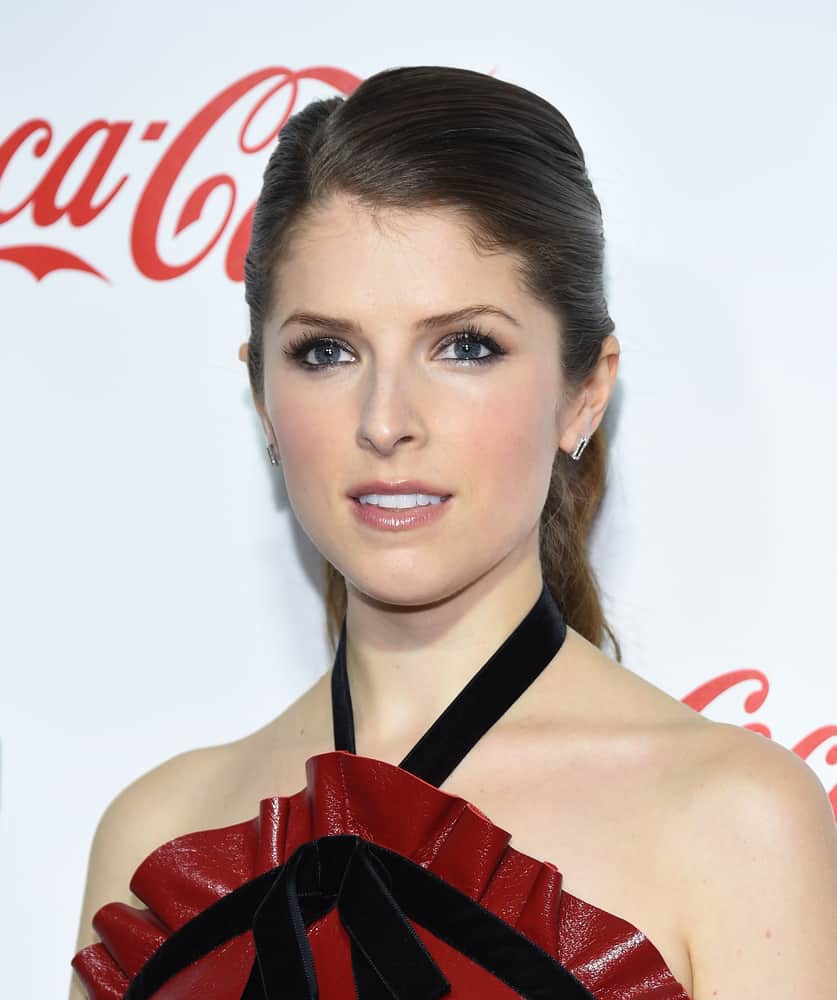 Anna Kendrick with a pony-tailed hair arrives to the Cinema Con Awards Gala 2016. Wearing a red leather short dress, Anna is looking very bubbly yet classy with a pony-tail.
Click here to see all of Ann Kendrick's hairstyles.
Anna Kendrick with her wavy long hair at the Los Angeles premiere of 'The Accountant' 2016. Wearing a black short dress, accessorized with belts, she looks dashing and classy with wavy long hair.
Click here for to see more of Anna Kendrick's trending hairstyles.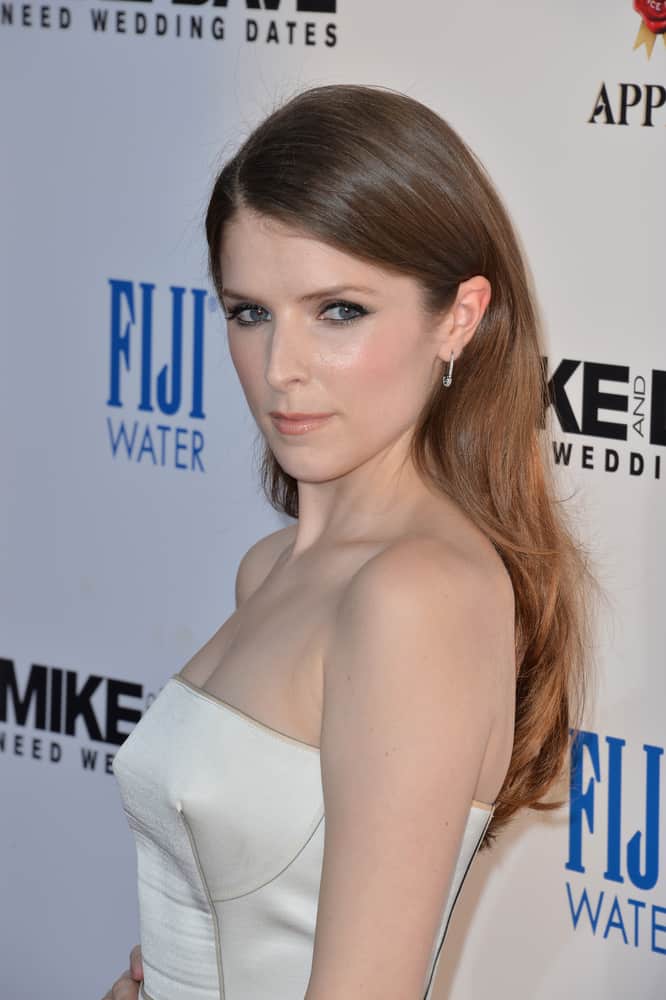 Actress Anna Kendrick with straight long hair at the premiere of "Mike and Dave Need Wedding Dates" 2016. Wearing a white tube dress, she looks classy and elegant with long silky straight hair.
See more photos of Anna Kendrick with different hairstyles.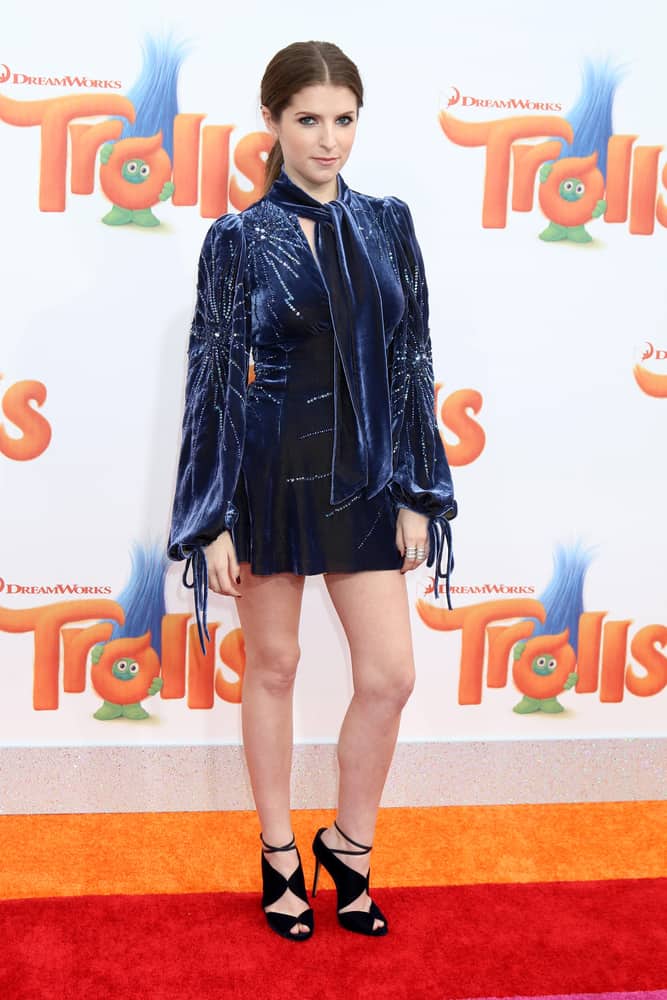 Anna Kendrick with a pony-tailed hair style at the Trolls Premiere at Village Theater 2016. Natural looking hair. She looks dazzling in her velvet short dress.
Check out more Anna Kendrick's gorgeous hairstyles here.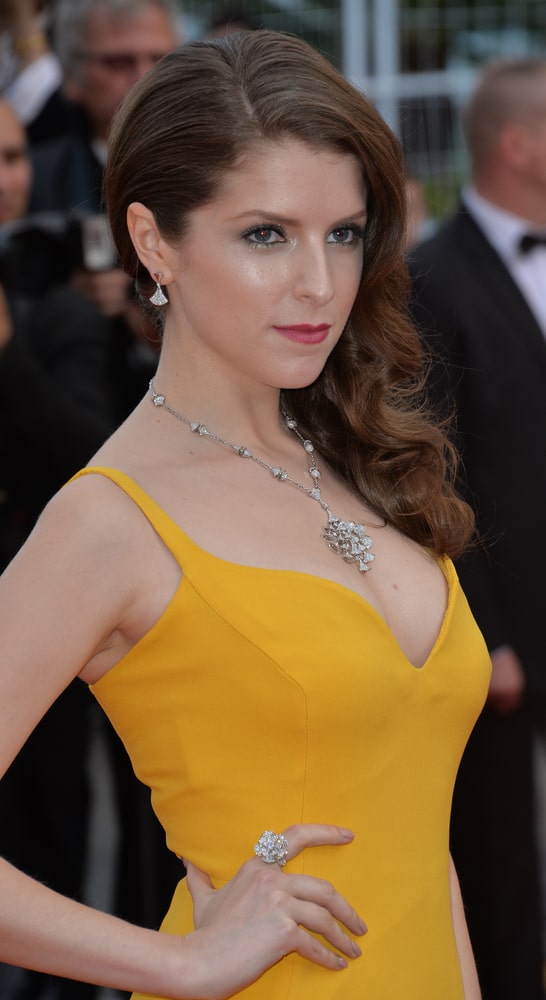 Anna Kendrick with a curly hairstyle at the gala premiere of Woody Allen's "Cafe Society" at the 69th Festival de Cannes 2016. Long curly hair brushed to the side, she looks elegant and classy perfect with her long yellow gown.
Click here to see Anna Kendrick's different hairstyles and looks.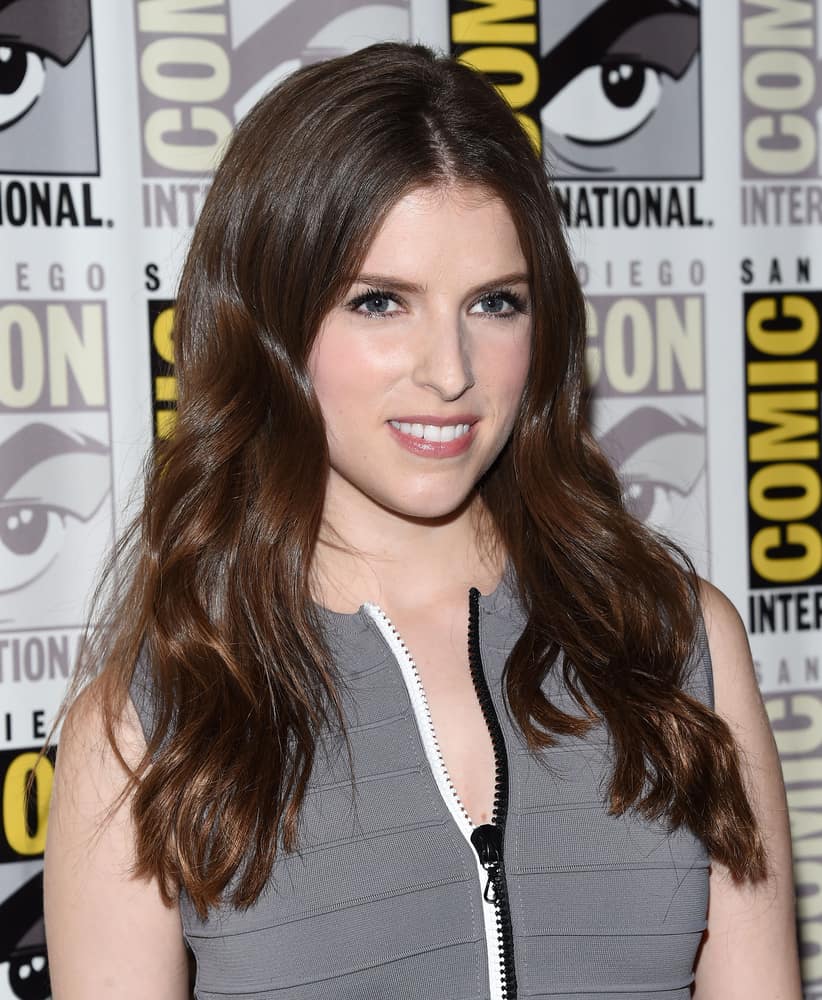 Anna Kendrick with long brunette hair at the Comic Con 2016. Natural-looking and semi-wavy. She looks pretty in her gray zip-up dress.
Like her hair? Click here for more!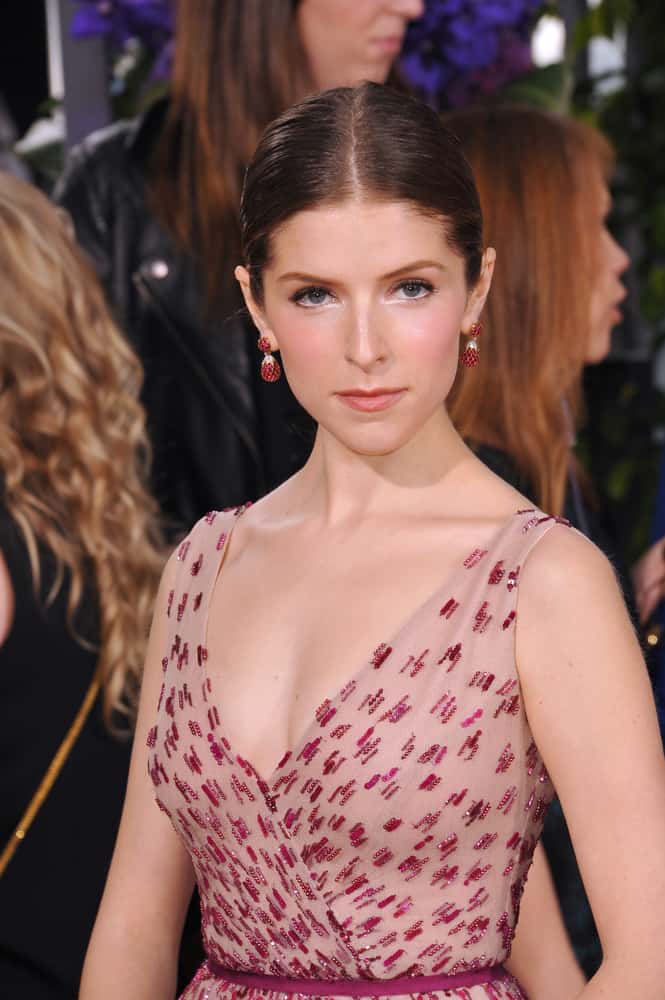 Anna Kendrick in an upstyle hairstyle at the 72nd Annual Golden Globe Awards at the Beverly Hilton Hotel, Beverly Hills 2015. Upstyle hair that is simple yet very classy perfect with her elegant free-flowing long gown.
Get ready to discover Anna Kendrick's pretty hairstyles here!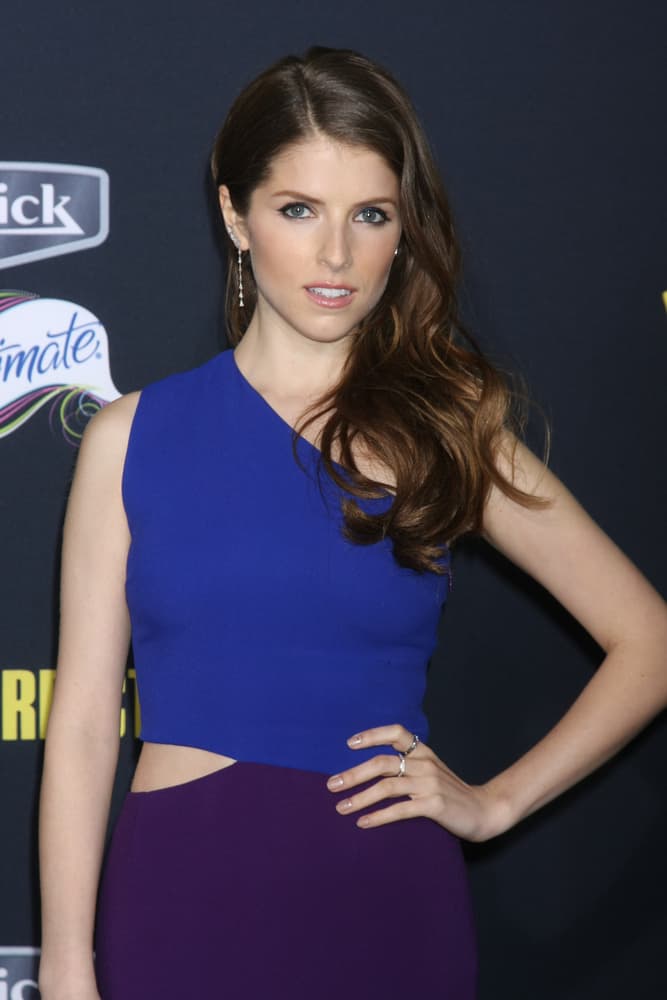 Anna Kendrick with wavy long hair at the "Pitch Perfect 2" World Premiere at the Nokia Theater 2015. Brushed at one side. She looks sexy in her blue-purple long dress.
Check out Anna Kendrick's changing looks and hairstyles here.
She went for a high ballerina bun for the AFI Awards. It gave her a very delicate look. She looked ravishing with the lovely curls swept on one side at the Oscar's after party of Vanity Fair. The shines on her hair looked gorgeous with her red gown. In 2013, she was seen in shoulder length blonde locks. It was a style quite different from how she normally styles her hair.
As an actress, Anna Kendrick's journey to acting has been a long one. She started acting in theatres at a very young age. She played the role of 'Dinah' in the Broadway play 'High Society'. For her acting in this play, she was nominated for Tony Award and a number of different awards. She received the Theatre World Award and the Drama League Award for her performance in High Society. She has spent a long time in the theatre before starting her acting career in films.
She made her debut appearance at the musical comedy Camp in 2003. She got very famous after acting in The Twilight Saga series. For the film Up in the Air, she even received a nomination for Academy Award for Best Supporting Actress. She got lots of recognition for acting in the film series Pitch Perfect.
Some of her other films worth mentioning include 50/50, End of Watch, Cake, Into the Woods, Mike and Dave Need Wedding Dates, Trolls, The Voices, Happy Christmas, etc. Her film Drinking Buddies received very positive reviews from the critics. Many of her films were featured in various film festivals. With her track records, we can expect some great films from her in future. She is one of the brightest stars in Hollywood right now.