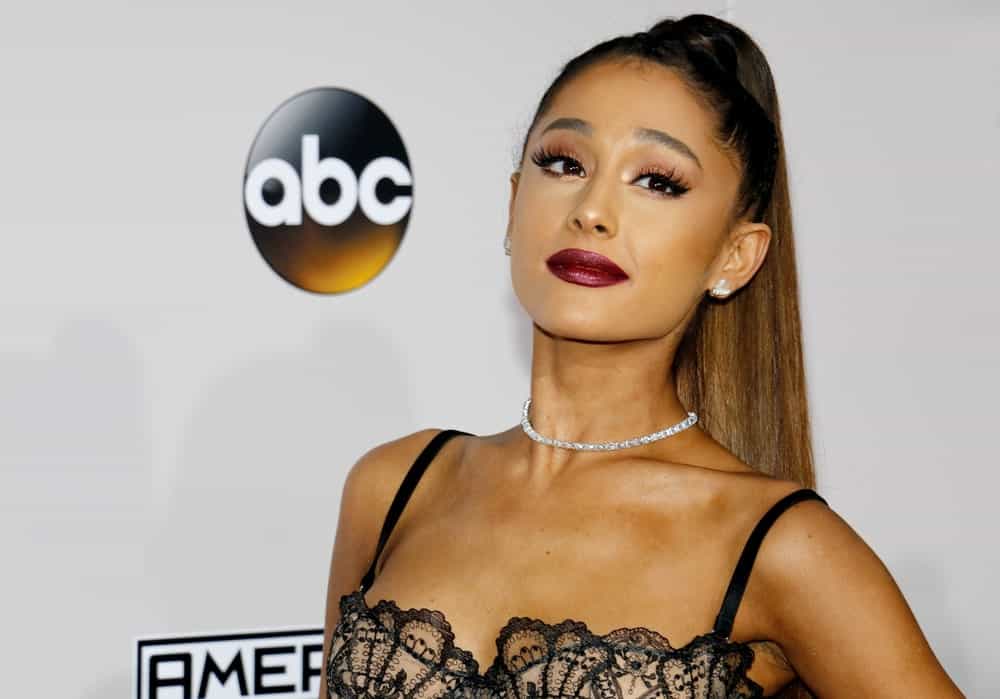 Ariana Grande is a popular American singer and actress. This beautiful lady takes full advantage of her beautiful long straight hair. Her hair is voluminous and simply gorgeous. Nowadays she seems to be very fond of ponytails. From simple ponytails to tying up the hair at the crown, everything suits her perfectly. Her signature look is the red hairstyle.
She had a simple ponytail at the Tribeca Film Festival in 2010. Dark-colored hair looks very pretty on her. In 2012 she had wavy hair. The hair on the front was pinned to one side. She looked so pretty in this simple hairstyle. She sometimes puts on adorable headbands and it goes with her personality very well. The half updo is also one of her common hairstyles. She looks stunning with topknot hairstyle. It makes her face look sharper.
At the Music Choice event in 2016, she had a ponytail, but it was different. She ran two braids over her head and these met the ponytail. At the MTV Music Awards the same year she was seen in a crimpled ponytail with two shades. It was darker on the roots and lighter towards the end. She loves high ponytail but also likes some fun detailing in it. She sometimes has thin braids on the crown to give it a different look. She has tried bangs as well, and as usual, she looks stunning.
Ariana Grande started her career with the Broadway musical '13'. She appeared in a number of series on Nickelodeon including ' Victorious' and 'Sam & Cat'. She became a known face on television after that. She has also given her voice in various animation films. She released her first album in 2013 named 'Yours Truly'.
The single from the album 'The Way' became one of the top ten songs in Billboard Hot 100. Many critics have compared her voice to that of Mariah Carey because of the wide vocal range she has. Her second album 'My Everything' became popular all over the world and holds one of the top ten spots in the various music charts. Most of her singles from the album were in the top position of music charts.
She received lots of awards for her outstanding performances. All her albums were super hit and billions of people bought her album or viewed them online. All her albums were labeled 'platinum'. She received American Music Awards, MTV Video Music Award, and more. She also received a nomination for the Grammy Award. She went on a music tour after the release of her third album and that was successful also. She is involved in a number of charity activities. She is one of the greatest singers we have today.
Here are Ariana Grande's hairstyles over the years.
Photos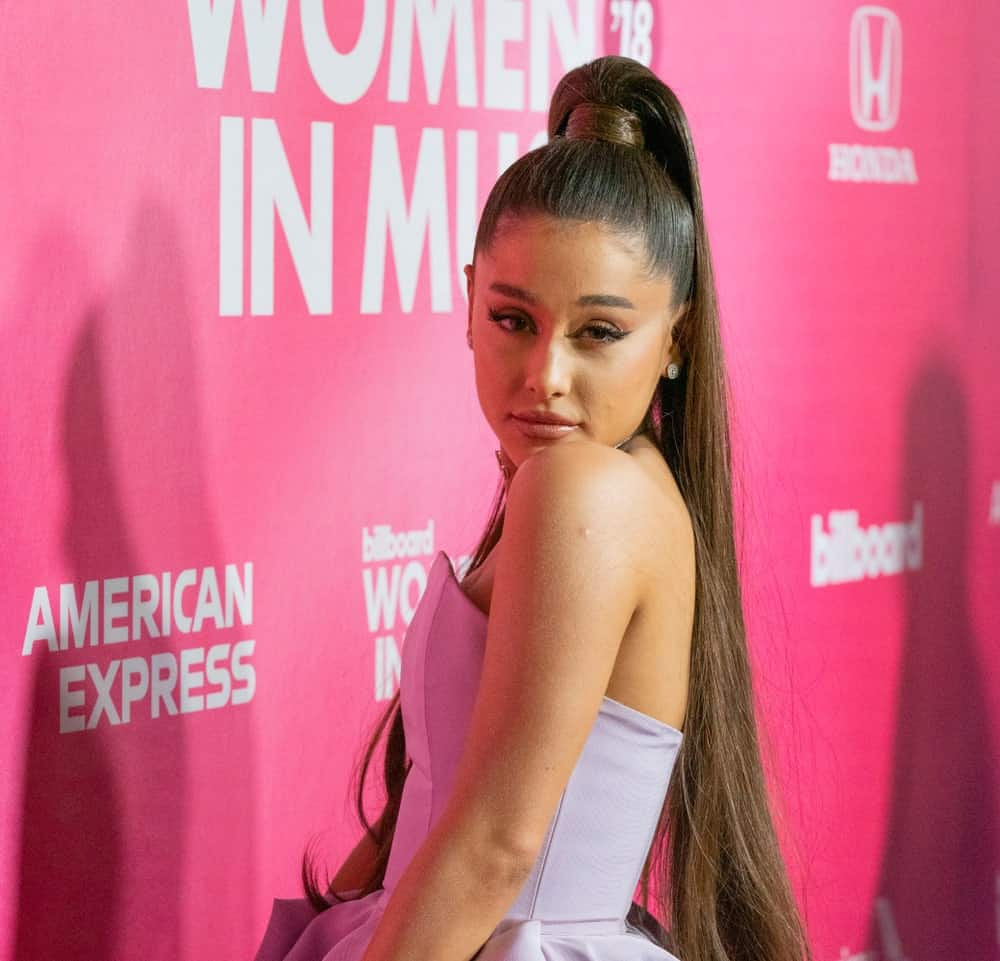 Ariana Grande flaunts her long, straight hair in a sky-high ponytail at the Billboard's 13th Annual Women in Music gala on December 6, 2018. She paired it with a gray tube dress by Christian Siriano.
Ariana Grande complements her ponytail hairstyle with a dramatic long organza bow during the 2018 Metropolitan Museum of Art Costume Institute Benefit Gala on May 7, 2018. She finished the look with a glamorous floral dress and stud earrings.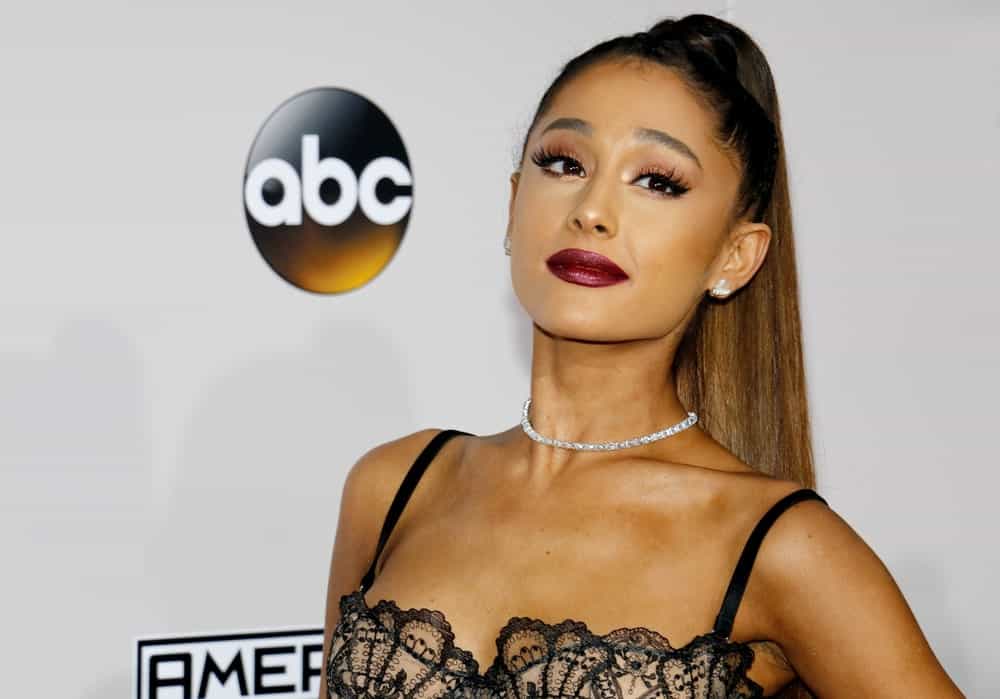 Pop singer Ariana Grande put her signature ponytail to the next level as she attends the 2016 American Music Awards held on November 20, 2016. She wore an ultra-long ponytail with tiny braids on top and sides that added tons of texture to her look.
Ariana Grande rocking a sky-high ponytail paired with a black leather outfit at the 2014 MTV Video Music Awards last August 24, 2014.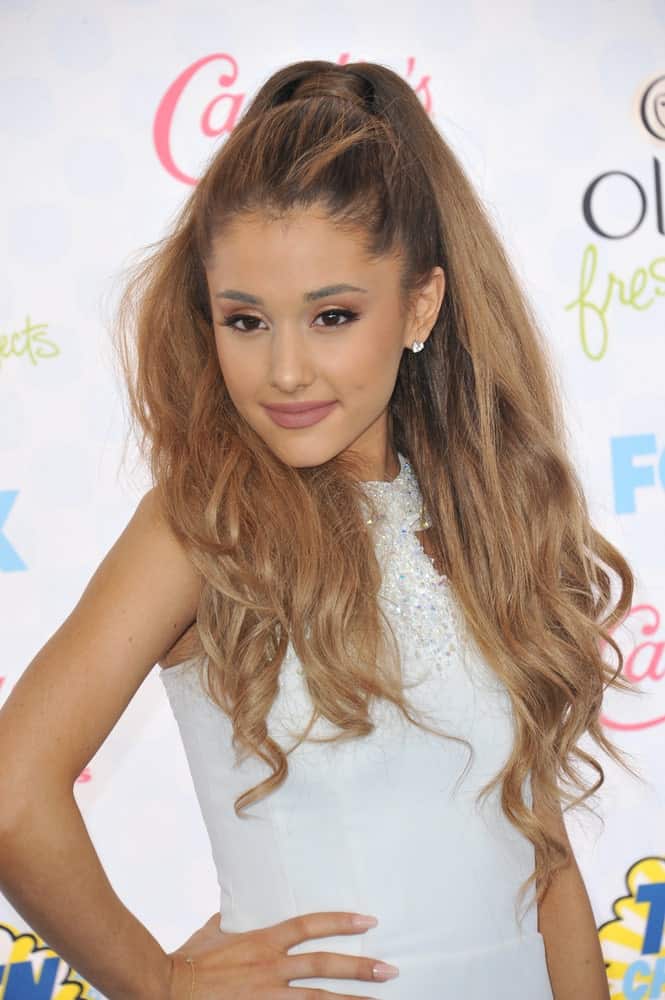 Ariana Grande pulled back her thick, long tresses into a brushed back half updo during the 2014 Teen Choice Awards on August 10, 2014.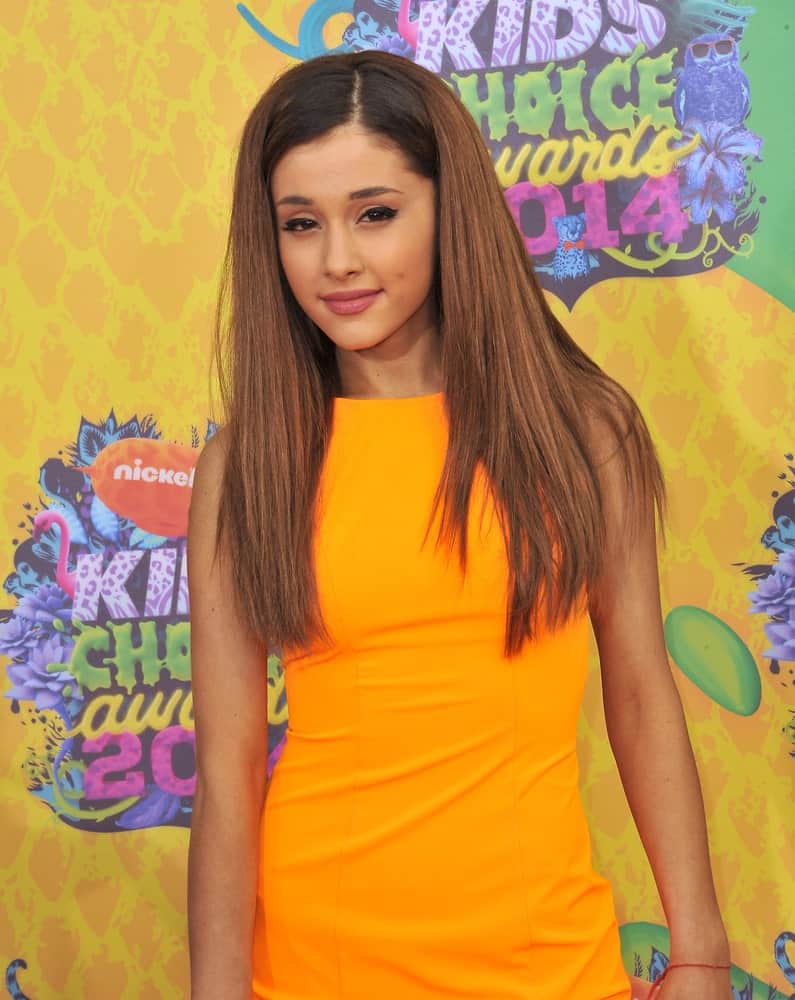 Ariana Grande pinned her voluminous brown locks on both sides during Nickelodeon's 27th Annual Kids' Choice Awards on March 29, 2014.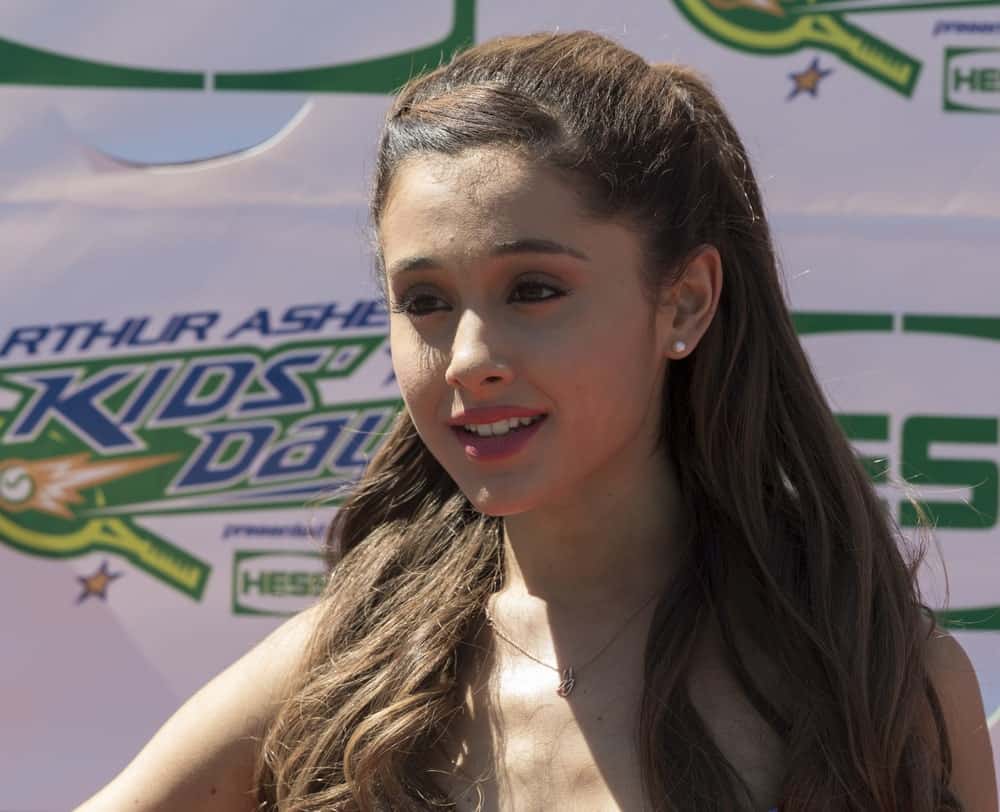 Ariana Grande exhibits a sweet aura with her honey blonde hair styled in a half updo at the Arthur Ashe Kids Day presentation held on August 24, 2013.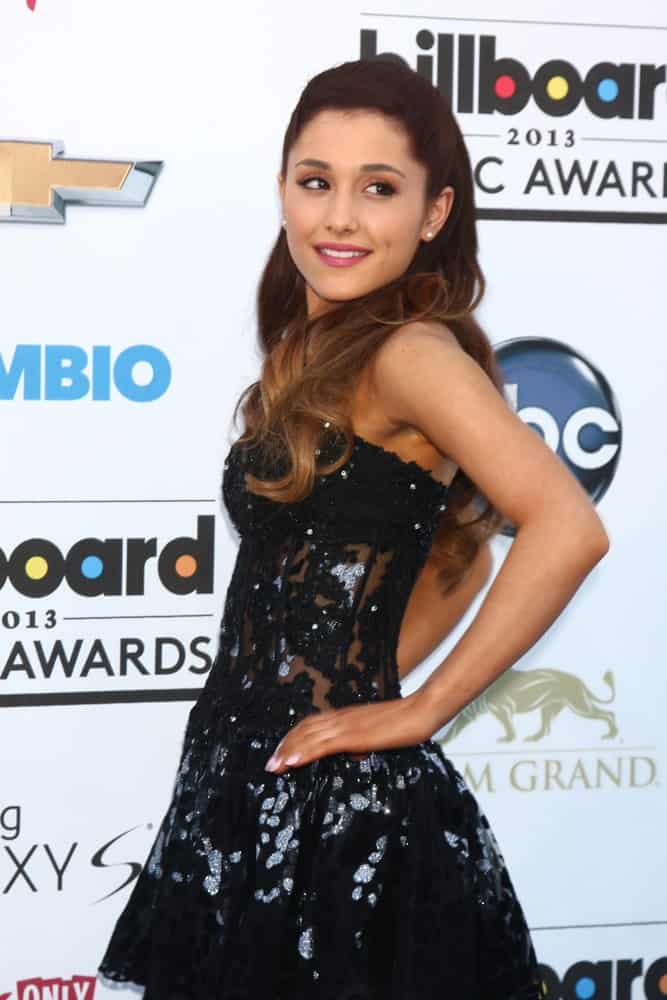 Ariana Grande looks gorgeous in a black mesh dress and a half upstyle hairstyle that she wore at the 2013 Billboard Music Awards Arrivals last May 19, 2013.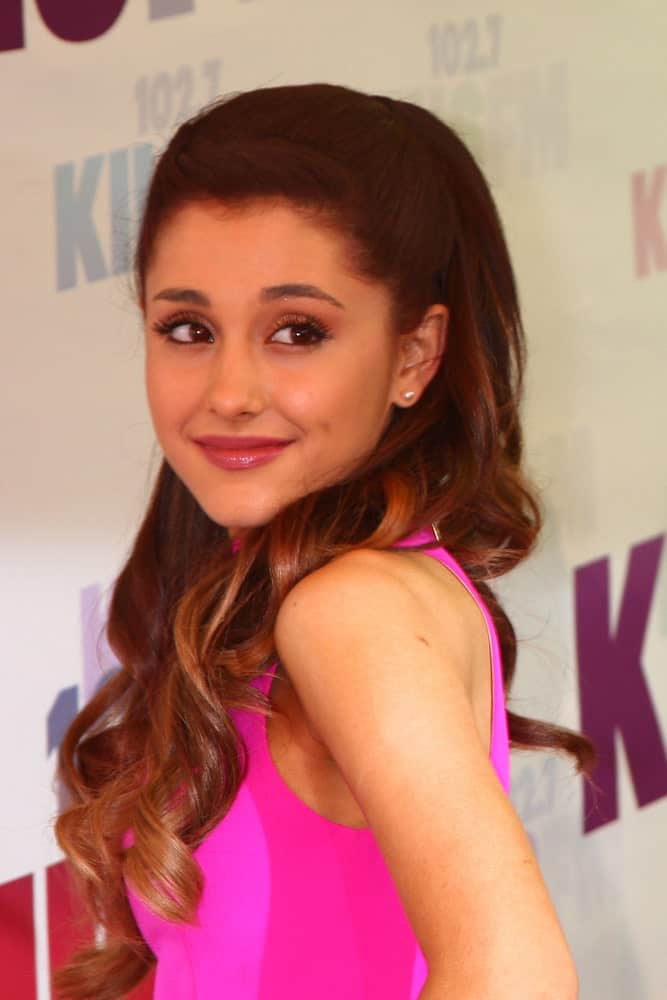 Ariana Grande gathered her long, twisted curls into a half updo while her bangs are twisted and pinned on one side during the 2013 Wango Tango concert produced by KIIS-FM held on May 11, 2013.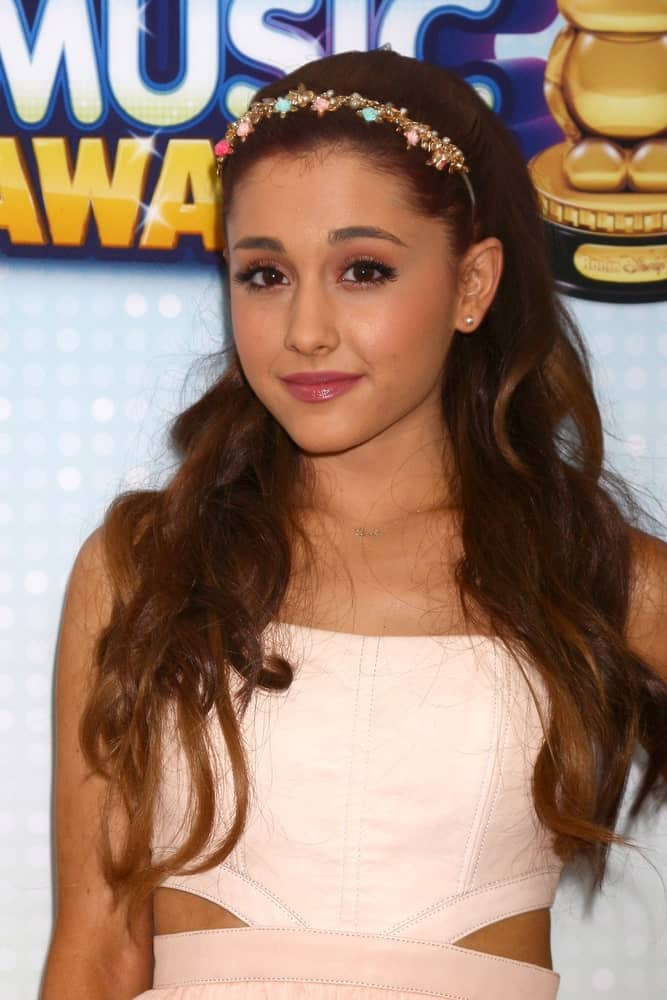 Ariana Grande with her long, brown waves topped with a nice headband during the 2013 Radio Disney Music Awards held on April 27, 2013.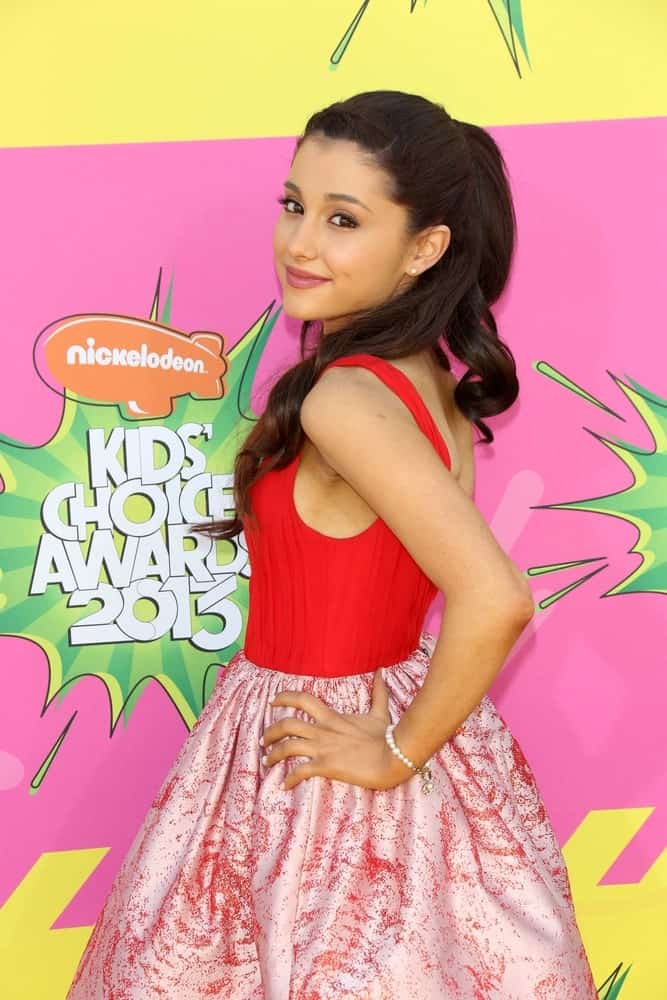 Ariana Grande strikes a pose with her long, brown waves that are styled in a half updo during the 26th Annual Kids' Choice Awards on March 23, 2013.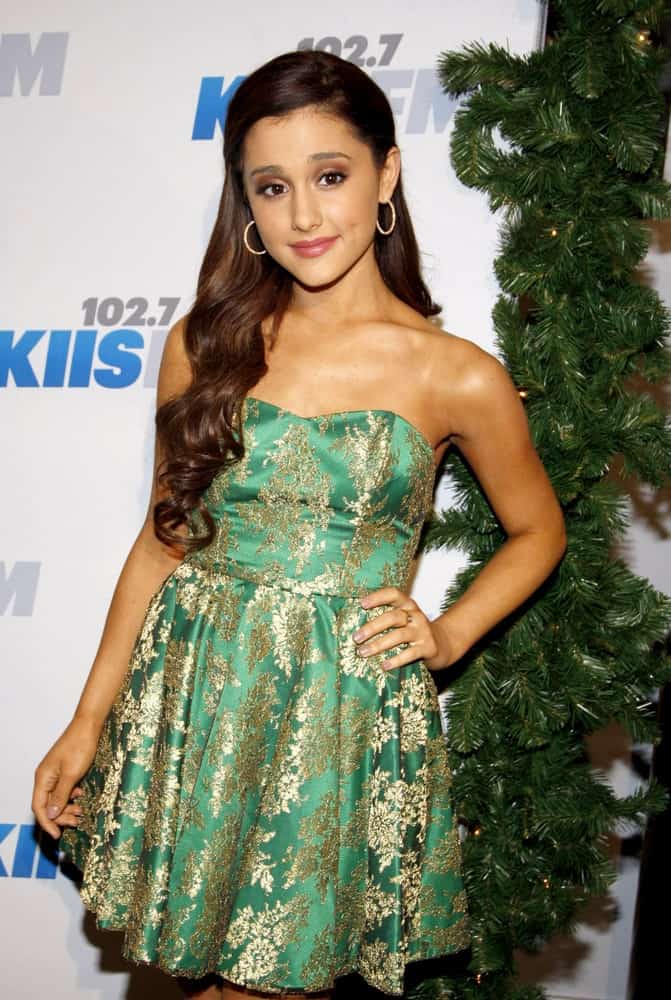 Ariana Grande looks charming in a green tube dress along with her chocolate brown waves that she wore during the 2012 KIIS FM's Jingle Ball on December 1, 2012.
Ariana Grande make an appearance at the world premiere of "The Twilight Saga: Breaking Dawn – Part 2" on November 12, 2012. She wore a floral tube gown paired with a black, low ponytail hairstyle and green dangling earrings.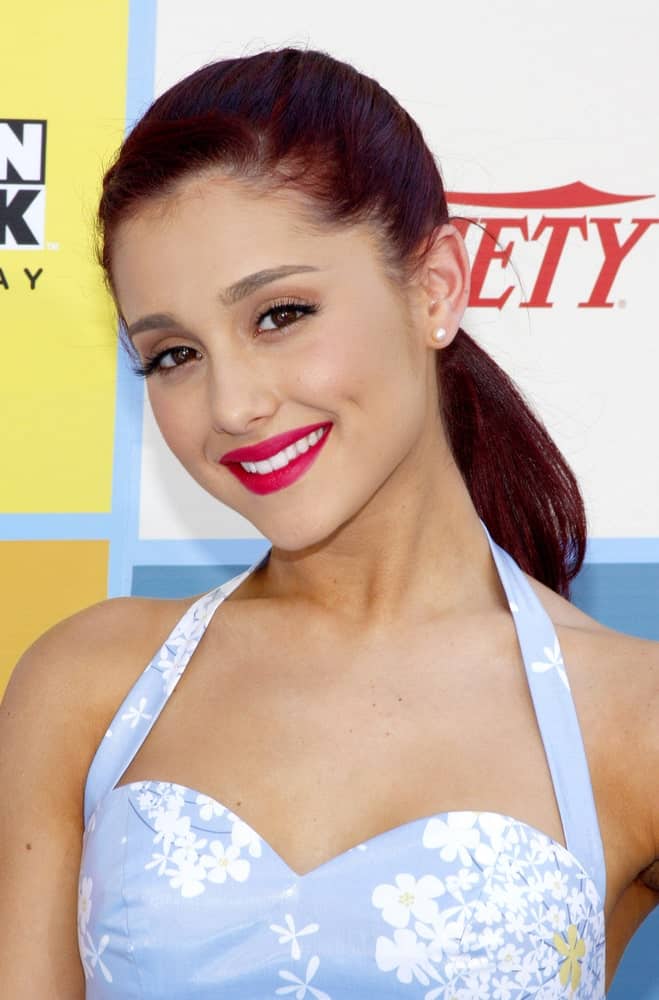 Ariana Grande flashed a sweet smile with her low ponytail at the Variety's Power Of Youth held on September 15, 2012. She finished the look with a blue halter top and a bold red lipstick.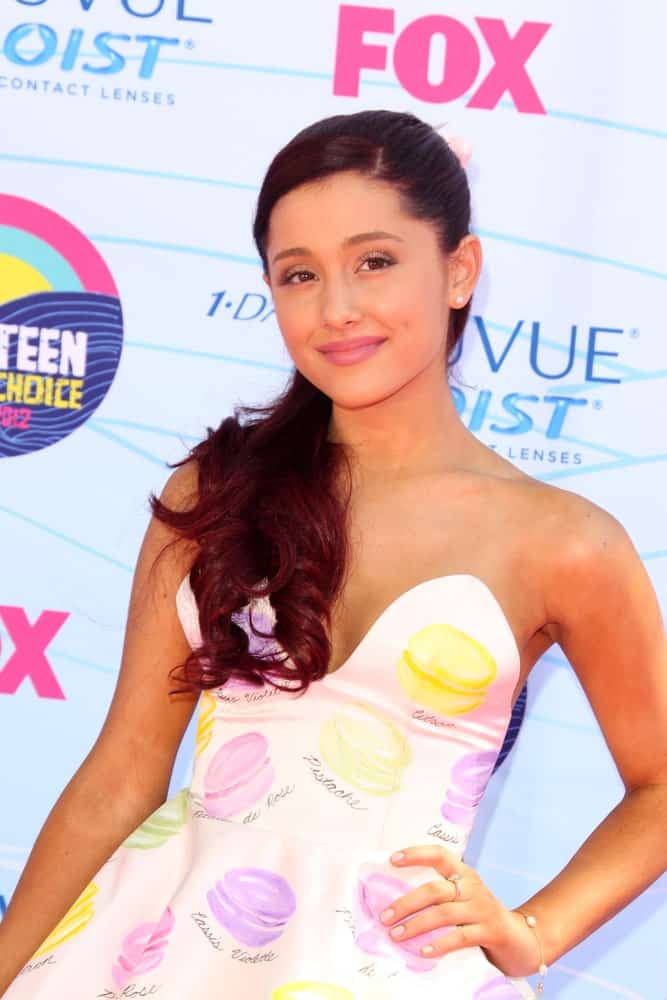 Ariana Grande at the 2012 Teen Choice Awards held on July 22, 2012. She had her dark locks styled into a side-parted half updo and gathered it on her right shoulder.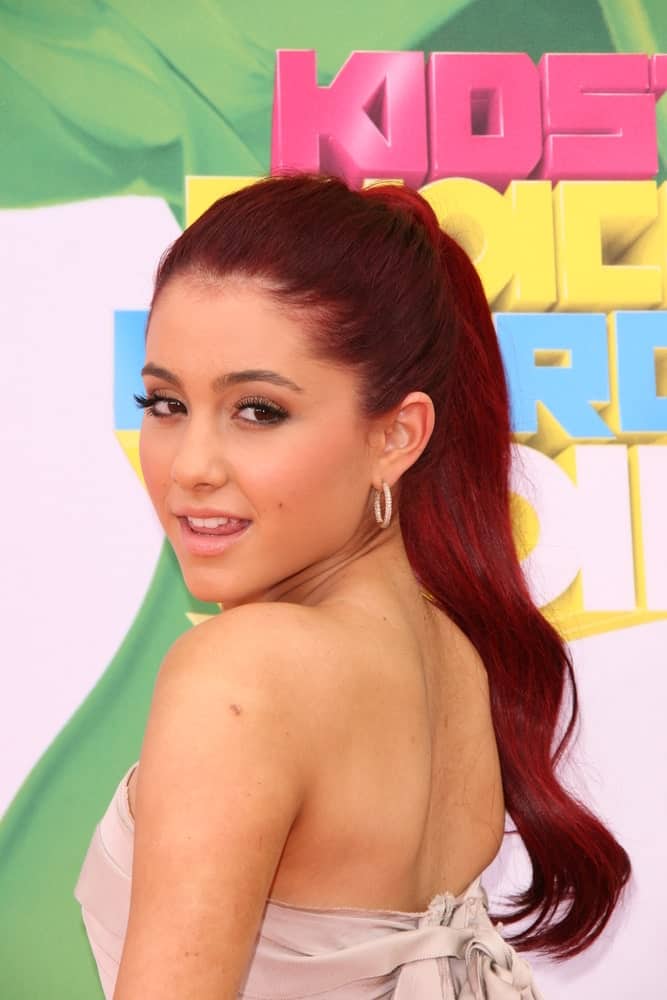 Ariana Grande pulled back her long, wavy hair into a high ponytail during the 2011 Kids Choice Awards held on April 2, 2011.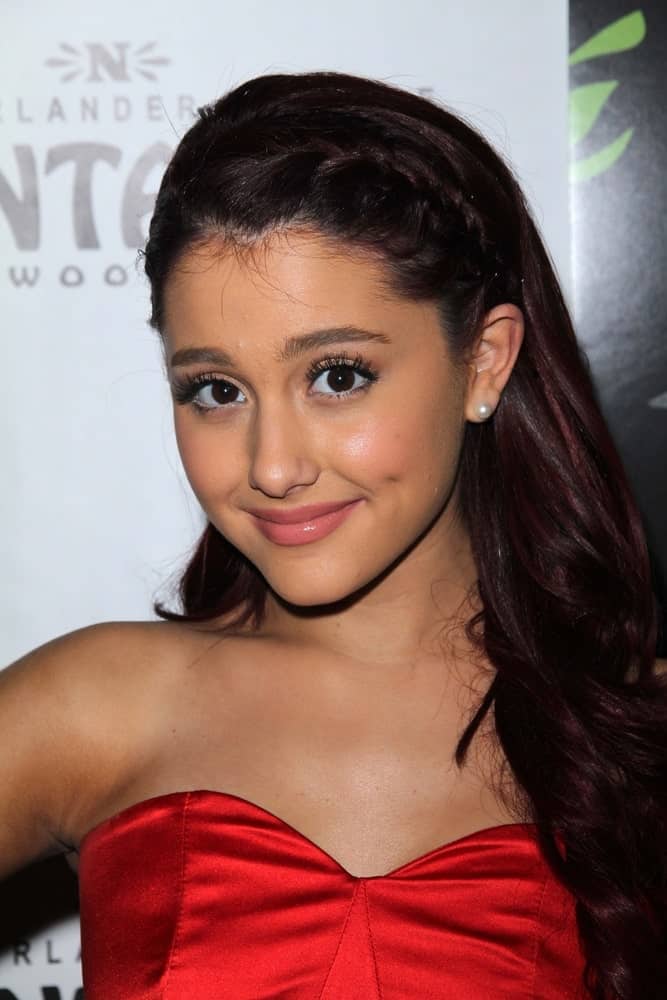 Ariana Grande attended the "Wicked" Los Angeles Opening Night held on December 1, 2011, wearing a red gown to pair with her long wavy hair that's styled with a side braid.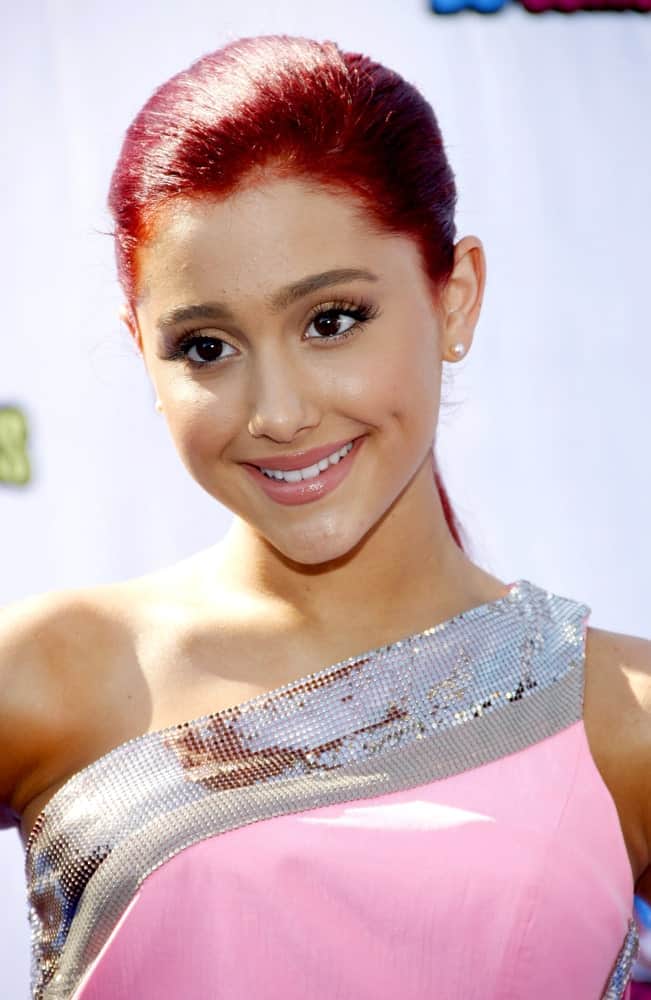 Ariana Grande tied her red locks into a neat pulled back ponytail at the 2011 VH1 Do Something Awards held on August 14, 2011.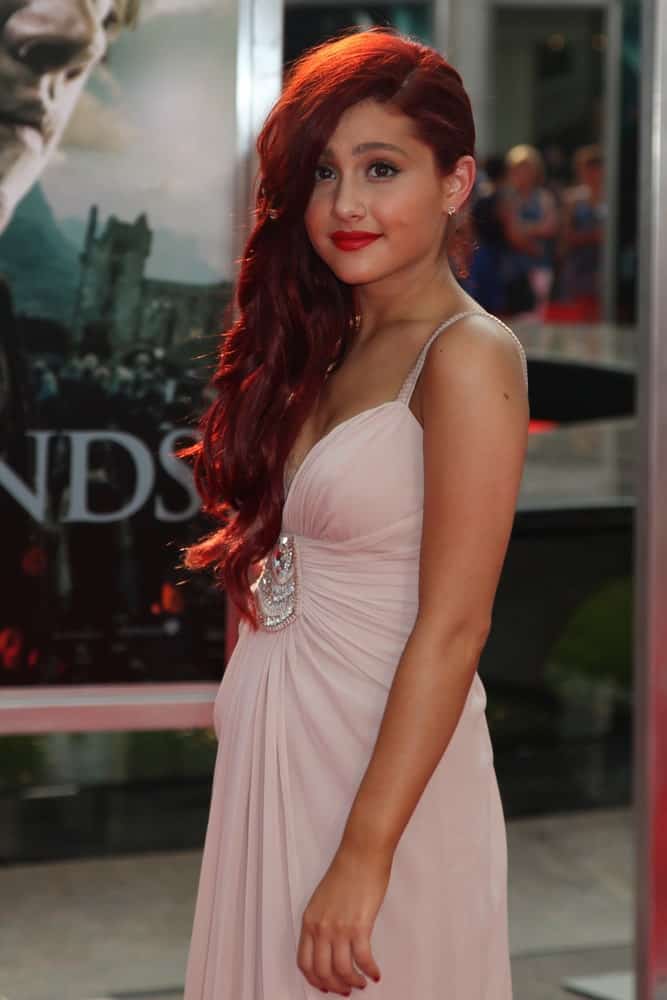 Ariana Grande gathered her long, voluminous hair on one side during the New York premiere of 'Harry Potter And The Deathly Hallows: Part 2' on July 11, 2011.
Ariana Grande in a neat low bun at the iParty with Victorious Premiere Event held on June 4, 2011. She paired it with a textured dress and a natural-looking makeup.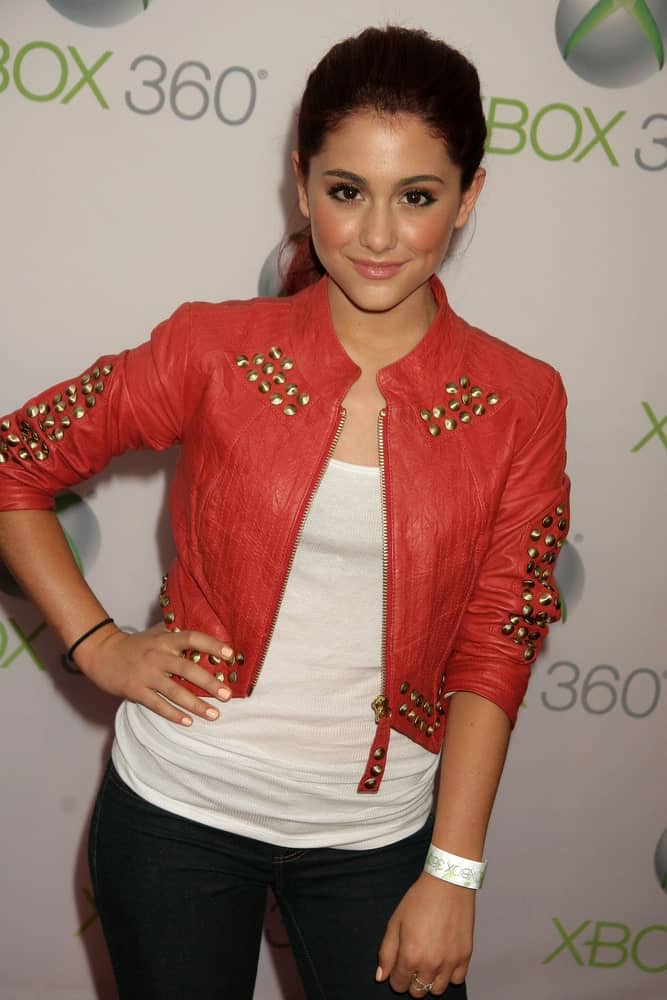 Ariana Grande kept it casual in a loose ponytail along with a white tank top and red jacket at the World Premiere of "Project Natal" for XBOX 360 Imagined by Cirque Du Soleil on June 13, 2010.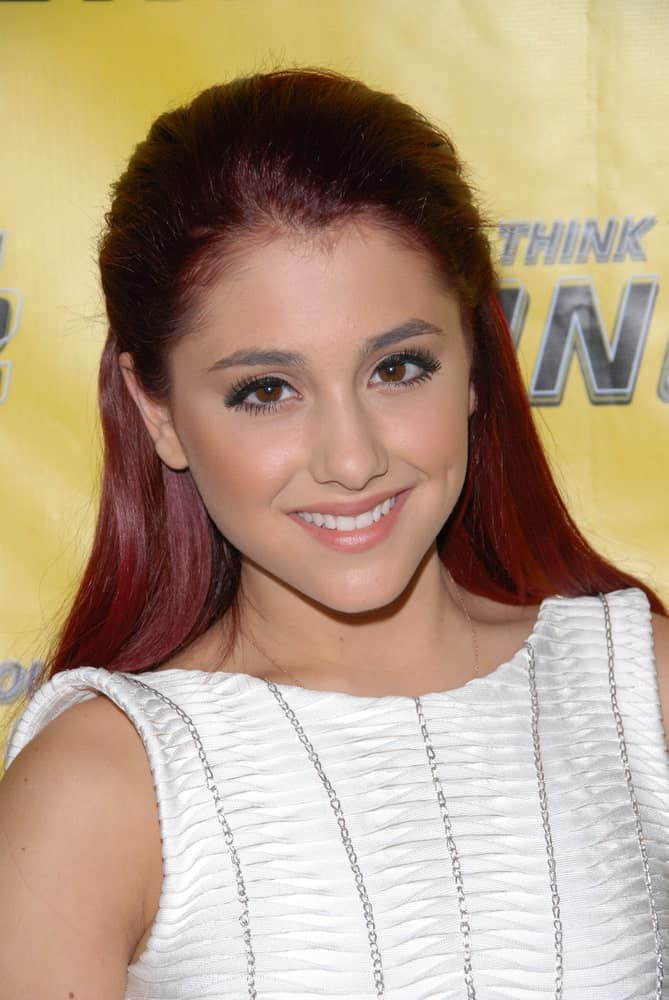 Ariana Grande styled her long, red tresses with a loose, brushed back hairstyle during the "So You Think You Can Dance" Season 7 Premiere Party on May 27, 2010.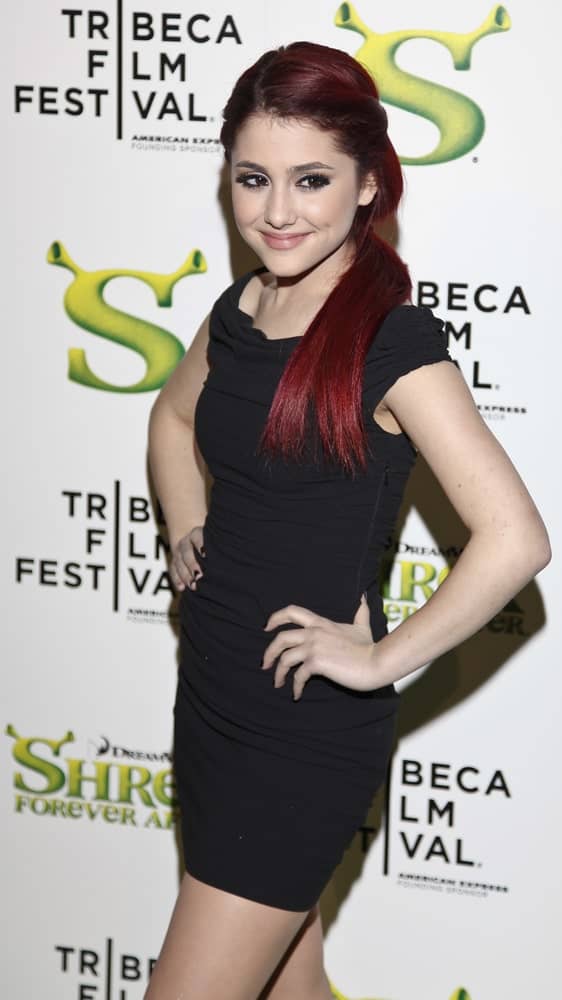 Ariana Grande made an appearance at the 2010 Tribeca Film Festival opening night premiere of 'Shrek Forever After' on April 21, 2010. She was wearing a short black dress along with a low ponytail hairstyle with a side parting.
Ariana Grande arrived at the Kevin + Steffiana James + Make-A-Wish Foundation Host A Day of Fun on March 14, 2010, wearing a floral button front romper. She styled her red hair with a pin on one side and subtle waves at its ends for a dramatic look.
Ariana Grande flaunts her straight, vibrant red hair during the Los Angeles Premiere of "The Lovely Bones" held on July 12, 2009.