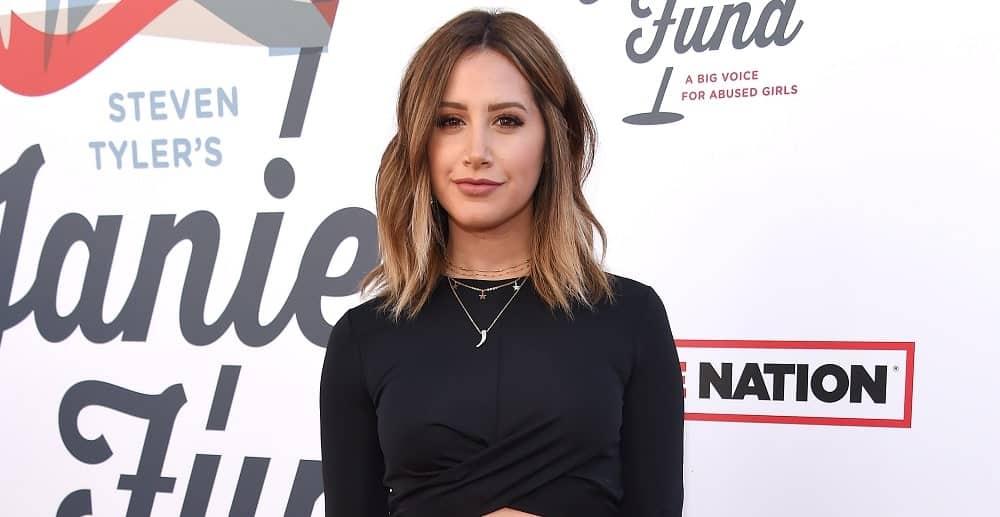 Ashley Tisdale will always be remembered as Sharpay Evans, the sassy blonde who loves pink in "High School Musical", but she is way more than that. After her character graduated from East High, she stepped up her game from being a Disney star to a singer-songwriter, a beauty founder and an executive producer.
Prior to "High School Musical", Tisdale had minor TV roles and did a couple of films. The young actress has a good voice which got her to play in a number of animated films including "Phineas and Ferb" as Candace Flynn. She eventually landed a leading role in the television series "The Suite Life of Zack & Cody" as Madie Fitzpatrick where she found mainstream success.
When she was three, talent manager Bill Perlman discovered her at a local mall and signed her on the first of many auditions. Shortly, the youngster had over 100 commercials and advertisements. Tisdale dreamt of taking the stage as well. She recalled that when she was a little, she saw the play "Les Misérables" on Broadway and wanted to be in it. She told her manager about it and soon after appearing in productions of "Gypsy: A Musical Fable and The Sound of Music", the eight-year-old Tisdale got her to wish and was offered a role of Cosette in "Les Misérables". After two years, she landed a role in the touring production of "Annie" in Korea. When she returned to the US, Tisdale sang for President Bill Clinton during an event at the White House.
The actress expanded her career by venturing out different fields. In 2008, Tisdale formed her very own production company called Blondie Girl Productions and signed a multi-year deal with Relativity Media two years after. She was also able to secure a record deal with Warner Bros and released two albums – "Headstrong" and "Guilty Pleasure". She later became an executive producer starting in 2013. And in 2016, she started out her very own makeup line called Illuminate Cosmetics.
Tisdale's versatility went as far as sporting various daring hairstyles and makeup choices which made her a beauty icon too. She's never afraid of experimenting with different hairdos and hair colors. She goes blue and pink and had a short asymmetrical bob that's totally eye-catching. Well, whatever look she goes for, it will surely look perfect on her. Let us now take a look at Ashley Tisdale's fun and edgy hairstyles over the years.
Photos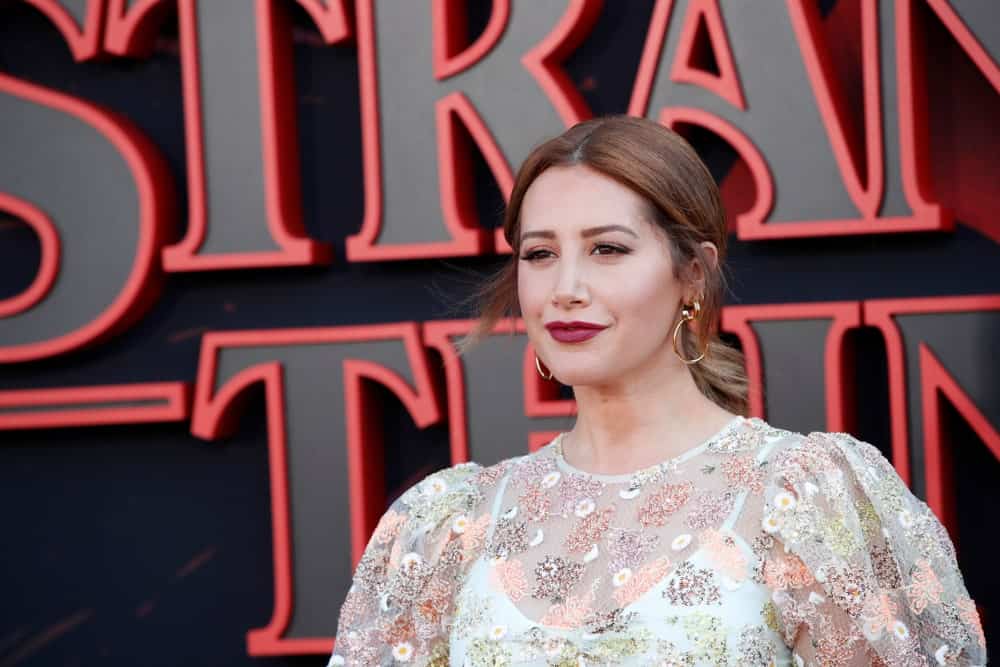 Ashley Tisdale looked charming in a floral dress and her low-tied ponytail with loose tendrils on both sides. This was worn during the "Stranger Things" Season 3 World Premiere last June 28, 2019.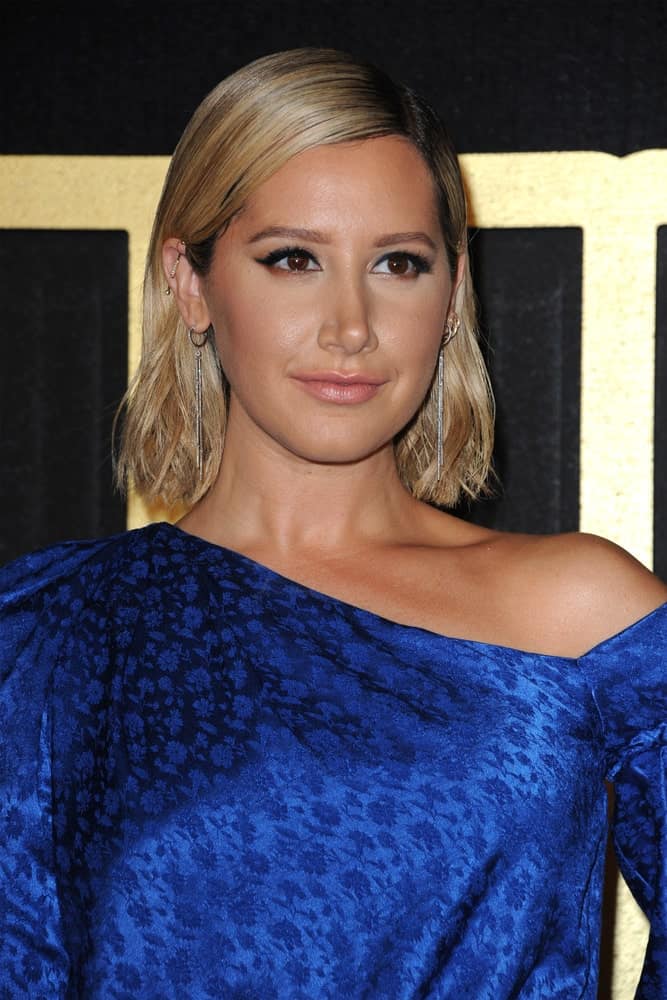 The actress at the HBO's Official 2018 Emmy After Party held on September 17, 2018, showcasing a classy look with her short loose hair dyed in honey blonde. It is complemented by stunning dangle earrings and some piercings.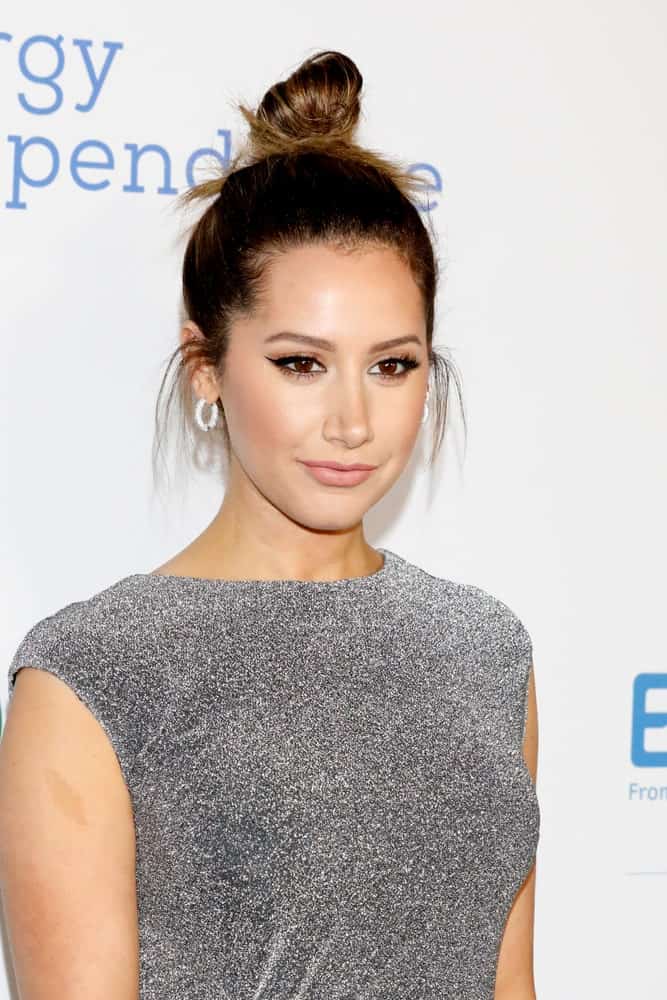 The actress attended the 15th Annual Global Green Pre-Oscar Gala at the NeueHouse on February 28, 2018, with a silver dress and a high bun hairstyle incorporated with tousled tendrils on the sides.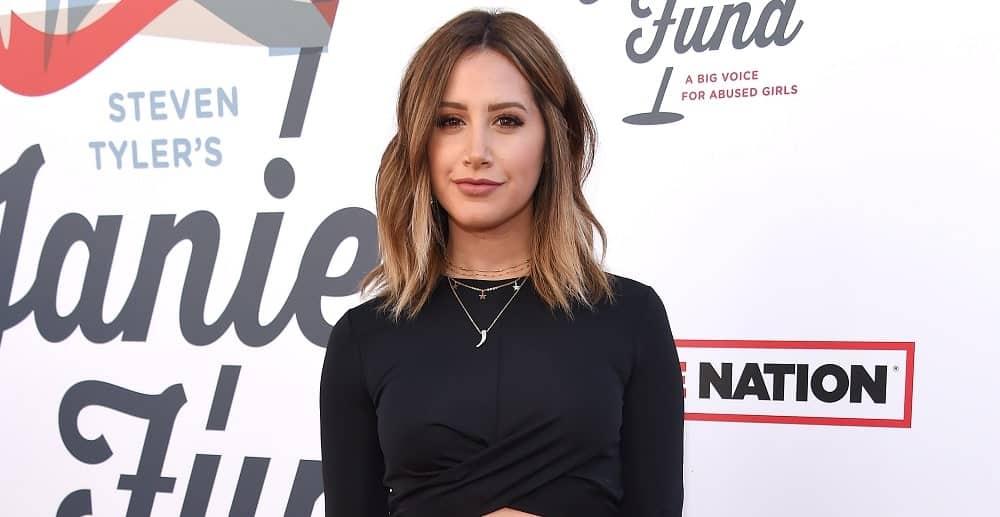 During the Steven Tyler 1st Annual Janies Fund Gala 2018 on January 28th, Ashley Tisdale sports a simple look with her short beach waves. She finishes it with layered necklace and a classic black dress.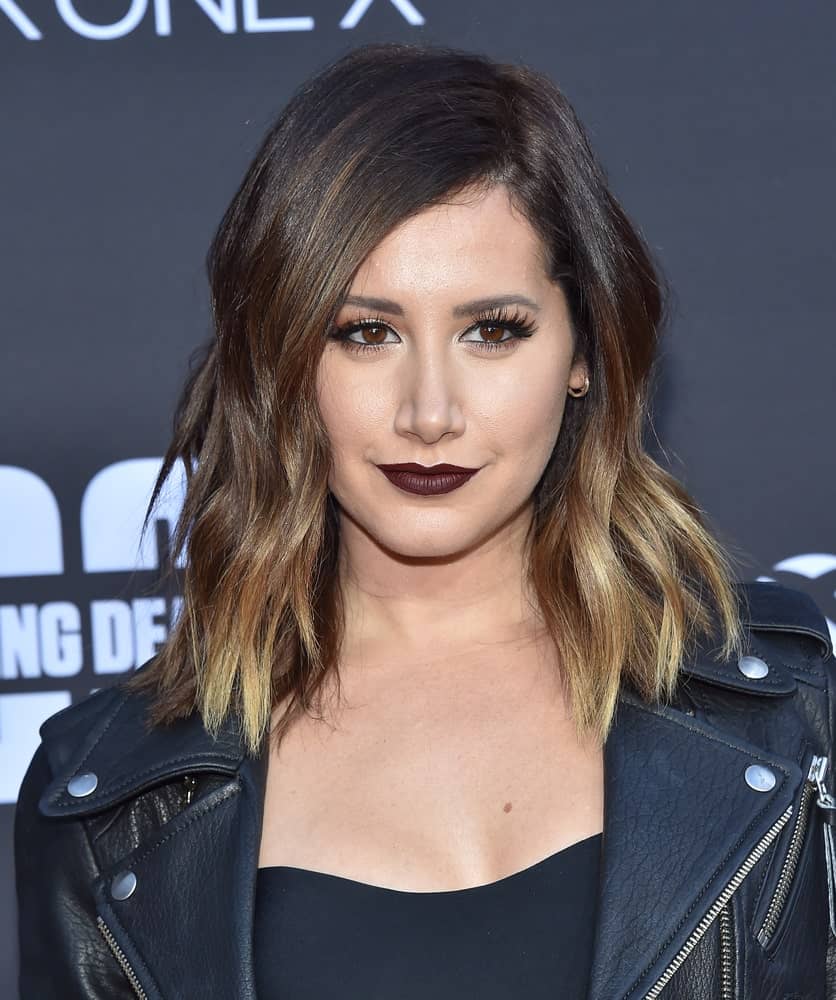 The actress rocks a highlighted beach wave perm on her outgrown hair during the 'The Walking Dead' Season 8 Premiere on October 22, 2017. It complements well with her dark lipstick and black getup.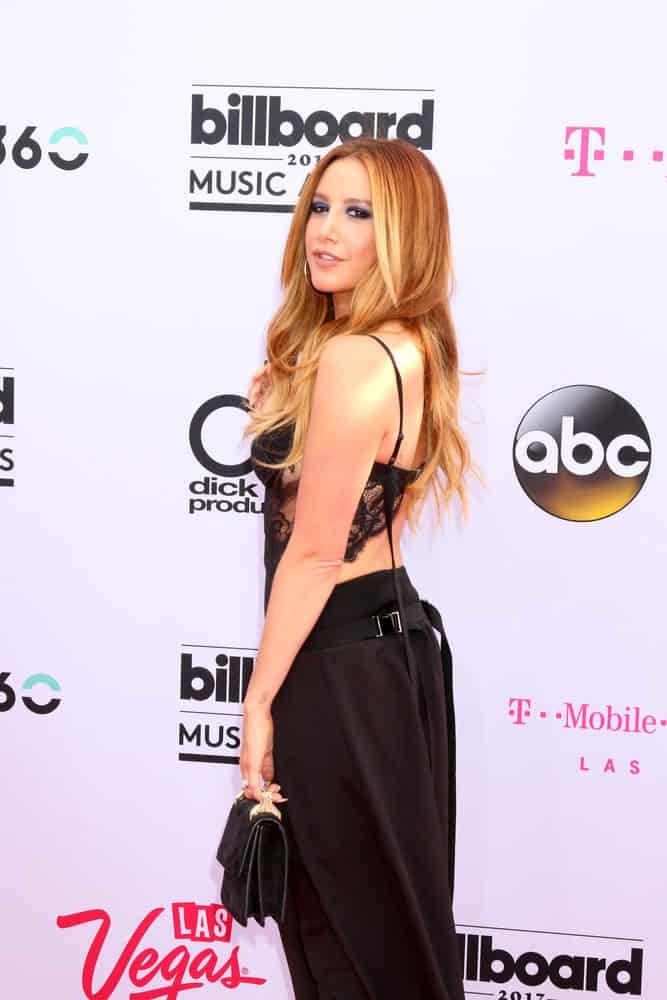 Ashley Tisdale attended the 2017 Billboard Music Awards – Arrivals at the T-Mobile Arena on May 21, 2017, with a sexy black outfit accentuated by her long wavy hair with subtle layers.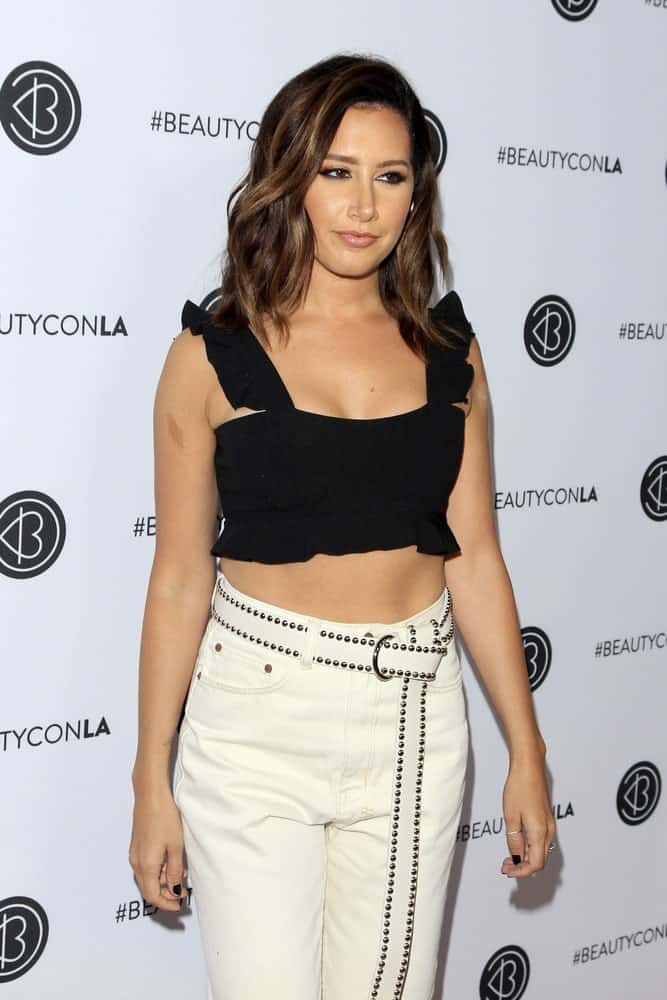 The actress arrives at the 5th Annual Beautycon Festival Los Angeles held on August 12, 2017, with white high waisted pants and a cute blacktop. She finishes the look with a simple loose hairstyle.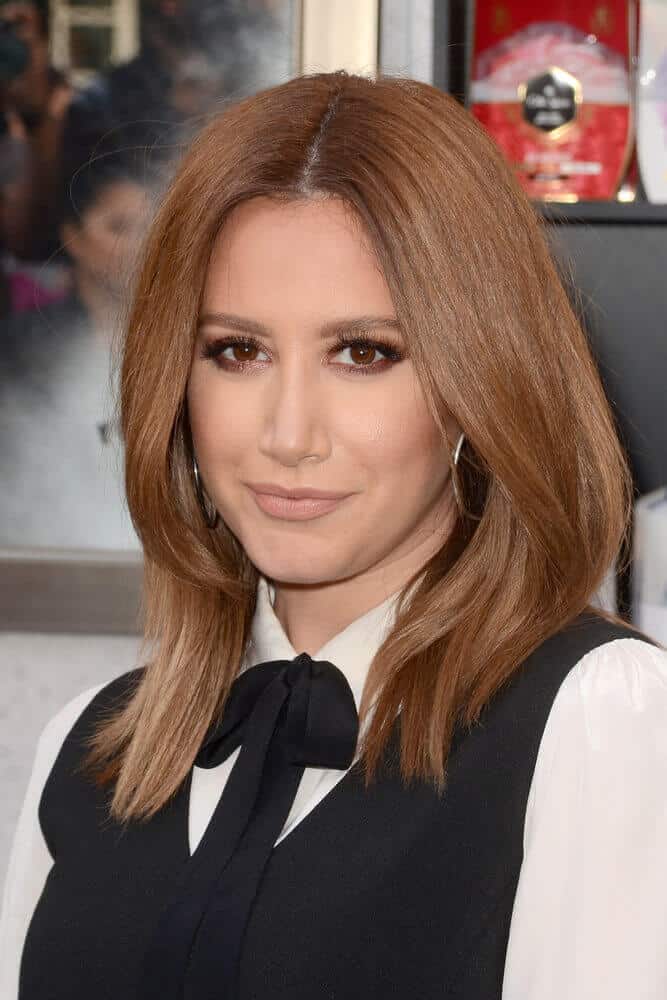 The actress looking trendy and sassy with this mid-length hairstyle incorporated with some subtle yet creative layers that produce a soft texture. This style was worn last February 16, 2017 for the DUO Launch.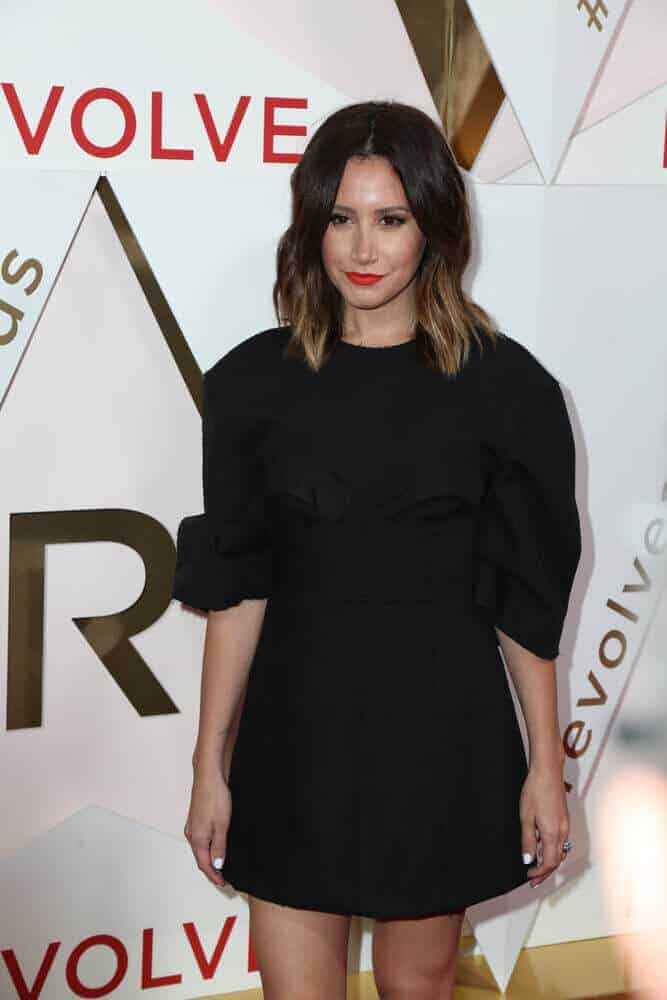 Since Ashley Tisdale is originally a brunette, not maintaining a bleached hair can result in this natural-looking ombre. This gorgeous do was worn especially for the 2017 Revolve Awards at the Dream Hotel Hollywood.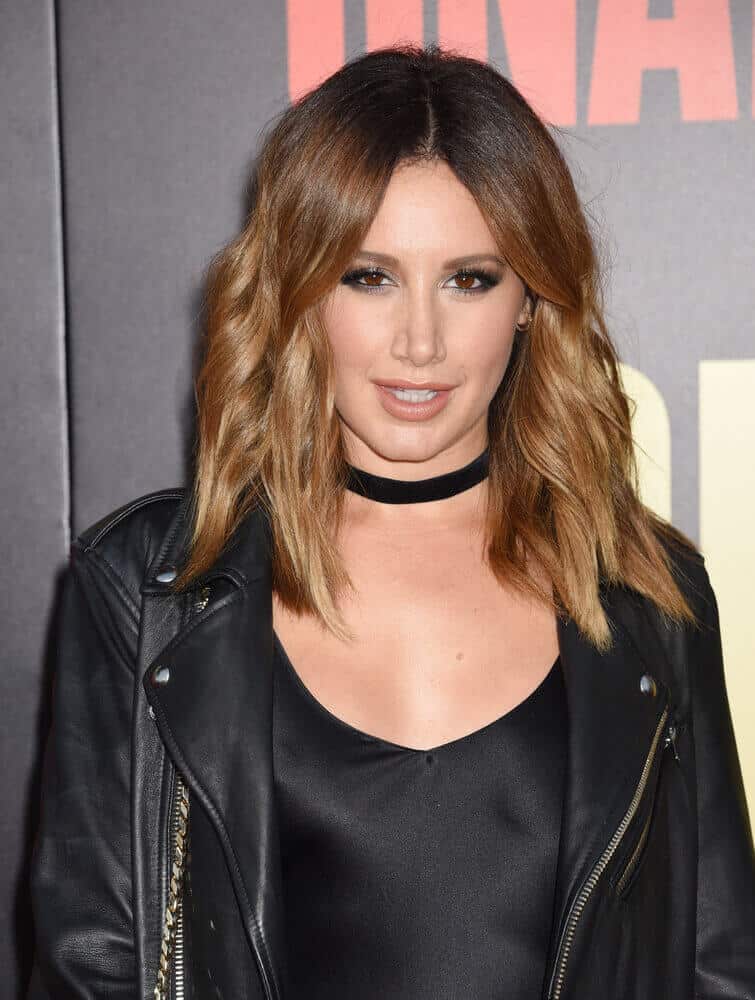 The actress looking like a rock star with her dark-rooted, medium-length tousled hair and her all-black getup. This powerful look was worn last May 10, 2017, for the world premiere of Snatched.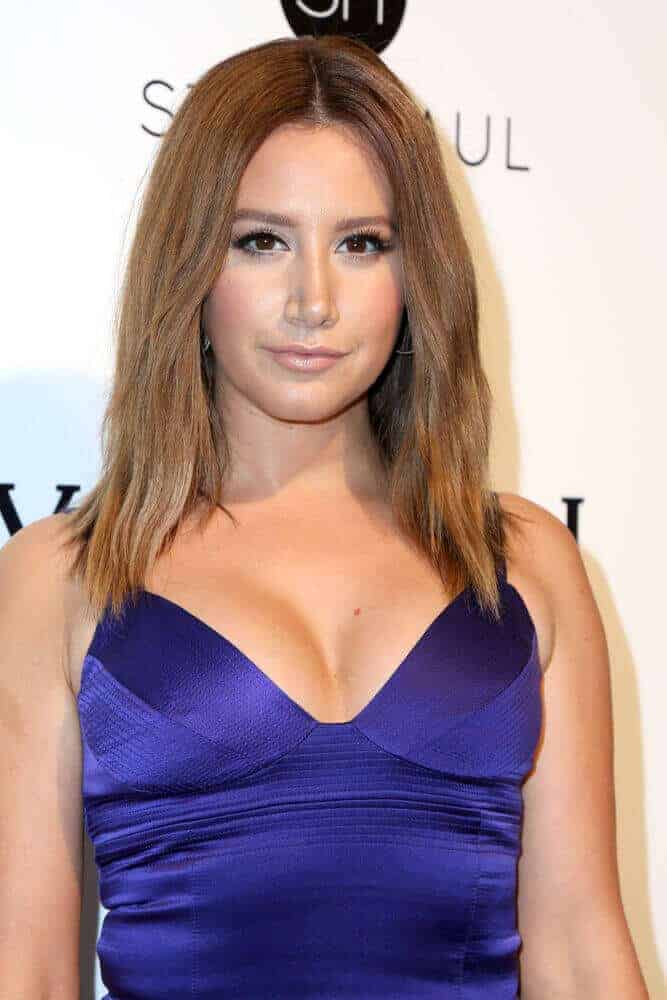 The actress looking au naturel with this center-parted, dark hair during the 25th Annual Elton John Academy Awards Viewing Party, February 26, 2017.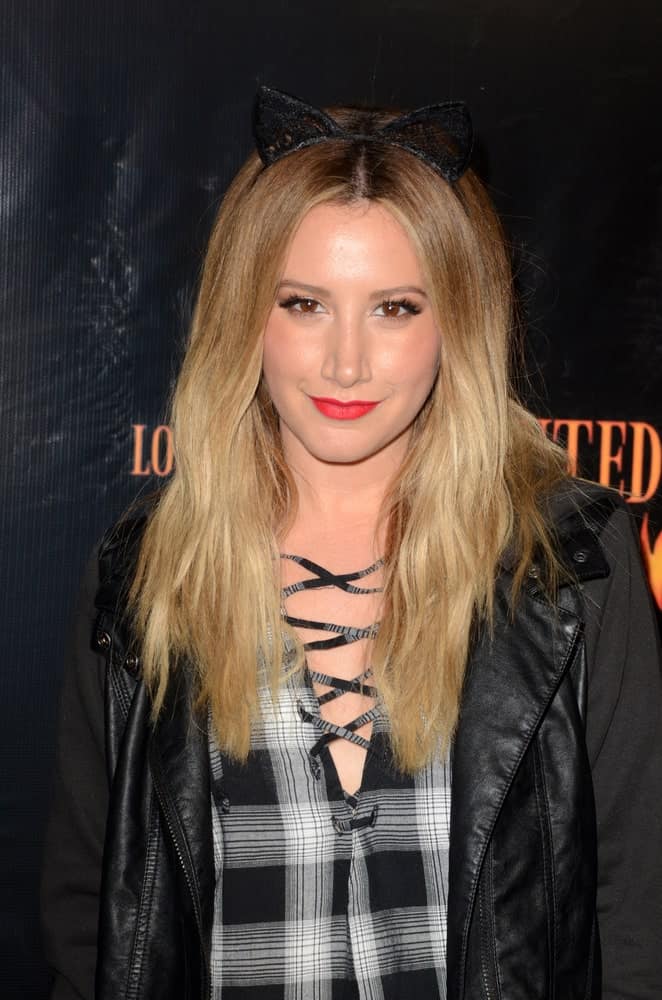 Ashley Tisdale exhibited an outrageous look during the Haunted Hayride 8th Annual VIP Black Carpet Event at the Griffith Park on October 9, 2016, with her tousled blonde hair complemented by cat ears headband.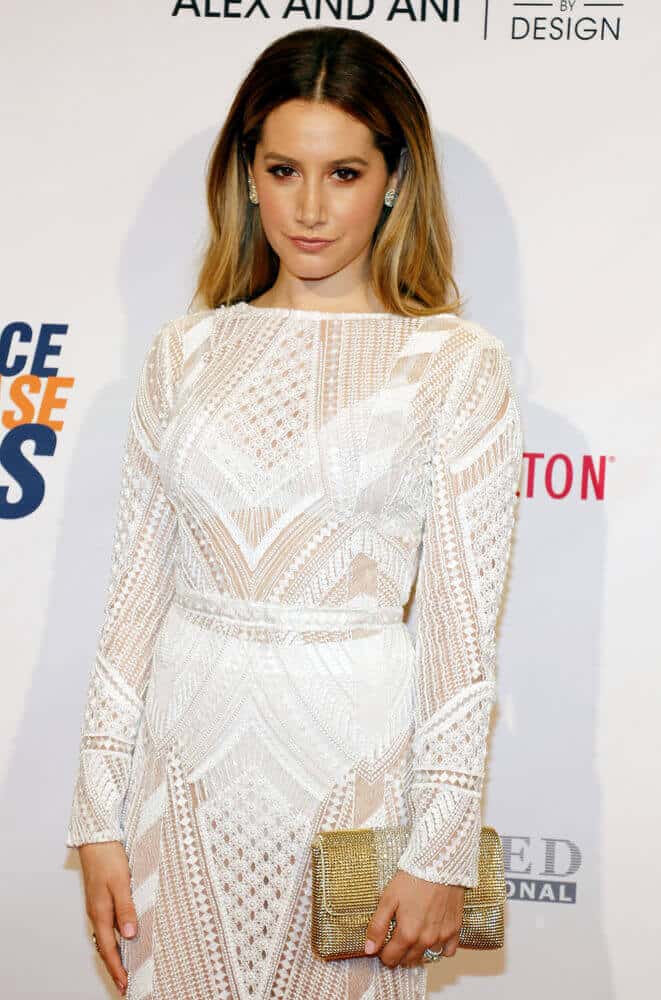 Tisdale's outgrown hair created a natural and seamless gradient of brown and blonde. This beautiful look was worn last April 15, 2016, for the 23rd Annual Race To Erase MS Gala.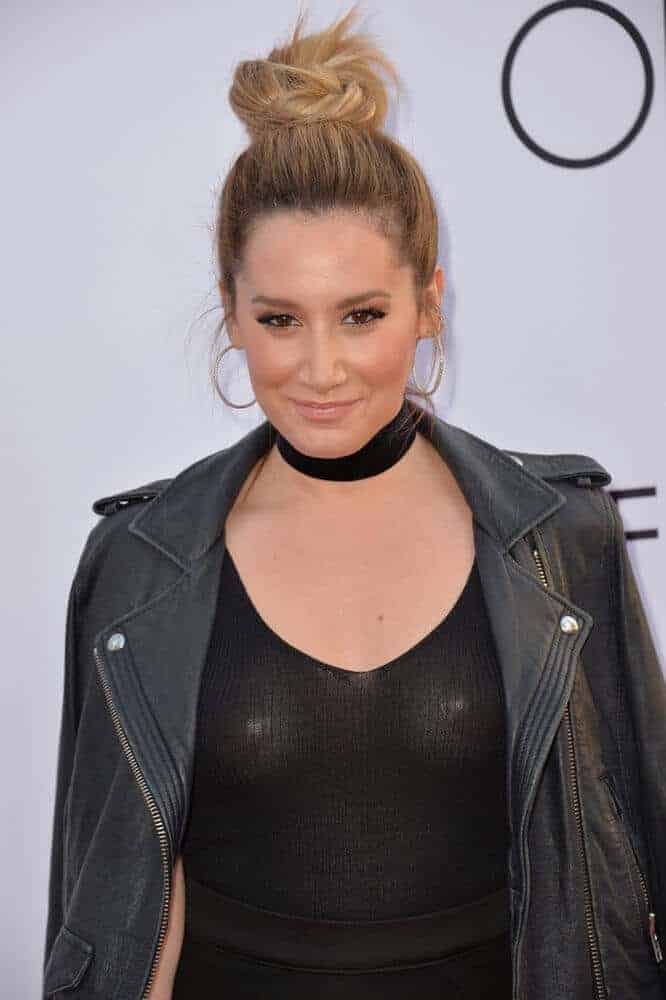 Here is Ashley Tisdale sporting a chunky, high bun at the world premiere of "Mother's Day", April 13, 2016.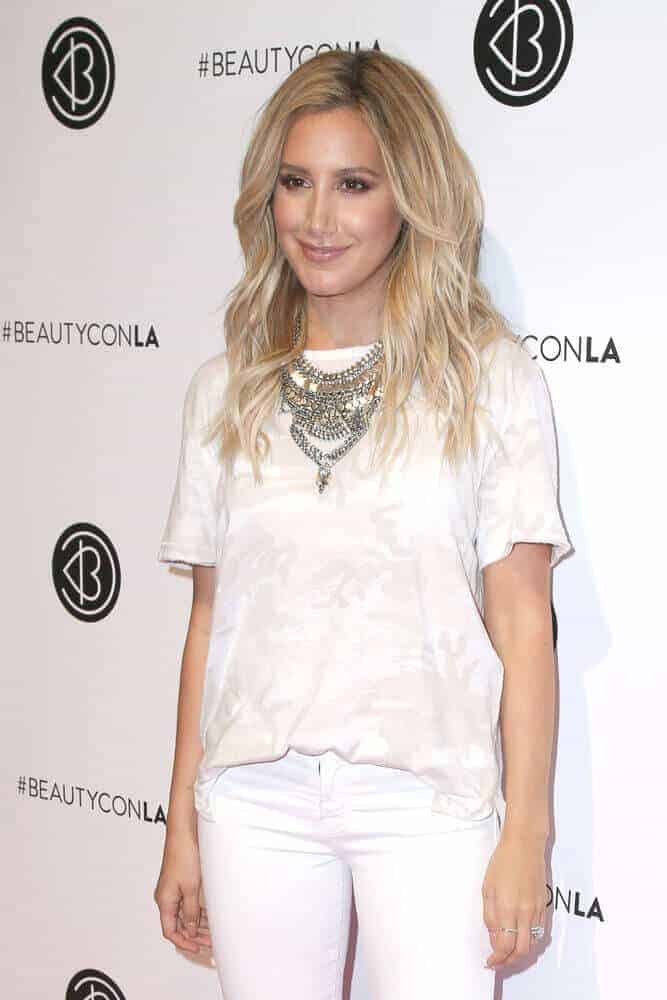 The actress exhibited the beauty of blonde, beach waves during the 4th Annual Beautycon Festival at the Los Angeles Convention Center last June 9, 2016.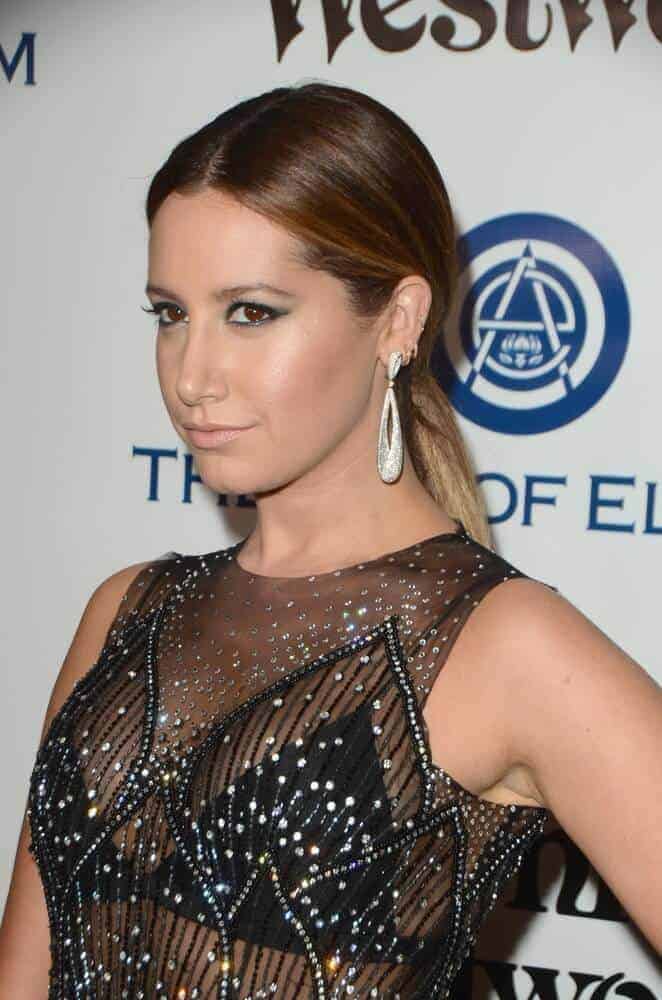 The actress overflowed with posh and class with this elegant low ponytail she wore for The Art of Elysium Ninth Annual Heaven Gala, January 9, 2016.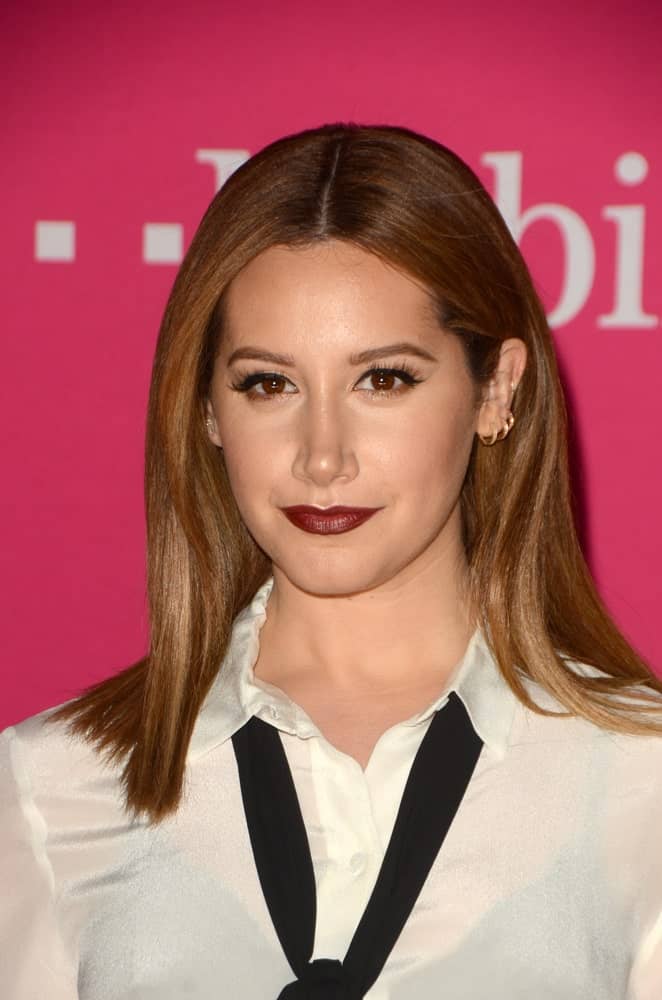 Tisdale attended the T-Mobile Un-carrier X Launch Celebration at the Shrine Auditorium on November 10, 2015, with a simple classic look showcasing her sleek center-parted blonde hair.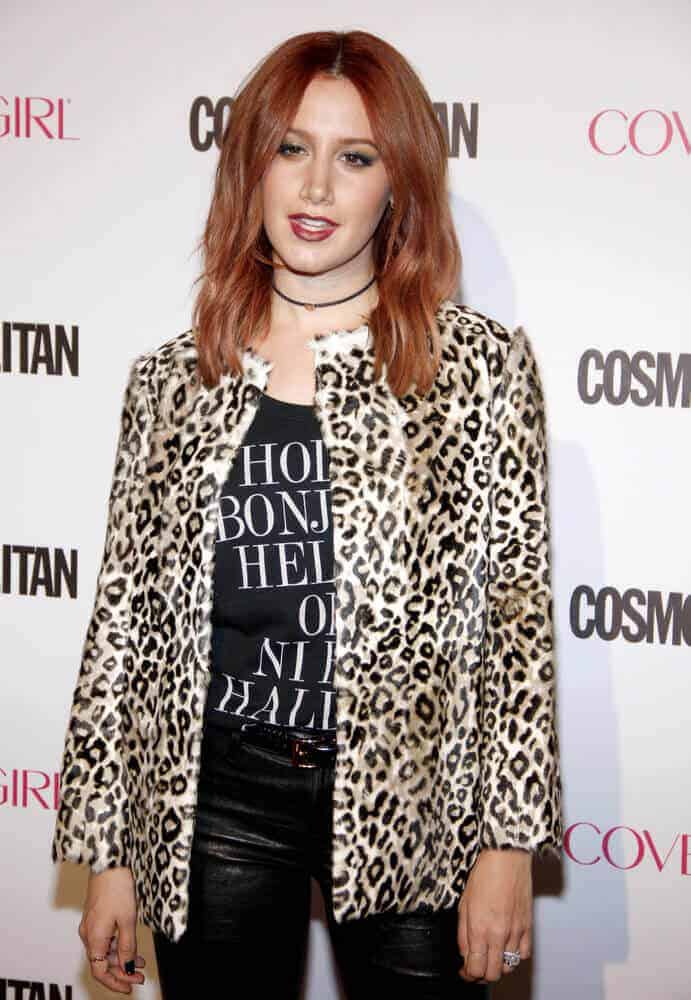 Last October 12, 2015, the actress rocked the Cosmopolitan Magazine's 50th Anniversary Party with her dark copper, medium-length waves.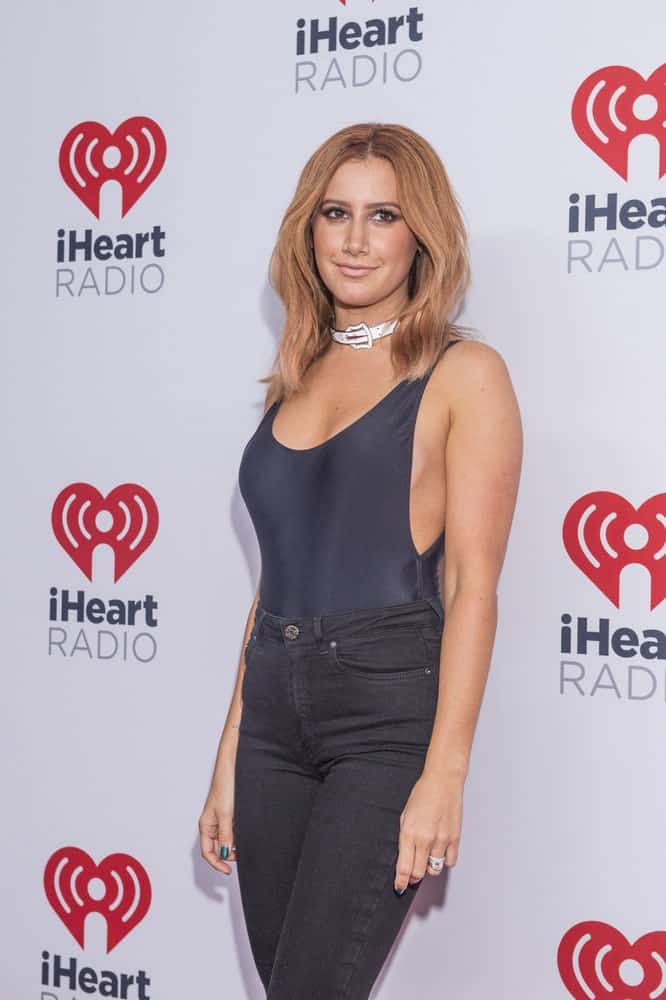 Looking all sexy and chic, the actress arrives for the 2015 iHeartRadio Music Festival last September 18, 2015, with voluminous blonde hair that's center-parted.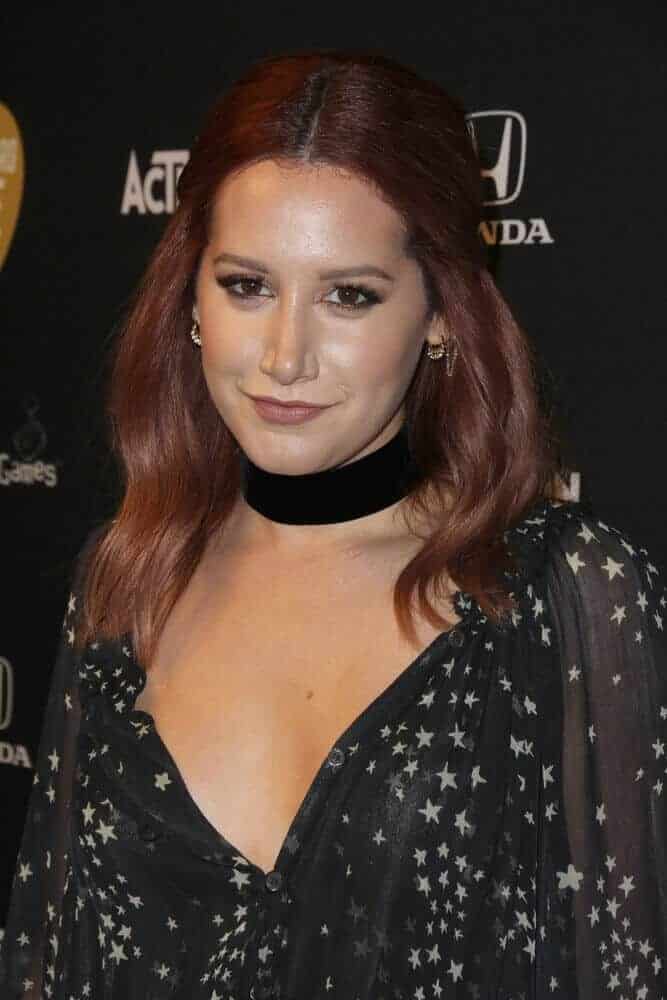 Tisdale upgraded her look during the 2015 Guitar Hero Live Launch Party by going Mahogany. Her medium-length, reddish-brown hair is arranged in a half-up style.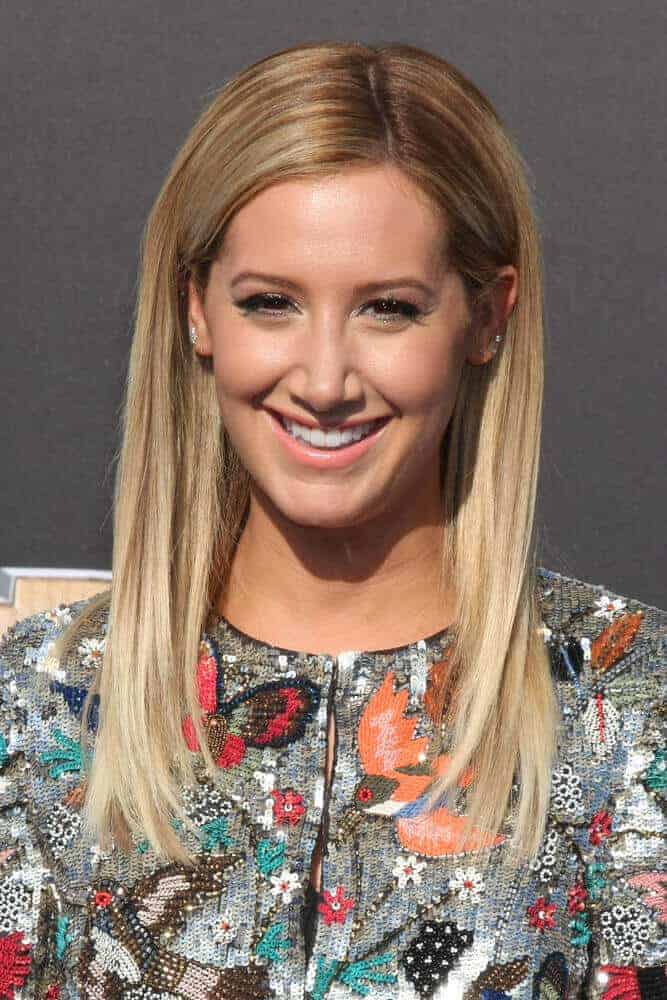 The actress unleashed her sunny and happy side with her straight and loose hair. This style, and her unique printed dress, was worn last May 9, 2015, for the premiere of Tomorrow Land.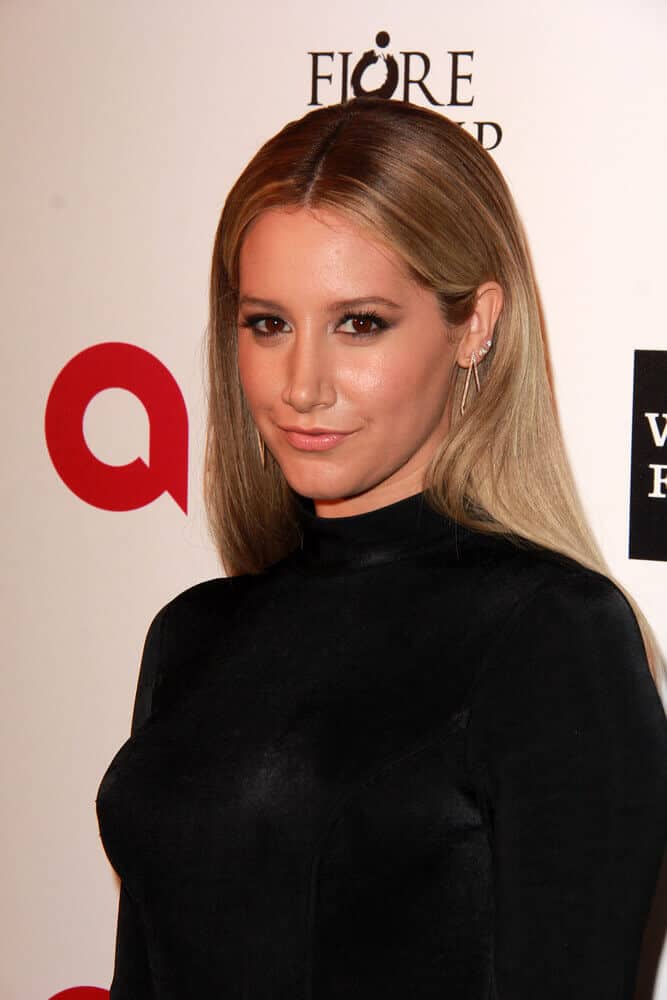 The American actress showcased nothing but elegance with her sleek and straight hairstyle during the Elton John Oscar Party 2015.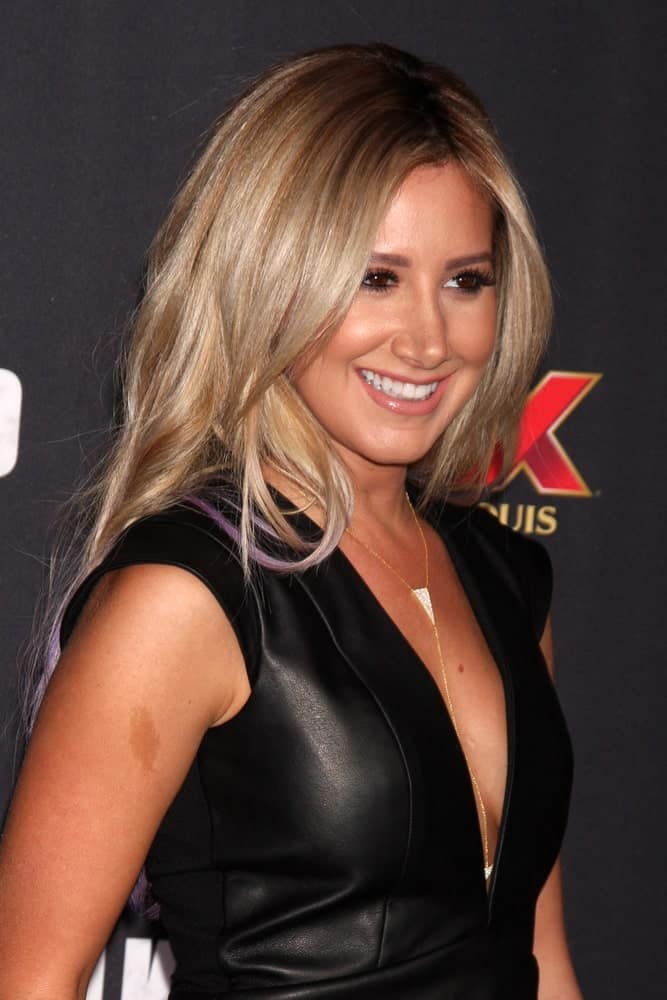 Ashley Tisdale looked ravishing at the "The Walking Dead" Season 5 Premiere at Universal City Walk on October 2, 2014, with her long blonde hair. It has subtle waves providing volume on her sleek hair.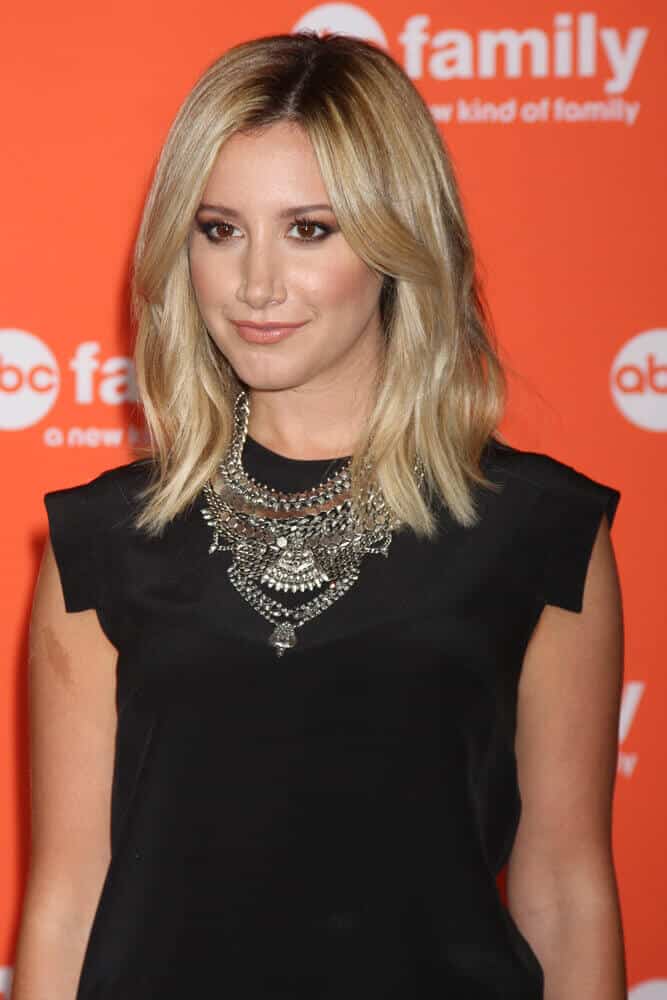 Subtle layers made a huge difference in Ashley Tisdale's look for the ABC July 2014 Teen Choice Award.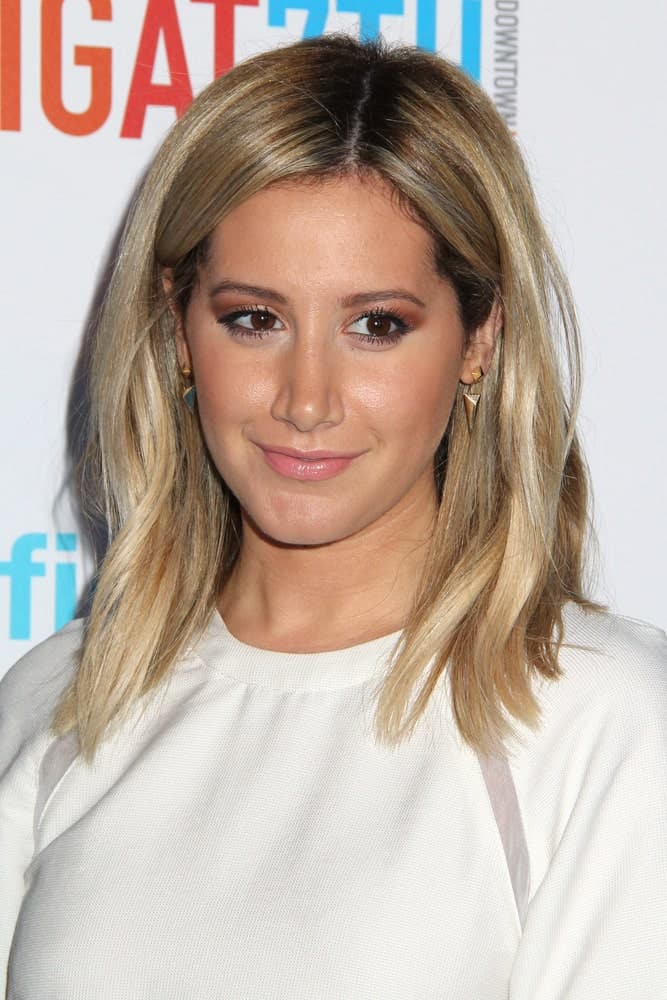 Simple Tisdale at the FIGat7th Grand Re-Opening last June 19, 2014, with loose shoulder-length hair complemented with light makeup.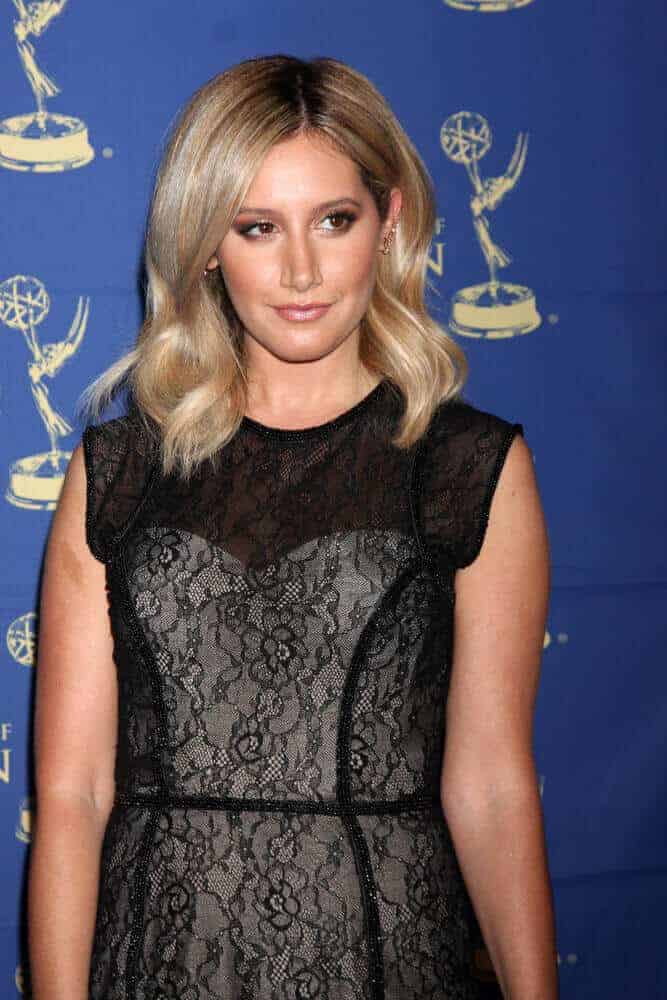 Tisdale exhibited not just beauty but also sophistication with this mid-length waves she wore during the 2014 Creative Daytime Emmy Awards.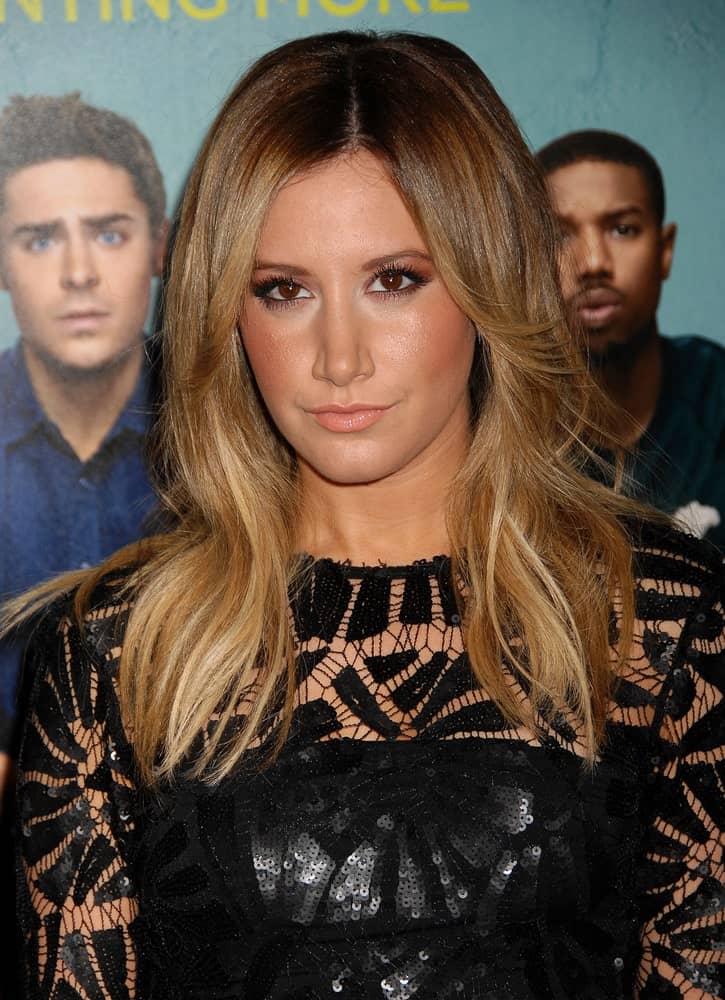 The actress is oozing with sophistication in a chic black dress along with her wavy highlighted blonde hair which was worn during the That Awkward Moment Los Angeles Premiere on January 27, 2014 in Los Angeles, CA.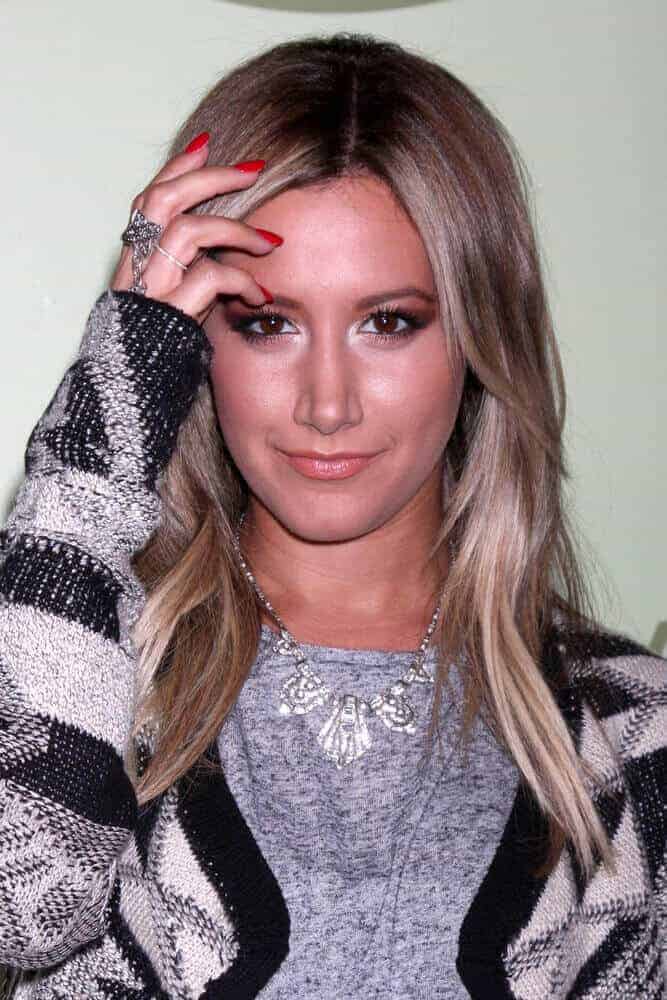 The actress knows how to play with colors as well. She wore this blonde and gray mash-up last October 29, 2013 for the Lucky Brand Store Opening.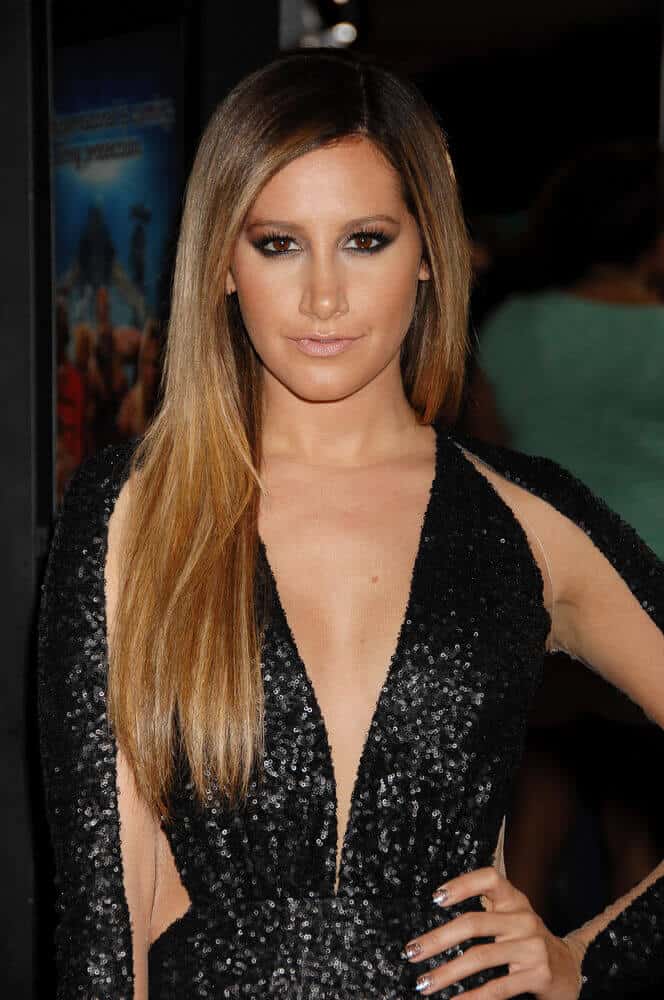 Tisdale overflowed with sexiness and confidence during the Scary Movie V Los Angeles Premiere last April 11, 2013. She wore her extravagant nightgown with her long and sleek, dark-rooted hair.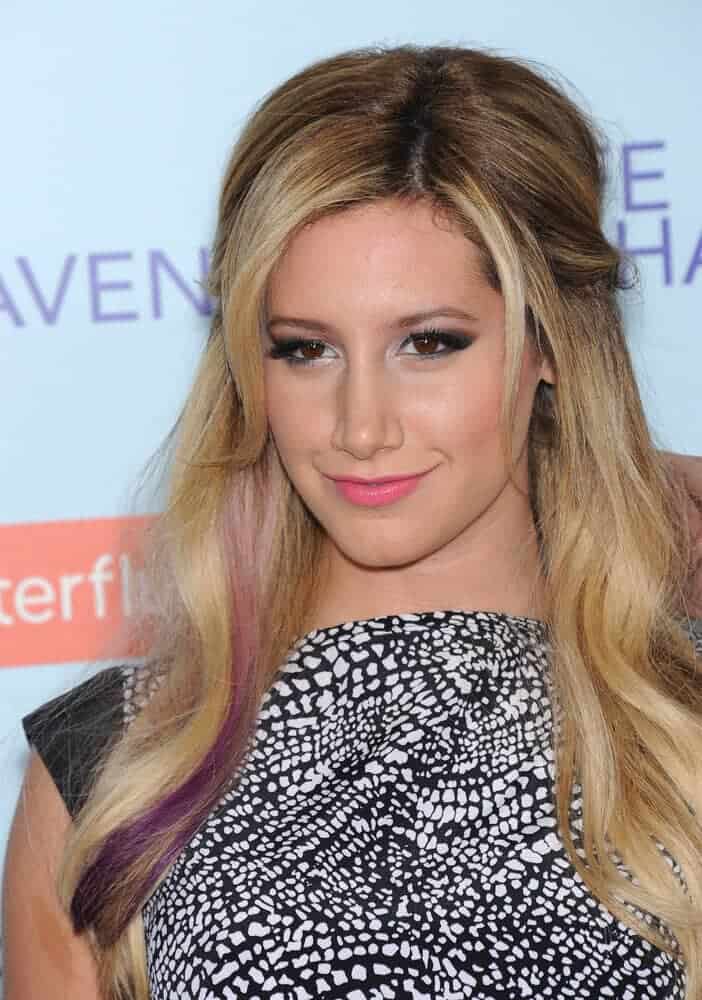 The actress made the typical half-up style with tendrils a little bit trendier by accenting a small portion of her hair with a violet dye. This look was worn last February 5, 2013, for the premiere of Safe Haven.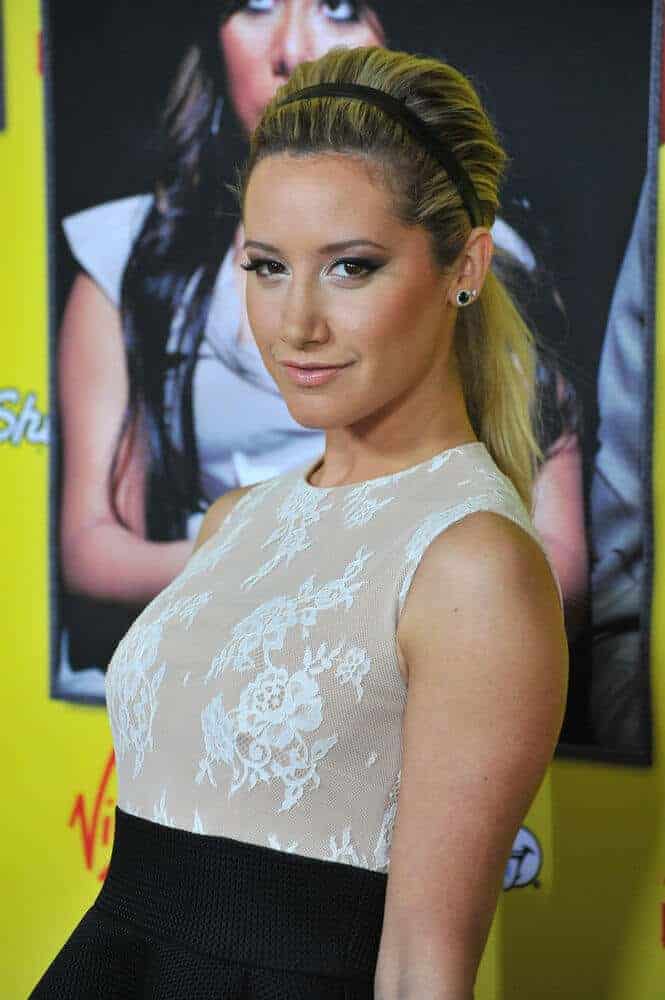 The actress showcased an elegant, prim and proper look whit this ponytail incorporated with a black headband. This hairstyle was worn last January 2013 for the LA premiere of Movie 43 at Grauman's Chinese Theatre, Hollywood.
On January 13, 2013, Ashley Tisdale attended the WB/In Style Golden Globe Party with a messy updo incorporated with curtain bangs. Statement earrings and a classic nude dress completed the look.