Witness how Charlize Theron played with various hairstyles over the years. Let us walk you through the multi-awarded actress' edgy hairstyles that she slayed confidently.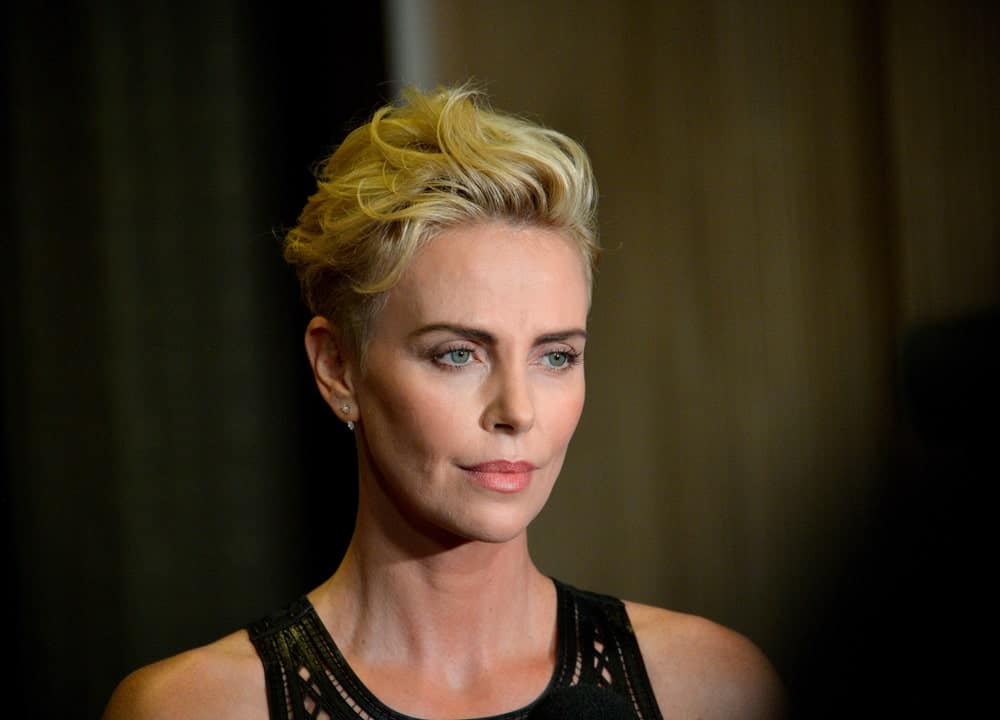 Charlize Theron, an amazing actress and producer did not achieve all the success she had now in just overnight. In fact, she didn't even have the easiest childhood. She suffered from physical abuse and struggled with her health. Her father Charles was alcoholic and abusive. She would describe her father as a "very sick man" and living with him was a "pretty hopeless situation". When she was 15, her father shot through the door and in self-defense her mother Gerda ended the threat.
The actress had more struggles than we ever think. Charlize suffered from jaundice when she was a child causing her not to have teeth until she was 11. At 16, she won a modeling contest and went to Milan to pursue this career. It became her means to pay for her real dream which is dancing. She really loved dancing more than anything. She wanted to be a ballerina. Unfortunately, her knees gave out and the thought that she couldn't dance anymore devastated her. She went into a major depression but her mother encouraged her not to give up and let her tried acting since she also liked it.
In 1994, she was discovered by an agent while she was making a loud scene. She was 18 then with a $400 and a tattered suitcase. Her bank refused to cash her last check from a modeling job so she began yelling and creating a scene. Little did she know that she was already auditioning for a guy who eventually became her manager. The guy caught her attention and gave his card on the way out and the rest is history.
Charlize was able to showcase her acting ability and versatility which led her to substantial roles. She first starred in "The Devil's Advocate" (1997) followed by "Mighty Joe Young" (1998), "Celebrity" (1998), "The Cider House Rules" (1999) and "The Italian Job" (2003). She won an Oscar for best actress in 2004 through the movie "Monster" where she portrayed Aileen Wuornos, a real-life serial killer. She gained 30 pounds for the role which made her almost unrecognizable. In 2005, she earned a star on the Hollywood Walk of Fame.
The versatile actress is also a producer. Denver and Delilah Productions, her production company has produced numerous films including 2019's "Long Shot" where she starred alongside Seth Rogen. In 2016, TIME magazine named her one of the most influential people of the year. Charlize has also become one of the highest-paid actresses ranking her ninth as reported by Forbes in August 2019.
Charlize's versatility can also be seen in her hairstyles. No matter how long or short her hair is, she always looks gorgeous. Let us take a closer look at Charlize Theron's edgy yet classy hairstyles over the years.
Photos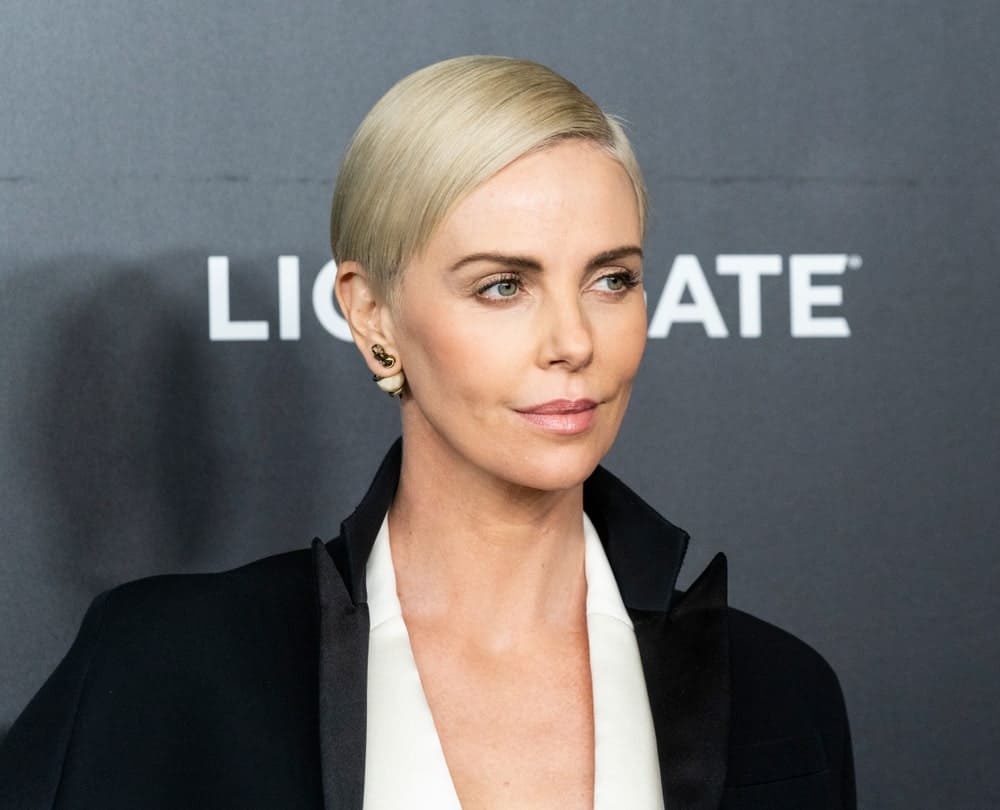 Charlize Theron flawlessly flaunts her sleek pixie blonde hair on a side-swept hairstyle during the Bombshell special screening last December 16, 2019. She paired it with a dress by Dior along with beautiful double-sided stud earrings.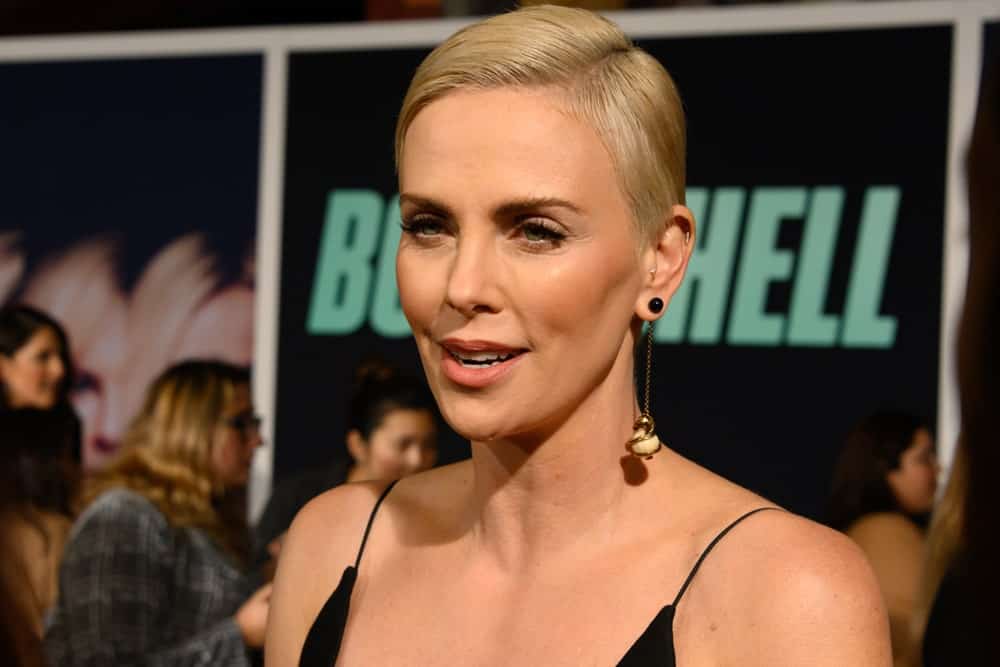 The actress attended the Special Screening Of Liongate's "Bombshell" at Regency Village Theatre on December 10, 2019, with a neat side-swept hairstyle accentuating her dangling earrings.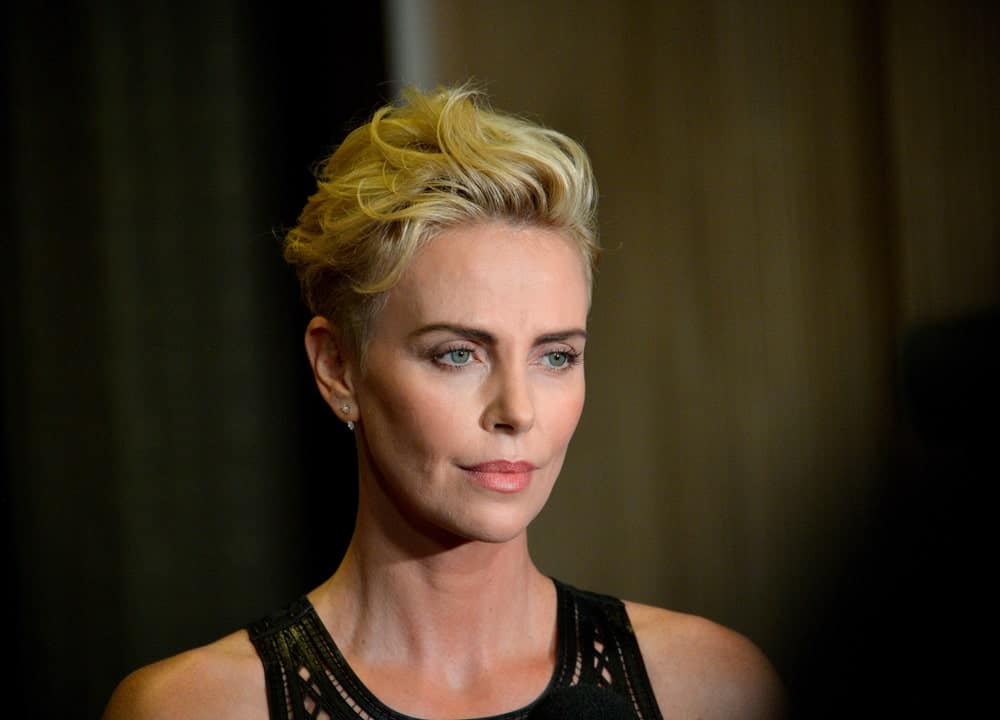 The actress is on fire slaying a slicked back hairstyle with her wavy pixie during the American Cinematheque Award Gala on November 09, 2019.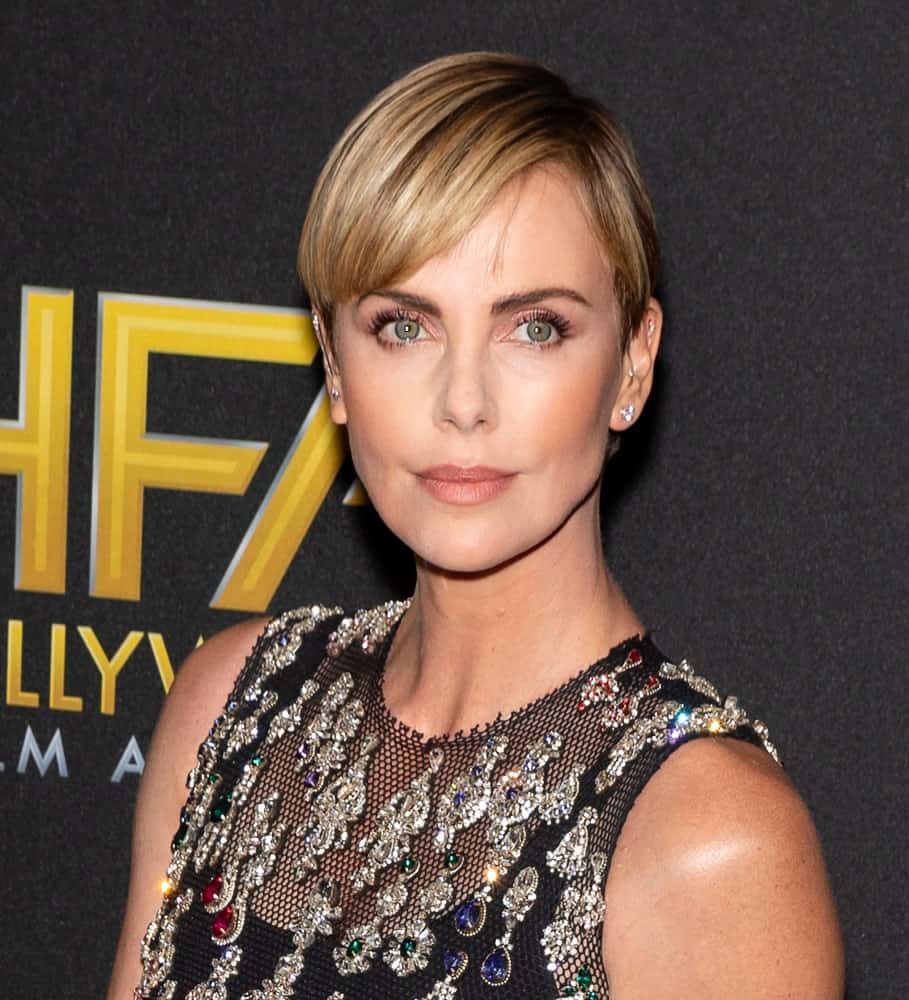 Charlize Theron sported her blonde pixie with side-swept bangs at the 3rd Annual Hollywood Film Awards last November 3, 2019. She completed the look with a black netted top inlaid with gem embellishments.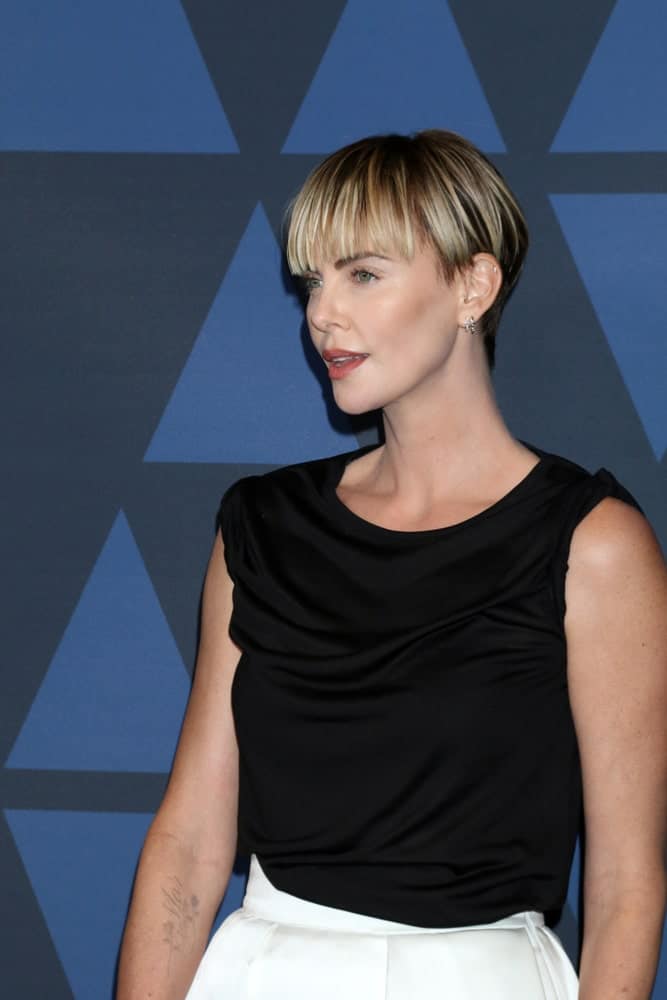 Last October 27, 2019, the actress showcased her highlighted pixie with eye-skimming bangs during the 11th Annual Governors Awards at the Dolby Theater.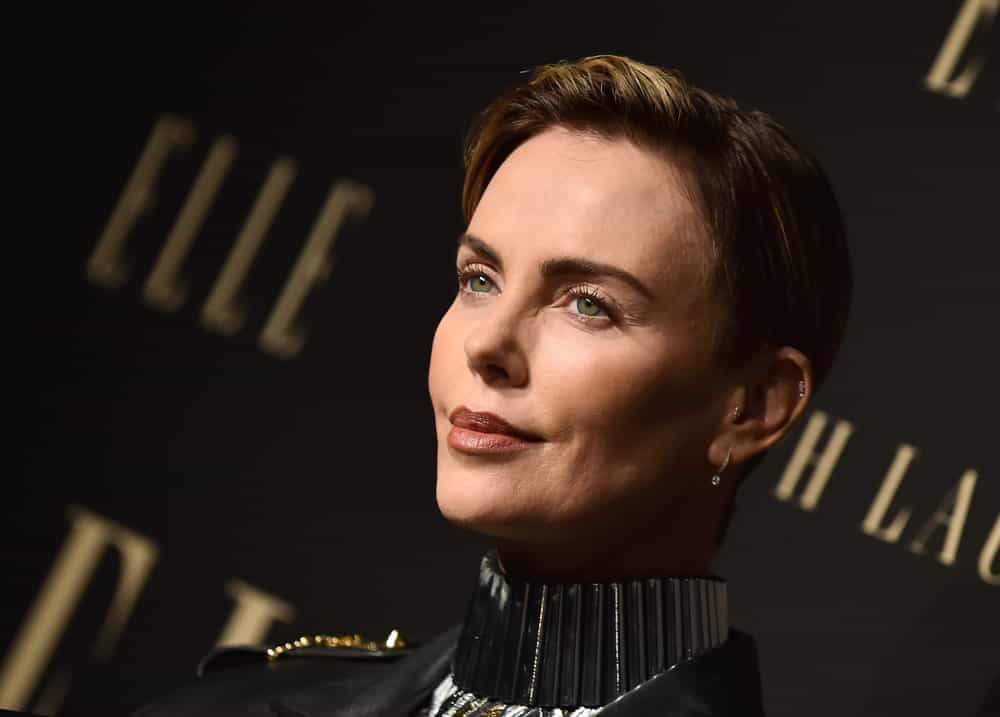 The actress was seen at the ELLE Women in Hollywood last October 14, 2019, rocking a pixie haircut that's brushed on the side. The look was completed with natural makeup and ear piercings.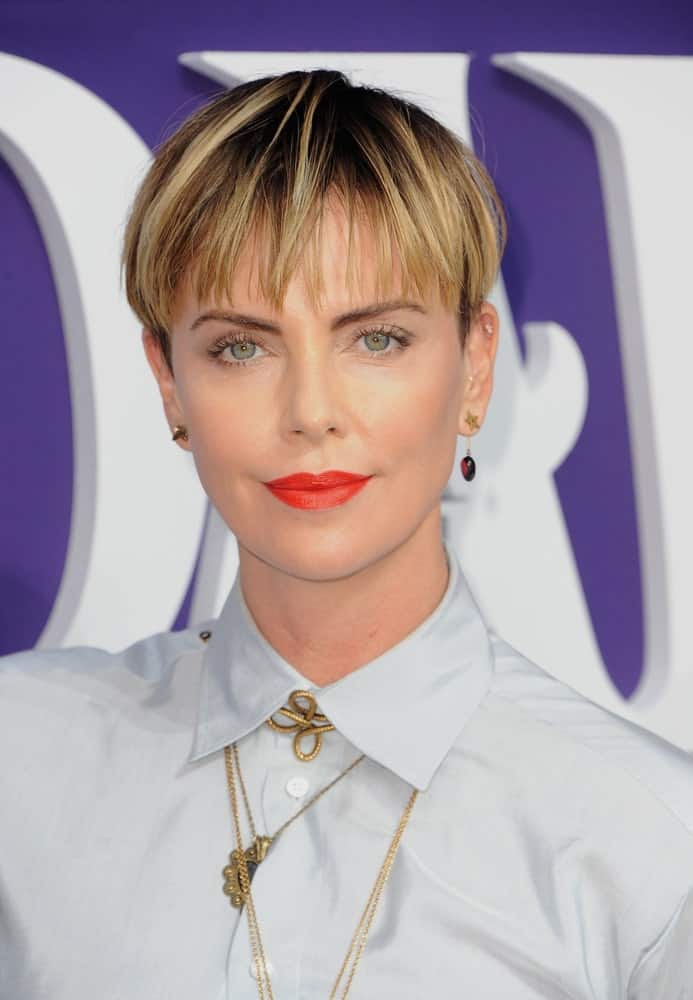 Charlize Theron wore a button-down polo and eye-catching red lipstick at the Los Angeles premiere of 'The Addams Family' held on October 6, 2019. She paired it with thin, airy bangs that are highlighted to give it some dimensions.
During the premiere of Long Shot at AMC Lincoln Center Theater on April 30, 2019, the actress flaunted a neat updo with short blunt bangs. She finished the look with a black suit and red lipstick.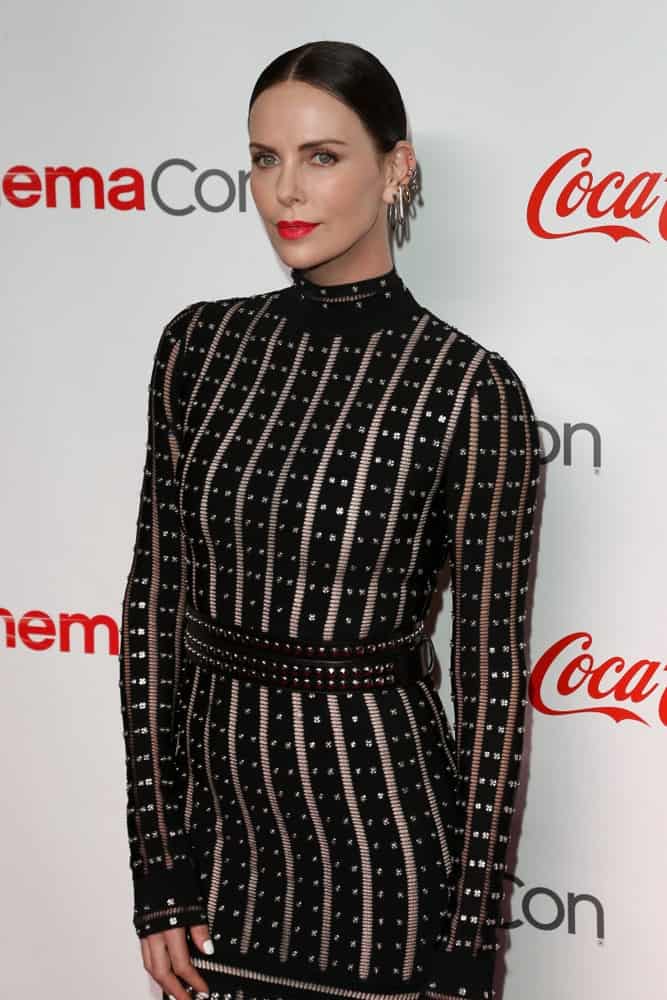 The actress arrived for The CinemaCon Big Screen Achievement Awards last April 4, 2019, in a gorgeous turtleneck dress and her black hair gathered on a neat bun with middle-parting.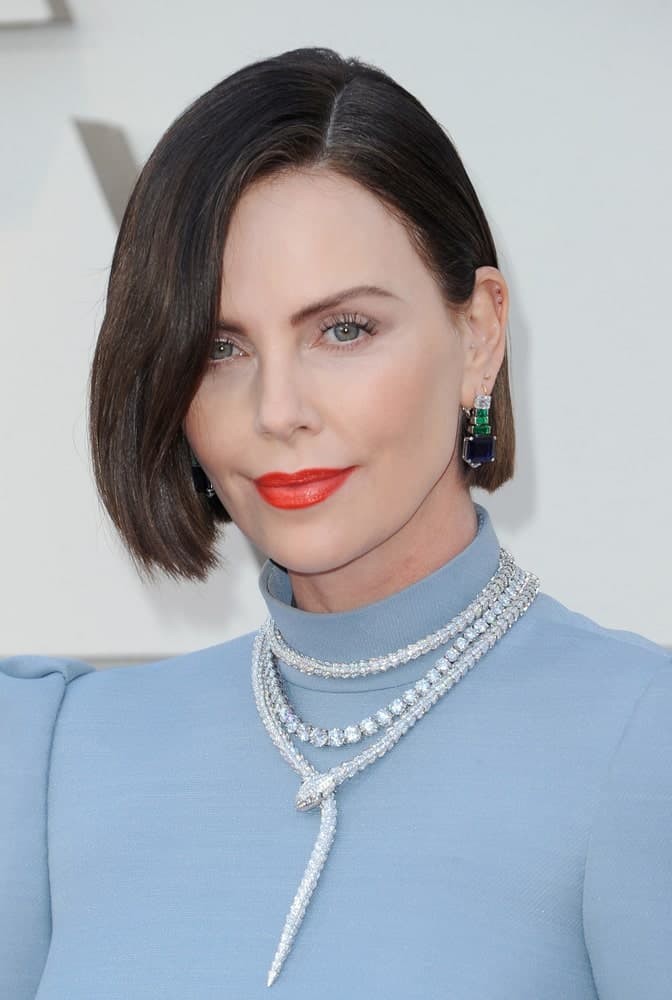 Charlize Theron looked ravishing on a side-parted bob and light blue turtleneck dress that's paired with a layered necklace and gorgeous earrings. This was worn during the 91st Annual Academy Awards on February 24, 2019.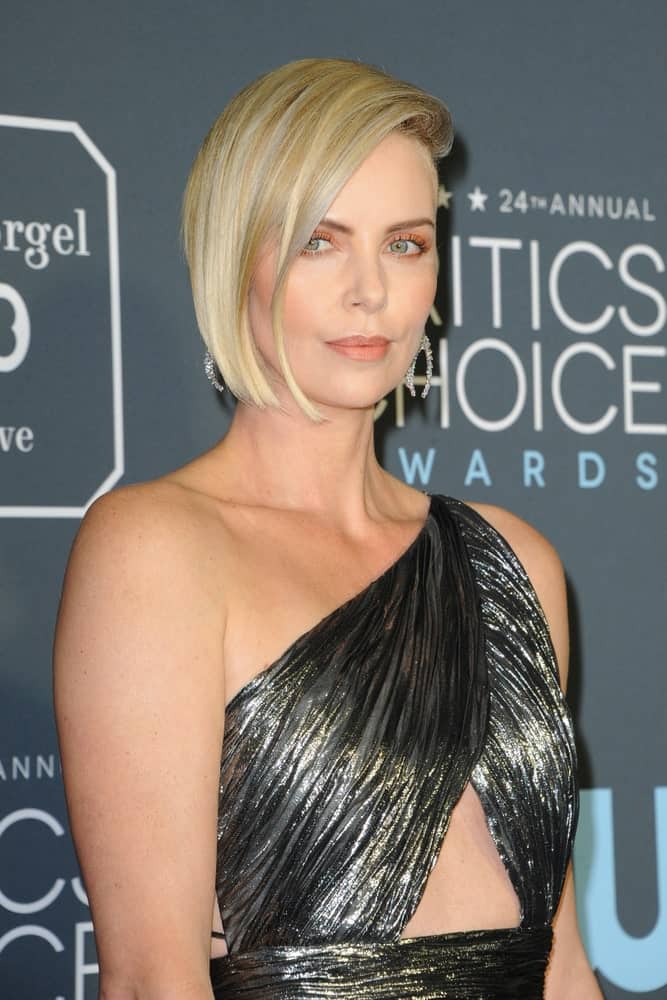 The actress unleashed the inner goddess in her with a stunning one-shoulder dress and her blonde bob brushed on the side inwardly. This was taken at the 24th Annual Critics' Choice Awards held on January 13, 2019.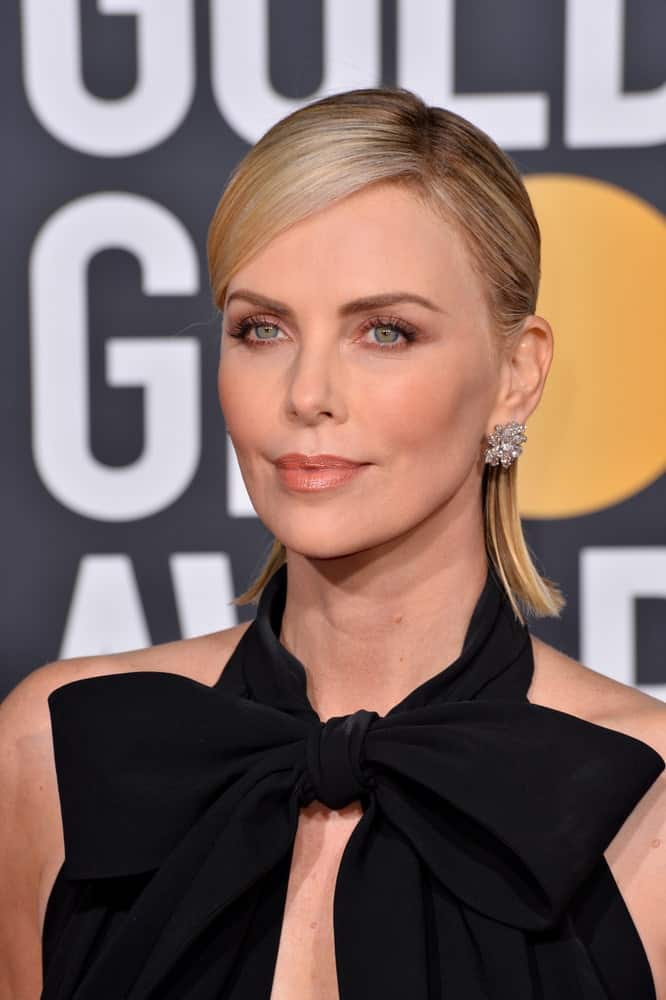 Charlize Theron was spotted at the 2019 Golden Globe Awards last January 6, 2019, in a black halter dress and a sleek half-up hairstyle with neat side bangs.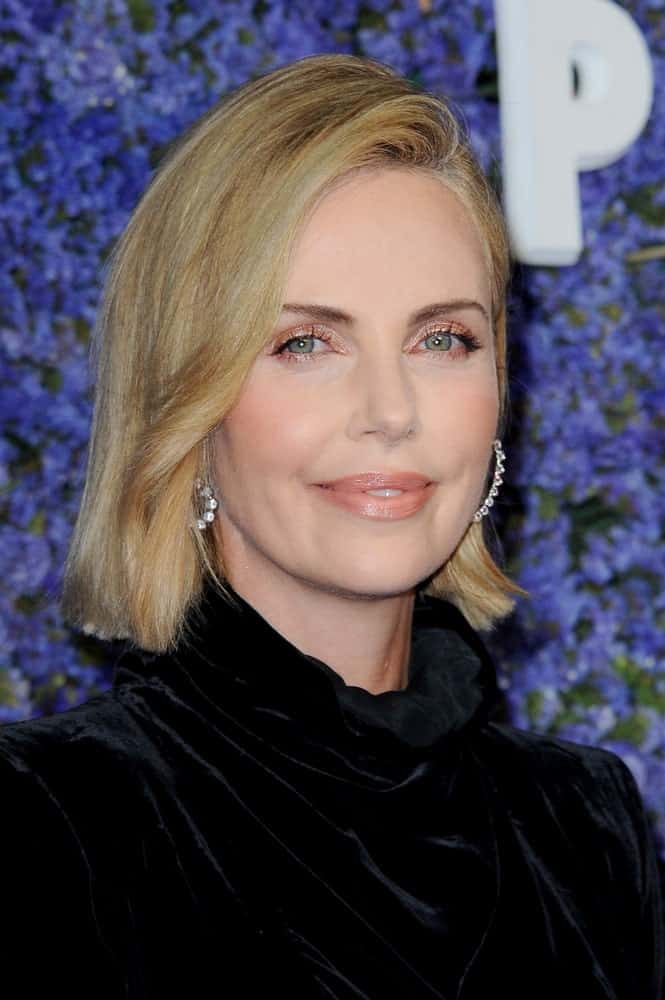 During the Caruso's Palisades Village Opening Gala held on September 20, 2018, the actress showcased her side-parted loose hair in honey blonde. It was complemented with hoop earrings and a black velvet turtleneck top.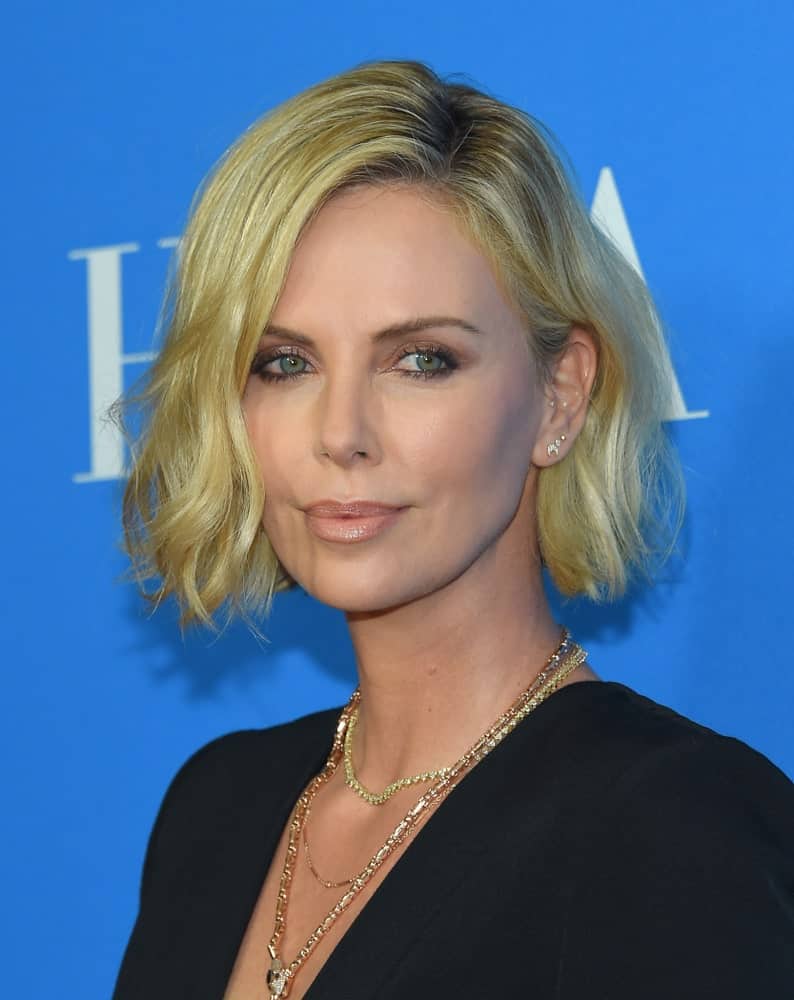 The actress rocked a tousled hairstyle with subtle waves during the Hollywood Foreign Press Association's Annual Grants Banquet on August 9, 2018. It was side-parted with dark roots peeking out.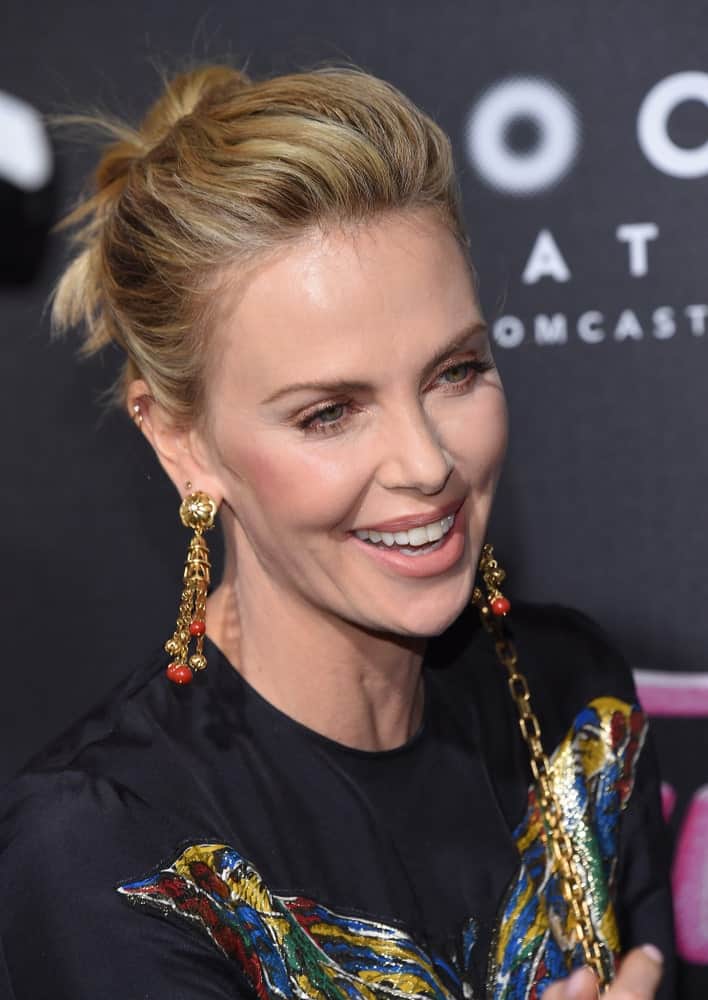 Charlize Theron was seen at the "Tully" Los Angeles Premiere on April 18, 2018, in a black printed dress and her blonde hair arranged into a voluminous updo hairstyle.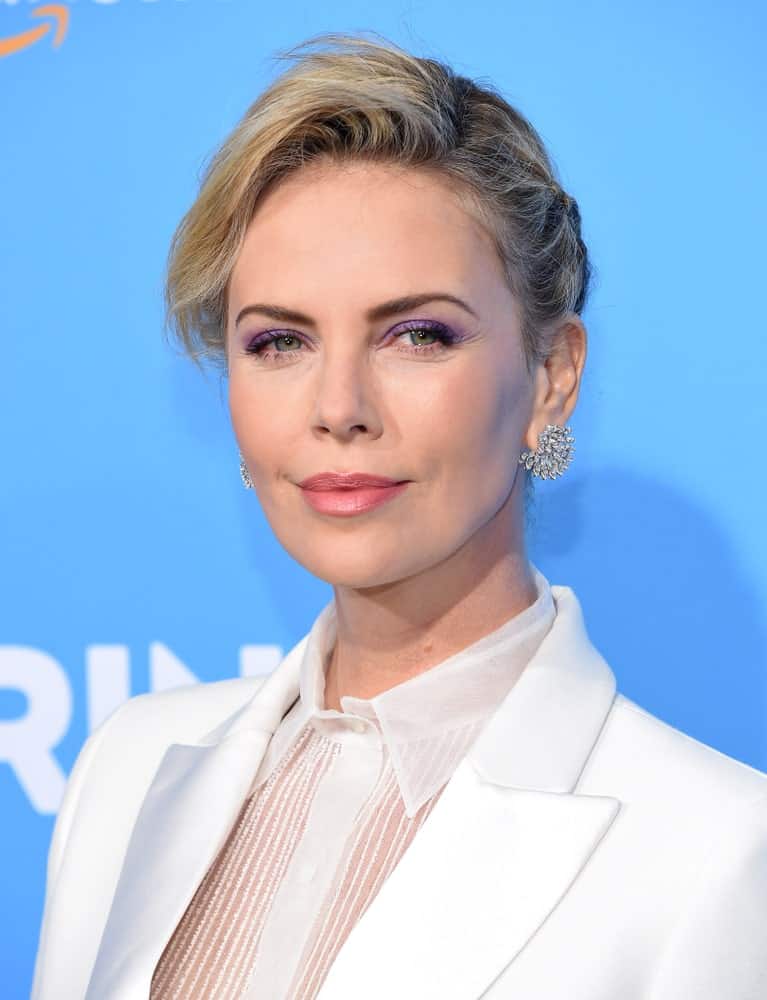 The actress wore a tousled side-parted updo with some braiding on the side during the 'Gringo' World Premiere on March 6, 2018. She paired it with a white suit and a bold eye makeup.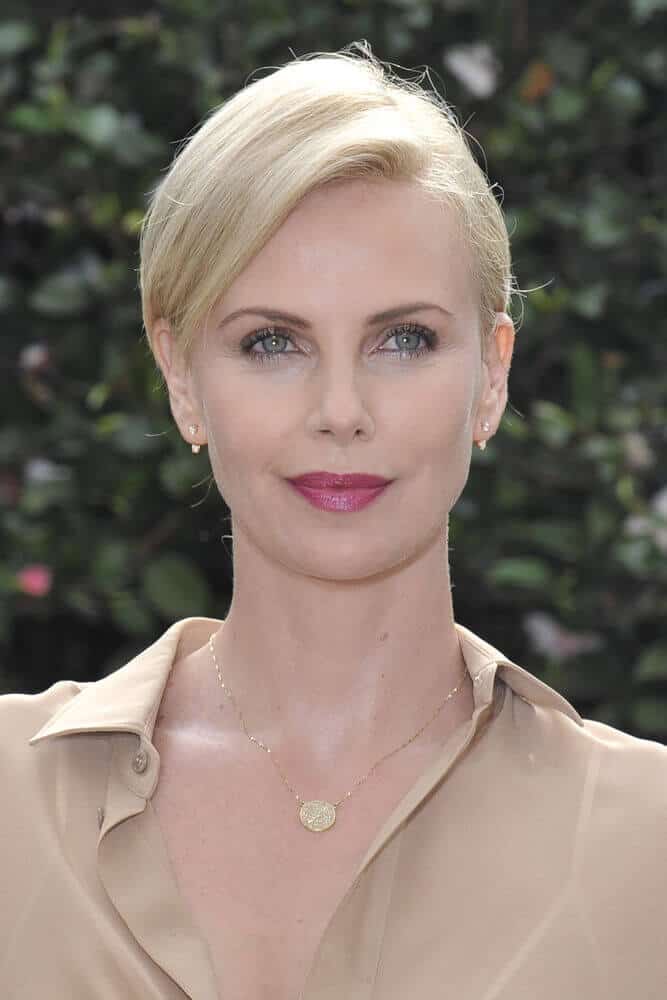 The actress was spotted in Milan last October 2017. She was in a neat bun with controlled side bangs for elegance and style.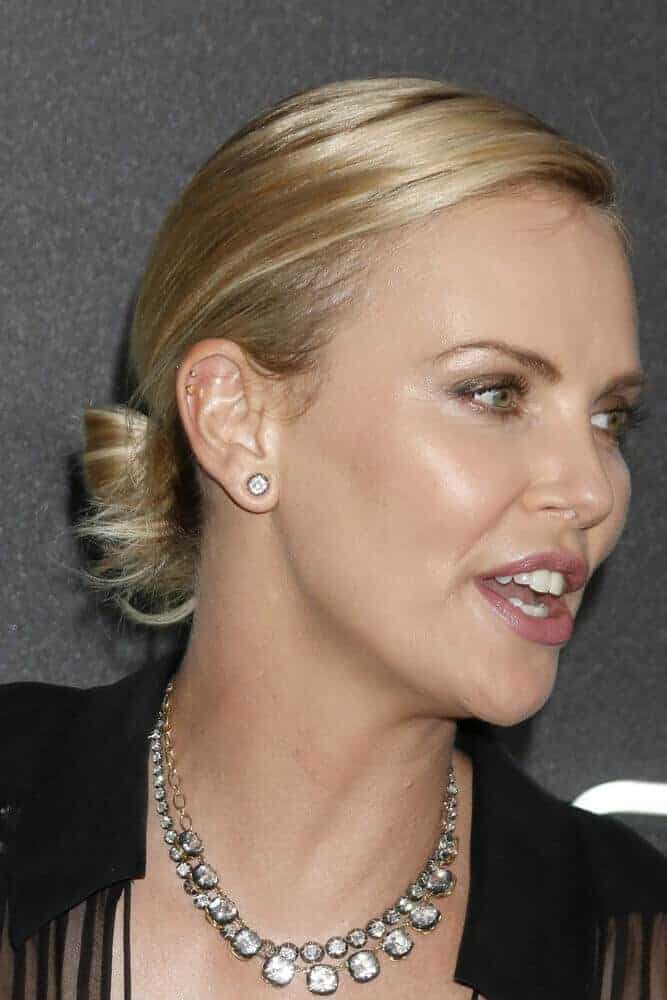 The actress wore a casual low bun during the "Atomic Blonde" American Premiere last July 24, 2017.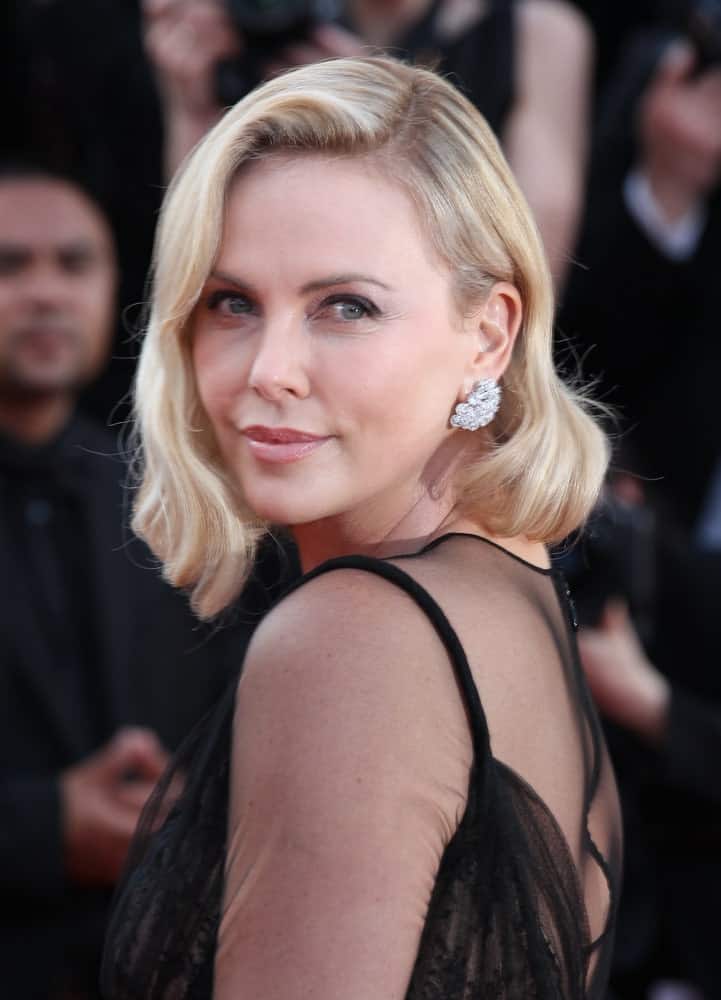 Charlize Theron shines in her short slicked back hair with subtle curls worn during the 70th annual Cannes Film Festival held last May 23, 2017.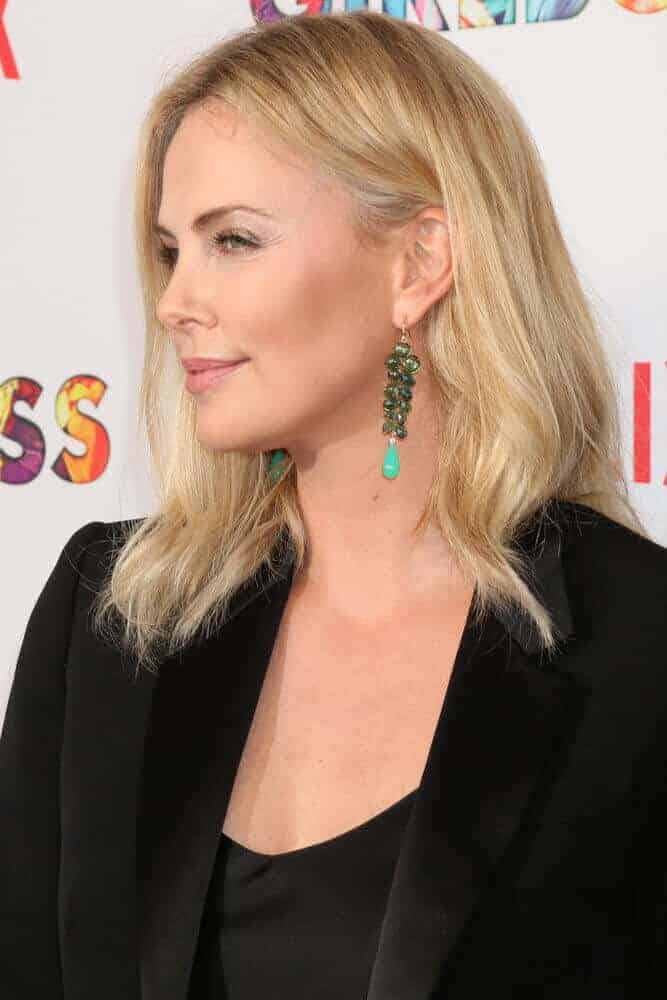 During the premiere of "Girl Boss" last April 17, 2017, the actress opted to flaunt her shoulder-length, wavy hair in a loose manner, creating a natural and fresh aura.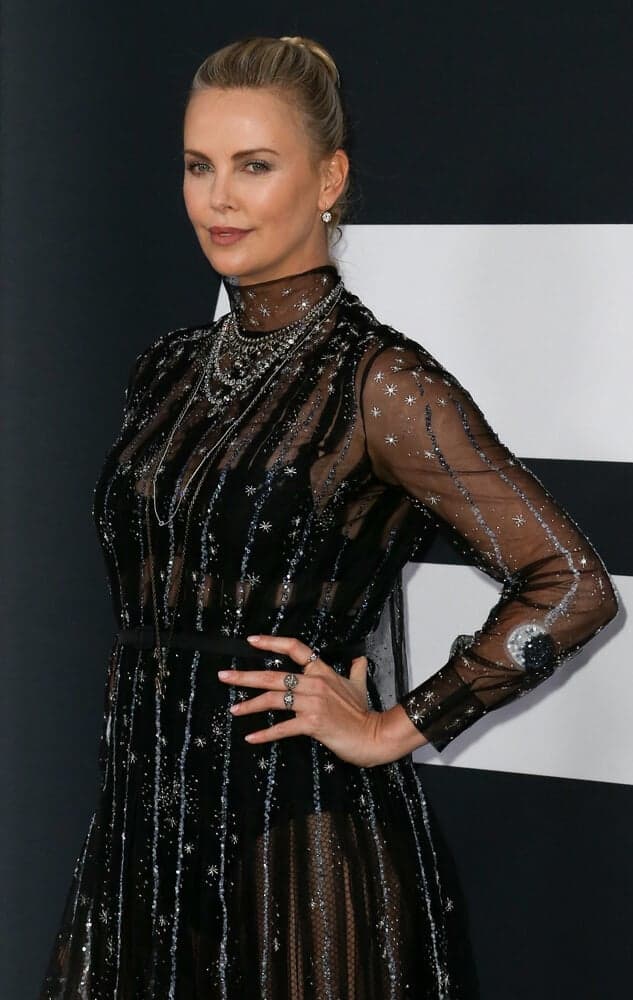 Charlize Theron's high bun is probably one of her most charismatic and powerful styles; its simplicity will make anyone gaze at it even more. This photo was taken during the premiere of "The Fate of the Furious" at Radio City Music Hall, April 8, 2017.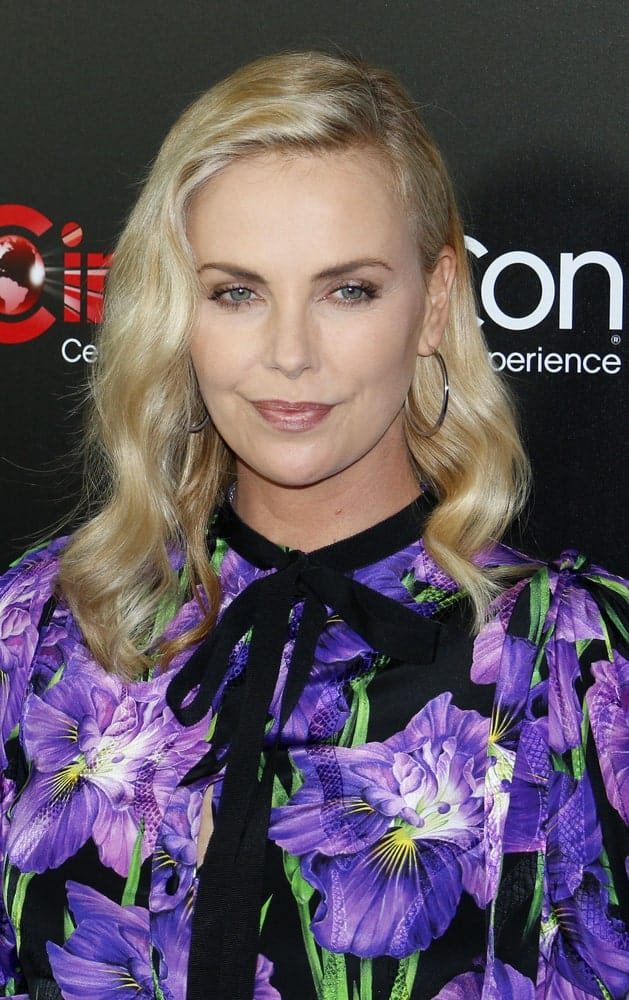 Charlize Theron looked charming in a floral dress paired with a permed hairstyle that's side-parted. This look was worn during the Focus Features Luncheon And Studio Program Celebrating 15 Years held on March 29, 2017.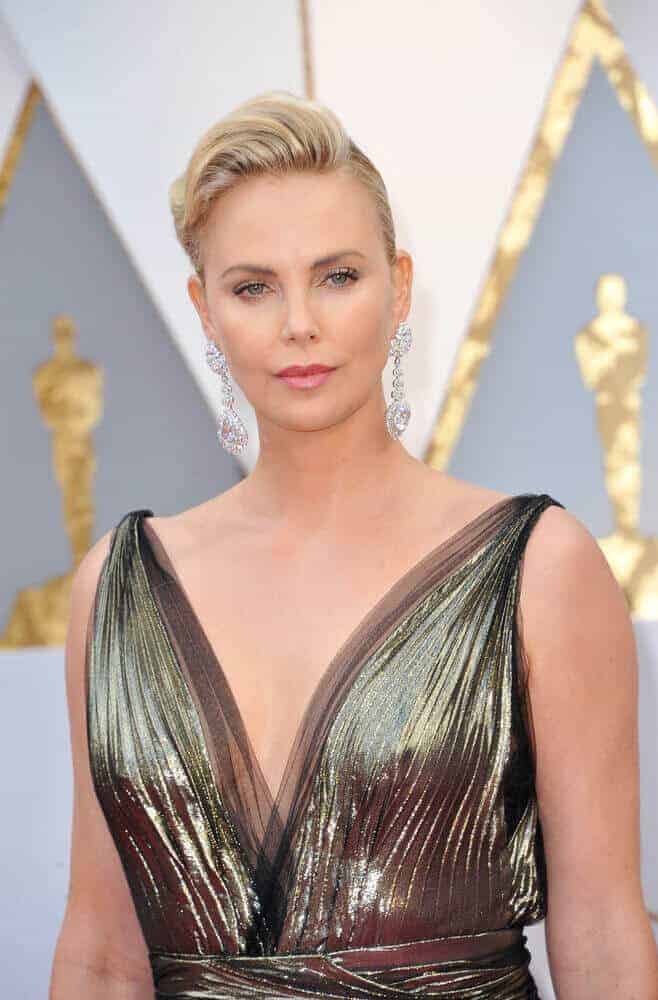 The actress looked dashing with this comb over the upstyle she wore during the 89th Annual Academy Awards held at Hollywood and Highland Center last February 26, 2017.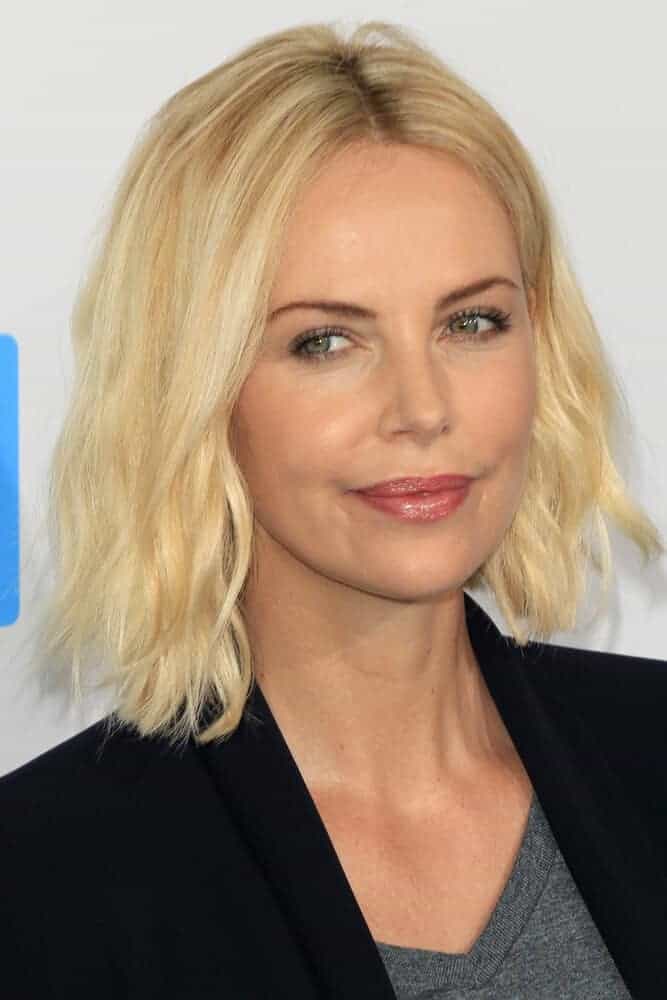 The actress unleashed her simplicity by flaunting her subtly wavy bob during the WE Day California 2016.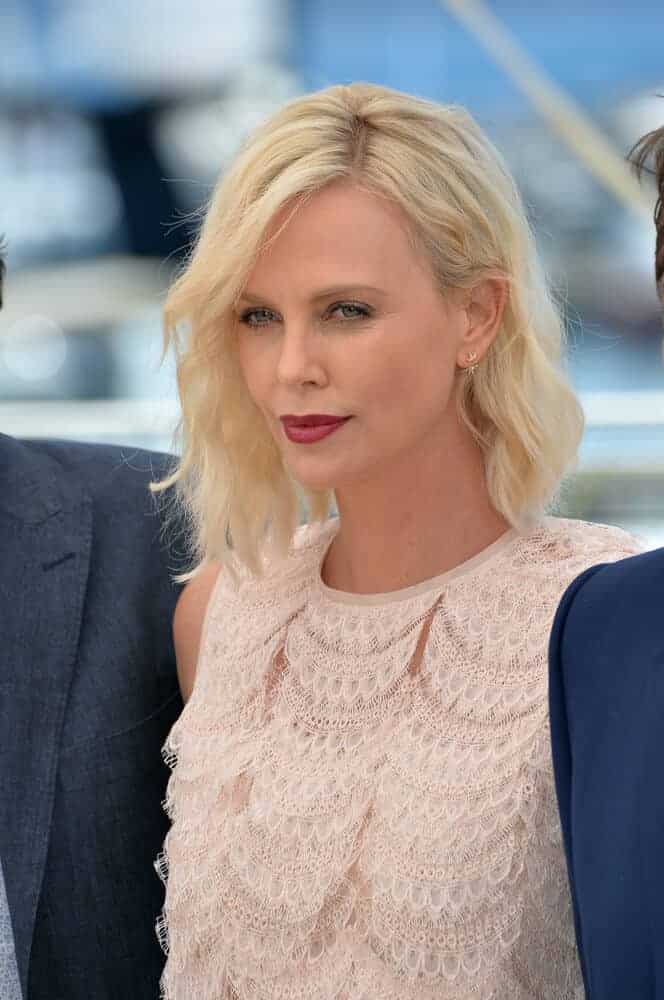 The actress looking all fresh and comfy with her loose short-length, wavy hair effortlessly flaunting down to her face. This was taken during the photocall for "The Last Face", May 20, 2016.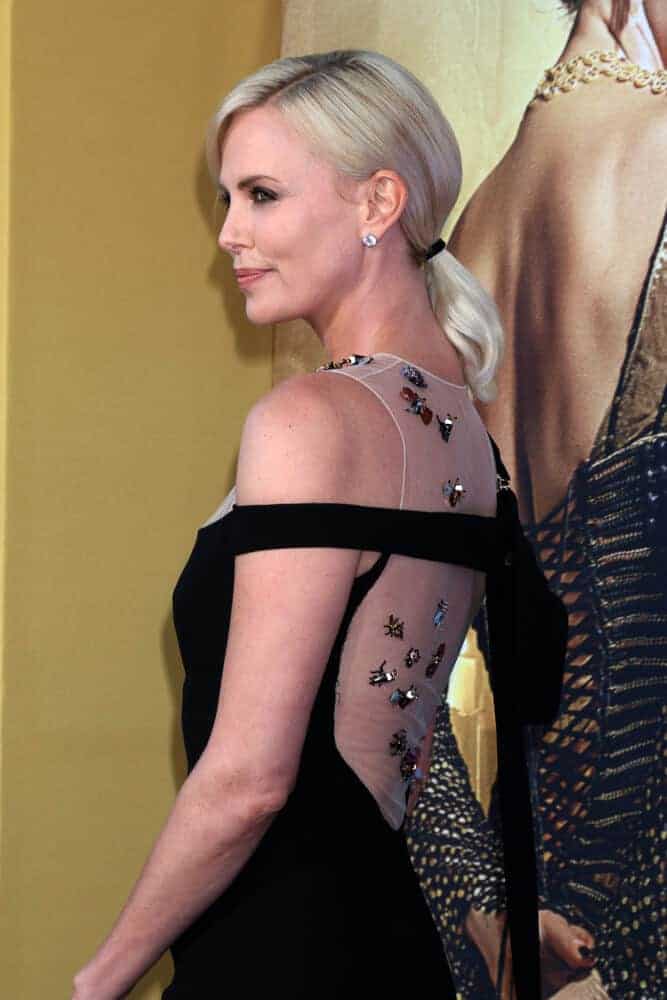 The celebrity's medium-length hair is tied into a neat low ponytail during the premiere of The Huntsman Winter's War American last April 11, 2016.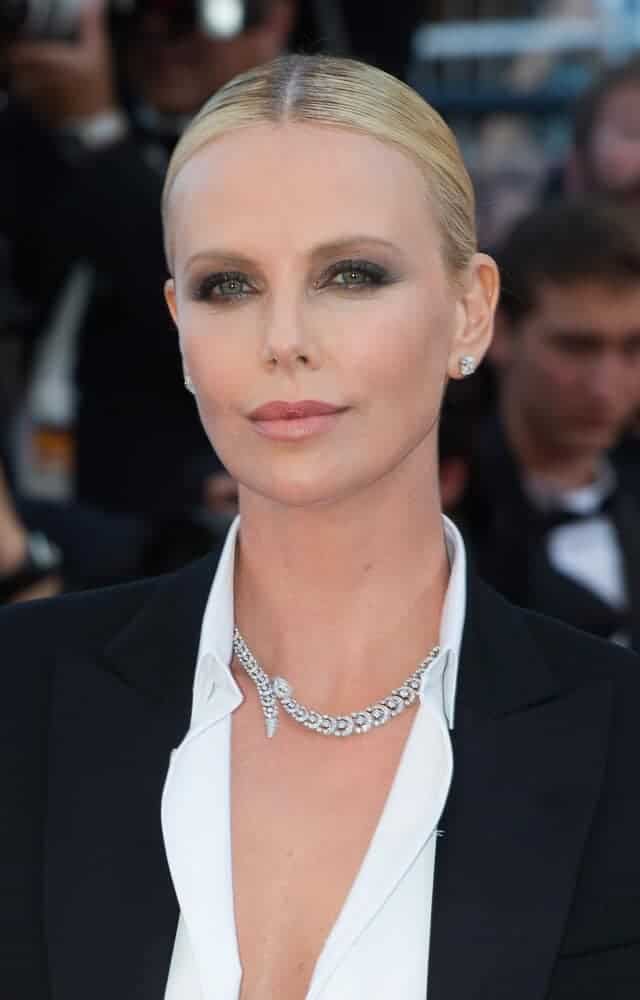 The actress attended the 'The Last Face' Premiere at the 69th annual Cannes Film Festival with a powerful and elegant impact. Her hair is styled in a center-parted low bun, neatly done to guarantee formality and class.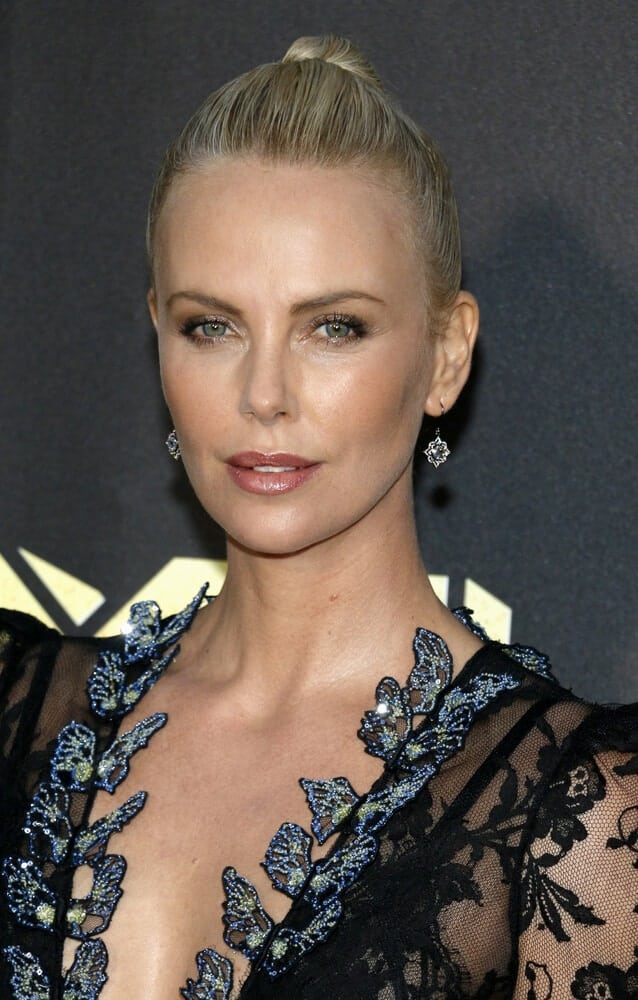 The actress confidently flaunted her stunning face with this high bun, styled so tight not a single strand of hair can cover her unique facial features. This hairstyle is the one she wore for the 2016 MTV Movie Awards held at the Warner Bros. Studios in Burbank, USA .
The actress opted to arrange her side bangs in place by twisting towards the side of her face. This elegant getup along with the casual upstyle was worn last February 28, 2016, for the 88th Annual Academy Awards.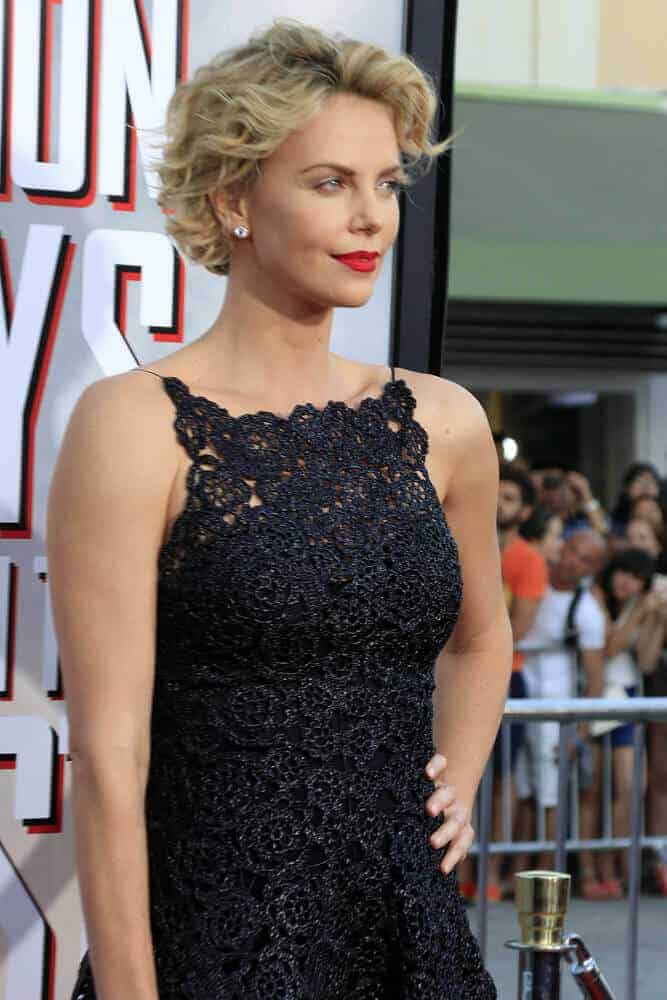 During the premiere of "A Million Ways To Die In The West" last May 15, 2014, the actress amazed everyone by hoe she gracefully flaunted her short-length, tousled waves.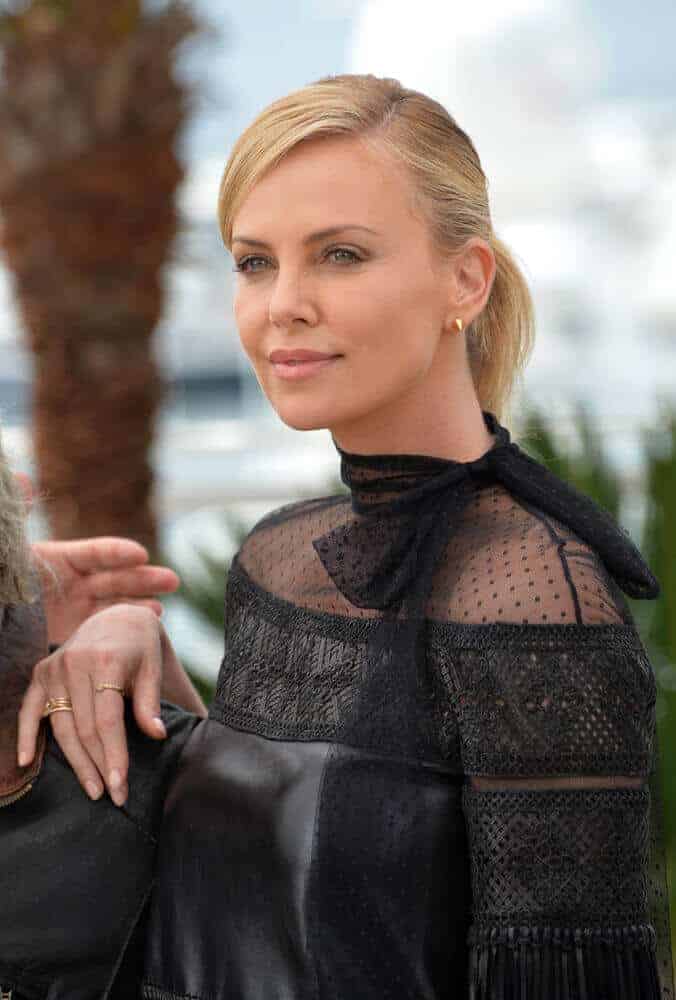 The actress exhibited her simple yet classy aura with her mid-length hair tied up into a ponytail. This was her look during the Mad Max: Fury Road' Photocall last May 14, 2015, at Cannes, France.
Here is the actress looking fancy and expensive with this effortless, medium-length wavy style. This look was worn for the Mad Max: Fury Road Los Angeles Premiere last May 7, 2015.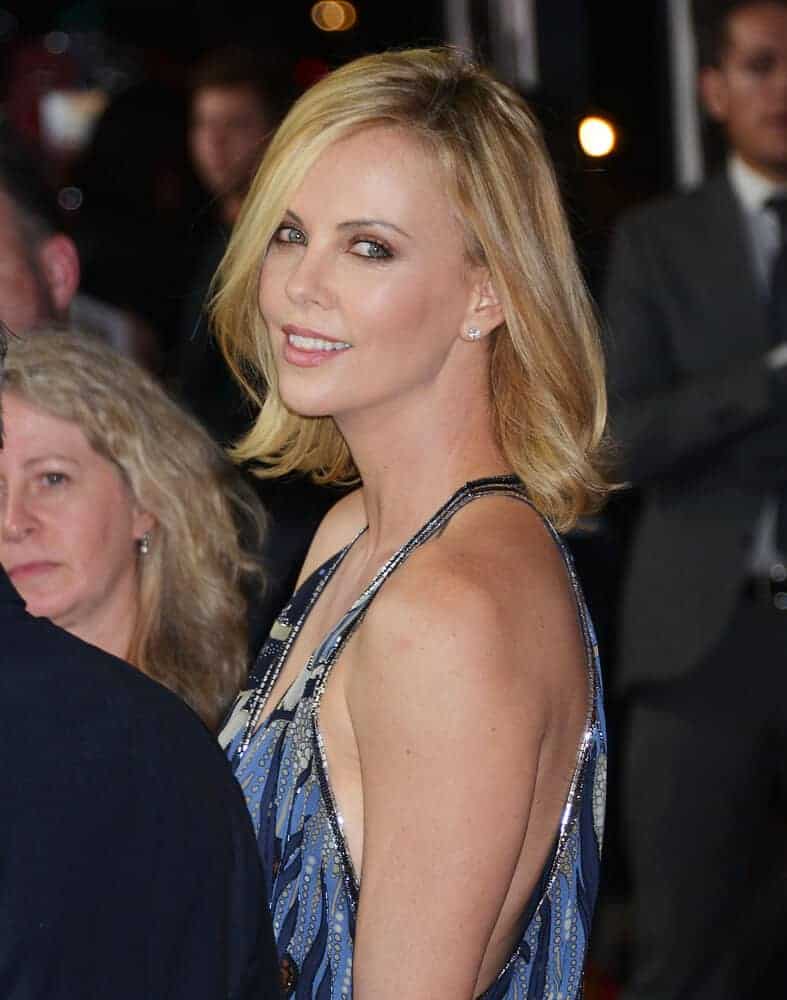 The female celebrity exhibited a carefree aura with this medium-length bob, effortlessly tossed for a minimal volume. This look was worn last March 12, 2015, for the premiere of "The Gunman".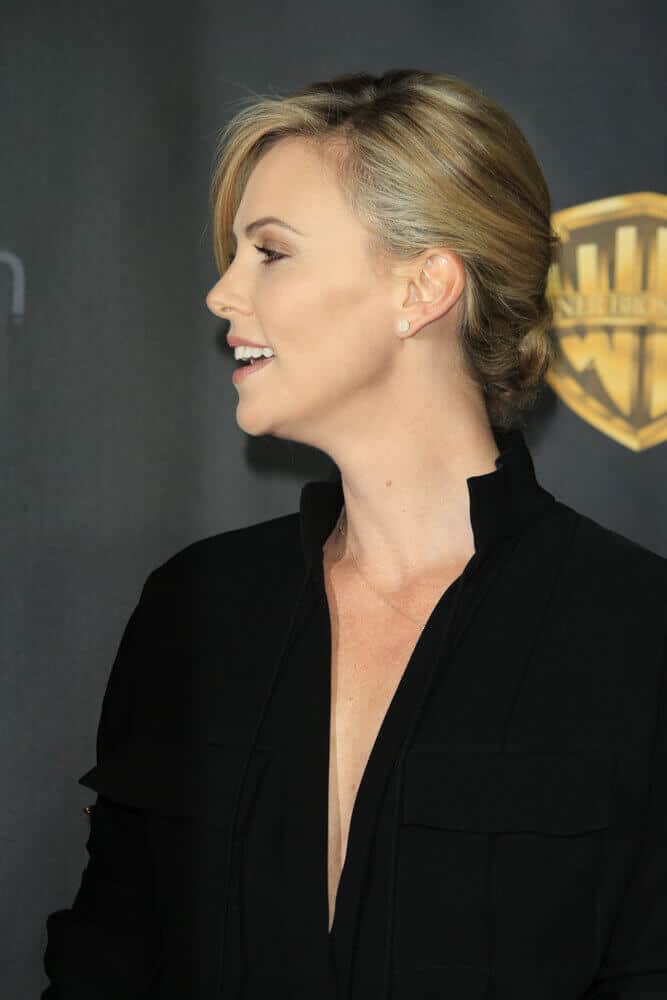 The actress embraced an elegantly feminine aura with this low bun style with side bangs she wore for the Cinemacon 2015: 'The Big Picture" by Warner Bros. Pictures.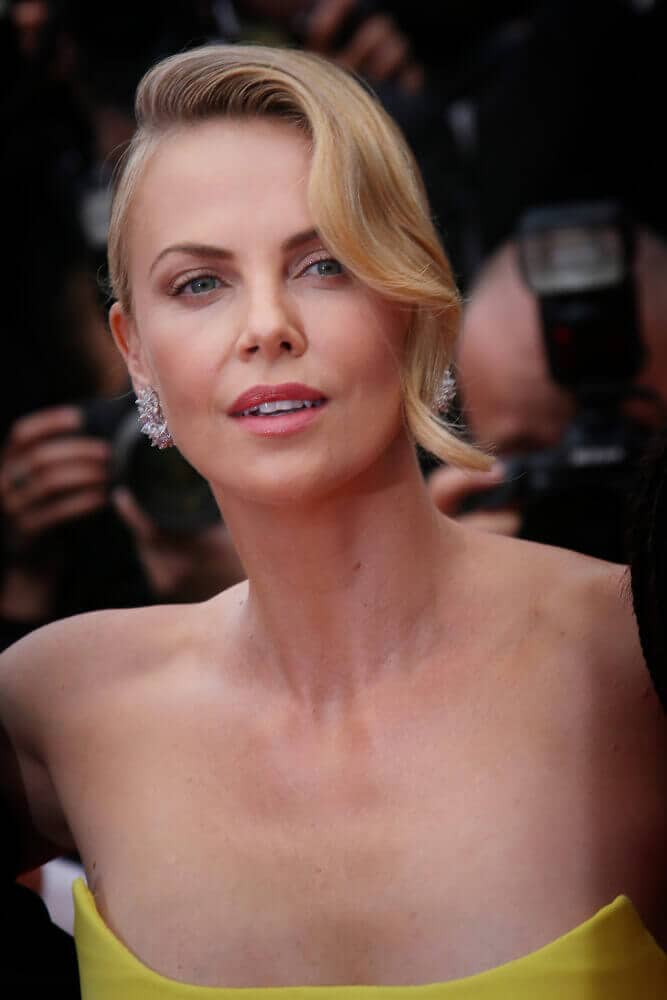 The actress slayed the 68th annual Cannes Film Festival with this stylish upstyle with a curled side bangs.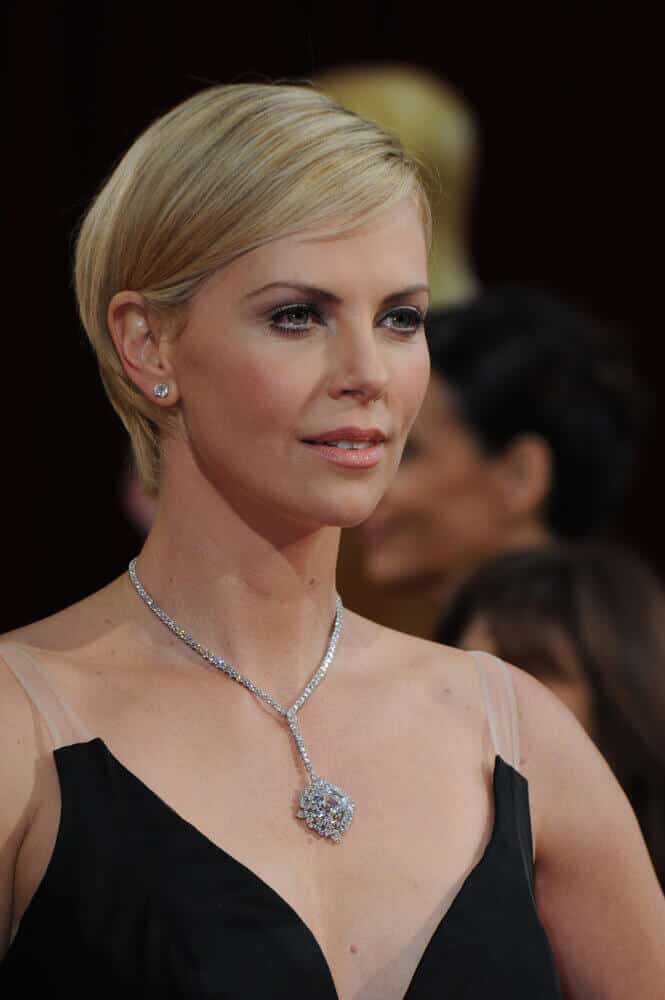 The actress looking neat and elegant with this short hairstyle with subtle side-swept bangs at the 86th Annual Academy Awards, March 2, 2014.
Last October 17, 2013, the actress arrived at Wallis Annenberg Center for the Performing Arts Gala with this soft and short hairstyle and some minimal make-up look.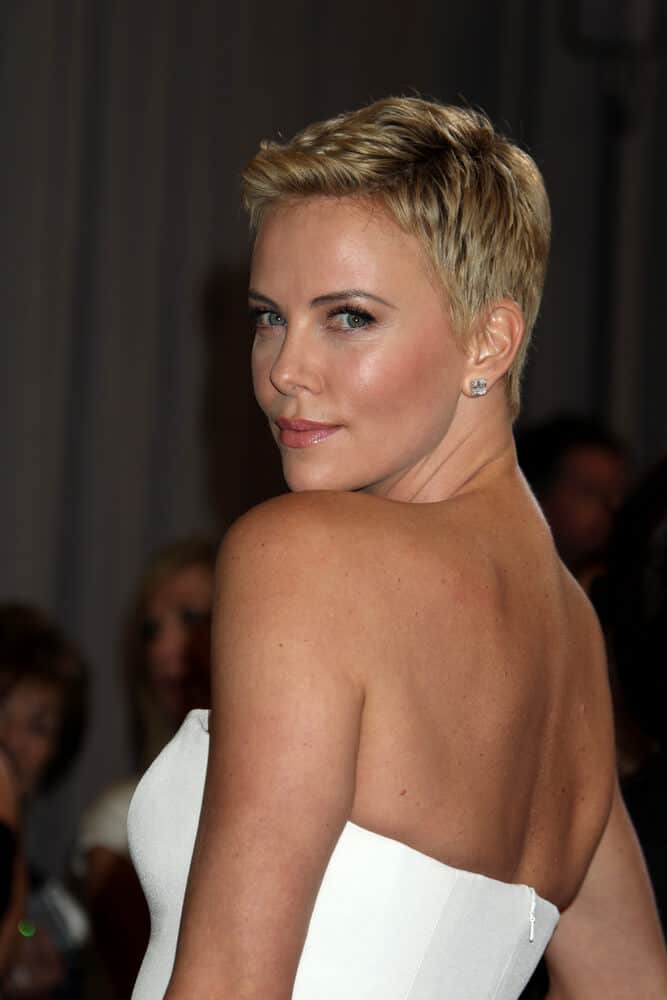 The actress looking extra gorgeous at 85th Academy Awards, February 24, 2013. Her effortless shirt haircut looks neat and stylish at the same time.
Return to the main women celebrity page.
Witness how Charlize Theron played with various hairstyles over the years. Let us walk you through the multi-awarded actress' edgy hairstyles that she slayed confidently.