Welcome to our Chris Pine gallery of his hairstyles over the years.Witness the different hairstyles of this fashionable, classy and talented actor and we hope you find a hair inspiration that will suit your style.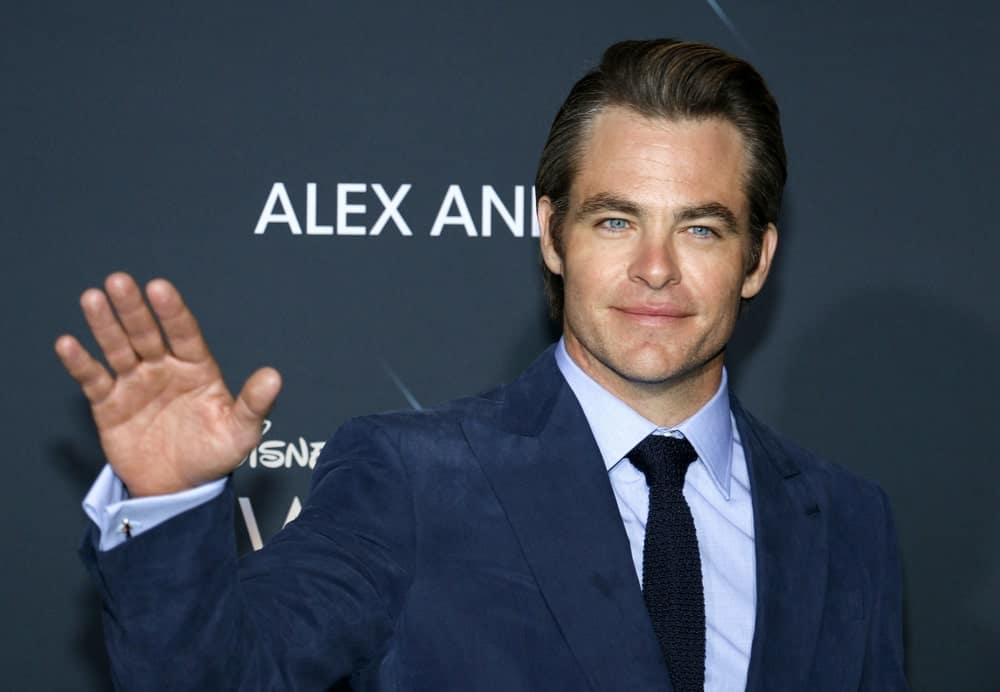 If you have seen the Star Trek reboot series then you will surely recognize Chris Pine. He played the role of James T. Kirk in that movie. This extremely handsome actor has some great fashion sense. He tries to style his hair so that it matches with his beard and mustache. He looks great with a clipper cut short hair. The top part is left long so that it can be swept back easily.
He has straight hair naturally, so he often keeps his front hair long so that it can be parted on one side and some fringes can be left stylishly on the forehead. The beautiful golden color simply looks amazing. For formal occasions, he opts for a sleek and smooth hairstyle. The sides are swept back and the frontal hair is cut in a way to showcase his huge forehead.
He was seen in a tapered hairstyle on a suit. The top part was long enough and it fell naturally on the forehead making it a great style. Though he chooses dark colors more often, he is also seen in soft copper color and it seems to suit him well too. He had clipper cut on the back and on the top jagged cut. He adds highlights to this style too sometimes. His hairstyles are very trendy and he carries them really well.
He started his career by acting in television series like The Guardian and ER. In 2004, he got the lead male role for The Princess Diaries 2. He did a couple of short films during that time. He fit well in the romantic role for his good looks. But he has been in action films as well. Some of his notable films include Just My Luck, Blind Dates, Smokin' Aces, Star Trek sequels, Wonder Woman, etc. He had a long presence in the theatre as well.
His plays The Atheist, Fat Pig, etc. were appreciated by the audiences. It gave him huge exposure and helped him to get established as a good actor. He is a very versatile actor and likes to experiment with his roles. Through time he has proven his acting ability with some great performances. He won various awards for his outstanding performance in films. He won the Scream Award for Star Trek, ShoWest Award and CinemaCon Award as the Male Star of Tomorrow. He also won the Teen Choice Awards for Wonder Woman.
He received numerous nominations and positive reviews from critics for his performance. He is equally active in all the mediums including television, theatre, and films. He is a very strong actor with lots of potentials and we will see that on-screen in the future as well.
Here are Chris Pine's hairstyles over the years.
Photos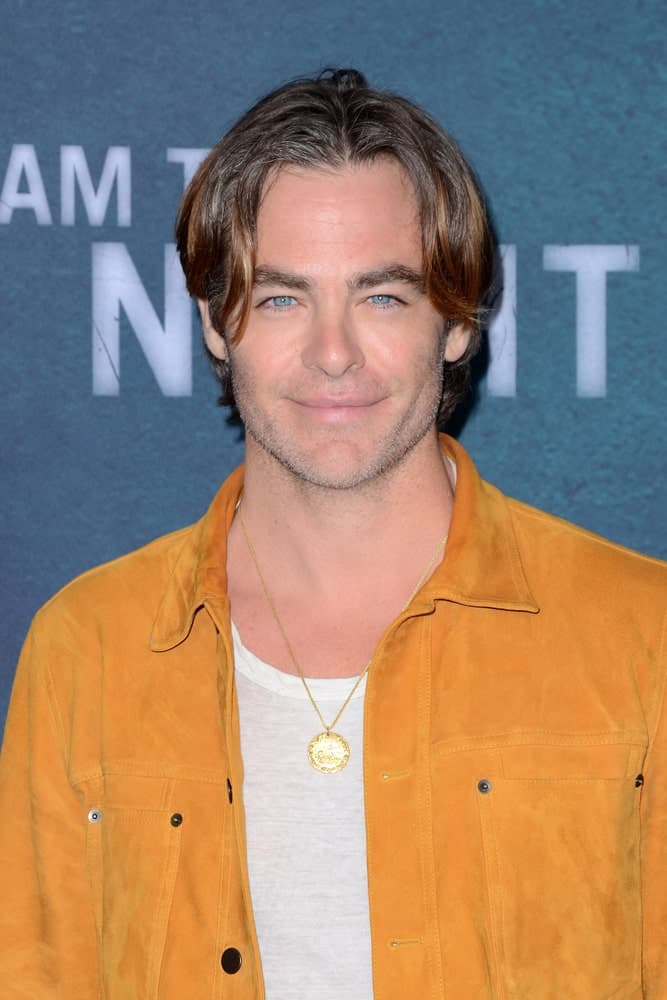 Chris Pine was at the "I Am The Night" FYC Event at the Television Academy last May 9, 2019, in North Hollywood, CA. He went with a casual tan jacket and shirt with his long undercut hairstyle with highlights.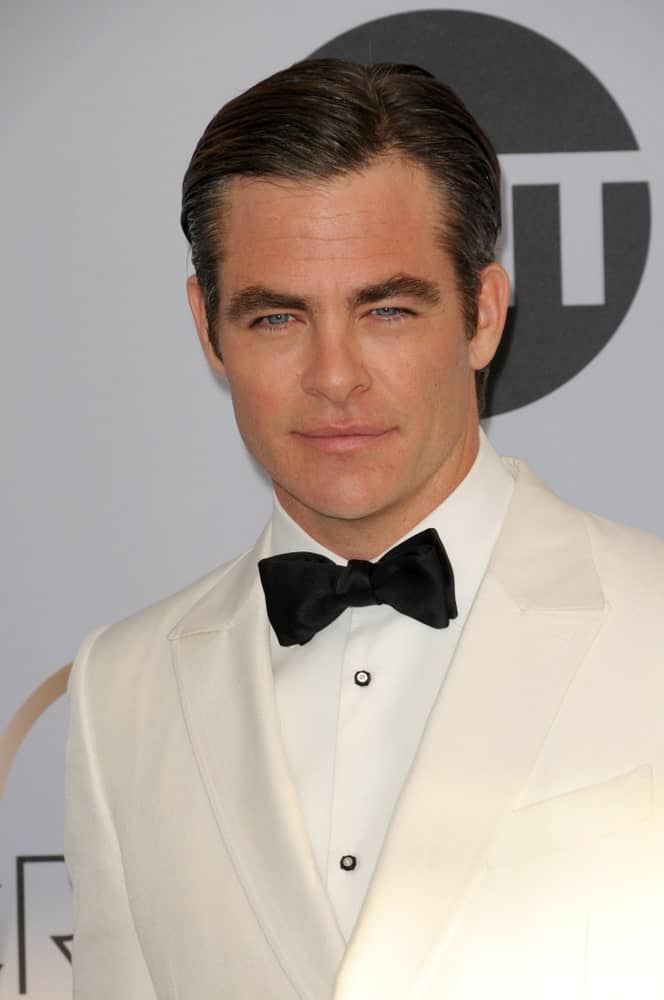 Chris Pine attended the 25th Annual Screen Actors Guild Awards at the Shrine Auditorium last January 27, 2019, in Los Angeles, CA wearing a classy white suit with his vintage dark slicked-back hair.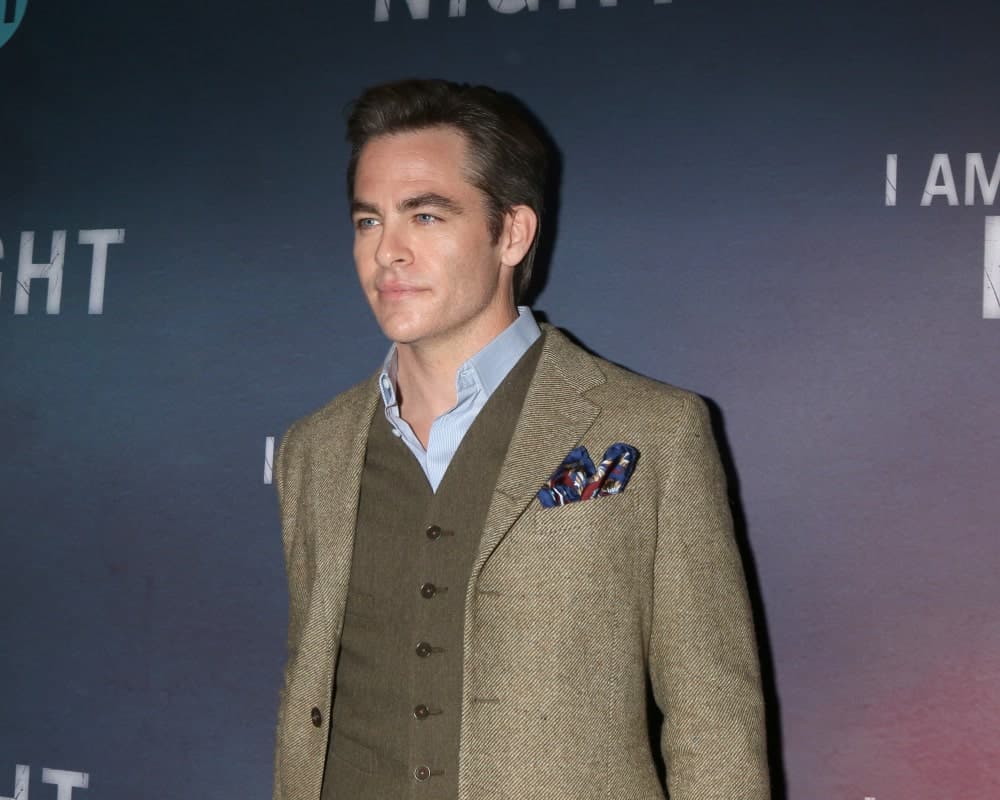 Chris Pine was looking quite dapper in his gray three-piece suit and slight pompadour look to his short slick hair at the "I Am The Night" Premiere Screening at the Harmony Gold Theater last January 24, 2019, in Los Angeles, CA.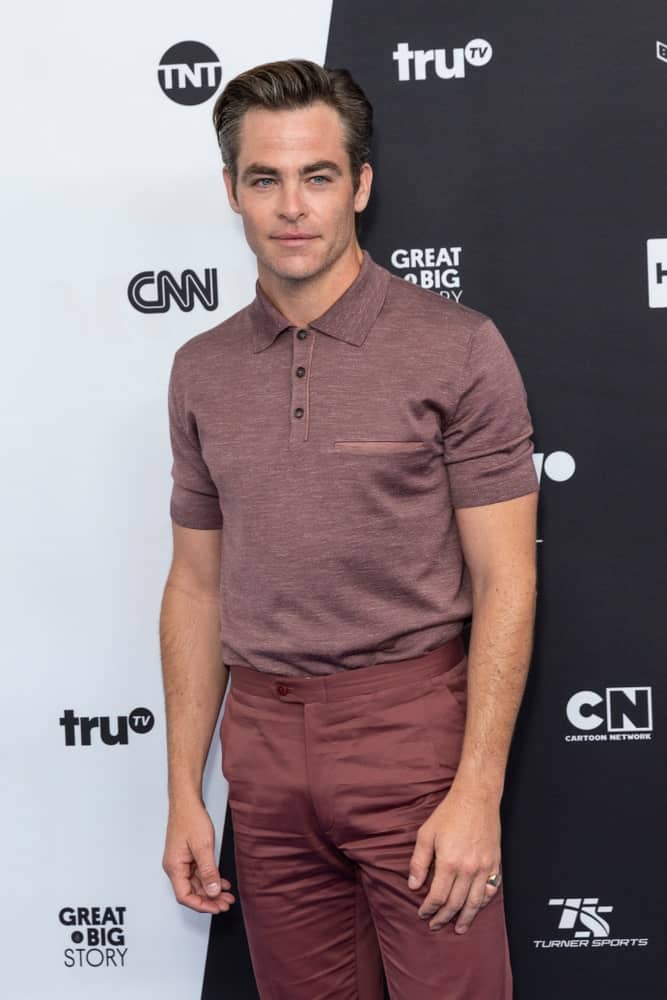 Last May 16, 2018, Chris Pine went with a salt and pepper pompadour hairstyle and a simple casual outfit when he attended the 2018 Turner Upfront at One Penn Plaza.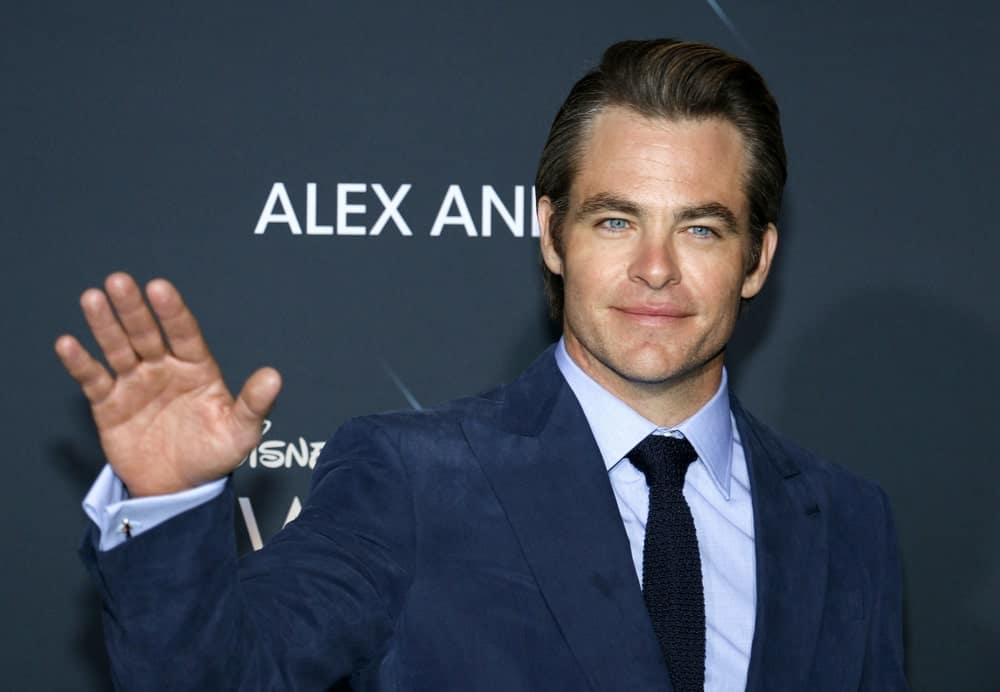 Chris Pine was a picture of classy sophistication with his blue velvet suit and slick side-swept pompadour hairstyle at the Los Angeles premiere of 'A Wrinkle In Time' held at the El Capitan Theater in Hollywood last February 26, 2018.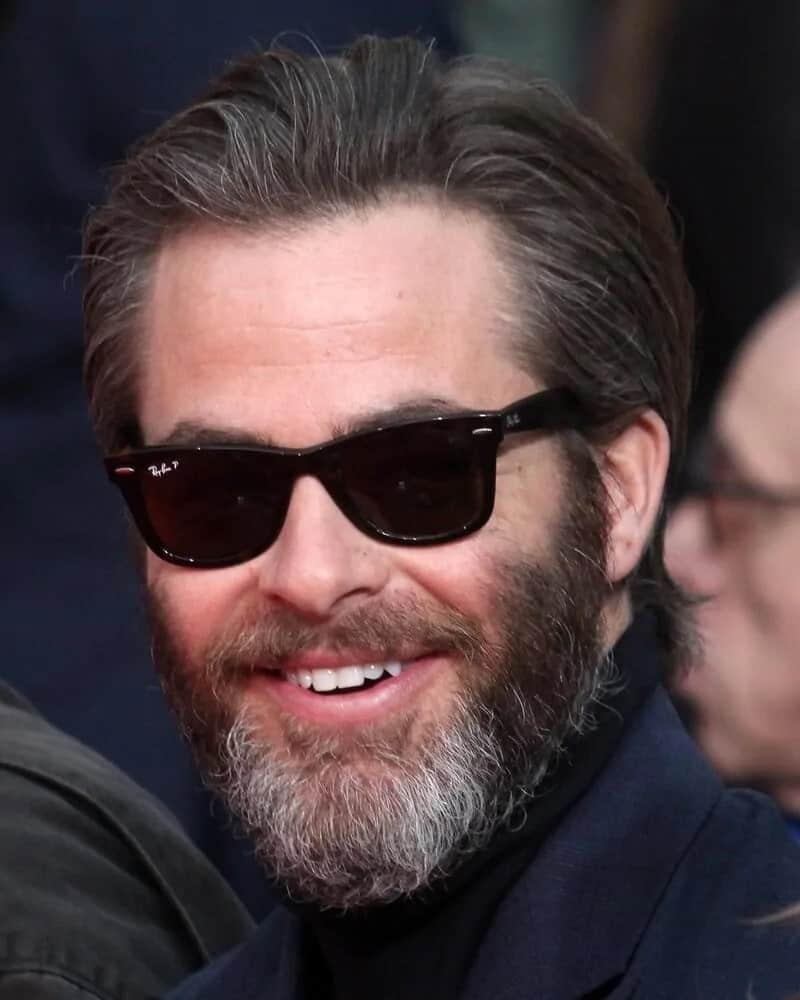 Chris Pine went with a scruffy salt and pepper look with a slicked-back long hair at the Jeff Bridges Hand and Foot Print Ceremony at TCL Chinese Theater IMAX in Los Angeles, California on 2017.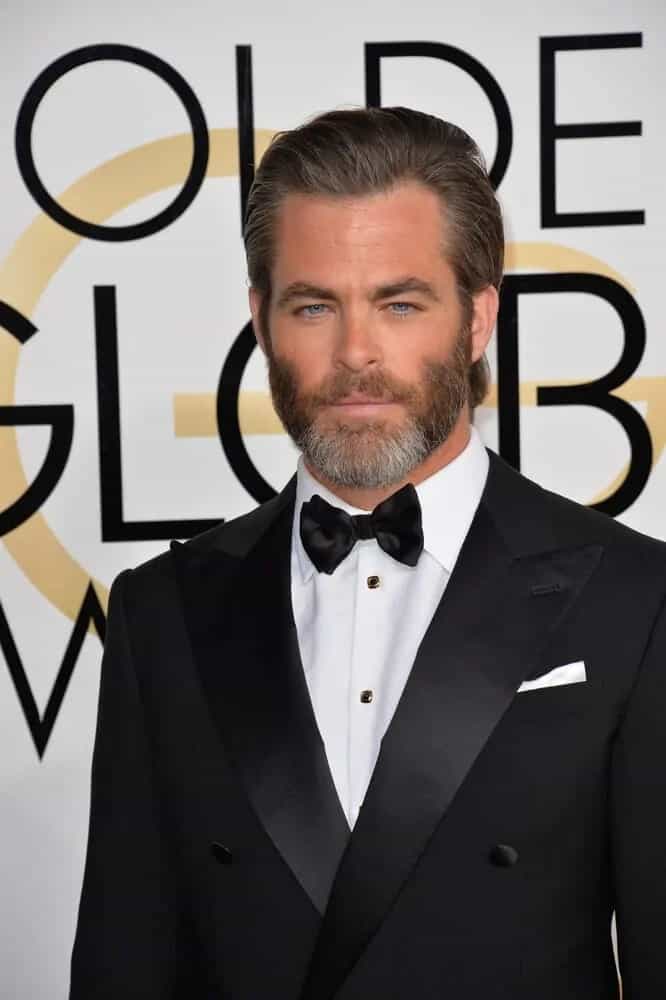 Chris Pine pulled off an elegant slicked back hairstyle with his full salt and pepper beard at the 74th Golden Globe 2017 Awards in The Beverly Hilton Hotel, Los Angeles.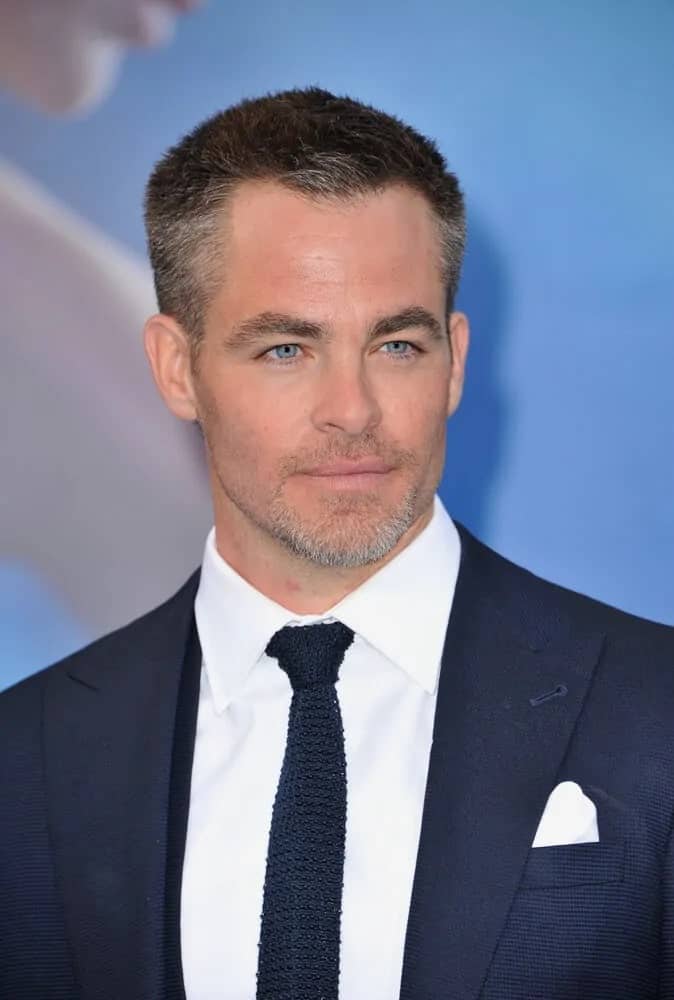 Chris Pine's brilliant blue eyes are at full display with his short crew cut and trimmed beard at the Los Angeles 2017 premiere of 'Wonder Woman' held at the Pantages Theatre in Hollywood.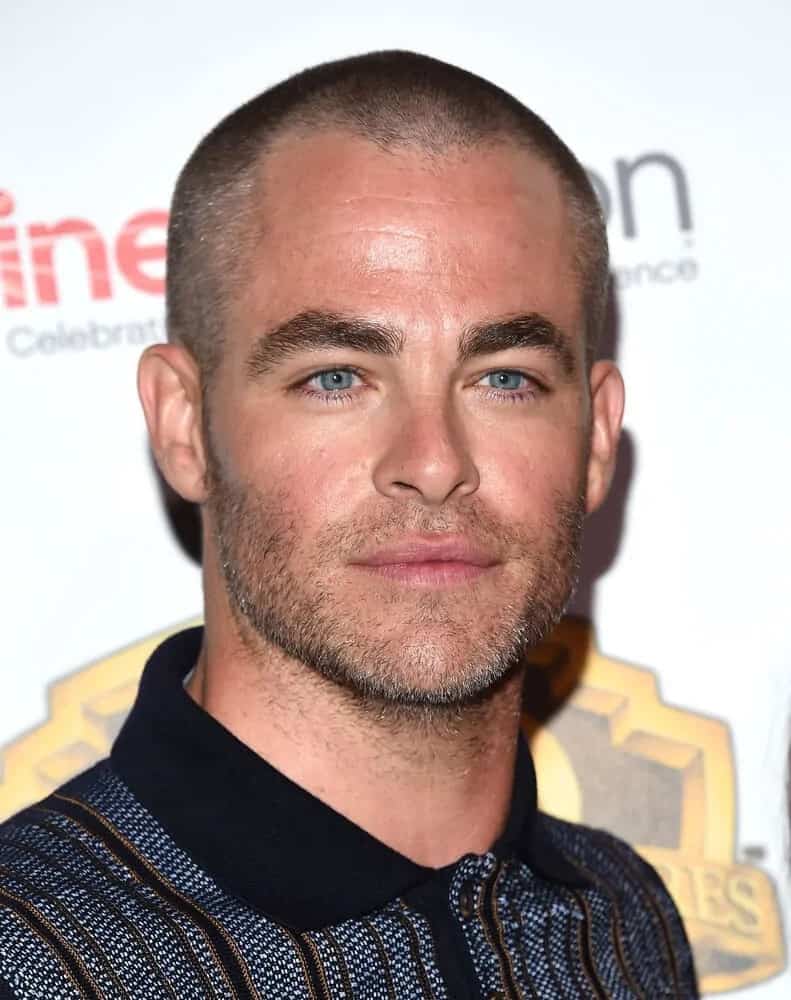 Actor Chris Pine wore a casual shirt with his salt and pepper semi-skinhead when he attended the Warner Brothers' CinemaCon of 2017 in Las Vegas, Nevada.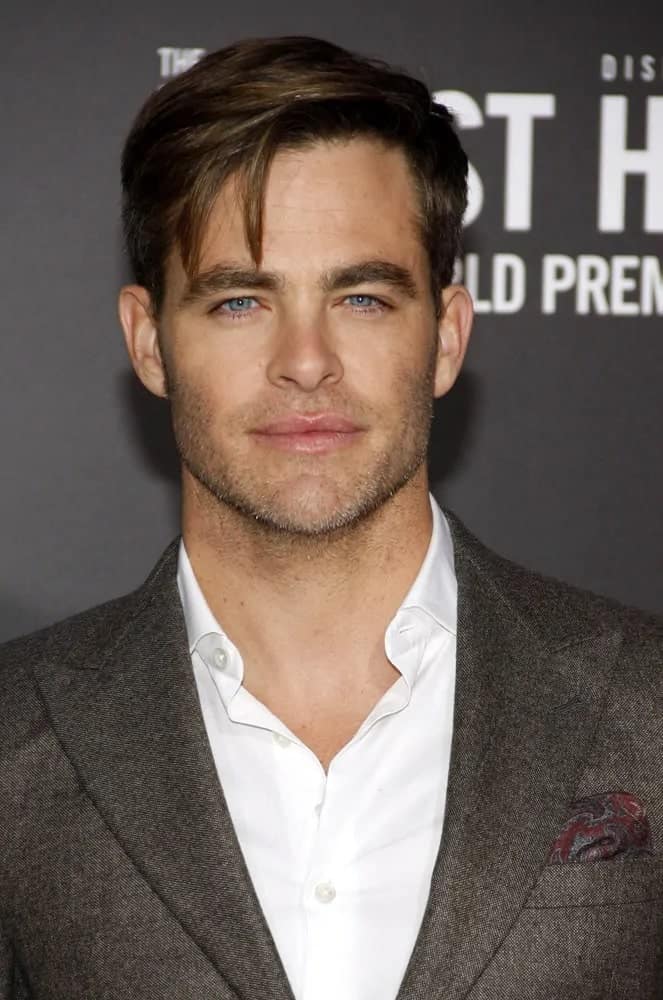 Chris Pine looked gorgeous and stylish with his fade haircut that has long side-swept bangs at the 2016 world premiere of "The Finest Hours" in Hollywood.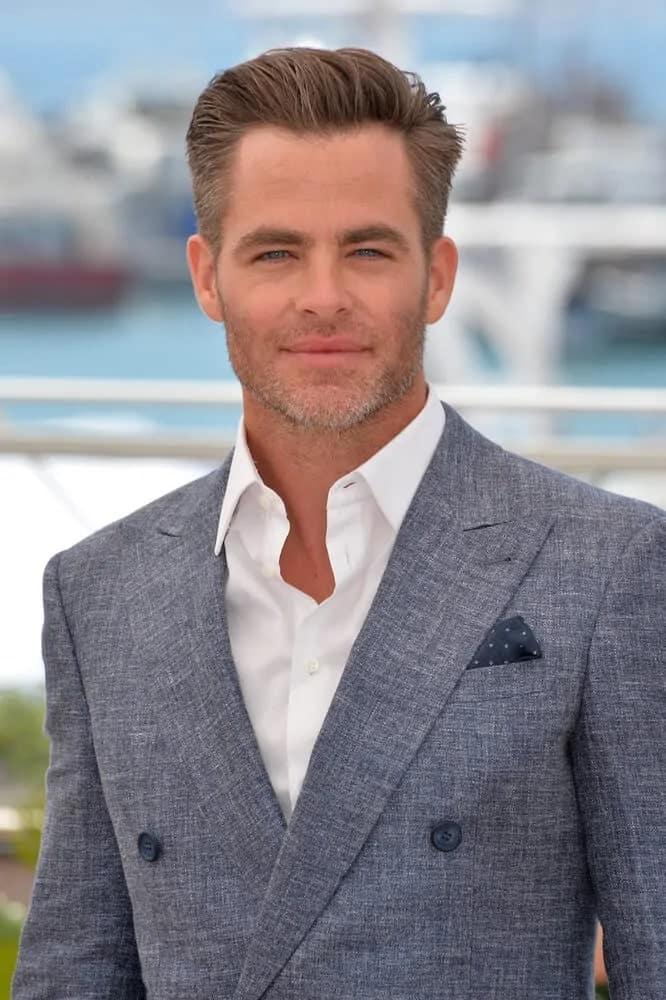 Hollywood actor Chris Pine dazzled with his slick pompadour look and five o'clock shadow at the photocall for "Hell or High Water" at the 2016 69th Festival de Cannes.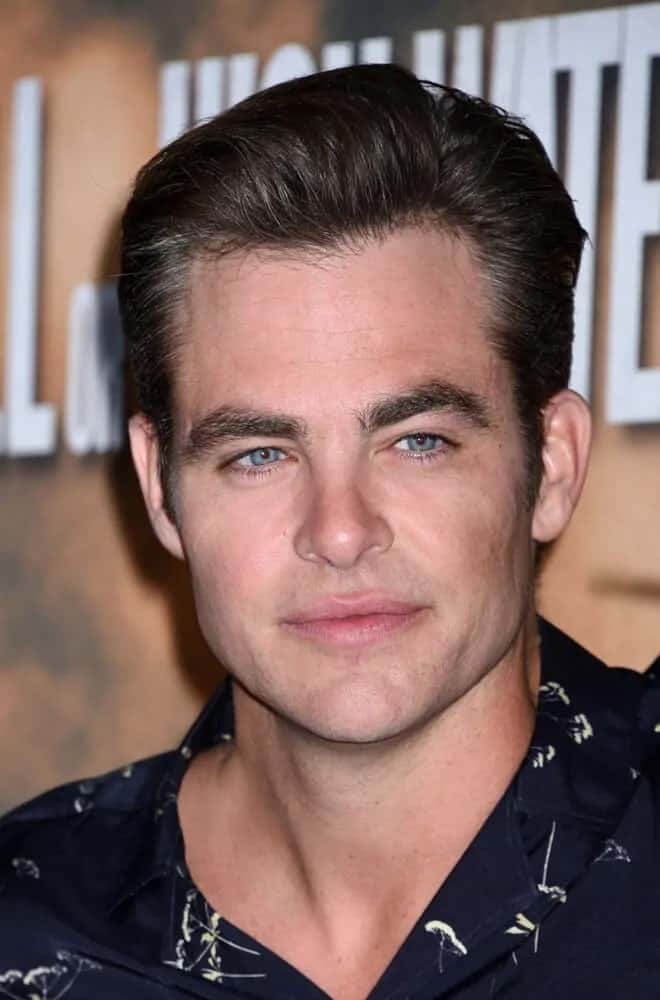 Chris Pine was at the "Hell or High Water" Los Angeles Special 2016 Screening with a clean-shaven face and a slick brushed-back hairstyle in downtown Hollywood, California.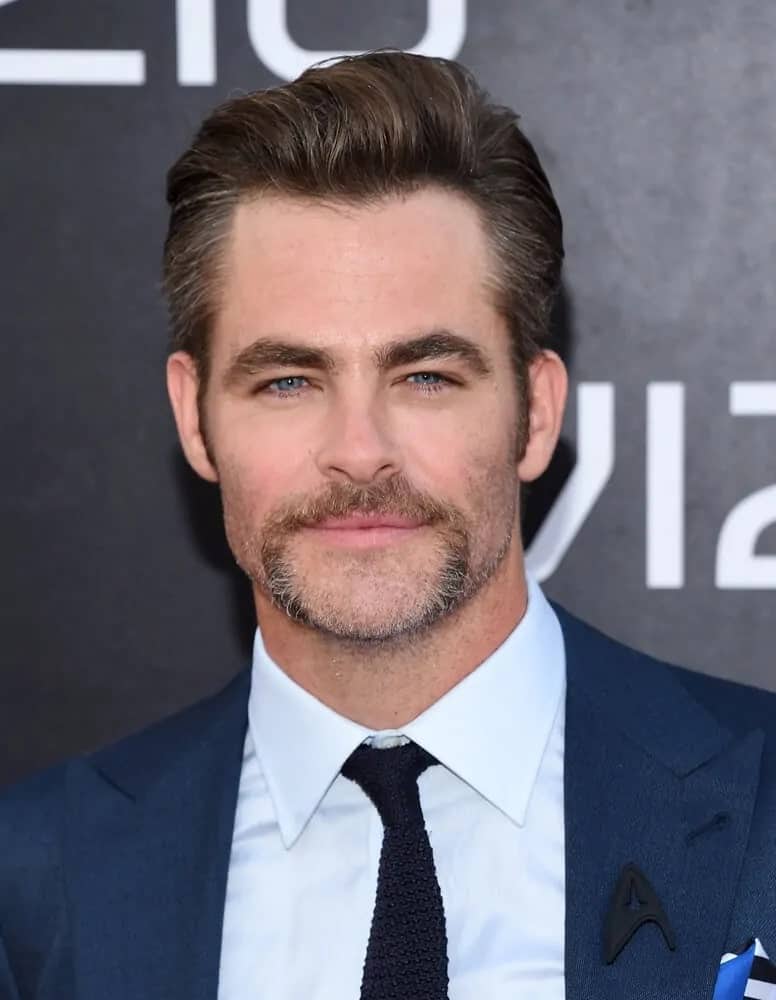 Chris Pine wore a salt and pepper pompadour hairstyle and a Star Trek pin on his blue suit when he attended the "Star Trek Beyond" U.S. 2016 Premiere in San Diego, California.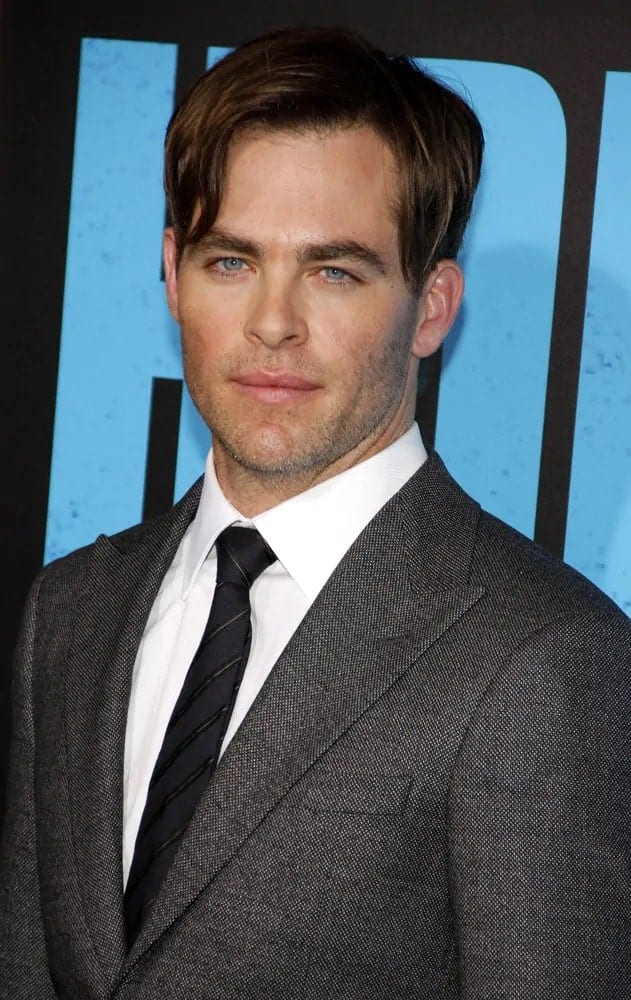 Chris Pine wore a dark brown undercut hairstyle with long side-swept bangs and five o'clock shadow to pair his classy gray suit at the Los Angeles 2014 premiere of "Horrible Bosses 2".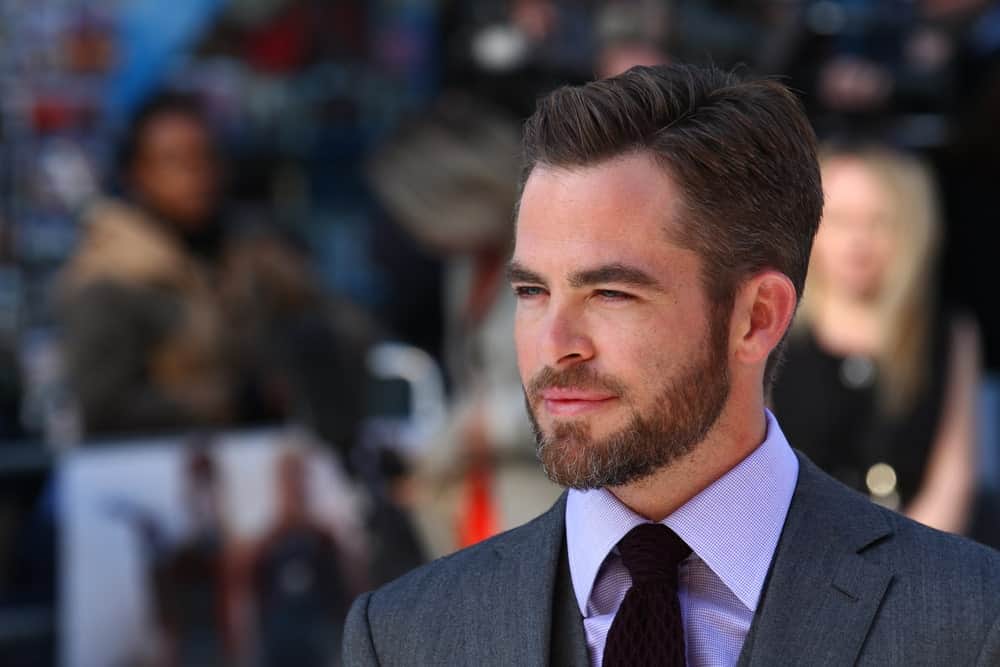 Chris Pine attended the UK Premiere of Star Trek Into Darkness at The Empire Cinema last May 2, 2013, in London. He wore a classy gray three-piece suit that paired well with his trimmed beard and side-swept pompadour hairstyle.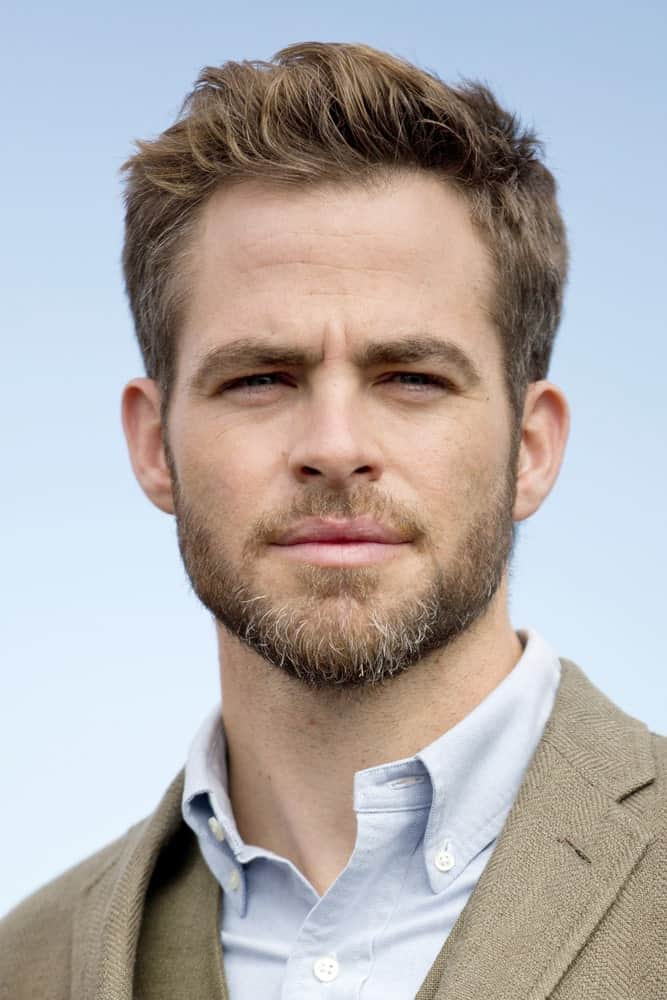 Chris Pine attended the Star Trek – Into Darkness Photo Call last April 28, 2013, in Berlin, Germany with his light tan three-piece suit that he paired with his gorgeous highlighted and tousled hair and trimmed beard.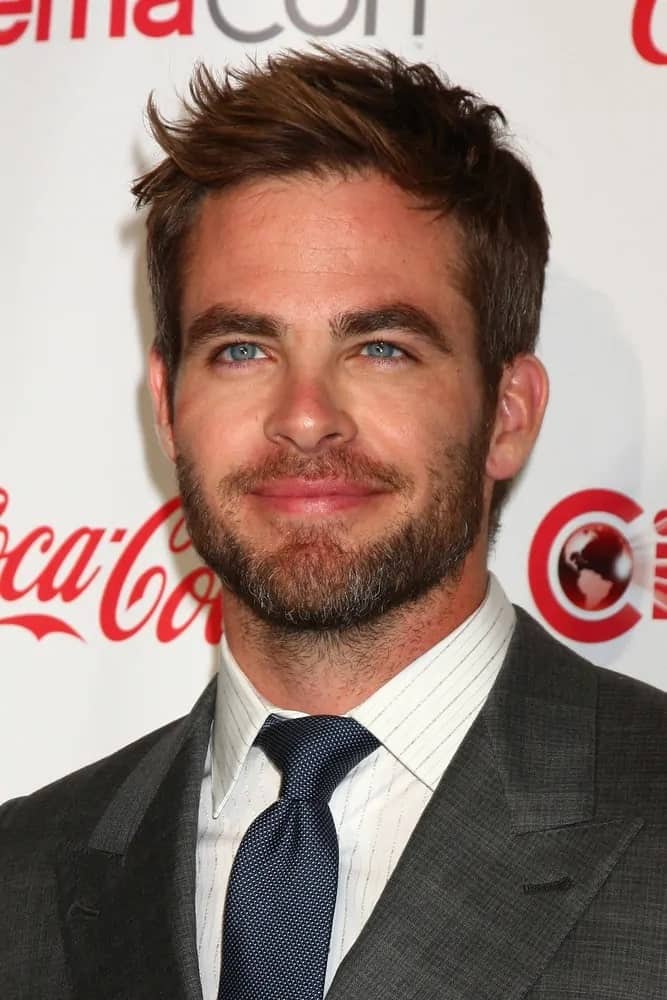 Chris Pine paired his bearded look with short tousled hair featuring some side-swept spikes during the CinemaCon Big Screen Achievement Awards at Las Vegas in 2013.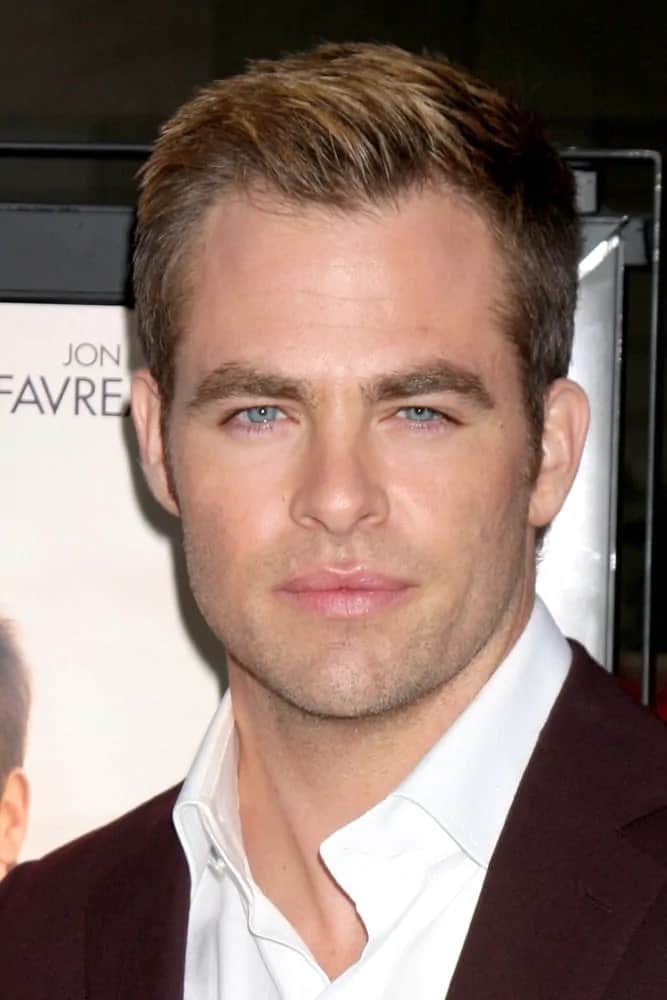 Chris Pine was dapper in his dark tan suit and short fade crew cut hairstyle at the LAFF premiere of "People Like Us" in 2012.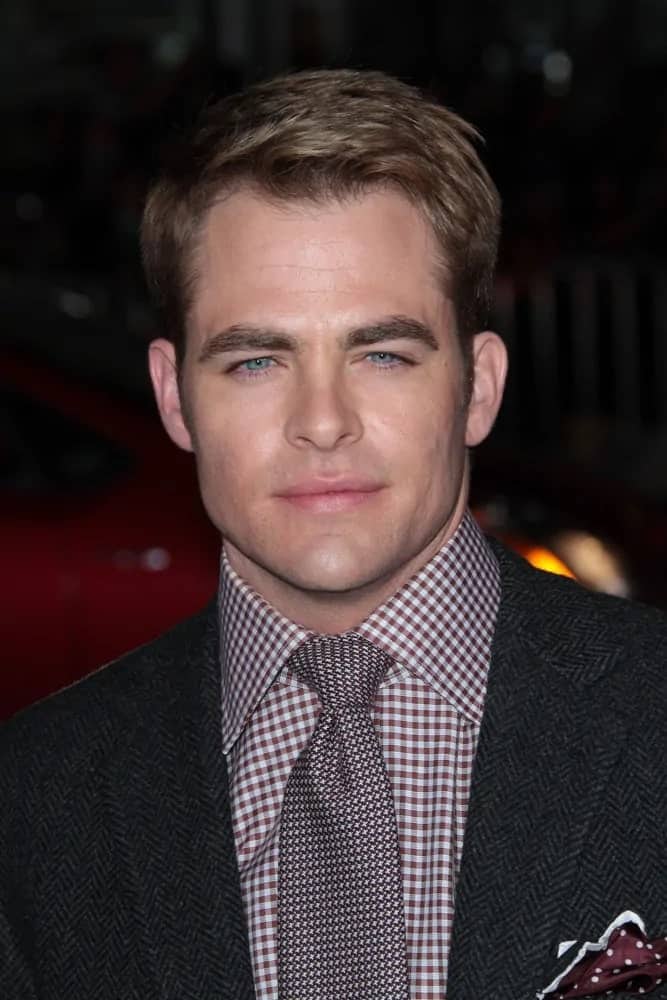 The ever-classy Chris Pine sported a patterned shirt underneath his dark gray suit that went great with his short side-swept fade crew cut hairstyle at the Los Angeles premiere of "This Means War" in 2012.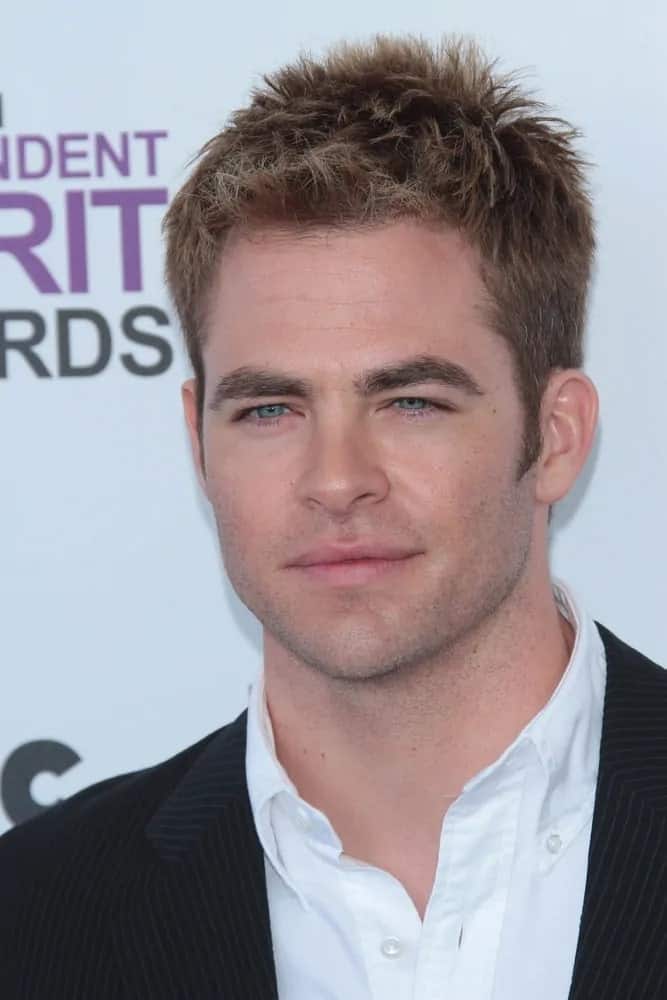 Chris Pine rocked a spiky blonde short hairstyle with his five o'clock shadow and confident smile at the 2012 Film Independent Spirit Awards in Santa Monica, California.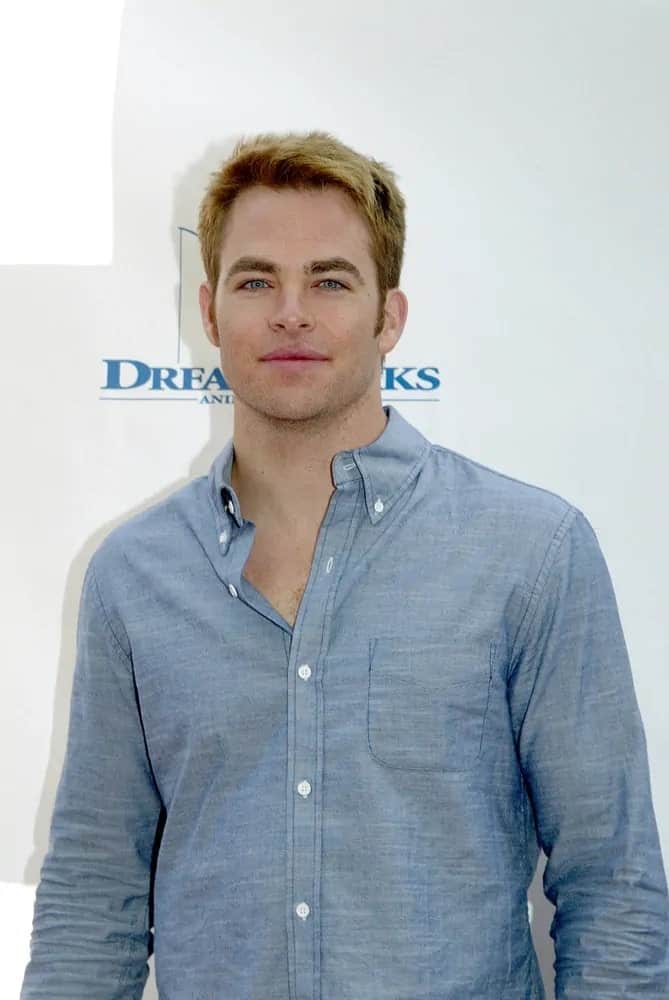 Chris Pine's brilliant blue eyes goes quite well with his sandy blond highlights swept to the side when he attended the 3rd Annual Milk and Bookies Story Time 2012 Celebration in Los Angeles, CA.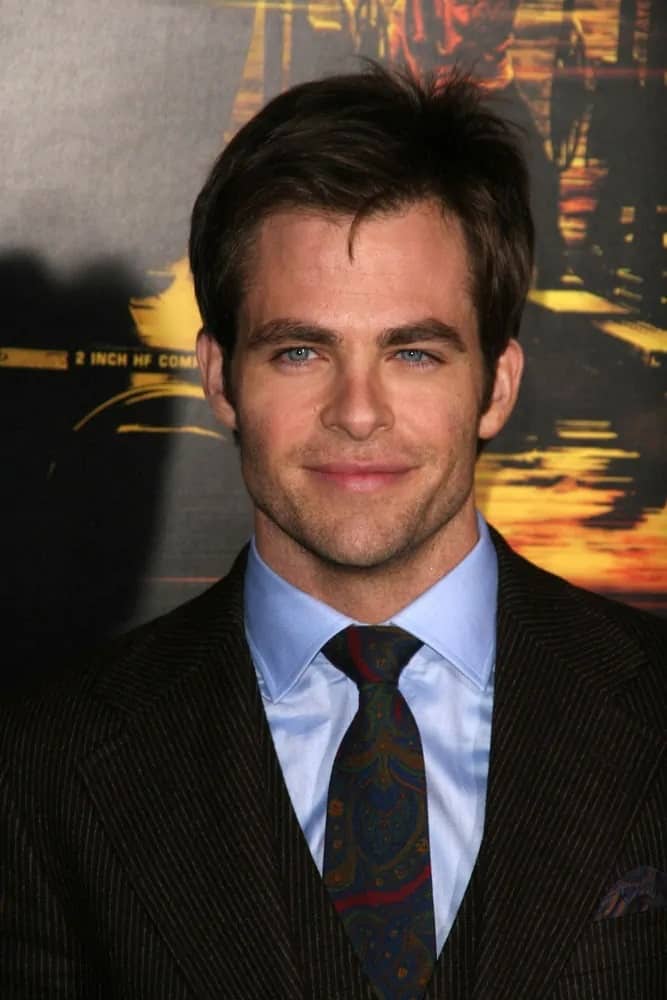 Chris Pine sported a shaggy and thick dark crew cut hairstyle that went well with his dark suit at the 2010 world premiere of "Unstoppable" in Village Theater, Westwood, CA.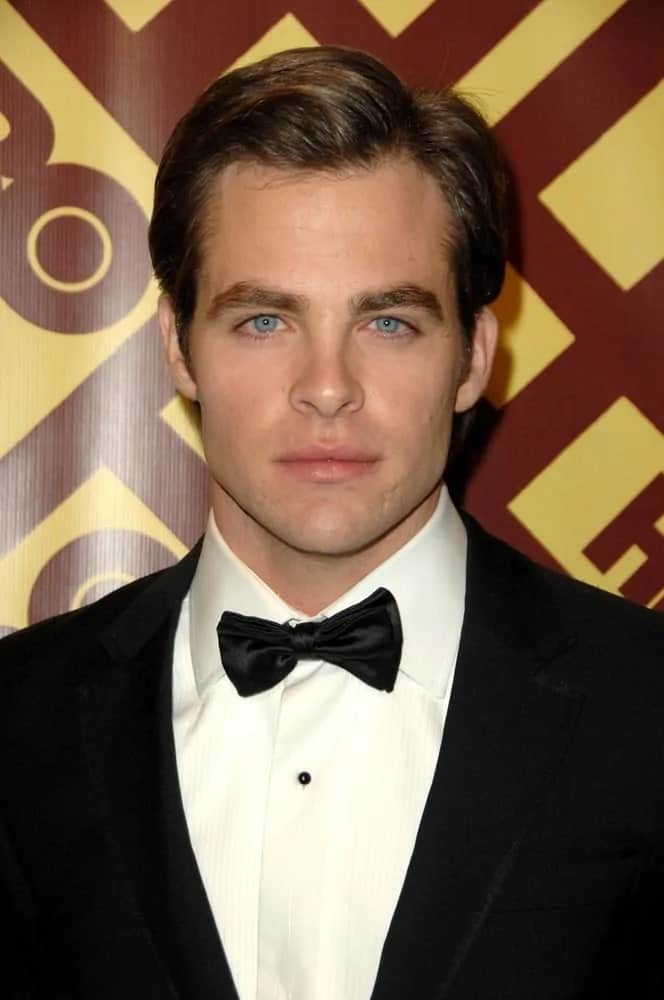 Chris Pine's handsome features are at full display with this neat and short side-parted slick hairstyle and classy black tux during the 2009 HBO Golden Globe Awards After Party in Beverly Hills, CA.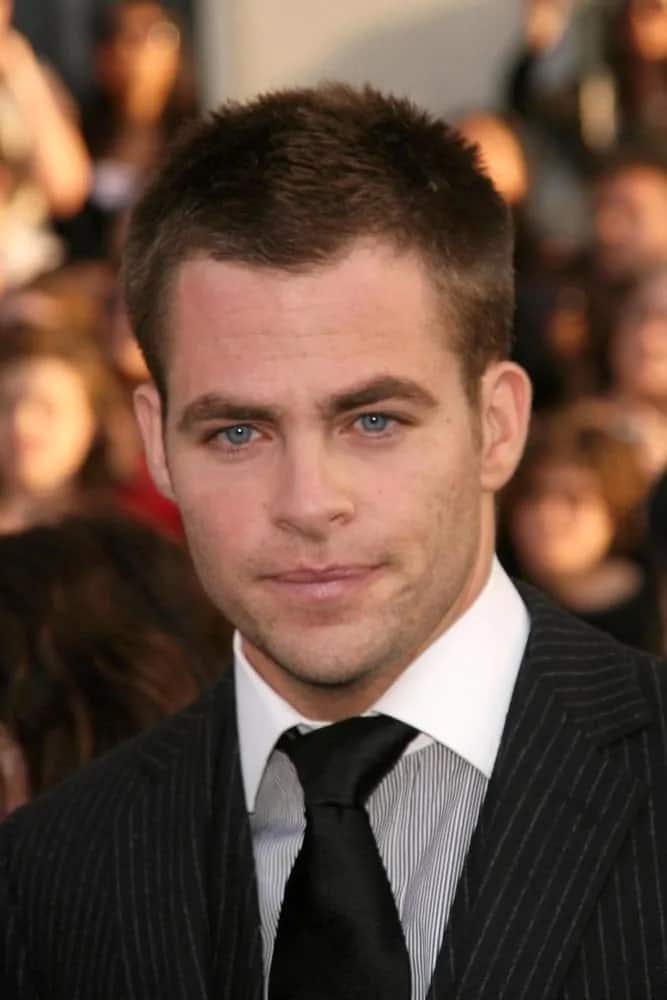 Chris Pine was ruggedly handsome with a classy quality in his pin-striped suit and short fade crewcut during the 2009 premiere of the film "Star Trek" in Los Angeles.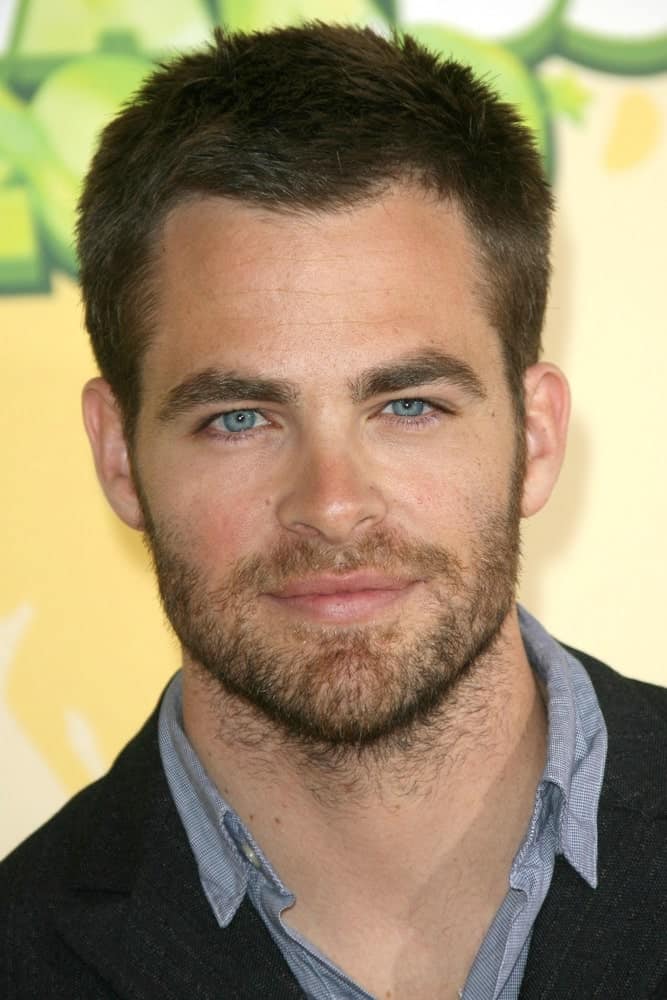 Chris Pine attended the Nickelodeon's 2009 Kids' Choice Awards that was held at the Pauly Pavillion in Westwood, CA. He wore a rugged trimmed beard with his short spiked crew cut fade hairstyle that goes well with his brilliant eyes.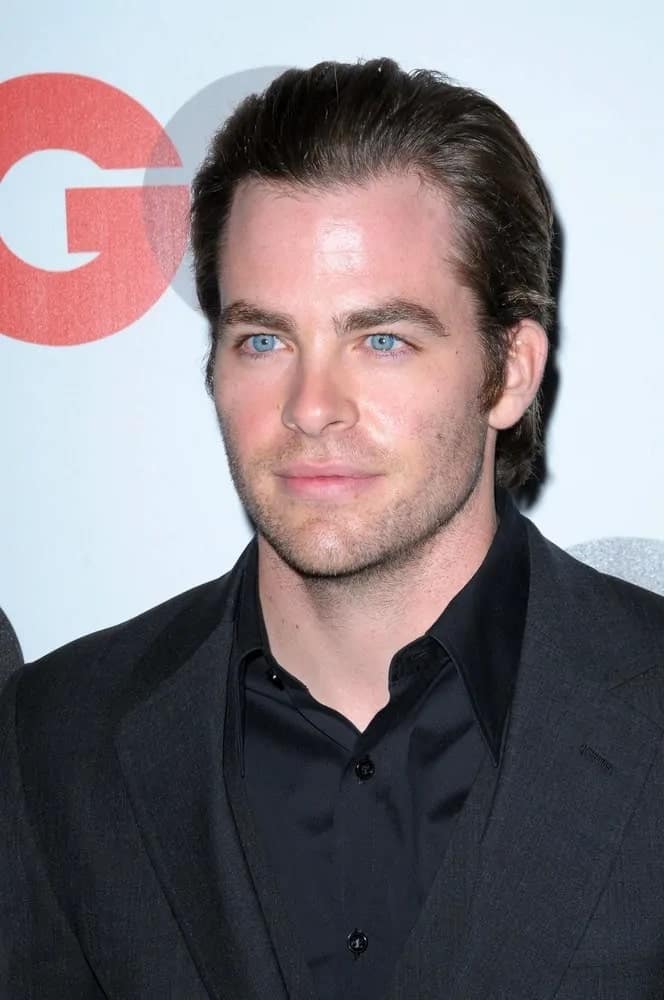 Chris Pine attended the 2008 GQ "Men of the Year" Party at Chateau Marmont Hotel, Los Angeles, CA. He opted for an all-black three-piece suit to go with his long brushed-back dark hair.
Chris Pine attended the Los Angeles Premiere of "Cloverfield" held at the Paramount Pictures Lot in Hollywood, California last January 16, 2008. He wore a smart casual suit that pairs well with his spiked crew cut brown hair.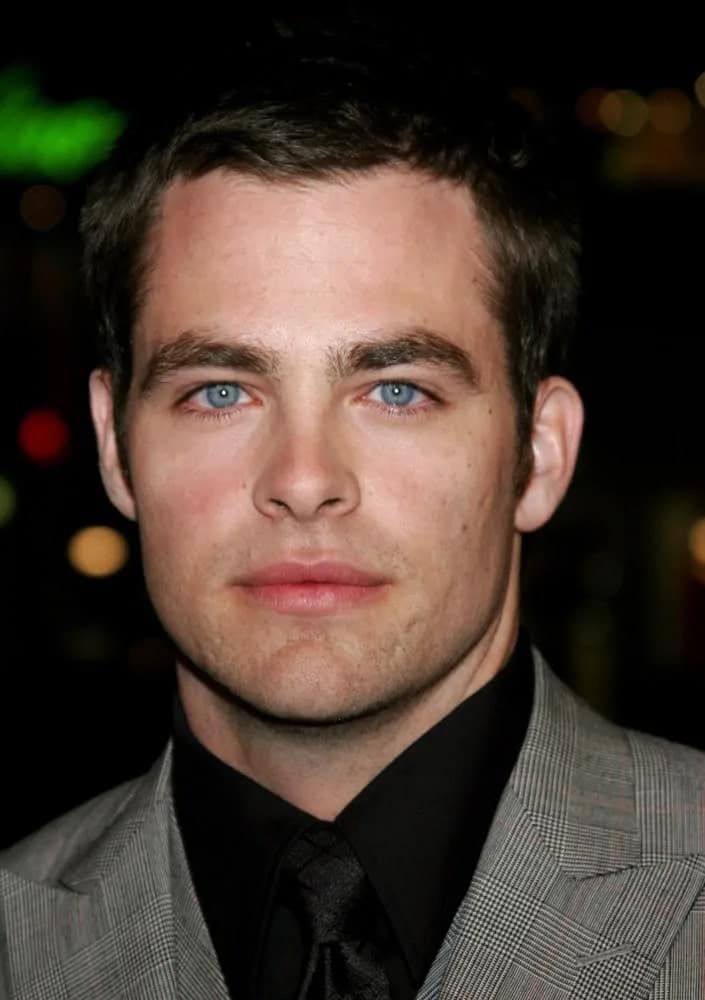 The talented actor, Chris Pine, wore a fashionable patterned gray suit and dyed his short crew cut hair black when he attended the 2007 world premiere of "Smokin' Aces" in Hollywood, CA.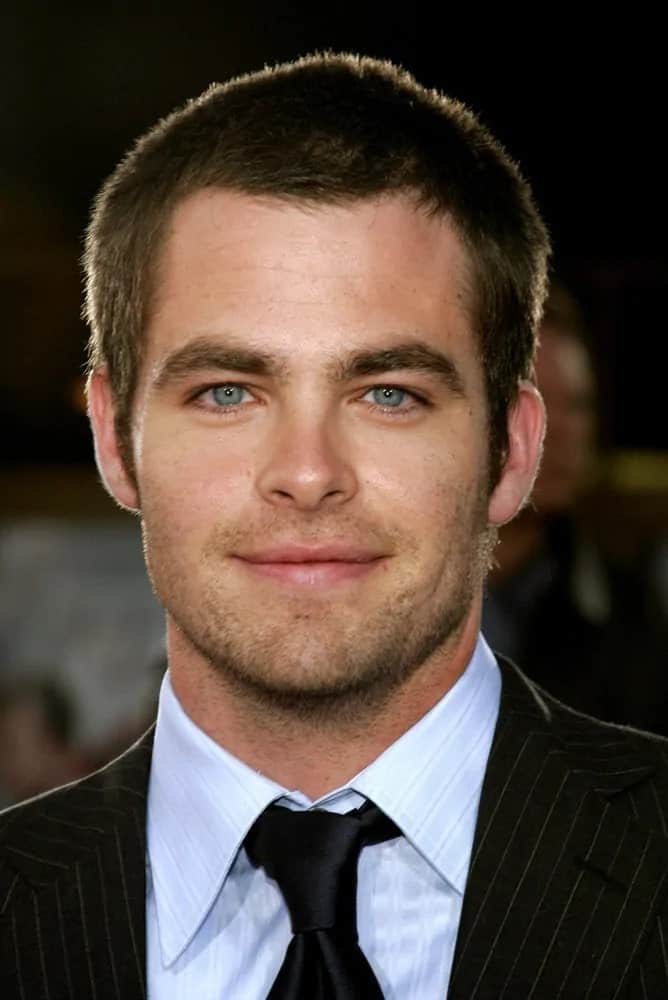 Chris Pine was ruggedly handsome in his trimmed beard and dark brown buzz cut hair at the Los Angeles premiere of "Just My Luck" in 2006.