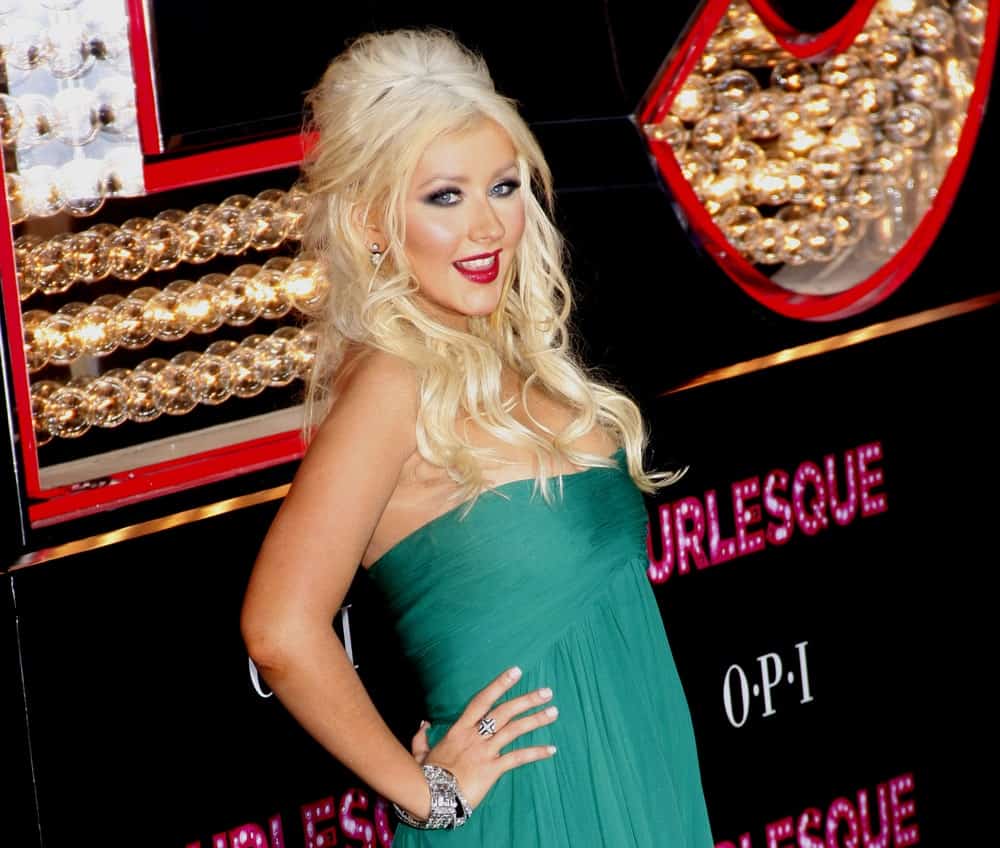 With her versatility and brave experimentation in music, Christina Aguilera was hailed as one of the world's best-selling music artists in the industry. She has an estimated sales of 75 million records. She has also claimed five Grammy Awards, one Latin Grammy Award, and a star on the Hollywood Walk of Fame in 2010.
The multi-Grammy award-winning singer started her career as a member of Disney Channel's "The New Mickey Mouse Club" in 1993. Among her co-stars were Justin Timberlake, Britney Spears, and Ryan Gosling. She spent two years in the show gaining invaluable acting, dancing, and singing experience.
However, upon returning school, she suffered from bullying that was urged by classmates who were jealous of her fame. Christina was then forced to transfer to a new junior high school in Pittsburgh but she experienced the same during high school. With these incidents, her mother decided to homeschool her. She was able to complete her secondary education while recording her debut album, Christina Aguilera, in 1998.
After her exposure on "The New Mickey Mouse Club", the former child actor had an unusual opportunity – a duet with Japanese singer Keizo Nakanishi entitled "All I Wanna Do". Christina was brought to Japan for the making of the video and to join Nakanishi on tour. In 1997, she returned to the US and worked on a demo tape to help her find a recording contract. Fortunately, the producers of the soundtrack for the studio's "Mulan" were looking for someone to record a pop version of the song "Reflection". Christina got the job and secured a recording contract with RCA Records in early 1998.
Her rise to fame soon began after recording the song "Reflection" which was nominated for a "Best Original Song" Golden Globe. Her self-titled album was released the following year and reached the top of the Billboard 200 and Canadian album charts. Its singles "Genie in a Bottle", "What a Girl Wants" and "Come on Over Baby" all topped the Billboard Hot 100.
In 2000, she proudly represented her Latin heritage in her second album, Mi Reflejo. The album contained a Spanish version of her songs along with new Spanish tracks. It also earned her a Latin Grammy for "Best Female Pop Vocal Album" in 2001. Just a month after Mi Reflejo, she released a new holiday-themed album, My Kind of Christmas.
In 2002, Christina decided to go in a different artistic direction. She released the album, Stripped, alongside her new image that expressed her sexuality and independence through her appearance and songs. It was the start of her fashion and hairstyle transformations.
She began wearing braids for her "Dirrty" and "Beautiful" videos. Since then, the multi-talented singer-songwriter had drastic hair changes that are paired with eye-catching outfits. To give you a clearer picture (literally), here are Christina Aguilera's hairstyles over the years.
Photos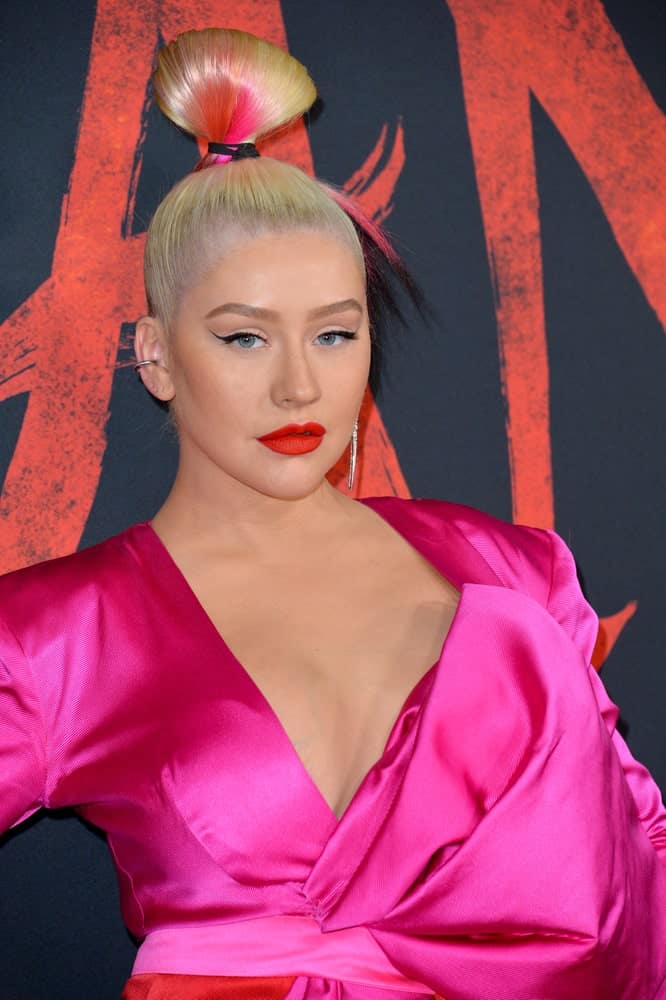 Christina Aguilera tied her blonde hair with black and pink highlights into a top knot at the world premiere of Disney's "Mulan" on March 9, 2020.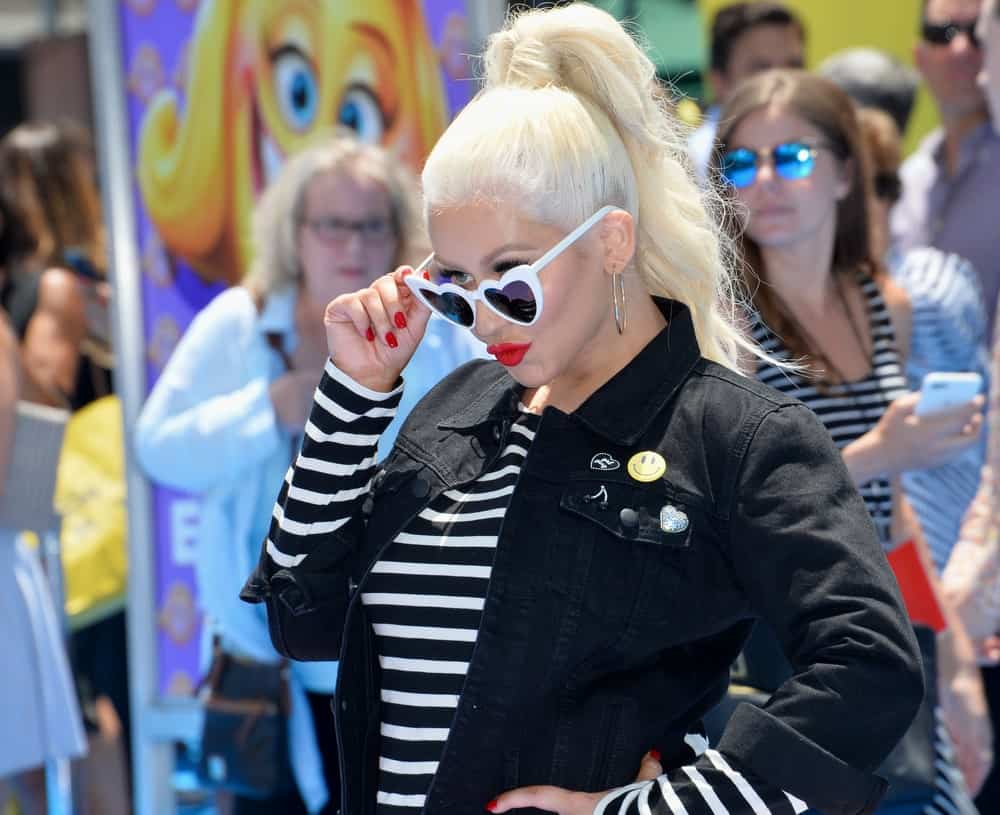 Christina Aguilera looks playful with this long, high ponytail hairstyle at the "The Emoji Movie" World Premiere on July 23, 2017.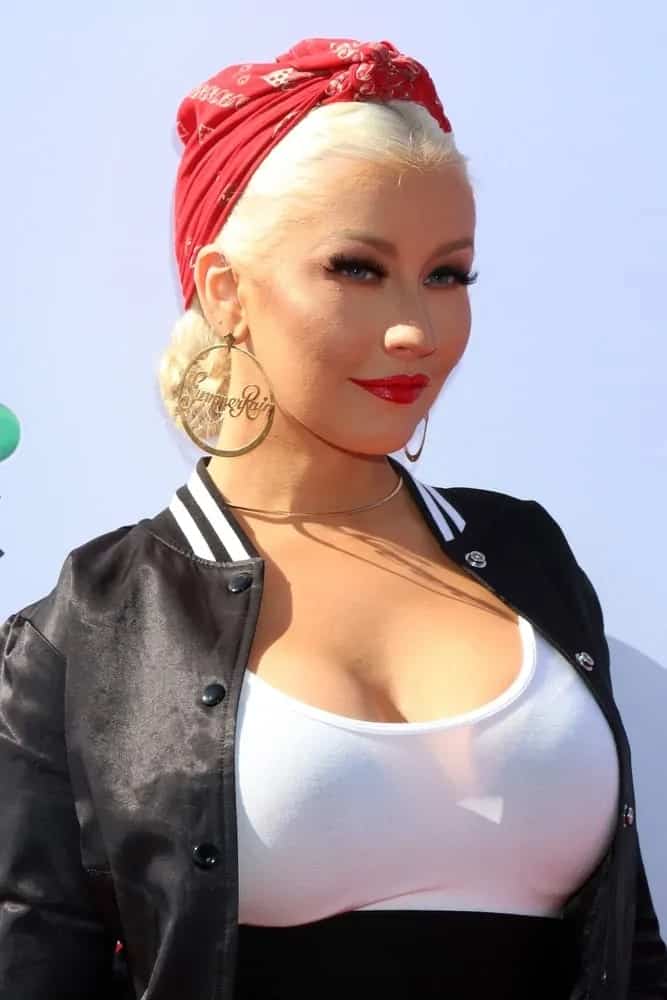 Christina Aguilera wrapped up her low bun hairstyle during the The Voice Red Carpet Event on April 21, 2016.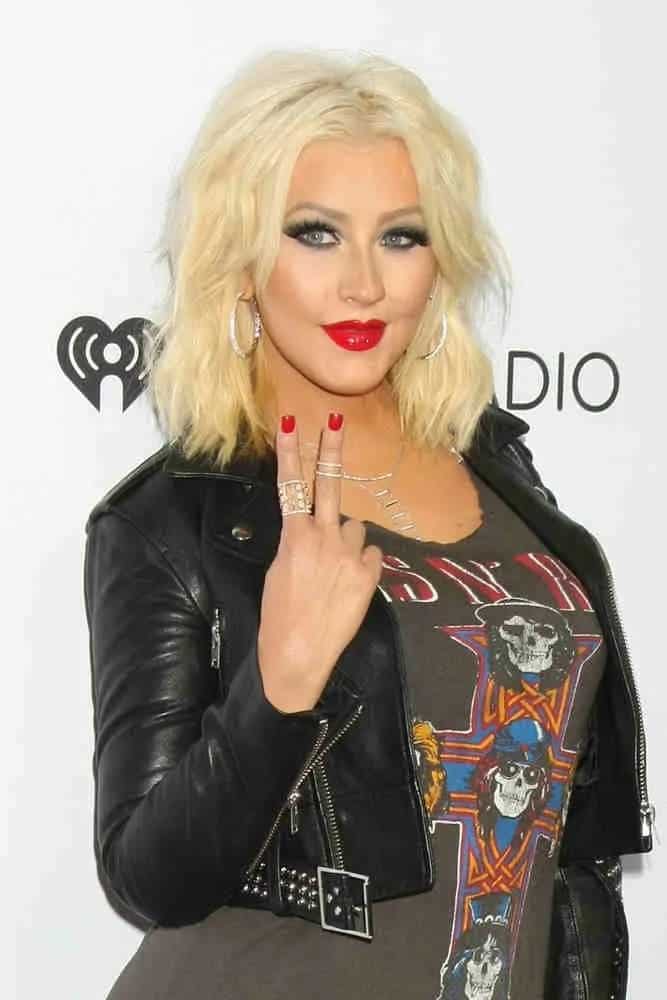 Christina Aguilera rocks a tousled bob hairstyle for her go-to looks during the "The Voice" Summer Break Party – Top 8 event on April 23, 2015.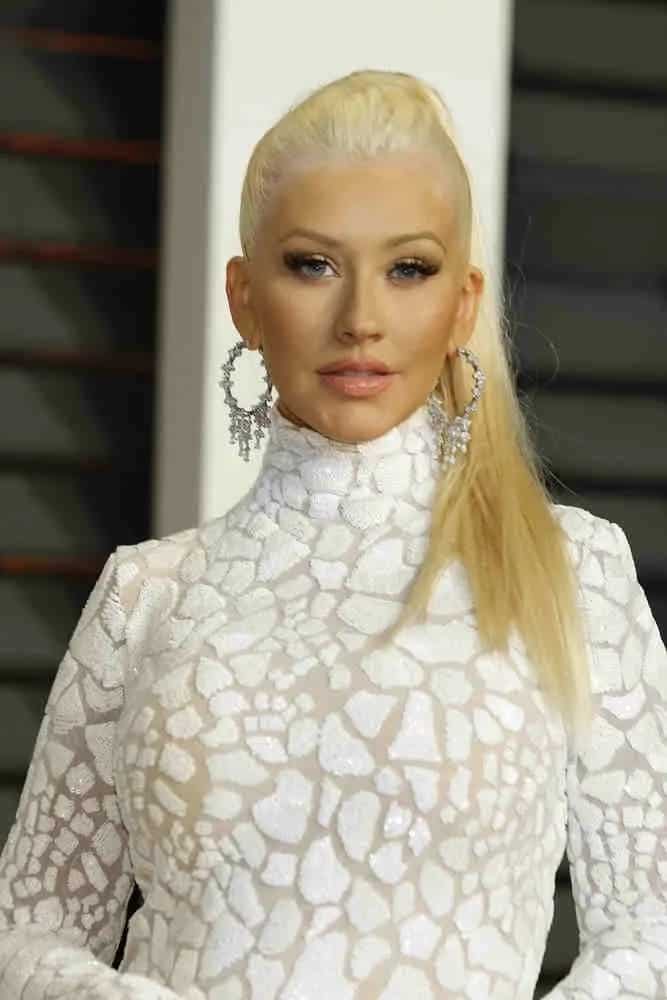 Christina Aguilera looks flawless in an all-white floor-length crack effects gown and her straight long blonde hair was styled into high ponytail at the Vanity Fair Oscar Party 2015 on February 22, 2015.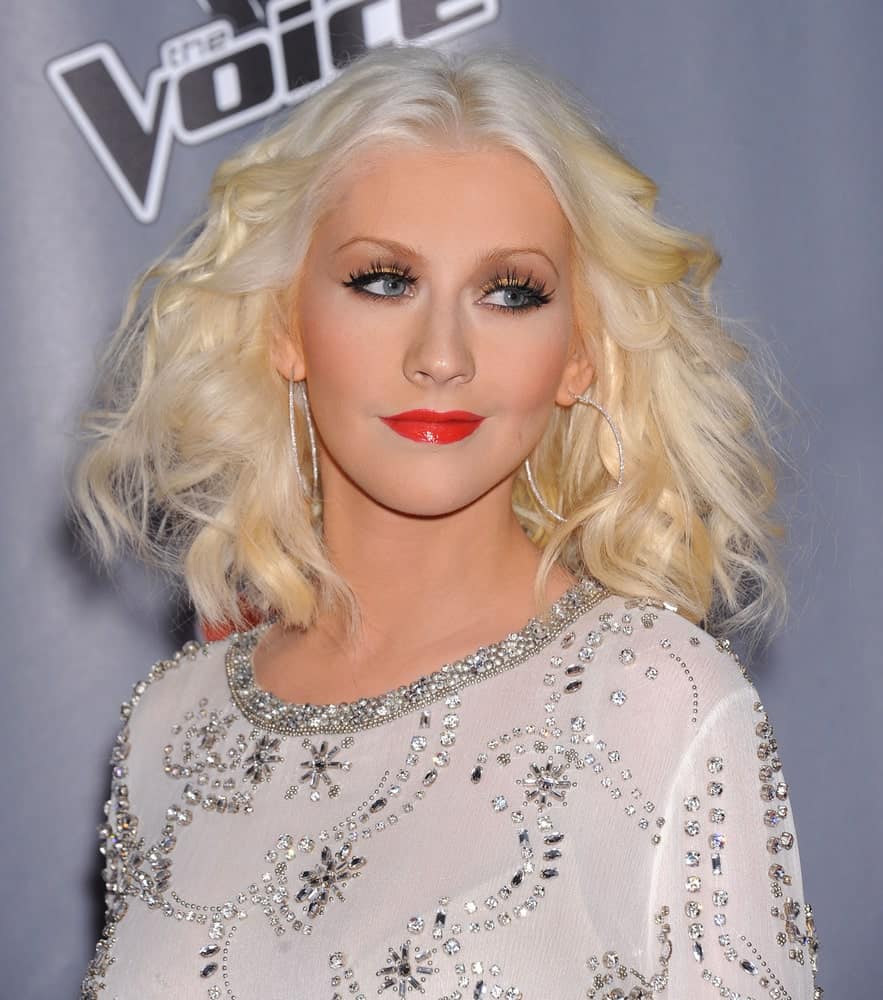 Christina Aguilera with her shoulder-length waves parted in the middle at The Voice Season 5-Top 12 on November 7, 2013.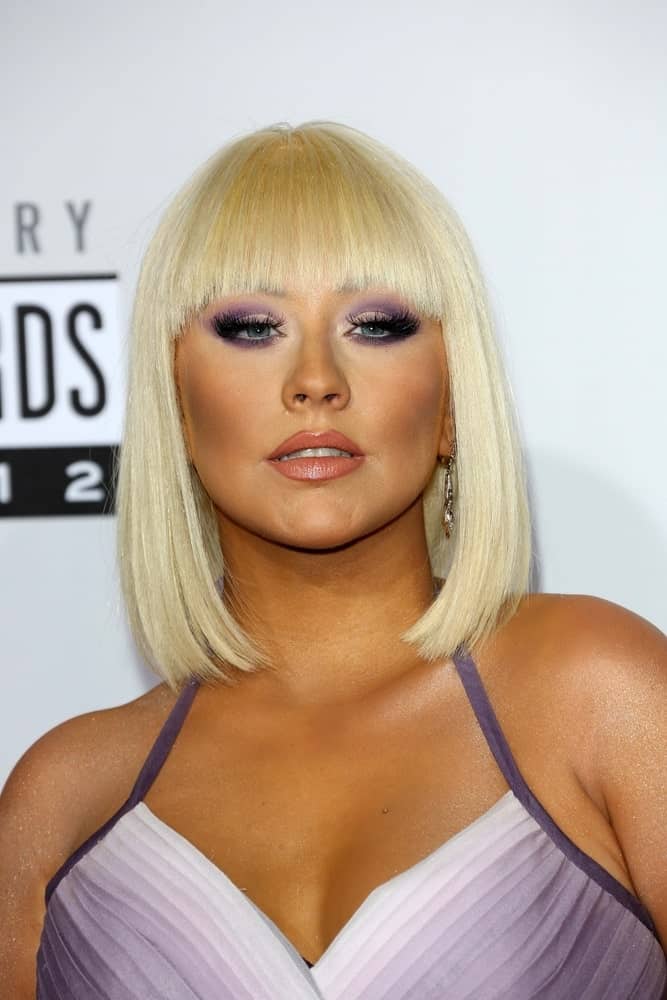 On November 18, 2012, Christina was spotted at the 40th American Music Awards Arrivals with a platinum bob and blunt bangs.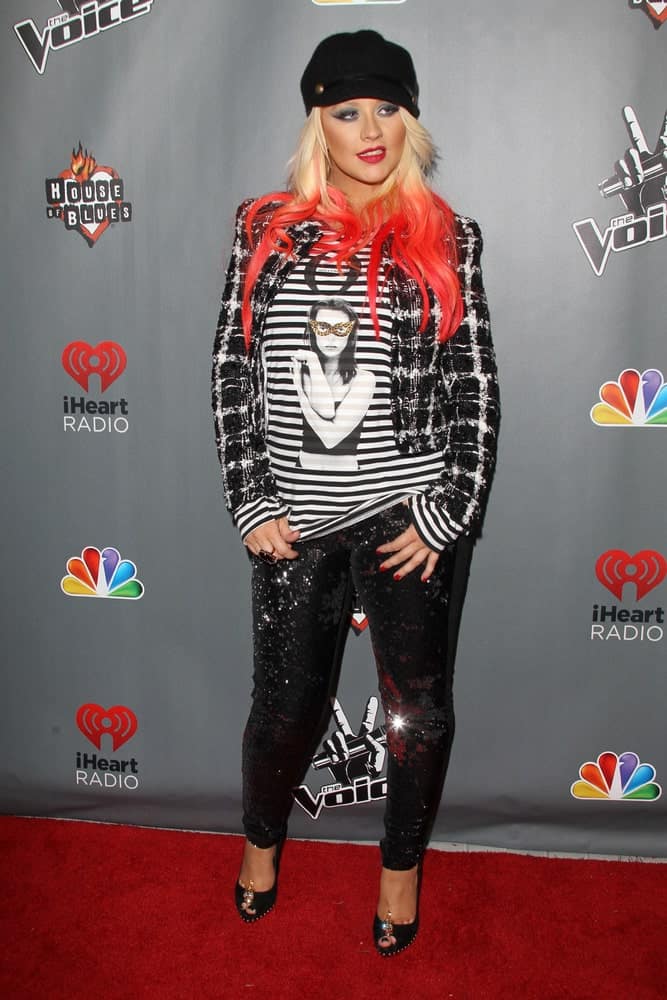 Christina Aguilera is on fire with this red-streaked hairstyle at the "The Voice" Season 3 Top 12 Event held on November 8, 2012.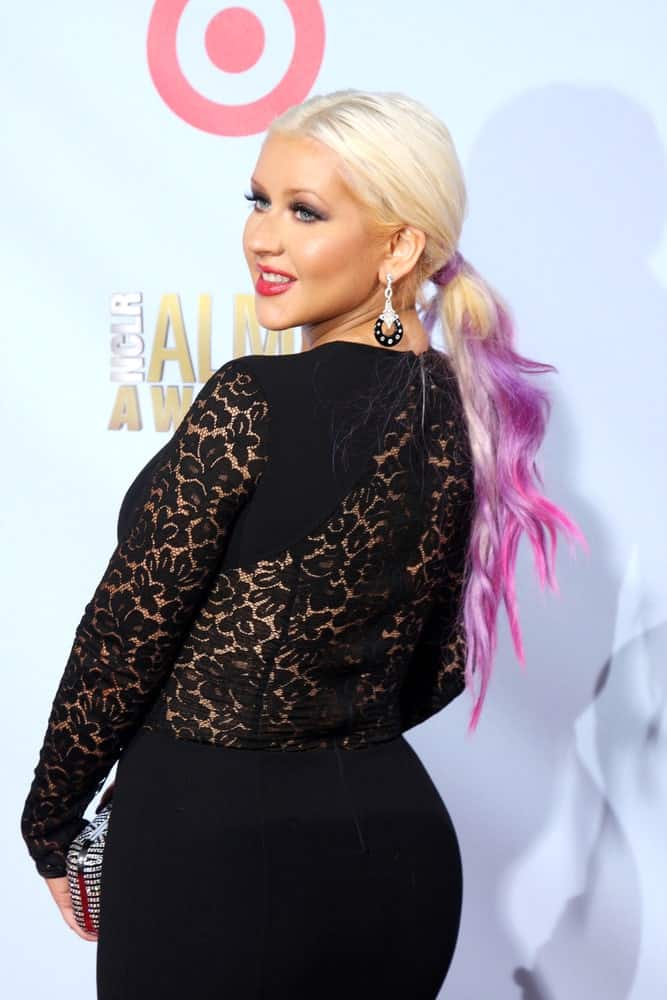 Christina Aguilera pulled back her purple and pink highlighted hair into a low ponytail during the 2012 ALMA Awards on September 16, 2012.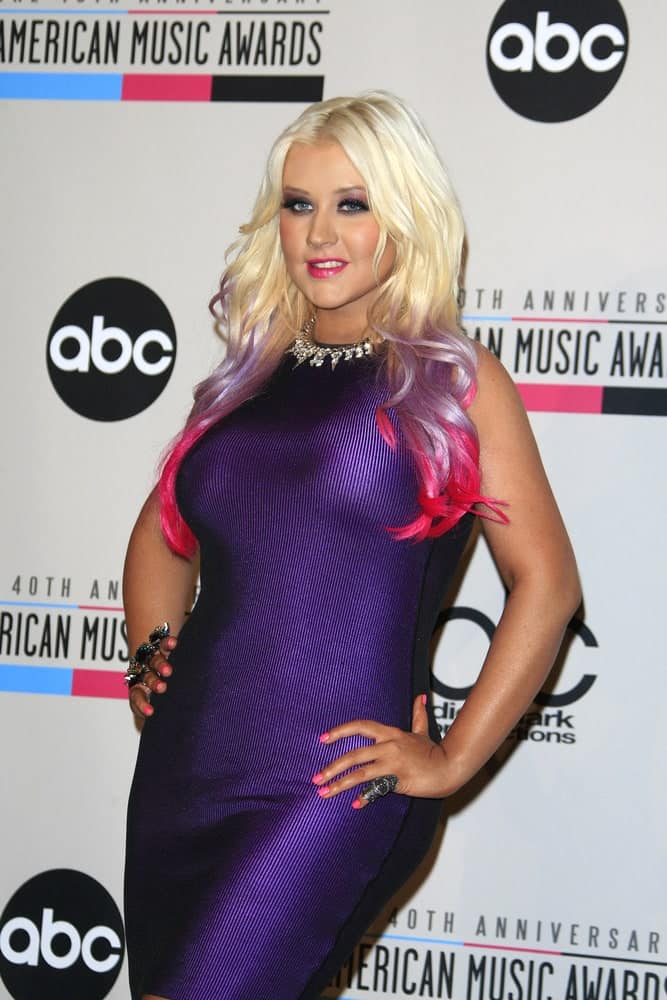 Christina Aguilera exhibits a feminine look in this purple highlighted hairstyle with a hot pink underlayer at the 40th Anniversary American Music Awards nominations press conference held on October 9, 2012.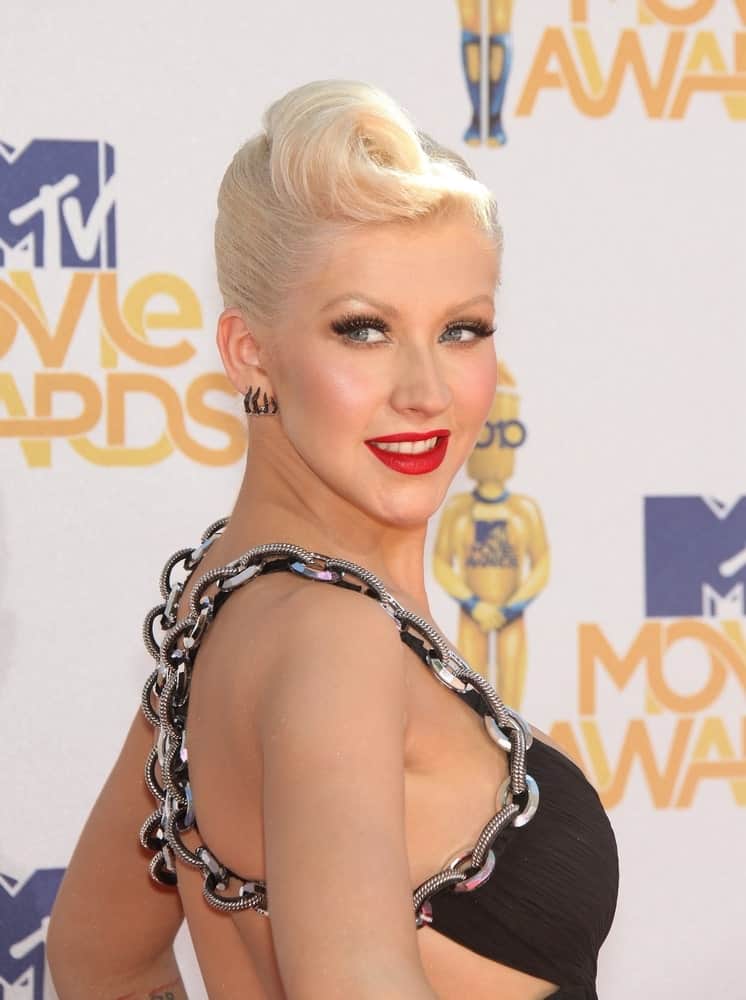 Christina Aguilera added a twist to her short pixie by styling it with a classic french roll in front during the 2010 MTV Movie Awards on June 06, 2011.
Christina Aguilera was seen at NBC's "The Voice" Press Conference on March 15, 2011. She was wearing a red tube dress that she paired with soft and tousled waves.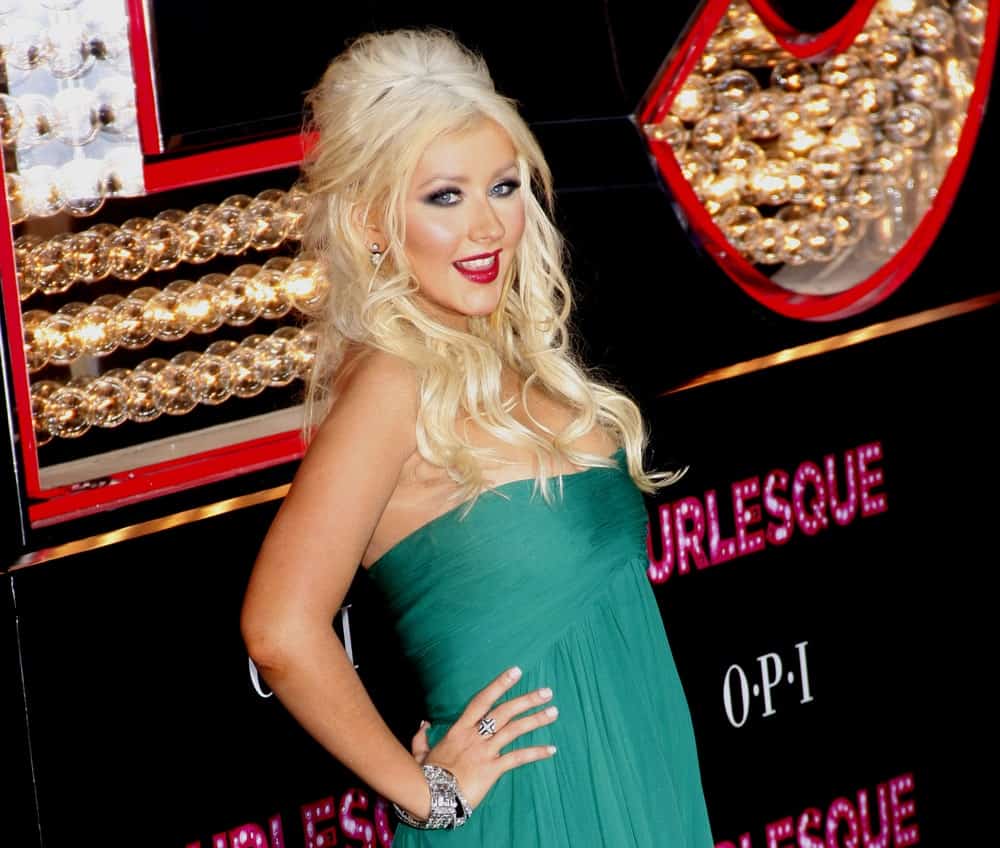 Christina Aguilera gathered her long, blonde waves into a half-up bouffant during the Los Angeles premiere of "Burlesque" held on November 15, 2010.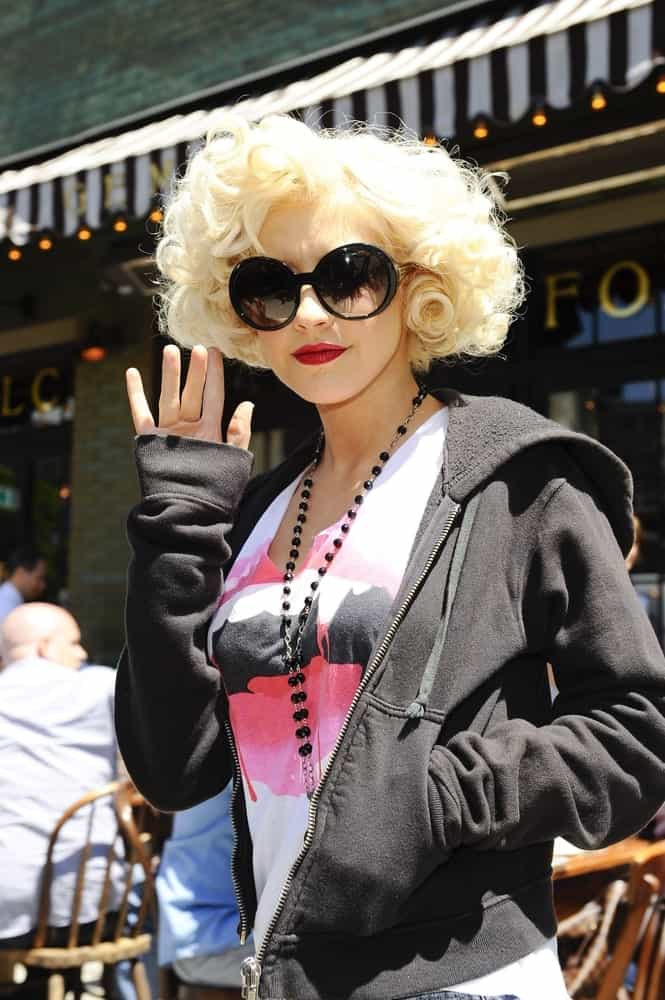 On May 7, 2010, Christina Aguilera was spotted leaving the Gemma Restaurant out and about for Celebrity Candids. She was wearing a hoodie along with her short side-parted curls.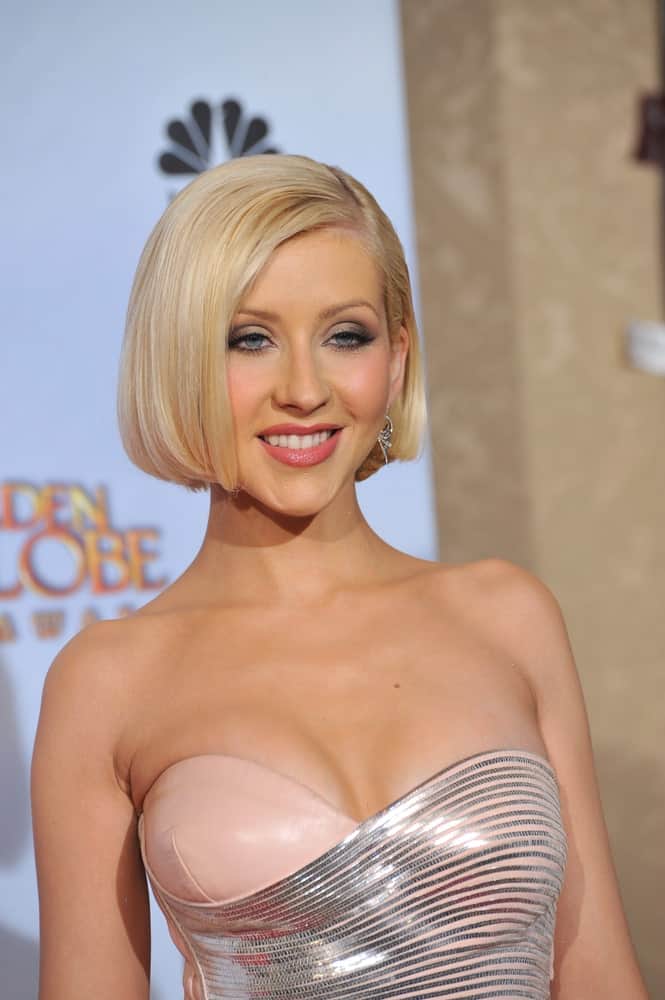 Christina Aguilera made an appearance at the 67th Golden Globe Awards last January 17, 2010, with a short bob and side parting.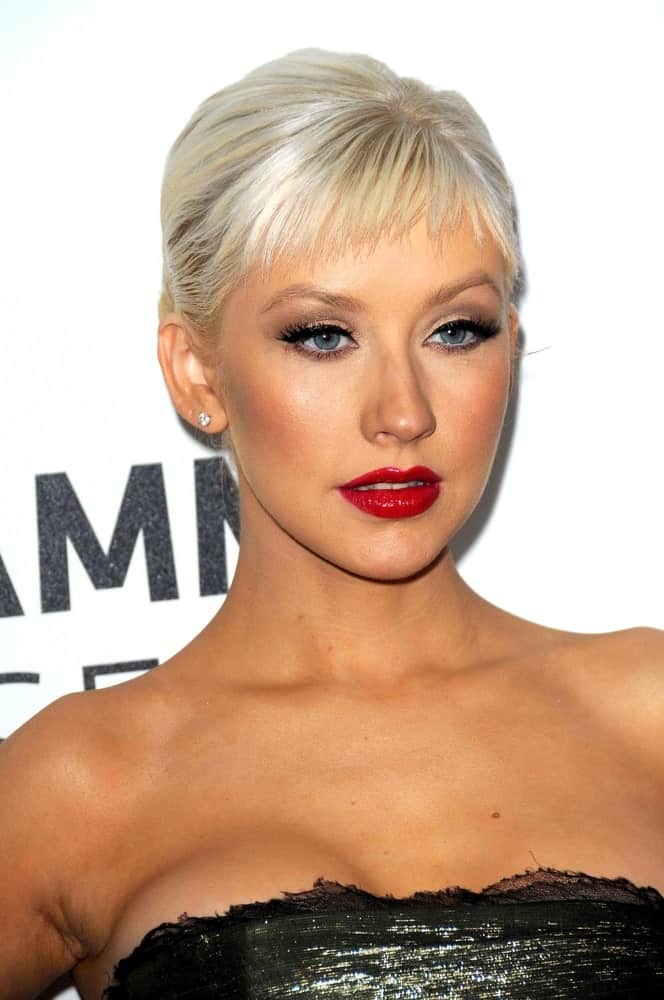 Christina Aguilera in a neat updo with fringe bangs at The Grammy Nominations Concert Live!! Nokia Theatre on December 3, 2008.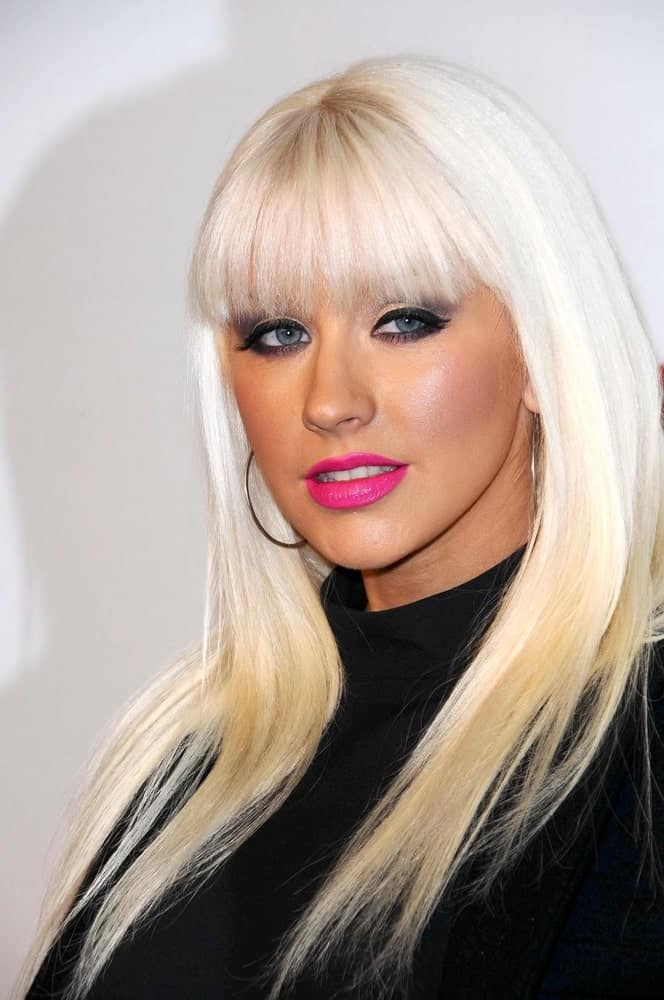 Christina Aguilera looks gorgeous in a sleek, straight, and long hairstyle with bangs that she complements with smokey eyeshadow and hot pink lipstick during the 'Rock The Vote' on September 25, 2008.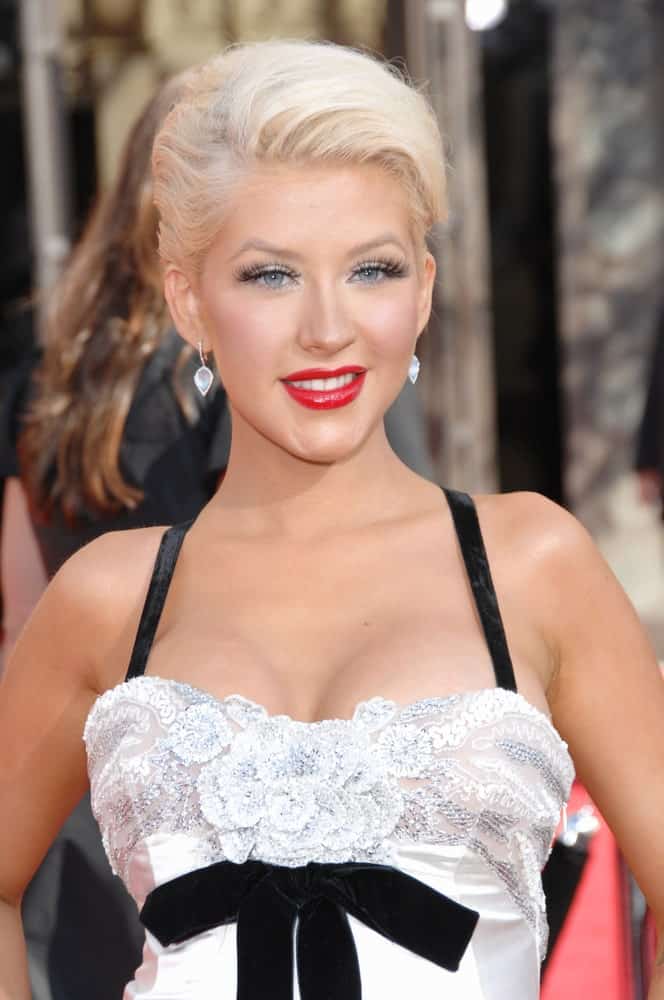 On September 16, 2007, Christina Aguilera chopped off her blonde locks into a pixie at the 59th Primetime Emmy Awards at the Shrine Auditorium.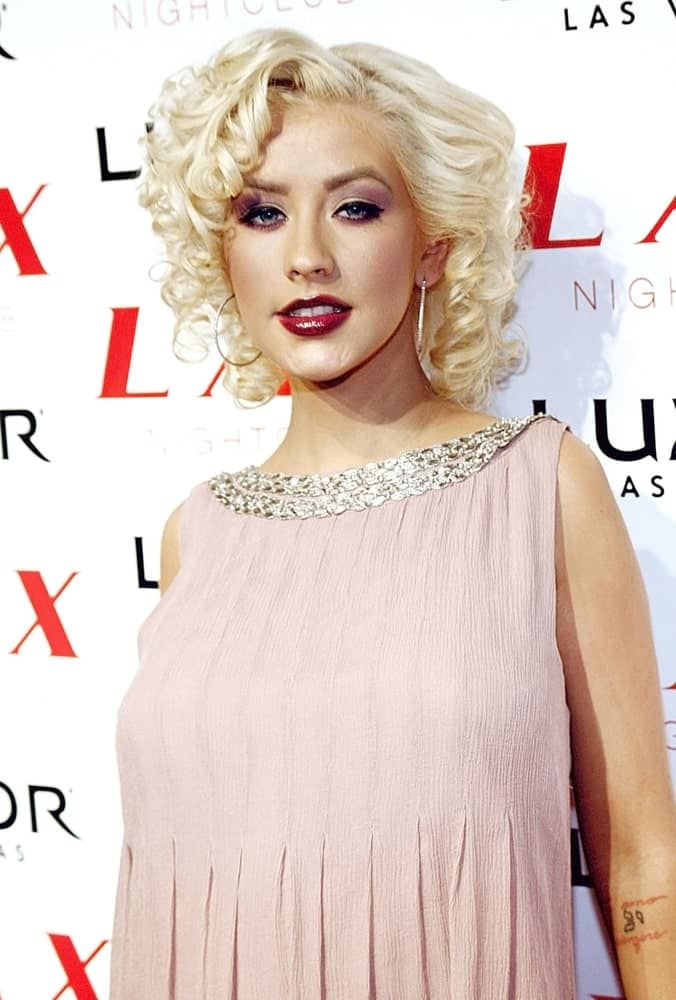 Christina Aguilera opted for an interesting look with her curls styled in a sleek finger wave plus some layers during the LAX Nightclub Party last September 8, 2007.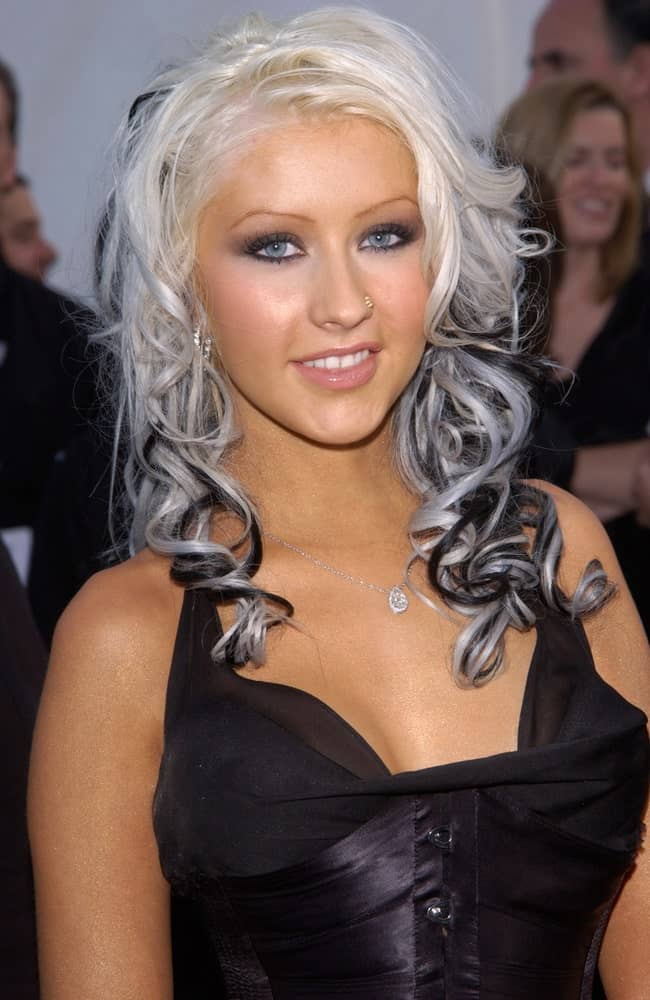 Christina Aguilera matched her two-toned curls with smokey eyes during the 30th Annual American Music Awards on January 13, 2003.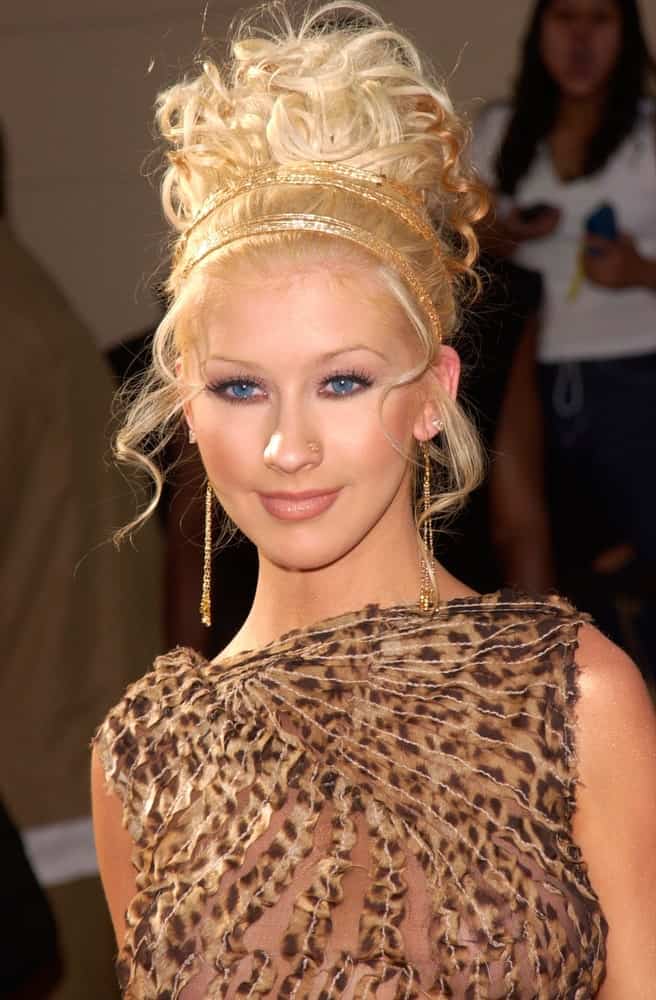 Christina Aguilera looks like a goddess in this curly updo with side tendrils that she wore during the first annual BET (Black Entertainment TV) Awards on June 19, 2001.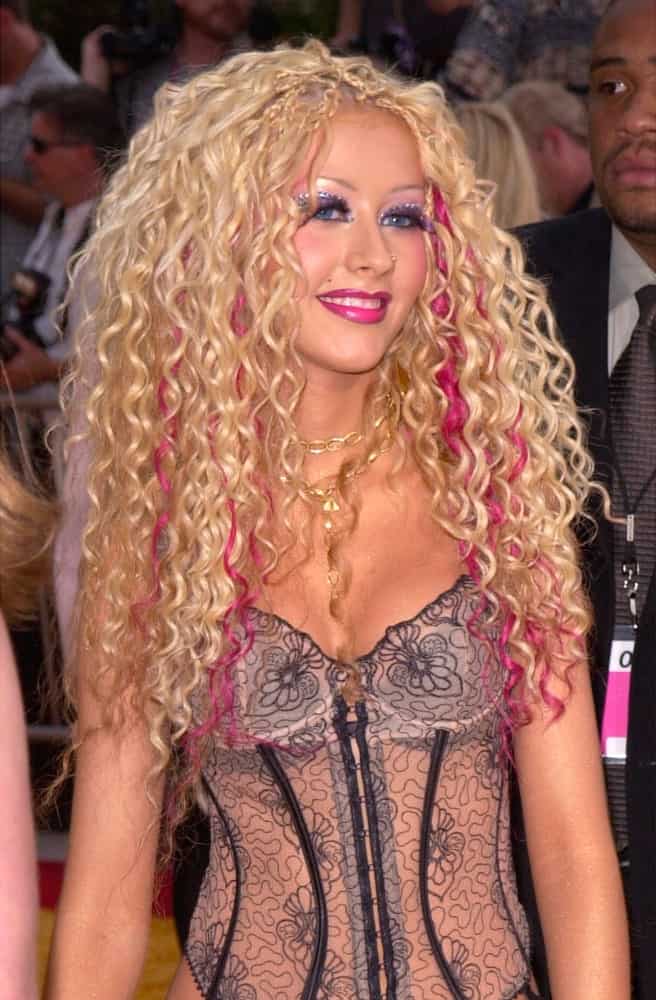 Christina Aguilera showcased a bold hairstyle with these curls and braids combination accentuated with magenta streaks during the MTV Movie Awards held on June 2, 2001.
Christina Aguilera is a head-turner in braids and teased curls during the 2001 Blockbuster Awards on April 10, 2001.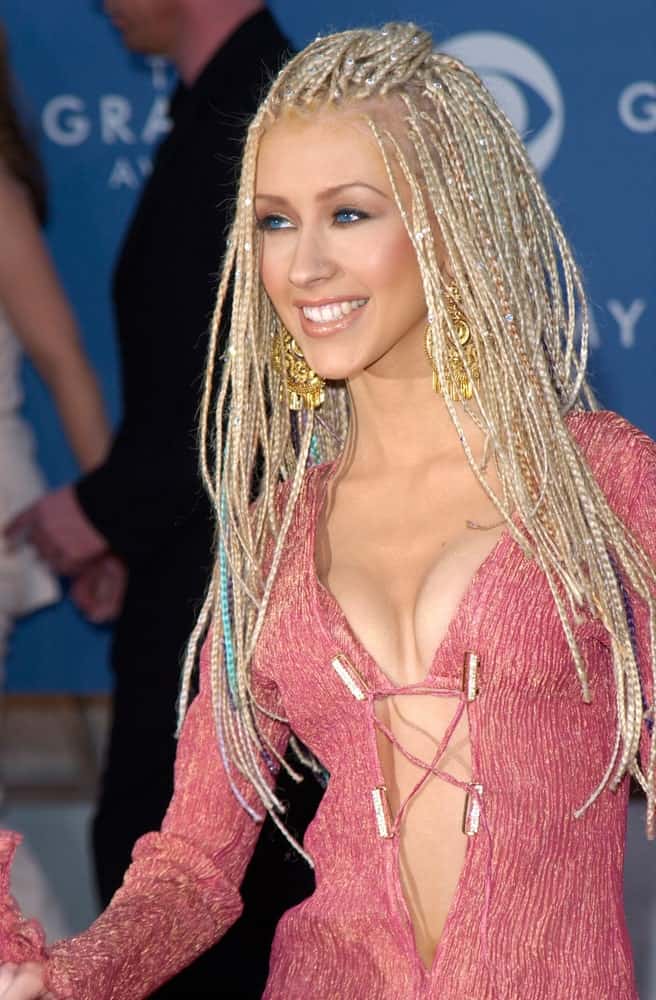 Christina Aguilera was seen wearing multi-colored plaits at the 43rd Annual Grammy Awards on February 21, 2001.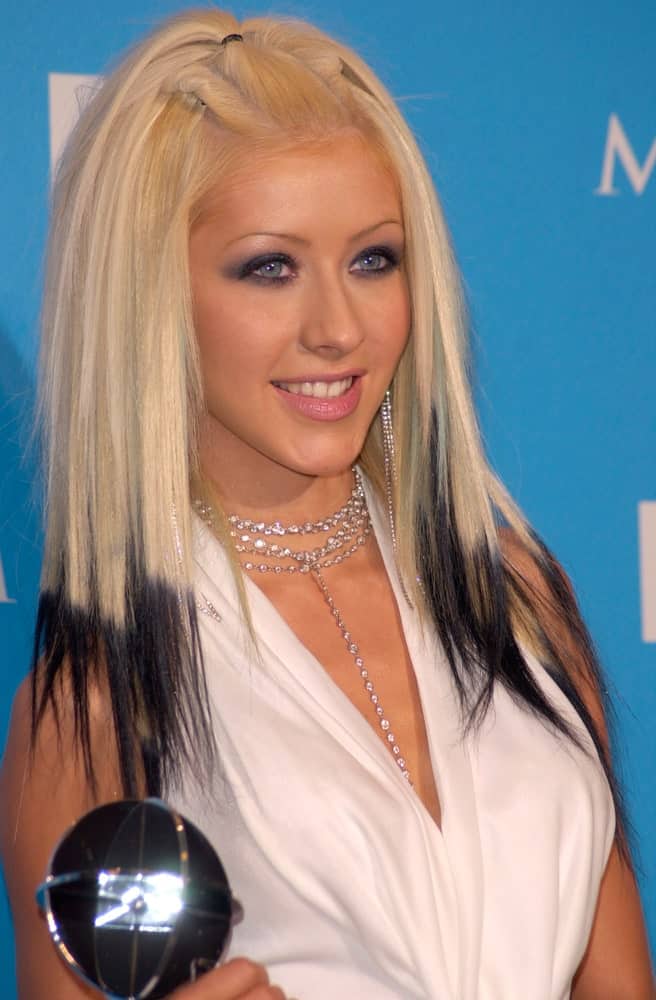 On December 5, 2000, Christina Aguilera dip-dyed her straight, platinum blonde locks with jet black for the Billboard Music Awards at the MGM Grand Las Vegas.