Let's revisit the best hairstyles that stunning Demi Moore showcased over the years. Discover how she reinvented various hairstyles with her consistent jet black hair.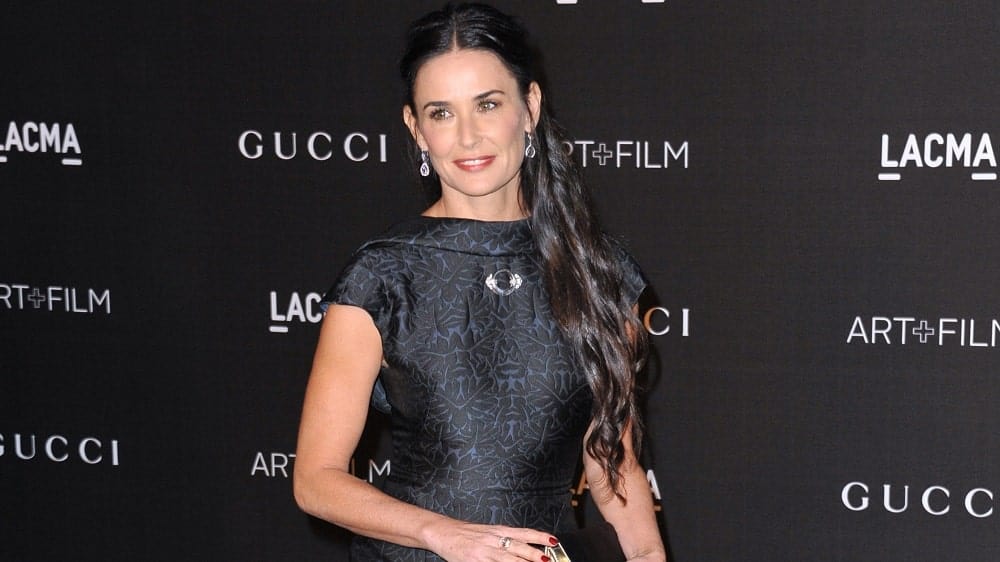 The 'Ghost' actress Demi Moore is a dream girl for many men. She is such a beautiful woman that people have loved watching her on-screen for many years. She is talented and very pretty. Her hairstyle is something many women love to follow.
Black is her signature hair color. No matter how she styled her hair, there weren't any major changes in her hair color except on a few occasions. Her hair is soft and shiny. She goes for a straight hairstyle often and it suits her. In her early times, she had layers and blunt bangs. It made her look very innocent. In 1993 she was seen in short hair and with curls. She looks very elegant with short hair styled sleekly.
In 1995 she was spotted at an event with curly long black hair. She looked very stylish at the Oscars in 2010. She had a low chignon and looked very graceful in it. At times she colored her hair golden or shades of brown. Out of all her hairstyles, people still love her cute short bob hairstyle in the movie Ghost. It gave her a strong image.
Demi Moore can do anything for her character. She even went bald for one of her movies. She didn't hesitate to walk in events with such a hairstyle and it reflected her strong personality.
This famous American actress has proved that she has a lot of talent. She was fond of acting from a very small age. She even left high school to take up a career in acting only at the age of 16. Her work was first recognized in Blame It On Rio released in 1984. The movie About Last Night released in 1986 made her a star. The 90s had been really good for her. Her film 'Ghost' is still remembered by people and is considered to be one of the most romantic movies of all time.
She received Golden Globe nomination for this movie. She had a number of hit movies to her credit in the following years. ' A Few Good Men', 'Indecent Proposal', and 'Disclosure' are some great movies in which she played the role of the lead actress. She won the Saturn Award for 'Ghost', MTV Movie Award for 'A Few Good Men', ShoWest Award for 'Disclosure', and People's Choice Award for the 'Juror'. She has been nominated for a number of movies as well.
She turned to be a producer and has produced all three franchises of Austin Powers. She is in the restaurant business as well. She, along with Kutcher, launched The Demi and Ashton Foundation. This organization works to stop child sexual slavery. Demi Moore is one of the legendary actresses who will be remembered for her outstanding performances.
Here are Demi Moore's hairstyles over the years.
Photos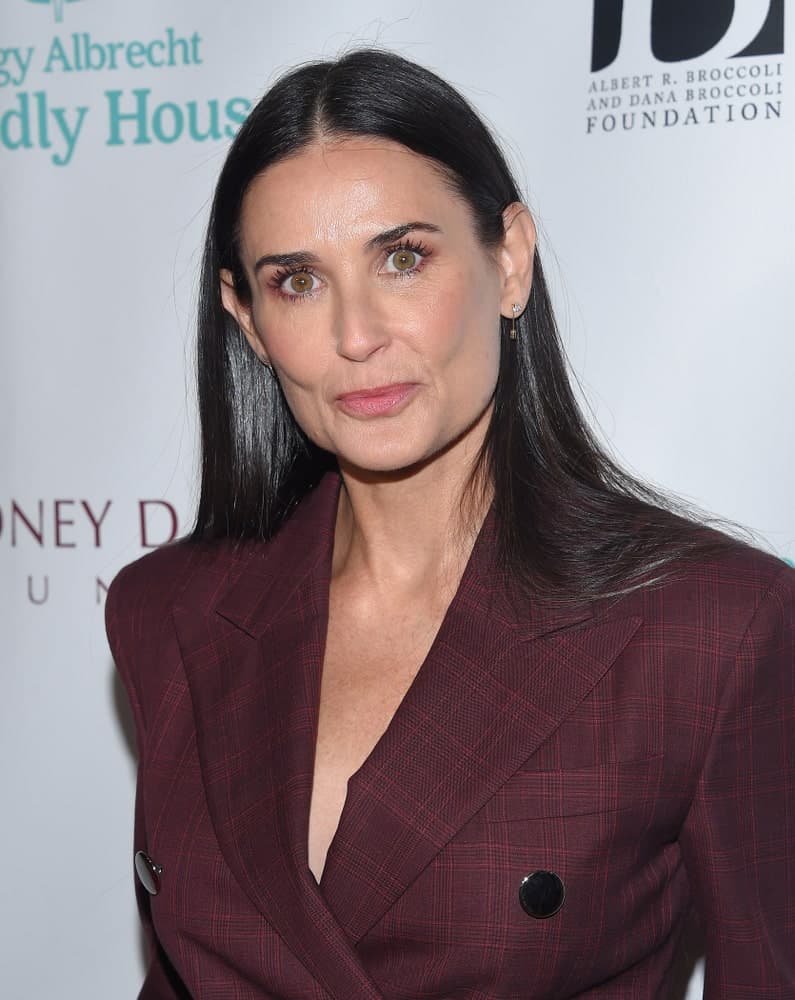 Demi Moore attended the Friendly House Lucheon on October 27, 2018, in Hollywood, CA with a classy burgundy plaid suit and a sleek black hair that's center-parted.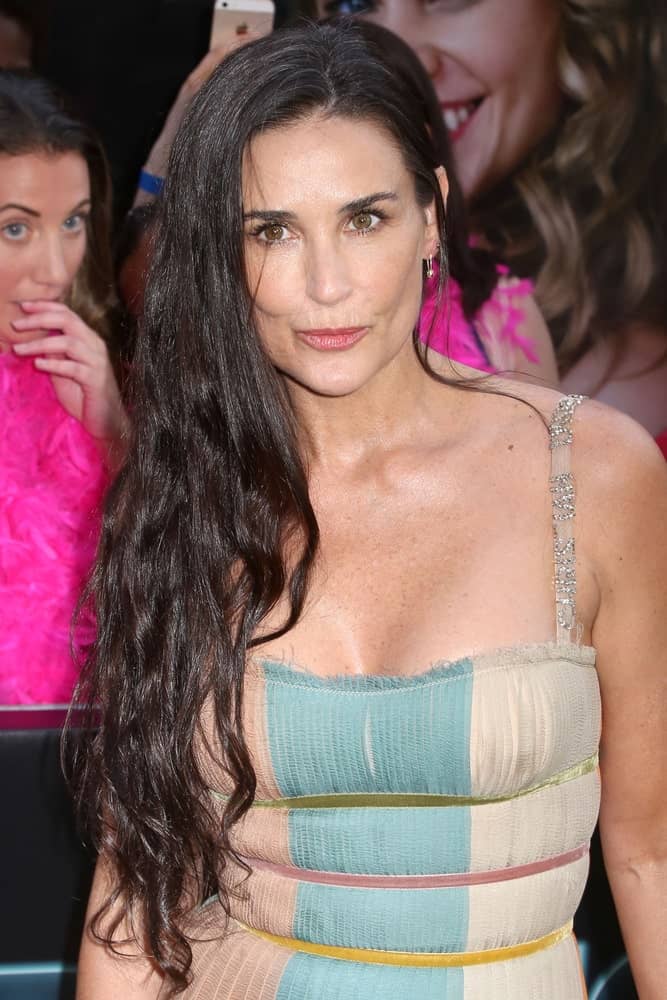 The actress looked gorgeous in a pastel dress along with her loose wavy hair that she gathered on the left side. This was worn during the premiere of "Rough Night" at the AMC Lincoln Square Theater on June 12, 2017.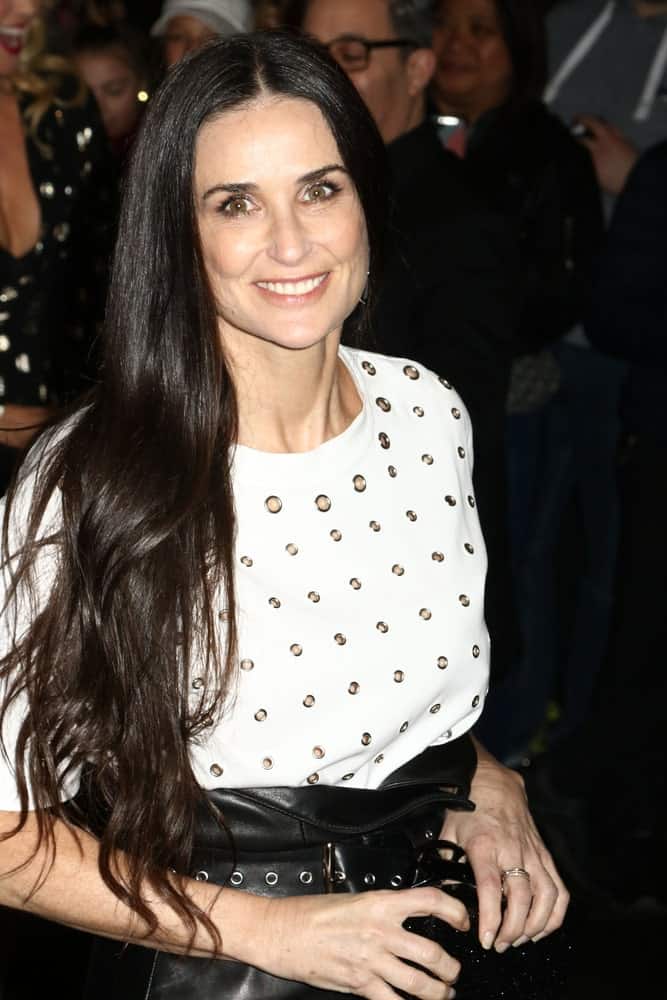 The actress is seen on April 19, 2017, in New York City flashing a sweet smile in a trendy getup along with her long black wavy hair that's tousled a bit.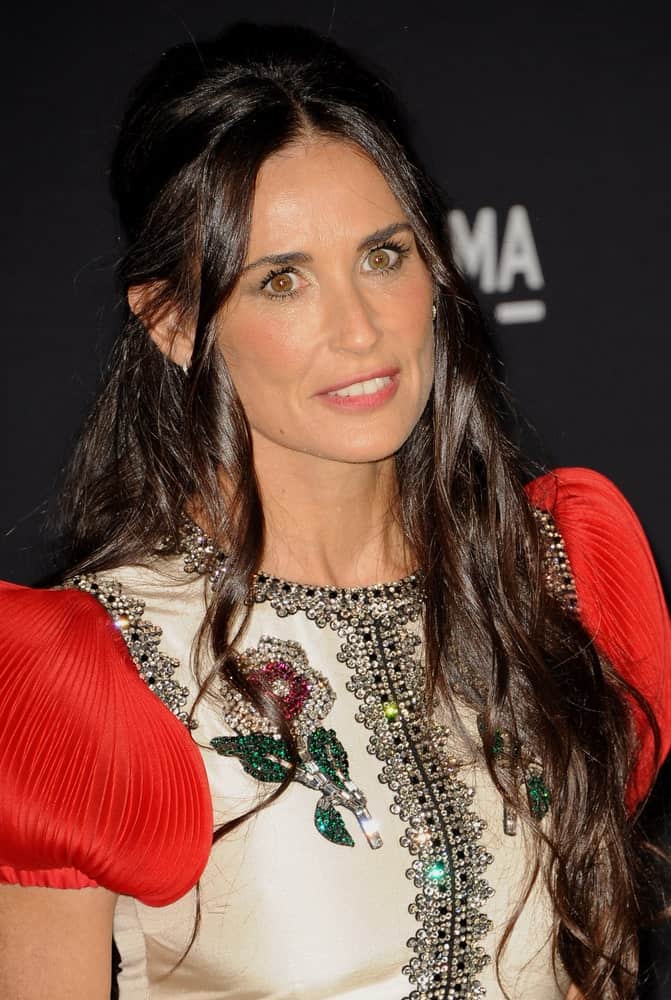 The actress looking all charming and sweet in a gorgeous dress that she wore during the 2016 LACMA Art+Film Gala last October 29th. She finishes the look with a half-up hairstyle incorporated with long curly tendrils.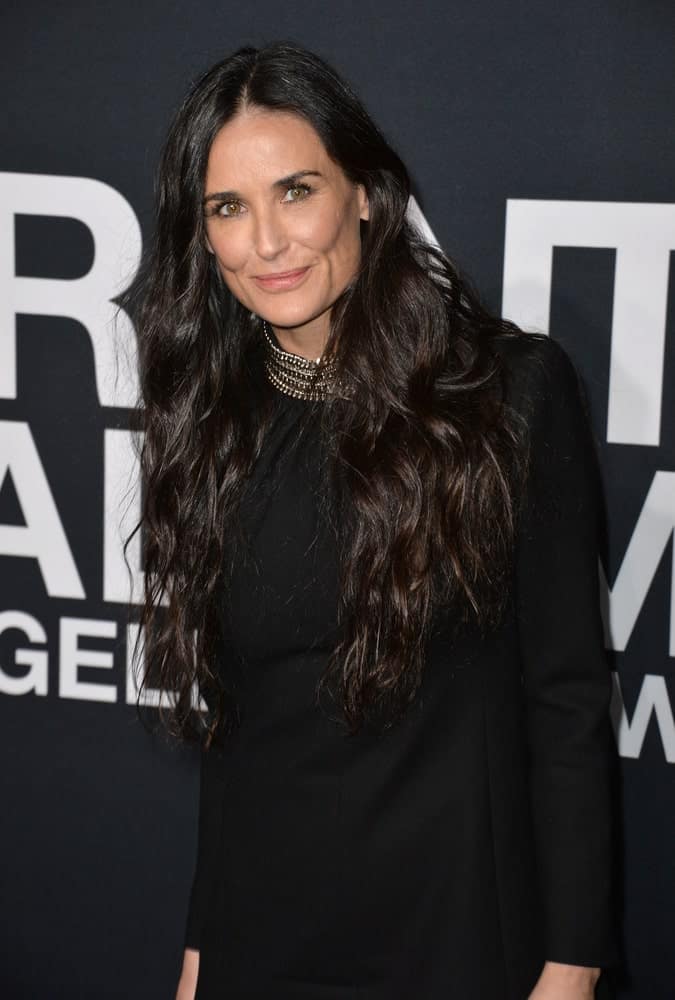 Last February 10, 2016, Demi Moore arrived at Saint Laurent at the Palladium fashion show at the Hollywood Palladium with a natural-looking permed hair and a classic black dress paired with a collared necklace.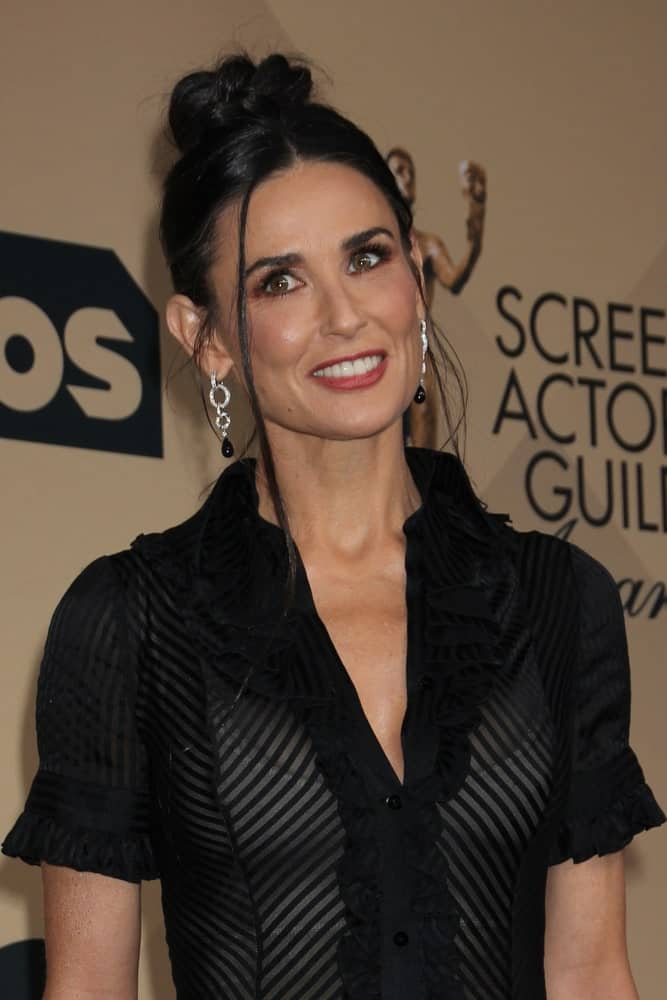 The actress arrived for the Spotlight Cast at the SAG Awards held on January 30, 2016, with a chic black dress and jet black hair arranged into a high braided bun with sleek tendrils.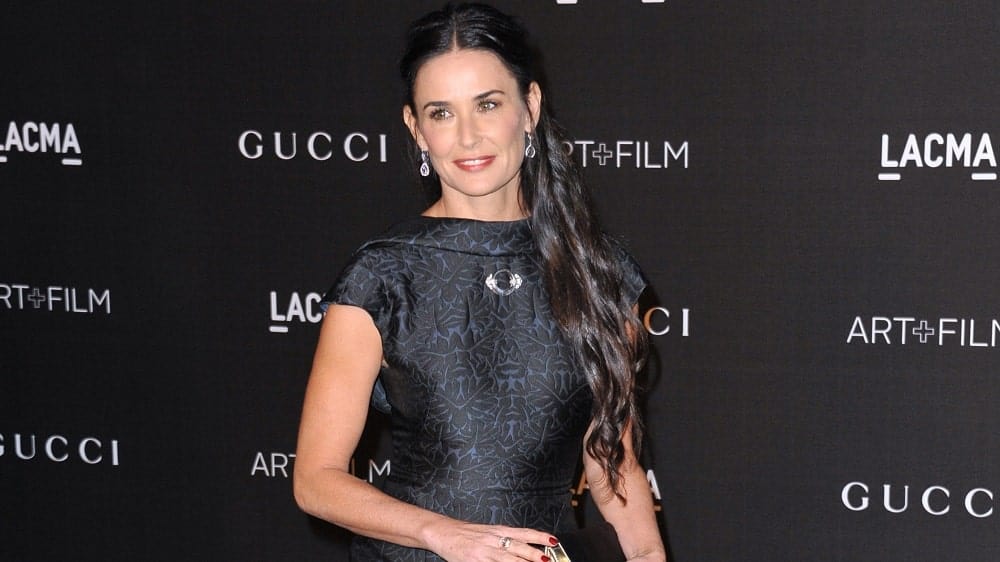 The actress shines in a stunning dress with her long hair sleekly permed. This was taken during the 2014 LACMA Art+Film Gala at the Los Angeles County Museum of Art last November 1st.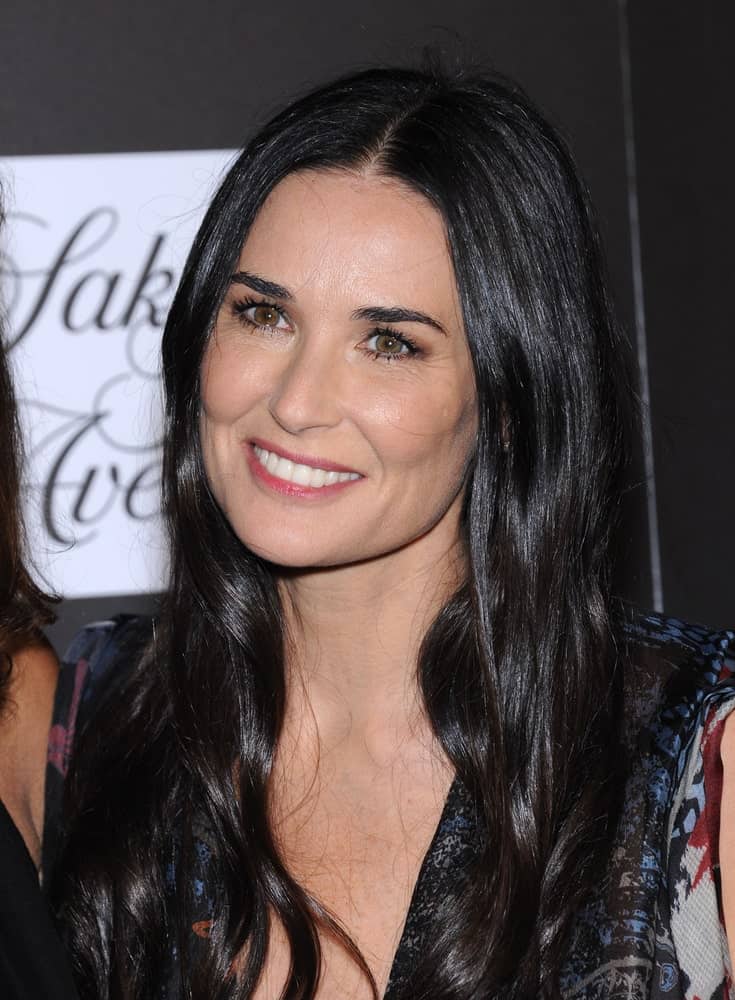 During the 5th Annual PSLA Autumn Party on October 8, 2014, Demi Moore shows off her loose wavy hair in jet black. It has been parted in the middle accentuating her gorgeous cheekbones.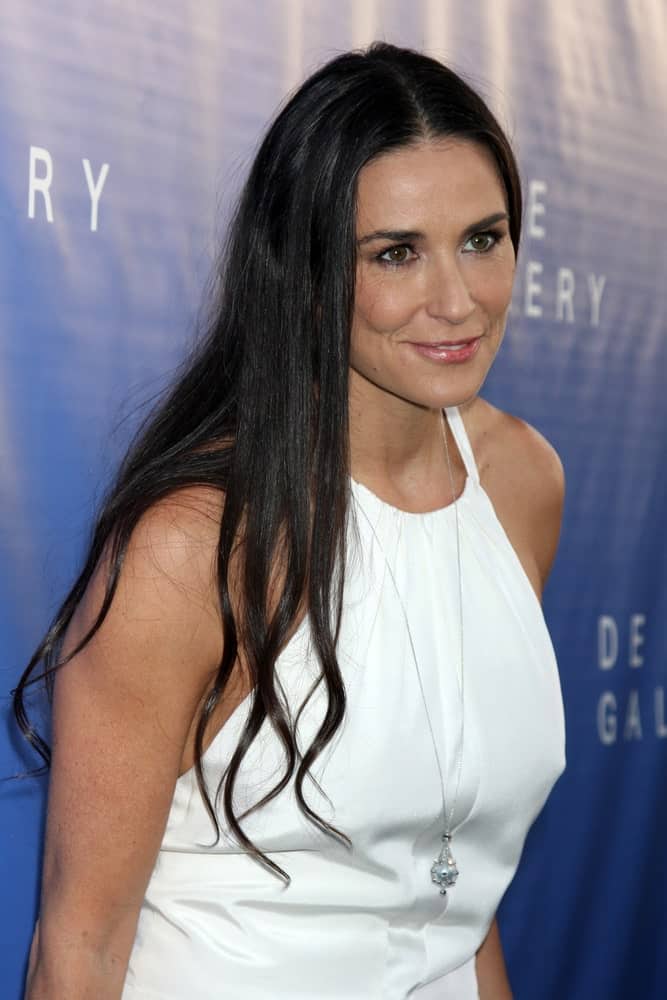 Demi Moore rocks in a white halter dress that's paired with a long necklace along with her black tousled hair partially permed with subtle waves. This look was worn during the De Re Gallery Opening last May 15, 2014.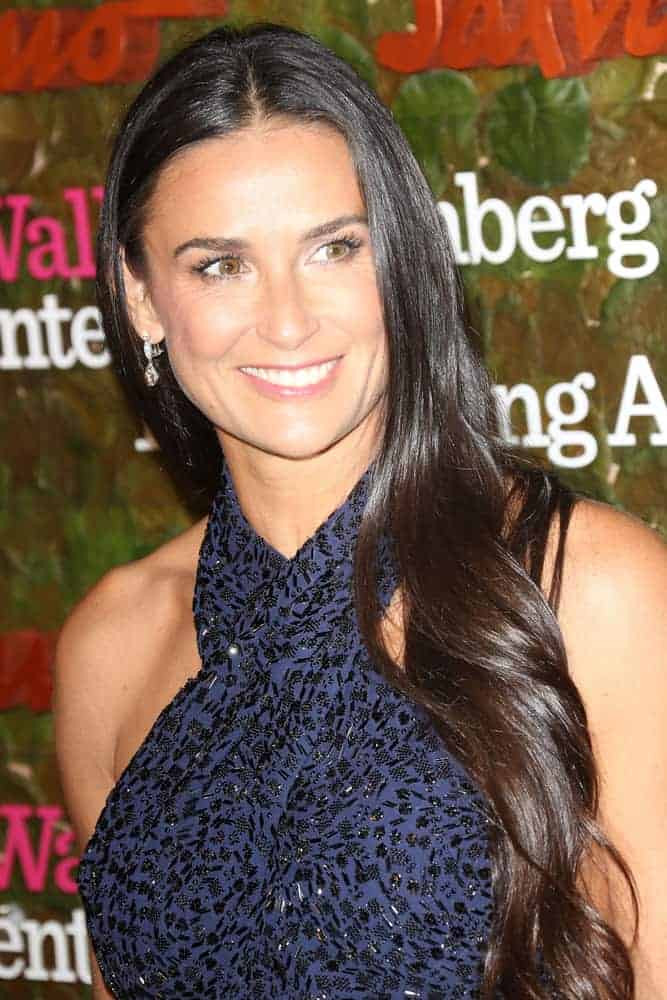 Demi Moore showed nothing but beauty and elegance during Performing Arts Gala on October 17, 2013. She attended with her waves, gorgeously controlled and kept to one side.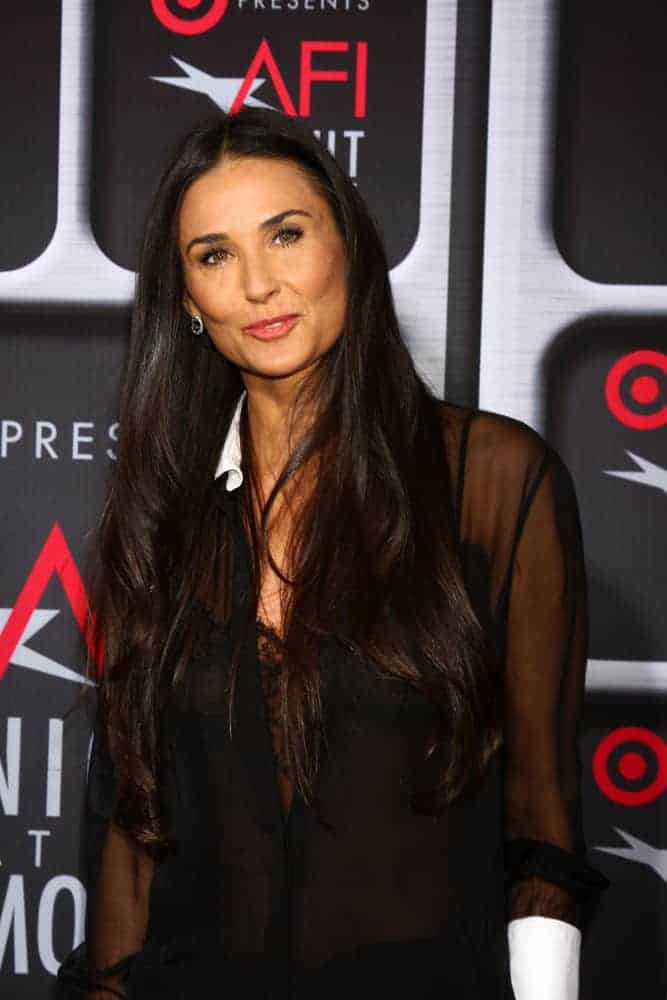 Demi Moore proved that simplicity can turn into elegance and beauty as she wore this effortless hairstyle with subtle waves during the AFI Night at the Movies 2013.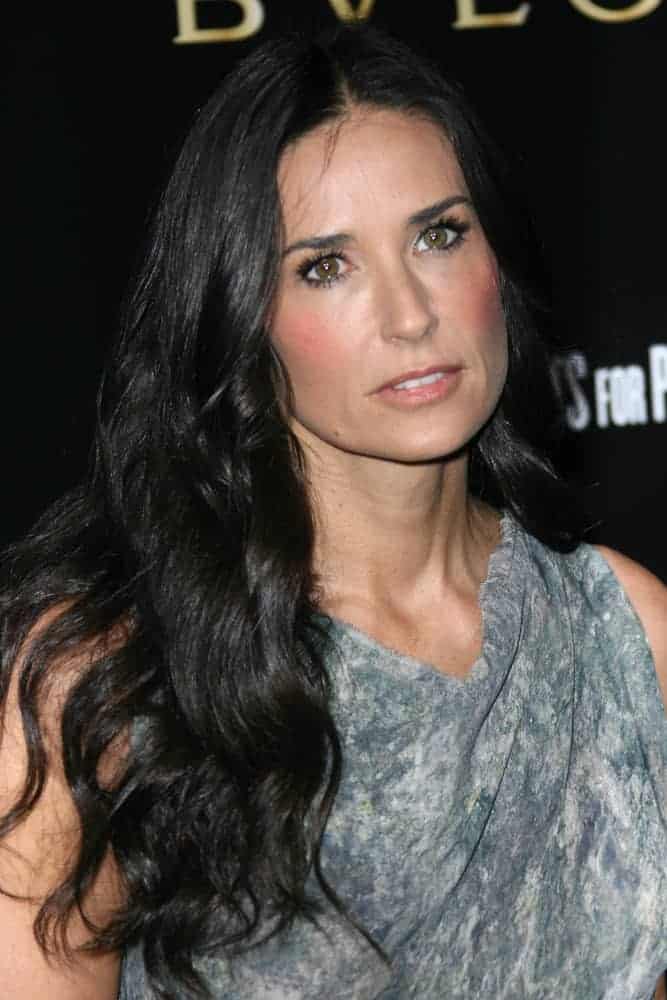 Last January 13, 2011, Demi Moore arrived at the Bvlgari Hosts Funraiser for Save The Children with a center parted hairstyle, emphasizing her messy yet beautiful waves.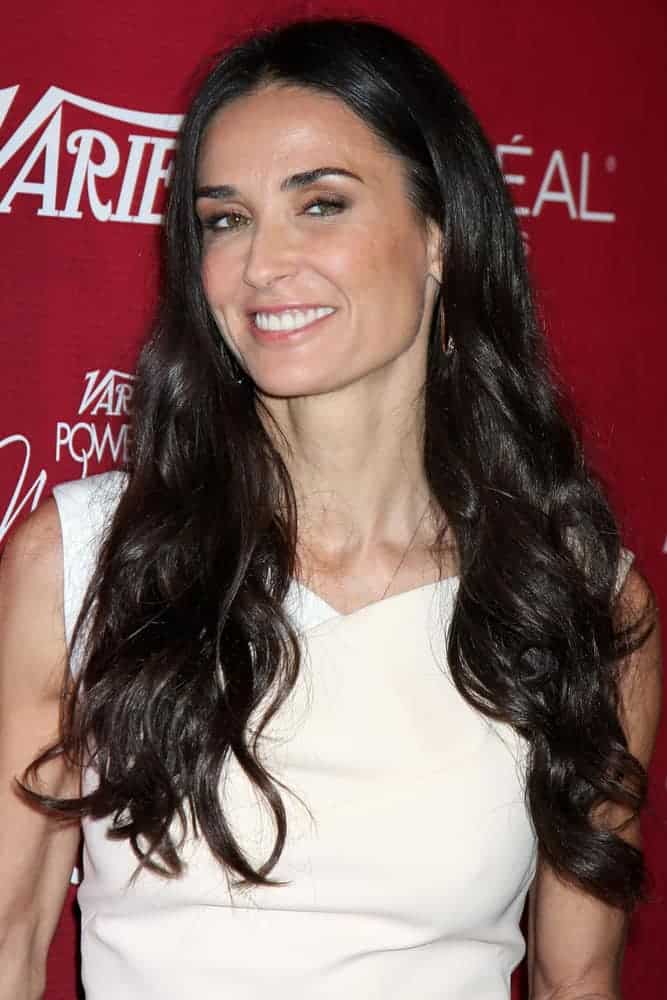 Demi Moore exhibited a neat and simple look with her tucked waves as he arrived at the Variety's Power of Women Luncheon at Beverly Wilshire Hotel on September 23, 2011.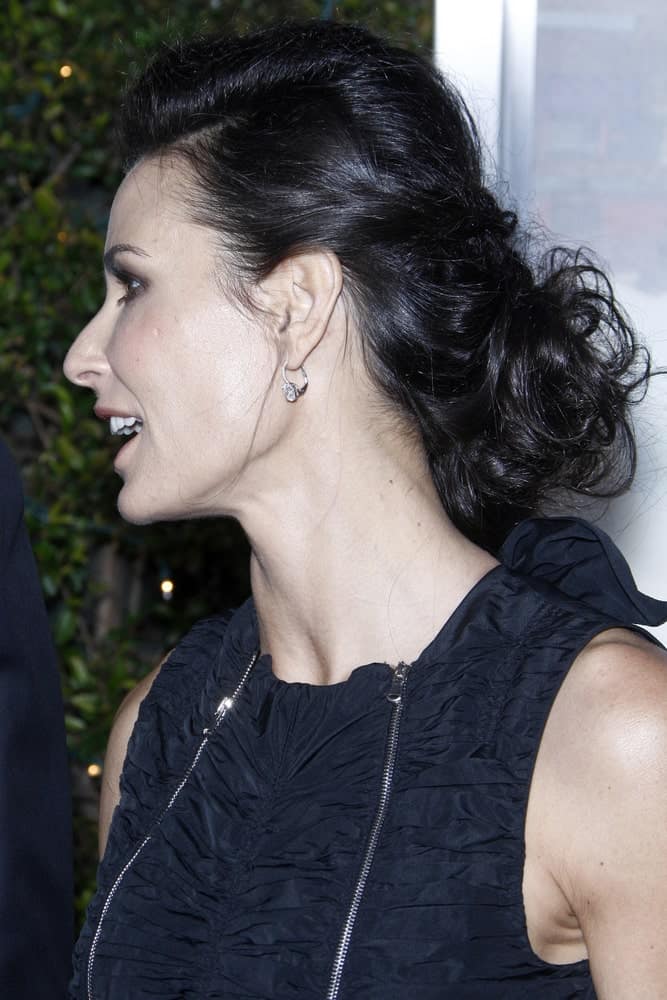 The actress sporting a glamorous updo hairstyle with a side braid and volumized slicked back on top. This was taken during the "No Strings" Premiere at Regency Village Theater on January 11, 2011.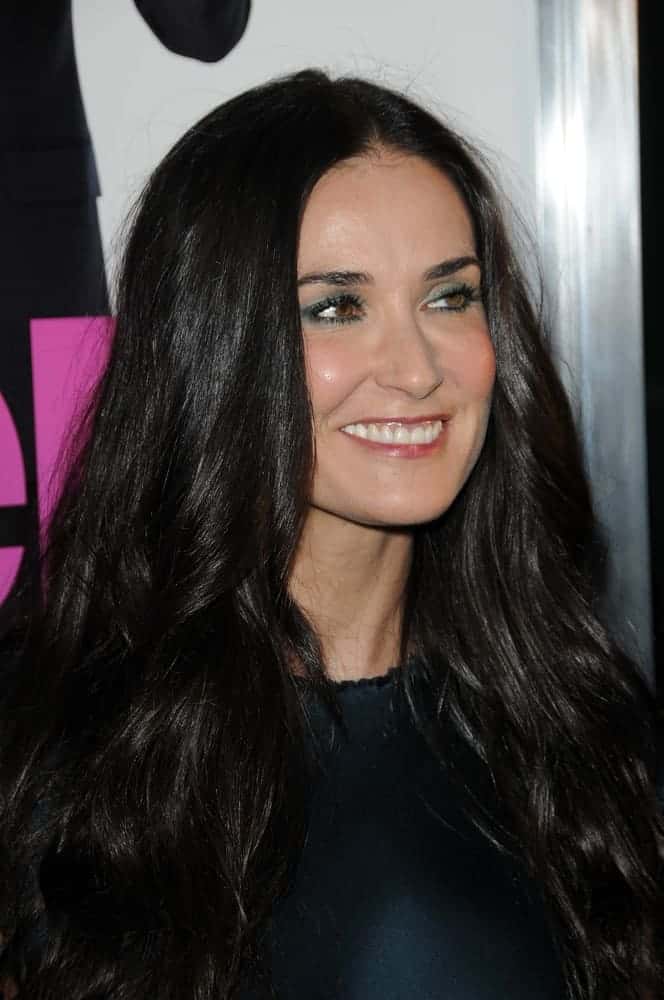 Demi Moore flaunted her thick and wavy hair in a center-parted style during the Los Angeles premiere of the movie "Killers", June 1, 2010.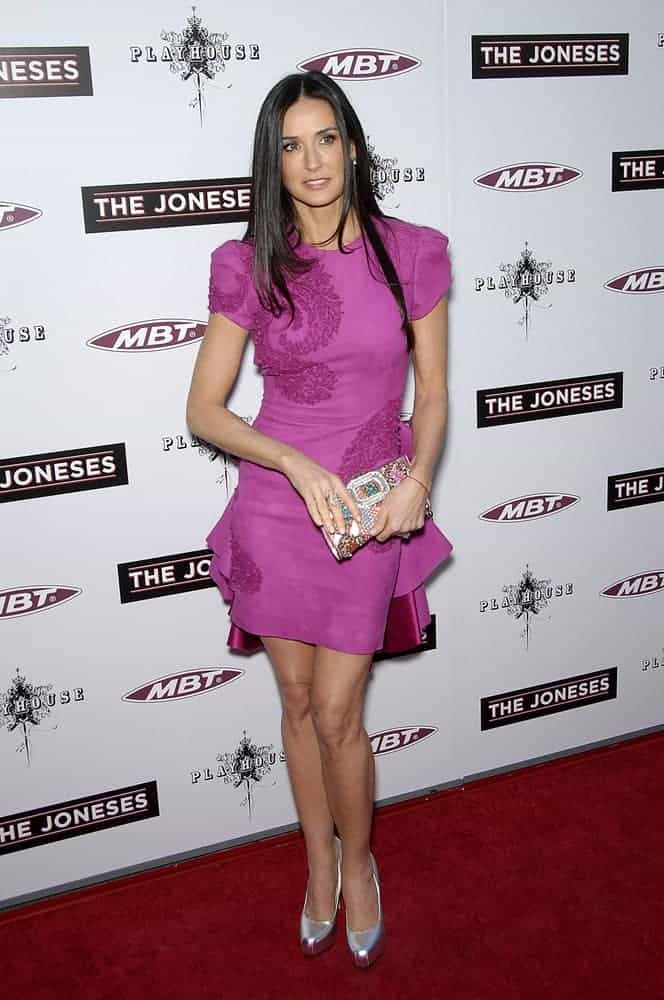 Demi Moore sported a sleek and straight hairstyle during the premiere of 'The Joneses' at the ArcLight Theater in Los Angeles, California last April 7, 2010.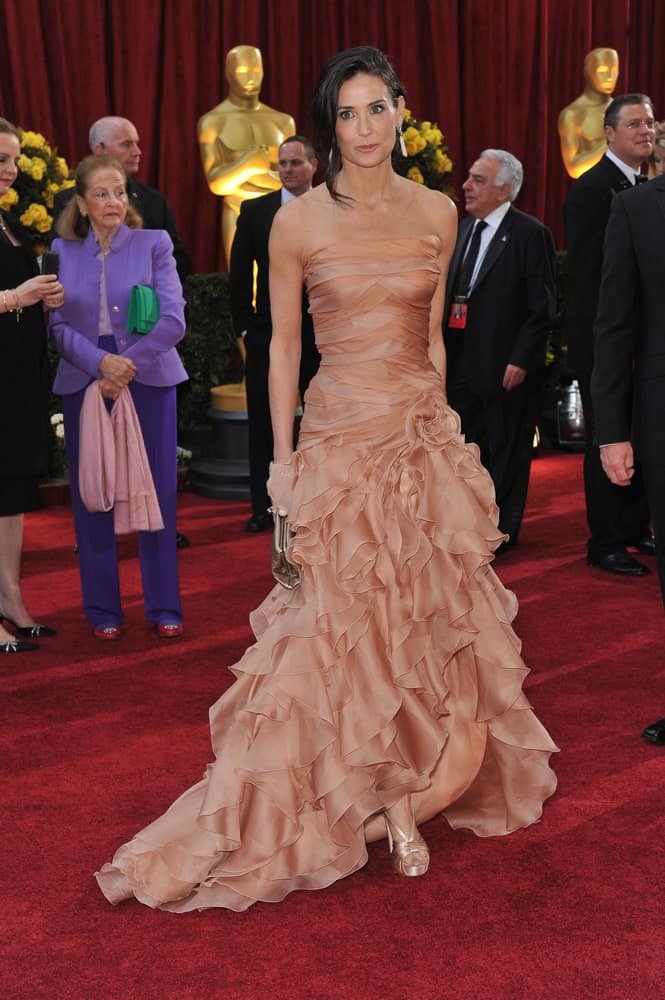 The actress during the 82nd Annual Academy Awards held last March 7, 2010 slaying a classic updo hairstyle with thick side tendril. It was completed with dangling earrings and a layered ruffle dress that complements her skin tone.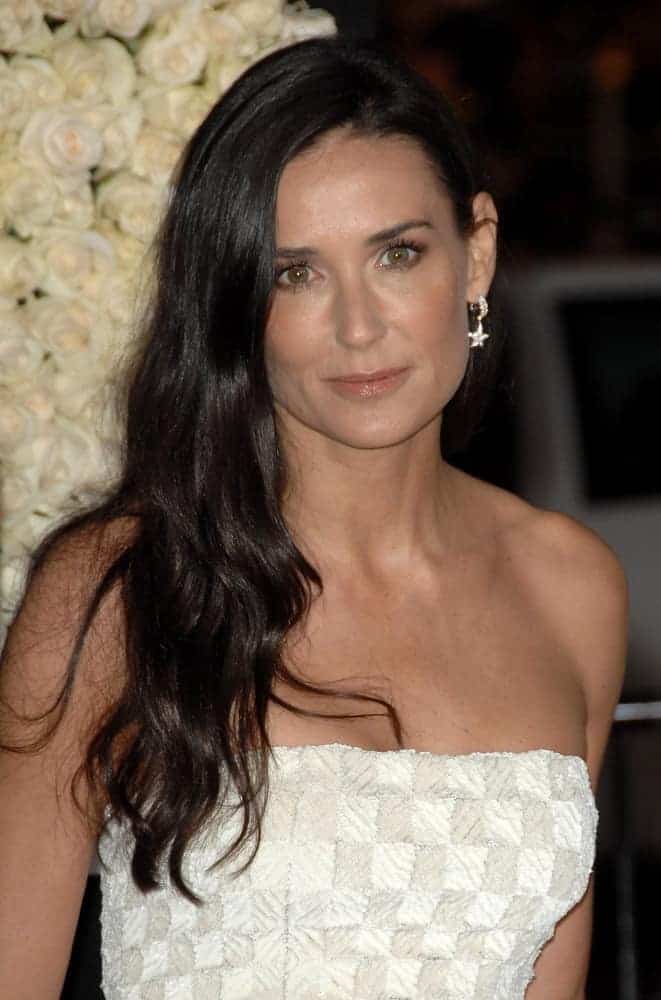 Demi Moore matched her simple but elegant dress with side-swept long hair with soft curls during the world premiere of the movie "Valentine's Day" held at The Chinese Theater, February 8, 2010.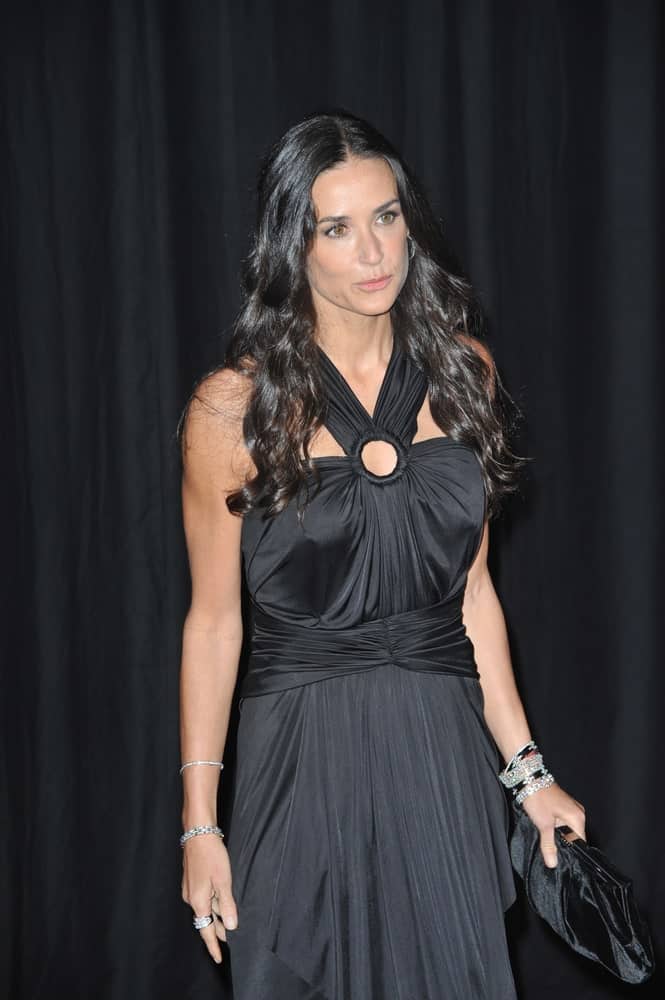 The actress arrived at the 2009 Rodeo Drive Walk of Style Awards last October 22nd with long curly hair cascading down her shoulder. Stunning bracelets and a black halter dress completed the classy look.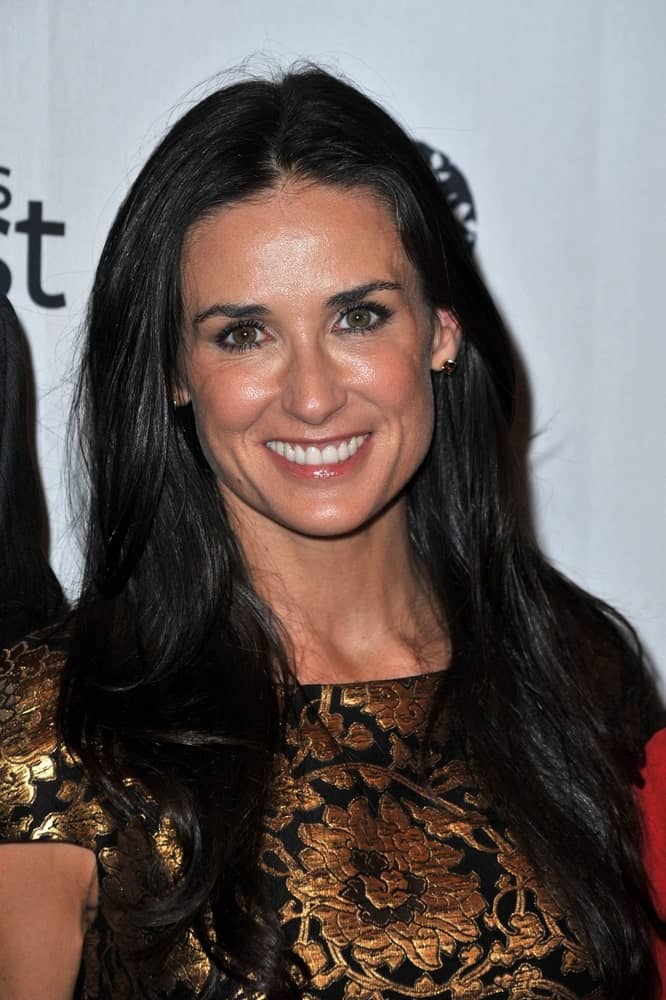 On September 23, 2009, the actress attended the Half the Sky Turning Oppression into Opportunity for Women Worldwide Book Party in a gorgeous floral dress along with her center-parted hair that has subtle curls.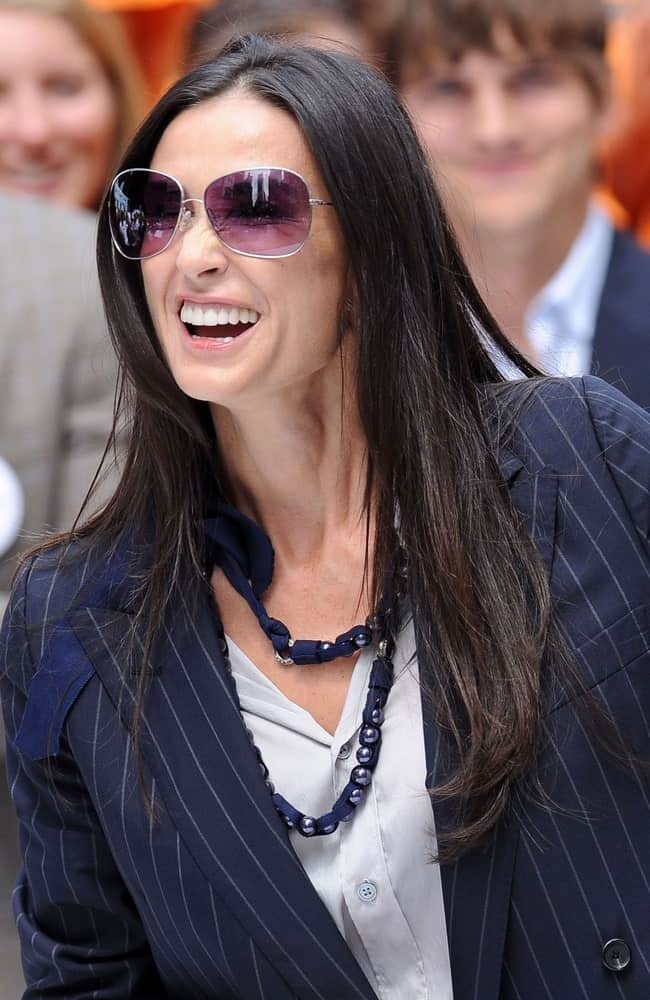 Demi Moore was seen at the press conference for Entertainment Industry Foundation I PARTICIPATE Kick Off Promotes Volunteerism held on September 10, 2009, with simple loose hairstyle that goes well with her professional-looking attire.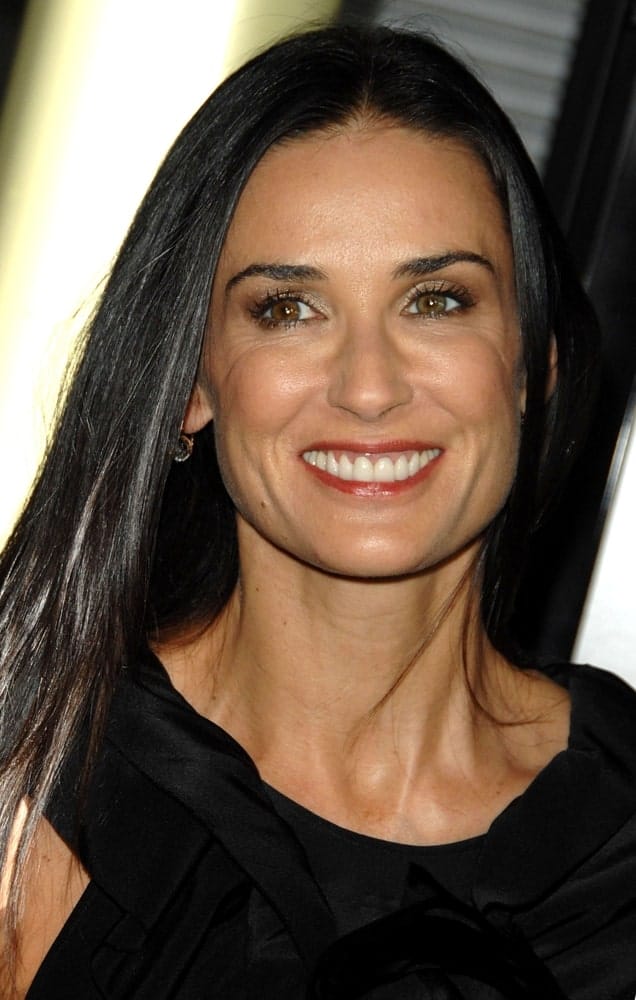 The actress looked sophisticated in a classic black dress and sleek hairstyle that's loose. This was worn during the SORORITY ROW Premiere last September 3, 2009.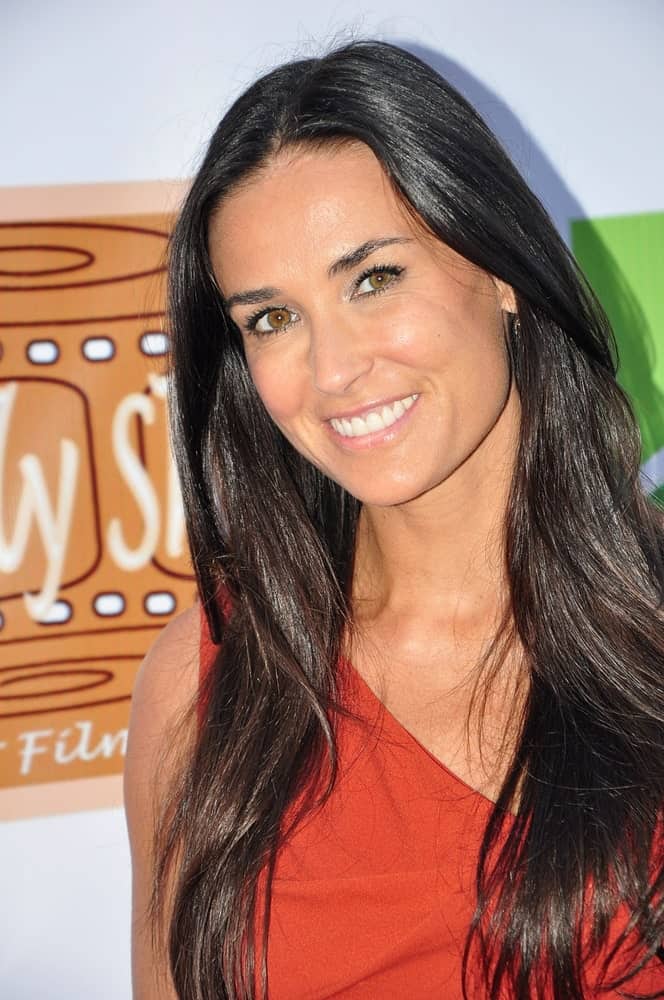 Gorgeous Moore in a red one-shoulder top and loose hairstyle with wavy layers. This look was worn at the 5th HollyShorts Film Festival's Opening Night Celebration last August 6, 2009.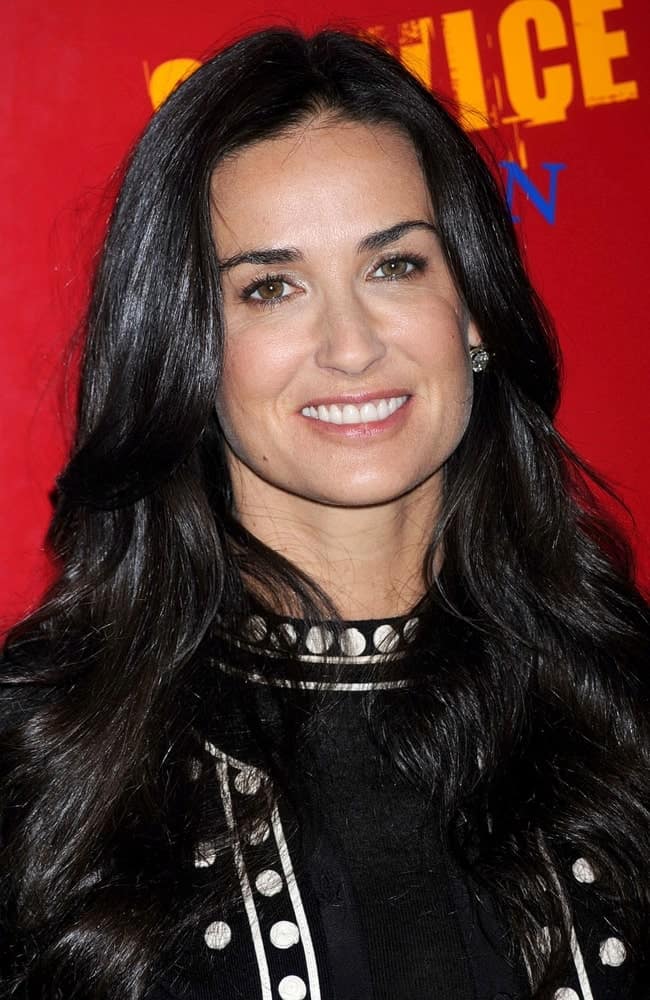 The actress exhibited a charismatic look with her voluminous waves as she arrived at the Partnership Announcement of Cartier with Servicenation at the Cartier Mansion, New York City on April 30, 2009.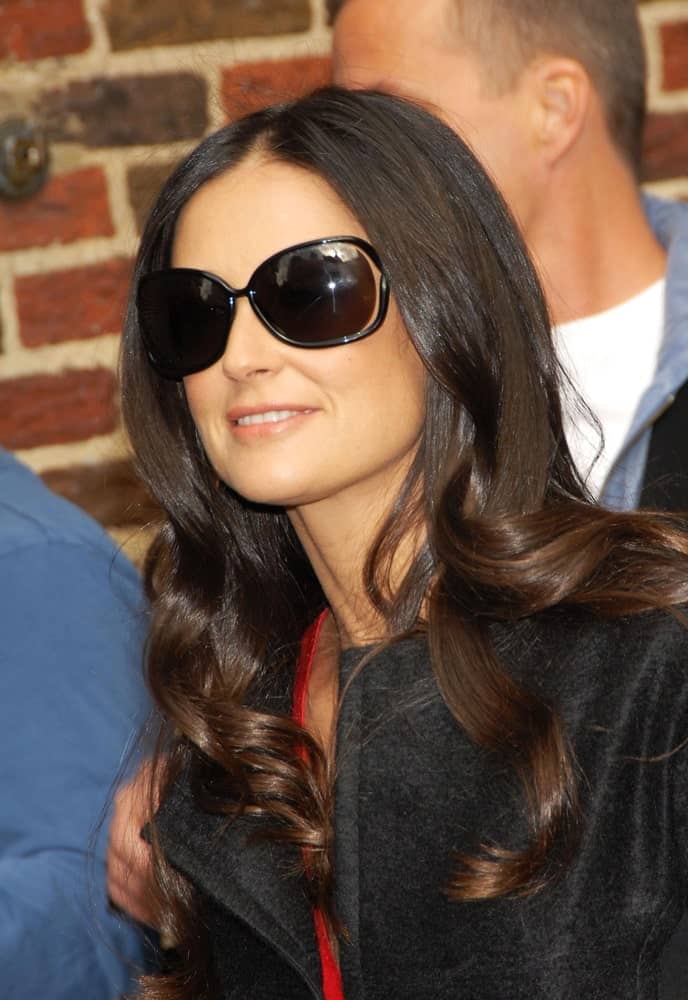 The actress was seen at talk show appearance for The Late Show with David Letterman last March 24, 2019, wearing Tom Ford sunglasses and a gorgeous curly hairstyle that shines along her cheerful aura.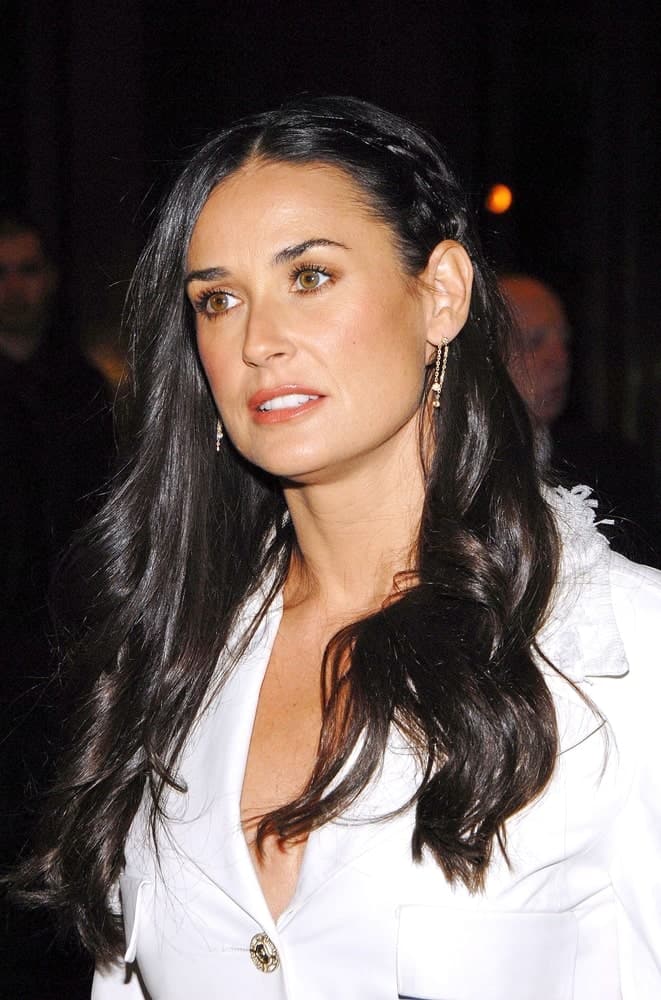 Demi Moore flaunting a permed hairstyle with a side braid that's tucked behind her ears during the FLAWLESS Screening Hosted by The Cinema Society last March 4, 2008.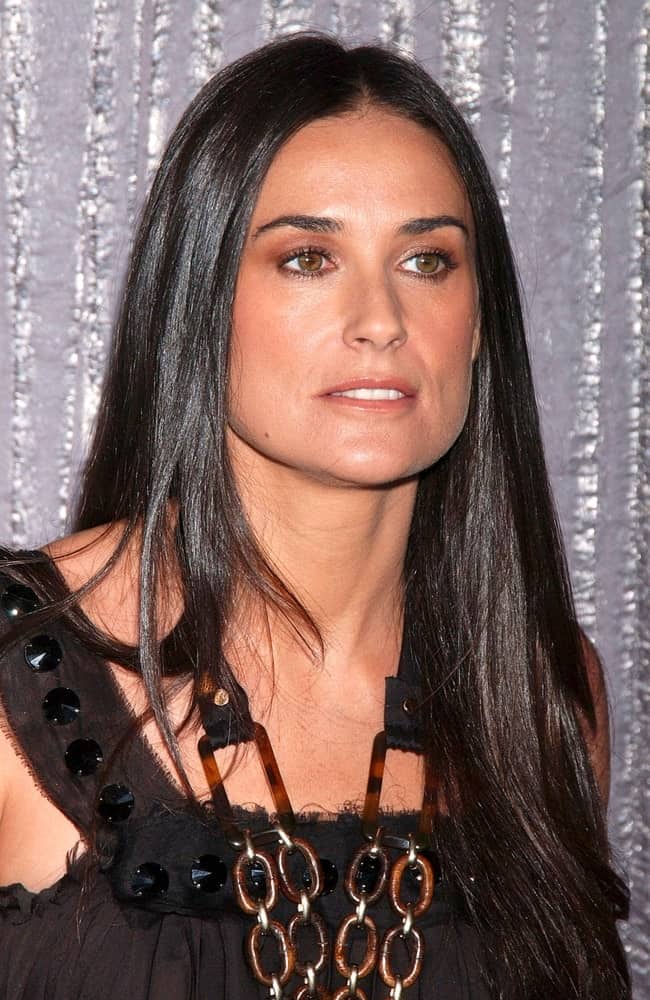 On September 10, 2007, the actress arrived for the FIT Couture Council Luncheon Honoring Alber Elbaz Of Lanvin with a long straight hair accentuating her statement necklace.
During the Los Angeles Premiere of "Mr. Brooks" on May 22, 2007, the actress showcased a classic look with her wavy tousled hair and a black dress inlaid with gem embellishments.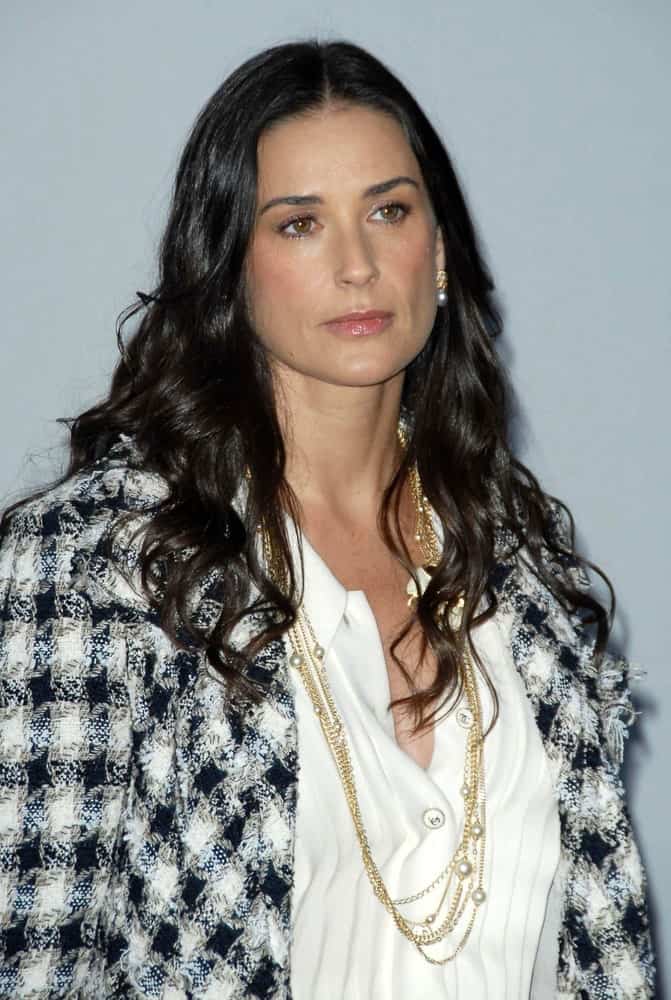 Demi Moore sported a center-parted permed hair with defined curls during the 2007/2008 Chanel Cruise Show Presented by Karl Lagerfeld last May 18, 2007. She complemented it with a classy chic outfit showcasing a white button-down topped with a plaid blazer and layered necklace.