Known for her sweet face, she is a very popular name in Hollywood. That's why her fashion statement and hairstyles become a great subject of conversation among the girls. When she was a child, she had bob cut hairs with little fringes on front. She looked perfect for her role in E.T. A few years later, she grew her hair a bit longer and just beyond her shoulders.
During her early teenage years, she went for the curly brown hairstyle with some front hair at the crown swept backward. Two years later she went for a lighter color, but this time had her hair straight. Drew Barrymore prefers red hair. So, she tried the short bob styled hair with the front hair grown a little more so that it can lie nicely on the head.
Here's Drew Barrymore's hairstyles over the years.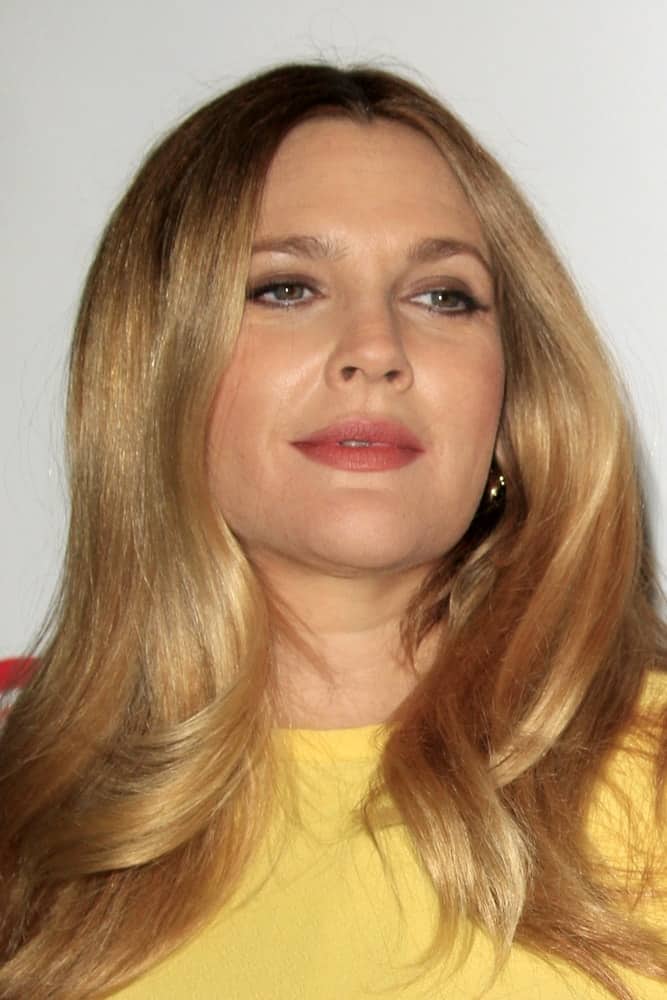 This is a perfect example of loose voluminous style with ultimate shine that the actress is wearing at the CinemaCon 2014 - Warners Brothers Photocall on March 27, 2014.
The blonde momma-to-be went rock chic with tousled locks at the "Blended" Premiere on May 21, 2014.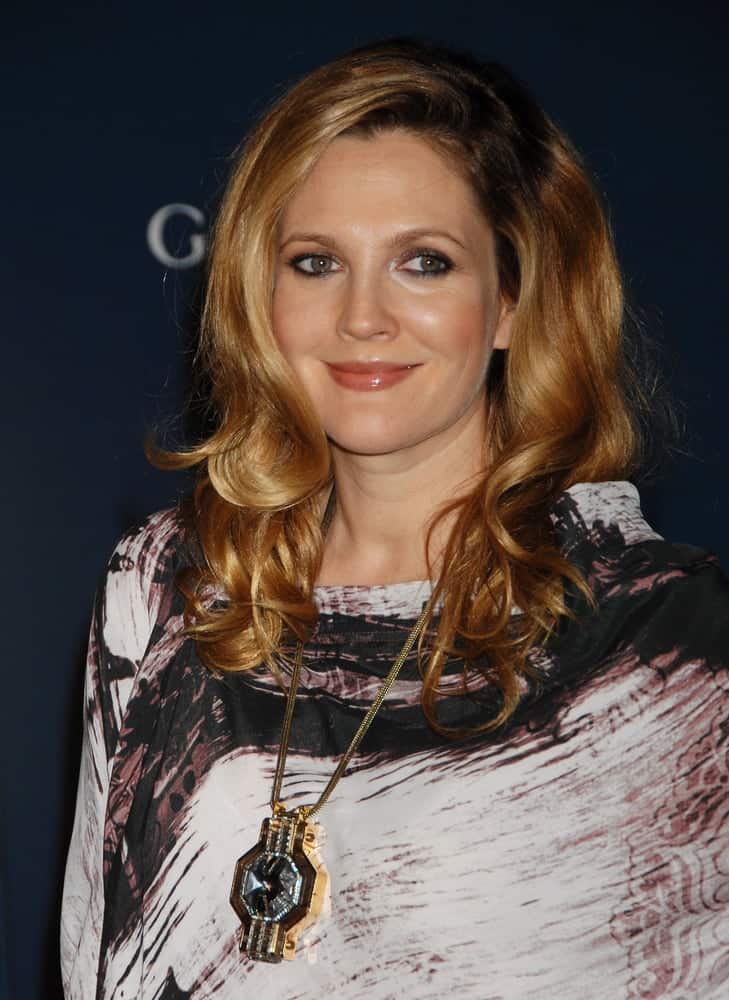 Her blonde layered mane was styled in big loose curls with a deep side part as she arrives at the LACMA 2013 Art and Film Gala on on November 2, 2013.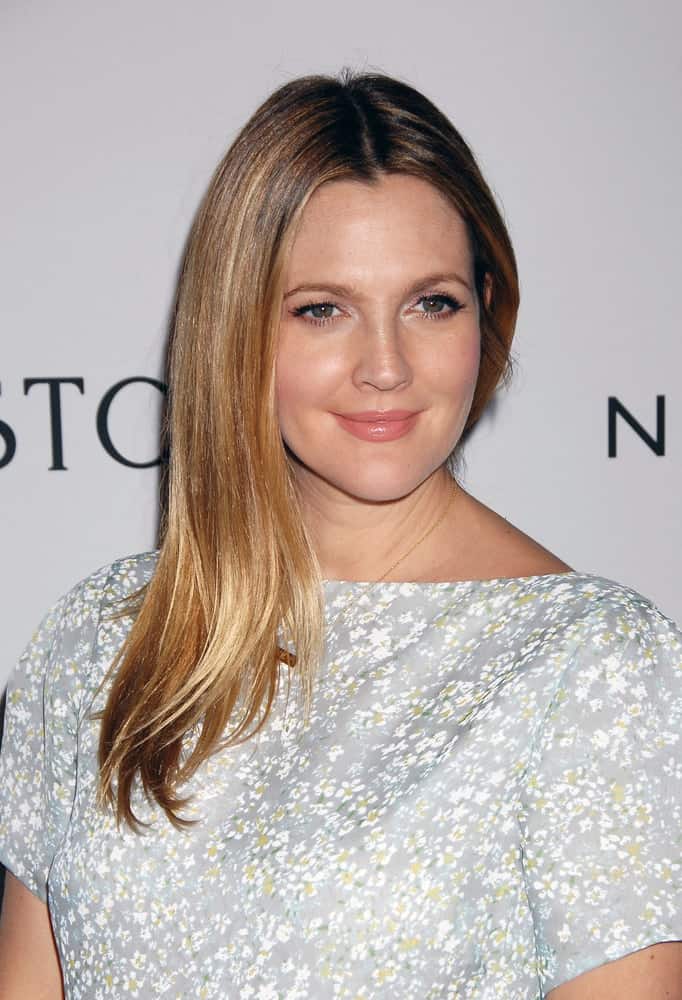 Her beautiful tresses was styled in a simple straight 'do with strands swept to the side at the 2nd Annual Baby2Baby Gala on November 9, 2013.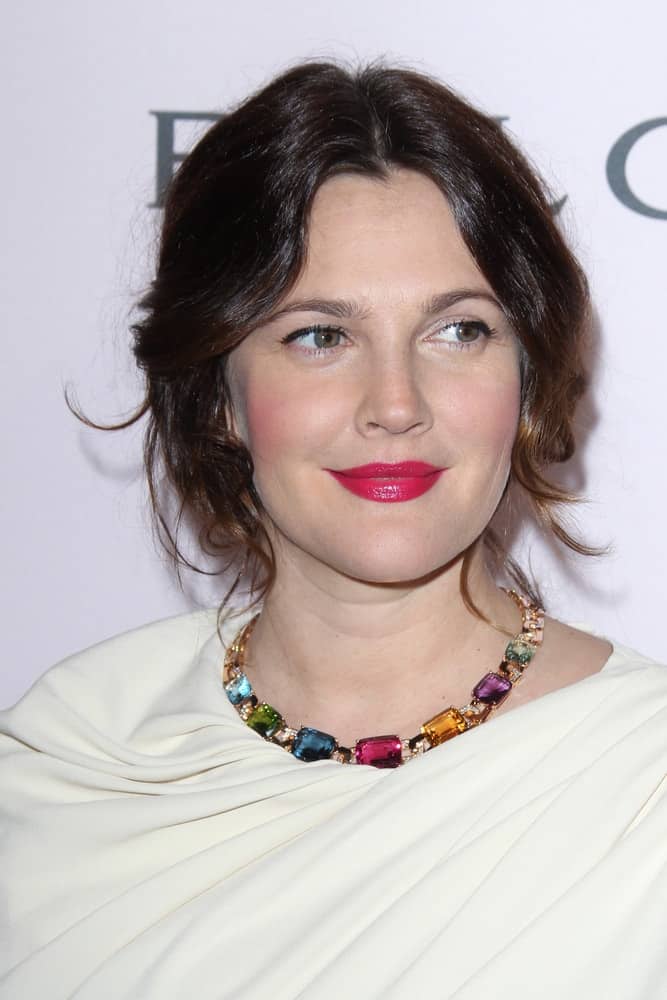 The angelic star is showing off her messy upstyle which she completed with curtain bangs for the BVLGARI Celebrates Elizabeth Taylor's Jewelry Collection on February 19, 2013.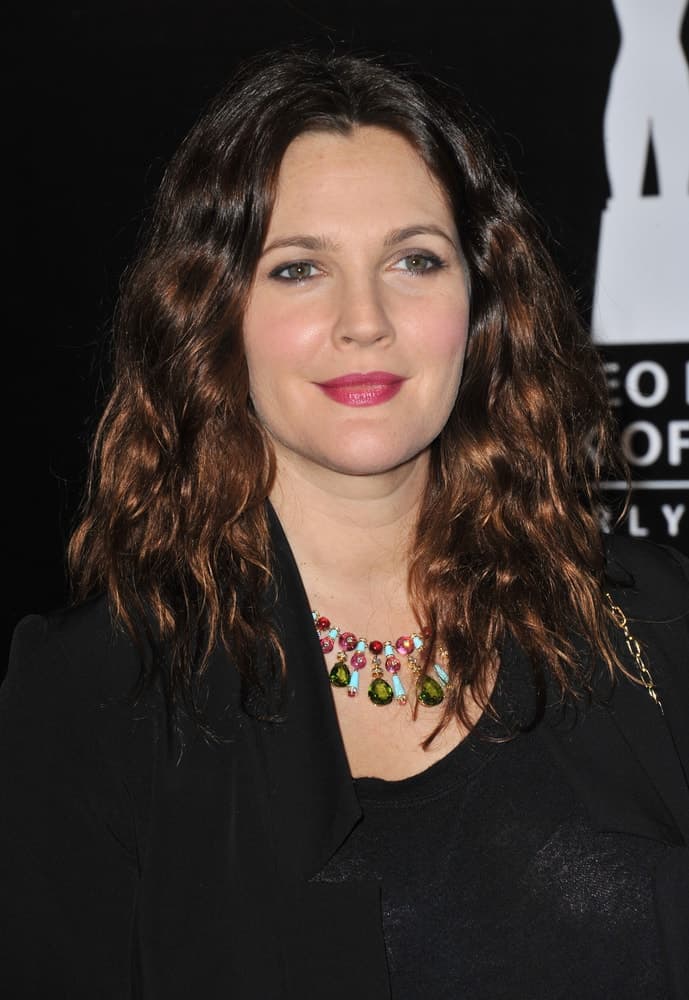 This medium-length loose locks style with beachy waves looked naturally gorgeous for her as she attends the 2012 Rodeo Drive Walk of Style Gala on December 5, 2012.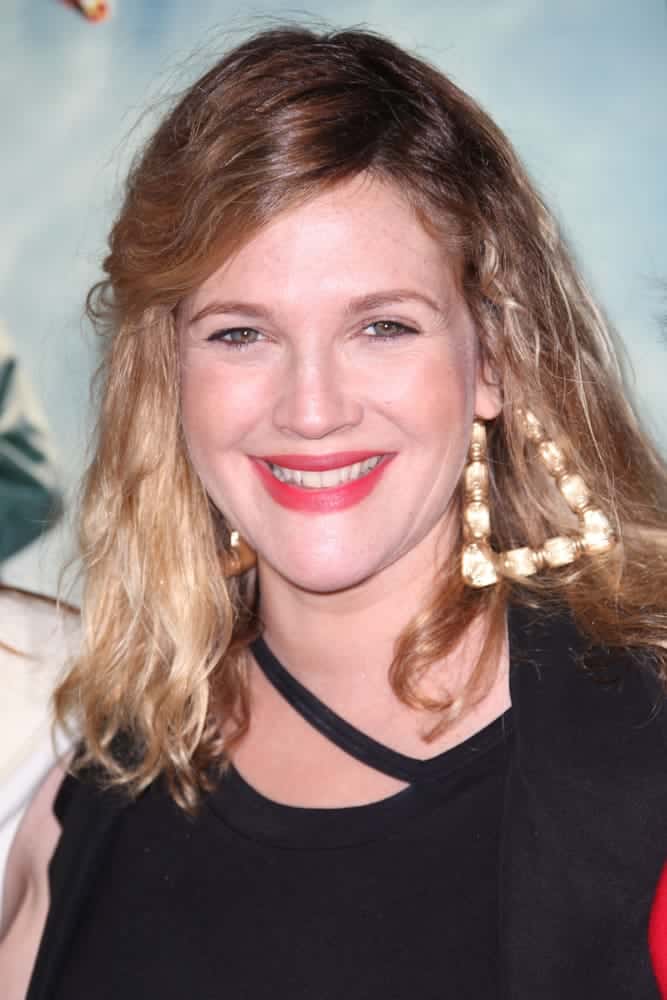 This celeb is rocking a wavy bob with side-swept bangs pinned up on one side during the premiere 'Seeking a Friend for the End of the World' on June 18, 2012.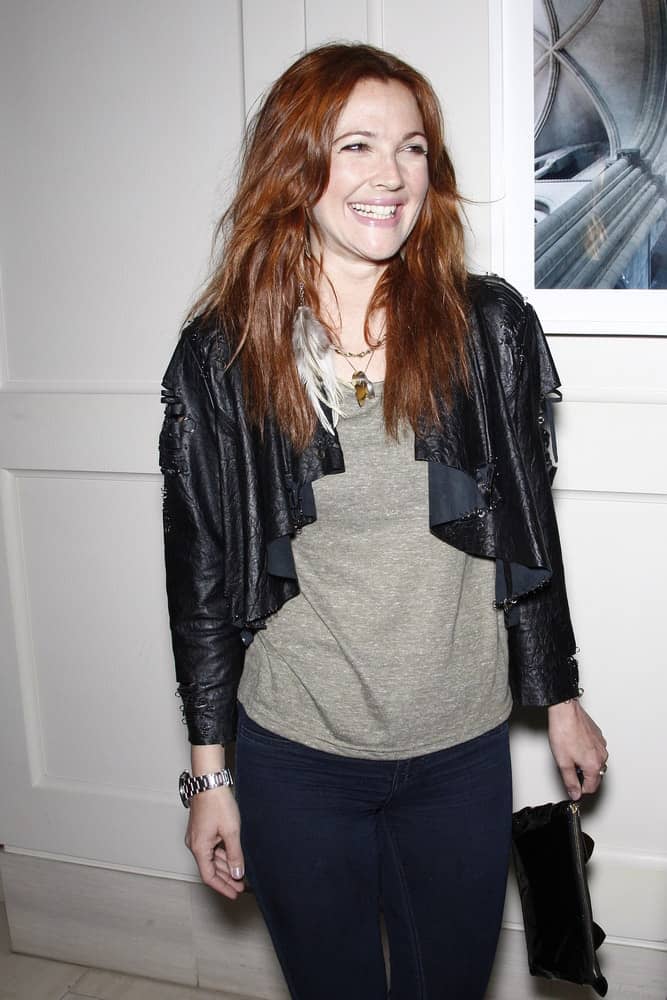 This hollywood star looks very pretty with her auburn tresses in tousled waves at the Kimberly Snyder Book Launch Party For 'The Beauty Detox Solution' on April 13, 2011.
This ombre hued medium-length locks were created sleek and straight with a middle part at the COVERGIRL 50th Anniversary Celebration on January 5, 2011.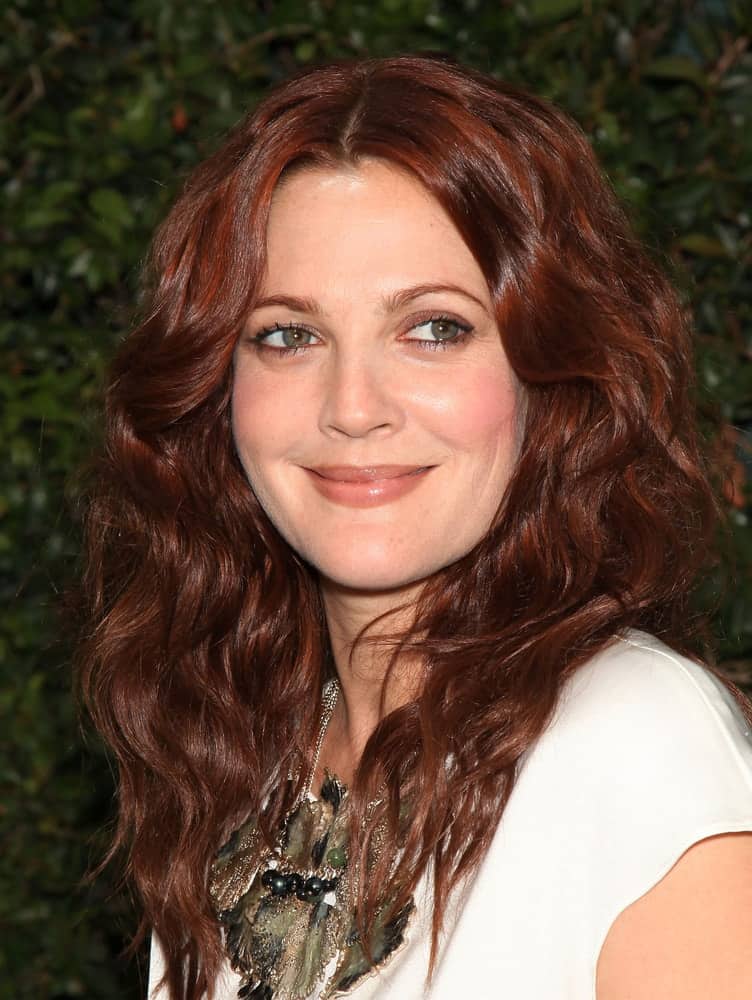 The charming star wore her auburn locks in loose layered curls with curtain bangs during the Natural Resources Defense Council's Oceans Initiative on June 06, 2011.
At the premiere of the movie 'Batman Forever,' Barrymore looked super cute with a flower on her hair. She had her bob hairstyle but this time it was a lighter color. She loves experimenting with her hair. That's why she went for the blue-black short layered hairstyle. She turned into an edgy bob with short bangs in front swept on one side.
Barrymore loves flowers and daisies are her favorites. At an Oscar event in 1998, she tucked in two daisies behind her hair. She had a bob cut with blunt bangs in front. At the Academy Awards in 2000, we saw Barrymore's most familiar hairstyle. The wavy hairstyle laid back looked very simple and fresh. She even tried the sexy beach wave with yellowish golden hair color. It looked very stylish indeed.
Drew Barrymore is a very familiar face in Hollywood. She is best known for her role in The Charlie's Angels sequel. Her sweet face is a heart warmer. At a very young age, she acted in the film E.T. the Extra-Terrestrial which became a huge success. She had a very tough childhood, but she pulled herself together and started doing some great films. These include Poison Ivy, Scream, The Wedding Singer, 50 First Dates, and more. As an actress, she has received the Golden Globe and the Screen Actors Guild Awards for performing well in the film 'Grey Gardens'.
She is also a producer and has produced a number of films like Charlies Angels and Never Been Kissed. She became the model of Cover Girl cosmetics. She also became the face of Gucci jewelry. She launched her own women's fashion line last year. So, she is actually working in multiple fields and achieving lots of things in life. We hope to see her more in films. Her screen presence is really a great entertainment.