Emily Blunt with an up-style blonde tresses at the 'Sicario' premiere during the 68th annual Cannes Film Festival 2015
Emily Blunt is a beautiful British-American actress. She has lovely lightweight hair too. Though she never had any drastic hairstyle changes, her hairstyles did transform over the years. Most of the time, her hair is shoulder length. She did some wonderful waves and shades on it. Her hairstyles are an inspiration for those who have fine or medium hair.
Long layers go well with her facial features. She chooses medium brunette, chocolate or similar shades of her hair. She also had bob cut hair a number of times. She sometimes uses two different shades in her hair. The bob cut hairstyle reveals her sexy neck and makes her look more stunning. She loves doing up-dos for formal occasions. She has been seen using accessories on her hair too.
Check out Emily Blunt's hairstyles over the years.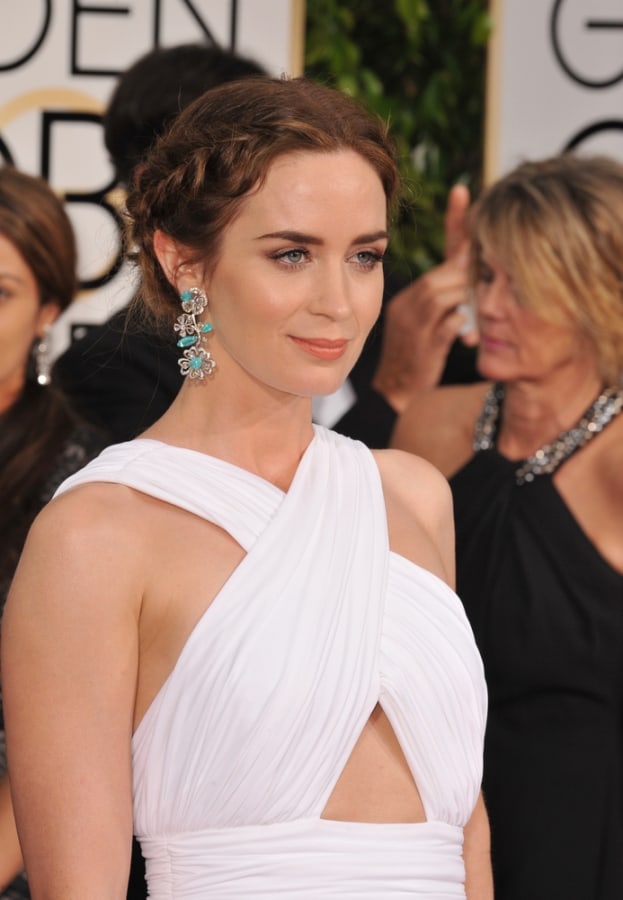 Actress Emily Blunt looked sexy and stunning in a white flowing gown and topped off her look with soft, braided up-do as she arrives for the 72nd Annual Golden Globe Awards at the Beverly Hilton Hotel on January 11, 2015. A goddess indeed!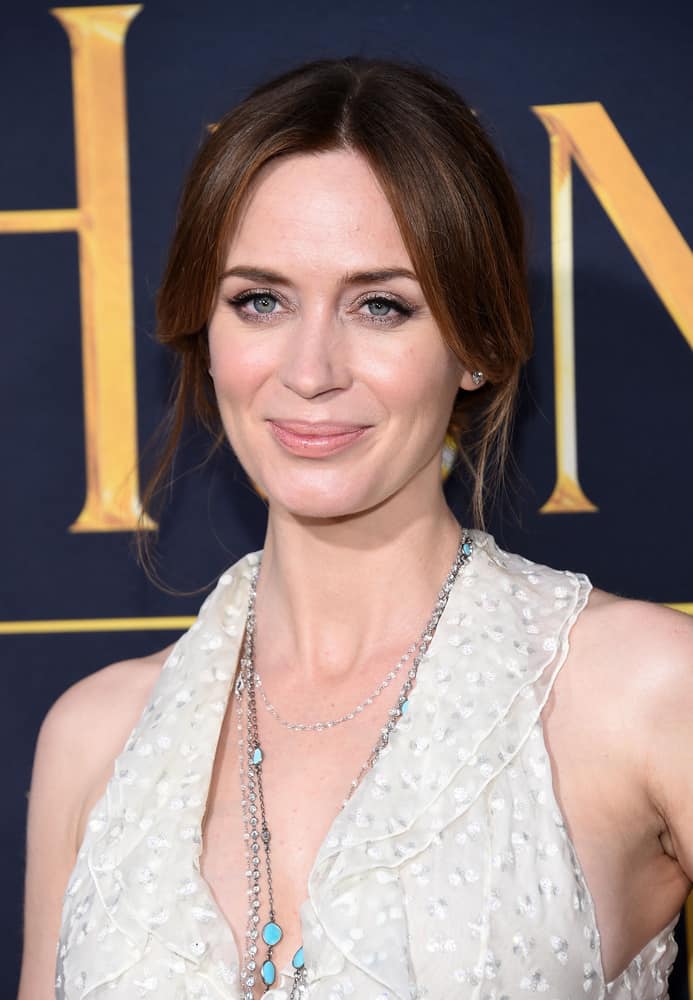 Emily Blunt having a classy up-style hairdo at the Los Angeles premiere of 'The Huntsman: Winter's War' 2016. Wearing a flowy cream dress, she is looking very pretty and chic.
See all of Emily Blunt's hairstyles here.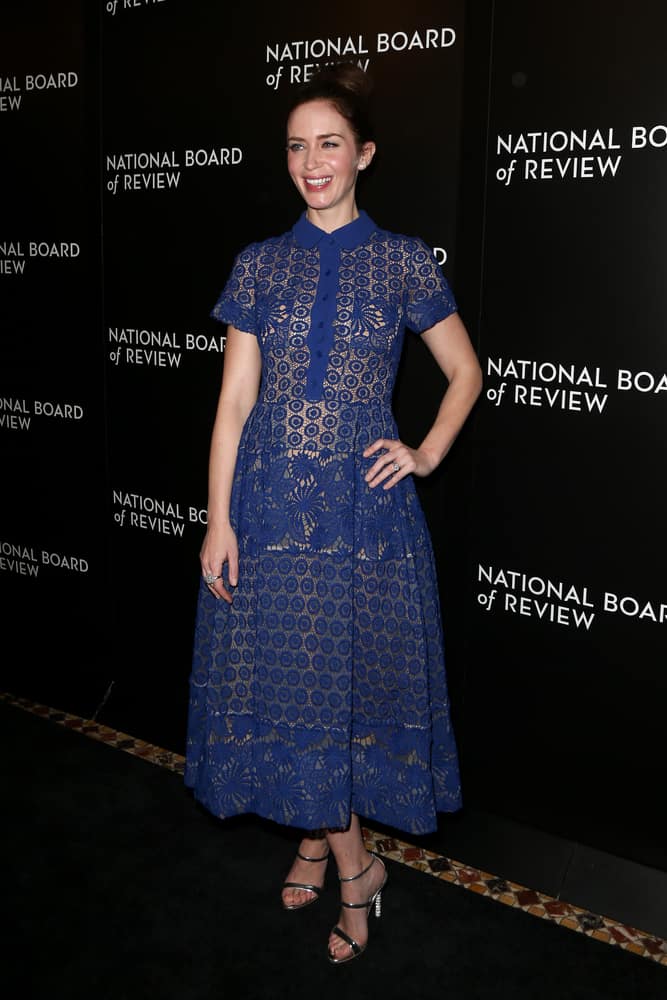 Actress Emily Blunt looking vibrant with her brunette bun hairstyle attended the 2015 National Board of Review Gala 2016. She is wearing a blue-collared dress and appears to be very classy and pretty.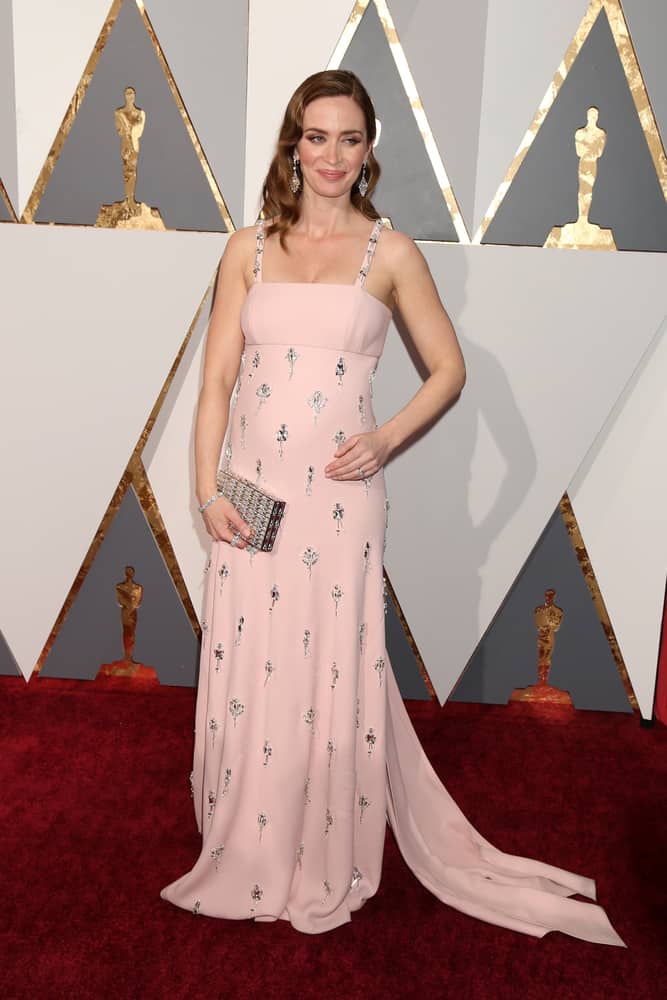 Emily Blunt with classy her brunette shoulder length wavy hair at the 88th Annual Academy Awards - Arrivals 2016. Wearing an elegant light pink long dress, she looks very vibrant and sophisticated.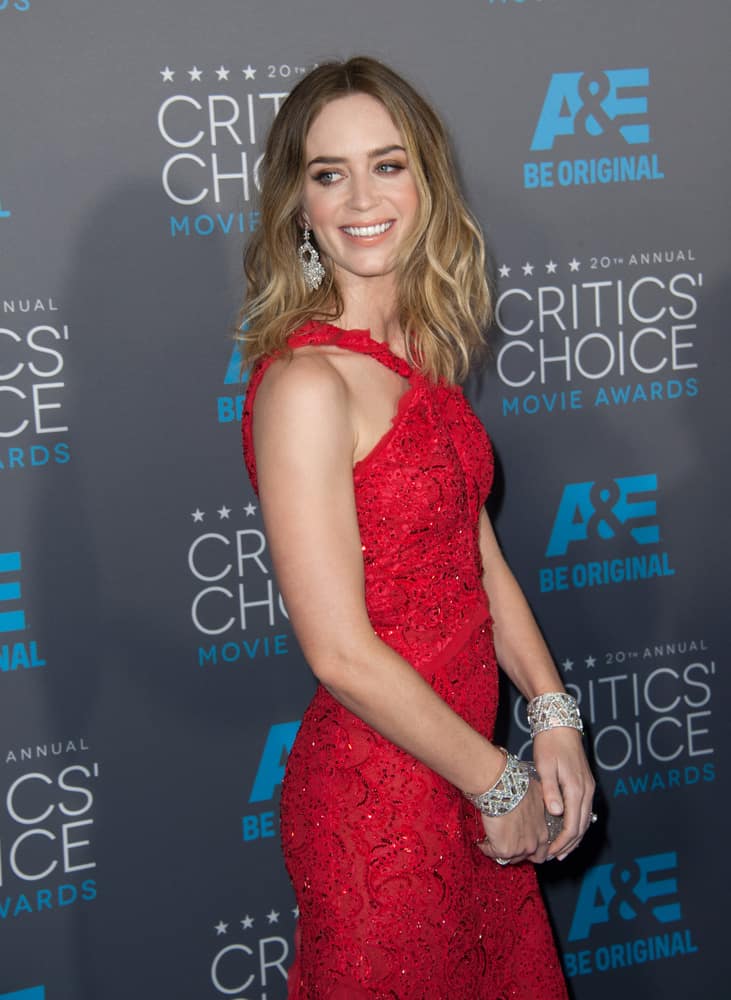 Emily Blunt with her medium blonde wavy hair attended the 20th Annual Critics' Choice Movie Awards 2015. Wearing a sexy red gown looked very classy and elegant with her wavy free flowing shoulder length hair.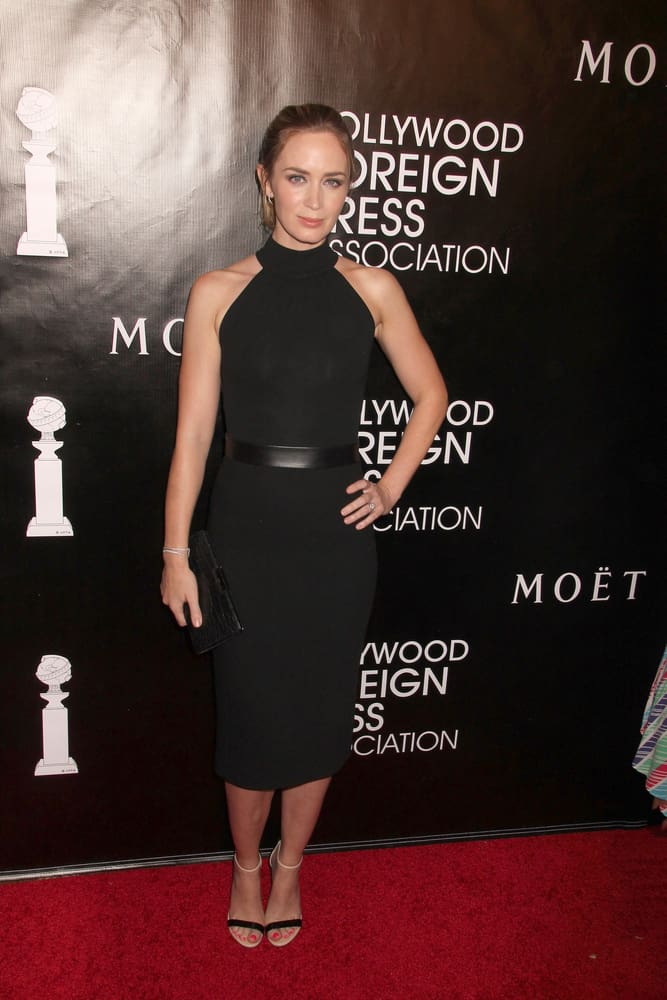 Emily Blunt with an elegant pony-tailed hairstyle at the HFPA Hosts Annual Grants Banquet - Arrivals 2015. Wearing a medium length black dress, she appeared to be really sophisticated and sexy.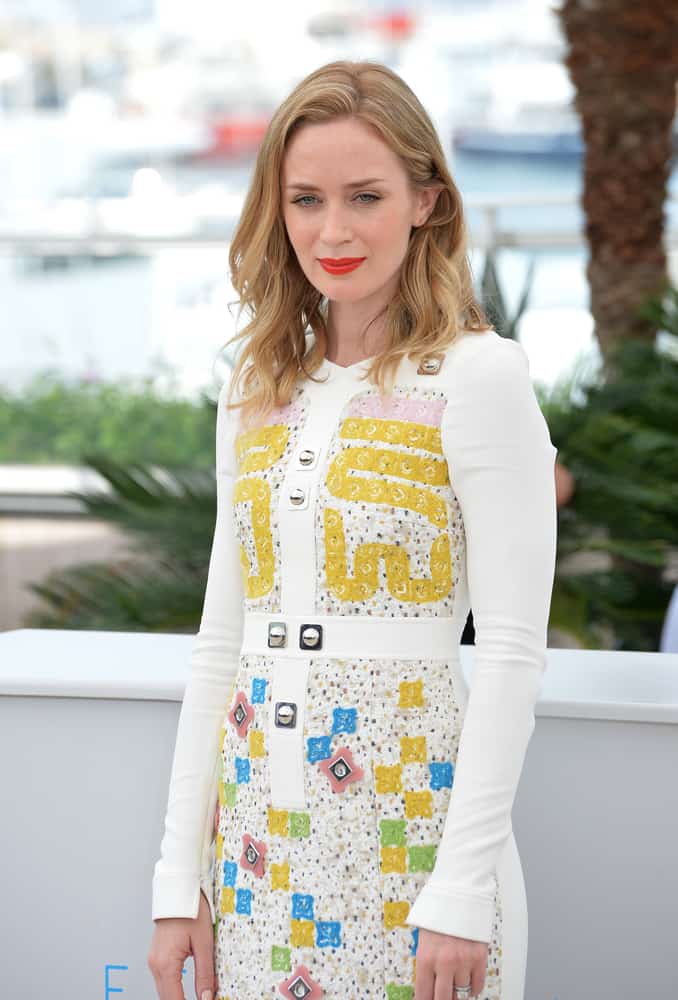 Emily Blunt with her wavy medium blonde attended the photocall for her movie "Sicario" at the 68th Festival de Cannes 2015. She is wearing a long-sleeved colorful dress. Emily is looking really classy and vibrant with her wavy blonde hair.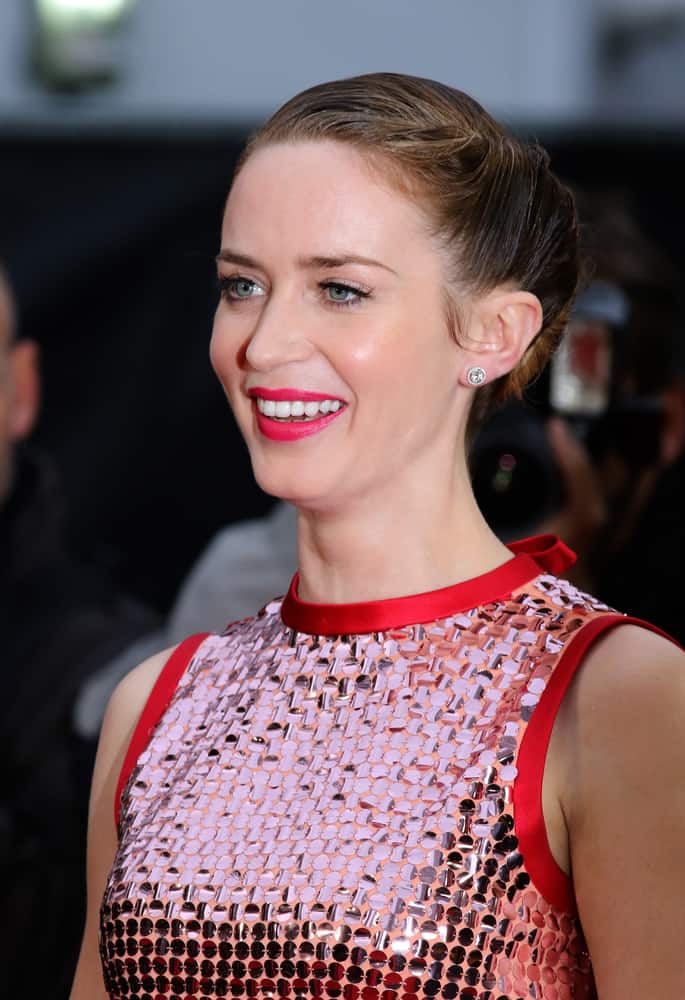 Emily Blunt with her up-styled long brunette hair at Sicario film premiere 2015. She is wearing a red long dress and looking very classy and sexy with up-styled long hair.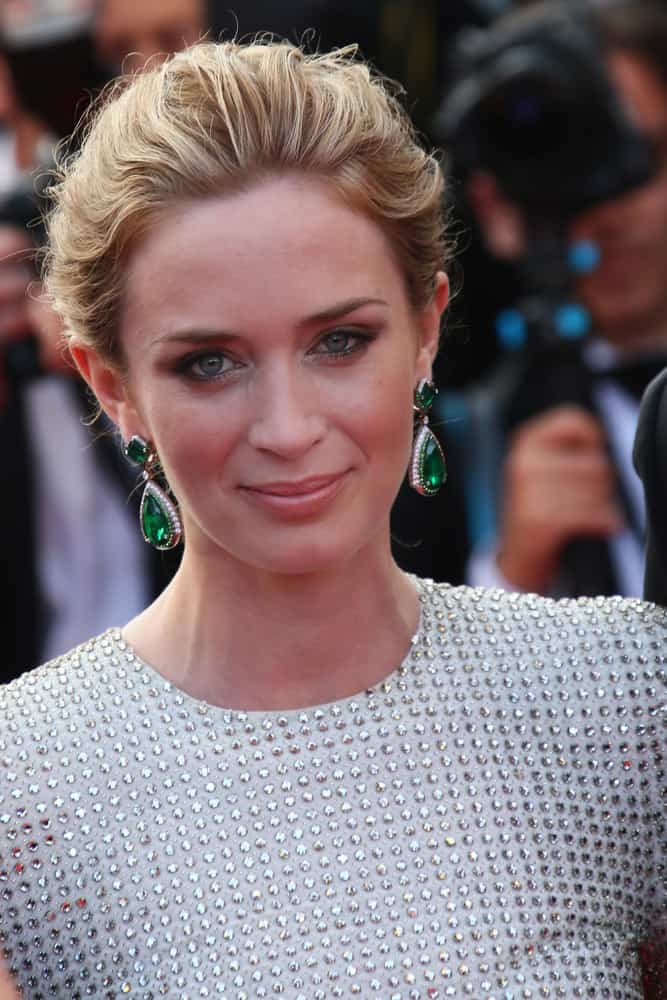 Emily Blunt with an up-style blonde tresses at the 'Sicario' premiere during the 68th annual Cannes Film Festival 2015. Wearing a very elegant silver-beaded long dress, Emily is very classy and vibrant.
Most of the time her hair is parted in the middle. Though most of the times we see beautiful waves in her hair, she sometimes prefers the straight hair look. She looked very different at the premiere of The Girl on the Train. She had a short bob cut with waves. The hair was parted sideways and she had some lovely shades on the hair. The hairstyle made her come out of her 'innocent face' shell. She looked very bold and hot with the style.
Emily Blunt is multitalented. She has acted in theatre, television, and movies. She is also a great singer. She started her acting career in theatre. Her first play was The Royal Family where she acted in 2001. Then she appeared in the TV series Boudica (Warrior Queen). She was seen in the film My Summer of Love in 2004. For this film, she got the Evening Standard British Film Award for Promising Newcomer.
She became a known face on television after acting in the British drama Gideon's Daughter. Her performance was appreciated in the movie The Devil Wears Prada. Some of her noted films include The Five-Year Engagement, Looper, Edge of Tomorrow, Into the Woods, The Girl on the Train, and more.
She is a very talented actress and has received numerous awards for her performances. She received the Golden Globe Award for the film Gideon's Daughter; BAFTA Award for Best Supporting Actress for The Devil Wears Prada; and BAFTA Britannia Award.
She received nominations for a number of awards as well. Her works have been appreciated by the critics as well. She has worked with various talented directors and co-stars. Over the years she has become more mature in terms of acting. Within a short time, she has made a strong place in Hollywood. We expect to get more outstanding works from her in future.