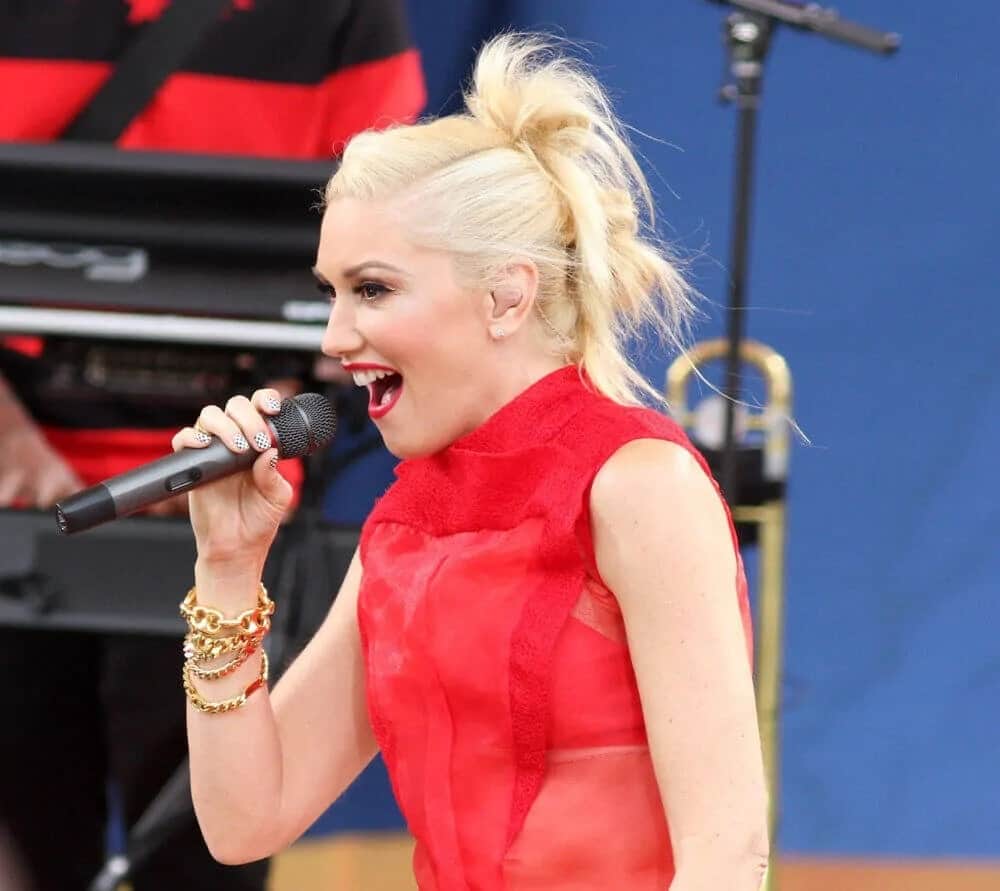 People are completely in awe of her hairstyle. It's very surprising how she has managed her platinum blonde hair perfectly for all these years. Gwen Stefani has undergone some very interesting hair transformations. For those who like to look different, Stefani can be a real inspiration.
She looks amazing with straight hair. Once she pushed back her straight hair and had side bangs. This simple style made her look extraordinary. Sometimes she does curls on her long hair and keeps the hair in a side-swept position. It looks very stylish indeed. Updos look great at formal events as it brings out the best features in you. She also seems to like this hairstyle and has experimented a lot with it.
Retro-inspired updo, top knot, oversized bun – we have seen her in everything. Many people might think that she has a weird taste for hairstyles. This is because at many events she has put up hairstyles that raised the eyebrows of many people. For example, at an award show in 2005, she appeared in a style where she put roses all over her head. In another event, she had a different swirl in front that she carried out really well.
She likes to have asymmetrical high buns on the sides of her hair. She also uses bands and other accessories. On two occasions, she had interesting shades towards the bottom of her hair. Once it was blonde and black and another time it was blond and yellow. Both the styles looked awesome. She is very bold in terms of her hairstyle and doesn't hesitate to show off her style no matter how different it can be.
Gwen Stefani is a famous American singer and songwriter. She is the lead vocalist of the band No Doubt. Her studio album Tragic Kingdom was very successful. it was released in 1995 and a number of singles from this album made it to the top charts. She started her own pop career in 2004. Her first album was Love. Angel. Music. Baby and it was a hit album. Her songs made it to the Billboard top charts. She joined her band again later and started writing songs for the band. She received three Grammy Awards and numerous other awards including American Music Award, World Music Award, Brit Award, and Billboard Music Award. She became the coach of The Voice.
She has acted as a spokesperson for Loreal. She has also launched a perfume. Stefani is involved in a lot of charity works. She has donated a million dollars for the victims of Tsunami and earthquake in 2011. At one event, she has also auctioned one of her dresses and raised a lot of money for a noble cause. We hope this talented singer will keep on doing these works and entertain us with her music for many years.
Here are Gwen Stefani's hairstyles over the years.
Photos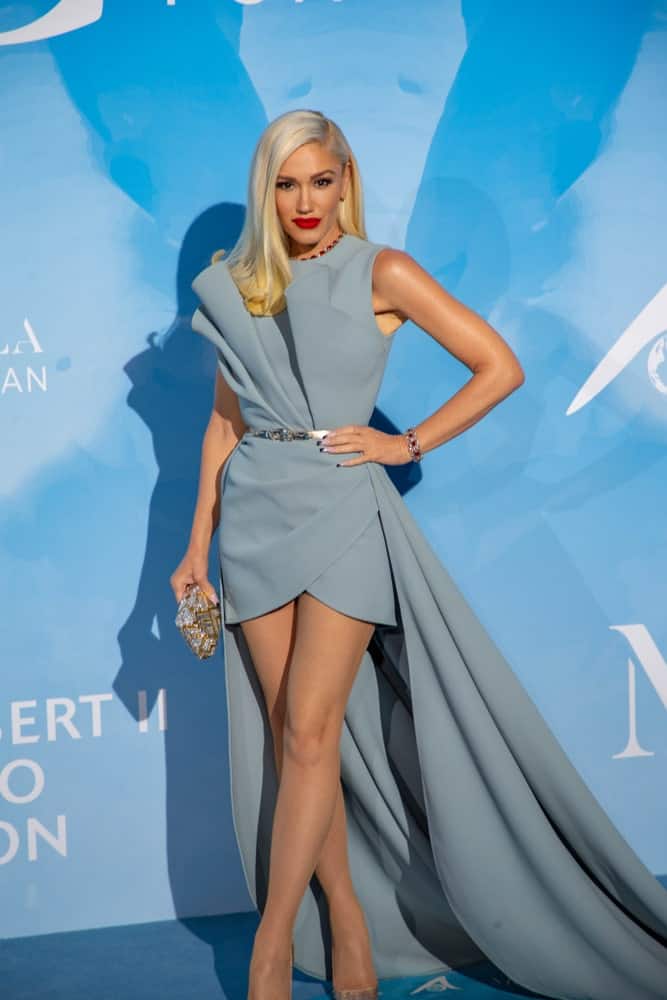 In Monté Carlo, Principality of Monaco last September 26, 2019, Gwen Stefani attended the 3rd Monté-Carlo Gala for the Global Ocean. She was a goddess in her gray gown and elegant side-swept blond hairstyle.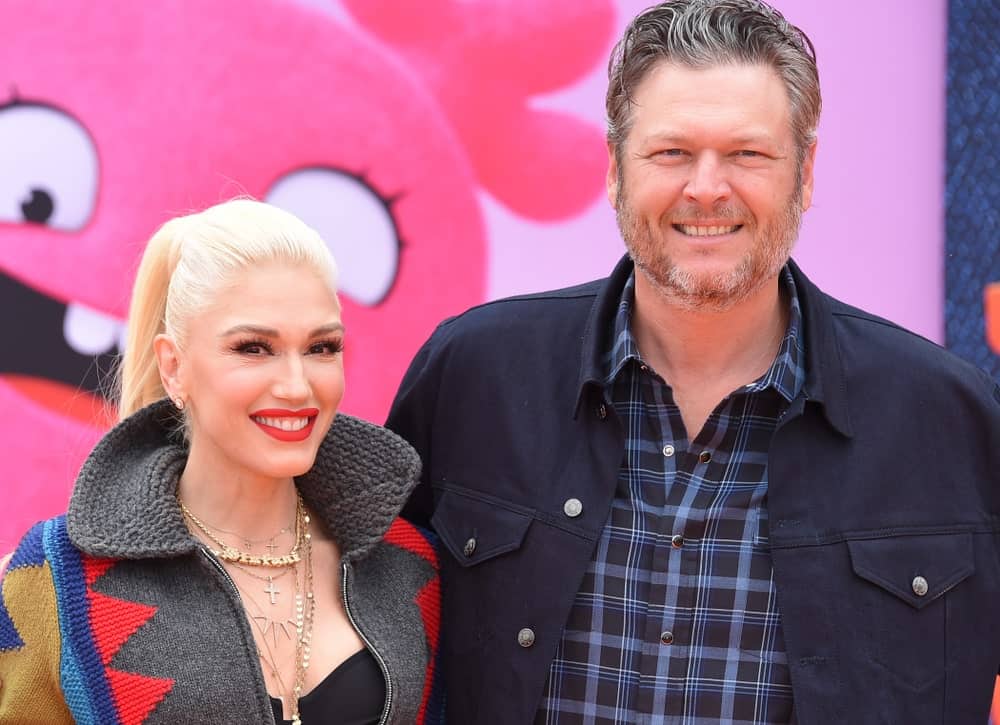 Gwen Stefani and Blake Shelton attended the 'Ugly Dolls' World Premiere last April 27, 2019, in Los Angeles. Stefani wore a colorful knit sweater to match her casual high ponytail and signature bold lips.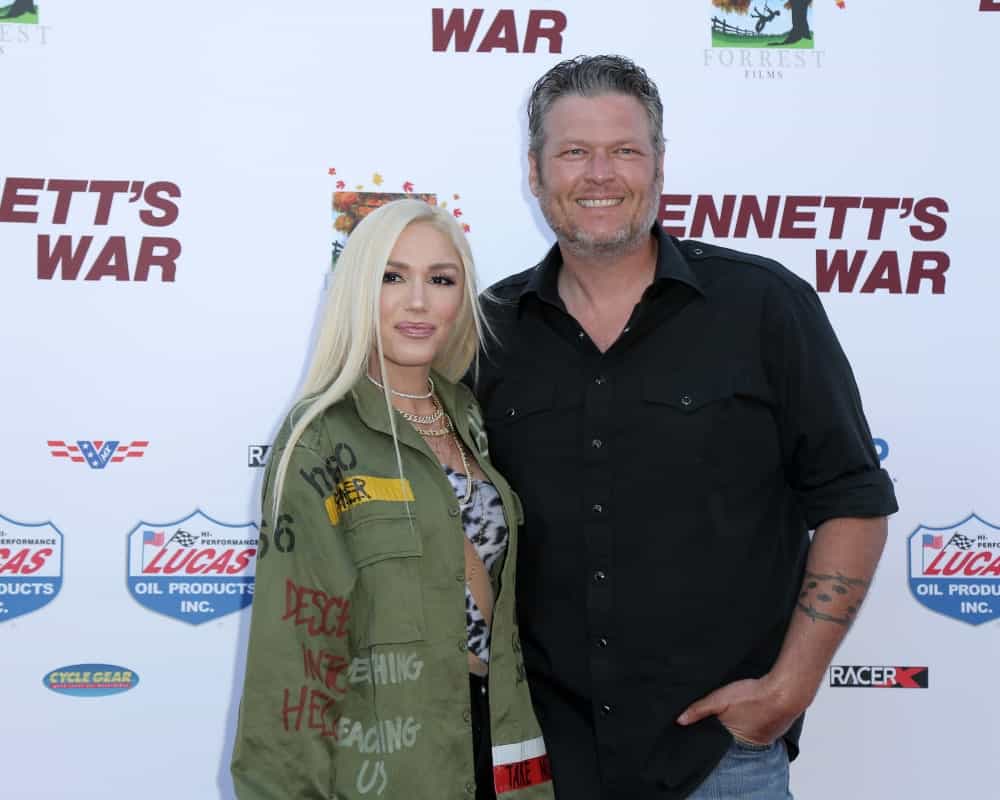 Gwen Stefani and Blake Shelton were at the "Bennett's War" Los Angeles Premiere at the Warner Brothers Studios last August 13, 2019 in Burbank, CA. Stefani's long straight blond hair was center-parted and silky.
Gwen Stefani attended the Domino x Fred Segal And CB2 Pop Up last December 7, 2017, in Los Angeles. She wore a pair of thigh boots with her colorful outfit and ponytail with a slight pompadour look.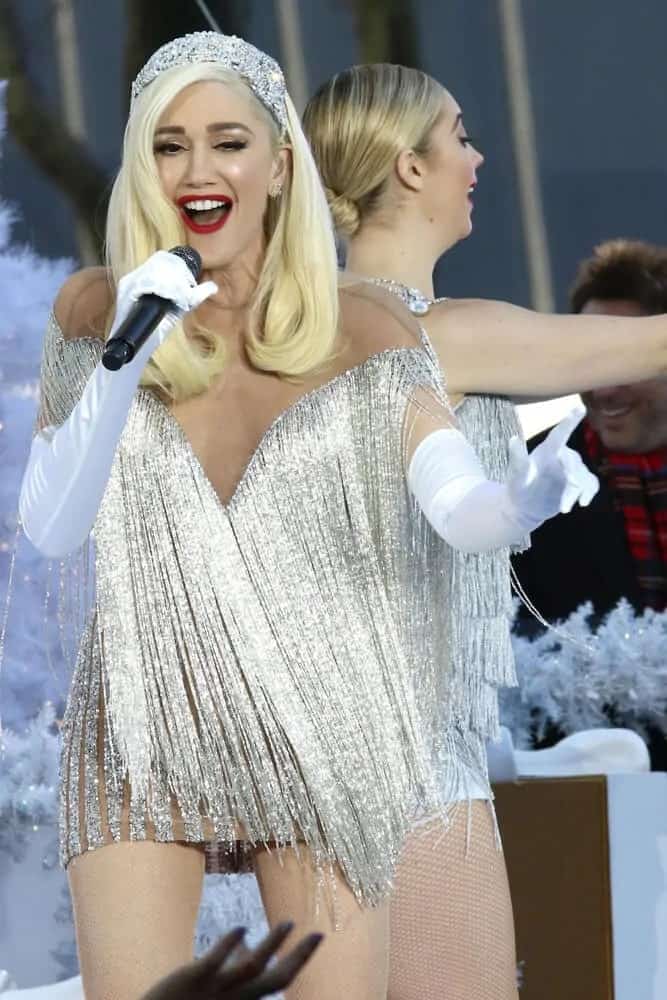 Gwen Stefani wore a dazzling short dress during the Macy's Thanksgiving Day Parade in Bryant Park on November 21, 2017. Her long side-swept hairstyle was incorporated with a sparkly headband and had curls at the tips.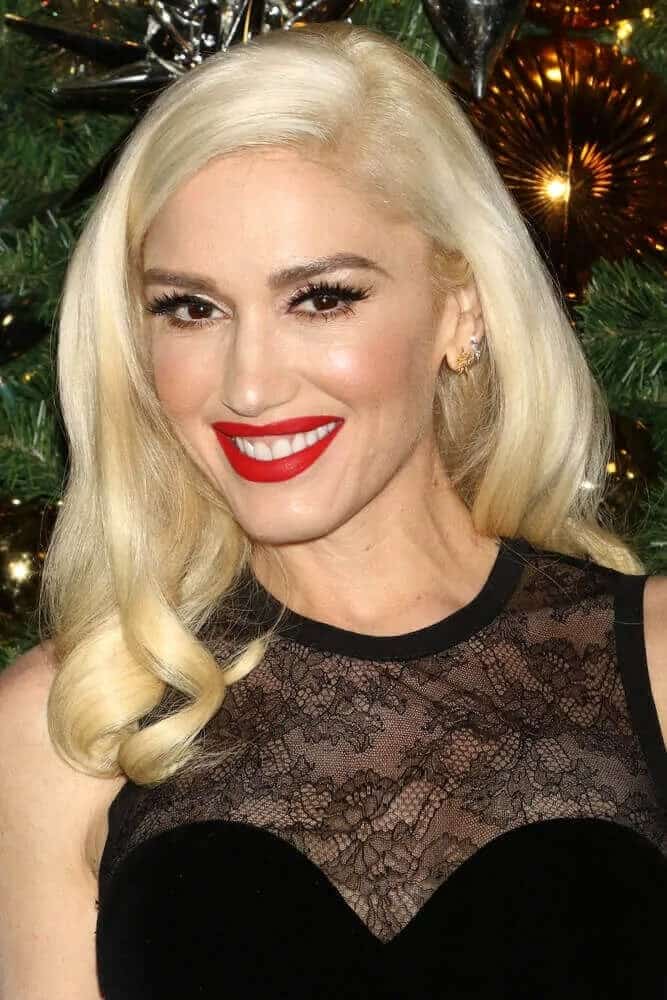 Gwen Stefani was classy and iconic with her blond, vintage waves that she wore during the Empire State Building and kick off the holiday season last November 20, 2017, in New York City.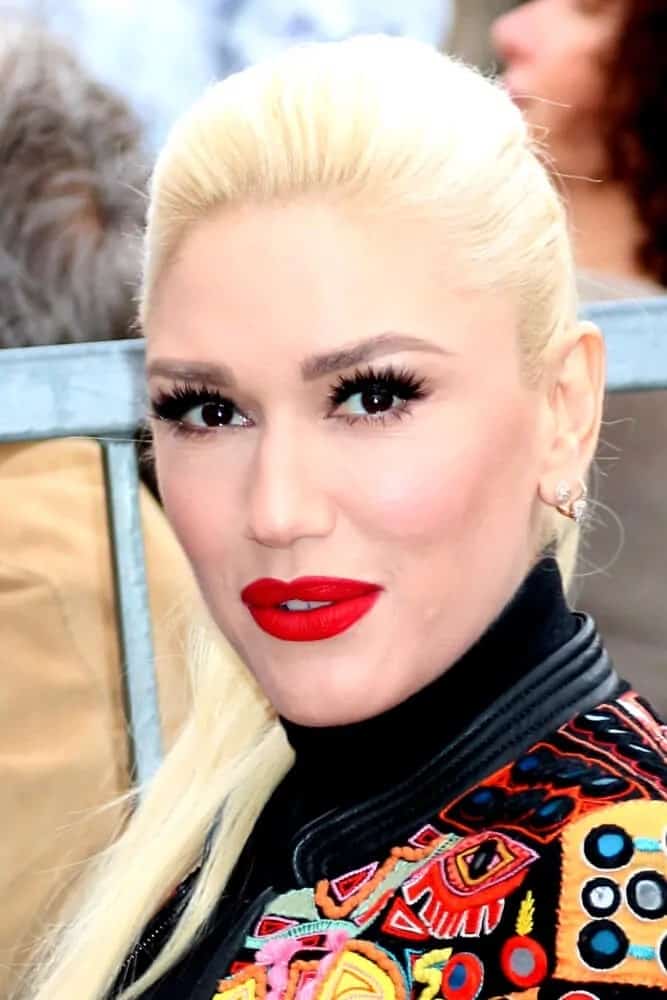 Last February 10, 2017, Gwen Stefani attended the Adam Levine Hollywood Walk of Fame Star Ceremony wearing a modern, vintage colorful outfit to match with her simple platinum blond ponytail.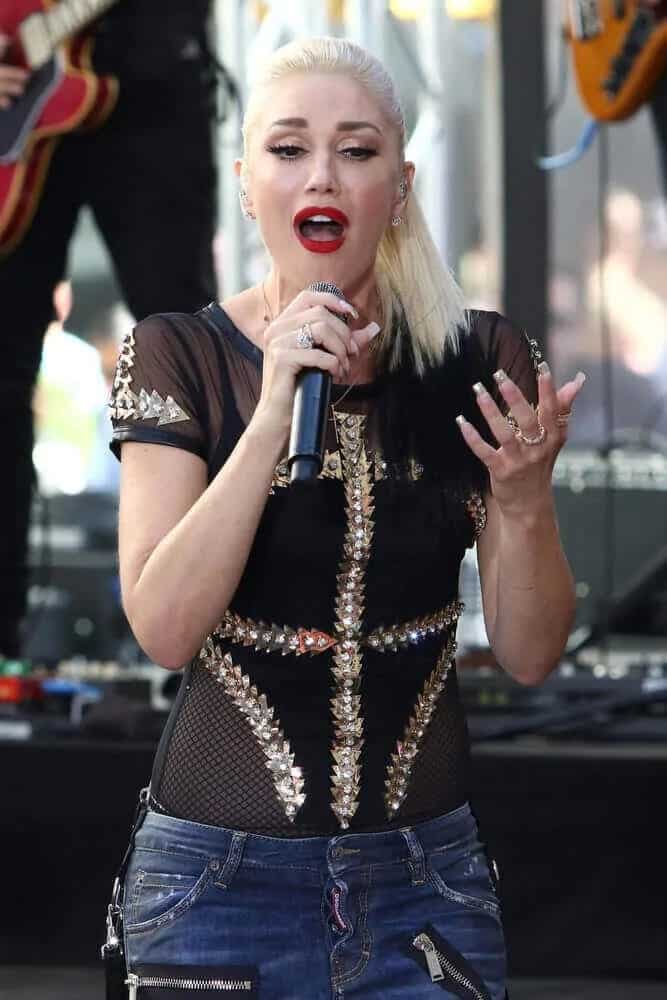 Gwen Stefani performed on the NBC "Today" show concert series last July 15, 2016. She rocked with a high ponytail hairstyle dyed with black at the tips.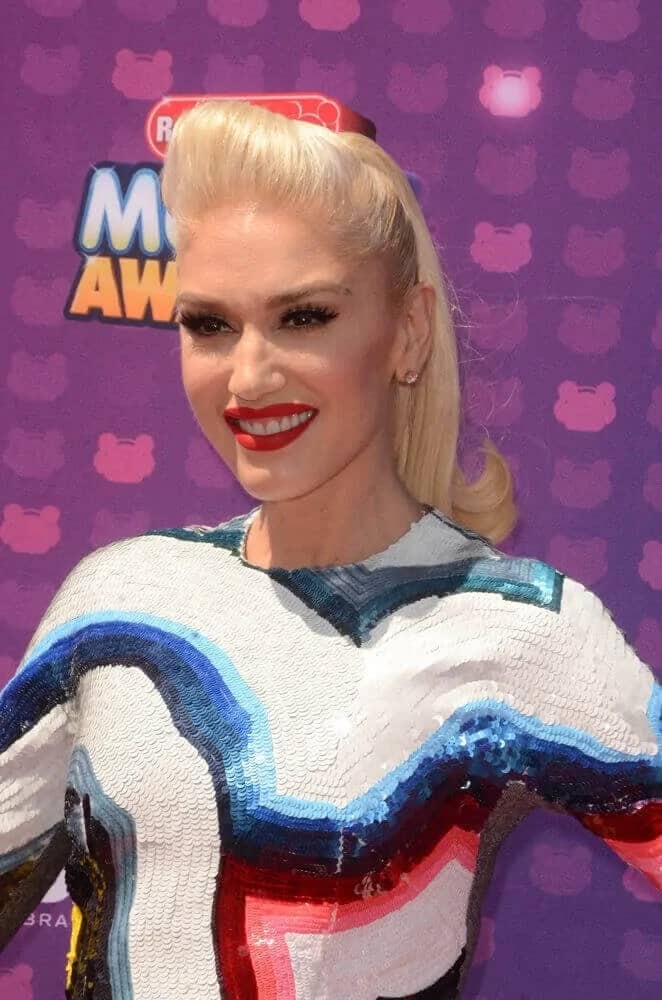 Gwen Stefani wore a sequined colorful outfit with a vintage-style ponytail that has a slight pompadour look during the 2016 Radio Disney Music Awards last April 29, 2016 in Los Angeles, CA.
Gwen Stefani paired her stylish and sexy gown with a simple and messy top knot during the Glamour Women Of The Year 2016, November 14, 2016 in Los Angeles, CA.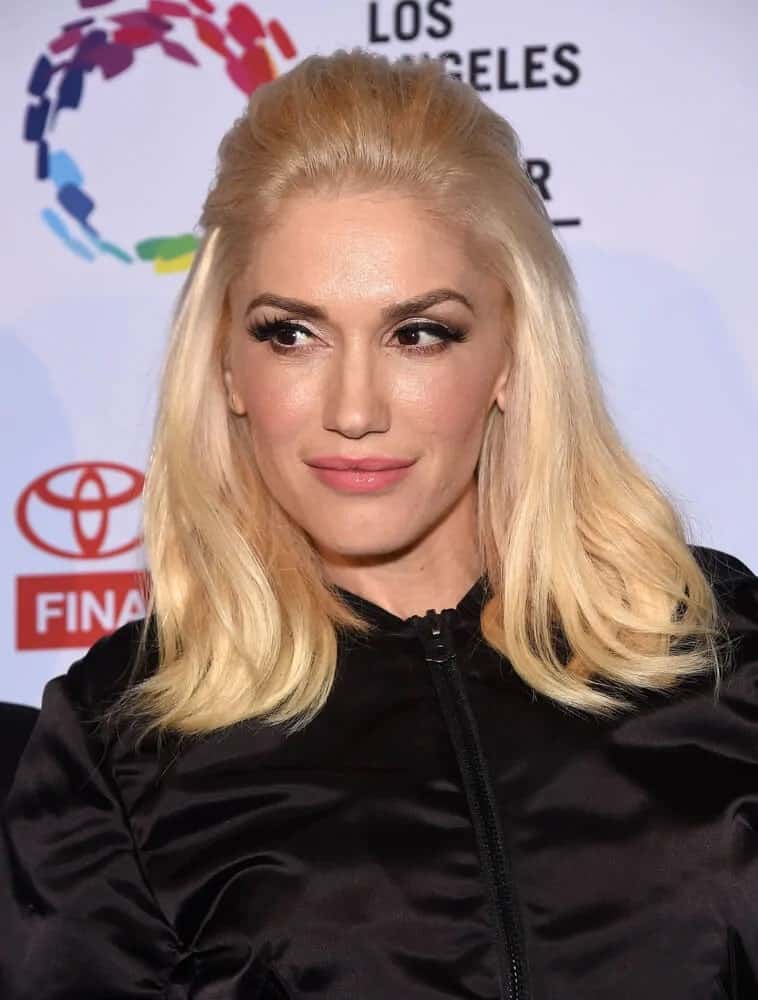 Gwen Stefani attended the An Evening With Women last May 16, 2015, in a simple, medium-length half-up hairstyle that goes quite well with her all-black outfit and simple make up.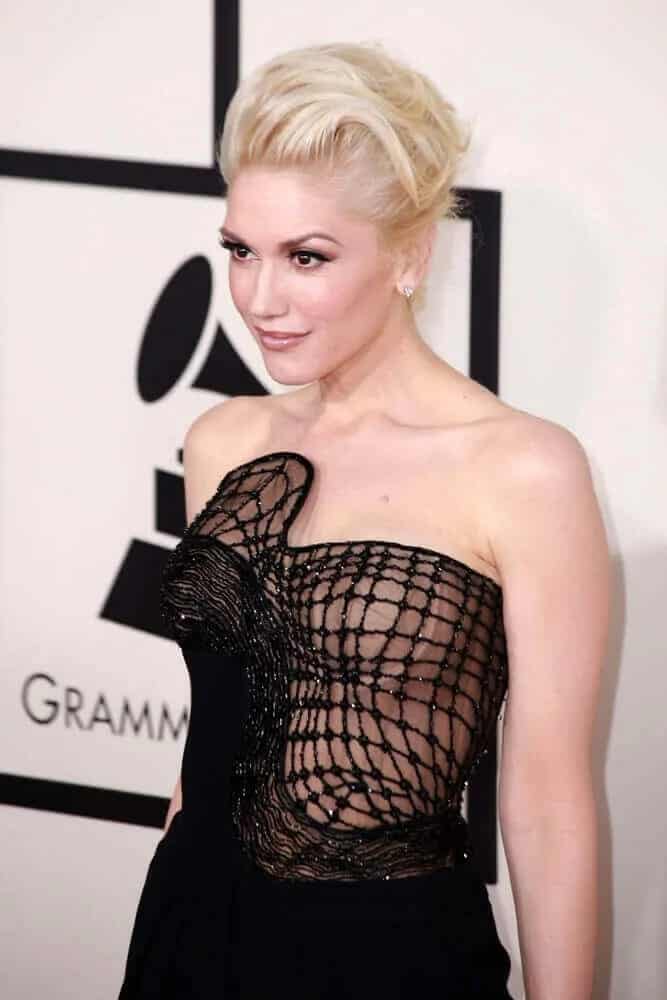 Gwen Stefani's platinum blond hair was styled into an elegant tousled upstyle during the Grammy Awards 2015 on February 8, 2015, in Los Angeles, CA.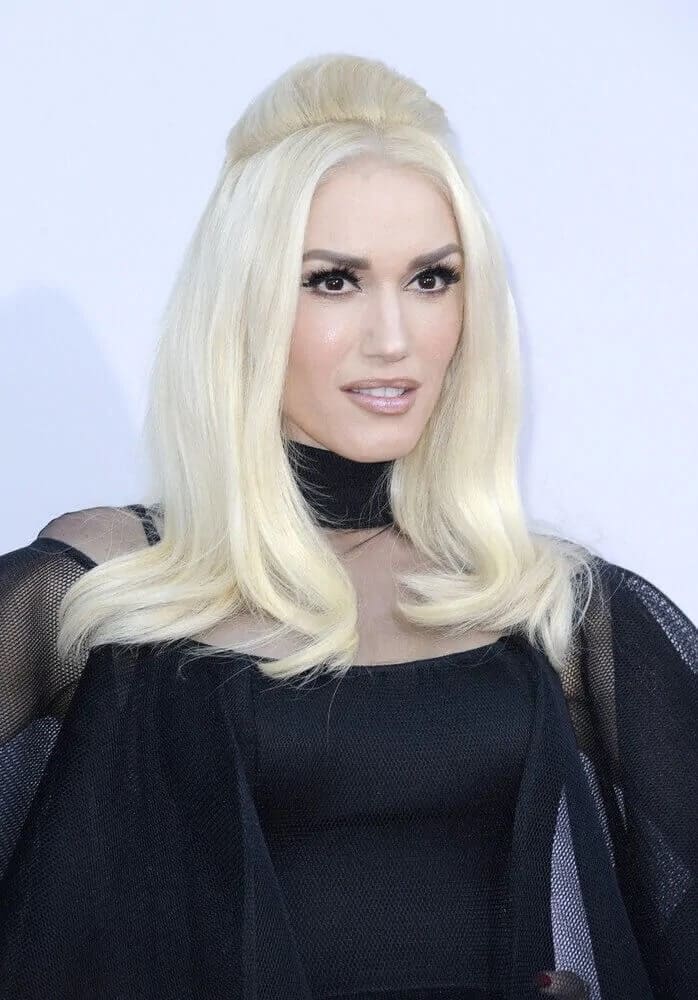 Gwen Stefani opted for a vintage elegant look with her semi-teased half-up platinum blond hairstyle during the American Music Awards 2015 last November 22, 2015.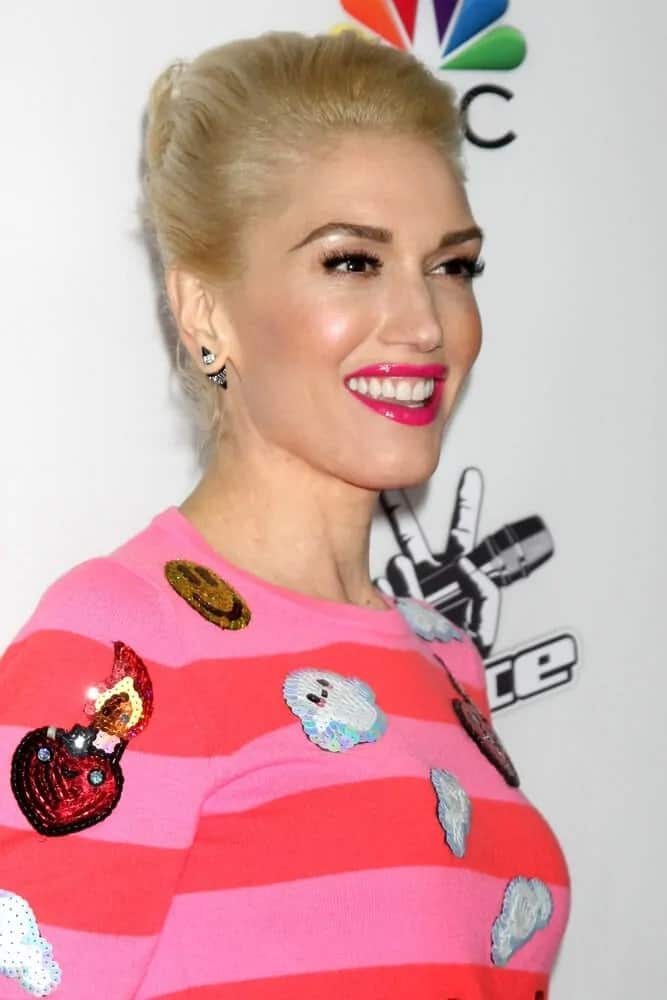 Gwen Stefani wore a quirky and colorful striped sweater with her sleek and polished upstyle during NBC's "The Voice" Season 7 Red Carpet Event last December 8, 2014, in West Hollywood, CA.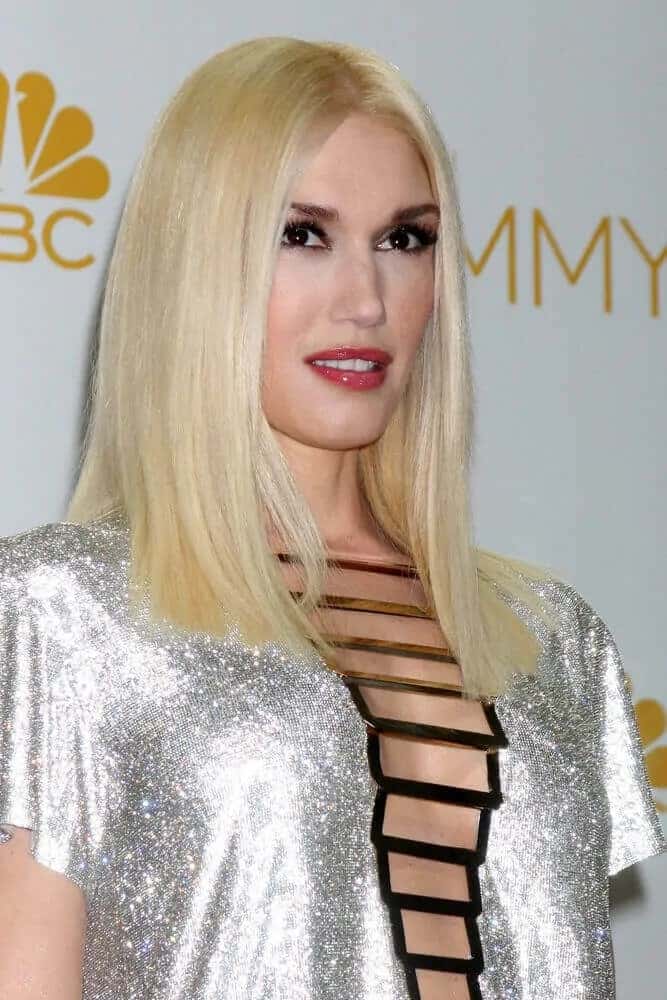 Gwen Stefani paired her dazzling silver outfit with a straight blond center-parted bob hairstyle during the 66th Primetime Emmy Awards held last August 25, 2014.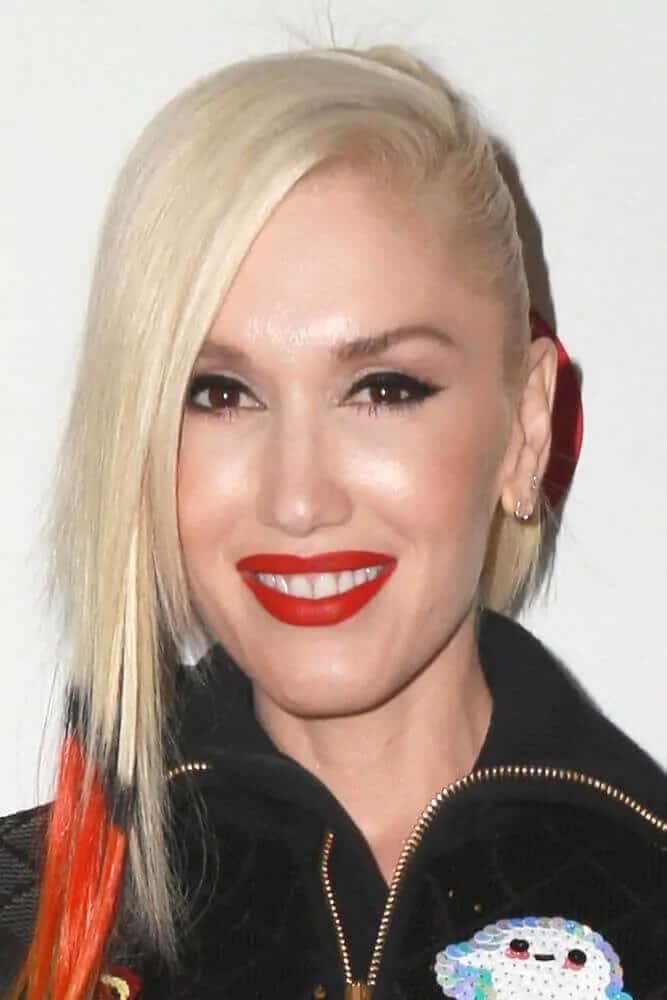 Last December 5, 2014, Gwen Stefani attended the KIIS FM's Jingle Ball 2014 with an orange and black-tipped hair arranged in a ponytail with long side bangs.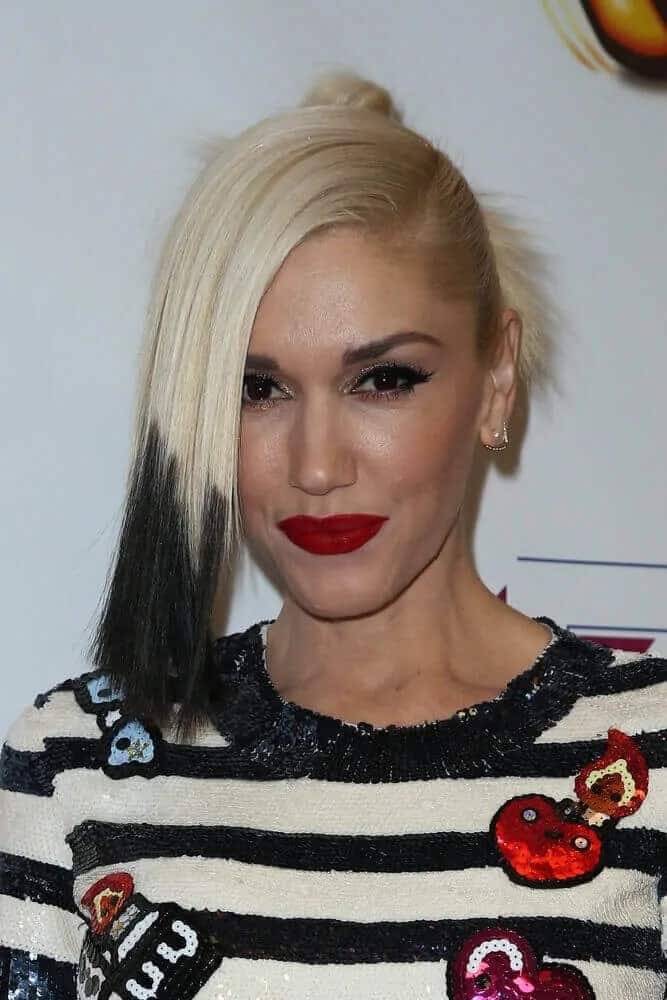 During the Z100's Jingle Ball 2014 at Madison Square Garden last December 12, 2014, singer Gwen Stefani wore a sequined quirky outfit to match her messy bun hairstyle with side-swept bangs dip-dyed in black.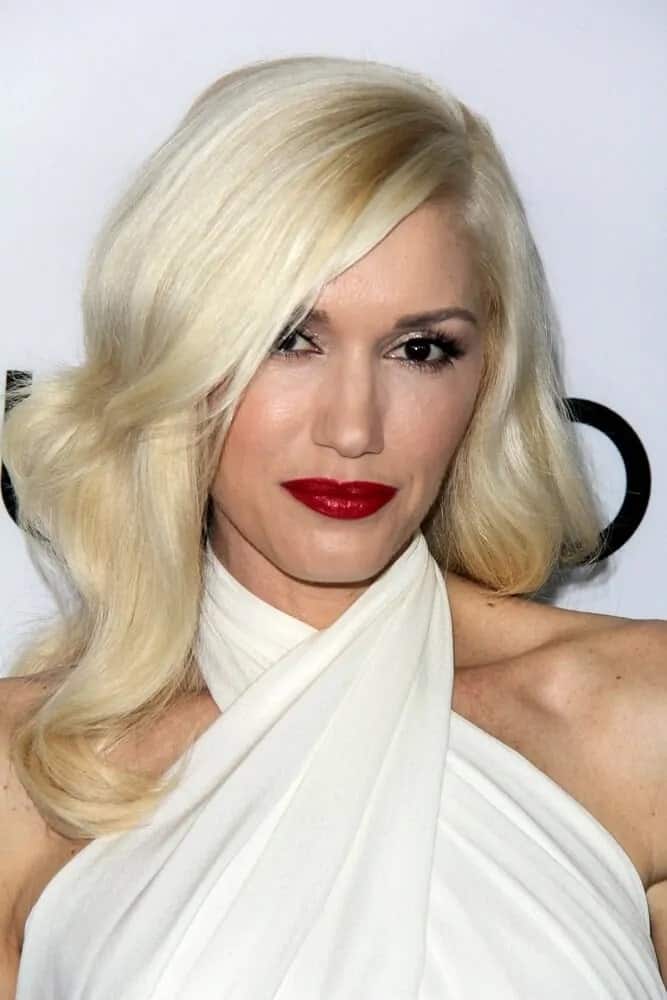 The talented singer Gwen Stefani was a vision of sophistication in her white dress at the "The Bling Ring" Los Angeles 2013 Premiere. She paired this with a classic side-swept hairstyle with tousled waves.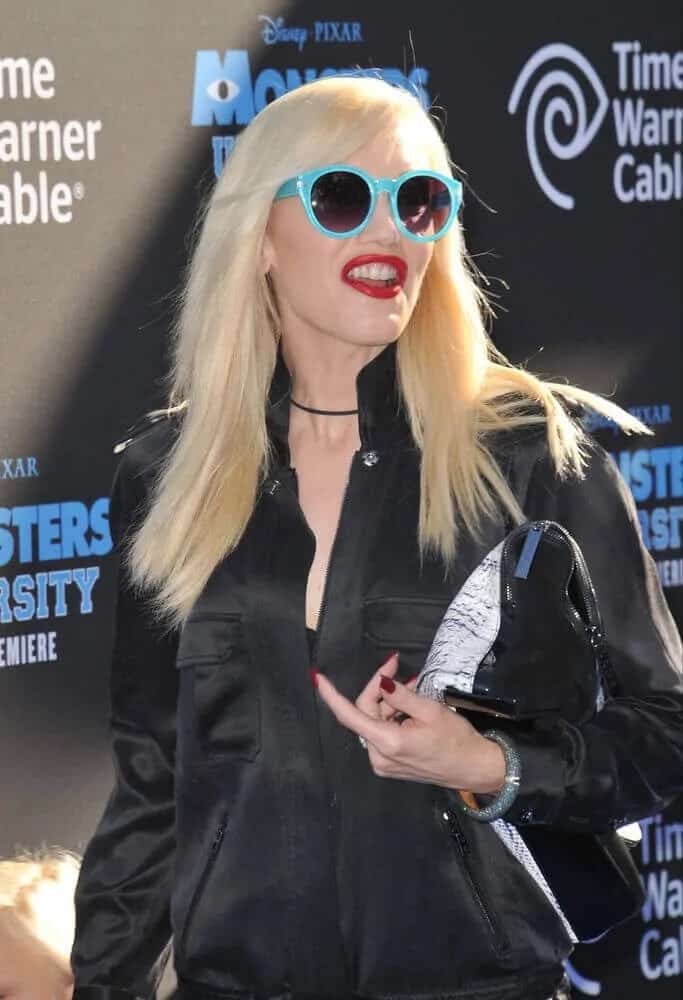 Gwen Stefani attended the Los Angeles Premiere of "Monsters University" last June 17, 2013, with some casual outfit and simple loose tousled straight blond hair with subtle side bangs.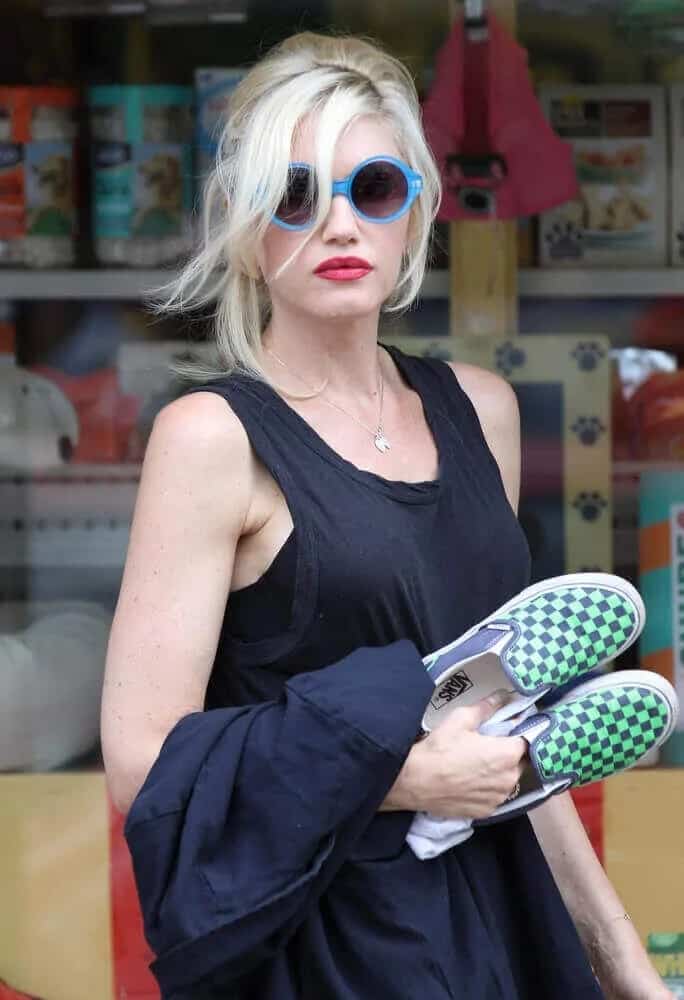 Gwen Stefani was spotted in Primrose Hill in London last August 20, 2013, with a messy half-up bun and long side-swept bangs that went well with her sunglasses and lipstick.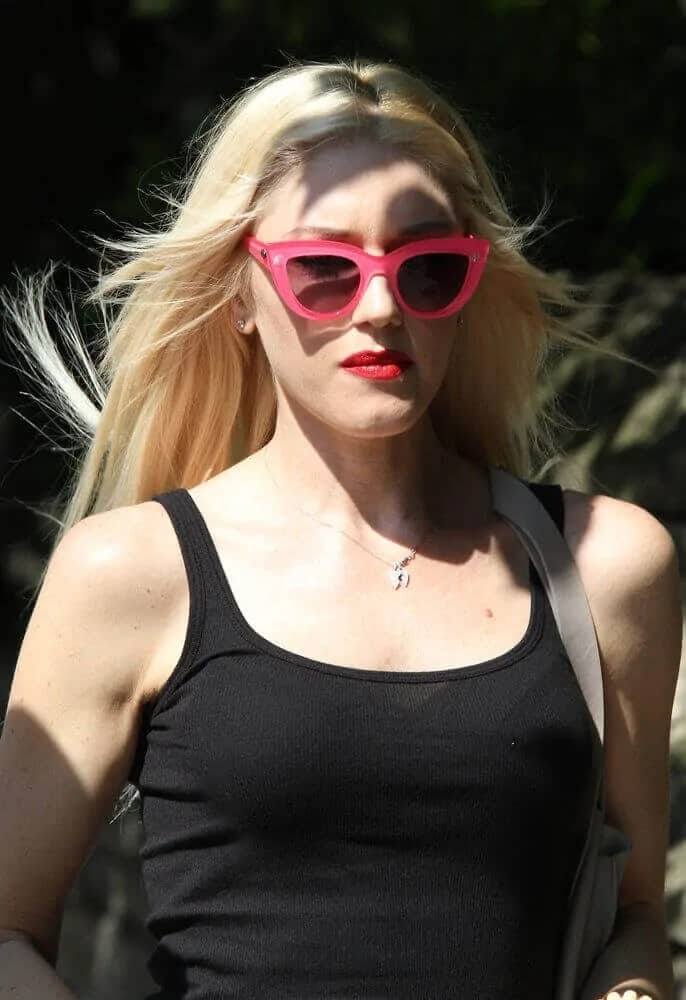 Gwen Stefani was seen in Primrose Hill last Aug 1, 2013, wearing her casual black top and pink sunglasses to complement her layered and tousled straight hair.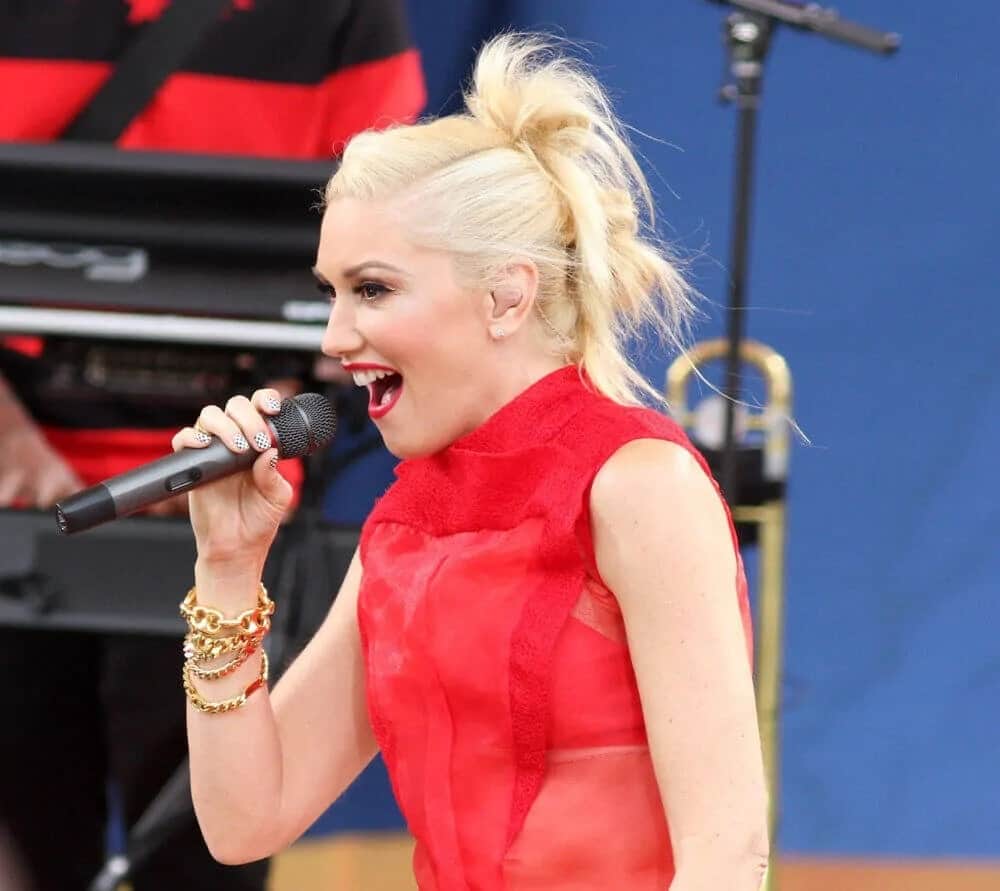 Gwen Stefani wore a messy bun with tendrils when she performed live at the Good Morning America held in Central Park last July 27, 2012.
Gwen Stefani wore a leather top and stylish sunglasses with a sleek and straight side-swept hairstyle during the 2012 Teen Choice Awards last July 22, 2012.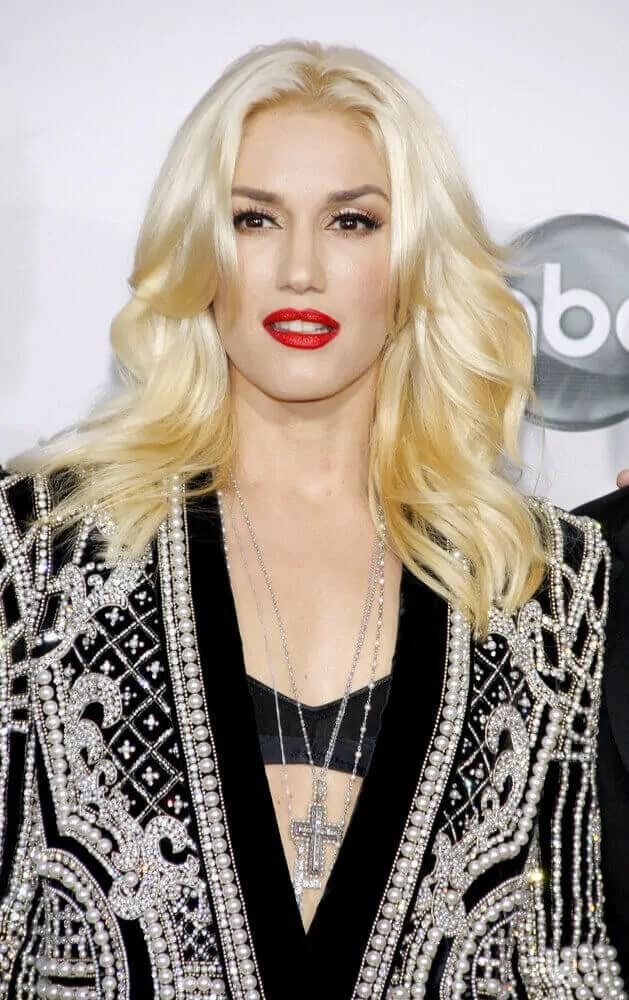 During the 2012 American Music Awards, Gwen Stefani paired her gorgeous pearled outfit with her loose layered hair that has subtle waves.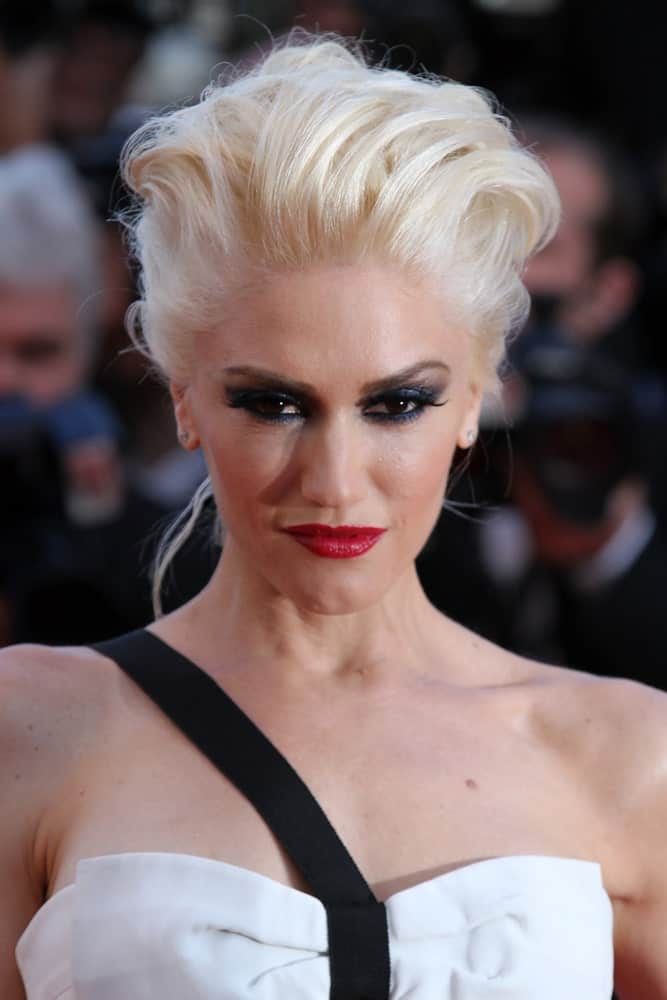 Gwen Stefani was seen at the Cannes Film Festival last May 20, 2011, in Cannes, France. She was stylish in her white dress complemented by her tousled beehive upstyle.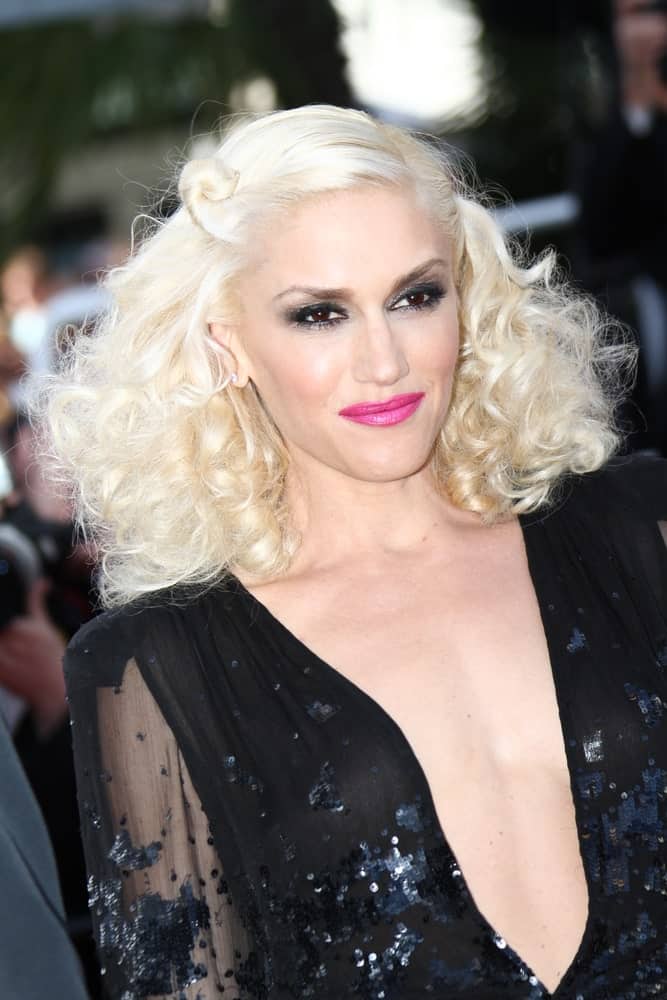 Gwen Stefani attended 'The Tree Of Life' premiere during the 64th Annual Cannes Film Festival at Palais des Festivals last May 16, 2011, in Cannes, France. She paired her gorgeous black sheer dress with a vintage curly blond hair.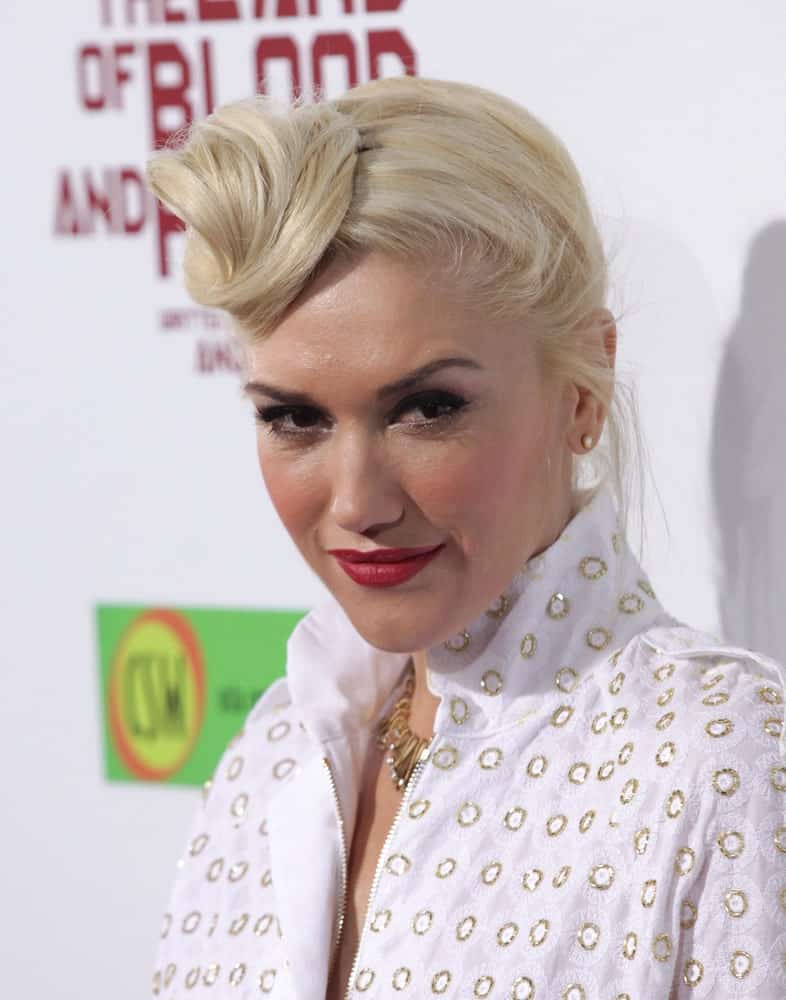 Gwen Stefani was at the "In The Land of Blood and Honey" Los Angeles Premiere last December 08, 2011, in Hollywood, CA. She wore a unique and edgy swirly top knot hairstyle with tendrils at the side.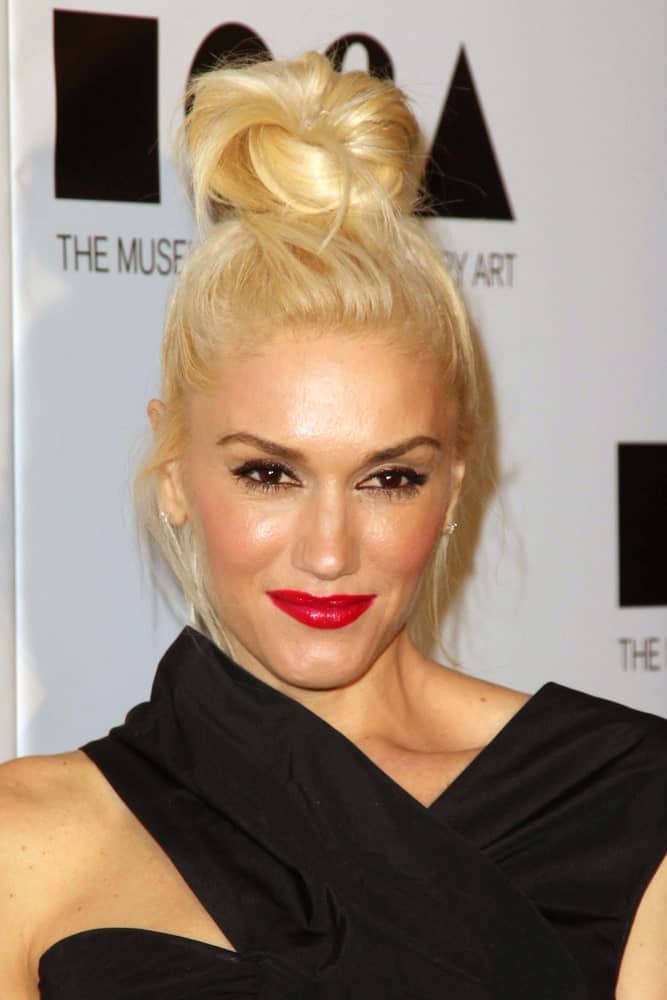 Gwen Stefani attended the 2011 MOCA Gala at the MOCA Grand Avenue in Los Angeles, CA wearing a pretty black dress with her messy top knot bun hairstyle and iconic bold lips.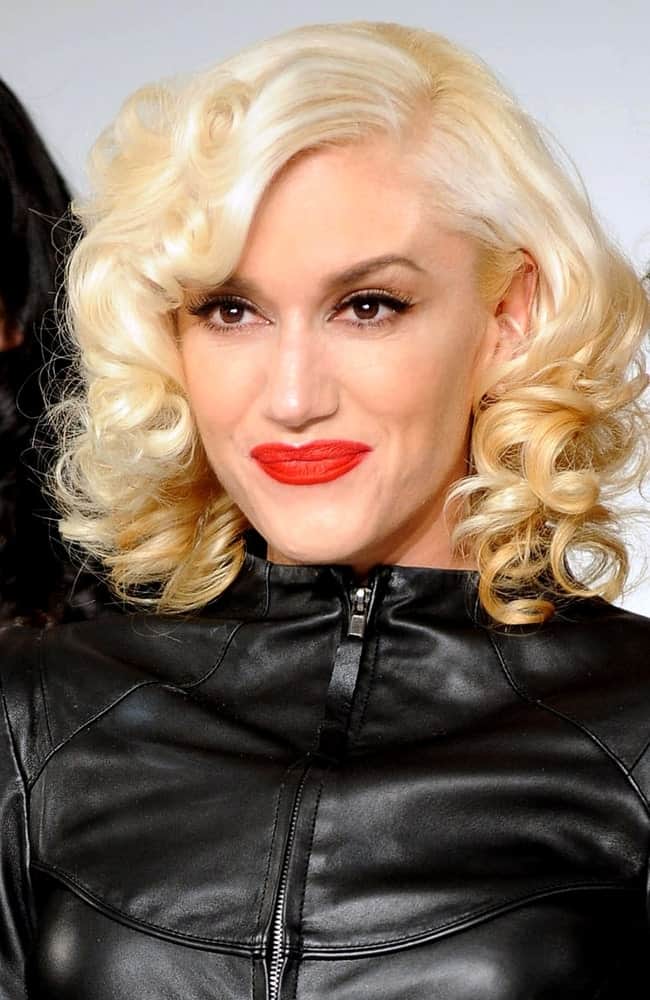 The talented singer Gwen Stefani was in attendance for the LAMB Fall/Winter 2010 Collection Fashion Show, MILK Studios in New York last February 11, 2010. She was edgy in her black leather outfit complemented by her highlighted curly hair.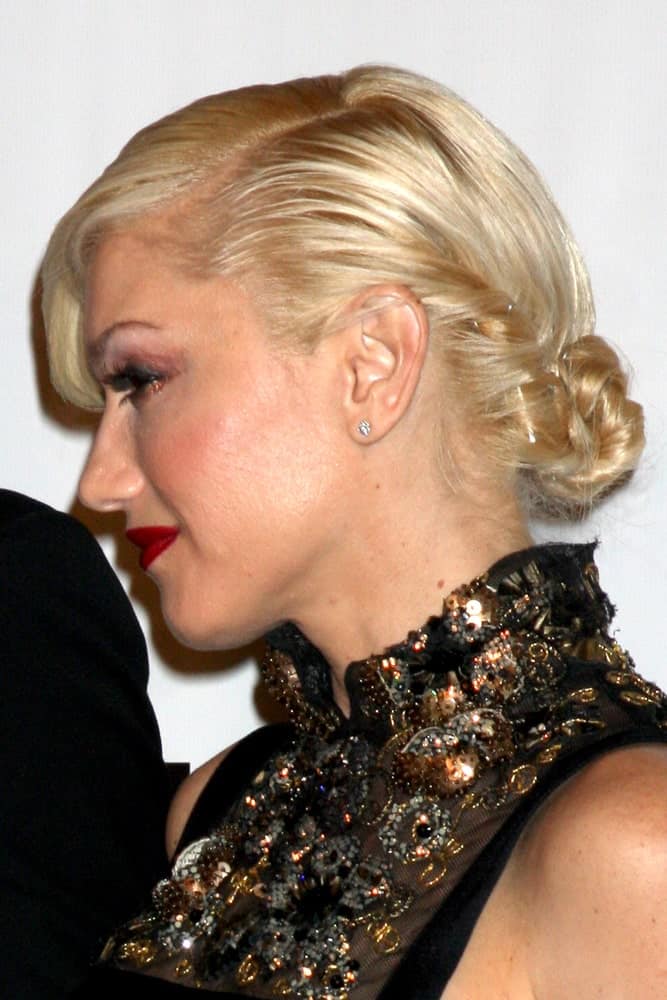 Gwen Stefani arrived at the MOCA's Annual Gala "The Artist's Museum Happening" 2010 at the Museum of Contemporary Art last November 13, 2010 in Los Angeles, CA. She was a picture of elegance with her slick low bun hairstyle.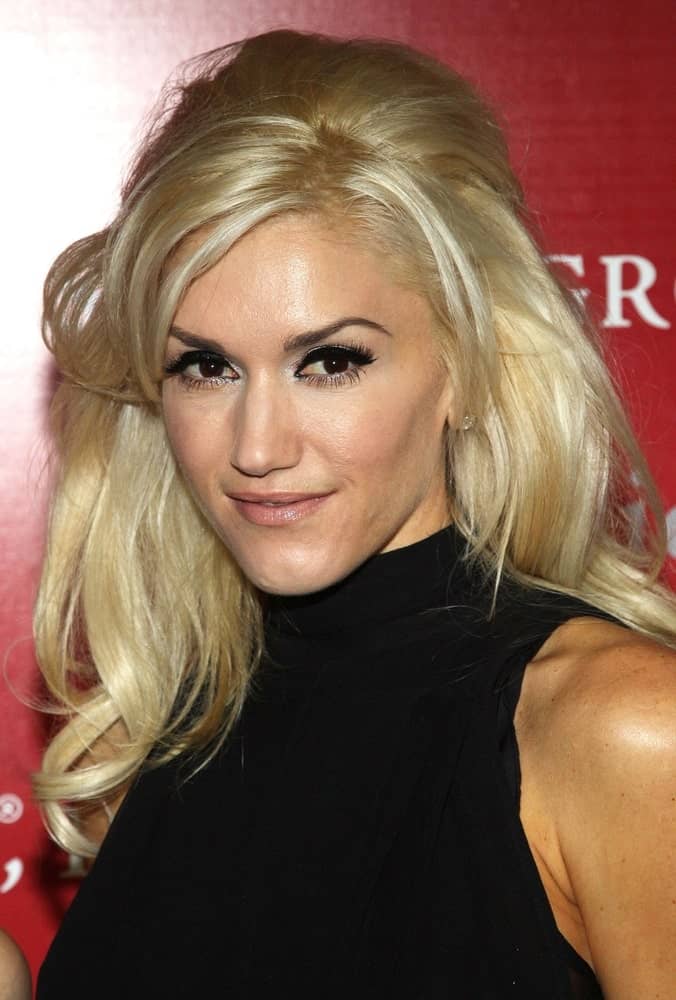 Gwen Stefani had a simple black outfit at the Fashion Group International 26th Annual Night of Stars in New York last October 22, 2009. She paired this with her half-up tousled and layered blond hair.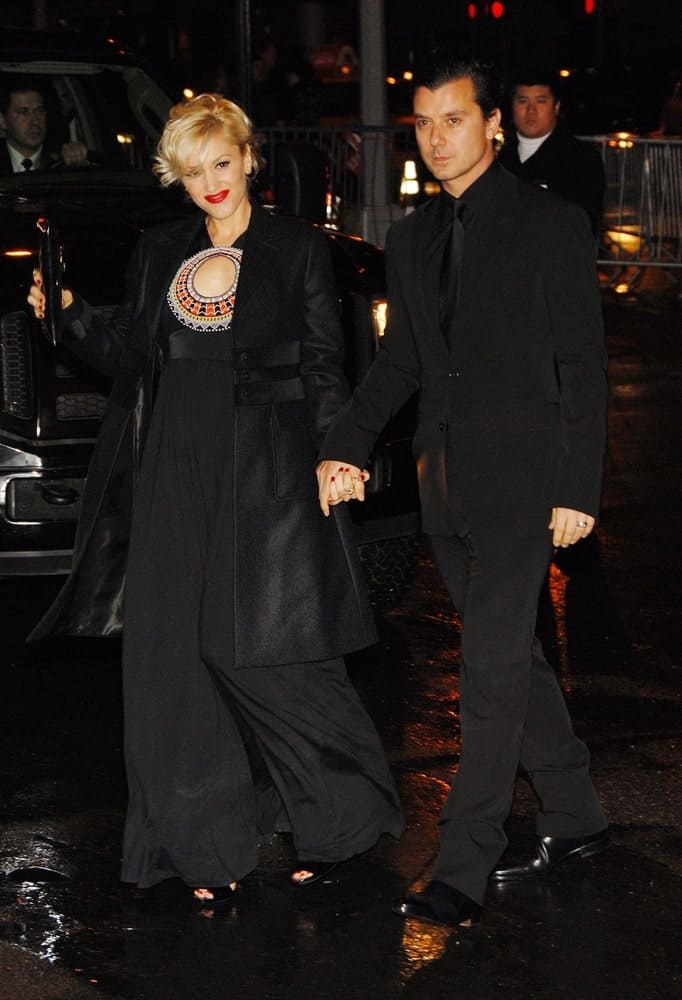 Gwen Stefani and Gavin Rossdale were at the Gucci Benefit for Raising Malawi and UNICEF in New York last February 06, 2008. She was glowing in her black ensemble outfit and her messy upstyle hair.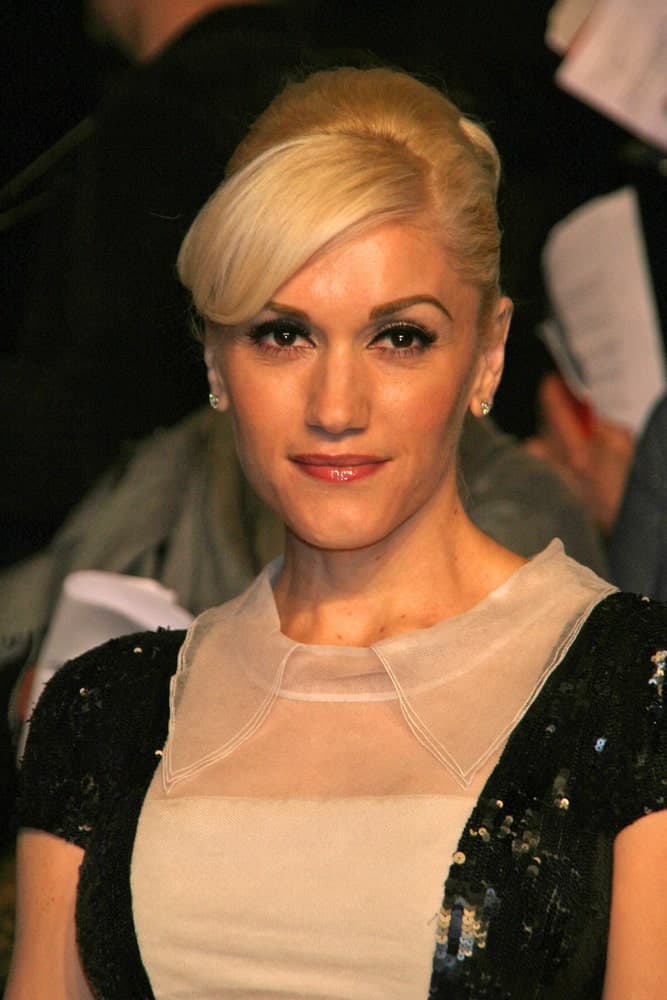 Gwen Stefani wore an elegant bun hairstyle with side-swept bangs at the 2007 Vanity Fair Oscar Party in Mortons, West Hollywood, CA. It went quite well with her black and white sequined dress.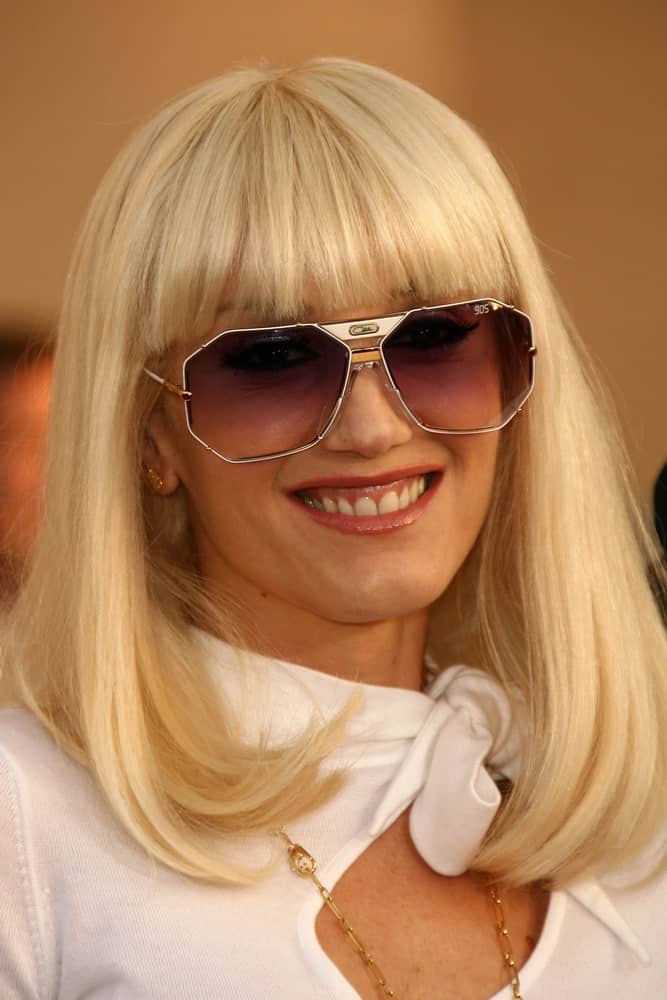 Gwen Stefani went with blunt curtain bangs with her long blond bob hairstyle at the 34th Annual American Music Awards at Shrine Auditorium last November 21, 2006, in Los Angeles, CA.