Check out Gwyneth Paltrow's chic hairstyles over the years including recent styles. Explore the simple and effortless hairstyles this famous actress showcased with her silky blonde tresses.

If you have watched the movie 'Shakespeare in Love', then you will remember this beautiful and talented American actress. Gwyneth Paltrow is the daughter of a film producer and from a very young age, she had been part of the film industry. Her mother was an actress and she saw her mother take part in plays all her childhood. That's what had inspired to start stage acting from 1990. In 1991, she first appeared in the romantic musical film Shout starring opposite John Travolta.
After that, she started acting in numerous films, including 'Hook' directed by Steven Spielberg. Her other successful films include 'Se7en', 'Moonlight and Valentino', 'Jefferson in Paris', and many more. One of the prominent roles she played was in the movie 'Emma' based on the famous novel by Jane Austen. From 1998 her career took a deep leap and she acted in several blockbuster films like 'Sliding Doors', 'Great Expectations', 'Shakespeare in Love', and 'A Perfect Murder'. She was also offered the lead female character in the movie 'Titanic'. She received Oscar for 'Shakespeare In Love'. Her recent movies include 'The Avengers', 'Mortdecai', etc. She is still continuing her career as a successful actress in Hollywood.
Gwyneth Paltrow's glorious blonde hair has been appreciated over the years. She had straight mid-length hair for a long time. Sometimes, you could see little waves in the hair. She looks very sophisticated in the straight hair updos. Most of her hairstyles are very simple, yet elegant and suits her face well. She has confidently transformed from her comfortable mid-length hairstyle to a bob cut. In the Los Angeles premiere show of 'The Expectations', she appeared in a smart bob cut and looked simply stunning. She sometimes had bangs in front and sometimes just straight long hair. She even experimented with the color of her hair and changed into a dark shade at the premiere of 'Bounce' in 1999. It was a very brave fashion move for a blonde girl to change her look completely with her blackish hair color. Her hairstyles were an inspiration not only to the blonde women but to the others as well. Whatever hairstyle she chose complimented her innocent smile and elegant facial appearance. She set a trend whenever she changed her hairstyle. Still, her most iconic hairstyle is the middle length straight blond hair and most people remember her with this look.
Gwyneth Paltrow is an outstanding actress who is an inspiration to many. Her fashion sense has also been appreciated by the movie and fashion industry. Recently she has become the author of cookbooks and follows an organic lifestyle. We can expect more wonderful works from her in the future.
Photos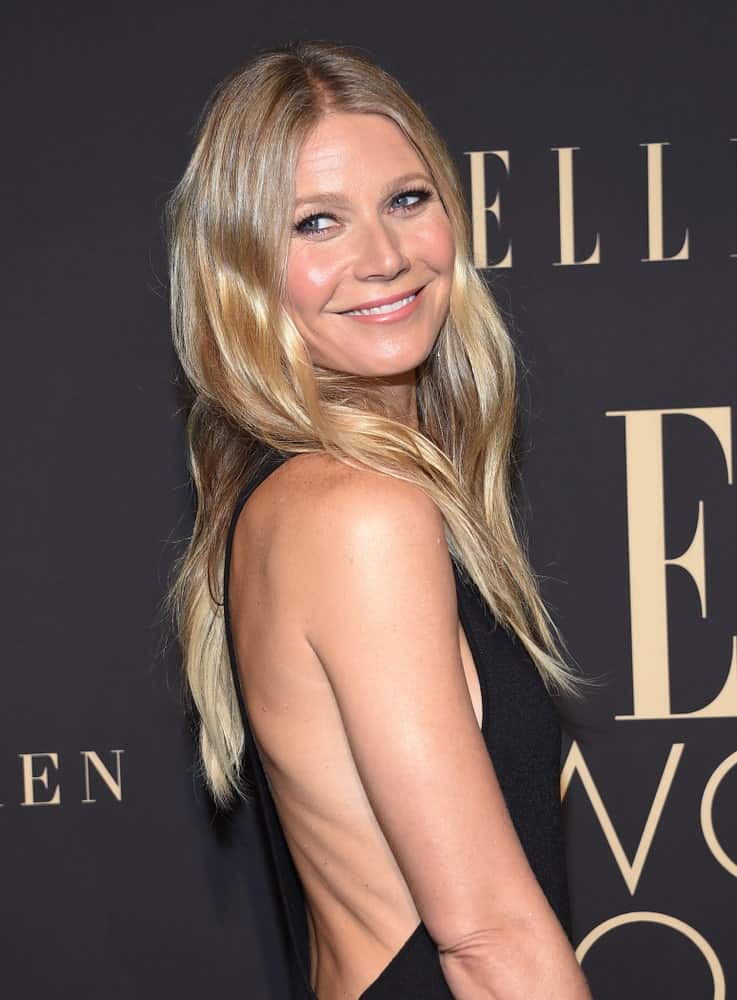 Gwyneth Paltrow looked gorgeous in a black dress and her long blonde locks styled in a simple loose hairstyle. This look was worn at the ELLE Women in Hollywood on October 14, 2019.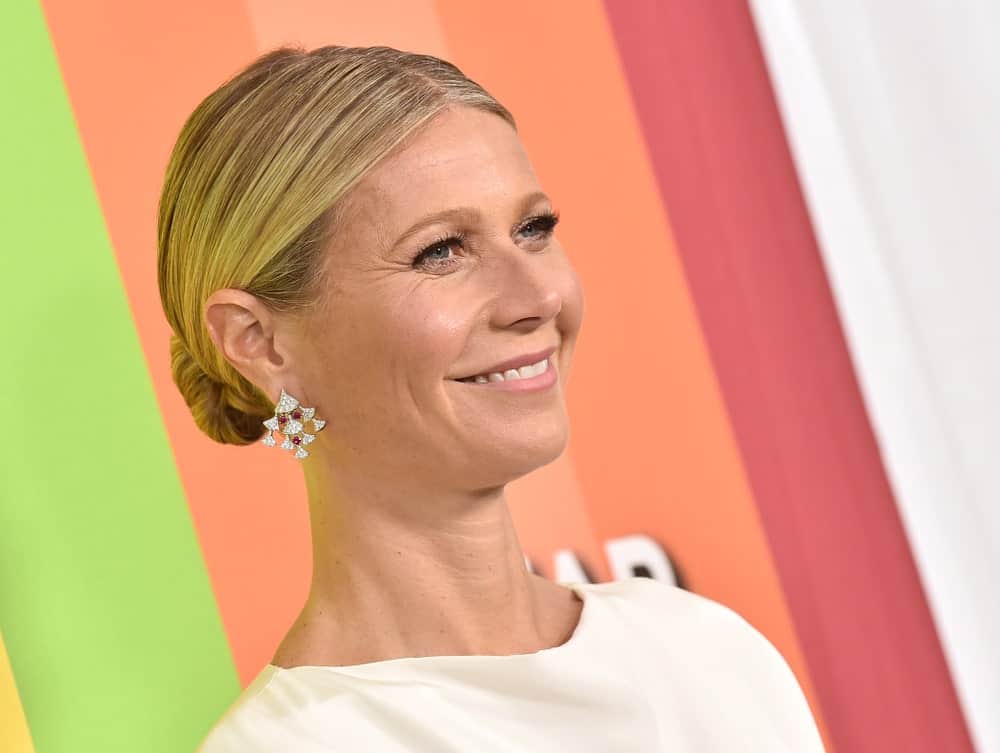 The actress exhibited a classic and sophisticated look showcasing a center-parted low bun hairstyle during the 2019 amFAR Gala on October 10, 2019, in Hollywood, CA.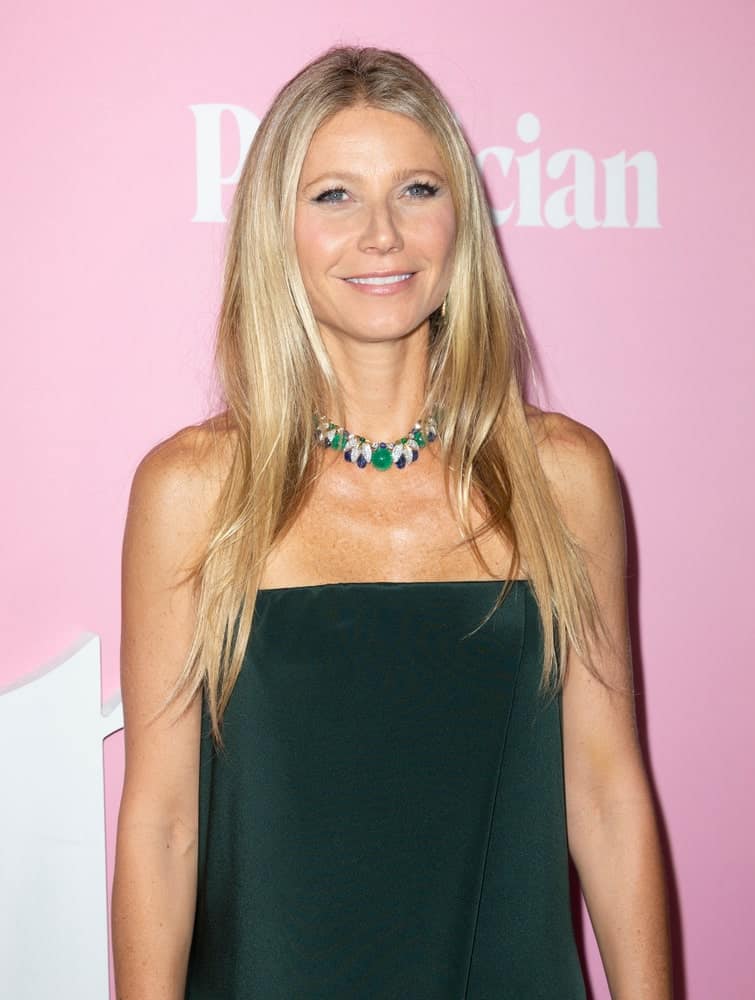 On September 26, 2019, Gwyneth Paltrow attended Netflix The Politician premiere at DGA Theater with a loose layered hairstyle complemented with a simple tube dress and collar necklace.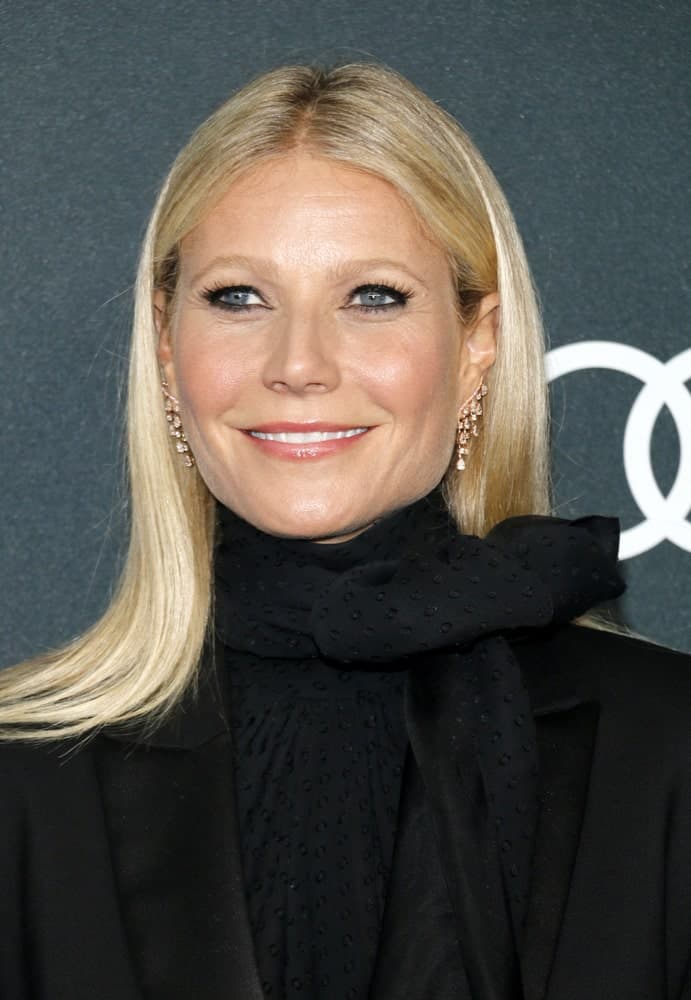 The actress showcased a sleek look with her center-parted straight blonde hair at the World premiere of 'Avengers: Endgame' held on April 22, 2019.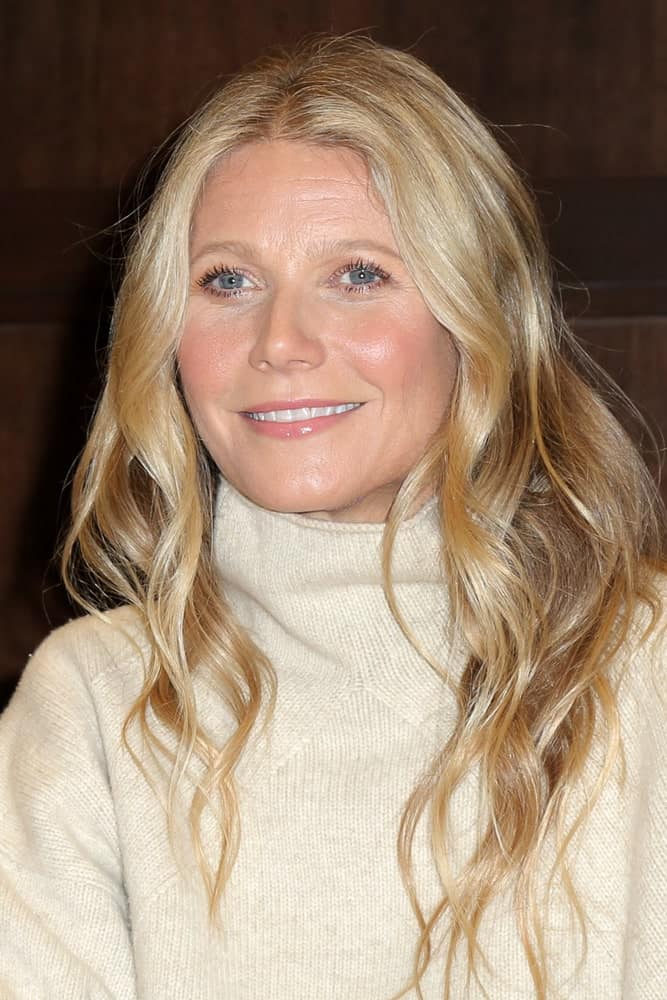 Gwyneth Paltrow styled her blonde tresses with soft waves during the signing of her new book "The Clean Plate" at the Barnes & Noble at The Grove on January 14, 2019.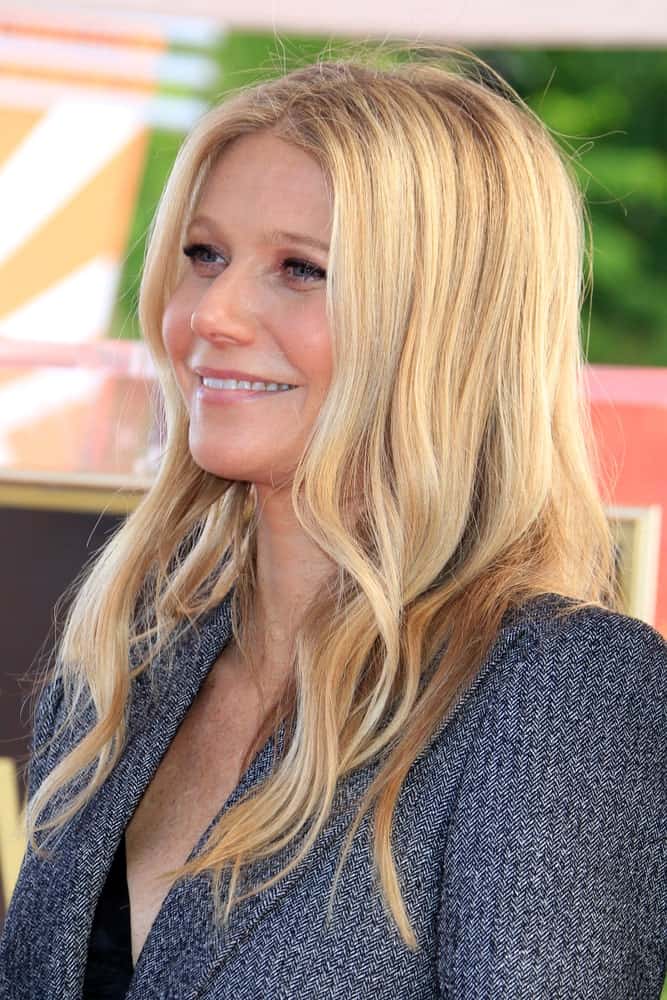 The actress made an appearance at the Ryan Murphy Star Ceremony on the Hollywood Walk of Fame on December 4, 2018, with center-parted hair arranged in loose waves.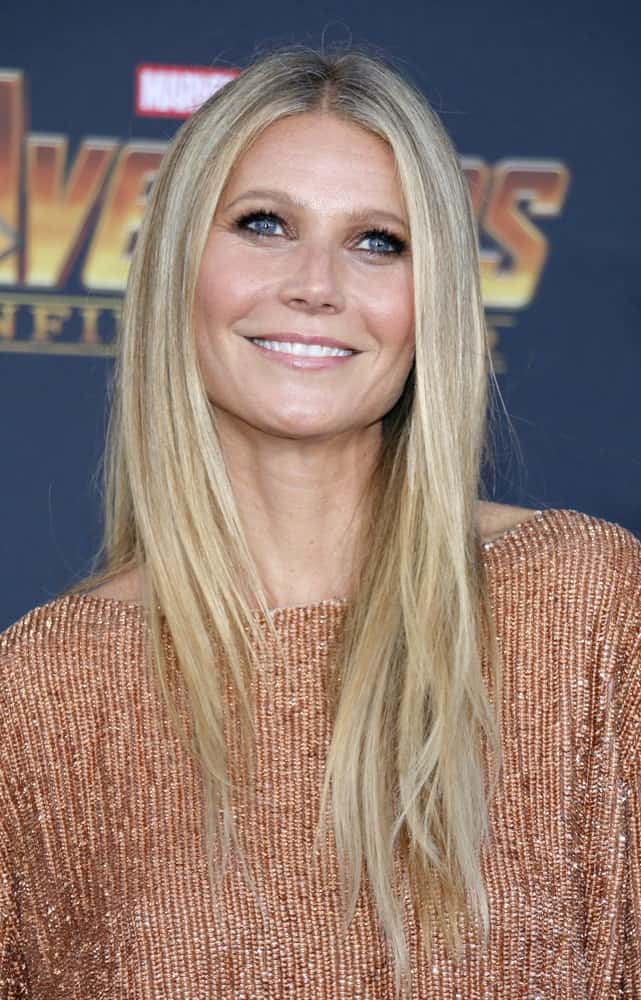 Gwyneth Paltrow flaunted her straight blonde locks with subtle layers in front at the premiere of Disney and Marvel's 'Avengers: Infinity War' held on April 23, 2018.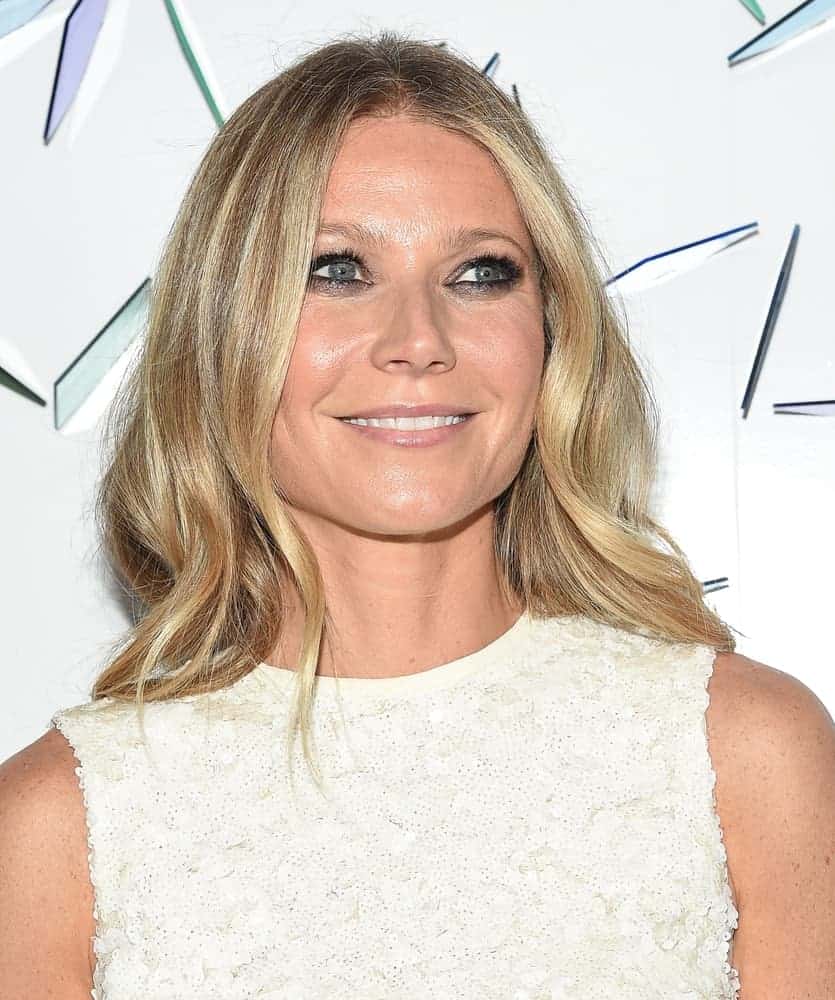 The actress wore a sleeveless sequined dress along with her center-parted blondes in loose waves as she arrives for the Kaleidoscope 5 on May 6, 2017.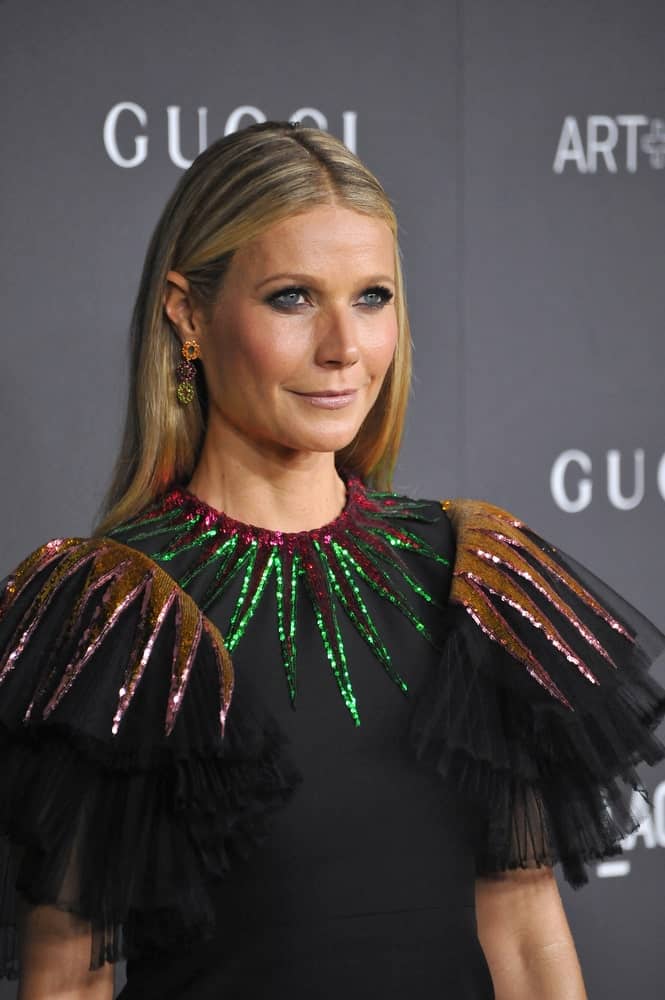 The actress matched her edgy black outfit with slick center-parted hair during the 2016 LACMA Art+Film Gala at the Los Angeles County Museum of Art held on October 29th.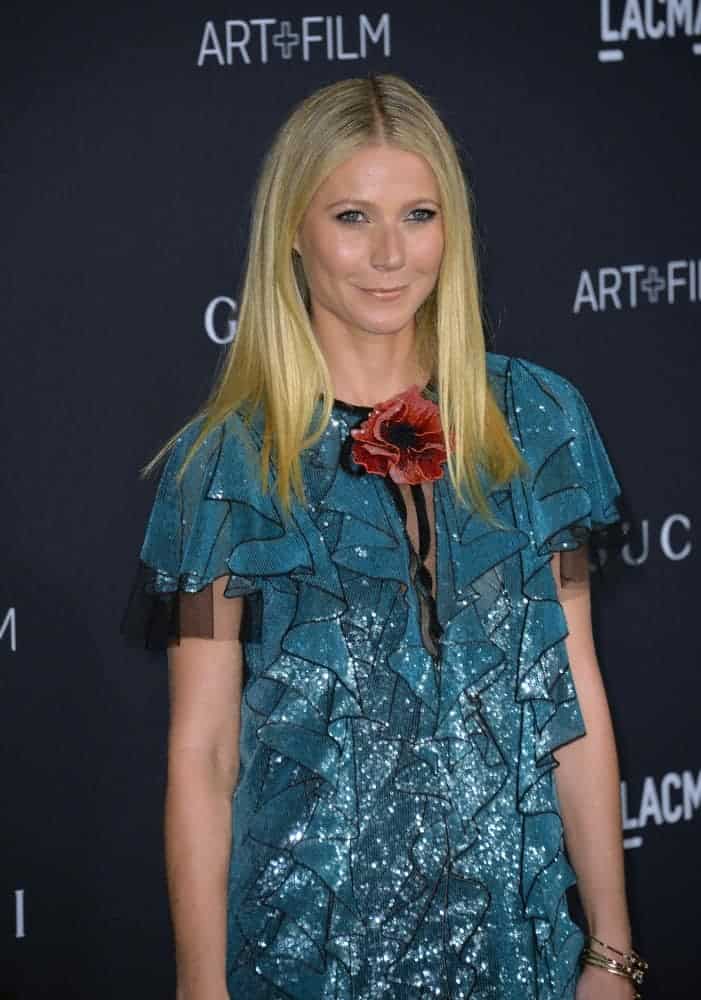 The actress in a charming ruffle dress paired with her blonde locks pin-straight with a middle part at the 2015 LACMA Art+Film Gala on November 7, 2015.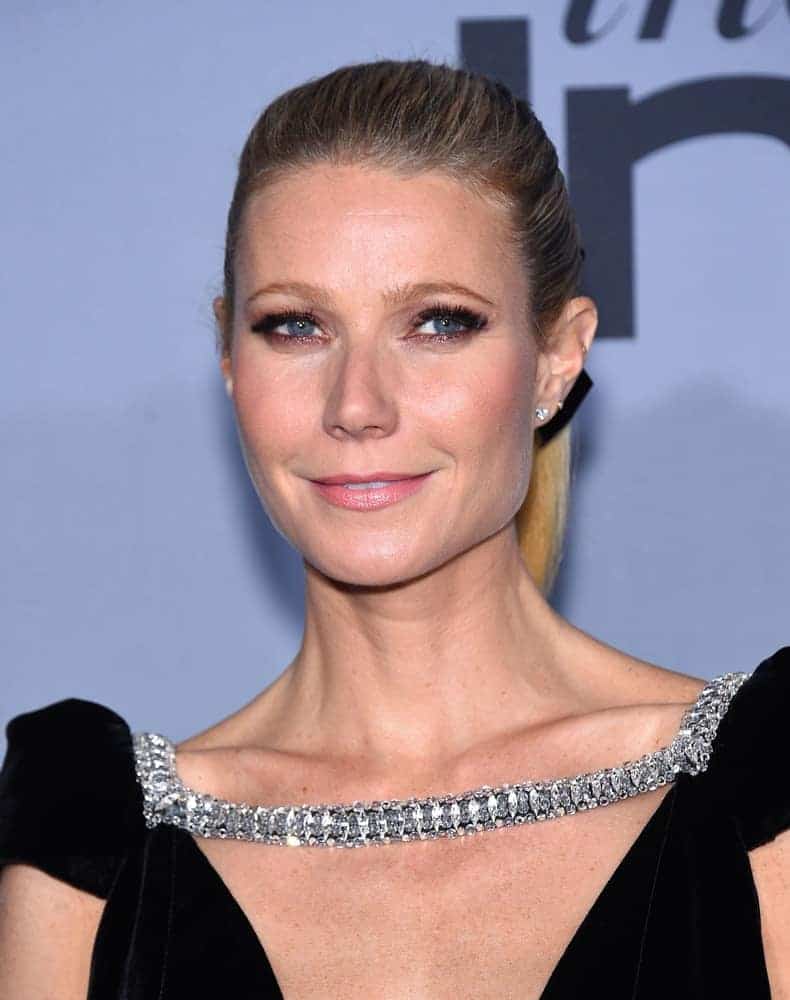 Gwyneth tied her straight blonde locks with a ribbon in a high ponytail as she arrives at the InStyle Awards 2015 on October 26, 2015.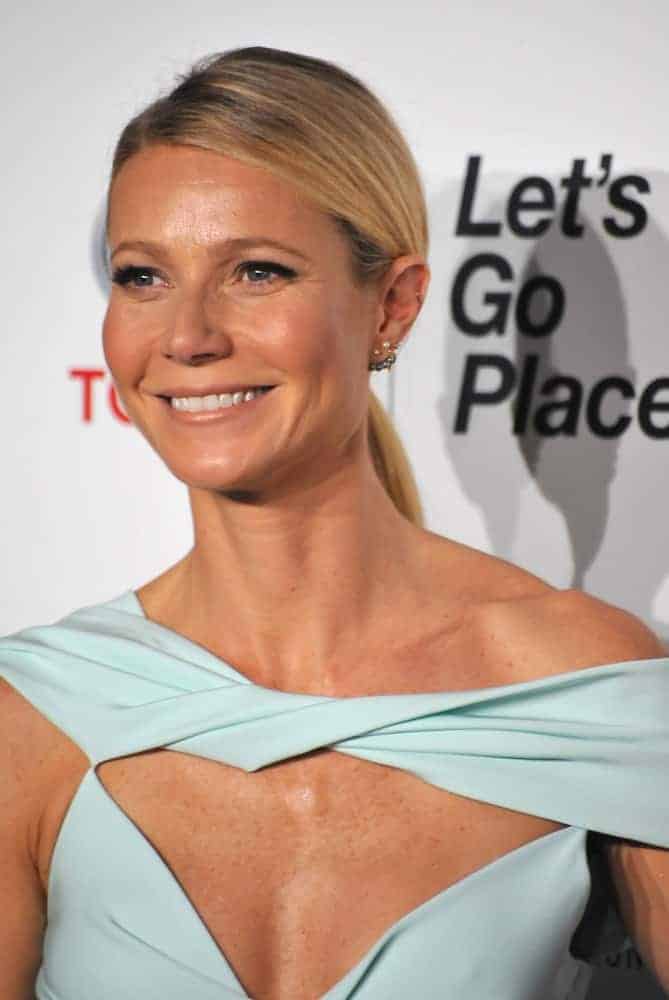 The actress showed off youthfulness in a sleek side-parted low ponytail at the 25th Annual Environmental Media Awards on October 24, 2015.
This star proved that tousled waves can be worn in style at the La Mer "Celebration of an Icon" Global Event on October 13, 2015.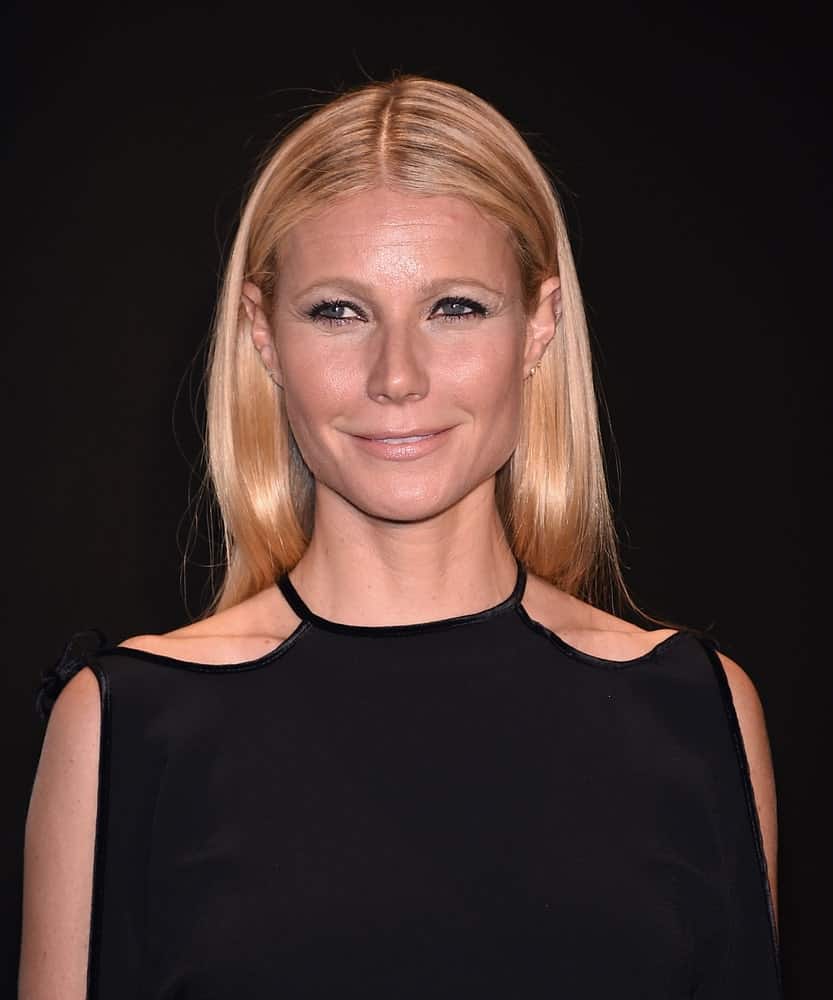 Gwyneth Paltrow complemented her cold shoulder dress with a sleek center-parted hairstyle in straight blonde at the Tom Ford Autumn/Winter 2015 Womenswear Collection Presentation held on February 20th.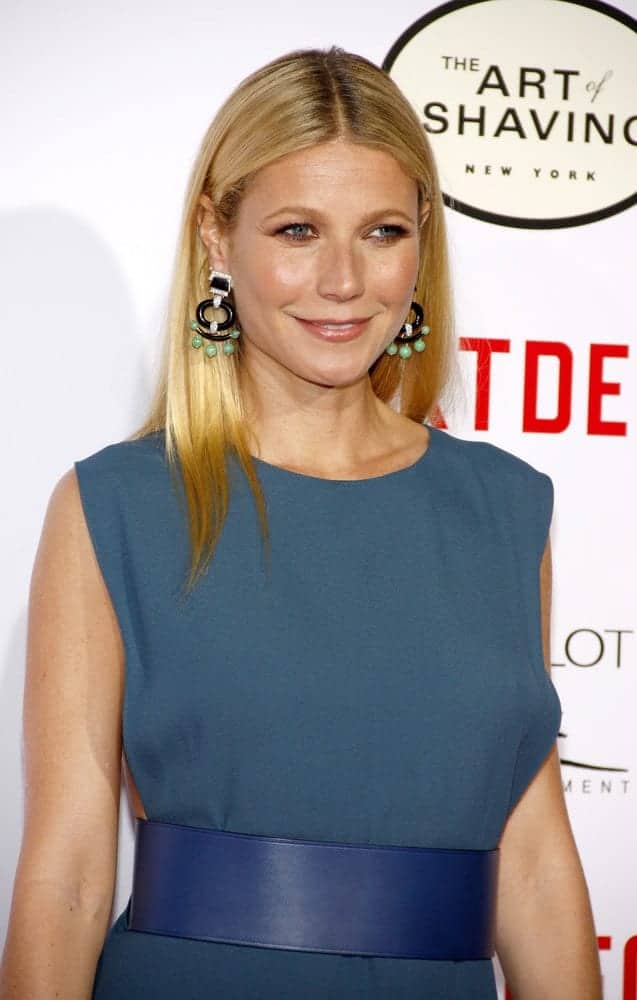 These long straight layers with a dramatic center part made Gwyneth Paltrow look refreshed at the Los Angeles premiere of 'Mortdecai' on January 21, 2015.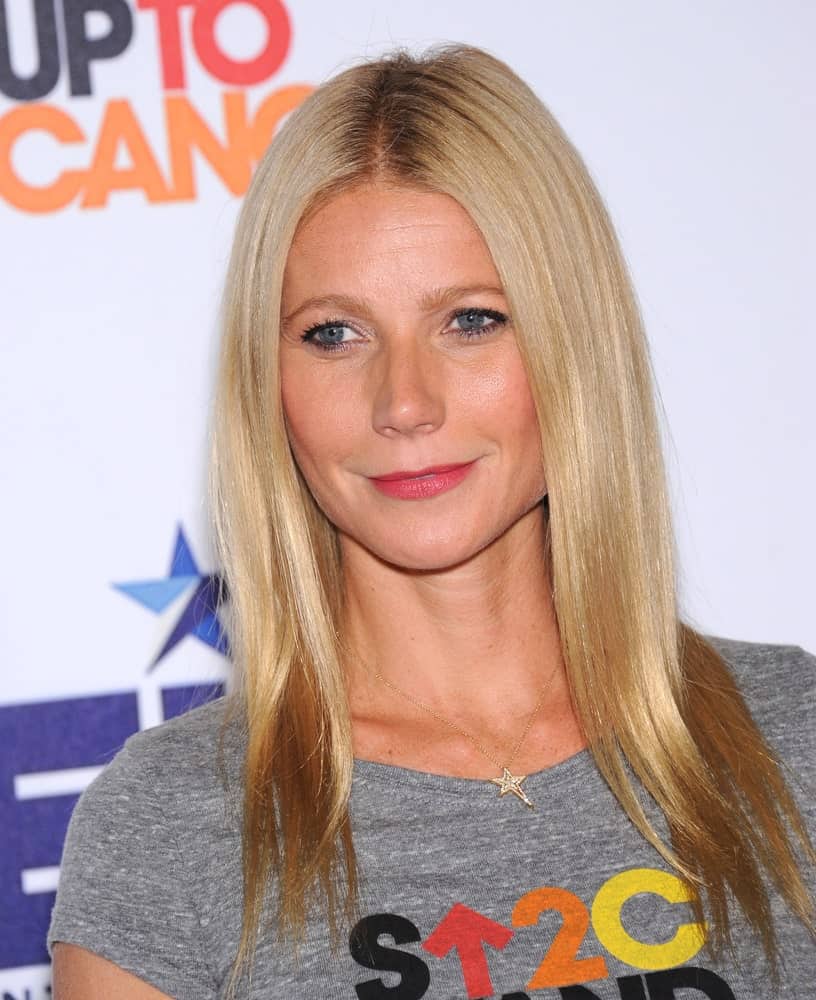 The actress completed her casual look with a simple loose hairstyle during the Stand Up To Cancer 2014 on September 05, 2014, in Hollywood, CA.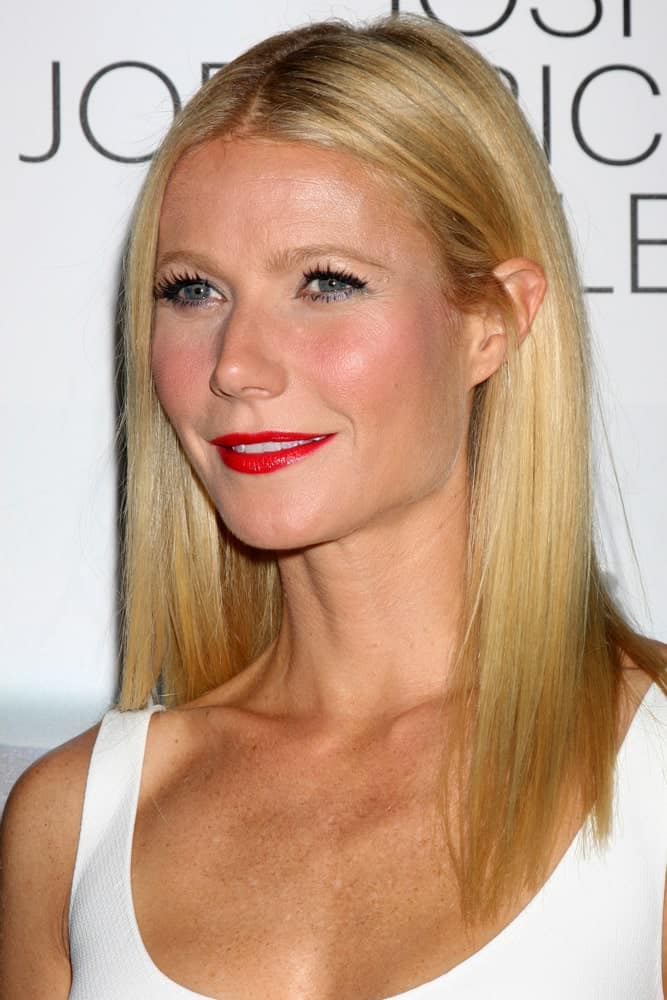 On September 16, 2013, the actress attended the "Thanks for Sharing" Premiere at ArcLight Hollywood Theaters sporting a sleek straight hair where one side is tucked behind her ear.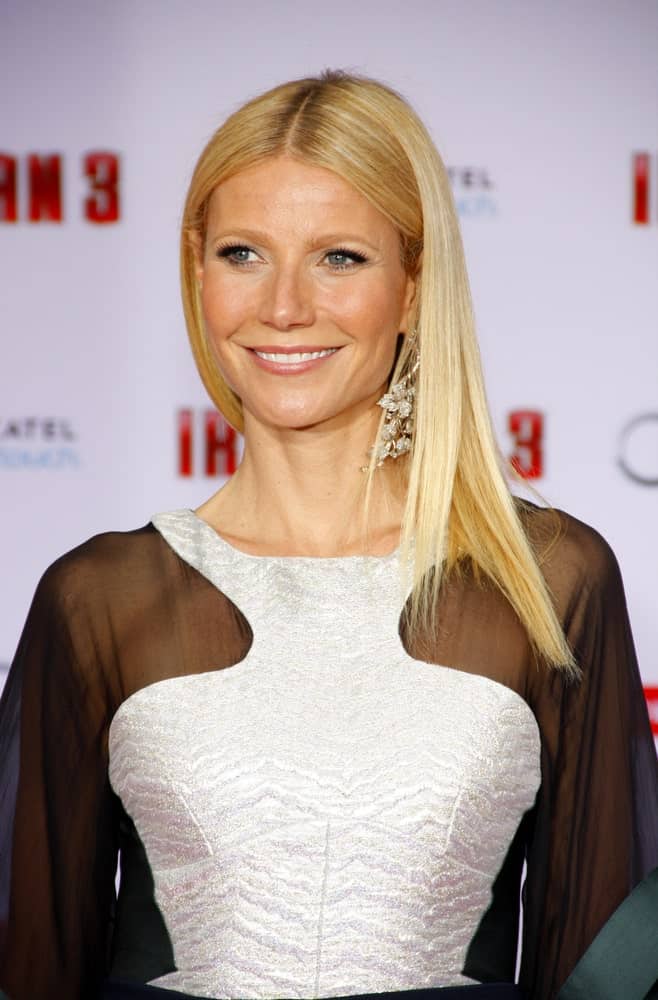 Gwyneth Paltrow arrived at the Los Angeles premiere of "Iron Man 3" held at the El Capitan Theater on April 20, 2013, in an eye-catching dress paired with her straight blonde hair that she gathered on one side.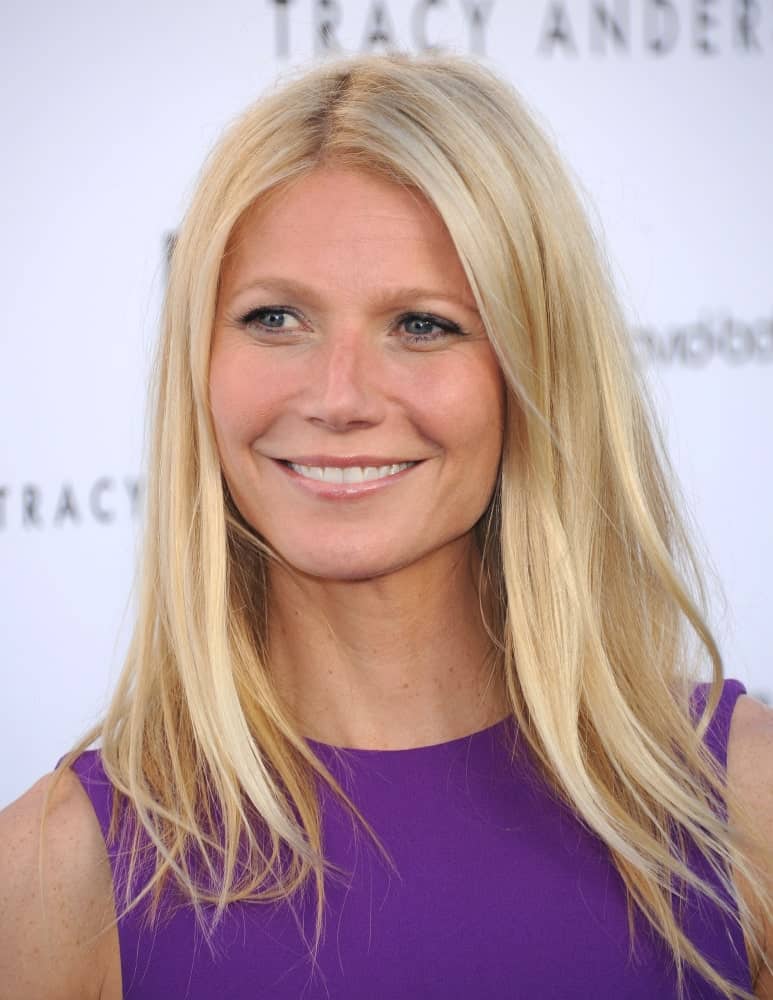 Gwyneth Paltrow was seen at the Tracy Anderson Flagship Studio Opening on April 04, 2013, in a bold purple dress and a slightly tousled hairstyle with a middle parting.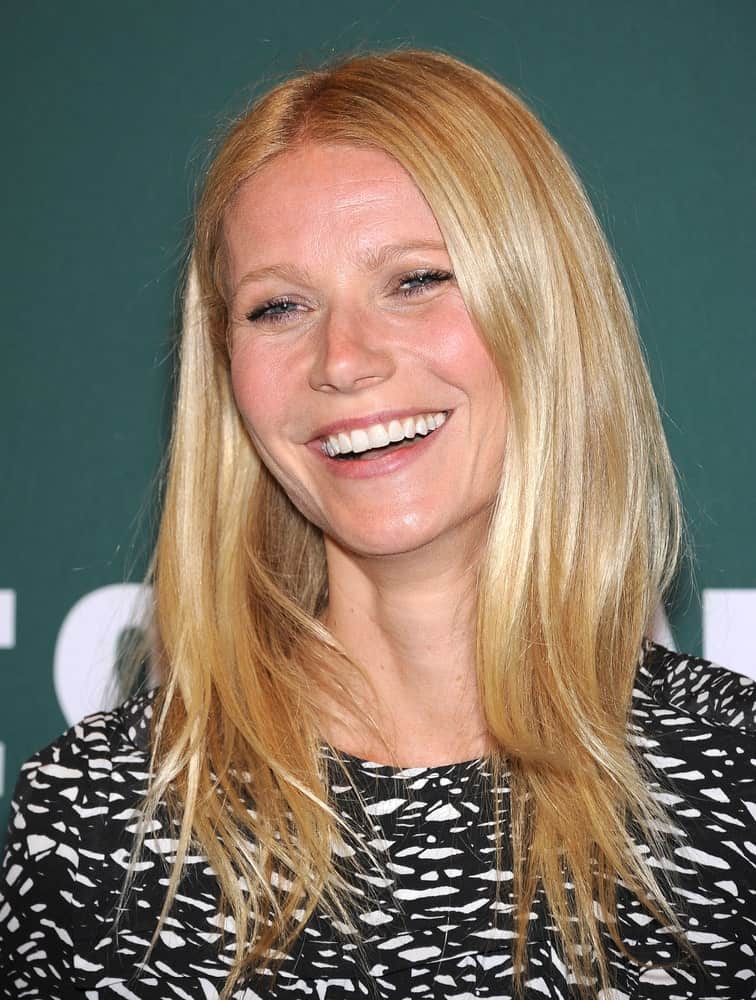 The actress flaunting her medium-length layered hair during the Gwyneth Paltrow signs "It's All Good" on April 03, 2013, in Los Angeles, CA.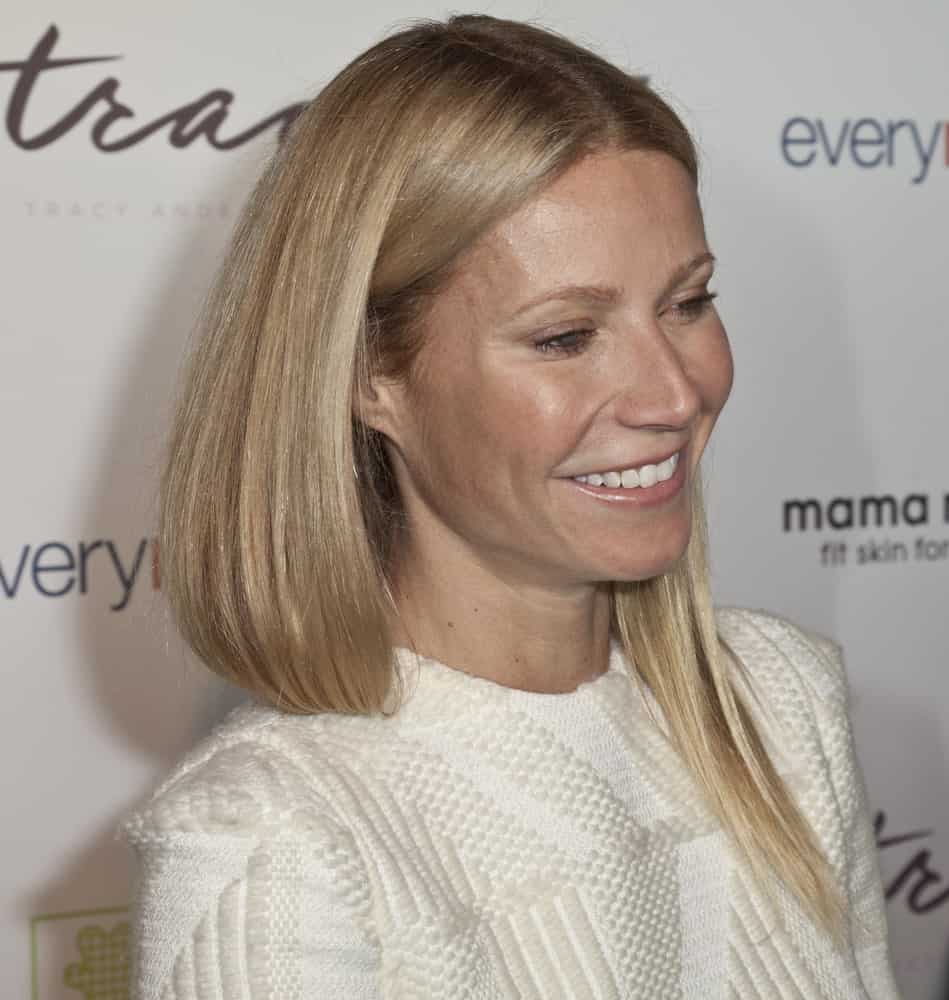 The actress arrived at the launch of The Tracy Anderson Method Pregnancy Project on October 5, 2012, with volumized straight hair that's a perfect match in her cream, textured dress.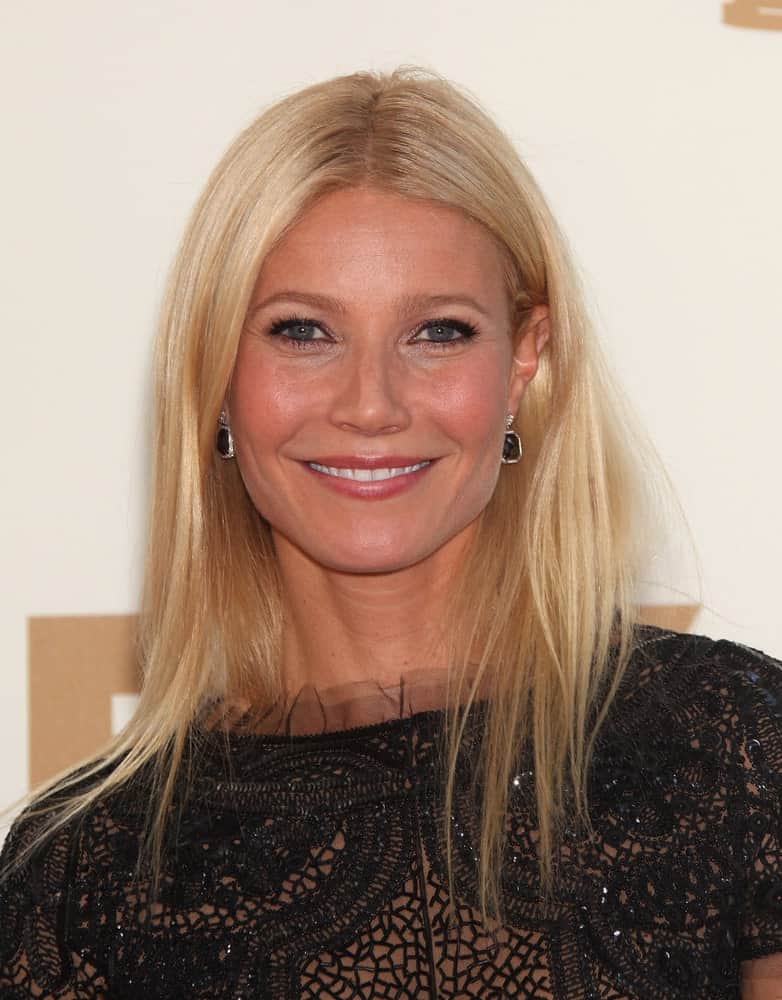 Gwyneth Paltrow rocked a slightly messy hairstyle paired with a black lace dress at the Emmy Awards 2011 held on August 11, 2012 in Los Angeles, CA.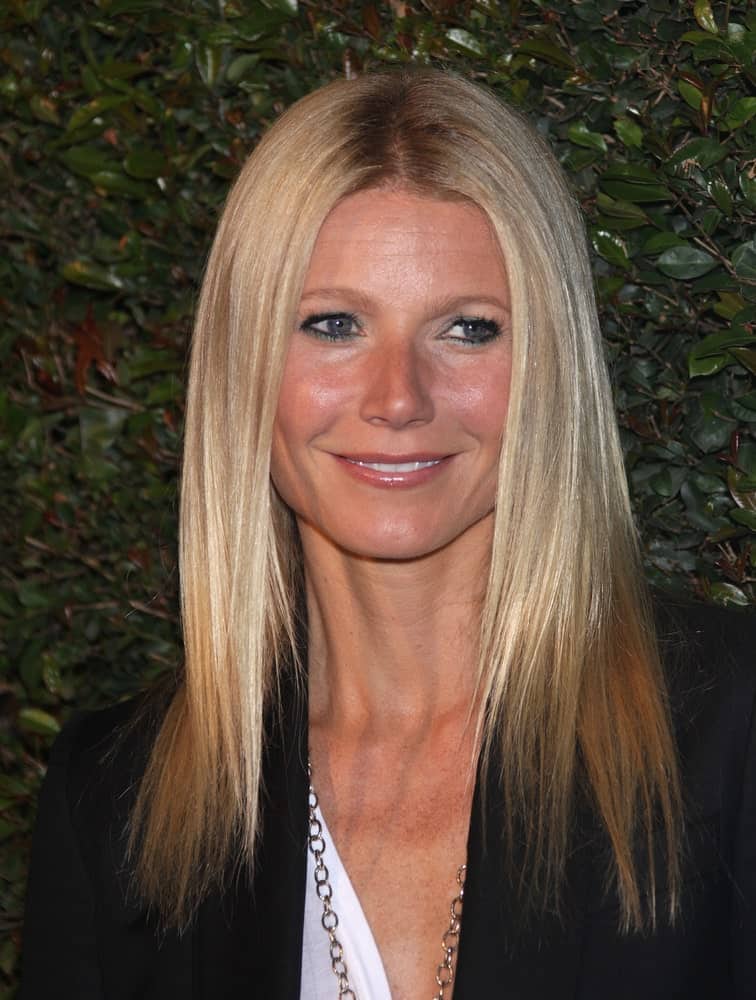 Gwyneth Paltrow looking sleek in her iconic fine blonde hair that's center-parted during the "My Valentine" World Premiere on April 13, 2012 in Beverly Hills, CA.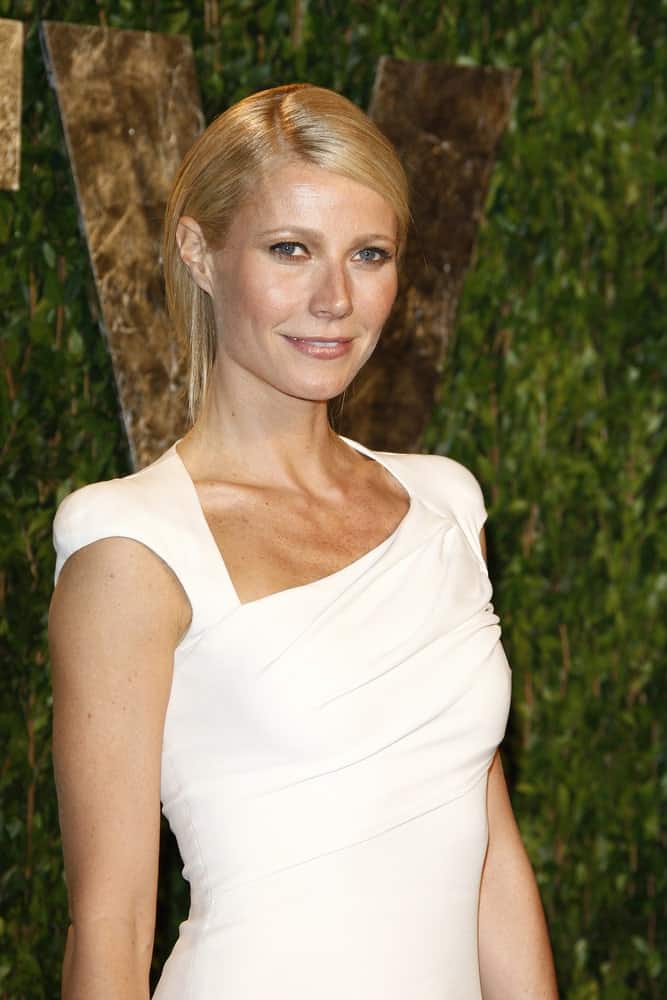 The American actress slayed the Vanity Fair Oscar Party at Sunset Tower on February 26, 2012, with a silky white dress and her blonde locks styled in a loose low ponytail.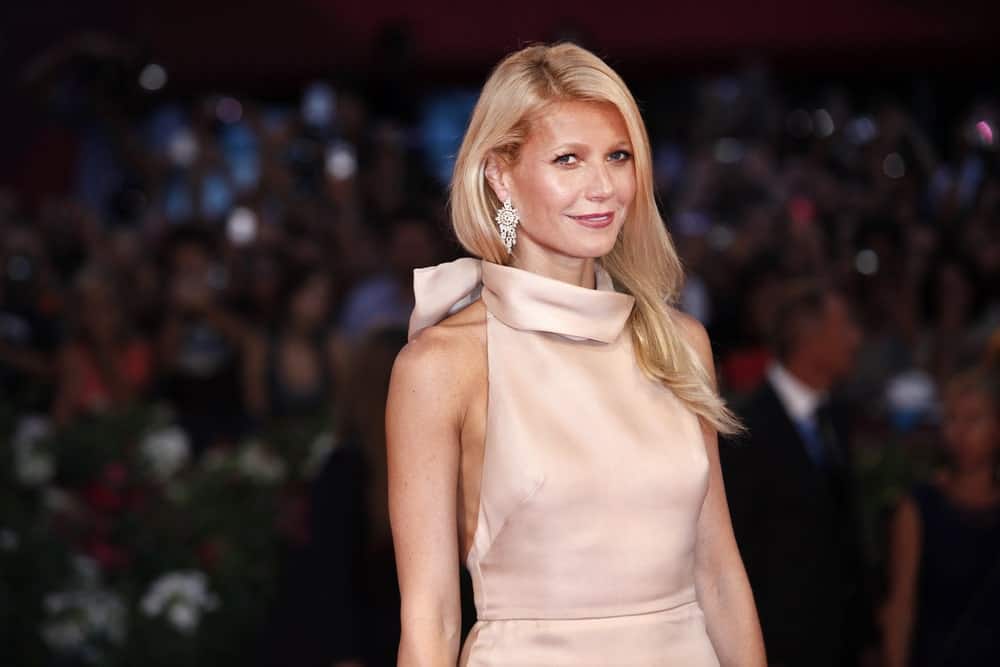 Gwyneth Paltrow shines in a silky blush dress paired with her long side-parted blonde hair at the premiere of 'Contagion' during the 68th Venice Film Festival on September 3, 2011.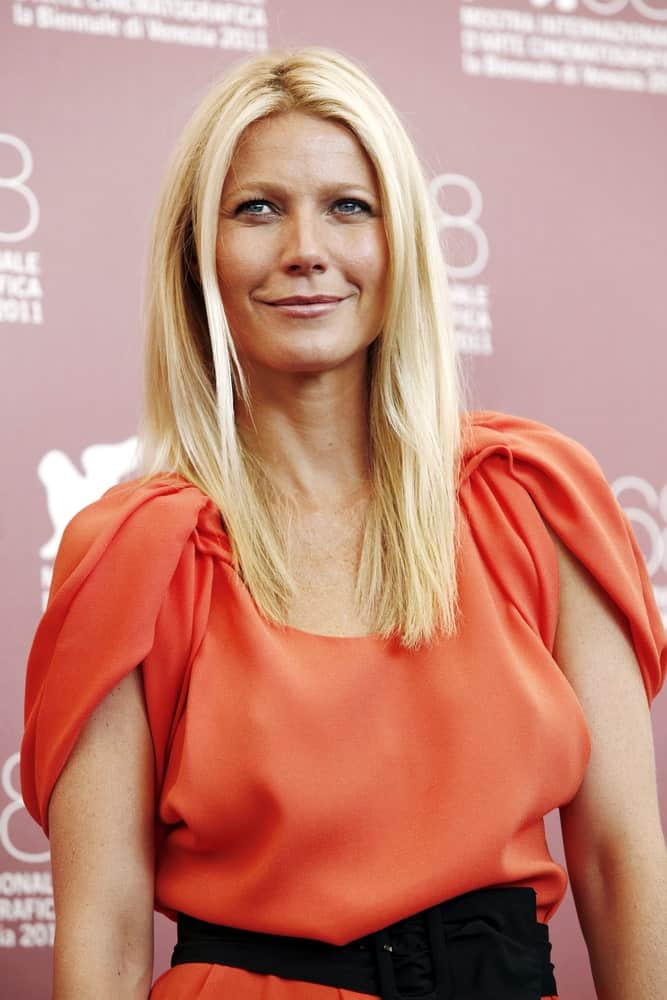 The actress arrived at the photocall of 'Contagion' during the 68th Venice Film Festival on September 3, 2011, with her signature loose hairstyle that's center-parted.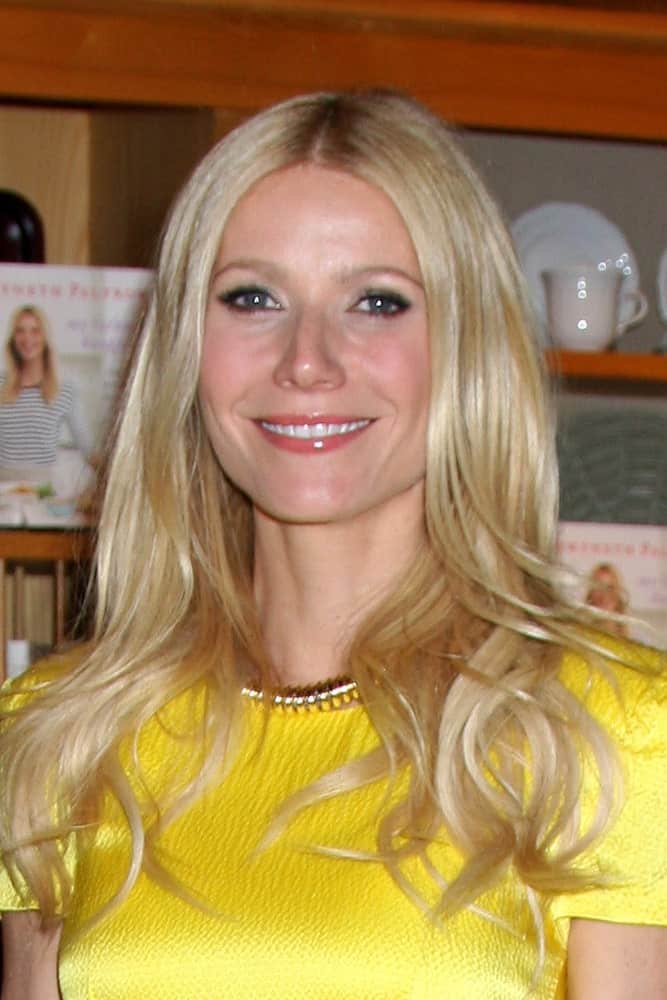 The actress looked cheerful in a vibrant yellow dress incorporated with her semi wavy hair at the event for her book "My Father's Daughter: Delicious, Easy Recipes Celebrating Family & Togetherness" on April 21, 2011.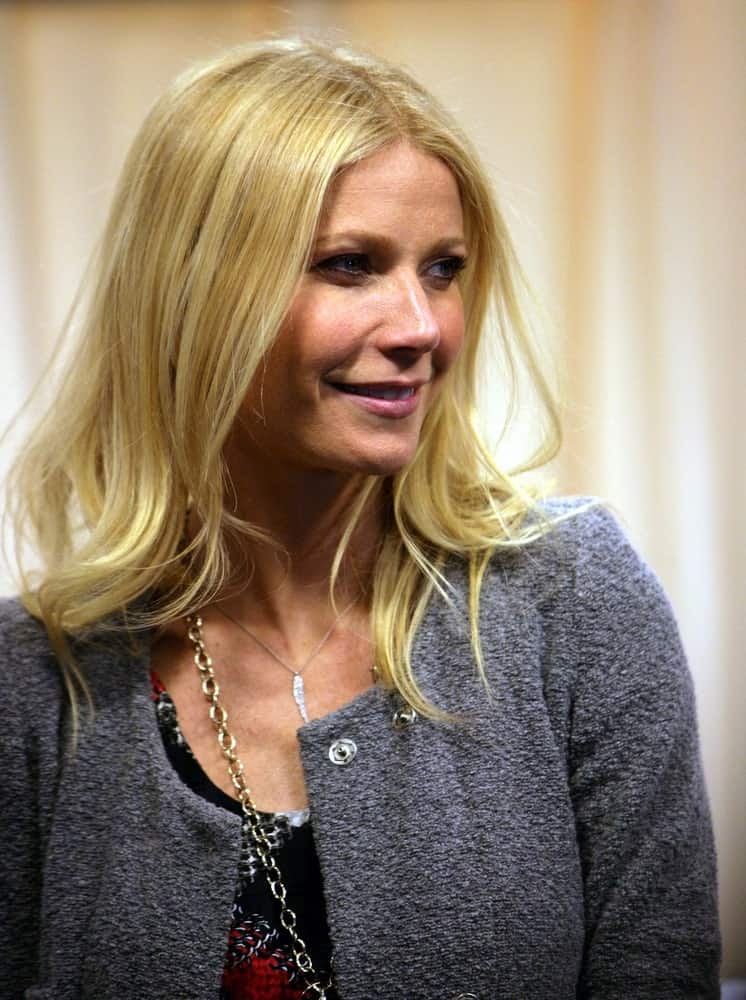 On April 14, 2011, the actress arrived at Barnes & Noble on 5th Avenue in New York City with her blonde tousled tresses arranged with subtle waves.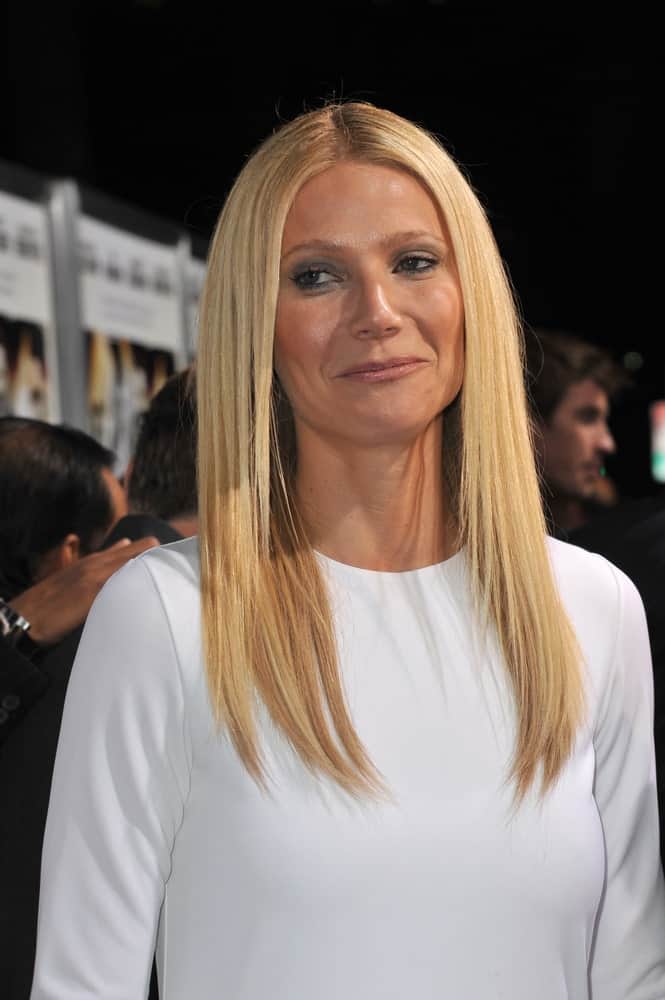 Looking all simple and classy, Gwyneth Paltrow showcased her long blonde hair with subtle layers during the premiere of "Country Strong" at the Samuel Goldwyn Theatre, Beverly Hills on December 14, 2010.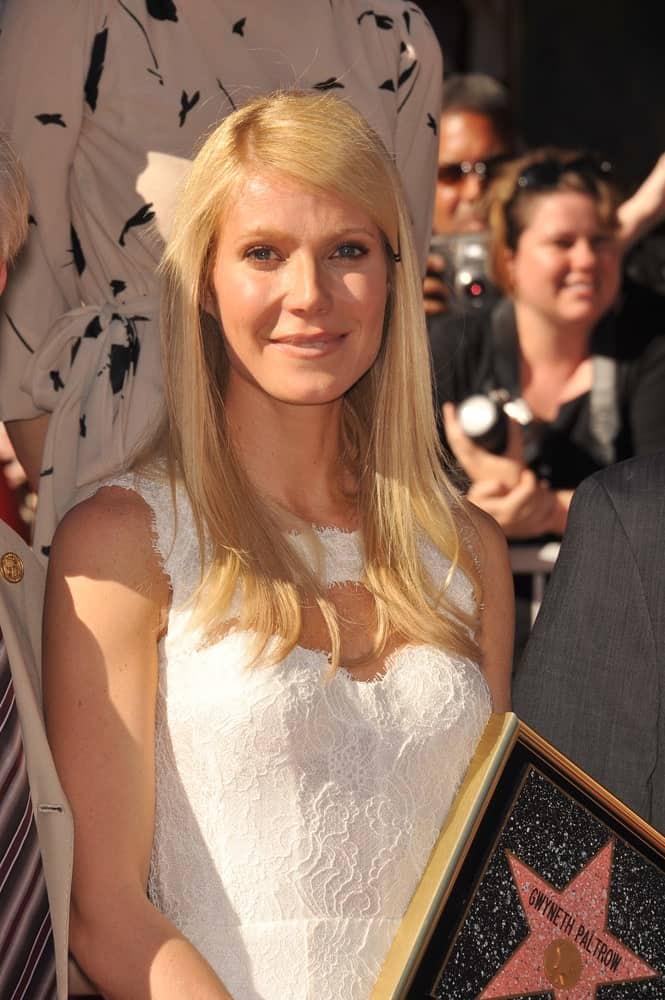 The actress looked charming and sweet in a pinned side-swept hairstyle paired with a white textured dress. This was taken at the Hollywood Boulevard where she was honored with the 2,427th star on the Hollywood Walk of Fame held on December 13, 2010.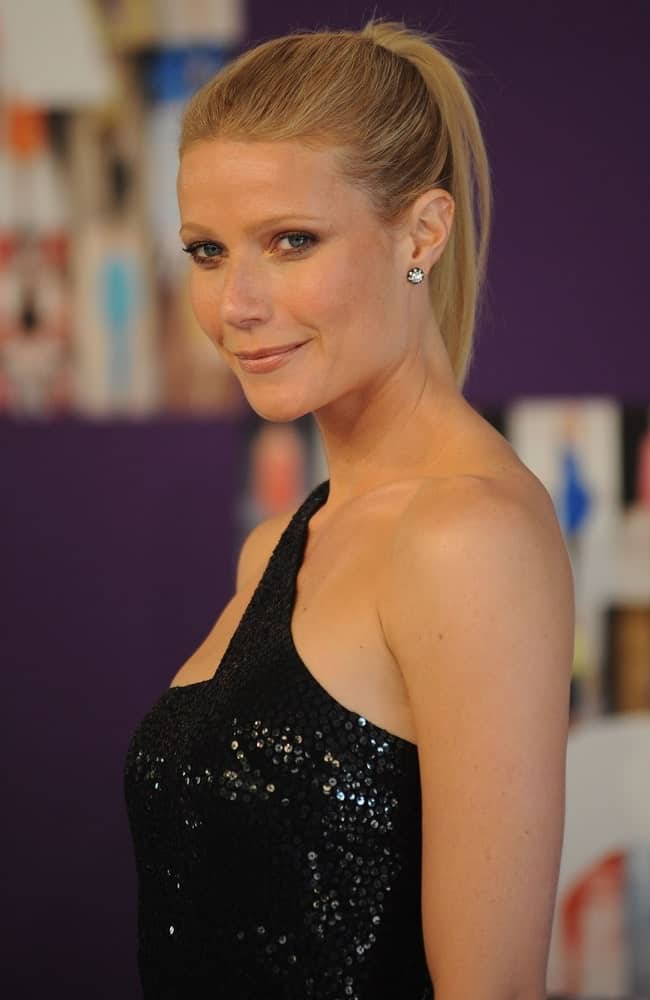 The actress wore a black sequined dress along with a slick, high ponytail hairstyle at The 2010 Council of Fashion Designers of America CFDA Awards held on June 7, 2010.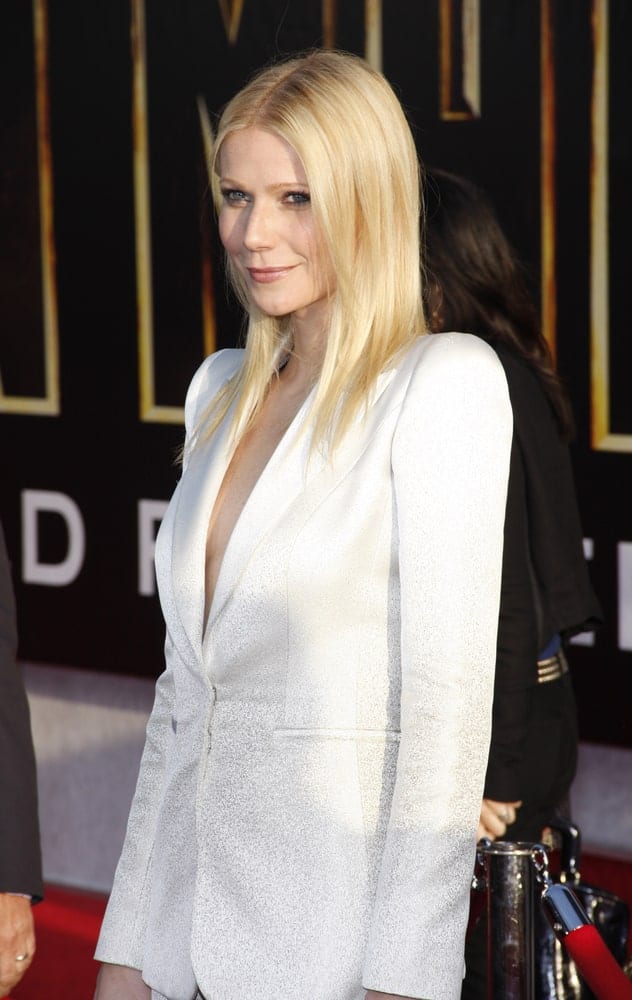 Gwyneth Paltrow in a sparkling white suit at the World premiere of "Iron Man 2" held on April 26, 2010. She had her smooth, silky straight her in loose hairstyle with a middle parting.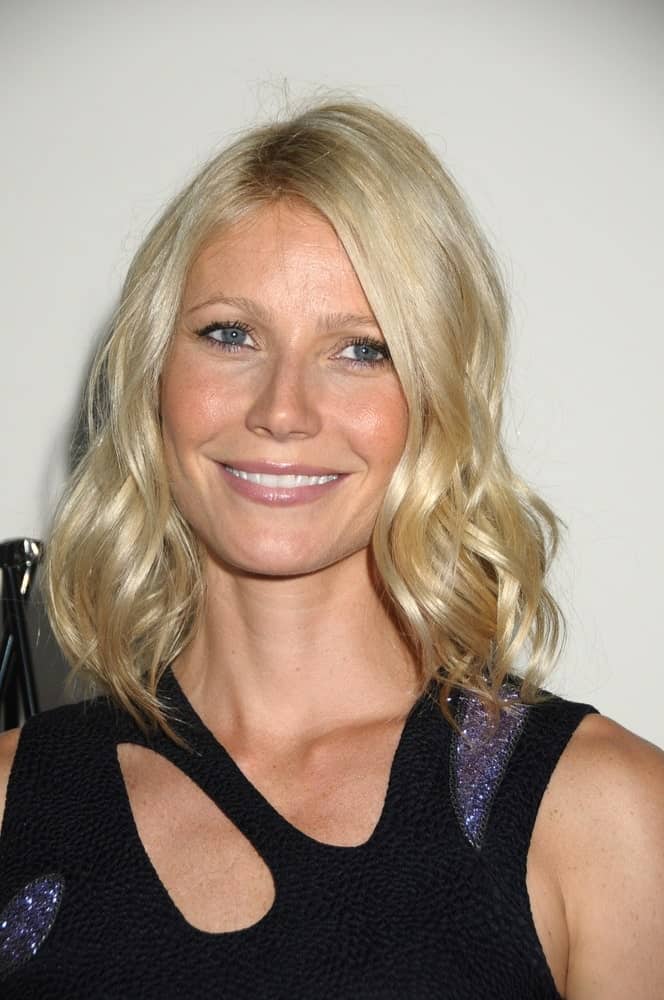 The actress made an appearance for Children of the City's Champions of Hope Benefit Gala held on July 29, 2009 with short beach waves incorporated with a black Preen dress.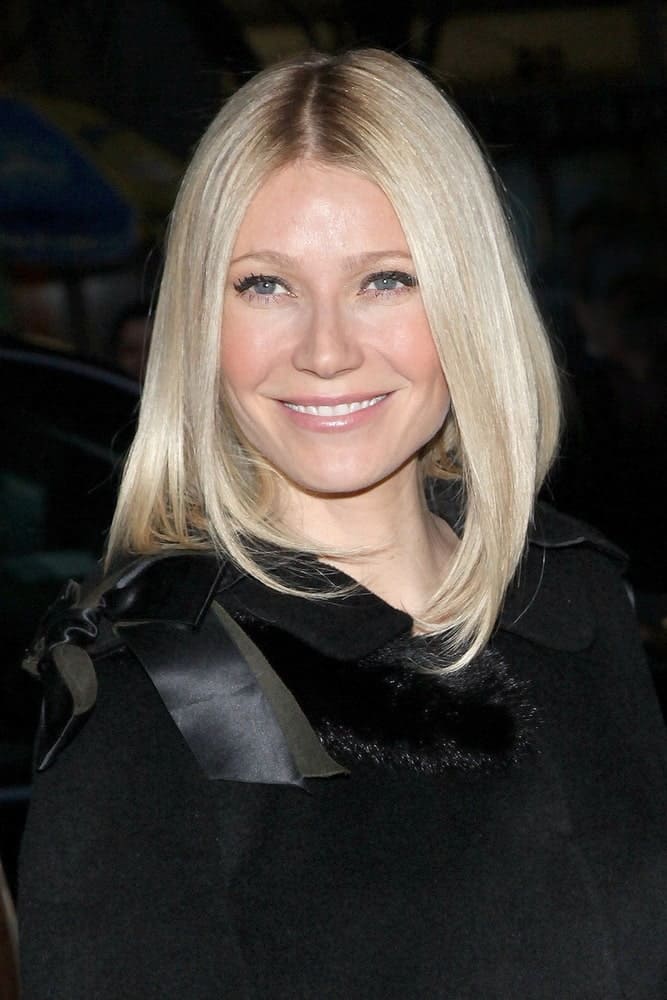 The actress had her blonde center-parted hair brushed inwardly during the VALENTINO THE LAST EMPEROR Premiere at the MoMA Museum of Modern Art, New York on March 17, 2009.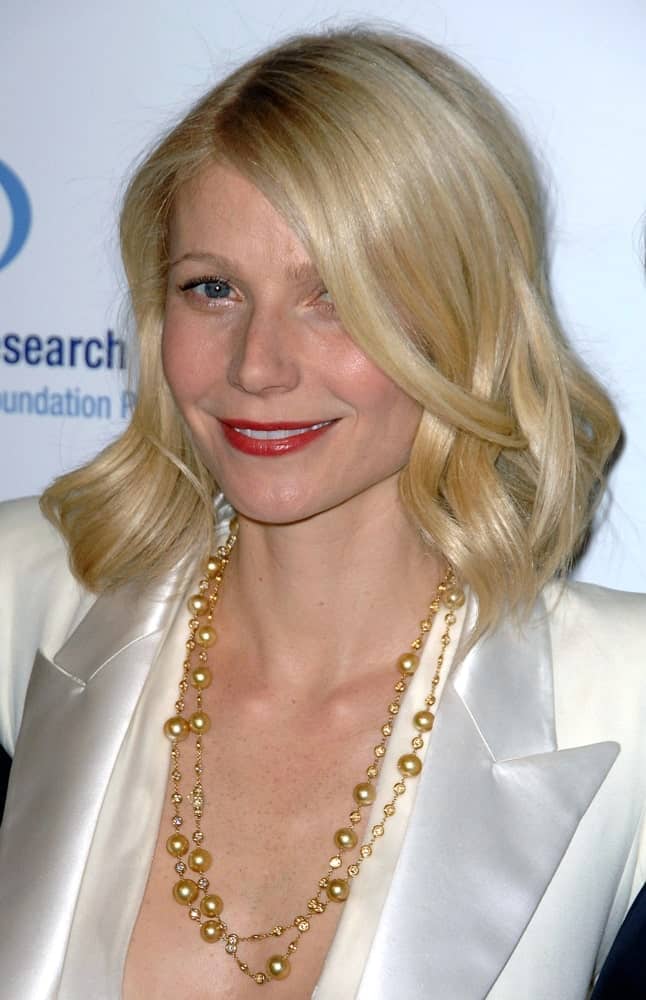 The actress overflowed with posh and class in short, stylish curls complemented with a white suit and layered necklace. This look was worn at the Unforgettable Evening Benefiting Entertainment Industry Foundation's Women's Cancer Research Fund on February 10, 2009.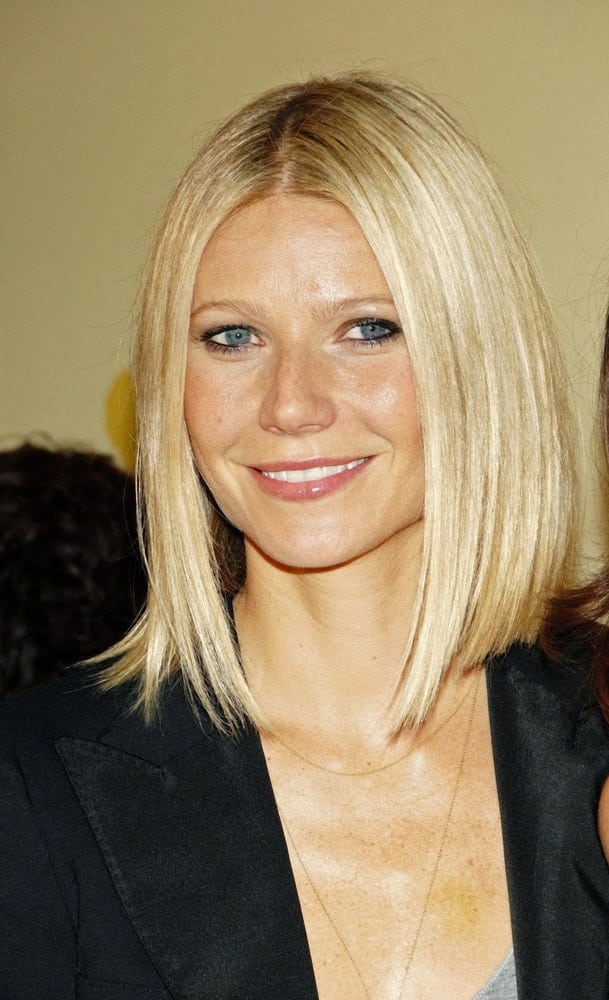 Gwyneth Paltrow attended Spain On The Road Again Series Premiere last September 21, 2008 with a long bob cut that flatters her gorgeous face.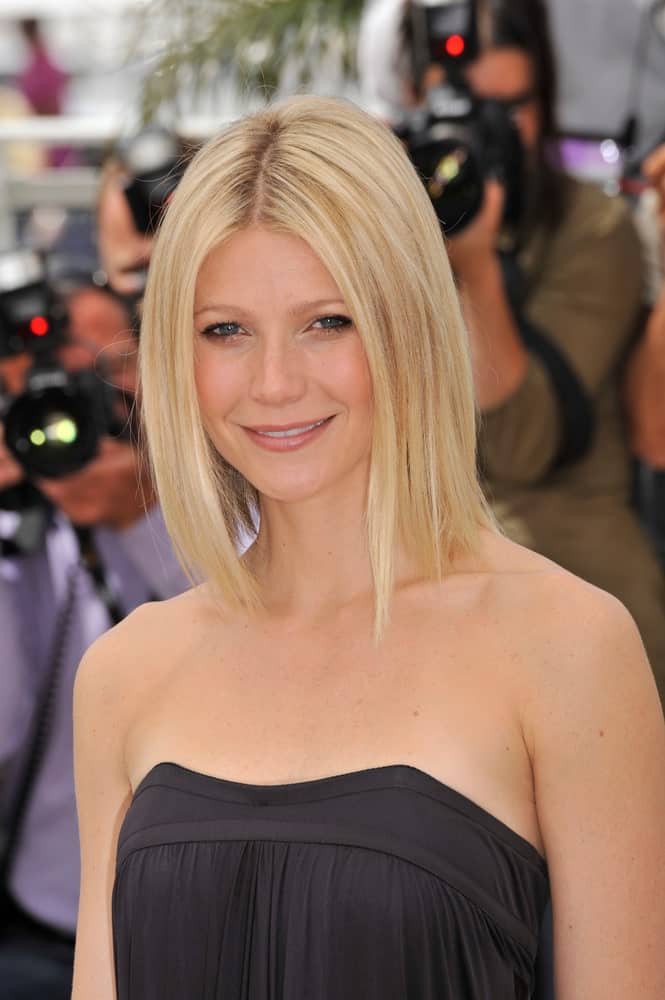 The actress wore a loose long bob paired with a black tube dress at the photocall for her new movie "Two Lovers" held last May 20, 2008.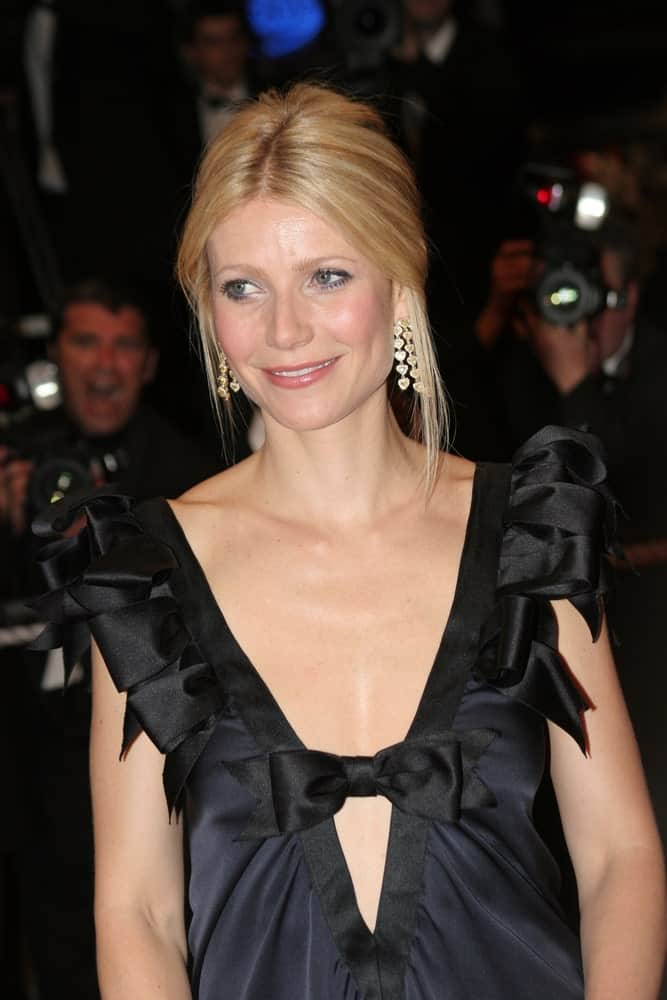 Gwyneth Paltrow opted for a center-parted upstyle incorporated with side tendrils at the Two Lovers premiere during the 61st Cannes International Film Festival on May 19, 2008.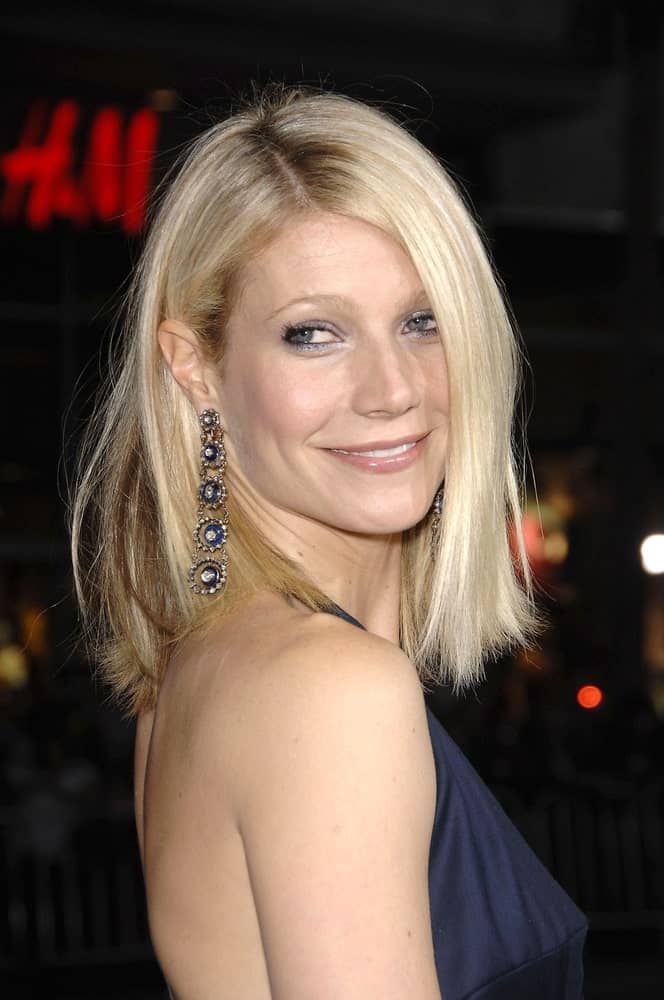 The actress wore a short tousled hairstyle complemented with custom-made Stella McCartney jumpsuit and vintage Fred Leighton jewelry at IRON MAN Premiere held on April 30, 2008.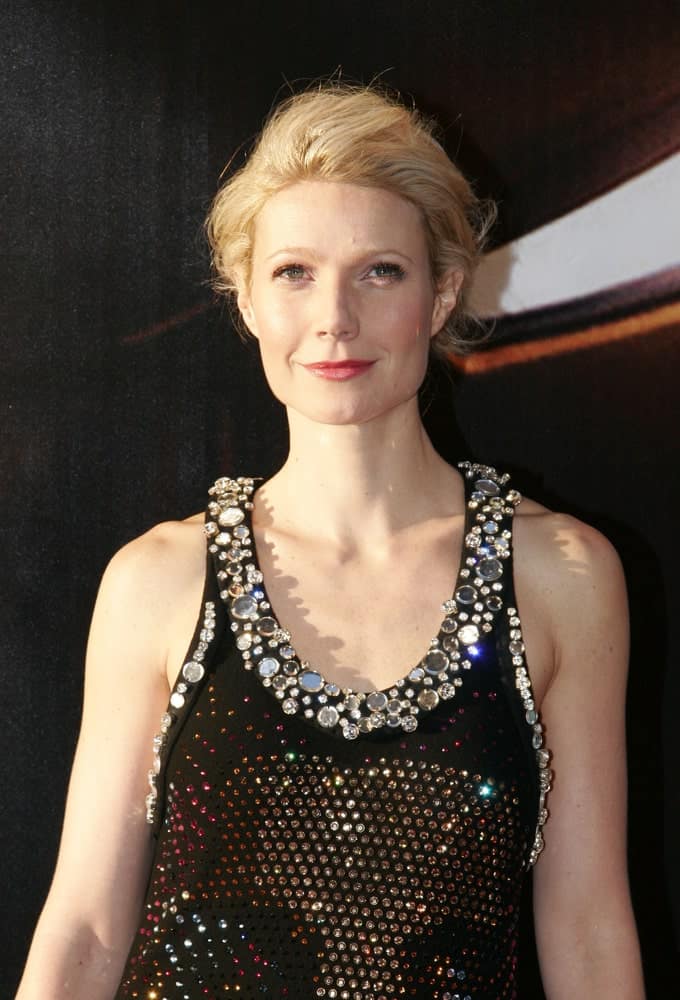 Gwyneth Paltrow shines in a sparkling black dress and a simple glam upstyle during the Europe premiere of Iron Man last April 22, 2008 in Berlin.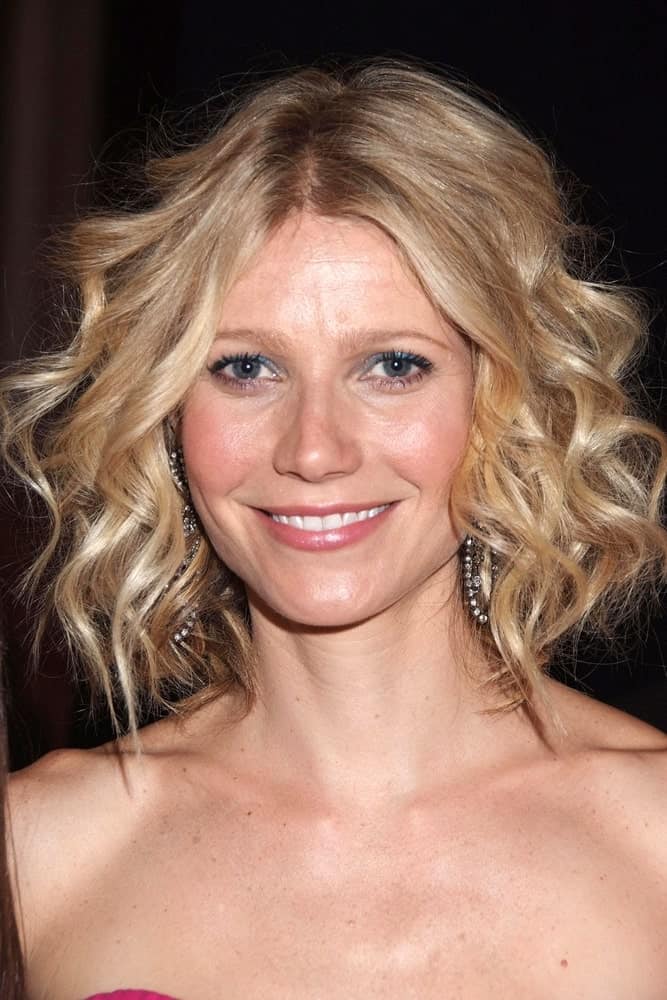 Gwyneth Paltrow styled her short blonde locks with sleek, defined curls at the INSIDE-The Breast Cancer Research Foundation Annual Spring Gala Benefit The Hottest Pink Party Ever on April 8, 2008.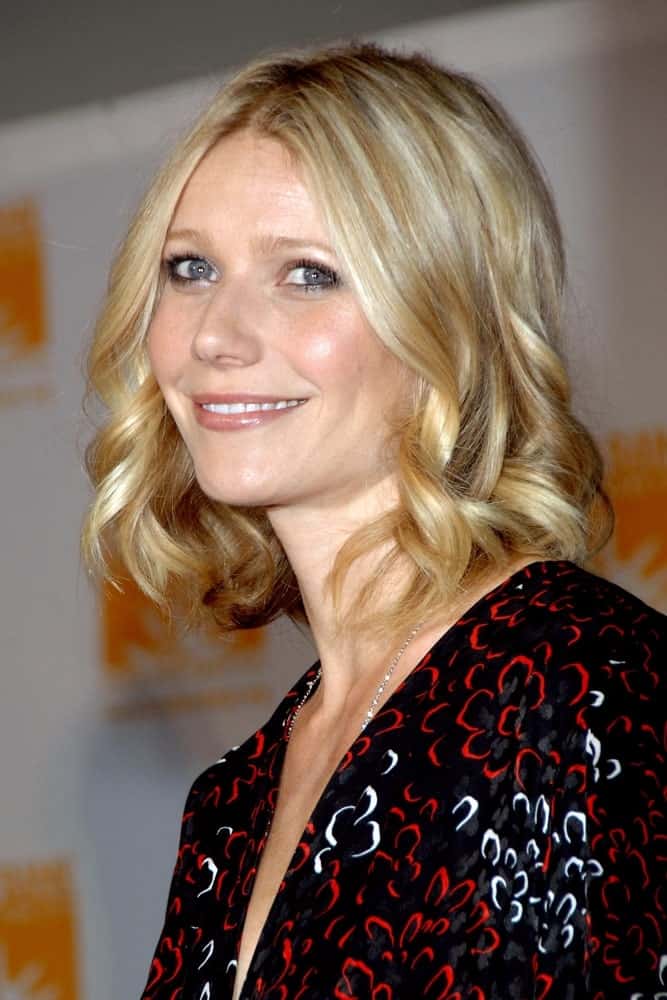 Gwyneth Paltrow exhibited a charming look in short spiral curls with subtle highlights at the Food Bank For New York City's 5th Annual Can-Do Awards Dinner last April 7, 2008.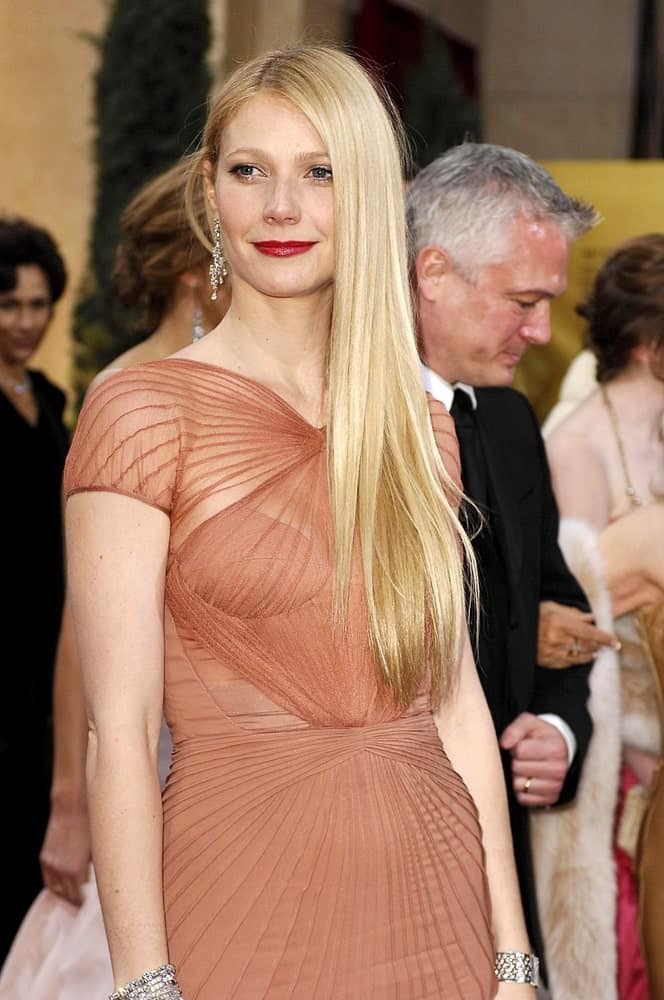 During the OSCARS 79th Annual Academy Awards on February 25, 2007, Gwyneth Paltrow flaunted her long blonde straight hair that she gathered on one side.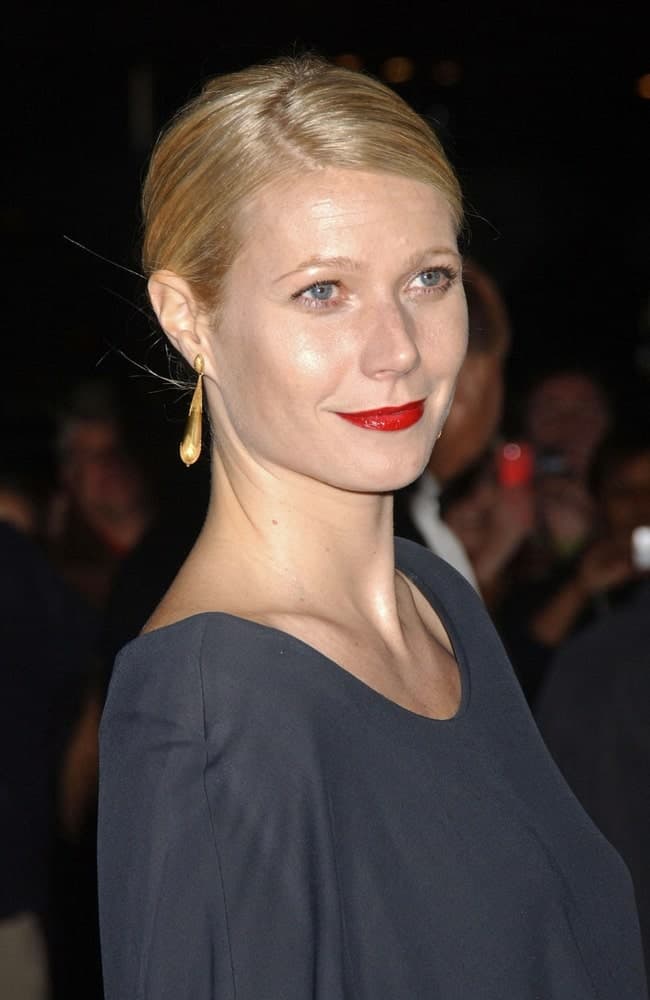 The actress had a neat side-parted updo, a perfect match with her gold dangling earrings, during The Fashion Group International's 23rd Annual Night of Stars on October 26, 2006.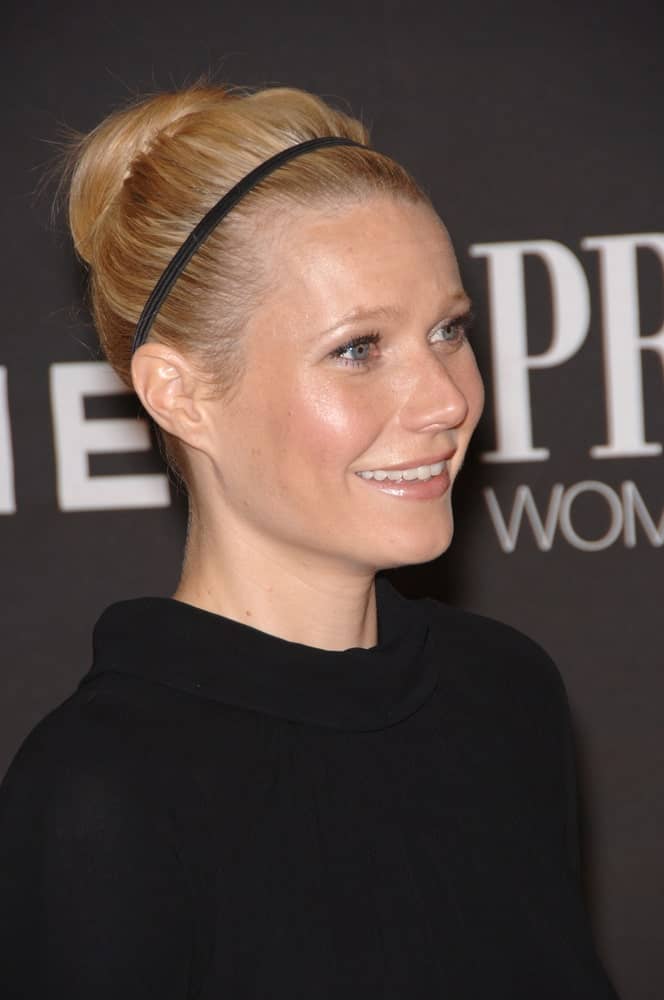 The actress styled her blonde locks into a neat high bun incorporated with a thin headband during the 13th Annual Premiere Magazine Women in Hollywood gala last September 20, 2006.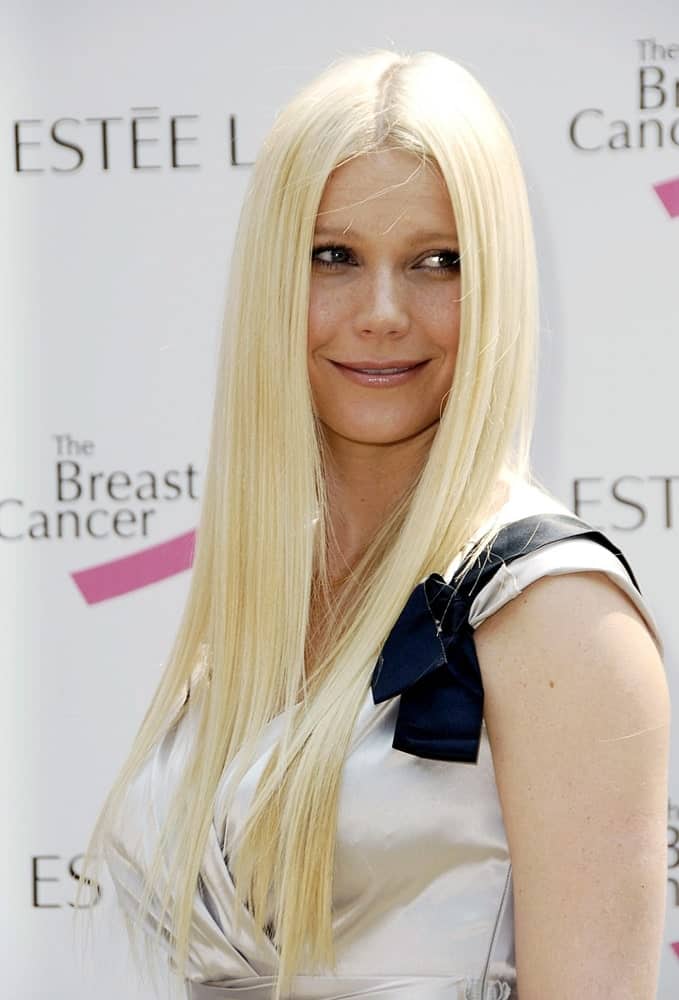 Gwyneth Paltrow exhibited her long straight tresses with middle parting at the Aerin Lauder Luncheon to Honor Gwyneth Paltrow Collection on September 20, 2006.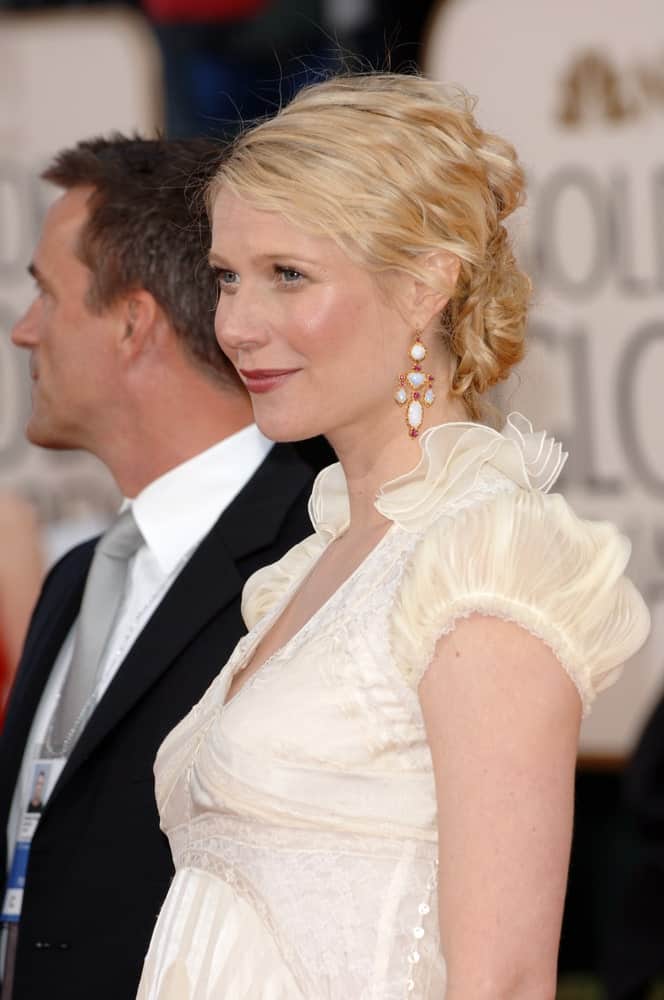 Gwyneth Paltrow wore a glamorous curly updo emphasizing her dangling earrings during the 63rd Annual Golden Globe Awards at the Beverly Hilton Hotel on January 16, 2006.
Gwyneth Paltrow was spotted at the 77th Annual Academy Awards at the Kodak Theatre on February 27, 2005 with long flowy waves cascading down her shoulders.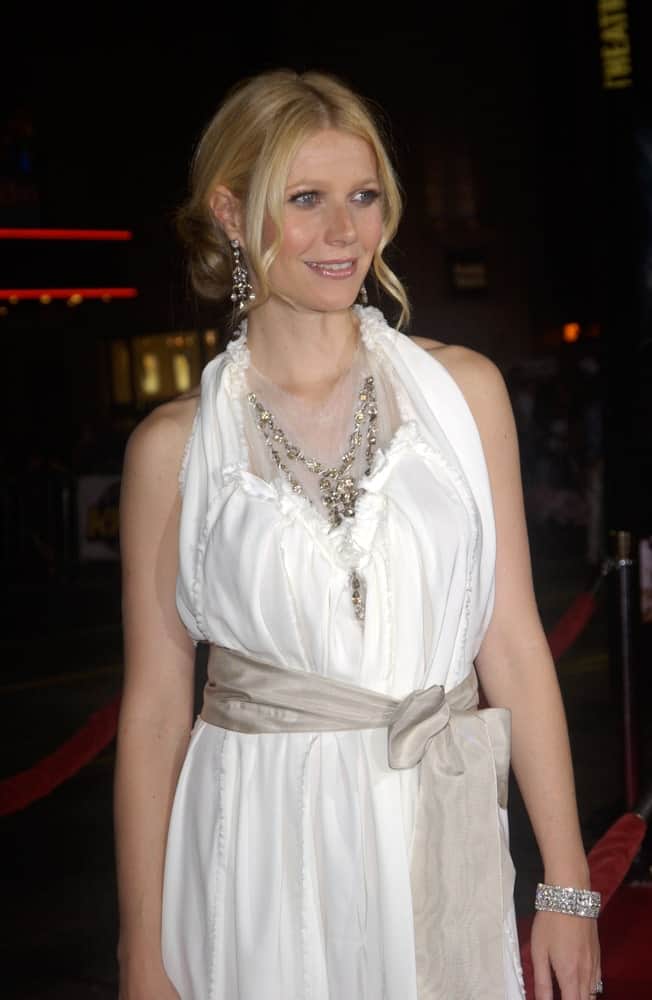 The actress looked gorgeous in a classic low bun with curly tendrils paired with a white halter dress and sparkling accessories. This was taken at the world premiere of her new movie Sky Captain and the World of Tomorrow on September 14, 2004.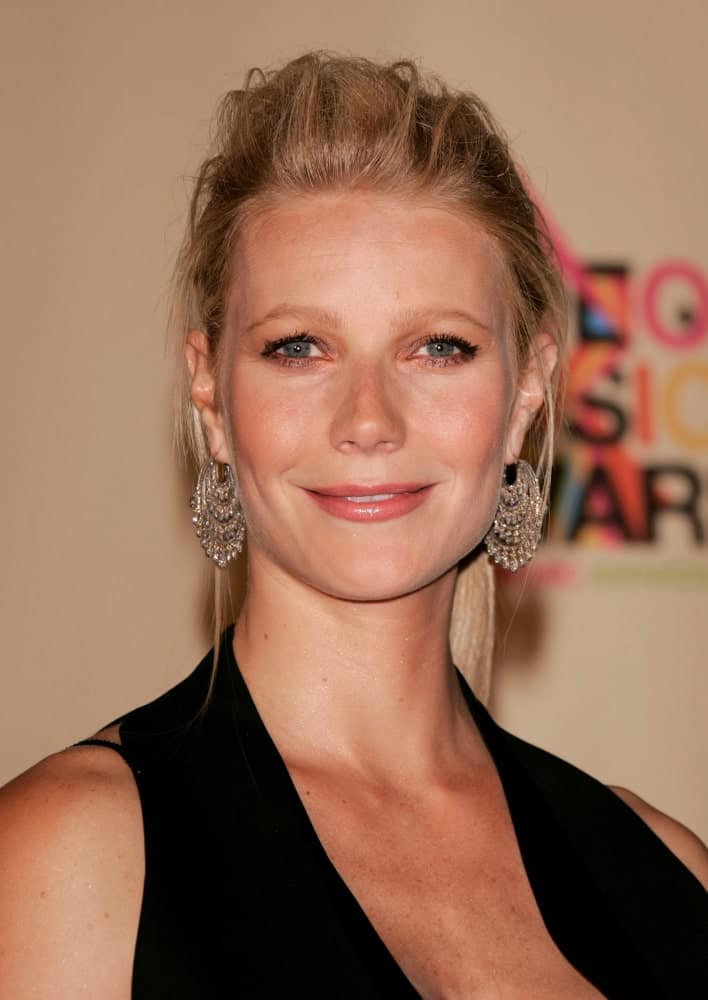 Gwyneth Paltrow in the press room at the MTV Video Music Awards on August 29, 2004 rocking a stylish pompadour ponytail with loose tendrils.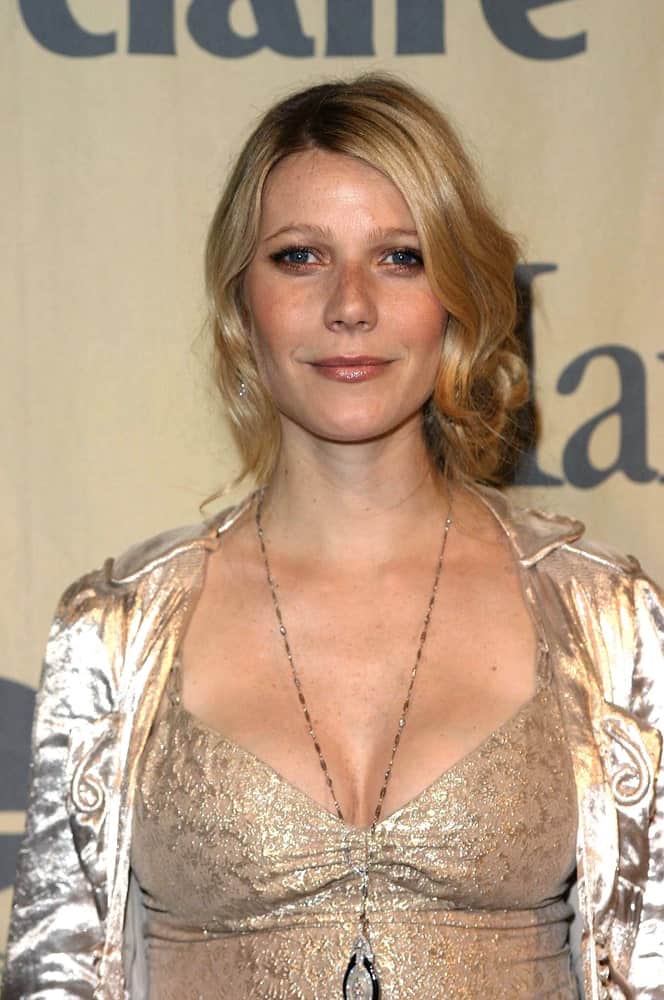 Gwyneth Paltrow arranged her blonde locks into a tousled wavy upstyle during the 2004 CRYSTAL AND LUCY AWARDS tribute to the Paltrow family on June 19, 2004.