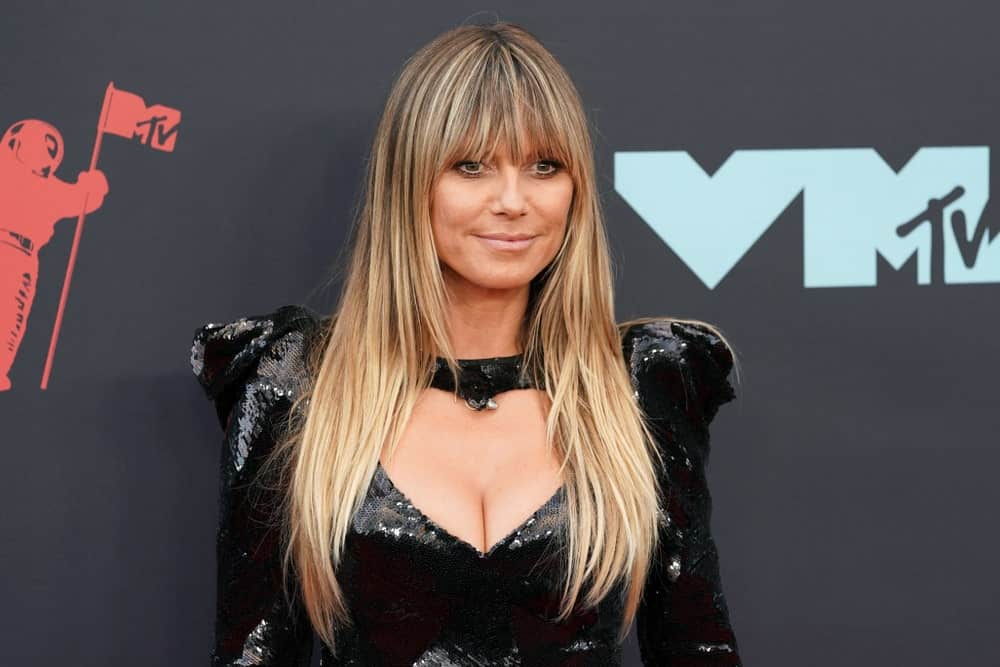 Heidi Klum is a multi-talented woman who started a career by winning a German modeling contest. When she was younger, she actually wanted to be a dancer rather than a model until she realized that it wasn't good enough to make it a career. In 1992, she came across a magazine ad for a televised modeling contest and tried her luck by sending in a few photos. She eventually won the contest beating out 30,000 contestants with a prize of $300,000 modeling contract.
After this win, she decided to move to New York to pursue her modeling career and later landed work with Victoria's Secret in 1997. The next year, she appeared on the cover of Sports Illustrated which marked the beginning of her career success that she later expanded to acting.
The supermodel did a lot of hostings as well. Some of her notable jobs include hosting "The Victoria's Secret Fashion Show", "Germany's Next Top Model" and "Project Runway" where she became an executive producer. Project Runway received 55 Emmy nominations and two Emmys. In 2013, Klum won the "Outstanding Host For a Reality-Competition Program". Her TV career went on when NBC announced that she would join "America's Got Talent" as the fourth judge.
With her modeling and TV appearances, Heidi Klum had contributed a significant share of hair, beauty and style inspiration to women. Let us now take a glance and revisit her outstanding hairstyles over the years.
Photos
Heidi Klum at Cipriani Wall Street attending an Angel Ball 2019 with a soft wavy hair and bangs. Her honey-blonde hair complements the lovely dress she's wearing made by Iris van Herpen.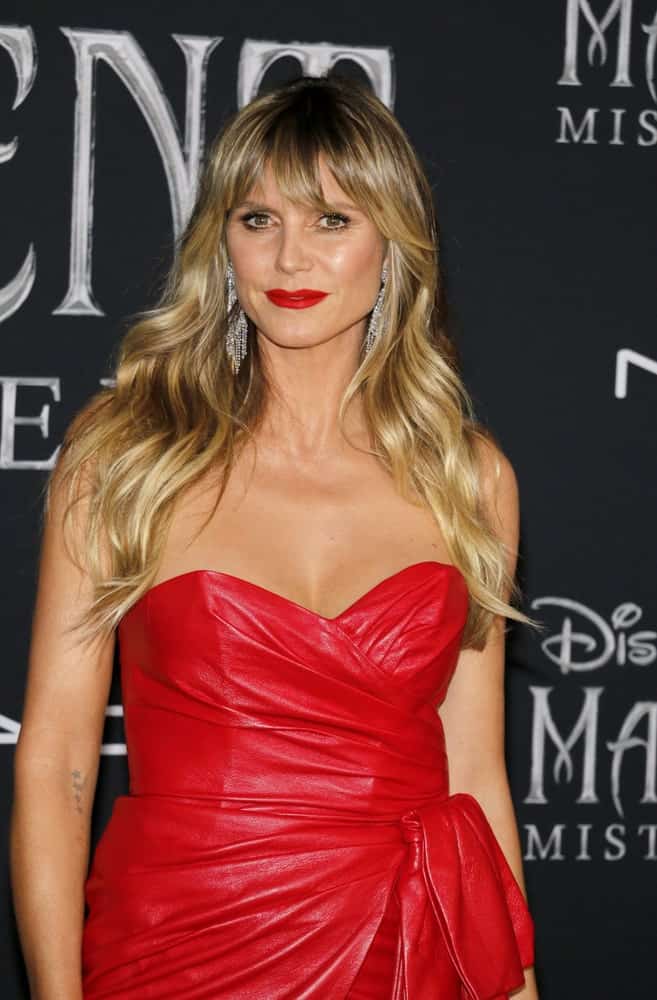 The actress looked stunning in a red dress along with a soft curl and bangs. This was at the World premiere of Disney's 'Maleficent: Mistress Of Evil' on September 30, 2019.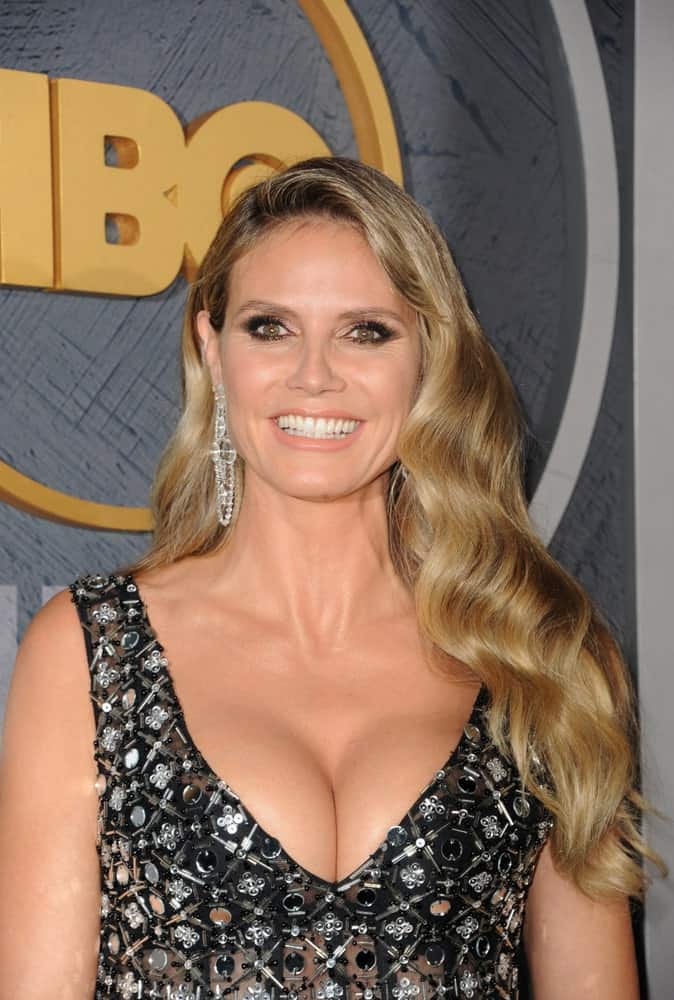 The model with a classic look showcasing an elegant black dress with her blonde hair in big curls. This was held on September 22, 2019, at the HBO's Official 2019 Emmy After Party.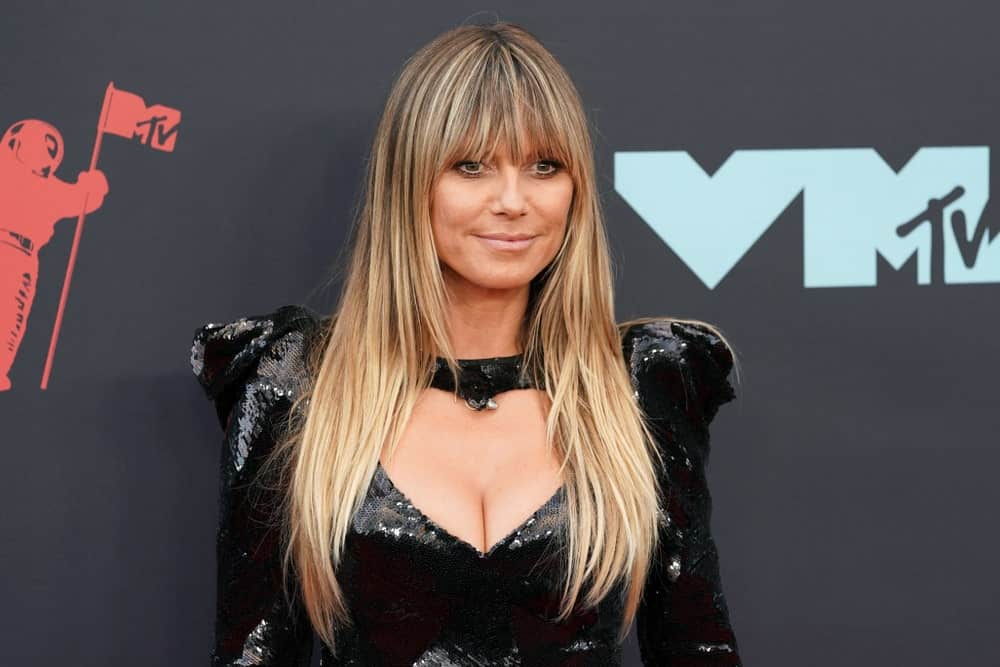 Looking fierce, the actress flaunted her straight blonde hair with subtle layers and bangs along with a black sequin dress which she wore at the MTV Video Music Awards held on August 26, 2019.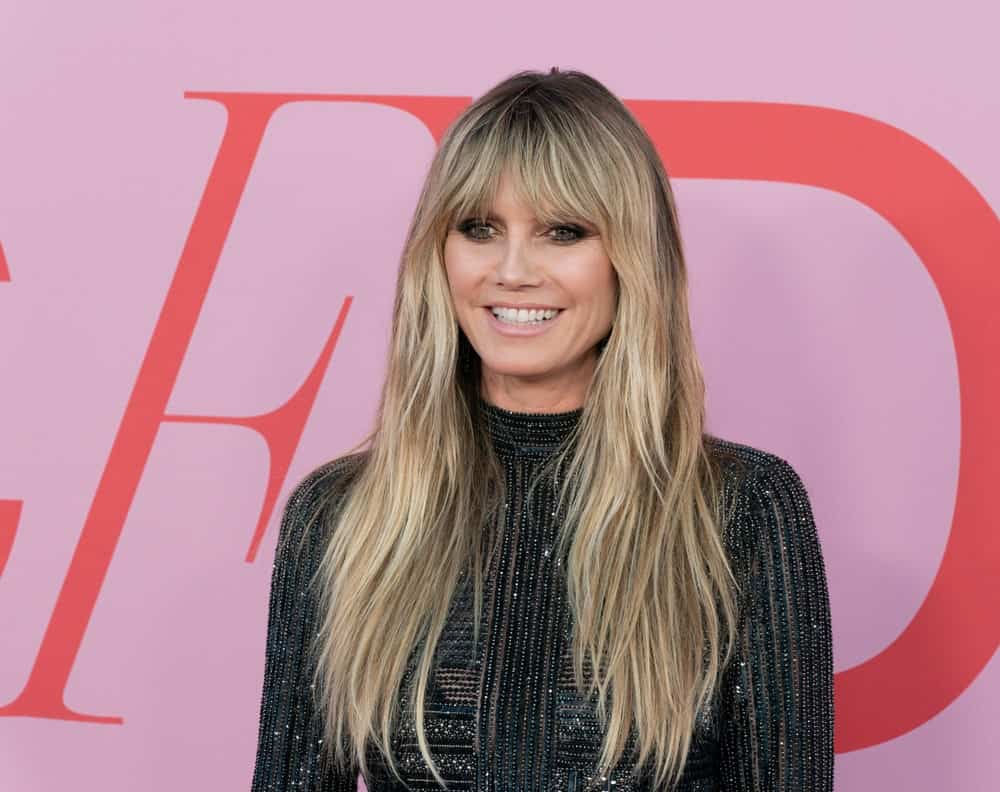 During the CFDA Fashion Awards last June 3, 2019, this well-known TV personality exhibits her long blonde hair that's volumized and layered. Curtain bangs completed the sophisticated yet laidback look.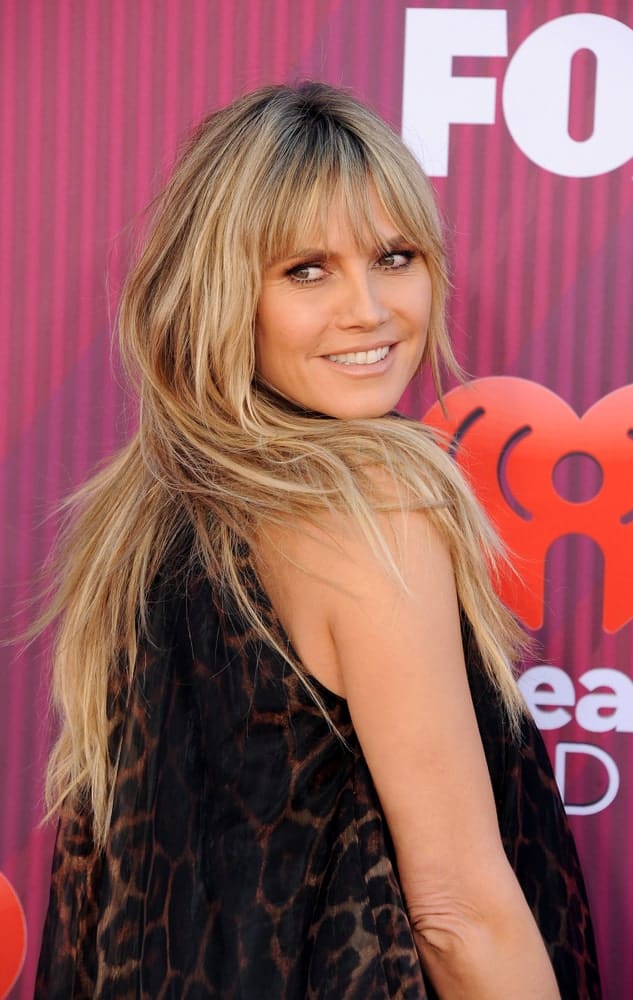 With a carefree aura, the actress flaunted her wispy blonde hair with dark roots and bangs. It is complemented with a jaguar print dress which she wore during the iHeartRadio Music Awards on March 14, 2019.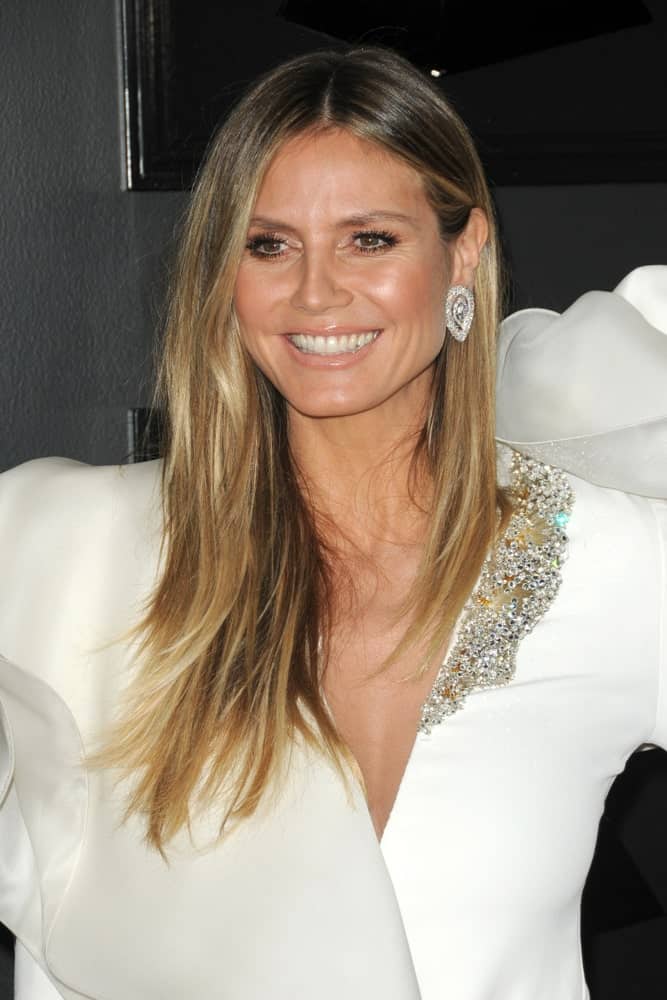 Heidi Klum's eye-catching white dress was balanced by her simple center-parted hairstyle with subtle layers and dark roots. She looked ravishing during the 61st Grammy Awards which she attended on February 10, 2019.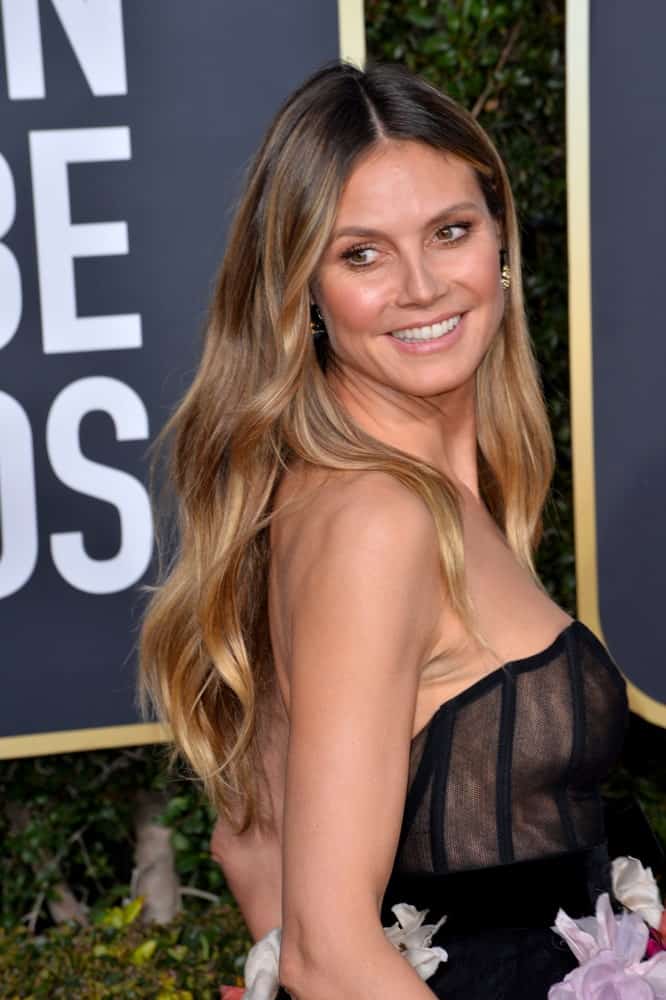 The TV personality shows off a very feminine look with a floral tube dress and a curly hair which is center-parted flowing freely to her shoulders. This was taken last January 6, 2019, during the Golden Globe Awards.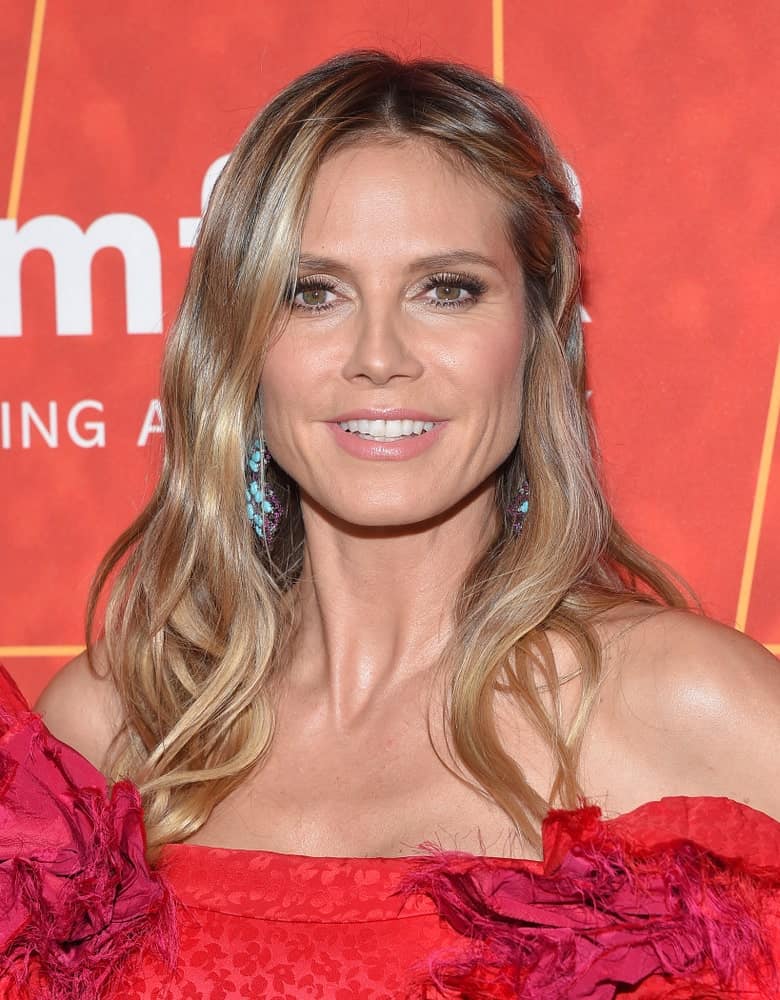 The actress in a very charming look flaunting a red dress with her wavy hair braided on the side. A pair of gorgeous earrings completed the look she wore on October 18, 2018, during the amfAR Inspiration Gala at the Wallis Annenberg Center for the Performing Arts.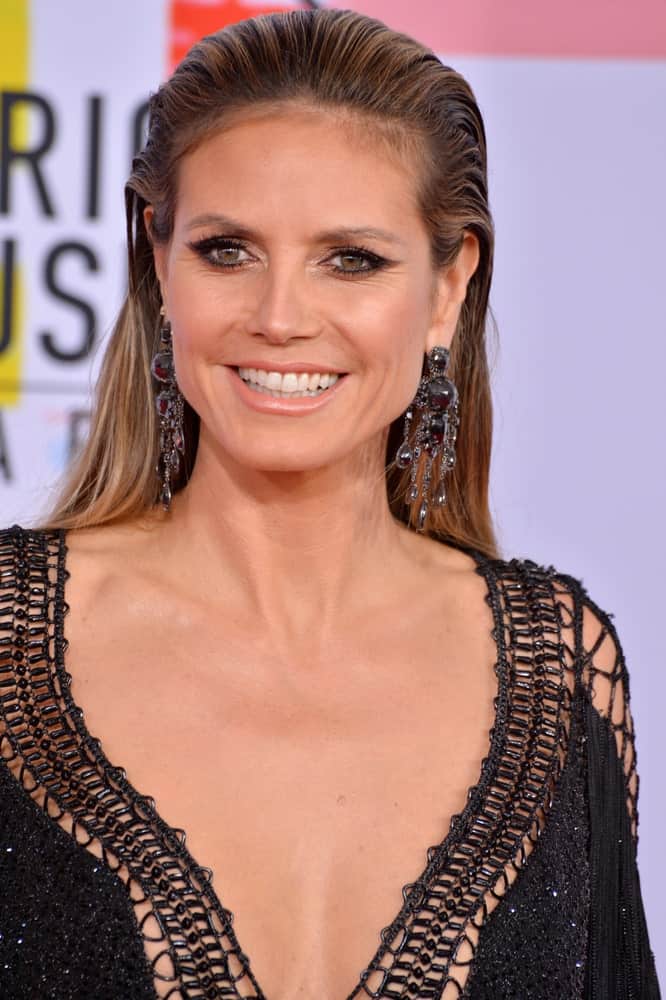 On October 9, 2019, the actress showed off her new look during the 2018 American Music Awards with her slicked-back hair paired with a captivating black dress.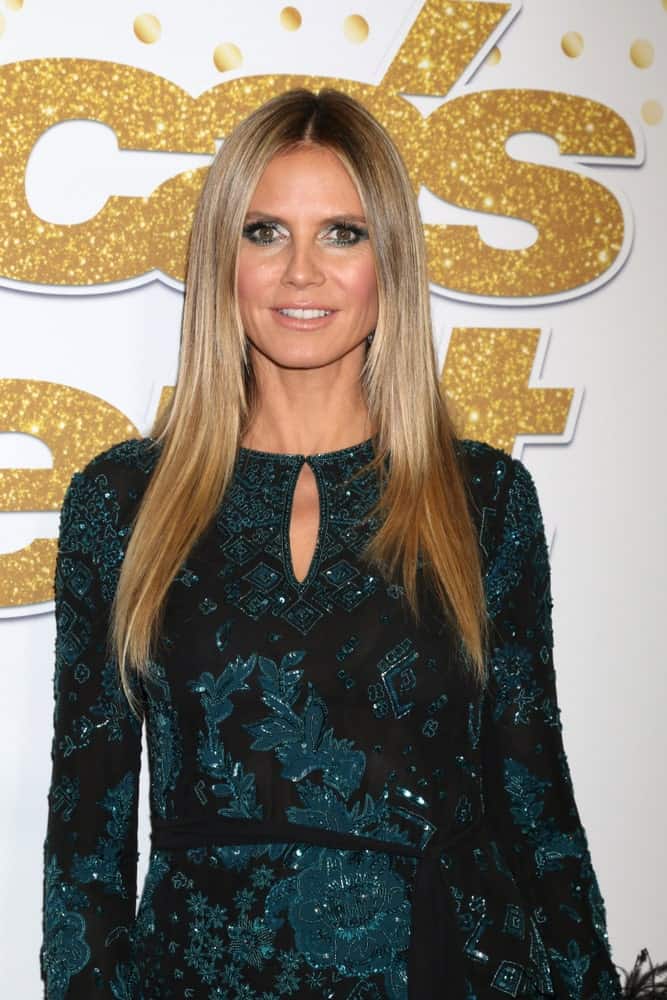 The model shines in this trendy outfit that she wore during the "America's Got Talent" Crowns Winner Red Carpet held on September 19, 2018. It was accented with long straight hair that's center-parted and softly layered for a sleek look.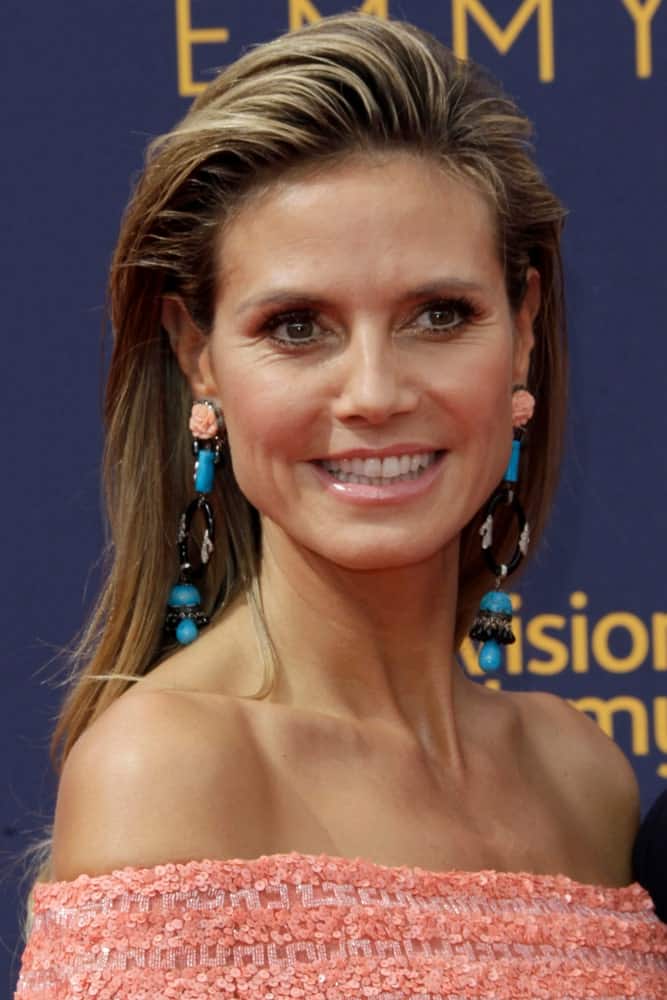 During the Creative Arts Emmy Awards last September 9, 2018, this well-known TV personality exhibits a cool and dainty look showcasing an off-shoulder dress in coral pink along with a side-parted slicked-back hair.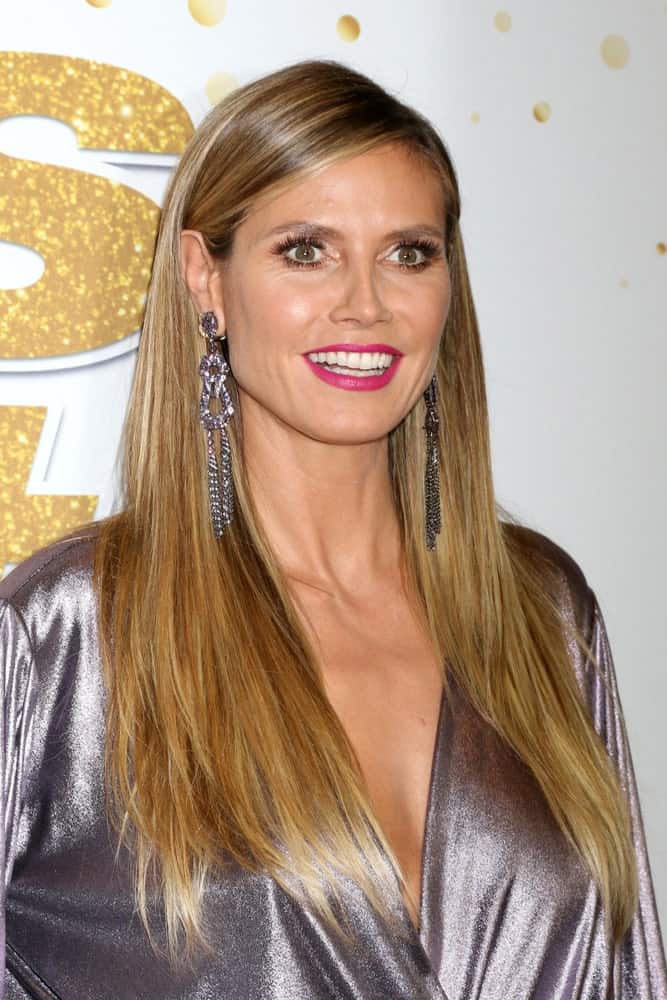 Heidi Klum attended the "America's Got Talent" Live Show Red Carpet held last September 4, 2018, with chic side-swept hair and a glossy silver dress. It was glammed up by a pair of statement earrings and a nice makeup.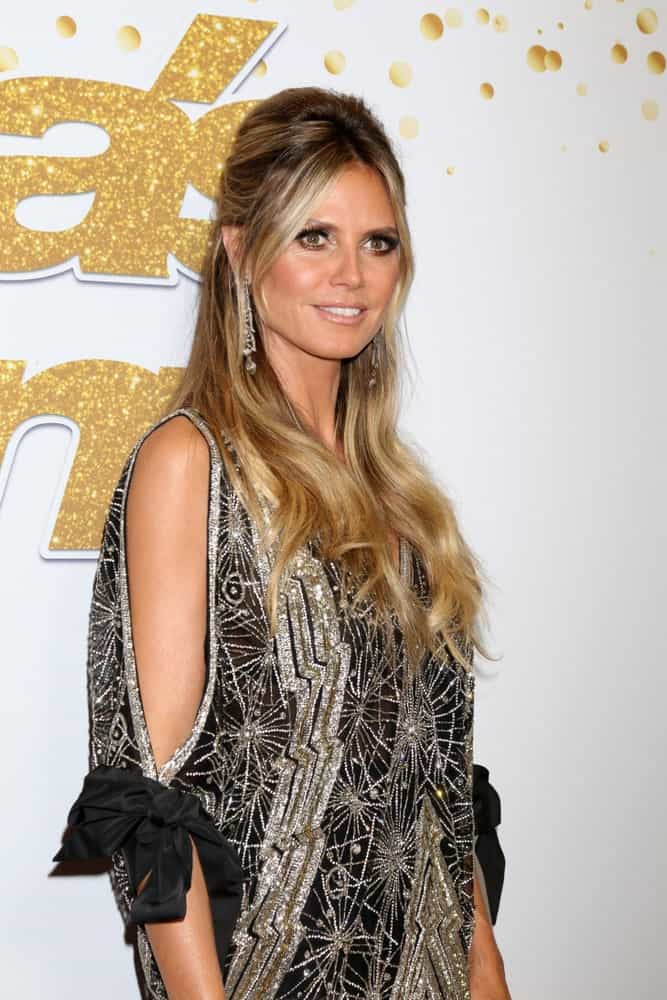 The actress sports a cool half-up hairstyle with long curtain bangs paired with a stunning dress. This was worn during the "America's Got Talent" Live Show Red Carpet on August 21, 2018.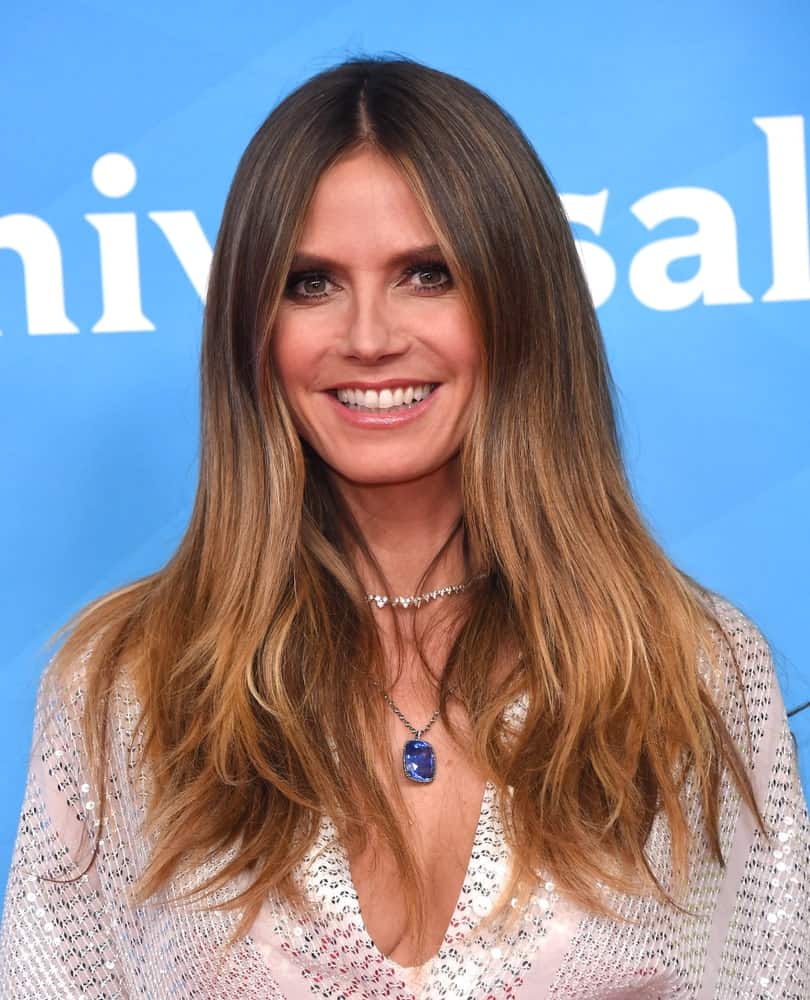 During the NBCUniversal Summer Press Day 2018, the German model shows off a charming look showcasing a volumized center-parted hair accented with a stunning necklace.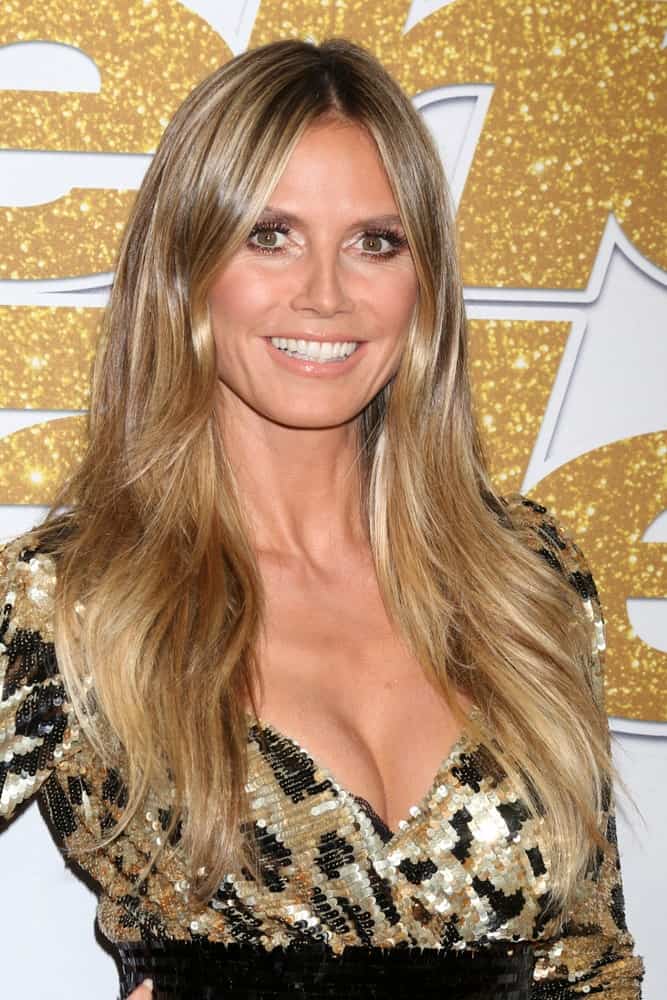 The TV personality arrives for the "America's Got Talent" Live Show Red Carpet held on May 2, 2018, with a gorgeous sequin dress and a center-parted hairstyle that complements her face.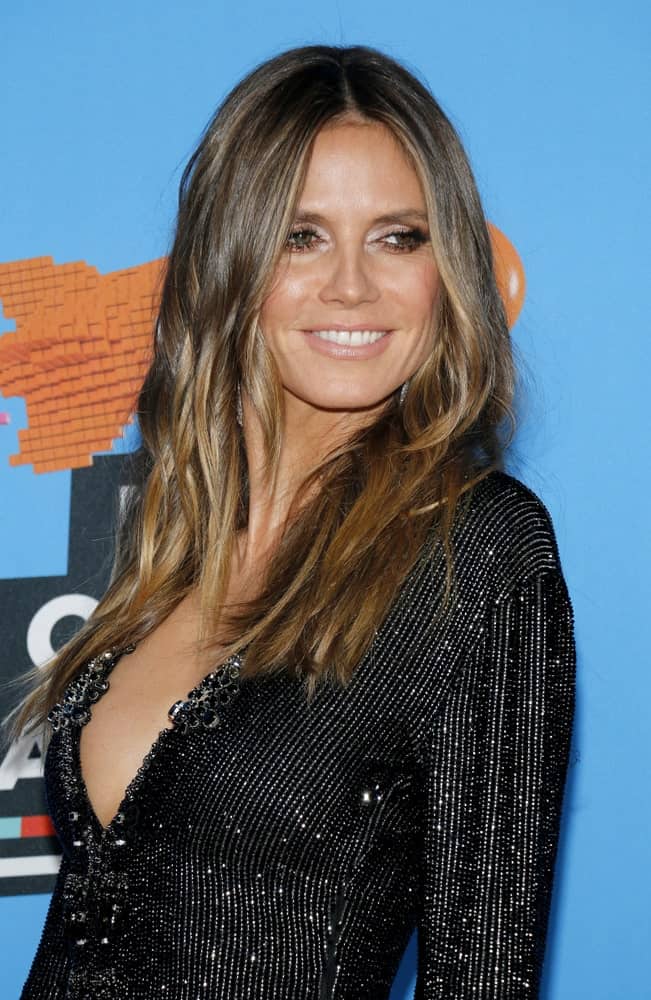 Heidi Klum attended the Nickelodeon's 2018 Kids' Choice Awards last March 24, 2018, with a long sleeve dress and a center-parted hairstyle accented with defined curls.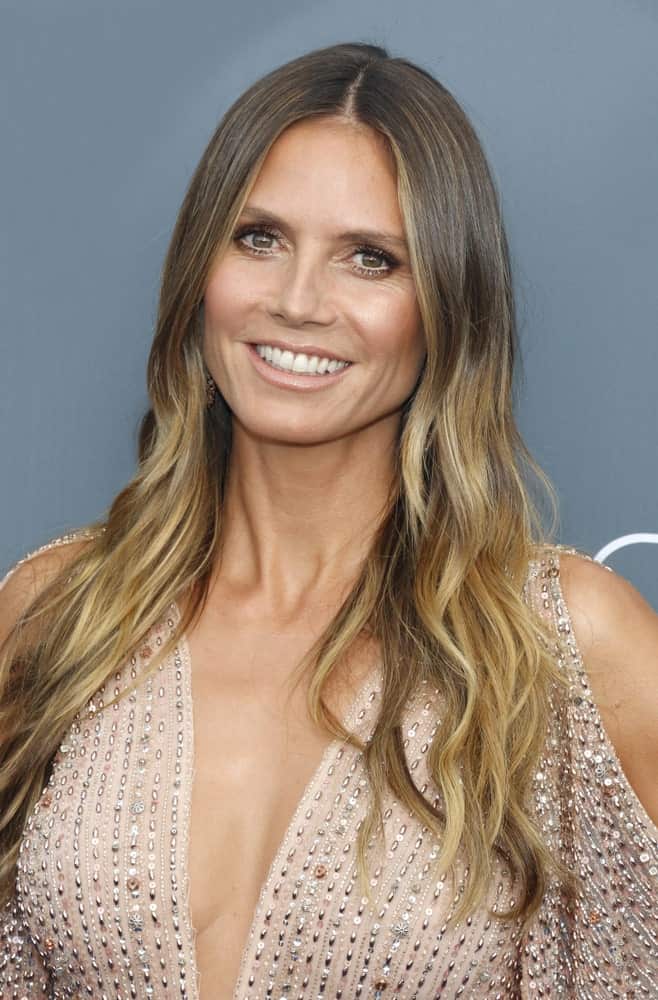 The actress looked ravishing in her beige beaded dress accented with a soft wavy hairstyle. This was taken during the 23rd Annual Critics' Choice Awards last January 11, 2018.
Last January 11, 2019, the German model arrived at the Marie Claire Image Makers Awards flaunting her sleek center-parted hair that's accentuated by a silver sequin dress.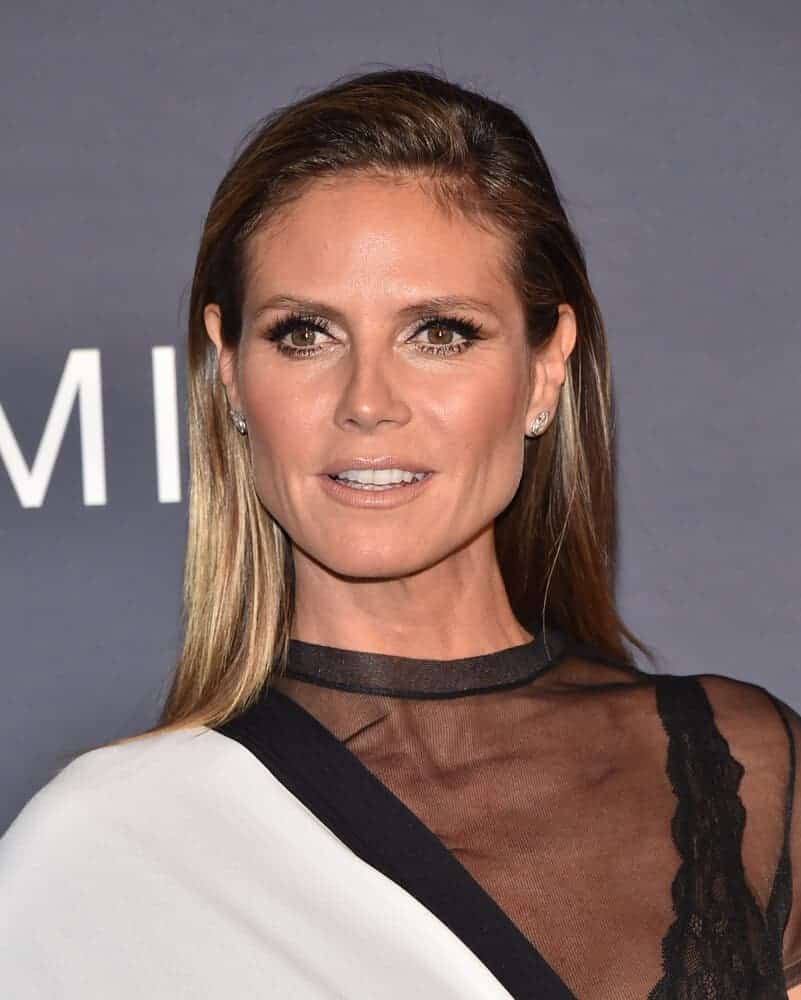 Heidi Klum upgraded her usual blonde look by going brunette during the InStyle Awards last October 23, 2017. With her straight and dark-colored hair flaunted, a different kind of aura was felt.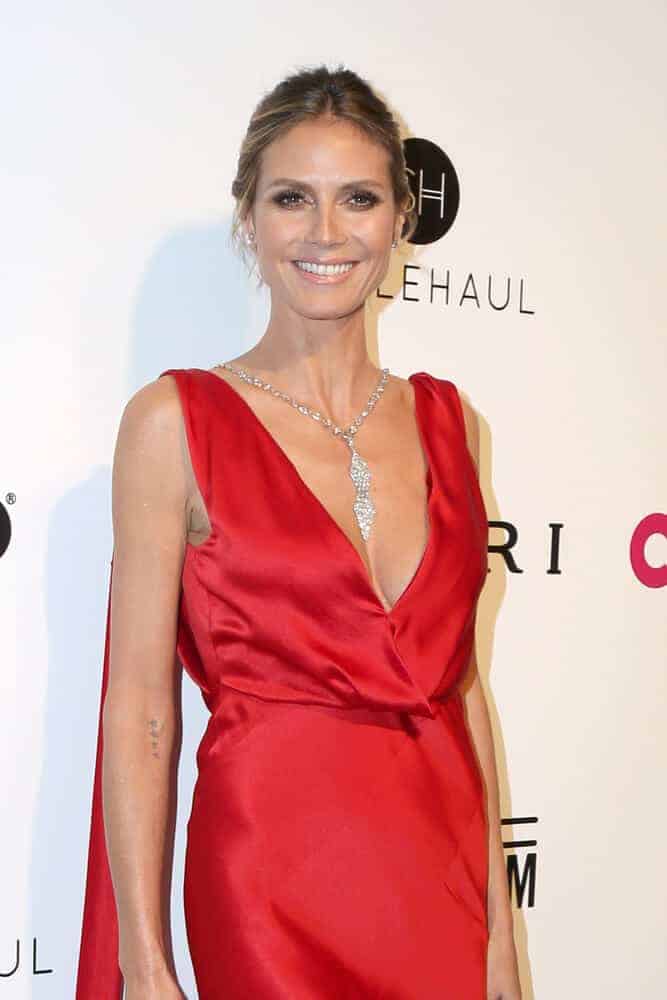 Last February 26, 2017, the actress proved that beauty doesn't need to be extravagant as she arrived at the 25th Annual Elton John Academy Awards Viewing Party with this simple upstyle.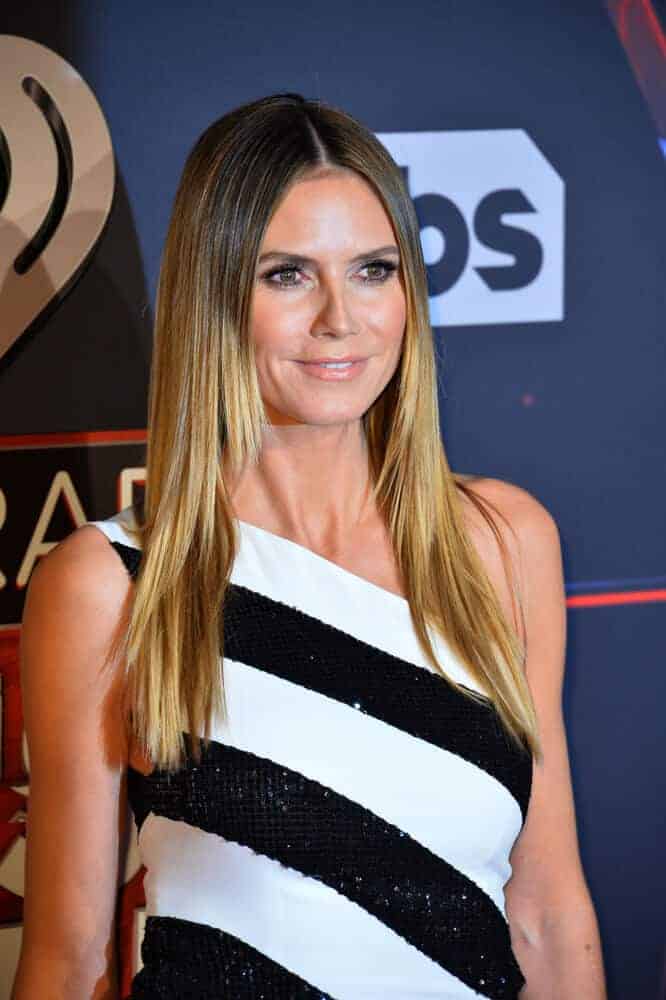 During the 2017 iHeartRadio Music Awards, the actress exhibited a simply straightened, center-parted hairstyle. She also has subtle layers and darker roots that made her thin hair, appear fuller than usual.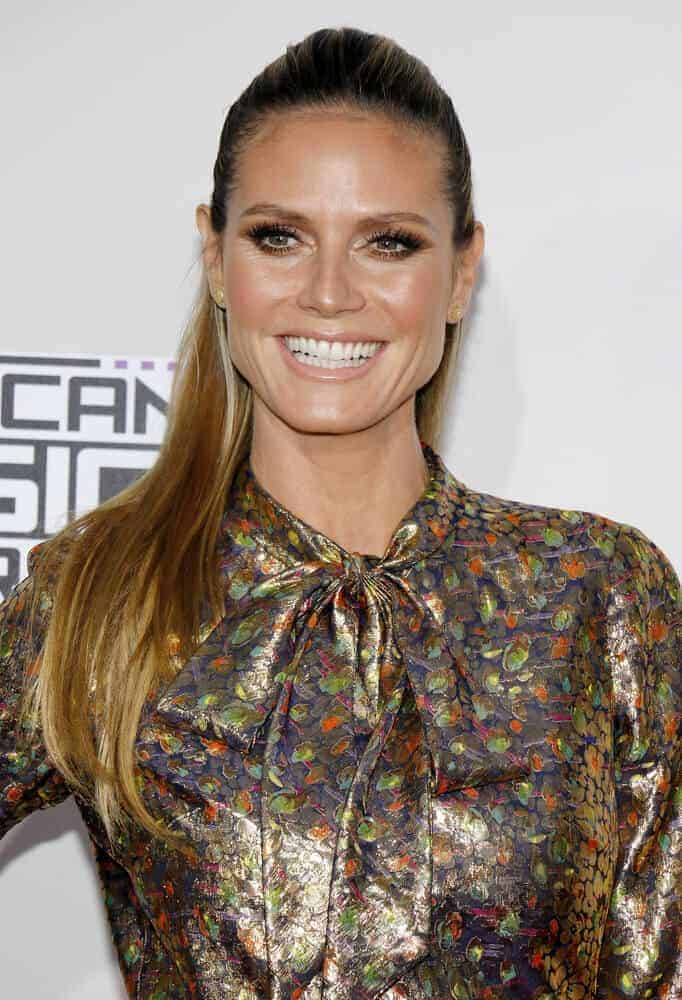 The fashion icon, all glammed up with her glowing make-up look and dark-rooted, straight half-up style she wore during the 2016 American Music Awards.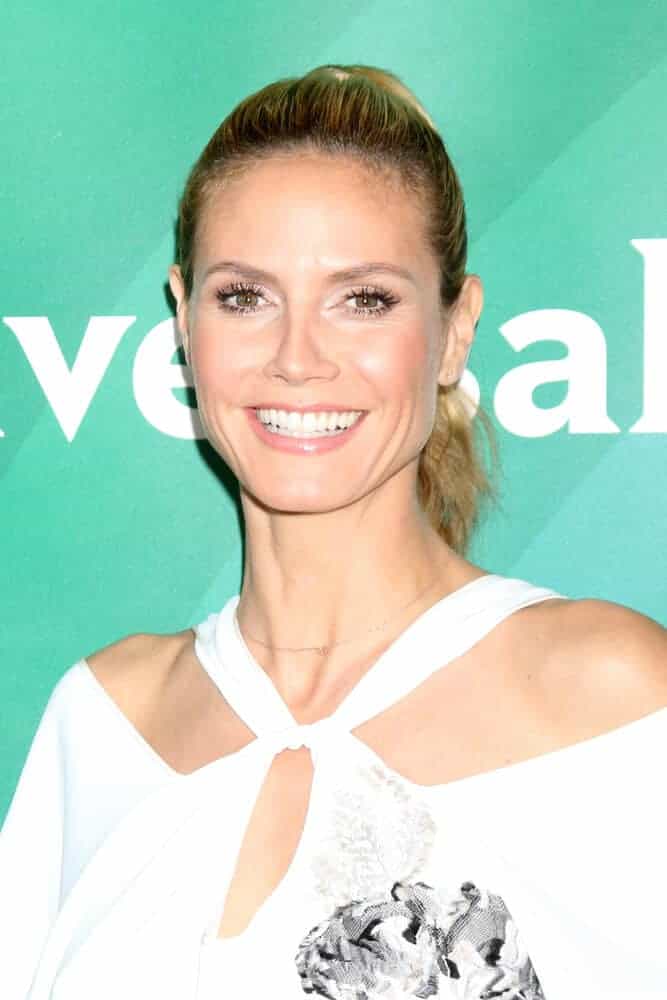 The actress in a wavy ponytail, flashing a captivating smile during the NBC Universal Summer Press Day 2016.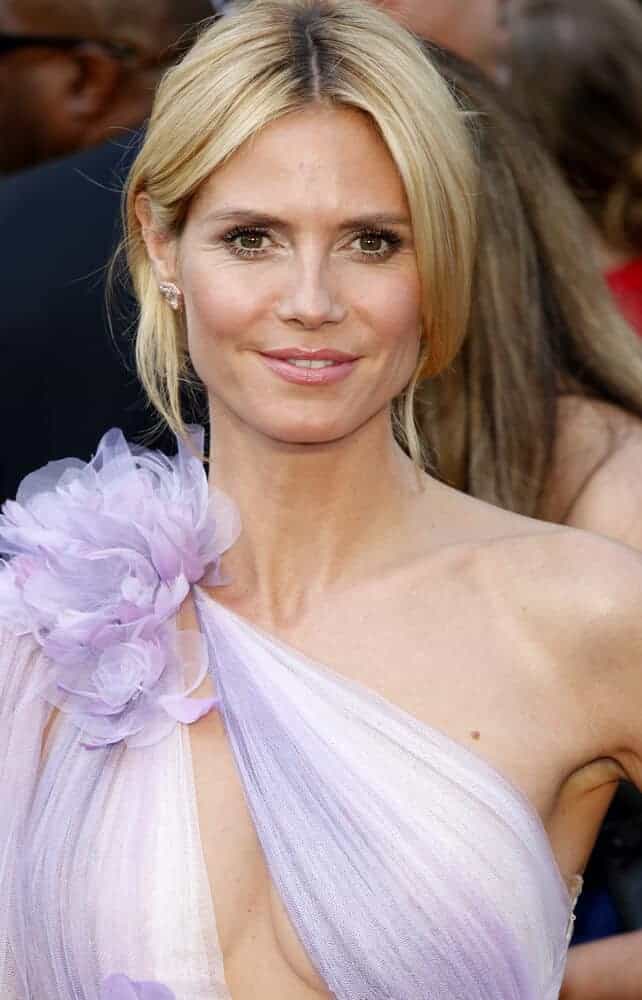 During the 88th Annual Academy Awards last February 28, 2016, this well-known German-American model slayed the red carpet in her fancy pastel purple gown and a messy, center-parted upstyle.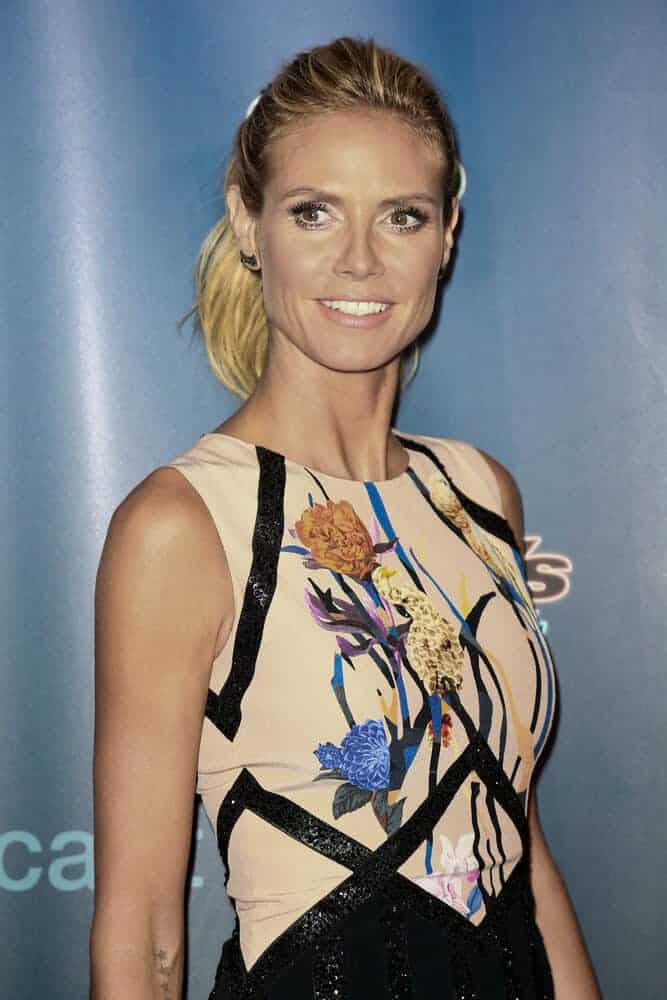 The TV personality wore a casual ponytail along with her iconic outfit during America's Got Talent Season 10 Semi-finals taping, September 9, 2015.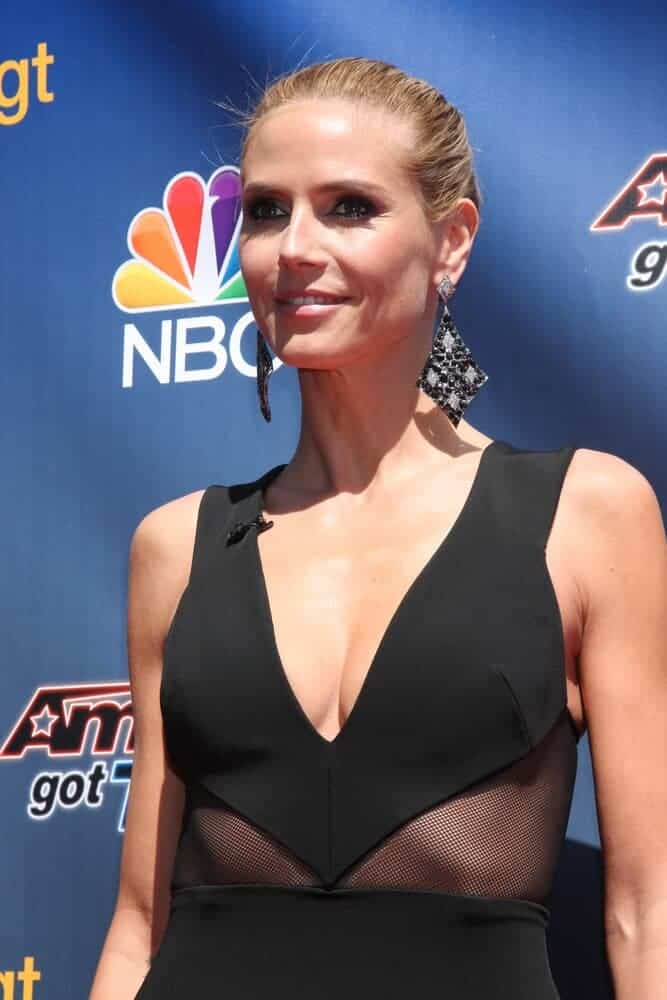 The actress kept it prim and proper with her neatly-done high bun during America's Got Talent Photocall held at Dolby Theatre, February 8, 2015.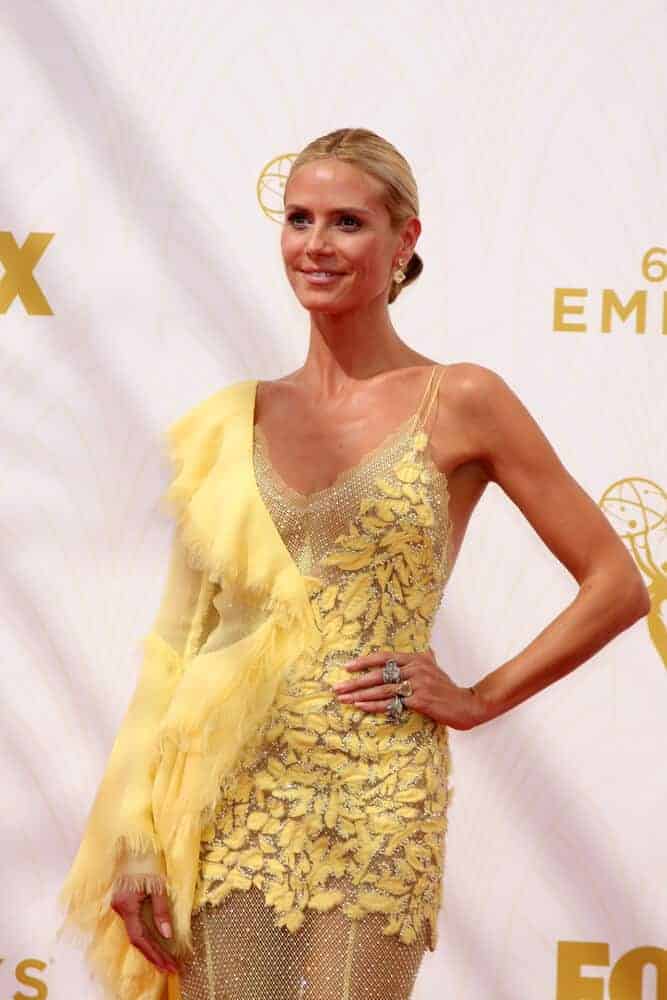 The German-American model looked fine and expensive in this sleek low bun she wore at the 67th Primetime Emmy Awards, September 20, 2015.
The actress kept it simple and sweet as she attended the 2015 Primetime Creative Emmy Awards in Loose and Wavy Hairstyle.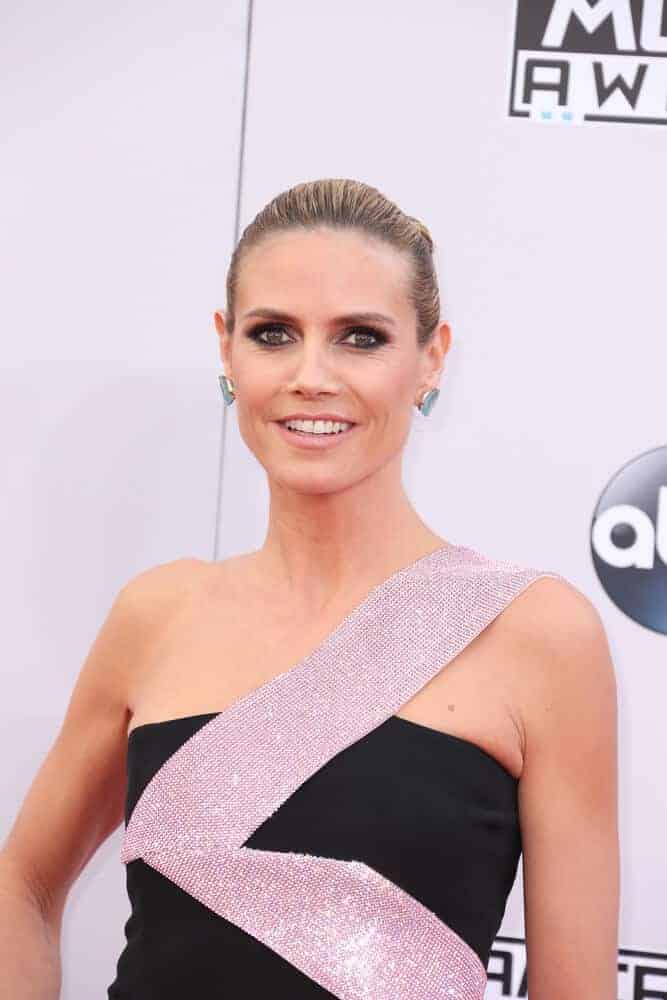 The well-known fashion designer and TV personality exhibited her stylish side with this sleek bun she wore during the 2014 American Music Awards.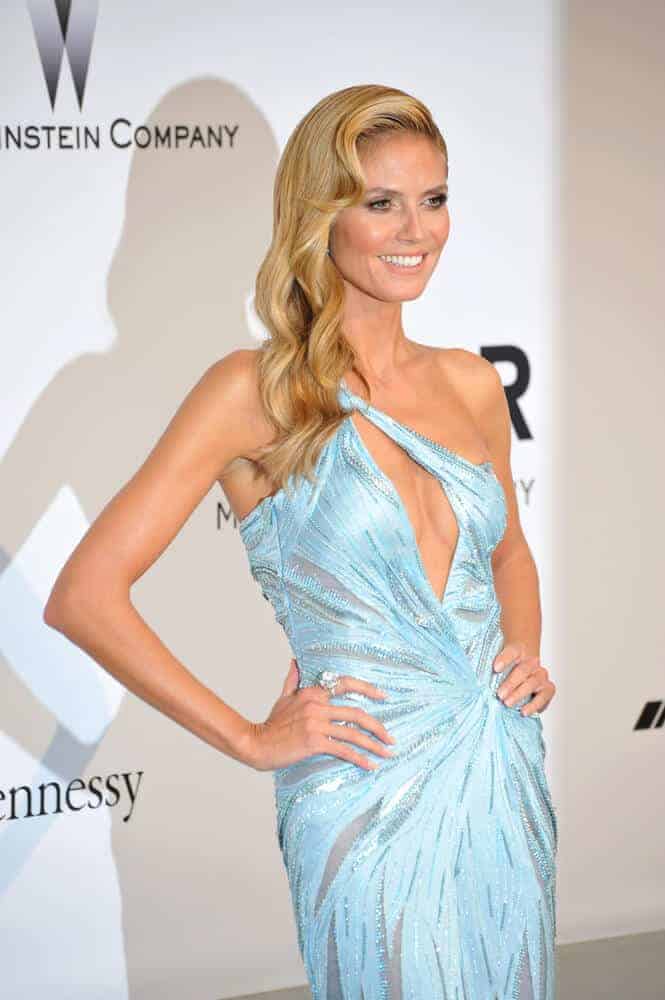 The model overflowed with glam and elegance with this classic side-swept curls she wore at the 21st annual amfAR Cinema Against AIDS Gala, May 22, 2014.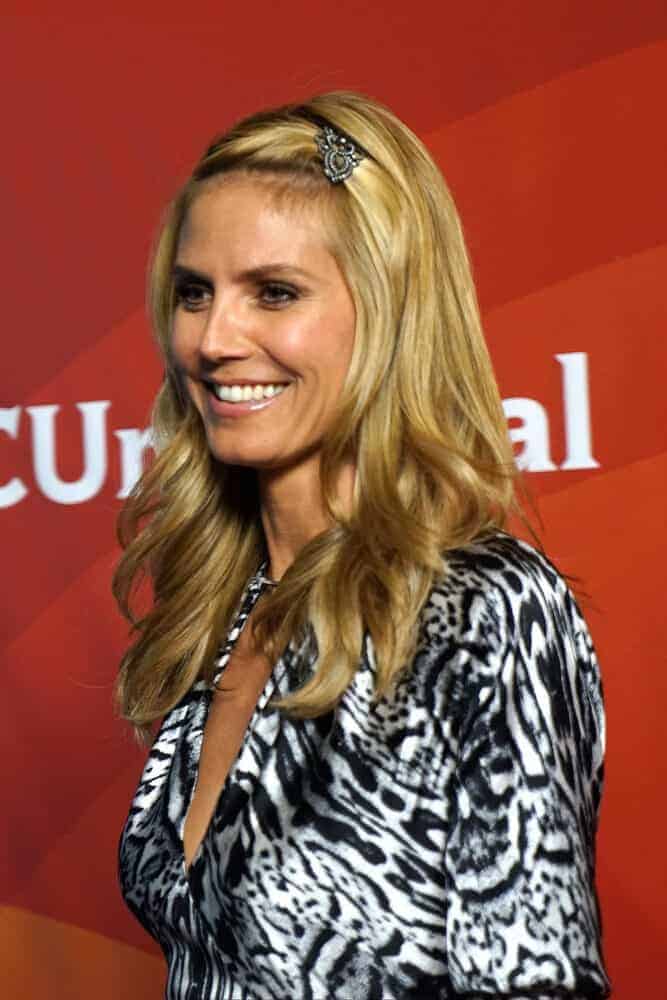 The actress unleashed her cute and charming side with this pinned hairstyle she wore during the NBC/Universal's 2014 Summer Press Day.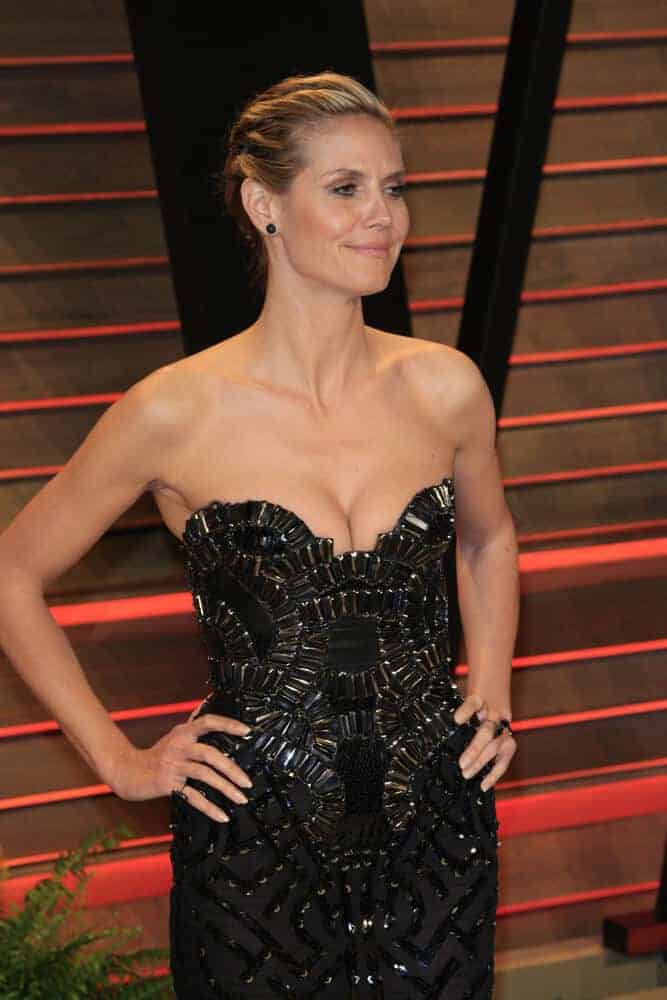 The stylish model attended the 2014 Vanity Fair Oscar Party in a neat and simple upstyle that complemented her evening gown very well.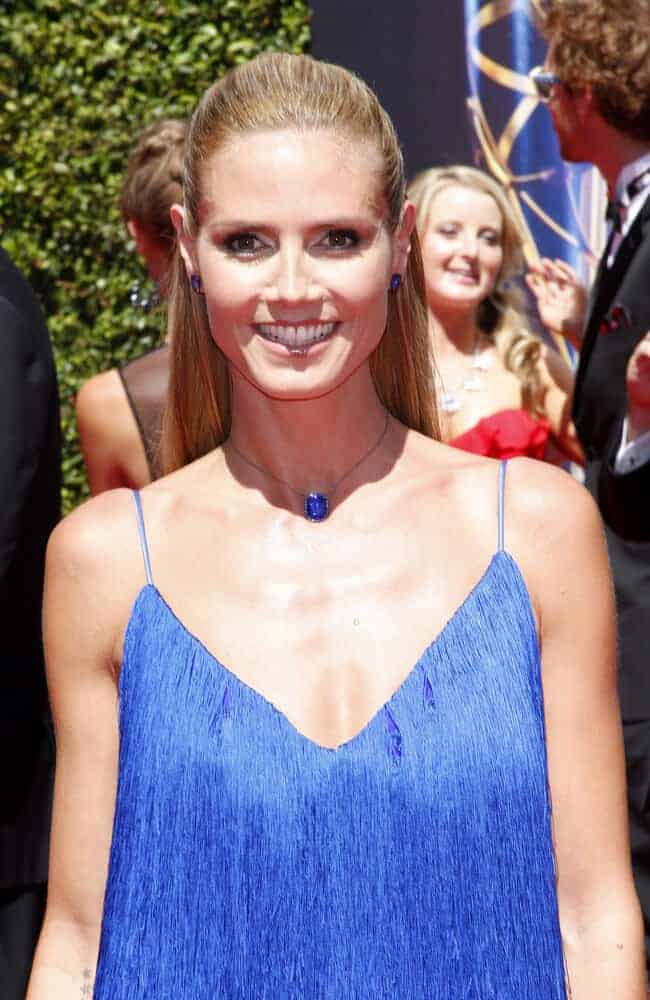 The actress wore her long, straight her in a neat and polished half-up as she attended the 2014 Creative Arts Emmy Awards.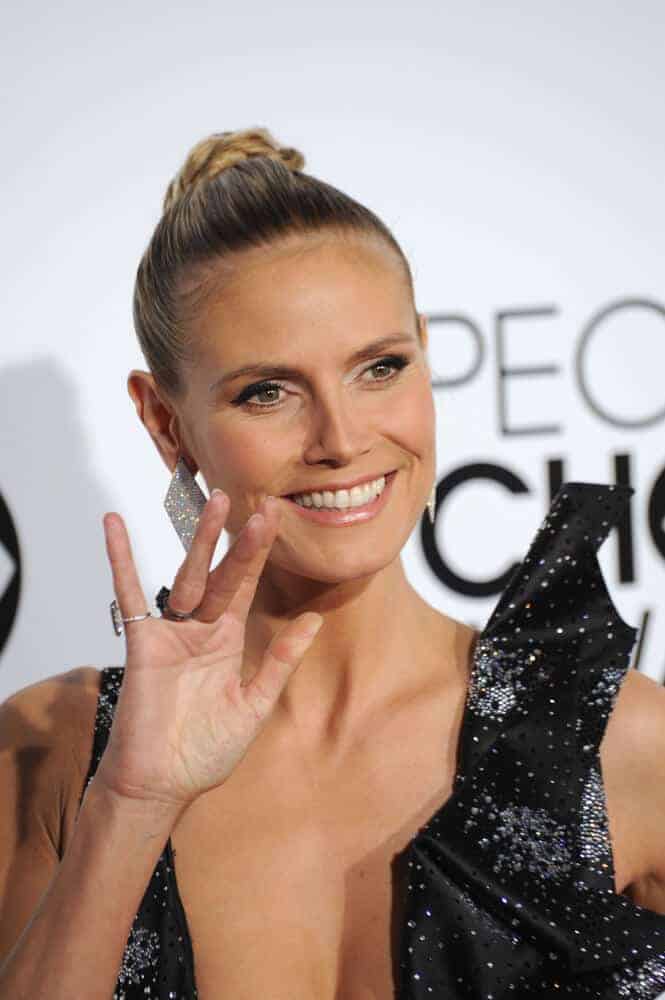 The model paired her unique evening gown with a creative braided upstyle during the 2014 People's Choice Awards.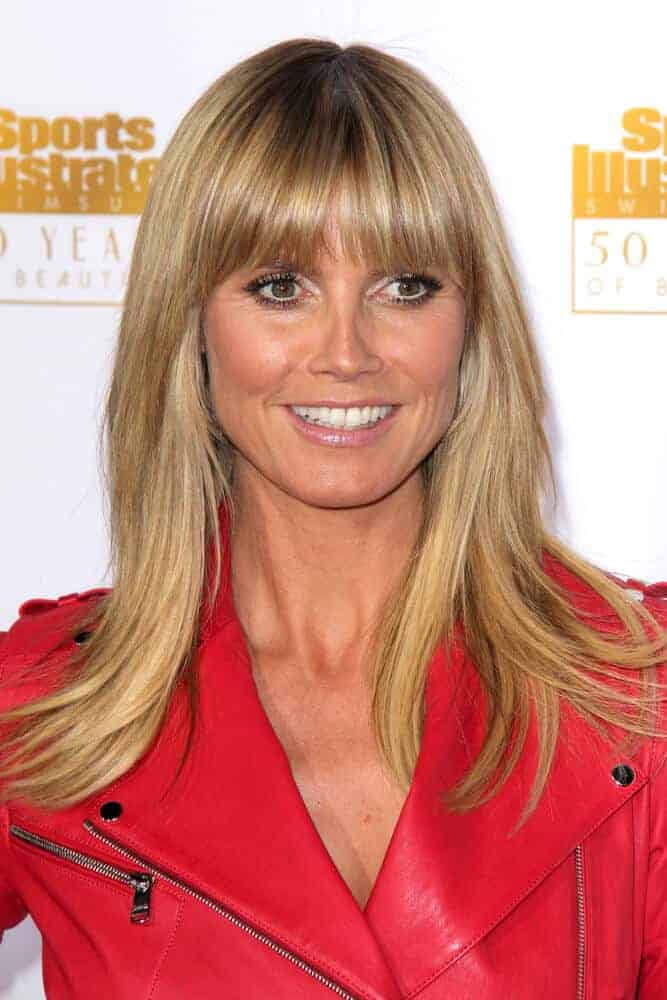 Last January 14, 2014, the German-American model exhibited her classy side as she attended the 50th Anniversary Of Sports Illustrated Swimsuit Issue in a medium-length hairstyle with bangs.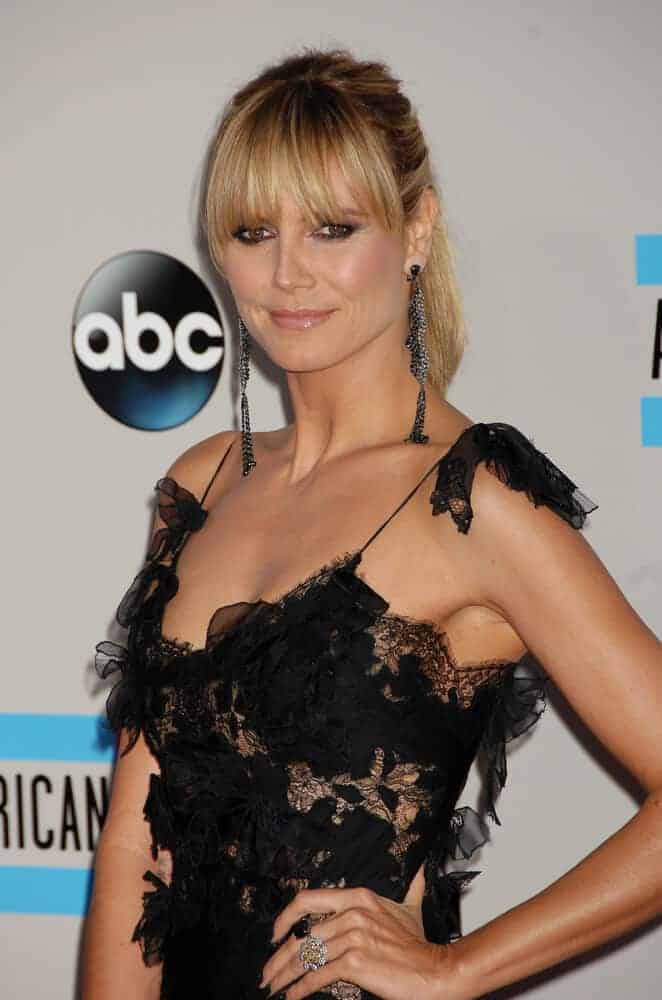 The model as in her most extravagant self as she attended the 2013 American Music Awards with this graceful ponytail with bangs.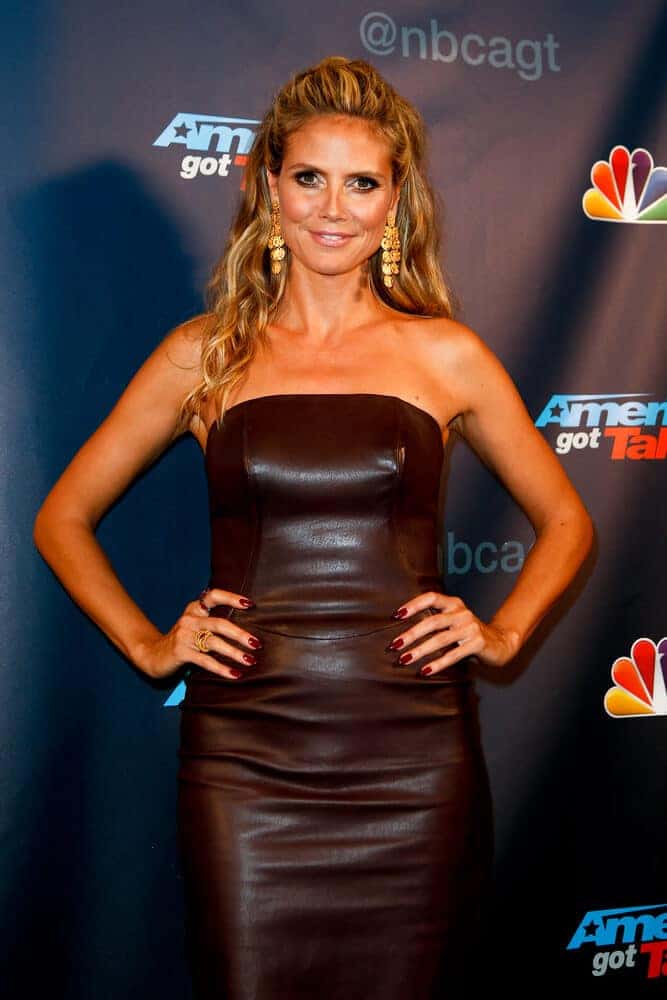 The iconic model/actress showcased her sexy and fierce figure with her skinny leather dress and wavy half-up hairstyle during the post-show red carpet for NBC's America's Got Talent Season 8, August 28, 2013.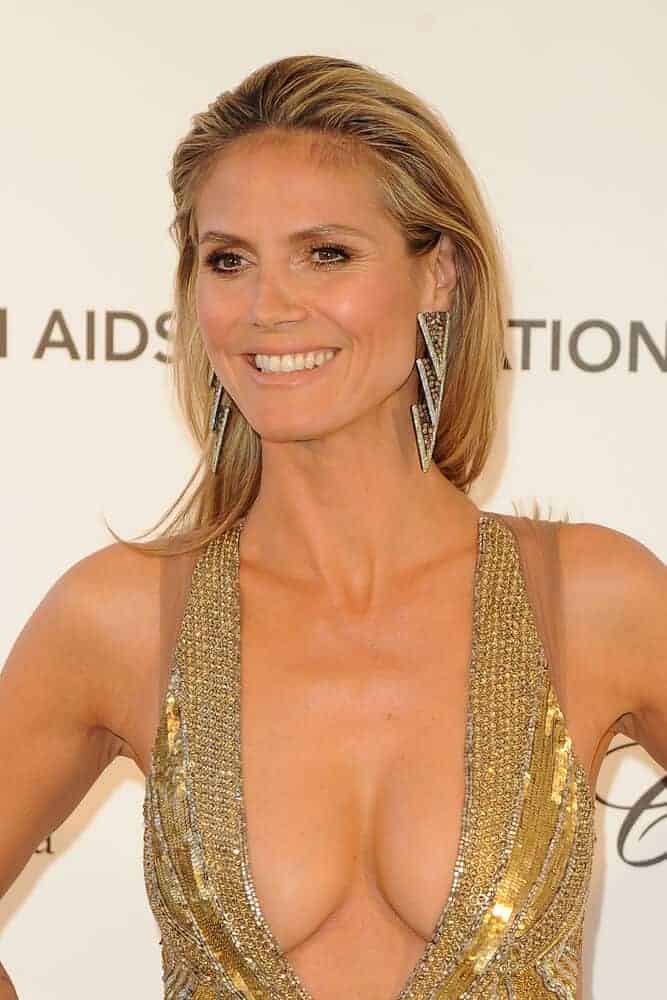 The model wore an elegant-looking, medium-length slicked back hairstyle at the Elton John Aids Foundation 21st Academy Awards Viewing Party last February 24, 2013.