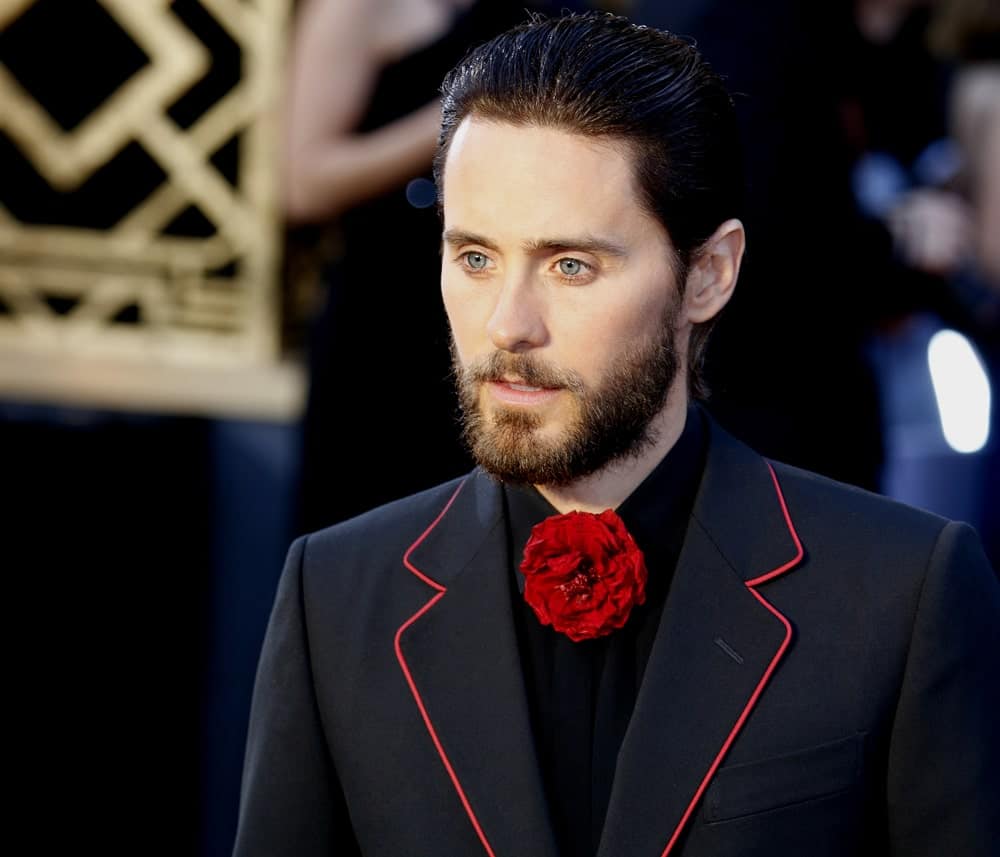 Jared Leto has sure played with diverse hairstyles over the years. His various characters and roles have greatly affected the way he experiments with his luscious locks. Being raised around a lot of artists, musicians, photographers, painters and people in the theater, it is not surprising how he turned into a multi-talented personality.
Before Jared hit the success in Hollywood, he dreamt of becoming a painter. Torn between painting and film, he was fortunate to land an acting career. He pursued it with the thought that it could be his gateway to directing.
Jared's big break came when he got the role of Jordan Catalano in the TV show "My So-Called Life". His role has become remarkable along with his cool hairstyle. He vivaciously flaunted that medium-length shaggy bob cut with middle parting which is really hot at that time.
After the show has been canceled, the actor's career has ramped up. He did several roles like beck in "How to Make an American Quilt" where he sported a neat slick hairstyle, then Angel Face from the "Fight Club" where he dyed his brunette hair into a platinum blonde.
Later then, he got reunited with his brother Shannon and began playing music together. They formed the band Thirty Seconds to Mars and started to rock edgy hairstyles. He experimented with emo fringes, shoulder-length cut, man braid, spikes, and mohawk.
While pursuing his music career, he also starred in big movies like "Dallas Buyers Club" where he played a transgender role and won multiple awards and the iconic Joker in "Suicide Squad" where he had this slicked bold green hair.
The singer-actor did prove how versatile he is with his acting roles and music which is complemented with his fascinating sense of fashionable hairstyles.
Photos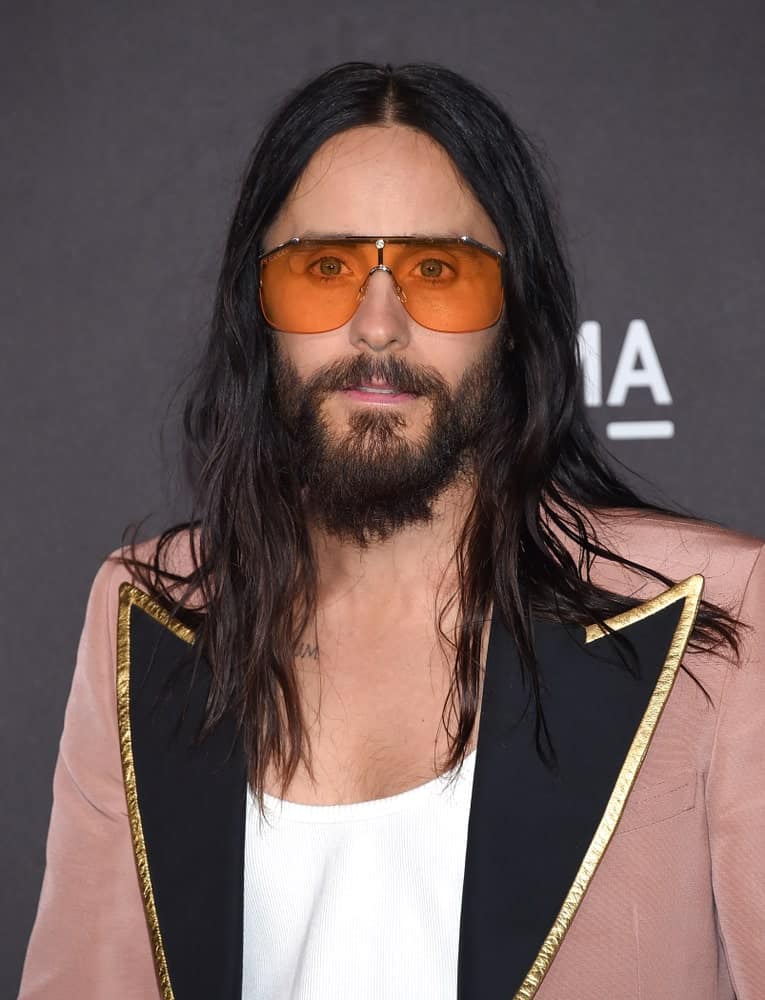 Jared Leto wore a long tousled hairstyle that's complemented with an edgy suit and orange shades at LACMA Art and Film Gala 2019 held on November 2nd.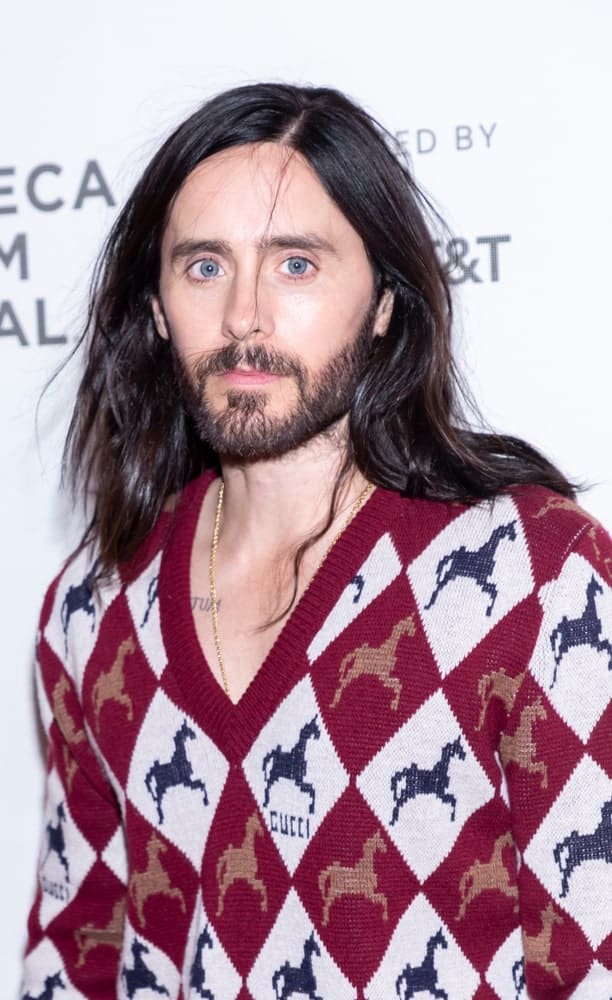 The actor pulled off a messy side-parted hairstyle paired with a stubble beard during the "A Day In The Life Of America" premiere at the 2019 Tribeca Film Festival on April 27th.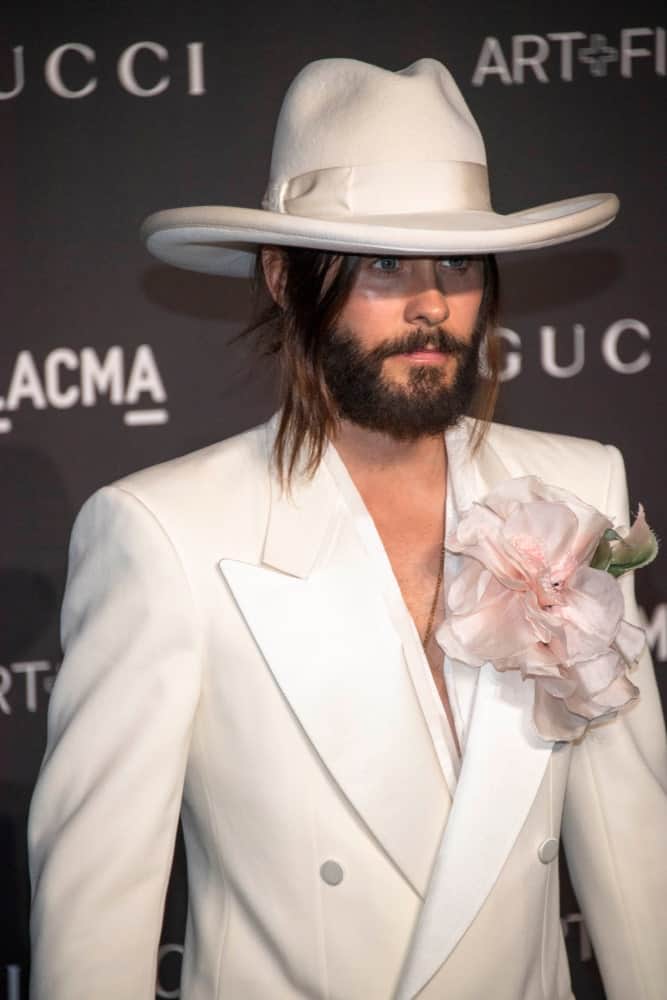 Jared Leto gathered his long locks into a man bun with side tendrils at the 2018 LACMA Art+Film Gala Honoring Catherine Opie + Guillermo Del Toro on November 3rd. He finished the look with a white suit and cowboy hat.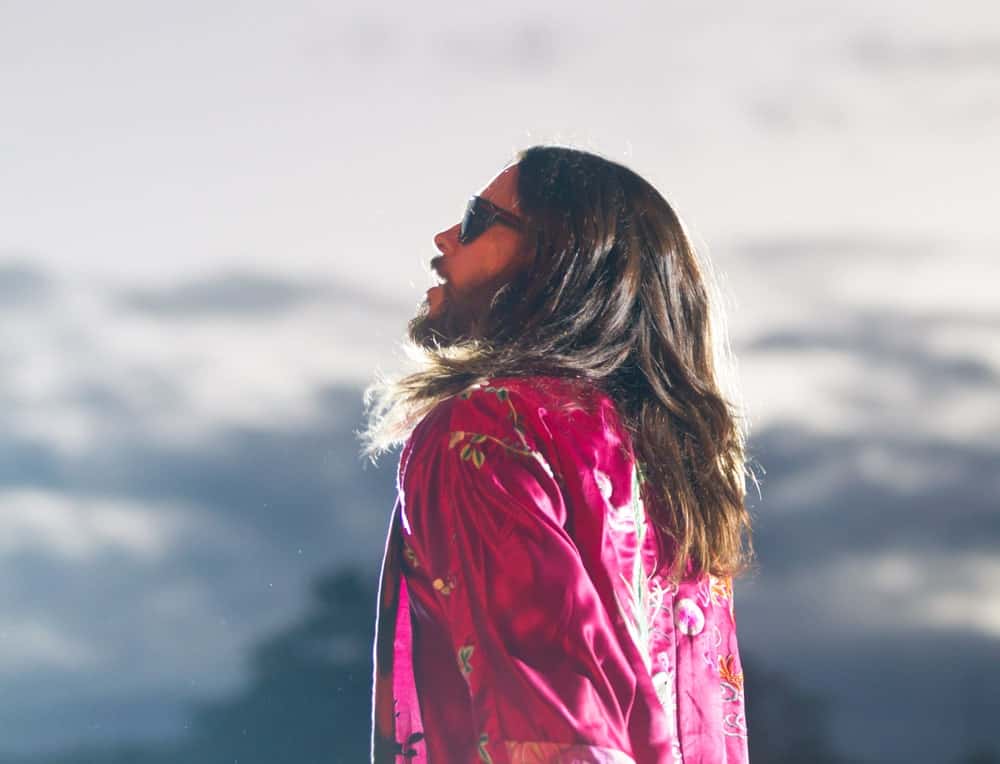 Singer-songwriter Leto flaunted his long layered locks on stage during the 2018 Music Midtown Festival held at Piedmont Park Atlanta, Georgia on September 15, 2018.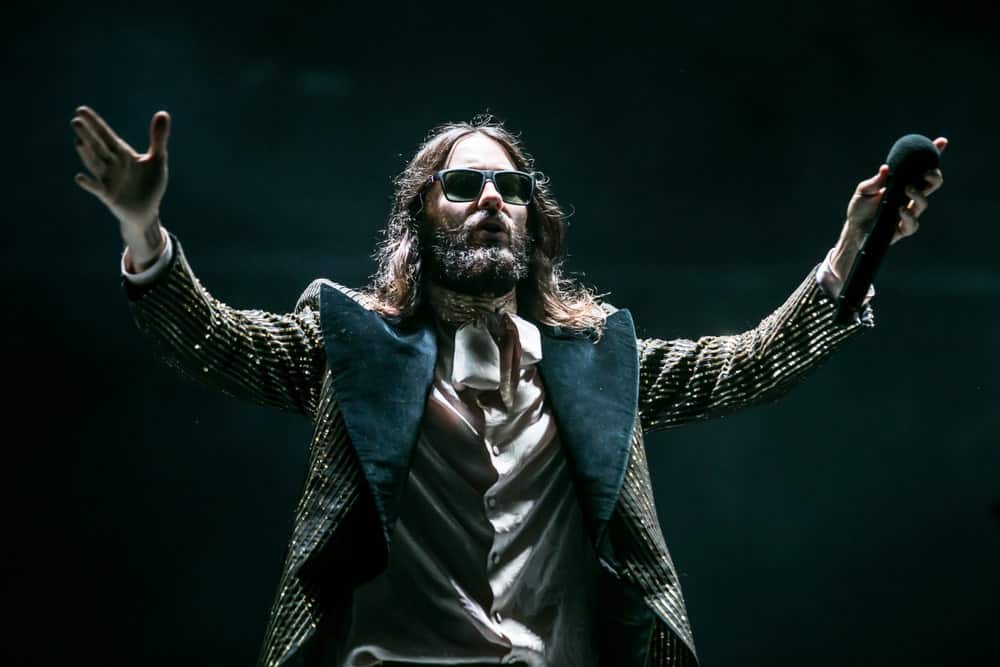 The Thirty Seconds to Mars vocalist performed at DTE Energy Music Theatre live on their 2018 summer tour sporting a wavy tousled hairstyle paired with his full beard.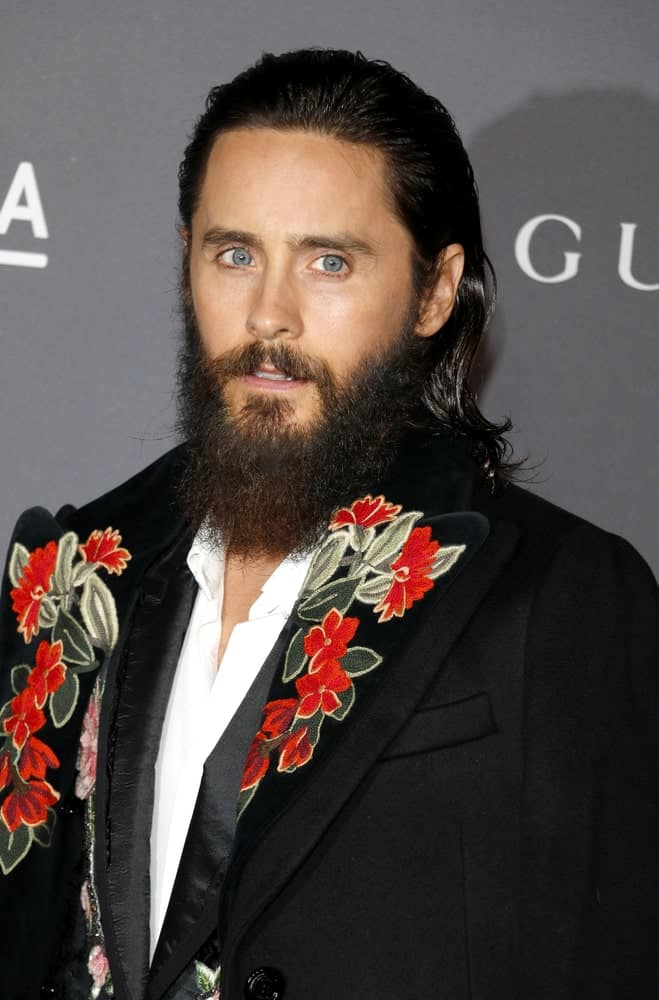 Jared Leto gelled his long black hair into a slicked back hairstyle for the 2017 LACMA Art + Film Gala held on November 4th. He complemented it with a black suit embroidered with floral patches.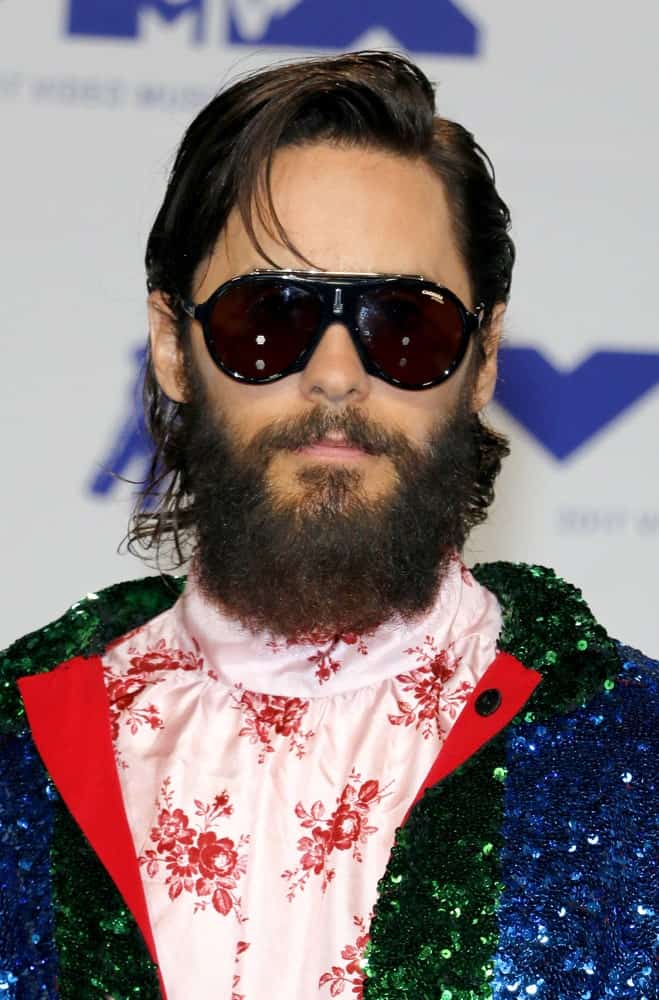 The singer looked trendy in a multi-colored sequined getup along with his side-parted hair and a full beard. This was taken at the 2017 MTV Video Music Awards held on August 27th.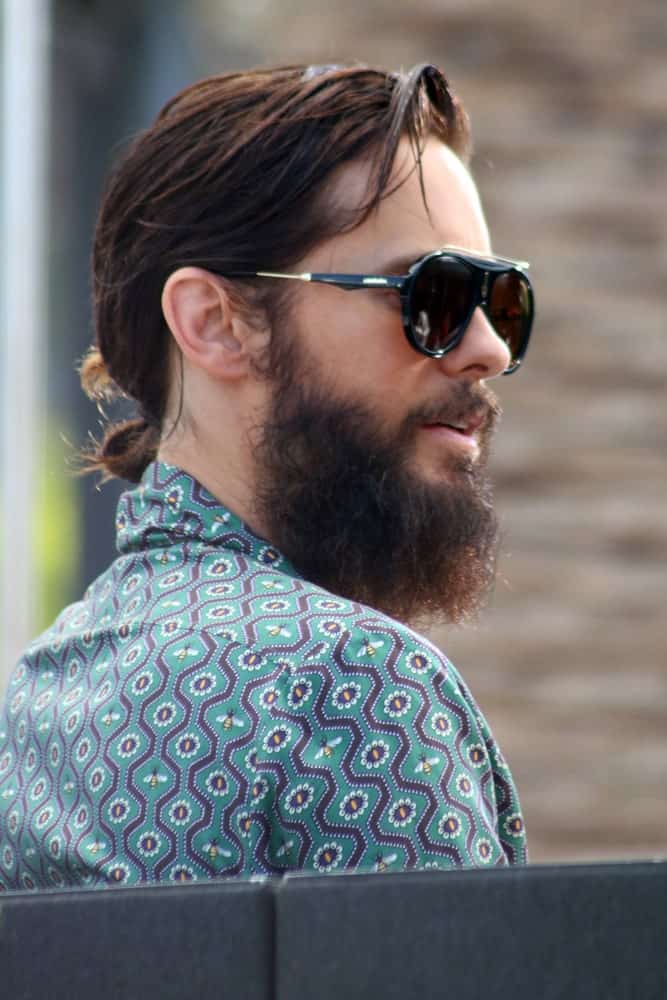 Jared Leto was spotted at Universal City Walk in Hollywood, California on August 23, 2017 rocking a loose man bun incorporated with his natural beard.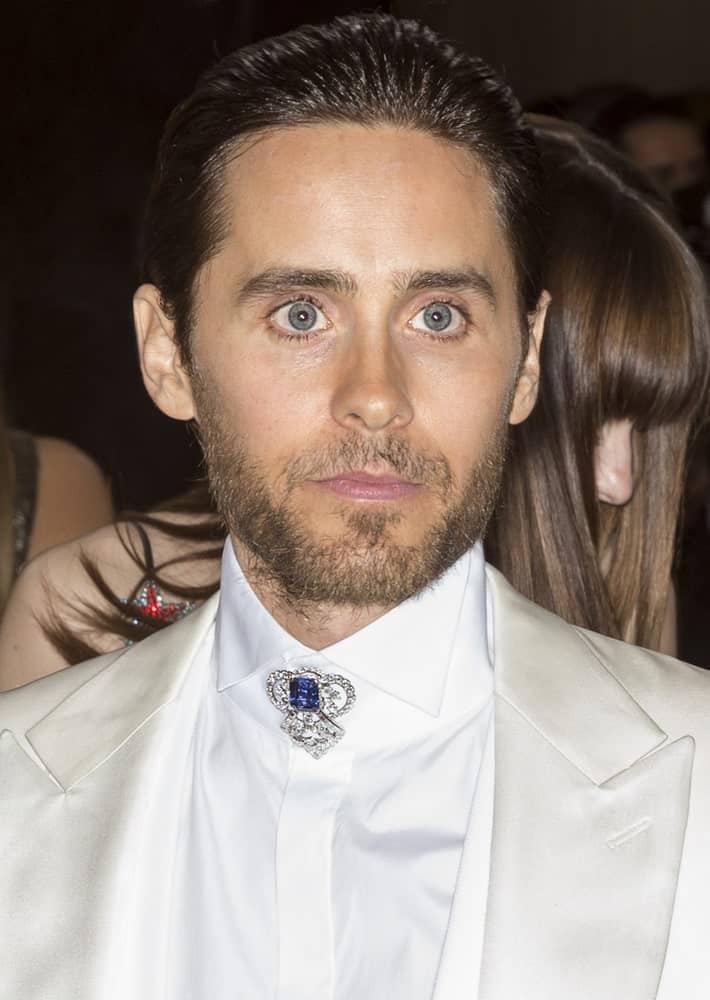 The actor arrived at the Manus x Machina Fashion in an Age of Technology Costume Institute Gala on May 2, 2016 with a neat slicked back complementing his silky white suit.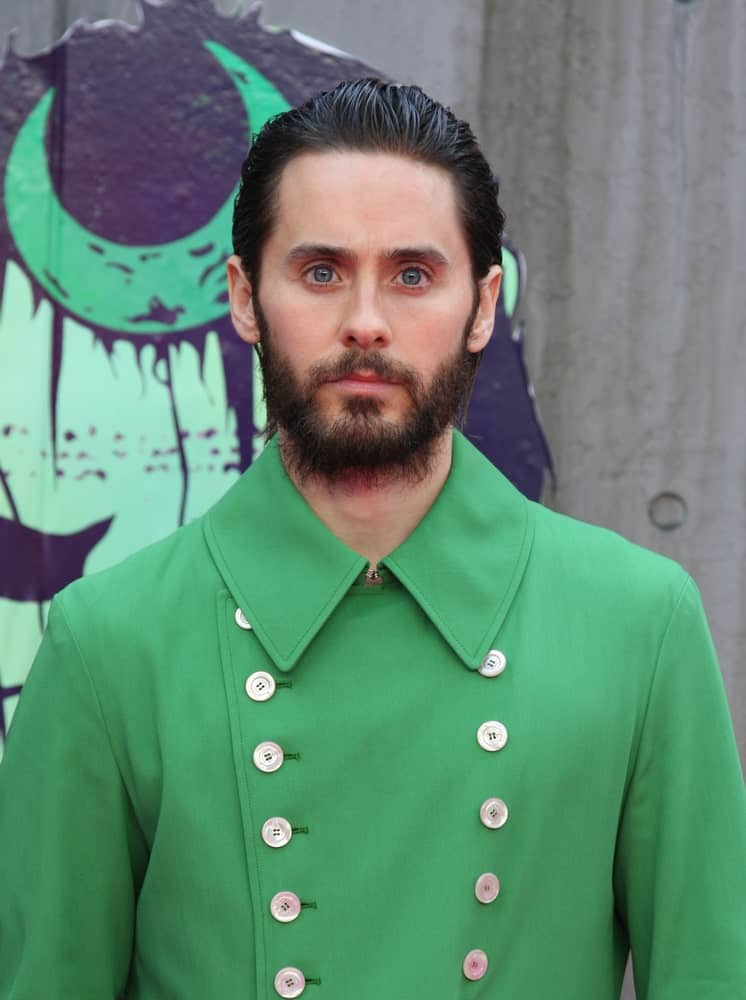 Jared Leto made an appearance at the Suicide Squad film premiere on August 3, 2016 wearing a green buttoned top and a dark slicked hairstyle accompanied with his stubble beard.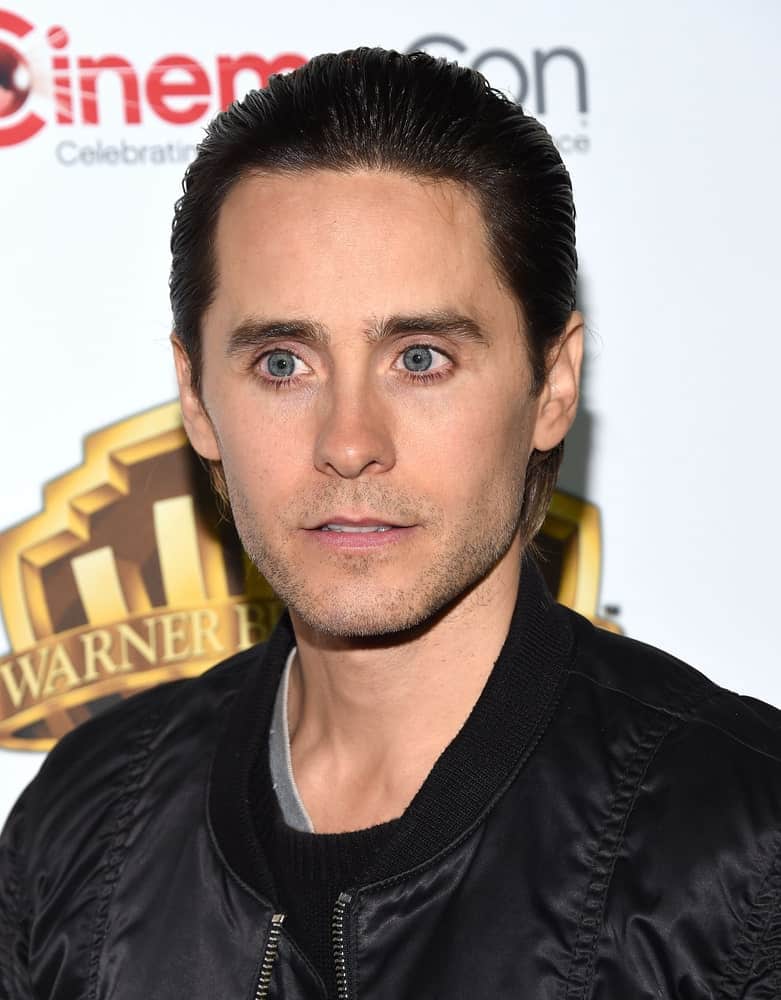 The actor sported a long slicked back hairstyle during the CinemaCon 2016: Warner Bros. "The Big Picture" Presentation held on April 12, 2016.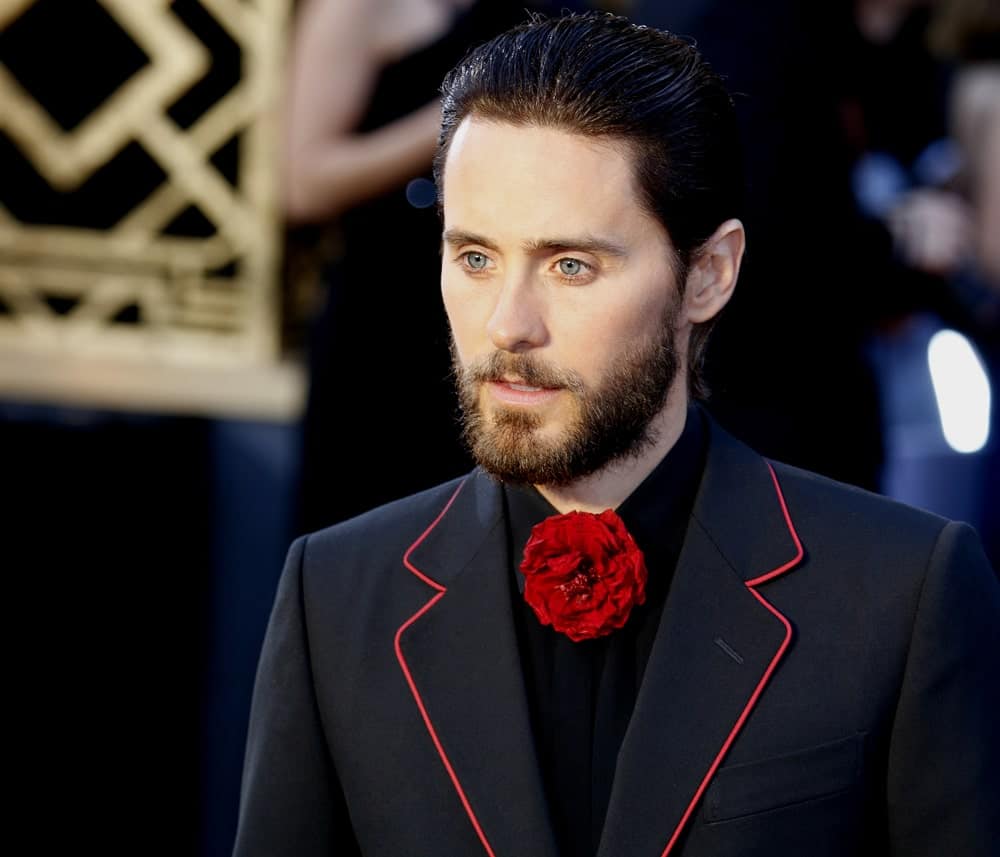 Jared Leto attended the 88th Annual Academy Awards held on February 28, 2016 with a sophisticated slicked hairstyle gelled to perfection.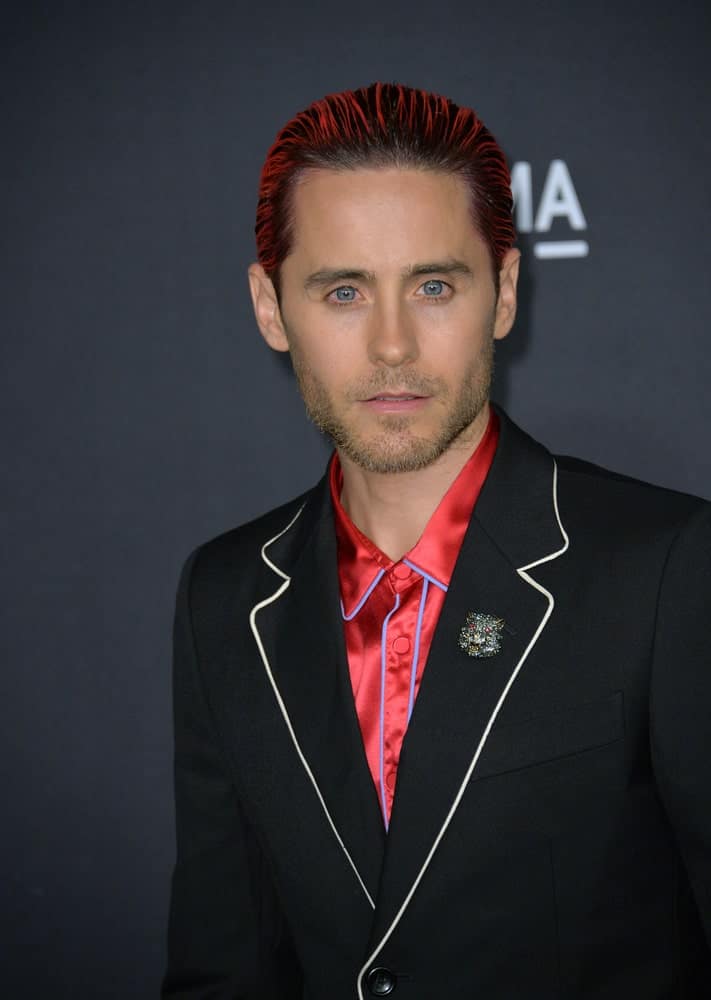 The actor dyed his slicked locks in a vibrant red hue during the 2015 LACMA Art+Film Gala at the Los Angeles County Museum of Art on November 7, 2015.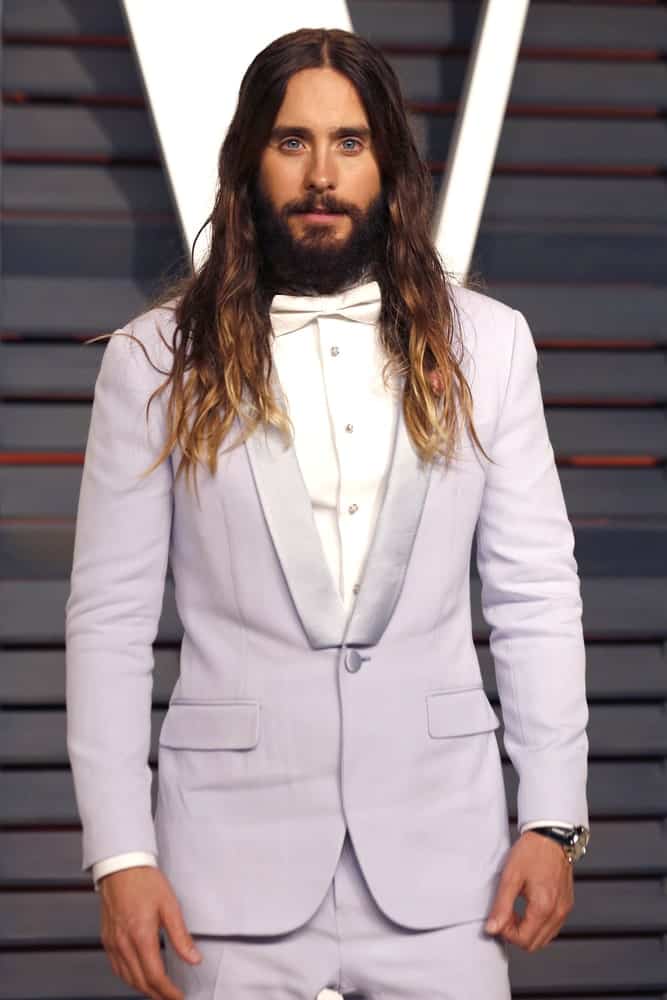 On February 22, 2015, Jared Leto attended the Vanity Fair Oscar Party 2015 at the Wallis Annenberg Center for the Performing Arts with his loose long curls accentuated with tip highlights.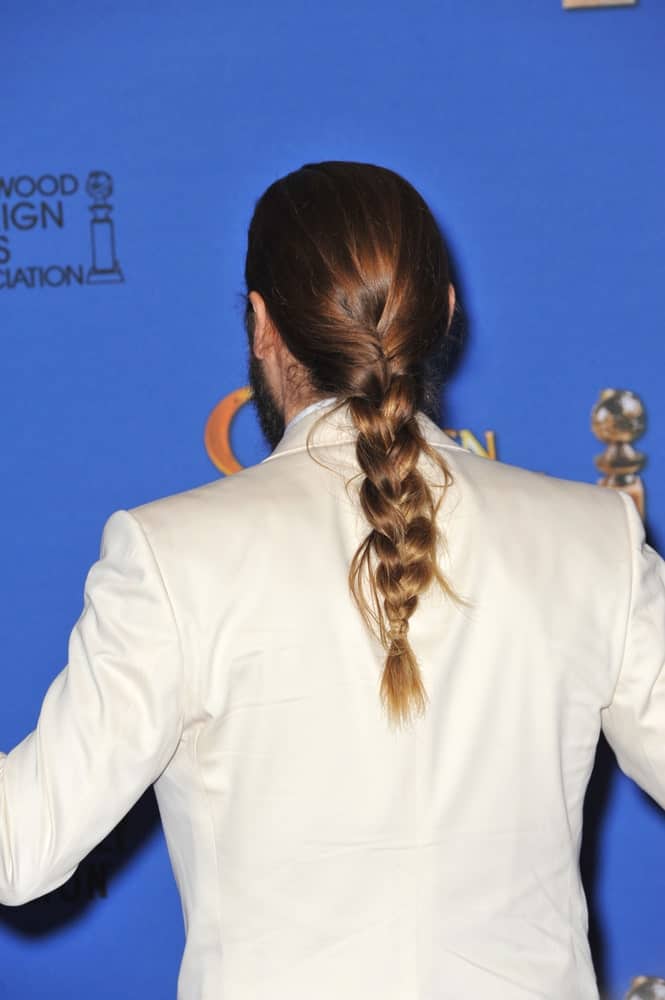 The actor arranged his long brunette hair into a messy man braid at the 72nd Annual Golden Globe Awards held last January 11, 2015.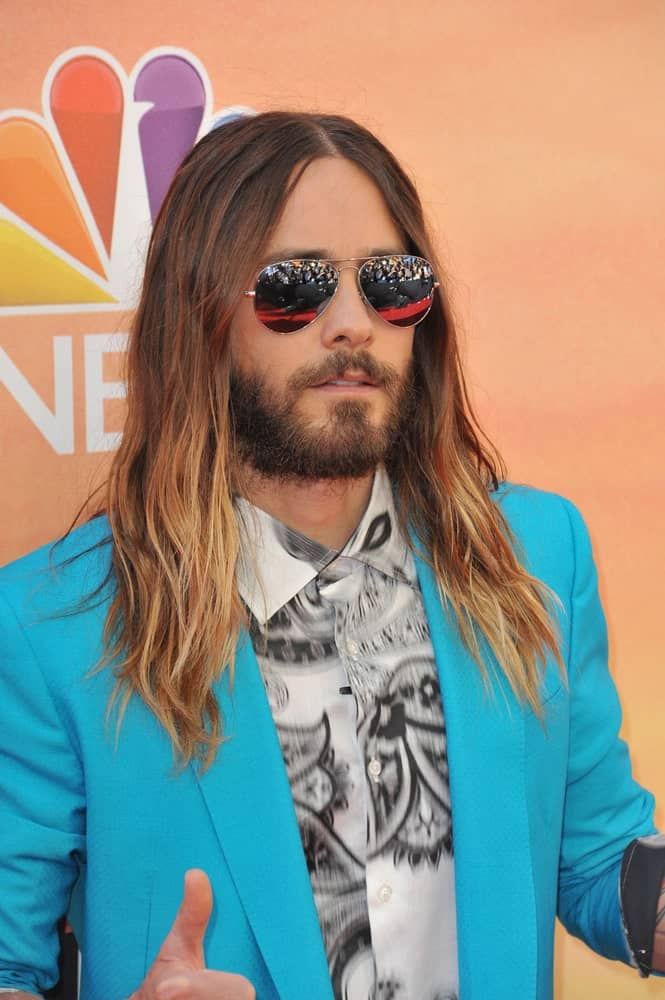 The singer exhibited a cool look in a blue suit along with his long tousled hair incorporated with a stubble beard. This was taken at the 2014 iHeartRadio Music Awards held on May 1st.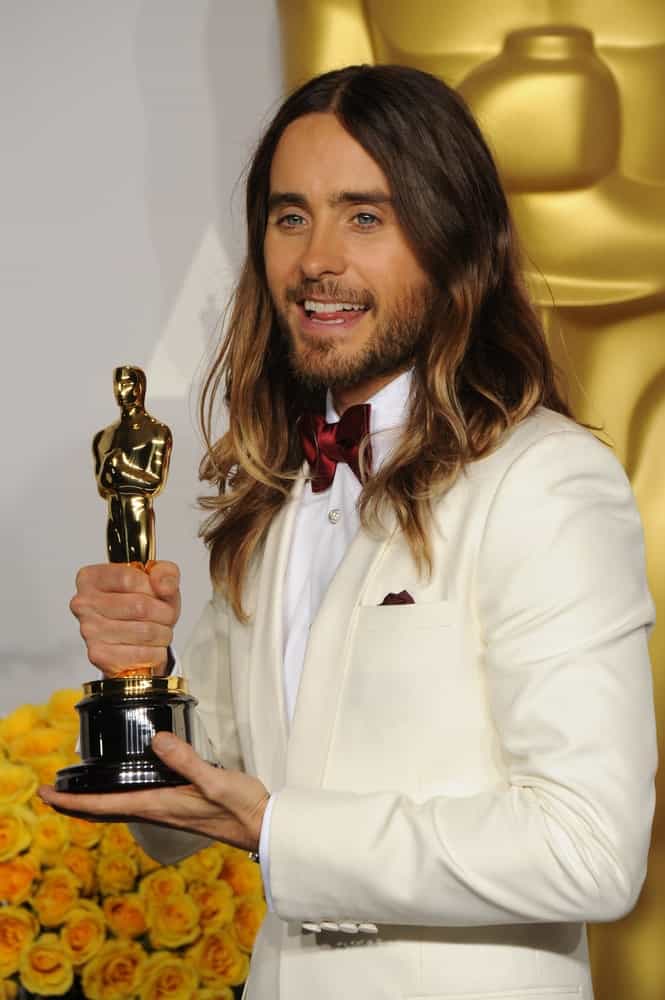 Jared Leto at the 86th Annual Academy Awards on March 2, 2014 sporting his long brunette locks styled with subtle waves and light highlights.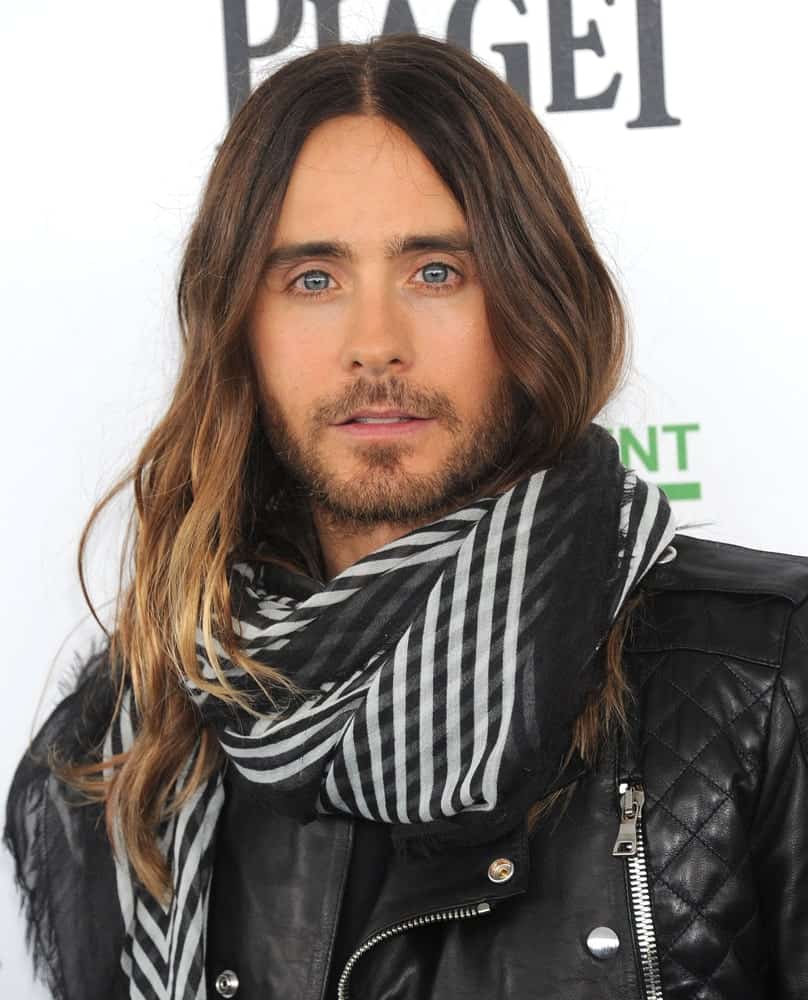 Jared Leto pulled off a long wavy hairstyle complemented with a black striped scarf during the Film Independent Spirit Awards 2014 held on March 1st.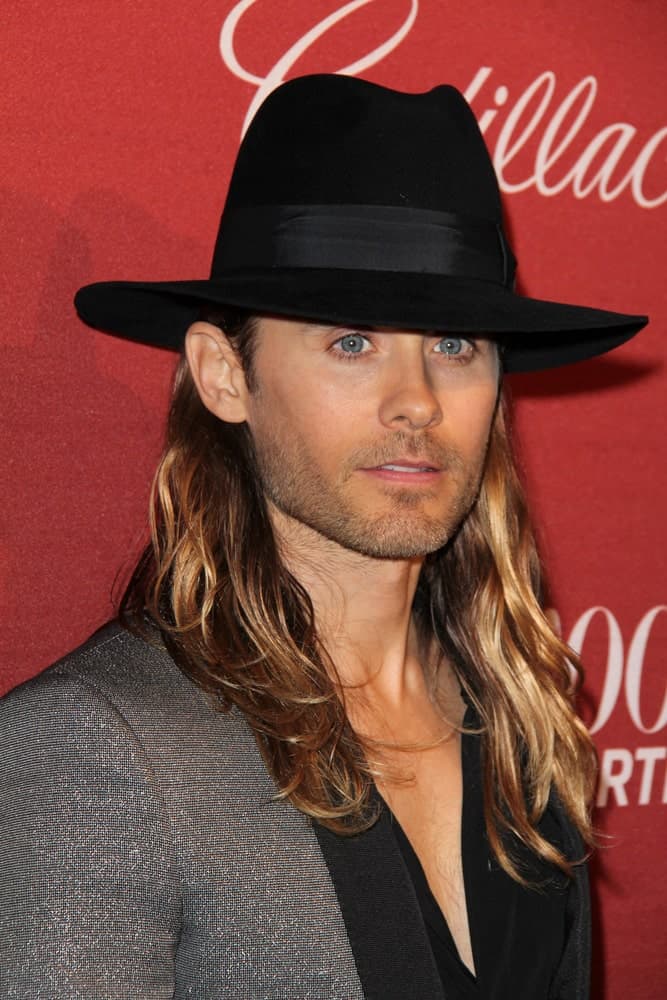 The actor is oozing with charm in a gray suit and cowboy hat paired with his long layered locks. This look was worn at The Hollywood Reporter's Annual Nominees Night Party held on February 10, 2014.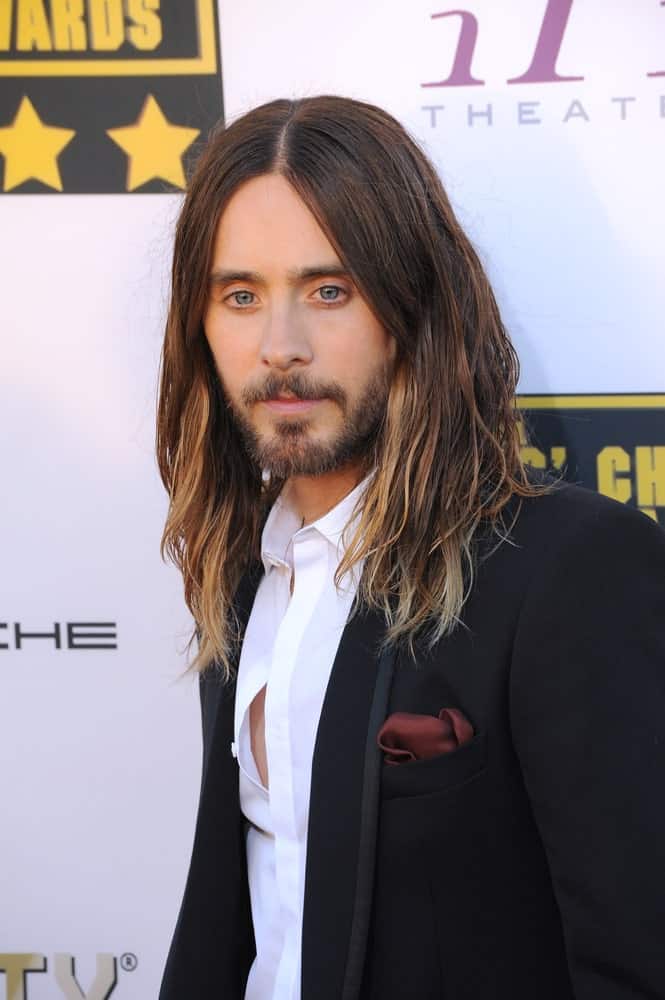 During the 19th Annual Critics' Choice Awards on January 16, 2014, Jared Leto showed off his long highlighted hair styled with mini tousled waves.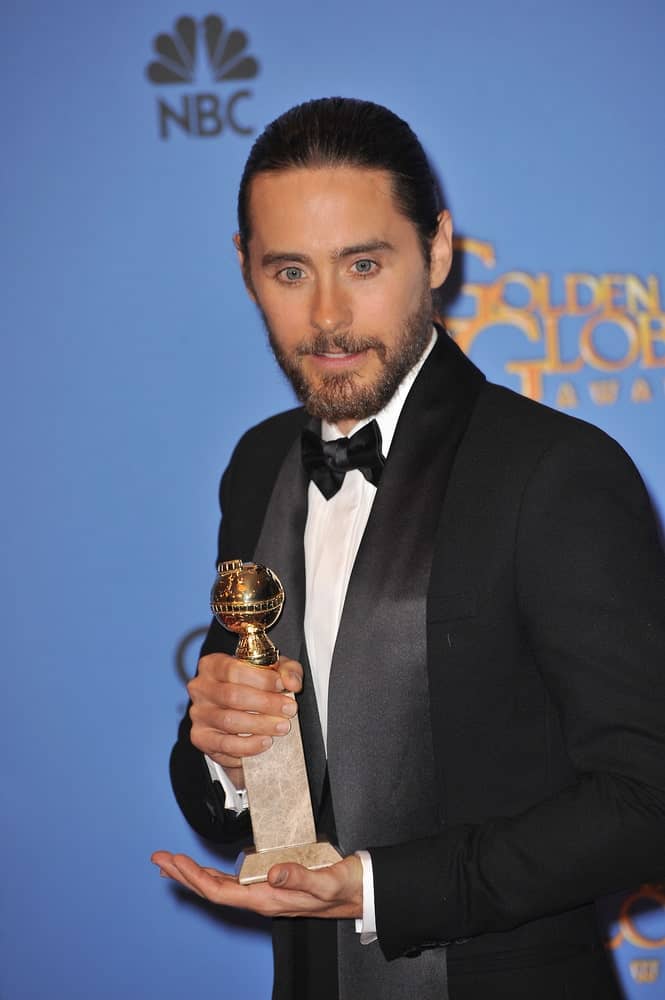 Jared Leto had a slicked man bun at the 71st Annual Golden Globe Awards held on January 12, 2014. Classic black suit and a bow tie completed the sleek look.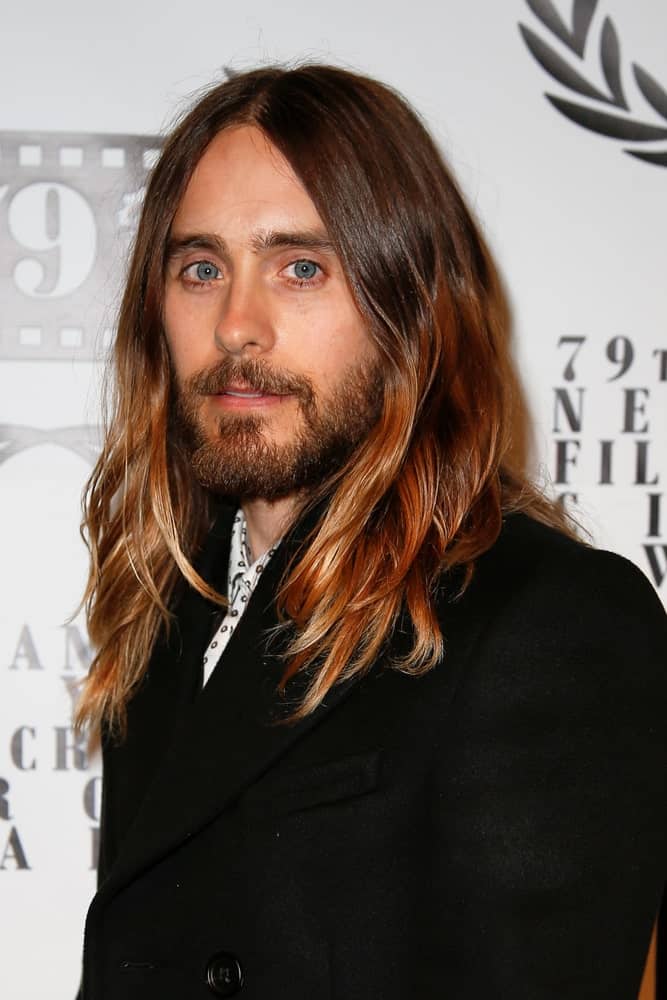 The actor experimented with his long hair by giving it multi-tone brown hues during the New York Film Critics Circle Awards at the Edison Ballroom on January 6, 2014.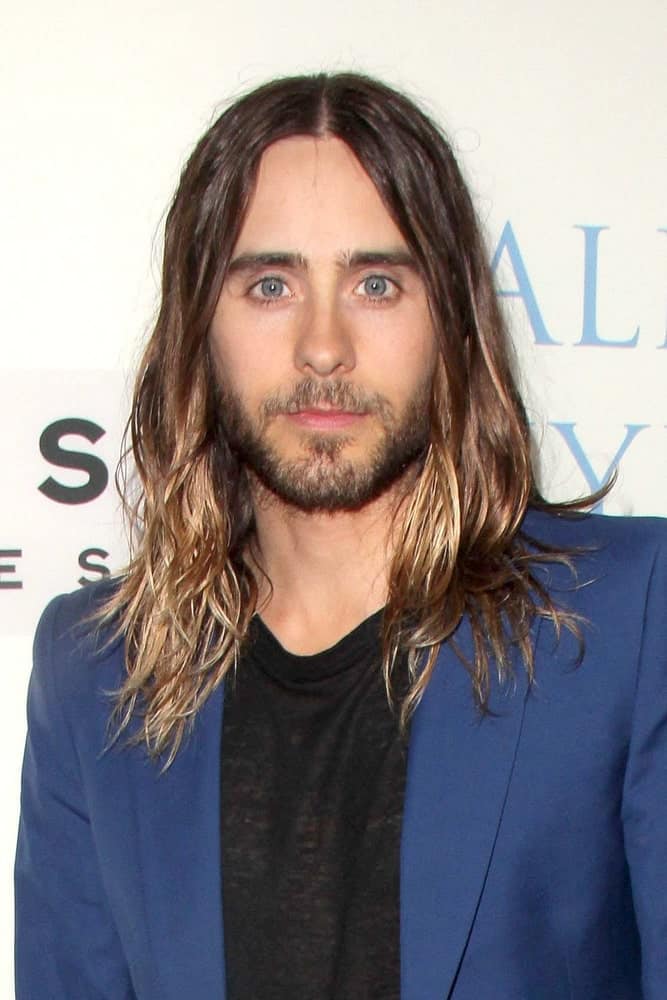 Jared Leto styled his long parted locks with highlights and messy textured ends at the "Dallas Buyers Club" – Los Angeles Premiere last October 17, 2013.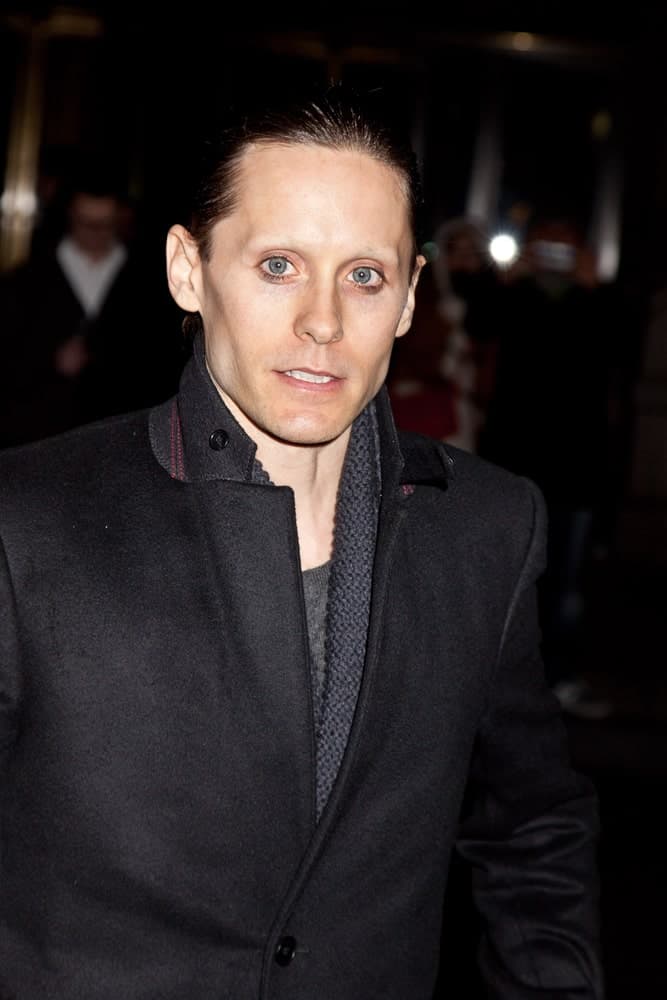 The singer-actor arrived at the IFP's 22nd Annual Gotham Independent Film Awards on November 26, 2012 with dark slicked back hair and shaved eyebrows.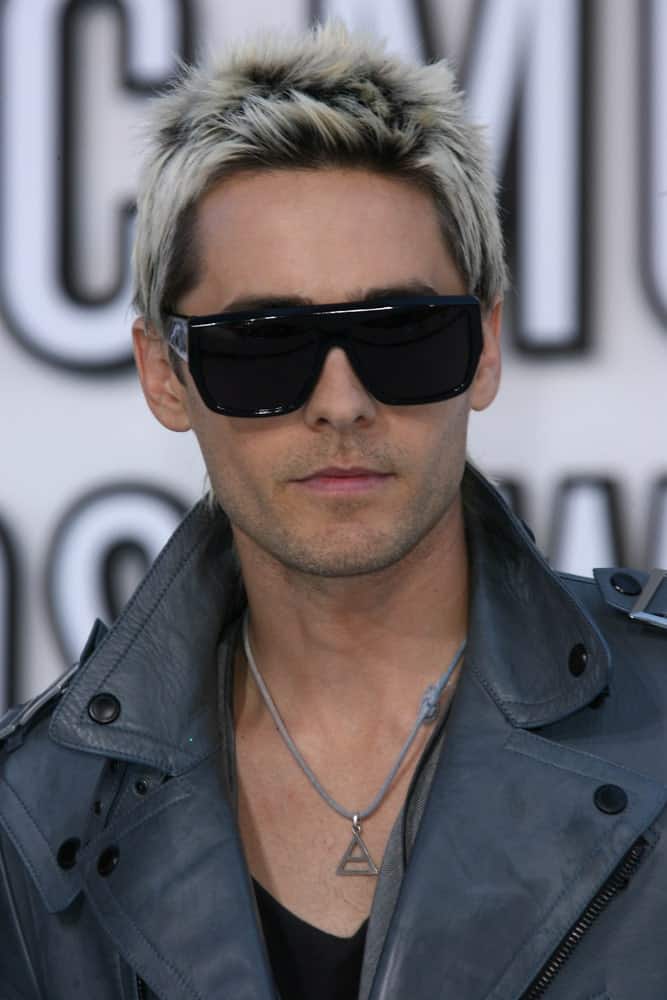 Jared Leto had short spiky hair bleached in platinum blonde with patches of his natural hair color during the 2010 MTV Video Music Awards at Nokia Theatre L.A. LIVE held on August 12th.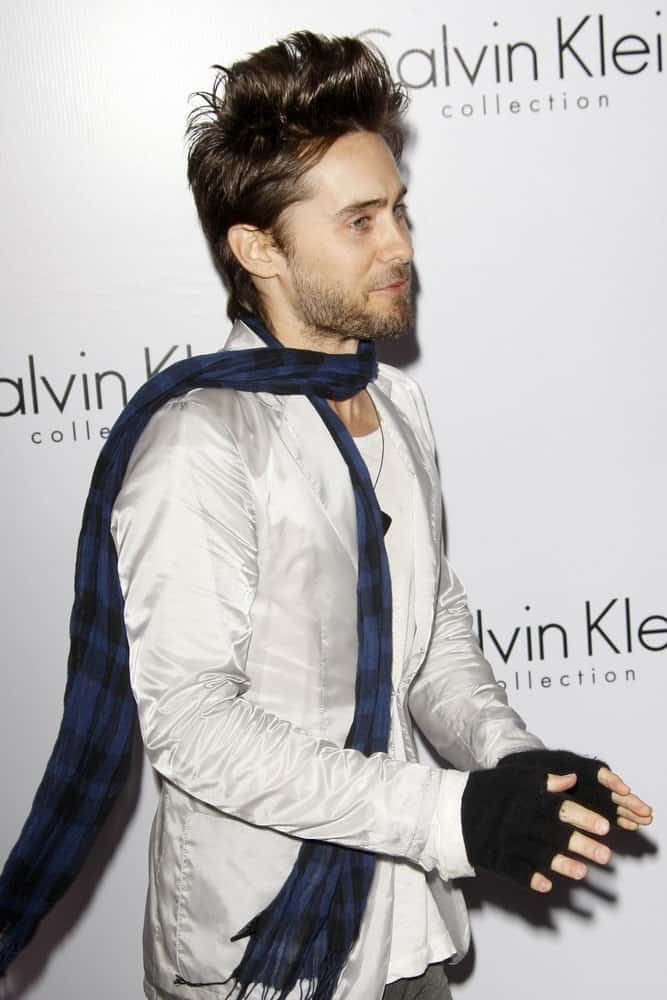 Jared Leto pulled off a long top quiff at the Calvin Klein collection and LOS ANGELES NOMADIC DIVISION Present a Celebration of L.A. ARTS MONTH on January 28, 2010.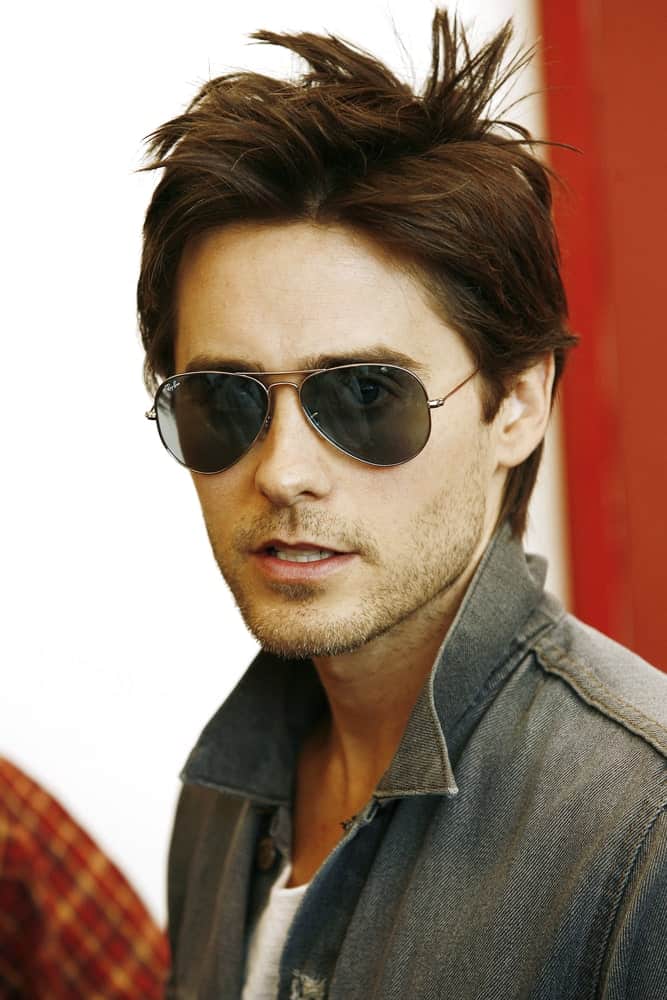 On September 11, 2009, the actor attended the ' Mr. Nobody ' photo-call during the 66th Venice Film Festival with dark short hair styled with long spikes.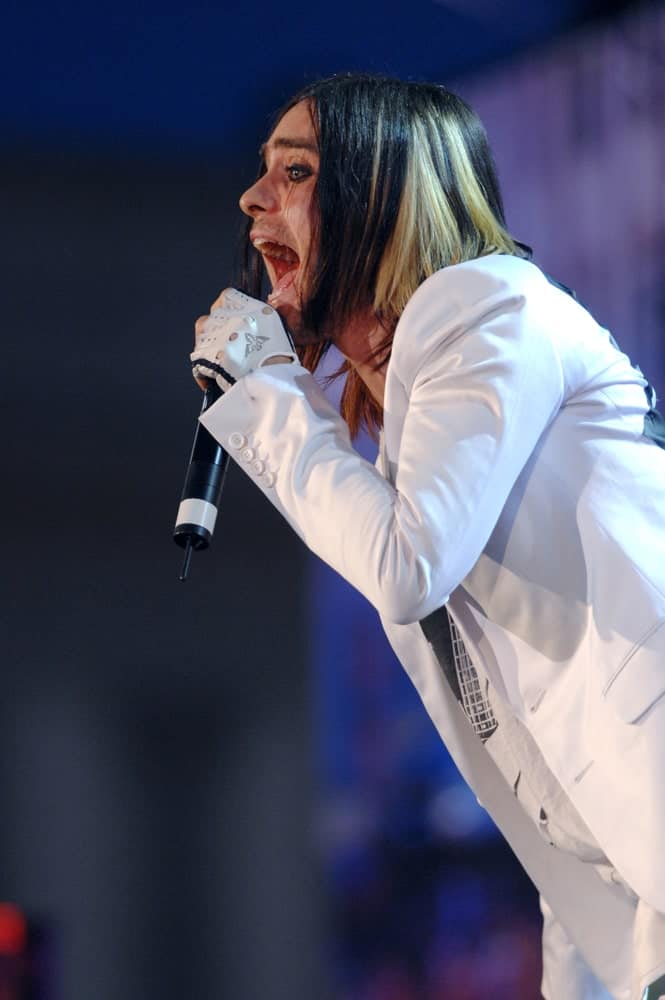 The singer performing at the Duomo Square during the musical event "Festivalbar 2007" on June 14th rocking a medium length hair dyed partly in blonde.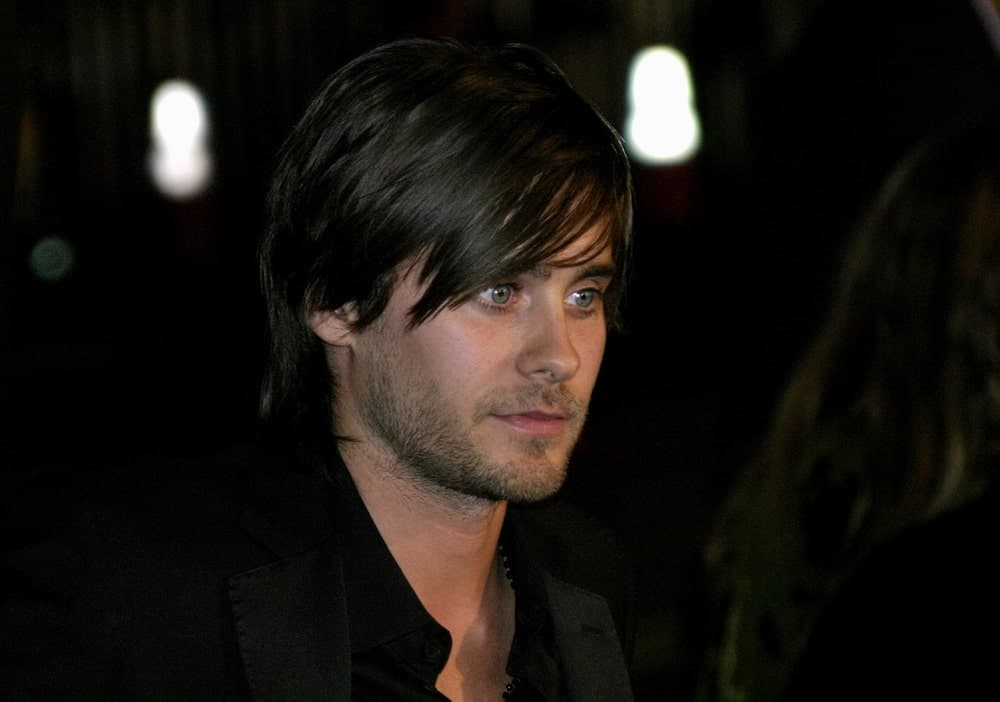 Jared Leto sporting his emo fringe hair and some beard at the Los Angeles premiere of 'Alexander' held at the Grauman's Chinese Theater in Hollywood, USA on November 16, 2004.