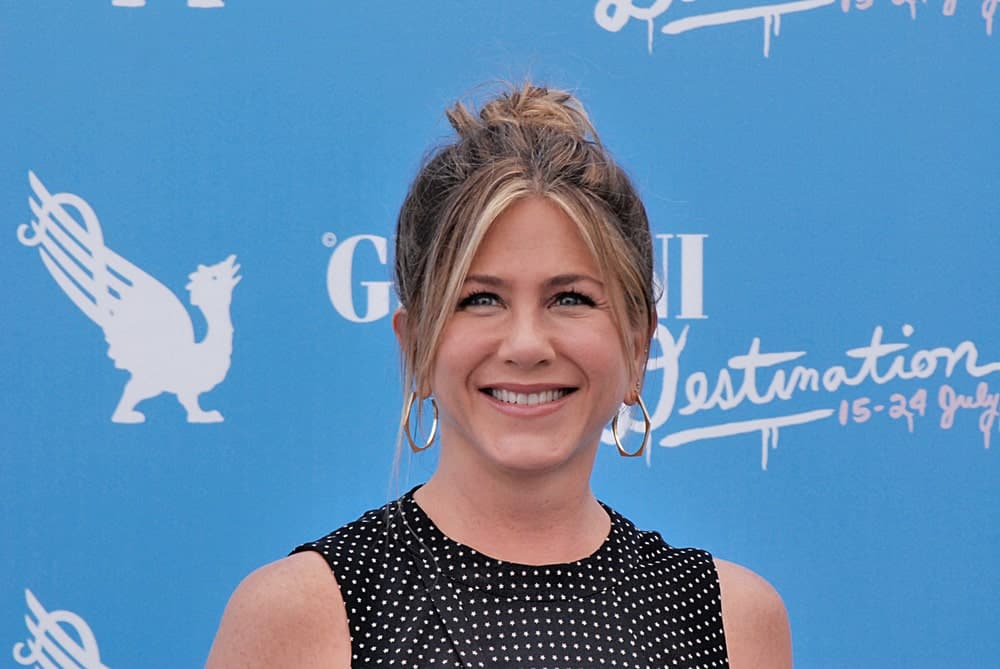 What a career she's had.
Jennifer Aniston went from mega hit TV show to being an A-list actress and is still A-list actress starring in all kinds of huge movies more than 13 years after her iconic role as Rachel Green in the Friends TV show.
The cast of Friends had it good because that was one of the last shows that garnered such huge numbers; that was a staple program for tens of millions of households every week before the onslaught of cable TV channels, Netflix, streaming, YouTube and the overall explosion of many entertainment options we now enjoy.  I think for TV folks, the early 2000's was the end of the golden era of television… at least for the Networks.
As far as I'm concerned, today's TV options are amazing.  The quality of the programs is second-to-none.
But, I do have a soft spot for Friends.  In fact, just last year I watched all 10 seasons of Friends on Netflix, which was awesome.  There had been a few episodes I had missed during it's initial run.  It was also cool watching it in order in a very short time (I confess to some Friends binge-watching).
It was during Friends that Jennifer Aniston became know for her hair.  In fact, she, through her Friends' character, inspired many hairstyles for women during that time.  Every season it seemed like she'd show up with a new do that would light up the fashion magazines.  I'm sure there aren't any hairdressers who worked during those years who didn't have a female client come in and say "I want my hair cut and styled like Jennifer Aniston).
I venture to say that Jennifer Aniston's hairstyles are iconic and so I'm very excited to present this epic photo gallery showcasing many of her cuts and styles from over the years.
Photos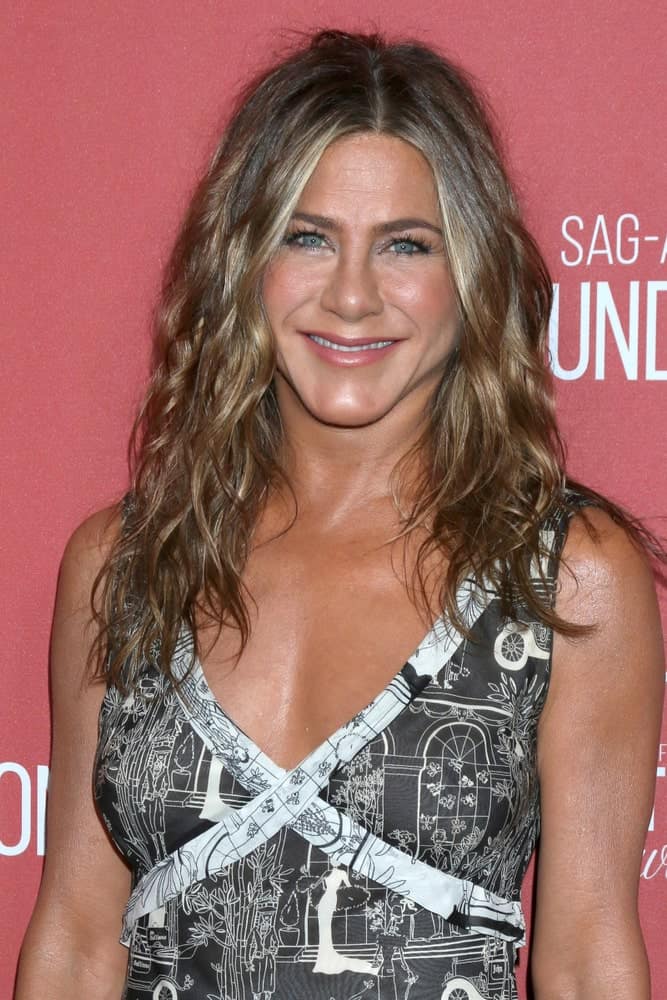 Jennifer Aniston showing off her permed beach waves paired with a black printed dress during the 4th Annual Patron of the Artists Awards on November 7, 2019.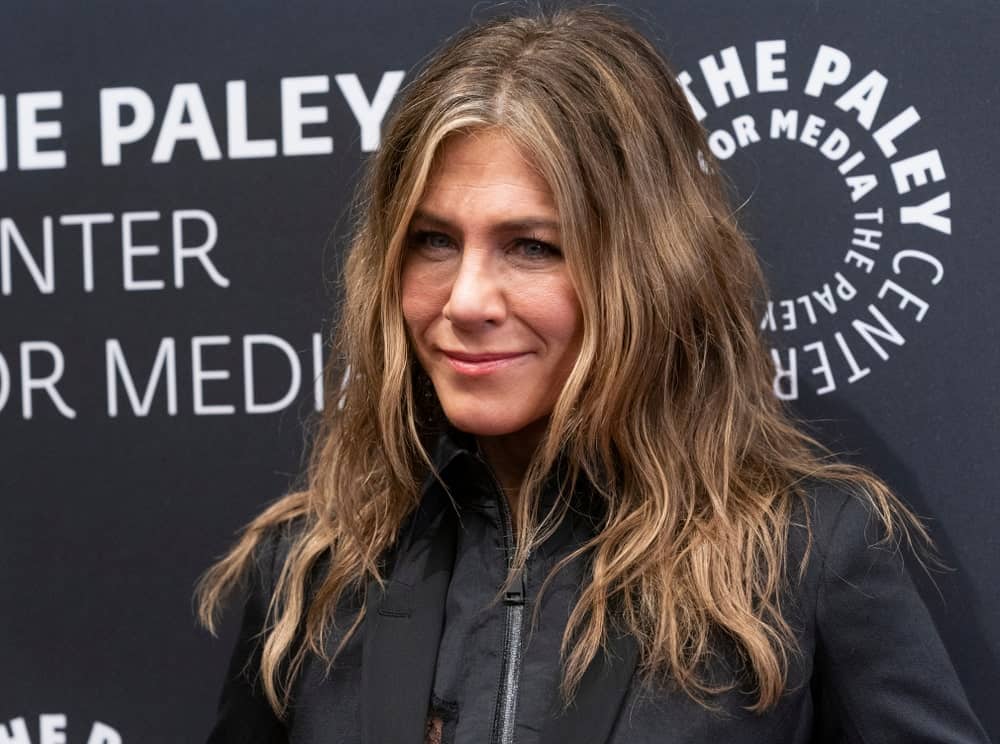 The actress paired her black dress by Madison Margiela with a tousled wavy hairstyle at the PaleyLive NY: Apple TV The Morning Show Preview Screening last October 29, 2019.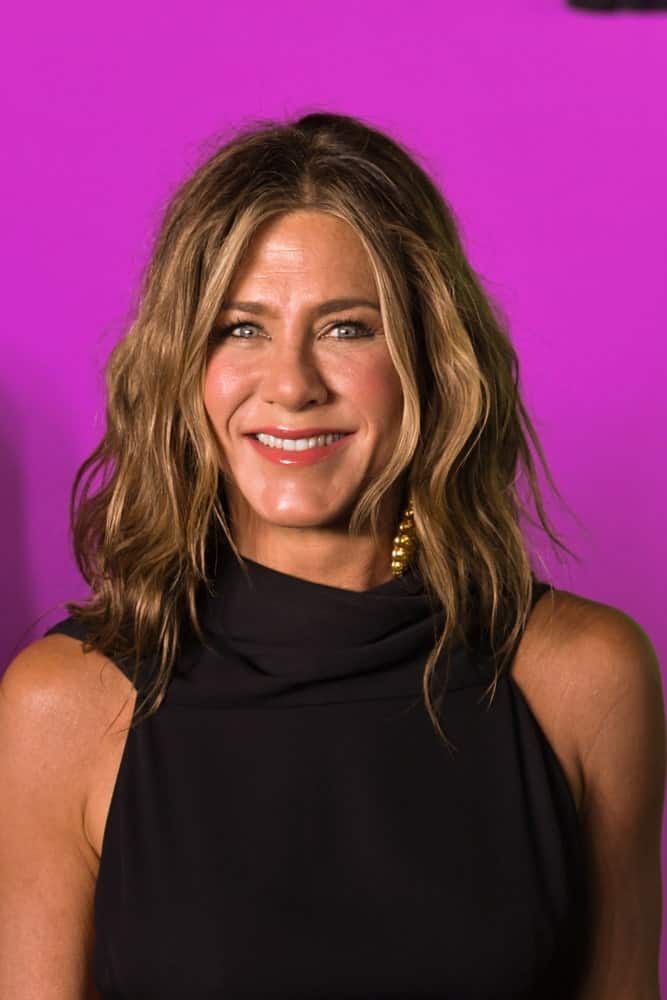 The actress styled her medium-length locks with subtle waves and highlights during the Apple TV+'s "The Morning Show" World Premiere at David Geffen Hall on October 28, 2019.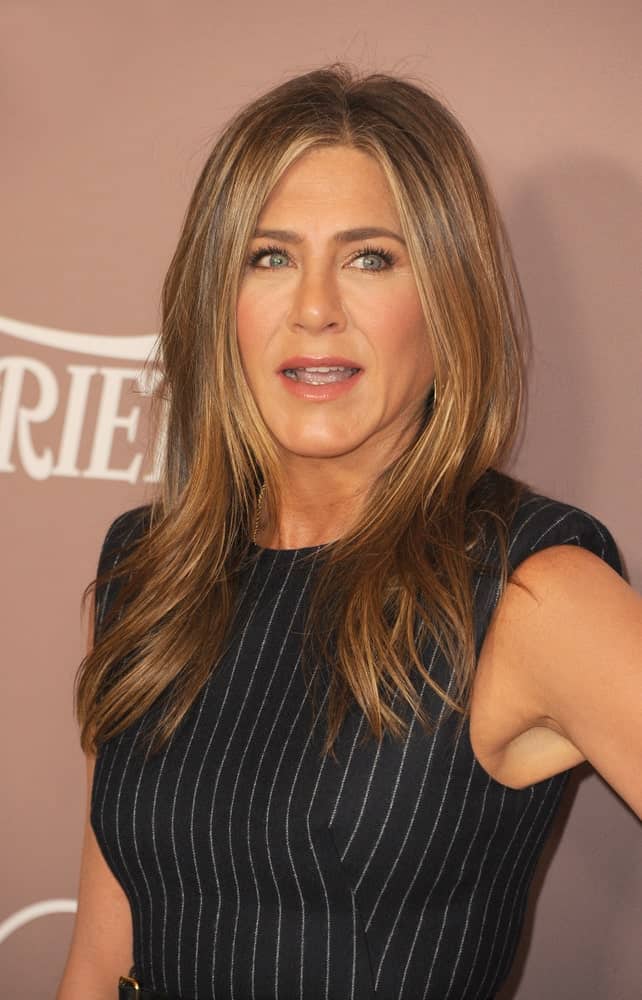 Jennifer Aniston with her signature hairstyle featuring her straight layered hair in highlighted blonde complemented with a black striped dress. This look was worn at the Variety's 2019 Power Of Women in Beverly Wilshire Four Seasons Hotel held on October 11, 2019.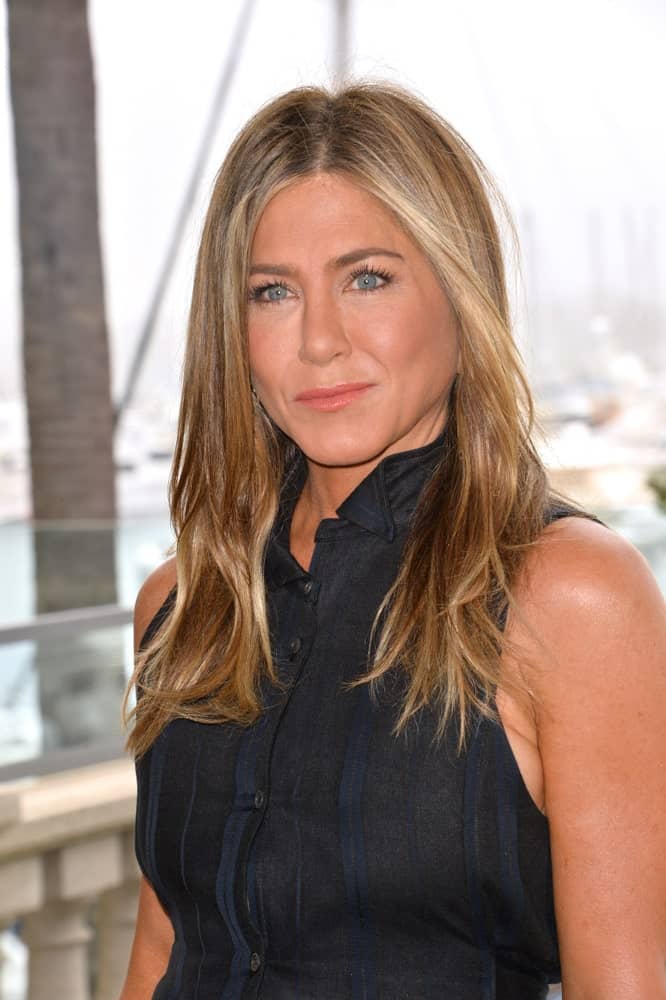 Jennifer Aniston looked gorgeous with a straight loose hairstyle that's center-parted bringing out her stunning blue eyes. This was taken at the photocall for "Murder Mystery" last June 11, 2019.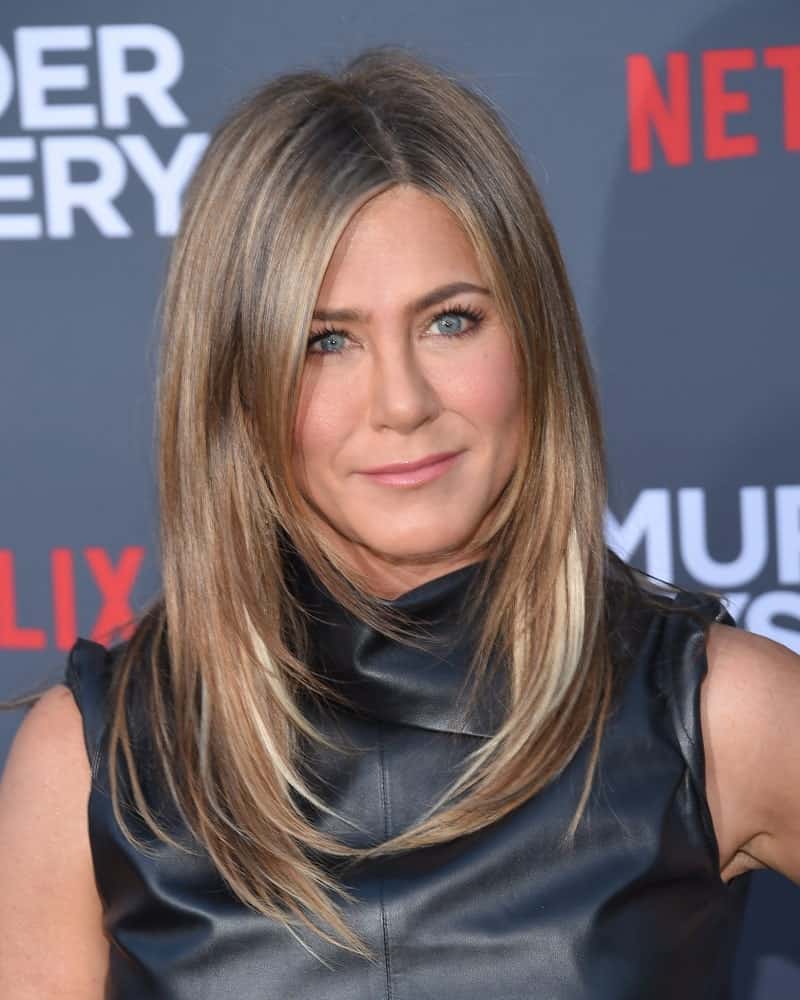 The actress attended the Netflix 'Murder Mystery' Premiere on June 10, 2019, with her iconic layered hair that's styled inwardly. She paired it with a black leather dress contrasting her blonde tresses.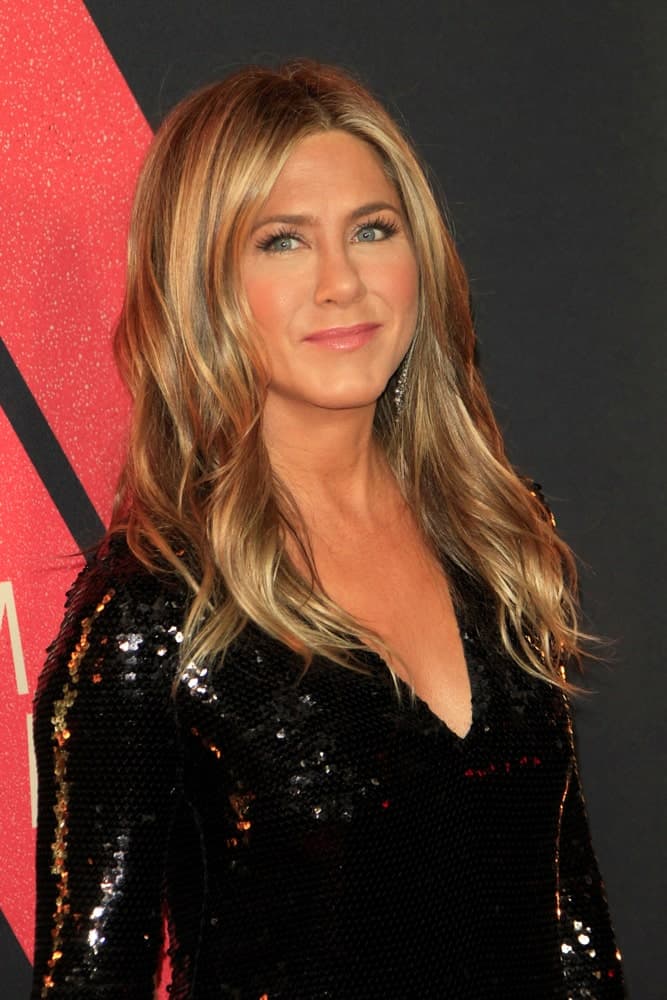 Jeniffer Aniston is shining in a black sequined dress along with her voluminous blonde waves that are highlighted and center-parted. This look was worn at the "Dumplin'" Premiere at the TCL Chinese Theater on December 6, 2018.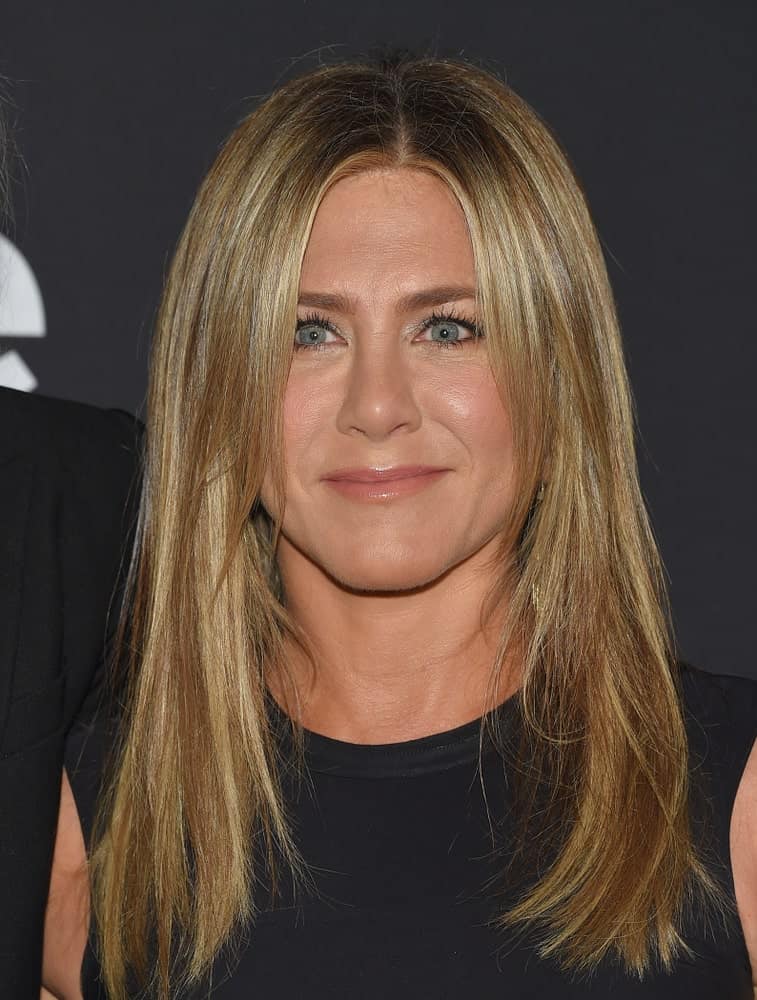 The actress sported a simple loose hairstyle with middle parting and highlights during the 'InStyle Awards' 2018 on October 22, 2018 in Hollywood, CA.
The actress attended the AFI Lifetime Achievement Awards to George Clooney on June 07, 2018. She had her medium length blonde hair styled with light highlights adding a great contrast with her classic black dress.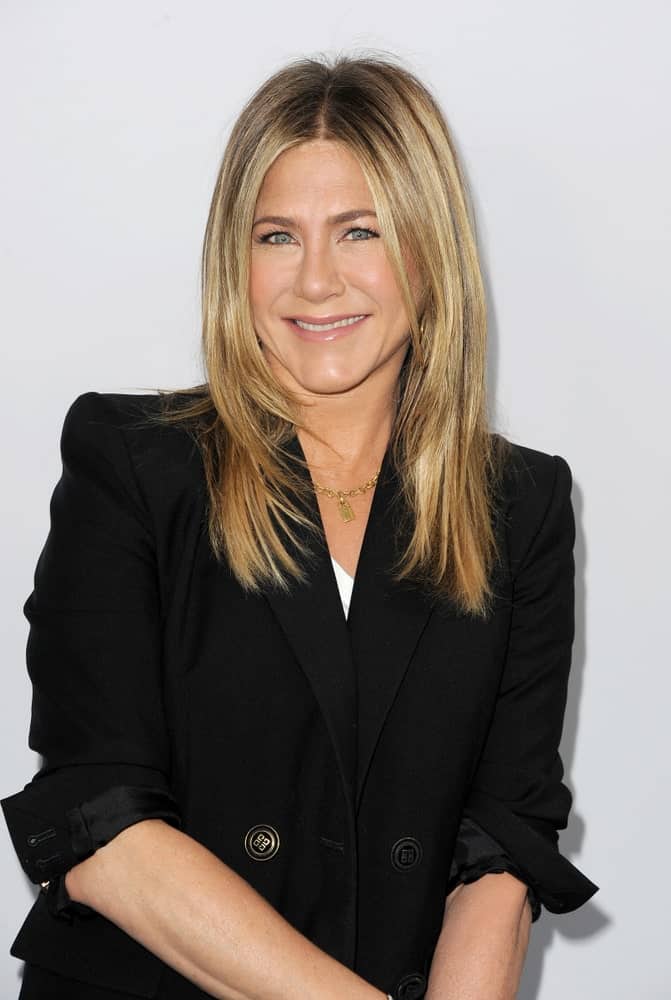 The actress was spotted at the WE Day California held at The Forum in Inglewood, the USA on April 19, 2018. She wore a black blazer that contrasts her blonde hair styled with feathered layers.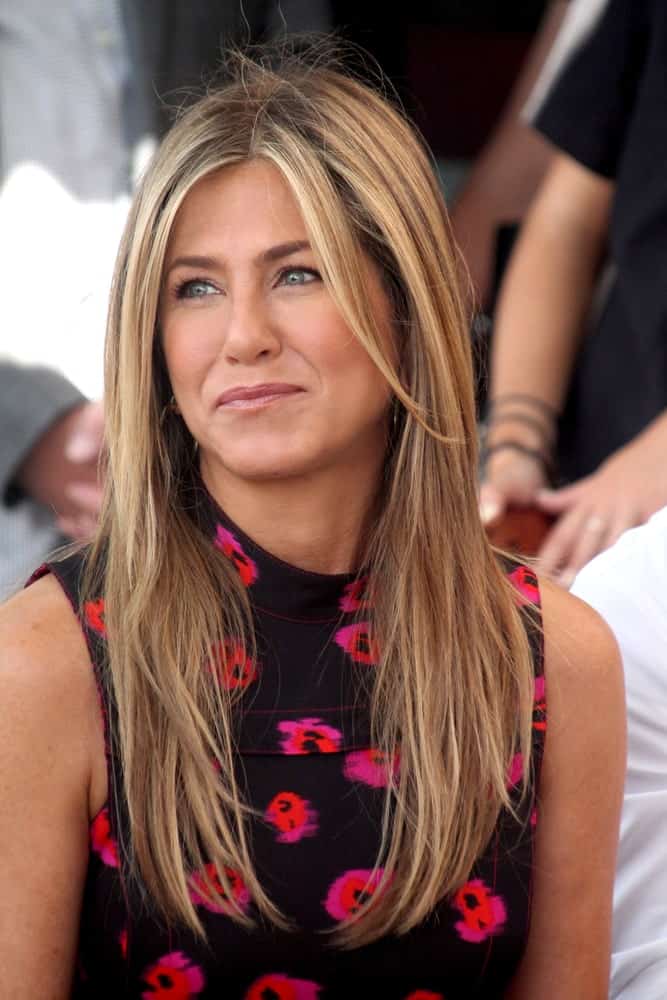 Jeniffer Aniston made an appearance at the Jason Bateman Hollywood Walk of Fame Star Ceremony at the Walk of Fame on July 26, 2017. She wore a gorgeous floral dress that perfectly goes with her long blonde tresses.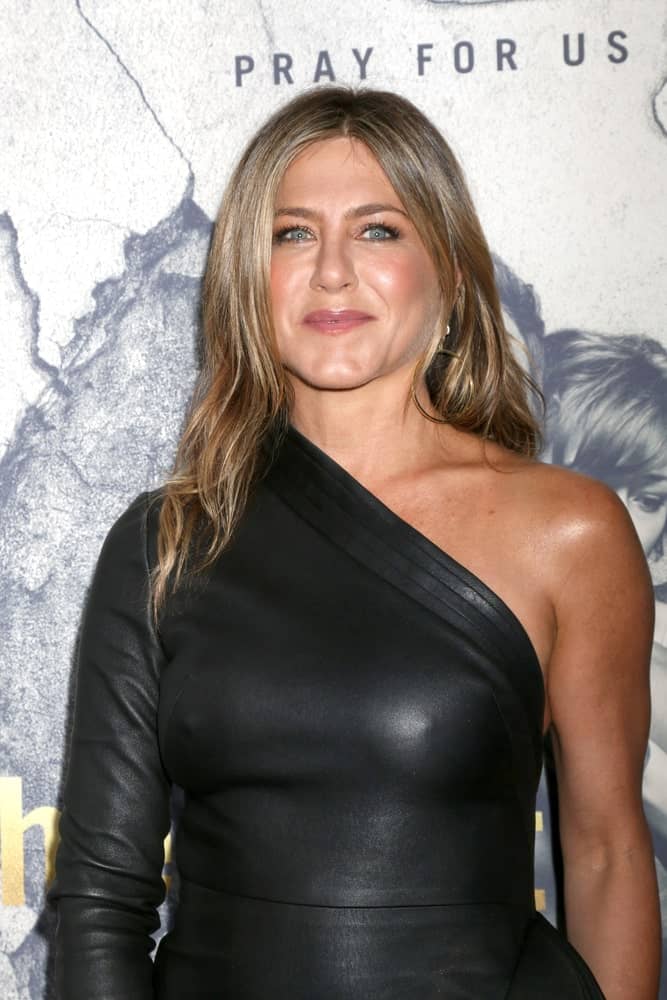 Jennifer Aniston wore a one-shoulder leather dress along with her medium-length waves in blonde at the Premiere Of HBO's "The Leftovers" Season 3 held on April 4, 2017.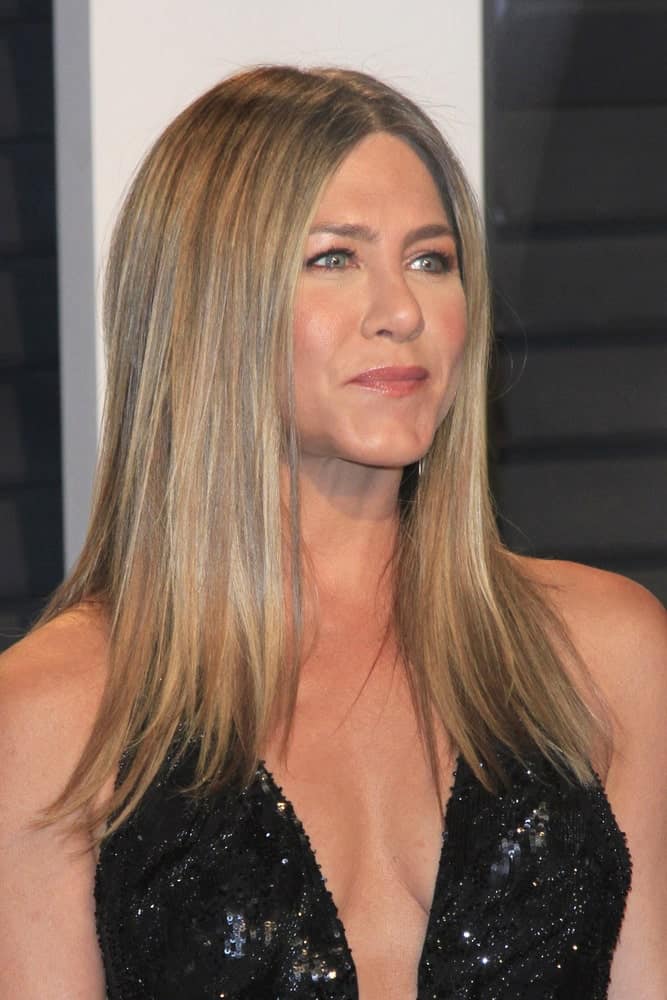 The actress exhibited a sleek look with her medium-length straight hair paired with a black sequined dress. This look was worn at the 2017 Vanity Fair Oscar Party at the Wallis Annenberg Center on February 26, 2017.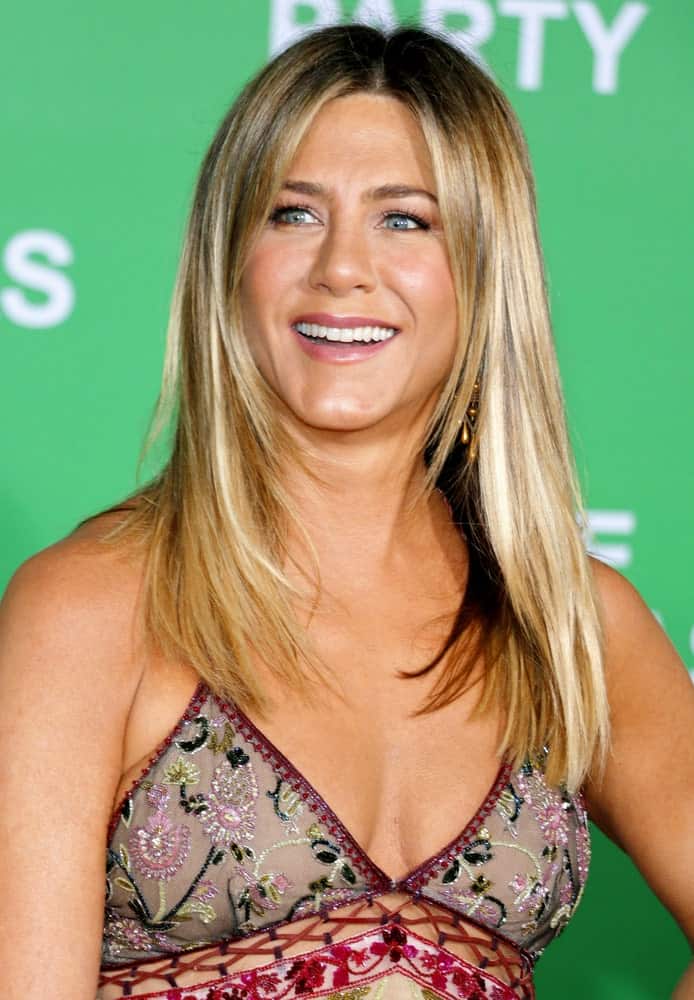 Looking all gorgeous and carefree, the actress showcased her loose layered hair paired with a pretty floral dress. This look was worn at the  Los Angeles premiere of 'Office Christmas Party' held on December 7, 2016.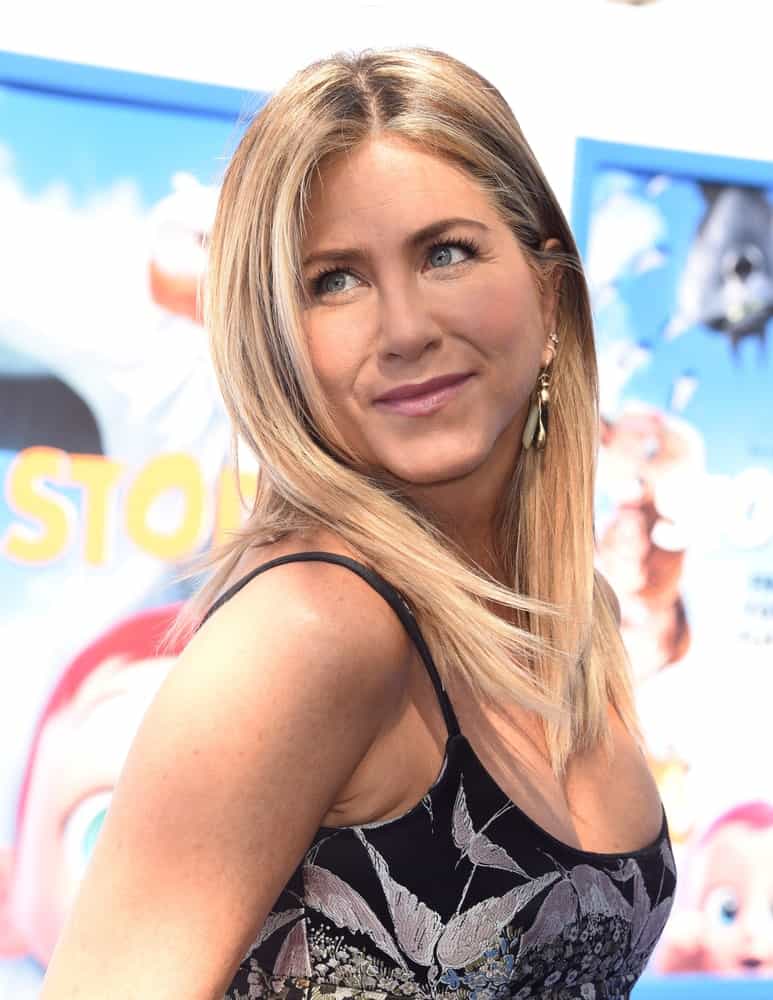 Jennifer Aniston is oozing with a charm featuring her straight blonde hair at the "Storks" World Premiere on September 17, 2016, in Westwood, CA.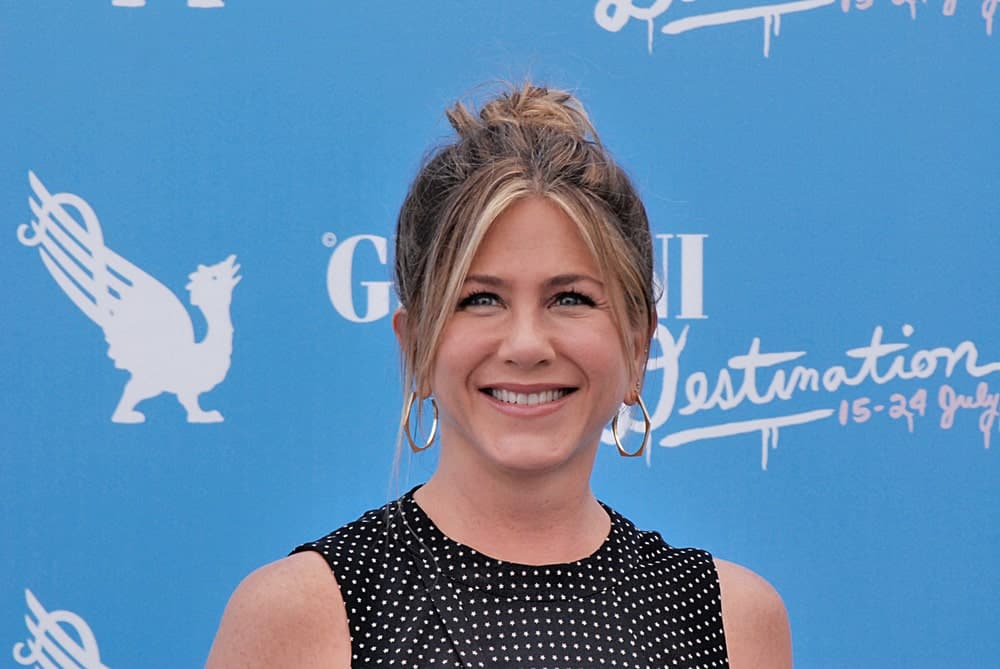 Jennifer Aniston showcased a messy bun hairstyle with curtain bangs at Giffoni Film Festival 2016 held on July 23rd. Gold hoop earrings and a black dotted dress completed the gorgeous look.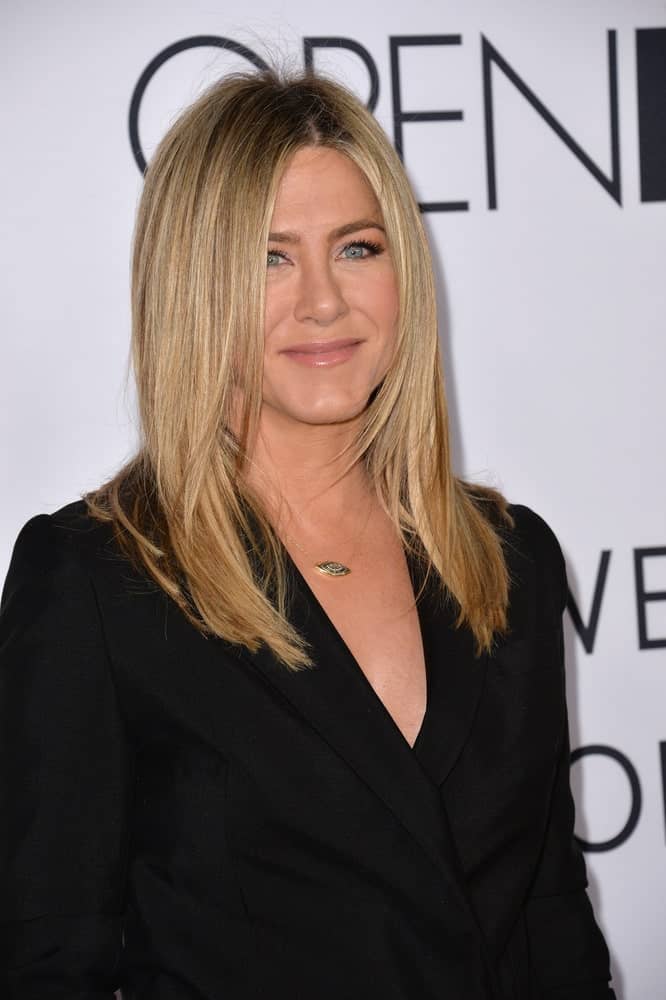 Jennifer Aniston looking fabulous with her loose straight blonde hair at the world premiere of "Mother's Day" 2016. A natural style that matches her simple black dress.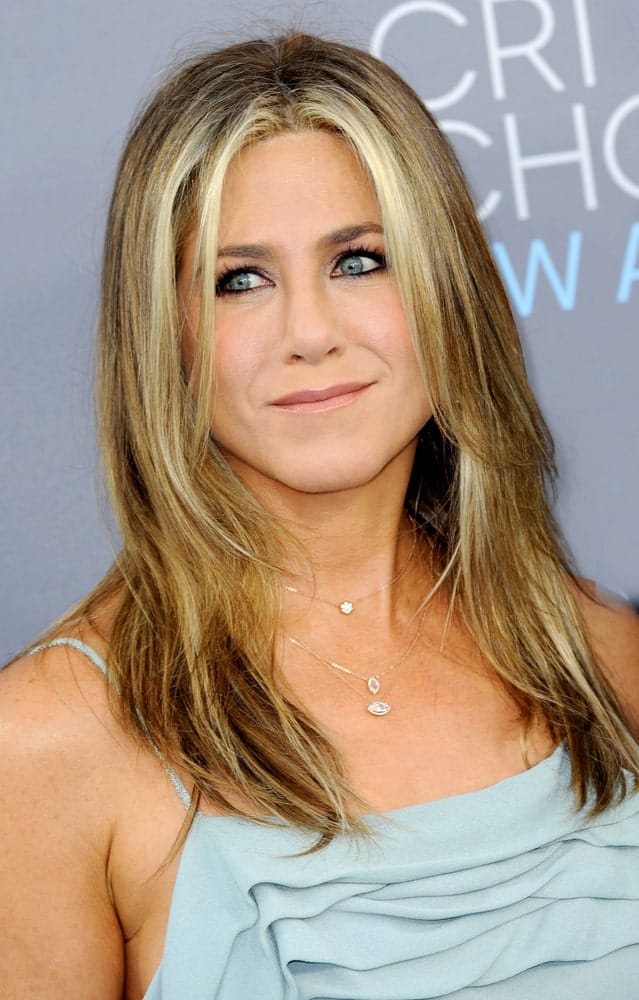 The actress exhibited her tousled blonde hair with light highlights at the 21st Annual Critics' Choice Awards 2016 on January 17th. A style that has always been her favorite, simple yet very chic.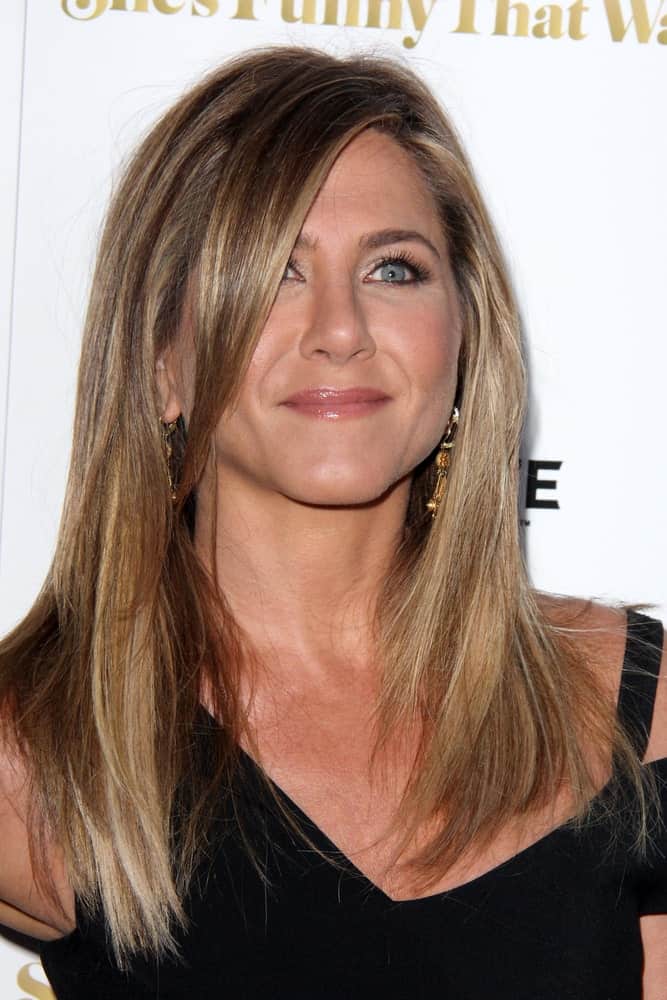 The actress flaunting her blonde side-parted hair incorporated with long side bangs that almost covered the side part of her face. This was taken at the "She's Funny That Way" Red Carpet Premiere 2015 held last August 19th.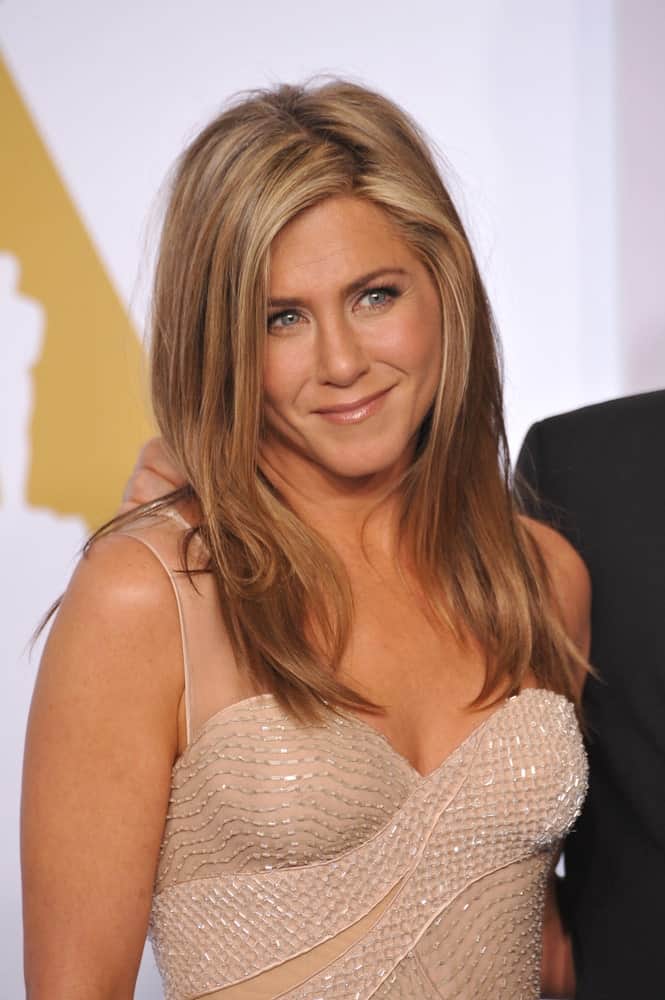 Jennifer Aniston with a loose highlighted hairstyle at the 87th Annual Academy Awards 2015 held on February 22nd. She looks very classy yet carefree featuring her natural-looking hair parted from the side.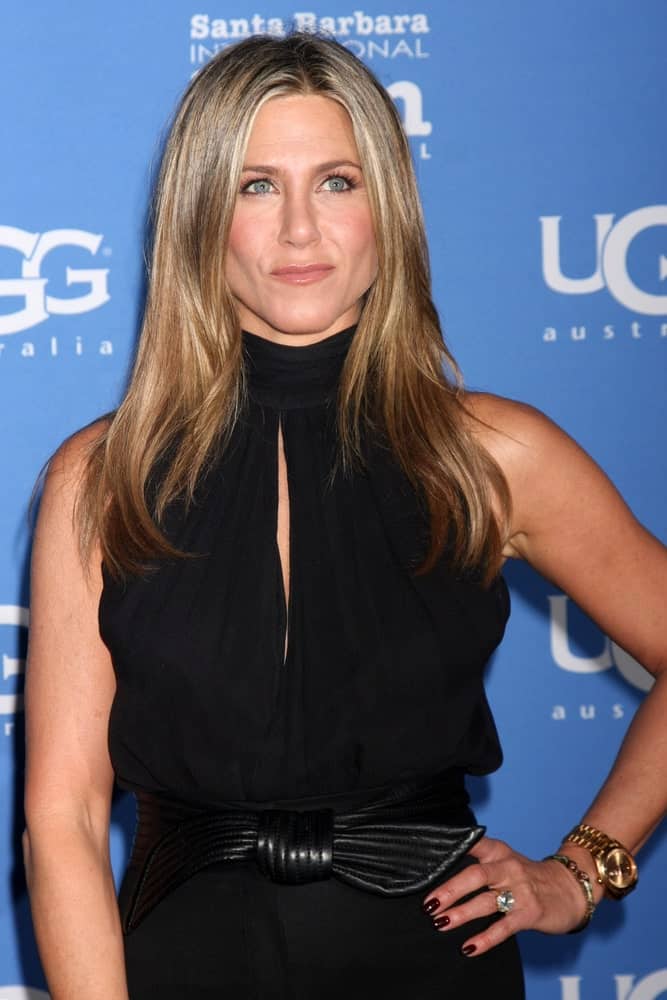 Jennifer Aniston with long blonde straight hairstyle at the Santa Barbara International Film Festival – Montecito Award 2015 held on January 30th. She looks very classy with her natural-looking style, perfect for her black dress.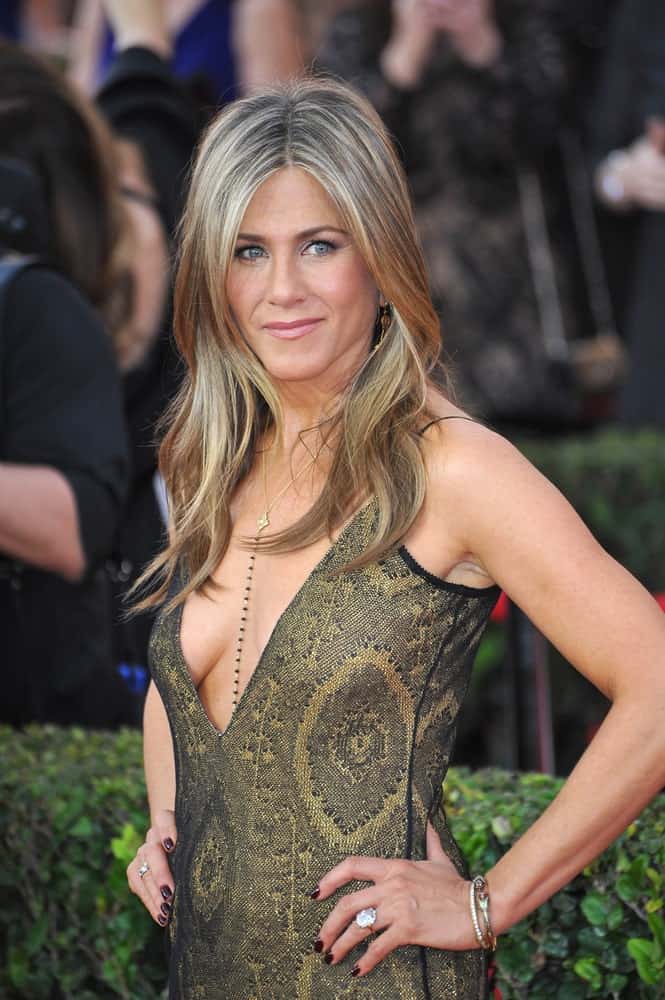 The actress flaunted her blonde highlighted waves with middle parting at the 2015 Screen Actors Guild Awards on January 25, 2015. She paired it with a deep V neck printed dress completing the sultry look.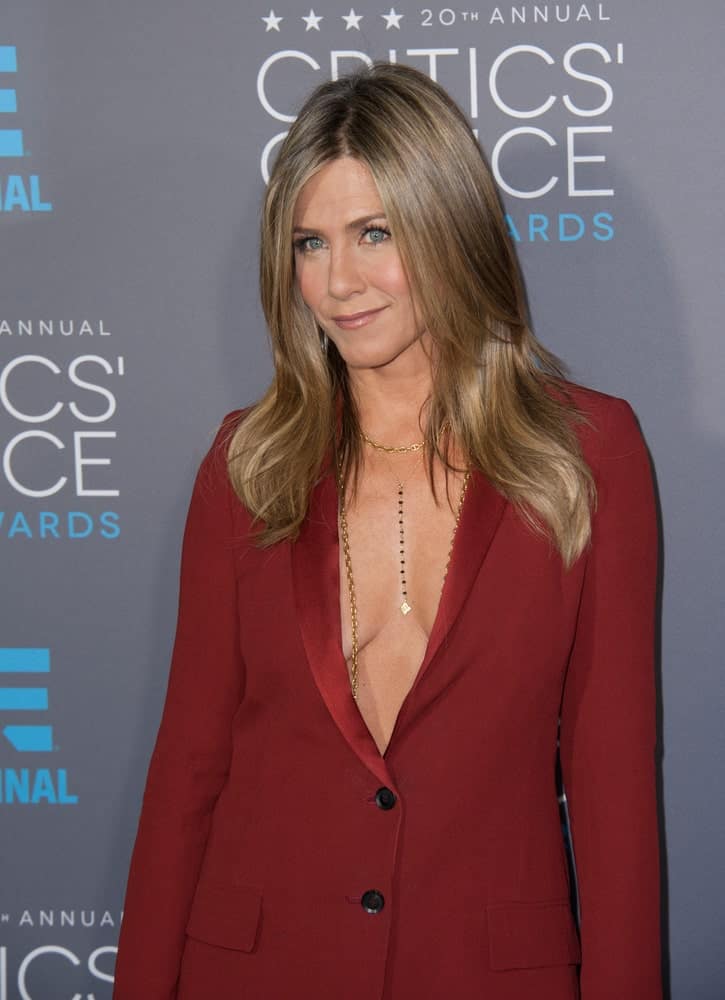 Jennifer Aniston looked sleek and sharp in a red suit along with her blonde highlighted hair styled with subtle waves. This was taken at the 20th Annual Critics' Choice Movie Awards last January 15, 2015.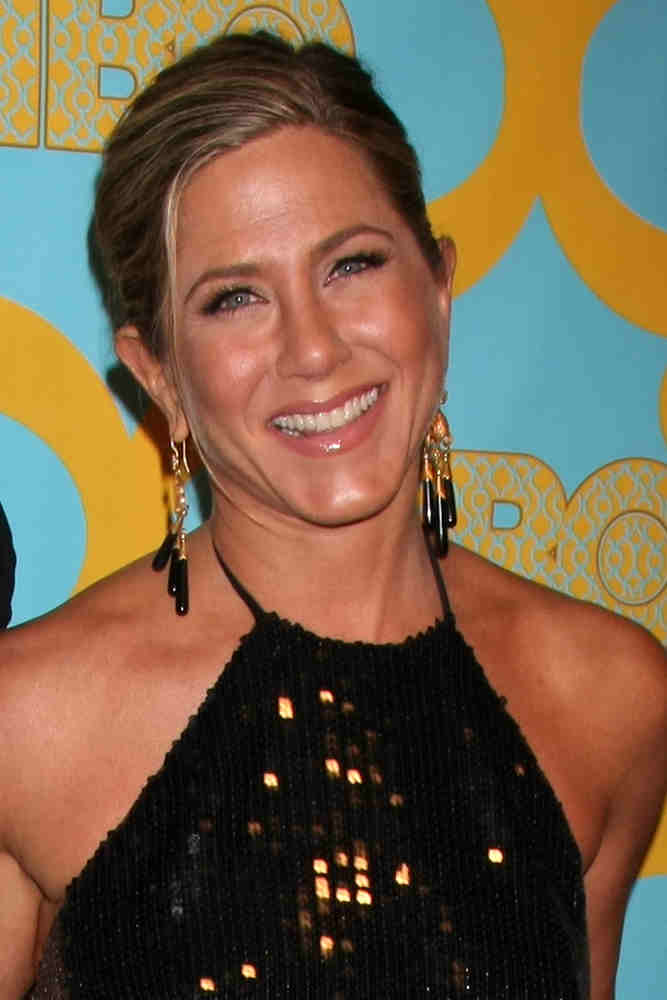 Jennifer Aniston wore a neat upstyle hairstyle that accentuated her sharp facial features at the HBO Post Golden Globe Party on January 11, 2015. It was complemented with dangling earrings and a sequined halter dress.
Jennifer Aniston's blonde locks were arranged into a sleek ponytail with long side bangs at the Los Angeles premiere of her movie "Horrible Bosses 2" on November 20, 2014. She finished the look with gold dangling earrings and a white bodice dress inlaid with floral embellishments.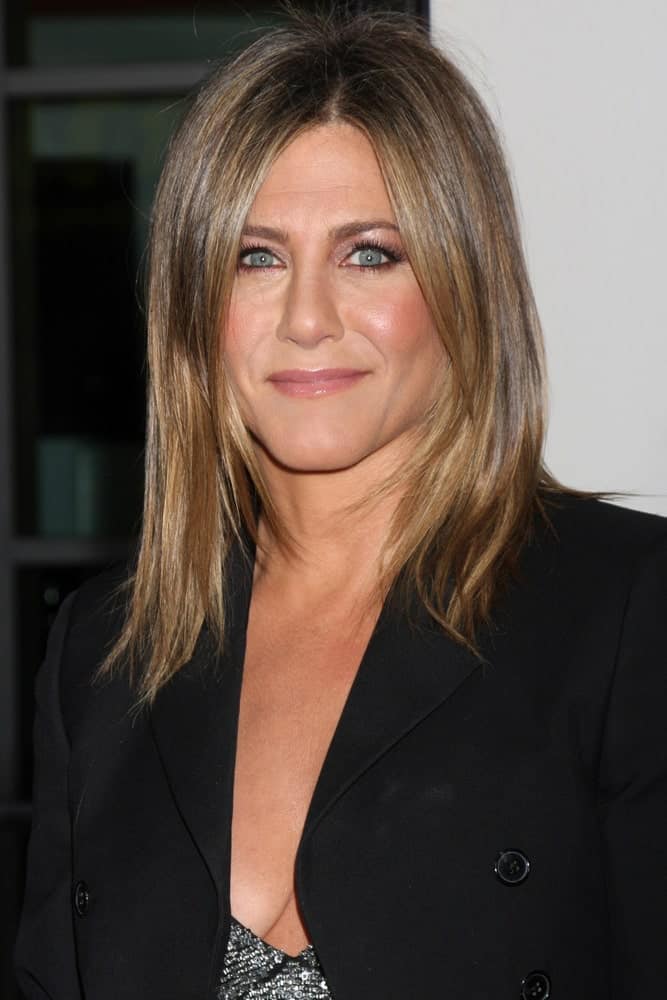 On August 27, 2014, Jeniffer Aniston attended the "Life of Crime" LA Premiere at ArcLight Hollywood Theaters with her shoulder-length blonde hair tousled and highlighted.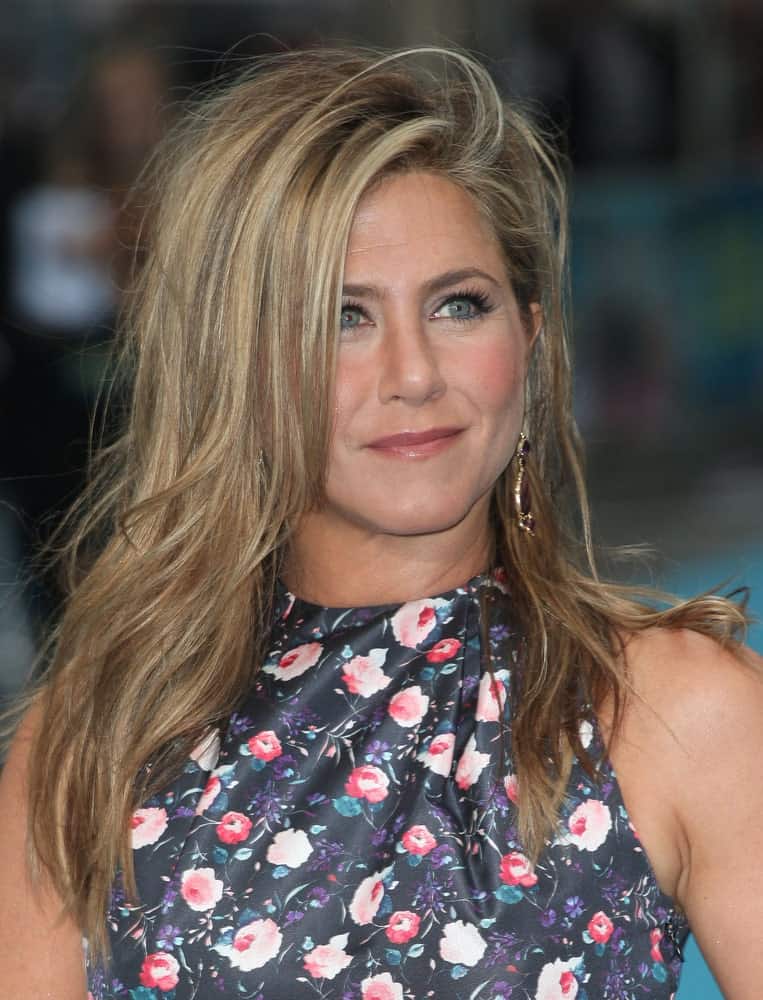 The actress stands out at the 'We're The Millers' European Premiere last August 14, 2013, with a tousled side-swept hairstyle complementing her floral halter dress.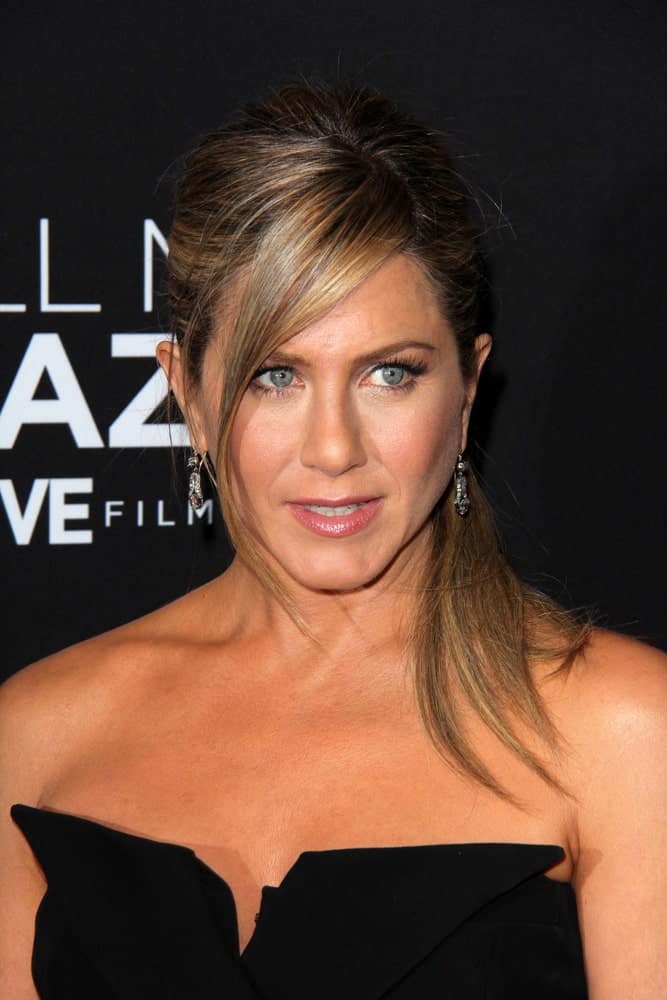 Jennifer Aniston went with a classic ponytail incorporated with long side bangs at the "Call Me Crazy: A Five Film" Premiere at the Pacific Design Center on April 16, 2013.
Iconic… that's the word
I'll end with a photo of her Hollywood Walk-of-Fame star which she deservedly received in 2012.