Her beautiful smile has stolen millions of hearts. Julia Roberts is a beautiful and very talented actress of Hollywood. She is pretty and stylish. Like the other actresses of Hollywood, she has also undergone a lot of hair transformations, mostly due to the roles she played. But her signature style was those curly long voluminous hair. She got rid of her curls and change to the wavy layered hair parted in the middle. The beautiful golden hair completed matched her complexion.
In the early years of her career, she had to cut her hair short due to the roles she played. She had layered bob cut with blunt bangs in front. This was the movie 'I Love Trouble'. She also had a curly bob with longer hair in front placed neatly on one side for the movie 'Hook'. She looked ravishing at the premiere of 'Something to Talk About' with her red mid-length layered hair with bangs in front. She changed to a be-banged bob for his role in 'Stepmom'.
For the People's Choice Awards in 1998, she went for the 60's style with a voluminous updo. She looks awesome in a chignon. It just accentuates her features. She went for the sleek hairstyle as well. We have seen her shorten her hair to the neck-length and making it straight.
She simply pulled some of the hair and pinned to towards the back behind her ears so that no hair came up to her face. This gave us a good view of her pretty face. The half updo on straight or curly hair makes her look very sexy. Though she has tried lots of different hairstyles, most people like her ringlets.
In 1990, the movie 'Pretty Women' brought her fame. The movie was extremely successful and there was no looking back for her after this film. Most of her films have been very successful commercially and her performances in the films have been praised by the audiences and critics.
In the '90s she was the highest-paid actress. She appeared in a number of TV serials briefly, like 'Friends' and 'Law & Order'. She has given us some outstanding films that people love watching again and again. Some of her most noted films include My Best Friend's Wedding, Notting Hill, Erin Brockovich, Runaway Bride, The Pelican Brief, Step Mom, Duplicity, etc.
She has won countless awards for her excellent performances. She won multiple awards for 'Erin Brockovich' including the Academy Award, British Academy Film Award, Critics' Choice Movie Awards, Golden Globe Awards, and more. She also received various awards for Step Mom, My Best Friend's Wedding, Pretty Women, Steel Magnolias, etc.
She has been named as the most beautiful woman in the world by People's magazine five times. She is involved with UNICEF and other charitable organizations. She is one of the greatest actresses of all time.
Here are Julia Roberts's hairstyles over the years.
Photos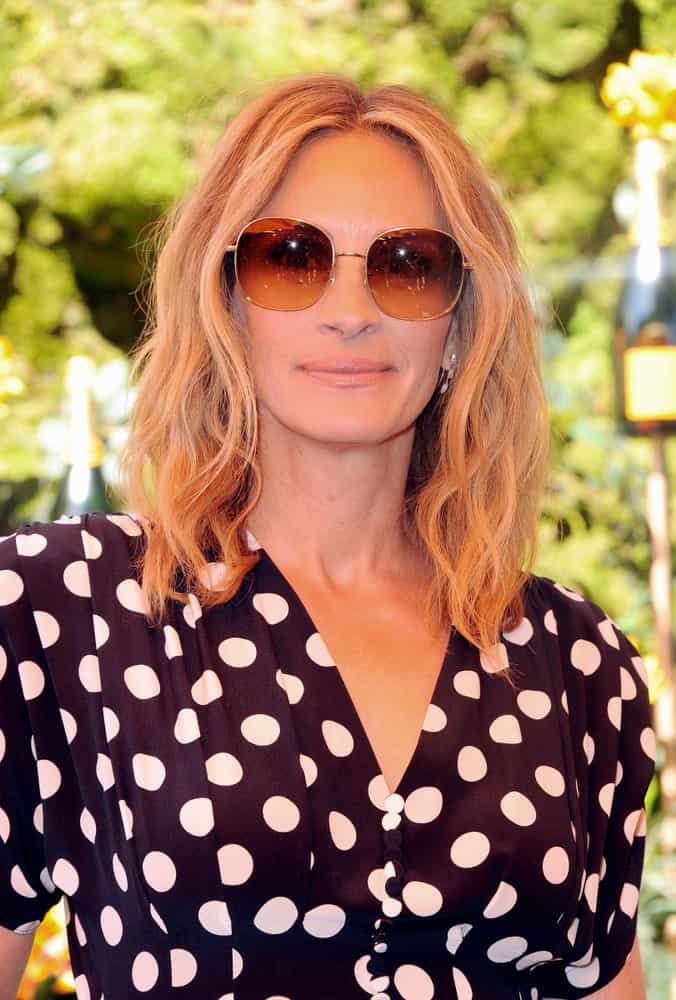 Julia Roberts wore a black dotted dress and brown shades along with center-parted blonde waves at the 10th Annual Veuve Clicquot Polo Classic held on October 5, 2019.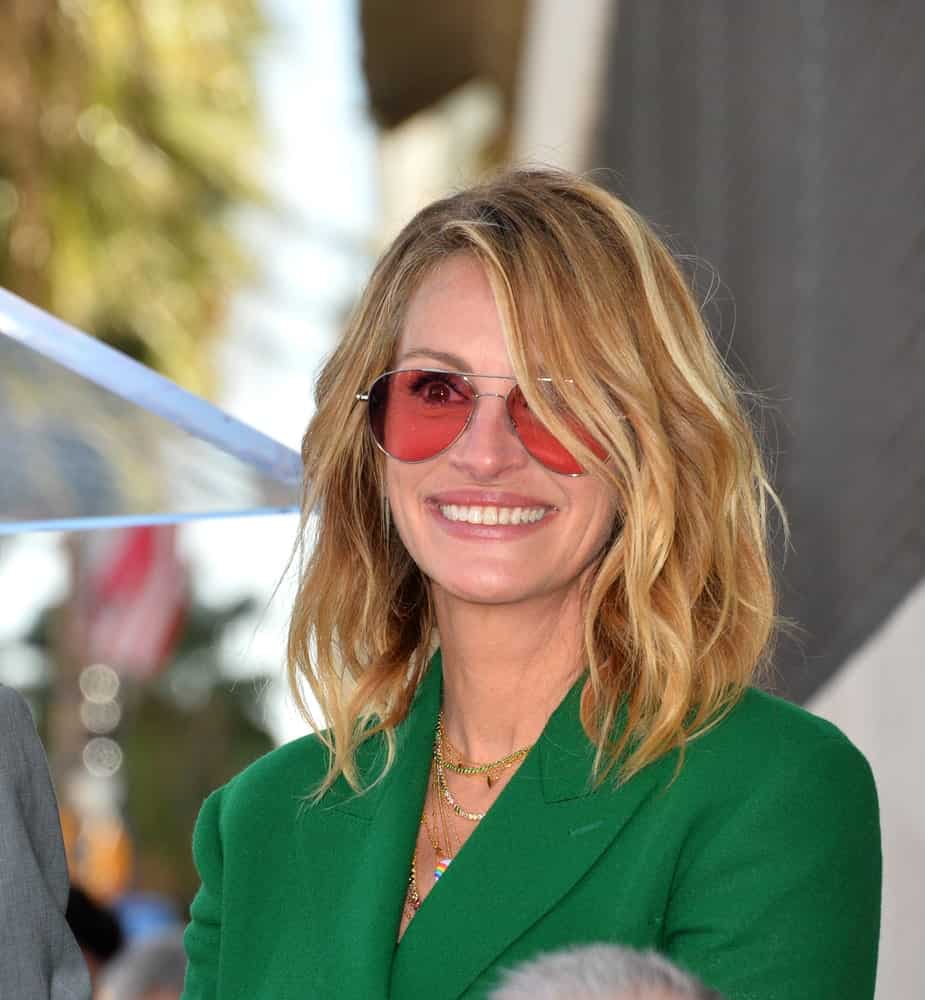 The actress looked sharp in a green suit incorporated with red shades and her highlighted beach waves during the Hollywood Walk of Fame Star Ceremony honoring actress Rita Wilson on March 29, 2019.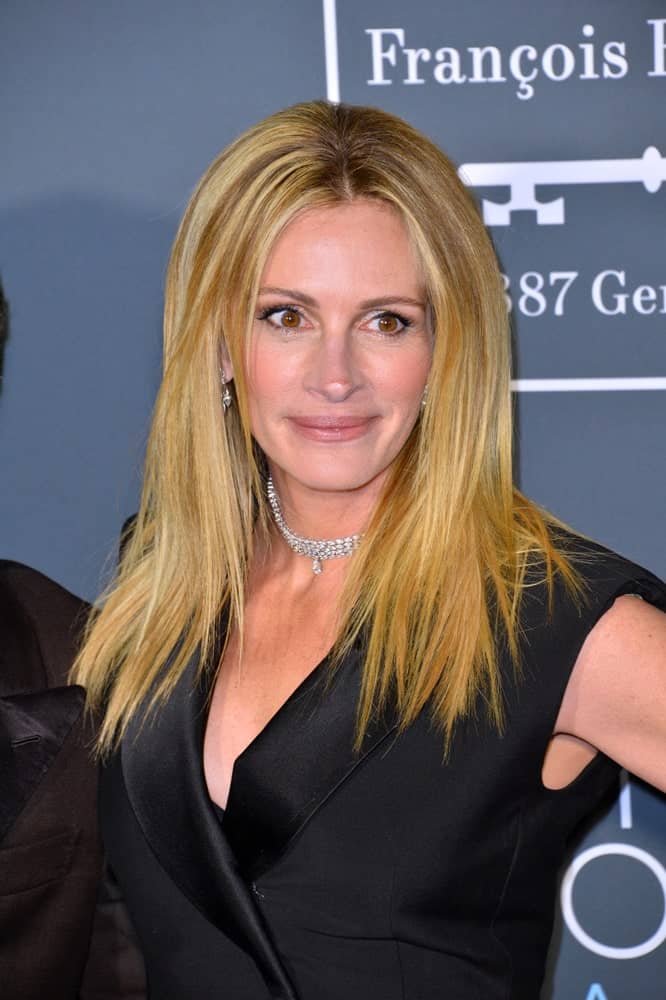 The Hollywood star attended the 24th Annual Critics' Choice Awards in Santa Monica on January 13, 2019, with a straight golden blonde hair beautifully contrasted with her black silk dress.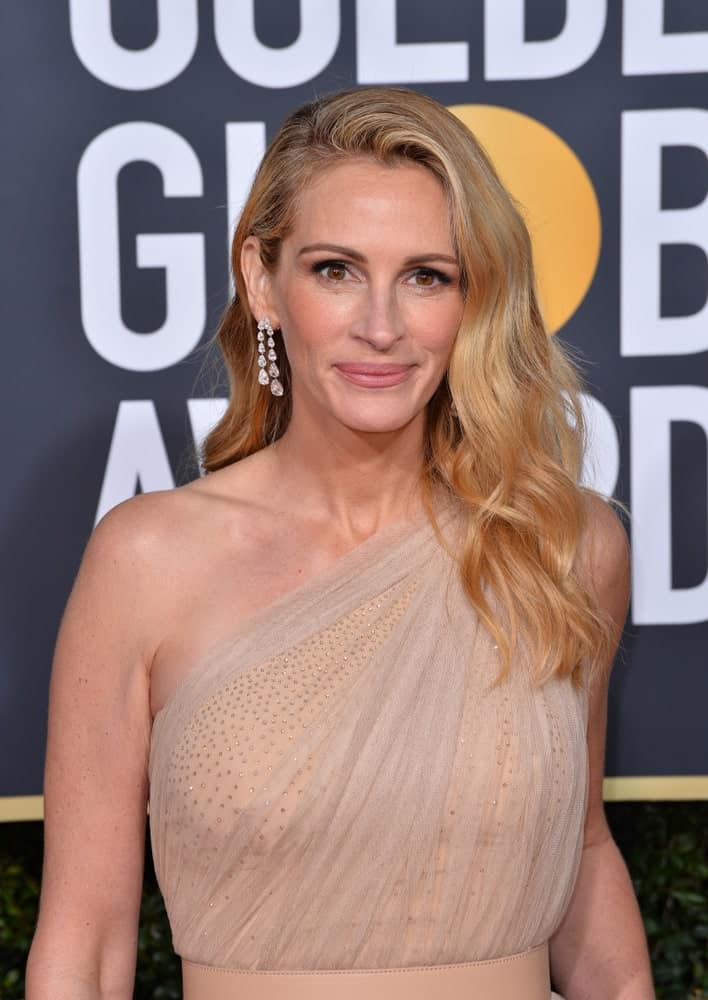 Julia Roberts was a goddess at the 2019 Golden Globe Awards at the Beverly Hilton Hotel on January 6th showcasing his side-parted tresses with some highlights and waves.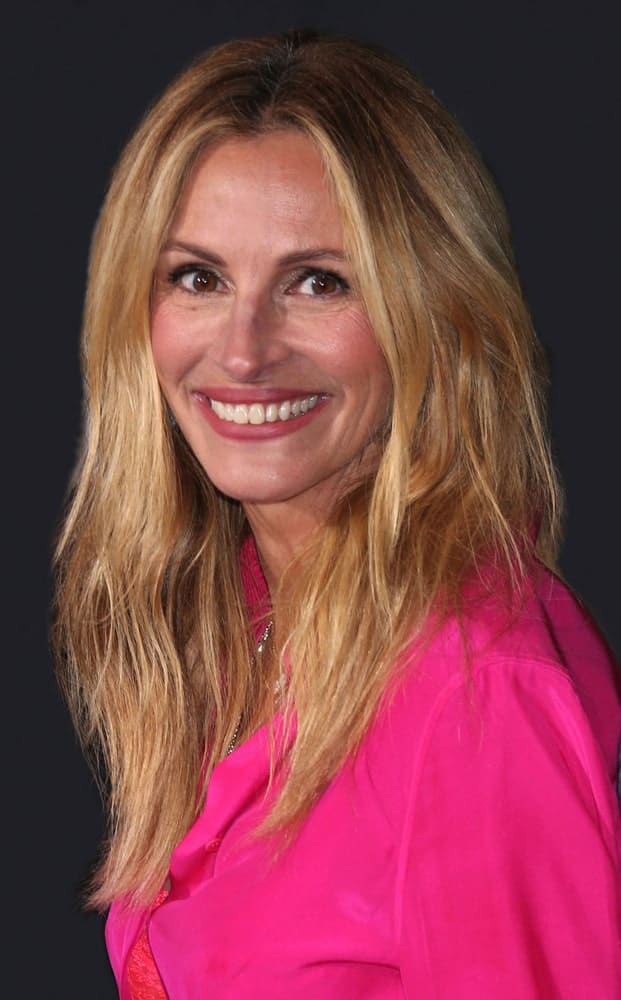 The female celeb arrived at the "Homecoming" Premiere Screening at the Village Theater on October 24, 2018, with a tousled center-parted hairstyle incorporated with subtle waves.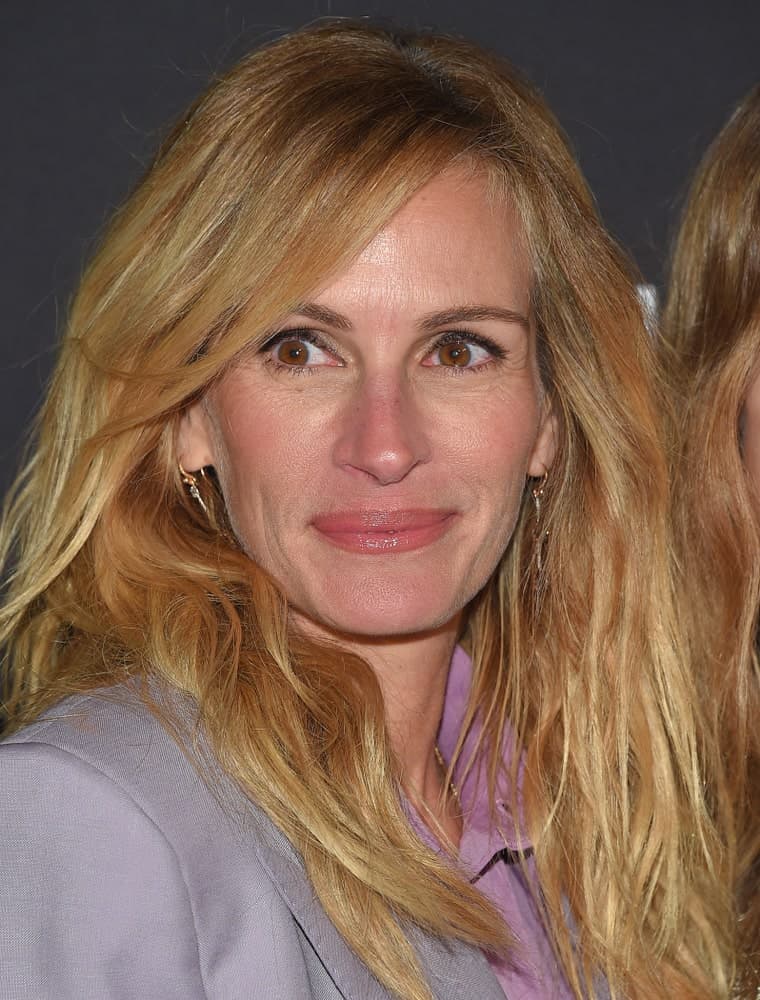 On October 22, 2018, the actress exhibited her voluminous side-swept hairstyle at the 'InStyle Awards' 2018 in Hollywood, CA.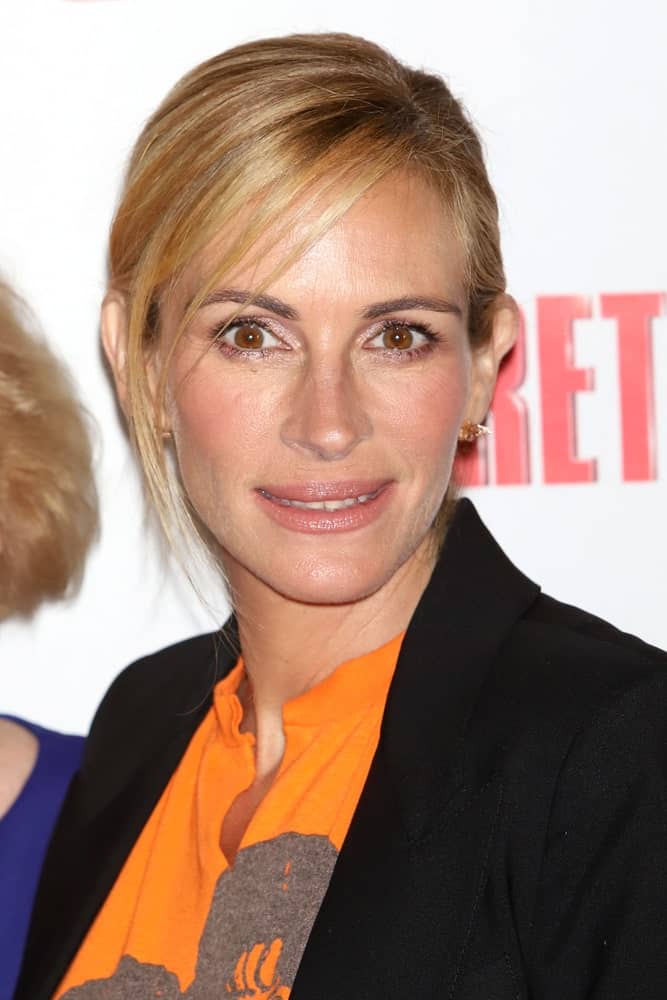 Julis Roberts styled her blonde locks in a side-parted updo with long, thin bangs at the Gary Marshall tribute performance of "Pretty Woman: The Musical" on August 2, 2018.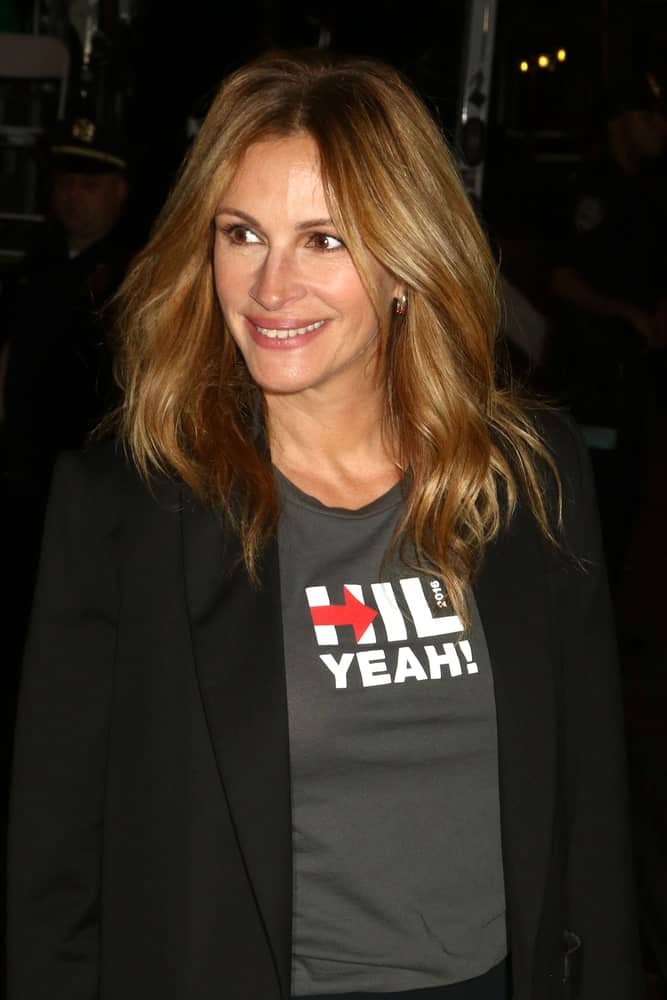 The actress was spotted at the Hillary Clinton benefit event on October 17, 2016, with her medium-length tresses styled in loose, layered waves.
Julia Roberts looked stunning in a black off-shoulder dress along with her chestnut blonde hair arranged in loose, flowing waves. This was taken during the screening of 'Money Monster' at the annual 69th Cannes Film Festival on May 12, 2016.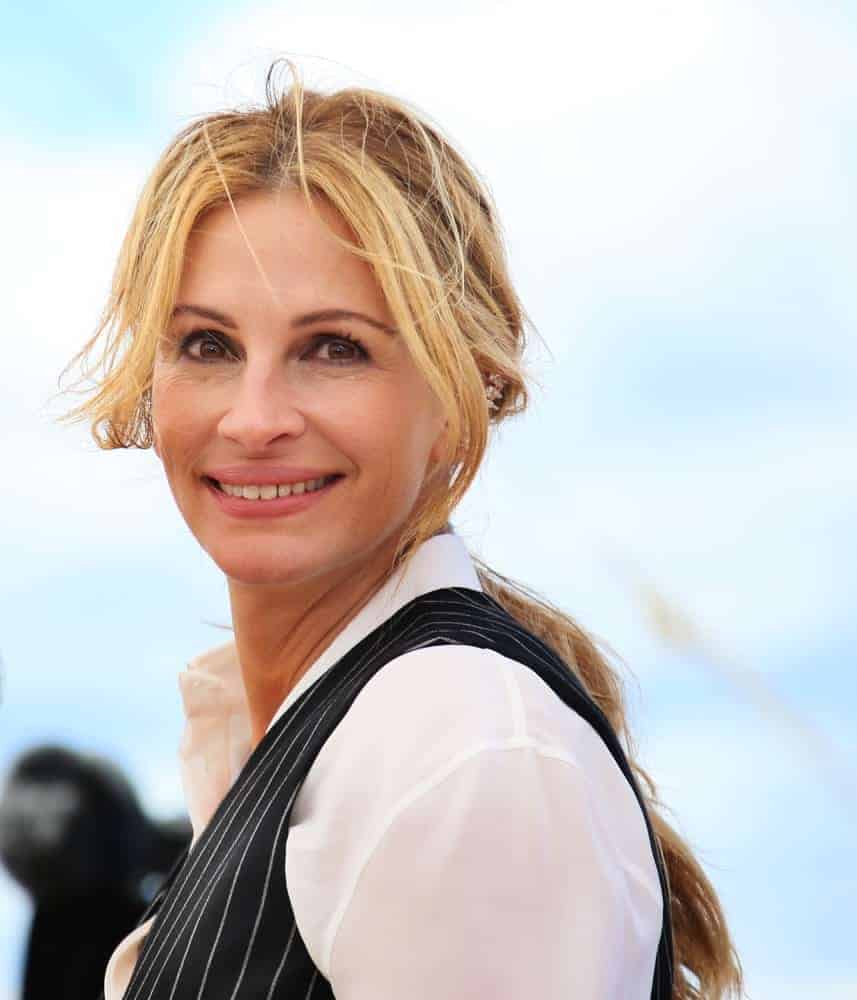 Julia Roberts styled her long, blonde tresses with a messy low ponytail and parted bangs for the 'Money Monster' photocall on May 12, 2016.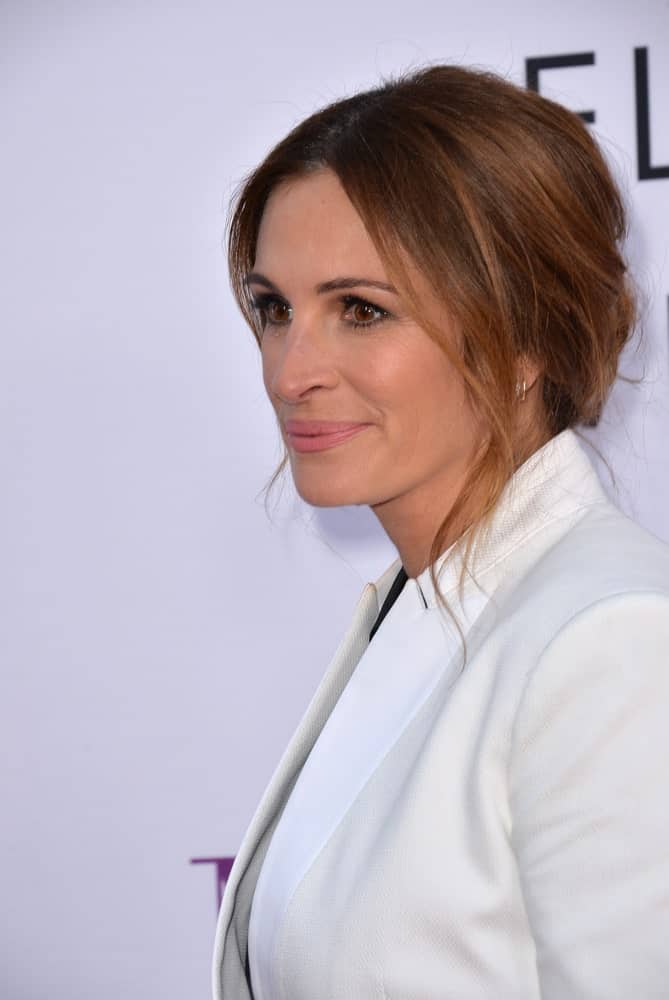 Julia Roberts made an appearance at the world premiere of "Mother's Day" last April 13, 2016, with a messy upstyle incorporated with wavy tendrils.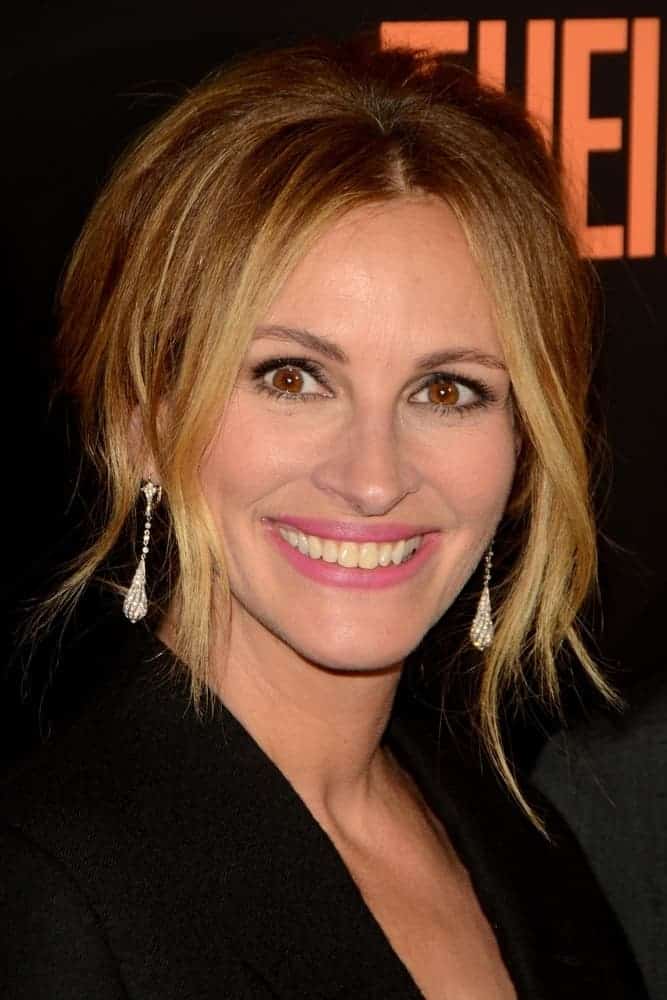 The actress's long tresses were styled into a messy up-do with long center-parted bangs framing her face at the "Secret In Their Eyes" Los Angeles Premiere on November 11, 2015.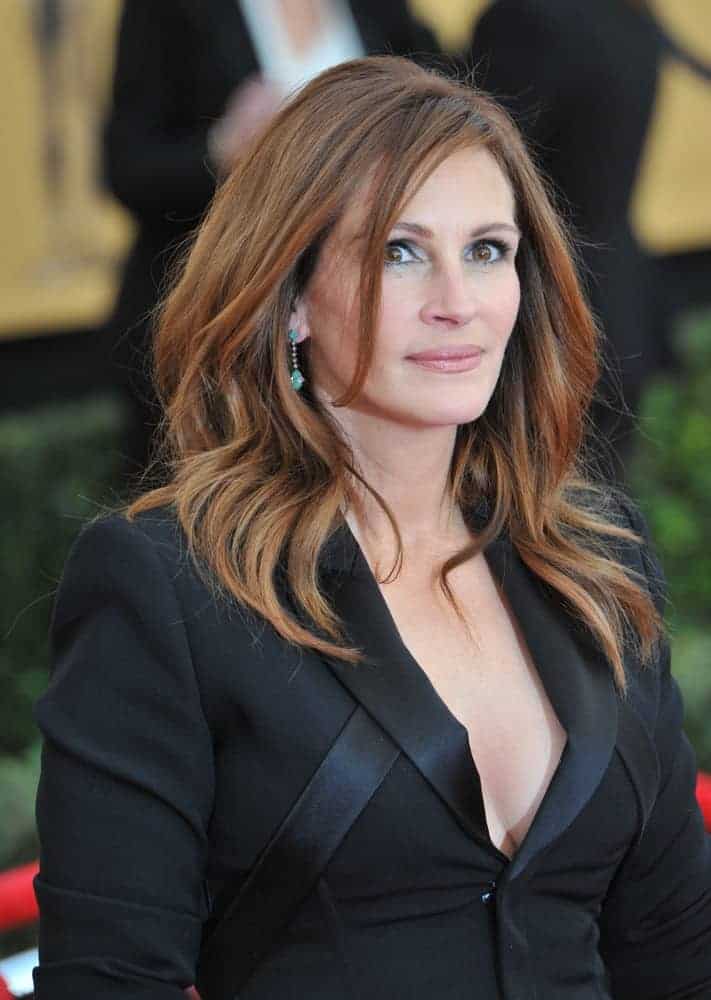 Julia's warm auburn hue and gorgeous tousled locks with side-swept bangs are perfectly matched for the 2015 Screen Actors Guild Awards on January 23, 2015.
The lovely actress opted for super-adorable layers with soft loose waves and curtain bangs at the 10th Annual GLSEN Respect Awards on October 17, 2014.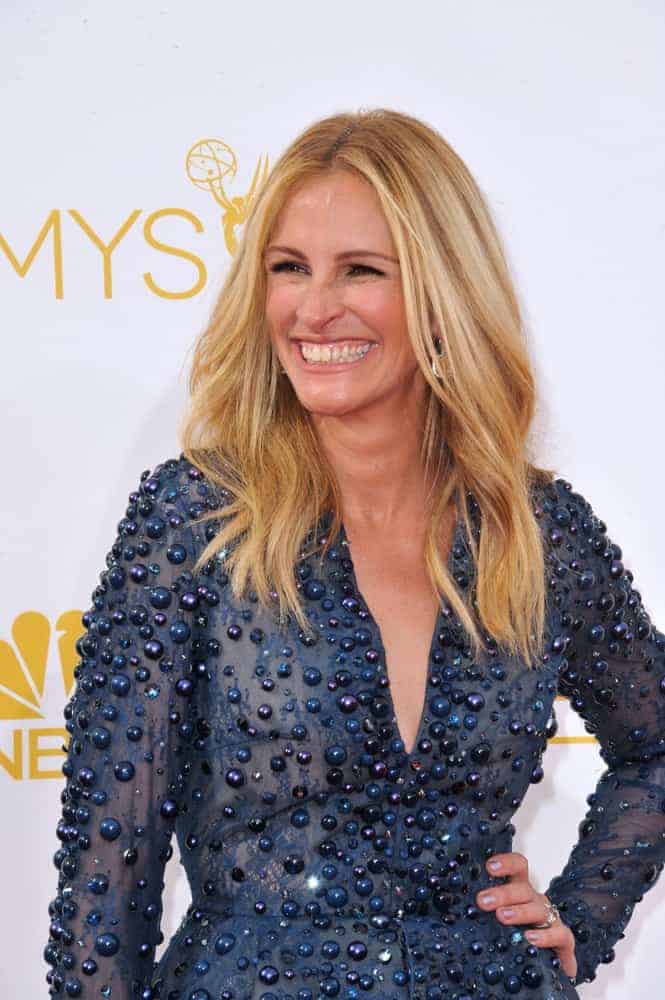 The actress flaunted her effortlessly chic loose blonde medium waves with a center part at the 66th Primetime Emmy Awards on August 25, 2014.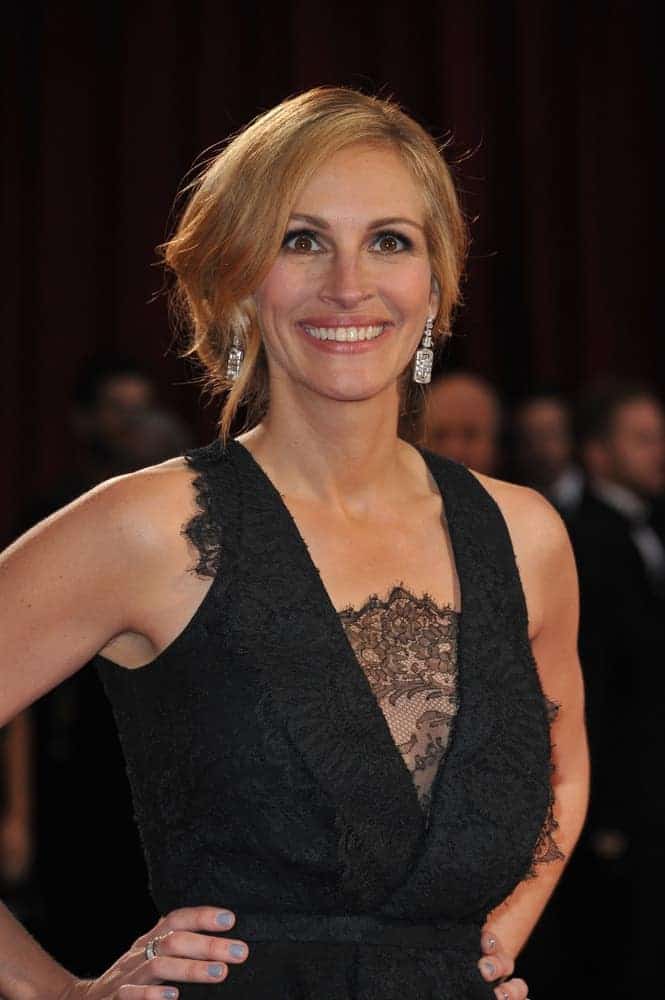 The actress flashed her stunning smile while wearing this classy side-parted low bun at the 86th Annual Academy Awards on March 2, 2014.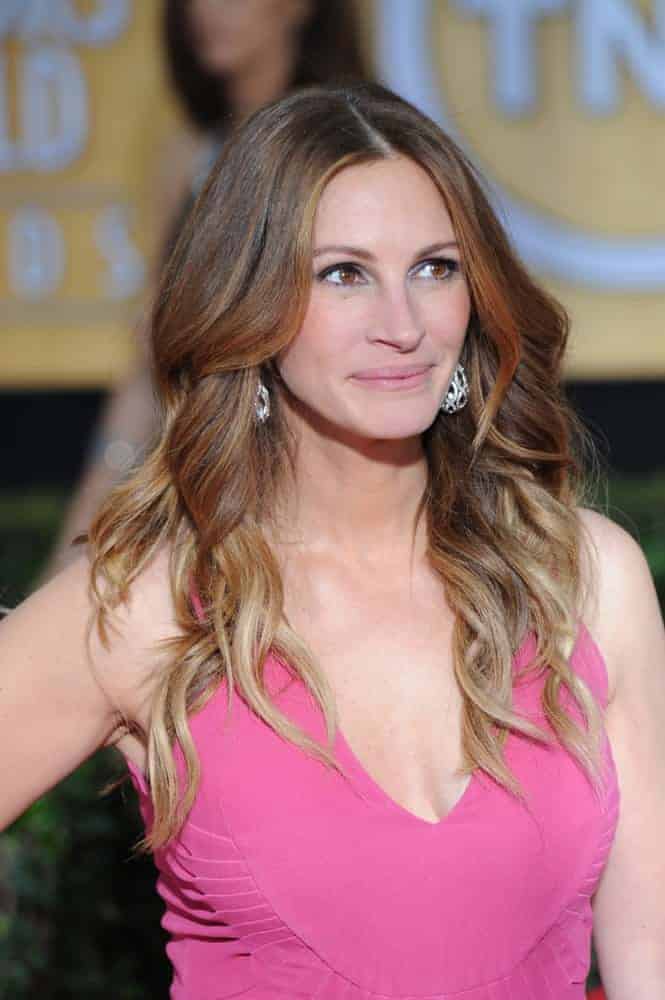 The American star bloomed in soft and feminine loose waves with a middle part at the 20th Annual Screen Actors Guild Awards on January 18, 2014.
Julia with her medium-length layered curls twisting away from her face as she attends the 19th Annual Critics' Choice Awards 0n January 16, 2014.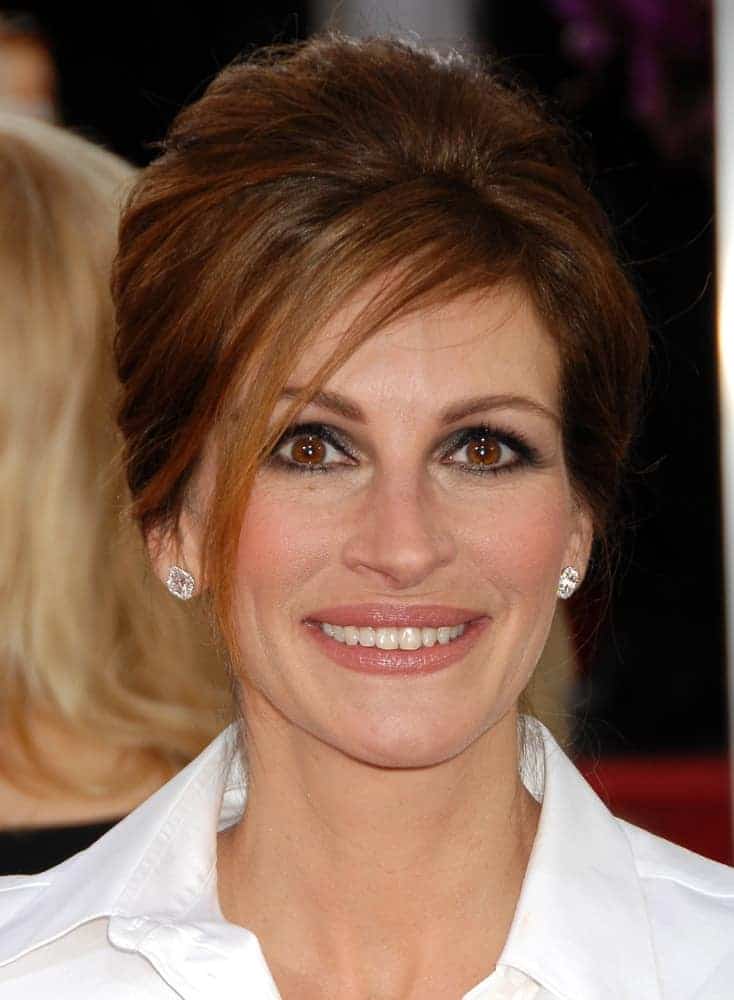 This is a great example of a vintage-inspired updo with side-swept bangs that this lovely celebrity is wearing at the 2014 Golden Globe Awards on January 12, 2014.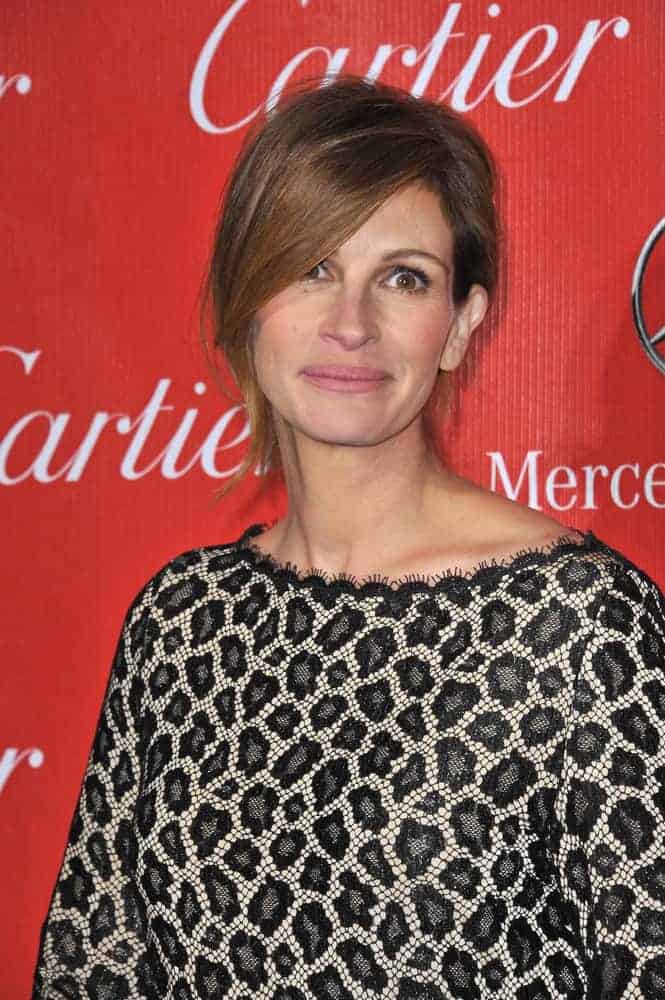 Julia Roberts posed up for the 2014 Palm Springs International Film Festival Awards on January 4, 2014, in a stylish up-do with a sweeping side fringe in front of her face.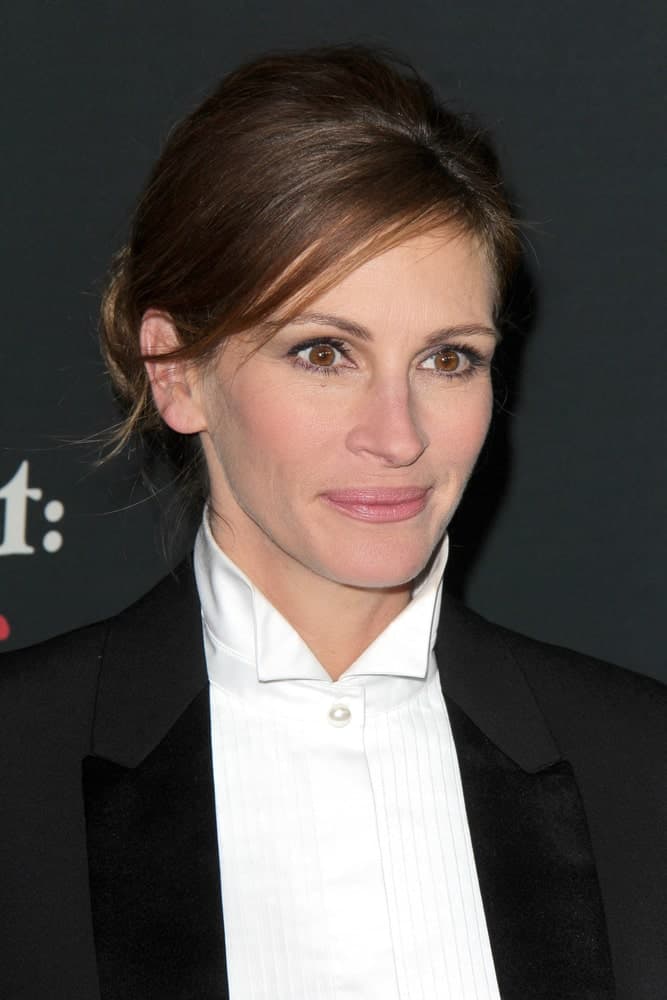 The actress arranged her brunette hair in a decent low bun with side-swept bangs during the "August: Osage County" LA Premiere at Regal 14 Theaters on Dec 16, 2013.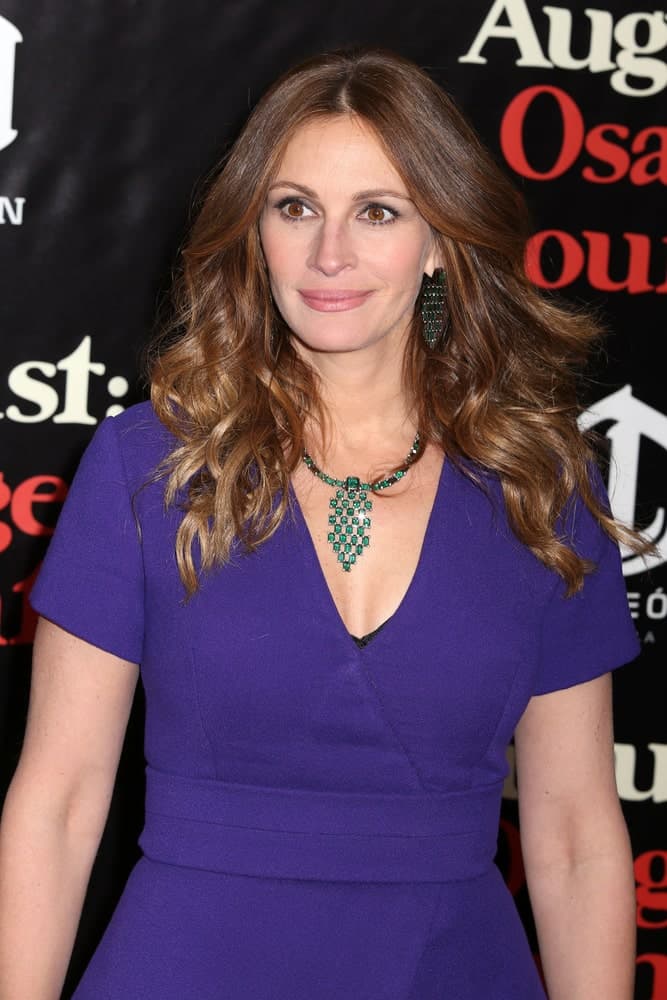 Julia Roberts exhibited a charming aura with her center-parted waves at the premiere of "August: Osage County" at the Ziegfeld Theater on December 12, 2013. She finished the look with a blue V-neck dress along with a matching necklace and earrings.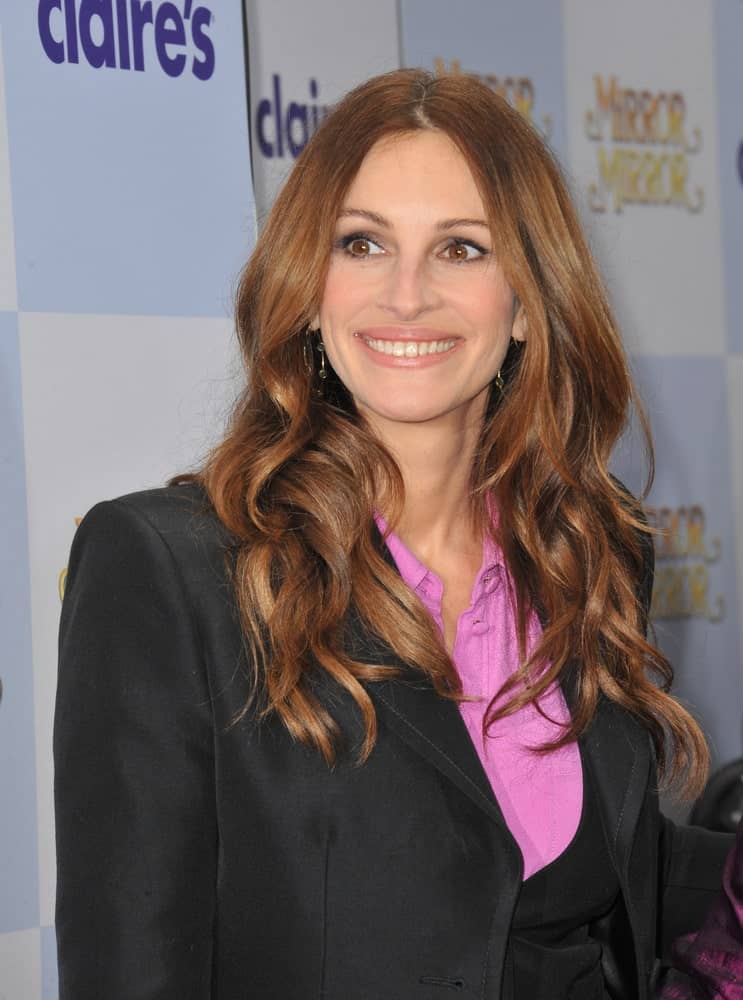 The Hollywood star flaunted her layered wavy locks with middle parting at the world premiere of her new movie "Mirror Mirror" held on March 17, 2012.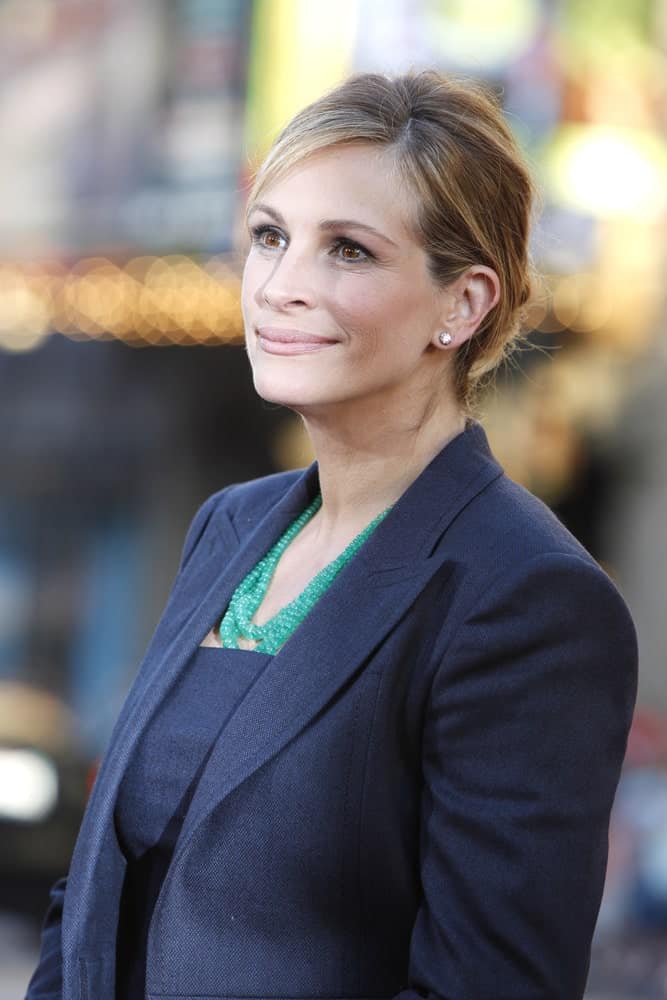 Julia Roberts had a neat side-parted upstyle at the Premiere of Universal Pictures' "Larry Crowne" held on June 27, 2011. It was complemented with a gray suit and a green layered necklace.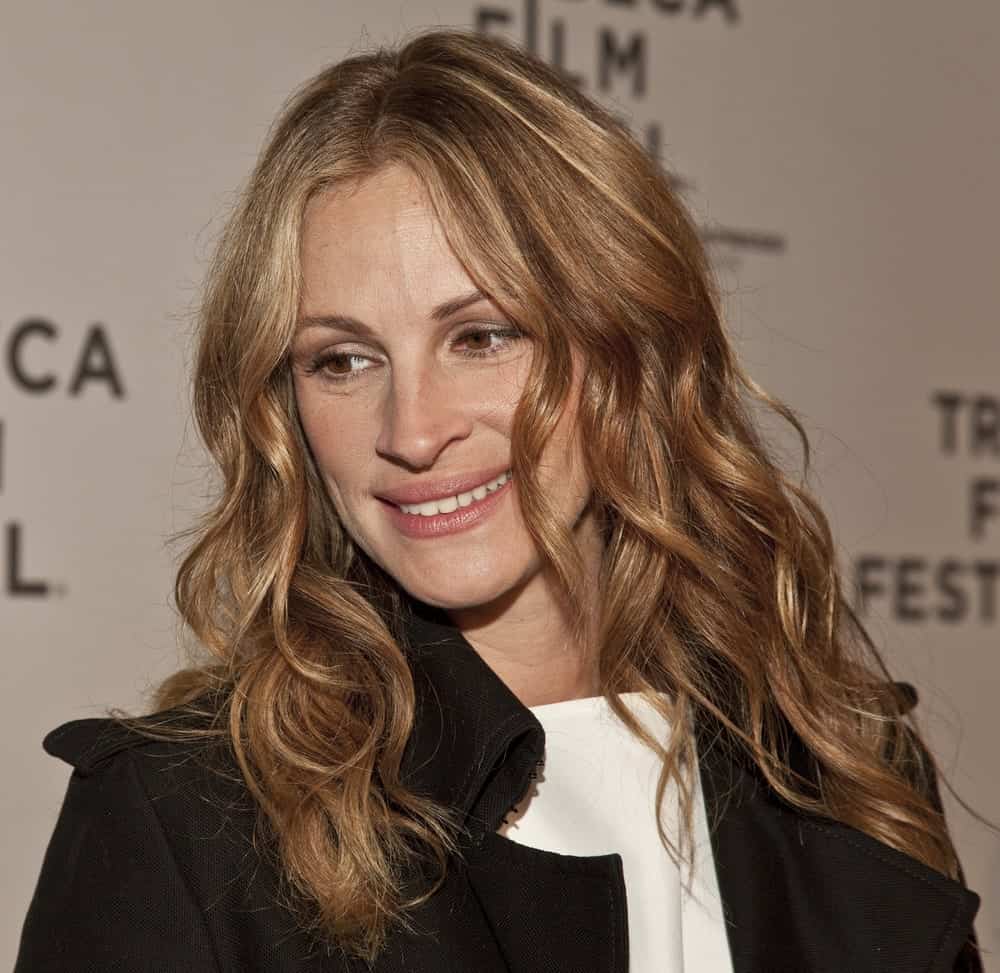 On April 23, 2011, the actress arrived for the premiere of "Jesus Henry Christ" at the 2011 Tribeca Film Festival with soft highlighted curls paired with a black coat.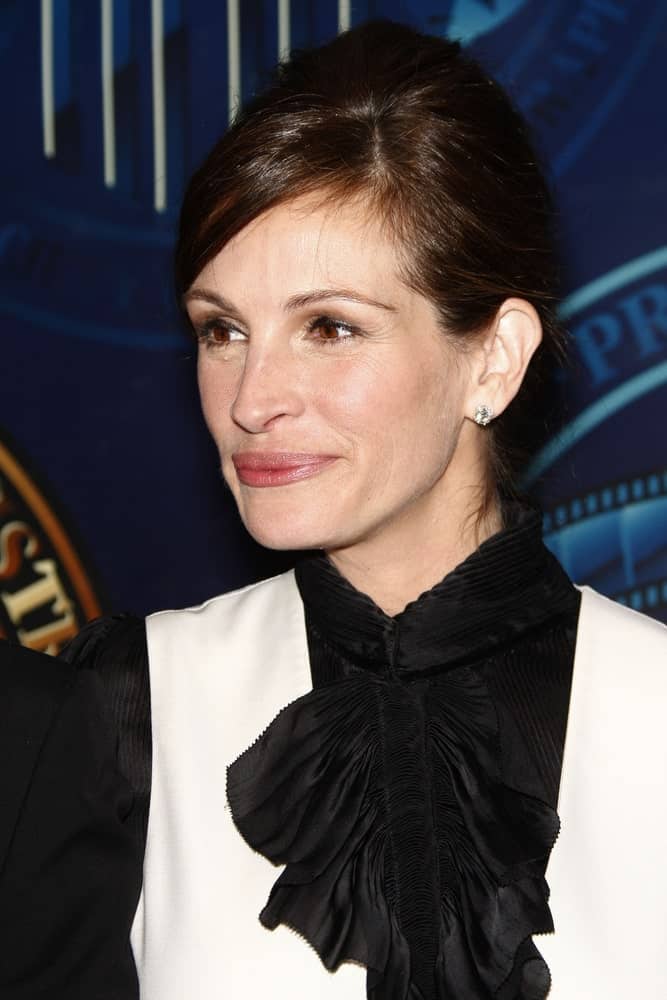 Julia Roberts was seen at the American Society of Cinematographers 25th Annual Outstanding Achievement Awards on February 13, 2011, with a sophisticated upstyle hairstyle.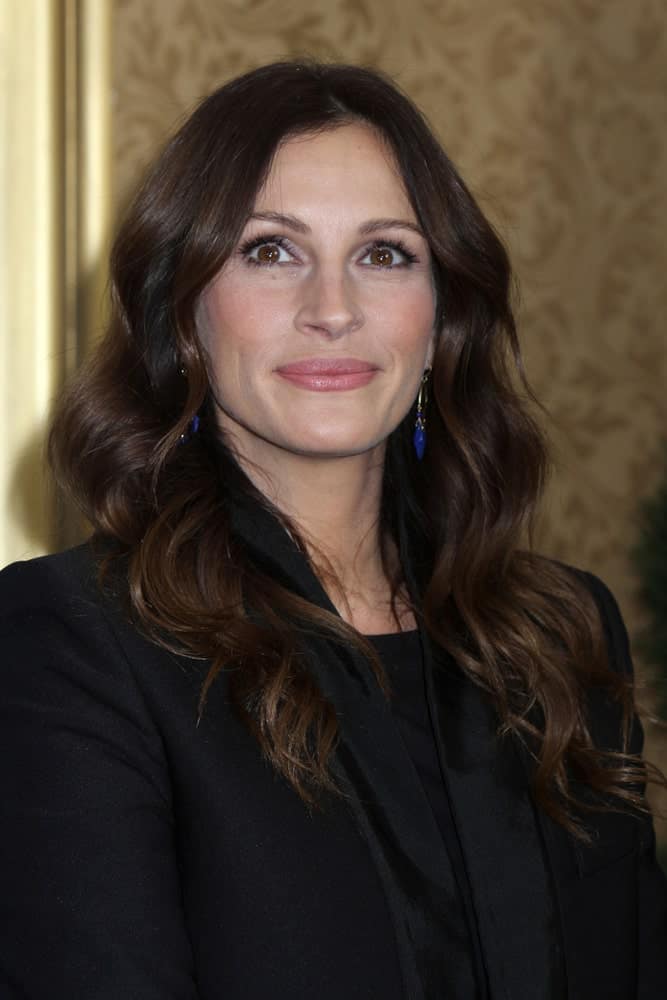 Julia Roberts exhibited her brunette hair that's styled in big curls during the premiere of "Eat Pray Love" at the Ziegfeld Theater on August 10, 2010.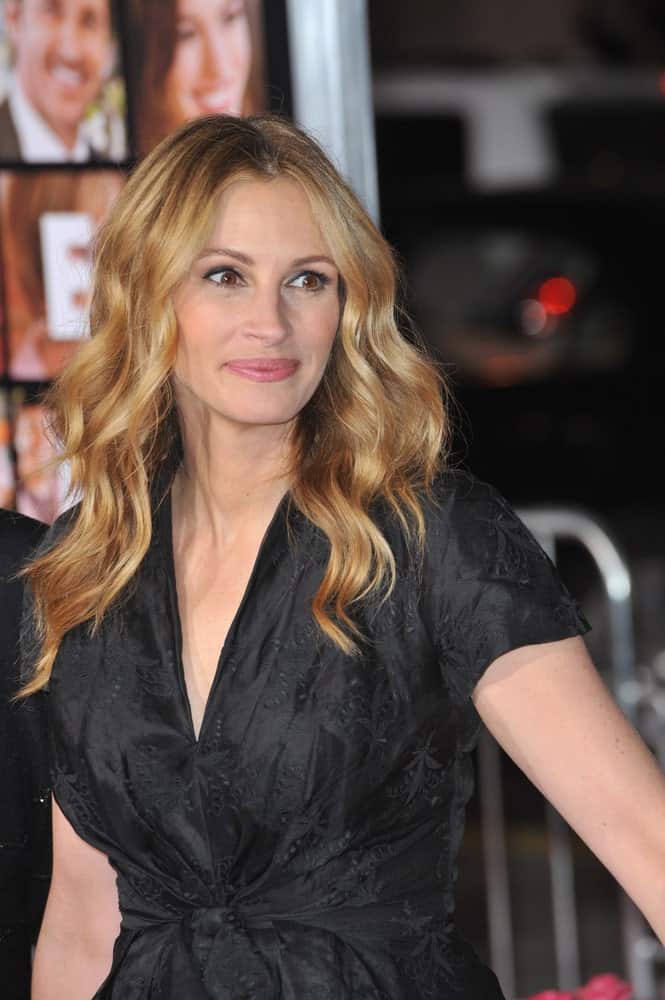 The actress dyed her hair in golden blonde and styled it with voluminous waves during the world premiere of her new movie "Valentine's Day" held on February 8, 2010.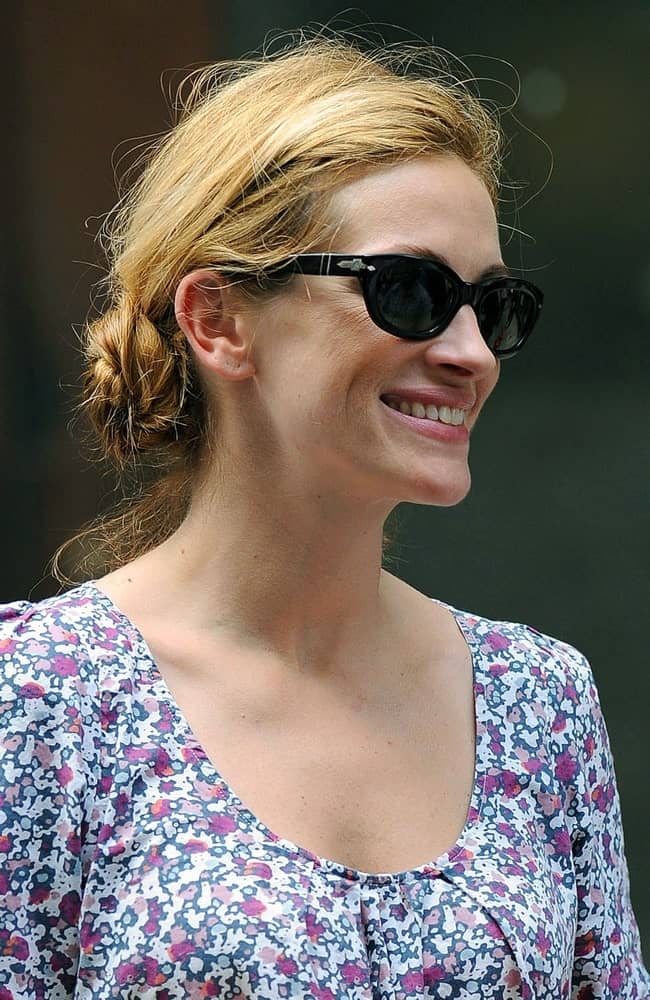 The actress on location for EAT LOVE PRAY filming in Lower Manhattan, New York on August 20, 2009. She wore a tousled low twisted bun paired with black shades.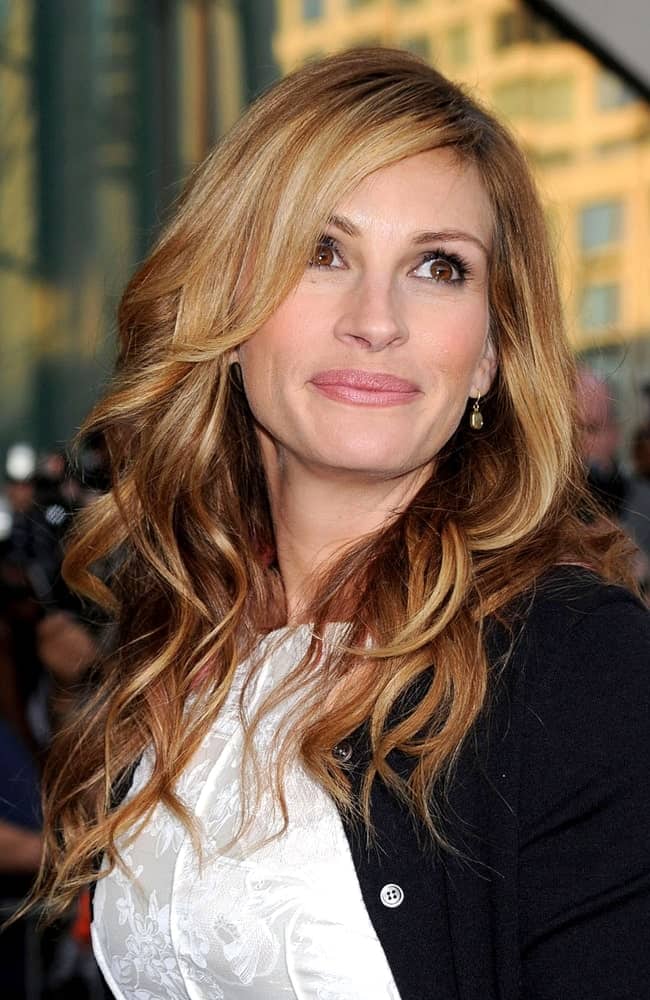 Julia Roberts flaunted her highlighted blonde hair arranged in stylish curls at The Film Society of Lincoln Center's 36th Gala held on April 27, 2009.