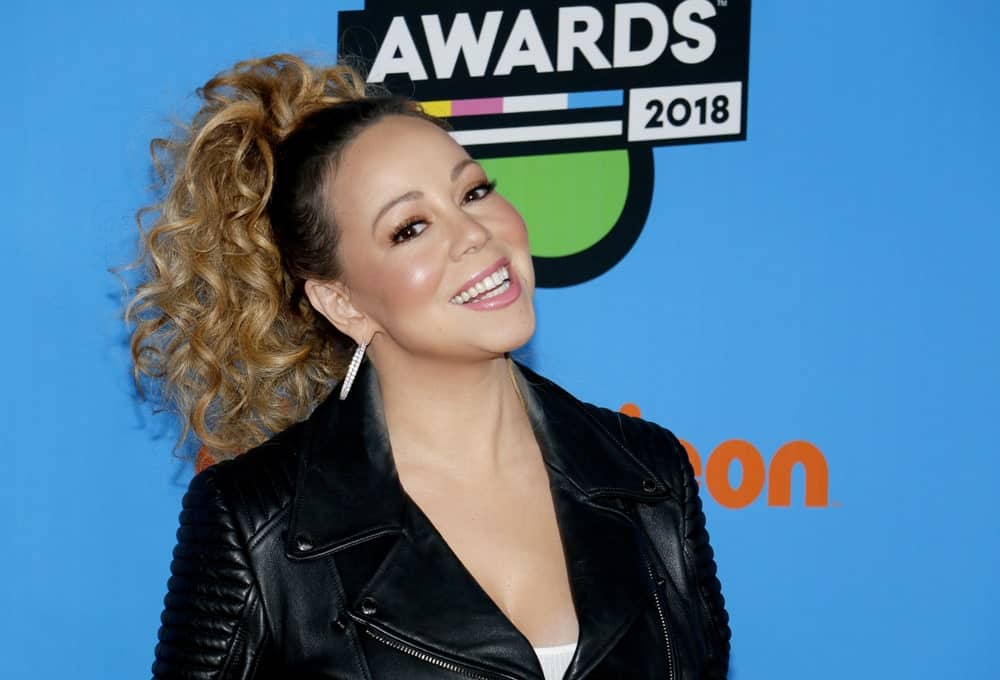 Mariah Carey is one of the most talented singers of all time. Her voice is magical and she has given us lots of hit songs over the years. She is beautiful and likes to style in different ways. She gives a lot of effort to make her look good just like any other celebrity. Her hair is something many fashion lovers talk about. She has beautiful curls on her long hair. The hair is voluminous and attractive.
In the early days of her career, she was mostly seen in these curls. But as the years went by she changed her hairstyle to wavy locks. She chose a lighter color than before and added some bangs. She kept on experimenting with both curly and golden wavy hair for some time. In 2005 we explored her in a straight long hairstyle. She looked very refreshing at the BET Honors Gala in 2012 with her half updo. In 2016 we rediscovered her in the straight long hairstyle parting in the middle. But again she loves her curls. So, she went back to her signature style. Mariah Carey hasn't done any bold color on her hair. She has always loved the golden, auburn and brown hues. We love her subtle waves. Sometimes adding bangs accentuates her features.
Mariah Carey had a passion for singing from a very young age. In fact, she started taking singing lessons at the age of four only. Her debut album 'Mariah Carey' was released by the Columbia Records in 1990. Four singles from this album topped the Billboard 100 chart. Her next albums 'Music Box', 'Merry Christmas', and 'DayDream' were very successful as well. The song 'One Sweet Day' turned out to be the longest-running number-one single in the music history of US. She went on to release hip-hop music in 1997. There are lots of awards to her credit. She won five Grammy Awards and numerous World Music Awards, American Music Awards, and Billboard Music Awards. She has her name on the Guinness World Records for having a five-octave vocal range. She is known as one of the best selling music artists of all time. She has millions of fan followings throughout the world. Her concerts are most of the time full and people love seeing her perform alive. Her styles become the talk of the town after each concert. She is a very fashion-conscious artist and often sets her own trend. Like her singing ability, her fashion sense also inspires many people. We have got some great music from her. She can really touch your heart with her songs. This iconic singer will live in our hearts forever.
Here are Mariah Carey's hairstyles over the years.
Photos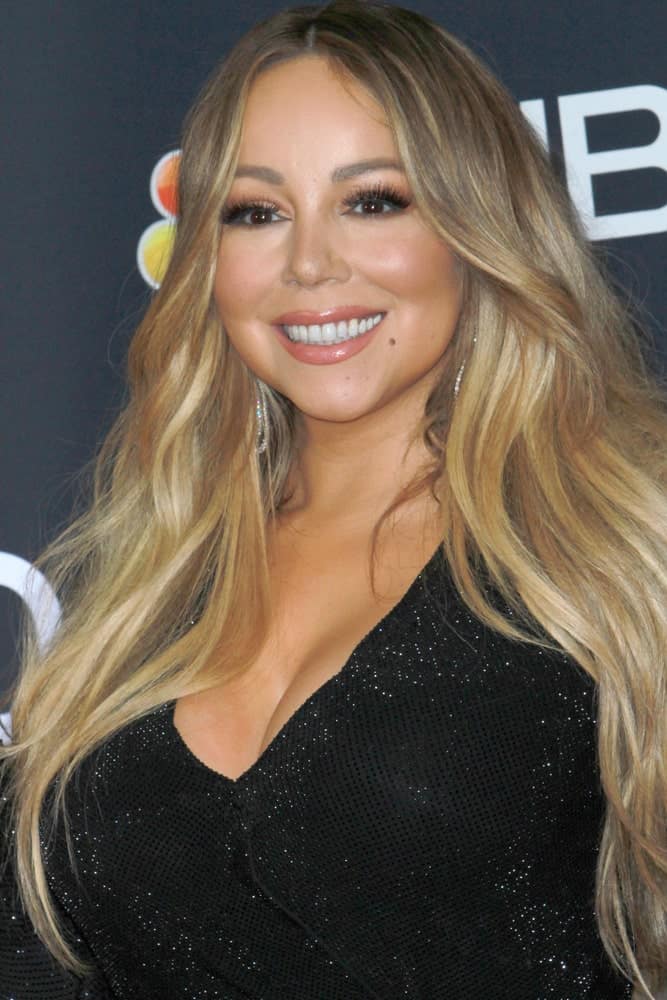 Mariah Carey attended the 2019 Billboard Music Awards at MGM Grand Garden Arena on May 1, 2019, in Las Vegas, NV wearing a sleek glittery black dress that makes the light tone of her long wavy ombre highlights stand out.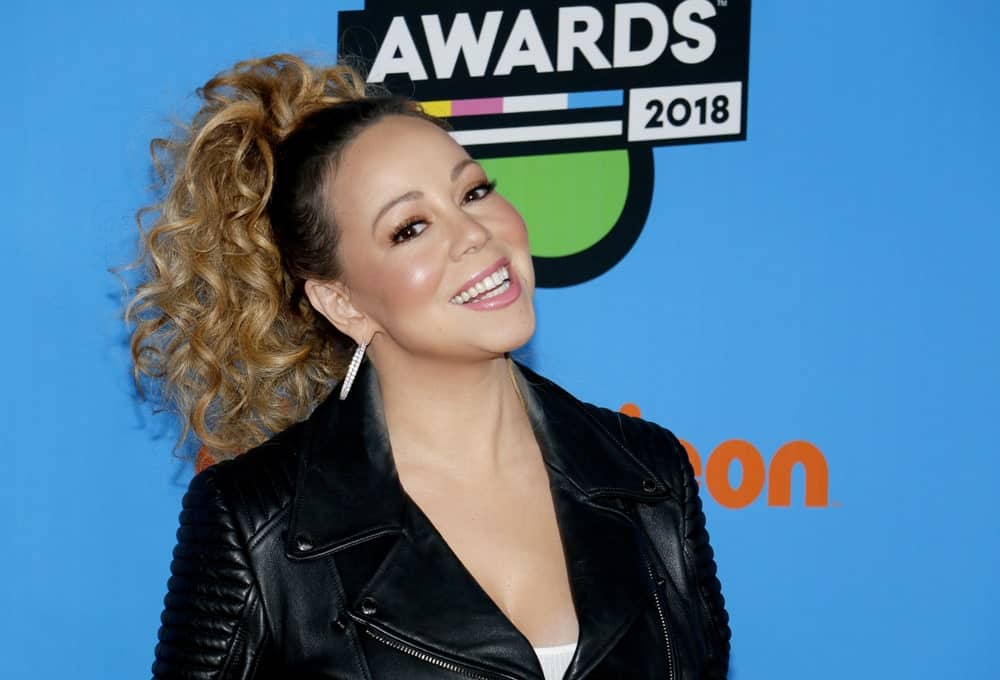 Mariah Carey was wearing a black leather jacket at the Nickelodeon's 2018 Kids' Choice Awards held at The Forum in Inglewood, USA on March 24, 2018. This matches well with her high caramel ponytail that has soft curls.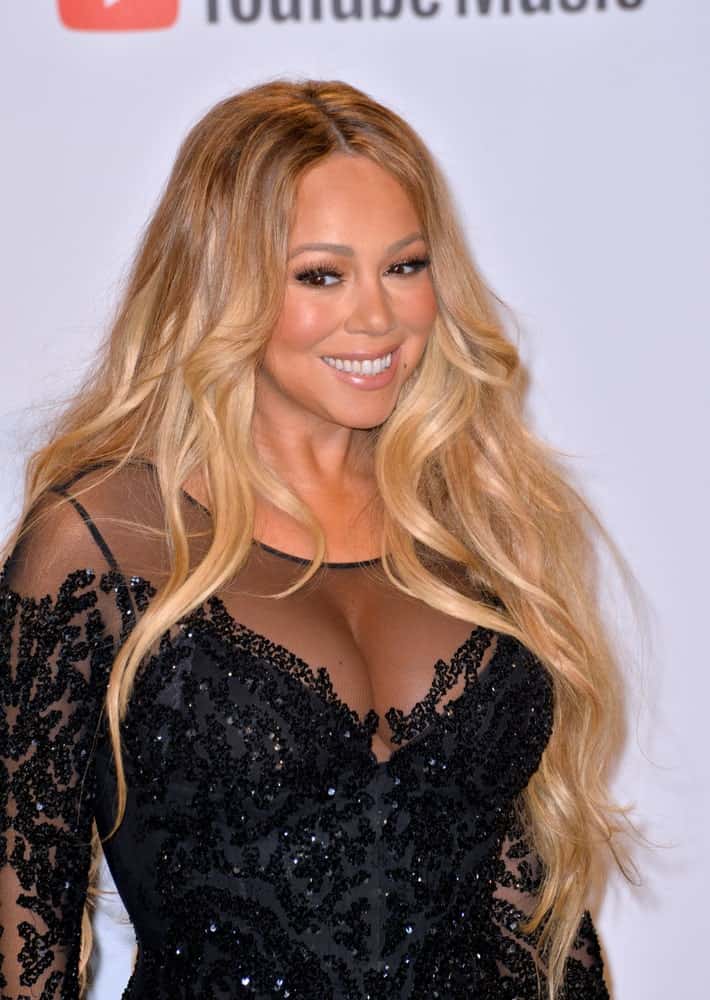 Mariah Carey attended the October 09, 2018, American Music Awards at the Microsoft Theatre LA Live sporting a hairstyle with a light tone and waist-long to stand out against her black sequined dress.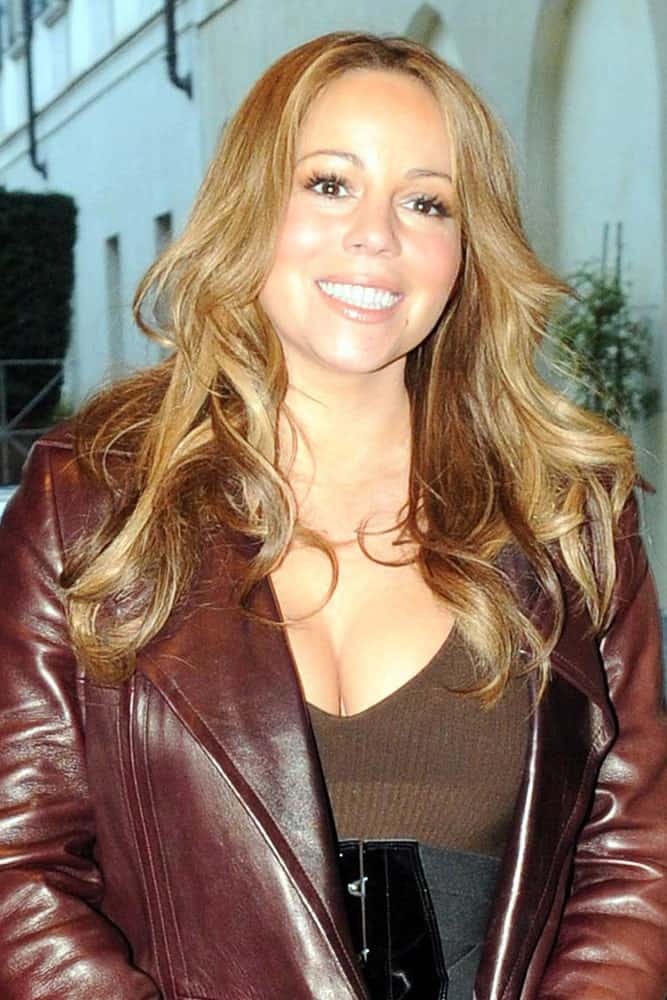 Mariah Carey showcased her fresh smile and her long waves tousled and toned to complement the red leather jacket. This photo was taken last January 22, 2018 at Milan, Italy.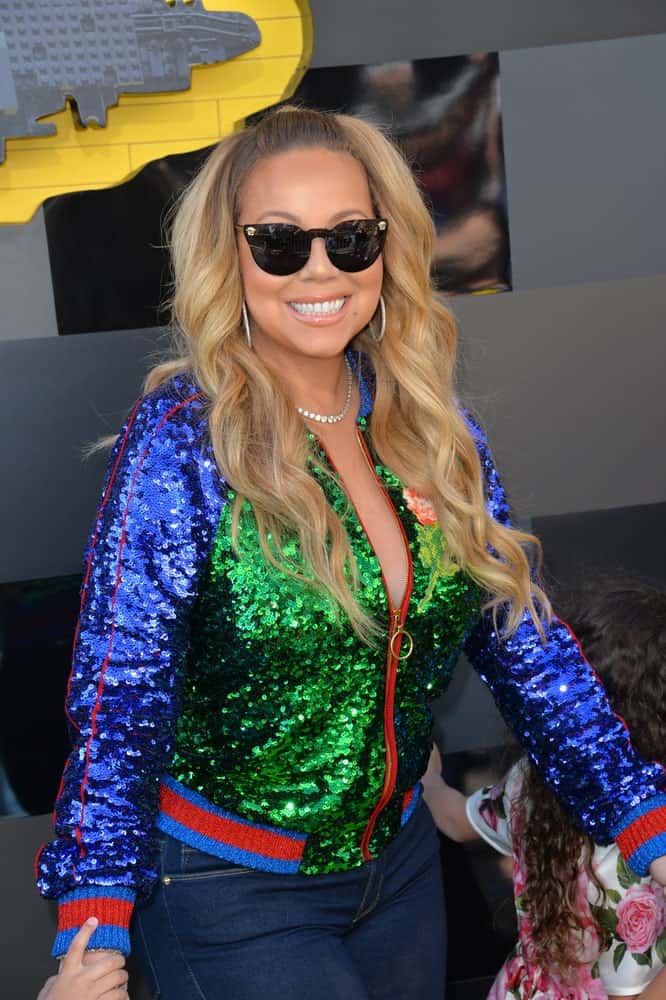 The beautiful singer attended the world premiere of "The Lego Batman Movie" last February 4, 2017, with her long waves clipped at the front section for extra style and comfort to match her relaxed casual wear.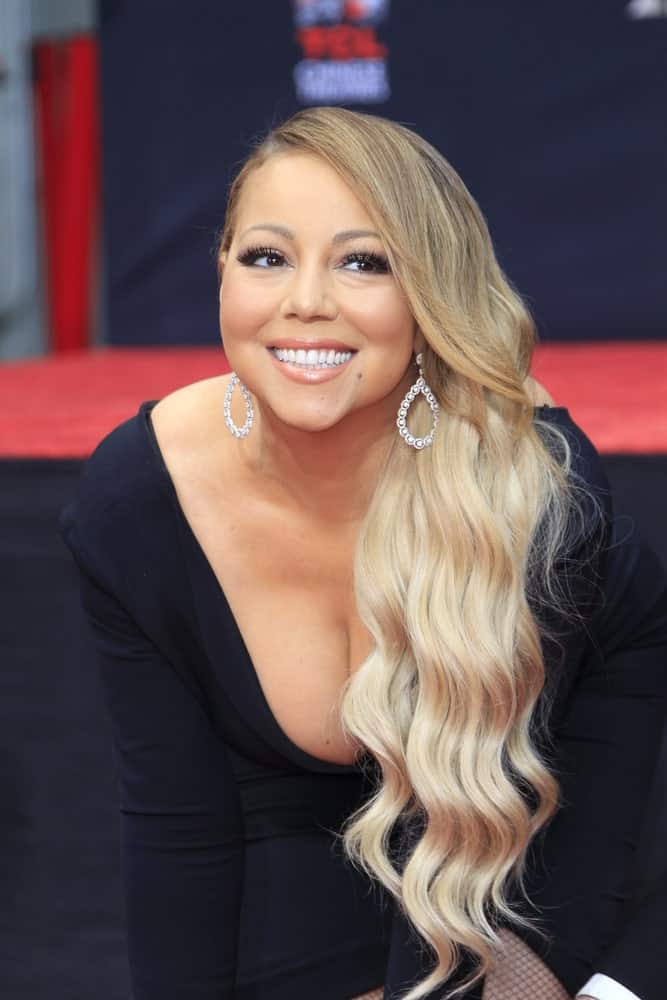 Mariah Carey had her long ombre beach waves swept to one side perfectly complemented by her diamond earrings during her Hand and Footprint Ceremony at the TCL Chinese Theater IMAX last November 1, 2017.
The singer showcased her quirky and youthful side with her thick and playful curls parted in the middle with cornrows when she attended the Nickelodeon 2017 Kids' Choice Awards.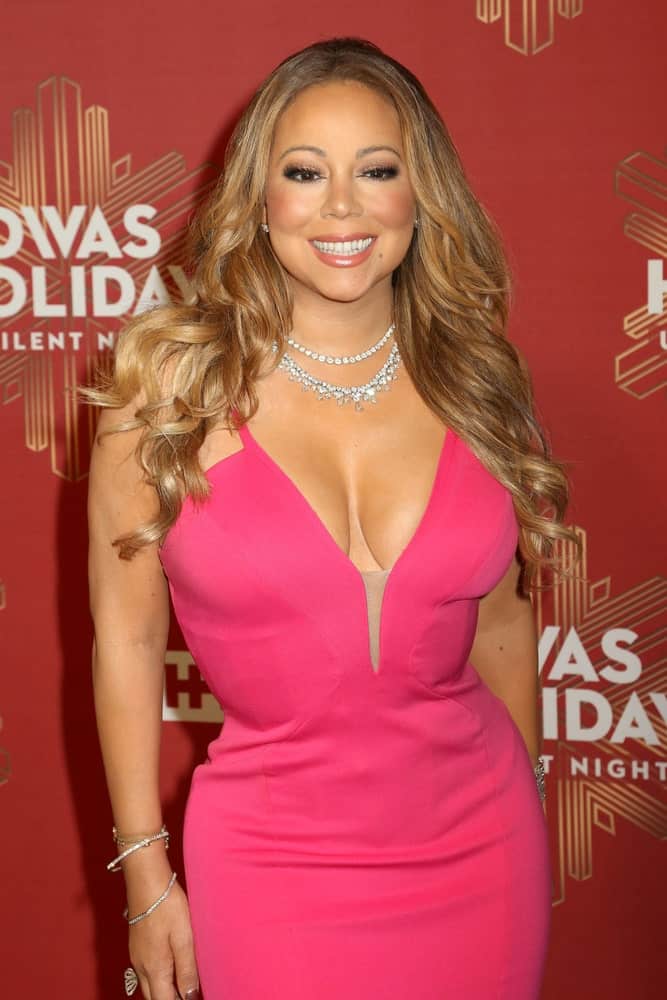 Mariah Carey had a classy and sophisticated look with her center-parted, wavy hairstyle with a light tone to match the pink dress last December 2, 2016, for the VH1 Divas Holiday Concert.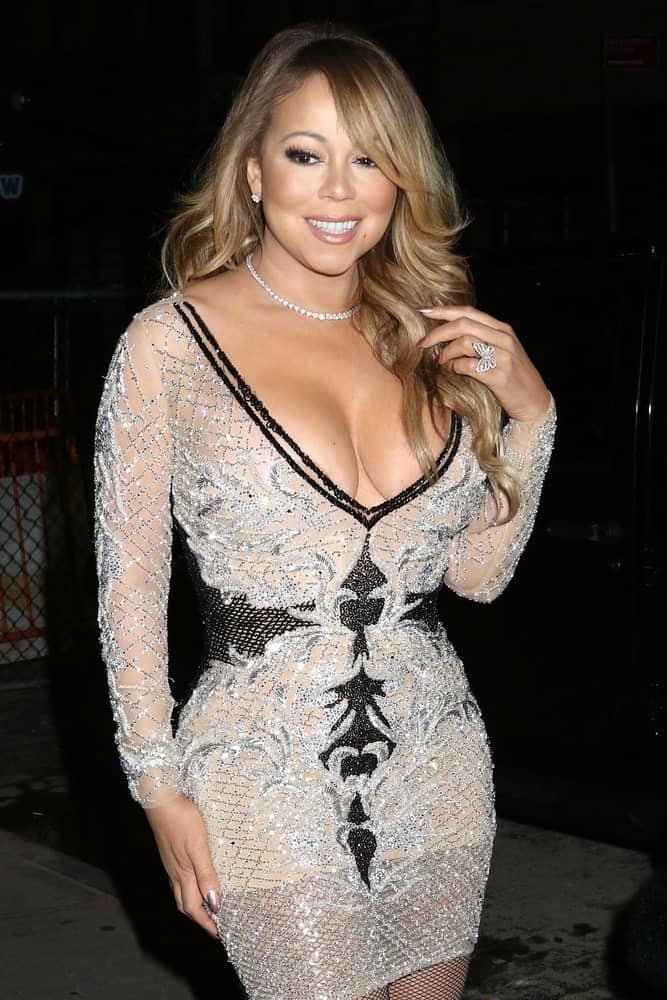 Last December 4, 2016, the singer was seen in New York City with her layers and curls, perfectly tossed for extra volume and her signature bangs over one eye.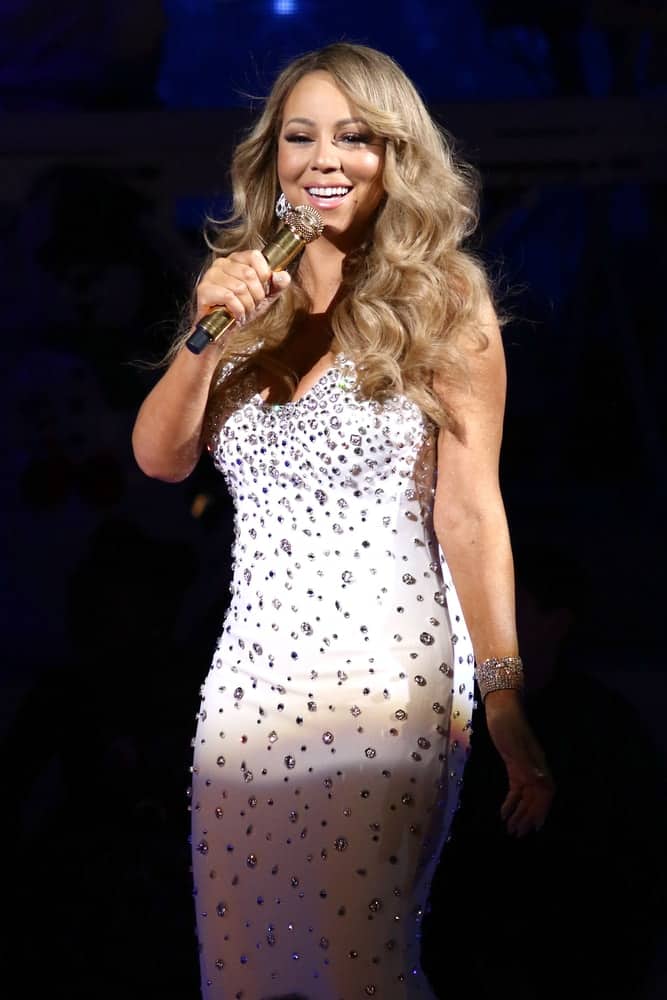 Mariah Carey spotted on December 4, 2016, in New York City.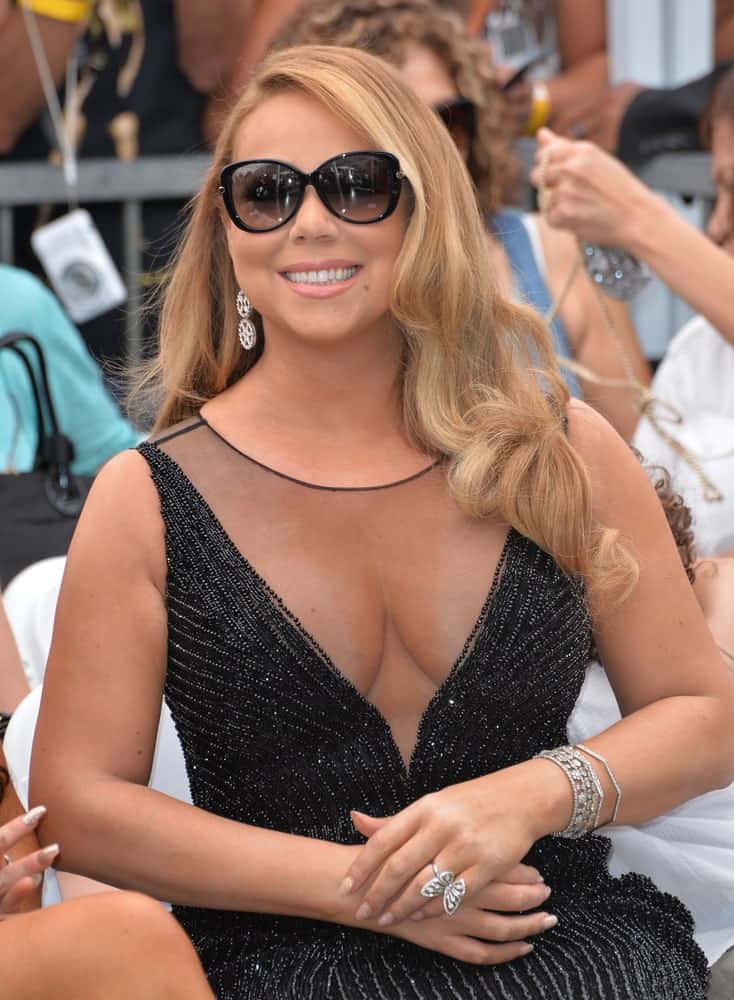 Mariah Carey made an appearance last August 5, 2015, at the Hollywood Boulevard where she was honored with a star on the Hollywood Walk of Fame. She was wearing an elegant dress with a pair of sunglasses and an effortless, loose hairstyle parted slightly on the side.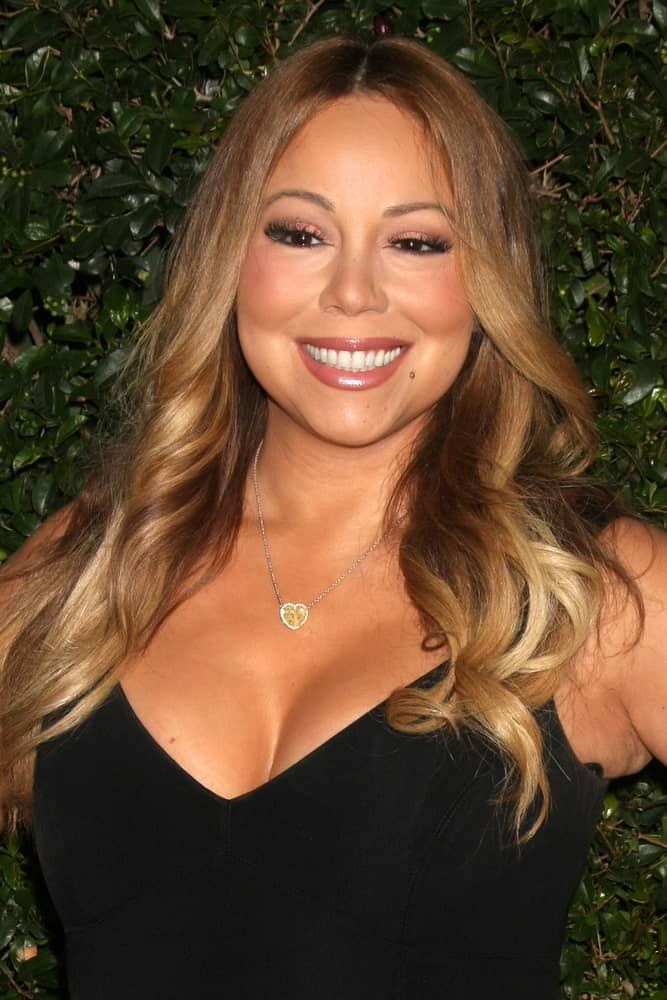 The singer's hairstyle at the Hallmark 2015 TCA Summer Press Tour Partymost is her classic and iconic center-parted caramel wavy hair where her curls are freely flaunted down to her shoulders.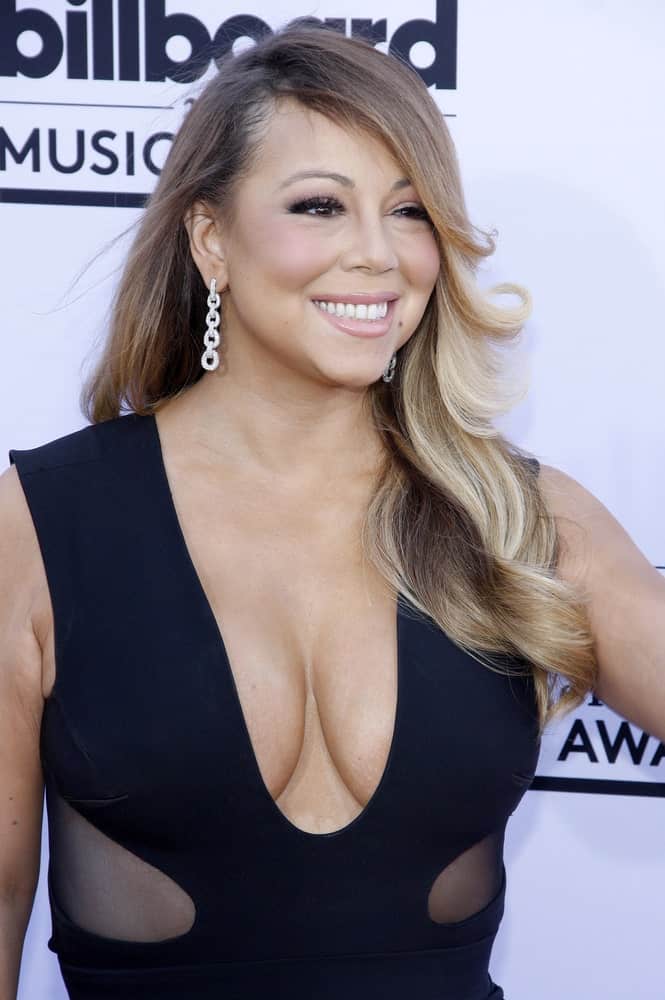 Mariah Carey had her hair styled with light tones and layers swept one side that brings focus onto her beautiful diamond earrings. This look was worn for the 2015 Billboard Music Awards.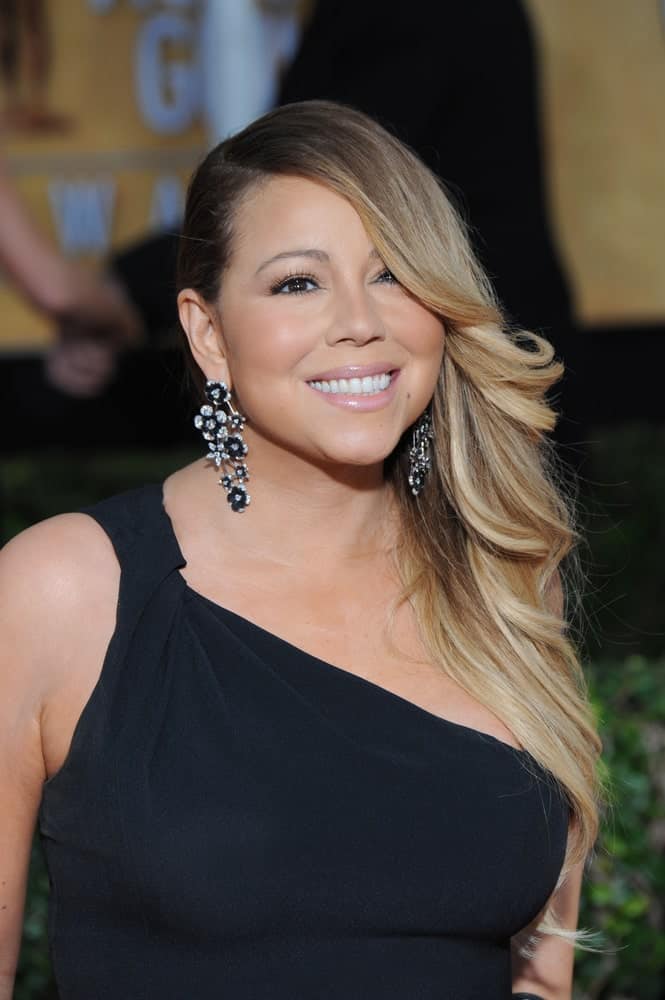 Last January 18, 2014, Mariah Carey was at the 20th Annual Screen Actors Guild Awards at the Shrine Auditorium with her light and wavy hair swept to the left side and bangs covering the left eye.
The singer's golden layers are stunning and are perfectly complementary to her beautiful skin and bright blue dress. This effortless look was worn for the Fresh Air Fund Spring Gala Salute last May 29, 2014.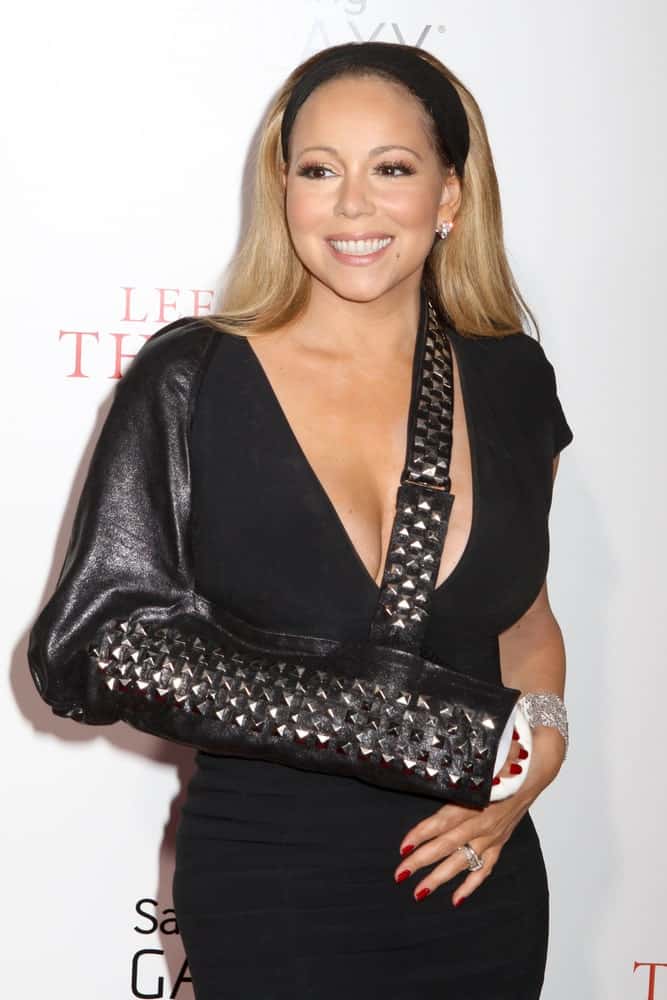 Mariah Carey is looking fresh and happy with her sleek and straight hair incorporated with a black headband that matches her dress and black leather cast covering. This was taken last August 5, 2013, for the New York premiere of "The Butler".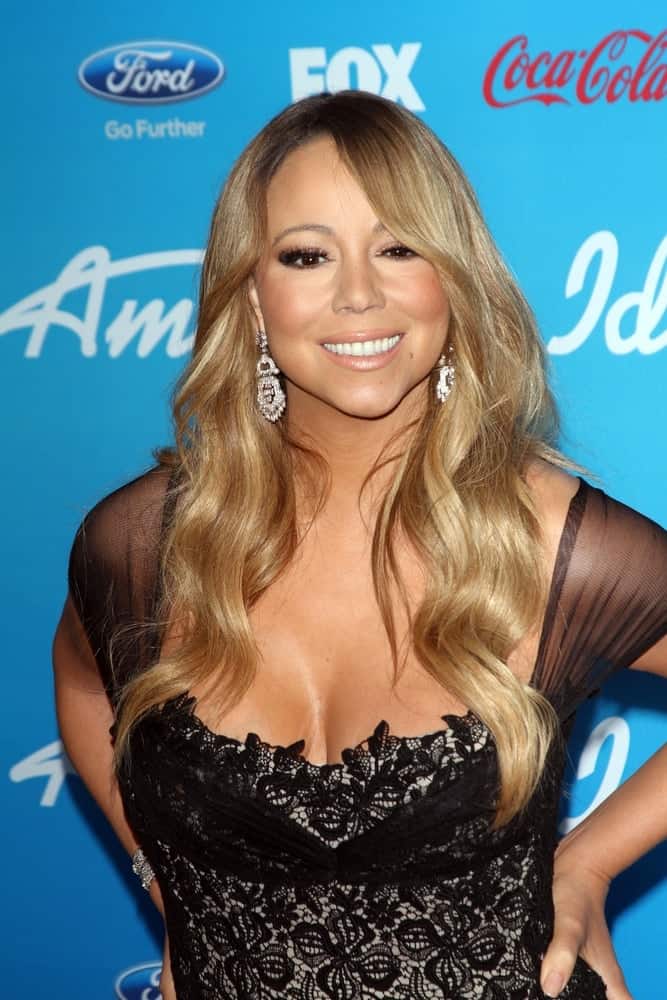 Mariah Carey smiles at the "American Idol" Finalists Party, The Grove, Los Angeles, CA on March 7, 2013.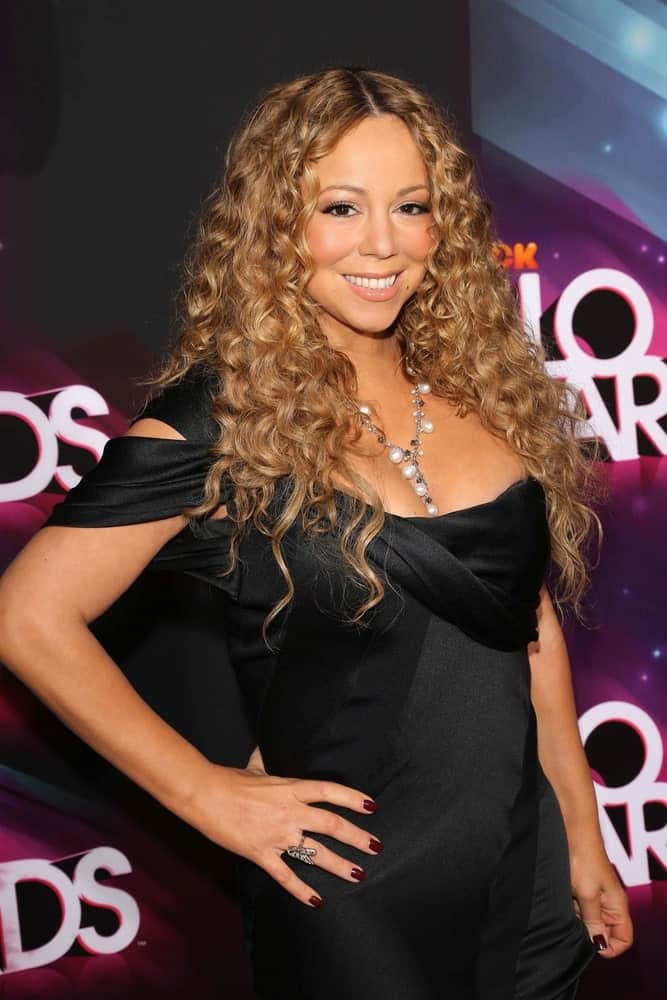 The singer attended the 2012 Teen Nickelodeon HALO Awards with this carefree and confident hairstyle filled with honey-colored thick and bouncy curls.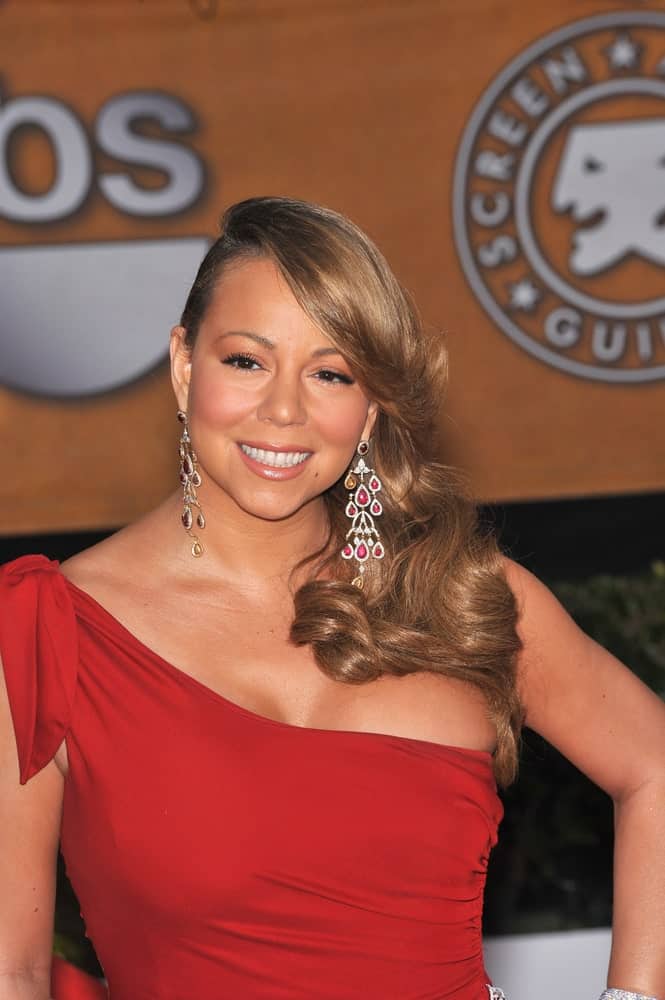 Last January 23, 2010, the American singer/songwriter was glowing with elegance and sophistication with these side-swept brown waves and soft curls for the 16th Annual Screen Actor Guild Awards held at the Shrine Auditorium, Los Angeles, CA.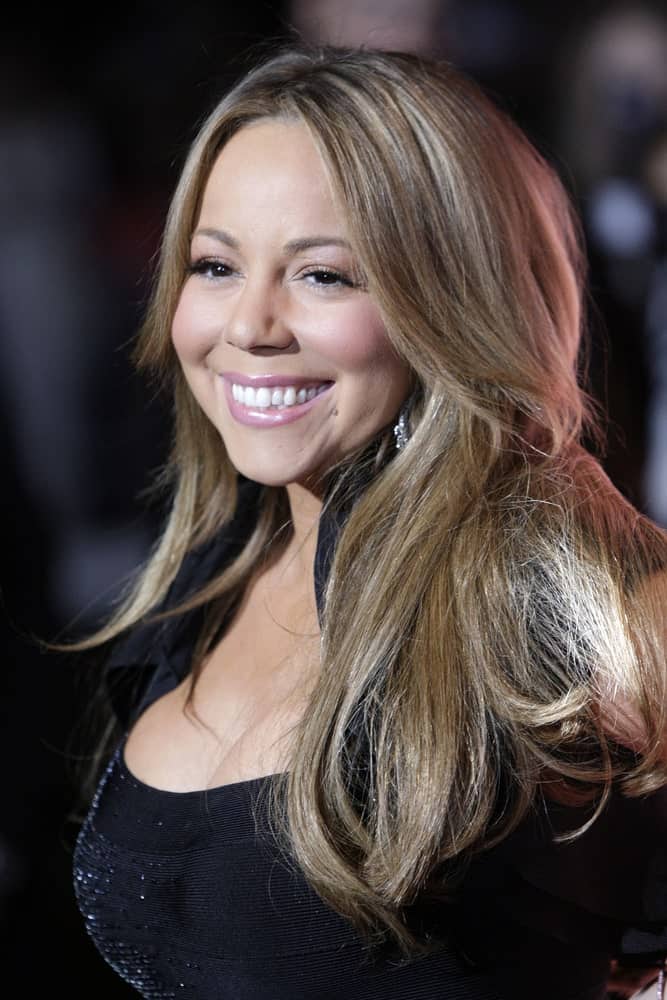 Mariah Carey looked gorgeous with this slightly messy hairstyle parted in the middle to pair with her black outfit at the 2010 Palm Springs International Film Festival.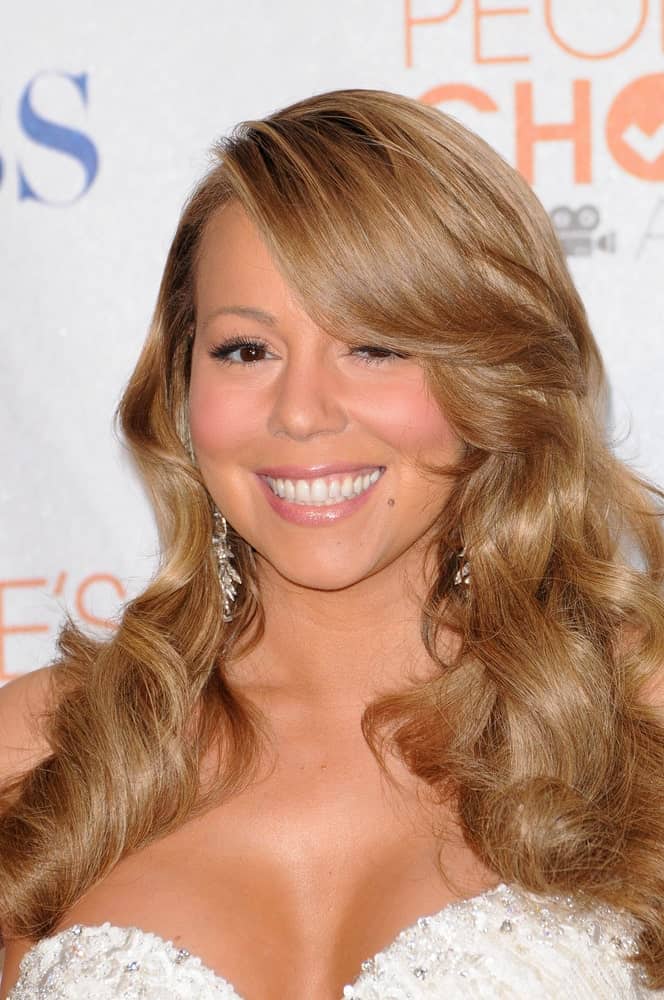 The singer had a lovely hairstyle of bouncy curls and side-swept bangs to complement her shiny white outfit at the 2010 People's Choice Awards.
Mariah Carey smiles at the New York Film Festival Centerpiece Screening of PRECIOUS, Alice Tully Hall at Lincoln Center, New York, NY October 3, 2009.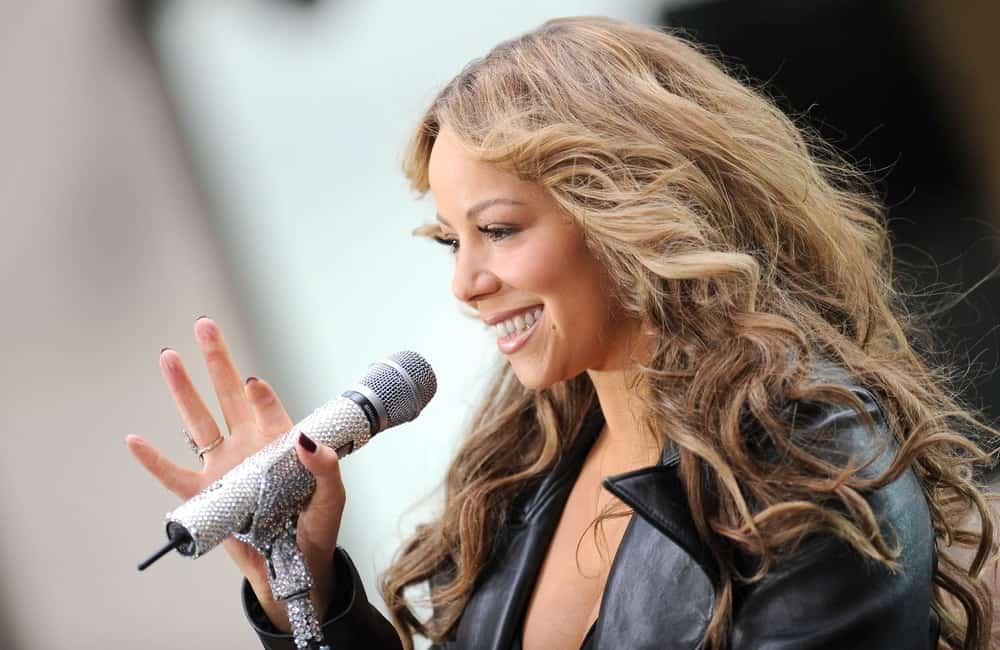 Mariah Carey sings on stage during the NBC Today Show Concert with Mariah Carey, Rockefeller Plaza, New York, NY October 2, 2009.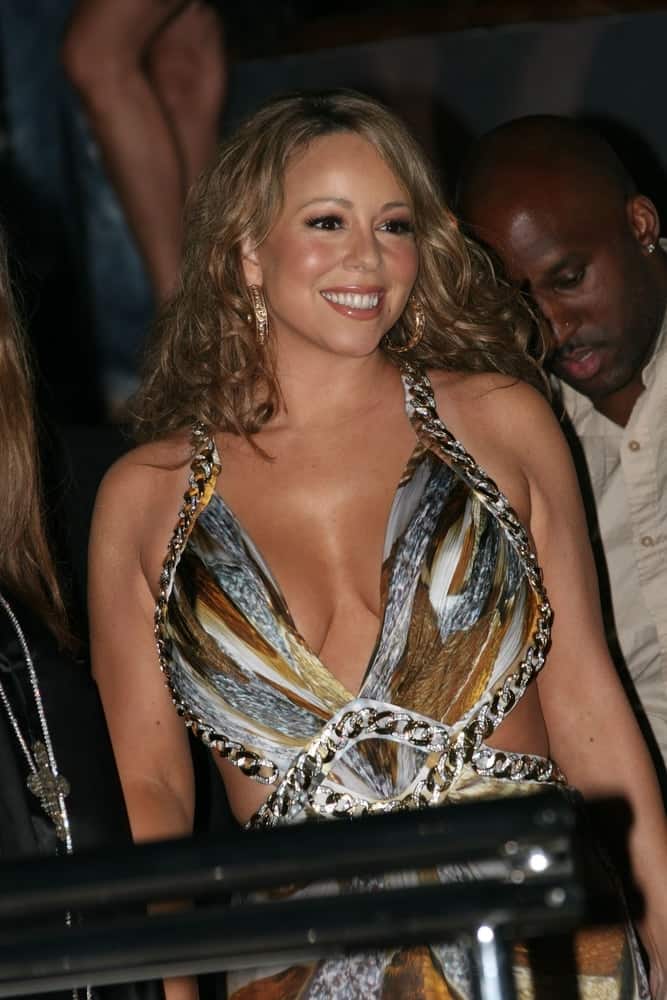 Mariah Carey attends Roberto Cavalli dinner held at the Roberto Cavalli's yacht RC during the 62nd International Cannes Film Festival on May 16, 2009, in Cannes, France.
The singer was sporting a medium-length, golden blonde hair with swoopy layers to match her casual look last 2009 for the launch of her new fragrance called "Forever" at Macy's Herald Square Department Store, New York, NY.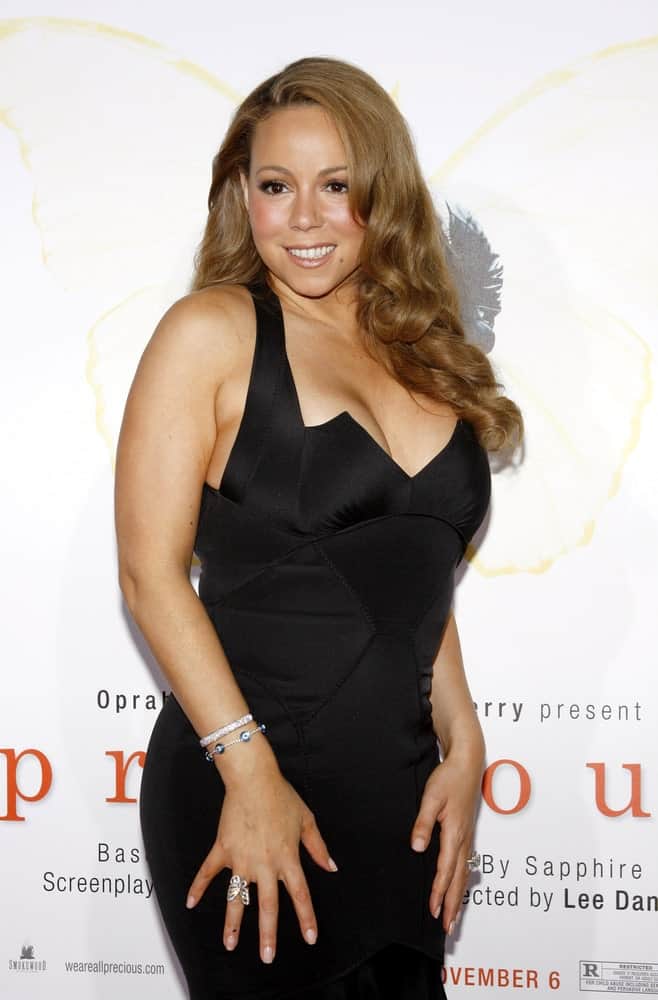 The singer looked positively fierce with her side-swept brown curls and black dress at the AFI FEST 2009 Screening of 'Precious' held at the Grauman's Chinese Theater in Hollywood, USA.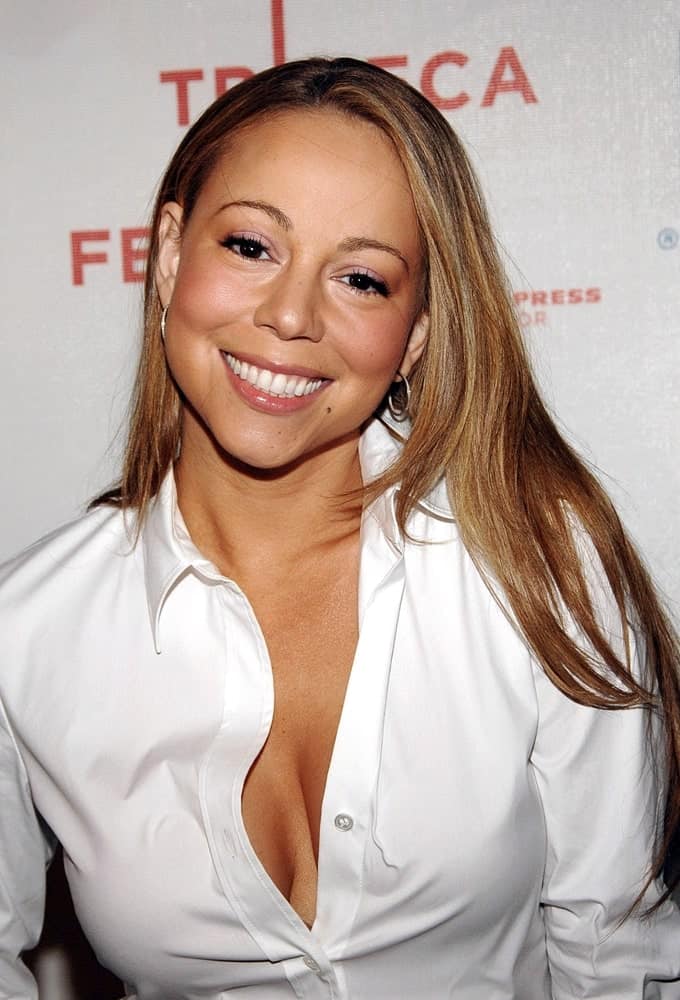 The singer/songwriter showcased her sweet and simple side with her straight auburn hair that stands out against her white blouse. This photo was taken last April 26, 2008, for the premiere of "Tennessee" at Tribeca Film Festival.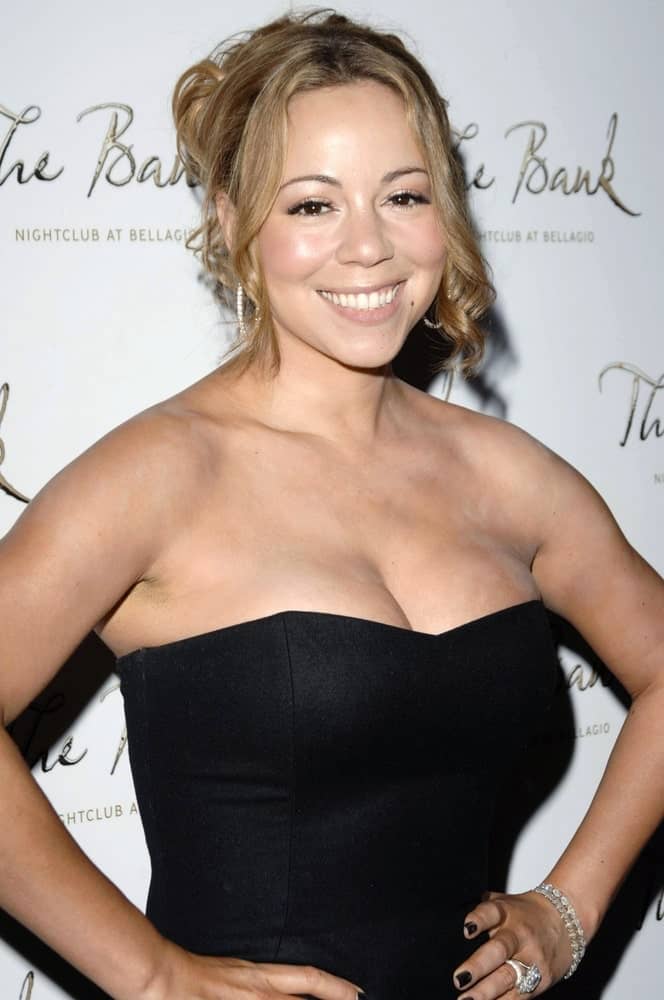 Mariah Carey made an appearance at The Bank Nightclub, Bellagio Resort & Casino last October 04, 2008, with this messy updo that showcases her elegant neckline.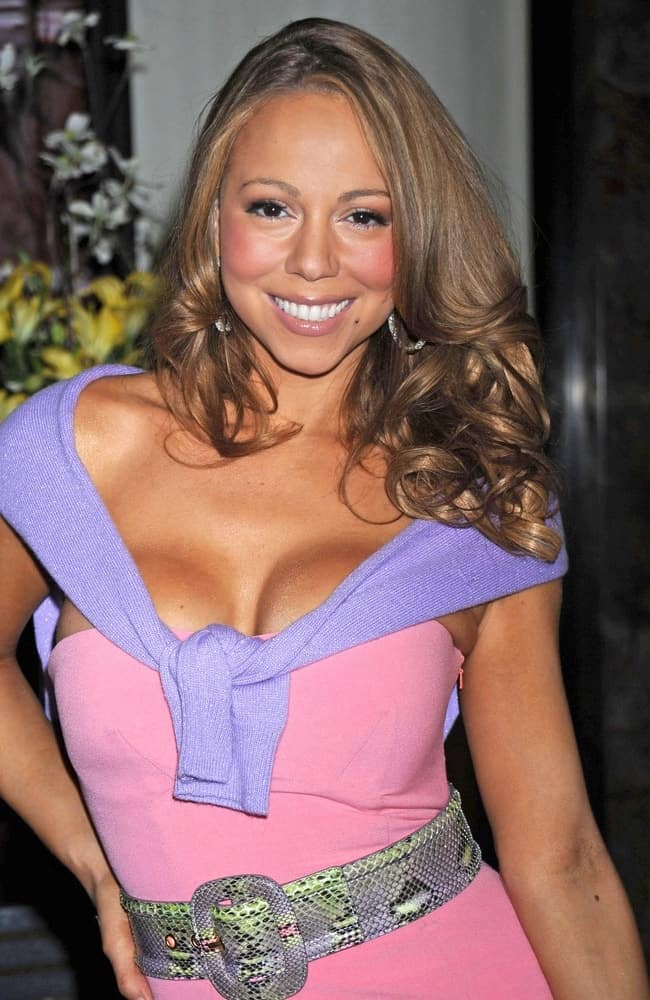 Mariah Carey poses during the Mariah Carey Throws Switch to Light Empire State Building, Empire State Building, New York, NY, April 26, 2008.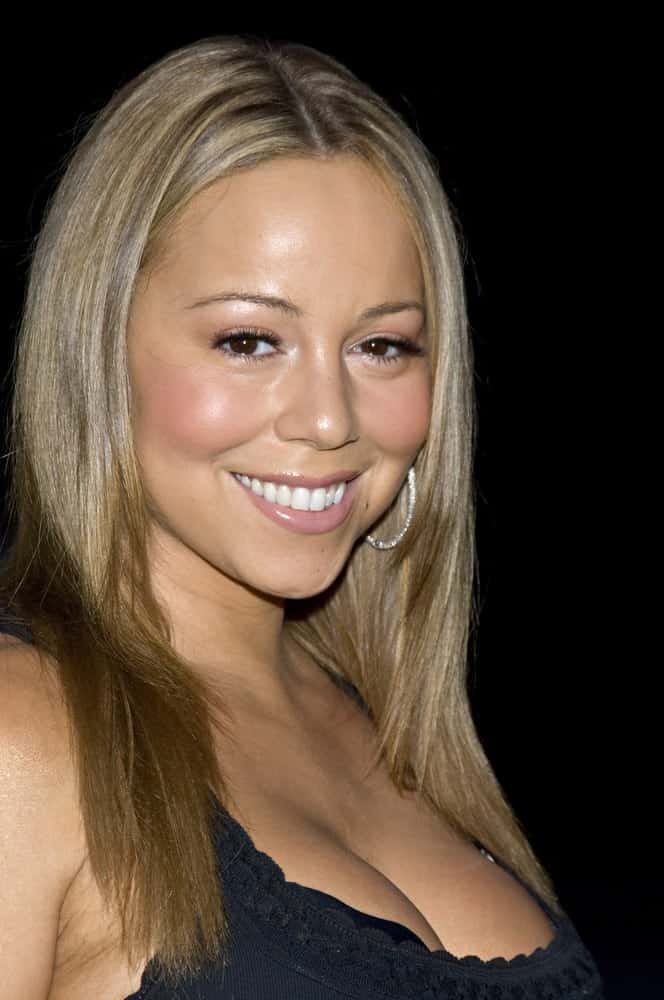 Mariah Carey smiles during the Fresh Air Fund Salute to American Heroes at Tavern On The Green, New York City, June 07, 2007.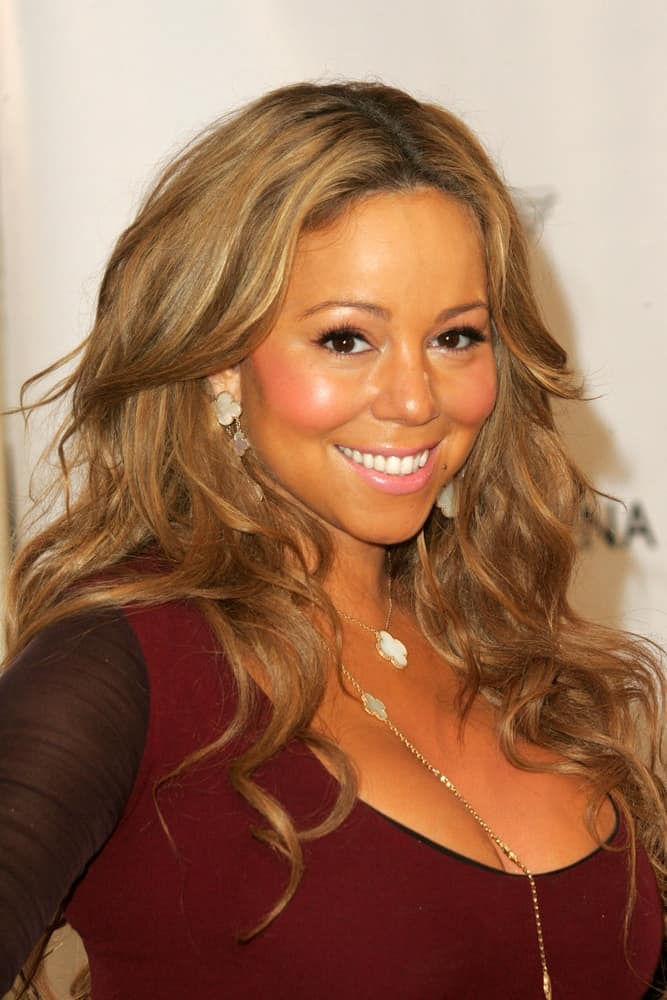 Mariah Carey seen during the Make-A-Wish Wish Night 2006 Awards Gala held at Beverly Hills Hotel, Beverly Hills, California. November 17, 2006.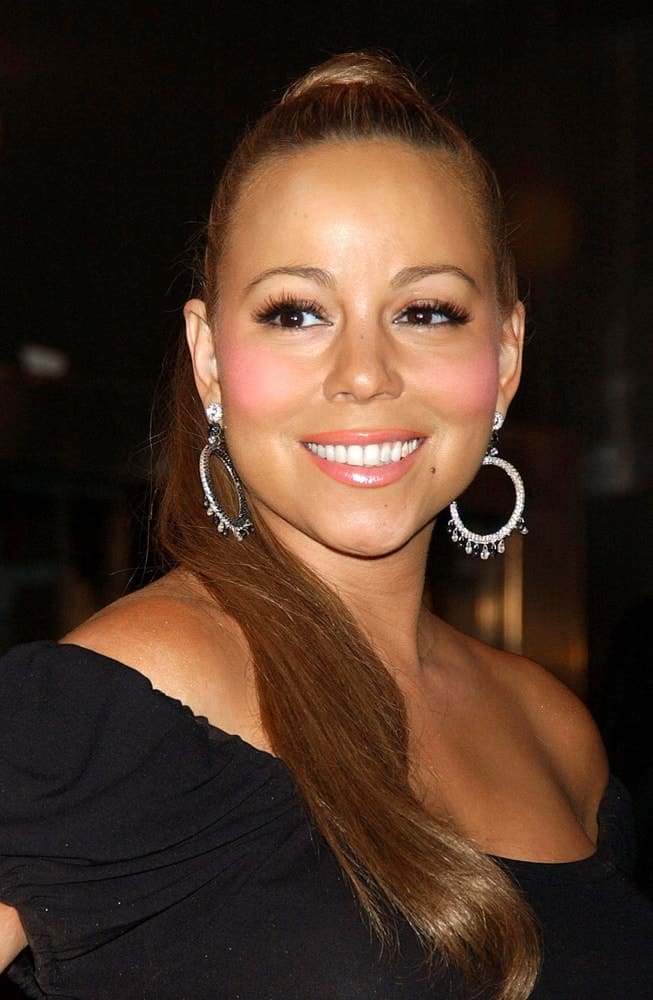 Mariah Carey at BMI Urban Music Awards, Roseland Ballroom, New York, NY, August 30, 2006.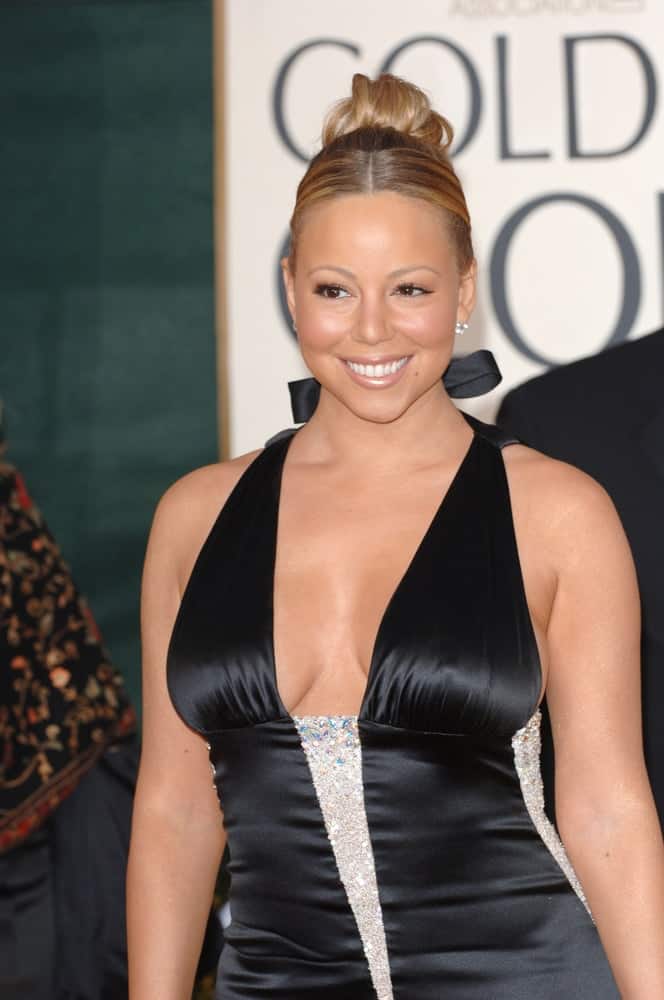 Mariah Carey during the 63rd Annual Golden Globe Awards at the Beverly Hilton Hotel. January 16, 2006, Beverly Hills, CA 2006.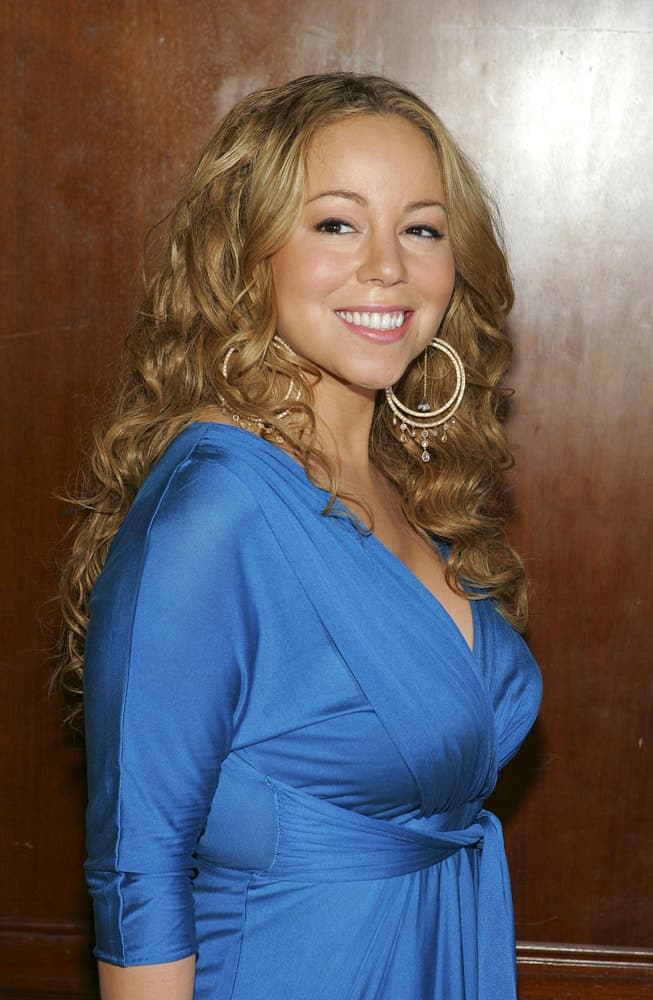 Mariah Carey at Bette Midler Hulaween Gala for New York Restoration Project, The Waldorf-Astoria Hotel, New York, NY, October 31, 2005.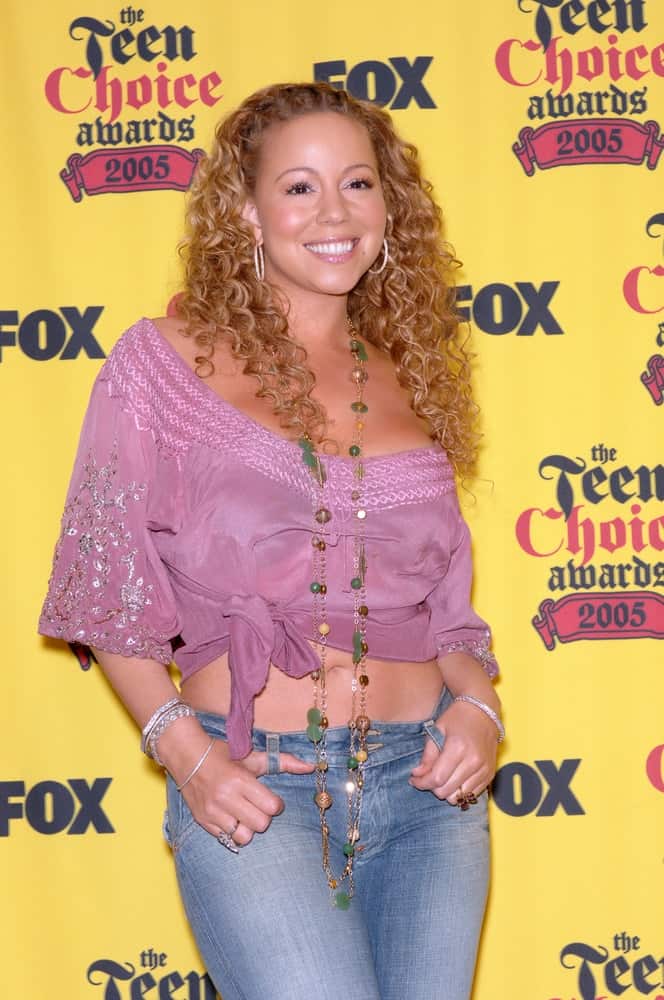 Mariah Carey poses during the 2005 Teen Choice Awards at the Universal Amphitheater, Hollywood. August 14, 2005, Los Angeles, CA 2005.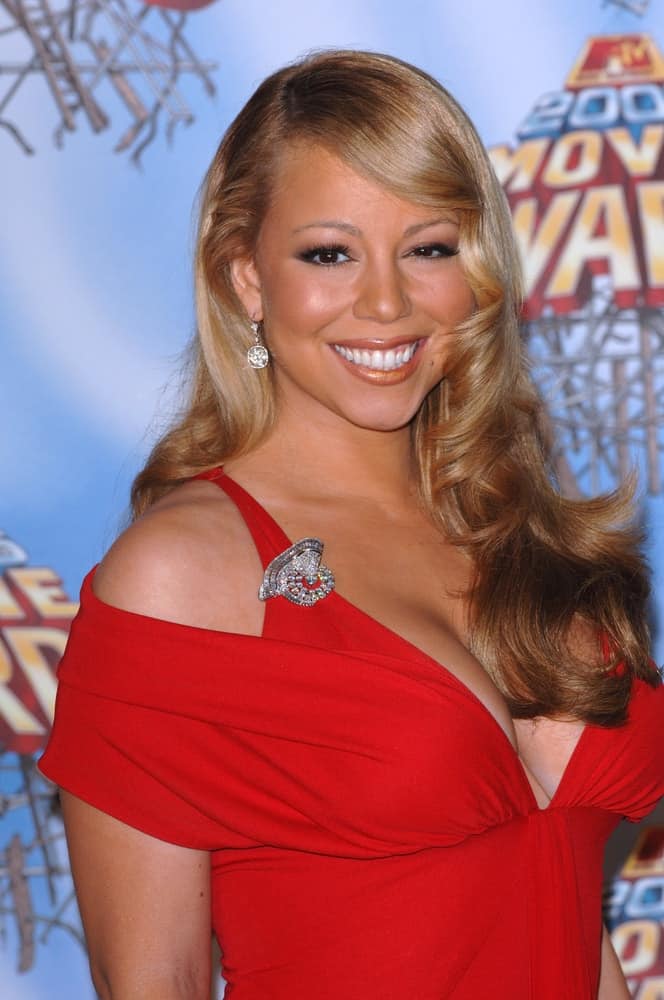 Mariah Carey at the 2005 MTV Movie Awards at the Shrine Auditorium on June 4, 2005, in Los Angeles, CA.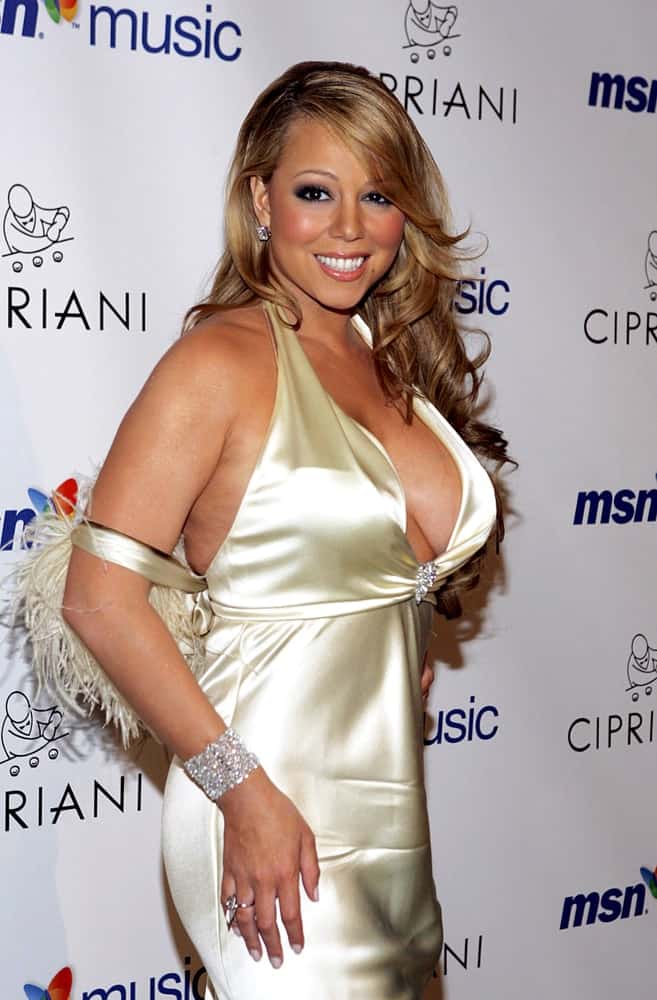 Mariah Carey looks blooming during The Emancipation of Mimi Release Party, Cipriani Restaurant, New York, NY, April 21, 2005.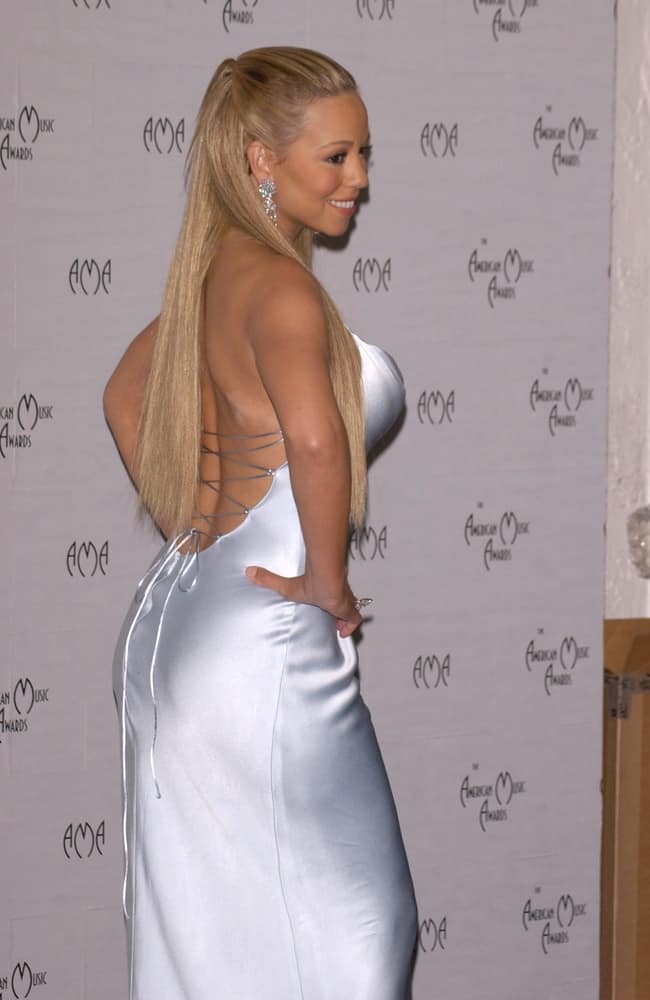 Side profile of the singer during the 30th Annual American Music Awards in Los Angeles on January 13, 2003.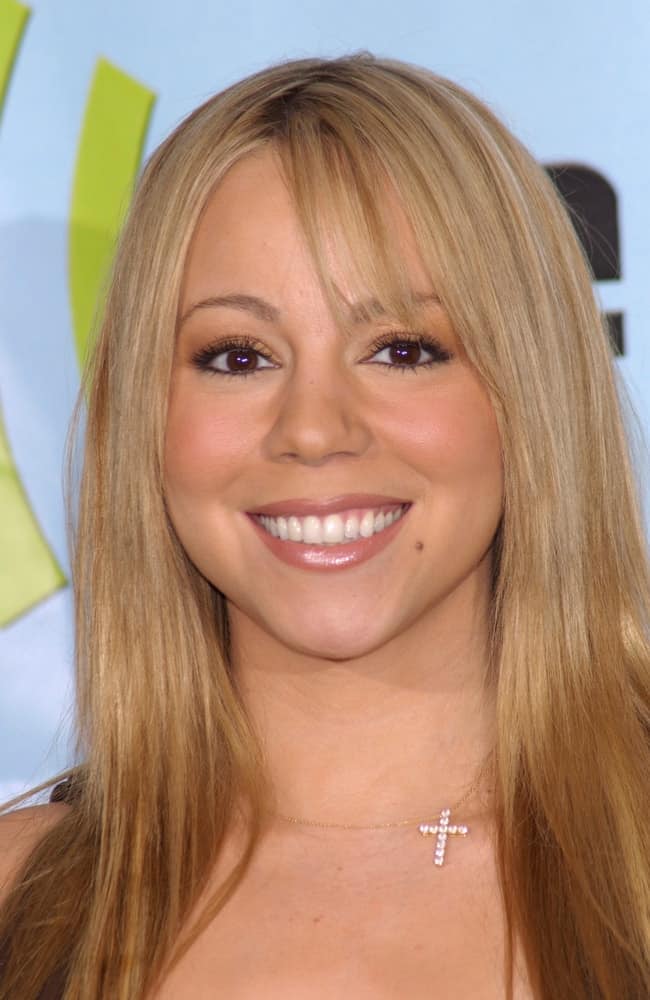 Mariah Carey at the 2001 Radio Music Awards at the Aladdin Hotel & Casino, Las Vegas on October 26.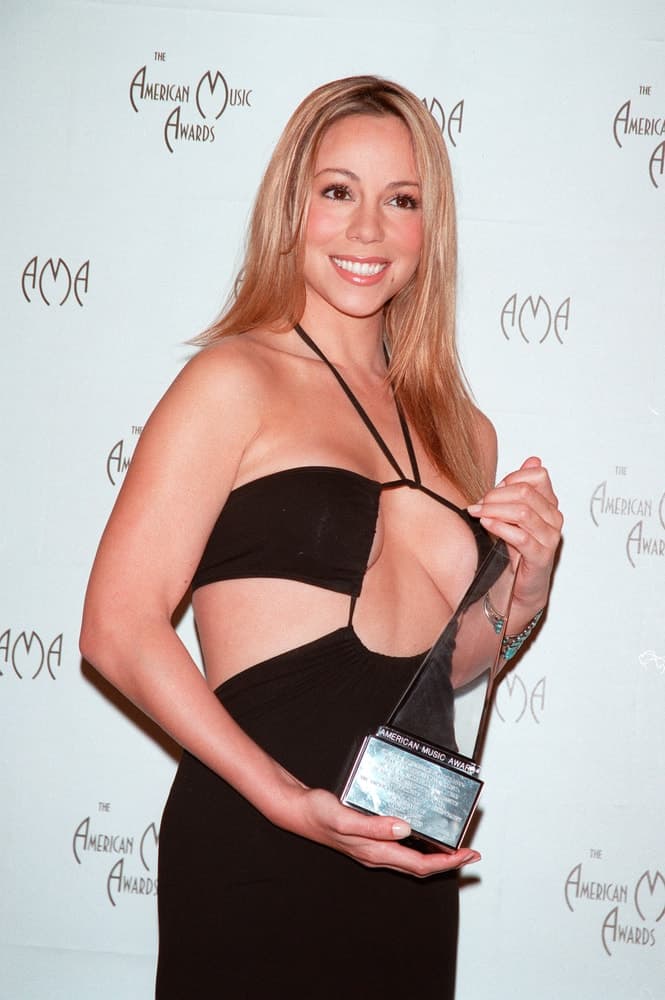 Mariah Carey holds a trophy at the American Music Awards in Los Angeles on January 17, 2000, where she received a special career award.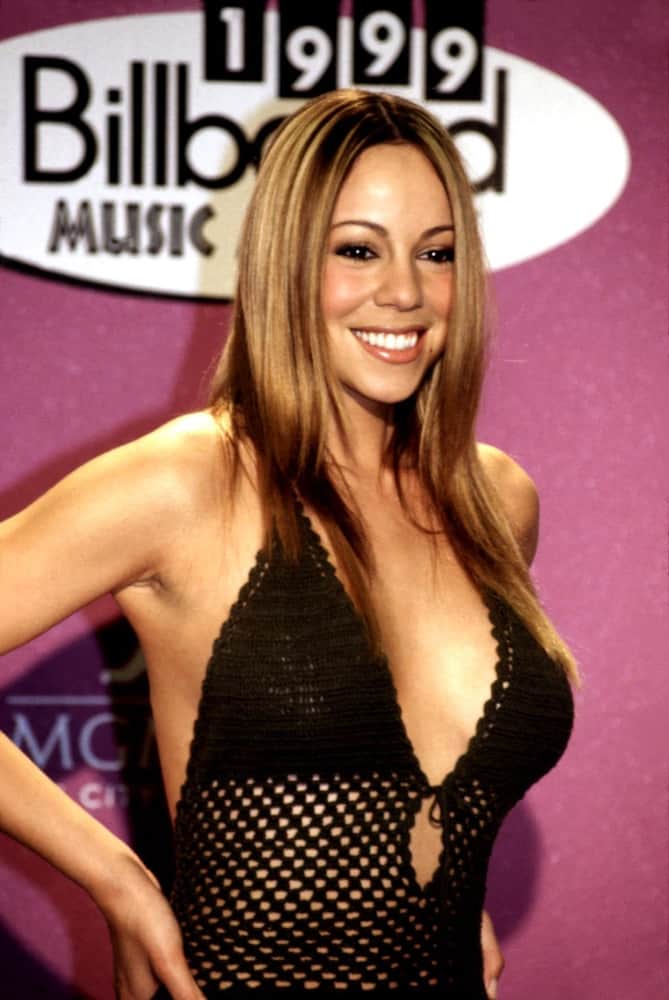 Mariah Carey at the 1999 Billboard Music Awards in Las Vegas.
Mariah Carey promotes her new album "Rainbow" at Tower Records, Hollywood on November 5, 1999.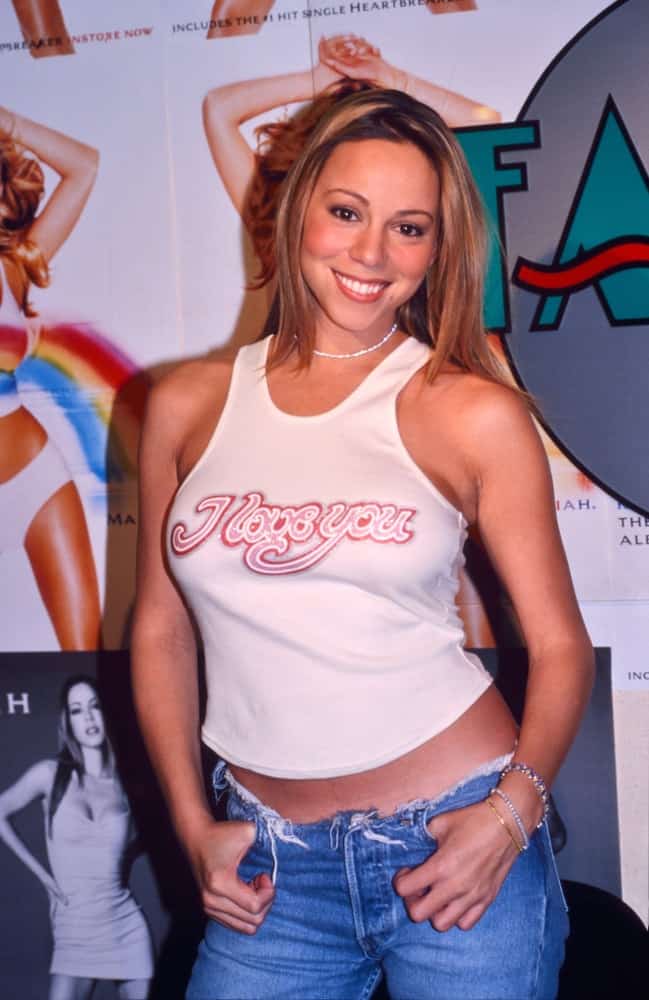 Mariah Carey poses during a meet and greet with her fans at a music store in Amsterdam, the Netherlands on Sep. 18, 1999.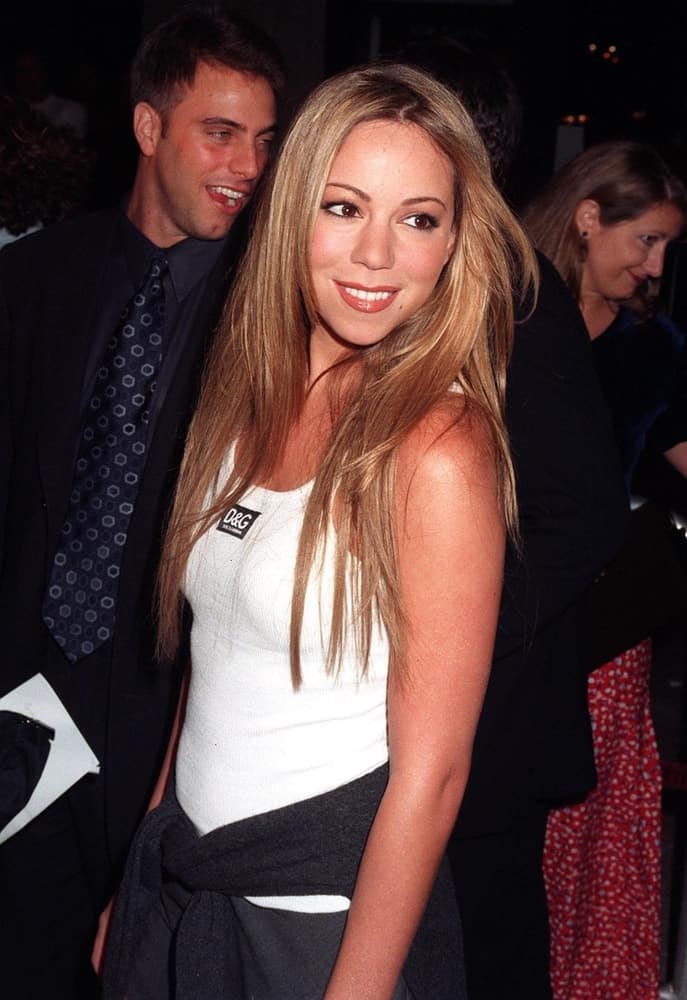 Mariah Carey at the premiere in Los Angeles of Brad Pitt's new movie, "Seven Years in Tibet" on Oct. 6, 1997.