Let's revisit the best hairstyles that Mel B showcased over the years. Discover how she reinvented various hairstyles with her luscious dark locks that she complements with trendy outfits.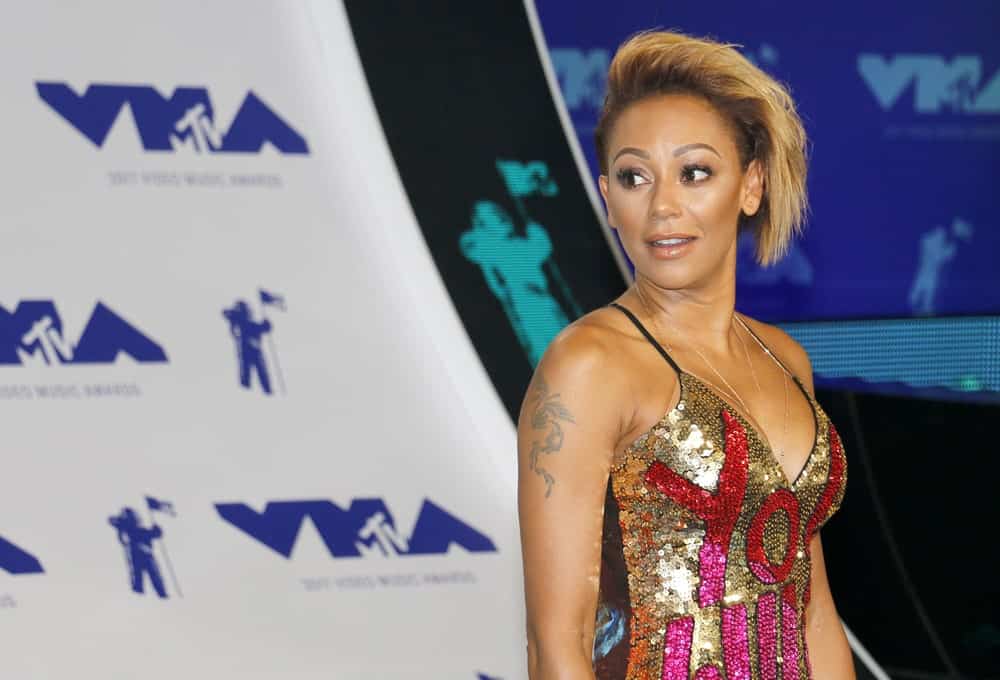 Melanie Janine Brown, also known as Mel B, was born in Harehills, Leeds and grew up in Burley. Her father, Martin Brown, has Caribbean roots while her mother is British. To prepare for the entertainment industry, she studied performing arts at Intake High School. She then worked as a dancer and was once a part of the band "Touch" before her career skyrocketed.
Mel B gained her popularity as "Scary Spice" in the all-girl group Spice Girls where she usually sported loud animal prints (with leopard being her favorite) along with her untamed afro of curls that was sometimes accented by horns wrapped in ribbon.
The band has reached their fame with their debut single "Wannabe" which is a top hit. It became a certified multi-platinum in 27 countries and sold over 30-million copies. The band had three more albums and a movie before deciding to go on their own and pursue solo projects.
During the Spice Girls hiatus, Mel B released a solo album of her own. Her first single "I Want You", with Missy Elliot, sold 80,000 copies in the first week making Mel B no. 1 on the UK singles chart. Her debut solo album "Hot" was released in 2000 with three Top 5 singles.
In 2005, her second album "L.A. State of Mind" was released but her fans were not impressed and so it was considered a big failure. With this, the singer decided to change her path of career and became a television presenter on the show "This Is My Moment". She then focused on acting and soon got an opportunity to work in a sitcom "Burn".
Mel B is also an author. She released her autobiography "Catch a Fire" in 2002 and reached No. 7 on book sales charts. She eventually launched a signature fashion "Catty Couture" and was contracted to be the face of Ultimo Underwear in the UK. In 2013, Mel B was invited to be a judge on "America's Got Talent" and been on the panel until 2019 where she decided to leave. She also served as a coach and mentor on "The Voice" kids Australia in 2014 and became a presenter in the British version of Lip Sync Battle in 2016.
Mel B is a multi-talented woman with a perfect body and gorgeous locks. Her trendy looks are always incorporated with bold hairstyles. She's never afraid of experimenting with edgy haircuts as she can pull off any hairstyle she wants. To better show you what we mean, we've rounded up her remarkable and striking hairstyles that are truly eye-catching.
Check out Mel B's hairstyles over the years.
Photos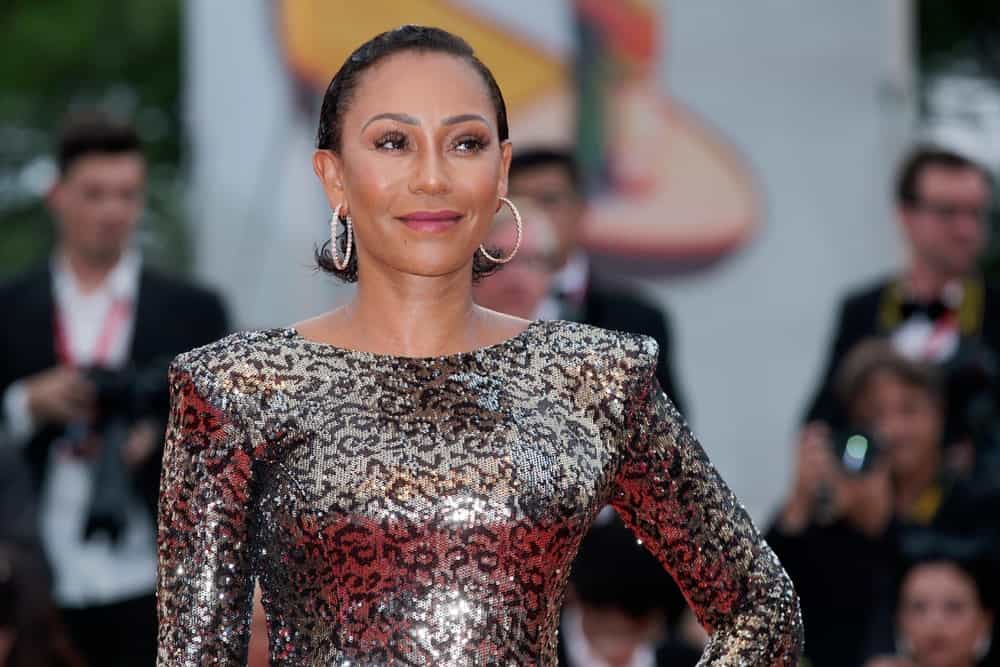 Mel B arrived at the 76th Venice Film Festival on August 28, 2019, with a short, slicked back hairstyle that she paired with hoop earrings.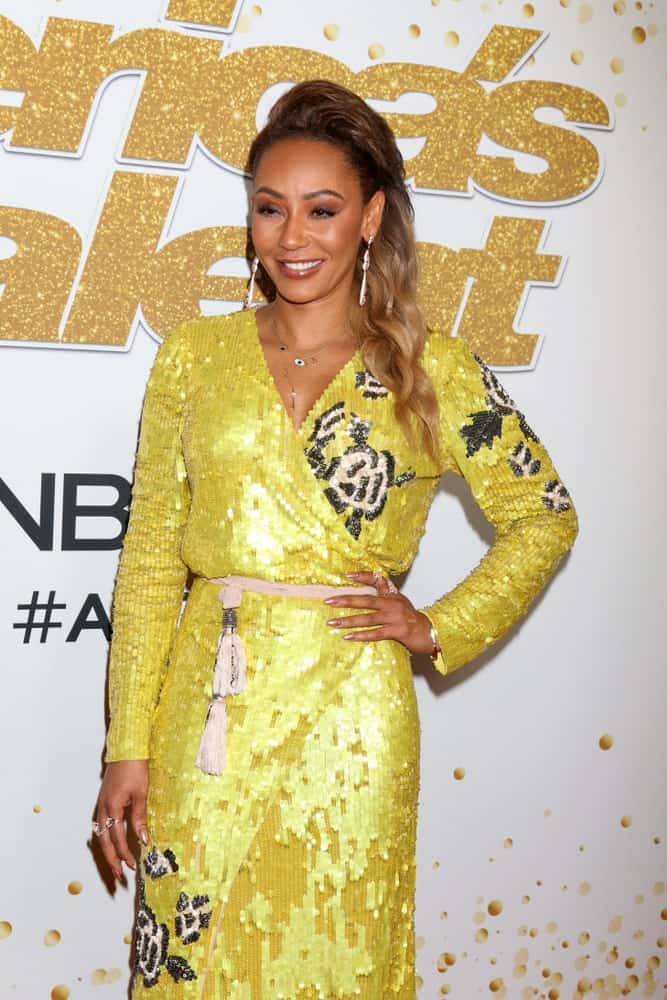 Mel B is ravishing in a yellow sequined dress along with her brown highlighted curls that she wore during the "America's Got Talent" Live Show Red Carpet on September 4, 2018.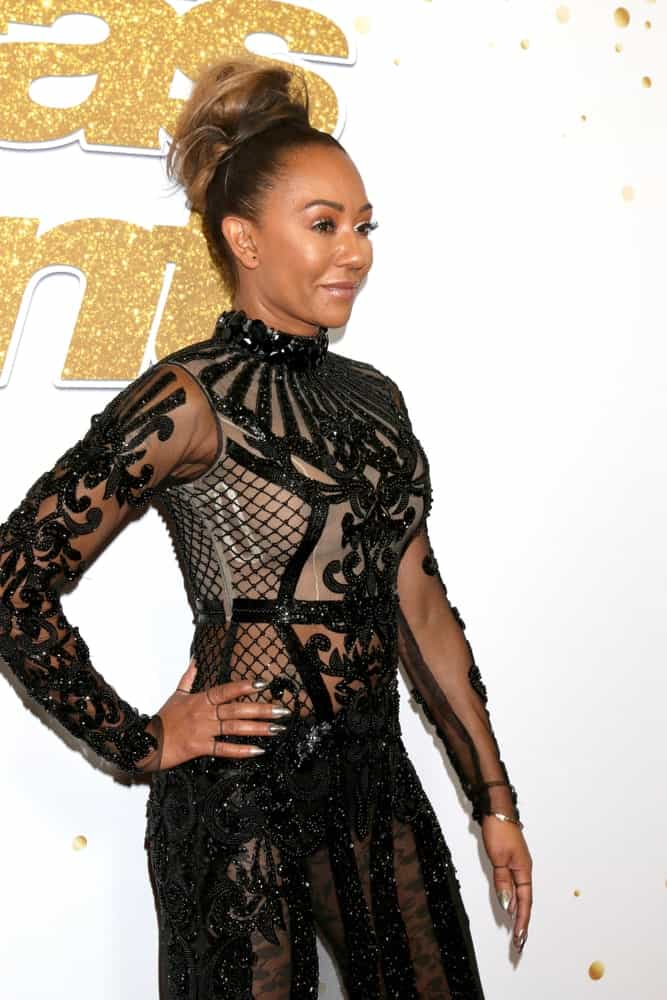 Mel B pulled back her brown highlighted locks into a thick, high bun at the "America's Got Talent" Live Show Red Carpet held on August 21, 2018.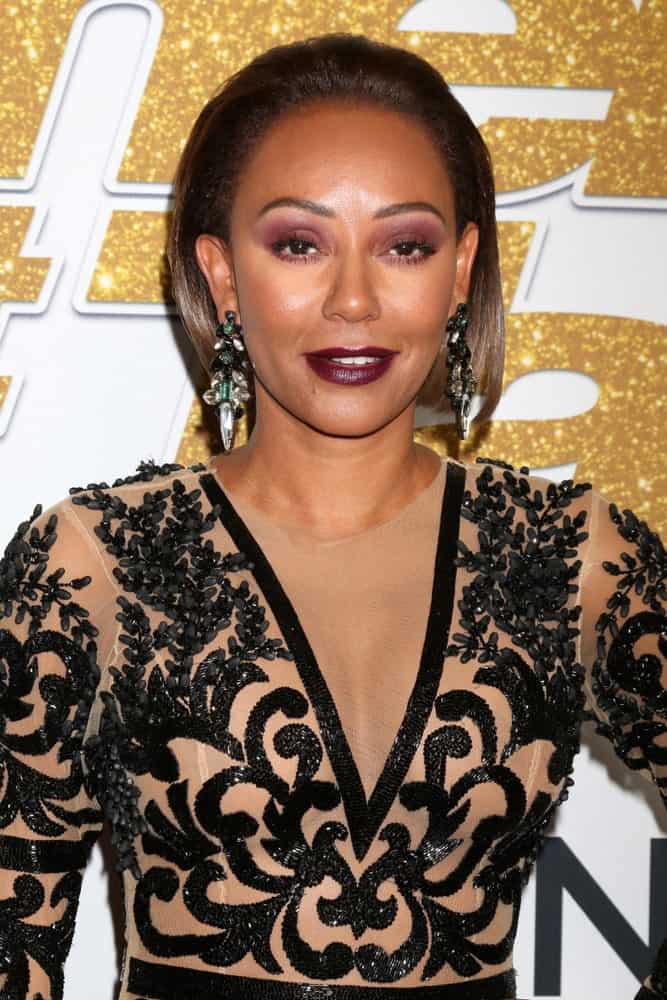 Mel B arrived at the "America's Got Talent" Season 13 Live Show Red Carpet on August 14, 2018, with a slicked bob. She finished the look with dark red lipstick, smokey eyes, and statement earrings.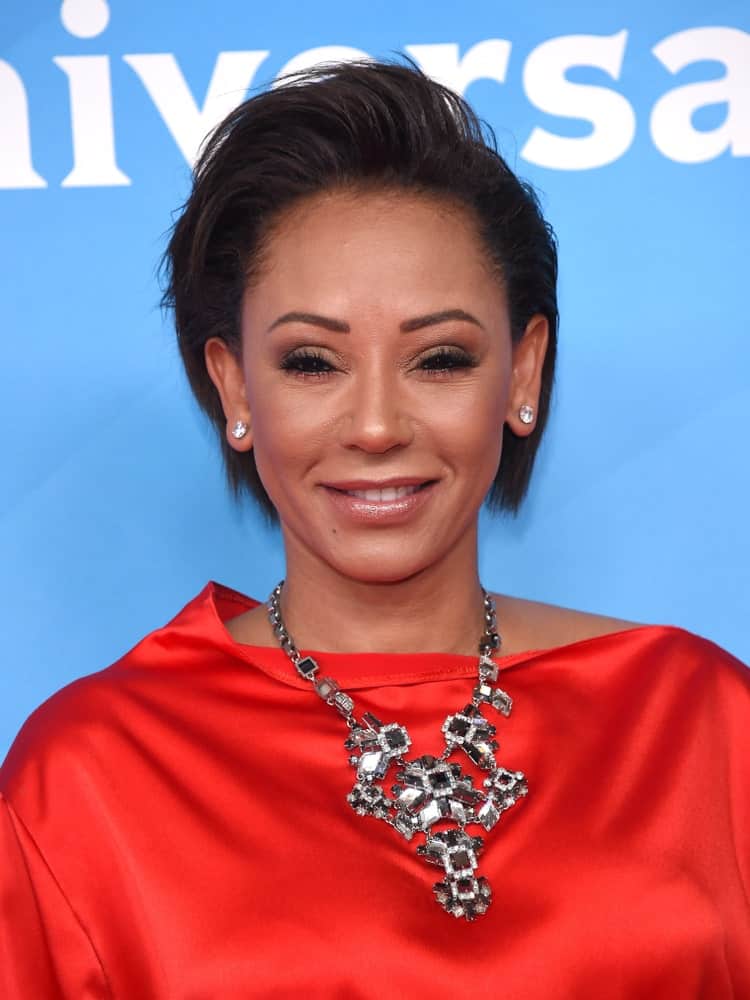 Mel B brushes up her dark pixie and paired it with a statement necklace at the 2018 NBC Universal Summer Press Day held on May 2, 2018.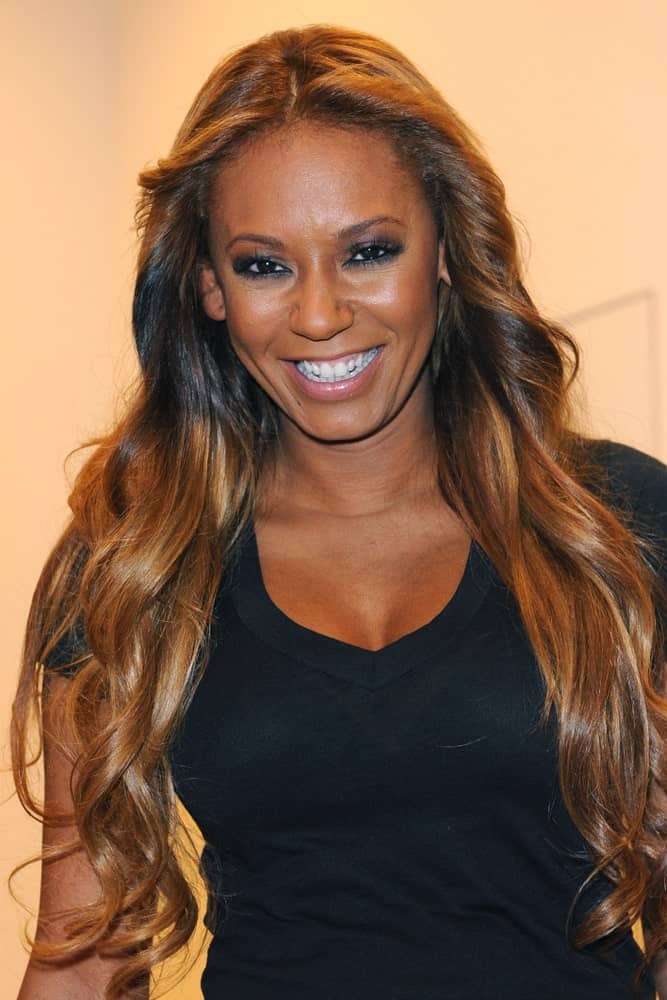 Mel B strikes a pose flaunting her ultra-long waves with a middle parting in Italy, Milan on January 25, 2018.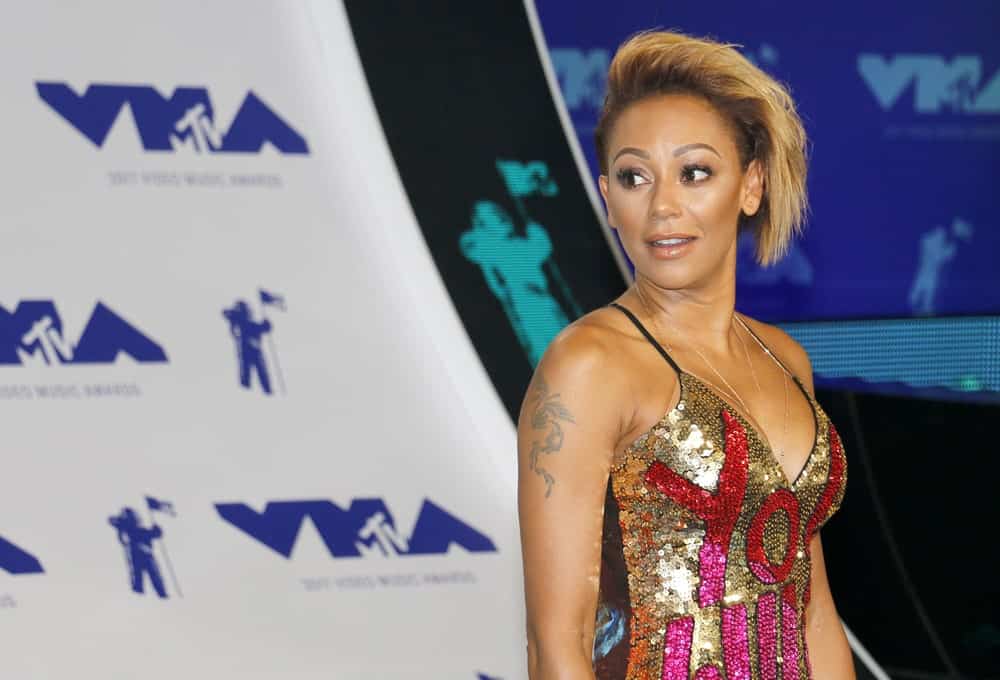 Mel B chopped off her hair into an edgy pixie that's shaved on one side. This photo was taken during the 2017 MTV Video Music Awards on August 27, 2017.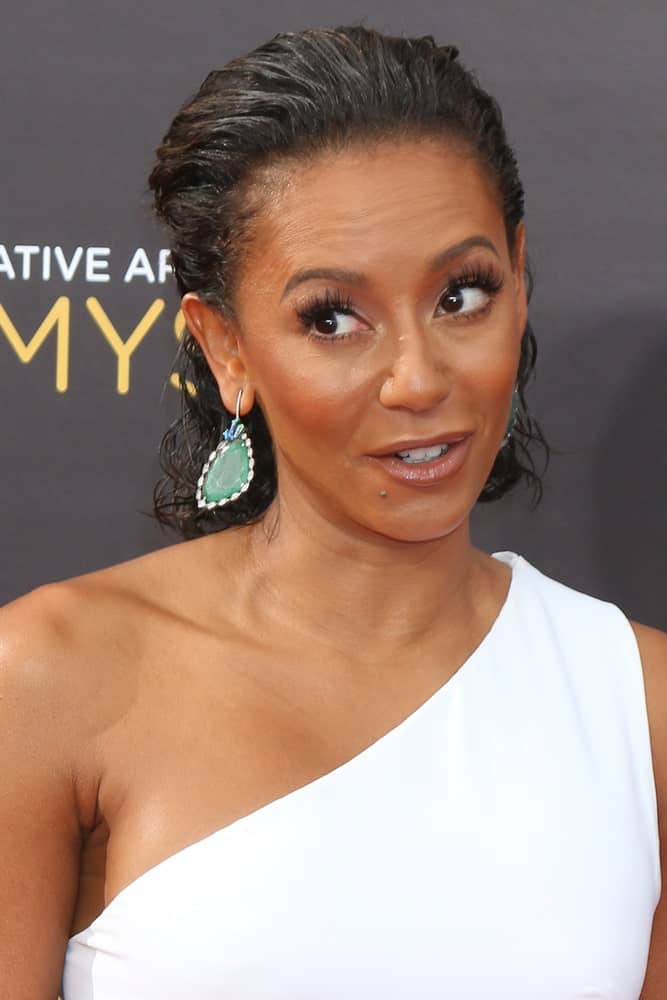 Mel B looking sleek in a brushed back half upstyle that she wore during the 2016 Creative Arts Emmy Awards – Day 1 – Arrivals on September 10, 2016. She topped it off with a white halter dress and oversized earrings.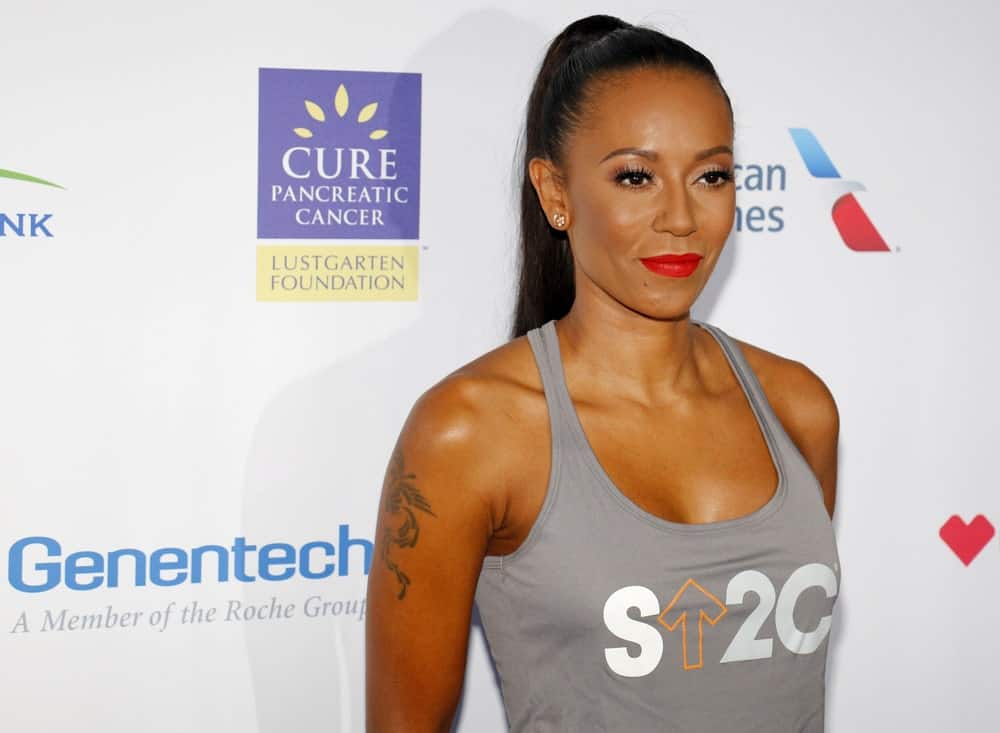 Mel B in a gray tank top and a high ponytail hairstyle at the 5th Biennial Stand Up To Cancer held on September 9, 2016.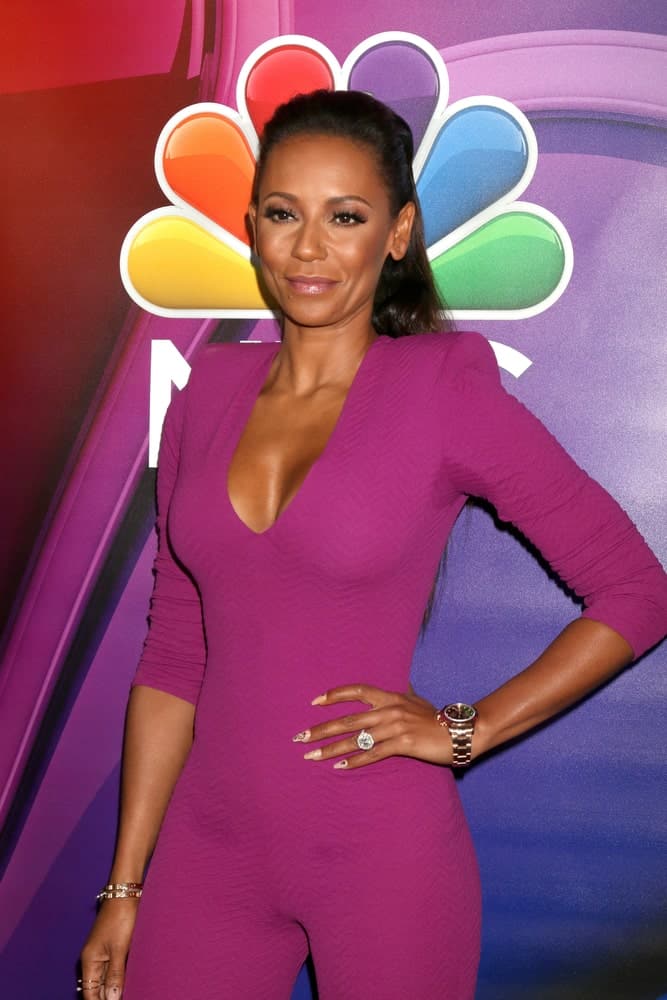 Mel B with her long dark locks arranged into a half upstyle as she attends the NBC Universal TCA Summer 2016 Press Tour on August 2, 2016.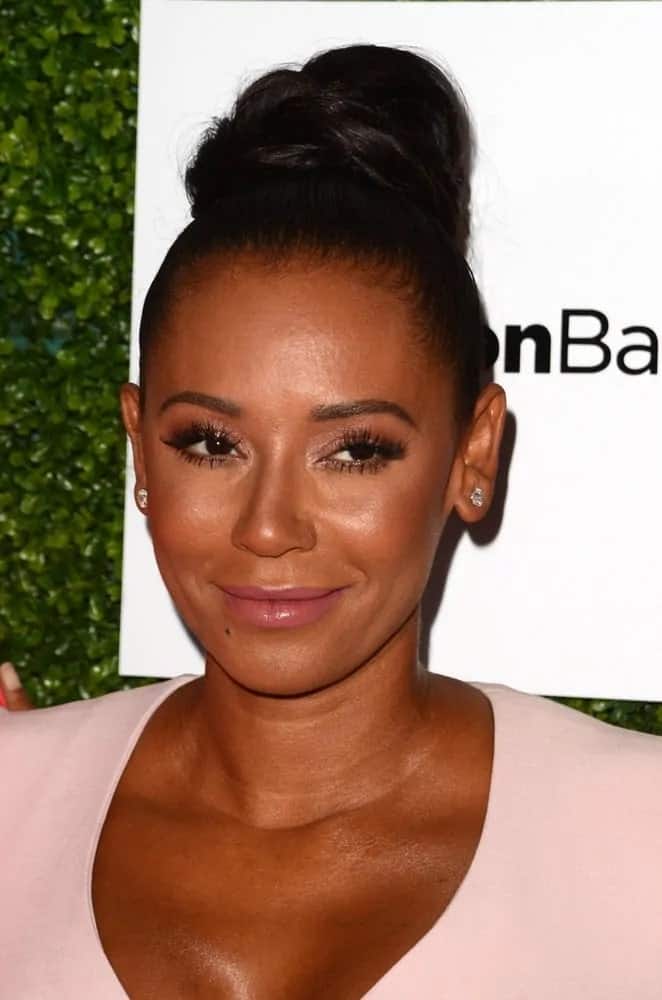 Mel B is pretty in a light pink dress with tresses piled in a big bun on top of her head as she attends the 2016 Ladylike Women of Excellence Awards Gala on June 4, 2016.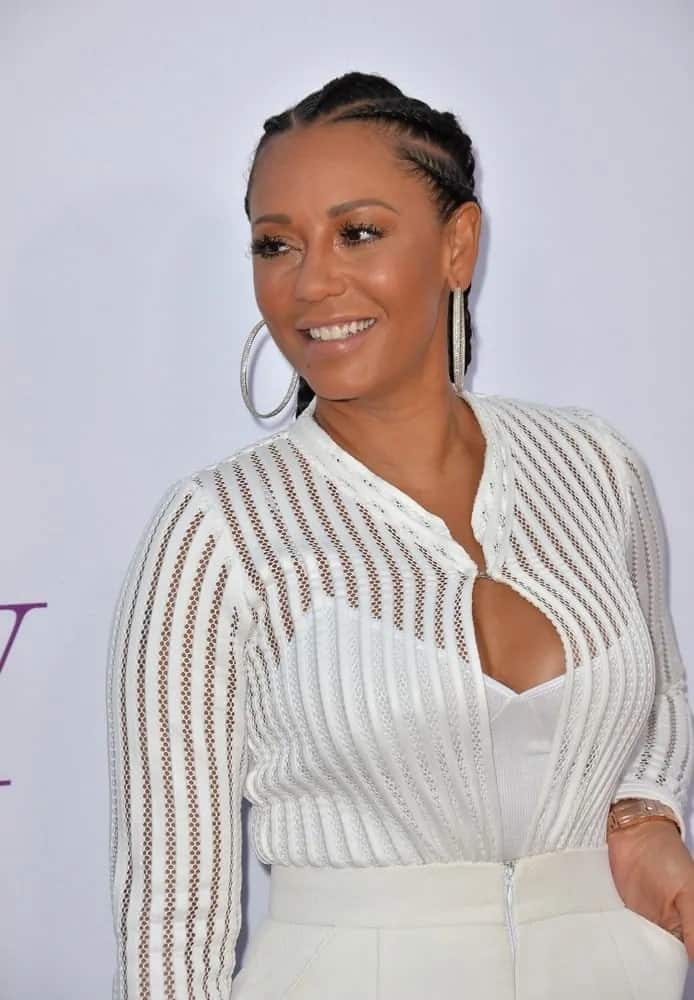 Mel B is flawless in an all-white outfit and topping off her modesty, she wore a cornrow ponytail hairstyle at the world premiere of "Mother's Day" on April 13, 2016.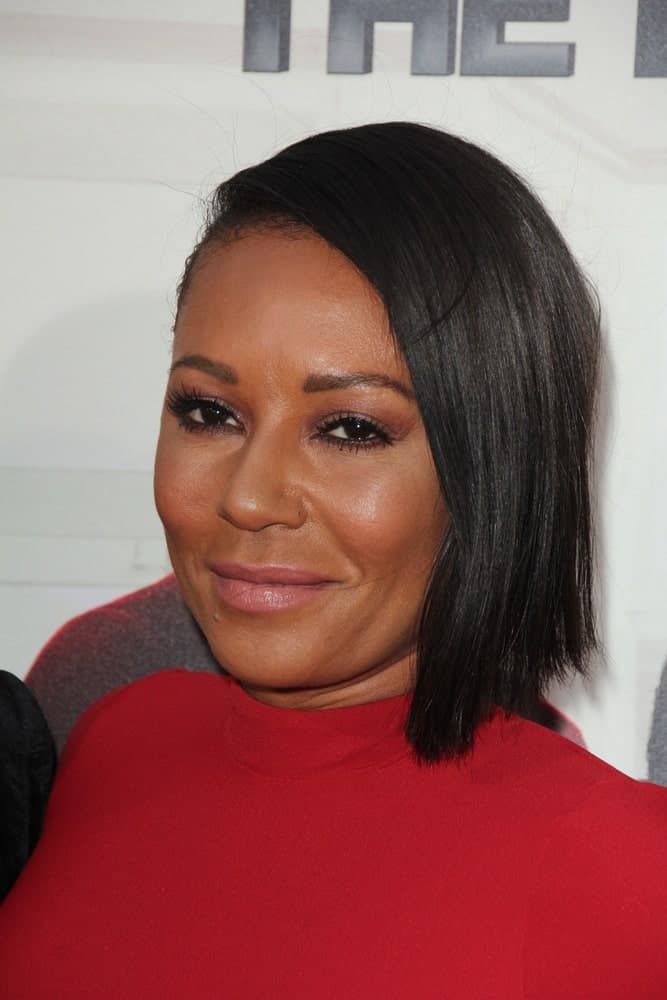 Mel B was spotted at the Barbershop – The Next Cut Premiere on April 6, 2016, wearing a red dress and black bob with a deep side parting.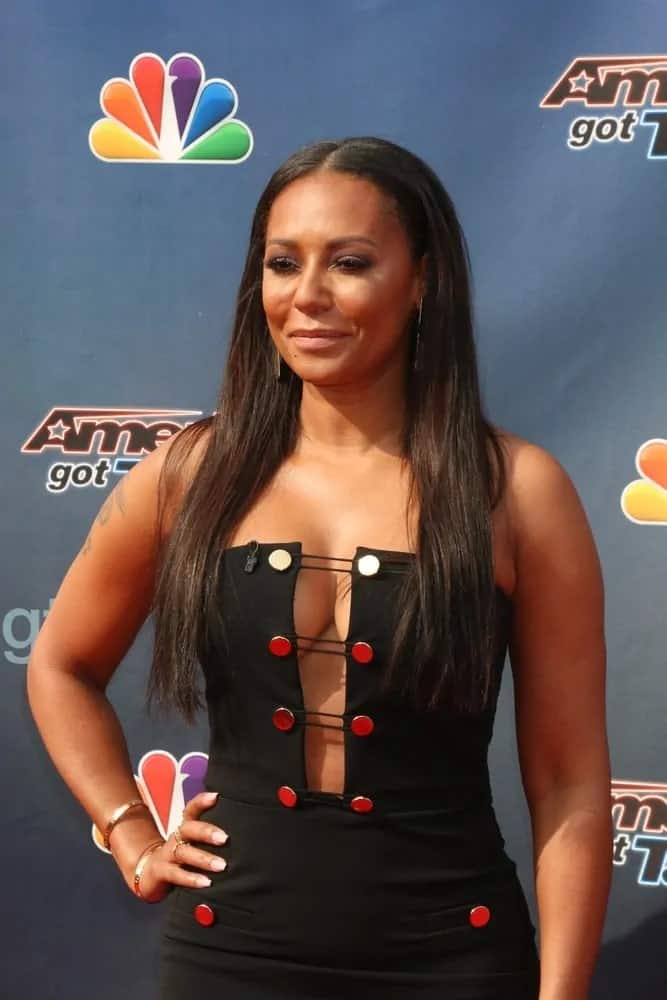 Mel B highlighted her slender physique in a black dress with a cleavage-showing front cutout and had her long straight dark hair down to complete her eye-catching look at the America's Got Talent Judges Photocall on March 3, 2016.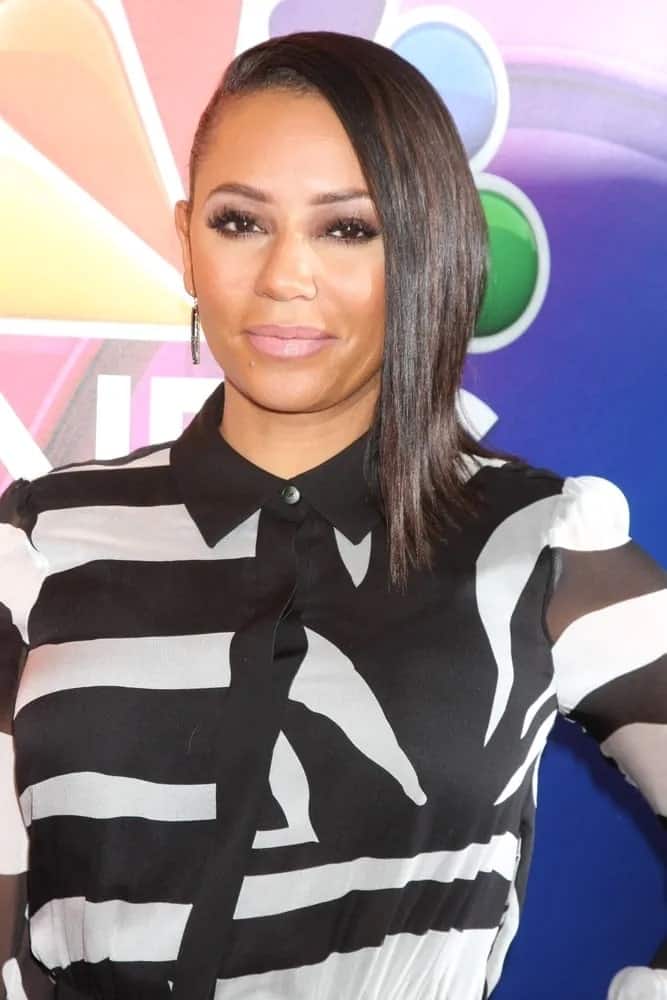 Mel B wears a zebra-patterned top paired with wide black trousers and pinned her dark hair up in a quirky side-swept half up half down style at the NBCUniversal TCA Press Day Winter 2016 on January 13, 2016.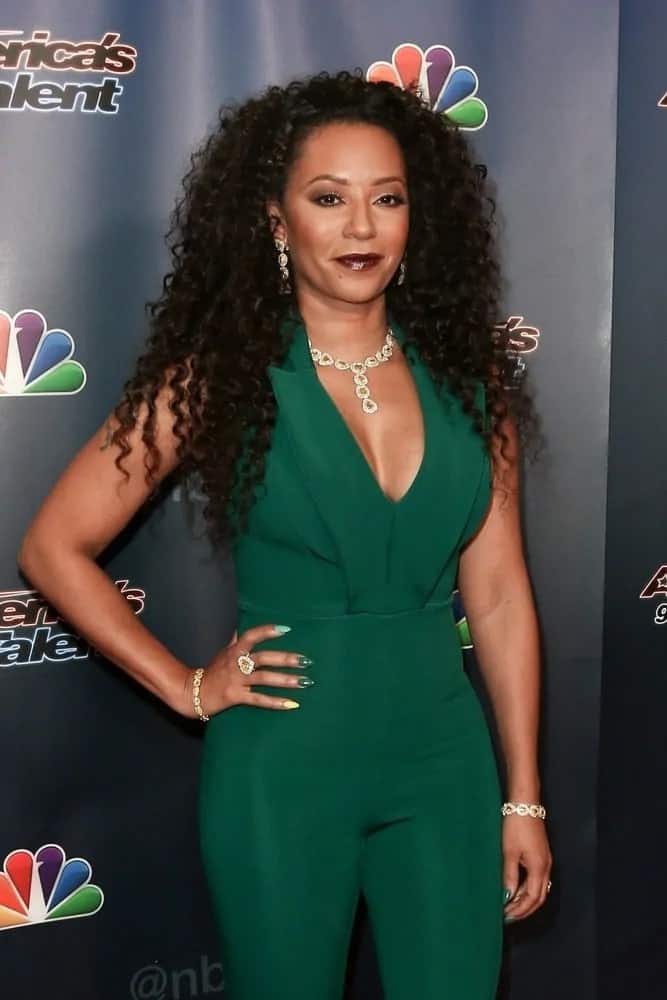 Mel B looks sensational in a teal jumpsuit as she wears her naturally kinky strands loose, completely complementing her red carpet looks at America's Got Talent Season 10 Semi-finals taping on September 9, 2015.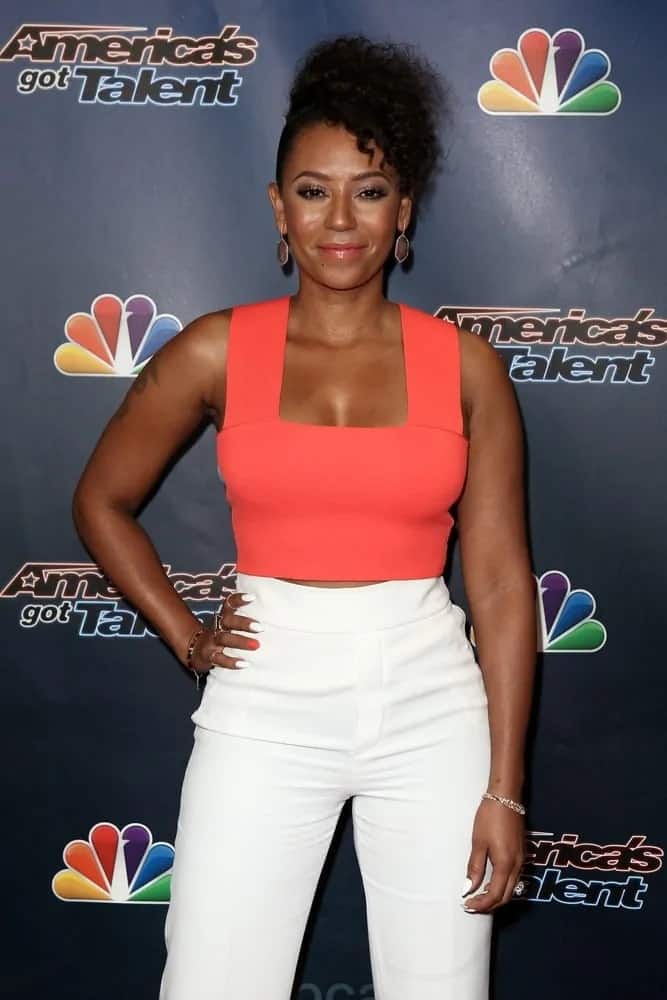 Mel B looking hot in her red cropped top and white trouser pants as she pulled her kinky hair up into a high-top ponytail hairstyle during the 'America's Got Talent' Season 10 Results Show on August 26, 2015.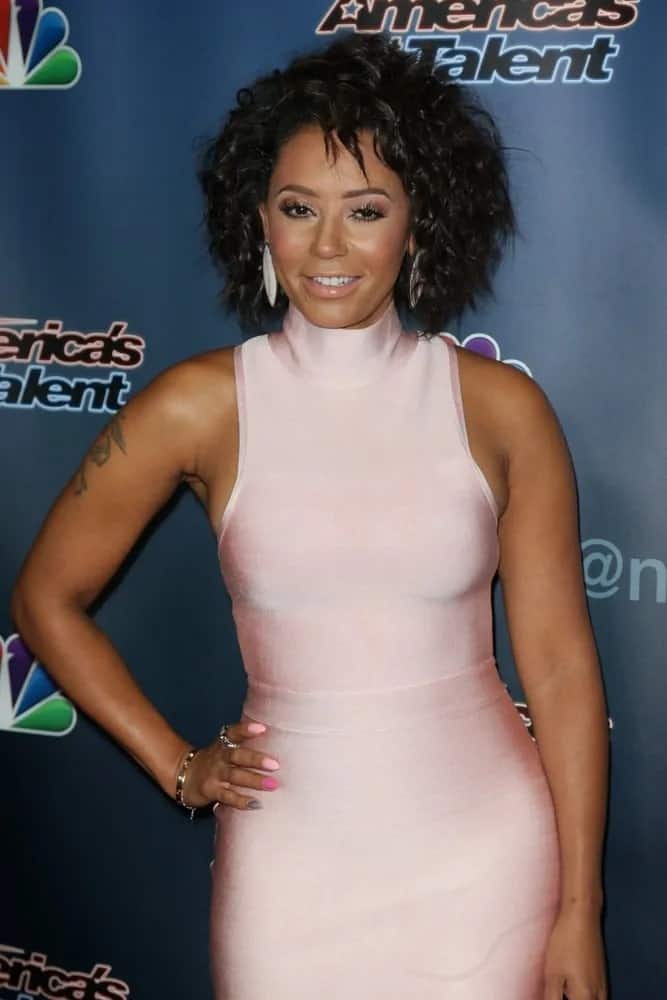 Mel B looks classy in a light pink slinky sleeveless dress, topping it off with a short naturally curly bob hairstyle as she attends the 'America's Got Talent' Season 10 Results Show on August 12, 2015.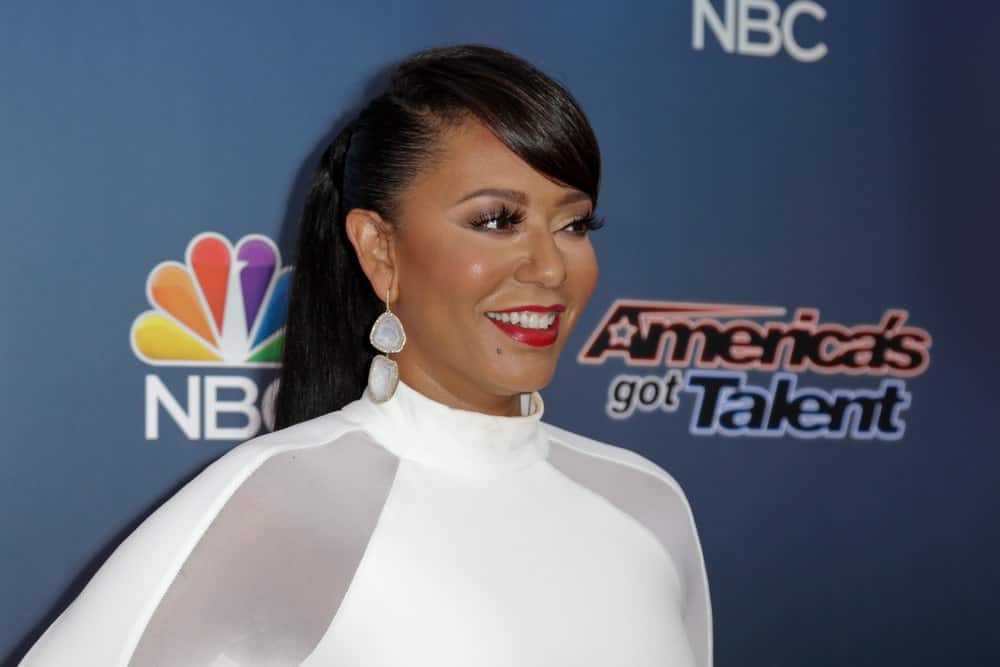 Mel B pulled back her jet black locks into a ponytail with side bangs during the 'America's Got Talent' season 10 taping on August 11, 2015.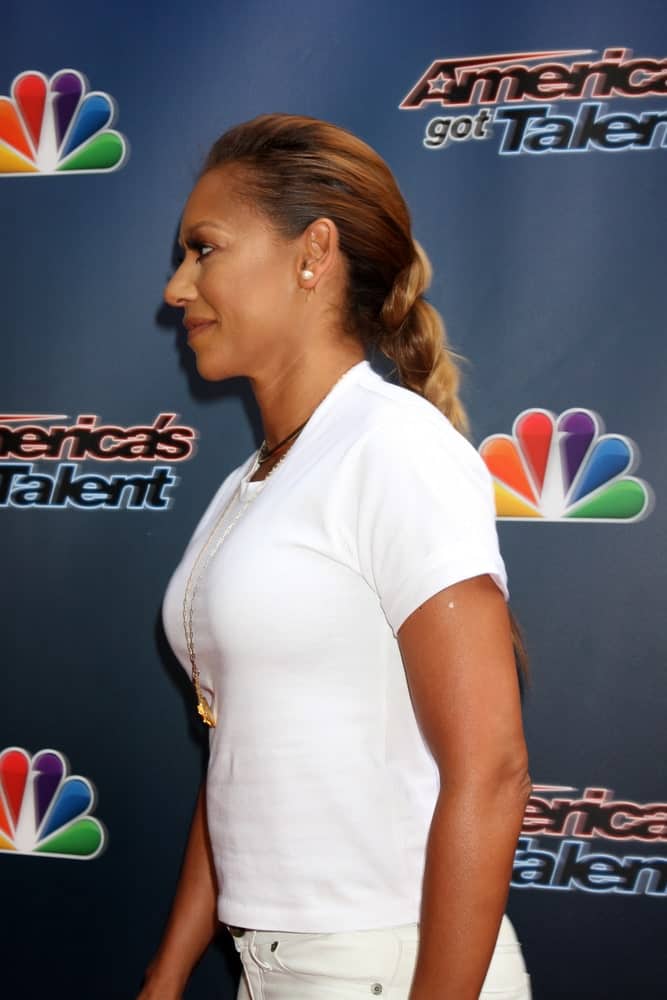 Mel B kept it casual in a white shirt and long braided ponytail during the "America's Got Talent" Los Angeles Auditions Arrivals on April 22, 2014.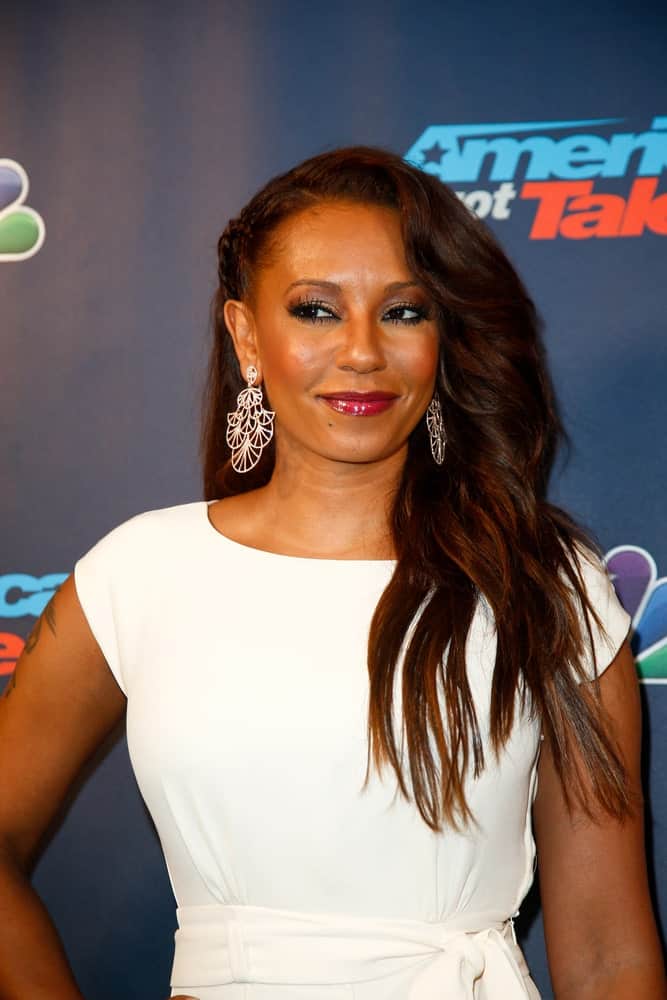 Mel B complements her voluminous side-swept hair with braids on the other side during the post-show red carpet for NBC's "America's Got Talent" Season 8 on August 28, 2013.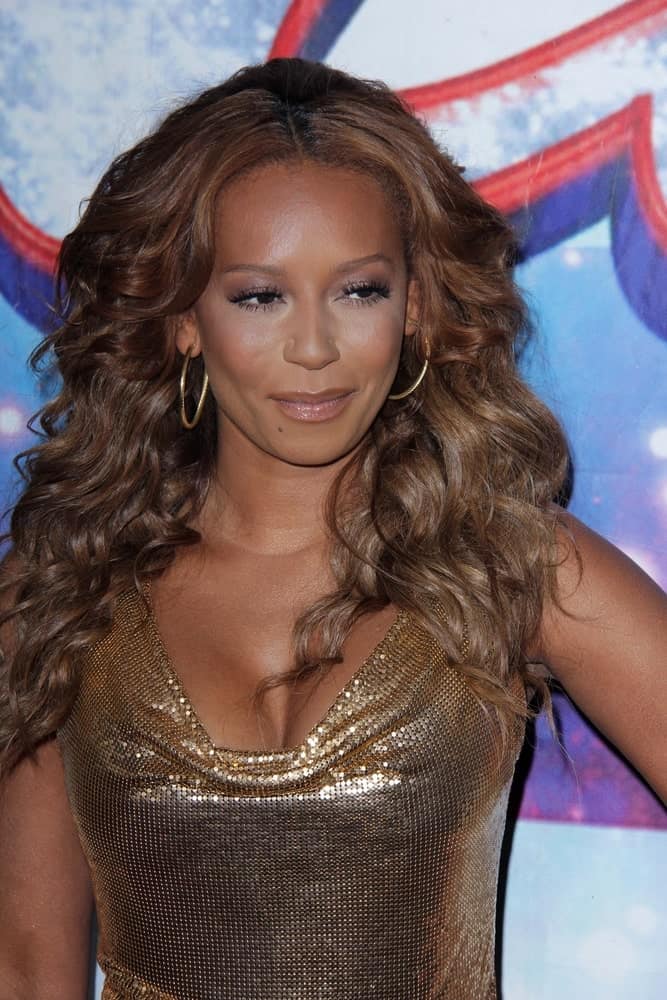 On April 24, 2013, Mel B arrived at the "America's Got Talent" Los Angeles Auditions with a voluminous curly hairstyle that's parted in the center.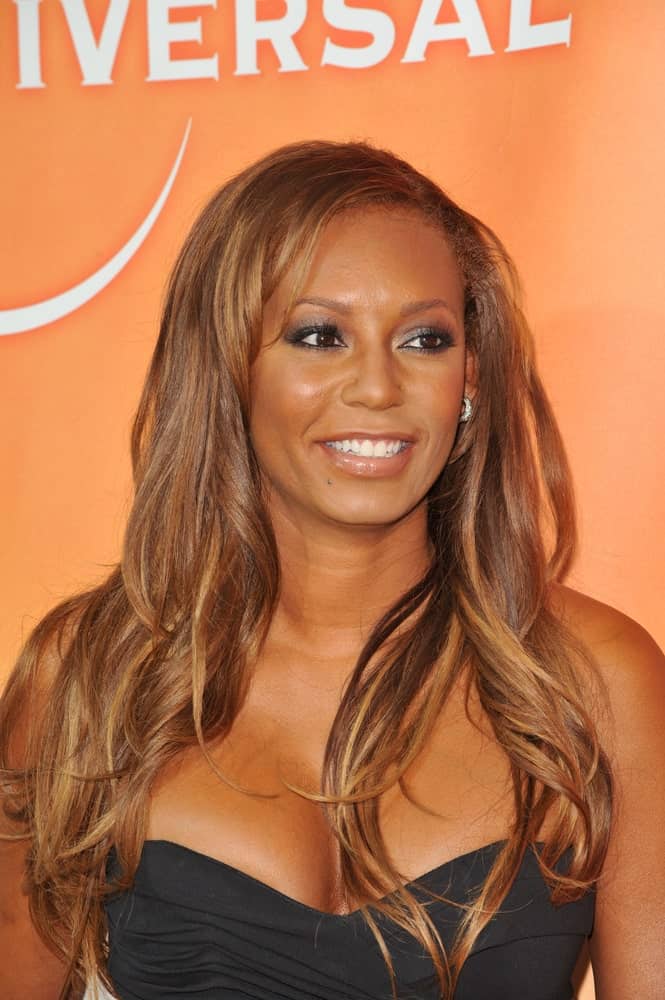 Mel B sports her brown highlighted tresses with subtle waves during the NBC Universal TV Summer Press Tour Party on July 30, 2010.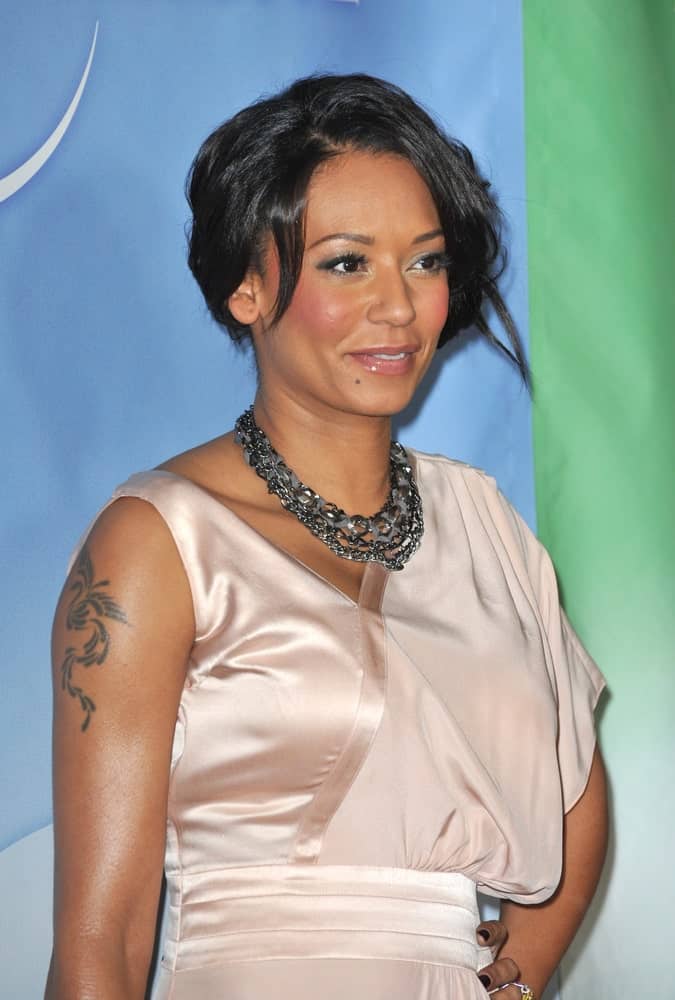 Mel B looks stunning in a silky nude dress that she paired with a glam updo at the NBC Universal's Winter 2010 Press Tour cocktail party on January 10, 2010.