Take a glance at Michelle Rodriguez's sleek hairstyles over the years. Discover how she reinvented various hairstyles with her jet black locks that are all worth trying.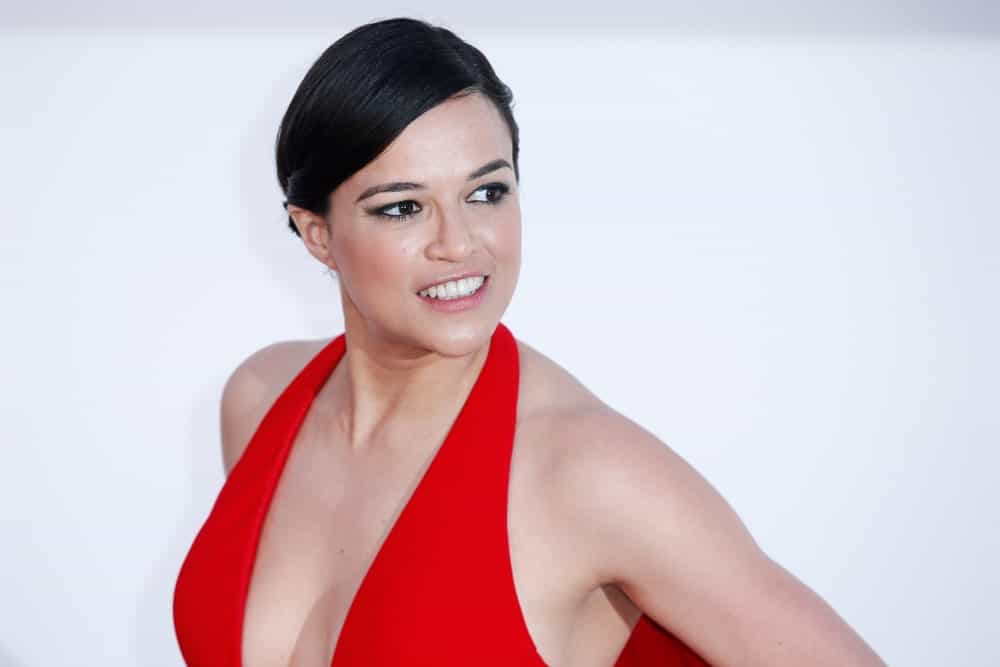 Michelle Rodriguez is a famed Latina actress who has that certain beauty and charisma in her that makes her a beauty icon. She has her own kind of looks and style.
Here are some cool and gorgeous Michelle Rodriguez hairstyles in different events and times.
Long Curls
In the AmFar Gala in LA she was seen wearing a loose curl styled hair.
Braided Long Hair
For the Fate of the Furious she mastered a side-parted braids kept tight hairstyle.
Elegant Ponytail
At a Gaultier Couture she brought with her a truly nice and elegant looking ponytail.
Sleek Ponytail
She went at it again with another ponytail at a closing ceremony of the Cannes.
Chignon
She went a bit conservative with a clean chignon at the Irrational Man cannes premiere.
Bun Twist
Michelle was seen in a Swarovski event in a pretty twisted bun.
Long Wavy Cut
For the LACMA art event she joined, she wore a semi wavy cut with short bangs hair style.
Straight Cut and Bangs
This time she went super casual with a long straight hair cut with bangs almost up to the eyes at the amFar Inspiration Gala.
Wave Long Cut
She was seen in a New York Gala event with a "don't care" mess wave cut.
Dark Shade Ponytail
She went back to her ponytail but this time in dark brown and a bit wavy at the Fast and Furious 6 premiere.
Pinned Bobby Style
In the London premiere of the Fast and Furious 6, she wore a pretty bobby updo.
Long Wavy Cut
At the 2013 Vanity Fair party she took on some big waves with nice a nice bounce.
Here's Michelle Rodriguez's hairstyles over the years.
Photos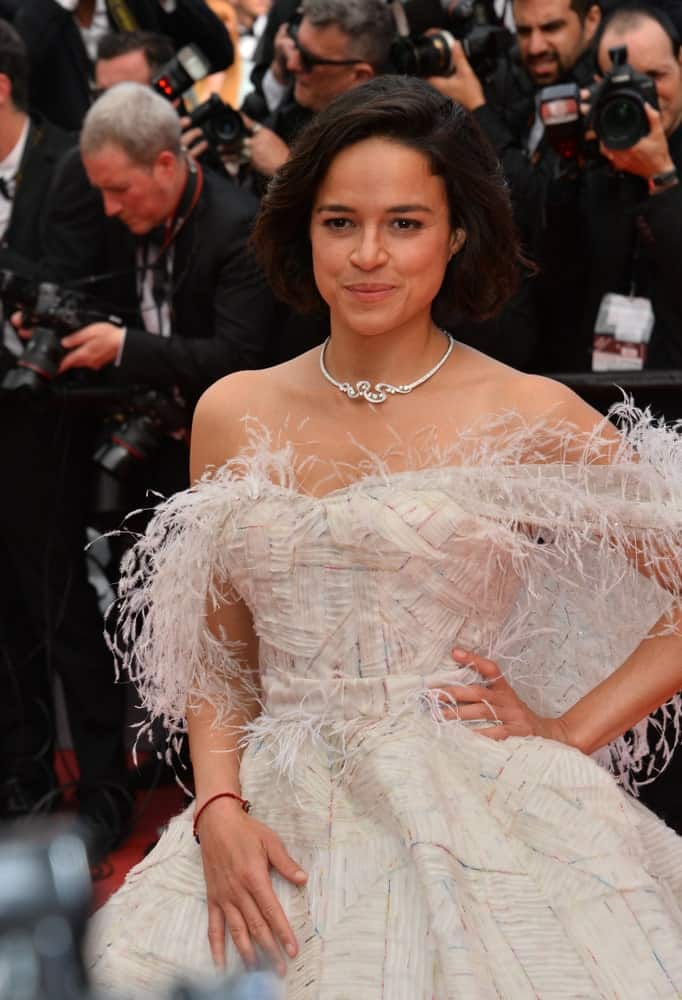 Michelle Rodriguez looking all fabulous in a voluminous bob at the gala premiere for "Once Upon a Time in Hollywood" held on May 21, 2019.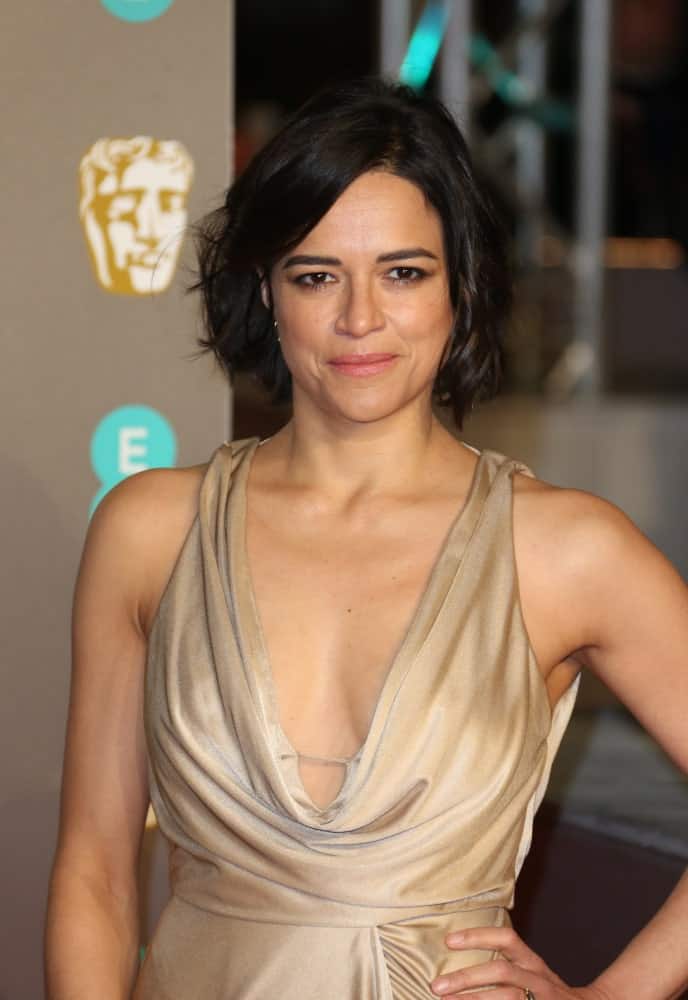 Michelle Rodriguez chopped off her black locks into a bob and styled it with subtle waves during the 72nd British Academy Film Awards on February 10, 2019.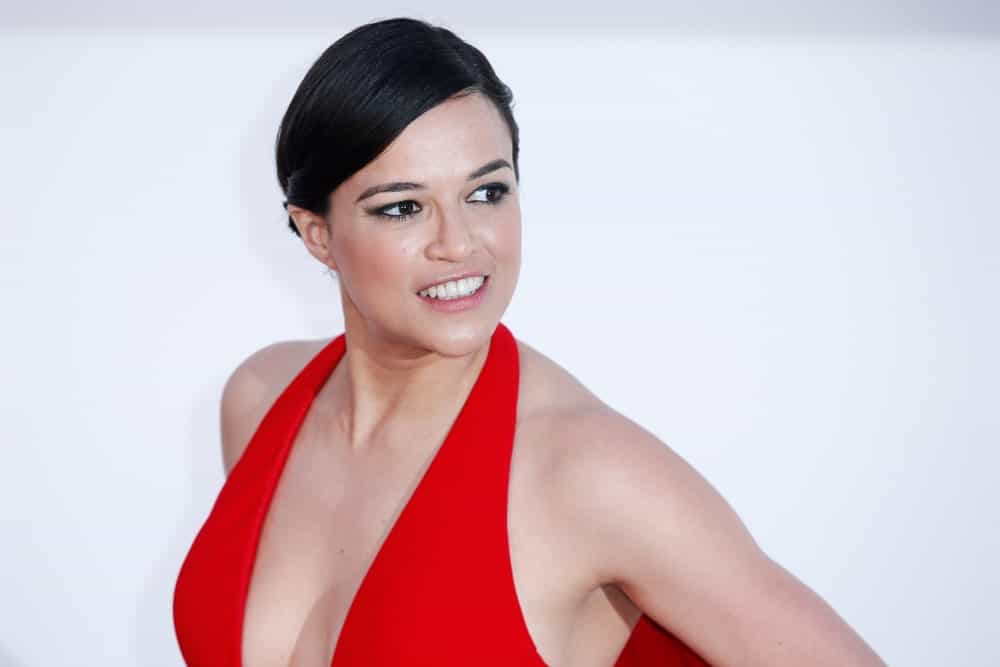 Michelle Rodriguez sports a neat updo with side parting during the 2018 amfAR Gala Cannes on May 17, 2018.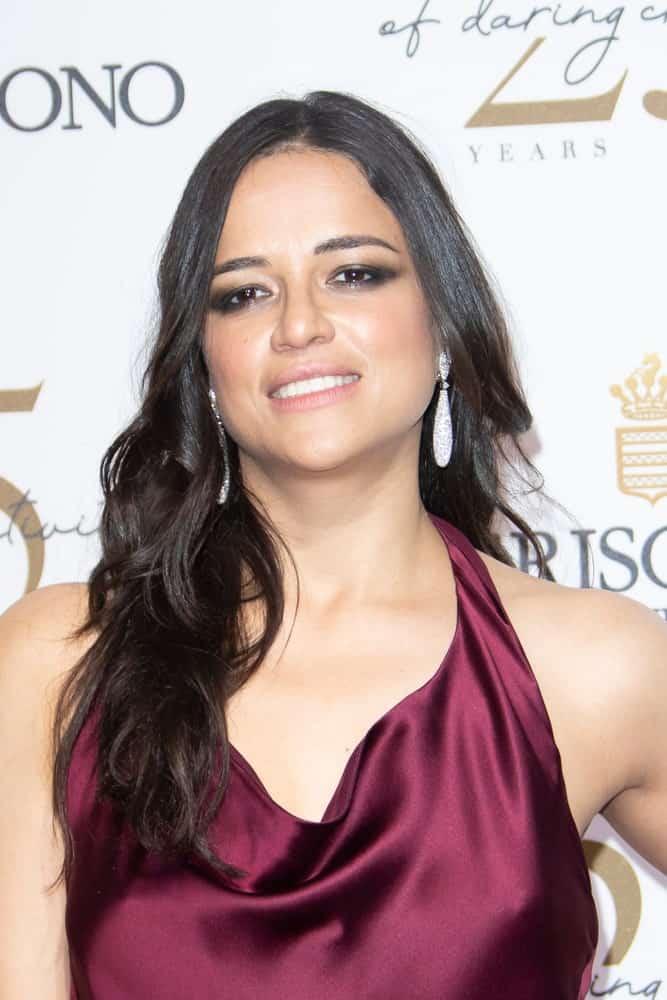 Michelle Rodriguez overflowed with posh and class in a silky dress paired with her loose waves that are center-parted at the De Grisogono Party during the 71st annual Cannes Film Festival on May 15, 2018.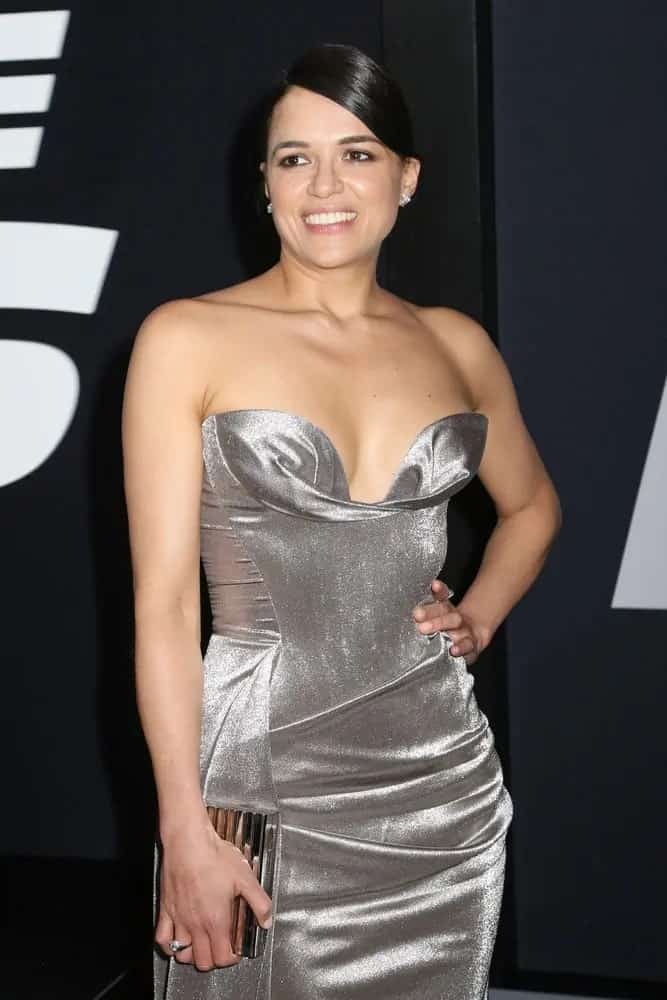 Michelle Rodriguez shimmers in a silver steel strapless gown and sensually pulled back her sleek side-part hair into a classic ponytail braid as she attends the premiere of "The Fate Of The Furious" on April 18, 2017.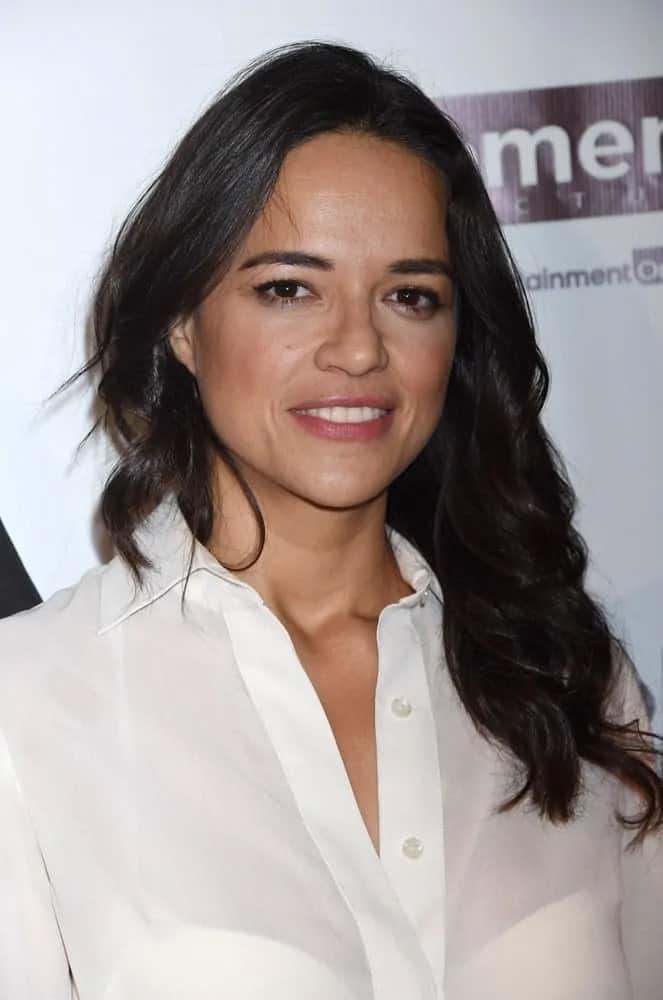 Michelle Rodriguez kept it casual with a white top and black slacks. Complementing the look, she opted for a simple loose 'do with subtle waves when she attended "Milton's Secret" Los Angeles Premiere on September 27, 2016.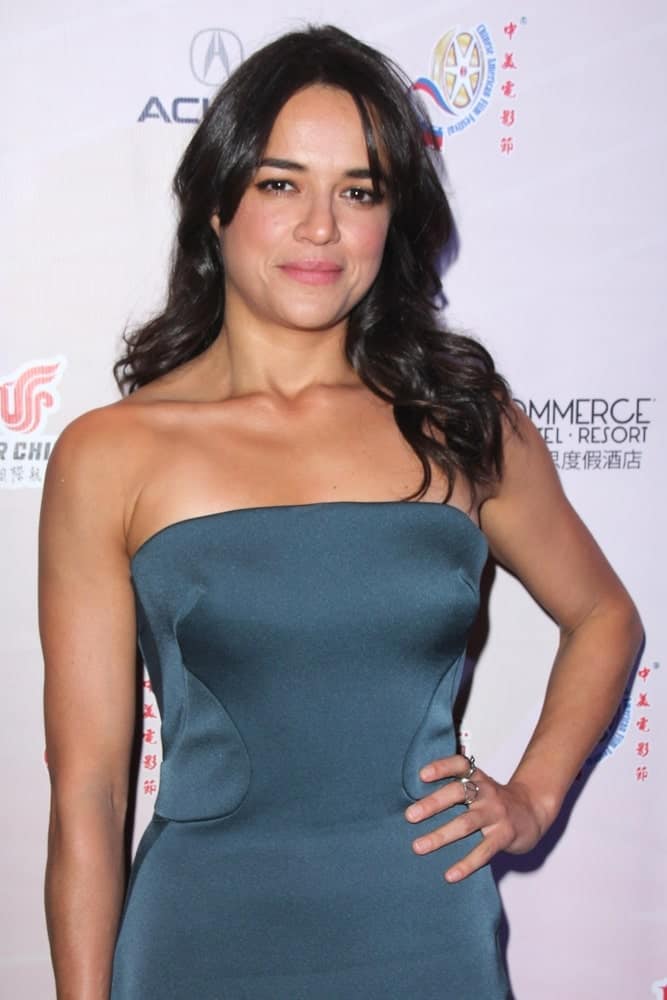 Michelle Rodriguez is a green Goddess in her emerald green silky strapless gown along her long brunette tresses styled in soft loose curls with curtain bangs as she attends the 11th Annual Chinese American Film Festival Opening Night on November 2, 2015.
Michelle Rodriguez switched her usual dark wardrobe to a much lighter look by sporting an all-white jumpsuit and had her raven-colored tresses in a ponytail with fringe as she attends the "Fast & Furious – Supercharged" Ride Press Event on June 23, 2015.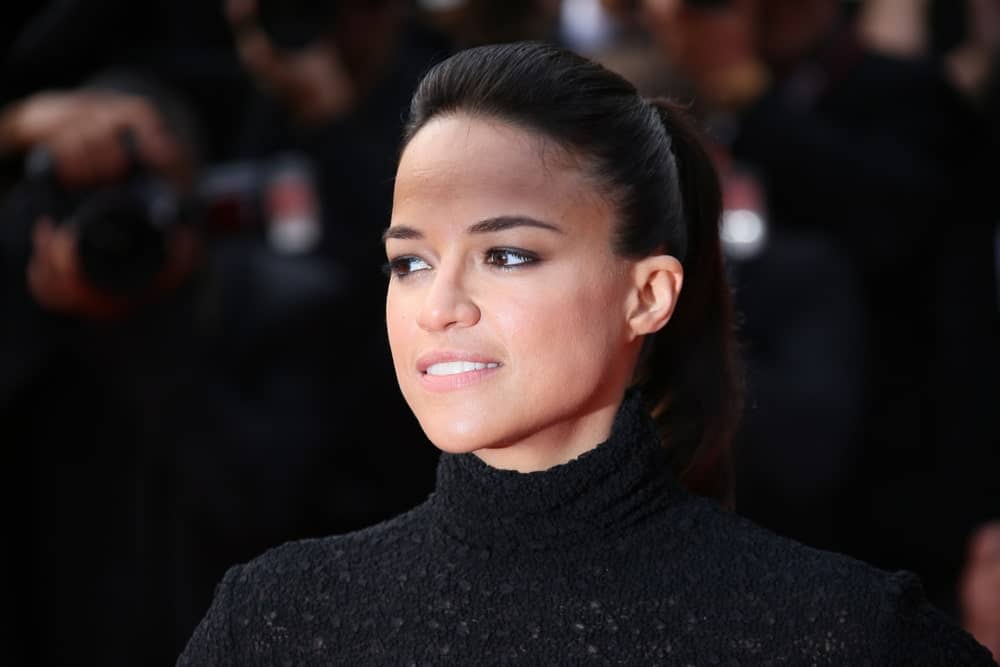 On May 24, 2015, Michelle Rodriguez was seen at the closing ceremony and 'Le Glace Et Le Ciel' Premiere during the 68th annual Cannes Film Festival. She was wearing an all-black dress that's matched with a neat ponytail hairstyle.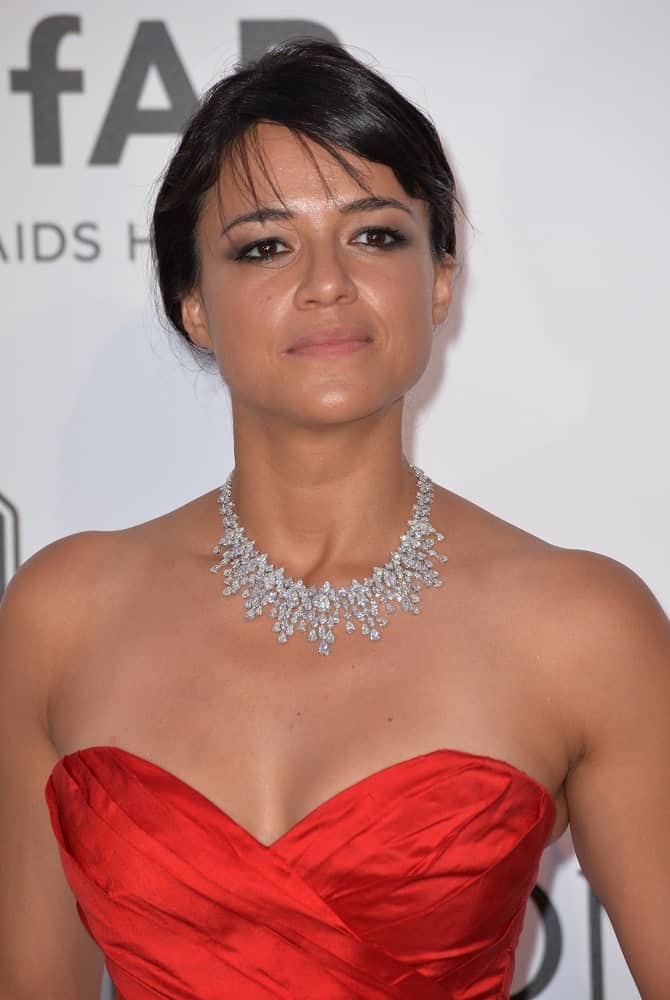 Michelle Rodriguez looks ravishing in a red tube dress and a loose upstyle with thin, scattered bangs during the 2015 amfAR Cinema Against AIDS gala on May 21, 2015.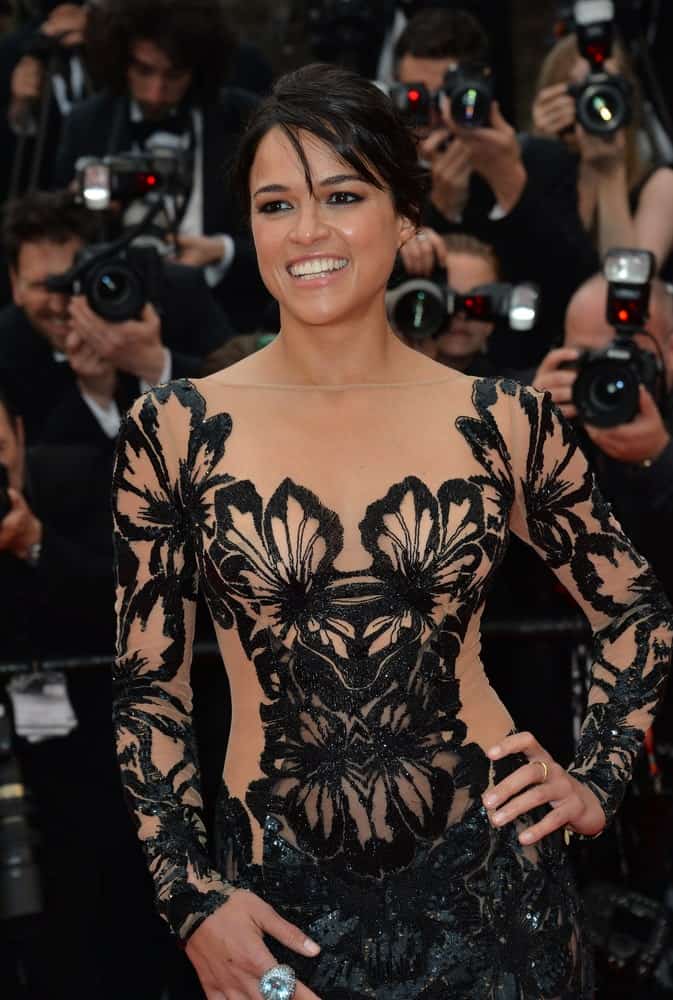 Michelle Rodriguez glam up in a semi-sheer floor-length gown and her dark tresses were swept back in a neat bun as she attends the gala premiere of "Mad Max: Fury Road" on May 14, 2015.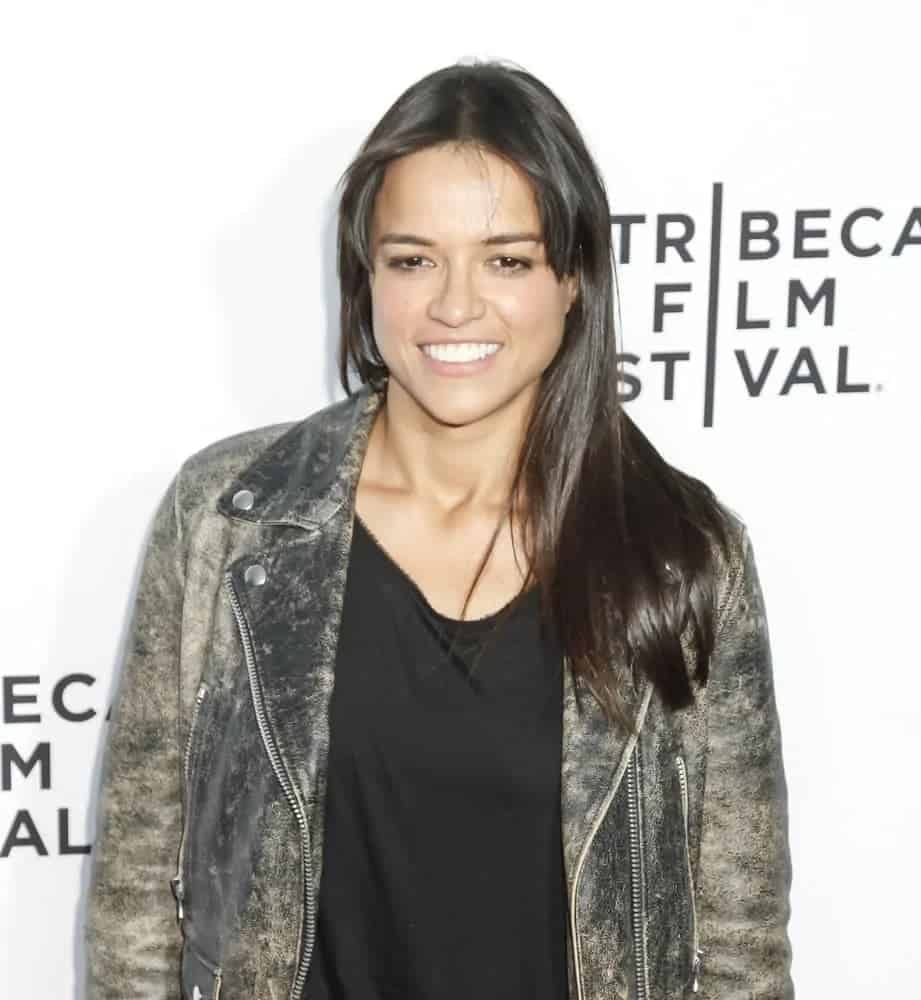 Michelle Rodriguez dresses down in a leather jacket and wore her sleek medium-length hair in loose straight, rested in one shoulder with middle-part bangs at the world premiere of Live From New York on April 15, 2015.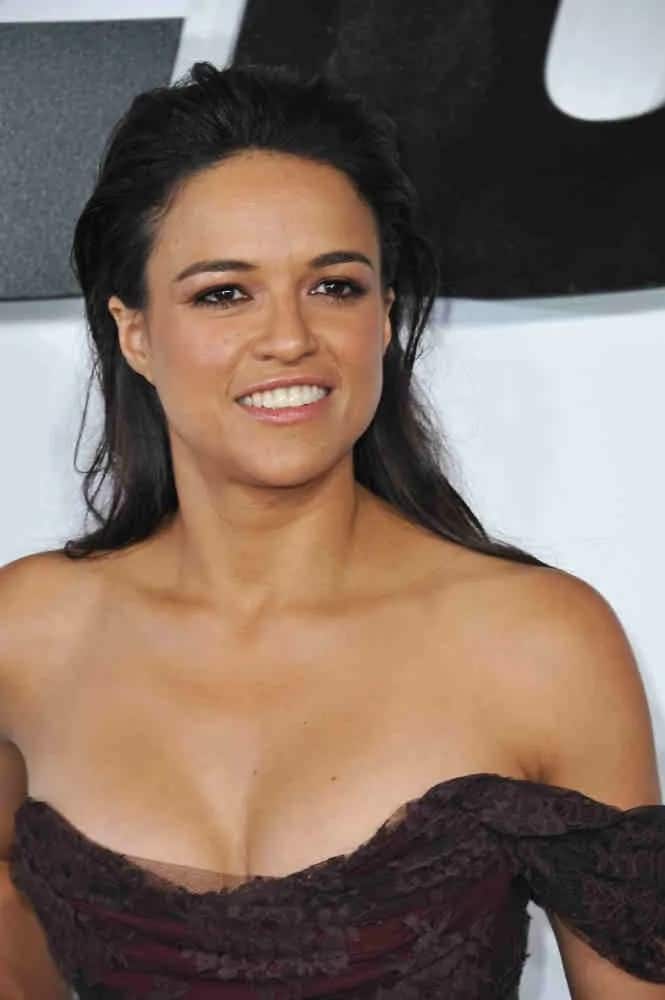 Michelle Rodriguez wowed in an off-shoulder maxi dress that really highlights her wonderful curves while her long raven hair in a slicked back textured wet-look was a perfect complement to her gorgeous look at the world premiere of her movie "Furious 7" on April 1, 2015.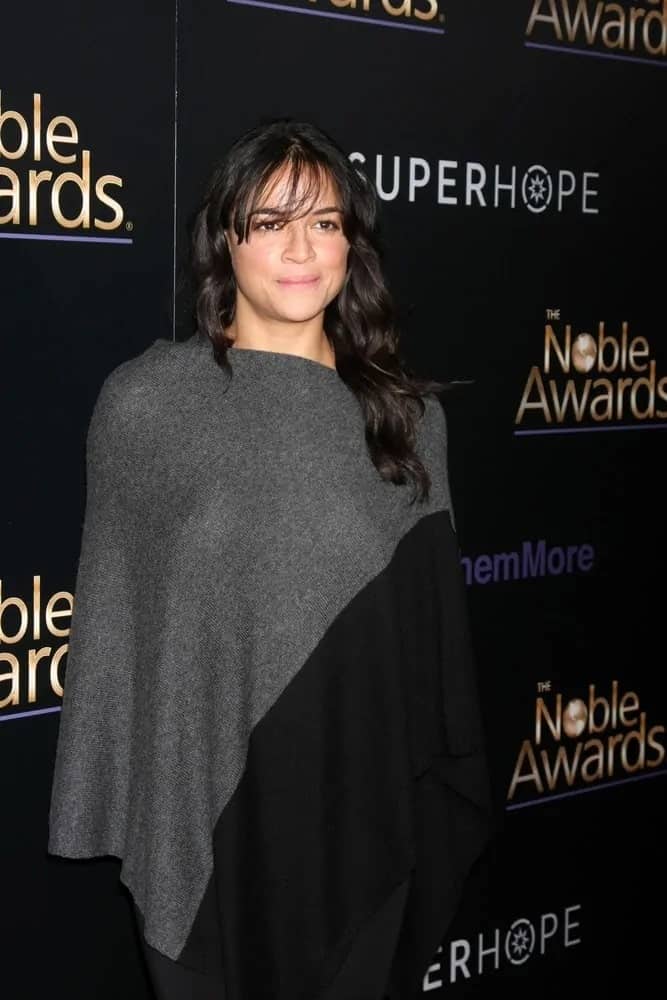 Michelle Rodriguez went fancy in a black and gray knit poncho paired with a baggy black jumper. She matched this comfy look with pretty loose curls with a spot of fringe as she attends the Noble Awards on February 27, 2015.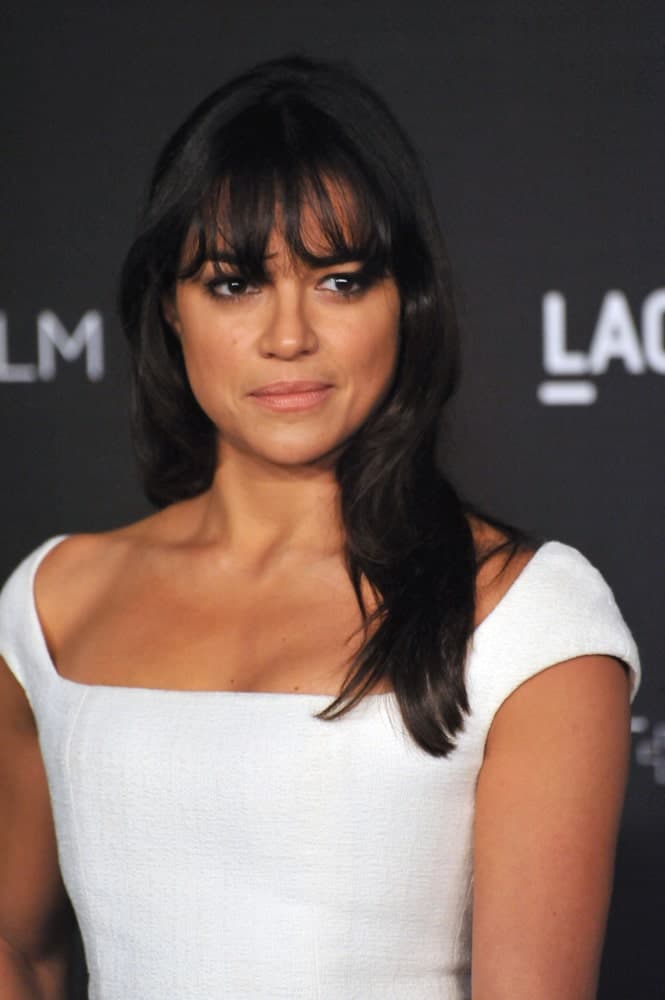 Michelle Rodrigues looks sophisticated in a white dress that's contrasted with her jet black waves and wispy bangs at the 2014 LACMA Art+Film Gala on November 1, 2014.
Michelle Rodriguez strikes a pose flaunting her long black waves in ponytail hairstyle during the 21st annual amfAR Cinema Against AIDS Gala on May 22, 2014.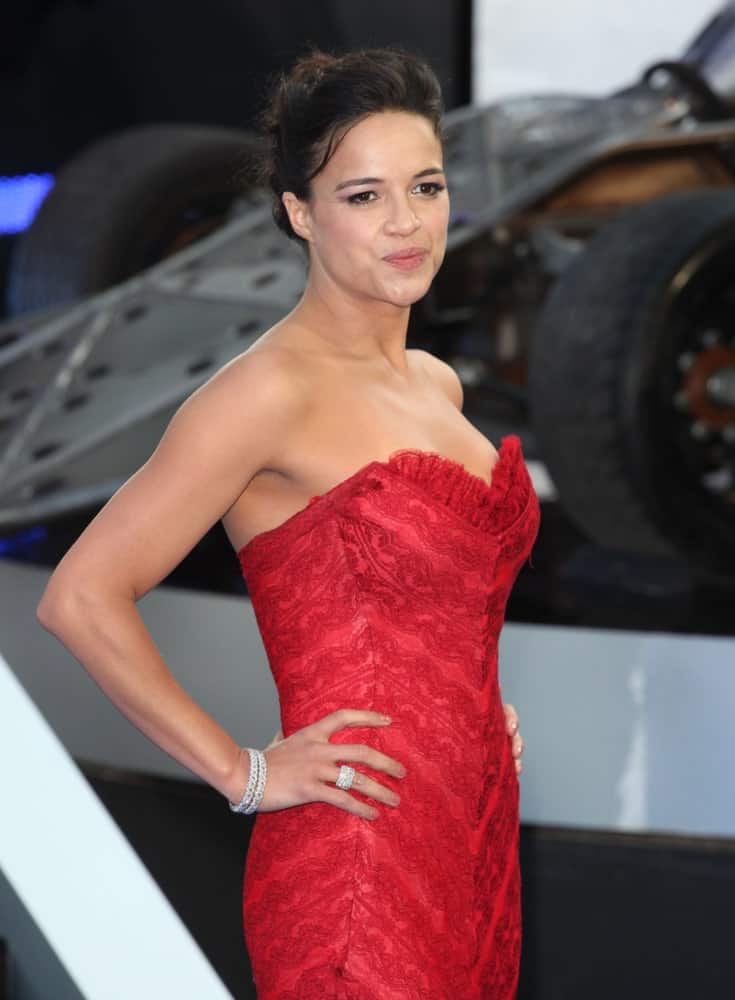 On July 5, 2013, Michelle Rodriguez attended the 'Fast And Furious 6' premiere in a red patterned dress that she paired with a glam updo.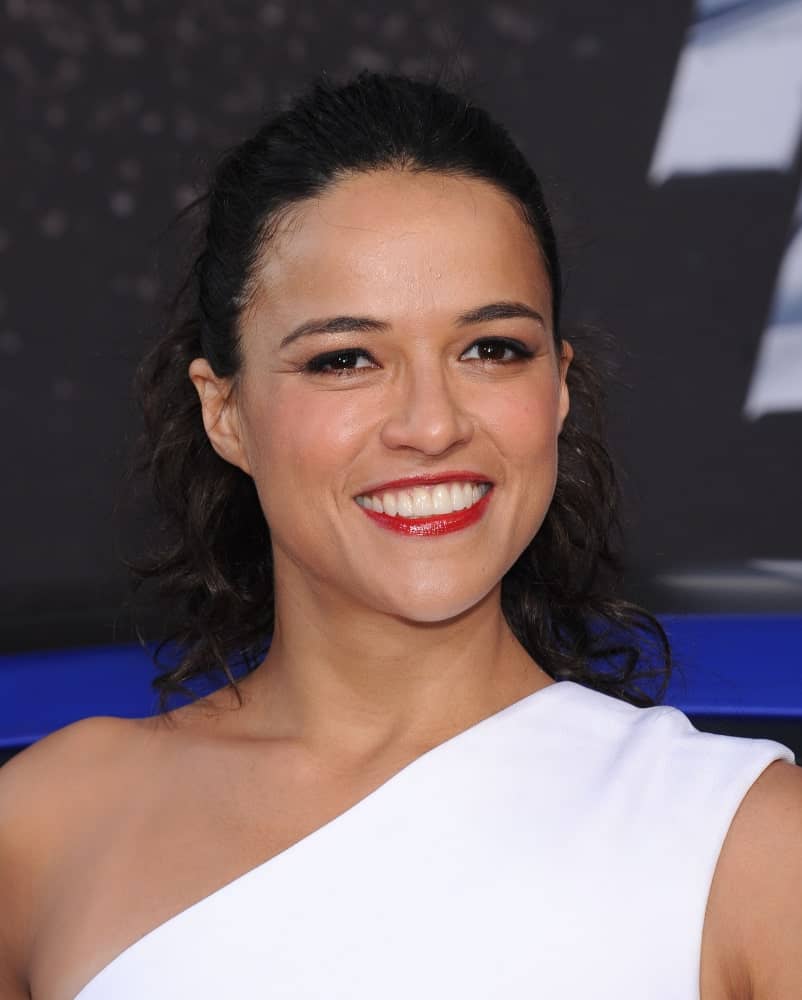 Michelle Rodriguez gathered her shoulder-length curls in a slicked back half updo during the "Fast & Furious 6" US Premiere on May 21, 2013.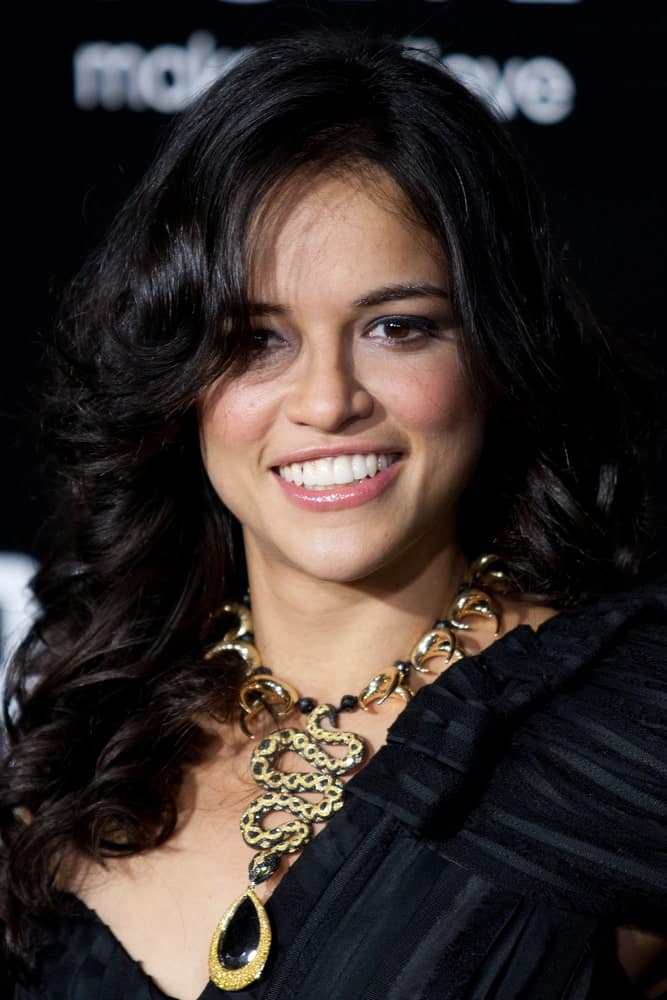 Michelle Rodriguez made an appearance at Columbia Pictures premiere of Battle: Los Angeles on March 8, 2011, with her big, bouncy curls.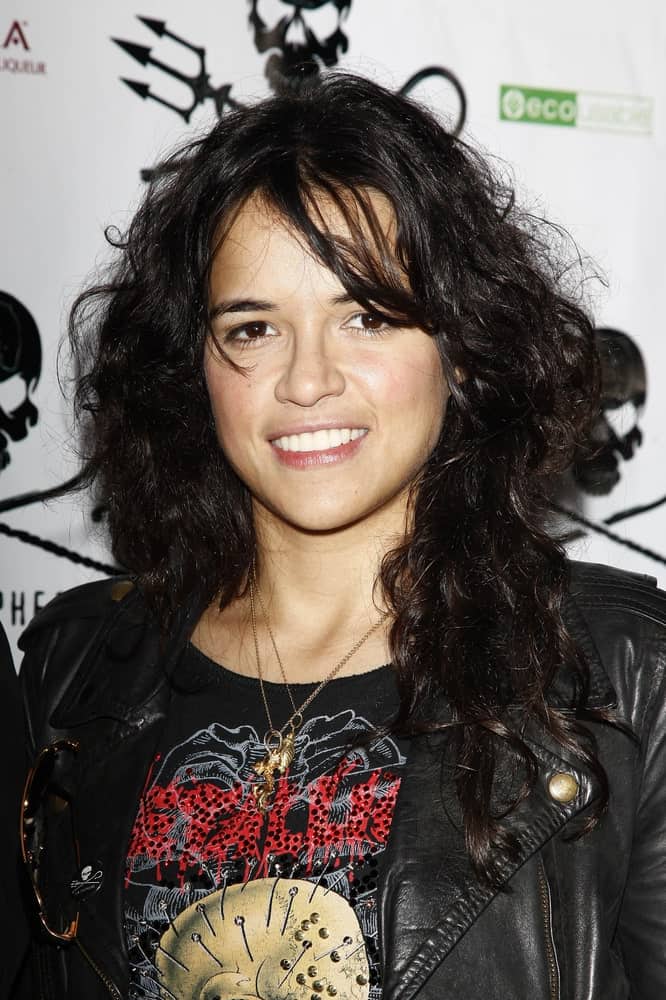 Michelle Rodriguez rocks a messy curly hairstyle with side bangs during the Animal Planet's 'Whale Wars' + Sea Shepherd Conservation Society event for 'Operation No Compromise' on October 23, 2010.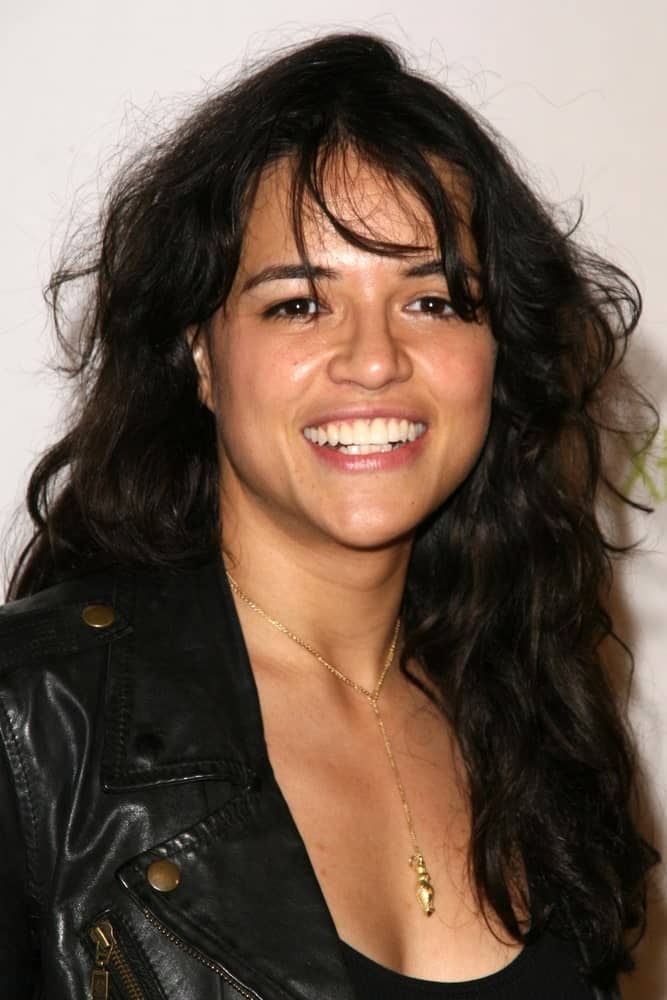 Michelle Rodriguez wearing a tousled hairstyle with wispy bangs at the launch of HALO: REACH, presented by XBOX 360 on September 8, 2010.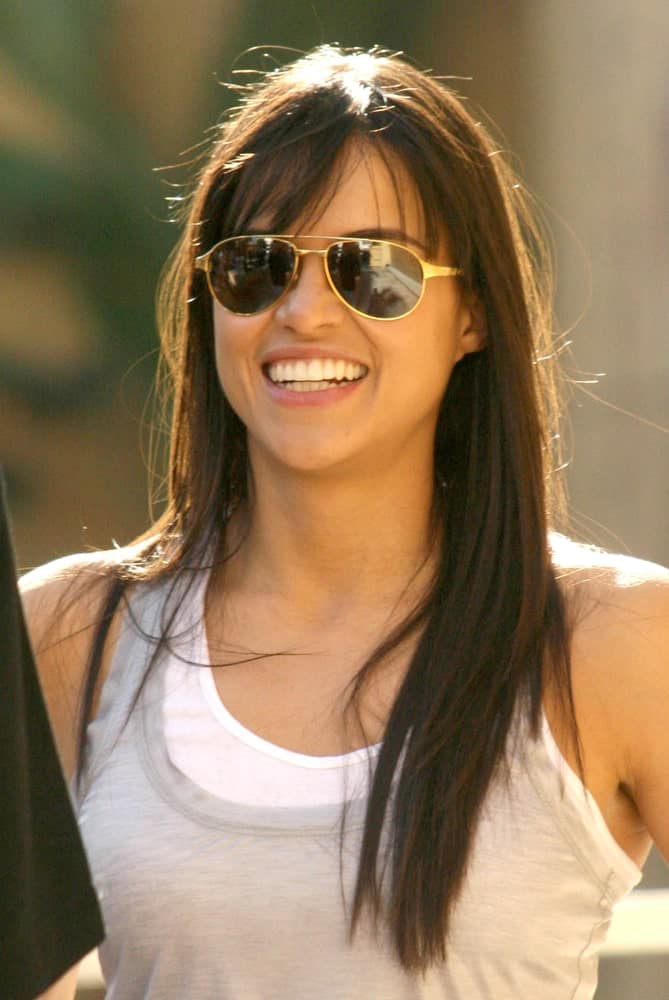 Michelle Rodriguez opted for a casual look with a tank top and loose hairstyle at the induction ceremony for James Cameron into the Hollywood Walk of Fame on December 18, 2009.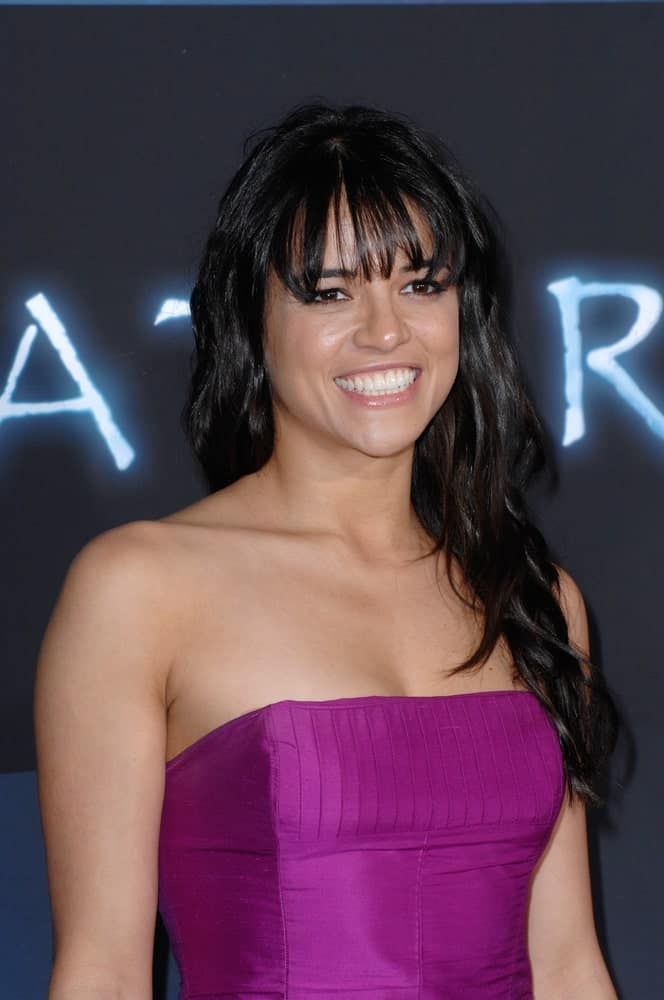 Michelle Rodriguez complements her long, jet black waves with full bangs during the Los Angeles premiere of her new movie "Avatar" on December 16, 2009.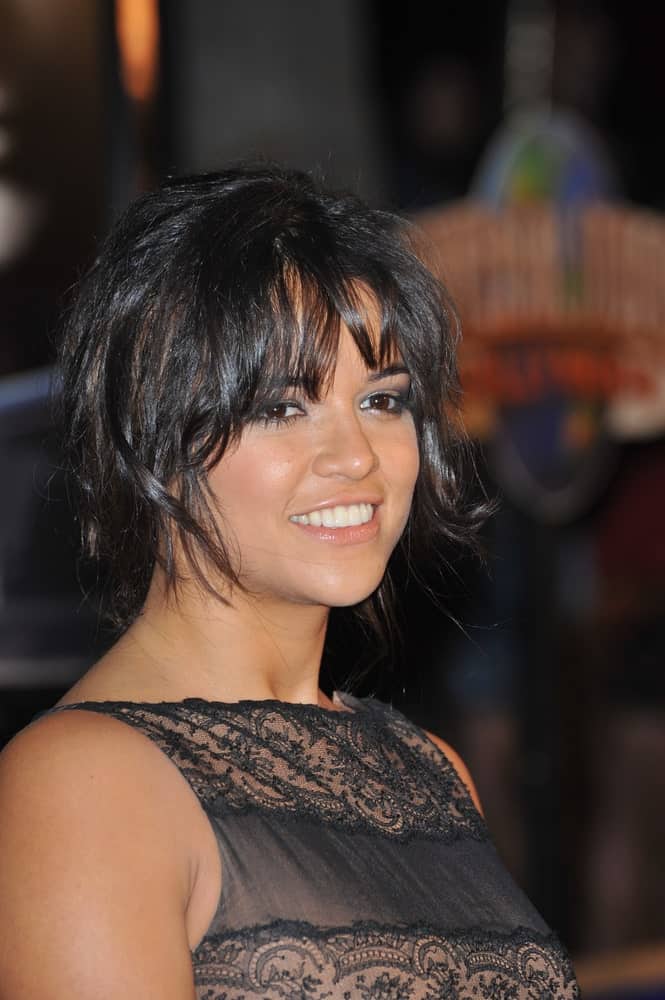 Michelle Rodriguez pulled back her hair into a messy updo with wispy bangs during the world premiere of her new movie "Fast & Furious" held on March 12, 2009.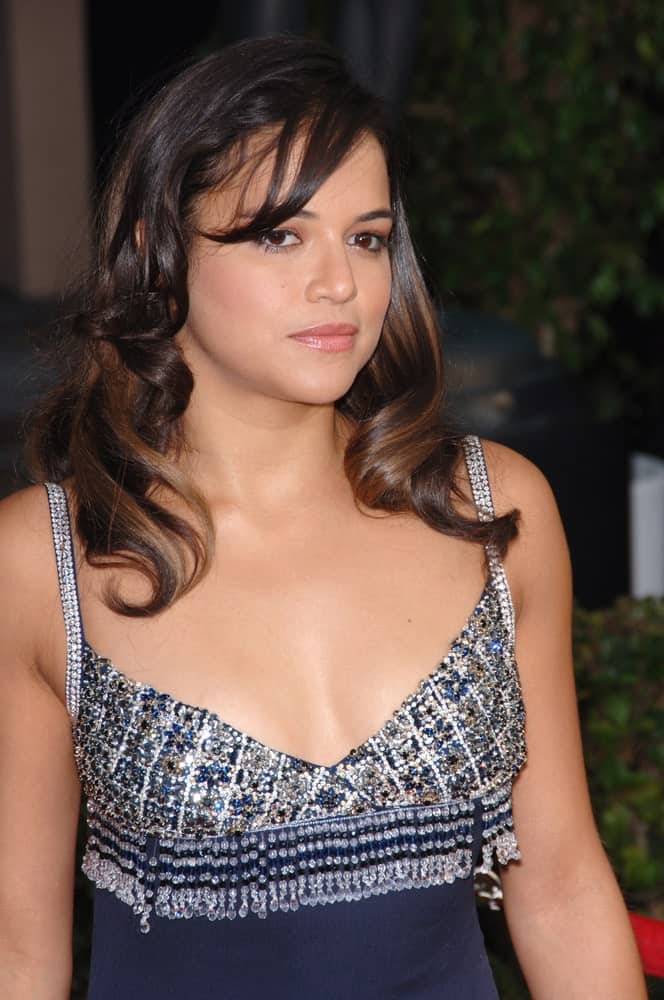 Michelle Rodriguez looks charming as ever in highlighted waves with some side bangs at the 12th Annual Screen Actors Guild Awards on January 29, 2006.
Career Highlights
Mayte Michelle Rodriguez was born in the 12

th

of July, 1978

The American Actress is more commonly known as Michelle Rodriguez

The highlight of her career was her role as a boxer in the indie film Girlfight in 2000

She started her role as Letty in the big hit The Fast and the Furious in 2001

She got the role for the next four editions of the film

She has been part of some of the best action hit movies like Avatar, SWAT, and Resident Evil

She had her TV success as well as Ana Cortez in the blockbuster hit TV series Lost

Some of her projects also included voice overs in Halo and Call of Duty

She also did voice for the animated 3D film Turbo

In 2008, she was seen in the political drama Battle in Seattle, where she worked with the likes of Woody Harrelson and Charlize Theron

Her films have a total of $5 billion gross

Another blockbuster film she was a part of was the hit Battle Los Angeles

She is considered to be one of the most successful Latinas in the US film industry

Her most recent success with voice over was with the fil The Smurfs

Michelle is also into screenwriting

One of her hobbies include tactical gun training