Check out our gallery of Mila Kunis's hairstyles over the years. Get hair inspirations from this star from That 70's Show to find a hairstyle that will look just as good on you.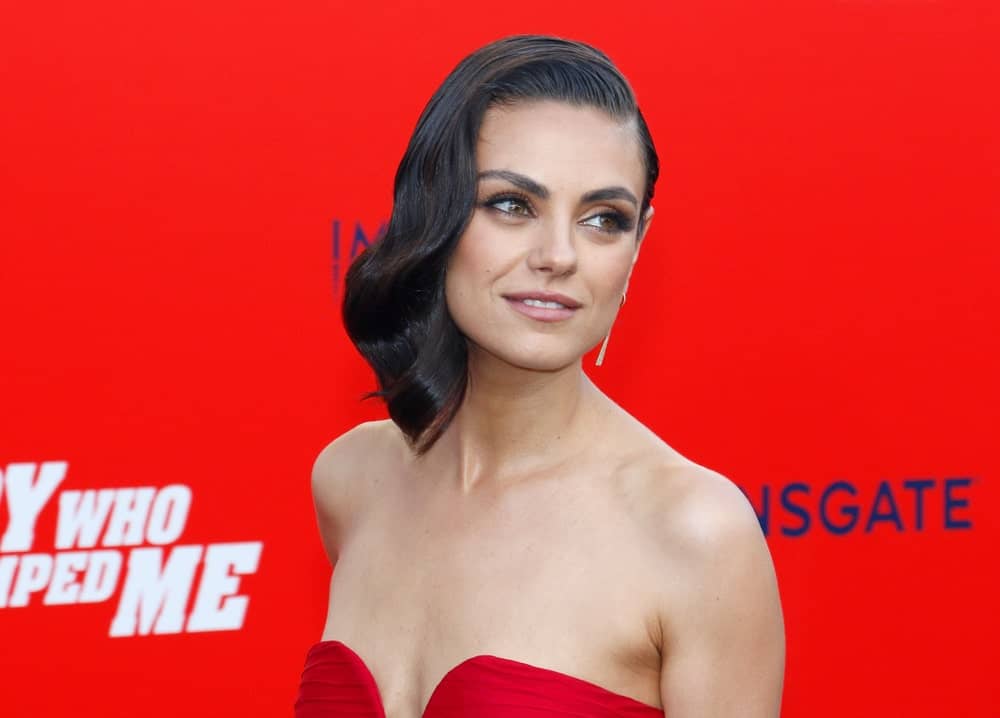 Milena Markovna Kunis is more popularly known as Mila Kunis is originally from a Jewish family in Ukraine. They moved to Los Angeles when she was just seven years old. It was a difficult time for Mila Kunis. She told in an interview with Hello Magazine that she cried every day because she couldn't understand a word of English. When asked to describe the experience, she said, "Imagine being blind and deaf at age seven."
She eventually got on her feet and started her schooling. Her father, Mark Kunis, recognized the acting capabilities of his daughter and enrolled her at Beverly Hills Studios for acting classes. This is where Mila met the future agent that got her into the business. One of Mila's first acting gigs was a cute 1993 children's commercial for the Lisa Frank products. In this commercial ad, Mila Kunis featured all sorts of products targeted for kids in her long and curly black hair with a slight 80's tousled look.
She then moved on to various small roles in TV like Days of Our Live and 7th Heaven where she was usually seen with her long dark curly hair in a half-up or a fishtail braid. She also had small roles in movies like in Honey and Gia where she played the young Angelina Jolie with long thick black hair and expressive eyes that really elevated her scenes.
The defining moment of her career was when she landed the role of Jackie in That 70's Show. Her character, Jackie, was pampered and spoiled and she played it with gusto while she showcased different 70's hairstyle variations on her long raven hair which are mostly long and wavy for most of the seasons of the show. That is why most people are very familiar with her look. Once in a while, though, Mila would change her hairstyle if the role asks for it. In September of 2019, Elle reported that Kunis was seen rocking a dirty blond hairstyle with teal tips. This is so far from her usual look but it is essential to the character in the movie she was filming then with actress veteran Glenn Close.
She also started 2020 with another new hairstyle that is a little more up her alley but still different in a way. Refinery29 reported that the actress recently posted a photo on her Instagram with a golden brown tone to her shoulder-length hair. She then captioned it, "Morning Sundance!" and later wore the hairstyle to the said film festival.
With that in mind, let us show you the many other hairstyles of this very talented actress and mother. Here are Mila Kunis' hairstyles over the years.
Photos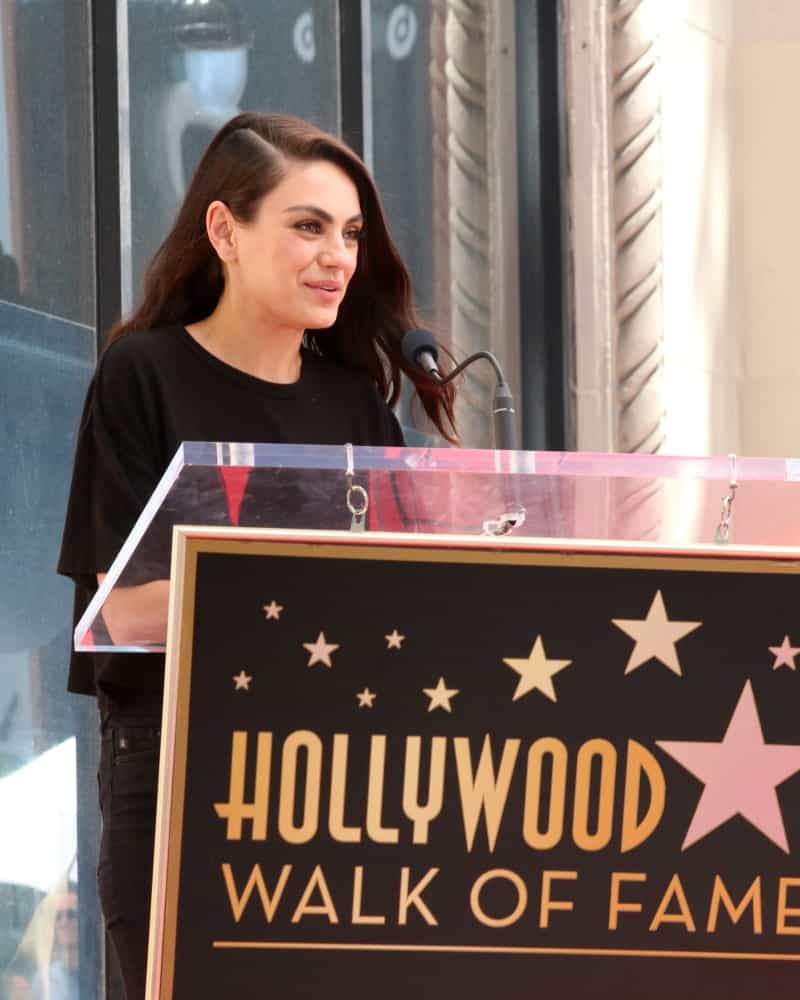 Mila Kunis spoke at the Seth MacFarlane Star Ceremony on the Hollywood Walk of Fame last April 23, 2019 in Los Angeles. She had a loose medium-length hair with a slight tousle and soft waves.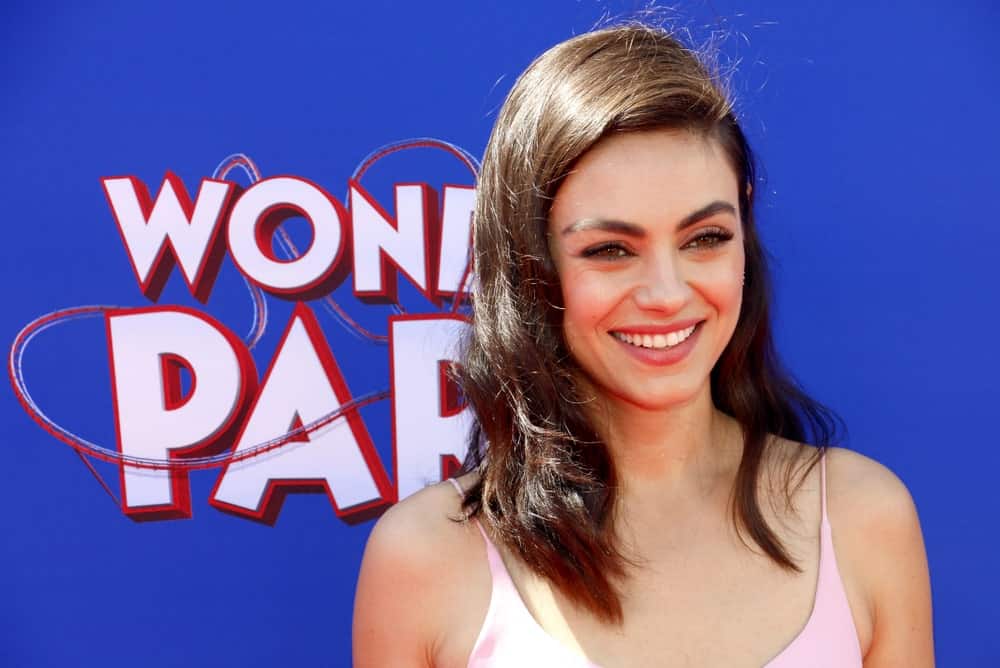 Mila Kunis was at the World premiere of 'Wonder Park' held at the Regency Bruin Theatre in Westwood last March 10, 2019. She had a bright smile to match her side-swept tousled and wavy hair.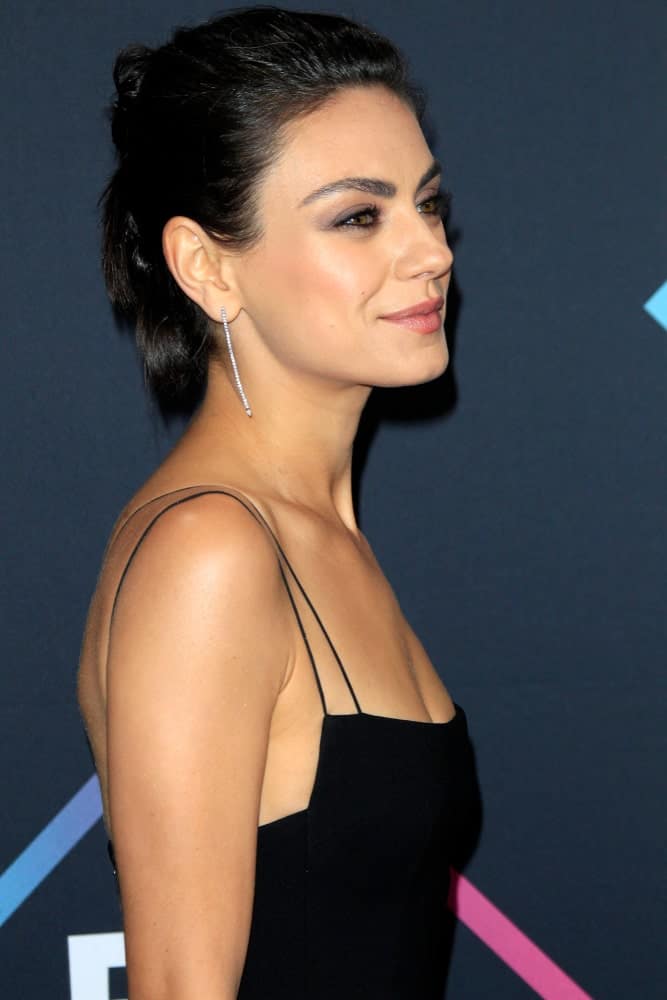 Mila Kunis exuded poise and sophistication in her black dress and messy bun hairstyle to her raven hair at the People's Choice Awards 2018 at the Barker Hanger last November 11, 2018, in Santa Monica.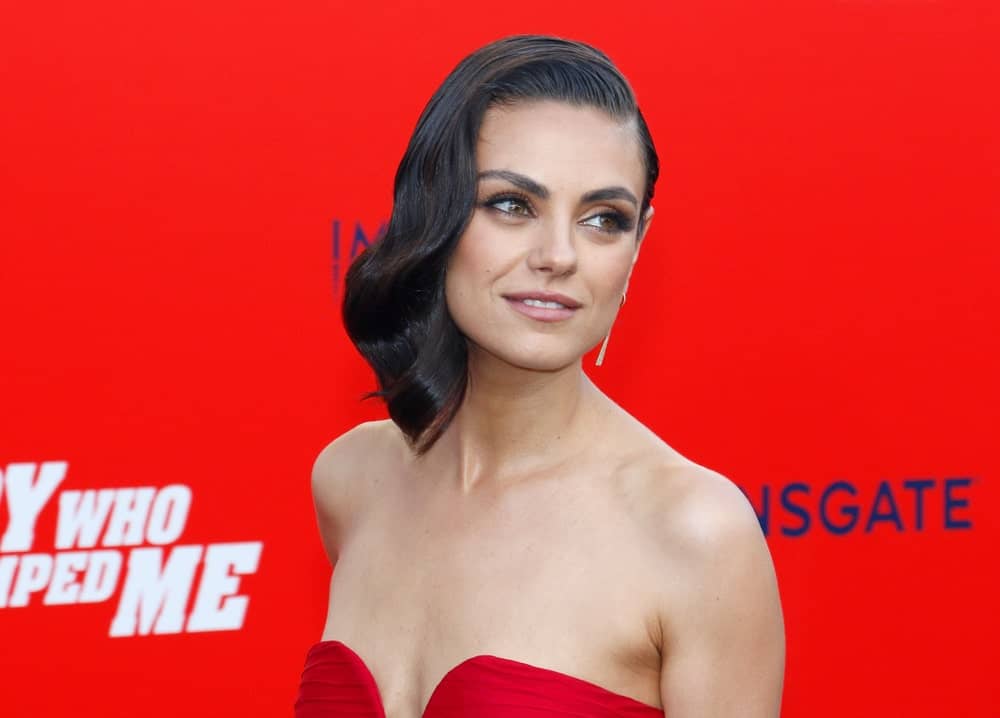 Mila Kunis was stunning and elegant in her sexy red dress complemented by a vintage look to her slick side-swept wavy hairstyle at the Los Angeles premiere of 'The Spy Who Dumped Me' held at the Regency Village Theater in Westwood last July 25, 2018.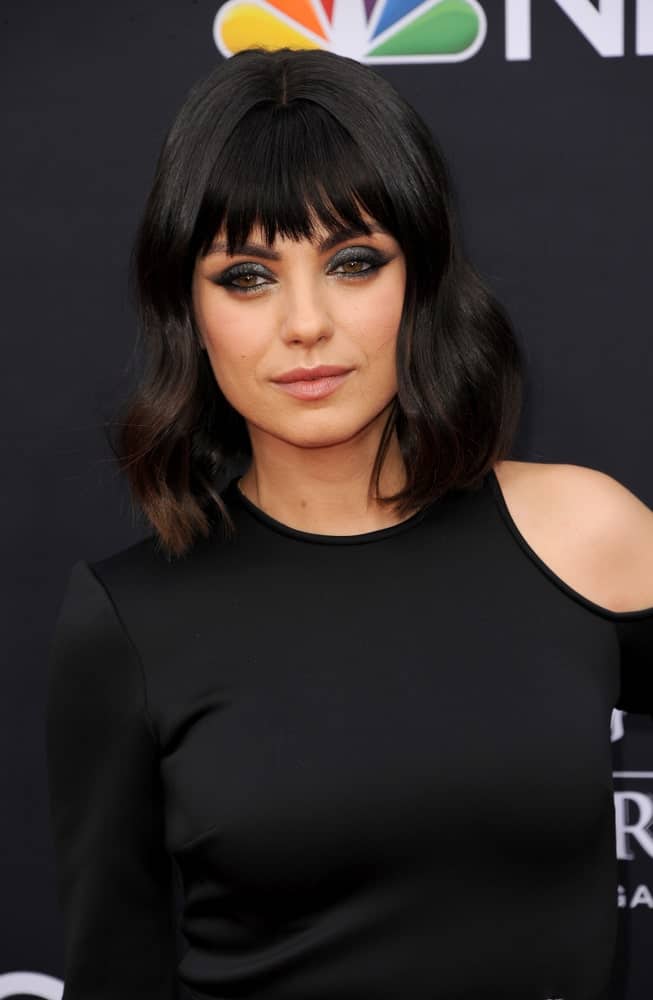 Mila Kunis made an appearance at the 2018 Billboard Music Awards held at the MGM Grand Garden Arena in Las Vegas last May 20, 2018. She wore a simple black dress that matches well with her shoulder-length wavy hair with bangs.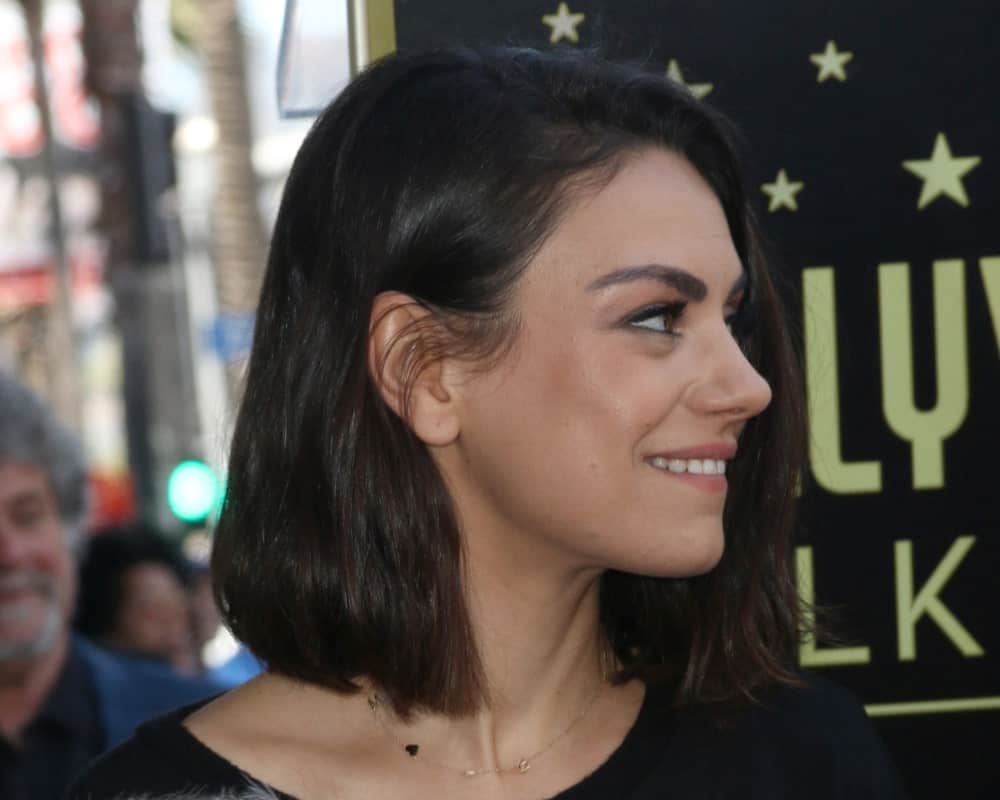 Mila Kunis wore her long bob hair in a simple and loose casual style at the Zoe Saldana Star Ceremony on the Hollywood Walk of Fame last May 3, 2018 in Los Angeles.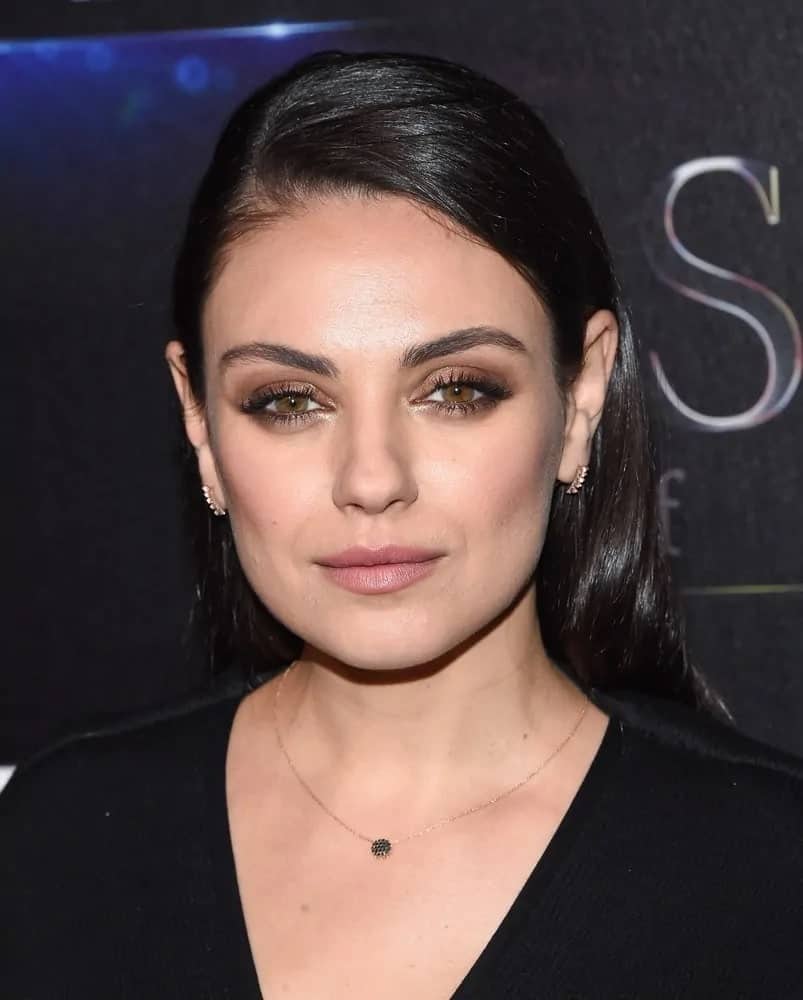 The talented actress was looking fresh with her long, straight raven tresses tucked behind her ears during the CinemaCon 2017-STX Films "The State of the Industry: Past, Present and Future" Presentation last March 28, 2017.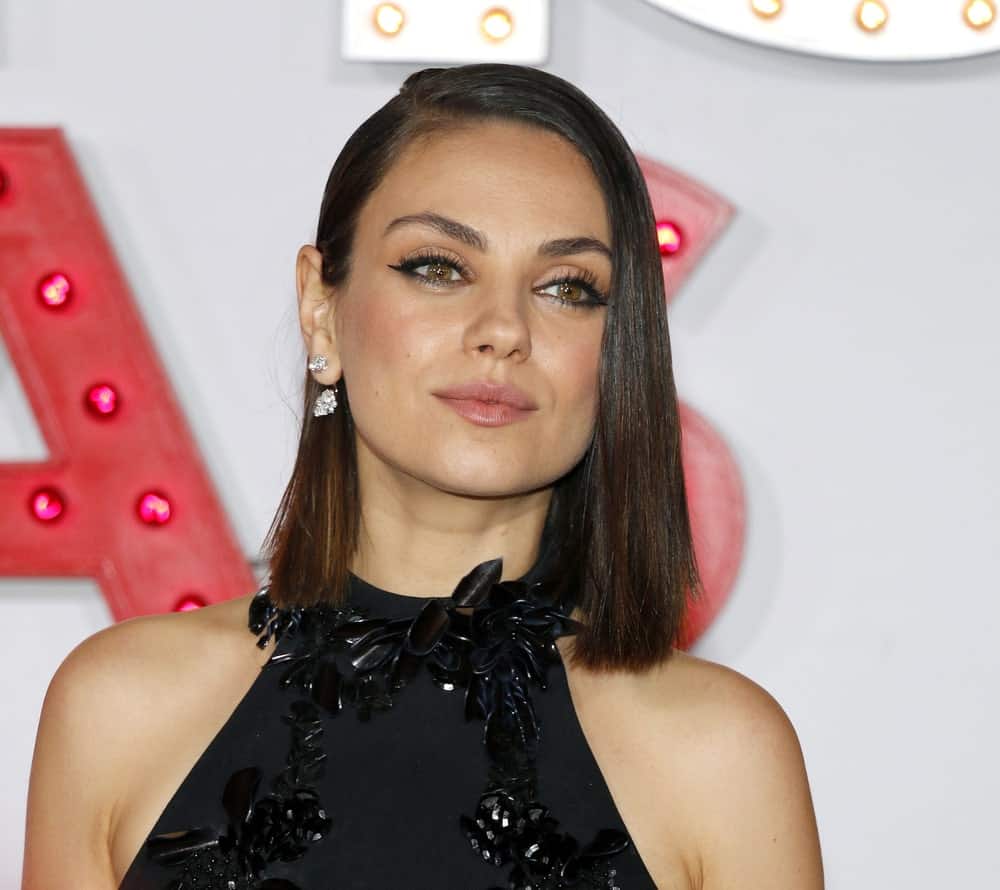 Mila Kunis was gorgeous with her black detailed dress and straight bob hairstyle with subtle highlights at the premiere of 'A Bad Moms Christmas' held at the Regency Village Theatre in Westwood last October 30, 2017.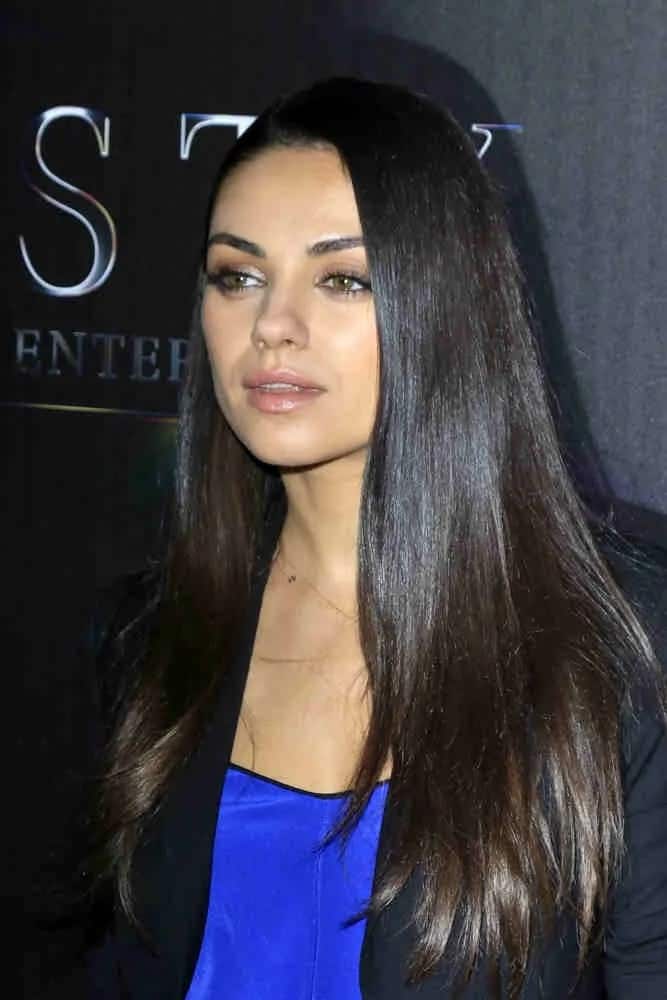 The beautiful Mila Kunis wore a smart-casual ensemble with her side-swept long straight layers at the STX Photocall – Cinemacon last April 12, 2016.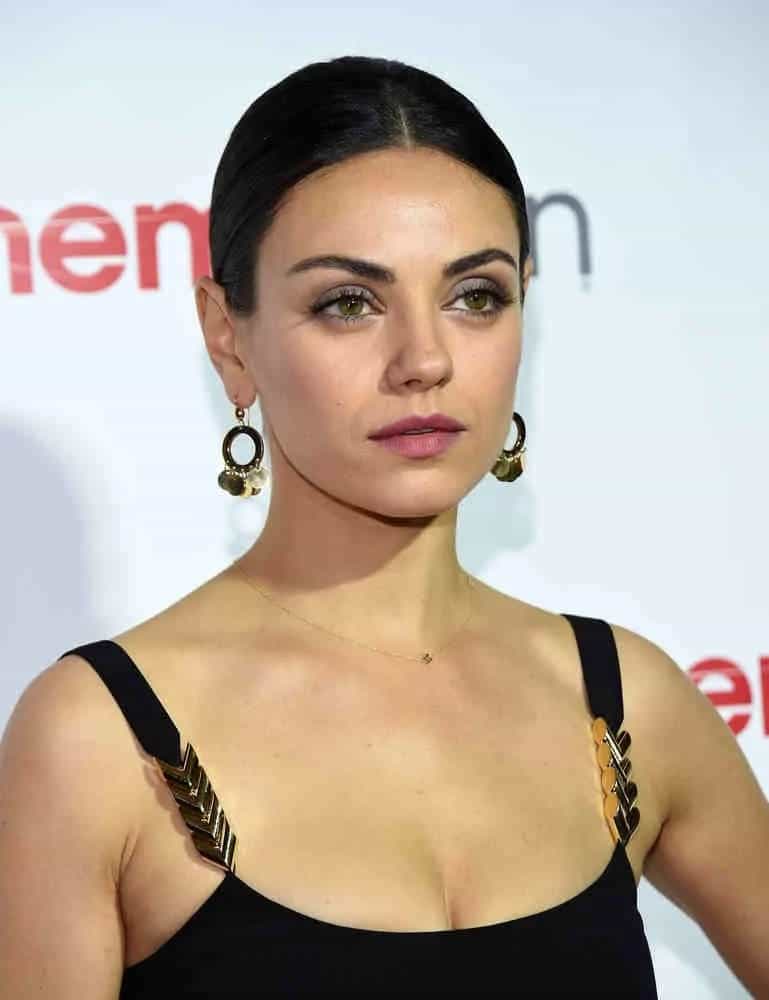 The Bad Moms actress was looking sexy and elegant with her center-parted low ponytail for her sleek and straight mane at the Cinema Con 2016: Awards Gala last April 14, 2016.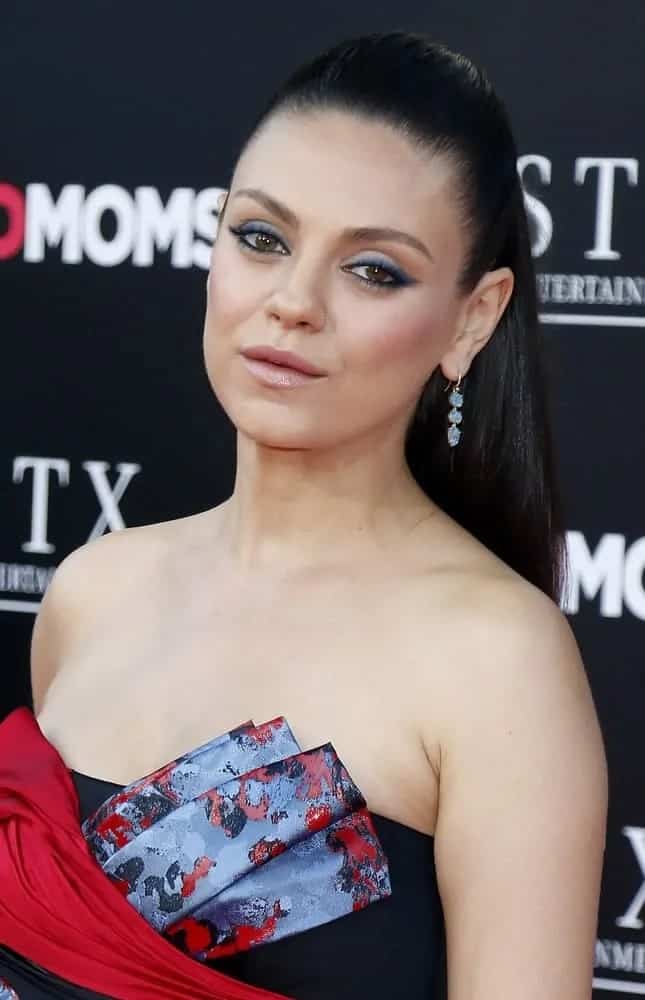 The stunning Mila Kunis wore her raven medium-length locks in a half up half down hairstyle that complemented her elegant neckline at the Los Angeles premiere of 'Bad Moms' on July 26, 2016.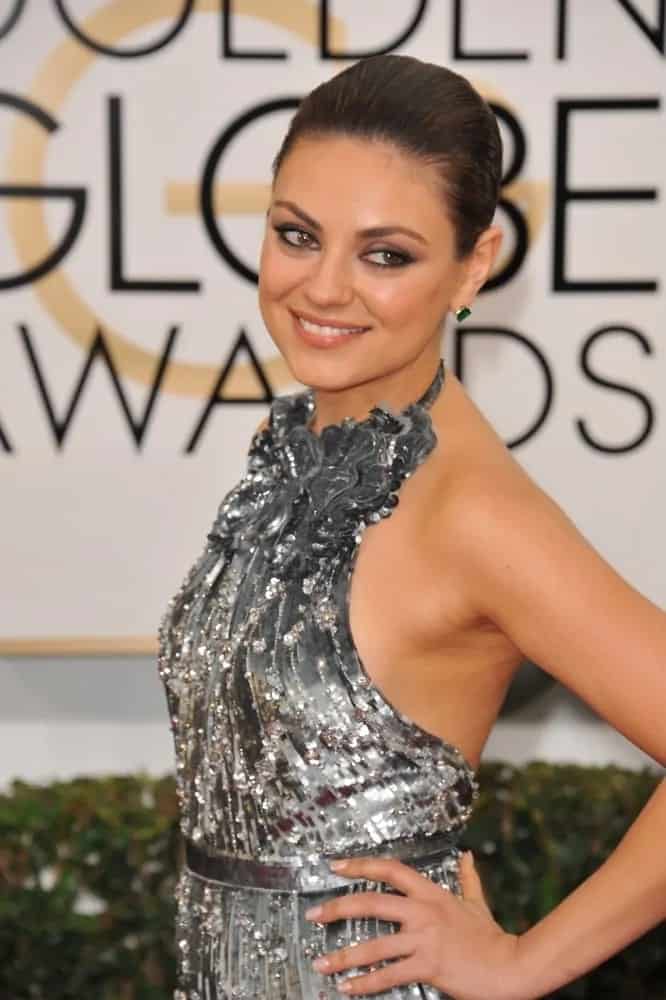 Mila Kunis was dazzling and bright in her sparkly and sexy dress that she paired with a slicked-back low bun at the 71st Annual Golden Globe Awards last January 12, 2015.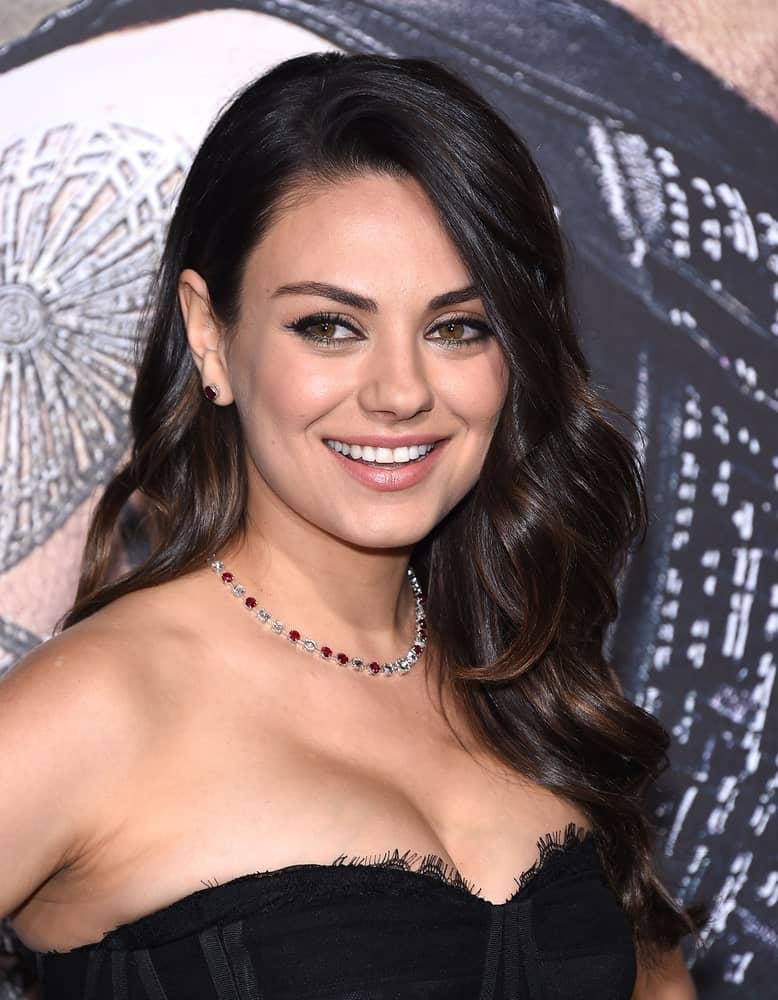 Mila Kunis arrived at the "Jupiter Ascending" Los Angeles Premiere last February 2, 2015 in Hollywood wearing a strapless black dress to complement her medium-length side-swept waves that has subtle highlights.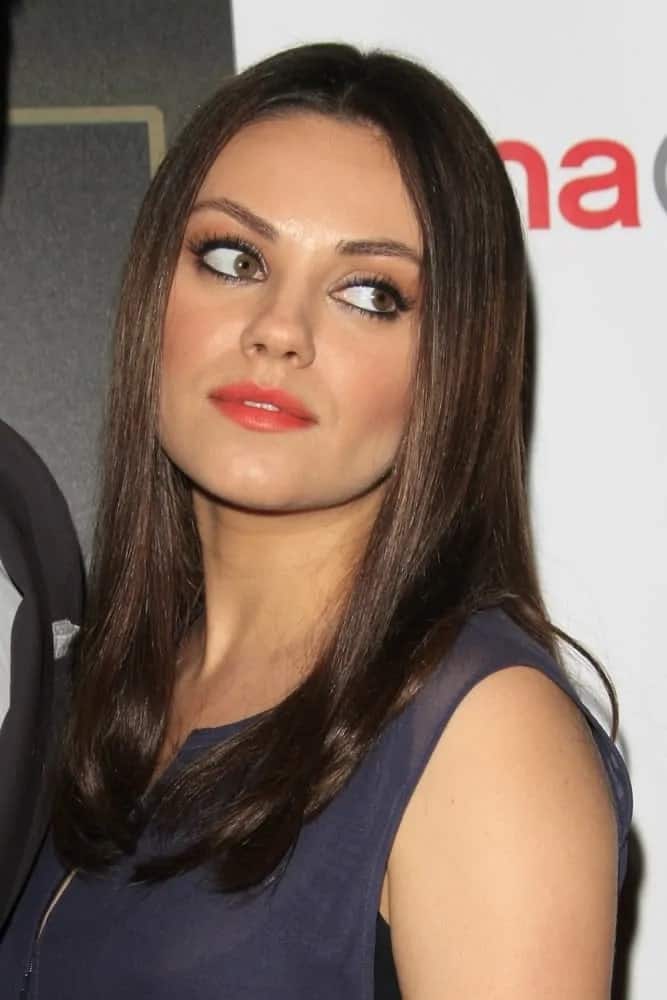 The talented Mila Kunis flaunted her center-parted straight long hair at the CinemaCon 2014 – Warners Brothers Photocall on March 27, 2014.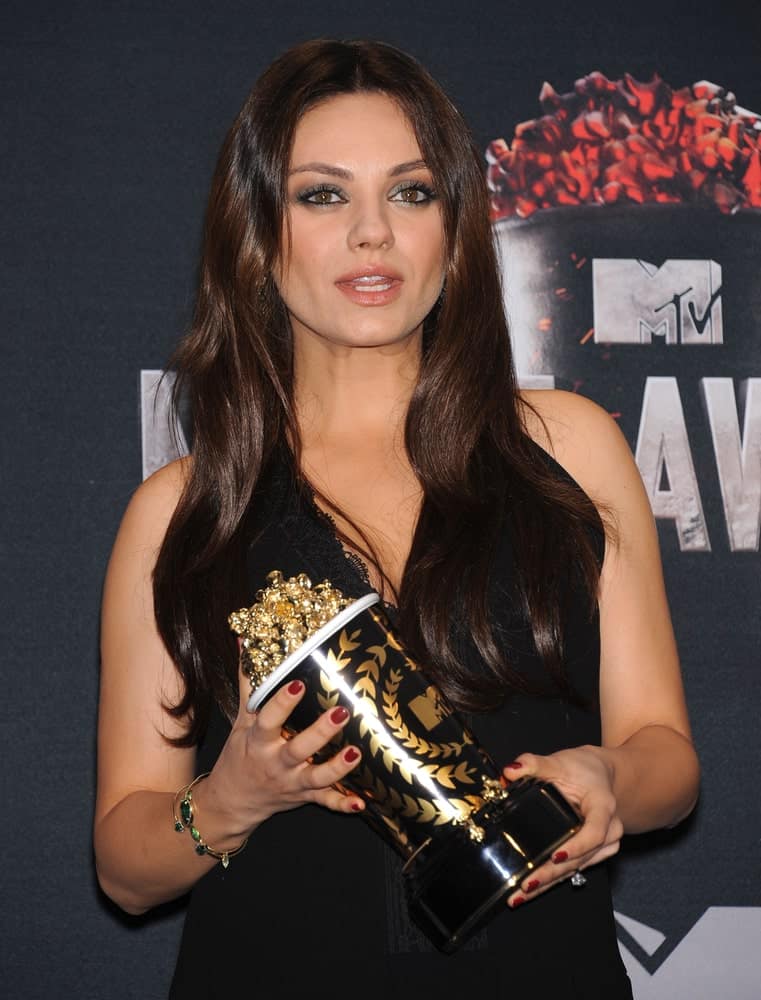 Mila Kunis was at the 2014 MTV Movie Awards – Press Room last April 13, 2014 in Los Angeles. She had a simple black dress to match her dark brown loose and tousled waves.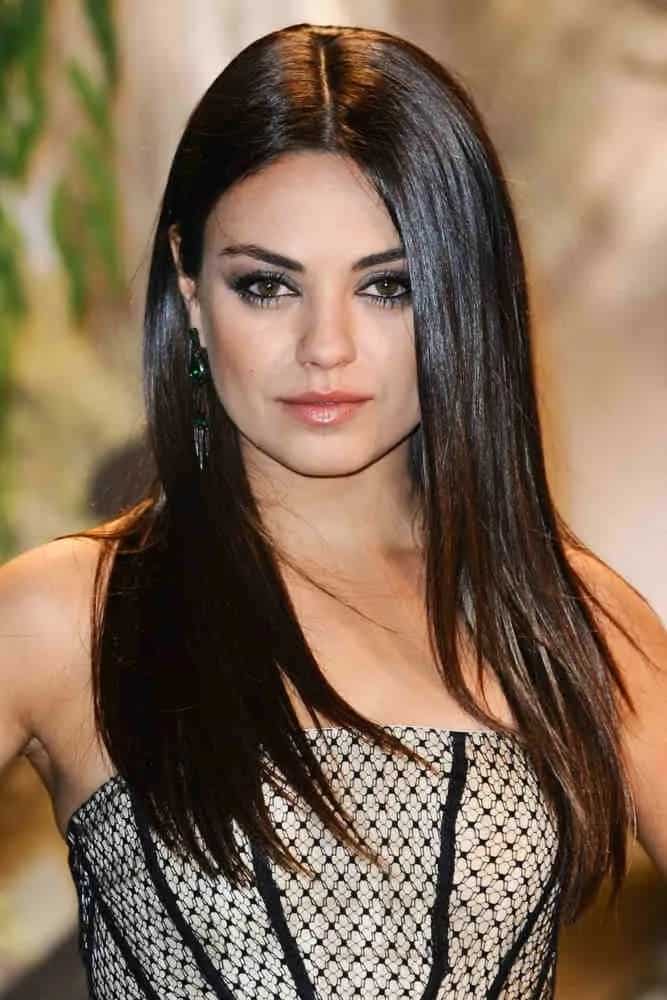 Mila Kunis showcased her long layered hair that is perfectly sleek and straight when she arrived for the premiere of "Oz The Great And Powerful" last February 28, 2013.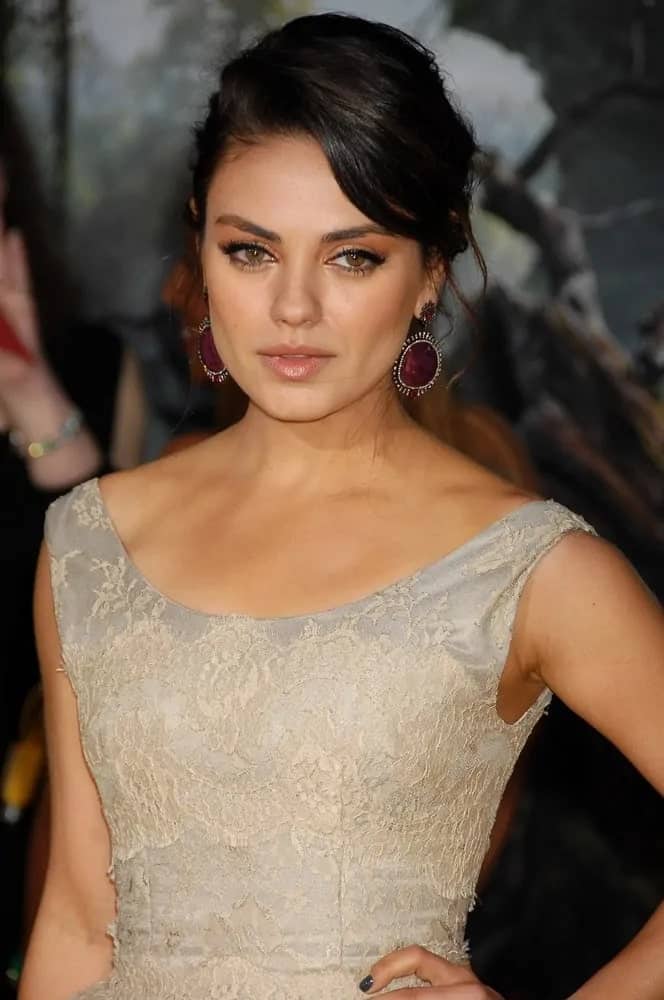 The Hollywood star Mila Kunis was lovely in her white dress and messy upstyle hair with side-swept bangs at the Oz The Great and Powerful World Premiere last February 13, 2013.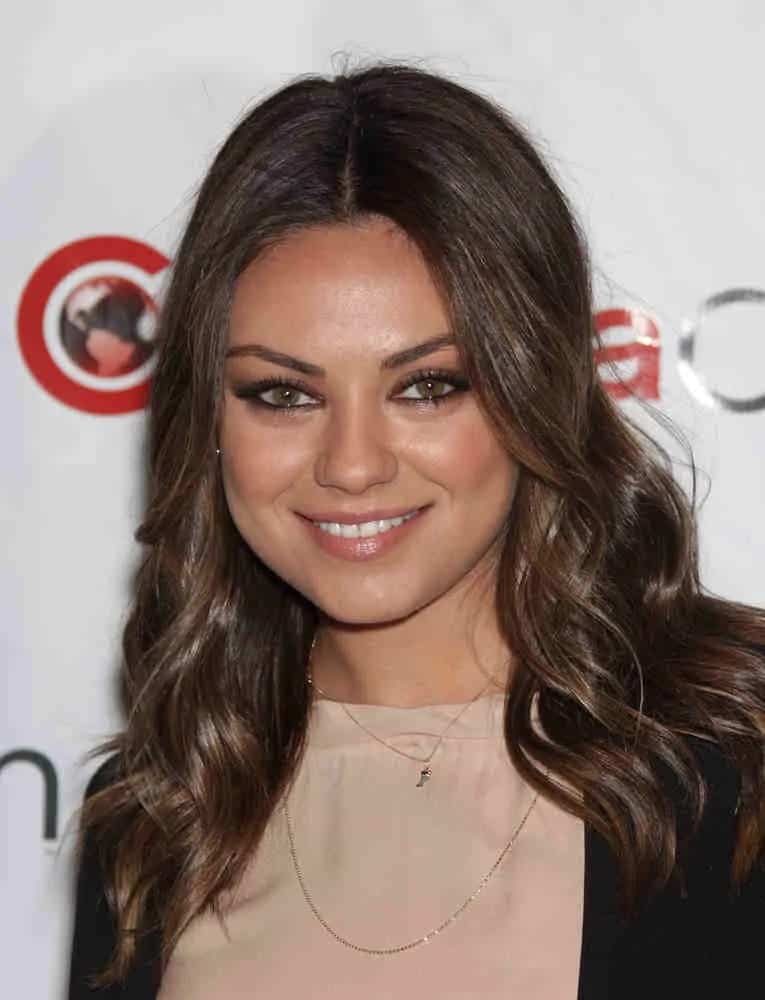 Mila Kunis was effortlessly stunning with her bright eyes and subtle highlights on her loose curls with a center part during the Cinema Con 2012-Disney Luncheon last April 25, 2012.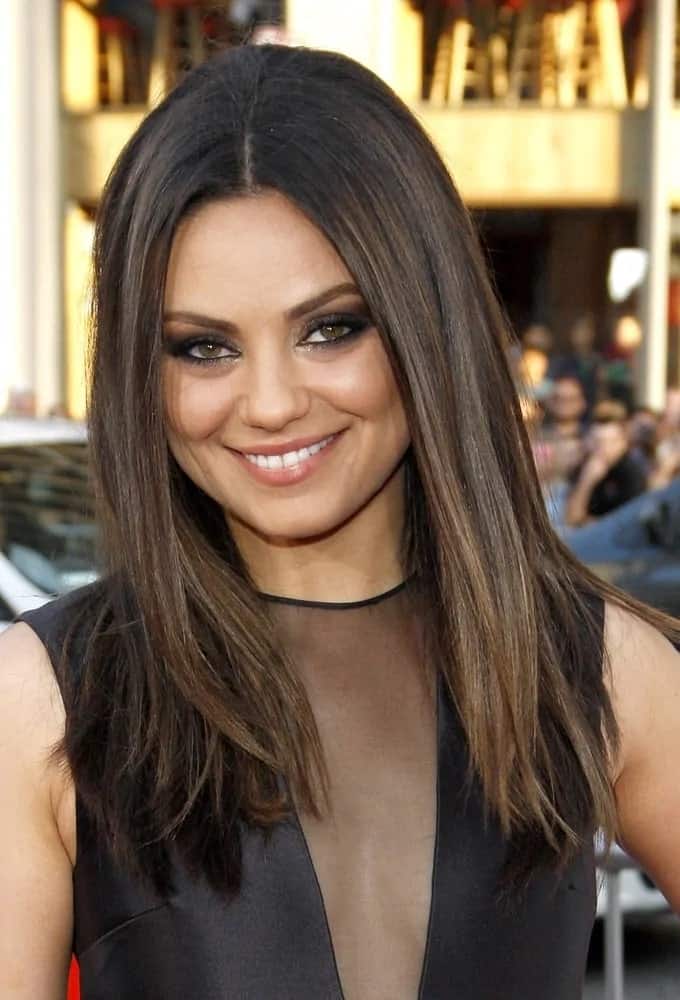 Mila Kunis was ravishing in her black dress with a deep V cut. She paired this with her fabulously loose, medium-length straight locks for the Los Angeles premiere of 'Ted' last June 21, 2012.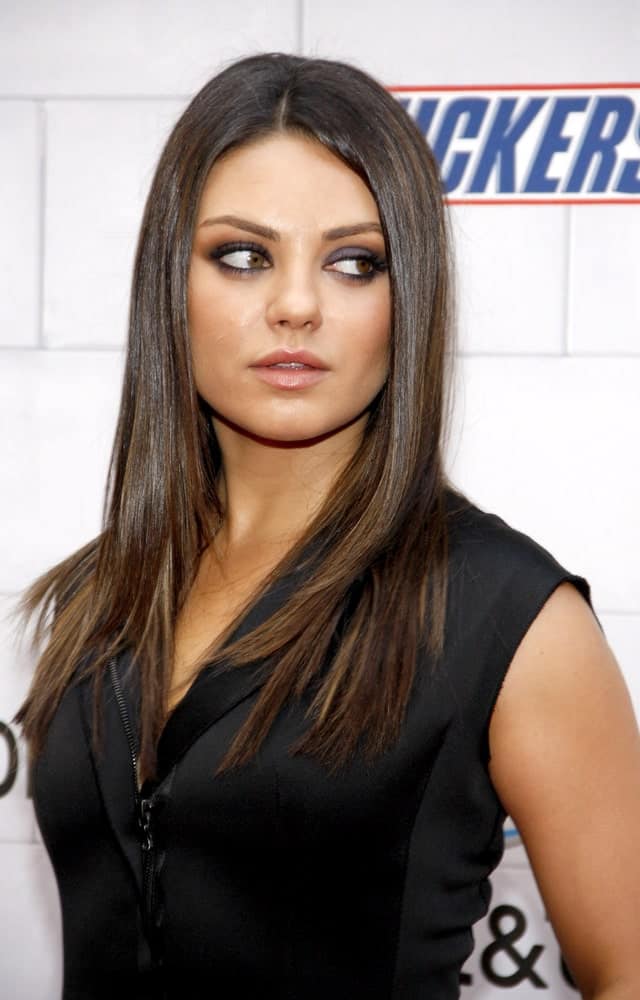 Last June 2, 2012, Mila Kunis had smoky eyes and long straight hair with highlights when she attended the Spike TV's 6th Annual "Guys Choice" Awards held at the Sony Studios in Los Angeles.
Mila Kunis attended the 2012 MTV Movie Awards Press Room held at the Gibson Amphitheater in Universal City last March 6, 2012. She looked stunning in her colorful mini dress and loose tousled wavy hair.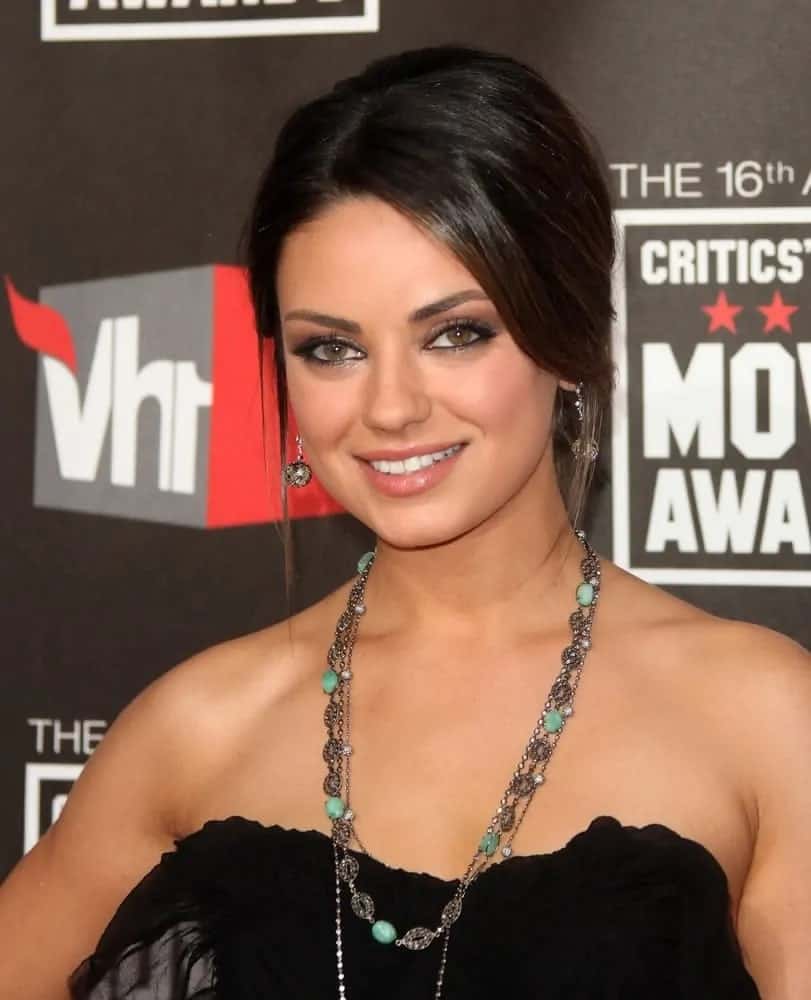 The lovely Mila Kunis was brilliantly simple but elegant in her messy low bun hairdo with long-side bangs at the 16th Annual "Critics" Choice Movie Awards last January 14, 2011.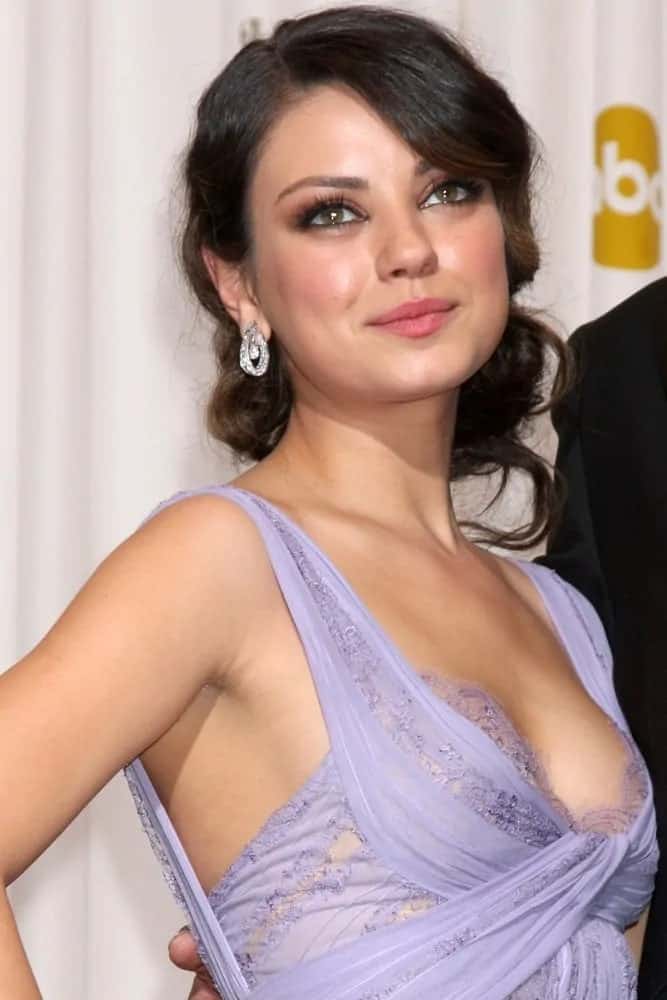 Mila Kunis opted for a vintage look. She wore a lovely purple dress with her classic upstyle with curls and side-swept bangs at the 83rd Academy Awards last February 27, 2011.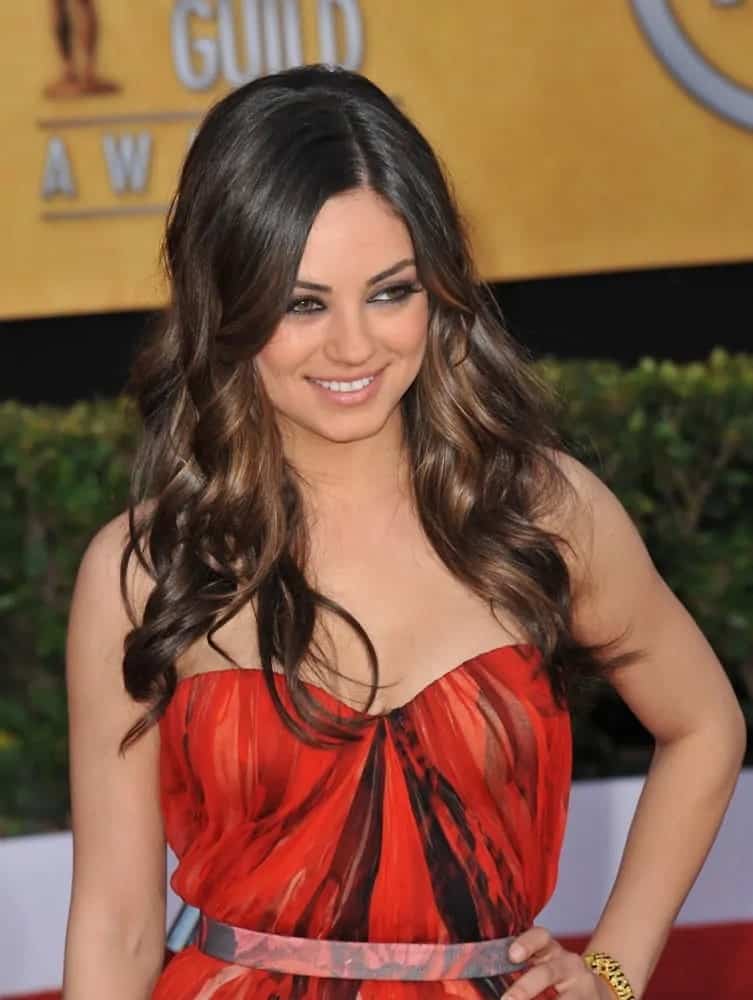 Kunis had loose big curls complemented with highlights that go well with her red dress that is simply glamorous at the 17th Annual Screen Actors Guild Awards last January 30, 2011.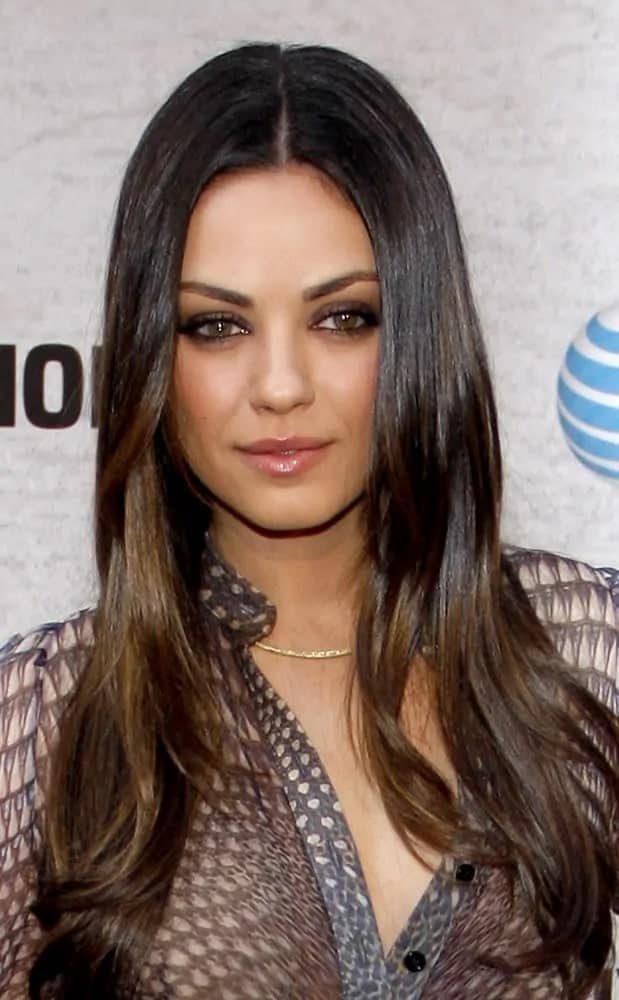 The talented actress looked superbly sexy with her highlighted straight layers with a center part to frame her lovely face at the Spike TV's 5th Annual 2011 "Guys Choice" Awards last June 6, 2011.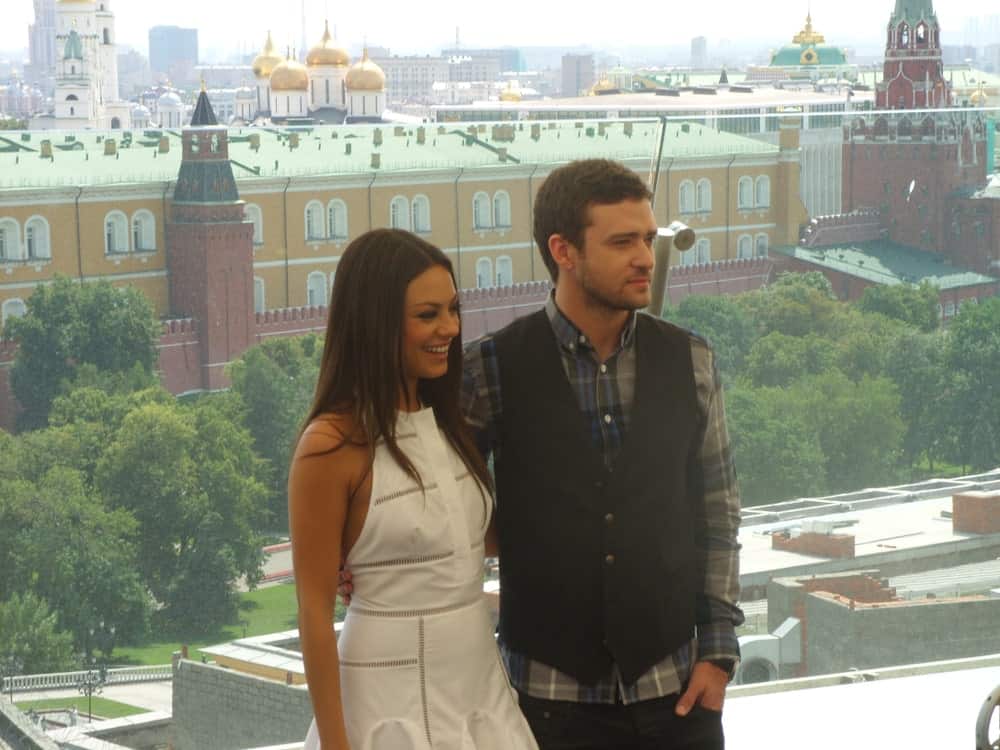 Last July 27, 2011, Justin Timberlake and Mila Kunis were at the Friends with Benefits Premiere press tour, photocall at the rooftop of Ritz-Carlton Hotel. She wore a sweet white dress with her loose and tousled straight hair.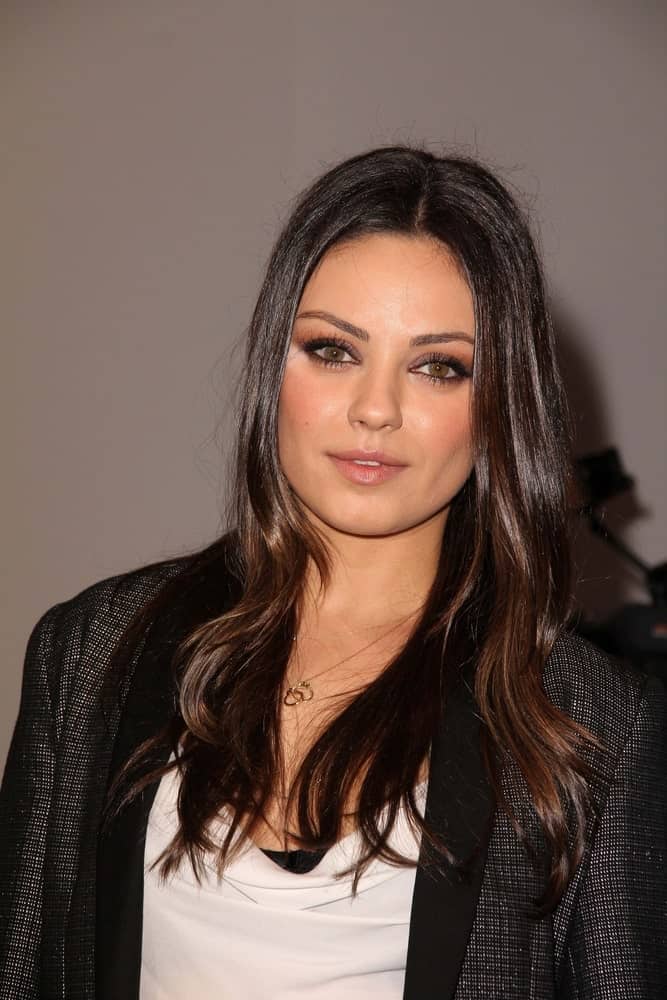 Mila Kunis was at the Jaguar Land Rover Preview Reception for the 2011 Los Angeles Auto Show in Beverly Hills last November 15, 2011. she wore a fashion-forward smart-casual ensemble complemented by her long and loose straight hair with highlights.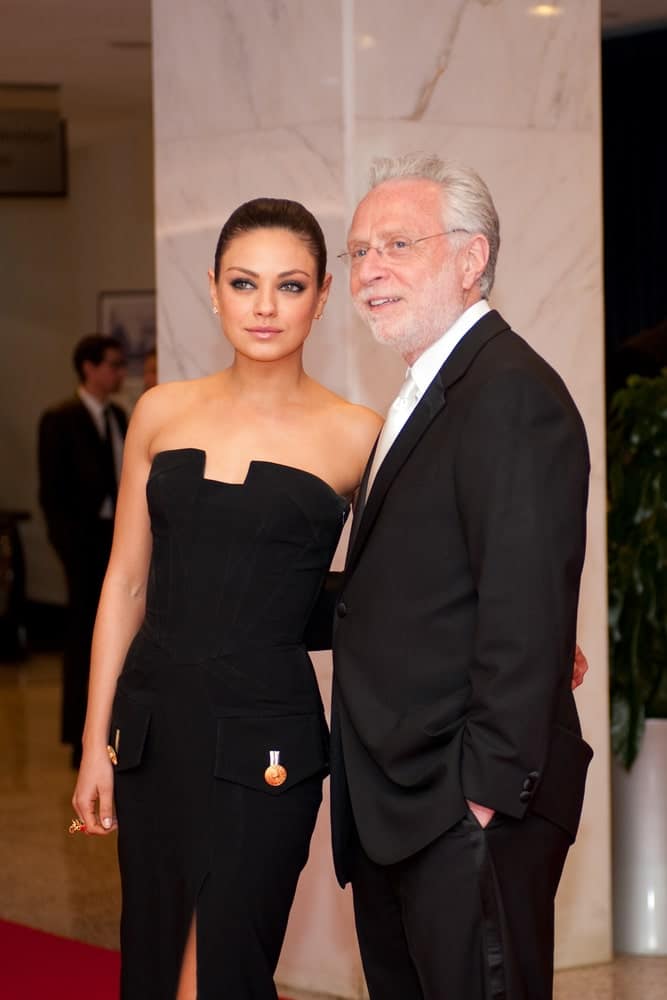 Mila Kunis and Wolf Blitzer arrived at the White House Correspondents Dinner last April 30, 2011, in Washington, D.C. She wore a formal yet elegant black dress elevated by her neat and slick upstyle hairdo.
Mila Kunis was at the 12th Annual WB-In Style Golden Globe After Party last January 16, 2011, in Beverly Hills wearing a sophisticated green gown matched with her upstyle with a slight pompadour look.
Mila Kunis had a carefree look to her long, tousled waves that stand out with her white outfit at the MOCA's Annual Gala "The Artist's Museum Happening" 2010 last November 13, 2010.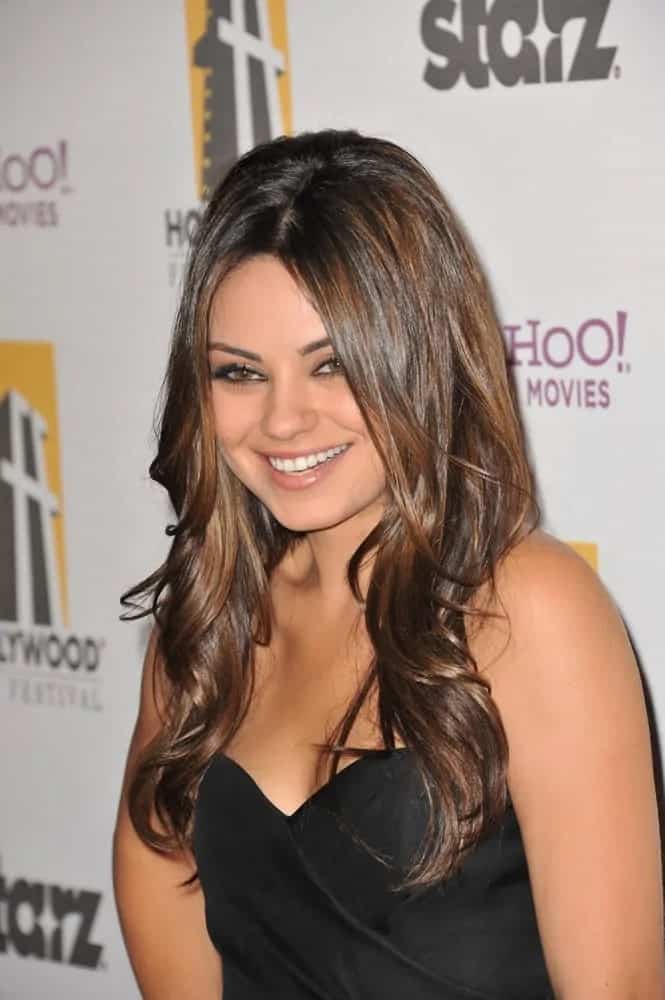 The beautiful and talented actress attended the 14th Annual Hollywood Awards Gala with her loose, center-parted and wavy layers complemented with reddish-brown highlights last October 25, 2010.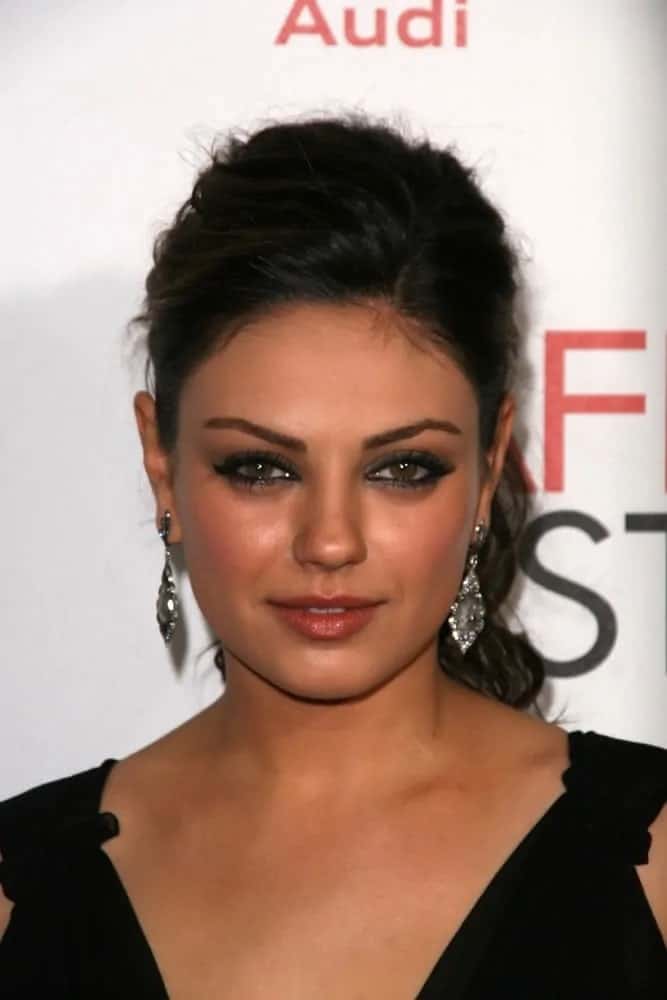 This gorgeous Hollywood star rocked the chic messy ponytail with some wavy strands for the AFI Fest 2010 Closing Night Gala Screening of "Black Swan," last November 11, 2010. It went quite well with her diamond earrings and black dress.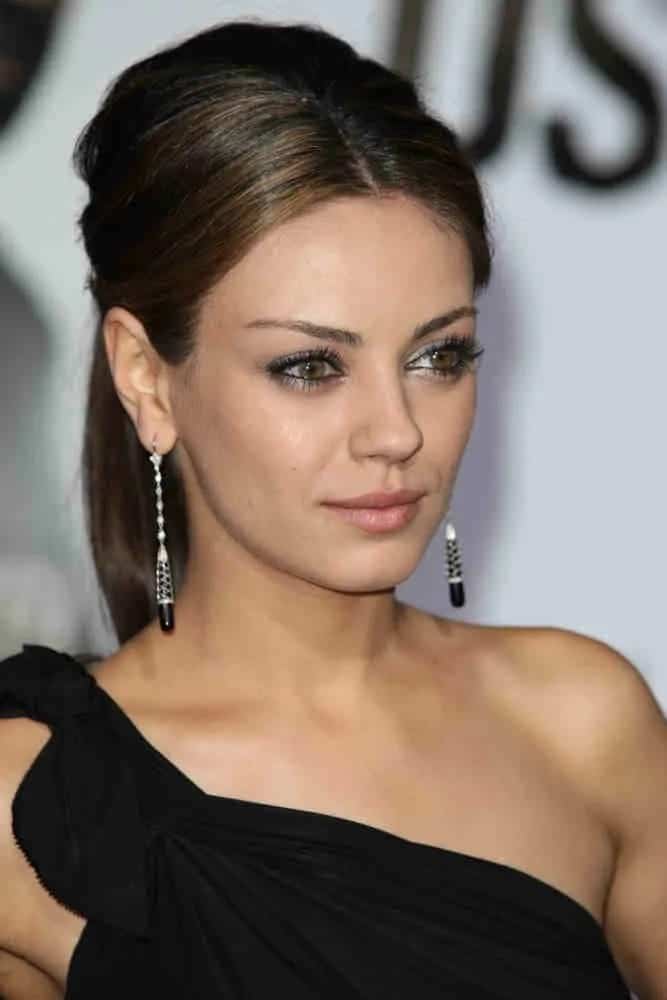 Mila Kunis was stunning in the goddess-like black dress that she wore with her slightly tousled ponytail and smoky eyes at The Book of Eli premiere last January 11 2010.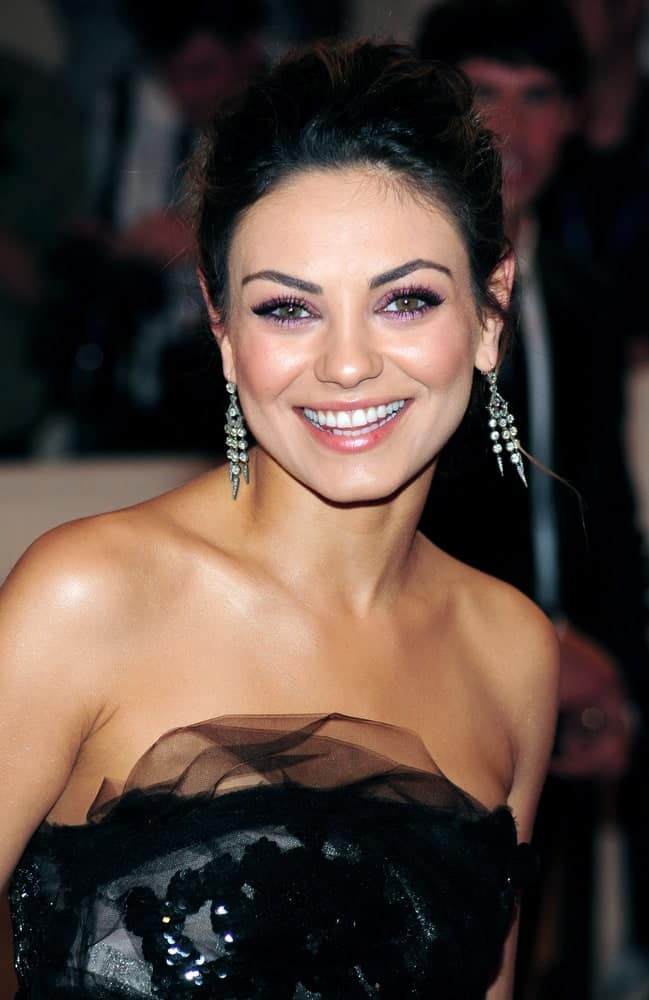 Mila Kunis was positively glowing in her detailed dark dress and messy upstyle hairdo that brings focus on her earrings and neckline. She wore this look at The Metropolitan Museum of Art in New York, May 3, 2010.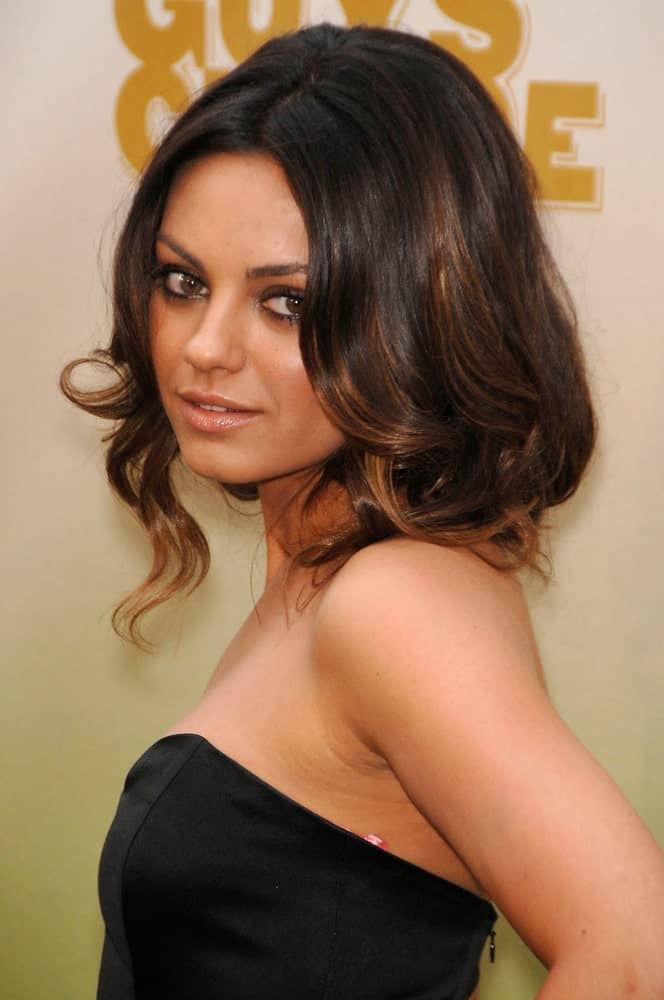 Mila Kunis was absolutely breathtaking with her black dress tousled waves with highlights at the Spike TV's Guys Choice Awards in Los Angeles last May 30, 2009.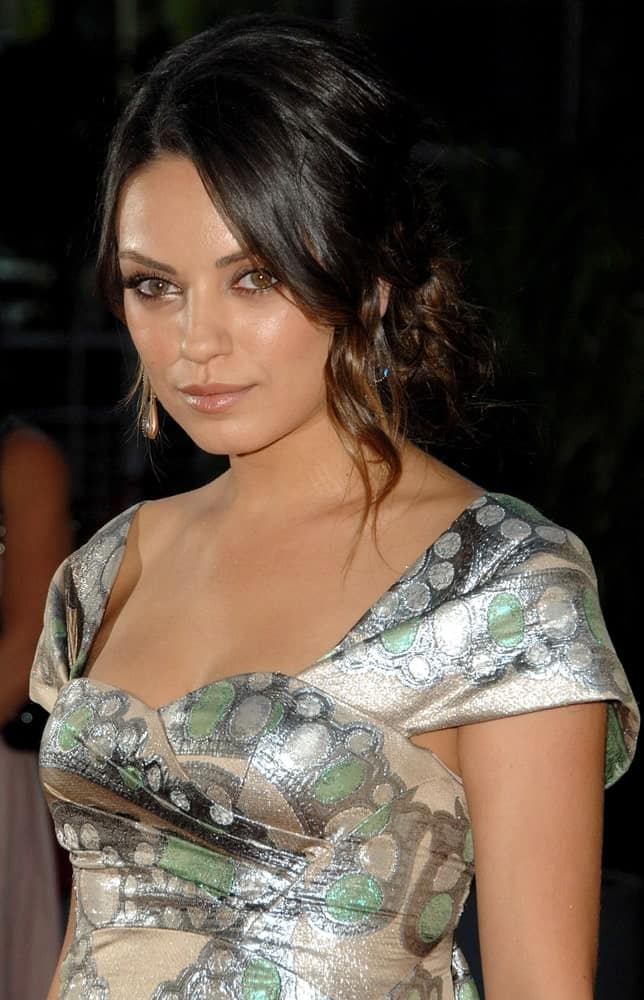 Mila Kunis stood out with her shiny and sexy dress at the Extract movie premiere in Los Angeles last August 24, 2009. She paired this dress with a messy low bun hairstyle with highlighted tendrils on the side.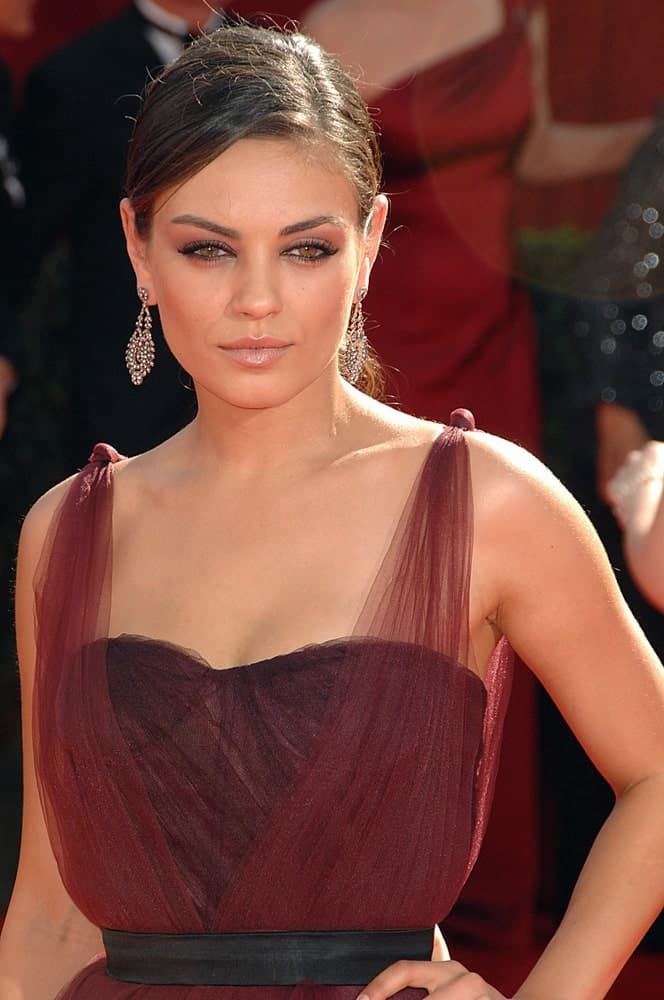 Mila Kunis was wearing a Monique Lhuillier dress and Fred Leighton jewelry at the 61st Primetime Emmy Awards in Los Angeles last September 20, 2009. These complement her simple ponytail hairstyle with subtle highlights.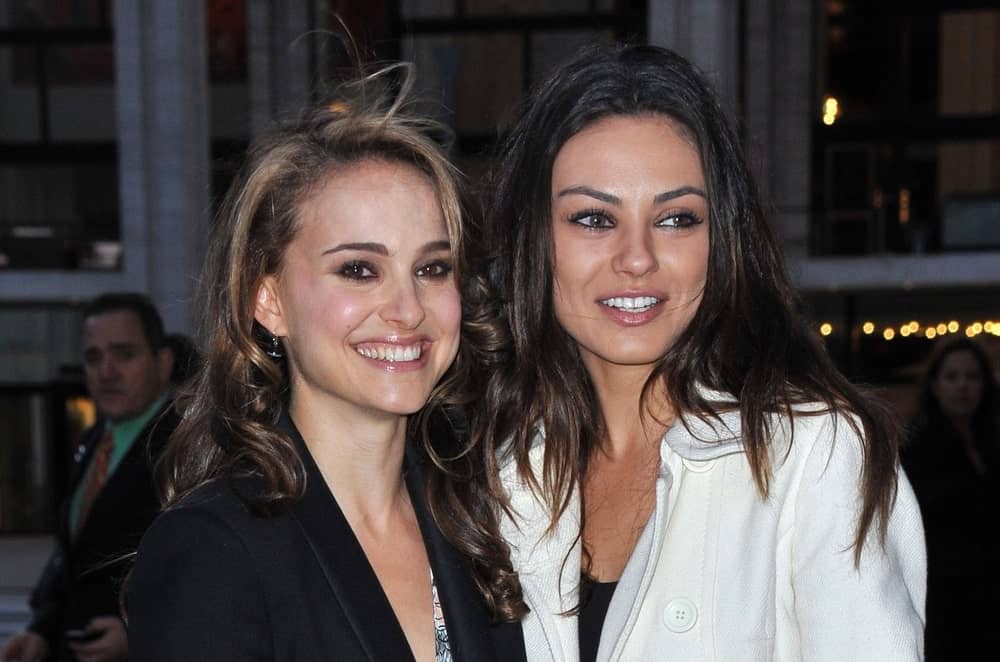 Natalie Portman and Mila Kunis were at the American Ballet Theatre 2009 Fall Season Gala in Avery Fisher Hall last October 7, 2009. Kunis was in white that contrasts her long dark hair with highlights at the tips.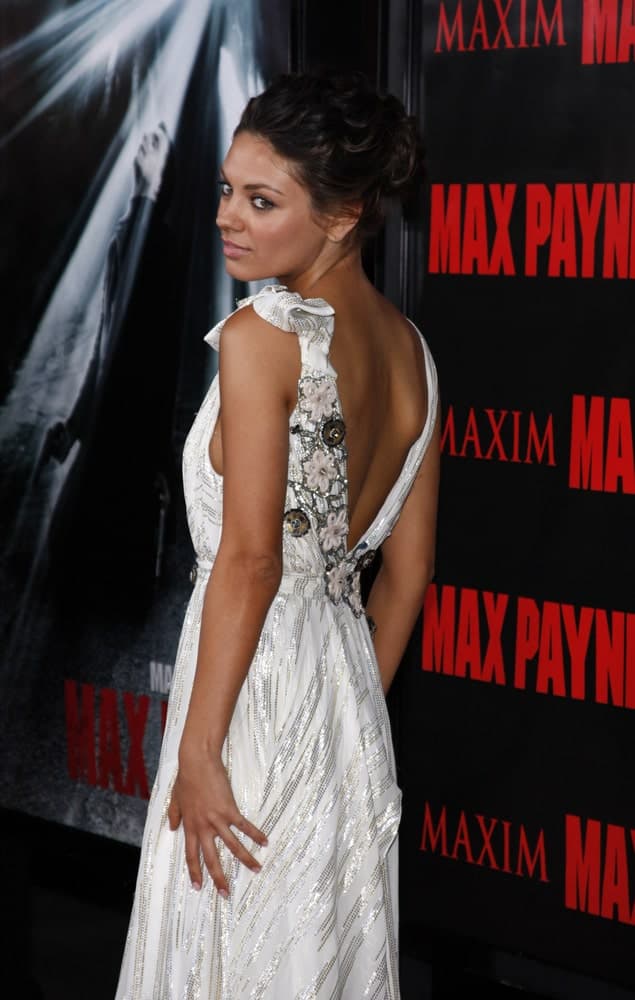 Mila Kunis attended the Los Angeles premiere of 'Max Payne' held at the Grauman's Chinese Theater in Los Angeles last October 13, 2008. Her stunning white dress made her stand out especially with her gorgeous wavy upstyle.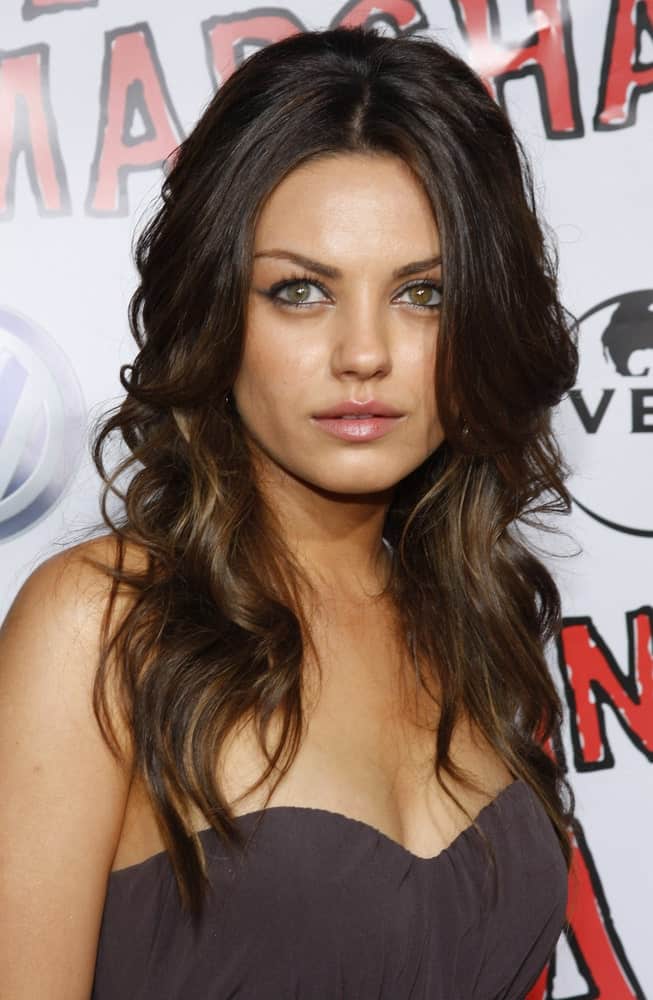 Mila Kunis arrived at the World Premiere of "Forgetting Sarah Marshall" held at the Grauman's Chinese Theater in Hollywood last April 10, 2008. Her simple gray dress was complemented by her tousled and wavy layers with highlights.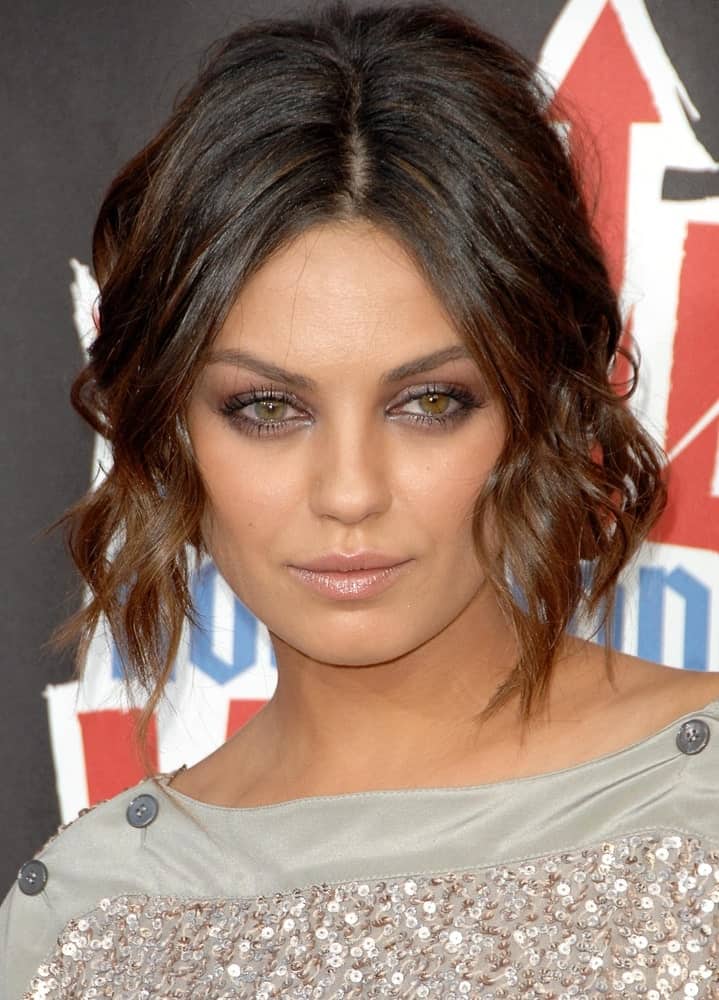 Mila Kunis was at the Third Annual VH1 Rock Honors The Who in Los Angeles last July 12, 2008, in a brilliant white outfit with sequins. This pairs well with her wavy and highlighted bob hairstyle and sexy smoky eyes.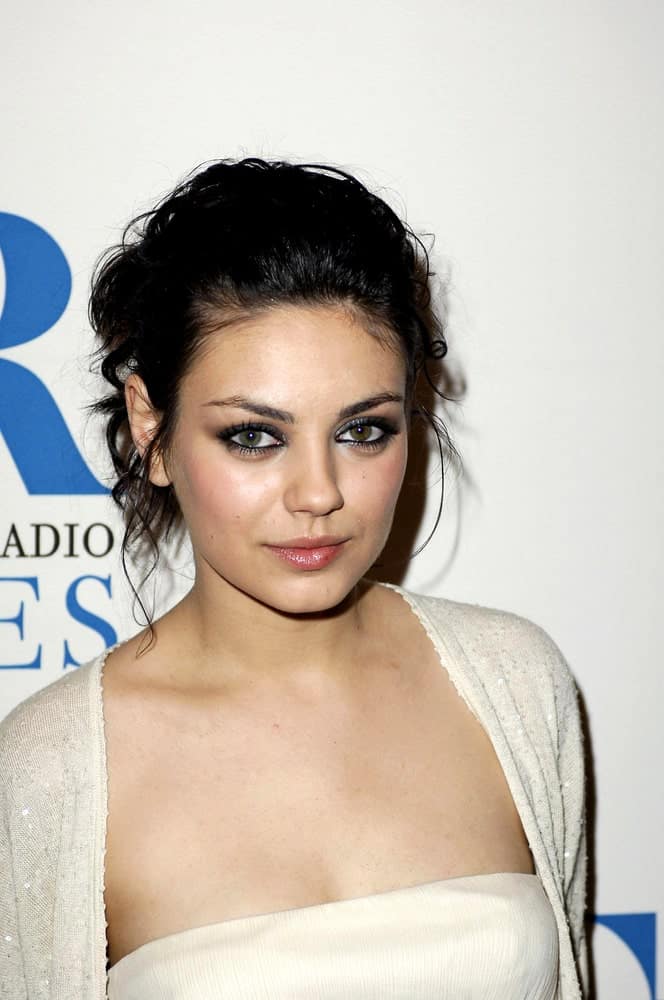 Mila Kunis attended the 2006 William S. Paley Television Festival at the DGA Theater in Los Angeles last March 09, 2006. She had a relaxed yet sexy ensemble outfit that somehow brings focus to her sexy smoky eyes and messy upstyle hairdo with tendrils.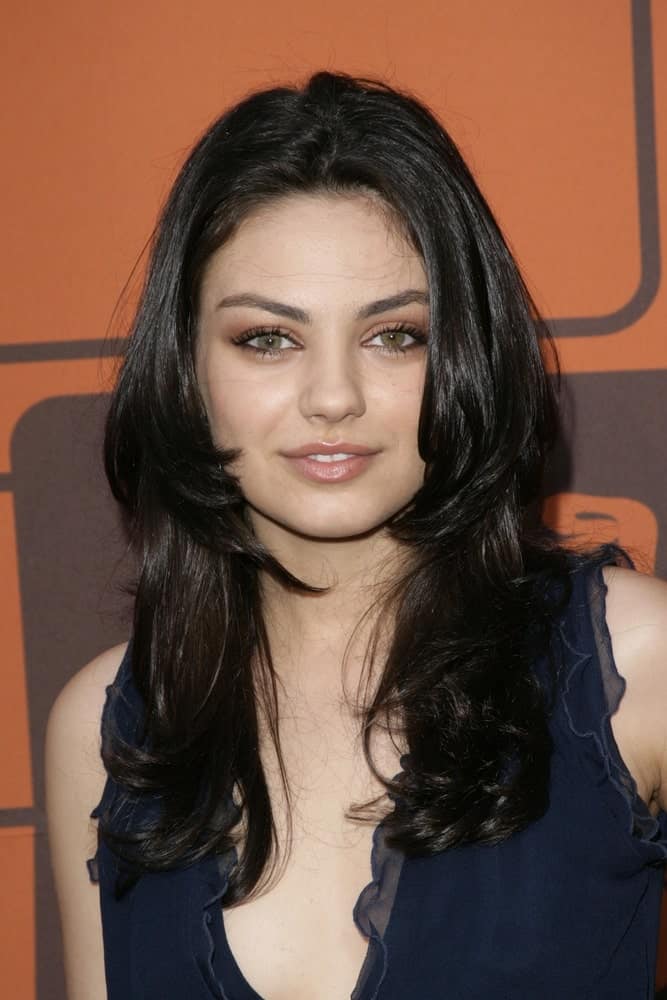 Mila Kunis sported some raven layers with a slight tousle and waves at THAT '70s SHOW Series Finale Party held at the Roosevelt Hotel in Los Angeles last May 06, 2006.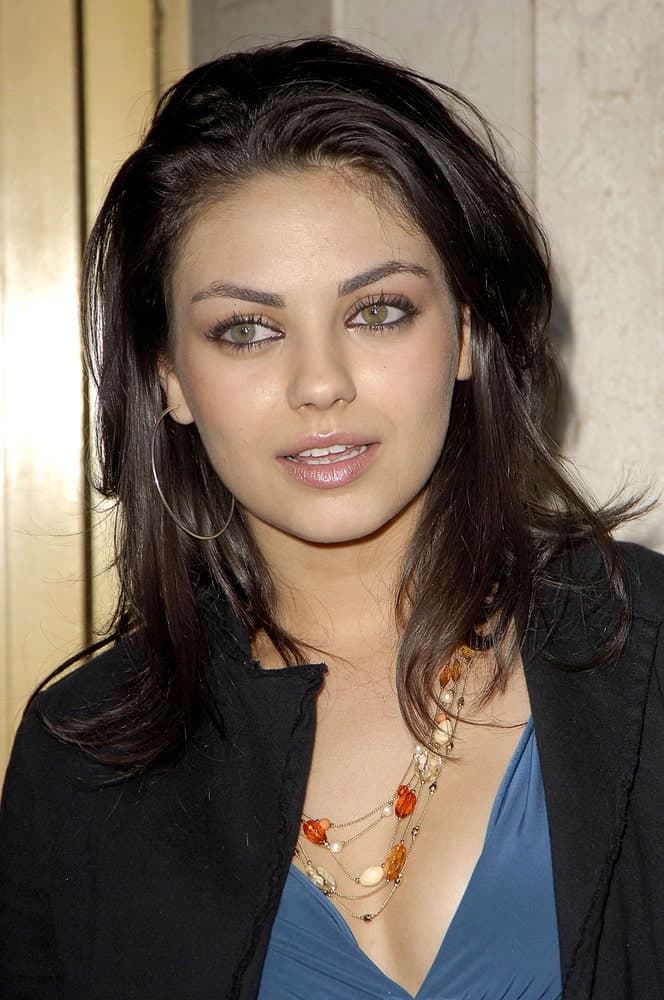 Mila Kunis was at the Family Guy's DVD Party held at the Mann's National Theatre in Los Angeles last September 27, 2005. She had a sexy ensemble outfit to match her tousled and loose raven layers.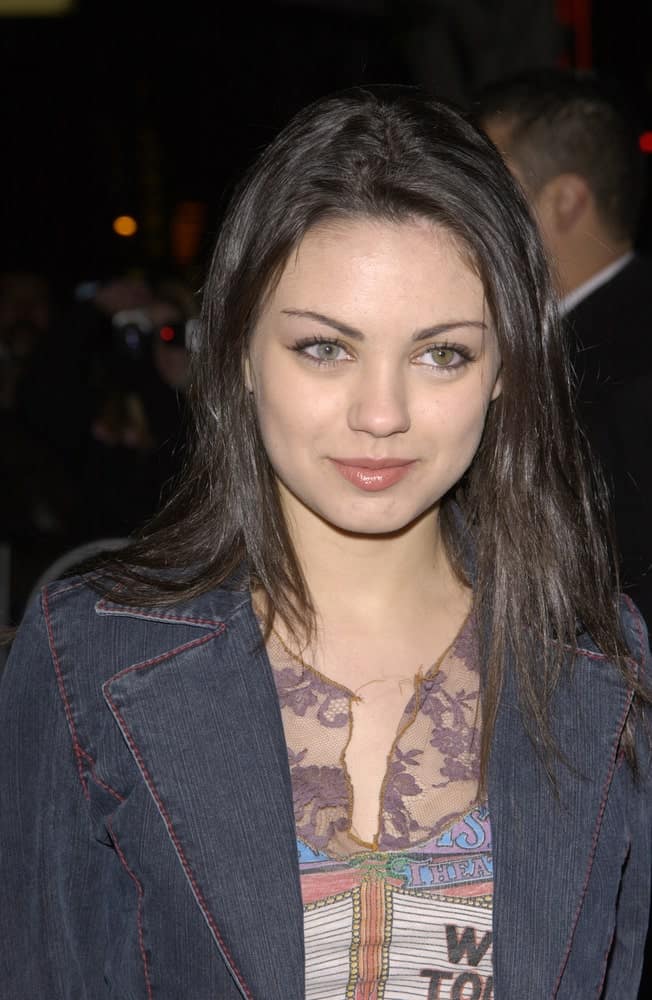 Last January 29, 2002, Actress Mila Kunis was at the Hollywood premiere of Slackers wearing a casual outfit and denim jacket with her loose straight hair and fresh face.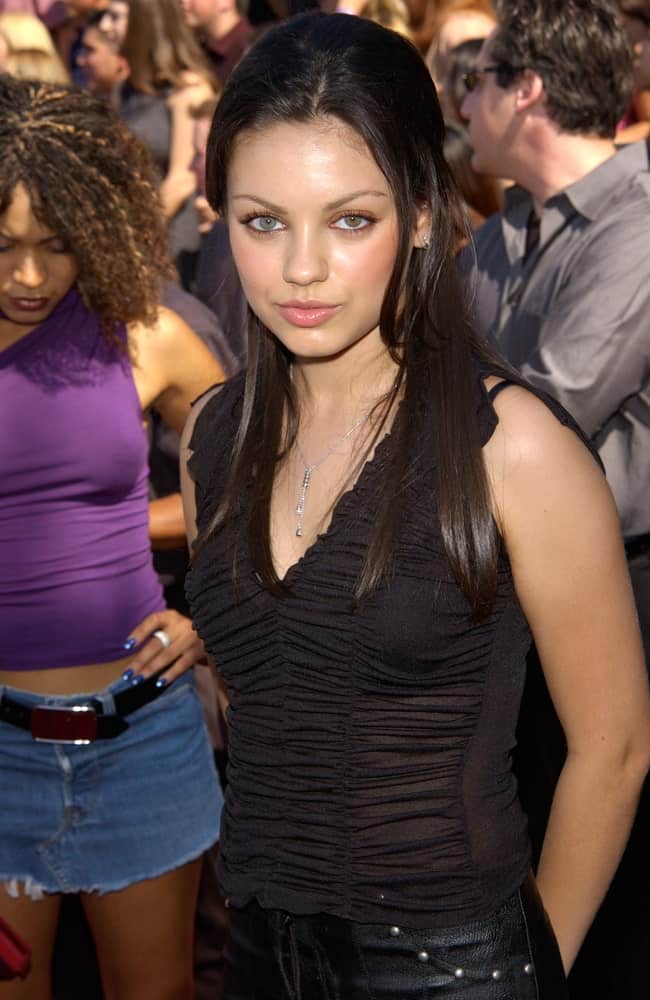 The young actress Mila Kunis was at the 2001 Teen Choice Awards held at the Universal Amphitheater in Hollywood last August 12, 2001. She was wearing an all-black outfit that goes well with her medium-length raven straight hair.