Get inspired with big star Paris Hilton's hairstyles over the years. See how the American socialite goes through several styles and how she accesorize her iconic blonde locks for a more dramatic look.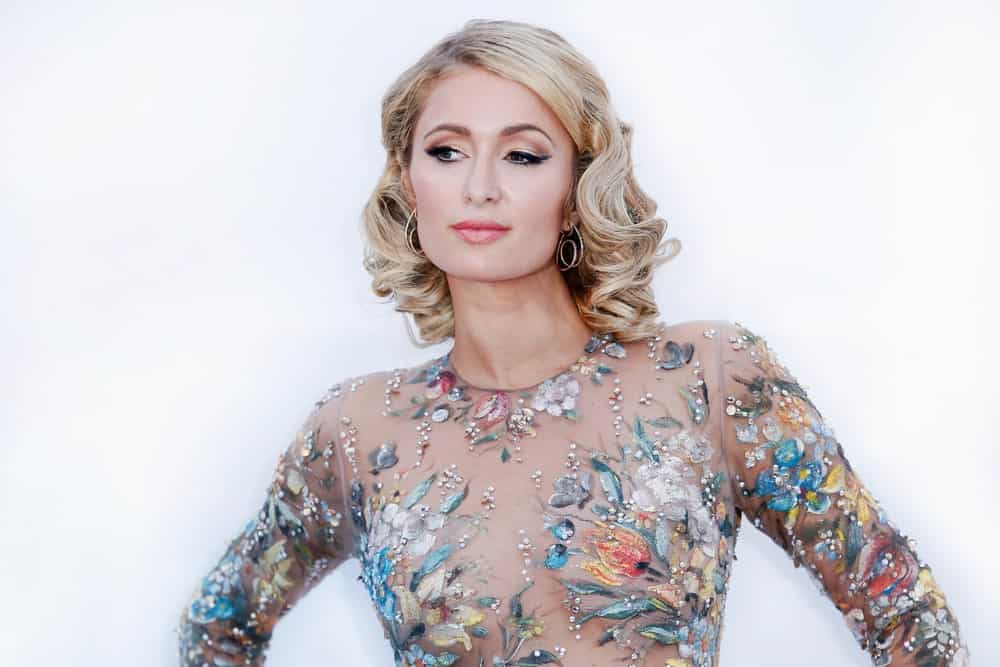 We all know that trends usually come from celebrities. When it comes to fashion, people like to follow the styles of their favorite celebrities. When you go to an event or party, the outfit is essential but so is your hair. Even when you walk out of your house to go outside on a casual day, you can bring some style to your ordinary hair. Here we will discuss one of the most popular celebrities' hairstyles.
You must have seen Paris Hilton in magazines, TV, films, and other media. She has her presence everywhere. Every day she needs to be in front of the media and so she has to be conscious of her hairstyle. She has blonde hair naturally. She always likes to show off her blonde locks, so we haven't seen any drastic changes in her hair color. For simple styles she often chooses headbands. Sometimes, she styles her locks into side-sweep waves. This makes her look very stylish.
On one occasion she had bobby pinned updo. She wore a black dress and the hairstyle made her look very elegant and sophisticated. She had her hair at the front back brushed and pinned. Some volume was also added. She always looks pretty with a straight hairstyle. She has lovely hair and it's a style that can show off the texture of your hair. Paris Hilton has also gone for the curly braided hairstyle. She had braid on one side and had lovely curls that flowed below her shoulders.
An updo accentuates her facial features. She went for a retro updo and also a classic bun. She looked gorgeous in these styles. Though she likes long hair, she has also experimented with short hairstyles like a bob cut. Bob cut hair with side-swept bangs really suit her. Bangs is something she has tried on many occasions.
Paris Hilton is a very famous celebrity who has talents beyond anyone can imagine. She is a great model, actress, singer, DJ, and the list could go on and on. She wrote a book in 2004 named the 'Confessions of an Heiress' and it became the number one best-seller book. The year 2005 was a very exciting year for her. She acted in the movie Hose of Wax and signed a music contract with Warner Bros. Records.
Her debut single 'Stars are Blind' became an instant hit. She released her album 'Paris' in 2006. She took part in various television reality series including The Simple Life and Paris Hilton's My New BFF. The Hottie and the Nottie, The Bling Ring, etc. are among some of her notable films. She was very successful as a DJ as well. She is a very bold and hot personality that we have today in the show business.
Here are Paris Hilton's hairstyles over the years.
Photos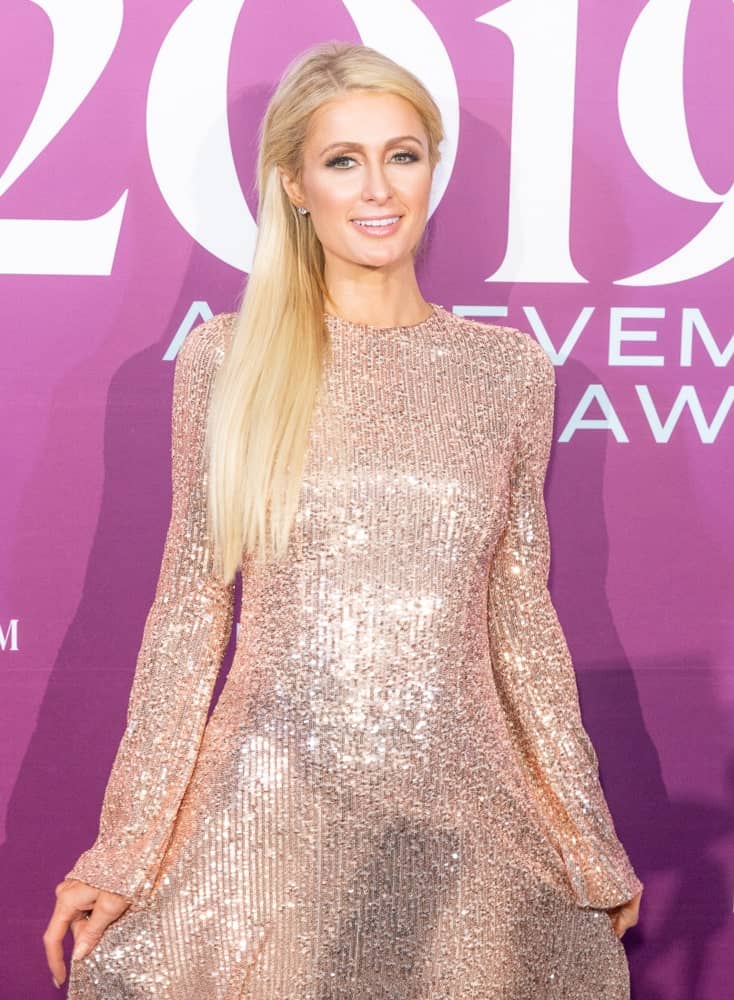 Paris Hilton looking all charming and sweet with her loose blonde tresses pinned back on both sides. She paired it with a blush sequined dress during the 2019 FN Achievement Awards on December 3, 2019.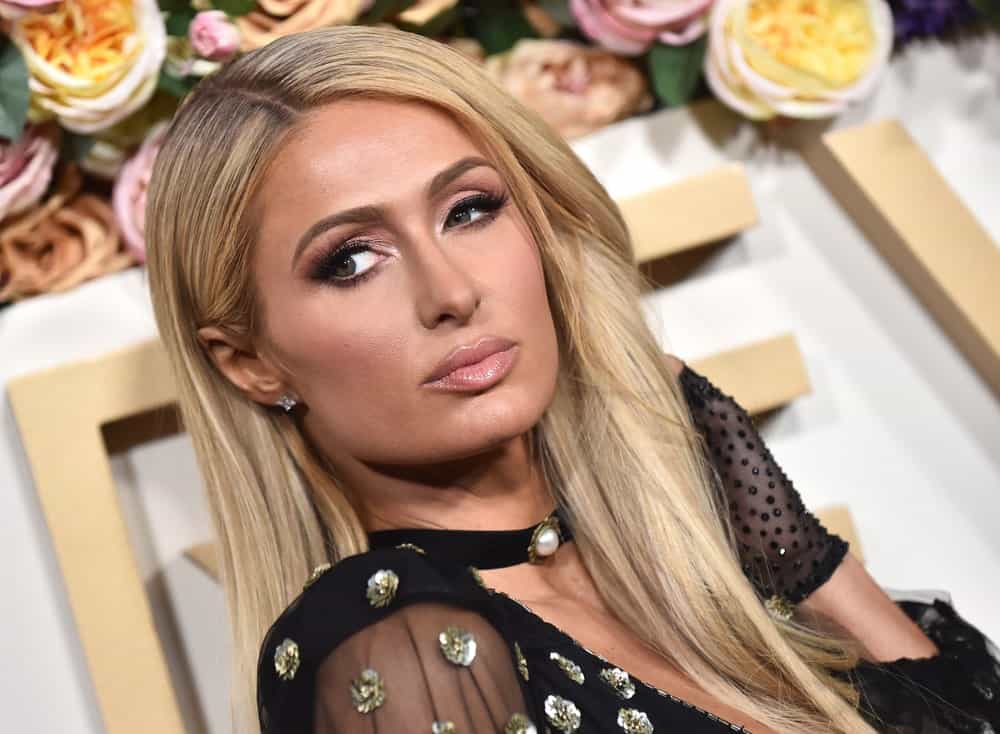 Paris Hilton sported a loose straight hairstyle during the 2019 REVOLVE Awards on November 15, 2019. She complimented it with a black choker dress inlaid with floral embellishments.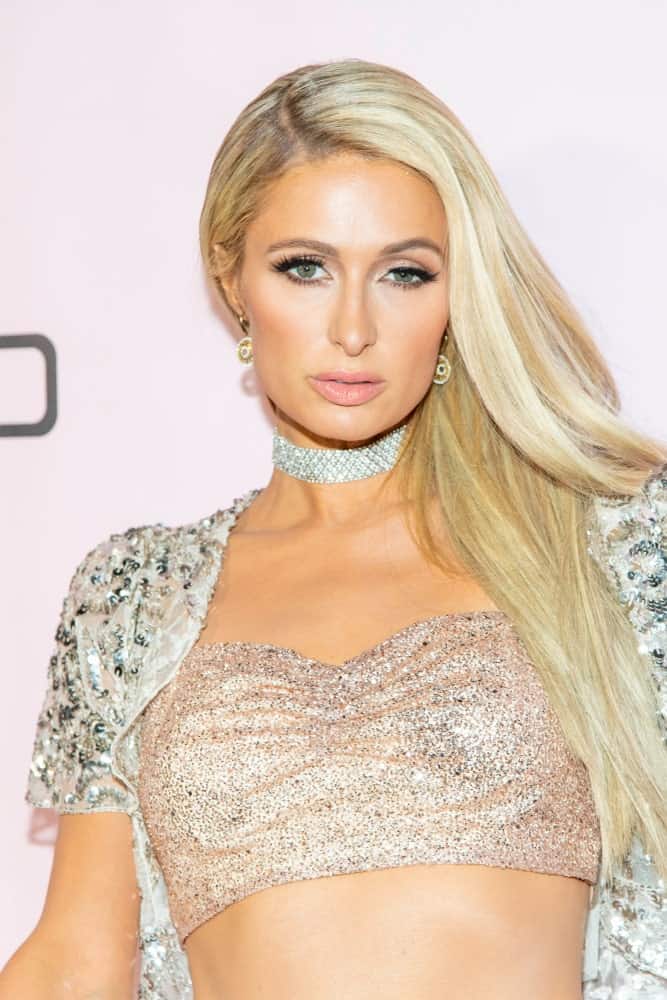 The singer rocked a simple side-parted hairstyle with some highlights during the boohoo.com "All That Glitters" Launch Party on November 7, 2019. She finished the look with sparkling accessories and a glittering tube topped with a white see-through blazer.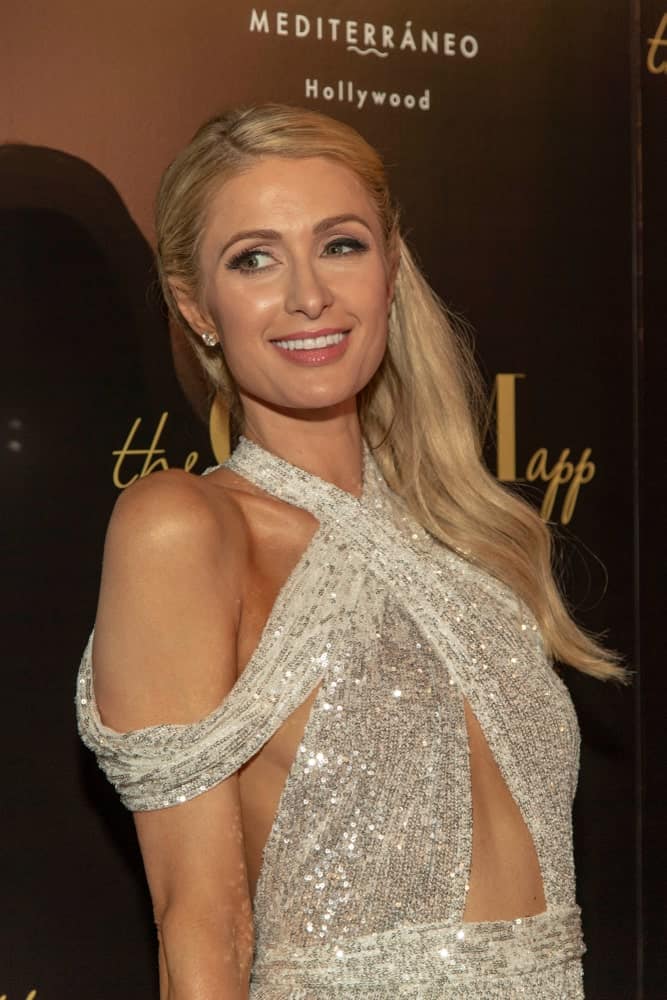 Paris Hilton flashed a sweet smile with her pinned side-parted hairstyle at The Glam App and Paris Hilton Launch Party on June 19, 2019. A sequined halter dress completed the gorgeous look.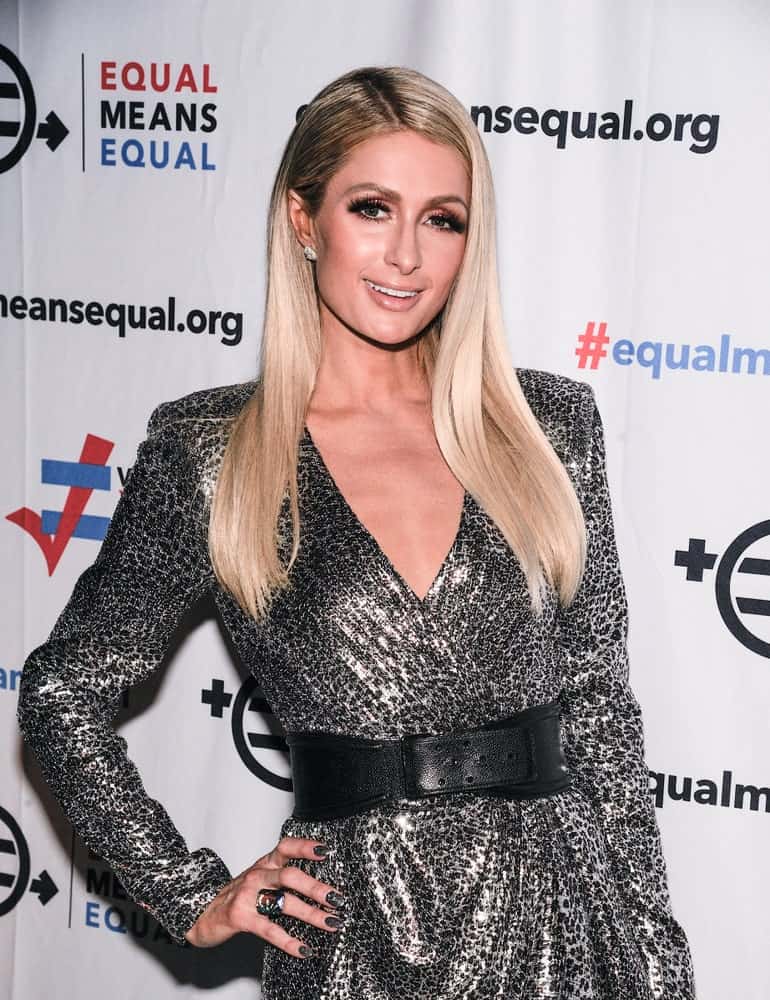 The well-known media personality arrived at the Equal Means Equal event at Paradise Club on May 21, 2019, with a simple loose hairstyle where one side is tucked behind her ear.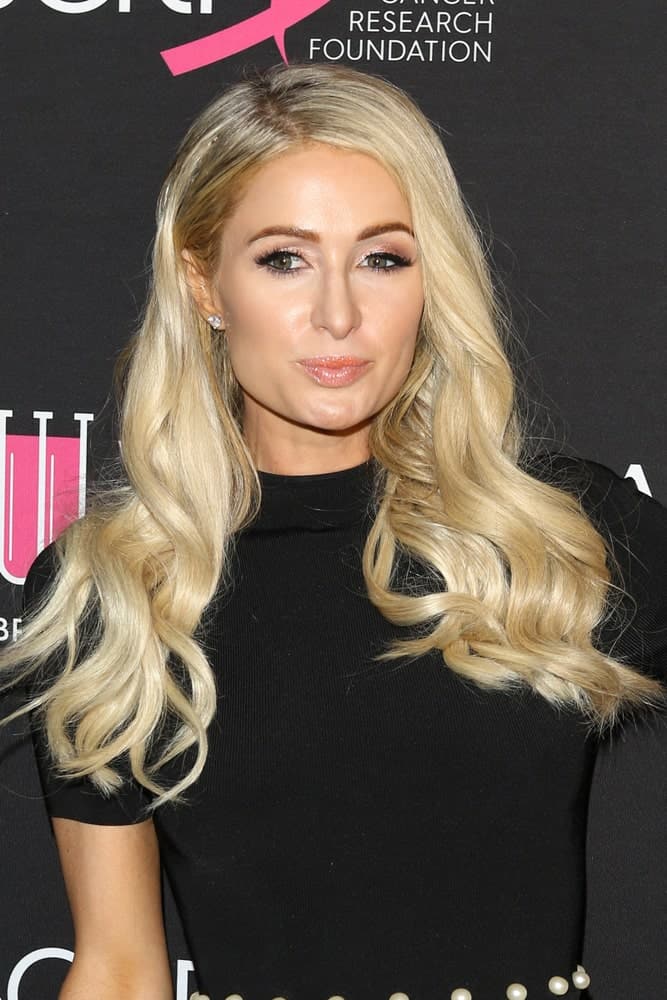 The model attended the Women's Cancer Research Fund's An Unforgettable Evening on February 28, 2019, with big, soft curls in sandy blonde. It was beautifully contrasted by her black turtleneck top.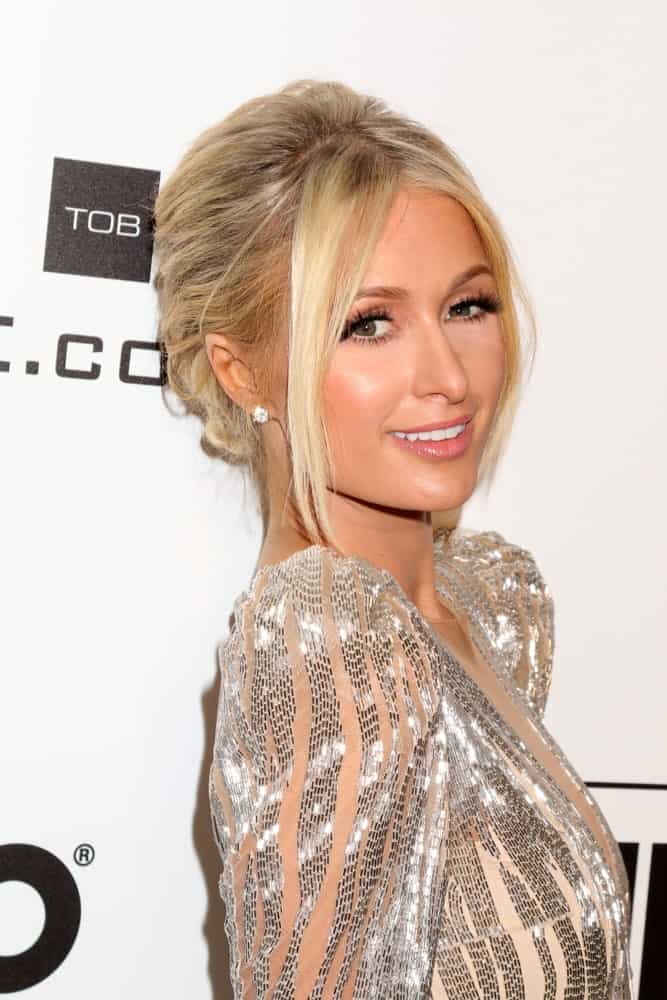 Paris Hilton looked ravishing at the Elton John Oscar Viewing Party on February 24, 2019, with her blonde tresses arranged into a glam updo. It is incorporated with long tendrils that are tousled a bit for a softer look.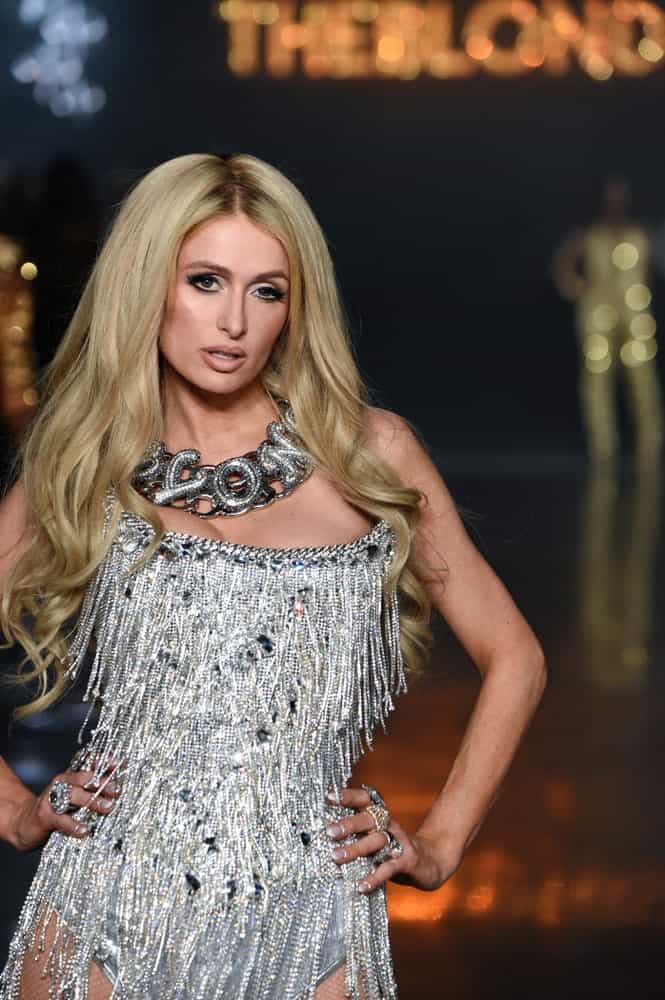 On February 12, 2019, Paris Hilton walked the runway for The Blonds during New York Fashion Week with her long voluminous blonde waves paired with a statement necklace.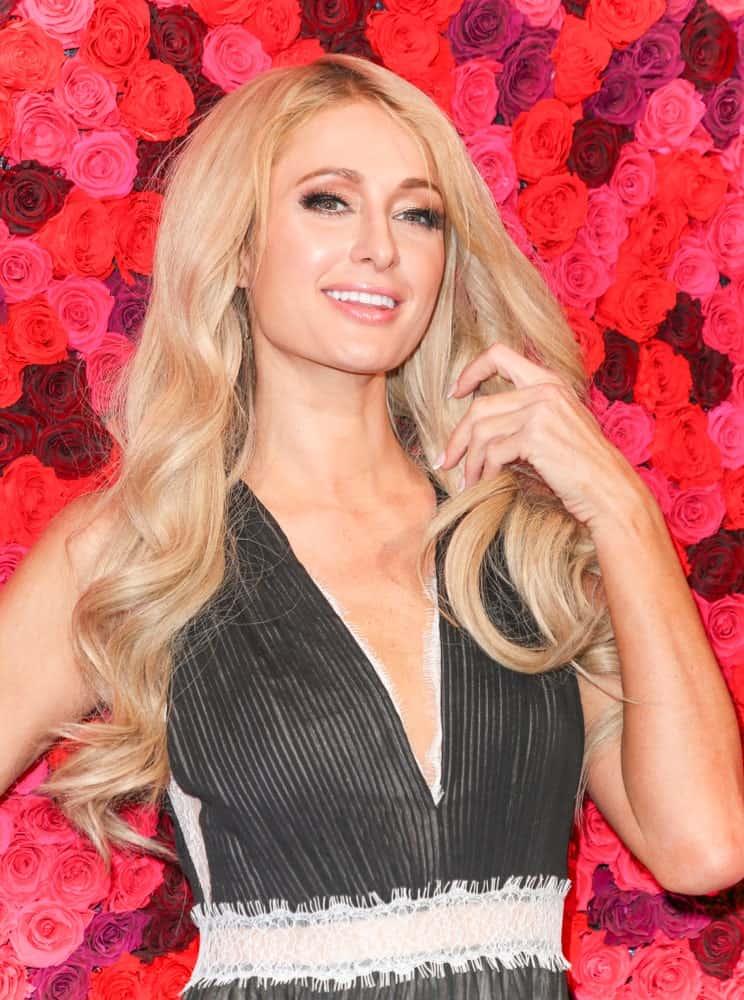 The Amerian socialite was spotted at the Alice + Olivia By Stacey Bendet presentation during New York Fashion Week on February 10, 2019, in a deep V-neck dress along with her long blonde waves.
The actress wore a gorgeous sequined dress along with her long loose blonde locks at the Go Campaign's 13th Annual Go Gala on November 16, 2019.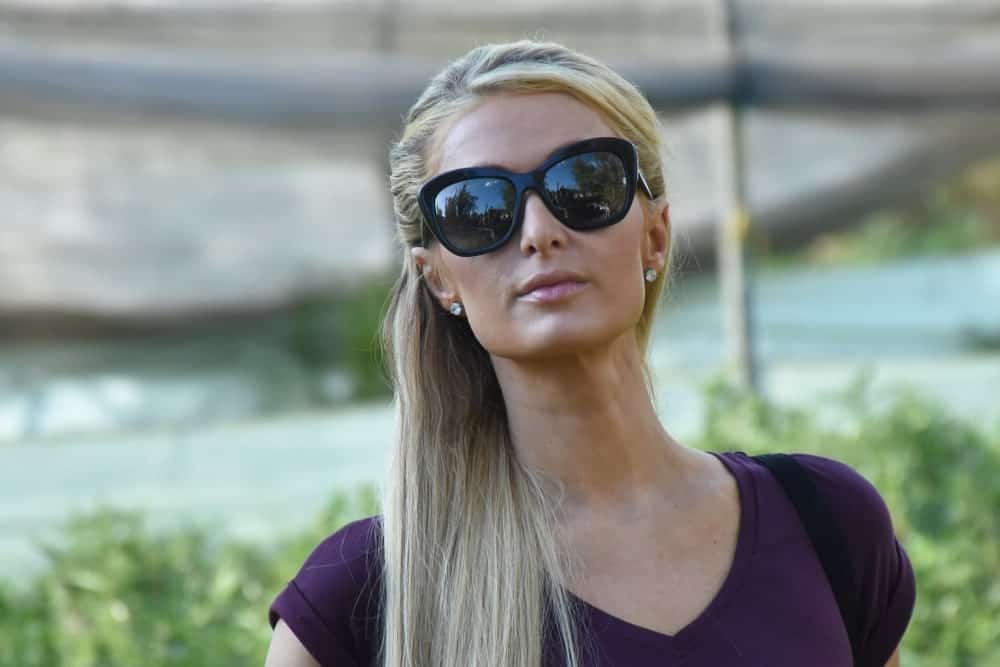 Paris Hilton was seen visiting the reconstruction of houses damaged by the 2017 earthquake on November 12, 2018, in Xochimilco, Mexico with a simple half updo hairstyle complemented with black shades and stud earrings.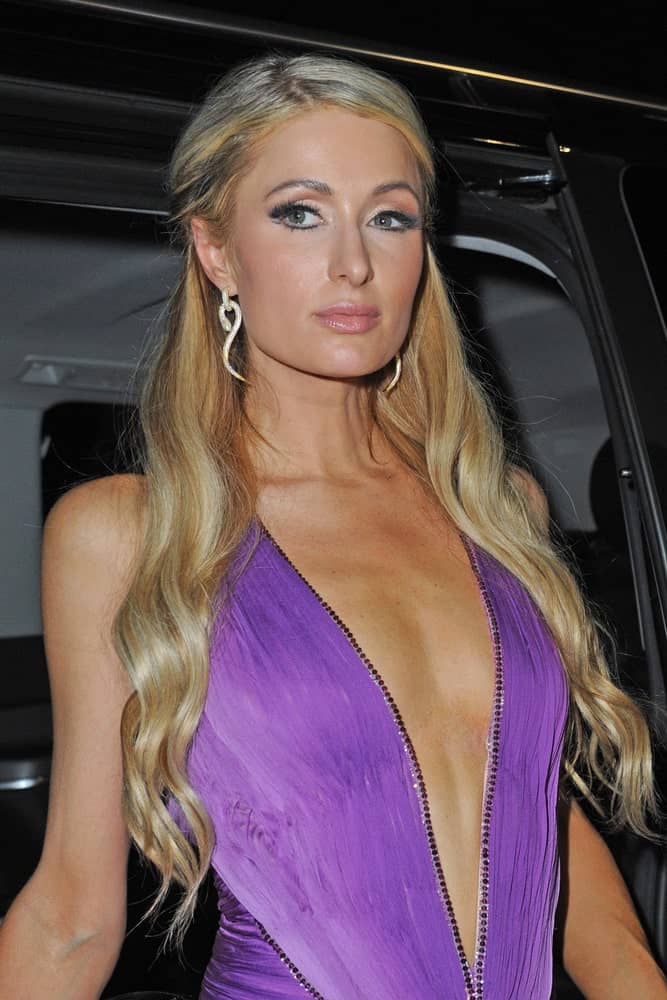 The singer arrived at Just Cavalli disco – Paris Hilton for skincare on October 22, 2018, in a purple deep V-neck dress and her highlighted blonde waves styled in half updo showing off her eccentric earrings.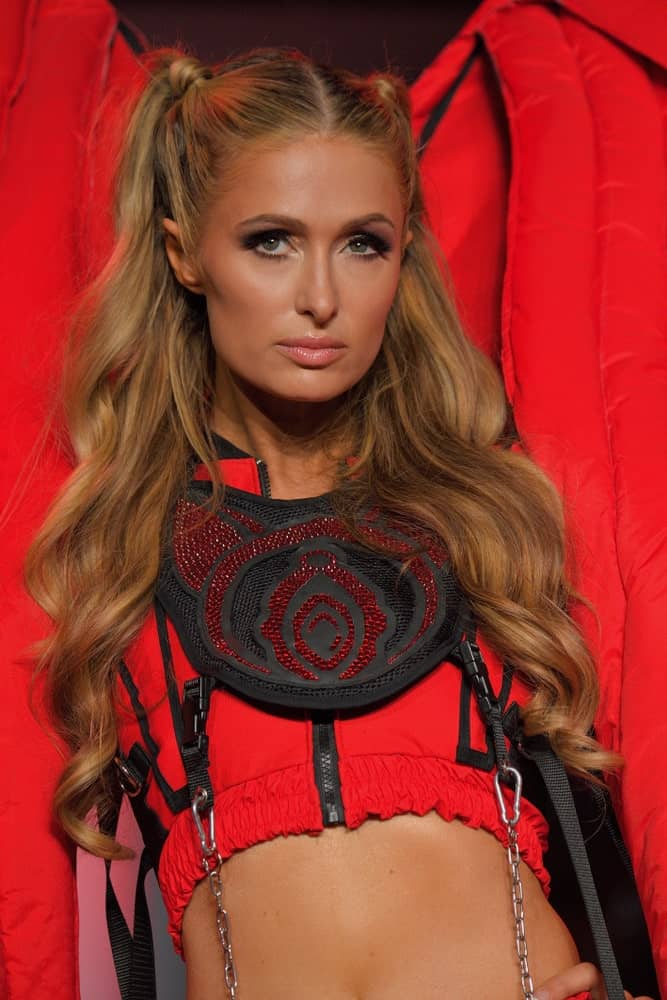 Paris Hilton slayed the runway for Namilia during New York Fashion Week: The Shows at Gallery II at Spring Studios on September 11, 2018, in an edgy red outfit. She finished the look with her waterfall waves center-parted and half tied on both sides.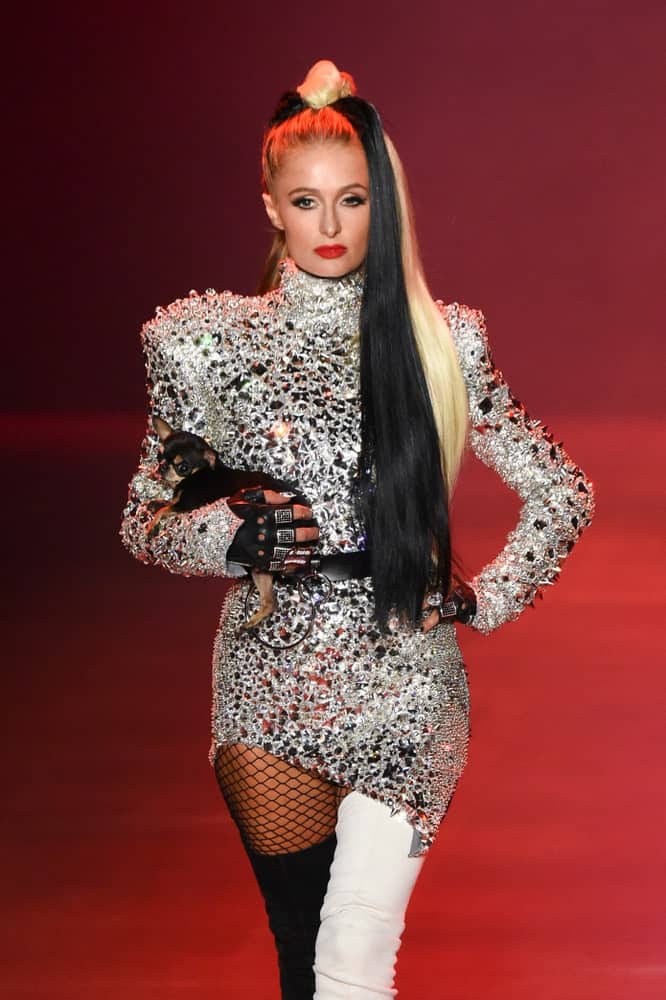 The model exhibited her long two-toned tresses as she walked the runway at the Disney Villains x The Blonds fashion show on September 7, 2018. She styled it in a sleek high ponytail that's truly eye-catching.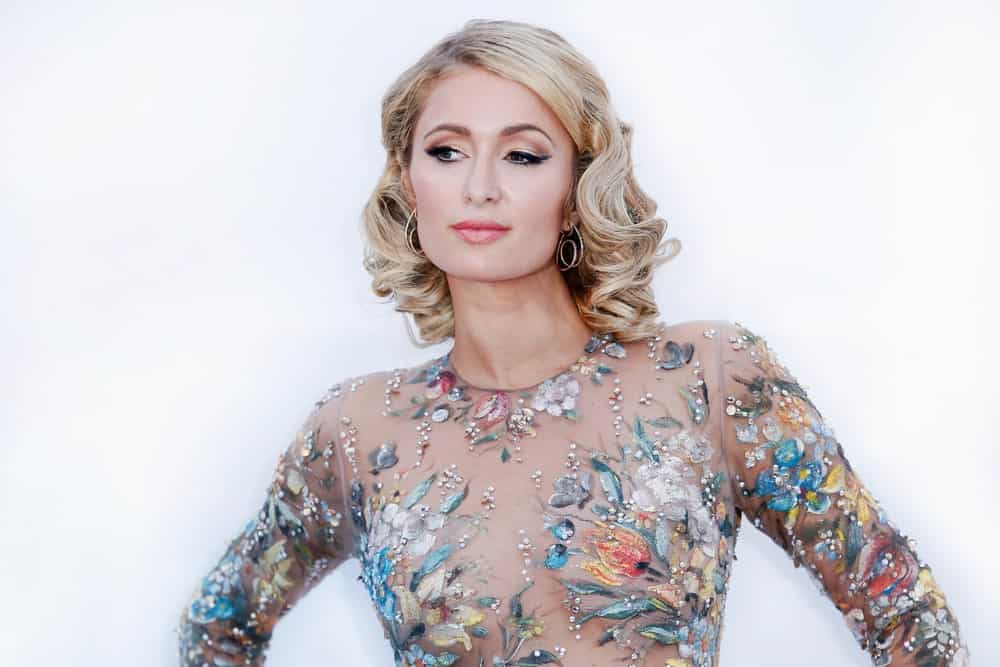 Paris Hilton looked stunning in a floral see-through dress that she wore during the amfAR Gala Cannes 2018 at Hotel du Cap-Eden-Roc on May 17, 2018. She paired it with her short blonde tresses beautifully curled and side-parted.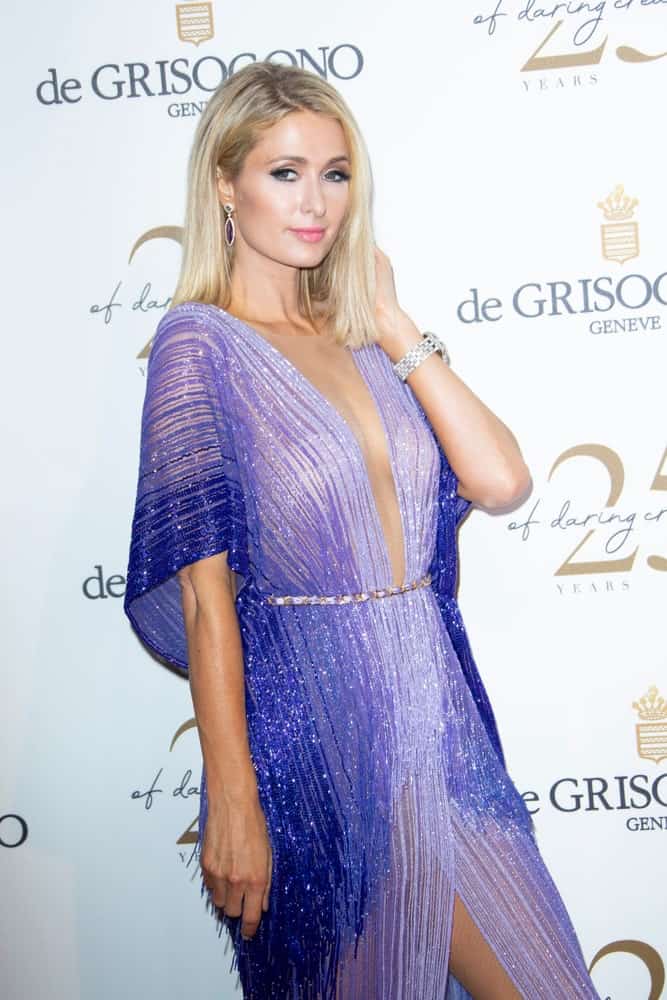 Last May 15, 2018, the model flaunted her medium-length blonde hair with shadow roots at the De Grisogono Party during the 71st annual Cannes Film Festival. The stunning look was completed with a striking blue dress.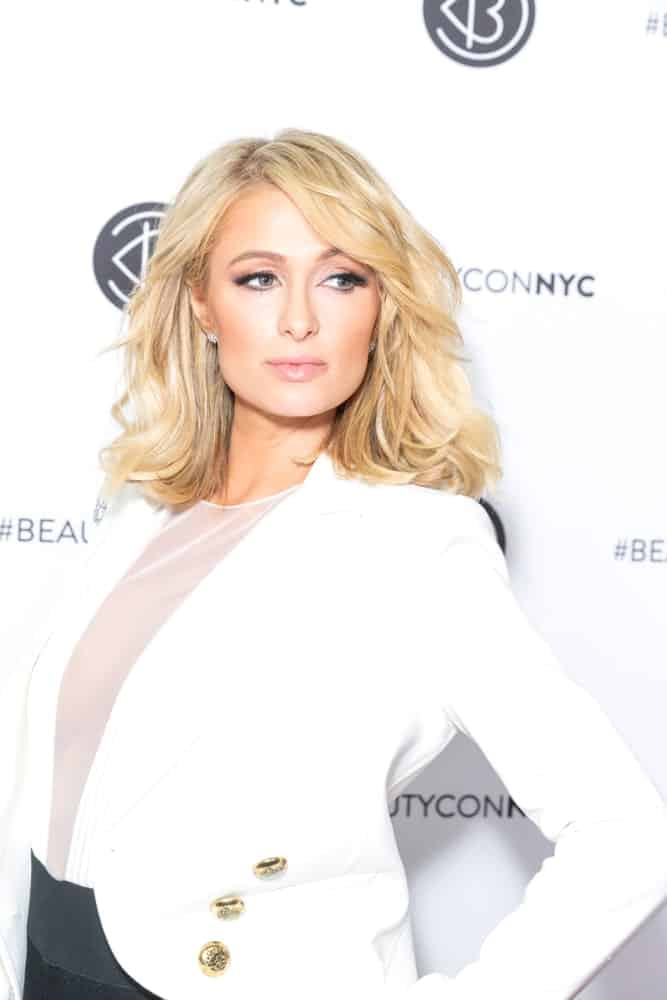 The actress wore a white suit by Oscar De La Renta as she attended the Beautycon Festival NYC 2018 – Day 1 at Jacob Javits Center on April 21, 2018. She finished the look with short tousled waves and light natural-looking makeup.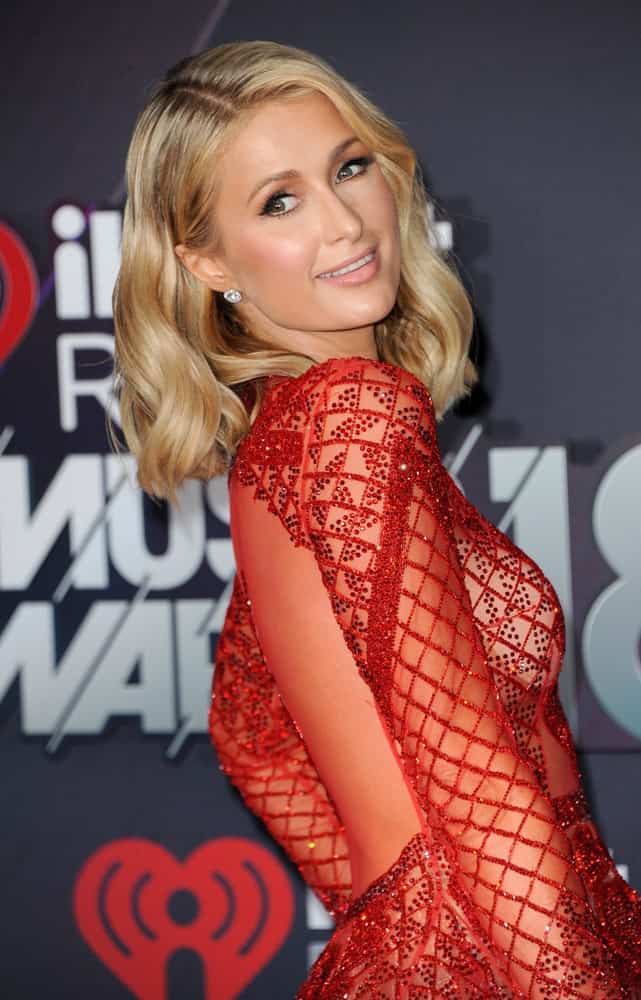 On March 11, 2018, Paris Hilton attended the 2018 iHeartRadio Music Awards held at The Forum in Inglewood, the USA in a gorgeous red dress and her short blonde waves side-parted.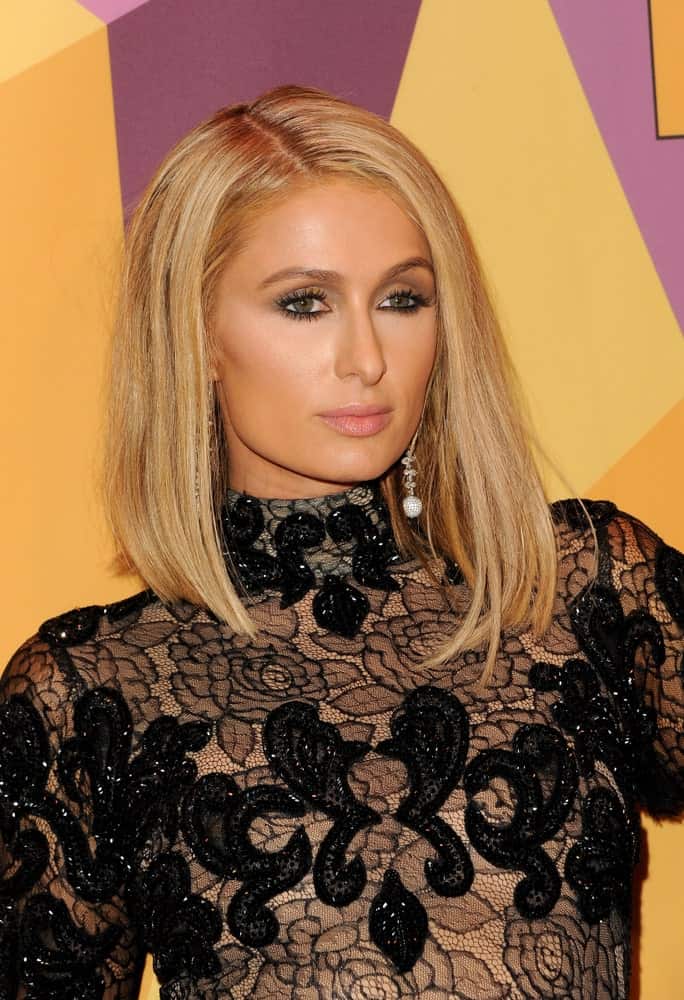 The singer showcased her tousled medium-length hair along with a black lacy dress during the HBO's 2018 Official Golden Globe Awards After Party held on January 7, 2018.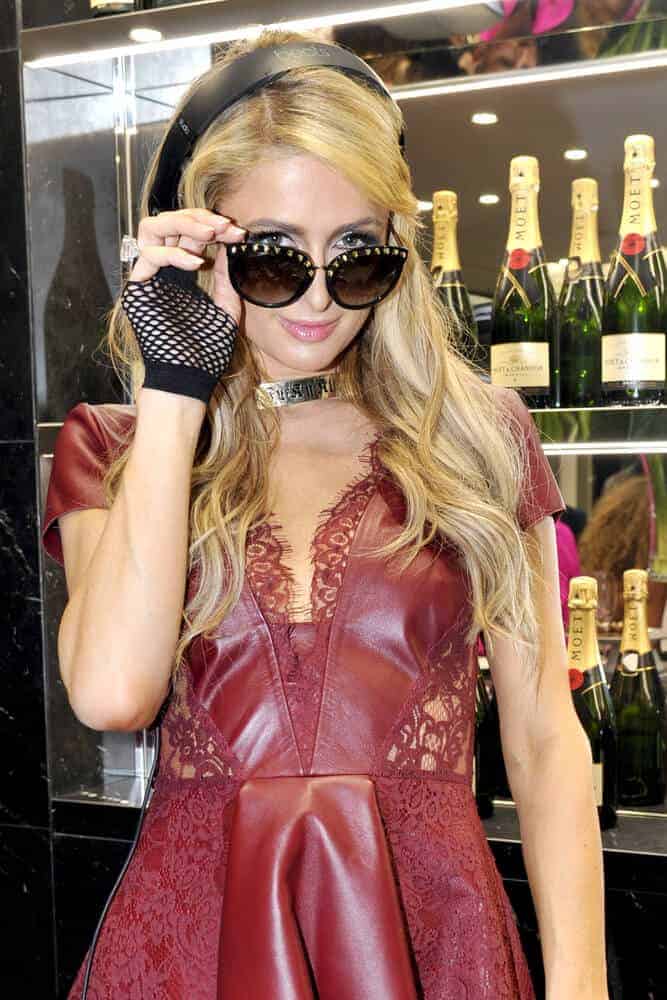 Last December 25, 2017, Paris Hilton was spotted in Milan, Italy sporting a carefree and funky hairstyle incorporated with a black headphone and sunglasses.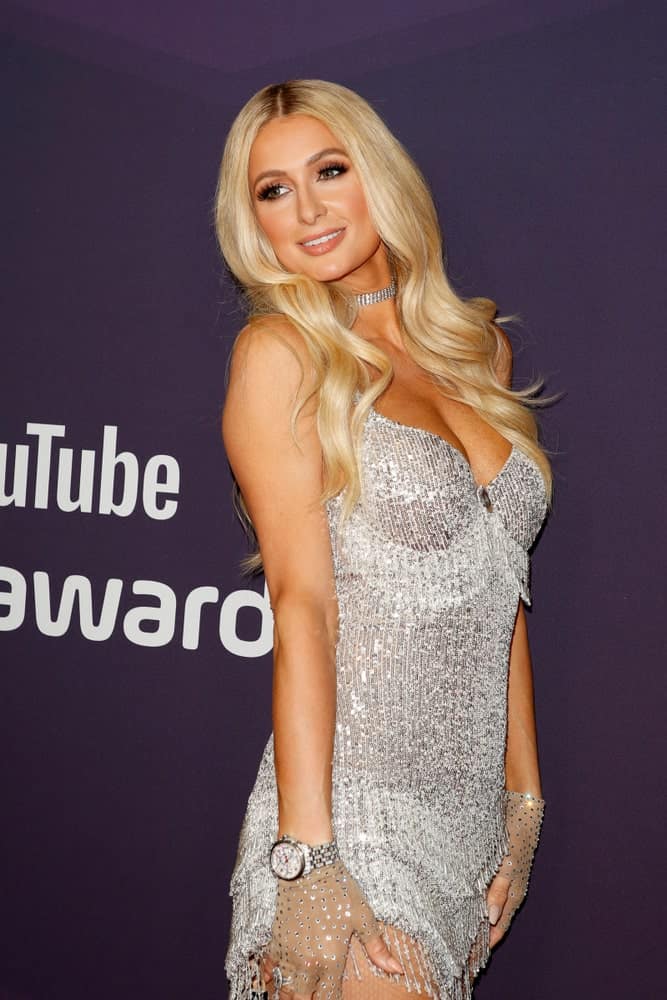 The model shines in a stunning silver bodice dress paired with a matching choker along with her voluminous blonde waves cascading down her shoulders. This look was worn at the 9th Annual Streamy Awards on December 13, 2017.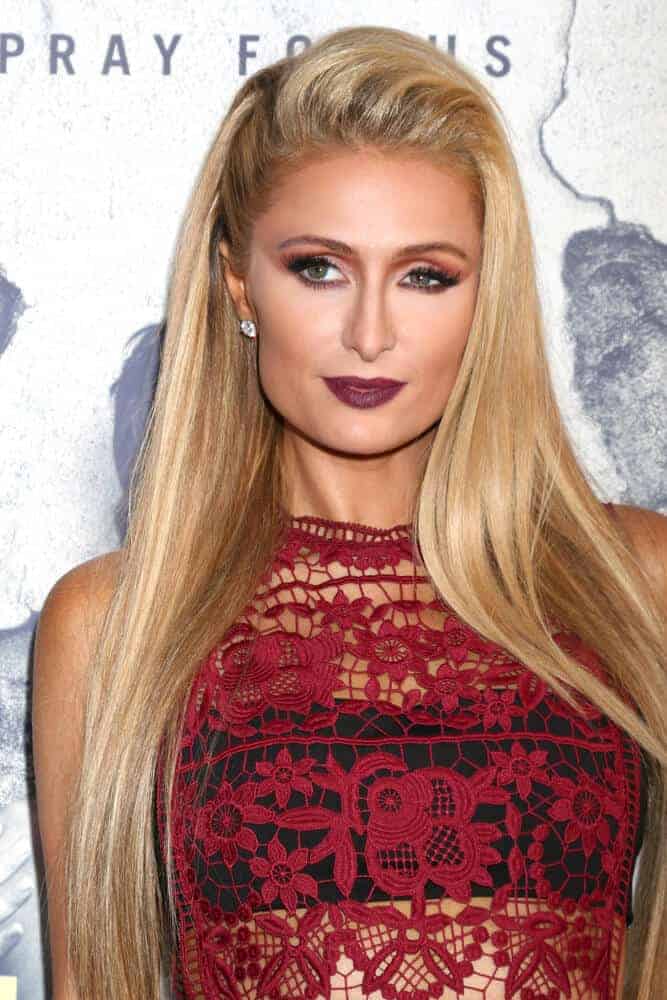 Paris Hilton slayed the Premiere Of HBO's "The Leftovers" Season 3 at Avalon Hollywood on April 4, 2017, with her long and loose straight hair, slicked back to perfection.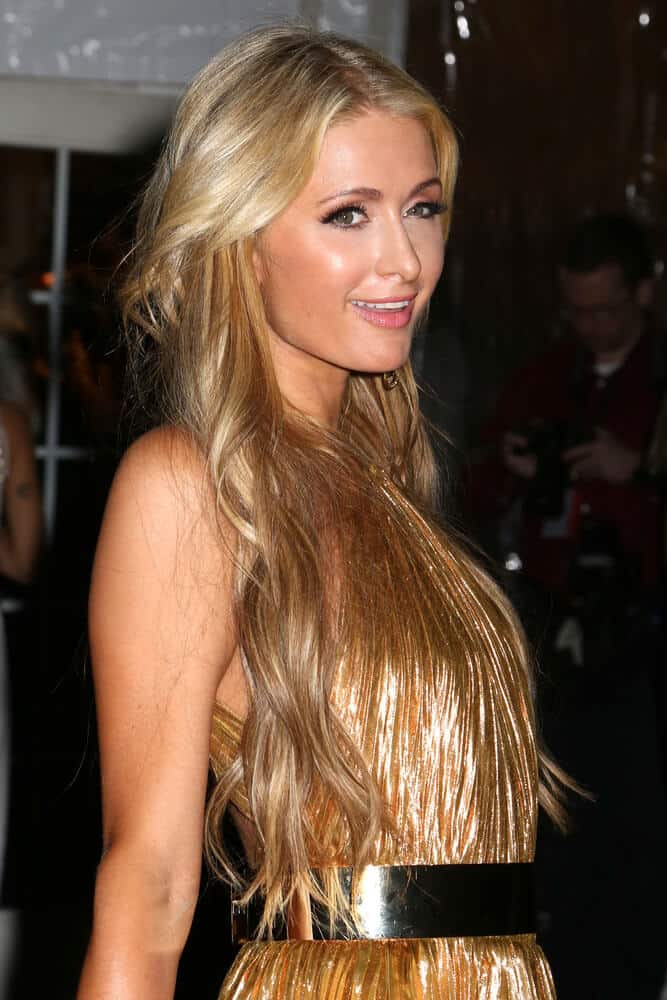 Paris Hilton portrayed the beautiful intersection between the high-fashion outfit and a casual, loose hairdo. This mesmerizing look of hers was seen last February 8, 2017, during the amfAR Gala at Cipriani Wall Street, NYC.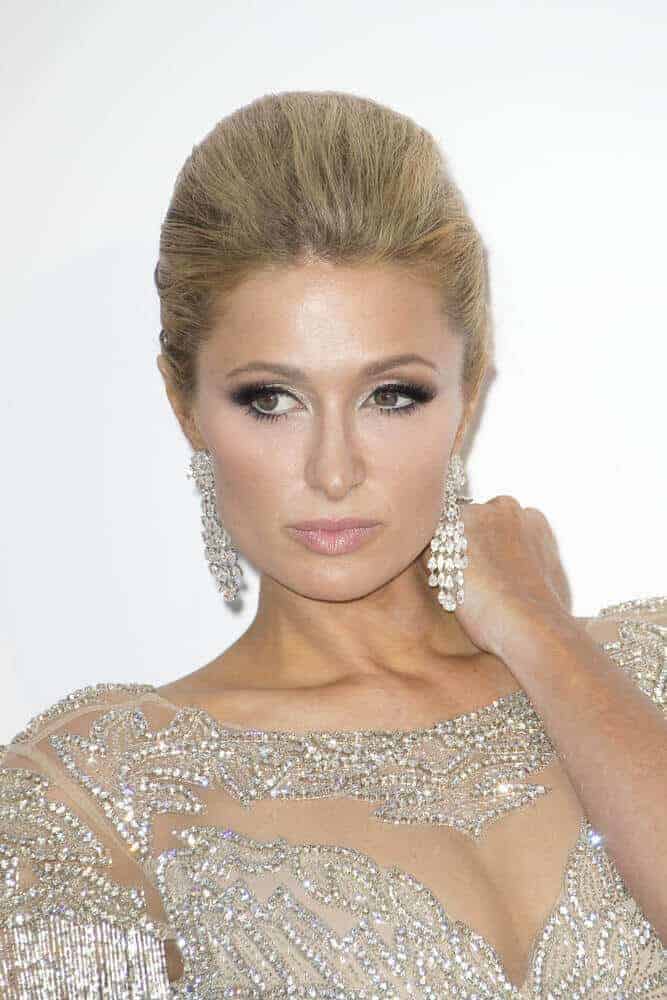 Paris Hilton attended the amfAR Gala Cannes 2017 in an elegant dress and a sleek, high-fashion updo.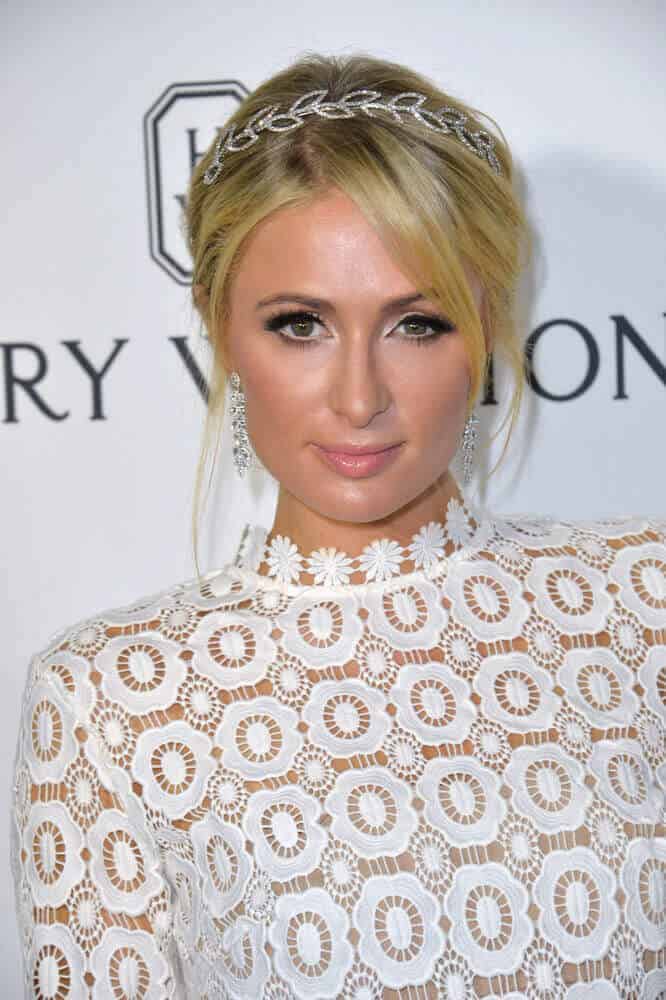 Paris Hilton is oozing with elegance in her simple upstyle enhanced with a decorative headband during the 2016 amfAR Inspiration Gala, October 27, 2016.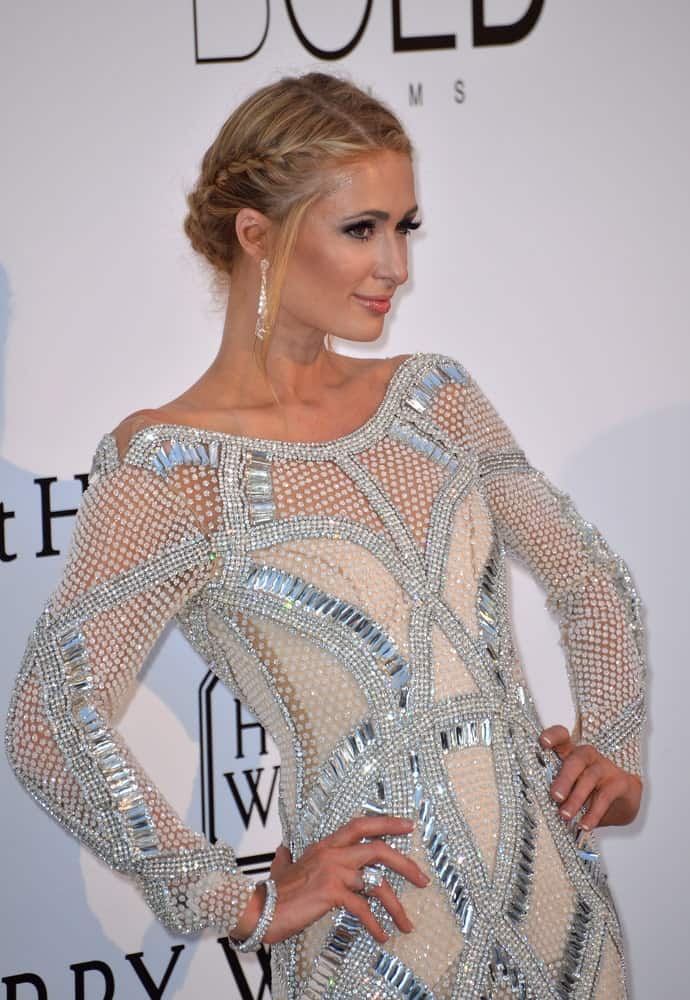 The model exhibited a classy look with a glam upstyle hairstyle incorporated with side french braids and tendrils during the amfAR Cinema Against AIDS Gala 2016 held on May 19th.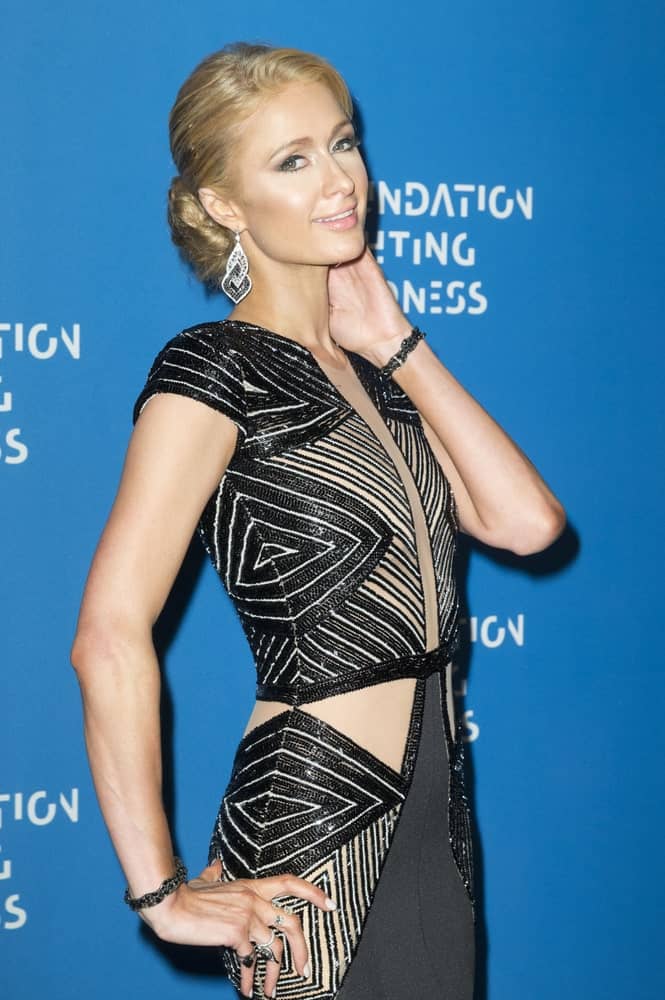 The singer had her blonde locks arranged into a classic low bun during the Foundation Fighting Blindness Gala at Cipriani 25 Broadway on April 12, 2016. Chandelier earrings and a black geometric dress completed the sleek yet classy look.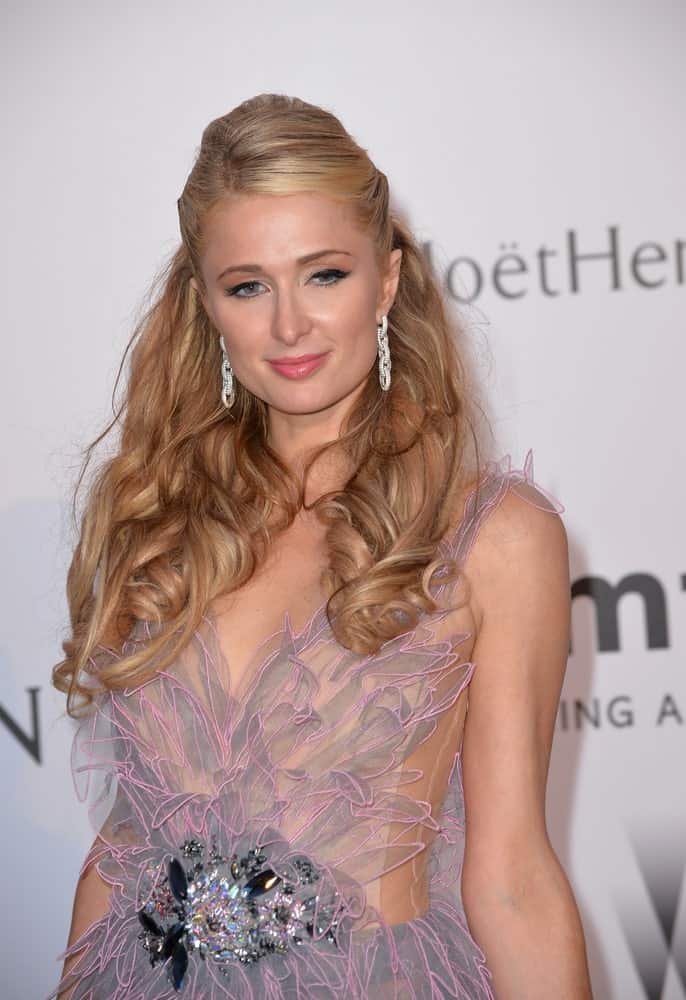 Paris Hilton exhibited her highlighted blonde waves that are slicked back in a half updo at the 2015 amfAR Cinema Against AIDS gala on May 21st. A gorgeous see-through dress adds charm to the overall look.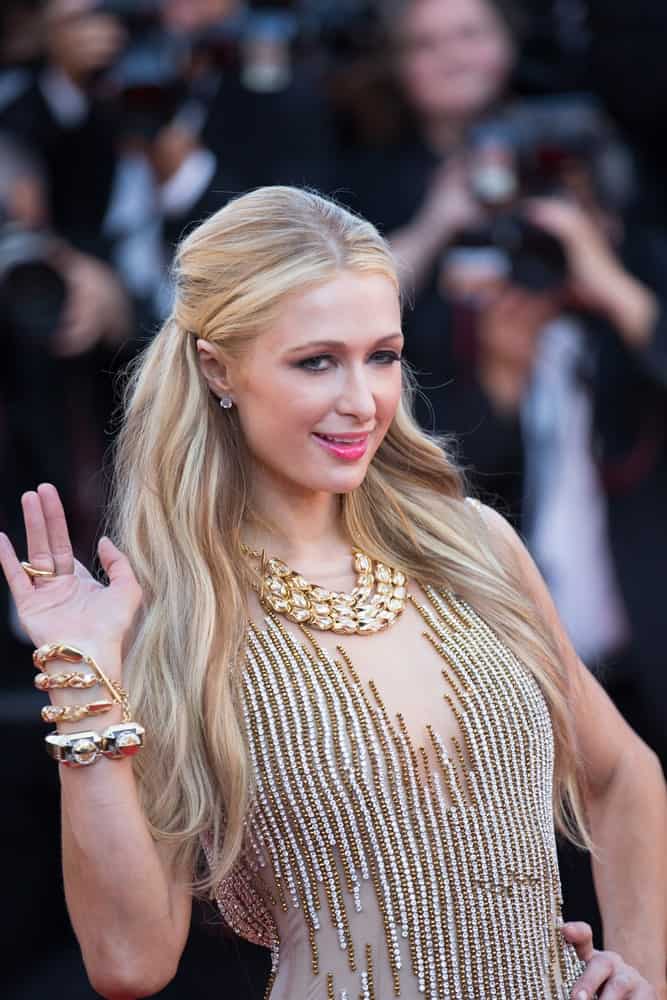 Paris Hilton waved hi at the 'Inside Out' premiere during the 68th annual Cannes Film Festival on May 21, 2015. She looked stunning in a sequined nude dress that matches her highlighted blonde locks styled in half updo.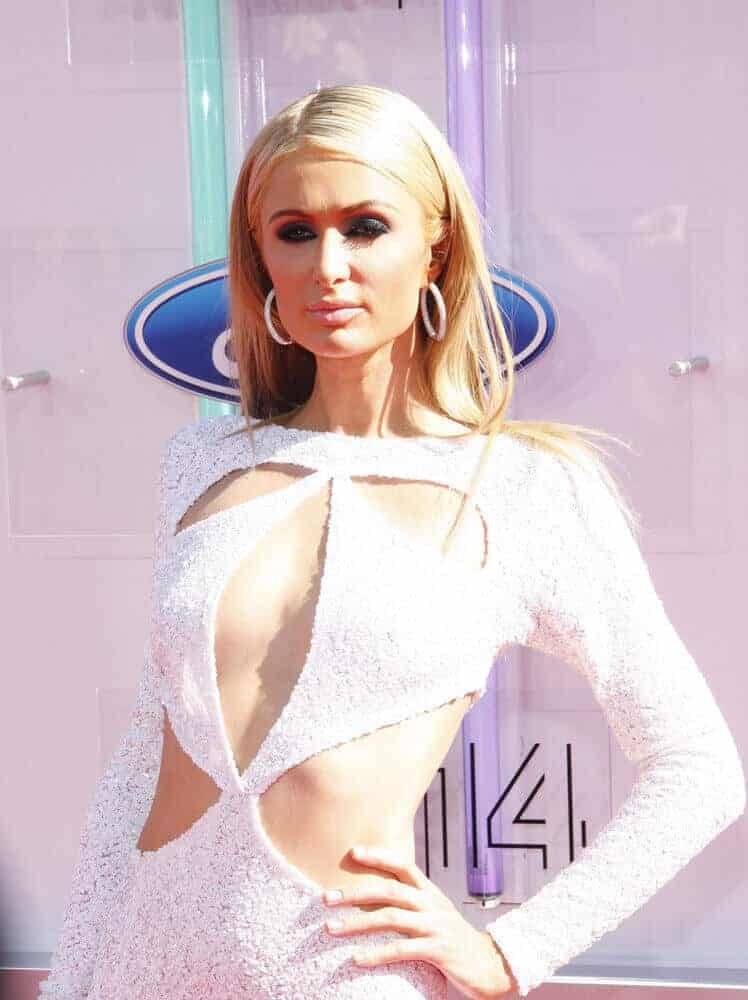 Paris Hilton looking prim and elegant in her medium-length, straightened hair during her arrival in the 2014 BET Awards on June 29, 2014.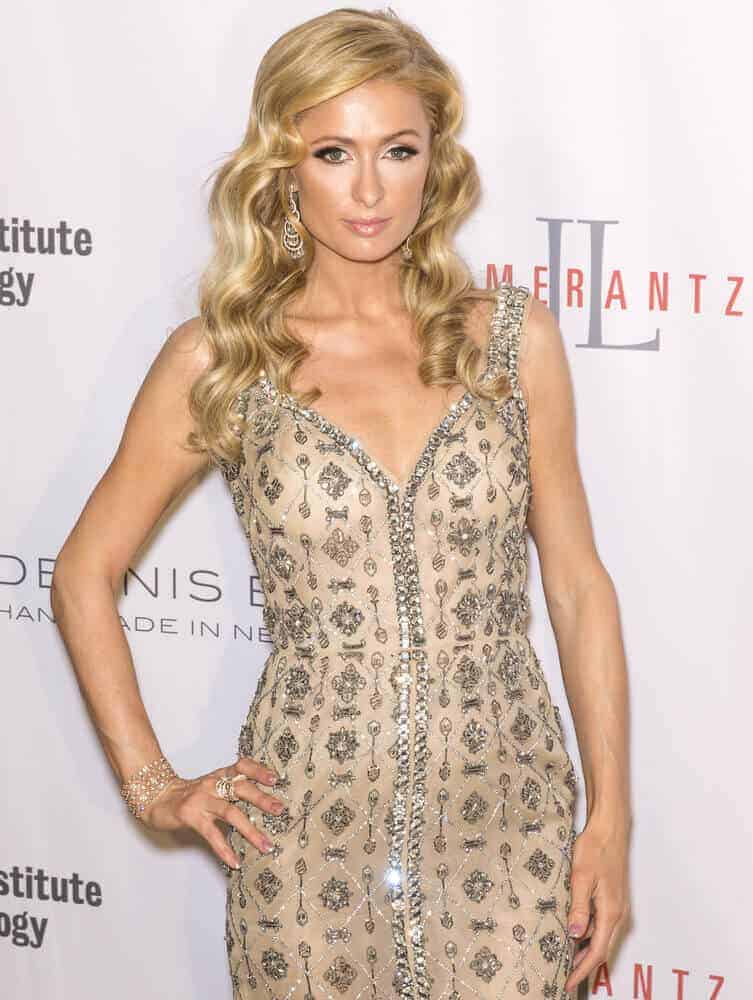 Nothing beats the good old hairstyle with bouncy curls during formal events. In fact, this kind of style was worn by Paris Hilton during the Fashion Institute Of Technology 2016 FIT Gala, May 9, 2016.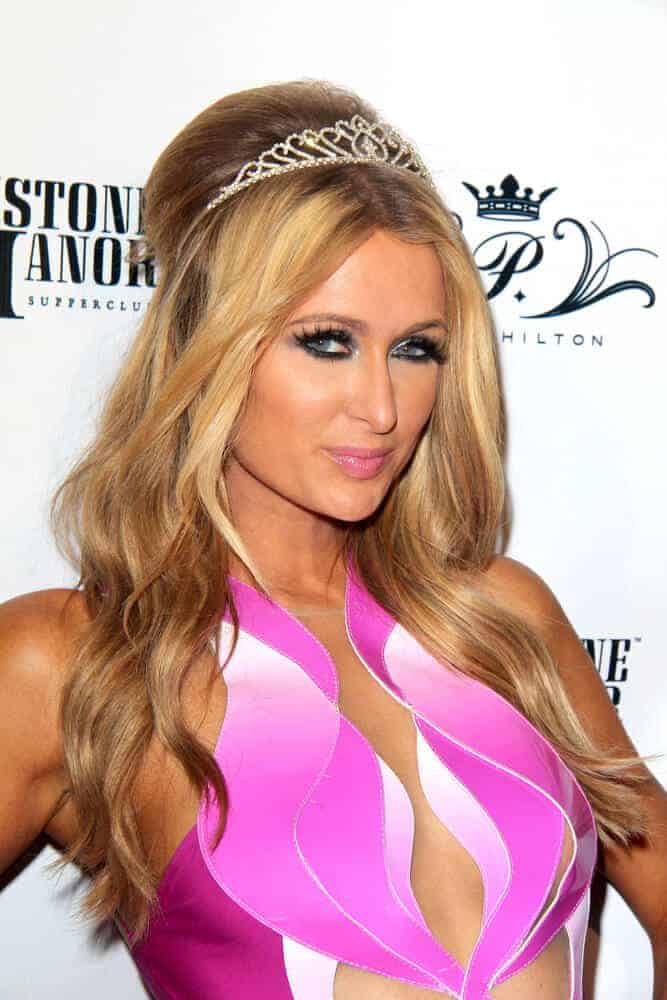 Paris Hilton looks like a pretty princess with her wavy hair incorporated with a mini tiara during her birthday party held last February 15, 2014, on Greystone Manor, Los Angeles, CA.
Paris Hilton at the 66th Cannes Film Festival – de Grisogono Party 2013, looking fresh and stylish with her curled hair decorated with some iconic embellishments.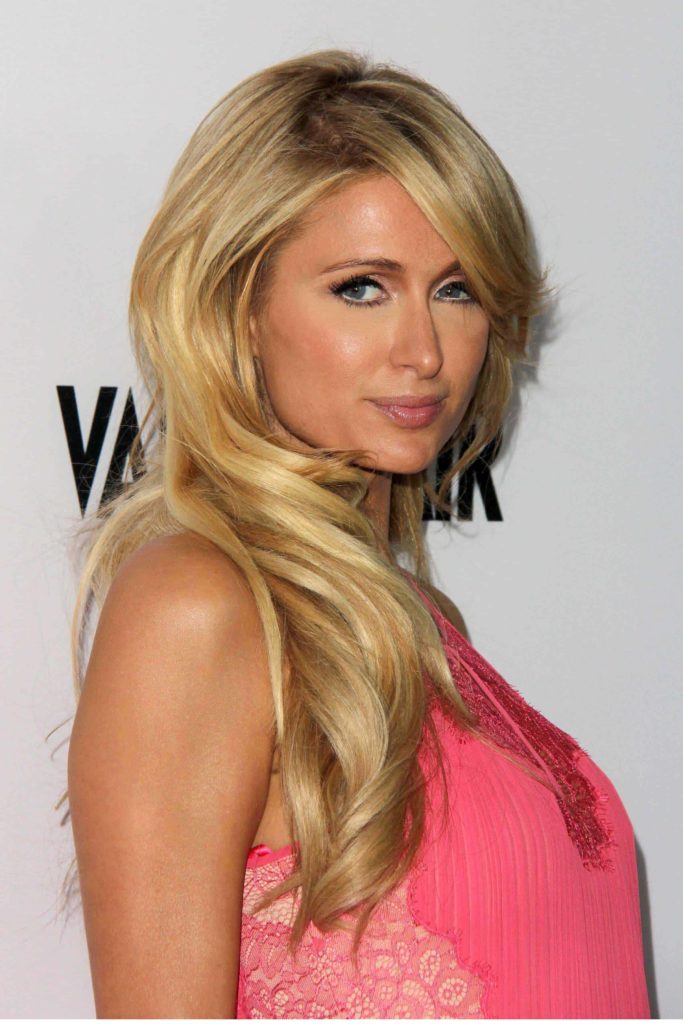 Paris Hilton looking casual yet stylish with her side-swept, layered hairdo during the "The Bling Ring" Los Angeles Premiere at the DGA Theater on June 4, 2013.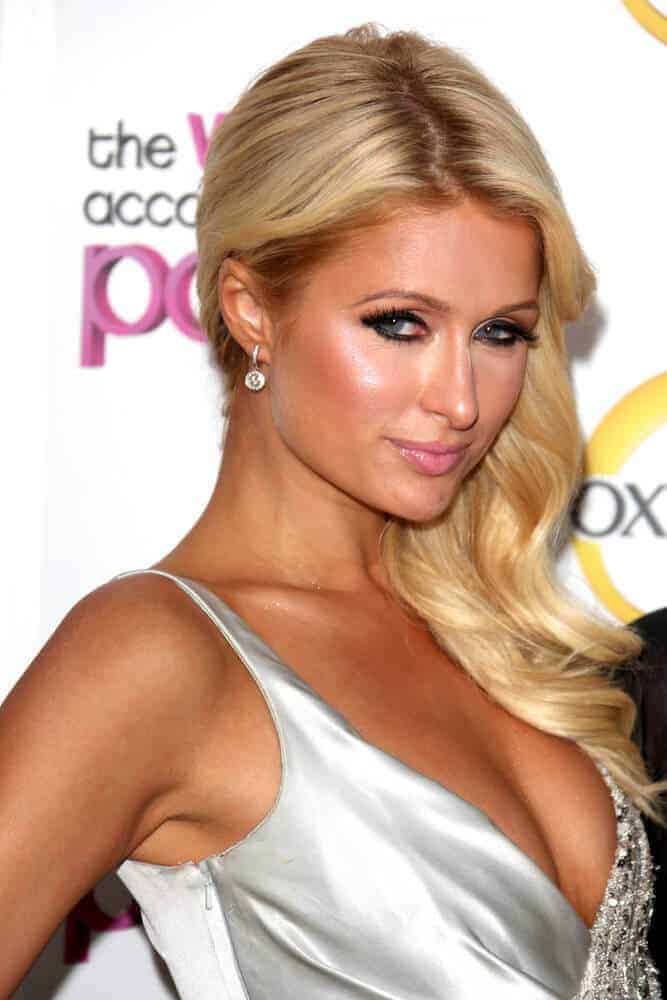 Paris Hilton arriving at the premiere of Oxygen's New Docu-Series 'The World According To Paris' in a stylish side-swept hairstyle. The event happened last May 17, 2011, in Los Angeles, CA.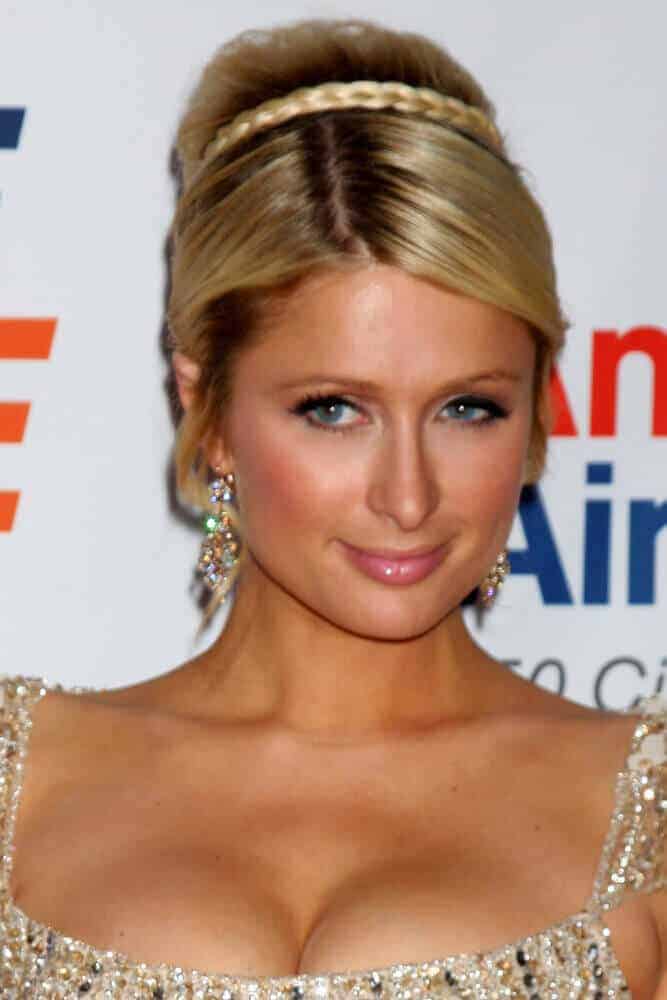 Paris Hilton sporting a formal upstyle secured with a braid during the 8th Race to Erase MS Event at Century Plaza Hotel on April 29, 2011.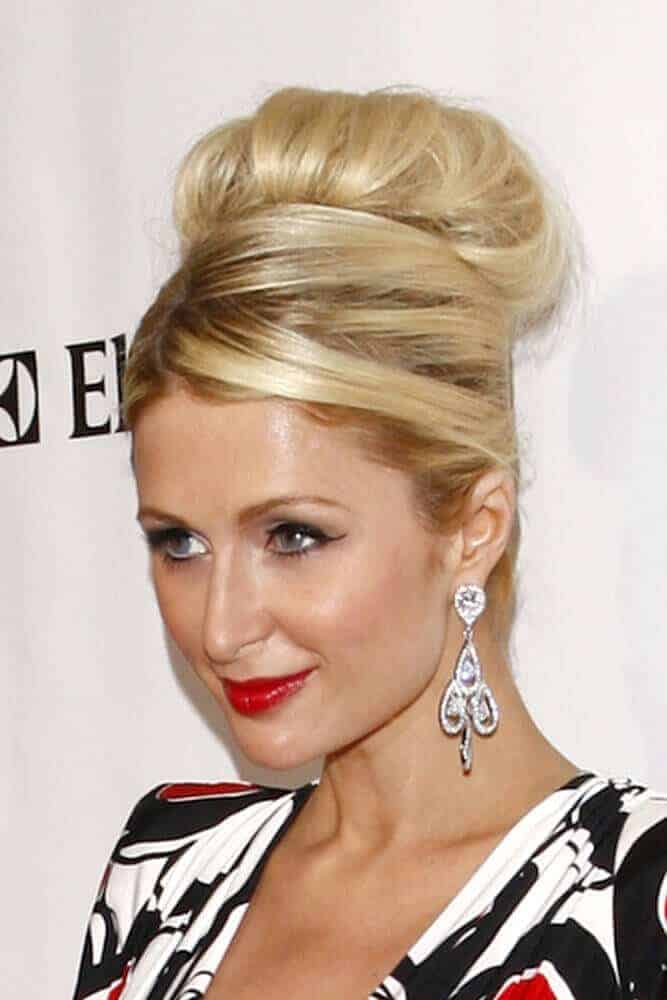 Paris Hilton, with a chunky and sophisticated sock bun, arriving at the 2011 American Red Cross Santa Monica Chapter's Annual Red Tie Affair on April 9, 2011.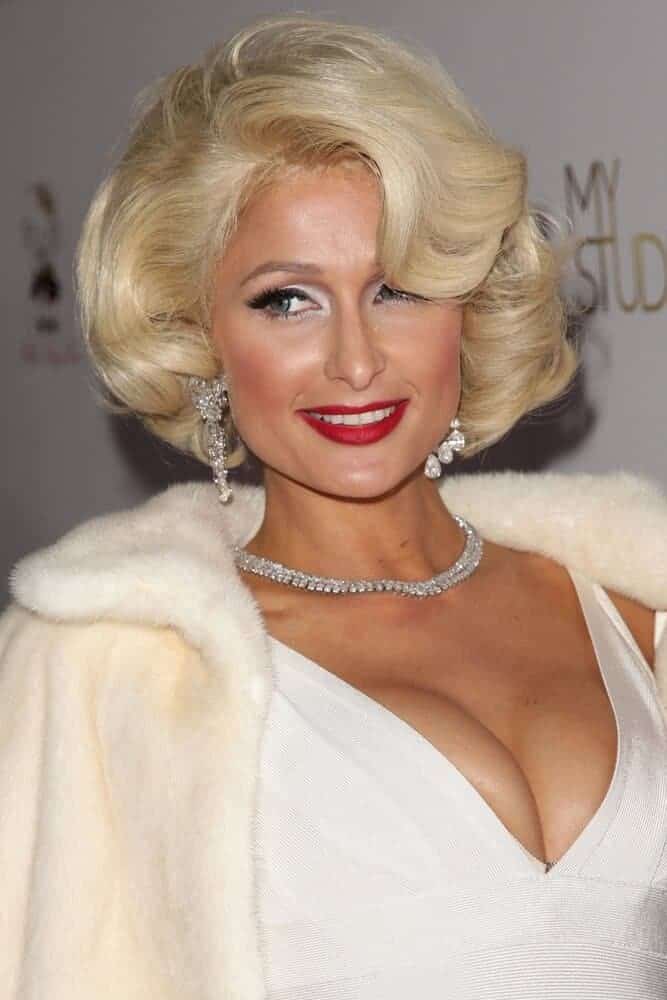 Last August 10, 2010, Paris Hilton arrives at the Paris Hilton's "Tease" Fragrance Launch in a classic vintage hairstyle and a bold red lipstick to match the look.
Paris Hilton looking sweet and elegant with this side-swept braid during the 2010 World Music Awards at the Monte Carlo Sporting Club, Monaco. May 18, 2010.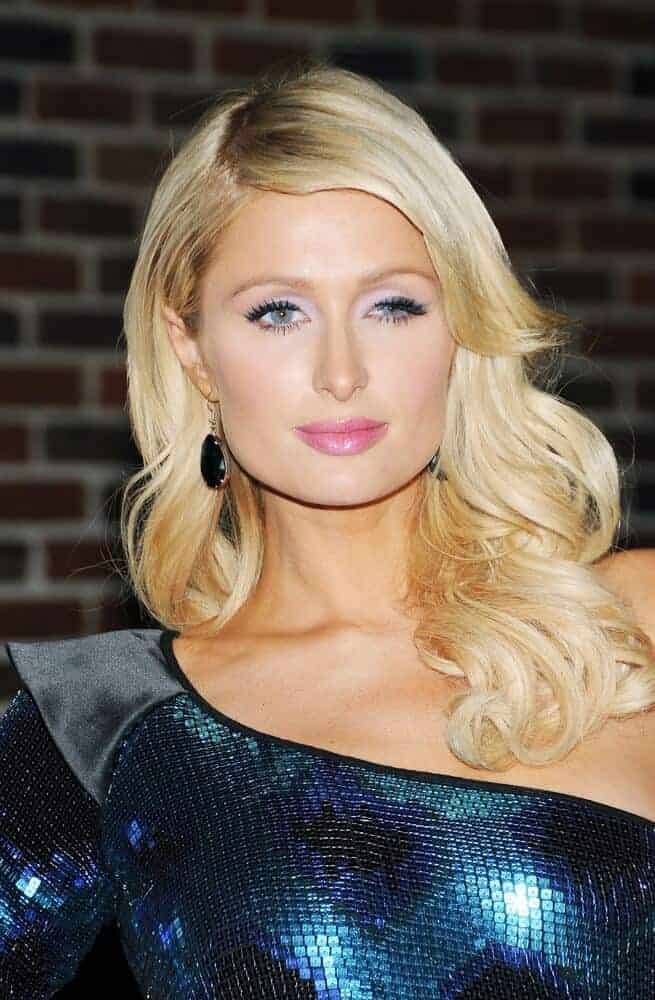 Last February 3, 2010 at The Late Show with David Letterman, Paris Hilton wore her waves in a side-swept manner, proving that elegance is indeed achievable with simplicity.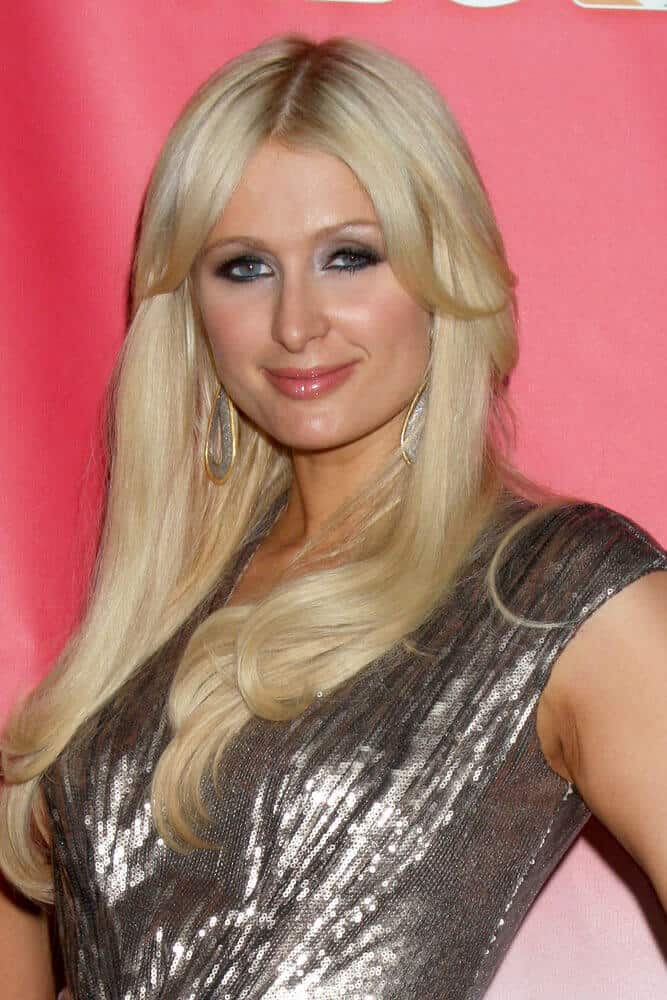 Paris Hilton in a center-parted hairstyle with tendrils during the NBC TCA Winter 2011 Party at Langham Huntington Hotel on January 13, 2010.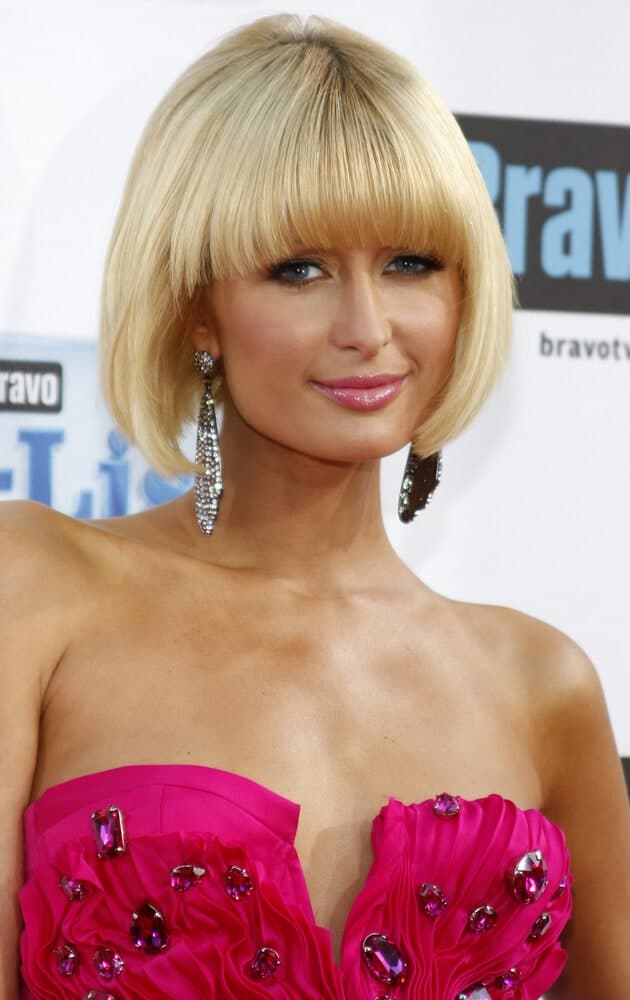 Paris Hilton slayed the 2009 Bravo's A-List Awards with a nicely-done bob cut and blunt bangs. She finished the look with chandelier earrings and a pink dress inlaid with gem embellishments.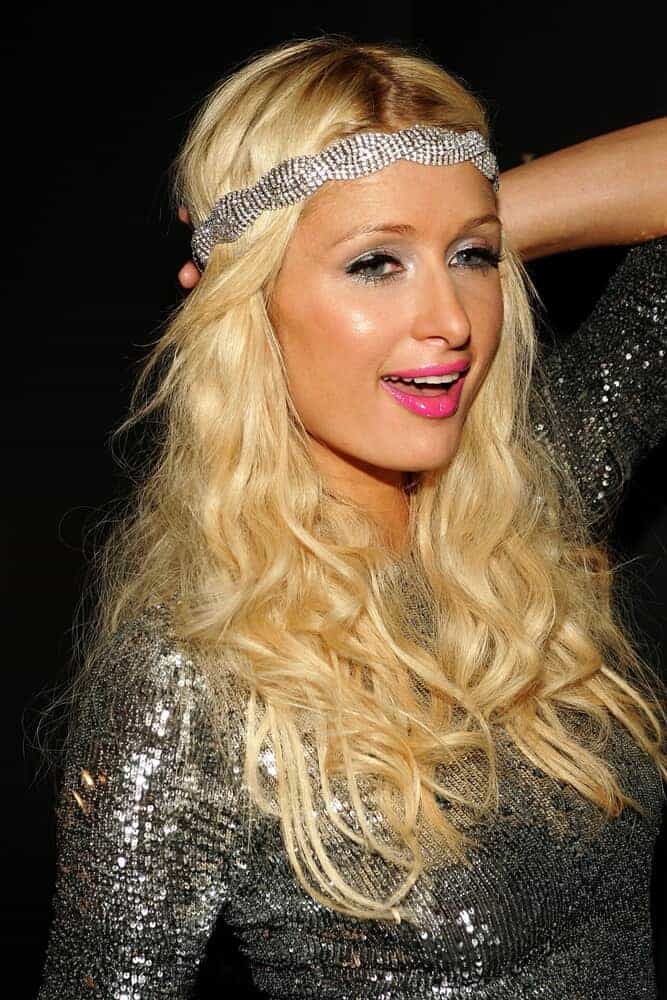 Paris Hilton rocks her loosely curled blonde hair with a silver headband during the Parish Hilton Sunglass Collection Launch Party, October 3, 2009.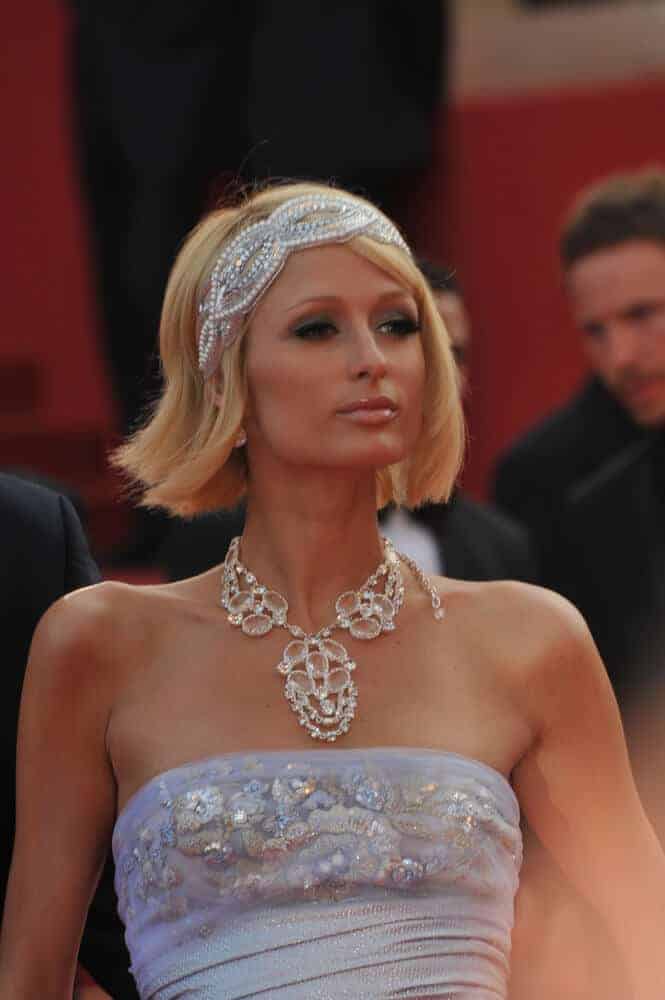 Paris Hilton wore her blonde bob with a silver, bejeweled headband at the premiere of "Inglourious Basterds" in competition at the 62nd Festival de Cannes, May 20, 2009.