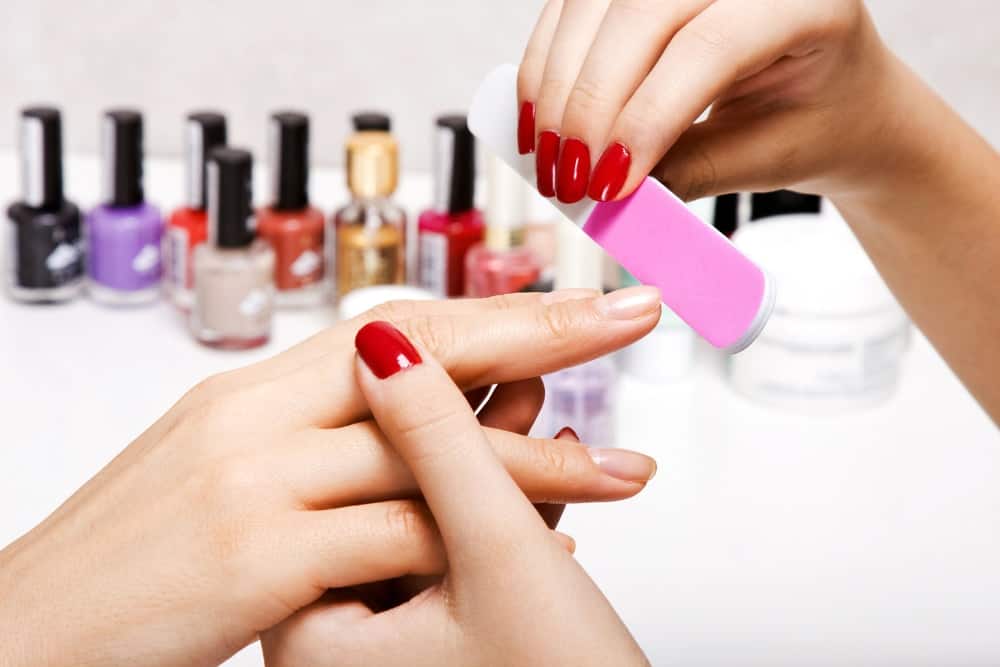 Whether you have a special event coming up or you simply want to pamper yourself, a trip to the nail salon is an excellent way to achieve a polished and stunning look. Upon arriving at the salon though, you will be met with countless options, and undoubtedly a limited amount of time to make a decision.
How do you know if a powder manicure is better than a gel manicure? Which will last longer? Which will keep your nails healthy? It can be tricky sifting through all the information about available nail enhancements, so we have put together a list comparing the various popular nail enhancements with one another.
Gel Nails
Gel nails come in both hard and soft powder varieties. Gel nails are able to add strength and durability to the natural nail and can be used with traditional nail polish or with gel polish. These are a popular option for people because these nails are versatile, strong, and long-lasting.
Material
Gel nails are made of a synthetic substance that is made of monomers and oligomers which are actually a type of acrylic. The difference between hard gel and soft gel determines the spacing of the individual molecules. The soft gel has wider spacing, making the gel more soluble to acetone solvents. The material is hypoallergenic and completely safe for pregnant women without any harmful side effects to the baby.
Durability
Compared to other artificial nail types, gel nails are incredibly durable. These nails often have a tendency to flex and bend, as opposed to breaking. Many people with gel nail manicures are able to withstand normal everyday wear including cooking, working, or simply pulling up your jeans. A single set of gel nails can last up to a month without touch-ups or replacements.
Designs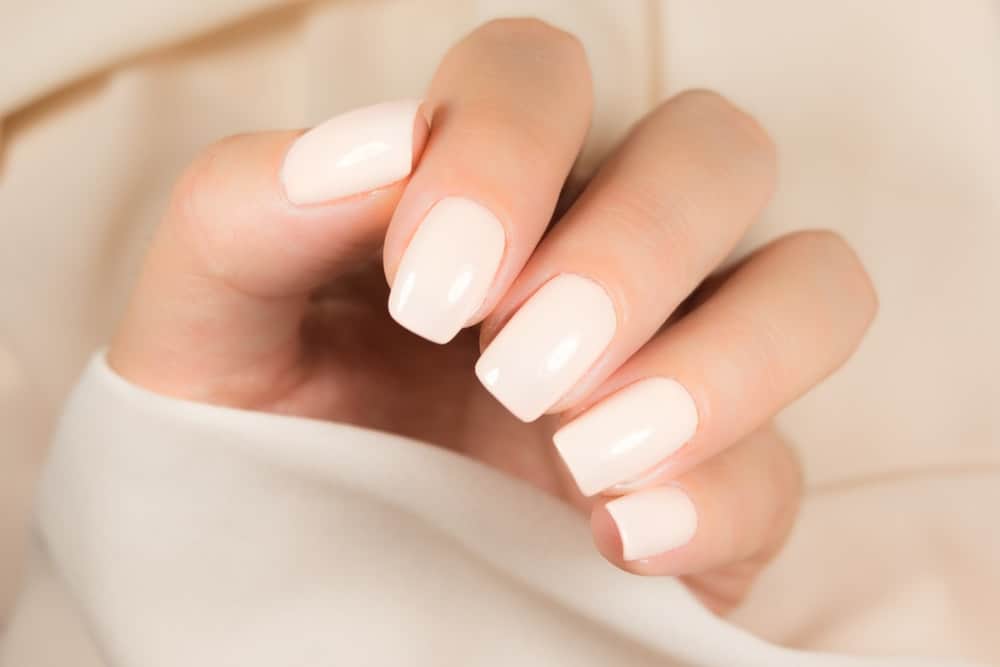 One of the biggest benefits of a gel manicure is the ability to change the look of the natural nail. Gel manicures can add both length and strength to the existing nail. After an application of gel powder, the surface of the nail is smooth and ready for any type of design. Simple traditional polish or nail art is perfectly suitable for gel nail manicures.
Cost
Usually, a set of gel nails will cost between $60 and $80. While this may be one of the priciest nail options, a single set can last up to a month, making gel nails also the longest lasting artificial nail option.
Pros
Compared to alternative artificial nails, gel nails are a great choice. Not only do they allow a person to add both length and strength to the natural nail, but the process to apply the gel is simple and easy. A glob of gel is shaped onto the natural nail and quickly dried under an LED or UV light.  Further, gel nails are quite strong and durable and can last up to a month.
Cons
Due to the durability of this nail, to have the gel nails removed one must go to a professional nail artist. The nails must be filled every 2 to 3 weeks in order to give a seamless and flawless appearance to the manicure. Further, a new set of gel nails is required every 3 to 4 months, which could end up becoming quite costly.
Powder Nails
Powder nails are applied with a dipping procedure that gradually adds another layer of resin onto the natural nail. This is a great option for people because the process does not take a great deal of skill to still achieve beautiful and long-lasting results. Powder nails are often called "SNS Nails" due to the manufacturer that commonly produces the powder used in this process.
Material
The material used in powder nails is a resin that is made of acrylic. The natural nail is first brushed with a reactant liquid that causes the powder resin to harden. The nail is dipped into the powdered acrylic, which is then hardened by the reactant. Another layer of reactant is added to the nail and the process is repeated until the desired look is achieved.
Durability
Compared to other nail enhancement procedures, powder nails do not last as long. Expect an application to last between 2 and 3 weeks. Usually, the outside edge of these nails will begin to chip and crack.
Designs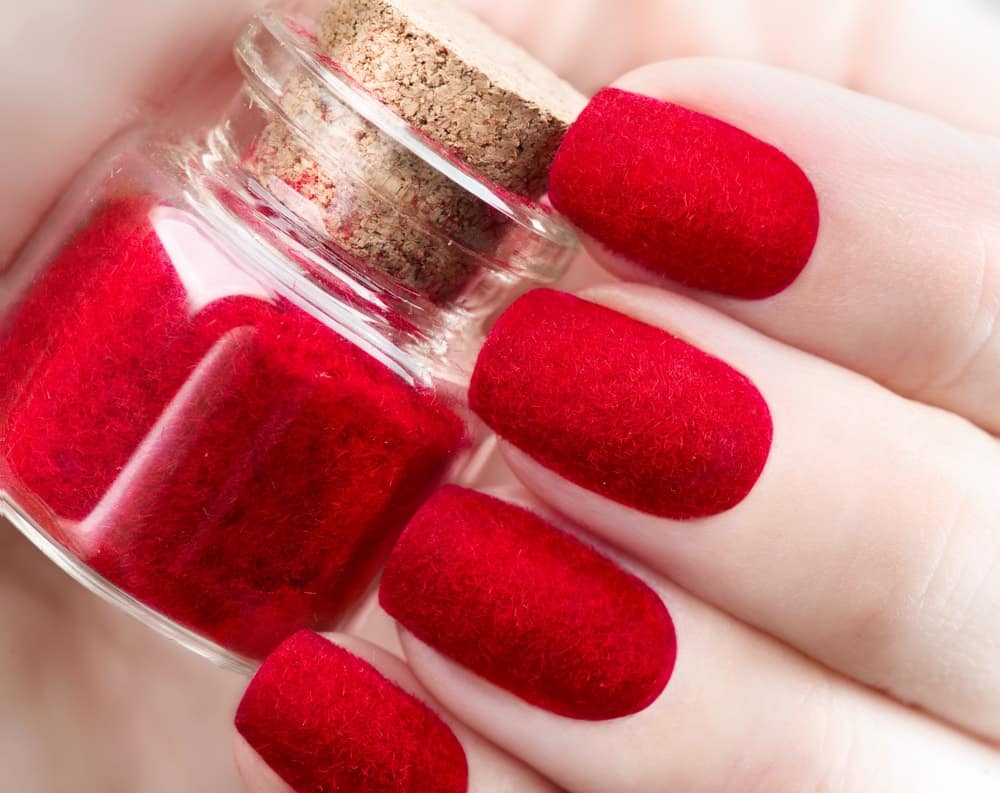 The application process involves a dipping method that lends itself to a range of design possibilities. The dip powder not only comes in a variety of colors, but it is possible to add multiple dip colors and textures creating unique and intricate ombre patterns.
Cost
A powder dip manicure can cost between $30 and $50, with more intricate designs and special nail techniques being more expensive.
Pros
Many people opt for powder nails because they offer a great solution for people wanting some flexibility, without the month-long commitment of gel nails or acrylic nails. With one of the lower price points, powder nails are an excellent choice for people looking to go to the salon every few weeks for a new manicure. Although the process still involves acrylic, the application is easy and fast. Plus, the application does not require the use of dangerous UV light.
Cons
While these nails are beautiful, options are limited in design and color. Plus, the manicure only lasts a few weeks before cracks and chips start to show. Further, there is the danger of spreading disease with powder nails. Often, the same container of powder is used for multiple clients which means bacteria and infection are quite easy to spread.
Acrylic Nails
Acrylic nails have long been held as the industry standard for nail enhancements. This type of nail usually involves adding both an acrylic extension, and the use of acrylic powder to shape and lengthen the nail. The end result is a long-lasting, durable, and beautiful nail.
Material
The material used in acrylic nails is mainly acrylic, in two forms. First, acrylic extensions are often glued to the end of the natural nail to add the desired length. Then, the acrylic powder is used to help shape and form the nails to the desired look. Using a reactant, a nail artist dips a brush into the acrylic powder.
The reactant helps turn the powder into a malleable gel, which is then shaped and brushed onto the natural nail. Over time, the gel begins to harden into a tough, and rigid acrylic exterior. The materials used in acyclic nails can be caustic and harmful to people that may suffer from known acrylic allergies. Further, the reactant chemical used can be harmful if the reactant and powder come in contact with your skin.
Durability
Compared to other nail enhancement techniques, acrylic nails are one of the more durable options. The acrylic powder hardens into an extremely tough and rigid exterior. The only downside to this is that the nails can be prone to breaking if impacted from the right angle. Unlike flexible gel powder nails that will bend and flex on impact, acrylic nails have a tendency to snap and break.
Although the initial application can last as long as a month, these nails do require regular maintenance and upkeep. Following the initial set, it is important to keep these nails filled about every 2 weeks. This is a process that adds additional acrylic to the top of the nail, filling in the gap that forms around the cuticle with regular growth.
Designs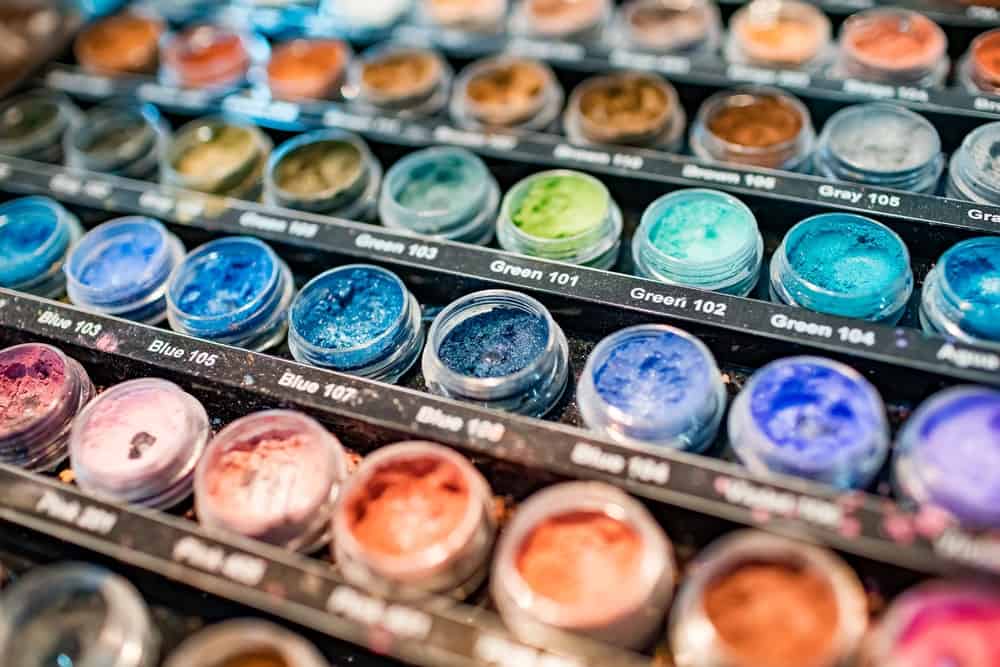 One of the best things with acrylic nails is that they give the nail artist a completely smooth and blank canvass to work with. It is possible to simply paint the nails with traditional nail polish, or add detailed designs and gemstones to the acrylic nail. Possibilities are endless with acrylic nail designs.
Cost
Expect to pay between $35 and $40 for the initial set of acrylic nails. Each time the nails need filling, expect to pay another $20. Keep in mind that intricate designs and details can cost extra money.
Pros
Acrylic nails were once the industry standard for artificial nails, and there is a reason this nail option has been around for so long. Acrylic nails are strong and durable, and long-lasting. The initial manicure can last for up to a month, and the design possibilities are endless. Plus, acrylic nails are not only able to make the nails appear longer and stronger but can make the nails appear thinner too.
Cons
While acrylic nails are beautiful, they do require regular upkeep. Expect to have these nails maintained about every 2 weeks following the initial month. This can add up to $40 a month, simply to have your nails maintained.
Further, due to the toughness and hardness of these nails, they have a tendency to break, unlike other nail alternatives that will flex and bend. Acrylic nails also contain caustic materials that can be dangerous to people experiencing sensitivities or allergies.
Dip Nails
Dip nails are the same as powder nails, and the two terms are often used together to form "dip powder" nails. These nails are a good middle ground between gel nails and acrylic nails. Dip nails do not have the same permeance as acrylic or gel nails, yet have an easier application and removal process.
Material
Dip nails are made of a resin. To apply dip nails, an activator substance is brushed onto the natural nail bed. The nail is then dipped into the resin powder, which is slowly accumulated onto the natural nail. The process is repeated until the nail has the desired shape and length. The material in dip nails is a strong resin powder, yet these nails are not as permanent as gel or acrylic.
Durability
Expect a dip nail manicure to last about 2 weeks before needing a new manicure. The dip nail process has a tendency to form chips and cracks along the edges of the nail.
Designs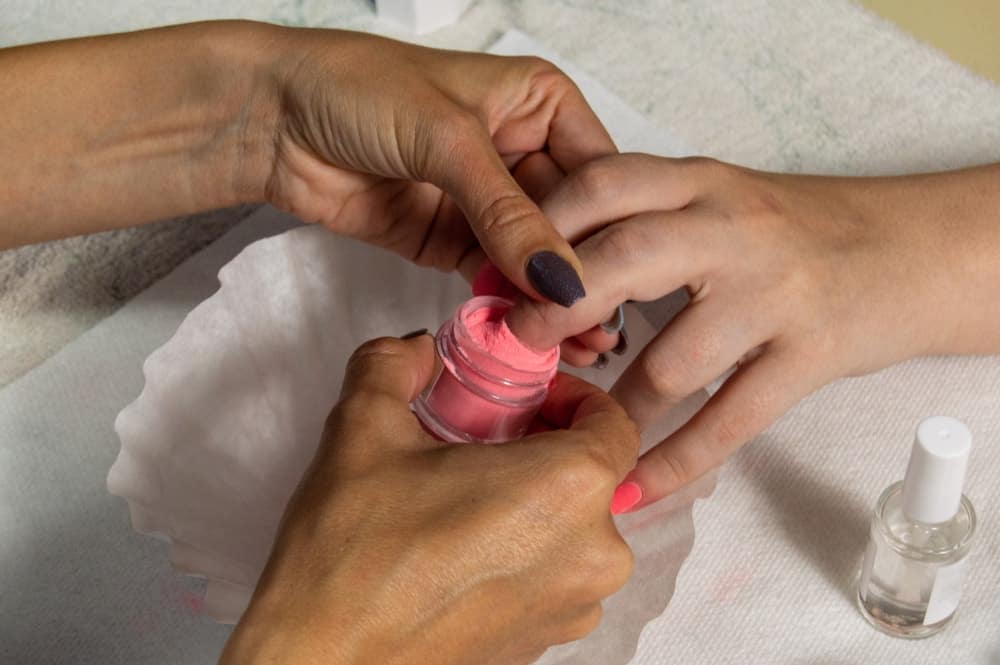 Dip nails can have just as many fun and intricate designs as other artificial nails. Due to the way these nails are applied, it is easy to create ombre style designs on the nail. Various colors and polish textures can be added to dip nails to create stunning designs.
Cost
Depending on the style and design you are looking for, a dip manicure can run between $35 and $50. More complicated designs, such as a French manicure or an ombre design can be more costly.
Pros
For many people, the dip nail is the best option in between gel nails and acrylic nails. The dip nail can help create a new shape and length to the natural nail, yet do not have the same strength and structure as acrylic nails.
The application procedure is simpler and does not require the use of harmful UV light. Plus, dip nails have a straight forward removal process by simply soaking the nails in acetone for removal. The cost is comparable to a manicure, and various designs can be implemented into the dipping process.
Cons
Probably the biggest downside with the dip nail application is the durability. A manicure might only last between 2 and 3 weeks, with possible chipping, especially around the edges. While these nails are not as rigid as an acrylic nail, they do not have the same flexibility as a gel nail and can be prone to breaking. There is also a health risk associated with dip nails. The same container of resin is often used for multiple people, which can lead to the spread of infection or bacteria.
Ultimately, at the end of the day, it simply comes down to what you are looking to achieve out of your nail enhancement. If you are looking for something that will last a long time, perhaps a gel manicure or set of acrylic nails is right for you.
If you want something that is easy to apply without harmful UV lighting, then perhaps a dip or powder manicure is the right choice. Consider the outcome you want to achieve, and the price point you want to be at, before choosing the right nail option for you. Also, consider how much time and money you have to dedicate to possible nail maintenance and upkeep following the initial set.