Give your fingernails a fun and shimmering look by trying out the hologram nail polish that come with flakes of glitter or holographic eye-popping pigments.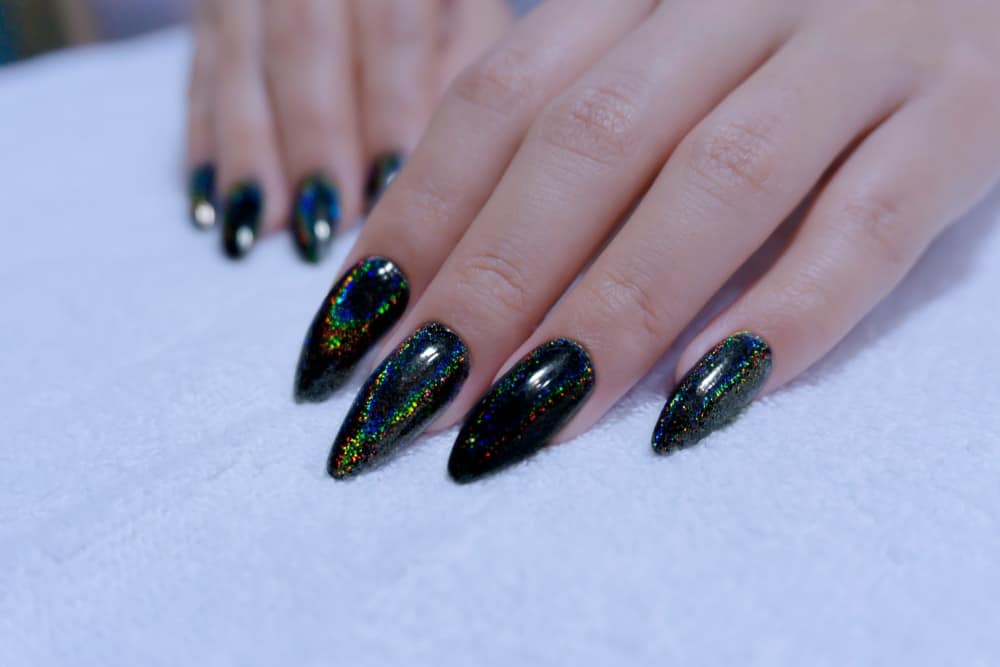 If you want a more unique look to your nails than standard nail polish, try hologram or holographic nail polish instead. The new trend is starting to catch on worldwide, as it provides a shiny and eye-catching look to your manicure.
With that said, because it's still a fairly new product, it's important to understand what holographic nail polish is, what it is made of, and how to apply it in order to get the best results possible. Read on to learn more.
Hologram Nail Polish Explained
Hologram nail polish actually isn't that much different than traditional nail polishes you've likely used time and time again. In fact, they're essentially the same, with one key difference: a special pigment is added to hologram nail polish to give it its unique shimmery look.
This pigment is usually made of magnesium fluoride and/or aluminum, which is what allows it to refract light and make it appear holographic when someone looks at it. This pigment is so effective that it is also used in dyes.
When it comes to types of hologram nail polishes, the polishes that include linear holographic pigments are the most popular and desired, as these refract light in a specific way that creates an eye-popping linear or uniform rainbow.
There are many hologram nail polishes available with flakes of glitter added to them to make them even more unique and attractive. However, there are many other types, meaning the possibilities are virtually endless!
How Does Hologram Polish Work?
As incredible as hologram nail polish is, applying it properly to your nails can be somewhat difficult, especially for beginners. This, of course, depends on the method you use to apply your polish. If done incorrectly, the pigment can come out dull, unimpressive, and uneven.
With that said, when you apply the polish properly, the results can be simply stunning. As previously mentioned, there are a variety of methods you can use to give yourself (or someone else) a hologram manicure.
The first involves pre-made hologram nail polishes that include a variety of holographic pigments, such as glitter. These are the easiest to work with and can be applied to the nails like you would with any standard nail polish. You will then finish them off with a topcoat.
For optimal results, it might be necessary to cure your nails using UV light, especially for hologram powders that are more difficult to work with. If you're up for the challenge, then here's a step by step guide to getting the perfect hologram nails:
Apply your base coat, then apply a plain color – You can use any color for this, however, we suggest silver or white for novices as these colors will make gaps and other mistakes less glaring.

Click image for more info

Use a gel top coat – Gel coats like Vishine or GA&EN work best as they will allow the holographic powder to stick to your nails.

Click image for more info

Dab the holographic powder – dab the powder on with a paint or makeup brush, starting at the base and moving upwards.
Carefully brush off the excess powder – Once the powder has dried, use an eyeshadow brush or something similar to gently brush off the extra powder.
Put on another layer – an additional layer of topcoat should then be applied.
Cure your nails – Curing should be done for at least a minute under a UV light.
Best Hologram Nail Polishes Available
1. Mega S by ILNP
ILNP is a renowned brand when it comes to holographic polishes. Their Mega S polish is, arguably, the most holographic nail polish they offer. Aesthetic-wise, it will make your nails look plain and shimmery in dull lighting. However, as soon as light hits your nails, they'll create a rainbow prism that will wow whoever is looking at them!
2. Halo Graphic by Color Club
Color Club's latest holographic nail polish, appropriately called Halo Graphic is a best-seller due to its ability to make your nails look like they're on fire when they're in the light. The effect can be so believable, that many might actually think your fingers are candlesticks!
3. Hexy Bikini by KBShimmer
In the light, Hexy Bikini makes your nails look like they are rhinestone-studded, which is the reason this polish is so coveted. You'll get multiple colors when wearing this polish, including teals, pinks, and silvers. However, the holographic make it appear as though there are even more colors packed into your polish, especially when the light hits it.
4. Subculture by Cirque Colors
Packed with nothing but vibrant holographic micro-glitter, Subculture by Cirque Colors is a linear holo polish that can be ideal for a variety of occasions.
With no added pigment, color, or glitter types, Subculture only requires two coats to get optimal opaque results — which is something you won't find with most other glitter polishes available.
5. Alleluia by Adesse New York
With distinctive holographic hex glitter, in many different sizes, Alleluia by Adesse New York is an iridescent teal to purple base polish that provides color-shifting shimmer to provide eye-popping results for your nails.
While this polish isn't as popular as the others on this list, I personally love it. Not only is Alleluia high quality and soothing on the skin — with shea butter, bamboo extract, and argan oil — but it's vegan, cruelty-free, and made right here in the US!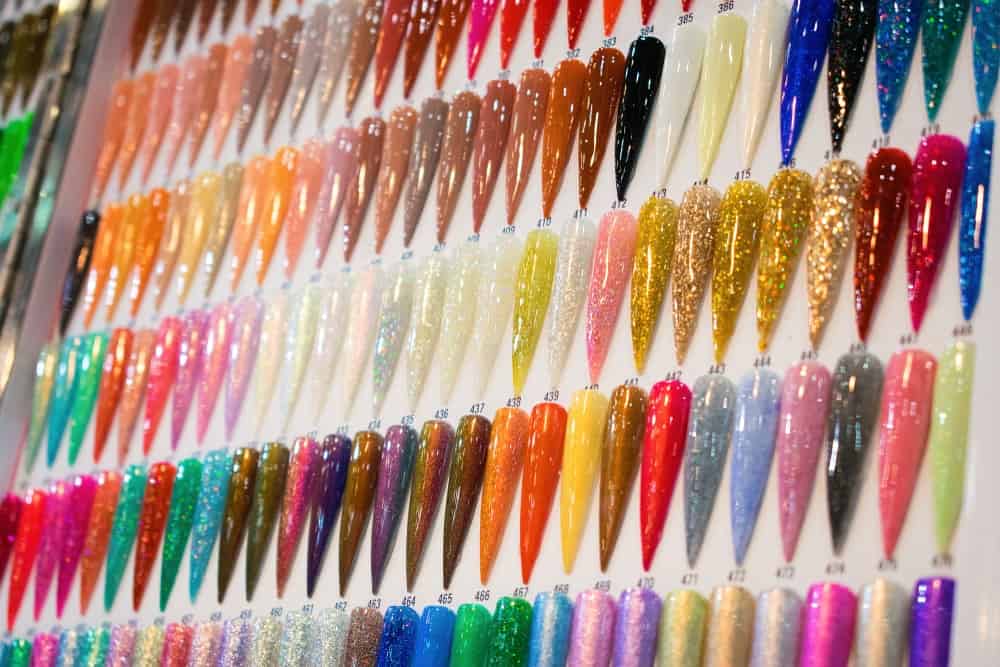 6. I Got a Crush on Blue by KBShimmer
When it comes to jelly base polishes (which is what I Got a Crush on Blue by KBShimmer is) they can sometimes be dull in the holo glitter department. However, this polish doesn't have that problem.
Packed with vibrant glitter, I Got a Crush on Blue is a cobalt blue jelly that is transparent, no matter how many coats you apply. If you're looking for a polish that can produce holographic rainbows on your nails, this one is for you. It's also long-lasting and cruelty-free.
7. Aria by ILNP
Known as an Ultra Holo, Aria by ILNP is one of the most vibrant hologram nail polishes I own from the brand. With sky blue hues, Aria is packed with linear holographic micro-glitter to make sure your nails shimmer and shine.
There's so much of it, in fact, that you're guaranteed to see intense lines of shifting rainbows whenever you move your hands.
In direct sunlight is when this holo polish really shines. For a dense holo effect, I recommend using three coats of this polish instead of only two.
Try Hologram Nail Polish Today
As you can see, hologram nail polish can provide a variety of colors and designs to fit any look or personality. The key is to apply it properly, so keep this blog post handy and go get a bottle of holographic nail polish today!