A shaved head can really make or break a woman's look so here are the pros and cons of having a shaved head as a woman so you can have an informed decision.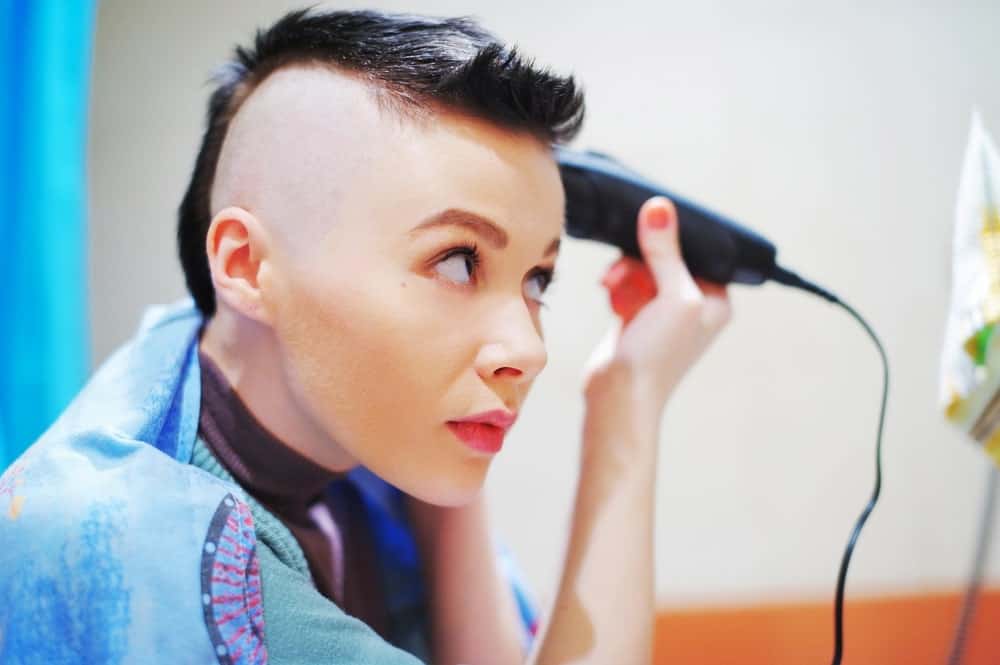 For women, shaving your head can be transformative. It can give you the freedom to feel how you want and express yourself however you feel expressing. But, with all the positives that come from shaving your head, of course, there are a few negatives too. If you're trying to weigh the pros and cons of shaving your head, you're not the only one.
We've made it easy: we compiled a pros and cons list of what it's like to shave your head as a woman. After reading this, decision making becomes so much easier.
The Pros
First, let's start with the pros. When it comes to shaving your head, the act in and of itself can be incredibly liberating no matter who you are. Whether your hair is past your hips or just now growing to your shoulders, shaving it all off can do wonders for your lifestyle. Here's how.
Cool (Temperature and Style-Wise)
Shaving your head leaves you feeling much cooler–figuratively and literally. Figuratively because you get to stand out in a crowd and express yourself in ways you've never before.
Literally, because your head is losing a lot of hot, weighted hair! During the summer, especially if you live in hotter climates, having a bunch of hair falling on your shoulders can make you feel even hotter than you already do.
Even putting your hair up in a ponytail or bun can still leave you with a sweaty neck and greasy hair. If you shave your head, though, you get to avoid this entirely. There's no hair to hold you down, and the cool breezes will feel even better than ever.
No Hassle, No Mess!
Let's be real: there's nothing more frustrating than having a bad hair day. Even if your makeup looks flawless, dealing with unruly hair can completely ruin a look.
And, while it sounds dramatic, bad hair days can really just make you feel down on yourself. They're no fun for anyone involved. But if you shave your head, you don't have to worry about this at all! There is no preparation needed and you don't have to waste your tears over attempted styles that just don't work.
Plus, you never have to worry about using complicated hair straighteners or curling iron again. Say goodbye to those uncomfortable little burns!
Time-Saving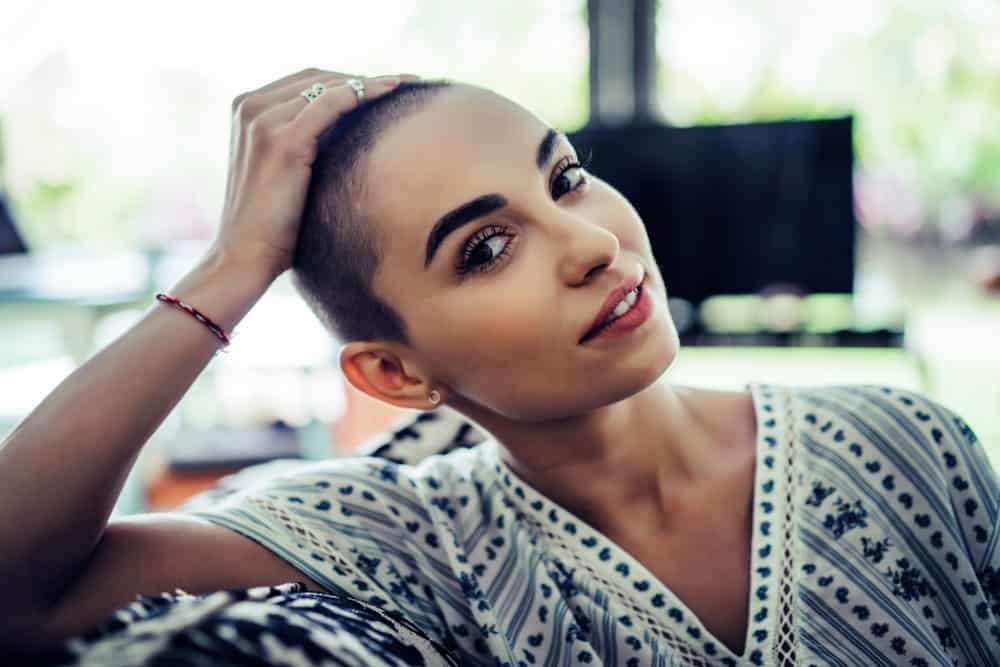 Along these lines, shaving your head saves you a whole lot of time in the morning or before going out. Instead of having to spend all of this time drying, brushing, and styling your hair, it's already ready for you! Shaved heads are super low-maintenance and don't require fancy products to keep them looking cute.
With this, you have all the time in the world to focus on other things instead. Rather than spending an hour on makeup and an hour on hair, spend two hours on your makeup and come up with some extra pretty and elaborate. Once you're done, your shaved head will still be looking cute and ready to go.
Easy to Maintain
Shaving your head is also something that's incredibly easy to maintain. When you dye your hair a fun color, you have to worry about the upkeep with expensive products to maintain the color. The same thing goes for those with elaborate hairstyles that must continuously be cut or styled. Shaved heads, however, aren't high-maintenance in the slightest.
With having a shaved head, you simply shave it and you're done. Whenever your hair begins to grow back, you can either let it or just take an electric razor and shave it down once again. It really is that simple and that easy. You can also buy some easy-to-use hair products made specifically for short, shaved hair.
Hats!
With a shaved head, you get to experience hats in a whole new way. Often, we see a cute hat that we'd love to try, but it might ruin our hair or not go with the style.
When your head is shaved, though, this isn't the case at all! You can throw on a hat of any type and you don't have to worry about it messing with your hair. Plus, if you're having a day where you just want to hide your shaved head, hats are perfect.
Hats are a super-cute accessory for any person, but hats with short hair are just something else. By shaving your head, you can embrace these unique accessories with every outfit, spicing up your look entirely.
The Cons
Of course, like anything in life, there are going to be a few cons to shaving your head. However, it is important to note that these cons can be a bit subjective, and if some of these negatives are positives for you, that's great! We're just here to show both sides what shaving your head can be like. Here are a few cons we've come across over the years.
No Fun Styles
With having a shaved head comes the lack of fun styles you can do. While this does save you time in the morning, it can feel boring after a while.
Sometimes, you just want to have fun with your hair and do something crazy or enjoy some long locks. But, when your head is shaved, you simply cannot do that.
Plus, it's going to take a bit until your hair grows back into a length where it's ready for styling. You'll have to go through some awkward stages of length to get it back to where it was, but this can be more than worth it for some people. But, be warned, many women with shaved heads do tend to get bored after a while. (But, hey, that's what wigs are for!)
Sunburnt Scalps
Sunburning your scalp may not be something that you've ever thought of before shaving your head. But, once you do, you'll think about it a lot. Without a thick layer of hair protecting your scalp, your head is much more exposed to direct sunlight. This can often lead to a dry, itchy, sunburnt scalp that's just simply uncomfortable.
While you still have to worry about this occasionally with hair, it just becomes all the more noticeable once you've shaved your head. Keep some coconut oil on hand to soothe and try wearing hats when you're out and about.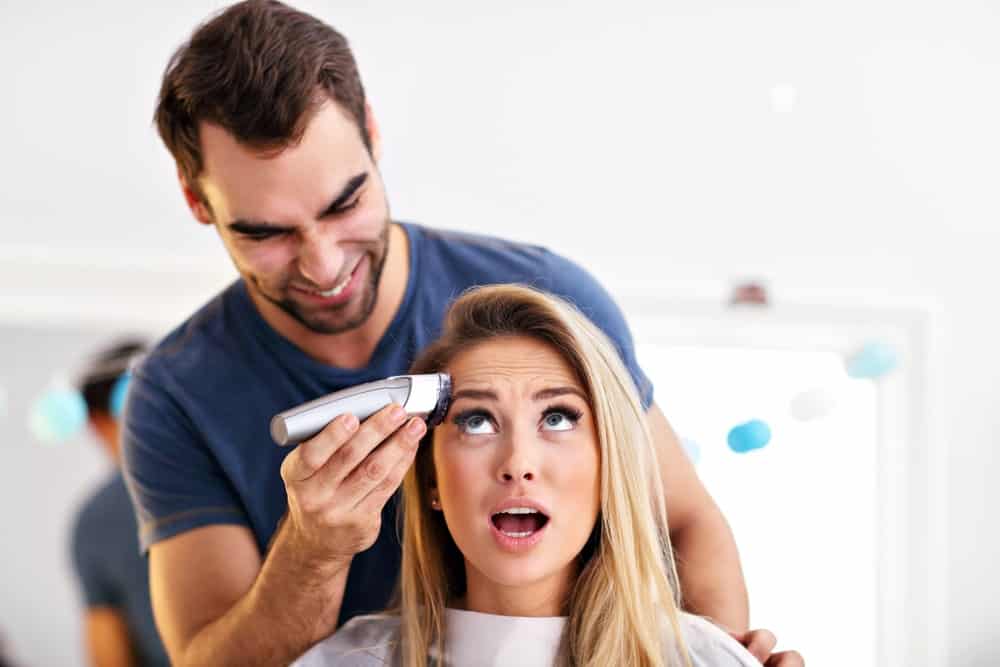 Attract Attention
Again, this is a con that may actually be a pro for some women. Shaved heads just simply aren't as common as they should be for women, so having one might attract a bit of unwanted attention.
People tend to think that they can strike up conversations just based on your lack of hair alone, so be prepared to experience some strange looks and questions. But, if you're someone who thrives off of attention, this is ideal.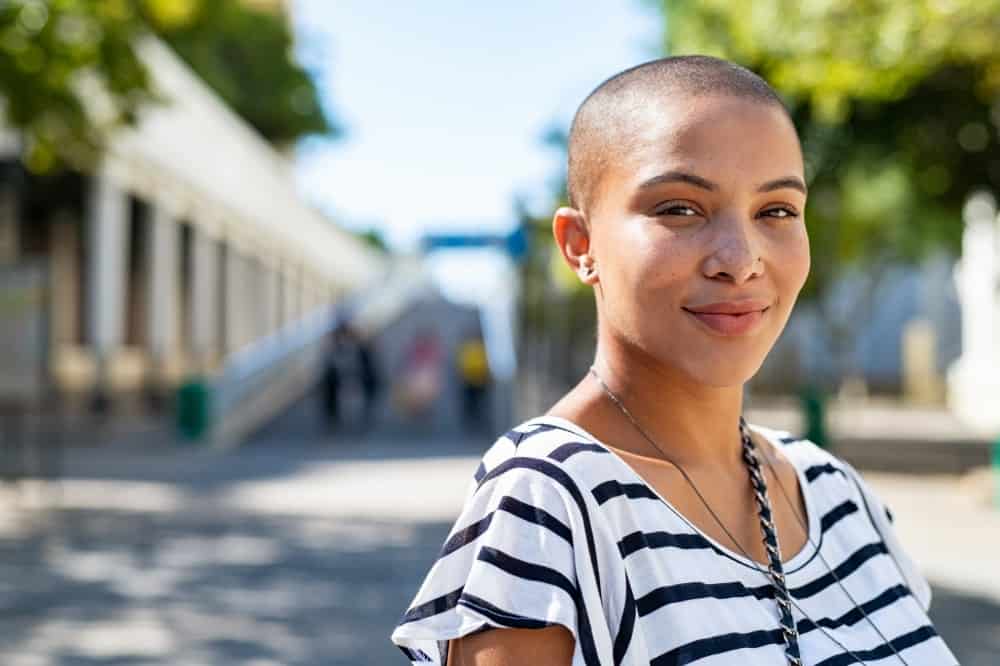 You Decide!
All in all, shaving your head as a woman is a decision that's entirely up to you. If you're tired of dealing with the mess of hair on your head day after day, why not shave it off?
At the end of the day, it is just hair. No matter what you choose to do, as long as you like it, that's what matters. For more hair advice or tips on certain styles check out the rest of our blog.