Hairbrushes and combs have a wide variety of types to be used for different purposes which leads to having a bunch of them. Here are storage ideas so they'd look pretty and organized.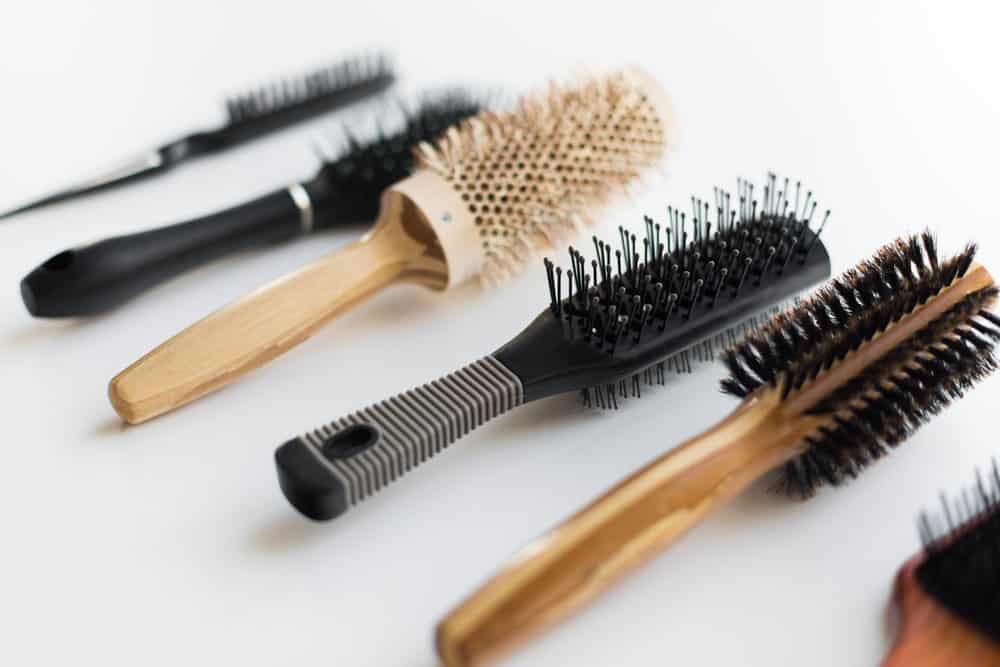 You have a spot for your makeup, a spot for your toothbrush, and a spot for your jewelry. But, what about a spot for your hairbrush? Often, we throw our hairbrushes around willy nilly, letting them just kind of land where they land. But, why? Why not create a perfect place to store your hairbrush?
To keep your hairbrush in one reliable place, we've listed out some of our best hairbrush storage ideas. Try one of these and you'll never have to go searching for your brush again–you'll know just where to find it!
Try a Utensil Holder
One of the easiest ways to store your hairbrush is through a utensil holder. Utensil holders are designed originally to hold your kitchen utensils like spatulas and tongs.
However, they tend to be the perfect width and depth to hold your hairbrush, too! Especially if you have a few different hair brushes, this is a great spot to store them.
Utensil holders usually just come in plain silver colors, however, you can decorate them in whatever way you want. Wrap some ribbon, paint it your favorite colors, and make the holder match your bathroom or bedroom. Now, you have a super stylish place to keep your hairbrush.
Shoe Hanger Organizer
It may sound a bit unconventional, but the plastic shoe hangers that are on the inside of your door is also a great spot for your hairbrushes. Reserve the top few spots for things like your hairbrushes, combs, scrunchies, and other hair accessories. Then, the rest of the organizer can be used for your shoes or even other things like jewelry.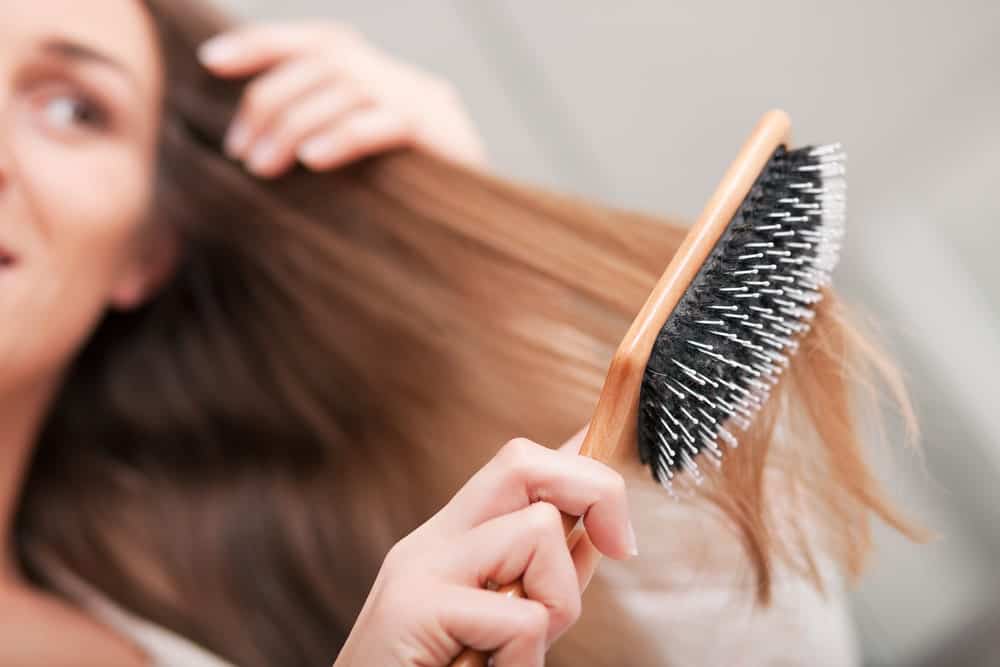 These organizers come in various styles and designs depending on what best matches your home. But, if you already have one that you're using for your shoes, that's even better! Again, clean out just a few spots on the top row for your brushes and you're all set.
Desk Organizer
There are so many different desk organizers available for pens and pencils. Whether they're metal, plastic, or wood, you can find stylish desk organizers just about anywhere.
So, why not use them for your hairbrush? Many of these organizers have compartments that are more than large enough to hold your hairbrush in place. Plus, they go wonderfully on your desk or on a bathroom counter.
With these, you can hold your brushes, combs, makeup brushes, and even makeup itself in the various different compartments that desk organizers offer. Every organizer is different, so you can undoubtedly find one that not only fits your hairbrush but fits your style, too.
Attach Them to Your Cabinet
Attaching your hairbrush to the backside of your bathroom cabinet might sound a little tough, but it's actually super easy! (Not to mention convenient.)
Instead of digging around underneath your sink for your hairbrush, attach some velcro strips to the inside of the cabinet. Then, attach the other part of the velcro strip (as little as you'd like) to the back of your hairbrush. Stick them together when you're not using the hairbrush, and, ta-da! you have a floating hairbrush holder.
You can also do the same for other accessories like hair straighteners and blow dryers, though you might want to attach hooks for heavier items. Stick on hooks are just as easy to use and your hairbrush, along with other hair tools, will hang effortlessly.
DIY Hairbrush Holder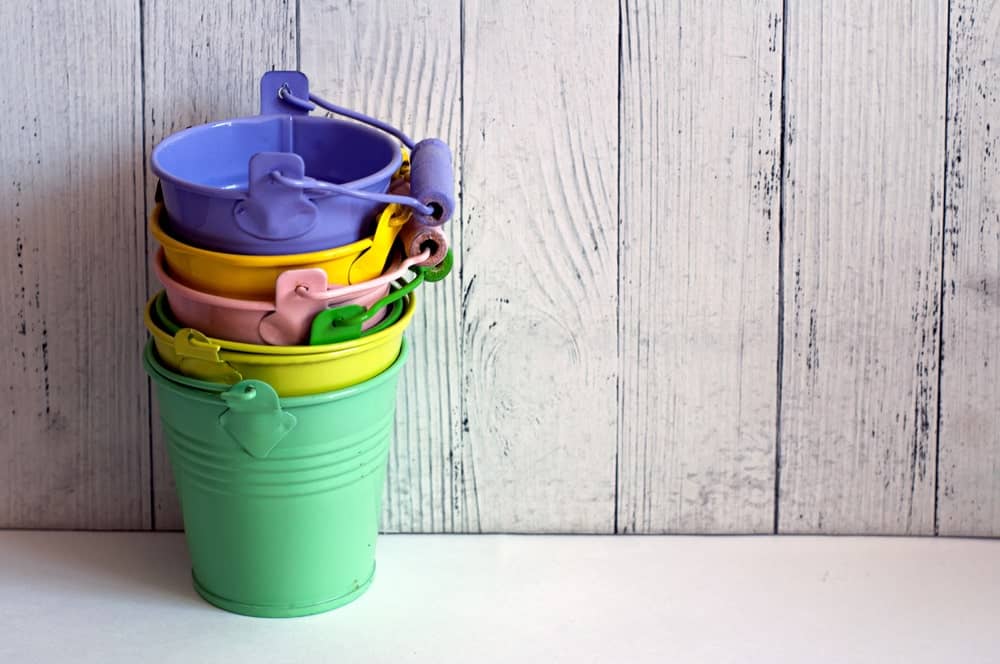 One of the best ways to store your hairbrush by making storage yourself. DIY hairbrush holders can be made out of practically anything that floats your boat–or anything you have around your house, at least.
You can clean out old tin cans and paint them to reflect your favorite color. Or, you can find an old glass vase and fill it with marbles or jewels to then hold your hairbrush in place. These vases can be painted or wrapped in ribbons if you'd like. The design is ultimately up to you!
A DIY hairbrush holder is a great project to tackle when you're feeling a little bored. It is easy, fun, and gives your hair tools a designated spot every time they're not being used. Make something that you would be proud to have in your bathroom, and others will surely be impressed by your one-of-a-kind hairbrush holder.
Mini Metal Bucket
You know those little metal buckets that you find fake (or sometimes real) plants in? Those also make great hairbrush holders.
These little metal buckets are also the type you'll see on Easter, filled with candy and decorations. You can find these buckets in various different colors, or, you can paint it with your favorite color to help it match your bathroom.
These mini buckets look great either placed on your counter directly or hanging up on the wall. To hang it, all you need is a small hook and some clothesline, string, or rope. Once you hang it up, you have a rustic looking hairbrush holder that no one else will be able to replicate.
You can also add a few other baskets underneath to have a series of hanging hair tools and accessories. It can't get much cooler (and more organized) than that!
Wicker Baskets
Almost everybody has an old wicker basket in their house that isn't being put to good use. Instead of using it as decoration, use it as a spot to store your hair tools!
You can decorate wicker baskets in various different ways, from adding fake flowers to even sewing colorful string into it. Once it looks the way you want on the outside, add some colorful cushion on the inside–this can be tissue paper, felt, or cotton–and place your tools inside.
These baskets can easily be placed either under your bathroom sink or right on your bathroom counter itself depending on how much space you have. This can add a beautiful decoration in between two sinks, and it provides a wonderful area for your hairbrush and other tools to stay clean, dry, and out of the way.
Decorated Trays
Similar to decorating your old wicker basket, you can also decorate an old serving tray! Old serving trays are ideal for products like hair straighteners because they won't get ruined when hot. However, they are also wonderful for storing other tools like your hairbrush.
You can decorate these trays any way you want. Some choose to paint the base a different color than the handles, or even add a layer of thin wallpaper and then adhesive to the tray.
Doing all of these things enhances the look and makes it a cute place to store your hairbrush in any bathroom. Plus, they're easy to carry and move around in case you switch where you get ready. Just carry your hairbrush tray with you when you're going to do your hair and you'll have everything you need in one stylish place.
Repurposed Planter Box
One of the most unique ways we think you can store your hairbrush is through the use of a repurposed planter box.
Planter boxes often have two or three different components that are the perfect size for holding your hairbrush and other accessories. All you need to do is clean out the planter box and then decorate it in whatever way most appeals to you.
Planter boxes tend to be a bit bigger than your usual hairbrush storage container, so we recommend placing it on the back of your toilet or even hanging it on the wall of your bathroom.
This creates a gorgeous look that's totally unique to you and your bathroom. When you see your planter box, you'll never want to store your hairbrush anywhere else. With how accessible and cute the container is, everyone will want to know where you got your hairbrush storage idea from.
…So Many More Ideas!
This is only the beginning! Hairbrushes are versatile hair tools that can be stored practically anywhere–you just need to get creative.
While some have made their own storage containers using PVC pipe or lint brushes, others have totally repurposed wire containers to hold their hairbrushes flawlessly. The hairbrush storage ideas are endless, you just need to have a little bit of creativity to get it done.
For more ideas regarding places to store your hairbrushes, check out this blog.
Storing Your Hairbrushes
With all of these ideas in front of you, there's no way you'll be left leaving your hairbrush on the counter once again.
All of these hairbrush storage ideas are not only easy to do, but they're fun to make and can totally enhance your bathroom. So, stop settling on digging around for your hairbrush each time you have to use it, and create the perfect space for it instead.
Here at Headcurve, we have ideas regarding all of your hair and hairstyling needs. In case you want more information or are looking for more helpful tips and tricks, we have you covered.