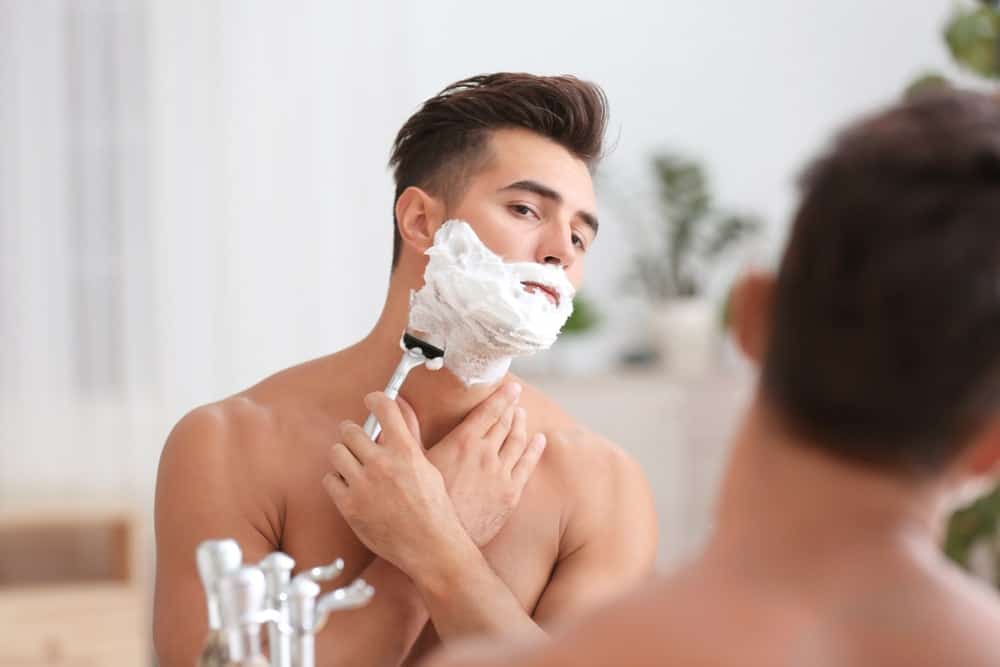 Tired of dealing with pimples after shaving? You're not the only one. Avoiding acne after shaving isn't an easy task for men, especially if you already have acne-prone skin.
Plus, our facial hair only adds more oils for our skin to absorb. All in all, preventing acne after a good shave may feel impossible, but we promise, it definitely isn't.
Sometimes, we're just not told which products or which techniques are right for our skin, especially when it comes to acne. For some of the best ways to avoid acne after shaving, as well as the best products around, keep on reading.
Best Ways to Avoid Acne After Shaving
Don't Get Too Close!
Often, we think that the closer to the skin we get when shaving, the better. This actually isn't always the case. Getting too close to the skin, especially with a dull razor, can seriously hurt your skin, typically resulting in both razor bumps and acne.
Many suggest utilizing an electric razor only, as this fully removes the hair from the follicles. If your hair has to struggle to move through clogged or poorly shaved follicles, it appears as inflammation–exactly what we want to avoid.
To avoid these painful razor bumps and subsequent acne, use razors that simply don't get too close to the skin. The Braun Electric Razor for Men, for example, has adapters that allow for a close shave that contours to the face without actually damaging your skin.
Made to be used on both wet and dry faces (though, as you'll learn, wet is going to be better), electric razors such as these can significantly cut down on the amount of inflammation your face is experiencing during shaving.
However, if you must use a non-electric razor when saving, we'd suggest turning to the Bump Fighter Razor.
The Bump Fighter Disposable Razor is a razor that is designed to keep the razor blade slightly off of your skin and able to trim hairs without causing irritation or acne. Using their Bump Guard technology, the blade shaves precisely and gently, leaving your face smooth and free of razor bumps or painful pimples.
Use Warm Water
One of the easiest ways to avoid skin irritation or acne after shaving is to simply use warm water. When we use cold water to shave our faces, our skin follicles become tighter and hairs are not easily removed; this leaves us tugging and tugging, resulting in acne and other uncomfortable skin conditions.
Warm water, on the other hand, makes our hair stand up directly. The warm water allows for our hair follicles to open up more, relax, and even clean pores as we go.
Taking the time to ensure that your water is nice and hot before shaving can make a world of difference for your skin; plus, it feels so much more comfortable.
For added support, before you actually start shaving, try using a pre-shave oil. Products like American Shaving Pre-Shave Oil for Men are great for giving your skin a good prep before you go at it with a razor.
This pre-shave oil is made with all-natural ingredients to help moisturize the skin, loosen hair follicles, and protect against forms of irritation like inflammation.
All you do is spray some oil onto the area you're going to shave and let it soak into your skin. Almost immediately, you'll experience a smooth texture, moisturized skin, and absolutely no irritation after you've actually finished shaving.
Other products like Viking Revolution's Pre-Shave Oil for Men or The Henna Guys Pre-Shave Oil are also great options for giving your skin a nice prepping before you start shaving, also providing a few different pricing options.
Coincidentally, all of the pre-shave oils we've listed come in a classic sandalwood scent, however, there are other products out there that may have a more appealing smell–you just have to start looking.
Find the Perfect Shaving Cream
When it comes to avoiding acne after shaving, finding the perfect shaving cream is key. Even if you use a high-quality pre-shave oil, warm water, and a super-advanced razor, there's still a chance your skin will be left irritated if you're not using the right shaving cream.
Shaving cream is made to create a layer of protection between your skin and the razor, and if you're using sub-par shaving cream, your skin isn't going to get that protection it needs, and thus, acne is born.
You must take the time to find a shaving cream that works well on your skin, otherwise, every time you shave it will only become more irritated. Searching for shaving cream or shaving gel specifically for sensitive skin can be your Saving Grace.
Products like Cremo's Barber-Grade Cooling Shave Cream are ideal for combating acne and irritation-prone skin. The ingredients are carefully selected to avoid razor burn, bumps, and knicks, all while helping you achieve a close shave. Plus, the cooling peppermint and menthol give a relaxing sensation on the face that every person will enjoy.
For something a bit more affordable and easily accessible, you can turn to Gillette Fusion ProGlide Sensitive 2-in-1 shave gel. This high-quality shave gel provides layers of protection on your skin to help avoid any discomfort and only result in a close, smooth shave.
This shave gel, too, contains cooling elements that, while on the skin, feel just as relaxing as a day off. When paired with Gillette razors, too, the combination is a dream for those with sensitive, acne-prone skin.
Products such as shave lathers also exist, and they're amazing for giving your skin extra protection and comfort for a shave. Designed to keep the skin hydrated, soothed, and with light formulas to glide flawlessly through the razor, Dollar Shave Club's Shave Lather is ideal for preventing acne after shaving.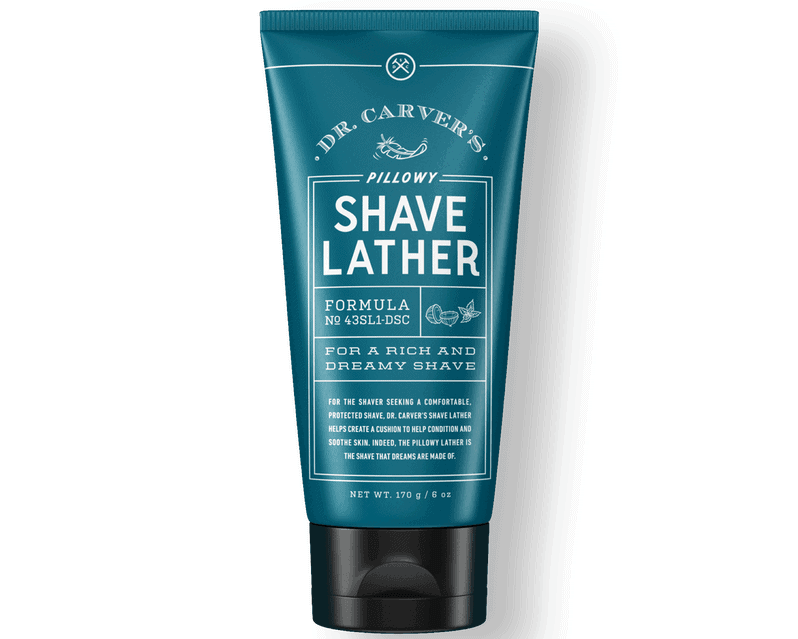 Source: Dollar Shave Club
Go With the Grain
Shaving with the grain of your facial hair is key in getting a pain-free, smooth shave. When you go against the grain, often, this is a good way of getting ingrown hairs and a whole lot of inflammation. However, I should note that shaving against the grain does work for some people, it just isn't recommended.
Particularly around the neck, going with the grain of your facial hair will prevent cuts and bleeding, and, of course, acne.
With this, it's also crucial to wash off your razor blade in between shaves so you don't have hair clogging up your razor. Make sure you use hot running water on both the front and the back of your razor to rinse out shaved hair.
Keeping your razor clean is another great way to prevent acne after shaving, as well as achieve a closer, cleaner shave.
Going with the grain won't mean anything unless you have a nice sharp razor, though. If you're continuously using the same razor over and over, its dullness is only going to hurt your skin more, causing acne and other uncomfortable problems.
Every time you shave, you should be going for a new, clean razor. Made for YOU by BIC creates wonderfully made disposable razor blades that are super comfortable, smooth, and can be easily replaced.
You can buy huge refill packets on Amazon, so you never have to worry about running out of clean blades again. (Plus, they offer a monthly service to be automatically renewed and sent to your house. Now, you really won't forget!)
Try Aftershave!
As much as you prep your skin before shaving, you should also be taking care of your skin afterward. Aftershaves are topicals that are designed to be rubbed directly on the area you just shaved after you've rinsed and dried off.
Typically aftershaves or antibacterial gels are filled with ingredients designed to moisturize the skin and add a layer of protection now that's been exposed.
As you shave, your skin is opened up and exposed to bacteria more than you probably think. Aftershave, though, has ingredients similar to hand sanitizer (only much more gentle) that helps to kill bacteria the moment it's placed on the skin.
So, if you put on some aftershave and start to feel a little bit of stinging, that's the alcohol just doing its job.
Aftershave is a great way to prevent acne after shaving, as the bacteria that clog the skin and causes pimples are killed off, and your skin is left clean, clear, and feeling super refreshed. It can also help to reduce swelling and itching that may have occurred after shaving.
Products like THAYERS Witch Hazel Aloe Vera aftershave are ideal for sensitive skin that needs an extra boost of protection. As an ingredient, witch hazel works beautifully to tighten skin, reduce redness, and prevent inflammation– all key in combating acne after shaving. Then, the added aloe vera ingredient creates soothing, cooling feelings that your skin will absolutely love.
If you don't like the texture of an aftershave balm like THAYER'S, you can turn to aftershave lotions for added moisture. NIVEA makes a sensitive skin and stubble lotion that doesn't have any drying alcohol.
The formula itself isn't overly sticky or greasy, nor is it going to create a mess on your hands or face. NIVEA's formula is made exclusively with sensitive skin in mind, using all-natural ingredients and refreshing scents of sage that men love. When used after shaving, your skin will feel protected, moisturized, and help it be totally acne-free.
Turn to an Acne Treatment
If you've done all of these things before and after shaving, and you're still struggling to rid your face of acne, it may be time to turn to a treatment of some sort.
Often, when we combine these careful shaving tricks with added medicinal support, acne after shaving becomes few and far between.
You don't have to shell out hundreds of dollars for a multi-step treatment, either; there are so many creams and moisturizers that you can use that are both affordable and easy. Make sure to use these products at least a few hours before you start shaving to give your skin some time to breathe.
As you probably know, one of the most popular acne treatments is Proactiv. This three-step acne-prevention skincare routine is designed for the most stubborn, sensitive skin. Proactiv's ingredients target the deep-seated issues that your regular shaving cream or moisturizer would never be able to.
Whether you have oily or dry skin, the gentle formula works great for all skin types, even when it is covered in facial hair.
But, maybe you're looking for something a little more simple. In the shower, before you start your shave, try washing your face with TreeActiv Acne-Eliminating Facial Cleanser.
This simple bottle of cleanser is made with natural anti-acne ingredients to fight stubborn pimples, inflammation, and even acne scars. When used with other acne treatments, too, TreeActiv is sure to keep your skin clean, clear, and feeling great before your shaves.
Keeping Your Skin Clear
While it may be difficult right now, avoiding acne after shaving isn't as tough as you might think it.
When it comes down to it, keeping your skin clear is all about finding the right products for you. Whether you're using the wrong razor, shaving cream, or need to add aftershave to your routine, finding what works best for you is integral in avoiding acne.
So, take the time to research and find sensitive shaving products that your skin will not only like, but it will help, too. Shaving shouldn't be painful, uncomfortable, or even difficult — Headcurve is here to make that clear.