Upgrading your bathroom vanity or conducting a full-blown bathoom upgrade can make your bathroom your favorite room of the house. Vanities come in all shapes and sizes, from luxurious and elegant to modern and minimalist. From floor models to wall-mounted options, you wll have a wide variety of vanities, fixtures and countertops to choose from.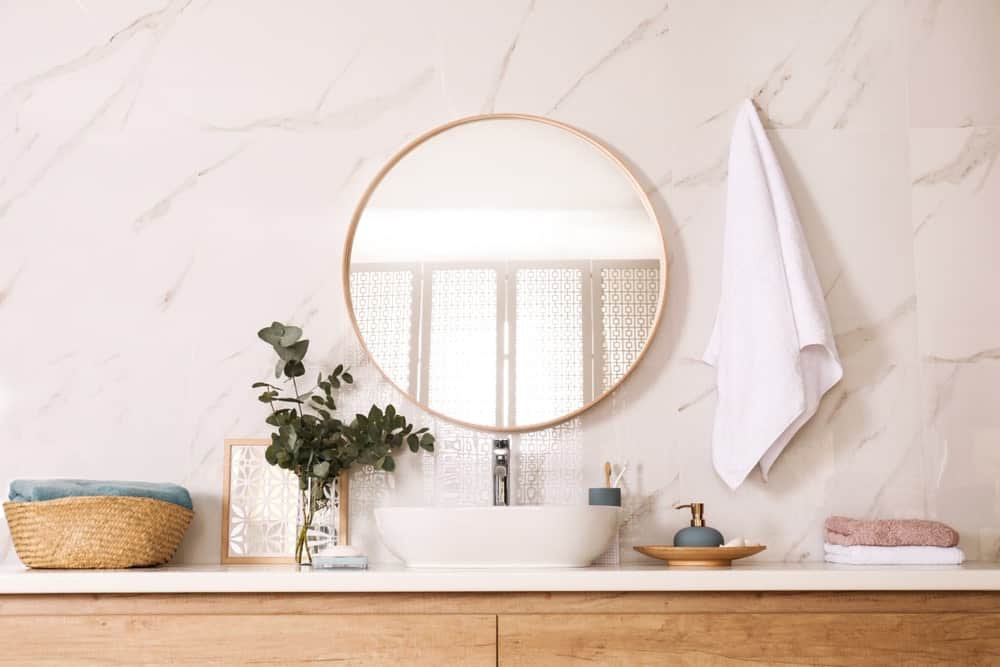 Your bathroom is a particularly important room in the house. If you are thinking about upgrading your bathroom, great idea! According to Homelight.com, "bathrooms are deal breakers in a home sale." It is also a good idea to upgrade an old bathroom if you are considering selling your home. Small updates are often the best, but if you also have to be realistic about your ROI. The National Association of the Remodeling Industry states that if done properly, a bathroom remodel will recoup about 50% of the cost of the project.
If you don't want to spend an excessive amount on completely remodeling your bathroom, there are some very cost-efficient fixes that can alter the look of the room without breaking the bank. Here are some affordable bathroom upgrades include:
Updating your bathroom vanity is one of the best options you can choose to update your bathroom. Typically, the vanity, countertop, sink, and hardware (including faucet) will give your room an entirely new look. It may cost more than other fixes, but it will make a big difference.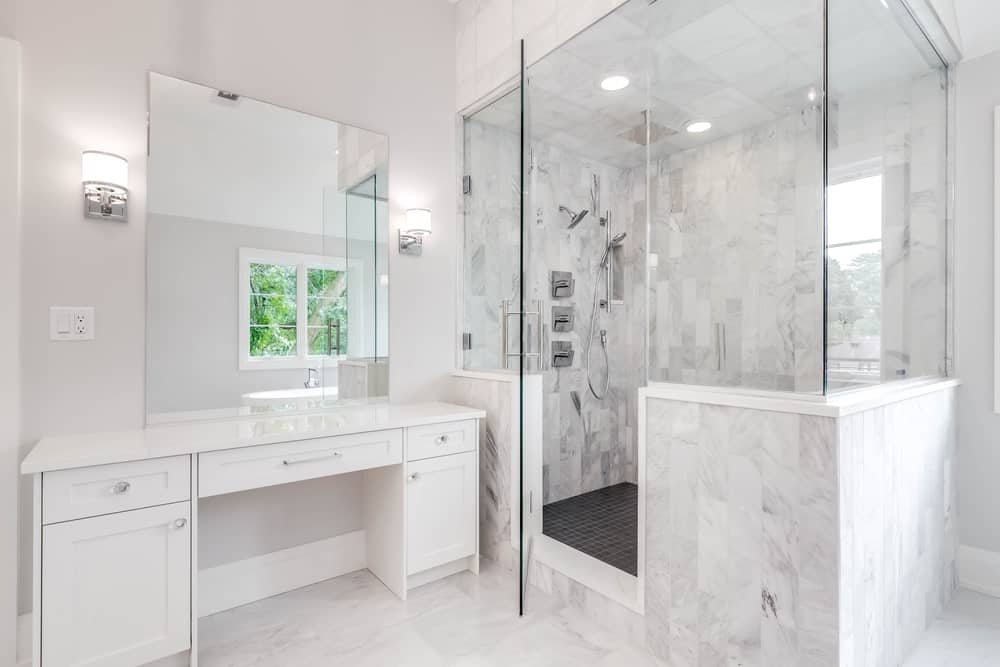 Replacing your bathroom flooring is another great upgrade and can be done affordably. Today, there are a lot of options to chooses from including porcelain, ceramic and vinyl are great options. Remember, for your bathroom you will want a tile that is waterproof and durable.
Tub and shower remodel are extremely popular. More and more people are opting to get rid of their master bath "soaking" tub and replacing it with walk-in showers, which are used much more frequently than a soaking tub which is used only occasionally.
What is a Bathroom Vanity and Do You Need One?
First, let's get one thing straight, a bathroom vanity and bathroom cabinet are not the same things. A bathroom vanity is considered to be a bathroom cabinet, topped with a sink offering storage, and to hide the plumbing. If you have a bathroom cabinet that is used for storage but not connected to a sink, that is a cabinet.
Unless you like looking at raw plumbing, you will want to have a vanity in your bathroom. It can be a full-fledged cabinet design with drawers for storage or a scaled-down pedestal sink that will not provide any storage space but will cover the plumbing.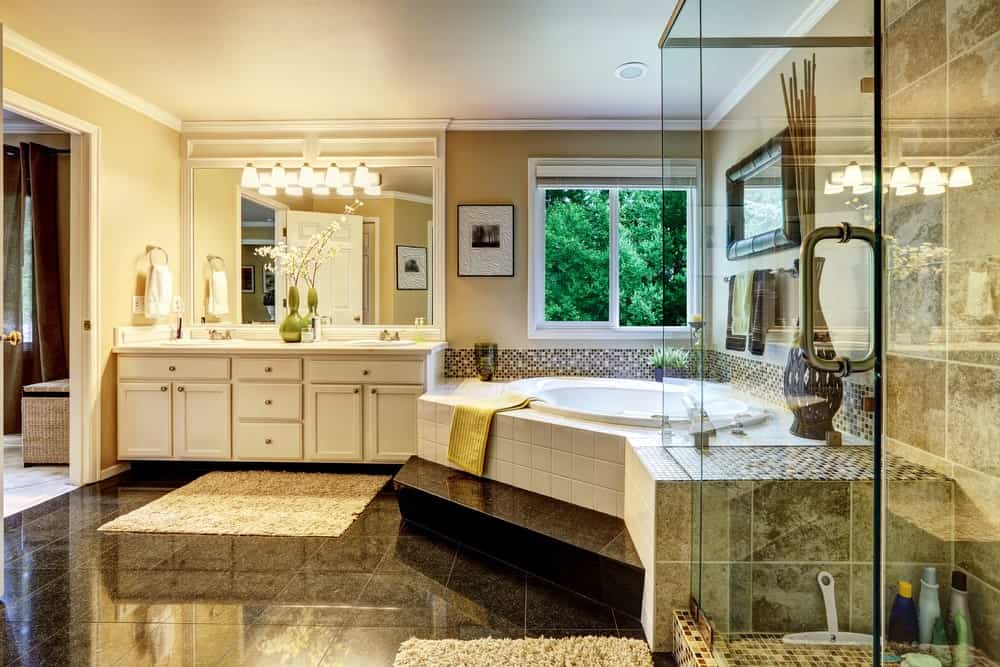 How Long Have Bathroom Vanities Been Around?
First, let us acknowledge that years ago, bathrooms were not even in the house. To use the "facilities" you had to leave the house and go into the woods, though many lucky folks had an outhouse—and that was considered a luxury.
In the Victorian era, the bathroom finally found its place in the home. That had to be an exciting day for those that were used to "roughing it." During that era, plumbing was being perfected, but vanities had not made their debut yet. Instead, most bathrooms contained a simple wall-mounted sink like this one.
These sinks took the place of the washbasin and usually had two taps, one for hot and one for cold water. As time went on, console vanities were introduced and morphed into the functional bathroom vanities we have in our bathrooms today.
Today, there is a myriad of different styles, sizes, shapes, and price points for the bathroom vanity. It would be hard to imagine a functioning bathroom without a vanity.
What to Consider When Choosing a New Bathroom Vanity
There are several things you need to consider when choosing a bathroom vanity:
Does it fit the space? This should be a no brainer, if you have a small bathroom, choose a vanity that will be functional, but sized appropriately for the room.
Choosing a large vanity for a small bathroom will make the bathroom seem smaller. A good option for a small bathroom is a wall-mounted vanity. With these, you can see the floor below adding visual depth.

Source: Wayfair
Determine how space will be used. It this your main family bath, a guest bath, or a luxurious master bath. There is a myriad of different types of designs for any type of bath. There are sturdier options for those that get the most use and more delicate styles for a powder.

Source: Wayfair

How many sinks do you need? If you are sharing a bath, you may want to choose two sinks, also known as his and her sinks. For this type of design, your vanity needs to be at least 60-inches wide to allow for enough room on top and for the plumbing below. 
What are the Different Types of Bathroom Vanities?
If you Google bathroom vanities or visit your favorite home store, you will see a wide variety of different vanity styles to choose from. Once you have determined the size vanity that would be best for your bathroom, then you will need to determine what style vanity works best for you. Remember to take into consideration how much storage space you will need. If you have a lot of "stuff" to store, then you should consider a cabinet-style sink/vanity combination.
Here are some of the most popular vanity and sink styles to choose from, including:
Wall-mounted sink
Pedestal sink
Vessel sink on top of the vanity
Framed sink
Drop-in sink
Undermounted sink
Cabinet-style vanity
What Types of Materials Are Best for Bathroom Sinks and Vanities?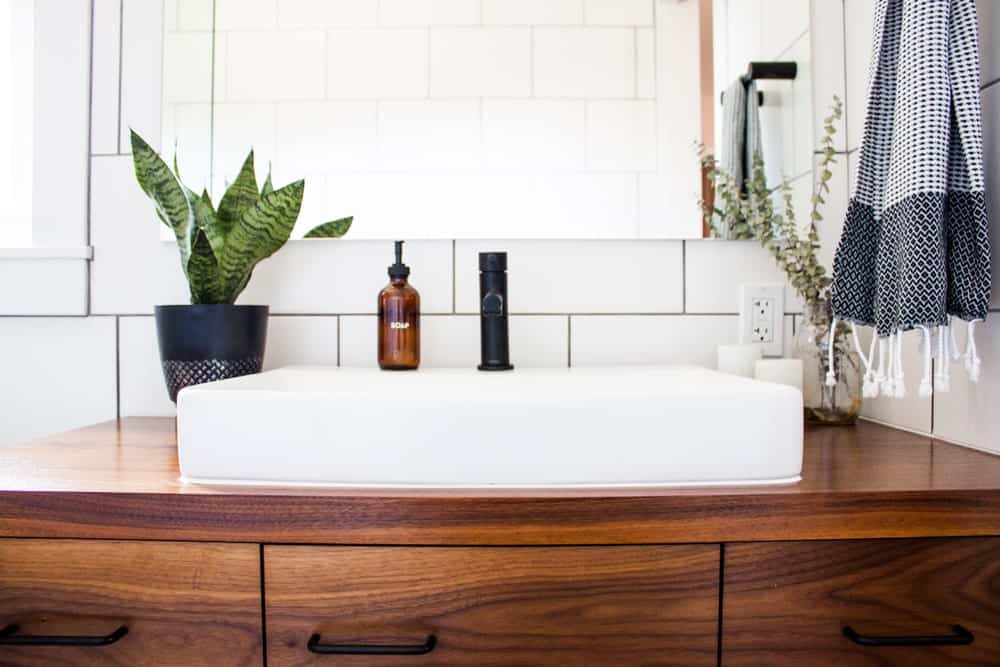 If you are going to be replacing your sink and vanity (most times they are purchased together) you may not know the best types of materials to look for. You should do your research so you know what materials could meet your needs, but for a bathroom environment, it needs to be able to handle water and moisture. The price of the material you choose can also be a determining factor as some materials can be awfully expensive.
Inexpensive vs. Expensive Vanity Materials
You will want to look at the price—and in this case—you get what you pay for. Inexpensive cabinets and vanities are often made of particleboard and can easily be damaged from heat, moisture, and humidity. Particleboard can easily warp and crack over time, so you will find yourself needing to replace the inexpensive vanity more frequently than a sturdier option.
You need to choose materials that are sturdy and will hold up over time. A strong vanity will be able to hold just about any weight countertop and sink. Cheaper options may sag, crack, and even collapse under the weight of the countertop/sink.
The Pros and Cons of Bathroom Vanity Materials
Here are some of the options for you to consider when choosing your bathroom vanity:
Particle Board
Particleboard is made using wood particles and glue, which is heated and formed into long sheets
Because the density and particle size varies; some options are stronger than other
Pros
This is an inexpensive option.
"Raw" particleboard can be covered in different materials like wood veneer, melamine, and laminate
Cons
This is not a good option for the long run as it is easily damaged by heat, steam, and water
It will initially show signs of wear by sagging, especially if you have heavy countertops like quartz
Medium Density Fiberboard (MDF)
This is a wood composite material similar to particle board but is made stronger
Pros
MDF is inexpensive, has a smooth surface that accepts paint well
It has no splinters around the edges
Cons
It may need to repair frequently as it may chip and crack frequently
It should not be used near water as it can be absorbed and swell due to humidity and moisture
Since it is made with glue, it may be difficult to sink in nails and screws
It cannot be stained but does take well to paint
Plywood 
Plywood comes in many different thicknesses and qualities but is made from wood veneer glued into sheets
Pros
High-end plywood is a great choice for a bathroom vanity as it is strong and typically holds up for a considerable amount of time
Plywood has been found to be even stronger than solid wood especially when covered in an attractive veneer
Plywood will not be altered by moisture, humidity, and warm temperatures
Cons
The wood itself is not very attractive and typically doesn't finish very well, so it is often covered in plastic with a wood grain
Solid Wood
Many think that wood is the top choice for many products, but it is can expand and contract causing it to crack and causing the need to repaint cracks and chips.
Pros
Solid wood is one of the most durable materials, especially solid hardwoods like oak, cherry, and maple
You can keep the wood looking great by keeping humidity under control by using the bathroom fan during and following a shower
Cons
Solid wood can expand, and contract based on humidity levels making paint touch-ups necessary as it ages
How Much Should a Bathroom Remodel with a New Vanity Cost?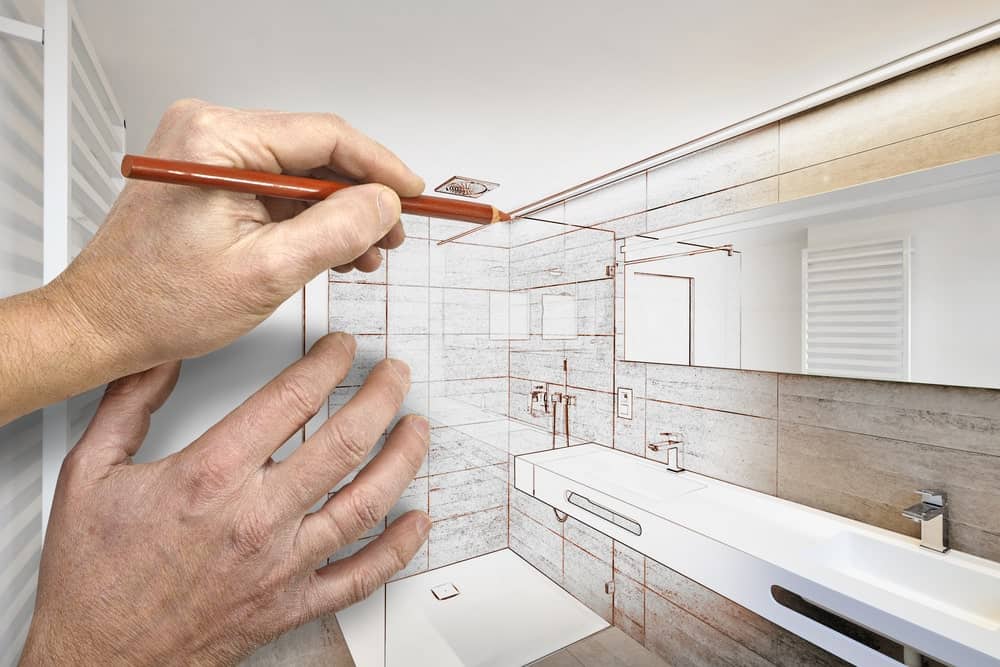 According to Fixr.com, the average cost for a bathroom remodel costs $20,000. This would be for 100-square-foot bathroom including tile walls, new flooring, fixtures, a two-sink vanity, shower, and separate tub.
Of course, there are many variables. If you choose the most expensive fixtures or if you find problems such as mold you will need to treat it and your cost will go up. Also, many jobs may not be a complete remodel, which would reduce your cost
The Remodeling Process
If you are thinking of a bathroom remodel, here are the phases of the remodeling process:
Design: During the design phase, you will likely consult a contractor or designer to make sure that everything works well together in the space you have. The planning/design process can take several weeks.
Ordering materials: After you decide the design elements you will have to order your materials. Depending on availability or if you are having custom cabinets made, you may need to wait up to 12-14 weeks for delivery.
Tear out: After your materials are delivered, the tear-out will begin. For a major overhaul, you will take everything down to the studs.
Update electrical: After you tear the walls out, you may want to make sure that your electric is up to code. You may need extra outlets based on whether or not your electrical needs will change after you remodel with new light fixtures, etc.
Tile and flooring: After the electrical is updated, the walls will be put back up. Depending on your taste you may choose to paint the room or tile the walls. You will also upgrade flooring if that is part of your remodeling plan.
Add your new vanity/etc.  After these other tasks have been complete, it is time to install your new vanity, fixtures, countertops, new toilet, etc.
Add your personal touch: When all else is completed it's time to add your own personal design elements, mirrors, soap dishes, lighting, towels, etc.