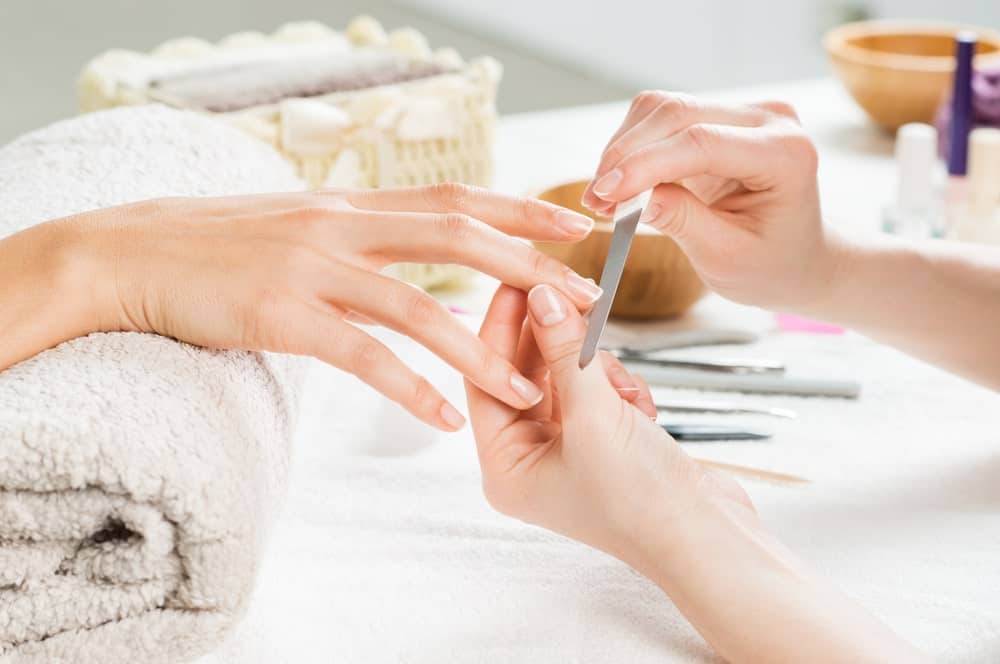 We all love pampering ourselves. As women, we make sure to dedicate some days to treating ourselves, with one of them being the salon day. When we leave the salon, our hair and skin look on point! However, there is one thing that is as essential as hair and skin, and that is our nails.
Our nails need some attention, too, and you can give them their due attention by getting a manicure done. A manicure not only makes your nails look prettier, but it goes a long way toward ensuring healthy and clean nails. We should take as much care of our nails as we do for our hair and skin because no matter how pretty you look, unmaintained nails are a complete turn-off.
Before you jump into getting a manicure, we suggest that you go through the types of manicures so that you know what exactly you want and what you can expect. Also, there is no harm in being well-informed about these important beauty regimes, is there?
Types of Manicures
Now that you have decided to learn everything there is to know about manicures, let's start with all the different types of manicures that salons offer.
1. Basic Manicure
If you have never had a manicure before and you're going to have your first one, then a basic manicure is what you should get. It is also a good option for anyone who wants a quick-fix for their nails. A basic manicure is fuss-free, simple, and quick.
The manicurist will first apply a cream lotion or oil to your cuticles.
Your hands will then be dipped into a dish containing warm water for approximately five minutes.
Once the soaking period is over, your cuticles will be tamed.
After the manicurist has tamed your cuticles, your hands will be dried.
The manicurist will move onto shaping your nails, as per your desire. You can get your nails shaped in oval, square, squoval, or stiletto forms.
After your nails have been shaped, you will be given a relaxing hand massage.
Upon the completion of the massage, a base coat will be applied to your nails, followed by two coats of the nail paint color you chose, finishing with the final, clear topcoat.
You will be asked to place your hands under a nail dryer so that your nails dry quicker.
2. French Manicure
You can never go wrong with the classic French manicure. It is chic, stylish, and goes perfectly well with anything. A French manicure gives iconic nails like no other type of manicure. Unlike all other types of manicures in which the nail is painted in a single color, the tips of the nails are painted pure white in a French manicure, which is what makes this type of manicure different from the rest.
In a French manicure, the nail is painted light-pink or beige, and then the tip of the nail is colored pure white. This gives the nails a crisp look. Who doesn't like healthy and vibrant nails? French manicures give you just that!
3. Reverse French Manicure
A reverse French manicure, like a typical French manicure, consists of two shades of nail paint. The only difference between the two is that in a reverse French manicure, the moon of the nail is painted white instead of the tip. It looks super trendy. This type of manicure has achieved considerable mainstream popularity because of the chic look it gives.
You can treat your nails with a reverse French manicure in the comfort of your own home. All you have to do is file and shape your nails, followed by taming the cuticles. Once the cuticles have been pushed back, the nails are painted in a single color. Once the color coat has dried, cover the whole nail except for the moon with a band-aid or a manicure sticker, and paint the moon white or any color you like.
Let the nail paint dry, and then remove the sticker. The nails should then be covered with a clear topcoat to give a complete, finished look to your nails.  A perfect reverse French manicure can be done in no time!
4. Paraffin Manicure
A paraffin wax manicure is the best type of manicure for everyone who has dull and dry hands. If you want soft and healthy-looking hands, a paraffin manicure is the best way to get them.  Since this type of manicure requires special handling, it is recommended to get a paraffin manicure done from a spa, rather than trying it at home.
Paraffin wax is melted in a heating device and is allowed to cool for a bit.
While the paraffin is being melted and cooled, your hands are treated with lotions and oils.
When the temperature of the melted wax has cooled down to the point where it becomes bearable, your palms are dipped into it completely.
Once your hands are completely covered in paraffin wax, you are asked to remove your hands from the wax, and the wax is allowed to dry on your hands.
Your hands are dipped in melted wax one more time, and the wax is allowed to dry again. This process is repeated 7 times, and in the end, you have your hands covered in 7 layers of paraffin wax.
Your hands are then left to rest for about half an hour.
The wax is then removed from your hands, after which you get the usual manicure treatment (massage, nail filing and shaping, and nail painting).
The end-results of paraffin wax are incredible. You will love how soft your hands will feel right after the manicure is finished.
5. Acrylic Manicure
For many people, growing long, perfect nails is a dream. However, every time they try to grow their nails long, they end up with a chipped or a broken nail or two. With that, their dream of getting the perfect nails goes down the drain. If you just can't grow your nails without breaking them along the way, an acrylic manicure is an ultimate solution. If you can't have naturally long nails, you can always have an artificial extension!
An acrylic manicure involves the application of a gummy mixture of liquid polymer and a powder monomer.
Before this mixture is applied on to the nails, the nail bed is buffered to make it rough.
The mixture is applied over the rough surface of the nail with a brush and then shaped in the shape of the nail that you desire.
It is then allowed to dry.
Once dried, the acrylic nail is filed and painted with nail polish, giving your nails the 'perfect' look.
Acrylic manicures are a hot trend these days. They look super hot and classy, and you won't be able to flaunt your new long, beautiful nails!
6. American Manicure
If a French manicure is too loud for you, you can opt for a more subtle, more neutral, and a more natural American manicure. If you like the look of natural nails, an American manicure is probably the best option for you. Like the French manicure, it involves painting the tips of the nails in a different color. However, the difference lies in the color of nail paint used to paint the nail tips. An American manicure is a lot more subtle, and the tips of the nails are painted in more natural, ivory shades.
You can get a more blended look with American manicures, making your nails appear natural. An American manicure is a perfect type of manicure for casual occasions.
7. Mirror Manicure
Mirror manicures or Chrome Nails first grabbed the attention of Millennials through social media, and now, they are all going crazy about it. If you want your nails to look strikingly attractive, a mirror manicure is something you will totally love!
A mirror manicure starts with the usual manicure treatment including dipping the hands in warm water, massaging the hands with an oil or lotion, taming the cuticles, and shaping the nails. The characteristic step of this type of manicure comes last.
After all the steps of a basic manicure have been completed, the nails are painted black or any dark color.
The nails are allowed to dry under a UV light.
Once the nail paint has dried completely, chrome pigment or powder is sprinkled over the nail and brushed to give an even mirror look.
The chrome pigment is sealed using a clear topcoat.
The nails are allowed to dry under a UV lamp again.
A mirror manicure produces sparkly nails that are hard to ignore. This is one of the most attractive and coolest types of manicures!
8. Shellac Manicure
Whenever you get a manicure, you lift objects with extra care to make sure you don't chip the fresh nail paint you just got. Even if you haven't had a manicure and have just applied your favorite nail paint, you are extra cautious to ensure that your nail paint stays secure for as long as possible. If you are one of those people who just can't handle the extra care and cautiousness and are too lazy to fix your nails every now and then, a shellac manicure is what you need!
A shellac manicure involves the application of a special blend of nail polish and gel. This type of manicure is known for its durability. As the nail paint stays put for longer, there are lesser chances of it chipping. Moreover, you get to enjoy the perfect shinny nails for as much as two weeks! Now, isn't that amazing? Getting this manicure done will keep your perfect-nails worry at bay for some time.
The shellac manicure is done the same way a basic manicure. After the cuticles have been treated and the nails have been filed and shaped, two coats of the special shellac nail polish are applied on the nails. The nails are dried under a shellac manicure-specific drier. A top coat is then applied to seal the base coat.
9. Gel Manicure
Have you ever gone through the frustration of chipping your nail polish right after you leave the salon, maybe when you reach into your bag for your car keys? Well, we understand the pain! It is truly frustrating and depressing to see chipped nail paint after you have spent your hard-earned money on a manicure. If you are looking for a manicure will last for a few weeks and is also pocket-friendly, we suggest you get a gel manicure.
Like all other types of manicures, a gel manicure also involves all the steps of a basic manicure, that is, pushing the cuticles back, filing, trimming, and shaping the nails.
Once the basic steps have been done, a base coat is applied to the nails, followed by two coats of gel nail polish.
Each coat is applied after the previous one has dried completely.
The gel polish is dried under a UV lamp.
The texture of gel nail polish is smoother and more durable as compared to other nail polishes.  It stays intact for about 2 to 3 weeks. You can have the wow-look for much longer with a gel manicure.
10. Vinylux Manicure
Imagine you had a fancy manicure, let's say an acrylic manicure or a shellac manicure, and you start getting bored of seeing the same nails every day for a week. If you are one of those people who get bored with things quite fast, long-lasting manicures are just not for you. You need something that lasts for a few days, like a Vinylux manicure.
A Vinylux manicure is similar to a basic manicure in steps, but it surely lasts longer than the basic one.
A Vinylux manicure starts with the application of an oil or lotion to your nails so that the cuticles are softened, followed by the dipping of your hands in lukewarm water for a few minutes.
The cuticles are pushed back after removing your hands from the water.
The nails are then filed, trimmed, and shaped.
A Vinylux manicure does not require an application of a basecoat because the Vinylux nail polish has adhesive ingredients in the nail polish itself.
After the first coat has dried, the second layer of Vinylux nail polish is applied.
A Vinylux manicure does not involve drying nails under a UV lamp because the nail polish dries very quickly.
The only difference between the basic manicure and a Vinylux manicure is the type of nail polish that is applied. Vinylux nail polish is more durable than normal nail polishes, and hence, the manicure stays for longer (up to 7 days). The best thing about this type of manicure is that it is super easy to remove. Vinylux nail polish can be removed by using regular nail polish remover.
11. Hot Stone Manicure
After working hard throughout the week, you deserve some pampering. Like we suggested, you should always get a manicure because nails deserve as much attention as skincare and hair care. However, what if we told you that there is a manicure that not only makes your nails look prettier but can also help you relax and de-stress? Well, a hot stone manicure involves the use of hot stones that are held in the hands to help release tension in the muscles of the hands.
So, if you have been spending extra hours in front of your computer, your hands surely need special treatment. Why not try the hot stone manicure?
A hot stone manicure starts with boiling the stones in water up to a temperature of 120 degrees Celsius.
While the stones are heated, your hands are dipped in lukewarm water containing essential oils.
When the stones have been heated, they are removed from the boiling water. When their temperature has dropped to 56 degrees Celsius, they are placed on your hands.
Your hands are massaged with the stones. The pressure is applied at certain points that help your muscles relax.
The massage with the stones is done for about 15 minutes, after which the usual massage with lotion or oil is done.
The duration of a hot stone manicure is usually 50 minutes to an hour.
A hot stone manicure leaves your hands feeling light, relaxed, and de-stressed. If you are planning to do it yourself, make sure that you take help from a nail technician the first time to make sure you do it the right way.
12. Brazilian Manicure
A Brazilian manicure is a rather messy manicure. Although messy, it lasts for a very long time. A Brazilian manicure is a unique manicure for many reasons. The primary reason why it is considered unique is because of the messy application of nail polish, which is not seen in any other type of manicure. The nails and the surrounding skin are coated with a clear base coat, followed by a messy application of nail polish. Extra nail polish on the skin surrounding the nail is removed later.
The second reason that makes it different from other types of manicures is that the cuticle is not just pushed back in this manicure, but is removed. This makes Brazilian manicures controversial because it is believed that the cuticle prevents bacteria from getting under your nails. If you like messy nail polish application, a Brazilian manicure might just be your thing!
Why Get a Manicure?
Now that you know about the various types of manicures, the question is – why should you get a manicure? Well, there are many reasons why a manicure is important.
Manicures keep your hands clean and your nails tidy.
Manicures prevent the chipping and cracking of nails.
A manicure keeps your hands looking young. Your hand's skin ages quicker than the skin on your face. Even if you get facelifts, your hands will give away the fact that you are quite aged.
Manicures relax the muscles of the hands that are in constant movement and action, no matter what you do.
Your hands will look beautiful and well-maintained, and that will add to your confidence.
We spend so much time, effort, and money on our appearance but often overlook our hands. We forget the fact that poorly maintained hands and nails are a major turn-off. Let's say you meet someone who is dressed perfectly from head-to-toe. Would you be impressed? Certainly, yes. However, suppose your vision lands on their hands, and you see chipped nail polish or cracked nails. What will happen? You will be unimpressed immediately. Your nails can make or break the entire impression you leave on people. That's how important getting regular manicures is!
Different types of manicures have different costs. No matter what your budget is, you can always get a manicure that is affordable for you. You work hard, and you deserve regular pampering, of which a manicure is a very important part!  The next time you visit a salon for a facial and a haircut, don't forget to get a manicure as well!