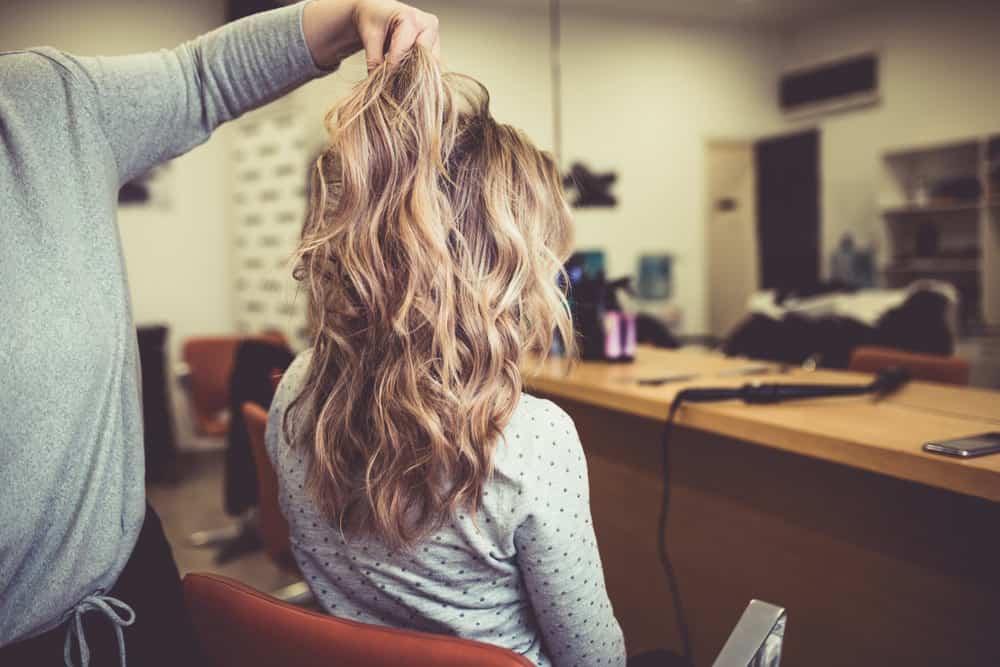 Welcome to our balayage hair gallery where we feature all color combinations, hair types, and lengths for the balayage coloring technique for women.
Balayage is trending upwards right now as illustrated by our trends chart below.  Get loads of ideas via our extensive photo gallery below.
The word balayage comes from a French word which means to sweep away or paint. Balayage is done freehand rather than using traditional tools like foils and caps, which give the hair a contrived look. Balayage color is painted on with soft bush strokes across the surface of the hair, resulting in natural-looking swathes of color, from thick to thin. This color technique plays off your tresses' natural movement and does not leave any signs of delineation that comes from using hair coloring tools.
A professionally done balayage gets you the bleached color that you would achieve naturally after a summer on the beach.
Balayage is one of the most exciting color techniques to make an appearance in a long while. Take a look at some of the fabulous results created from the balayage technique.
Balayage Styles for Women
Buttery Blonde Cropped Balayage
This young woman has been given a balayage in shades of butter yellow and rose gold. With her cropped shoulder-length waves, this balayage gives her hair a whole new dimension.
Fiery Autumn Balayage
Starting with a dark red shade and ending with pale orange tips, this beautiful flame-colored balayage is the perfect representation of autumn.
Unicorn Balayage
This may not be for everyone, but the stunning strokes of purple, blue and green colors on the platinum blonde head, seem just perfect for this young girl.
Honey & Copper Balayage
This young woman sports a balayage that graduates from a dark, rich caramel color to a golden honey and copper shade. It's a perfect look with long loose curls.
Rose Gold Balayage
This balayage has been done in several shades of red, caramel, honey and blond. However, you can't say that by looking at these women and the organic effect gives this young woman's hair a stunning, rose gold color.
Dark Ash Brown Balayage
This beautiful balayage is a mix of very dark shades of brown. The crown braid styling highlights the gradient of colors in the woman's hair.
Dark Ashy Blond Balayage
This woman is sporting a dark ashy blond balayage. The lighter blonde highlights look completely natural against the dark blond hair. This pixie cut look with side bangs give this woman a youthful look.
Silver Blonde Balayage
The color silver is not just for aging women; it looks great on young, fashion-forward women as well. Take a look at this balayage with subtle silver highlights on ash blonde hair. The look makes this woman look so much younger.
Dark Caramel Gold Balayage
If you have heavy, thick dark blond hair, flaunt it by adding some lighter sun-kissed highlights to it. This gorgeous balayage is a blend of dark gold, caramel, and red tones.
Strawberry Blond Balayage
These stunning highlights are created with a mixture of red, blond and light brown hues. The colors mellow down to pale orange at the tips. This is the perfect look for the fall and spring seasons.
Ash Blond and Brown Balayage
This stunning balayage starts from the young woman's naturally dark hair and graduates into several shades of blond, giving her hair a nude ash blond look.
Bronde Balayage
Since balayage comprises multiple hues, one of the best ways to make the most of it curls your hair. The multiple hues of blond and brunette shades and a curling effect will make your hair look fuller and more elegant.
Creamy Ash Blonde Balayage
Take a look at this model who is sporting a balayage of multiple shades of pale silver and blond. The various hues of color give her hair an added dimension and make it look more voluminous.
Red Blond Balayage
You can see the streaks of pale red and warm and icy blondes in this woman's long straight hair. This is perfect for a no-fuss, party look.
Dark Caramel Balayage
If you want to go for a rich, dark tone, try a caramel brown balayage. This balayage has tones of mahogany red, caramel, and honey blond and works wonders for people with all sorts of complexion.
Summer Blonde Balayage
Don't think that you can't have a balayage just because you have cropped hair. You can sport a balayage if you have chin-length hair and bangs, with a multitude of colors like brown, platinum and dark blonde shades.
Fox Red Balayage
Some vibrant colors that can blend in with your hair's natural color always take off years of your age. The woman above has a balayage of reds and blonds with her natural chestnut hair.
Light Cinnamon Brown Balayage
A medium brown balayage with icy platinum and blond undertones gives the perfect balance of warm and cool tones to your hair and lends an air of elegance to it.
Multi-Blond Balayage
This young woman's hair range from light red from pale browns to medium blonde hues. The ultra-straight hair also serves to showcase the various shades of color.
Rainbow Balayage
Not all balayage has to be of natural hair color. It is cool to experiment with some radical colors as well, like pinks, greens, and blues. The blended strokes of rainbow colors give a complete wow effect, like a unicorn.
Chestnut Balayage
Eva Longoria is a stunning actress and her hair just amplified that effect. The actress's naturally dark brown stresses have been given rich brown and gold highlights, perfect for the red carpet look.
Red Velvet Balayage
This gorgeous balayage has highlights of bright cherry red, fox red, burgundy and mahogany tones; in essence, all the best shades of red. Her loose curling waves make it seem like her hair is on fire.
True Ginger Balayage
This gorgeous natural shade of red has been enhanced by some judicious balayage treatment. The color incorporates fox red, orange and autumn brown shades for this hot look.
Magenta & Plum Balayage
With out-of-this-world colors like plum, magenta, cherry pink and violet in this balayage, this woman's hair looks good enough to eat.
Black & Silver Balayage
One of the biggest fashion trends these days is silver hair. This young woman has incorporated silver-blond balayage highlights in her naturally black wavy hair, giving her a very cool, uber-modern look.
Turquoise & Lavender Balayage
Right along with the silver hair, the anime hair look is also trending these days. This young woman is sporting a full head of turquoise, lavender, silver and aquamarine balayage making her look like Bulma from Dragon Ball Z.
Fox Red Balayage
The red balayage look is so perfect for the winter and spring season — in fact, for all season. The vibrant red and chestnut colors in this balayage are all the accessory one needs.
Autumn Blonde Balayage
Another great red shade for the winter season, this gorgeous balayage is an ideal blend of fiery reds and sun-kissed blond. This balayage reveals hidden colors when the sunlight hits it.
Dark Chocolate Balayage
This yummy-looking balayage consists of dark chocolate brown hair with lighter caramel highlights. With the loose curls look, this balayage is giving this young woman's hair another dimension.
Midnight Balayage
There are so many shades of midnight and this perfect balayage has done a great job of revealing hem. The predominant colors are midnight blue coupled with jet black, giving this hair a magical look.
Very Strawberry Balayage
A very unique shade of red, this balayage incorporates the natural autumn red colors but also give a hint of strawberry pink to the end.
Coffee Brown Balayage
Brown balayage on black hair is one of the coolest and most natural hair looks. The coffee brown highlights on this woman's black hair give a very flattering effect.
Beach Bombshell Balayage
The several hues of platinum, buttery yellow and sun-kissed yellow, coupled with the tousled locks, make this perfect beach bombshell balayage. This young woman looks ready to hit the sun, surf, and sand.
Sandy Brown Balayage
This balayage is made up of chestnut, caramel brown, sandy blond and ash blond shades. With her tanned skin, the highlights look like they have been naturally bleached by the sun.
Soft Lilac Balayage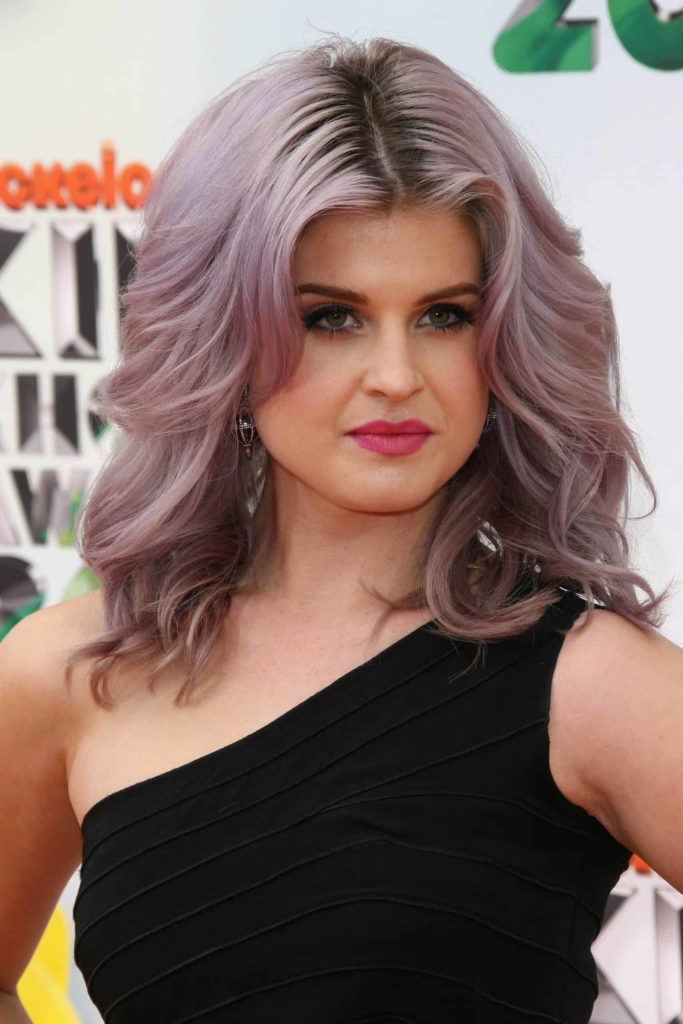 Kelly Osbourne with her iconic purple-colored hairstyle and black dress combination. She looks absolutely gorgeous here on March 31, 2012.
Click here for Kelly Osbourne's hairstyles over the years
Layered and Wavy Balayage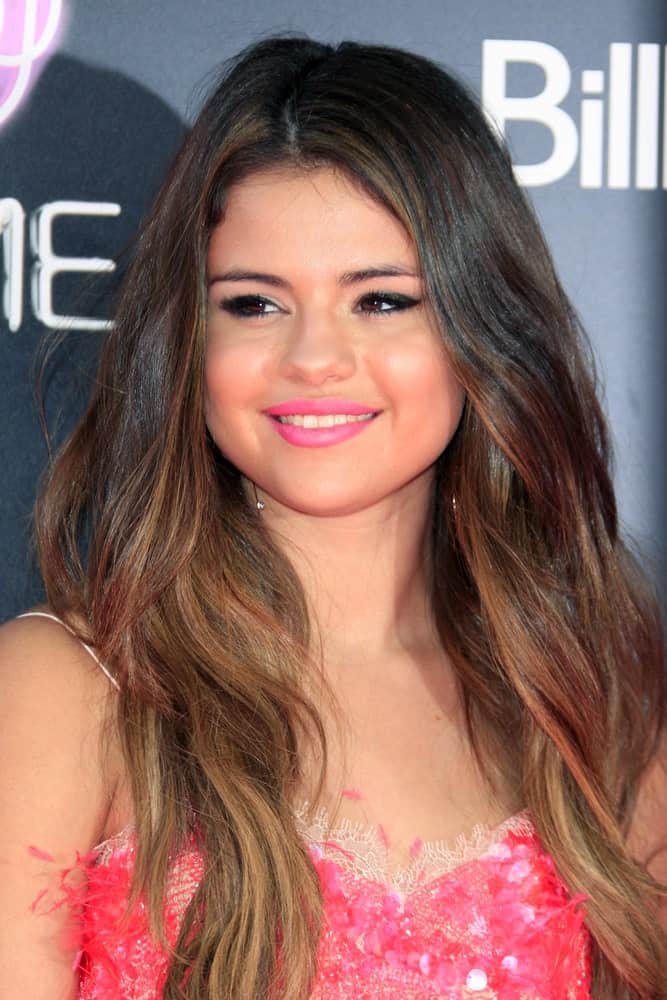 Selena Gomez was at the "Katy Perry: Part Of Me" Premiere at Grauman's Chinese Theater on June 26, 2012, in Los Angeles, CA. Her lovely pink detailed dress complemented her long wavy highlights.
Click here for Selena Gomez's hairstyles over the years
Brushed-Back and Wavy Balayage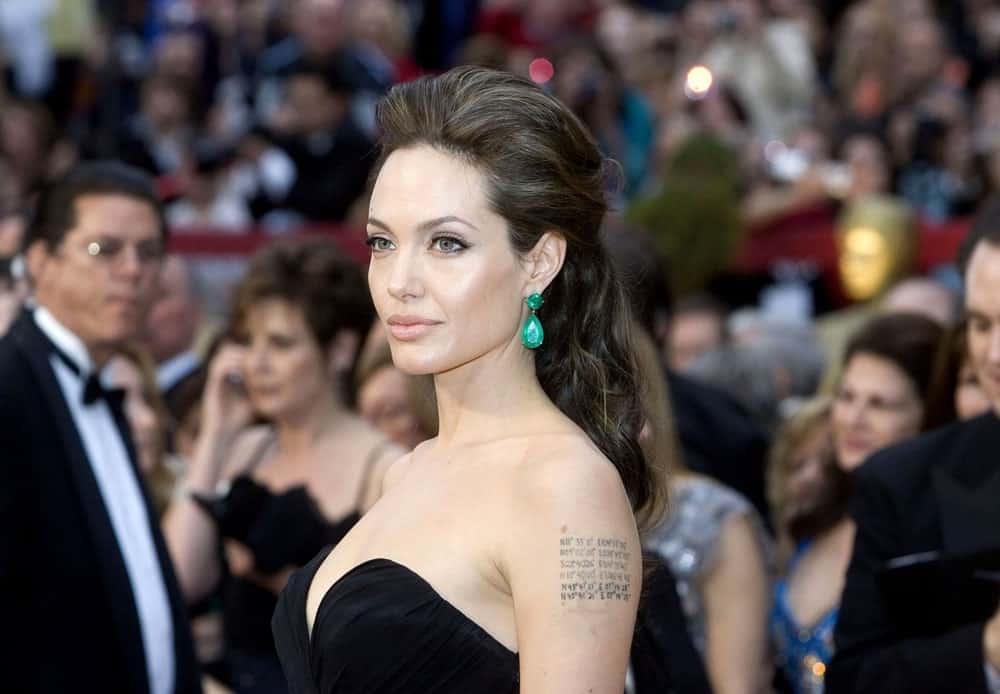 Angelina Jolie emphasized her Lorraine Schwartz earrings with a beautiful black strapless dress and a loose tousled half-up hairstyle with highlights at the 81st Annual Academy Awards held at the Kodak Theatre in Los Angeles, CA on February 22, 2009.
Click here for Angelina Jolie's hairstyles over the years
Slick and Straight Balayage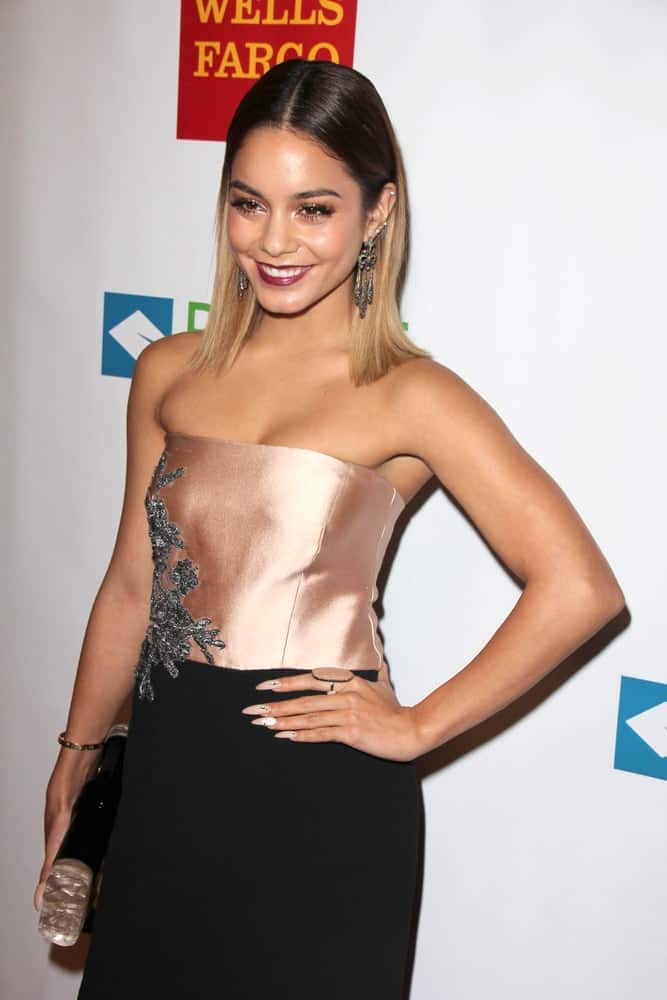 Vanessa Hudgens attended the Voices On Point at Century Plaza Hotel on September 13, 2014, in Century City, CA. She came wearing an elegant strapless dress that she paired with her loose and straight highlighted hairstyle tucked behind her ears.
Click here for Vanessa Hudgens' hairstyles over the years
Blonde and Brown Balayage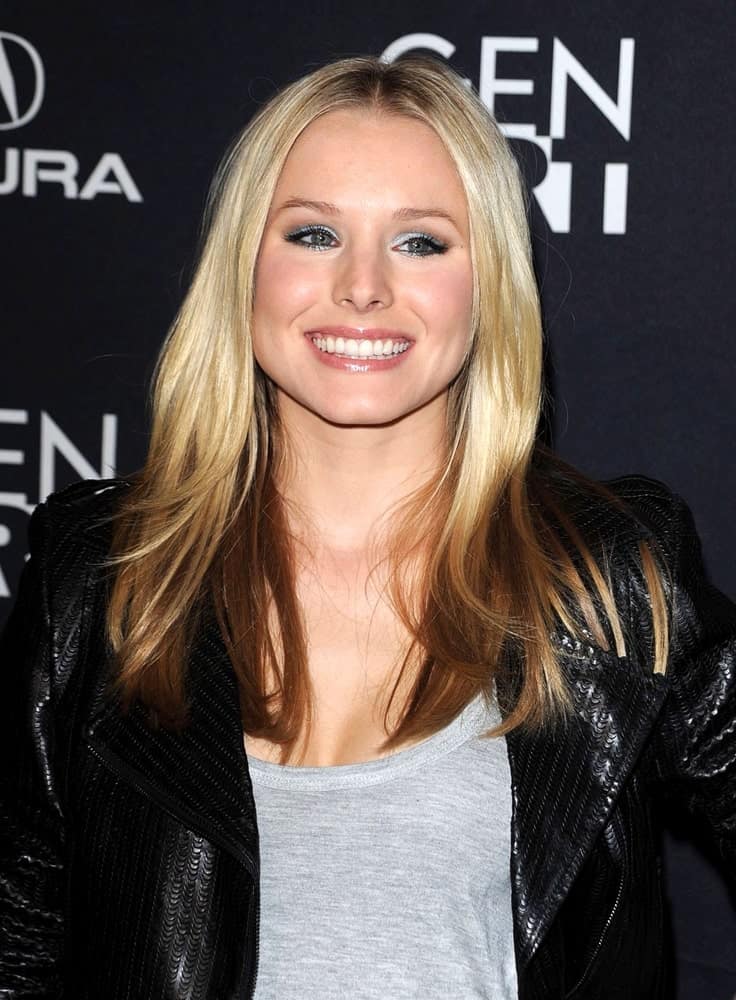 Kristen Bell topped her gray shirt with a black leather jacket at Gen Art Hosts a Special Screening of FANBOYS last February 3, 2009. She complemented it with a balayage loose hairstyle that's center-parted.
Click here for Kristen Bell's hairstyles over the years
Brown and Straight Balayage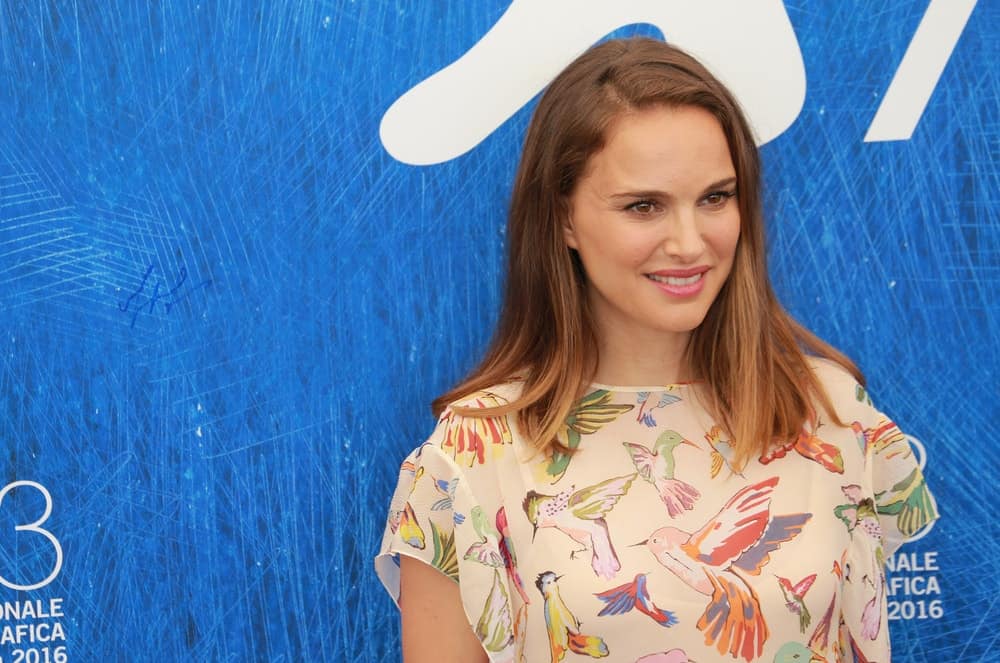 Natalie Portman attended the photocall of the movie 'Planetarium' during the 73rd Venice Film Festival on September 7, 2016. She wore a casual blouse with bird prints that went well with her medium-length brown hairstyle loose on her shoulders.
Click here for Natalie Portman's hairstyles over the years
Wavy Bob Balayage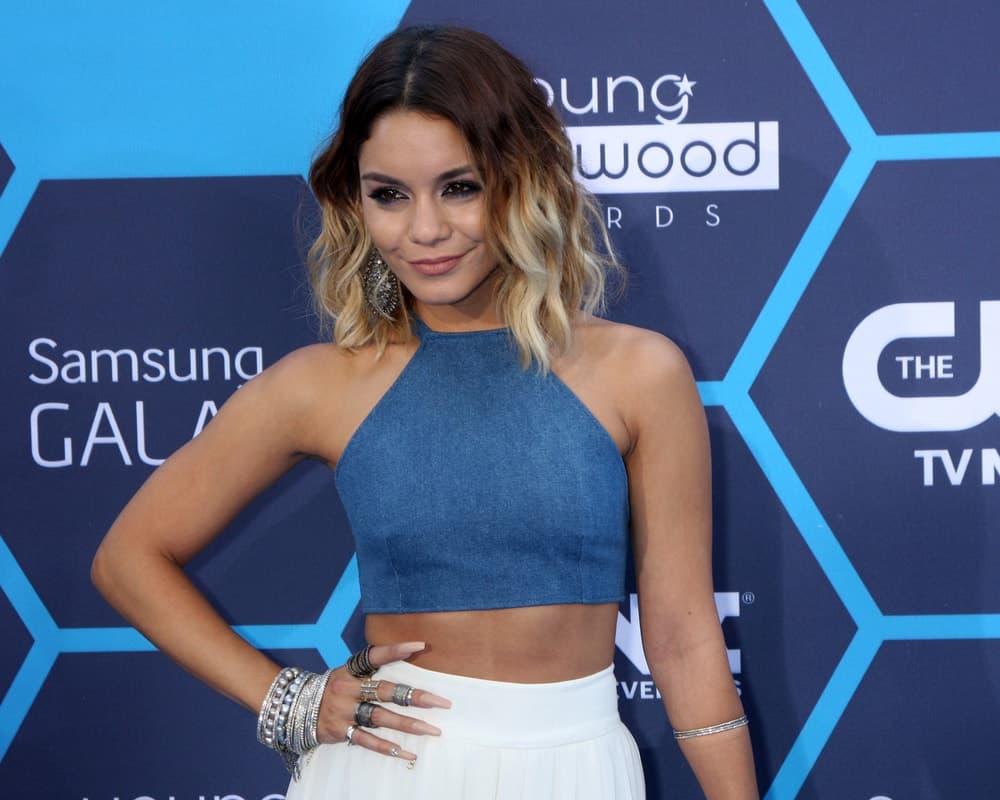 Vanessa Anne Hudgens was at the 2014 Young Hollywood Awards at the Wiltern Theater on July 27, 2014, in Los Angeles, CA. She wore a stunning two-piece outfit that she paired with her confident smile and wavy shoulder-length hairstyle with a blond dye at the lower half.
Click here for Vanessa Hudgens' hairstyles over the years
Caramel Brown Balayage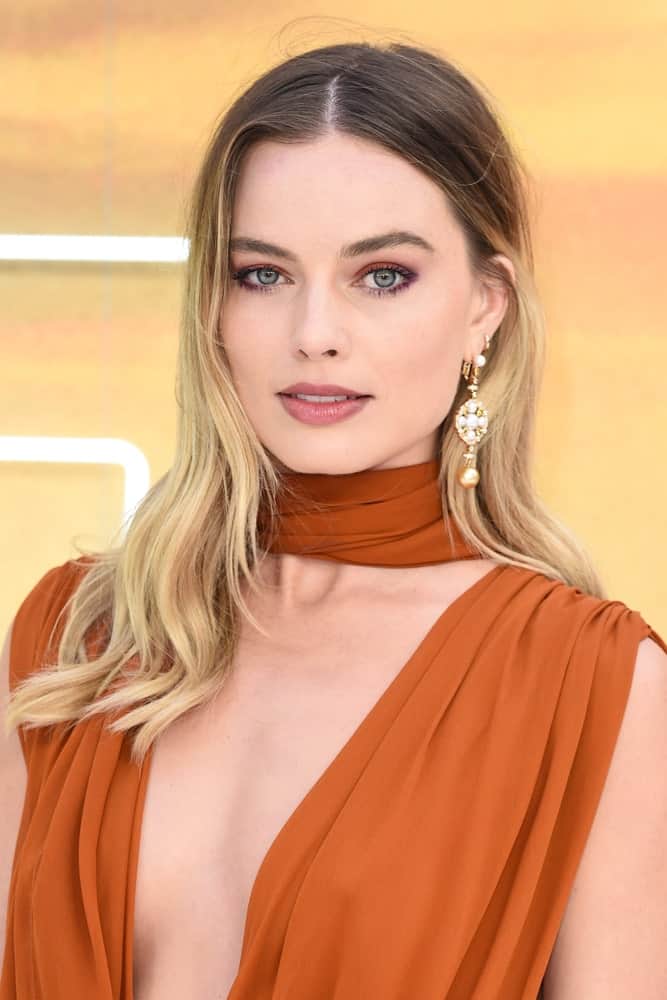 Margot Robbie looked stunningly gorgeous in a daring red dress that complements her loose waves with a middle parting and shadow roots. This was taken at the UK premiere for "Once Upon A Time In Hollywood" on July 30, 2019.
Click here for Margot Robbie's hairstyles over the years
Brunette to Blonde Balayage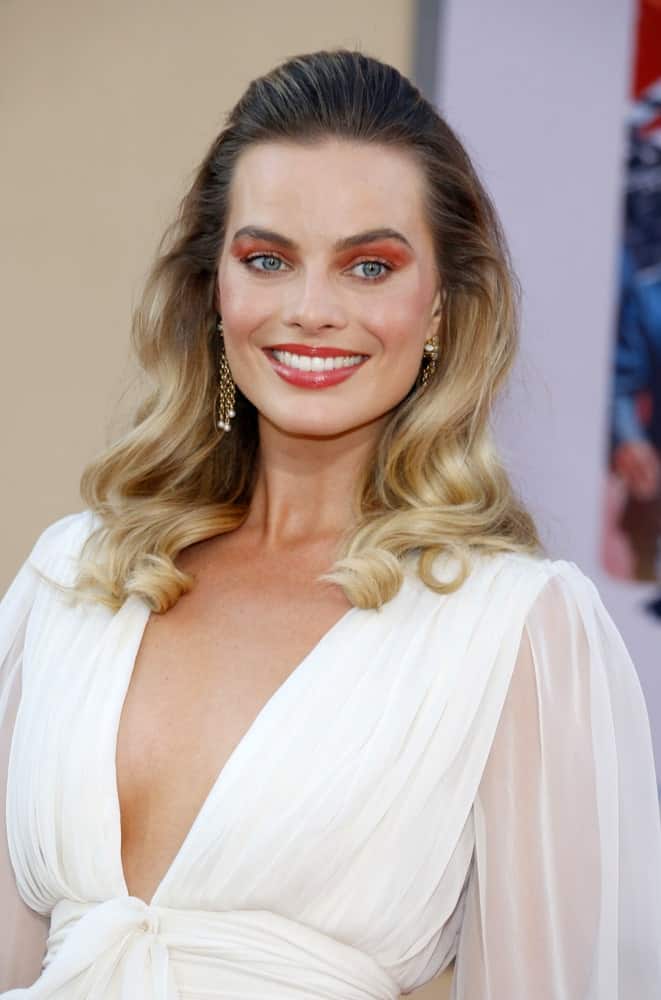 Margot Robbie paired her sheer white dress with a wavy half updo during the Los Angeles premiere of 'Once Upon a Time In Hollywood' held at the TCL Chinese Theatre IMAX on July 22, 2019.
Click here for Margot Robbie's hairstyles over the years
Medium-Length Wavy Balayage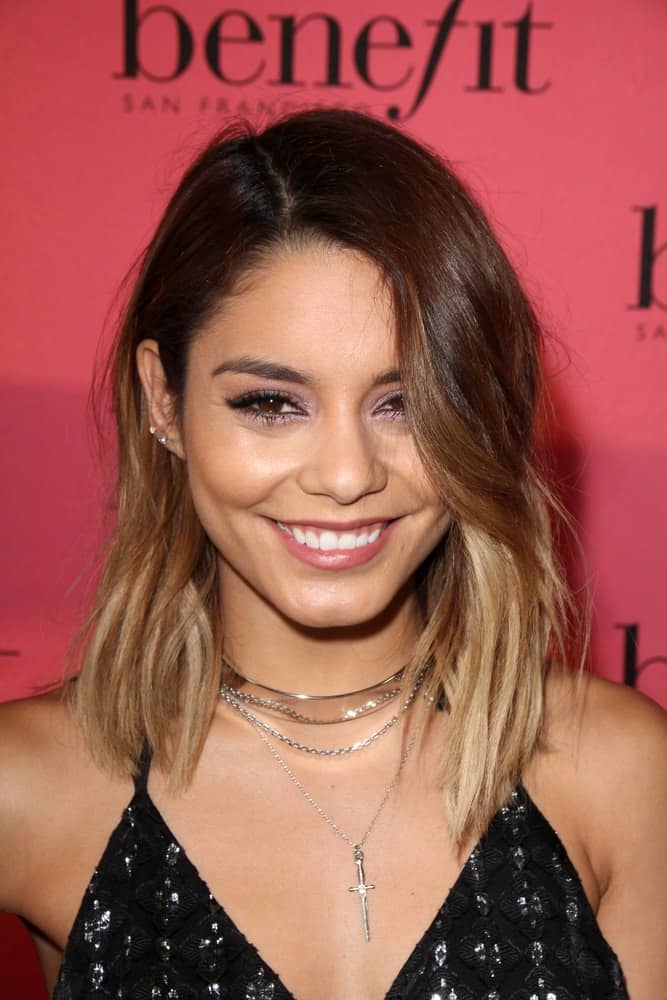 Vanessa Hudgens's charming and bright smile went quite well with her shoulder-length highlighted loose hairstyle that has wavy side-swept bangs at the Benefit Cosmetics Kicks Off Wing Women Weekend at Space 15 Twenty on September 26, 2014, in Los Angeles, CA.
Click here for Vanessa Hudgens' hairstyles over the years
Side-Swept Tousled Purple Balayage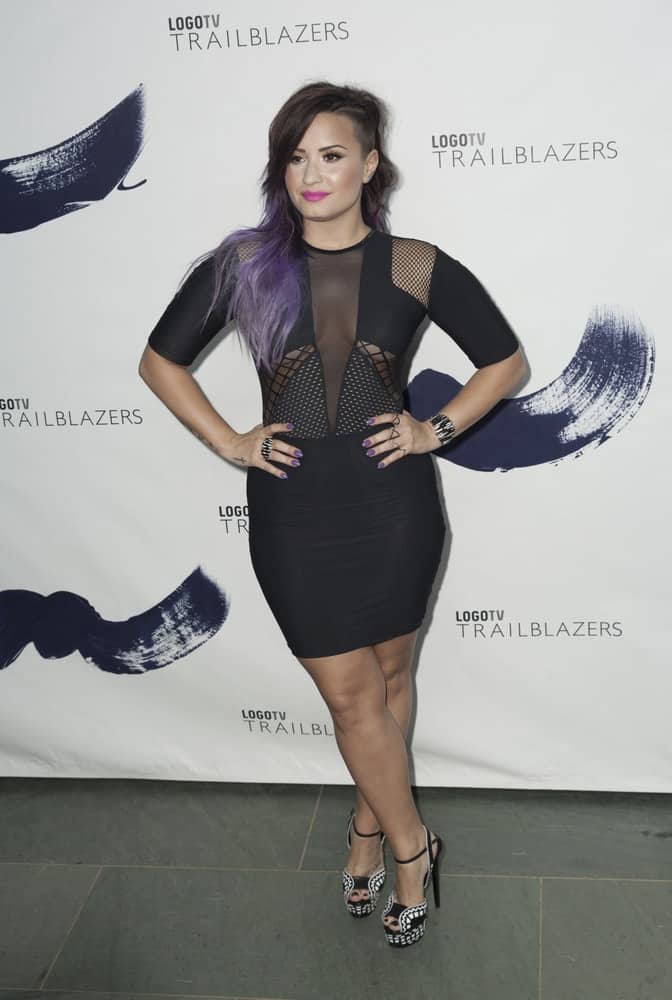 On June 23, 2014, Demi Lovato attended the Logo TV's 'Trailblazers' at the Cathedral of St. John the Divine. She wore a sexy black short dress that flaunted her curves to pair with her long, side-swept and tousled wavy hairstyle with purple highlights and layers.
Click here for Demi Lovato's hairstyles over the years
Ponytail Blonde to Brown Balayage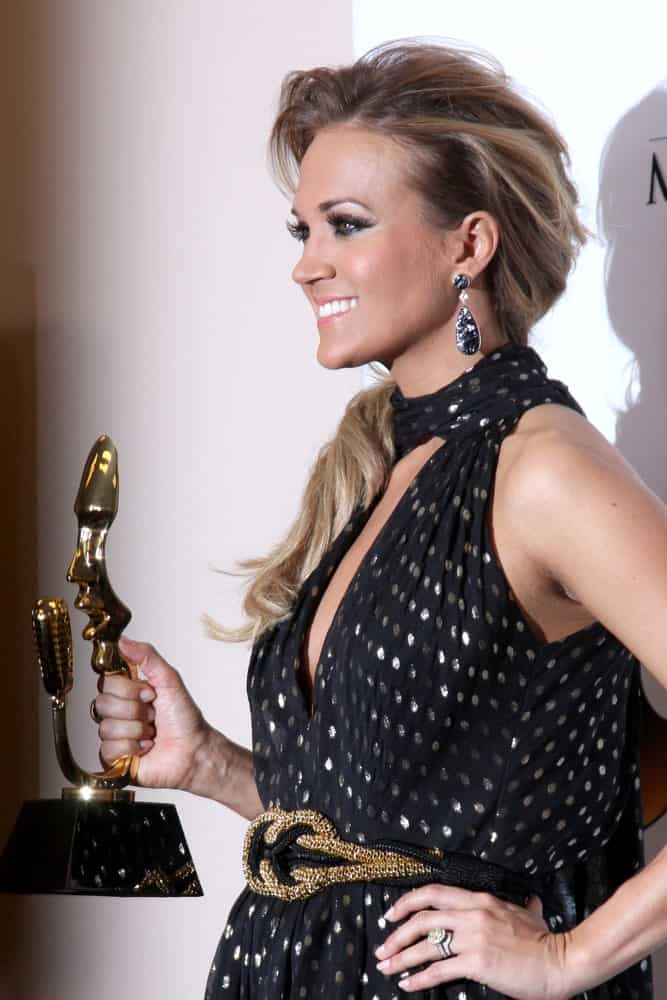 Carrie Underwood looked gorgeous in a dotted black dress along with a side ponytail that's dramatically tousled during the 2014 Billboard Awards on May 18, 2014.
Click here for Carrie Underwood's hairstyles over the years
Sandy Blonde Balayage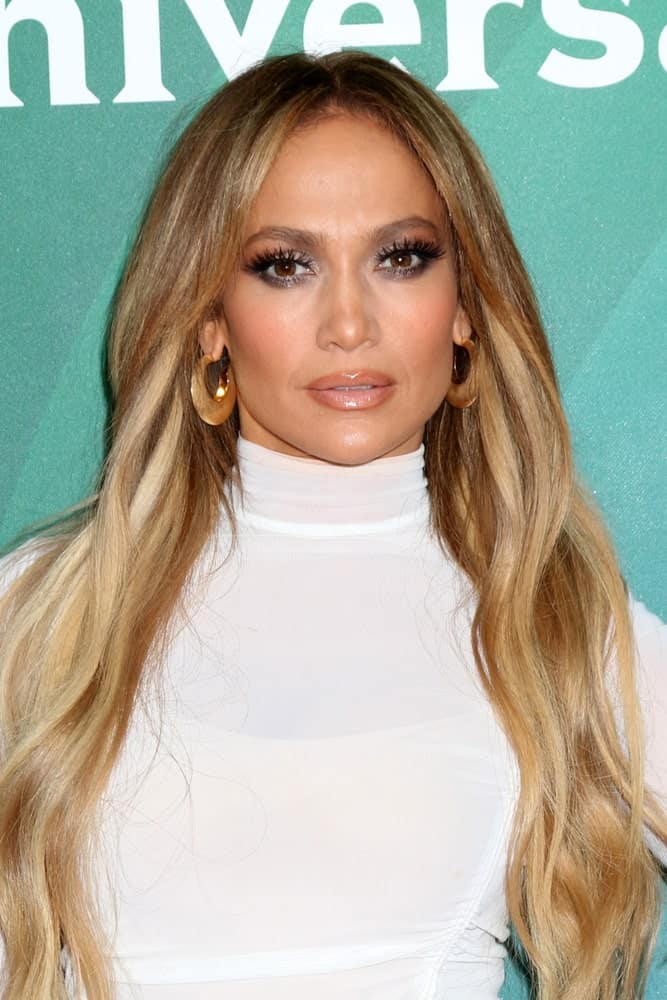 On May 2, 2018, Jennifer Lopez was seen at the NBC Universal Summer Press Day in a white turtle neck dress and a loose wavy hairstyle accentuated with highlights.
Click here for Jennifer Lopez's hairstyles over the years
Blonde Half Updo Balayage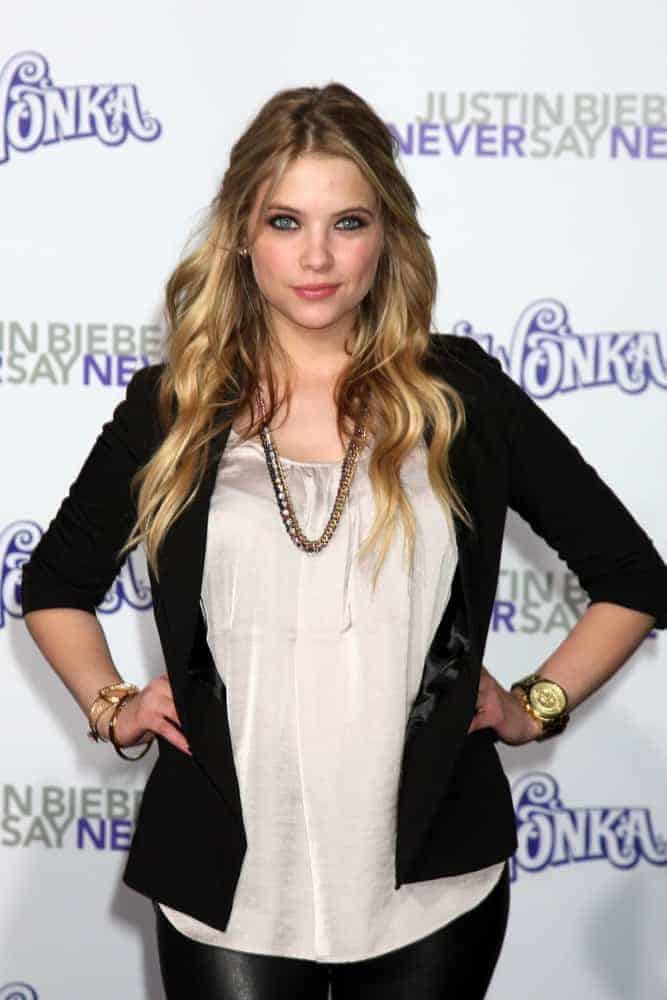 Ashley Benson arrived at the premiere of Paramount Pictures' Justin Bieber: Never Say Never at Nokia Theater L.A. Live on February 8, 2011, in Los Angeles, CA. She wore a black jacket on her casual outfit paired with a loose, tousled, and layered half-up sandy blonde hairstyle with beach waves and highlights.
Click here for Ashley Benson's hairstyles over the years
Loose Brunette Balayage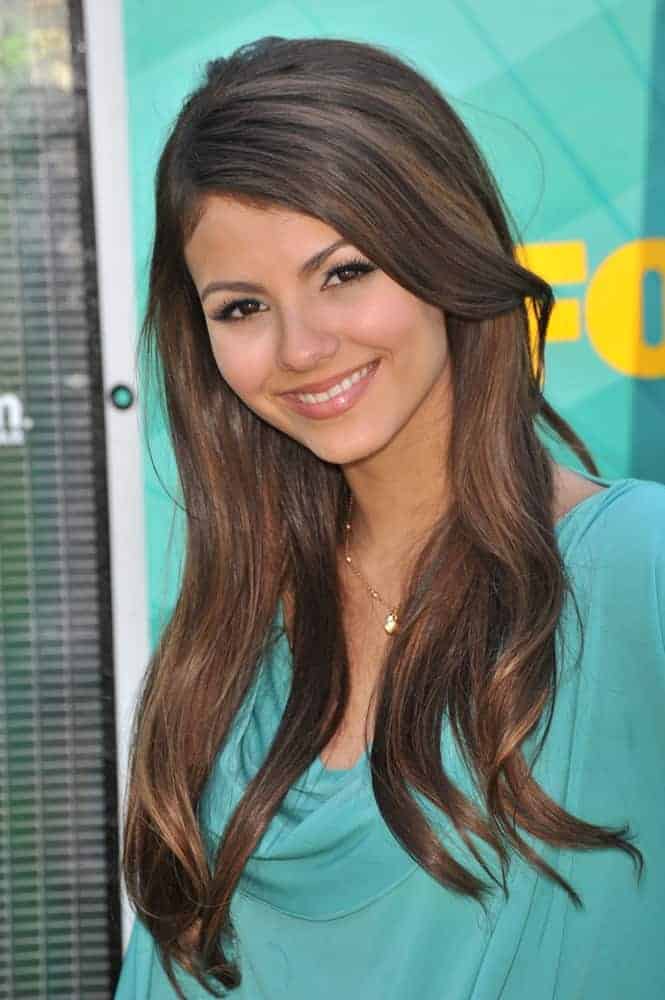 Victoria Justice attended the 2009 Teen Choice Awards at the Gibson Amphitheatre Universal City on August 9, 2009. She was lovely in her green dress that went quite well with her brunette hairstyle that has layers, highlights, and subtle waves.
Click here for Victoria Justice's hairstyles over the years
Bouncy Curls Balayage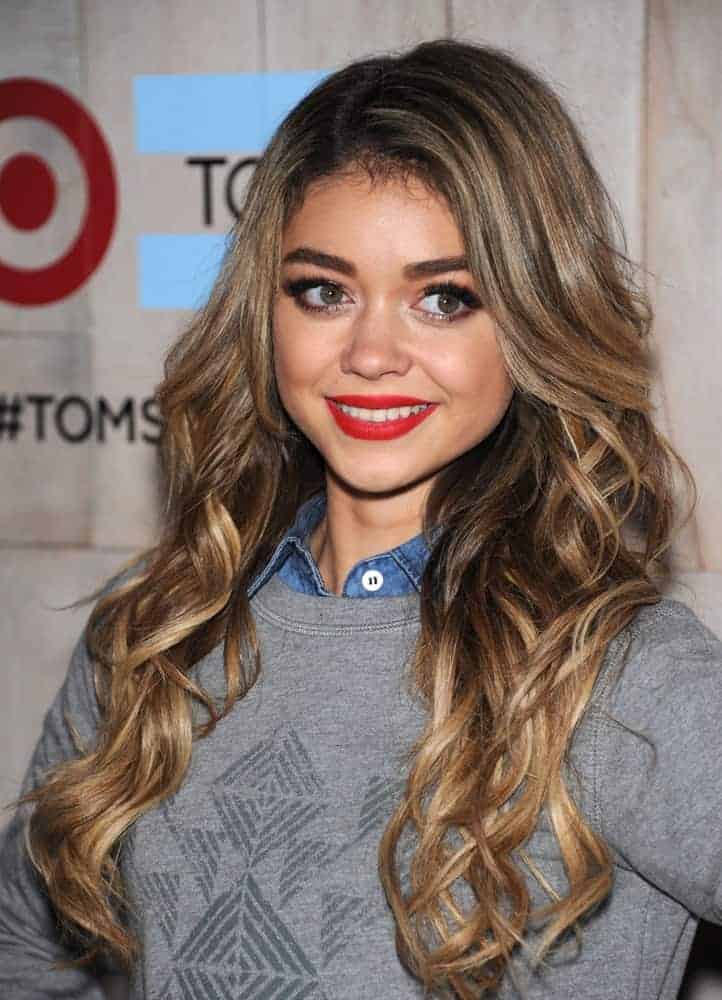 Sarah Hyland attended the TOMS for Target Partnership Celebration on November 12, 2014, in Culver City, CA. She was seen wearing a smart-casual outfit to pair with her long and wavy highlighted sandy blonde hairstyle with layers and slight tousle.
Click here for Sarah Hyland's hairstyles over the years
Sandy Bob Balayage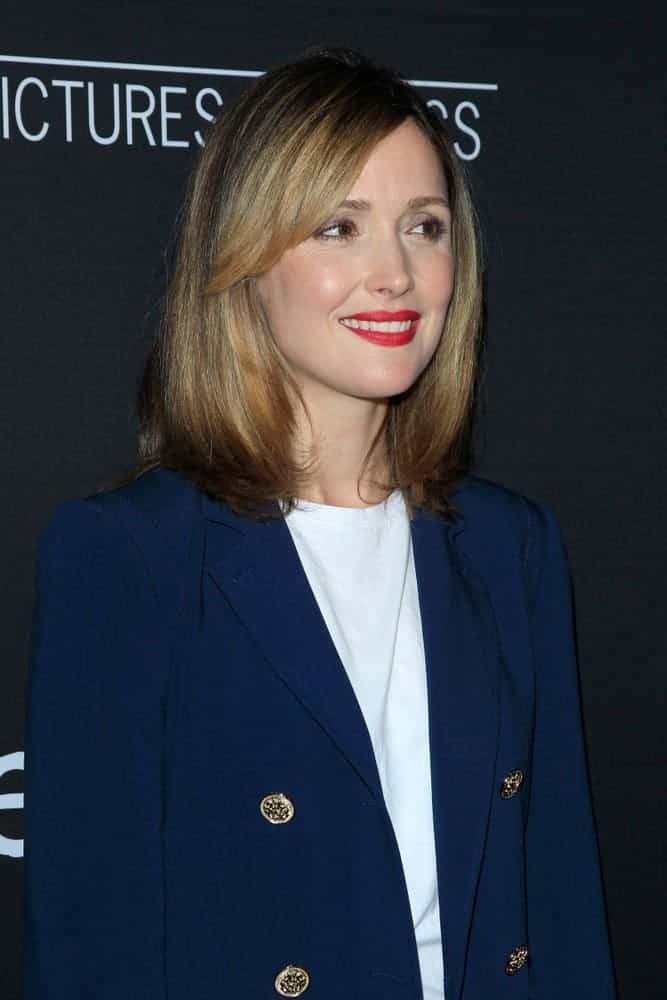 Rose Byrne was at the "The Wife" Premiere on the Silver Screen Theater, Pacific Design Center on July 23, 2018, in West Hollywood, CA. She was wearing a smart-casual outfit to pair with her shoulder-length bob hairstyle with layers, highlights, and side-swept bangs.
Click here for Rose Byrne's hairstyles over the years
Beachy Waves Balayage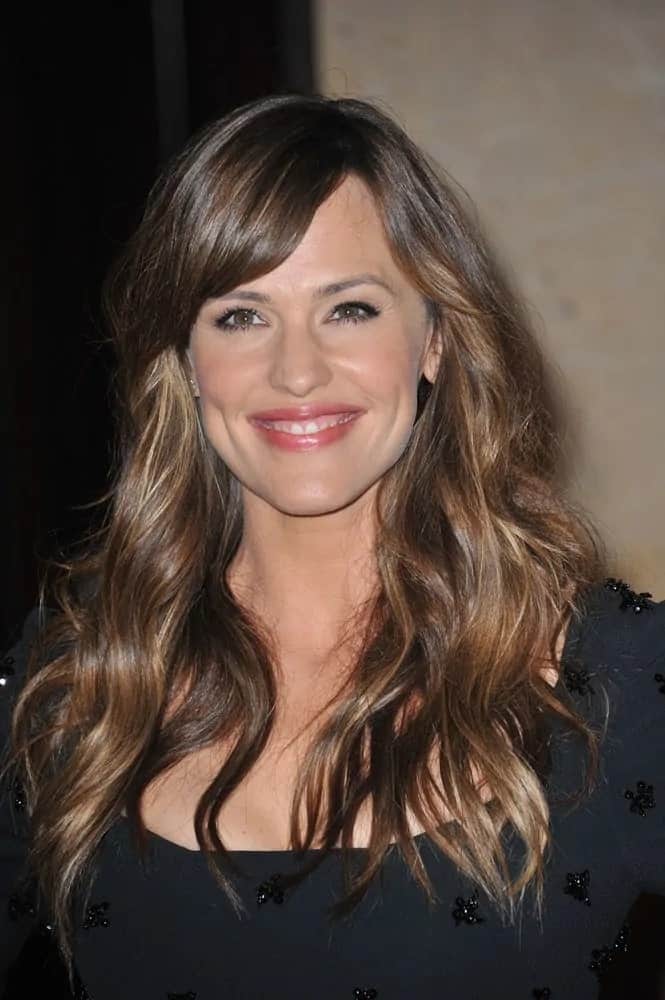 Jennifer was all-smile wearing her natural-looking beachy waves with side-swept bangs at the 28th Annual American Cinematheque Award Gala on October 21, 2014.
Click here for Jennifer Garner's hairstyles over the years
Bouncy Curls Balayage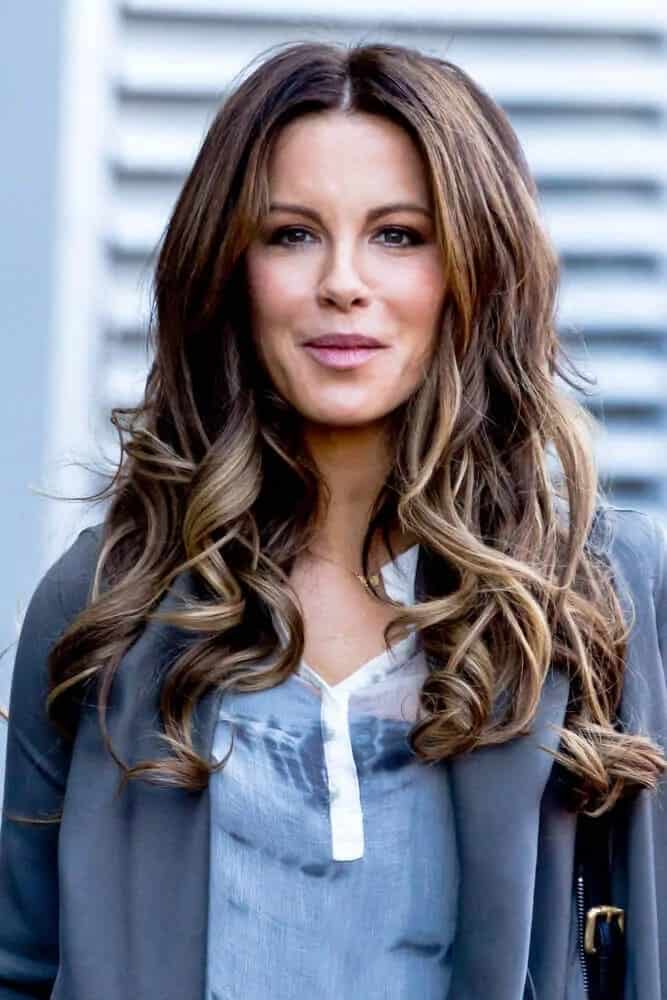 The actress was spotted taking her scenes for a new TV drama while flaunting her beautifully tossed curls in London last April 2014.
Click here for Kate Beckinsale's hairstyles over the years
Balayage vs. Ombré Diagram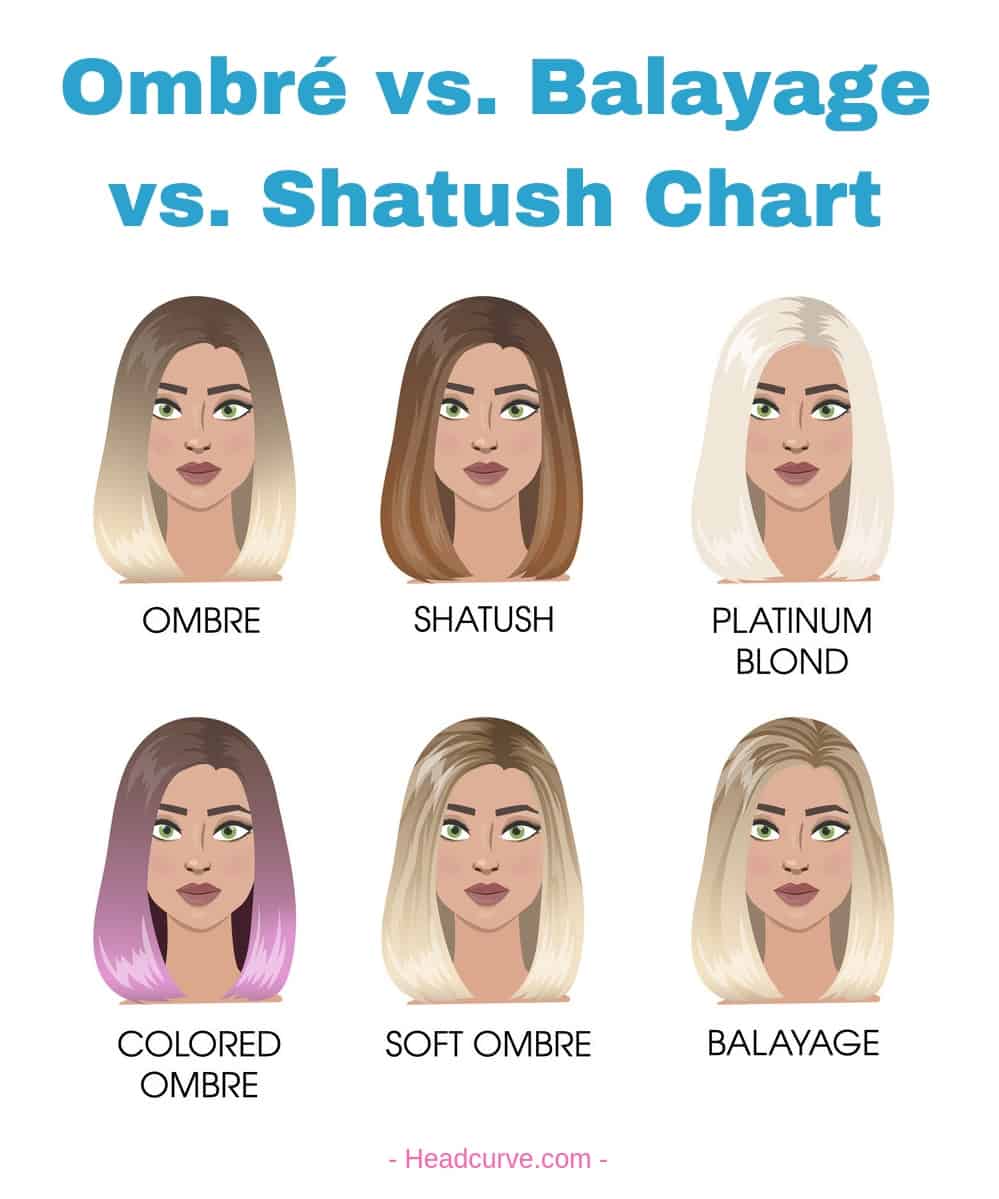 More Types of Balayage Hair Coloring Options for Women
1. Blue Balayage
Working off a base of short black hair or a bob cut of black hair, blue balayage adds intriguing color to your natural hair color. This stunning combination of colors includes undertones of violet, gray, and denim blue. Bright blue accents make the balayage really stand out and draw attention.
2. Pewter and Silver Balayage
Silver hair has traditionally been associated with aging. But now, thanks to balayage, it's becoming a trendy color for people of all ages. If you have long, straight, black hair, a pewter and silver balayage, with a few subtle hints of ash brown, gives your hair a beautiful and dramatic look. The silver and pewter shades add a bit of brightness and shine to your dark hair, while the ash brown keeps the overall tone cool, balanced, and subtle.
3. Ash Blonde and Lilac Balayage
A dramatic balayage look, and one that works on all hair colors, is ash blonde and lilac. This balayage color scheme can even be used on black and brown hair to change the base color. While the ash blonde helps to make your hair look brighter and shinier, lilac adds a dramatic pop of purple that adds some darkness to your hair to keep it from looking overwhelmingly bright.
4. Blonde Balayage
This type of balayage is ideal if you have medium-length brown to blonde hair. The colors in this balayage hairstyle change from a chestnut brown at the top of the head to highlights of a honey-golden blonde and a champagne blonde at the ends. Keeping the base color darker adds contrast to your face, while the lighter tones towards the bottom of your hair make your overall look brighter and more youthful.
5. Subtle Blend Balayage
Balayage can add dramatic color to your hair, but it can also be used to create a more subtle change. Going with a more subtle balayage is a great option if you don't want to have too much change all at once. It is also a good way to try out balayage to see if it's something that you like and that you want to experiment with more in the future. There are many different shades of balayage blends that you can try, such as adding a bit of caramel color to dark brown hair. Subtle balayage gives your hair just enough color and brightness to give it a sun-kissed look, but it is still low-key enough to wear around the office and in more formal or professional settings.
6. Blonde Bob Balayage
You might think of balayage as a hairstyle trend for longer hair, but it works just as well on shorter hair, too. The complex and sophisticated colors of a blond balayage make an already modern and edgy bob cut look even more dramatic. The sleek layers that the blond balayage creates also means that your hair can easily be worn up or down, and it has a classy look that can take you from one event to the next. With its versatility, the blond bob is one of the most sought-after types of hairstyles/cuts for balayage coloring for women.
7. Silver Blonde Balayage
A silver blonde balayage, which is lighter than a blond balayage, is a natural choice for graying hair or hair that is a lighter blonde color. This balayage adds just a bit of darkness to the roots to give your hair contrast, dimension, and weight. This texture and color combination looks best on hair that is fine and thin.
8. Medium-Brown Balayage
This type of balayage is ideal if you have medium-length hair that is medium to dark brown. This type of balayage adds lightness and color to the strands of hair around your face. The lighter shades of the balayage then continue down to the ends, getting progressively lighter along the way. Around your head, the color starts out darker at the roots and ends in lighter honey-colored and caramel tones at the end. The brighter strands act as a face frame, while the lighter balayage at the ends of your hair helps to give your hair a lighter appearance.
9. Brunette Balayage with Soft Highlights
Another good option for those who have brunette hair is soft highlights at the end. The highlights can either be a lighter shade of brown or blonde if you want more of a contrasting look. Either way, the color change will be enough to give your hair a brighter, refreshed look without creating an overwhelming change.
10. Rose Gold Balayage
One of the trendiest colors in balayage today is rose gold. Rose gold is noted for its versatility and the fact that it works well on a range of hair colors, including black and blonde. Rose gold is a combination of blonde with reddish-pink tones. It can add a bit of youth and intriguing color to graying hair, and it can also add a fun element to traditionally blonde hair. The shimmering pink in rose gold balayage can also add a subtle and pleasant brightness to darker brown or black hair.
11. Gray-Blonde Balayage
Gray-blonde balayage is a unique color that works well on a variety of hair colors. When used on graying hair, it adds a bit of shine and lightness from the blonde strands to offset the look of a darker gray head of hair. When used on blonde hair, the gray adds a bit of contrast and allure by making your strands look a bit edgier and more modern. Gray-blonde balayage can also be used to lighten up and add dramatic change to a head of dark hair.
12. Caramel Balayage
Caramel balayage is a good choice if you have darker hair and you're looking for a more dramatic contrasting look. Caramel is ideal because it contains complex shades of brown and even darker blonde. This versatile balayage style works on all hair types and lengths too, which adds to its appeal. This type of balayage works on straight, wavy, and curly hair, and unlike some colors, this color choice can even look better as your hair grows out. With caramel balayage you don't have to put much effort into making your hair look presentable, as the stunning contrast of the high and low tones creates a dramatic effect on its own.