Need inspiration for gray hair? Check out these 9 different types of gray hairstyles and cuts for women. Celeb examples included.
Welcome to our extensive photo gallery showcasing 100's of gray hairstyles for women.
Women used to do everything they could to hide their greying hair. Nowadays, this color is a hot fashion trend. There are plenty of fun ways to style silver hair and other hues.
If you have naturally gray hair, learn how to take care of it to make it shine and get rid of yellow hues. Getting the right hairstyle will also make a difference.
It's true that since the beginning of time, gray hair has always been associated with old age. Many women dread the day their hair turns gray and tend to flip out when they spot the first white strand. But on the other hand, there are several women who purposefully dye their hair with shades of gray. The reason? Well, because that's how elegant and stylish this hair color actually looks.
If you are really shy of your graying hair, then you can dye them permanently to a different color. But why subject your otherwise healthy hair to harsh chemicals when you can rock the change on its own? If it's a sign of aging, then take some inspiration from our gallery featuring celebrities who wear their gray hair with pride and style. And if you are in the mood for experimenting and are looking for hair color to make the next fashion statement, then take a look at why gray might be a good choice to consider.
Check out these stunning examples of celebrity-approved, beautiful gray hairstyles for women that have been spotted at the red carpet and other similar events.
Photos
Dascha Polanco who plays Dayanara Diaz in the hit American TV series, Orange is the New Black, can be deemed as a trendsetter who introduced gray hair color in contemporary fashion, back in 2014. Inspired by her hairstylist who used to wear a gray wig, the actress decided to sport the color herself as well. However, instead of whitewashing her hair with gray, she went for a color gradient for a more natural and fascinating look. Orange is the New Black? More like gray is the new black!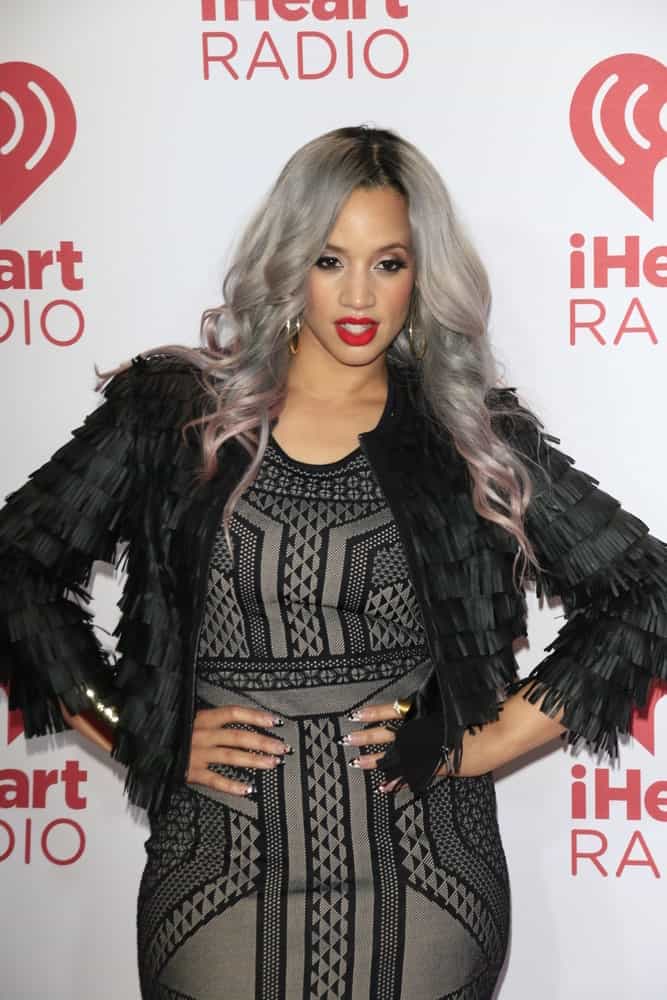 While she wore her dyed gray hair in a ponytail with bangs at the ALMA Awards in Pasadena, CA, here we see Dascha Polanco flaunting her new hair color by simply wearing them in a down-style. After neatly center-parting her hair, she tossed them in front of her shoulders to let the gray glory shine upfront. The ends have been slightly tousled to add more volume and texture whereas the light mauve lowlights further up her glam game.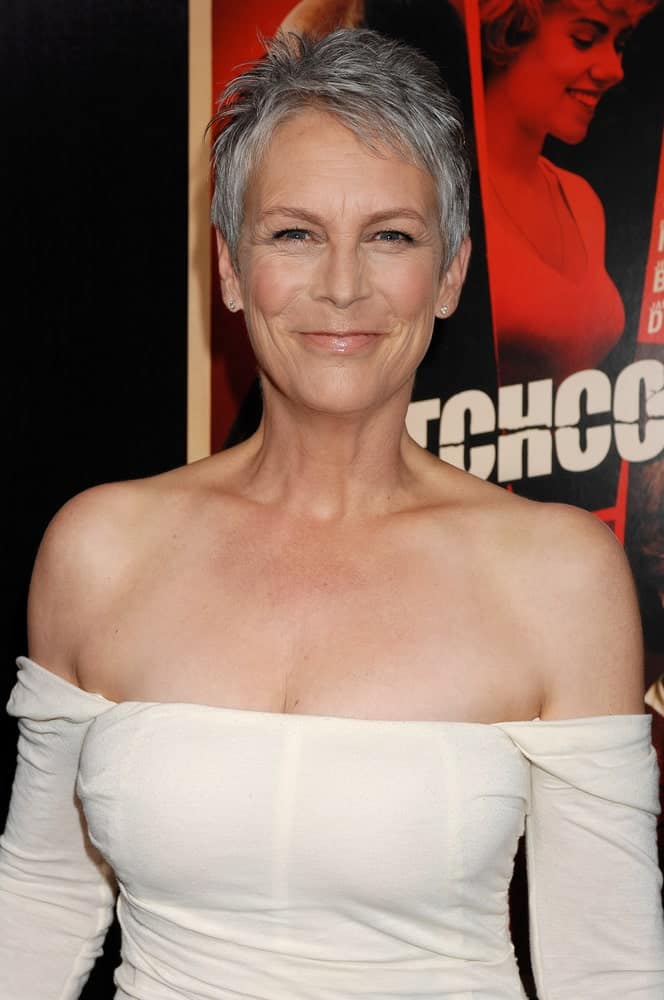 Jamie Lee Curtis is one of those older Hollywood stars who aren't afraid of hiding their age and wear their naturally grayed hair with beauty and confidence. Short haircuts are usually her go-to style because it gives a fresh and perky look and significantly cuts down on her actual age. Here she can be seen wearing her slowly graying hair in a pixie cut and completely rocking the style.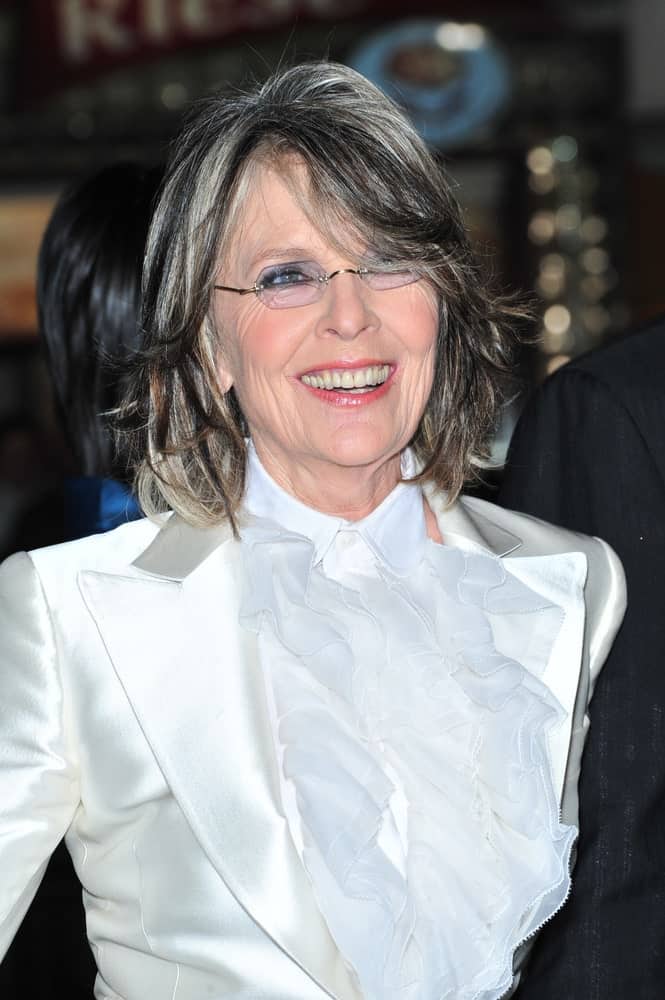 Graying of hair is a natural phenomenon and bound to occur at some point or another. So, when your hair starts turning white, you have two options: panic and shy away from the change or embrace it with boldness and style. For instance, Diane Keaton demonstrates that salt-and-pepper hair actually evokes beauty and grace and make you look wise and smart.
Captured less than a year ago, this picture shows that Diane Keaton is true to her words. She doesn't perceive hair turning gray to be a very big deal and thus, didn't once consider hiding them with darker dyes. She prefers to wear her now completely grayed hair in a shoulder-length cut coupled with a few layers to look exquisite beyond words.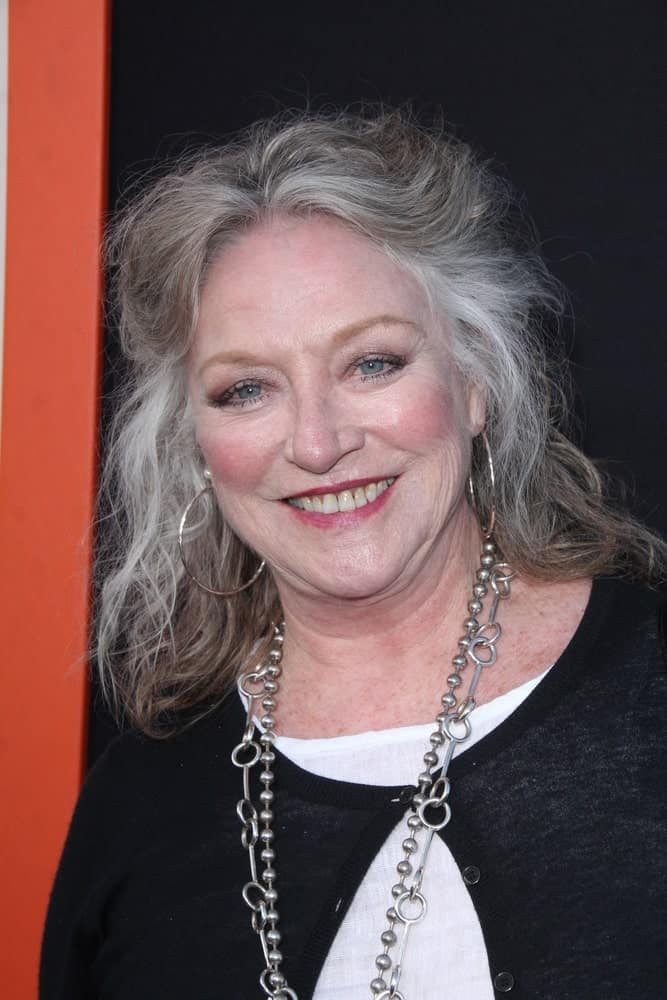 This 'organic' hairstyle sported by Veronica Cartwright is au naturel in every sense. Not only do we see the patches of gray in her dull brown hair, but she hasn't spent much time in styling it either. Instead, she has simply clipped back a few locks to create this easy-going half-up-half-down hairstyle that looks impressive despite the simplistic approach.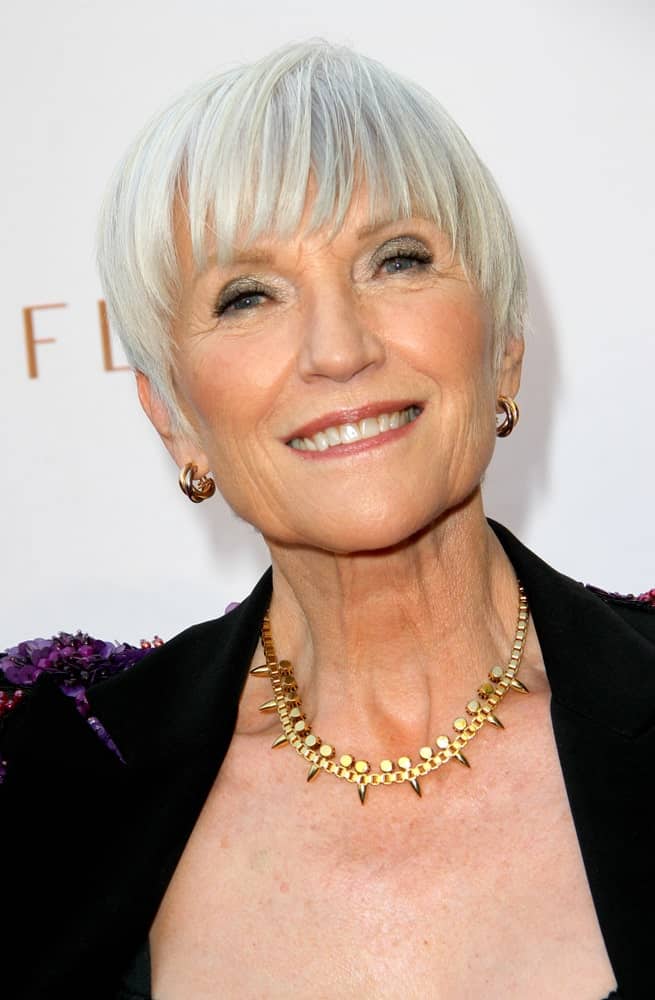 Maye Musk is oozing panache and grace in this uncomplicated and trouble-free hairstyle for women with gray hair. While she has cut her straight and silky, silvery-white hair at the ear-level, she has gone for deep eye-skimming and airy-separated bangs to cover her forehead and make her look impressive.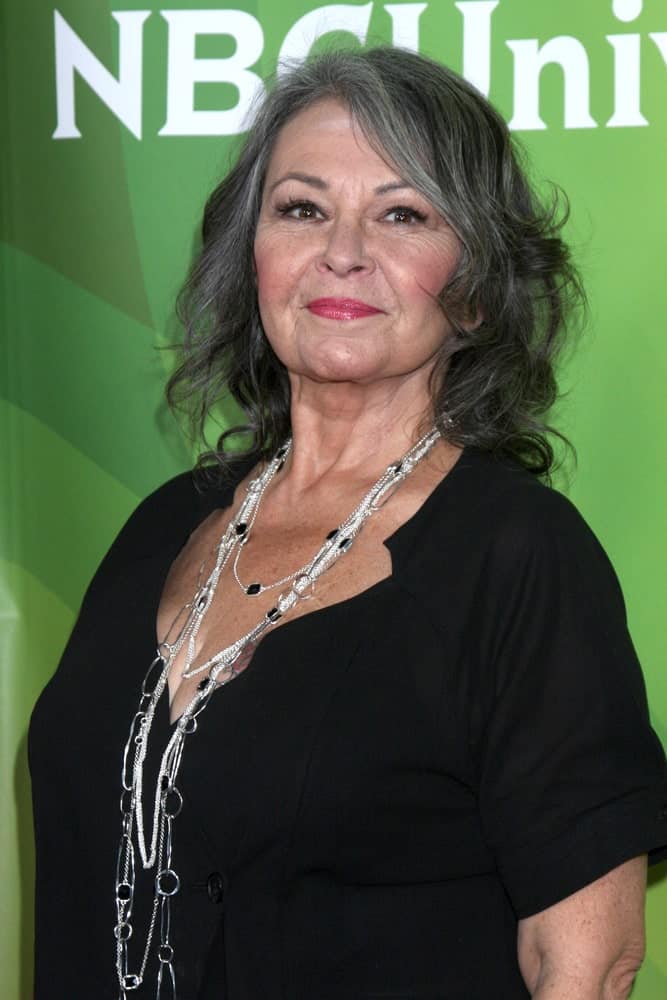 Another style for frontal hair turning gray (or alternatively for getting gray streaks at the front) is to combine the look with loose and bouncy curls worn in a side-parted style. The slightly messy hairstyle is the right mix of elegance and casual.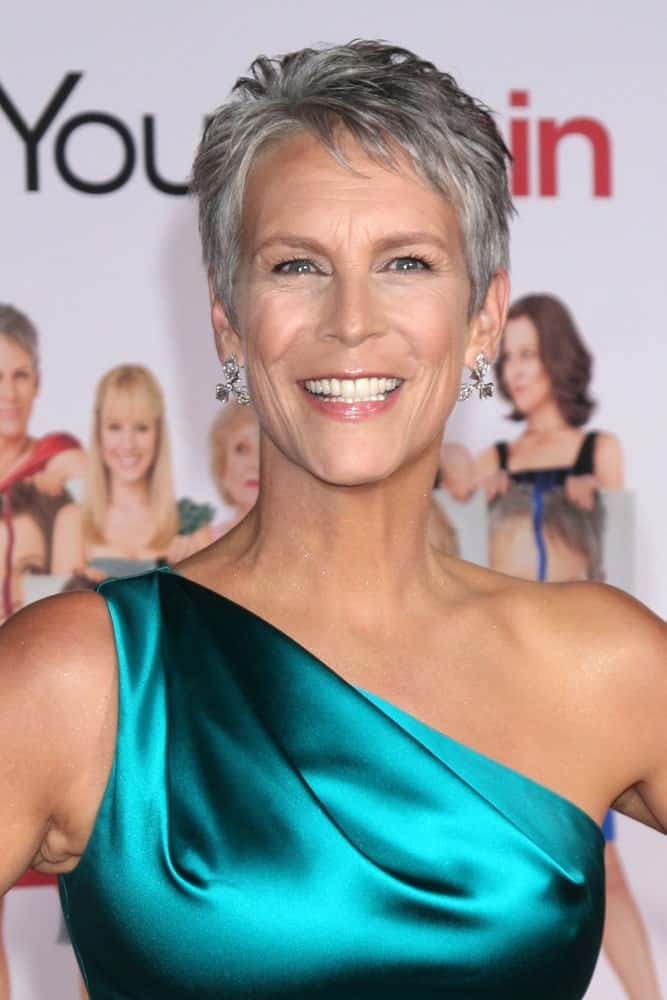 This elegant gray hairstyle for women over 50 is beauty and grace personified. The American actress, author, and activist, Jamie Lee Curtis sported this really short pixie cut with baby bird bangs at the 'You Again' World Premiere in Los Angeles, CA.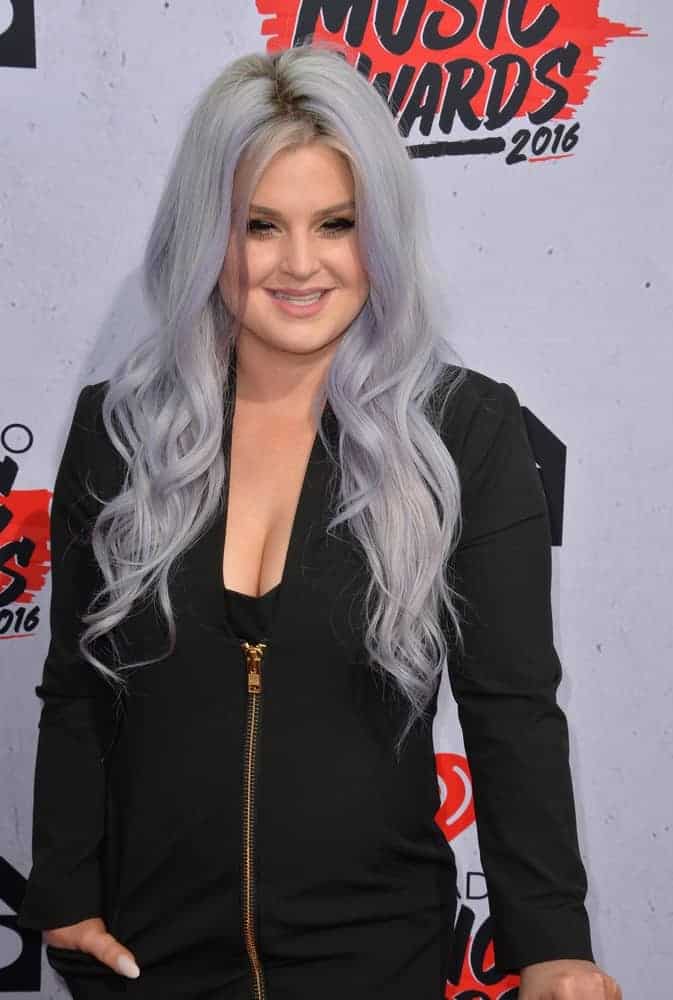 Kelly Osbourne at the iHeartRadio Music Awards on April 3, 2016, as a TV presenter, boasting long silver hair.
Click here for Kelly Osbourne's hairstyles over the years
---
Short Gray Women Hairstyles
Keeping your hair short opens a lot of possibilities if you want a fun and edgy hairstyle. It also means less maintenance, which makes taking care of your dyed hair a lot easier. These are some of the most original and versatile short styles for gray or silver hair.
Bob Cut
The bob cut is a great choice if you need something that is both fun and professional. A bob cut gives you a little bit of length and allows you to create a very feminine look. You can choose to part your hair in the middle, on the side or opt for bangs. A choppy bob would be perfect if you have fine hair!
Pixie Cut
There are many different types of pixie cuts. This is a popular style for silver hair and other light hues. A pixie cut creates some layering and texture, which gives an interesting dimension to this color.
Short Boyish Cut
Jamie Lee Curtis' short boyish cut was the perfect choice for her greying hair. This style requires virtually no maintenance and is a cute and versatile way to style your hair.
Long Gray Hairstyles
The right hairstyle can really make your hair look glamorous. Longer gray women hairstyles are ideal if you are not ready to chop your hair off or if you would like something that looks more feminine. Keep your hair long if you like braids, ponytails, and just want more options when you style your hair.
Layered Bob
The layered bob style is sometimes called a lob. This style is similar to a bob but with more length. The layers add some texture to your hair and will help draw attention to the different hues in your hair, whether your silver color is natural or not. This style would be particularly interesting if you are thinking about dying your hair with different shades of silver.
Beachy Waves
Beachy waves are a classic flirty look – and they are not just for summertime. This style will require more maintenance unless your hair is naturally wavy. This is a fun style you can easily create at home with a curling wand.
Medium Layers
If you have medium length hair, think about adding some layers. Any hairstyle with layer is a good choice if your hair is starting to show signs of age since the greying process is usually not uniform. Layers are also a great way to reveal the different hues of a hair dye. You can choose to add more structure to this hairstyle with some bangs, or by combining shoulder-length layers with longer ones.