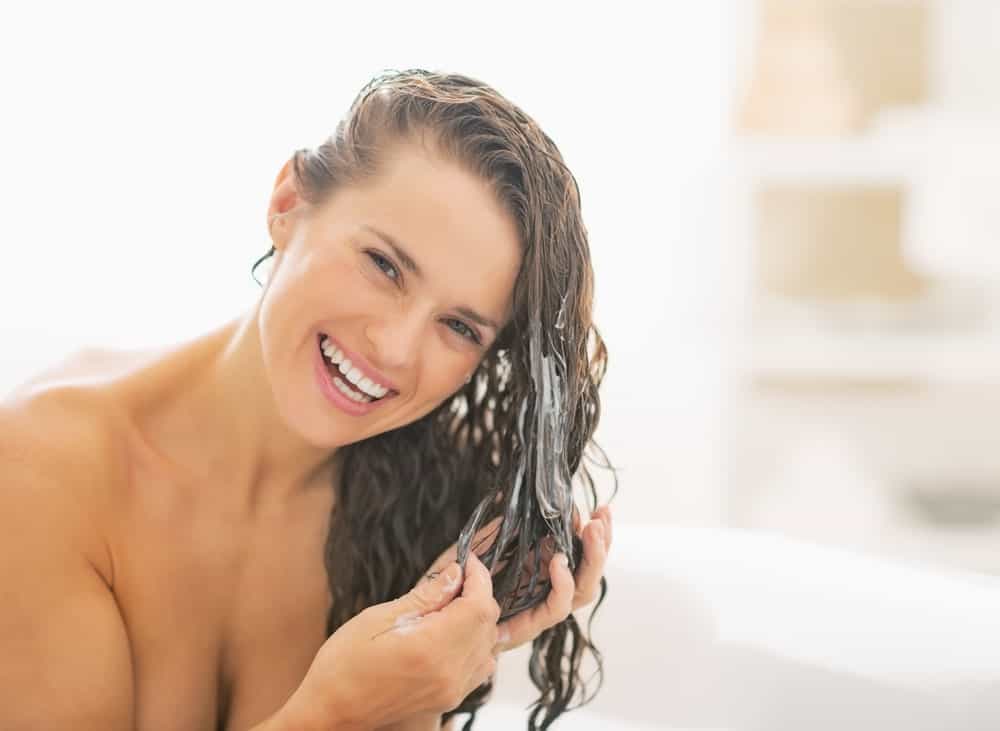 Curly hair can be a literal pain especially when combing or brushing. Curly hair is drier than straight hair. It lacks the oil and nutrients that make straight hair stay straight. When curly hair becomes especially dry, it turns into a frizzy mess.
That mess leads to tangles and tugs at the scalp that are downright painful. It also can lead to additional hair loss due to all that pulling, tugging, and tangling. The problem is even worse if you live in a very dry climate.
Fortunately, the wide world of hair care products recognizes problems afflicting curly and frizzy hair. Careful selection of the right hair conditioner can greatly improve and control your frizzy and curly hair. The following are 10 of the best hair conditioners for curly hair.
PURA

D'OR

Curl Therapy Conditioner
If you enjoy using  Earth-friendly products, PURA D'OR's Curl Therapy Conditioner is your best bet. It uses only organic ingredients that moisturize your hair and evens out frizzy hair. Its linseed extract helps you to grow thick and shiny hair. Aloe blended with kukui seed oil nourishes your hair and gives it a great glow. Some of the more particular benefits include:
Better bounce and definition.
Sulfate-free formulation.
All-natural and organic ingredients.
PURA D'OR is one of the first Earth-friendly beauty and personal care product lines. The company focuses on purity in every bottle, peace with Mother Earth, and proven results for its customers. PURA D'OR produces pretty products that are sustainable and environmentally friendly in their production, use, and disposal.
Matrix

Biolage

Cleansing Conditioner for Curly Hair
The Matrix Biolage Cleansing Conditioner for Curly Hair is a one-step system for cleansing, moisturizing, and controlling curly and frizzy hair. The system is an alternative to traditional shampooing. Instead of shampooing, you simply wet your hair and apply the cleansing conditioner. Work it in and rinse it off after five minutes, and you have better, more manageable hair. Its particular advantages include:
Soap-free formula.
Infused with pomegranate to define curls.
Adds bounce and structure.
Matrix Biolage founder Arnold Miller used his more than 20 years' experience as a hair stylist to create the Matrix Biolage company. With close ties to Southern California and Hollywood, Miller served as the inspiration for actor Warren Beatty's hair-dresser character in the classic comedy film Shampoo.
DevaCurl

One Condition Original
DevaCurl's One Condition uses a formula that is thick and creamy. It nourishes hair with a combination of olive oil, rosemary, chufa milk, balm mint, and chamomile. Its sulfate-free formula prevents dry hair. That makes it better for hair that is non-porous and prone to curling and kinking in hot and humid conditions.
Special benefits include:
Thick and creamy.
No

parabens

or silicone additives.
Ideal for non-porous hair
DevaCurl has been an industry leader in detangling curly and frizzy hair for nearly 25 years. CEO Robert Schaeffler took the reins in December 2018. He immediately focused company efforts on international markets and expanding the brand overseas.
Kinky-Curly Knot Today Leave-In Conditioner and

Detangler
The Knot Today Leave-In Conditioner by Kinky-Curly uses a specially blended formula to soothe frizzy hair and smooth out the curls. Its detangler technology makes it easier to comb and brush hair after shampooing. That adds up to greater comfort as well as better looking hair. The products primary benefits include:
Herbal conditioner.
Removes knots.
Specially formulated

detangler

.
Kinky Curly is a minority- and woman-owned enterprise and among the first haircare companies to use all-natural ingredients to treat curly hair and textured hair types. Kinky-Curly founder and CEO Shelly Davis created the company to better fill a niche for specialized hair types and styles.
Maui Moisture Nourish & Moisture + Coconut Milk Conditioner
Nourish & Moisture + Coconut Milk is Maui Moisture's top conditioner for curly hair. Infused with coconut milk, the lightweight and blended conditioner prevents buildup on the scalp and hair. That makes your hair feel softer and look fuller and more vibrant. Other benefits include:
Infused with natural coconut milk, guava oil, and mango butter.
Only uses hand-picked tropical ingredients.
Includes a special blend of coconut water and aloe

vera

juice.
Maui Moisture CEO Todd Christopher is a third-generation hairstylist who dropped out of school to take up the family trade. He founded his first salon at age 22 and eventually branched off into hair-care products.
Seaweed Bath Co. Balancing Eucalyptus and Peppermint

Argan

Conditioner
You do not encounter any chemicals or man-made ingredients with Seaweed Bath Company's Balancing Eucalyptus and Peppermint Argan Conditioner. Instead, you get bladderwrack seaweed harvested directly from the Maine coastline.
The seaweed contains more than 65 vitamins and minerals that make your hair stronger and healthier. You also get jojoba and coconut oil, aloe, and Argan oil. The conditioner cleanses your scalp while nourishing your hair. Distinct advantages include:
It really does contain seaweed.
Detoxifying effect.
All-organic ingredients.
Seaweed Bath Co. cofounders Adam Grossman and Allison Grossman are a married couple in Maine. Adam's search for an alternative treatment for his dry skin condition led to his discovery of seaweed. The couple hand-harvests seaweed from the Maine coastline and infuses it in their haircare products.
Aveda Be Curly Conditioner
If you like thick conditioners, the Aveda Be Curly Conditioner is ideal for you. Its texture is like custard. That helps it to penetrate and tame curly and frizzy hair with glycerin, sunflower seed oil, wheat protein, and other beneficial ingredients. Among its many great assets are:
Wheat protein and aloe nourish dry hair.
Fragrant plant essences.
Convenient and portable packaging.
Aveda's early roots date back to its founding in Minnesota in 1978. Initially, a small regional company, its popular haircare products propelled it to national and now international prominence. Aveda now is one of the most recognized international haircare brands. Aveda global general manager Barbara De Laere says she first gained interest in a business career at age 14. She wrote to leaders of various companies seeking their insights, which motivated her to massive success today.
TRESemme

Conditioner Flawless Curls Curl Hydration
TRESemme's Conditioner Flawless Curls Curl Hydration works best with wavy hair that loves to coil up. Just 2 minutes of working it evenly through your hair will help prevent tangling and frizzy ends. Many users dilute it to preference when applying it, which helps to make the conditioner last longer. Among its best features are:
Targets dry areas with additional moisture.
Vitamin

B1-enriched

for daily use.
Enhances hair-styling potential.
TRESemme founder Edna L. Emme broke through many barriers. Emme began as a machine operator and rose to She founded TRESemme in 1948 and created a lasting example for all strong, intelligent, and beautiful women to follow. Emme directly influenced the national and global hair and beauty industries with her influence in Washington D.C. and as leader of the National Hairdressers and Cosmetologists Association.
L'Oreal

Paris

EverCurl

Hydracharge

Sulfite-Free Conditioner with Coconut Oil
The EverCurl Hydracharge Sulfite-Free Conditioner with Coconut Oil does away with sulfites that remove moisture from your hair. People with curly and frizzy hair can use the EverCurl shampoo and conditioner system for the best results. Both are free of moisture-robbing sulfites to give your curls more body and bounce. Among the conditioner's features are:
Delivers moisture up to 48 hours after use.
Ideal for hydrating hair to eliminate frizz.
No

parabens

.
L'Oreal was founded in 1909 and has grown into the world's largest skincare and haircare products maker. Its global brand value reached nearly $24 billion in 2017. It continues growing globally at a better than 4 percent rate.
Mixed Chicks Curl-Defining & Frizz-Eliminating Leave-In Conditioner
Evening primrose and jojoba seed oils combined with wheat amino acids enable Mixed Chicks Curl-Defining & Frizz-Eliminating Leave-In Conditioner to tame frizzy hair. It gives body, bounce, and shine to your curls and helps your hair hold up better on hot summer days. Some of its greatest benefits include:
Outstanding

detangler

.
All-natural hydration.
Protects color-treated hair.
As the company name implies, Mixed Chicks was founded by two multi-racial women Wendi Levy and Kim Etheredge. Its mission is to effect multicultural revolution while taming curly locks. The Los Angeles-based business enjoys strong support among celebrities and is a cruelty-free beauty company. That means it does its best to ensure none of its products engaged in testing on animals or cause harm to any animals or others during development and afterward.
Choose Wisely for Best Results
While each product listed contains a brief list of its particular advantages, none have any real disadvantages. Virtually all of them do very well as designed. The only real precaution is to make sure you are buying the genuine product.
All of the 10 listed above are so good at managing curly and frizzy hair that virtually all of them have counterfeit versions. The counterfeit products are made by third parties looking to profit off each brand's legitimate product. If you see a deal that looks too good to be true, it very well may be a knock-off instead of the real product. A knock-off will be of much lesser quality and might damage your hair.