Here it is... the best men's hairstyles and haircuts. This extremely informative guide sets out the 34 different types of men's haircuts and styles with photo examples.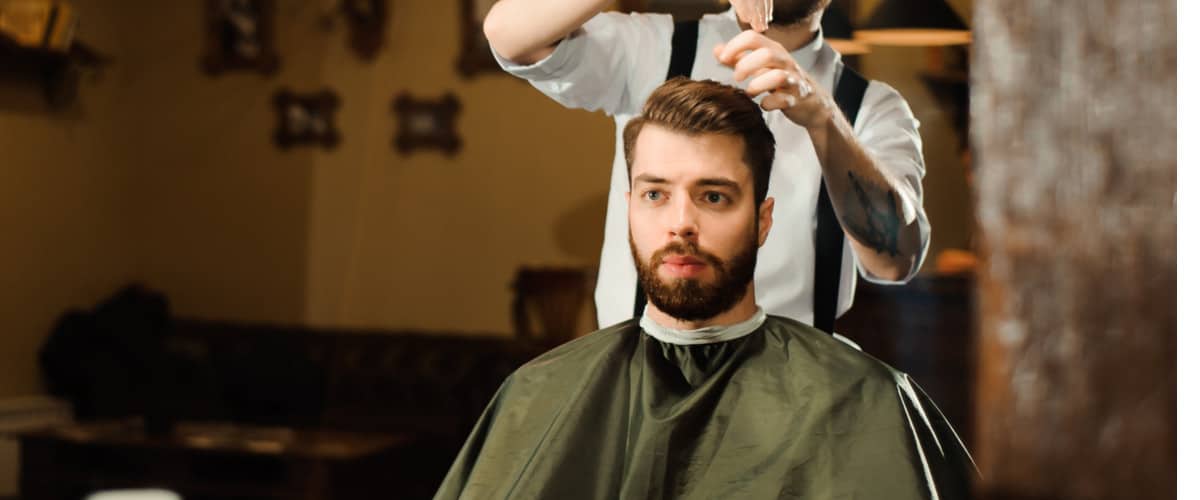 A hairstyle can make a huge impact on how people see you and on how you see yourself. Don't believe it? Look at this picture: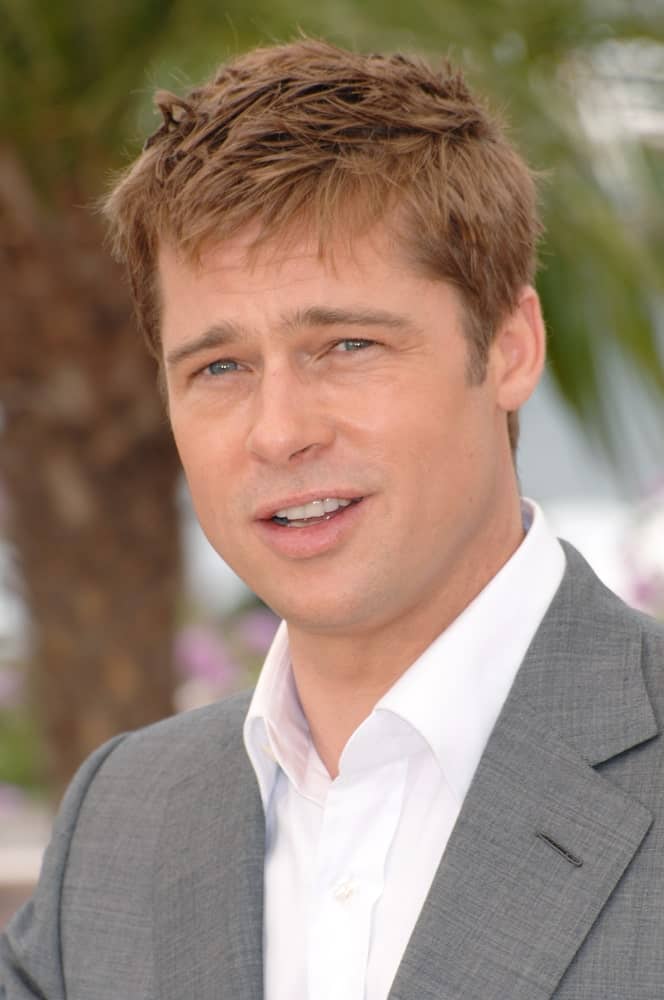 Brad Pitt in a white shirt with a gray blazer sporting a short hairstyle.
versus this one: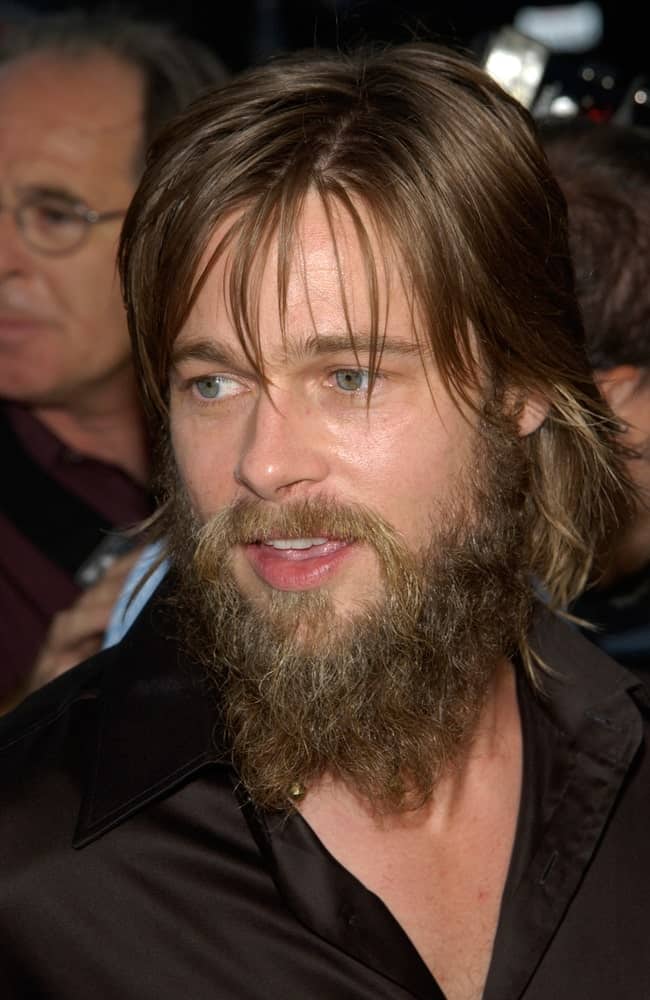 A long-haired Brad Pitt in a black shirt. He has a thick beard as well.
The right haircut reminds fans of why Brad Pitt has been a Hollywood style icon for decades. The wrong hairstyle, coupled with a scraggly and unkempt beard, makes people think: "Huh, that homeless man looks kind of like Brad Pitt."
How do you choose a complementary cut that works with your life? Hair length and texture are important. Another crucial factor many people miss is how much hair maintenance you're interested in doing. The good news is, in this era, there's a flattering cut out there for every man.
Short Haircuts
Short hair is generally cut at or above ear height. For certain styles, the hair at the top of the head may be somewhat longer. These cuts require less styling but more frequent visits to the barber.
Standard Cut
This is a standard haircut for men. It looks great for almost every men.
Ask a random man on the street to picture a 'short hairstyle' and they'll probably picture this. The Standard Cut, also known as a Regular Cut, Taper Cut, or Professional Cut, has a (sometimes undefined) side part. The hair on top is long enough to comb through, and the back and sides are various shorter to medium lengths. There's a good chance this was your father's haircut and your grandfather's. It may not be edgy and trendy, but it's a classic for a reason.
Fringe Cut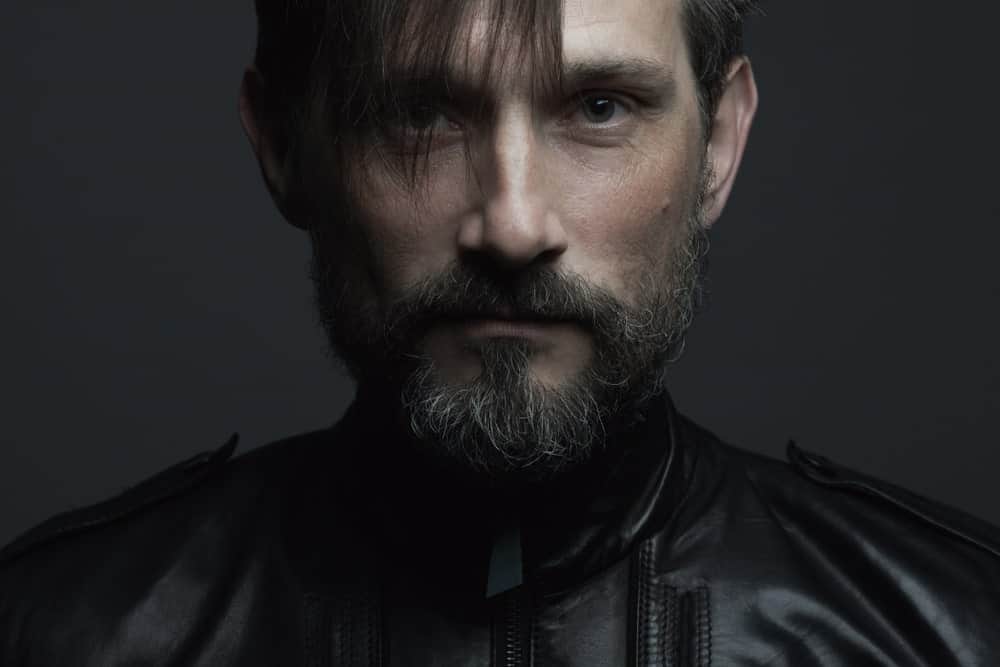 A 40 year-old man in a black leather jacket, flaunting a fabulous fringe cut.
Fringe can be added to a variety of other haircuts. Shorter fringes can look very professional. Meanwhile, very long and dramatically angled fringes are beloved by the alt crowd.
Caesar Cut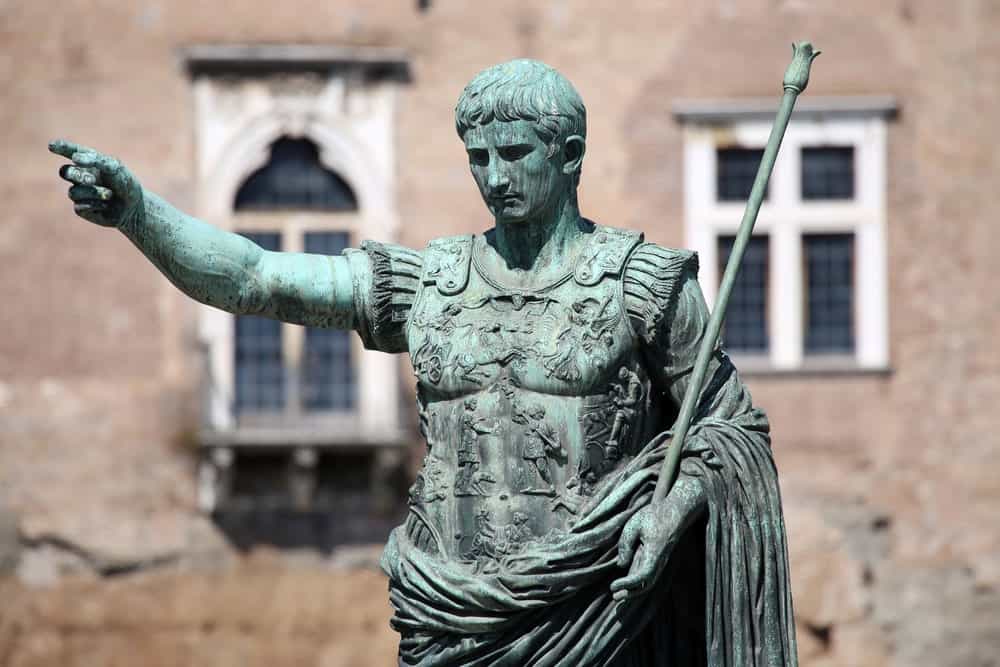 Julius Caesar's statue in Rome. His hairstyle is now a popular choice for men.
This haircut is inspired by the statues of the Roman Emperor Julius Caesar. It has short layers and bold, horizontal bangs that extend partway down the forehead. Due to the way the hair is cut, a Caesar can balance out a long face.
Slicked Back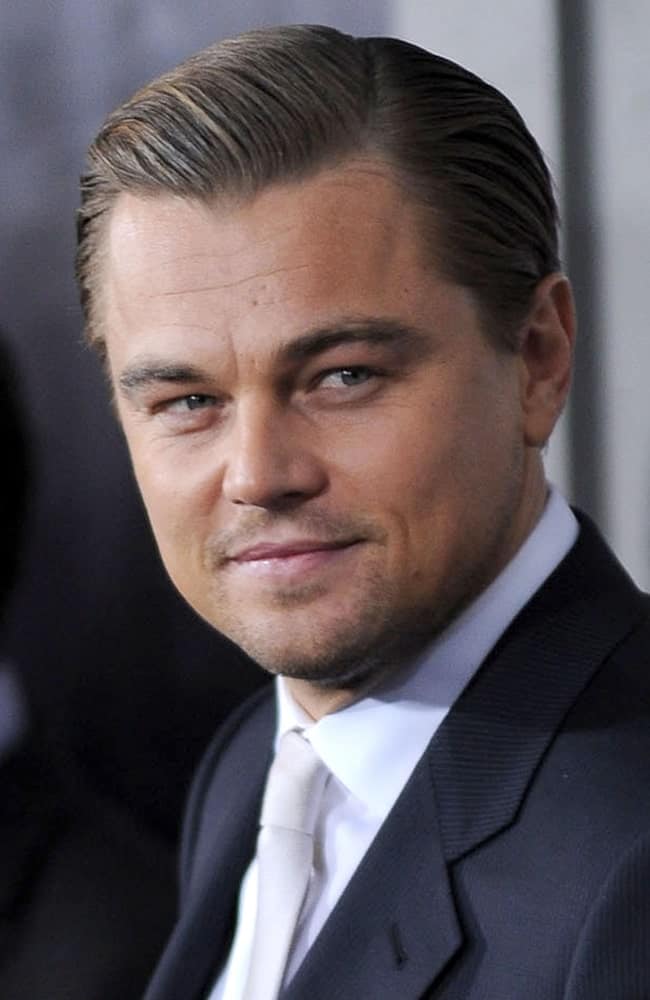 Photo of Leonardo Dicaprio at Shutter Island premier. He has a slicked back hairstyle.
This sleek style involves using a product to slick the hair down and out of the face. It can be used by people with a variety of hair lengths. This is a go-to for very busy men or those with higher maintenance hair, for those times they don't want to spend an hour messing around with hair gel. It can also be used to rescue a bad or unflattering haircut. Simply slick the hair out of your way until it can grow out a little.
Fauxhawk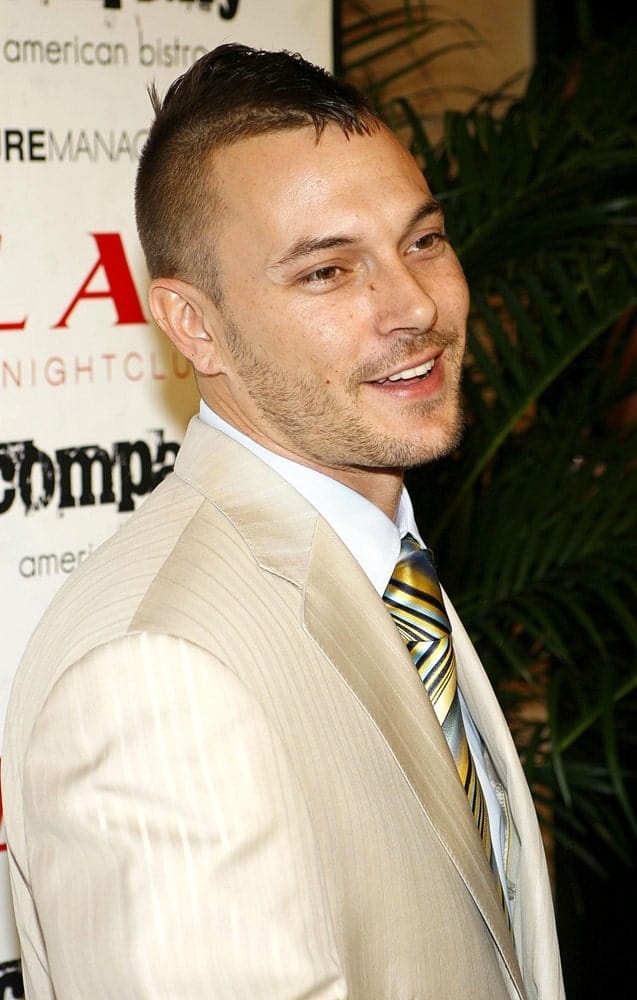 Kevin Federline at Lax Night Club, sporting a fauxhawk men hairstyle.
This hairstyle involves a ridge of hair along the top and back that stands upright. Unlike with a mohawk, the hair is typically a similar length and the sides are not usually shaved. This versatile option lets people transition between conservative work environments and an edgier life in their free time. All they have to do is 'raise the ridge.'
Comb Over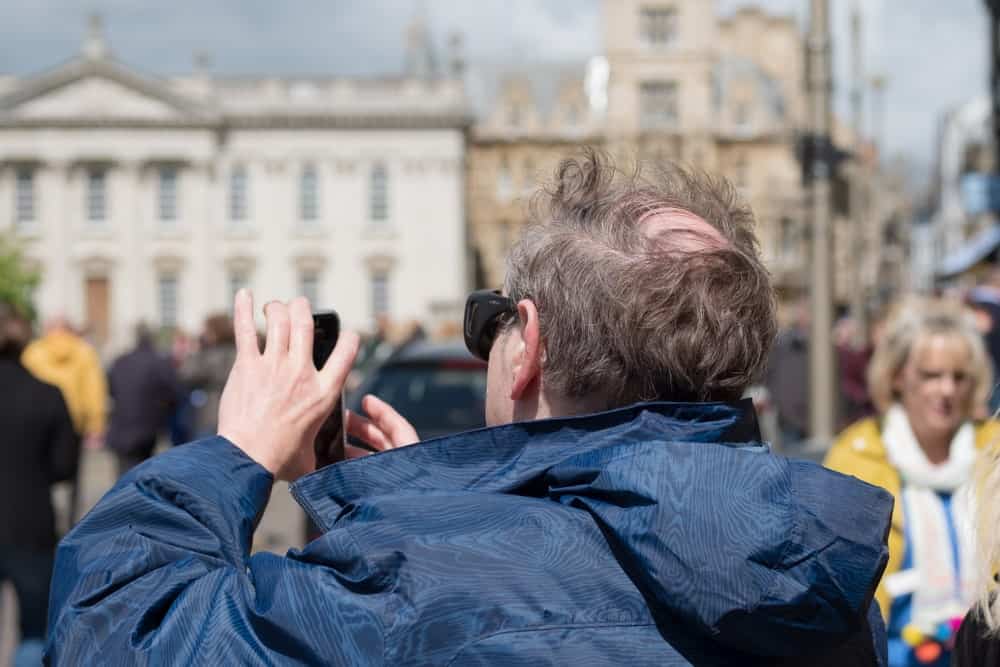 A comb over hairstyle of a man in a navy blue jacket, taking a photo in Cambridge, UK.
In this hairstyle, once popular among balding men, the remaining hair at the top of the head is grown longer and combed over the bald area. The product is usually used to keep the hair in place against the scalp. Sometimes this style is coupled with a low side part. This allows more volume of hair to be combed over. A man who relies on a comb-over would be wise to avoid stiff breezes and product-melting rain showers.
Long Hairstyles
Long hair is cut to the shoulders or lower. It has been a popular choice for everyone from surfers to Wall Street rebels. This is definitely not as 'wash and wear' as short haircuts, but a flattering long hairstyle can set a man apart from the crowd.
Man Bun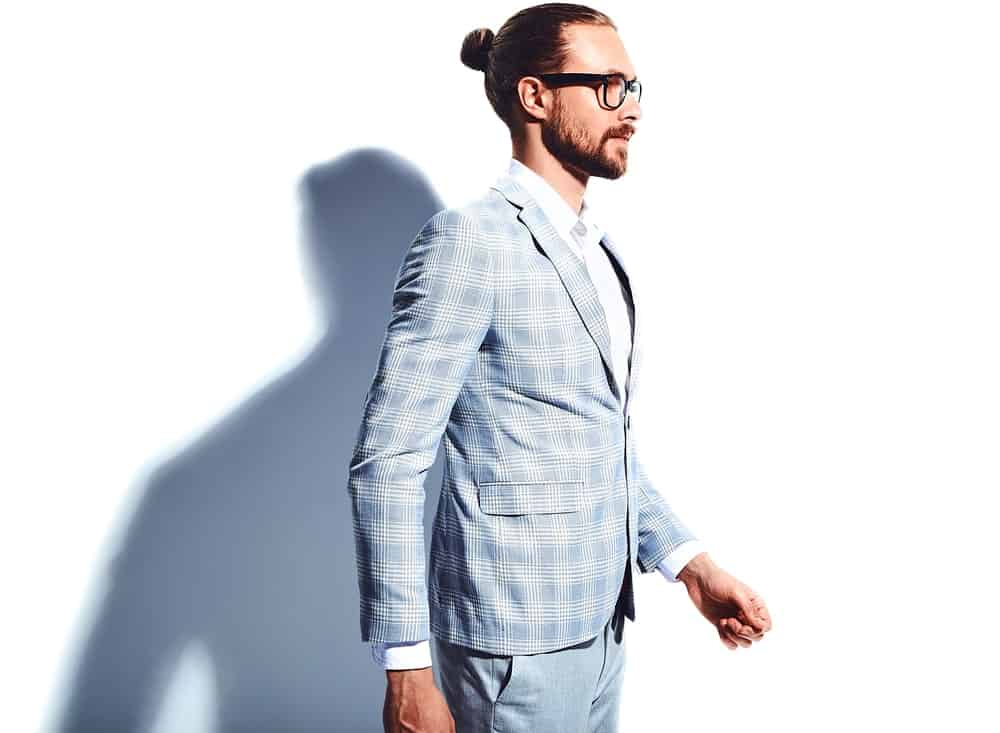 A look at a young businessman in a plaid blazer covering the white inner shirt on a white background with his shadow showing up. He has a beard and a man bun hairstyle, along with an eyeglasses.
What do you do to keep your shoulder length or longer hair out of your way? That dilemma led to the man bun trend. Some man buns are gathered up high on the head. A more casual version rests just above the nape of the neck.
Ponytail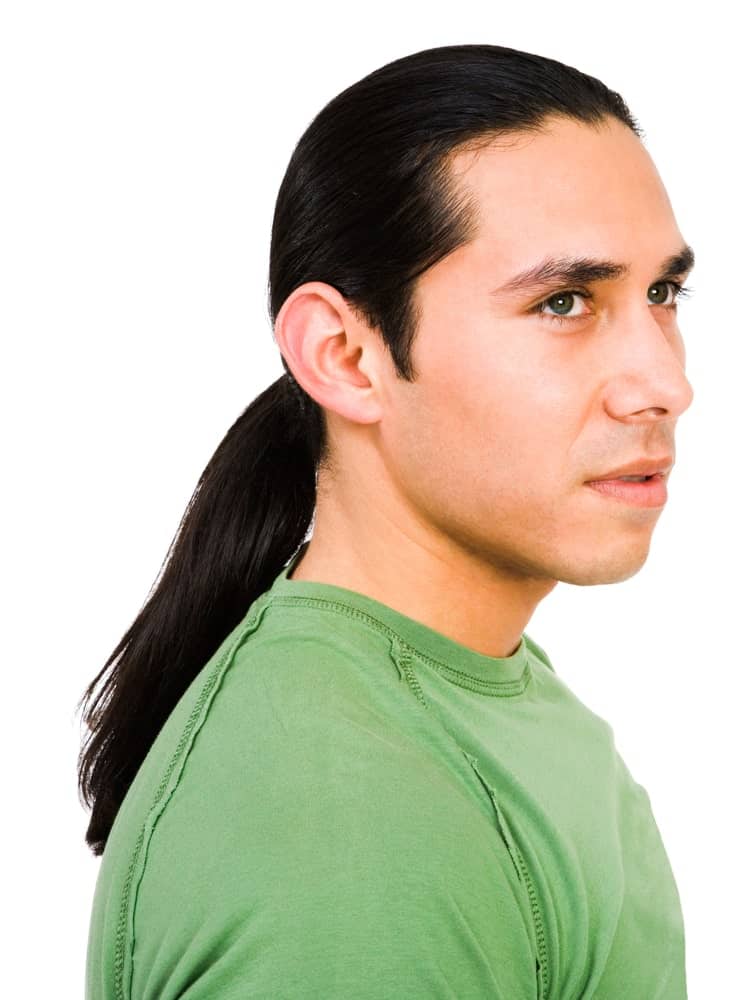 A young man in green T-shirt. He has a long black hair in ponytail style.
Ponytails function similarly to man buns. However, they tend to be a little more relaxed in the presentation. This can be a neat and clean look when the hair is all one length. It can also look quite casual if shorter pieces escape the elastic.
Braids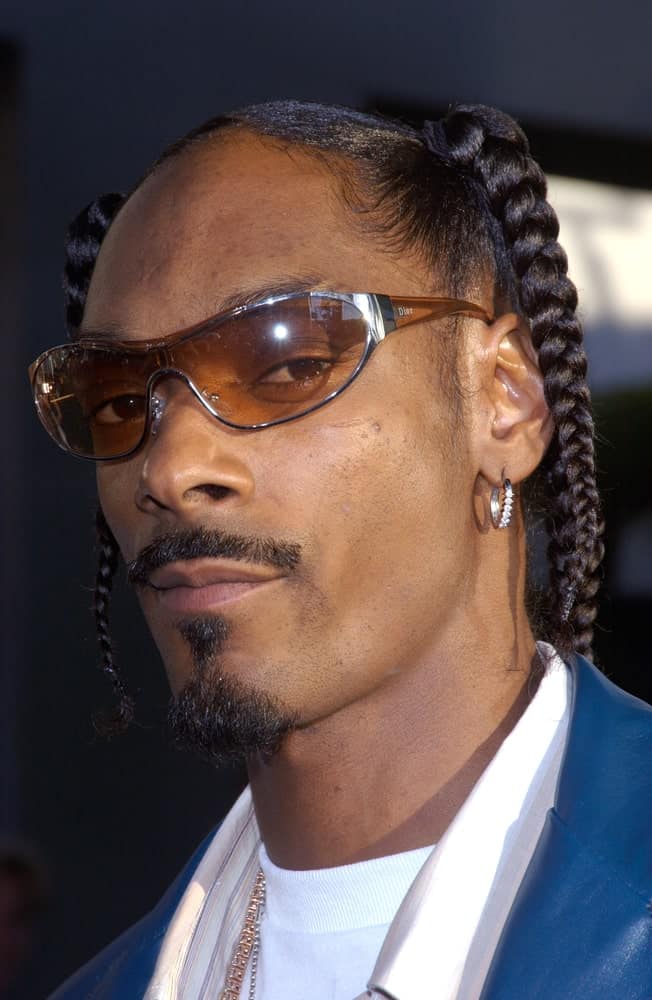 Snoop Dogg have always wear his favorite hairstyle, braids, since his younger days. Here's a look at Snoop during the premier of Catwoman in Hollywood.
A simple three-strand braid is a good way to corral very long hair. Meanwhile, cool cats and hot dogs have the confidence to pull off double braids. Vary the look by experimenting with French, Dutch, fishtail, and rope braid styles.
Shoulder Length Hair
Keanu Reeves has been sporting the shoulder-length hairstyle for men for quite some time. Here he is, wearing his usual look at Netflix's "Always Be My Maybe" World Premiere at Regency Village Theatre, Los Angeles, California.
This is a popular choice for long haircuts. The hair has enough length to be pulled back into a ponytail or man bun for convenience. However, it's not so long that keeping the hair clean and detangled is a challenge. Layers cut into the shoulder-length hair add dynamic motion, while blunt cuts are easier to tame into a sleek ponytail.
Long Layers
The good thing about a long hair with layers is that you can transform it into a man bun style or leave it as a messy hairstyle.
Long hair has one singular problem: the weight of the hairstyle tends to pull it flat along the length. This can result in limp, lifeless, or even stringy looking hair. Long layers can help by removing excess weight and adding volume toward the head. They are a useful cut for men who tend to wear their hair loose. However, long layers can escape man buns, making a messier hairstyle.
Mixed Length Hairstyles
These hairstyles all combine elements of short and long haircuts. They throw out the old rules about what a haircut should involve and create something individual and full of personality. Many of these styles require extra maintenance or product use to keep them looking good.
Pompadour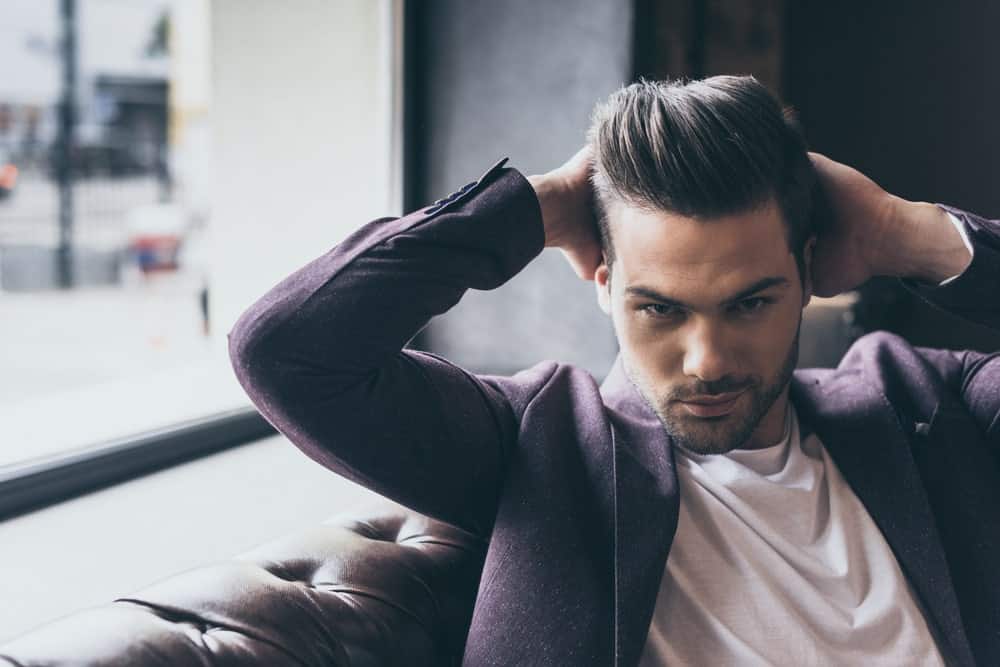 The pompadour is a classic among men's hairstyle. Here you can see a man in a white shirt and a blazer flexing his classic pompadour style.
Some men take up the tradition of style greats like James Dean or Elvis and choose this voluminous hairstyle (closely related to the Greaser). The hair is cut shorter at the sides, but length must be kept at the front and top to create the iconic bump. It requires strong hair products and a fair amount of time to achieve. However, the base haircut can also be simply slicked back when the wearer doesn't have time to get that pomp in place.
Quiff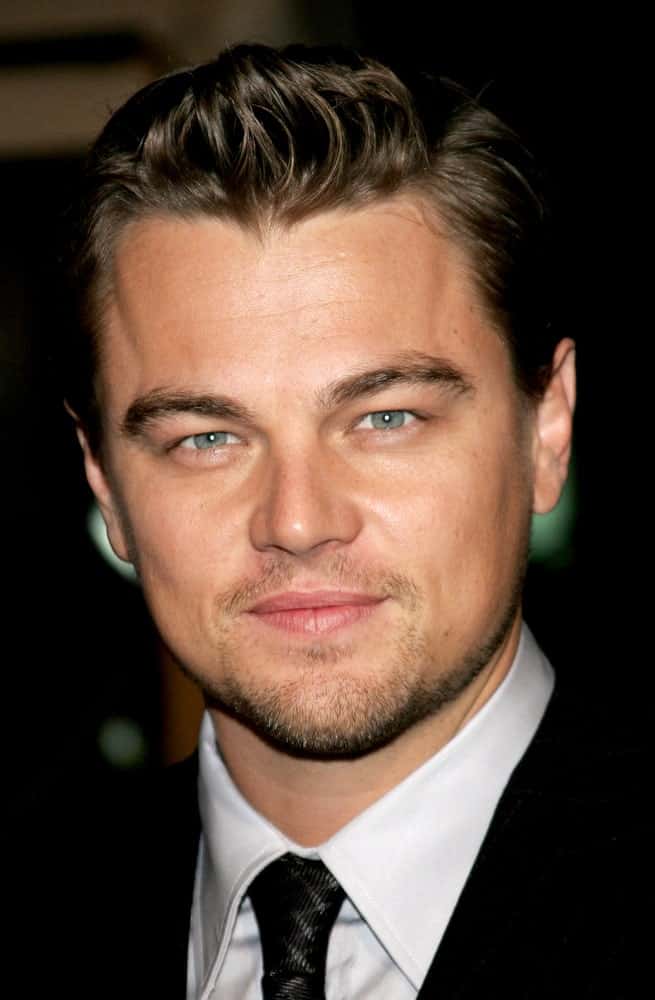 Leonardo Dicaprio at the premier of 'Blood Diamond' in Los Angeles, California. He was seen sporting a bold quiff hairstyle.
What happens when you combine a pompadour, crew cut, and a mohawk? This style involves a trimmed back and sides. The long hair atop is often cut in angled layers. It is then styled into a dramatic wave, vertical point, or messy pomp. Like the mohawk, this bold haircut requires styling products to achieve its full height and potential.
Wings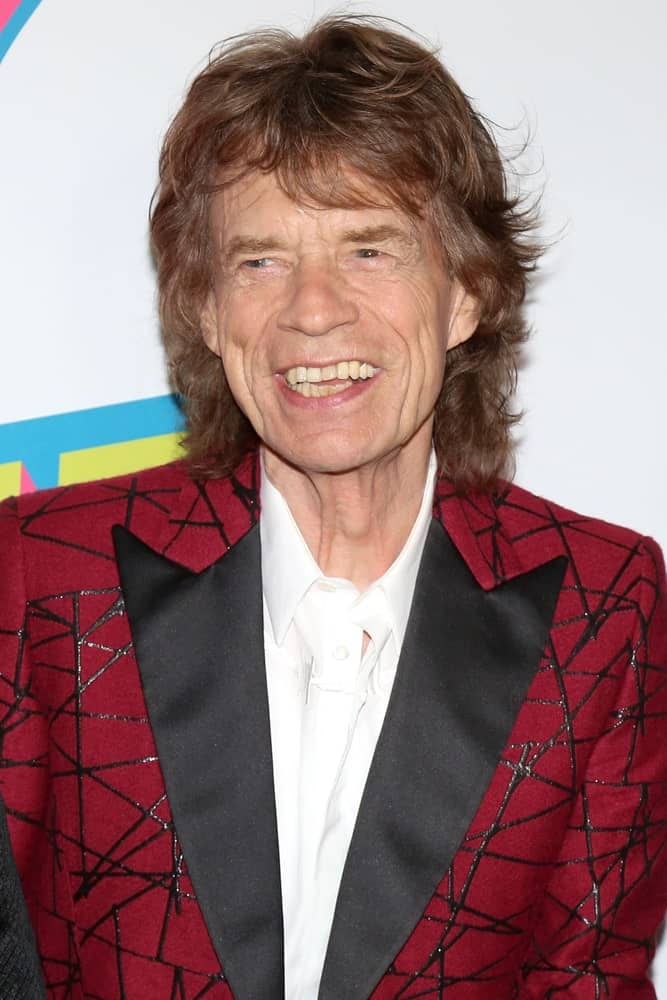 Wing men hairstyle is often called flow, which is a great fit for men with curly or wavy hair. It was popularized during the era of the Beatles.
This cut is also called a Mod Cut, Flippies, or Flow. The hair in this style is cut longer at the bottom, with an aggressive layering of the sides and back. On curly or wavy hair, the pieces over the ears flip outward like wings. When this style debuted in the Beatles' era, it had a center part and symmetrical fringe. The modern interpretation often uses a side part and an angled fringe that swoops over the eyes.
Spiked Haircuts
These hairstyles come in two varieties. First, there are the highly textured cuts that use a variety if hair lengths to create a spiky look. However, the more iconic (and highly visible) haircuts are the ones that rely on a product to shape hair into distinctive spikes. Punk rock has given us two pointy trends: Mohawks and Liberty Spikes.
Mohawk Haircuts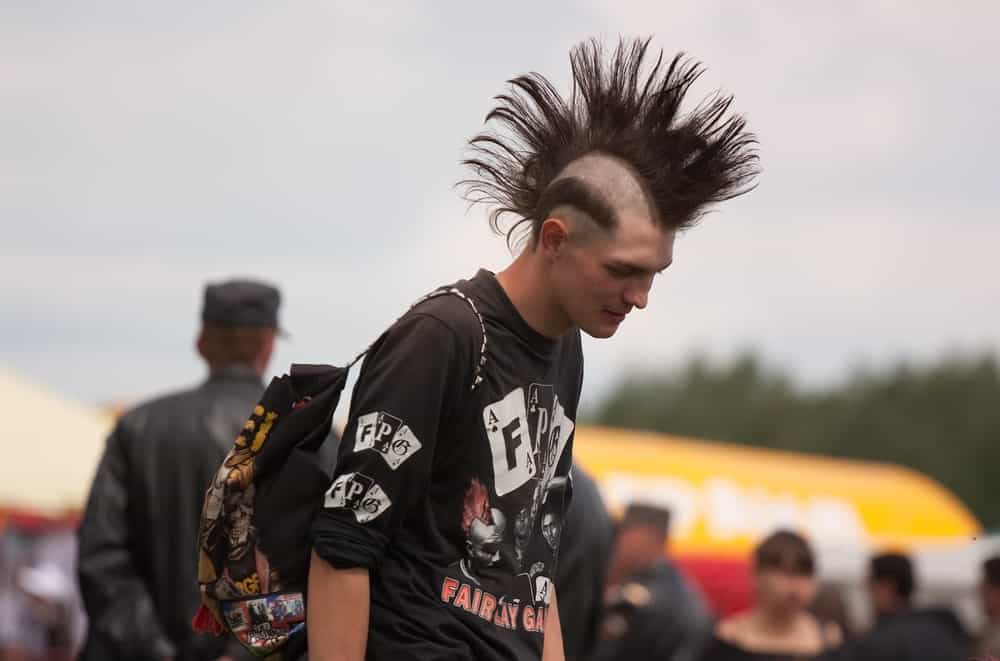 The mohawk hairstyle is very popular for people who sport a street-style fashion. It is usually paired with a strong gel or wax.
A stripe of long hair is left along the top. It is styled into tall, pointed spikes with generous use of hair gel or strong waxes. The sides of the head are usually faded or shaved off completely. This is a dramatic, high impact cut that can transition into a high man bun for more casual wear.
Liberty Spikes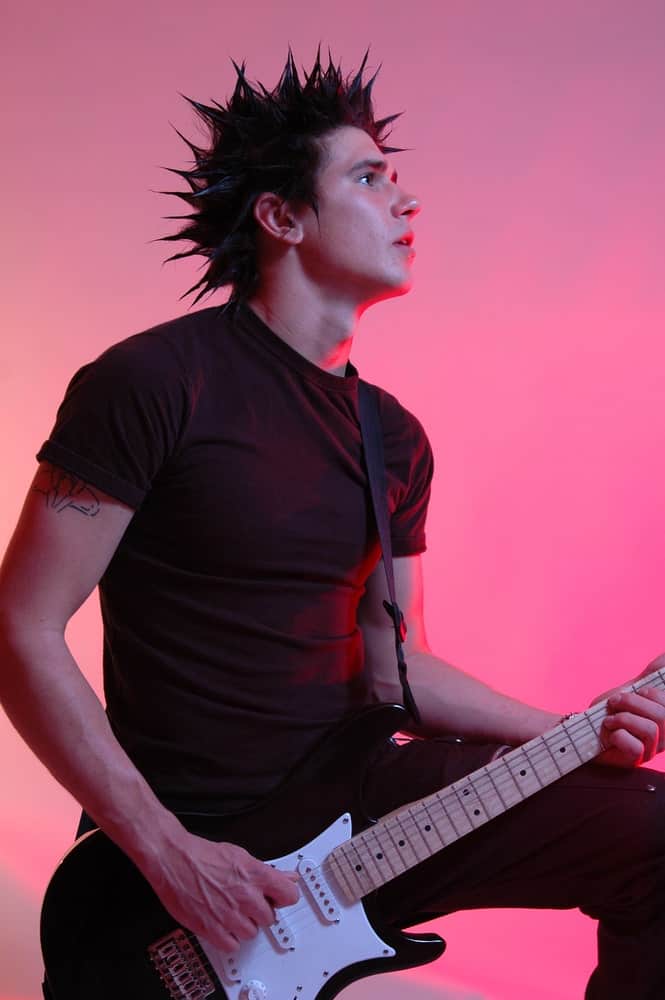 A popular choice among band members or guys sporting rock fashion, liberty spikes hairstyle is a bold one just like the mohawk.
Think of a Mohawk without the shaved sides. Instead, spikes of hair extend in every direction almost like a thistle. These are not as commonly seen as Mohawks.
Mullet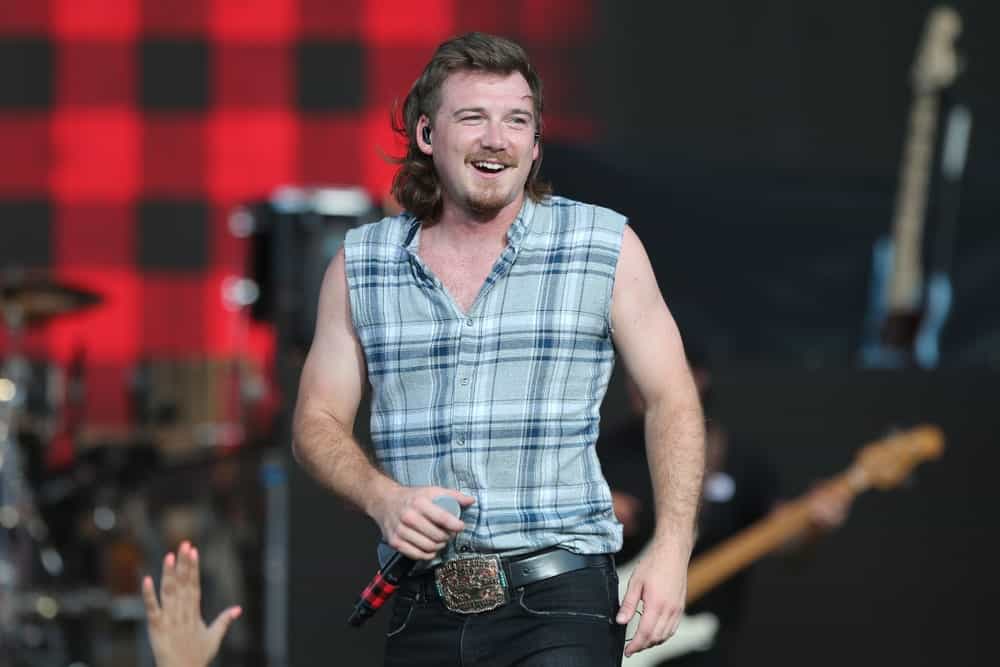 Another one of the classics is the mullet style haircut. It can be seen often with mature men just like the mohawk or quiff hairstyle.
You know what they say: business in the front, party in the back. In many ways, this is the visual opposite of a Mohawk or Quiff. Here, hair is kept short at the front and top and longer in the back. It takes a confident man to rock this look or the Mullet's more extreme cousin: the Rattail. Rattails is mostly business, with only one thin party of a ponytail lurking at the nape of the neck.
Fades, Shaves, and
Clippered

Haircuts

All of these cuts involve the use of blades to create gradual changes in hair length. Some of these are elements used to mix up other styles. Others in this category are full haircuts on their own right.
Buzz Cuts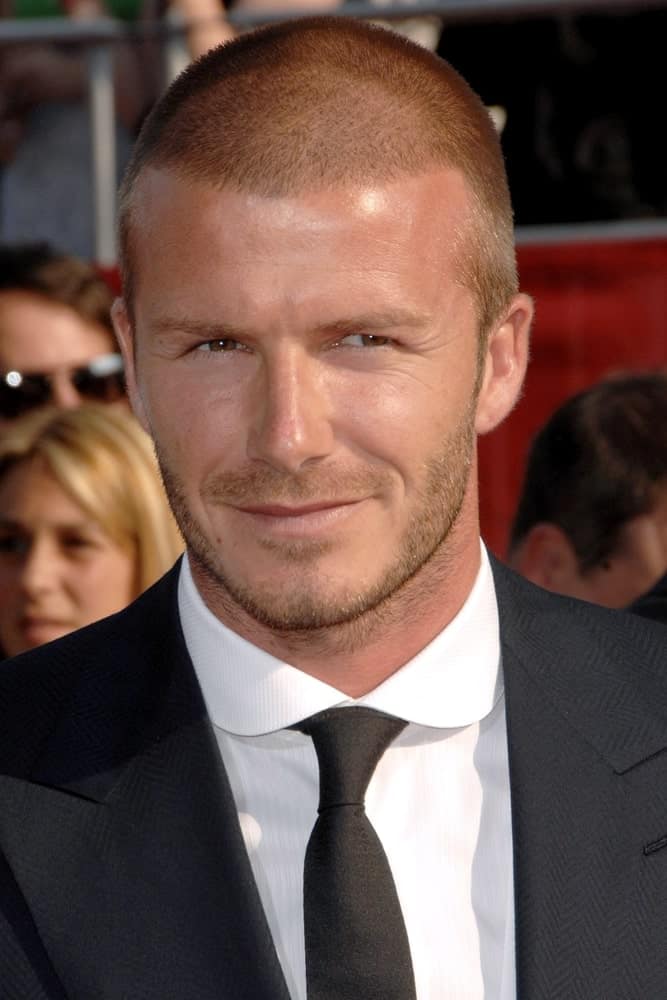 The buzz cut is often referred to as the younger brother of the bald style. Here's David Beckham in a buzz cut, photo taken at the Nokia Theatre L.A. Live during the 2008 ESPY Awards.
The buzz cut is often referred to as the younger brother of the bald style.
Simply set your clippers to number 3 and go along the entire scalp. For people with uneven skull shapes, a barber can tweak the clipper lengths to visually 'fill in' any oddly shaped spots. This is one of the simplest haircuts in the world, making it ideal for a man who wants a look that's both neat and ultra-low maintenance.
Shaved Heads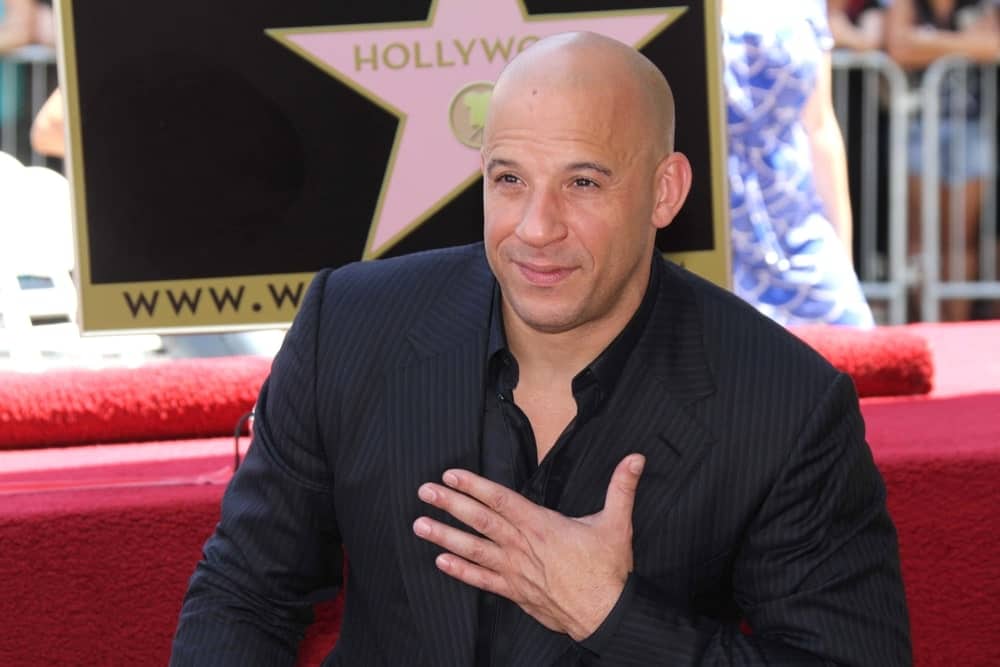 Here's a look at Vin Diesel, one of Hollywood's most popular actors who sport the bald style. This photo was taken on the Hollywood Walk of Fame Ceremony.
A shaved head is a more extreme version of the buzz cut. Here, the hair is completely shaved off with no stubble left behind. It's well suited for people with an evenly shaped skull, or one that comes up to a peak. Some men who are balding embrace this cut as well, finding it a more flattering option than a comb-over.
Fades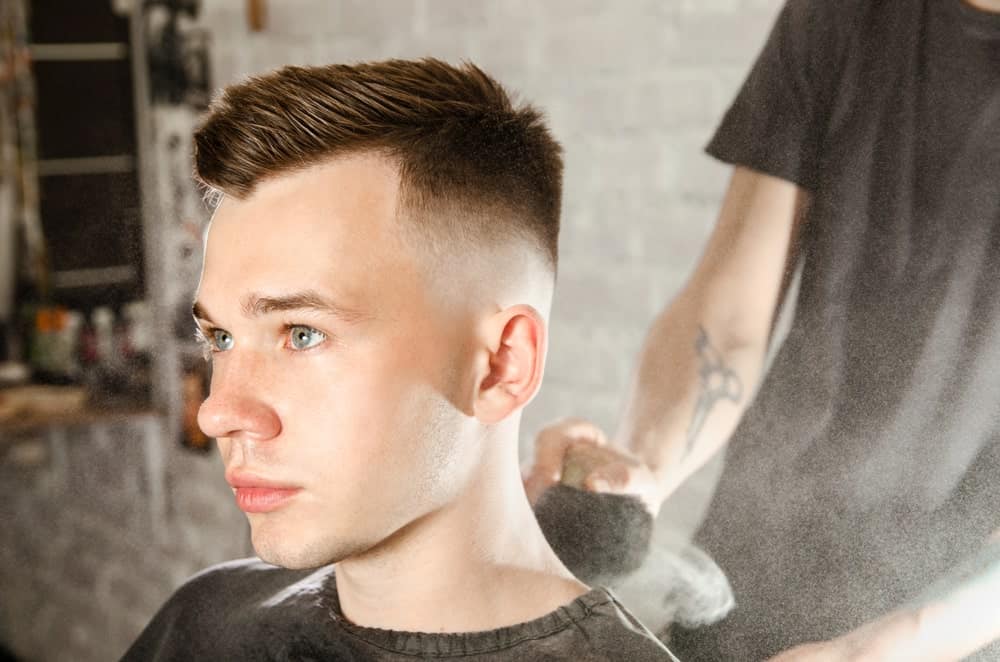 There are two types of fades – high fades and low fades. The fades hairstyle is popular among teenagers and men in their early 20s.
Fades involve shaving the hair at an angle to create an even change in length. From a distance the hair seems to 'fade' into the skin below.
High fades start fairly high up on the skull, leaving a patch of hair at the top of the head. This style of fade reaches well above the ears. Low fades, meanwhile, start lower on the skull and hit at or below ear height. These are be used in conjunction with a number of other haircuts. Fades can visually balance out the shape of the head, especially when used with other elements like pompadours.
Undercuts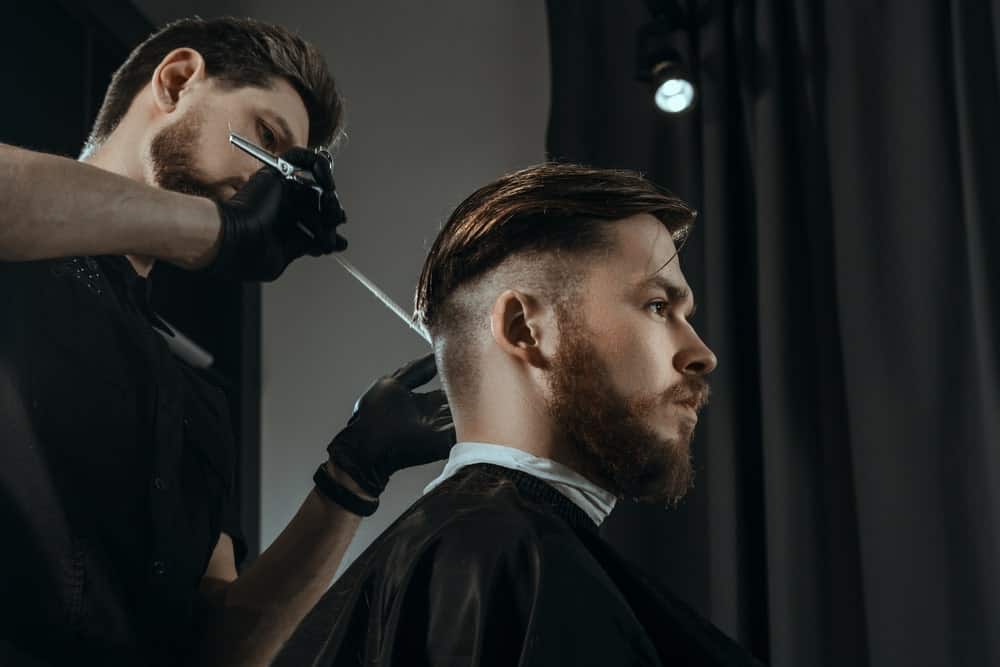 The undercut hairstyle was popularized during the World War 1 and 2. Brad Pitt used the iconic hairstyle during the war film, Fury. Today, undercut hairstyle is still a popular choice of haircut for men.
This iconic hairstyle from WWI and WWII has gotten a revival in the 2010s, both in popular TV programming and on the heads of fashion-conscious younger men. The hair at the top is medium to long, sometimes with a straight side or central part. The back and sides can be buzzed or faded short. The overall effect is fresh and crisp.
Crew Cut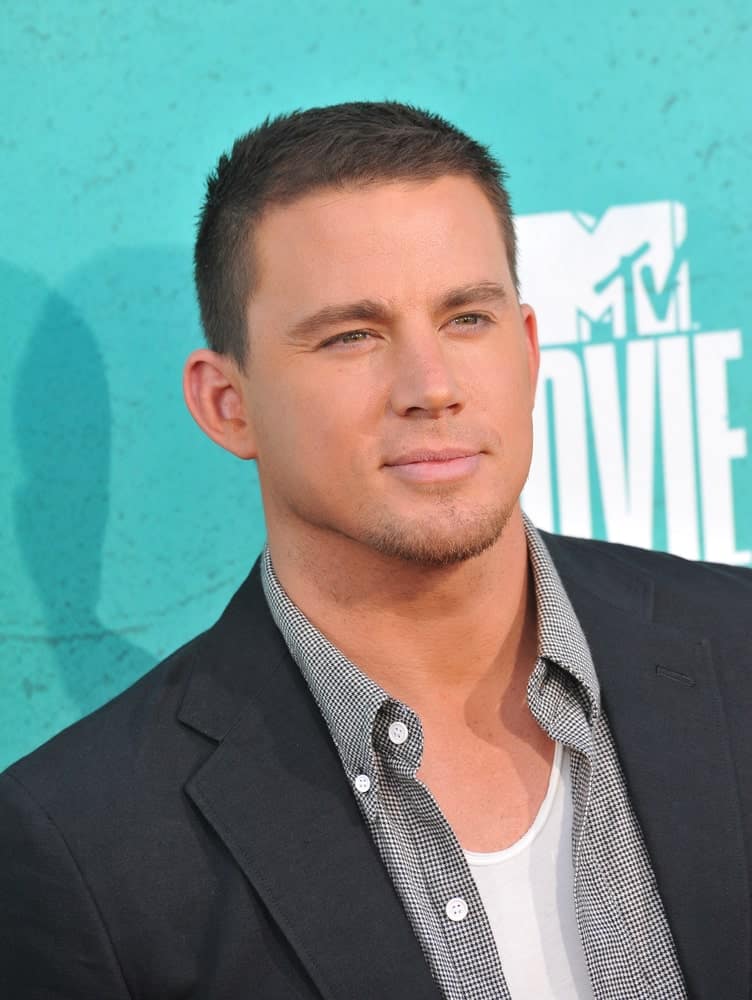 Crew cut is a short-type hairstyle that looks very simple. Here's Channing Tatum sporting the look the Universal Studios in Hollywood during the 2012 MTV Movie Awards.
This popular hairstyle may look simple, but it's actually a careful blend of different hair lengths. The cut is short at the top and longer at the front hairline. This allows it to form a small wave or pompadour at the front. Crew cuts are very 'wash and wear' and can also tame troublesome wavy hair.
Surgical Line
This style has become a very popular choice for younger men in the last few years. It attract people's eyes with its sharp lines shaved into the hair of the person sporting it.
This is more a style element than a complete haircut. It involves a sharp line shaved into the hair, often at the temples, behind the ear, or along the part. It's become very trendy in the last few years, adding a lot of visual interest to otherwise simple styles. However, surgical lines require frequent upkeep as the hair stubble grows back in and obscures the line.
Curly and Textured Hair
A man with curly, kinky, or textured hair has both advantages and challenges when it comes to finding the right cut and style. This kind of hair tends to have fantastic, effortless volume. However, it can also go frizzy and undefined unless products or protective hairstyles are used.
Dreadlocks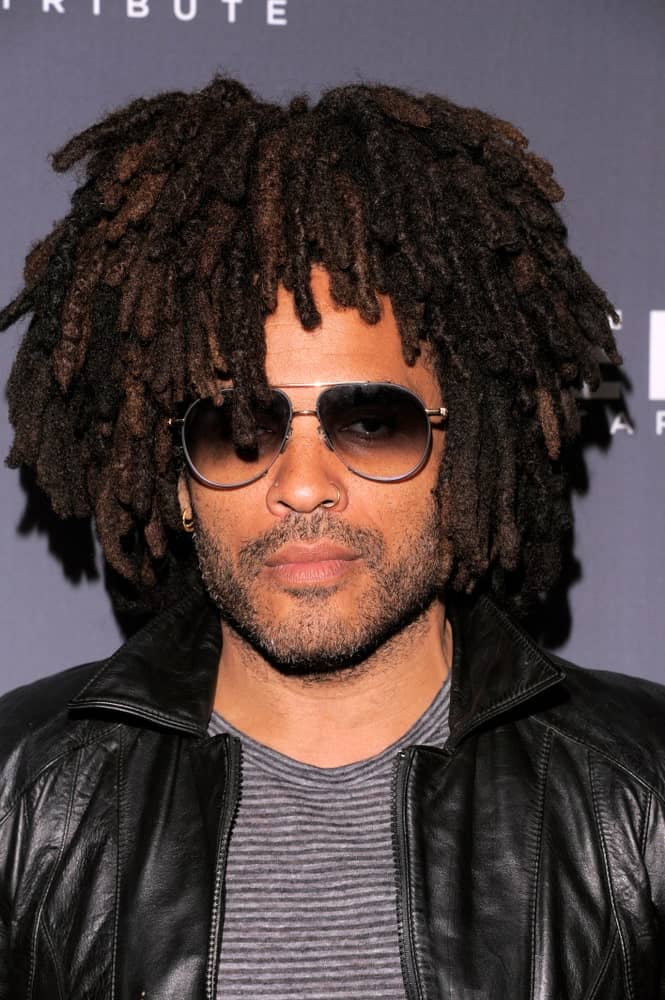 Dreadlocks hairstyle has a long history and became much popular when Rastafarians adopted the style in Jamaica from the slave trade era.
Dreadlocks are ropes formed of twisted hair. They typically extend from scalp to ends, although more casual styles may have the tips a little undone. Although they're typically seen on curly and textured hair, people with straight hair can also create this hairstyle if they have enough patience. This kind of haircut can be worn loose, pulled into a ponytail, or twisted up into a variety of man buns and updos.
Cornrows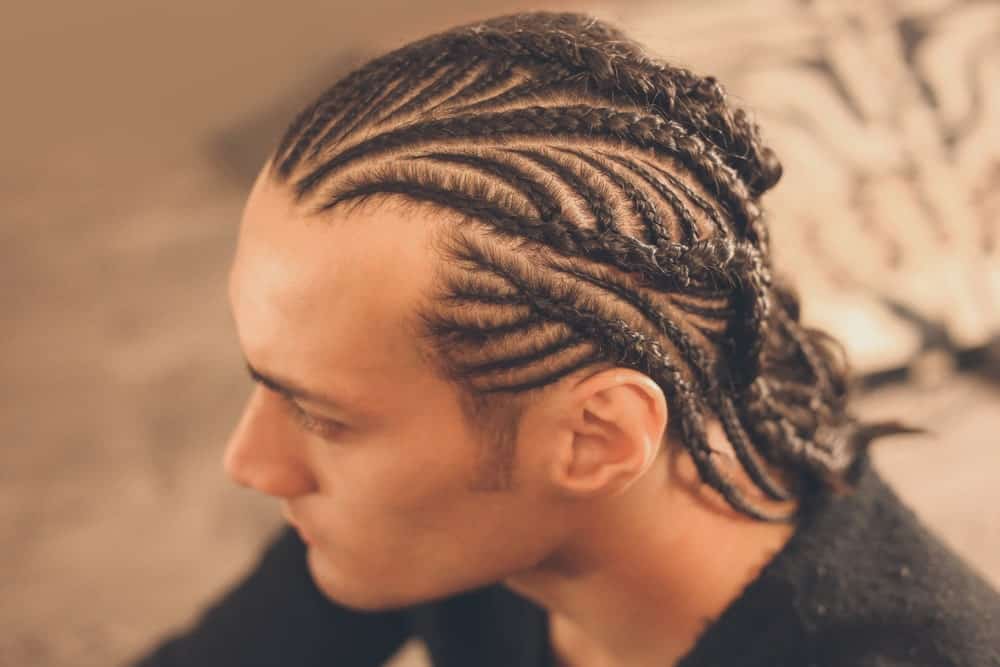 Cornrows are very popular among young men. It originates from the African culture and became very popular after NBA legend Allen Iverson wore the hairstyle on the court.
Cornrows are raised rows of hair that have been braided tightly and close to the scalp. The rows run in parallel and follow the natural curvature of the skull. This look is very sleek and practical for active men.
Twists
Twists hairstyle, or sometimes called hair twists is a popular style, which can be seen often to African-American people. Twists hairstyle is a hard hairstyle to maintain.
In this men's hairstyle, the hair is sectioned. Each section is then twisted around a finger in the desired direction of the curl. Twists may also involve two sections of hair that are twisted around each other and secured into a rope shape. This can create a head of symmetrical and springy curls that look highly even. For greater volume, make smaller sections and alternate which way the curl turns.
Afro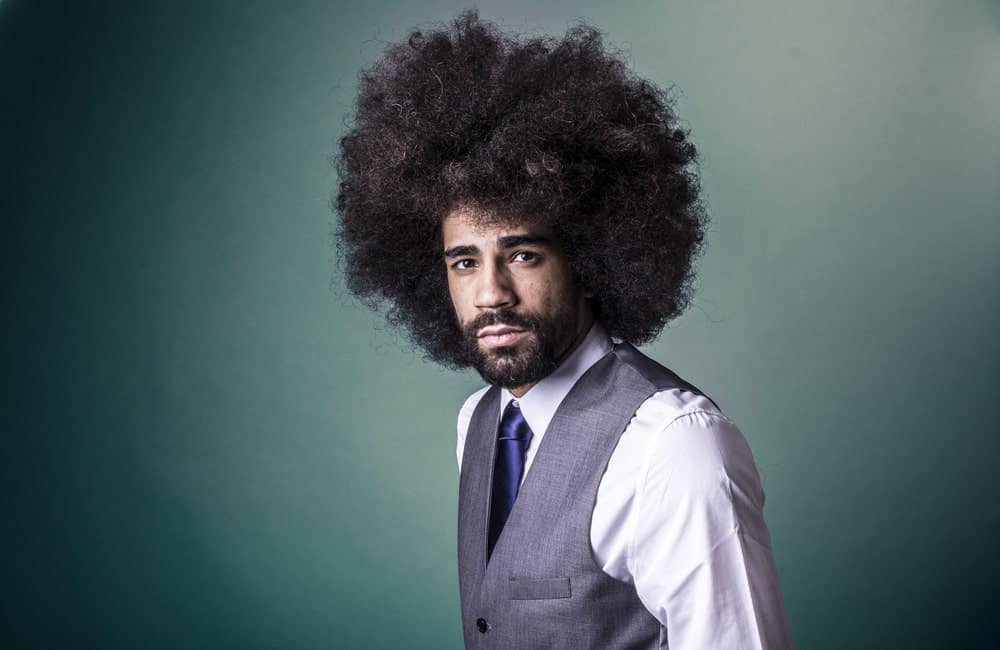 Afro, often referred to as 'fro, is a hairstyle that can be used by both men and women, although it is a much popular choice for men. Afro hairstyle can be done to short or even long hair.
An afro can involve virtually any length of hair. However, this style is at its biggest and most dramatic with medium to long kinky hair. The cut is typically all one length, but sometimes subtle layering is used to create a rounder final shape. Then the hair is combed away from the scalp, creating a puff. Afros tend to look soft and organic but can appear messy if they aren't maintained.
A more modern take on the 70s-tastic 'fro is a Sculpted Afro, which incorporates fades, line ups, or gel sculpting. It creates a neater looking hairstyle but requires more maintenance than other afros. In a more casual and playful direction lie Afro Puffs. This is an afro that has been neatly sectioned and partially tamed into two to four ponytails.
Twisted Curls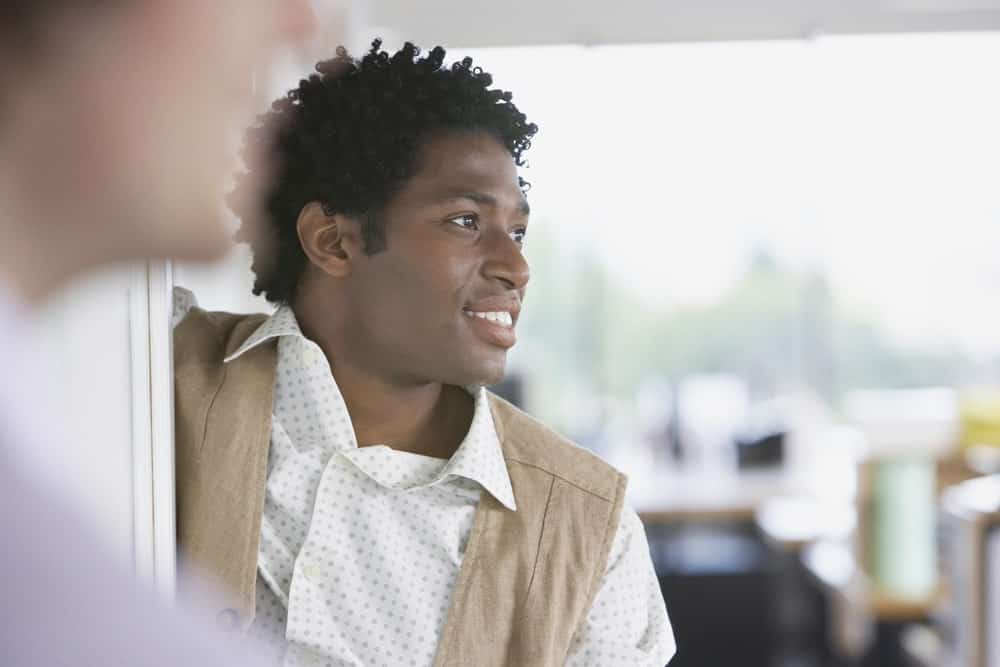 The twisted curls haircut is a great style for men with Afro-textured hair. Here's an African-American man sporting the look.
Looking for a neat, clean hairstyle for short length kinky hair? Twisted curls are formed by rubbing the hair in circles with a twisting sponge. The divots in the sponge encourage the kinky hair to form short, symmetrical, tight curls.
Other Looks
These are methods to mix up a haircut you've gotten bored with. They can also set you apart from the crowd, creating a unique signature look.
Shape Up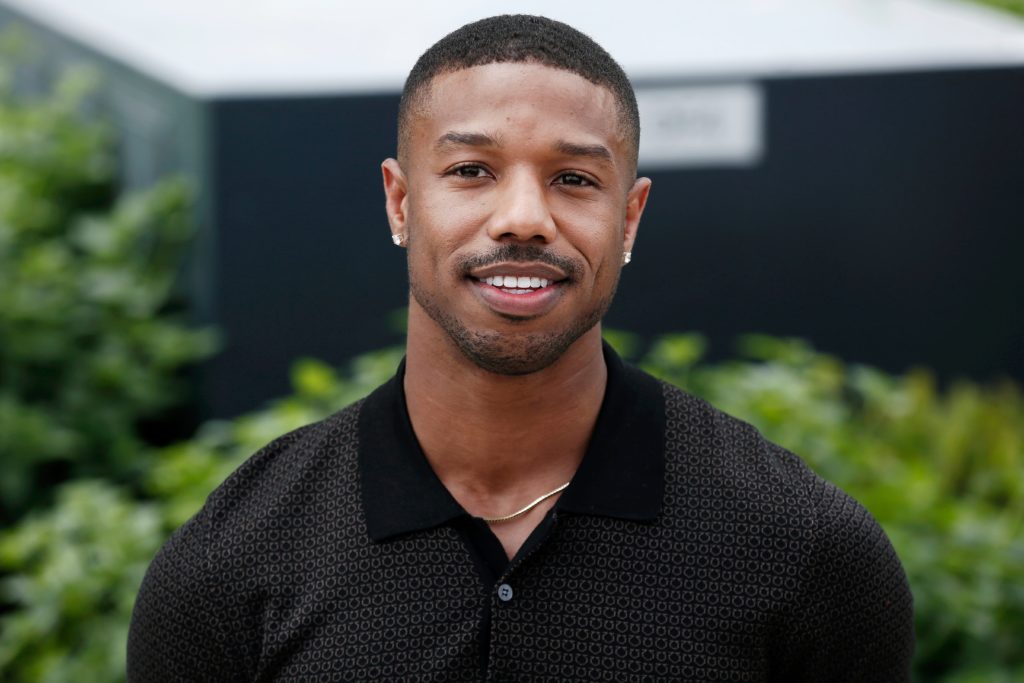 The shape up cut is a popular choice among men with curly hair. Hip-hop artists are the people who influence this haircut more.
Natural hairlines tend to be uneven or patchy in places. In this technique, also called a Line Up or an Edge Up, hair is trimmed or shaved into that hairline. This creates a crisp and bold edge that looks ruler-straight. It can also visually lift a too-low hairline or disguise mild balding by creating a defined line higher up the scalp.
Choppy Cuts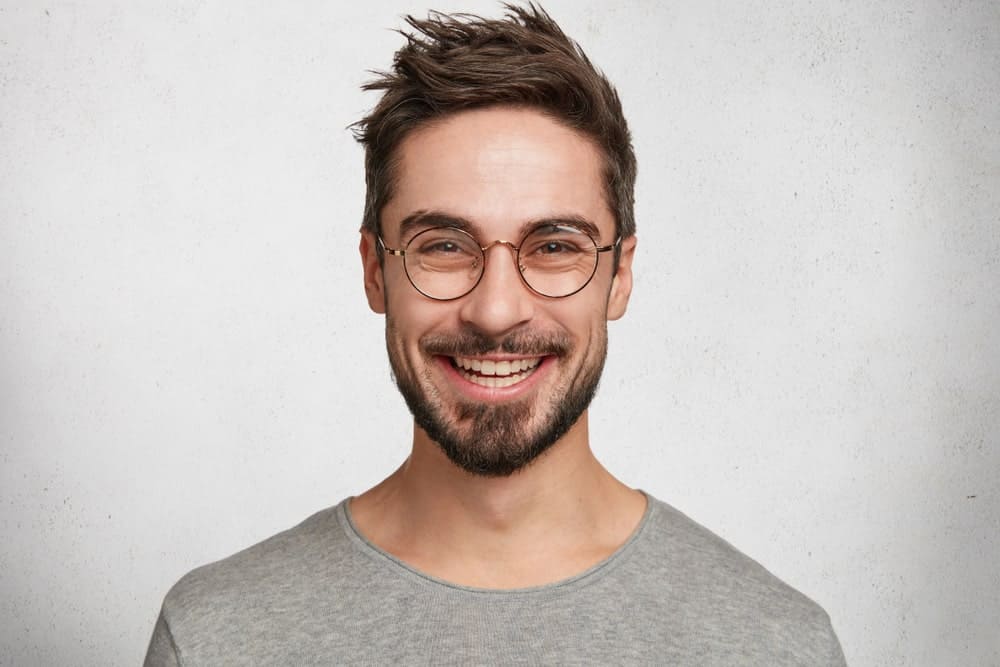 Choppy cut hairstyle is a versatile one as it can be turn into a messier look or into a clean and professional look. Here's an example of the hairstyle.
This versatile cut 'chops' into the hair, creating a deliberately messy result. It can add texture to pin-straight hair. Thick and curly hair, meanwhile, may benefit from losing some of that volume to the chop.
Parts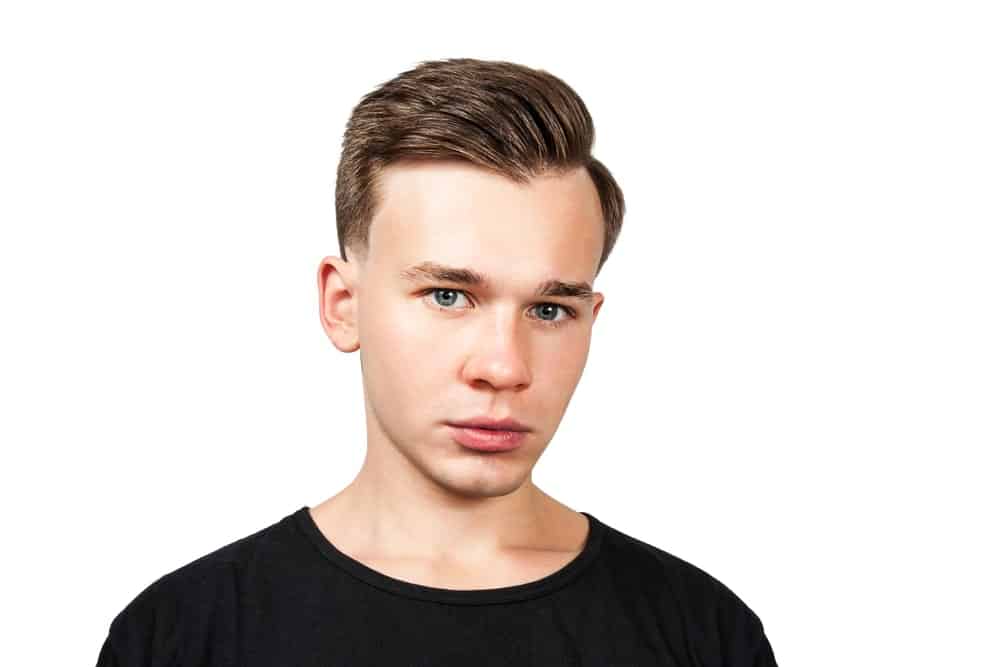 Choosing the best parts of your haircut plays a vital role in getting an outstanding hairstyle, so try doing a research first before going to your stylish or barber.
One way to change up the look of a hairstyle is by varying where you part your hair. Some options include center parts, high and low side parts, and zigzag or undefined parts. Parts are only possible on hair long enough to comb to the side, although they can be 'faked' by using a product to slick very short hair down.
Razor Cuts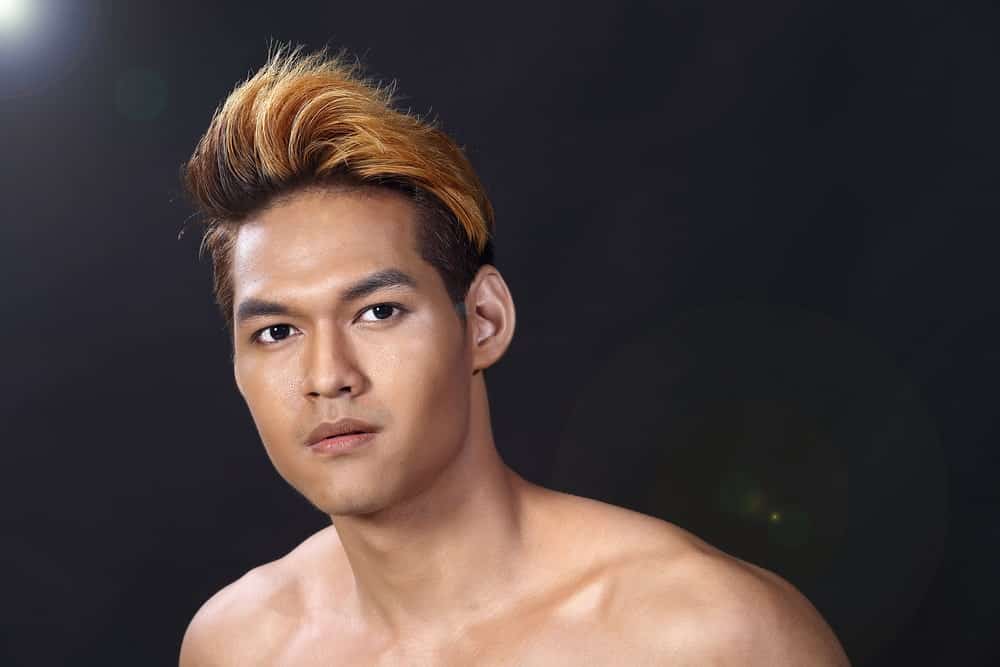 Razor cut requires a skillful barber. It is a popular choice for both men and women, as it looks absolutely fantastic.
Cutting hair with razors instead of clippers or scissors can create softer, feathery layers. This is in contrast to more choppy cuts that many men's hairstyles use. On the right hair texture, it can remove bulk and make the hair easier to work with.
Color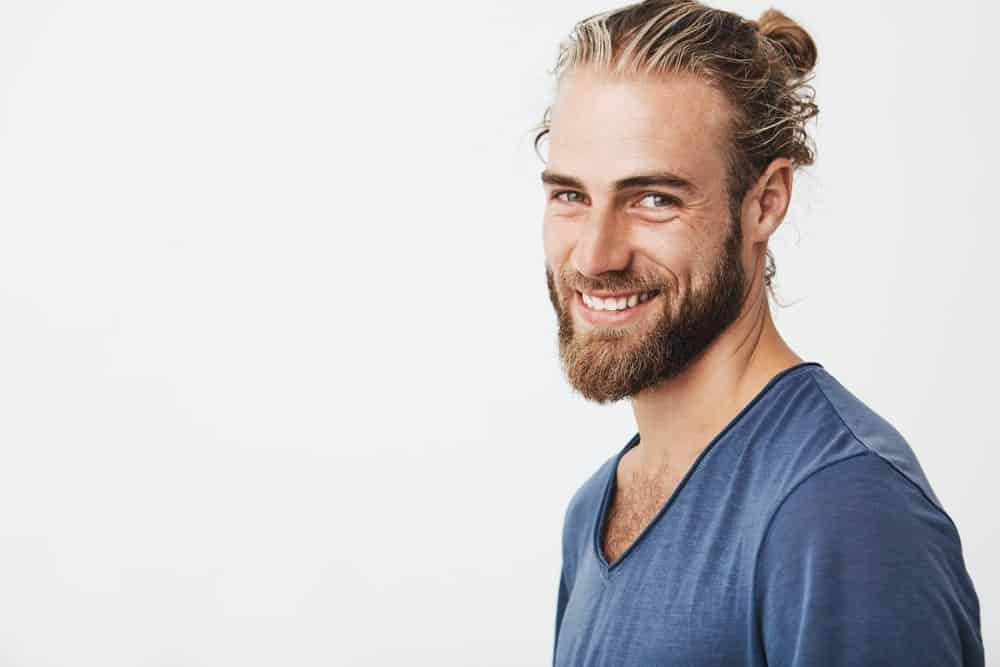 Hair dyes and other coloring can greatly change and improve your hairstyle, but it can also damage your hair so be very careful of choosing dyes and other hair coloring products.
Hair dyes and bleach can greatly change the way a style looks. Use Highlights to brighten the hair. Go lighter in the highlight to create more contrast and impact. Stick to subtle highlights just a few levels from your natural hair color for a more subtle look.
Meanwhile, Lowlights add shadows to underlayers of the hair. This adds depth and can help disguise regrowth if you also dye your hair.
Finally, Frosted Tips are making a comeback. When placed properly, they bring attention to bold and experimental looks like Mohawks, Quiffs, and Pompadours.
Product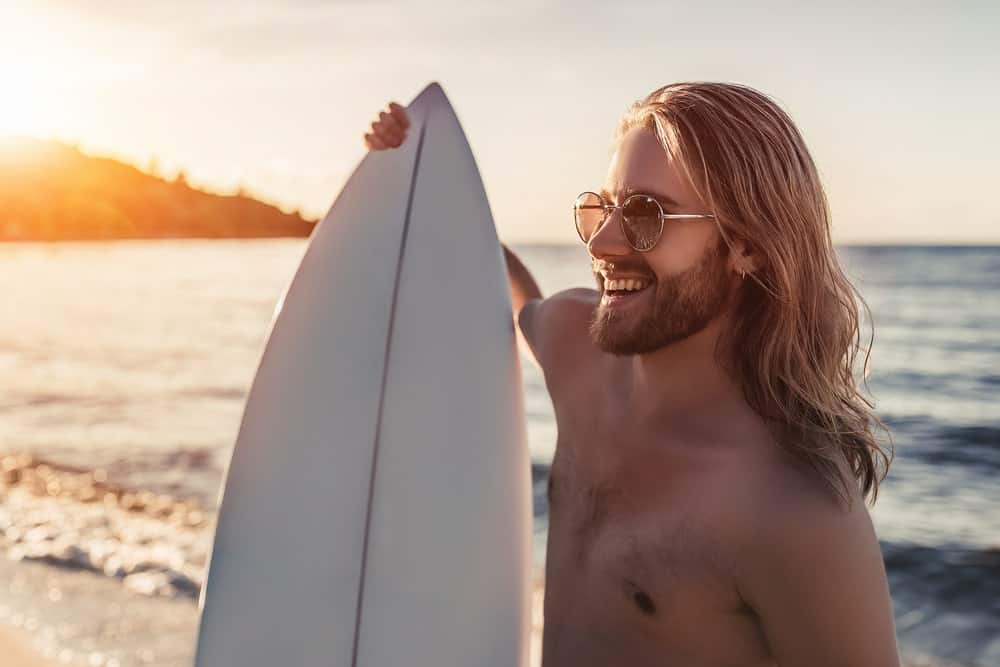 Choosing the right product for your hairstyle is a vital part of maintaining it. So don't ever underestimate the power of the right products.
Don't underestimate the power of combining the right product with a haircut. There's a huge range available, but some styling mainstays include:
Texturizing Spray
This spray, which often has a saltwater base, can add beachy texture to hair of almost any length. It has the most dramatic results on longer, wavy to curly hair.
Hairspray and Hair Gel
These products give medium hold to smaller pompadours, keep that part looking crisp, and protect kinky to curly hair from the humidity that can make it frizz.
Pomades and Hair Wax
Interested in a highly sculpted hairstyle? That Mohawk or giant pomp isn't going to stand up by itself. These heavy products give a lot of control to hair, creating a bulletproof style that won't wilt halfway through the day.
---
Most popular men's hairstyles
Here's a great diagram setting out today's most popular men's hairstyles.

The most popular hairstyles for men include undercut, man-bun, pompadour, fringe, caesar and side part.  I'd add fade to it also.  Most are short, but some are long.  For any of those styles, you can have highlights added.
Best men's hairstyles by face shape (chart)
Here's a great chart setting out the best men's hairstyles and cuts for different face shapes.
How to search for men's hairstyles here?
We do like to toot our own horn and say our site is unique in that our site is set up as a database of haircuts so you can search via multiple criteria at the same time such as by length and style or style and color or all three with our menu options on the right (only available on Desktop and Tablet).
Is it all male celebrity hairstyles?
While we feature a lot of celebrity hairstyles for both men and women, our site features regular folks too.  While celeb cuts are interesting to check out, it also helps to see what regular folks are doing as well.  That's why we have a dedicated male celebrity section and then the broader section, which is this page.
Lots of options so look carefully
I know that a lot of our check options don't apply to guys.  The entire bangs and braids section aren't exactly what guys look for when checking out haircut ideas.  They're there for women.
But we do feature styles primarily for men such as our "bald" length (it's cool to see how guys are sporting the bald look in the event you lose your hair), fades and man buns to name a few guy-only styles.
Barber vs. Salon for Guys?
Should a guy go to a barber or a fancy salon?
Personally, I think barbers are the place for guys, but at the end of the day it's all about finding that hairdresser or barber that does a great job for you.  Seriously, if you find a woman who cuts your hair perfectly just the way you like it in some mega salon with all the fixins, go there.
Try something different?
If you've had the same cut for years, why not browse the site to find something a little different.  We showcase the latest hairstyles and cuts for guys so you might just find something more current that'll look good considering your hair type and face shape.  Of course if you have an office job you gotta look the part to some degree unless you don't mind having to dust off the resume.  I jest; but some work places are very conservative so you should keep that in mind if your workplace is conservative.
Facial Hair
In addition to hairstyles, we also feature facial hair examples, galleries and articles.  See our main beards article here and mustache styles here.