Want longer, fuller hair instantly? Hair extensions it is. Thing is, there are many different types of hair extensions. Real hair, synthetic, bangs, wefted and more. Learn about all your hair extension options here. Mind-boggling.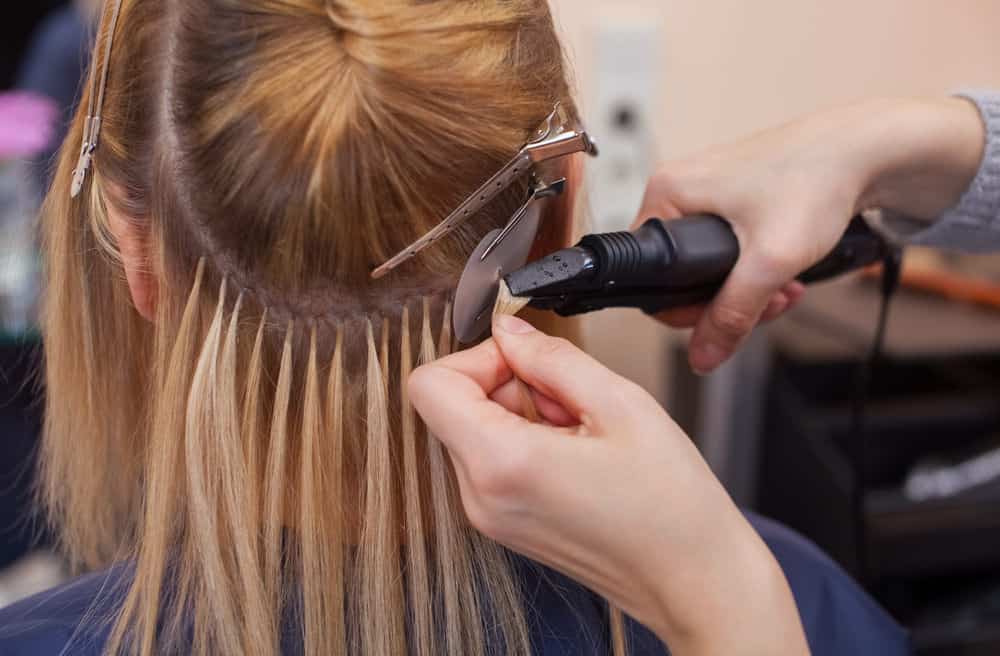 Material
Real Hair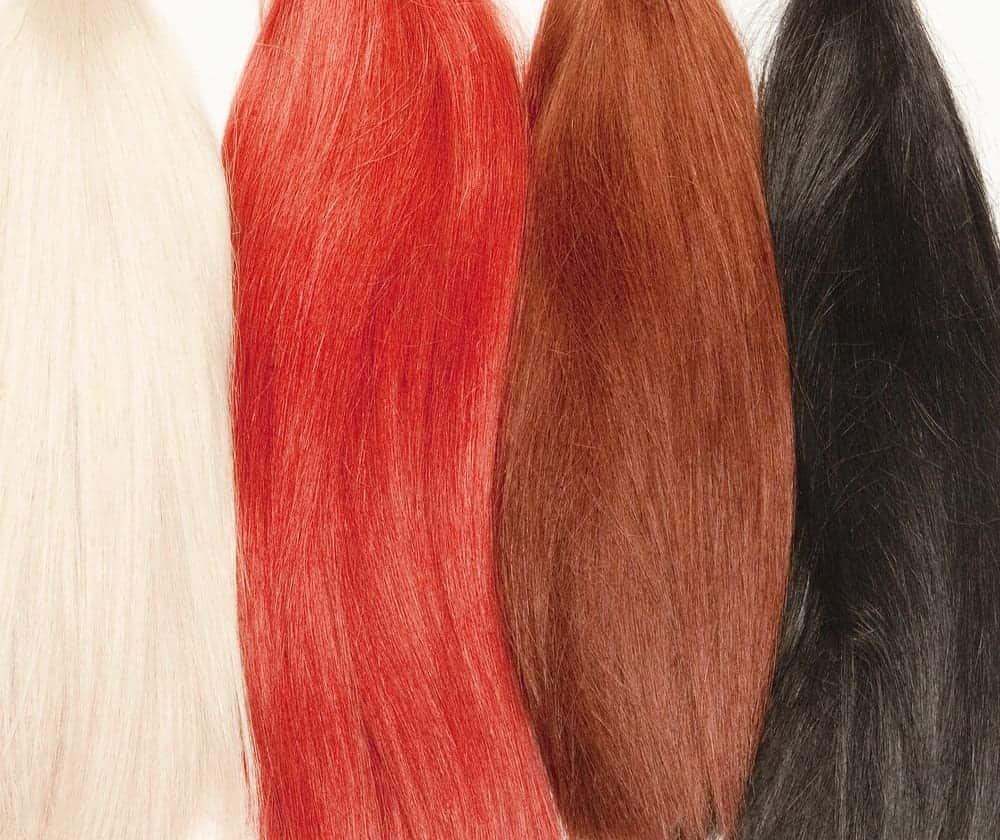 When you buy hair extensions that are made with real hair, then you will enjoy the fact that your extensions have the same feel, texture, and even shade as your natural hair does. It's possible to get extensions made from real human hair that will perfectly match your existing hair and blend in naturally.
These extensions can generally be used for up to 6 months before they will become so damaged that they need to be replaced. Because you can use your normal hair care products on your real hair extensions and can style them without worrying about the heat of your curling iron or blow dryer damaging them, it's easy to make them look like they are part of your natural hair.
Real extensions will act just the way your natural hair does which means that you may have to fight frizz, deal with flat locks if they get wet because of the weather, and style them each day with the rest of your hair. One added benefit of these extensions is that if you do not like the color of your hair and want to dye it then you can easily treat your extensions as well, and they will take the color just like your natural hair will.
However, if you are going to be buying extensions that are made from real hair, then you need to make sure that you have a large enough budget, as they will be much more expensive than ones that are made from synthetic hair.
Example:
Synthetic Hair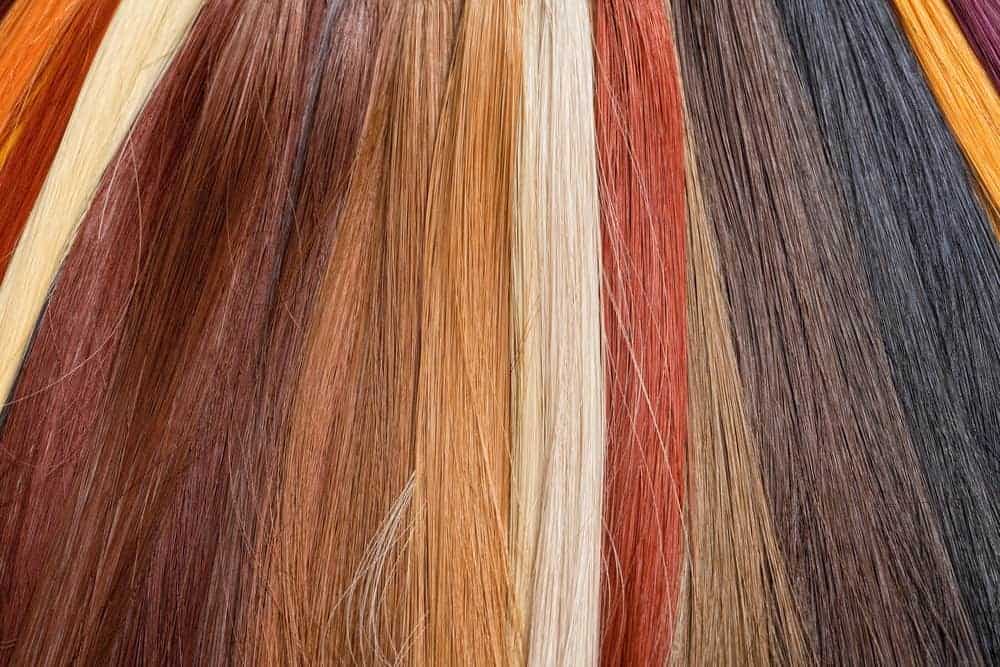 Synthetic hair extensions respond very differently to care than ones made of real hairdo, but they are still a great option for a lot of people. Synthetic hair will not match natural hair the way that extensions made from real hair will.
This means that they will generally have a different color to them, and the texture will not be perfectly matched. Additionally, when you buy synthetic extensions, you have to make sure that you are buying ones that are high-quality, or you will be dealing with extensions that are brittle, obviously fake, and difficult to take care of.
No matter how well you take care of your synthetic hair extensions, they will not have as long of a lifespan as real hair extensions will. They will begin to frizz and fray after you have washed them a few times, and they can't be washed and treated with the same hair products as your natural hair, which means that taking care of them is more time-consuming.
These hair extensions are a lot harder to style, as you can't apply heat to them without damaging them. This means that you are unable to use a straightener, curling iron, or blow dryer to get the extensions styled the way you want them. Additionally, they can't be colored, so the type of extension that you choose is what you are going to be wearing.
However, due to the way that they are made, you can wear your new synthetic hair extensions right away without having to worry about styling them when you first get them. They are made so that they retain wave, curl, and volume without falling flat, no matter the weather.
Taking care of your synthetic hair extensions takes a lot more time and effort, and you need to make sure that you use the right products when caring for them, such as a very soft-bristled brush so that you donâ't accidentally damage them.
Example:
Natural Collagen Extensions
Natural collagen hair extensions are a healthier alternative to more traditional hair extensions as they have all the qualities of human hair, but are made from 100 percent natural collagen protein, as opposed to the keratin protein composition of natural hair. Natural collagen extensions contain all the qualities of human hair without the kind of maintenance that human hair requires.
Natural collagen extensions can be washed, blown dry, brushed, combed, curled and styled without tangling, breakage, or possible hair loss, plus they are affordable and have the look and feel of natural hair. There are questions and answers that can be accessed concerning collagen extensions through the following site, which gives a good rundown on extensions made from collagen protein.
By Construction
Strand by Strand
This type of hair extension will have between 20 and 40 strands in each extension that is going to be attached to your hair. They are attached to very small sections of natural hair by a few different methods.
These hair extensions tend to be very expensive because of how they are attached to the natural hair, as well as how long they take to apply. They are great for people who have very coarse or thick hair, and the extensions themselves can last for a very long time, as long as they are properly maintained.
Not only do they take a long time to attach to your hair, but they also take a long time to remove and can be very painful if you do not work with a skilled and reputable hair stylish. The attachment points in your hair are often uncomfortable, which can take some getting used to.
Additionally, the hair is generally not reusable, which will add to the overall expense of this type of hair extension. Correct maintenance is required so that the strands do not clump together, which can create a very unattractive appearance and require the extensions to be removed and replaced by a professional.
Wefted Panels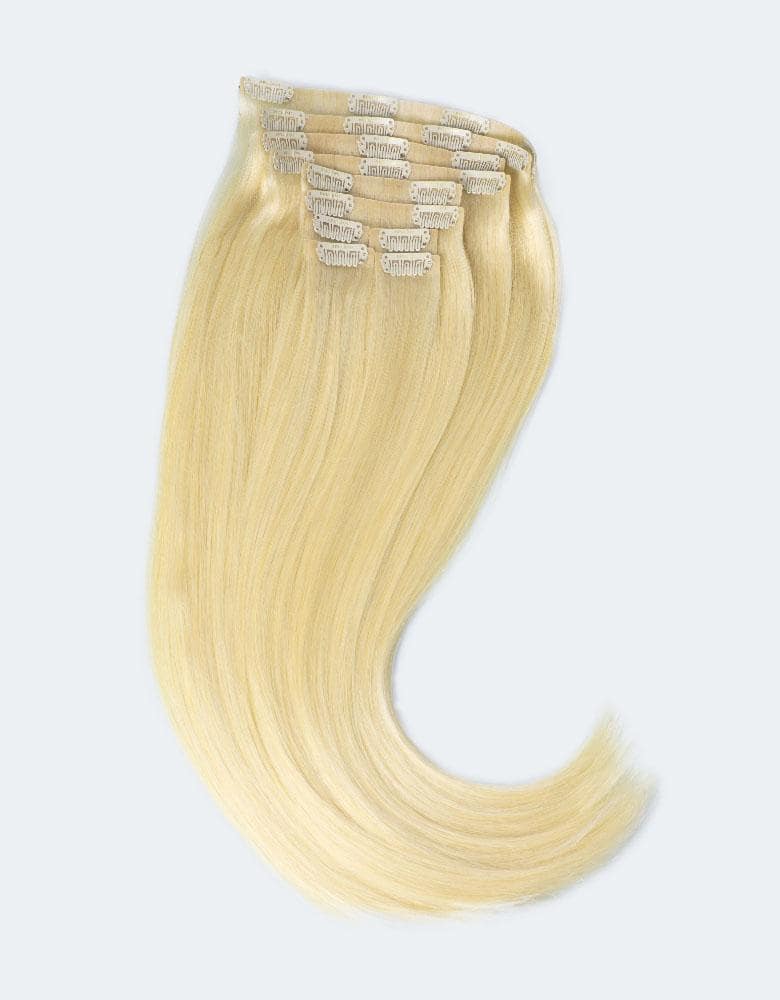 applied in a number of different ways, including taped, sewn-in, or glued. While they are not as durable and long-lasting as strand by strand extensions, they will last for a long time when they are cared for properly, and many people prefer them because they are not such a huge commitment, as they can be easily removed.
Some wefted panels need to be attached to your hair by a professional, while others, like clip-ins, can be done at home, which is a great way to add length and volume to your hair if you need to be able to style it for a special event, but you don't want to commit to having expensive extensions put in.
Types of Wefts
Machine Made
Machine made wefts have the obvious advantage over hand tied wefts in that they can be cut to any length without falling apart and unraveling. This means that you will have complete flexibility and control over how much hair you add to your natural hair, which will allow you to customize your look.
Because they are not made by hand, these types of wefts are generally going to be much less expensive to buy, which is great if you are on a budget or are looking to purchase a large number of wefts for a very full and complete look. These extensions are going to be a lot thicker and sturdier, which is great if you are worried about your extensions falling apart before it is time to have them replaced.
One problem that many people experience when they opt for machine-made wefts is that they tend to be much thicker and bulkier than ones that are hand tied. This means that if they are not attached correctly, or if they are used in thinner hair, they will be more obvious and significantly more difficult to hide as a natural look.
Unfortunately, this means that there are some people who simply can't use this type of weft due to the type of natural hair that they have. Additionally, machine-made wefts are notorious for shredding, which can be unsightly.
Hand-Tied
These wefts are seams that have all of the ends of the hair together and then are manually woven together by hand to ensure that the strands of hair do not fall out. One of the main reasons they are so popular is that the wefts are generally much slimmer than ones that are made on a machine, which makes them significantly easier to hide in the hair.
People who are very worried about their extensions showing or have thinner hair will benefit from this type of weft, as it is not going to be as obvious when attached correctly. Additionally, the strands are going to be more firmly attached to the weft itself, which means that the weft will not shred or fall apart as quickly as ones that are made on machines tend to do.
Unfortunately, with this type of weft, the weft can't be cut. This means that if it is too long for the area where it is going to be attached, then the end needs to be folded over and attached on top of itself, as cutting the weft will cause it to unravel.
While some experts can cut a hand tied weft and then seal the end with a special glue, this is very difficult and will often fail, causing the weft to fall apart. Another thing to consider when opting for hand tied wefts is that because they are so slim, they generally need to be sewn, not glued, into the hair so that it is not messy and will look as neat as possible.
Injection Molded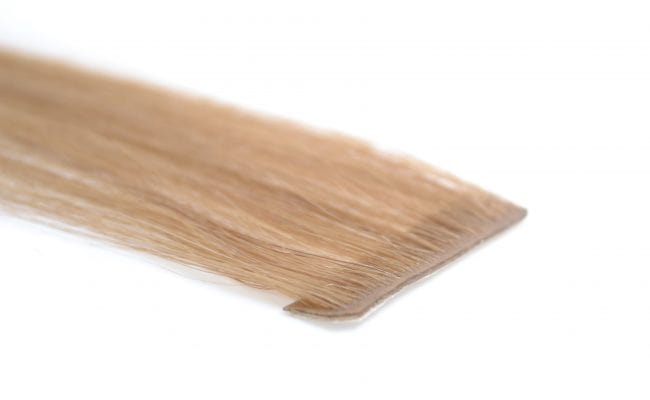 Unlike hand tied and machine made hair extensions, ones that are injection molded are perfect for when you need extensions that are not going to be very visible, if at all. They can attach very securely to the hair without adding a lot of bulk due to the way that they are made, which makes them perfect if you have thin hair and are worried about your extensions being obvious.
The injection-molded wefts are generally taped, and they will blend seamlessly not only with the hair included on the extension but also with your natural hair. The wefts are going to be very lightweight, which means that they will be comfortable to wear for a long period of time, and the wefts can usually be reused a number of times simply by applying more tape or glue to the weft itself.
Attachment Method
Clip In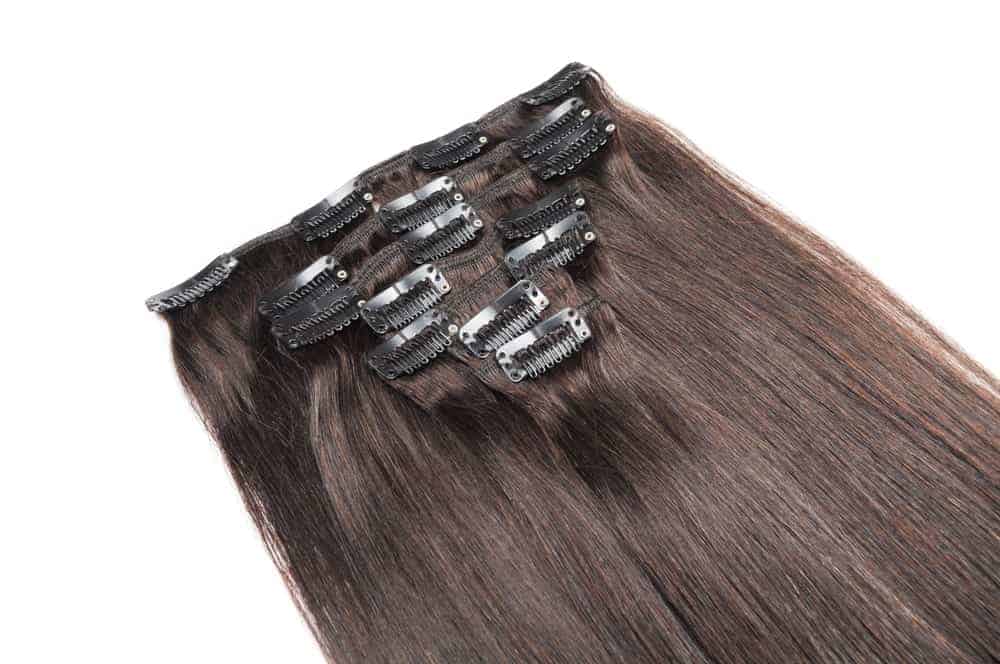 Pros
It is fast and easy to use
You can use them as frequently as possible
There are a variety of colors from which you can select
Cons
It should be used for a short time
You should remove clip in hair extension by bedtime
They are very cheap hence their quality is relatively low
In as much as we want to look like our celebrities, these hair extensions are quite expensive. Regardless of the type of hair extension, they are not cheap, and it is even worse if you want to incur monthly maintenance or consult a stylist. Hair extension prices are affected by factors such as how long they are, thickness and the type of quality of the hair extensions.
These hair extensions are quite expensive because not only do you pay for them, but also for the maintenance and they range from $99-$ 250.
There are a variety of hair extensions that you can select from. With the above overview, be the judge of which one you think can be rated as the best made.
This is one of the fastest and easiest types of hair extensions to use, especially if you want to be able to change up your hairstyle on your own without going and having a professional work on your hair. The extensions come with a silicone or fabric base where the strands of hair are gathered together and are attached to a clip. This clip makes it easy to attach the extension itself to your natural hair, and they are very easy to open and to close on your own.
This type of hair extension is not at all permanent, as you can easily remove them and put them back in your hair whenever you want. While some types of hair extensions take a very long time to put in and need to be completed by a professional, which will increase your time commitment and your overall cost for your new hair, clip in hair extensions can be put in at home and generally only take about 10 minutes to do on your own.
They don't cause any damage to your hair, which makes them very popular with people who are worried about damaging their hair or committing fully to a style that they aren't sure they will like in the future.
Depending on how well you take care of these extensions, they can last for months without needing to be replaced. They only need to be washed when the product has built-up in them, which can be around every 15 wears, and this will help to extend the life of the extension. Another reason they tend to last so long is that they are not always worn every day, but they are a great option if you want to style your hair for a special event and need to have more length or volume.
Example:
Tape In or Glue In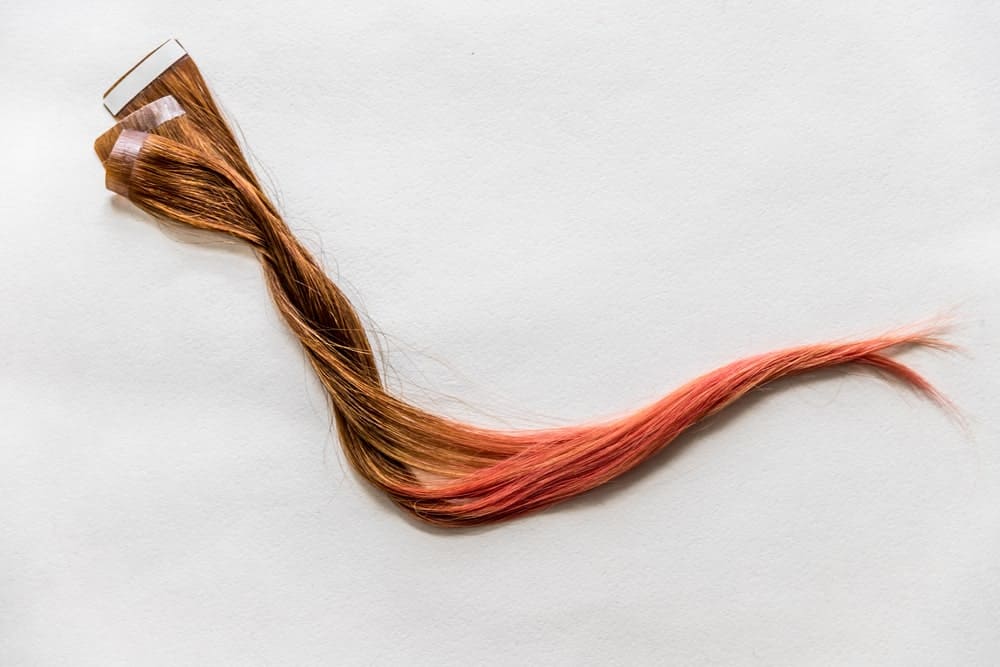 These extensions have the hair that is gathered together at the base of the extension and then attached. The base may have an area that is pre-taped so that you can easily attach them to your roots, while others need to have a bit of glue added to the weft for correct attachment. Generally, it is a good idea to visit a stylist who has experience with tape in extensions, as they need to make sure that the extensions are aligned perfectly with the roots of your hair.
The tape or glue is then heated with a special tool that will activate the tape so that the extensions do not fall out of your hair. When you are ready to have your extensions removed, then it is important to see a professional, as they will be able to use a glue remover to remove the extensions for you without you accidentally damaging your hair trying to get them out.
The process can take around an hour to have your extensions put in or removed. As your hair grows out, you will need to have your extensions placed up by the roots again for the best possible appearance. As long as your extensions remain in good condition, you should be able to use them more than once.
It's important that you are very careful with your tape in extensions, as any hair products can cause the tape to slip off of your hair. For this reason, you will be given a special shampoo to use and will have to use different styling products that won't be as harsh on your hair and on the tape so that the extensions will remain in place.
They generally will last between 4 and 8 weeks before they need to be removed and adjusted, but people who have hair that grows significantly faster may need to move them earlier than that to keep their hairstyle looking the best that it can.
Some small strips of hair, commonly known as weft are tapped at the end of your natural hair. It should be perfectly intact for up to 5 months. It is the best type to use especially if you are blonde.
Pros
When it comes to application, it is swift and easy.
Strains are very minimal because they extend to the broad area of your head.
Heat is not required while fixing this type of hair.
Nobody could differentiate it from your hair because of how natural it is.
Cons
It is not advisable to fix this extension if you are a fun of singing.
Sadly, you cannot use this hair extension with any product.
It is not that easy to tie this hair into a bun as it requires a lot of work.
Sew-in Hair Extension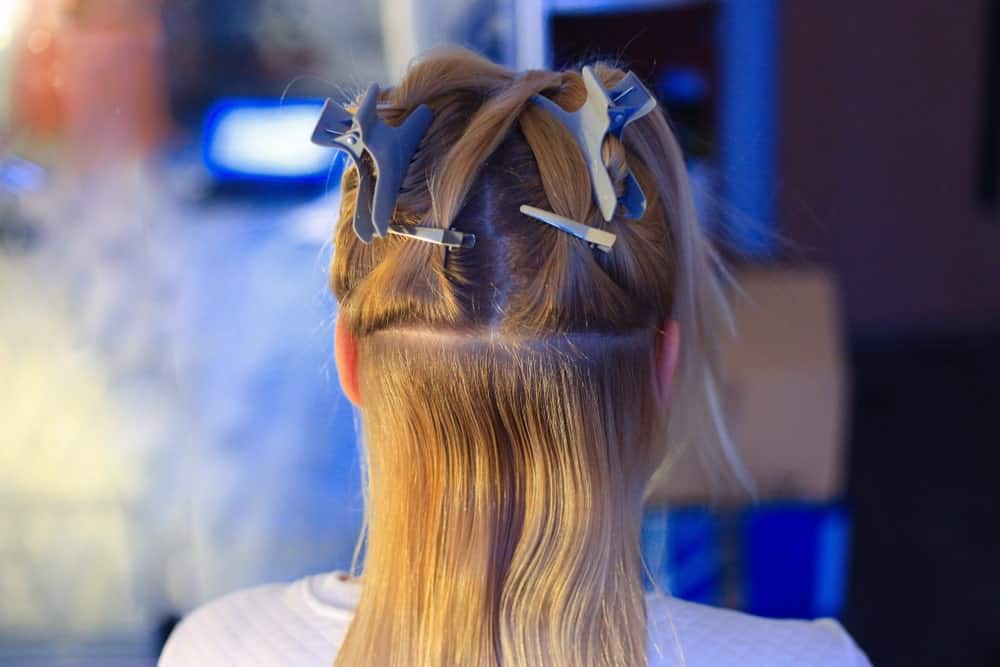 This hair extension is practically woven.
One of the more difficult and permanent types of hair extensions are ones that are sewn into your existing hair. Before these extensions can be attached to your hair, your natural hair needs to be braided into cornrows, as this will give your hairstylist a place where they can attach the extensions. These types of extensions are generally ideal for people who have significantly thicker hair because the hair has to be braided first for correct attachment, and people who have thinner hair will not have enough hair to look great.
This application process can take several hours and is often very uncomfortable for the person getting the extensions due to how tight the cornrows will be braided. This is another reason that people who have thinner hair don't generally opt for this treatment, as the hair can easily be damaged during the braided process.
After the natural hair has been braided into cornrows, the extensions will be sewn into the cornrows with a needle. This is a very time-consuming process, and, because you want to make sure that your extensions will look amazing, you need to only trust a professional to complete it. Your new extensions can't fall out of your hair because of the way that they are sewn in, making this a permanent option and one that is seamless and looks very natural.
Unfortunately, they can affect your hair's growth, so it's important to remove and replace your extensions after a while, especially if you are attempting to grow out your hair. Make sure that you use a special shampoo that is packed with protein so that you can minimize the damage that you will cause to your real hair and that you use deep conditioning products to keep your natural hair as healthy as possible. These extensions generally are only made of human hair due to how long they are left in.
Pros
This type of hair extension works well if you have short hair.
You do not need heat or glue while fixing this hair extension.
You can apply hair products
It makes your hair gain volume and makes it look stunning.
This type of hair has the capability of staying for more than three months.
Cons
It Is tough removing this hair extension especially because it requires a professional.
If your hair is in perfect shape, you don't have to use this.
To avoid any bacterial infection, you need to wash it thoroughly.
Micro Links
These extensions are applied to natural hair by looping natural hair through a small bead that has the extensions attached to it and then clamping it shut with pliers. If you do opt for this type of extension then you will want to make sure that you work with a reputable company, as some of the beads are lower-quality than others and can actually damage your hair.
It's a good idea to only use beads that have been lined with silicone, as this will help to prevent your hair from breaking while you have extensions. This is a very expensive type of extension to have added to your hair, as the extensions are all individual strands that need to be attached, but since it results in such a natural look, it is a very popular option for some people.
Any extensions that slide down the hair instead of staying in place can easily be readjusted by an experienced hair stylist, and your natural hair won't be damaged by the use of harsh glues or heat.
If you opt for this type of hair extension, then you need to be prepared to spend a long time having them done, as the application can take a few hours. People who have thicker hair are better suited for this type of extensions, as the beads can actually show through thinner hair. If the beads are not placed correctly, then not only will they be uncomfortable for the wearer to sleep on, but they can actually damage the hair due to the sharp edges that they have when they are not closed perfectly.
Blonded Hair Extension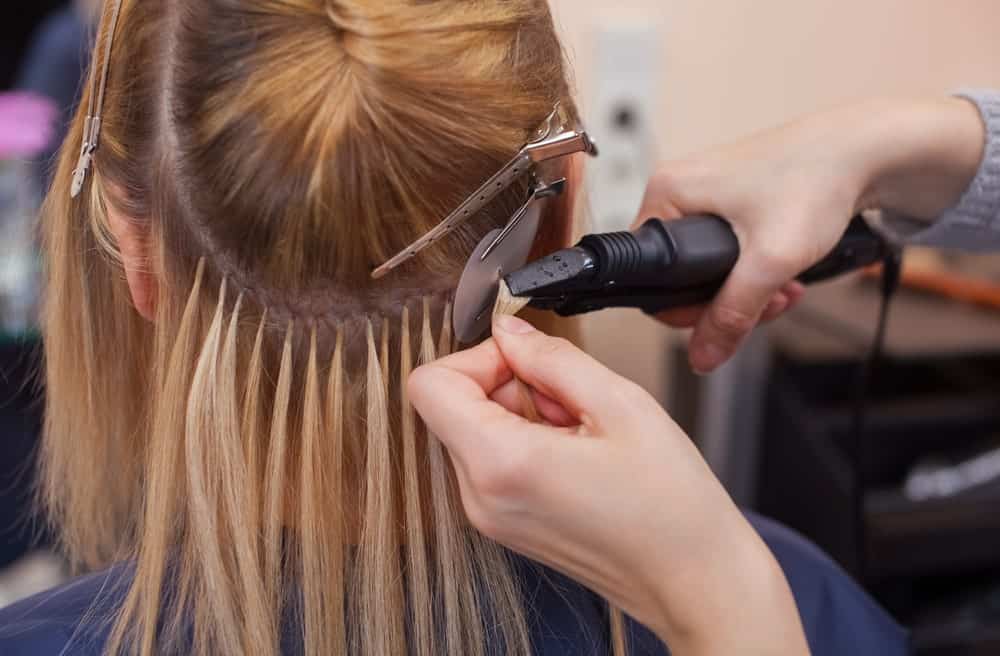 These hair extensions are also known as fusion hair extensions due to the way that they are bonded and attached to the natural hair. There are different adhesives that can be used, which is why having a professional complete the work is important, as they can choose the right one for you. It can take around four hours to have bonded hair extensions applied to your hair.
While it creates a very natural look, these extensions are not ideal for everyone because they can easily damage natural hair. Using a machine that looks similar to a hot glue gun, the hairstylist will glue the extensions to single strands of hair.
Another option for having these extensions attached to your hair involves using extensions that are clamped to the natural hair, which will allow the glue to melt and attach the natural hair and the extension together.
These are a semi-permanent option and will stay in the hair for around four months. It's important to note that you may have to have your extensions redone sooner than that, depending on how quickly your own hair grows.
Pros
It can last for more than six months if you handle it with care.
This hair extension joins in uniquely with your hair by leaving no traces of any attachment.
Cons
You may experience certain types of discomforts especially headaches or itching.
It is costly in that you cannot reuse it again.
This hair extension cannot be fixed by somebody who is not a professional.
Cold Fusion Extension
It is similar to the later, only difference is that no heat application is needed
Pros
As much as it is tiresome fixing it, it can give you service for about three months
It looks supernatural as it is set as close to the root as possible.
It is unlikely for it to damage your hair since it does not require heat while fixing it.
Cons
This type of extension is costly in that it cannot be reused.
Another disadvantage is that you can experience hair loss because of the use of the clamping tool.
It is very uncomfortable in that one may experience headaches or itching in the scalp.
Hair Halo Extensions
Halo Hair Extensions are a new method of extending hair. Most hair extensions are designed to make the hair appear thicker and longer, and they are attached directly to a person's hair, but a halo extension does not require the same kind of attachment method.
This kind of alternative extension is applied through an invisible and comfortable wire device that goes around the crown of the head. Surrounding hair is then pulled over the wire, which covers the extension with a person's natural hair. The final look is one of thick and long hair that is mixed with an individual's own hair. Since this type of extension doesn't directly attach to the hair, the surrounding hair is allowed to remain healthy and manageable.
Clip-in Bangs
Clip-in bangs are an efficient way to quickly change the look of a hairstyle, plus they are a good alternative to extensions without the hassle of cutting hair to create a bang effect. There is no risk with clip-in bangs, and it is a fun way to change a hairstyle without transforming a whole head of hair and regretting possible cutting mistakes.
All that is necessary to use clip-in bangs is to match hair color and a style choice. Most clip-in bangs are available in both synthetic and natural hair. They are easily removed to create a more sophisticated style or they can be swept to the side of the face to create a more layered look.
Hair Blending Extensions
Hair Blending Extensions are one other alternative to all types of hair extensions. They are handcrafted from superior natural hair and are a cut above beauty salon extensions, clip-ins, wire extensions, taping, gluing bonding, and sewing. Hair blending extensions are not detectable in the hair and are not damaging to the hair and scalp.
They require no anchoring other than through their in visfiber base, which allows the hair extension to easily go over the entire head. The base enables the user to take underlying hair or hair from the side, front, or back and blend it in or glide it through the extension hair.
Once the blending is completed, styling can be done quickly and efficiently. Any balding, hair thinning, or open scalp areas are covered with little to no worries about a see-through catastrophe or other problems.
Colors are custom blended to enhance a person's complexion and natural hair color and other styles are easily achievable. Of all extension alternatives, hair blending enhancements are some of the most realistic and comfortable of any type of extension.
They are secure and cannot be blown off in the windiest of conditions and even swimming and other outdoor activities aren't deterred by this extension. No salon maintenance is necessary and customizing allows for a superb appearance as well as a firm yet comfortable fit and feeling.
Micro Ring Loop Hair Extensions
Micro ring loop hair extensions are designed for users who want a quick and easy alternative to a more time-involved extension. This type of extension is not only easy to use but it is less costly than other extensions. It is a do-it-yourself type of extension that is usually made of human hair that is available in a number of hair colors, styles, and lengths.
They are luxurious, yet easily placed and styled. A hairstylist is not required for the attachment phase only requires about 10 minutes. They are attached through a cold fusion process, which means that a strand of hair is separated and it is pulled through the microbead which is clamped.
Once the clamping process is completed, the extensions are there and will not detach themselves, plus the beads are literally invisible so no one can see them or realize that a person is wearing them. This type of extension is lasting, easily maintained, and can be worn for a few months at a time without removal.
An Alternative… a Wig
Wigs have almost always been go-to alternatives to hair extensions as their versatility is endless. Since wigs have been around for centuries, their quality and functionality have only improved over time, as have their availability and affordability to almost anyone, and they have become even more popular as a means for immediate hairstyle changes. They are a great alternative to hair extensions as they can do much more than just lengthen or thicken hair.
A wig can address thickness, texture, color, length and can be instantly adjusted to accommodate face and head shape. In comparison to an extension, a wig totally covers the hair and scalp and can conceal and camouflage hair loss or any other cosmetic flaws or health-related conditions.
A wig can be easier to maneuver as well, particularly if it has its own interwoven cap to make placement and adjustment fast and easy. Whether natural or synthetic, wigs are definitely an immediate solution to any complications related to hair.