Can't decide on a WordPress theme for your hair salon website? We have you covered. I've used dozens of themes and know them well. Here's my list of the 29 best options.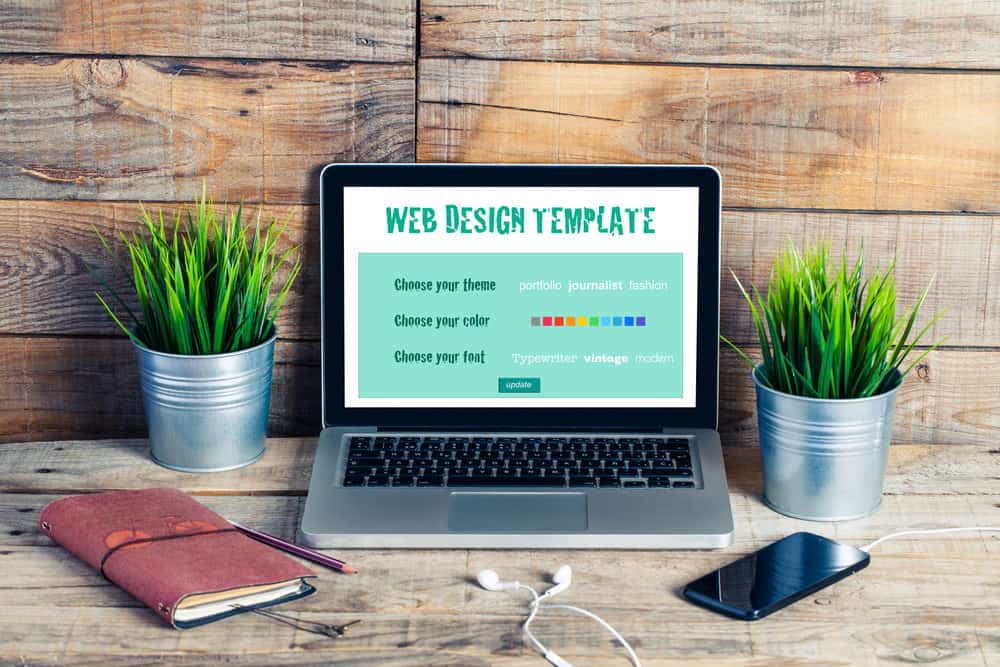 Are you looking for a great hair salon website design? In this article, we present the Best WordPress themes for hair salons that you can use to bring your business online. Although the services provided by hair salons are facilitated offline, creating an online presence can give your business a boost, add to its credibility, and help you connect with your customer base. Here is a comprehensive list of the best Hair Salon WordPress themes for building a great hair salon website.
FYI, my favorites are Divi (if you like to customize a lot of it yourself) and then the themes numbered 25 through 29.
1. Divi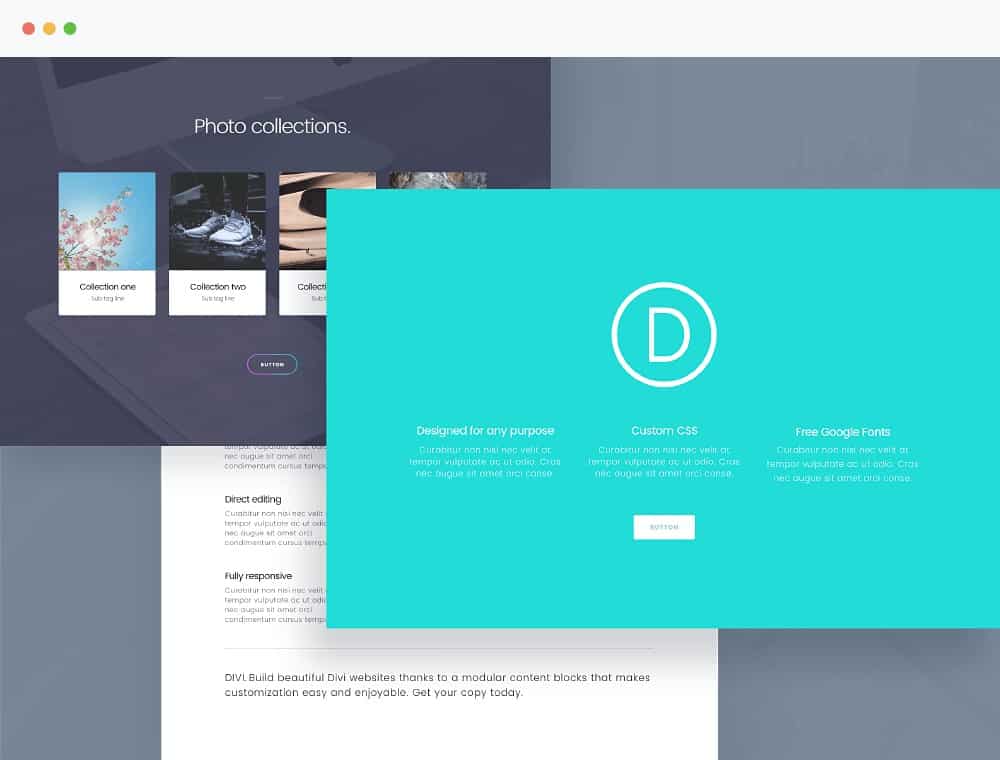 At the top of the list is Divi, by Elegant Themes. With this versatile theme, you can build any type of website. It's one of the most popular WordPress themes. Divi comes with pre-made designs, which look good on any size screen. Real-Time Design gives the user the ability to make changes to a page that is instantly updated. Divi is one of the most widely-used premium easily customizable themes. Divi is also a website building framework where beautiful websites can be designed without the user having to touch any code or to install and configure plugins.
2. Wellness Pro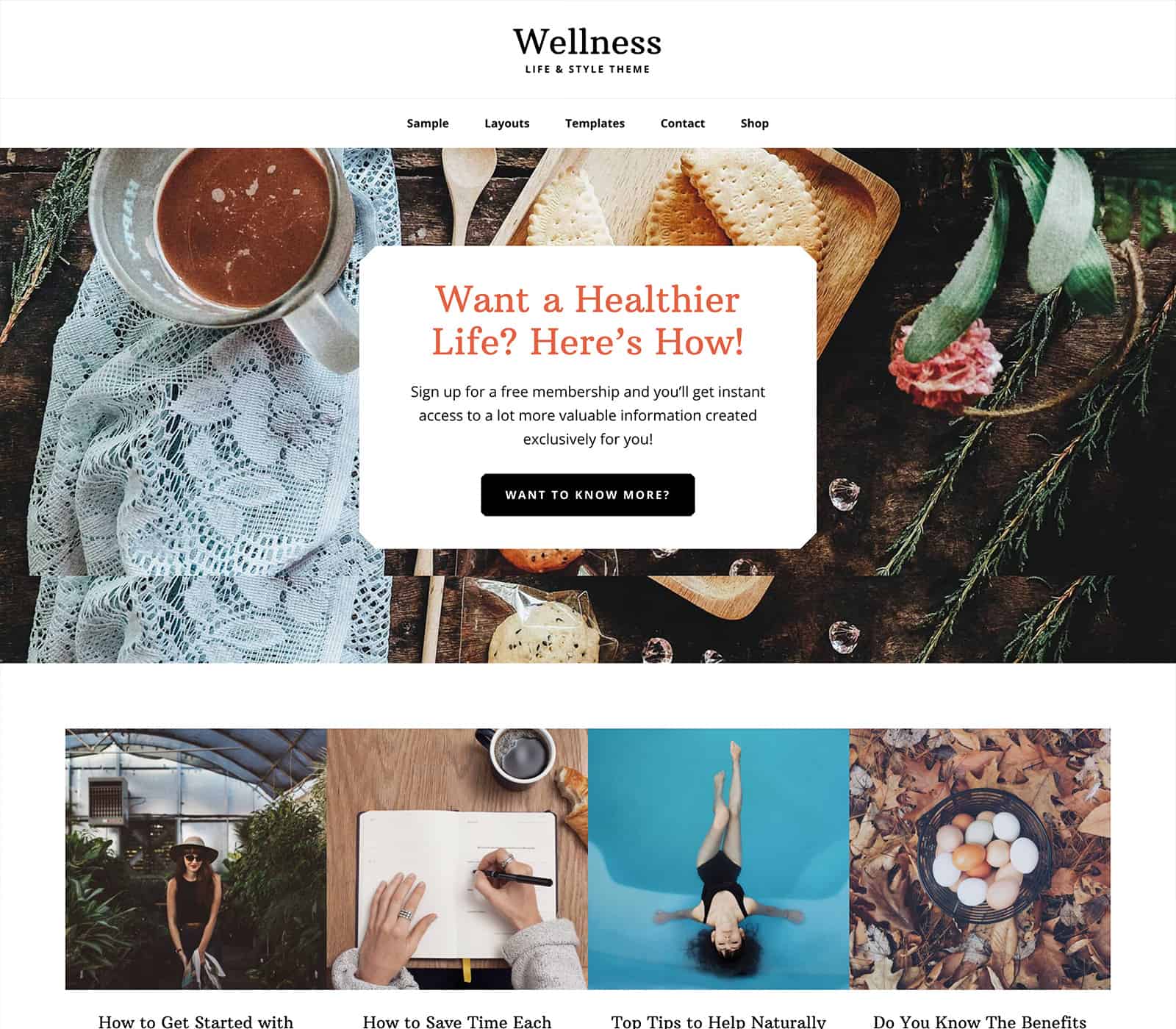 Our next choice is Wellness Pro. This is a StudioPress theme that provides a holistic solution for creating your Genesis-powered site. If your focus is mindful living or health and well-being, you can use the Theme Options features of Wellness Pro to begin the customization of your new site within minutes. Because Wellness Pro comes with eCommerce that's pre-designed for WooCommerce, you can easily set up an online store. The Theme Customizer lets you make real-time content changes and adjustments to the settings, colors, and background images. It's also mobile friendly.
3. Business A Spa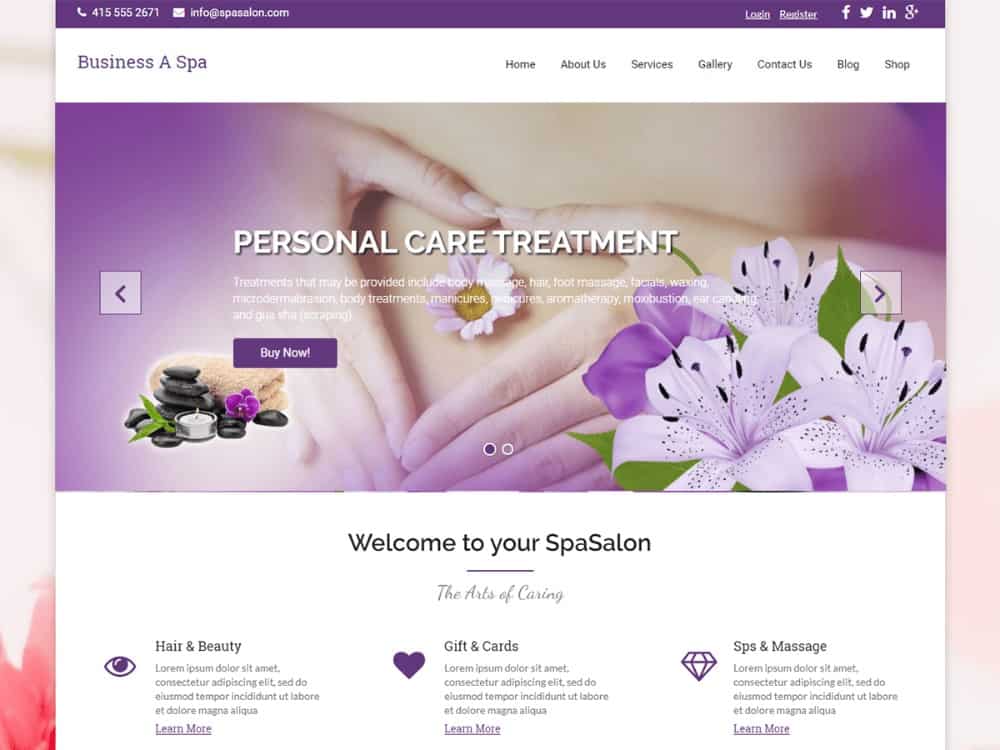 Business A Spa is a WordPress theme that fits any type of small business. Regardless of whether your business is an established corporation or a startup company, this is the perfect theme for building your website. Business A Spa is designed with bootstrap and responsive that support WooCommerce. It comes with both left sidebar and right sidebar blog options. The typography is straightforward and readable on a wide variety of screen sizes, which makes it suitable for businesses. This site is mobile-friendly for your visitors utilizing their laptops, desktop computers, tablets, or smartphones.
4. Business One Page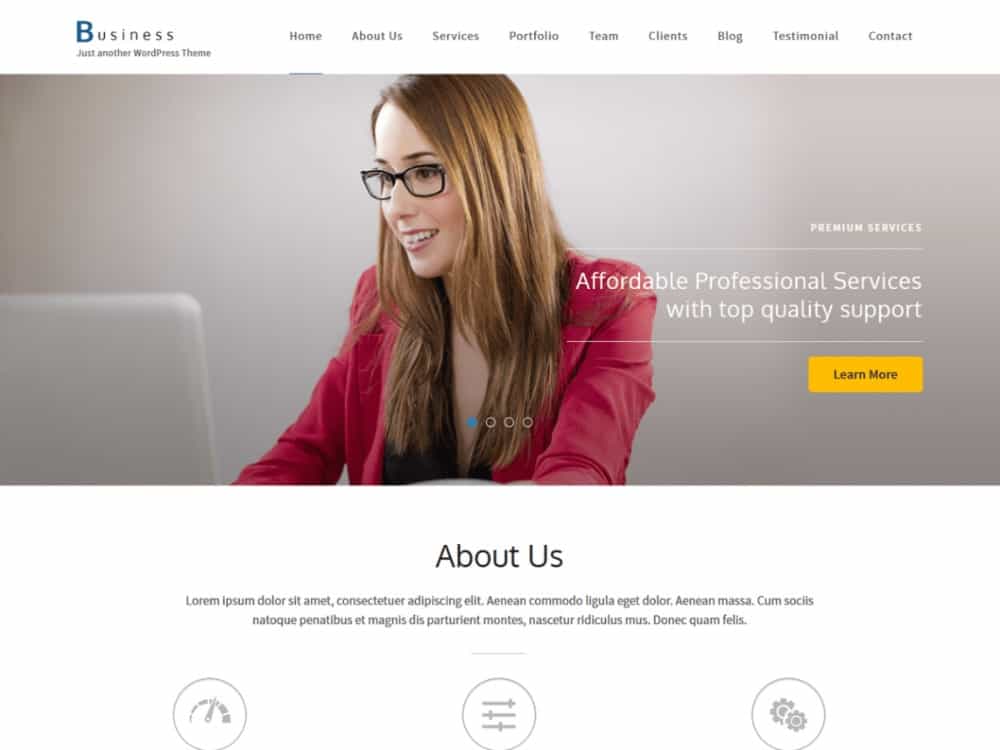 Business One Page was designed with the consideration of how visitors would be utilizing the site. With this theme, anyone can create beautiful sites that are compatible with all browsers and devices. Because Business One Page is SEO friendly, it's easy to find on Google and other search engines. Several features such as advance slider options, portfolio, and product showcase, Call to Action (CTA) buttons, testimonials, social media, and contact details with the contact form, make it possible to create an interactive, user-friendly, aesthetically pleasing website. It also includes three custom widgets to show favorite posts, recent posts, and social media.
5. Cinderella
Cinderella WordPress theme is built specifically for spa and hair salons. Because of its versatility, Cinderella can be designed to fit a single salon in one location or a network of salons with multiple locations. The flexible Visual Composer Page Builder and intuitive interface make it easily modifiable. Advanced Theme Options allow the user to fully customize the theme to match their brand and fit any purpose their hair salon business might have. Cinderella's elegant and fully responsive design makes this theme a perfect choice for any hair salon.
6. Digital Pro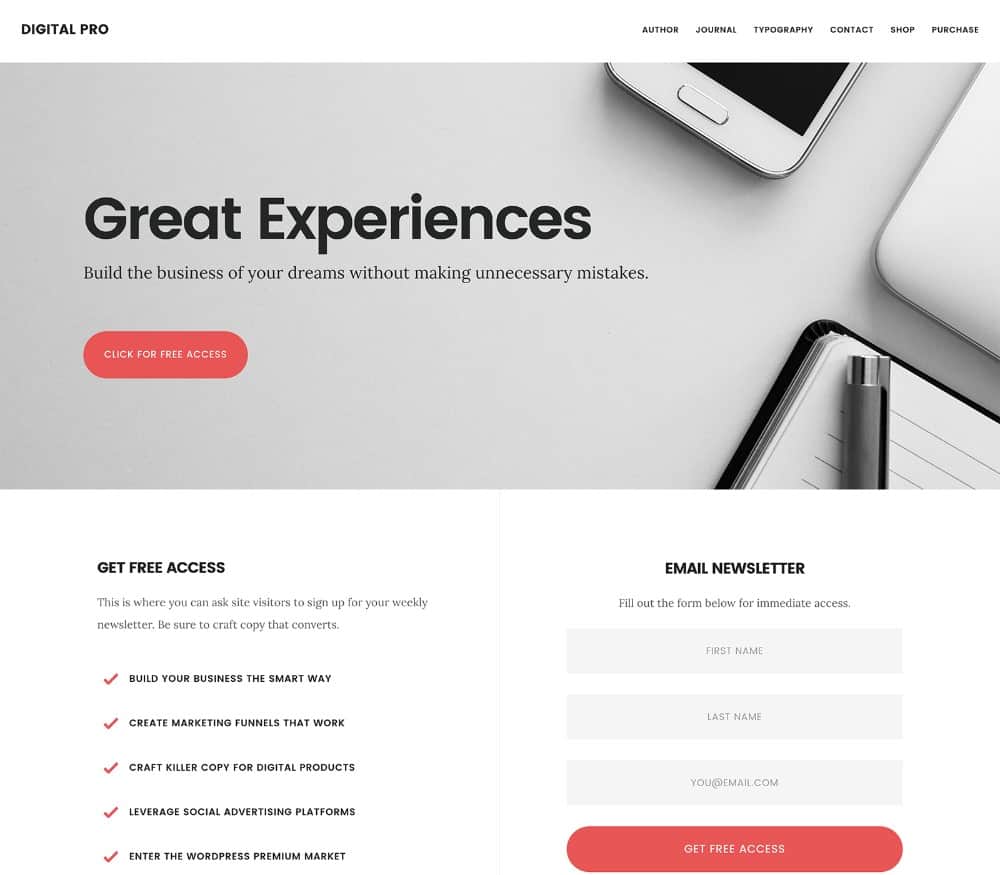 Digital Pro, built on the Genesis framework, is a premium theme from StudioPress. It's designed for media agencies, small digital businesses, and corporate offices. This theme offers useful features like a full-screen header image on the homepage. It also has a theme options panel, different color choices, page layouts, custom widgets, and navigation menus, for easy customization. The massive amount of white space and a feature image on the homepage will draw clients to your website. Other key features include a customizable header, responsive design, custom page templates, landing pages, theme customizer, and three widget areas.
7. Belleza
Creating a website for hair salons is the best idea to grow and increase the value of your business. The Belleza salon WordPress theme is specially designed for hair salons, wellness centers, and spas. The many features of this theme make it easy to customize and allow the user to create a beautiful website. This Salon WordPress theme will coordinate beautifully with any type of business in the field of beauty industry such as beauty care, cosmetology, massage, spa, and hair styling. Belleza is entirely compatible with the latest WordPress theme versions and plugins such as WooCommerce and contact form 7.
8. Dream Spa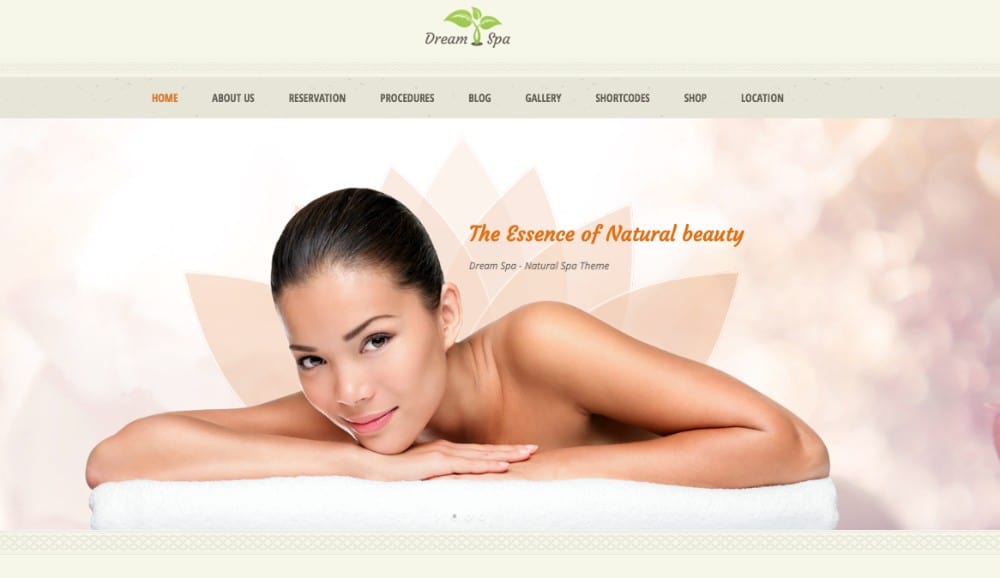 Dream Spa is an elegant child theme of SpaSalon. Dream Spa is the perfect WordPress theme to build an online store. This theme is suitable for beauty care activities, massage parlors, beauty salons, spas, hair salons, hospitality, physiotherapy, medical, yoga, health blogs, health-related activities, or another type of business. Because Dream Spa supports WooCommerce, you can create an effective online shop presence. The separate WooCommerce sidebars allow you to add different sets of widgets to customize the layout of the sidebars on the Business Template. All these changes can be done without adding a single line of code.
9. Hairdresser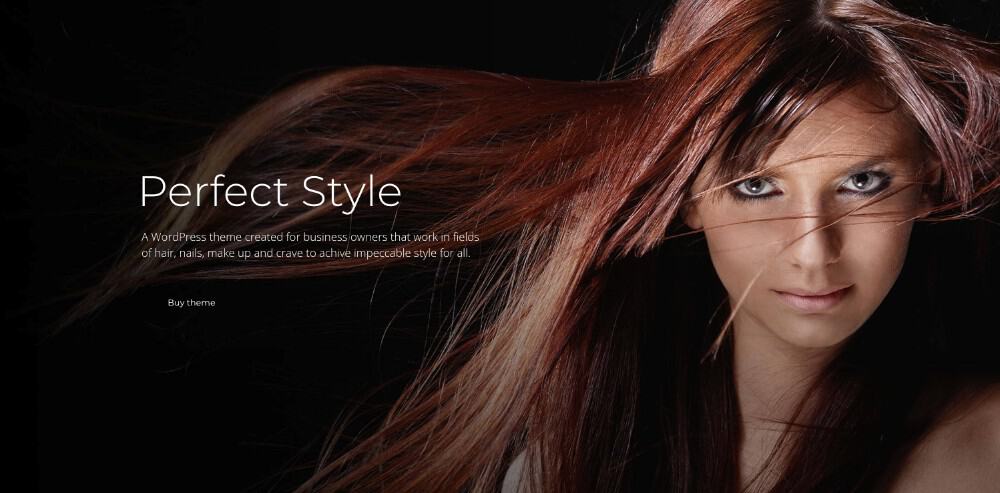 Hairdresser WordPress theme is designed to create web pages for businesses, such as make-up stylist, spas, hairdressers, and similar business. This theme comes with Revolution Slider, WooCommerce support, an advanced admin panel, and WPBakery Page Builder, which is formerly Visual Composer. It can be used for any type of business. Creating your perfect WordPress theme will be a joy, why search further, start building now! It comes with Google Maps that lets you show everyone where you're located.
10. Hairstyle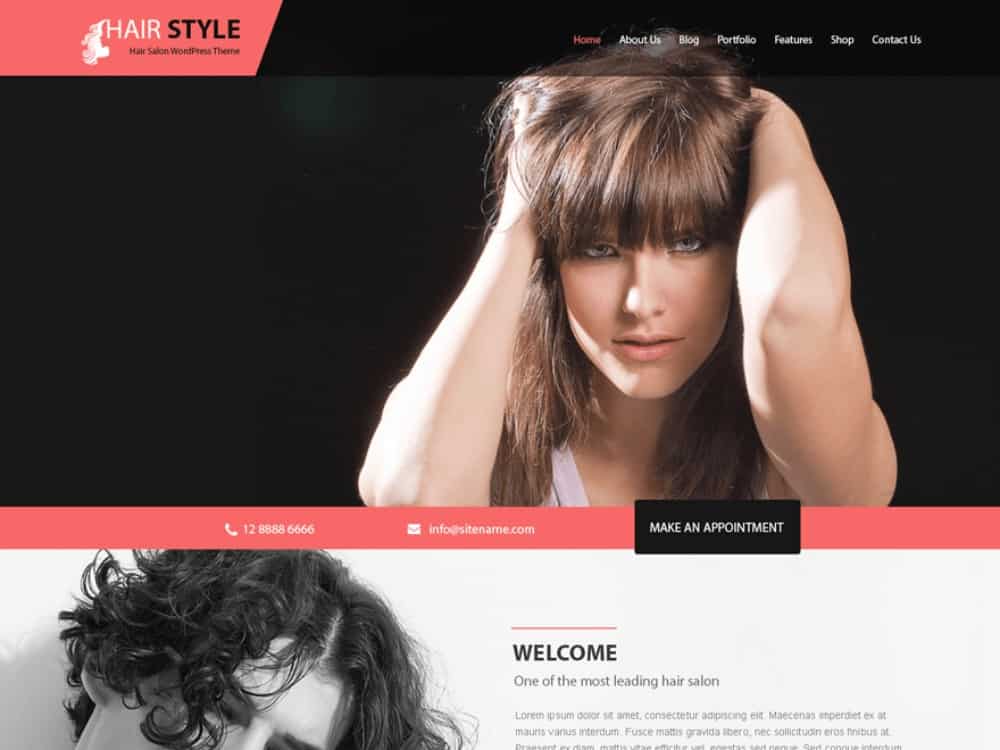 Hairstyle is a well designed and developed WordPress theme for hair salons. This WordPress theme is responsive. Hairstyle WordPress Theme can also be used to create sites for medical businesses, massage centers, and eCommerce websites. This WordPress theme comes theme options that are easy to manage. This is the best-designed WordPress theme to give your site a unique look. It will surely get noticed with its plenty of color options that make this theme very smart. The Hairstyle theme is fully responsive and compatible with the latest version of WordPress. It can be easily adapted to any kind of website.
11. Massage Spa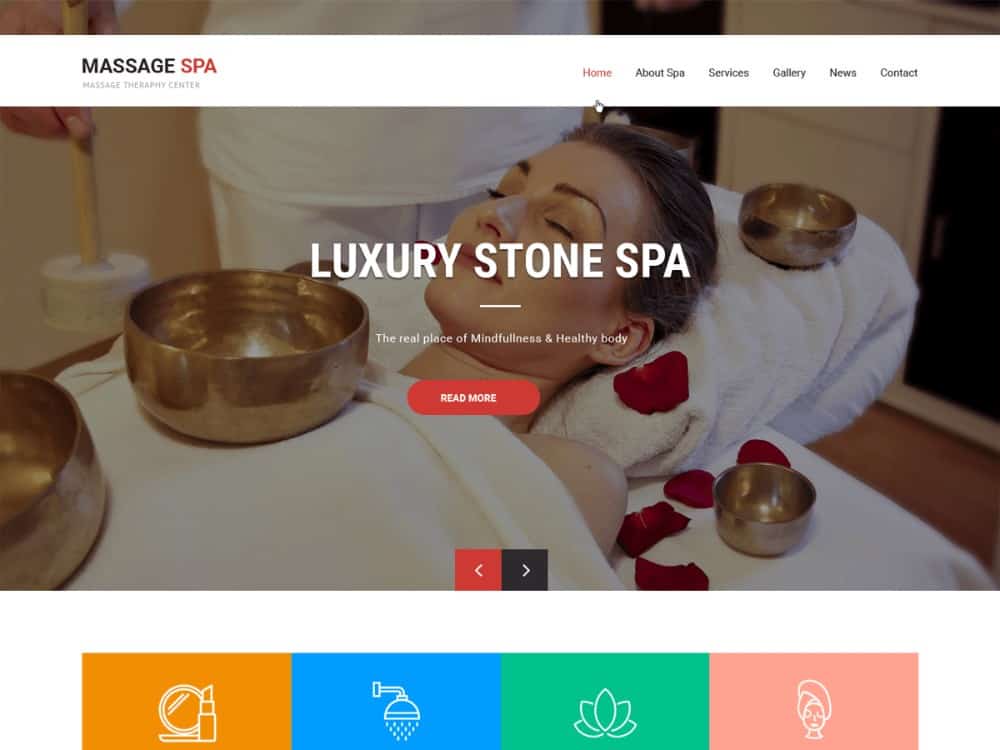 Massage Spa is a modern, clean, flexible, and visually appealing WordPress theme. This WordPress theme is completely customizable. Creating beautiful websites with this theme is a smooth, engaging, and pleasant experience. This theme was developed to create a platform for users to development and design of beautiful modern massage, spa, yoga, beauty parlors, and hair and nail salon websites. Massage Spa is a Beautiful and elegant design theme that's SEO friendly, Responsive (mobile-friendly) Design and comes with Theme Features, Color Options, Compatible with WooCommerce and contact form 7.
12. MediSpa
Medispa Theme is a Multi-Purpose Theme that's suitable for spas, hair salons, massage parlors, medical facilities, yoga centers or similar type businesses. This WordPress theme is SEO and user-friendly. Medispa Theme has 7 widget ready areas ready to assist you in creating your site. This fully customizable theme is supported by drop-down menus and widgets. With Medispa Theme you can view your changes before publishing them. This theme comes with the popular WooCommerce plugin that enables you can create an online shop presence. It also has a separate WooCommerce Sidebar in the shop pages where you can add different widgets.
13. Nikhar Spa Salon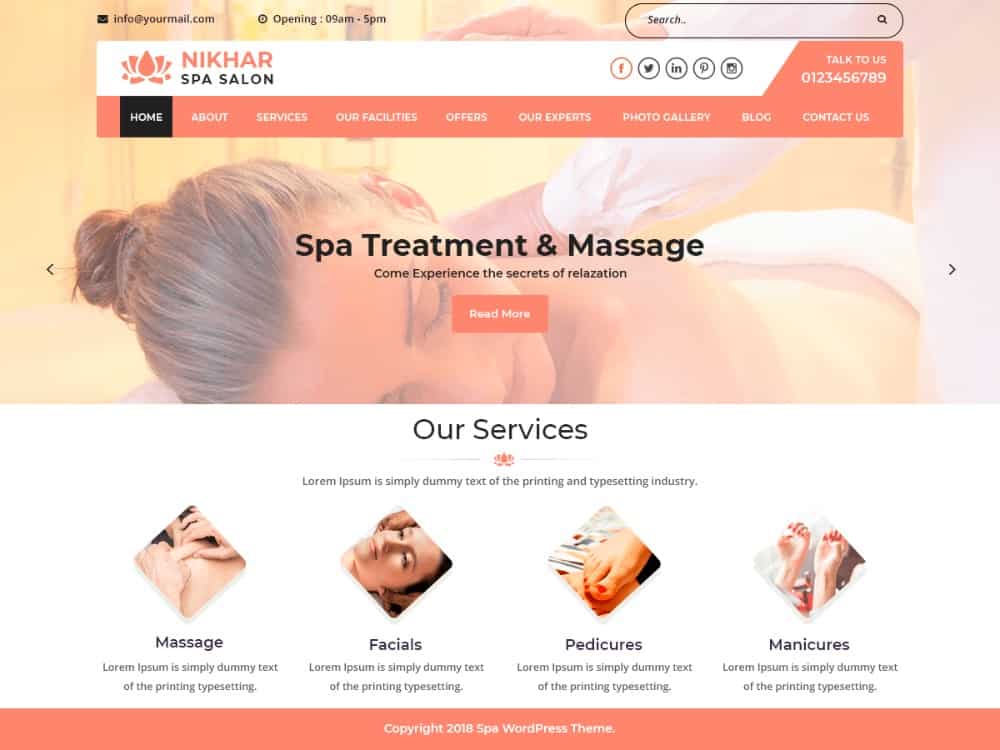 Nikhar Spa Salon is a youthful, refreshing, sleek and feature-full WordPress theme. It can also be used for health or beauty care blogs. You can change the entire look of the website by revising its menu, color scheme, slider effects, background images, header and footer style, and font. This theme is fully responsive, compatible with many browsers, and translation ready. This fast-loading theme is search engine-optimized. Social media integration makes the content shareable on various networking sites. Colorful images, life-size full-screen banners, and full-width sliders will attract many users.
14. Salon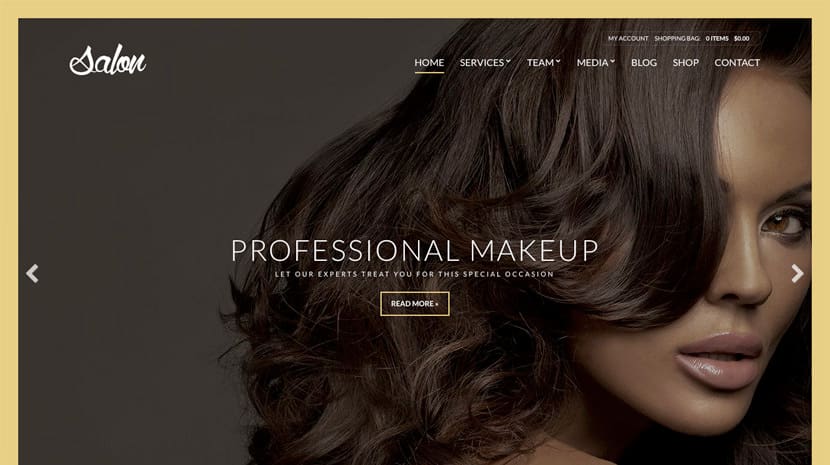 Salon, a basic WordPress theme created by CSSigniter, provides users with the features needed to build a website for a spa, wellness center, or a beauty salon. The homepage has a full drag-and-drop builder which allows you to customize the homepage elements to fit your requirements. The theme bestows you with many presentation options to work with. Some of the available options consist of different layouts and column structures with optional filters that give the designer more control over the displayed content.
15. Sauna Lite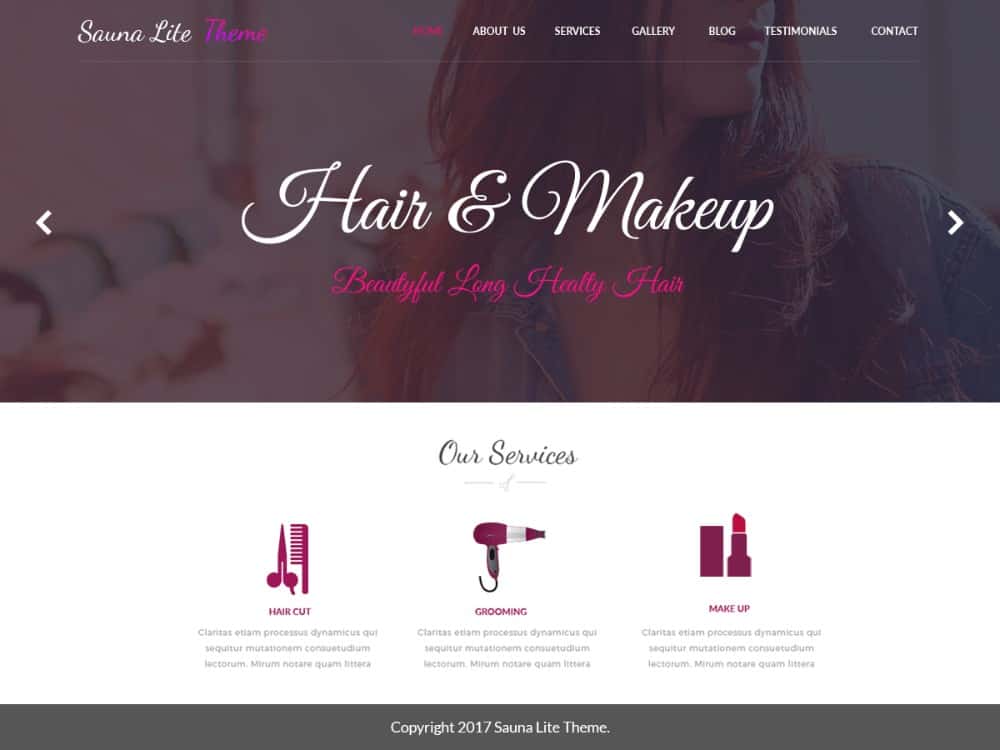 Sauna Lite is suitable for hair salons and other beauty care websites. This free WordPress theme helps the user produce professional-looking websites. This is a responsive and cross-browser compatible theme. This theme is translation ready and well suited with popular plugins like Contact form 7 and WooCommerce. The theme settings are easily manageable. It was developed to optimize the experience of the visitors and their engagement with the site. This theme is comprised of an about section, service section, and testimonial section. Also, it has breadcrumbs, header phone number display, and social media integration.
16. Spa and Salon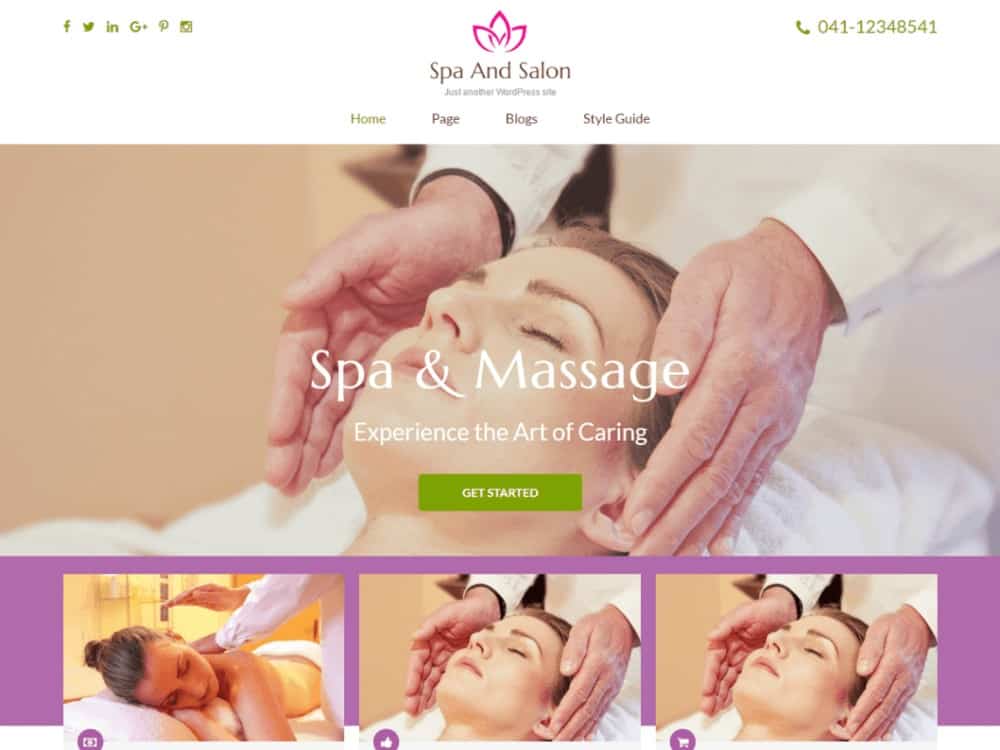 Several features make Spa and Salon a user-friendly, interactive and visually stunning website. Some of these features include breadcrumbs and social media integration. It also has service, testimonial, and about sections. This theme has three footer area, a right sidebar, four custom widgets for recent, favorite, social media, and featured posts. The Spa and Salon theme is built on Customizer, which allows you to easily customize your website with live previews. Spa and Salon theme translation ready. Designed with the consideration of how the visitors would be using the site, Spa and Salon help developers create professional and appealing websites.
17. SKT Spa Lite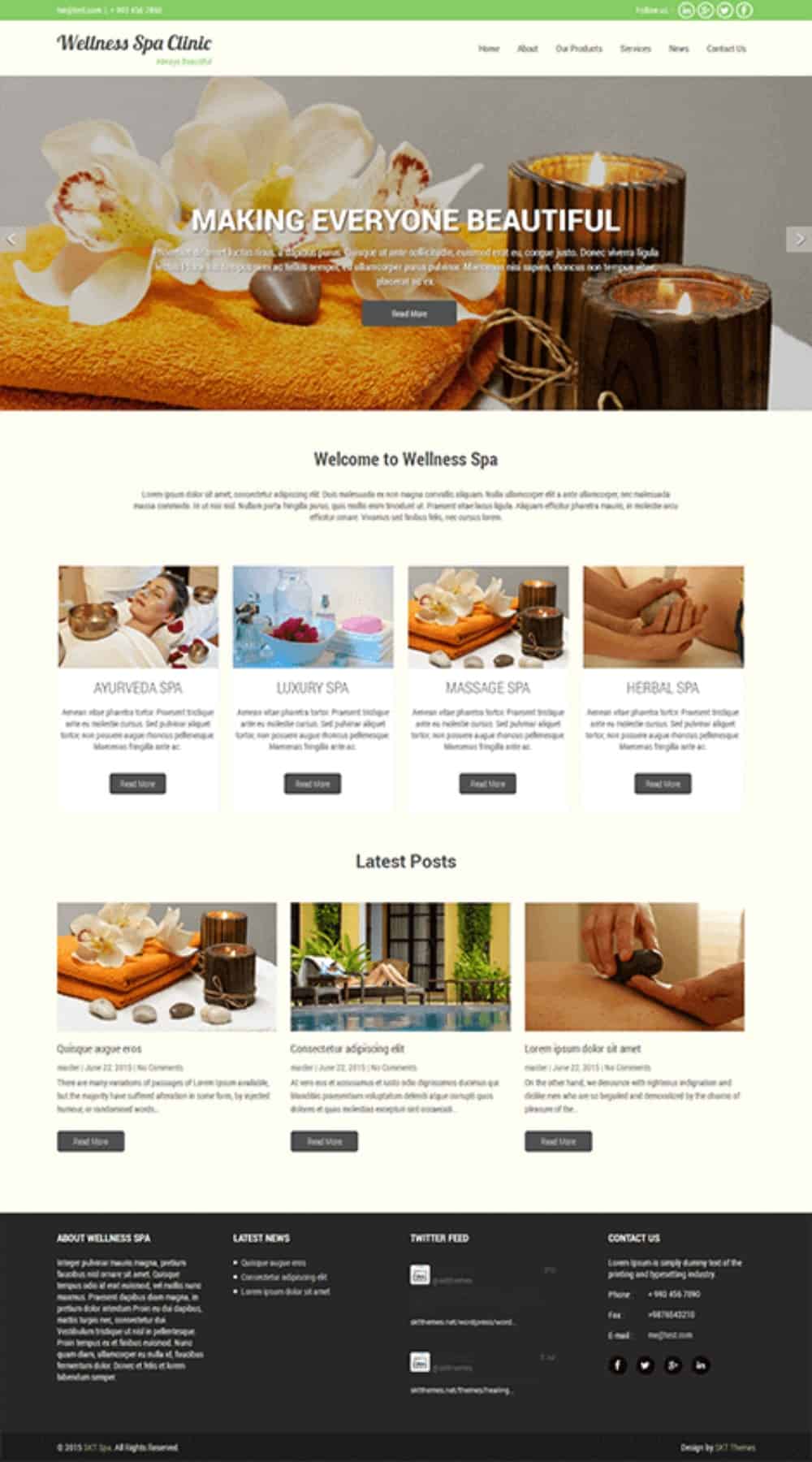 Regardless of the type of business, building a website using the free spa theme for SKT Spa Lite can be done with ease and convenience. This theme is perfectly designed to create a fantastic site for a Spa parlor, massage parlor, beauty products store, beauty parlor and any related type of business. Rather than placing unanswered phone calls or leaving numerous messages, many people prefer the convenience of making online appointments. An online presence for your business can help you connect with clients and generate more revenue. Try SKT Spa Lite and watch your business grow and your revenue increase.
18. Spasalon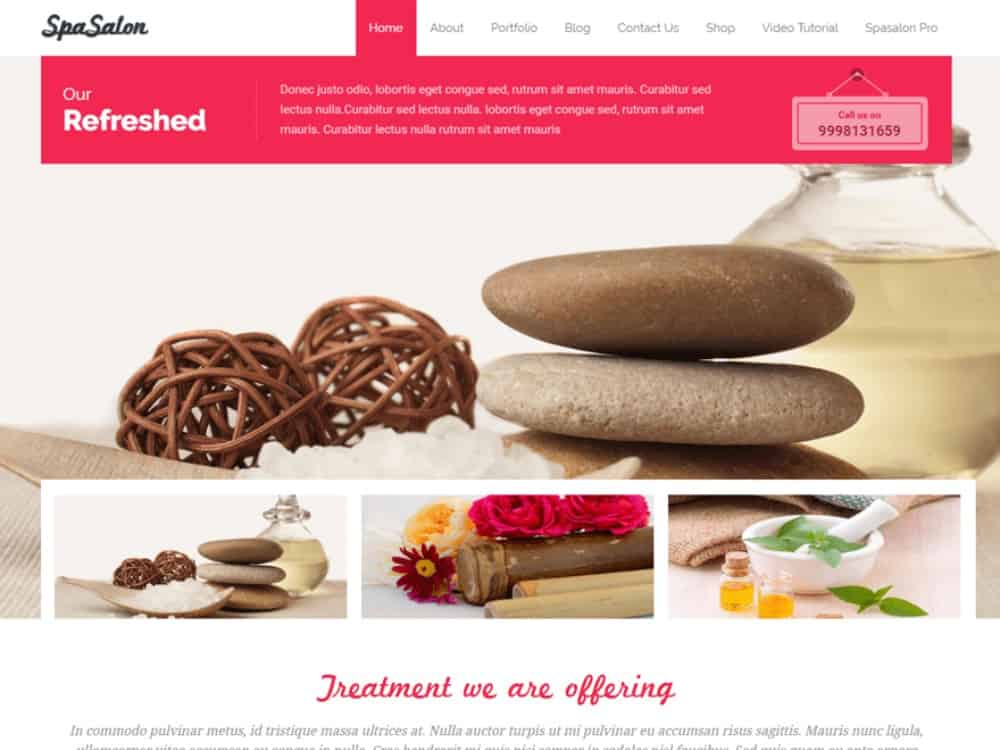 SpaSalon is a fully responsive multi-purpose theme. This fast and lightweight theme is built with speed, search engine optimization, and the user's experience in mind. SpaSalon supports drop-down menus, built-in widgets, and Contact Form 7 styling. You can also build an online shop. Separate WooCommerce sidebars are located on the shop pages. The SpaSalon PRO comes with support for Contact Form 7 and Google Maps. SpaSalon Pro also offers more widget-ready areas and built-in widgets for Services, Teams, and Product Sliders. You can customize the layout of the sidebars on the Business Template without using code.
19. TheWest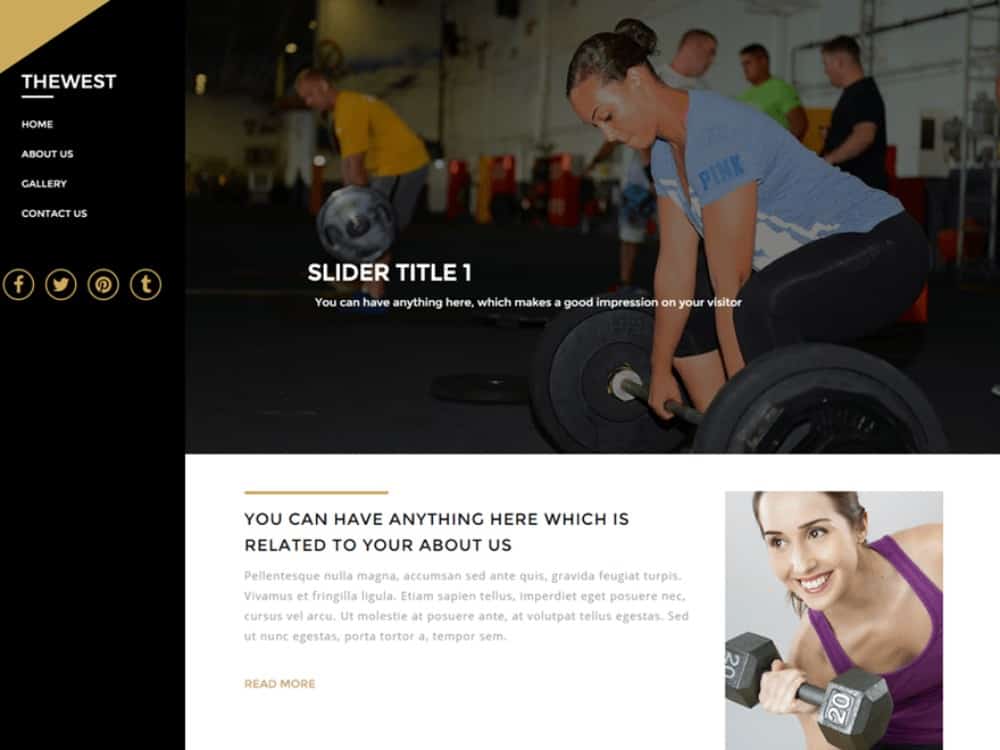 TheWest is a beautiful and elegant, clean, sleek, SEO-optimized, multipurpose WordPress theme designed for small business by NavThemes. This theme is unpackaged, search engine optimized (SEO) Ready, mobile ready, and translation ready. It has powerful customization options. It comes built with bootstrap and with an inbuilt slider. This theme is used to create websites for small businesses such as personal fitness trainers, small travel agencies, professional gymnastics trainers, carpenters, freelancers, plumbers, individual consultants, and hair salons.
20. TR Salon Lite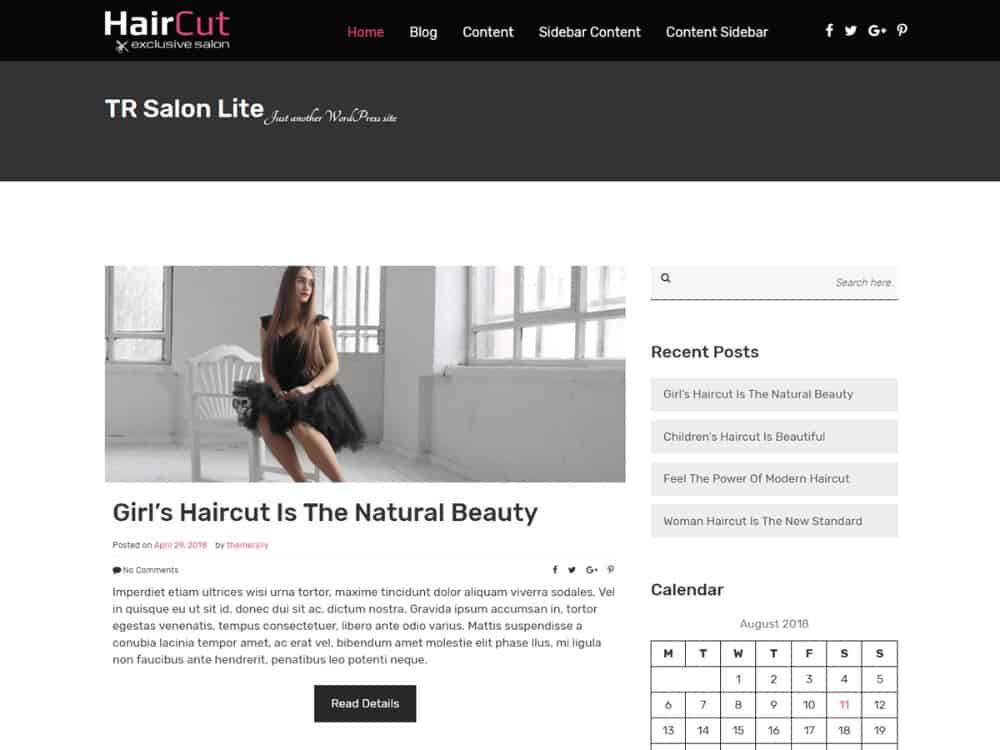 TR Salon Lite is a fully flexible, super responsive Bootstrap-based, clean WordPress Theme that is suited for all types of blogs, especially hair salons, and beauty and lifestyle niches. The optimization of this theme allows anyone from the novice blogger to the professional web designers to produce a powerful, fast loading website. TR Salon Lite theme is built on top of the Bootstrap framework. It comes with documentation both in written and video form that makes it easy enough to be used by a developer or user who has only a very basic coding knowledge.
21. Ultrabootstrap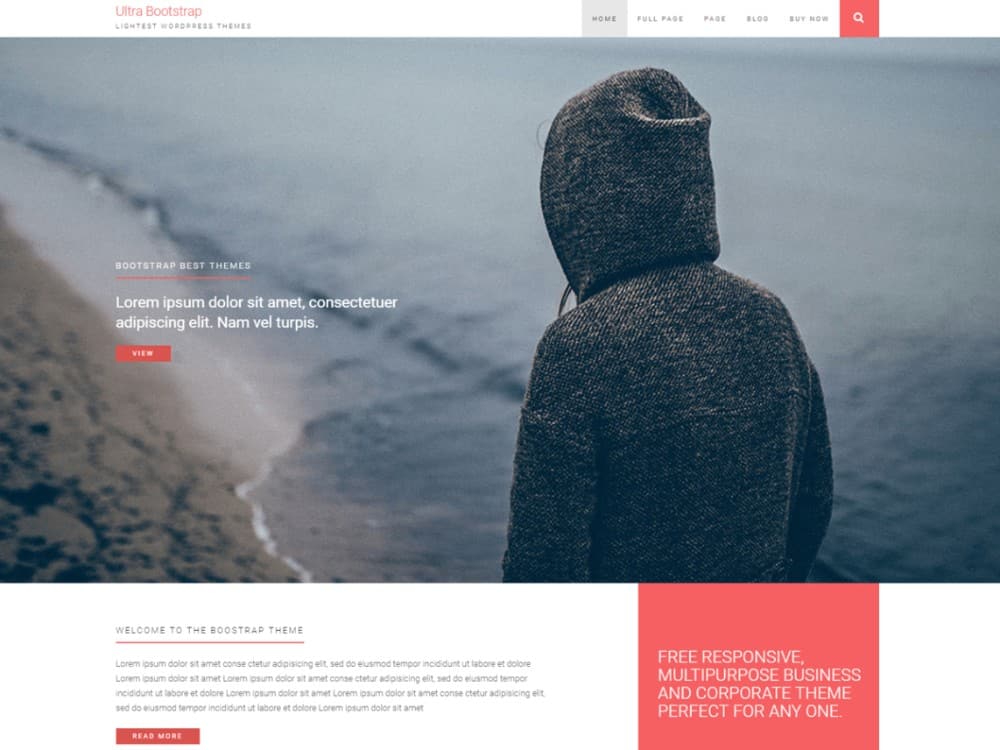 Ultrabootstrap is a free responsive multipurpose WordPress Theme for bloggers and artists. It comes with a customized background, footer widget blog, custom color, social icons and welcome message in homepage layout, fullwidth slider, and featured posts. The theme is beautifully handcrafted with minimalist design approach and based on Underscore Framework and Twitter Bootstrap. This theme has high-quality clean code with Search Engine Optimized (SEO). It can be used for businesses related to weddings, health, yoga, gym, travel tour, and hair salons. Designers can customize the theme from the Theme Options and preview this WordPress theme with one click demo support.
22. VW Hair Salon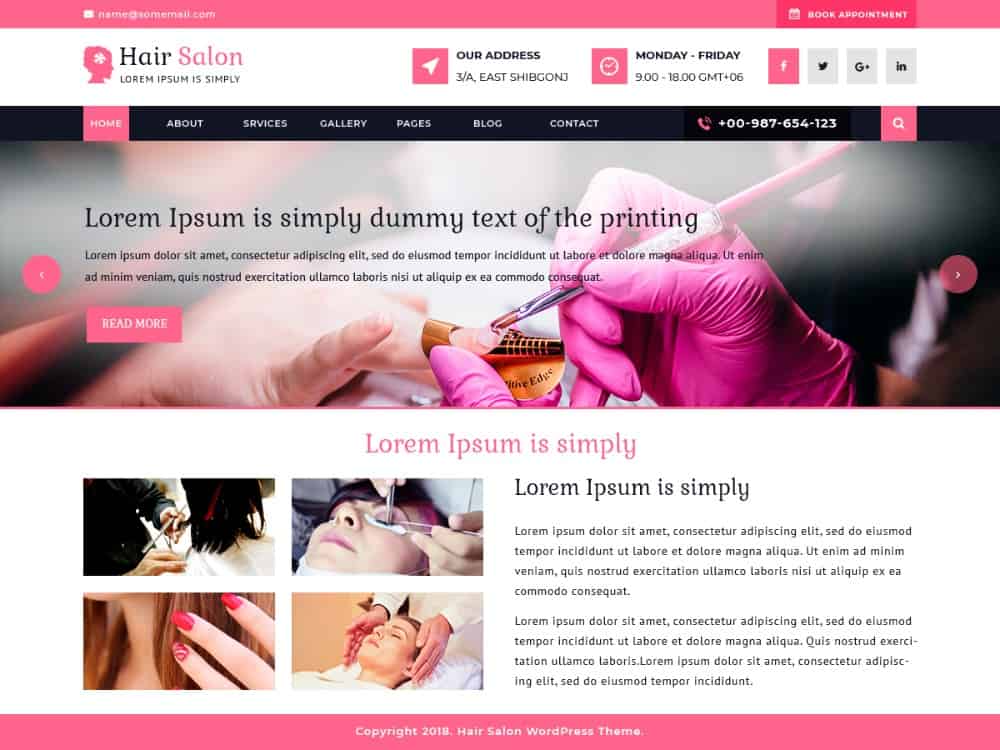 VW Hair Salon is a modern multipurpose WordPress theme. The main feature of the WordPress theme is the ability of the user to customize it. The navigation is user-friendly navigation on both the front and the back end. It is made SEO-friendly for better search results. This WordPress theme comes with essential plugins. Because it is light-weight, the pages load faster. This VW Hair Salon theme offers WooCommerce support to provide products for sale on your site. To reach a broader audience, use the available integrated social media icons.
23. Booster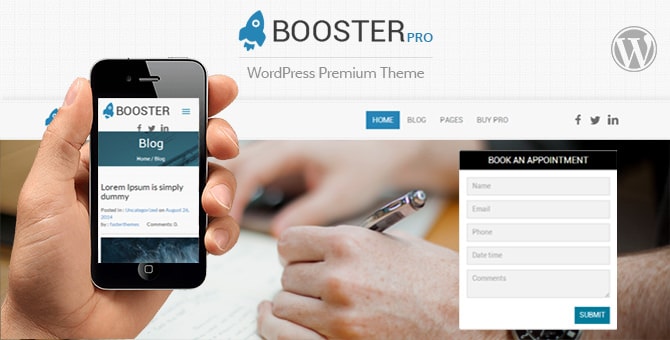 Booster is a responsive (mobile-friendly) WordPress theme. It is best suited for small businesses like carpentry, plumbing, individual consultants, hair salons, and other types of creative websites and blogs. Because Booster was developed using Bootstrap 3, the theme is both mobile and tablet friendly. The latest web standards such as CSS3 and HTML5 are incorporated within this theme. It is also SEO friendly. Booster has loads of theme options that help the user manage homepage content and social media pages. Booster is a free WordPress theme that offers superior functionality and design.
24. Bridge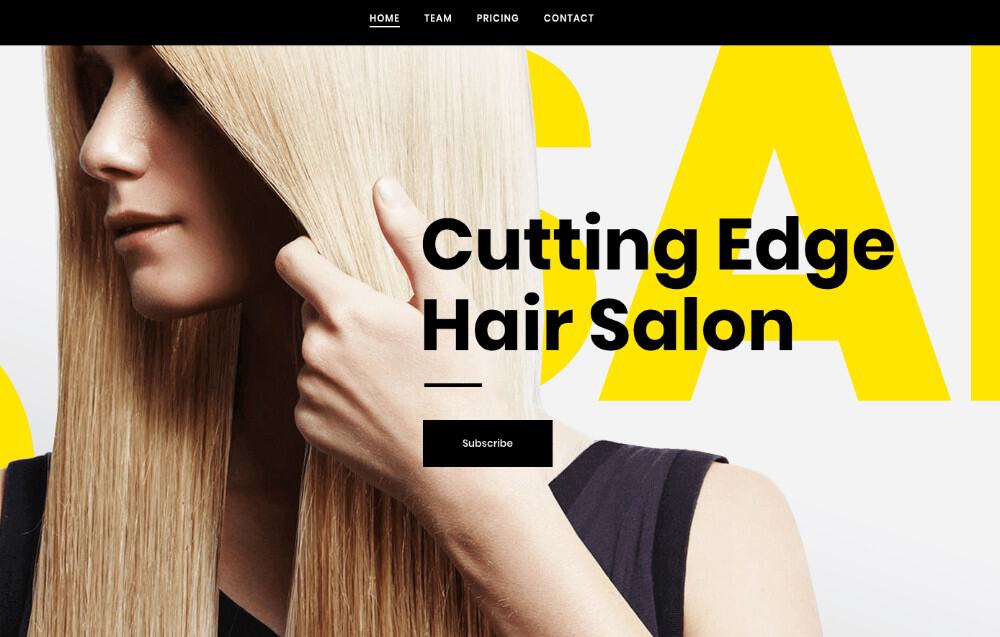 The WordPress theme BRIDGE is a responsive retina multipurpose theme that's perfect for any user. If you're looking for a modern portfolio website, Bridge is a good choice. With an awesome news plugin, Bridge comes with a variety of shortcodes designed for displaying posts in news and magazine style layout. WooCommerce allows you to sell products online. The admin interface allows you to easily create shop pages. The pages of your website are indexed with integrated search engine support. You can also set meta keywords and description for each individual page to increase the SEO ranking.
25. Deep Focus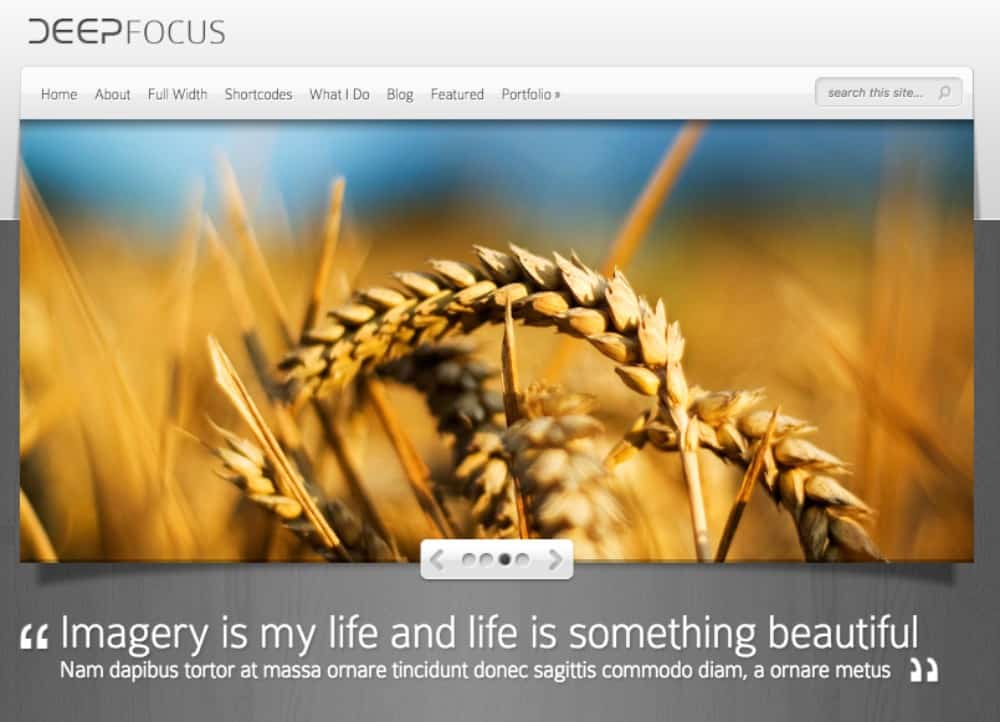 Deep Focus is one of the most beautiful WP themes on the planet.  It's responsive and comes with an easy-to-use settings panel that allows you some customizations for the design, blog posts and pages.  You can customize the home page images so that it's perfect for your hair salon.  When you look at the attention to detail in the design, you'll agree this is one stunning website design for a hair salon.
26. HairSalon
HairSalon has many bells and whistles including one-click demo installation (essentially a done-for-you website) but also comes with Visual Composer (total customization), Revolution Slider and drag and drop customization.  As you can see the design itself is second-to-none and was built from the ground-up for hair salons.
27. Coiffeur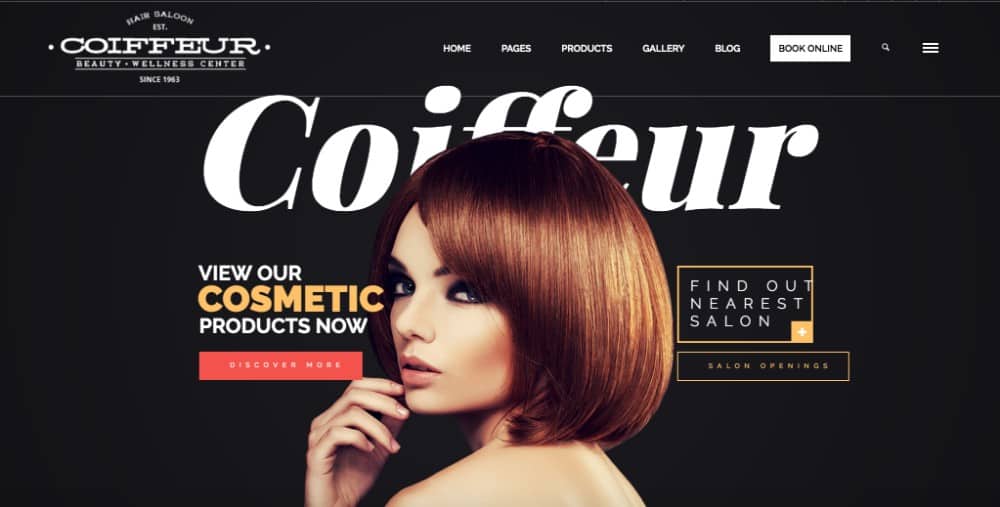 With Coiffeur you get a vintage looking WordPress theme design which stands out among the slicker designs most salons go for.  In fact, this design was nominated for a CSS design award, which is impressive given the number of WP themes that are released each year and the fact this was specifically designed for a very specific industry.
28. Curly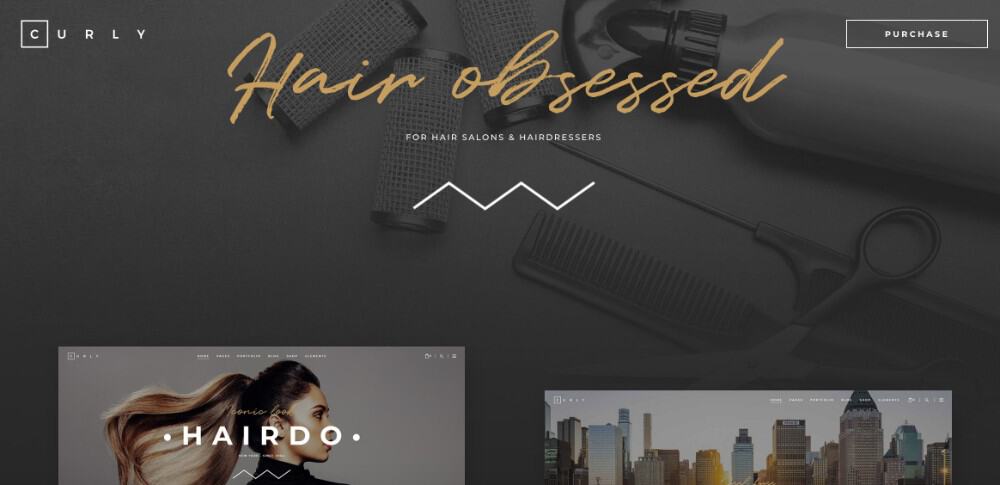 What I love about Curly is you can choose from multiple designs, which is cool for the price of one theme.  Check out their demo and you'll see a variety of different site designs to choose from.
29. Kitring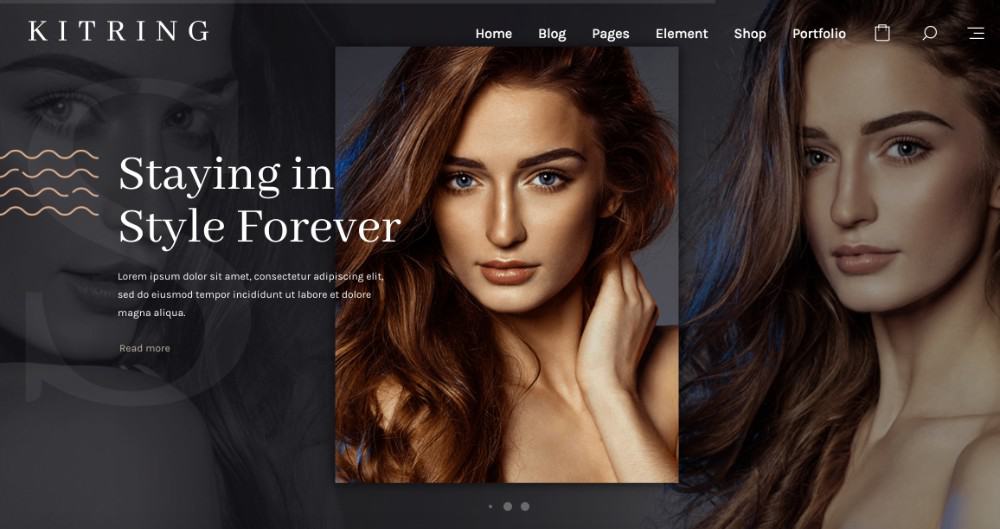 Kitring comes loaded with all the tools and software needed to give you pretty much unlimited easy customization for the home page and other pages.  You can go with the default design (which is no slouch) or test your design skills coming up with something unique.