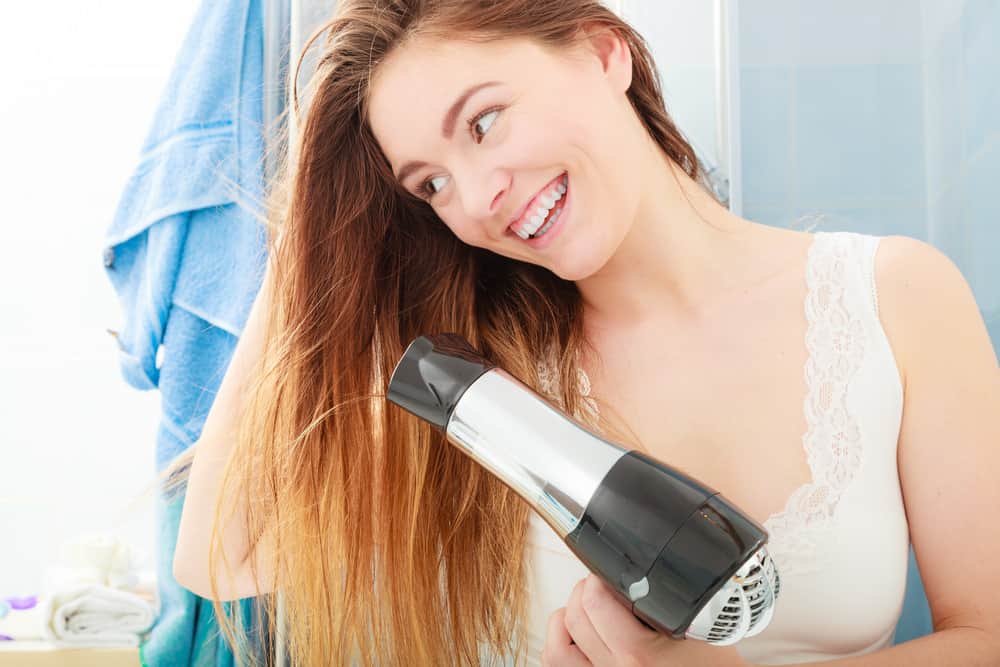 Fortunately, hair dryers aren't terribly expensive, but they cost enough that you want to get the right one the first time. Besides, it's a hassle returning them and ordering a new one etc.
A good starting point for buying a blow dryer that will work for you is to check out our selections for the best hair dryer according to various purposes. We set them all out below.
Key hair dryer buying info
There are several different features in every blow dryer that makes each one a little bit different. We're here to help you figure out what is the best hair dryer for your hair and the style that you want to achieve in 2023.
1. Turn down the heat, but keep the wattage up.
Unlike curlers and crimpers that need higher temperatures, blow dryers need more power than heat. Look for a hair dryer that has between 1,300 and 1,800 watts.
2. Know which settings to use.
You'll commonly see three settings, high, low and cool. Use the high setting if you have thicker, more coarse hair or if your hair is very wet. Use the low setting for fragile and thinner hair or if your hair is only damp. The cool setting, also known as the cool shot button, should be used to finish the last bit of drying and seal the hair cuticle, so your style will last longer.
3. Use an Ionic hair dryer for faster results.
An ionic hair dryer gives off negative ions. These ions help to break down the water molecules which helps your hair dry faster.
4. Use a ceramic tourmaline technology hair dryer to keep your hair from getting damaged.
Ceramic tourmaline dryers give off far-infrared heat that dries your hair in a more gentle and less damaging way. The tourmaline seals the cuticles, adding shine and preventing frizz.
5. For added volume and style, use a diffuser.
A diffuser is a great attachment that goes on the dryer to help you style your hair. For flat, straight hair, try flipping your hair over and use a diffuser going from the bottom up. For curly hair, use the diffuser on the tips of your hair and twist upwards.
6. Wattage:
How many watts is it? A good wattage is 1,300 to 1,875. It's recommended to buy higher wattage and use a lower setting.
Drying features:
Ionic: breaks down the water to dry hair faster. Not all dryers are ionic.
Ceramic: Blow infrared heat onto your hair. It's not as hot as traditional hair dryers so less damaging.
Tourmaline: Blow infrared heat and negative ions requiring even lower heat.
Settings: You definitely want a model that offers multiple heat settings including cool settings. You don't necessarily want to cook your hair every day.
Noise: Unfortunately you won't know how loud a hair dryer is until you use it, but you can read other customer reviews for some guidance. For me, noise is a significant factor – I despise noisy appliances of all kinds. Makes me wonder why Dyson can't come up with a whisper vacuum.
Size: If you travel, get a separate travel-friendly hair dryer that is compact so it's easy to pack. Don't necessarily count on all accommodations to have hair dryers available. Check the dimensions and research whether it folds and how well it accommodates the cord for traveling.
Attachments: If you have attachments that you like, ensure any prospective hair dryer accommodates your attachment. If, however, your choice of hair dryer is more important it may be worth buying new attachments. Also, be sure that any hair dryer you buy offers all the attachments you need/like to have.
Hair type: Is the hair dryer made for a specific typeof hair such as thick, fine, curly, straight, etc.? Read whether the model makes any mention of this and what other customers have to say about it. Obviously you want a dryer suitable for your hair type.
Cost: Fortunately, the range in cost is fairly narrow unless you go all out for a Dyson hair dryer which costs far more than the usual $50 to $150 hair dryers.
Weight: There's nothing worse than having to heft and hold heavy hair appliances. Compare the weights. A few ounces can make a big difference Check the weight of your current model and use that as a benchmark when shopping for a new one.
Blow strength: Some people don't need high blow strength while other people like the stronger the better. If you like a powerful air blow, investigate the blow capacity of any model you're considering and read what other people have to say. Some models definitely hype blow strength more than other models.
Ask your hairdresser: I'm always amazed more people don't ask their hairdresser for hair dryer suggestions. Here are reasons to ask:
First of all, professionals have likely used a lot of models and so they're familiar with them.
Second, your hairdresser knows your hair and may be able to recommend a model that best suits your hair and style.
Third, while hairdressers probably spend a decent amount on a hairdryer, it's not likely frightfully expensive given the maximum cost isn't outrageous (except for Dyson which manages to get away with charging well above the norm for all its products… sometimes justified and sometimes not).
Cord length:
Yes, you can use an extension cord, but then you end up with a mess of cord. Ideally, your hair dryer's cord is long enough for where you use it. Figure out how long of a cord you need and keep your eye out for models that have that length of cord. I wouldn't choose a hairdryer based on cord length, but if all else is equal, it could help you make a selection.There you have it; a list of questions, features and consideration to keep in mind when shopping for your hair dryer.
Our picks for the top blow dryers (in no particular order)
IMPORTANT: Please note that we do not try every hair dryer available for sale. That would be impossible given there are so many options and that some are for sale in some parts of the world that we do not have access to. Moreover, there are some that we may not have heard about and never will.
The most important part of this article is the blow dryer buying guide (see above) because it explains the different types of blow dryers and it's that information that we suggest you follow and then choose one that meets your hair type and needs. The following list is a diverse list of 11 different blow dryers that have garnered excellent customer reviews. The list is not based on our testing every single hair dryer available.
1. Amazing Hair Dryer for Fine Hair: RUSK w8less Ceramic Hair Dryer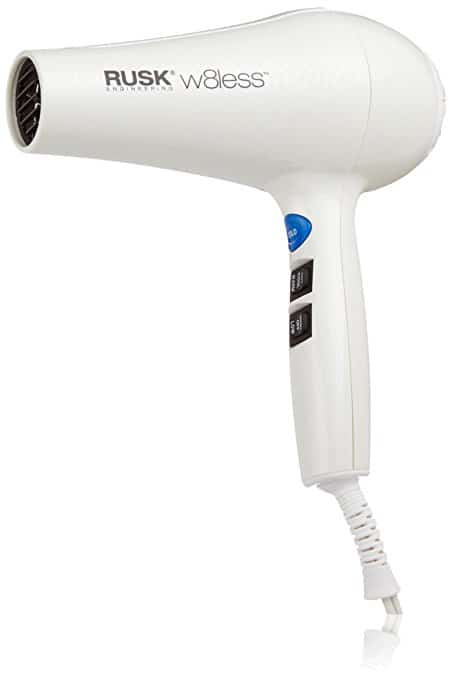 This model by RUSK is a professionally designed lightweight hairdryer–the solution you've been looking for in blow drying your hair.
Weighing less than a pound this hair dryer somehow packs all the power necessary into its compact, lightweight frame to get the job done for you, and get it done well. Without damaging your hair, or creating a frizzy mess for you to deal with, this RUSK hair dryer can get your hair dry, smooth, and magnificent in no time at all.
But how does it work? Just what is it about this hair dryer that makes it a game changer in the beauty industry? Let's delve in to give you all the details you need to know.
A Brand You Can Trust
RUSK is one of the world's premier salon brands, and they did not earn their position in the beauty industry by not striving to be the best.
The company has tirelessly pursued the latest and greatest beauty trends and innovations to bring their customers products that offer exemplary performance.
RUSK is a brand that keeps up with the hairstyle trends and hair drying needs of today. Their products are designed to give customers the ability to achieve the look they desire. The result of all their hard work, insight, and dedication? A hair dryer that goes above and beyond in performance, style, and hair care.
What Sets the RUSK Engineering W8less Professional 2000 Watt Dryer Apart?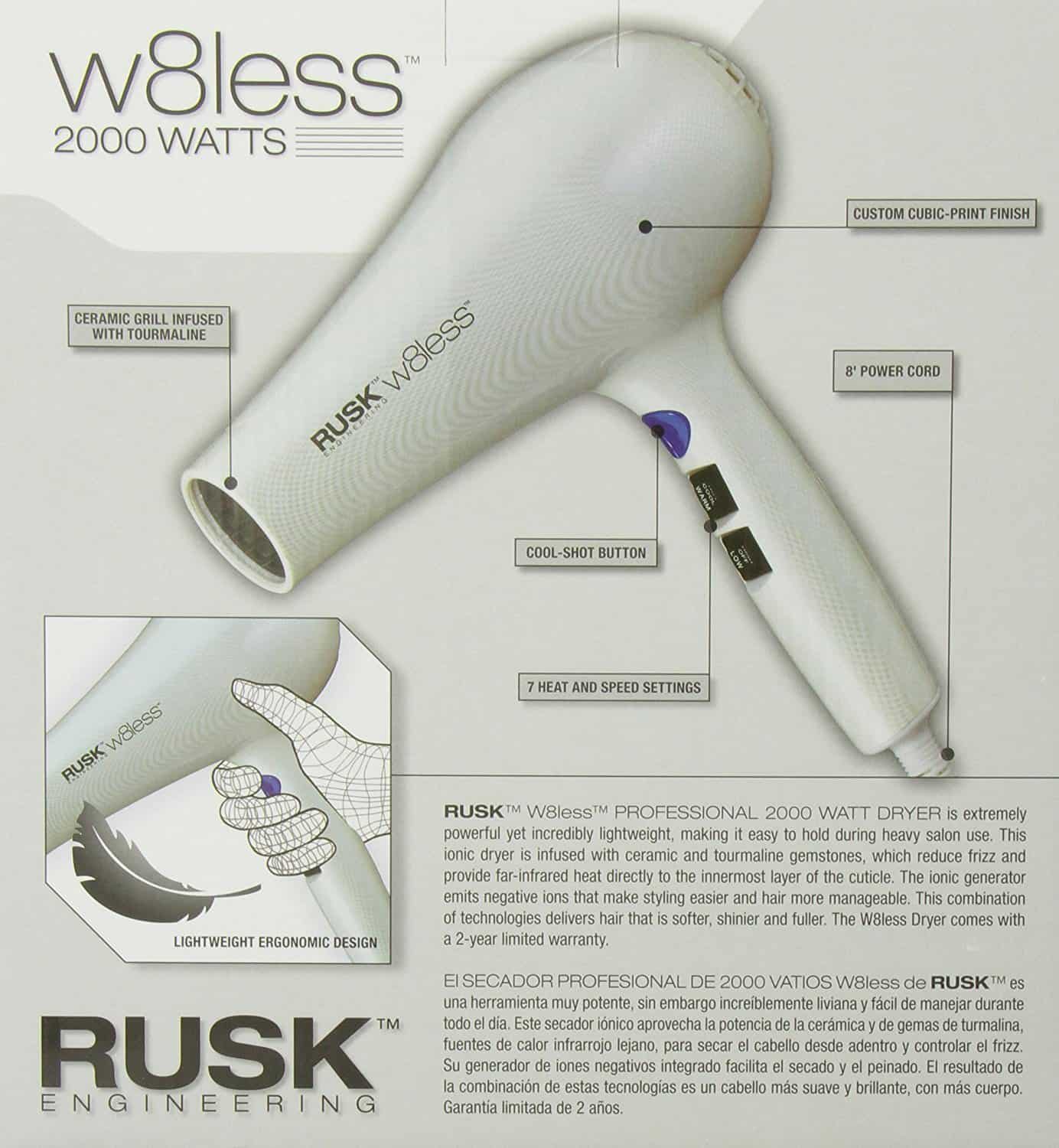 Let's start talking about the features that this incredible hair dryer has to offer its users that allow it to perform so well and make it an essential tool you need to add to your grooming arsenal.
Infused with Ceramic and Tourmaline
Just one feature among many that make this model the best hairdryer for fine hair (as well as regular and thick hair) is the fact that it comes infused with both ceramic and tourmaline. These are substances that help to reduce damage to hair in tools that use heat to style your locks.
Remember us mentioning that this doesn't result in the same damage and frizz that some of the competing models on the market do? This is why. The ceramic and tourmaline infused technology helps to reduce the negative effects on the health of your hair dramatically. The result? You
can leave the house looking like you just walked out of a salon every single morning.
Lightweight
Weighing in at just under one pound, this hair dryer won't tire your arm out from holding it. No one likes that shoulder pain you get from trying to style your hair with a heavy and bulky hair dryer. That's why, in this RUSK model, the company made sure to pack all its power into a small punch. You still get salon grade results, without all the bulk and weight that you might associate with other hair dryers that produce similarly stunning results.
Allows Filter Cleaning for Longer Lifetime
This feature helps contribute to the longevity of the device. While many hair dryers can become clogged with dust and hair products, resulting in the motor overheating and the device being prematurely destroyed, this need not happen with your RUSK hairdryer. Because the filter can be removed for cleaning, so long as you do this every now and again, you can rest assured that your hair dryer will last you for years to come.
Multiple Heat Settings
Like many modern hair dryers today, your RUSK Engineering W8less Professional 2000 Watt Dryer comes with many different heat settings you can choose from. As you probably know, especially if you have fine hair, a lower heat setting is best for you to cut down on frizz, damage, and static. The RUSK Engineering W8less Professional 2000 Watt Dryer offers 7 different heat settings for users to select.
However, what is unique about the heat settings options for this model, is it comes with a cool setting. This is not something that you very often see in hair dryers. However, who says you need warm heat to get your hair dry? While it does feel better against your scalp in many cases, it is not always completely necessary to achieve the effect you are looking for. The cool setting, or the lowest heat setting, are great options for those with fine or thick hair to get ideal results without damage.
Nozzle Concentrator
This hair dryer model comes with a nozzle concentrator, which allows you to hone in on a thin strand of hair and dry it without impacting the rest of your locks. If you only want to dry one section, or one section at a time, then this muzzle concentrator makes that feat easier than ever before.
Long Cord for High Maneuverability
The cord on this RUSK model is 8 feet long, allowing you all the maneuverability you could possibly need to style your own hair or to style somebody else's. Without being burdened by a short cord, you are able to have freedom of motion while getting your hair styled to perfection using this professional hair drying model.
The Verdict
With all these excellent features combined, it is clear that there is no contest. The RUSK Engineering W8less Professional 2000 Watt Dryer is the best hairdryer for fine hair available on the market today.
It has all the power you could possibly need from a hairdryer, coupled with a lightweight body, plenty of options for heat settings, including a cool shot option, and so much more.
It's professional and durable construction gives users the peace of mind that it will last for the long haul, while the infusion of ceramic and tourmaline assures users that their hair will not undergo damage, frizzes, or static from the use of this product.
Convinced that the RUSK Engineering W8less Professional 2000 Watt Dryer is the hair dryer that you've been looking for, especially to protect your hair and allow it to look its best? Click here for pricing and to buy yours today–but be warned, once you try it, you will never want to go back!
Interesting fact: The average hair dryer will last for 300 hours of drying time. Investing in a higher quality one may increase the number of hours of use you get. [Source]
2. One of the Best Travel Hair Dryers
Our second pick is the Conair 1875 Watt Compact Hair Dryer with Folding Handle.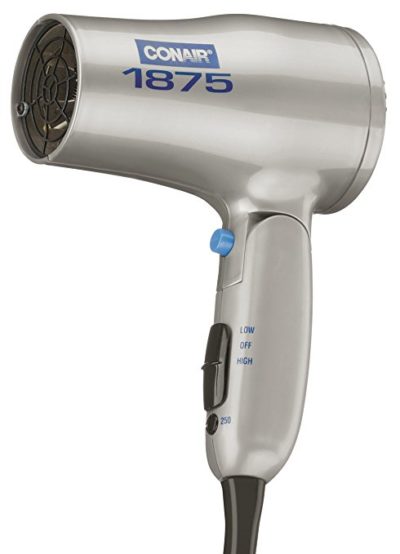 Style: Compact negative ion blow dryer
Design: Twist folding handle, lightweight, 1,875W hair dryer ideal for travel.
This is one of the best travel hair dryers based on customer reviews, weight, size and folding features… all while still delivering a very effective hair drying result.
At 1,875 Watts, this twist-folding handle ionic technology blow dryer is powerful enough to efficiently dry your hair with several travel-friendly features so that your hair doesn't have to suffer while on the road.
With two heat settings as well as two speed settings, this unit will accommodate all types of hair, including fine and thick and everything in between.
Finally, this is inexpensive to boot.
3. Outstanding Infrared Negative Ion Dryer
Our pick here is the Jinri Professional Salon 1875w Far Infrared Negative Ion blow dryer.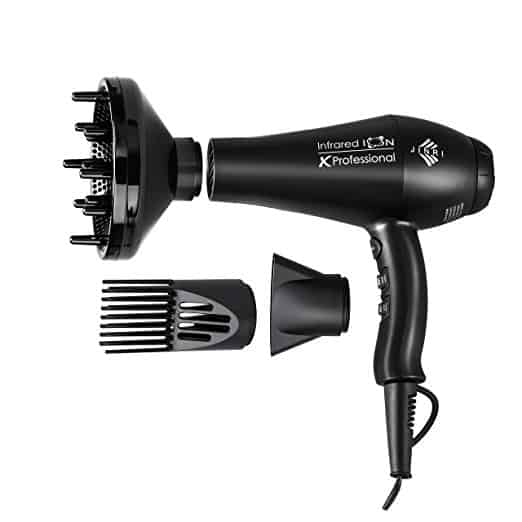 Style: Infrared negative ion dryer
Design: Fast dry, two-speed dryer with diffuser
The Jinri professional dryer features two-speed and three heat settings. It uses both negative ions and infrared heat to dry your hair gently without damaging it. This dryer comes with three different attachments to style your hair, and the description claims to deliver more than 2000 hours of drying time. Another great feature is that it comes with a removable filter so you can easily clean it.
4. Berta Ionic Hair Dryer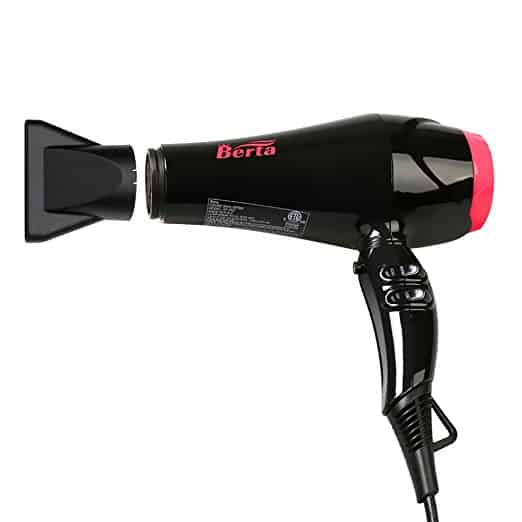 Style: 1875W negative ion dryer
Design: Two speed, three heat dryer with 1875 watts
The Berta dryer comes in a pink and black design with a salon cable and hanging loop. It uses negative ions and high watts to dry your hair quickly.
This dryer features two speed, three heat settings and ALCI safety plug that keeps it from turning on under abnormal conditions. It also comes with a detachable diffuser and removable filter for easy cleaning.
Interesting fact: A strand of hair is actually stronger than a copper wire with the same diameter. A single strand of hair can hold approximately 100 grams of weight. A full head of hair (100,000 strands) can hold the weight of approximately 7 cars. [Source][Source]
5. Excellent Ceramic Hair Dryer
Our pick for an excellent ceramic hair dryer is the Remington D3190 Damage Protection Hair Dryer with Ceramic + Ionic + Tourmaline Technology.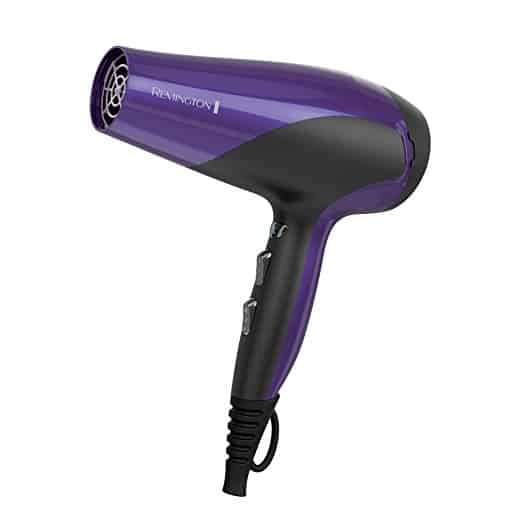 Style: Ceramic hair dryer
Design: Ceramic dryer with negative ions and micro conditioners
The Remington damage control ionic dryer comes is coated with ceramic and tourmaline to prevent your hair cuticles from overheating while drying.
A unique feature of this dryer is that the grill is infused with micro conditioners that transfer to your hair to prevent damage while also adding shine, which is a reason it makes our best blow dryer picks list. It also has two-heat, three-speed settings, a cool lock button and comes with two different diffusers. This dryer is a great option for fragile, thin hair and it is very budget friendly.
6. Revlon Compact Hair Dryer
The Revlon 1875W is a great compact hair dryer.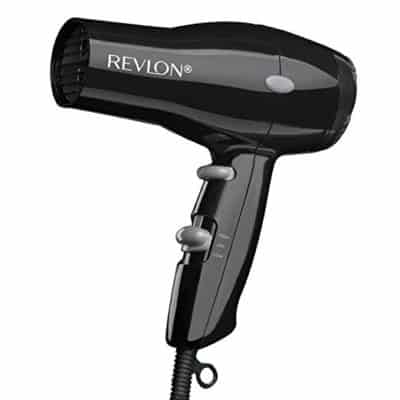 Style: Compact 1875W dryer
Design: Small, compact dryer with high wattage for travel
The Revlon compact dryer is ideal for times when you are traveling but don't want to bring your big, hard to store blow dryer.
This dryer has a removable end cap and also a hanging ring for easy, compact storage, perfect for your luggage.
It features 1875 watts for the quick drying as well as two speed and heat settings and a cool shot button to set your style.
Interesting fact: Healthy hair can be stretched up to 30% of it's length when wet. [Source]
7. Revlon Infrared Hair Dryer
This dryer, which is Revlon 1875W Infrared Hair Dryer is great infrared option.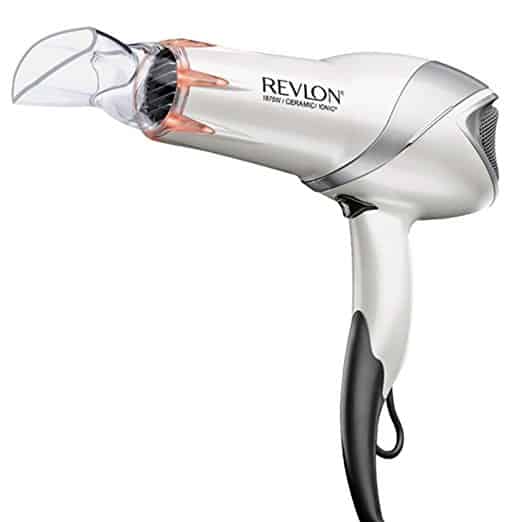 Style: 1875W Infrared hair dryer
Design: Infrared dryer with ceramic coating and diffuser
The Revlon infrared dryer is a budget-friendly option with several features such as negative ions and infrared heat to gently dry hair. It has three times as much ceramic tourmaline coating as most hair dryers to give you shinier, healthier hair.
This dryer has two-speed and two-heat settings as well as a cool shot button. This dryer is a good option for someone with thicker, frizz prone hair. It comes with two attachments including a precise styling concentrator and volumizing diffuser.
8. Popular Tourmaline Ceramic Dryer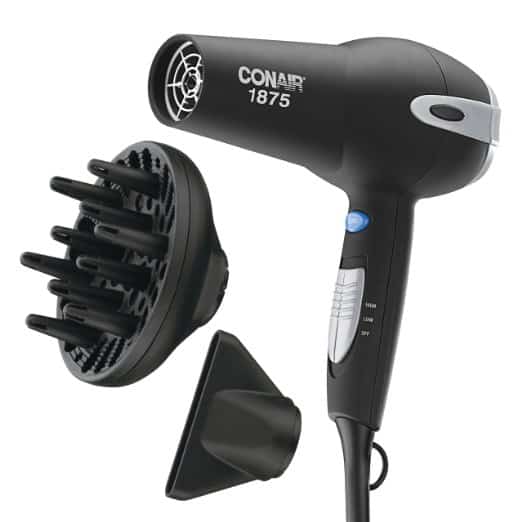 Design: Tourmaline 2-in-1 dryer with DC motor
The Conair soft touch hair dryer has a high torque motor for fast drying, and it is coated with ceramic tourmaline to prevent hair damage.
It features three-heat and two-speed settings along with a cool shot button. This dryer includes two attachments including a concentrator as well as a diffuser. This one was a no brainer to add to our list of 2023 best hair dryers.
Interesting fact: In 1950, about 7% of American women dyed their hair. Today, 60% of American women dye their hair. [Source]
9. Conair Infiniti Pro Dryer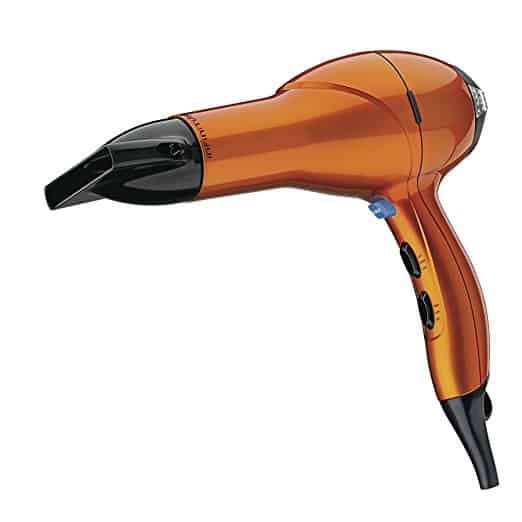 The Infiniti Pro dryer by Conair comes in a bright orange color. The 1875 watts and powerful AC motor provide quick-drying performance. It uses negative ions to help dry and prevent frizz.
This dryer has three-speed and two heat settings as well as a cool shot button. It also comes with a diffuser attachment and another bonus, is that it has a four year warranty that most hair dryers don't include.
10. Lightweight Negative Ion Blow Dryer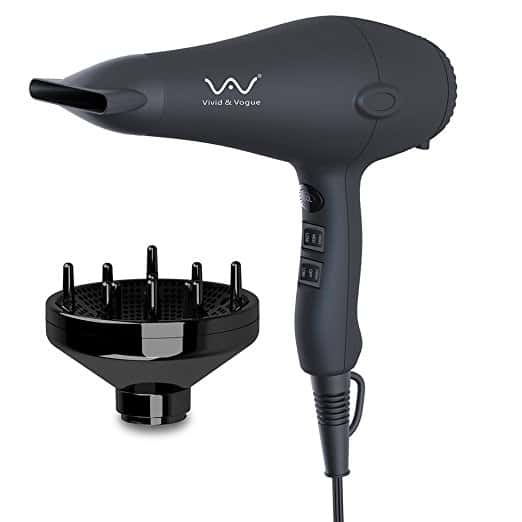 Design: Ionic, ceramic coated two-speed dryer with infrared heat
The VAV blow dryer comes in a sleek black design. It uses negative ions and infrared heat to dry your hair gently, and it comes with a ceramically coated coil to prevent damage.
It has a three speed, two heat setting, and a cool shot button. This dryer features a removable rear filter for easy cleaning as well as a diffuser and a concentrator nozzle.
11. Professional Ionic Ceramic Hair Dryer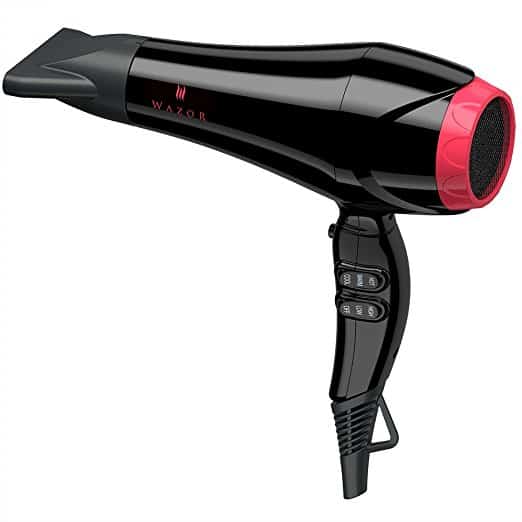 Design: Dryer with two speed, three heat settings, and AC motor.
The Wazor professional dryer comes in a pink and black color scheme. It provides 1875 watts with the powerful AC motor.
The product description claims that this blow dryer uses 100 times more negative ions than any other ionic dryer. The rear air inlet has a fence like design that helps to prevents your hair from being suctioned into it, making it really great for those with long hair.
12. Nano Titanium Dryer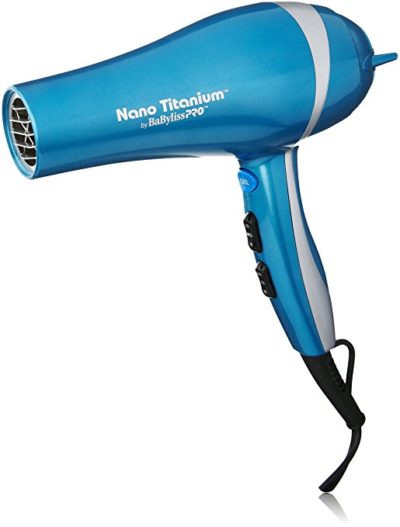 Design: Heavy duty 2000W dryer with six-speed settings.
Last but definitely not least is the BaByliss PRO dryer. This is a heavy duty blow dryer made of titanium. It comes in a bright blue and silver color scheme. The titanium helps to keep the dryer cool which means no burned scalp or fingertips. It gives off powerful negative ions, and the grill is coated to help condition your hair at the same time.
The blow dryer has power from 2000 watts for quicker drying. It also features six different heat and speed settings. It is more on the expensive side compared to the other dryers listed here, but it is ideal for any hair type because it offers several options. While price is always a factor, the great performance of this unit justifies it's placement on our picks for best blow dryers.
Research: 9 Types of Hair Dryers
Next, we explain what are the different types of hair dryers to help you hone your research.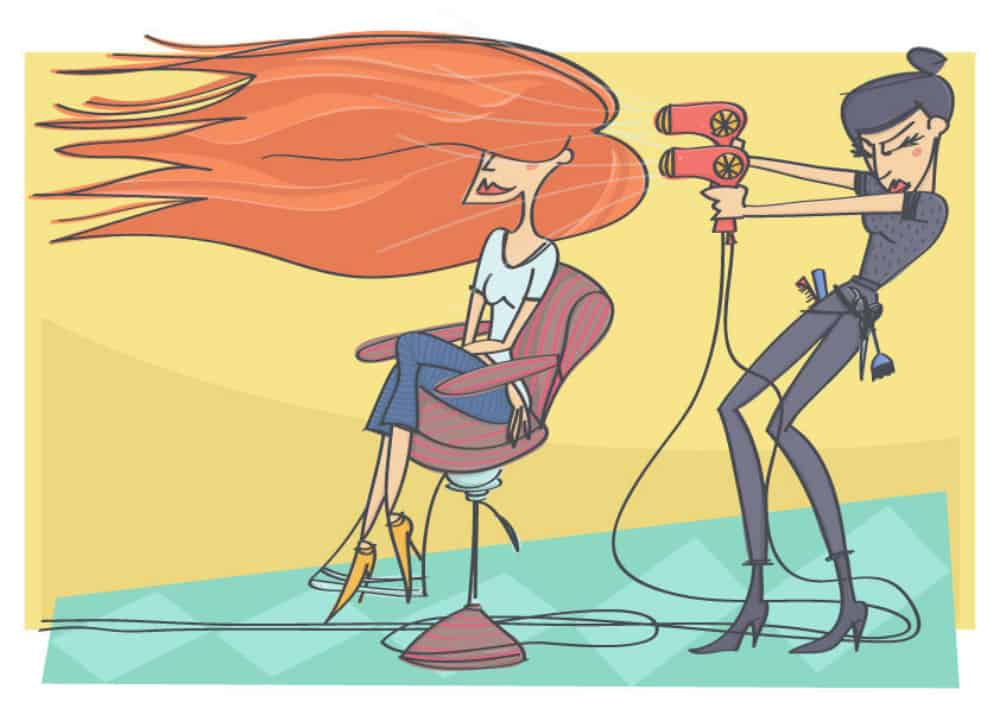 Before you buy a hair dryer, it's a good idea to become familiar with the different types of categories available.
This can help tremendously for you to buy the right one for your hair type, needs, size, wattage, dimensions, style and more.
It also helps to know about all the various accessories and complementary options you have.
Below we set out the 9 types of blow dryers which includes pretty much every categorization.
Types of Hair Dryers
There are four basic styles of modern hair dryers that can all help you accomplish the goal of drying and styling your hair.
Each has benefits to their design, so take a moment to consider the options and what is most important to you.
1. Infrared Dryers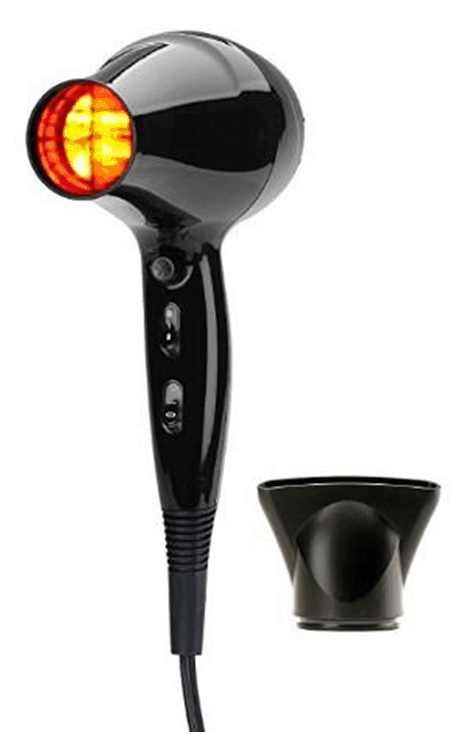 Source: Amazon
Infrared dryers are known for supplying a good, even distribution of heat.
They work by emitting long wavelengths of heat, which serve to pass completely through the hair. Because the wavelengths used can penetrate the hair, it makes for a super efficient drying process.
Infrared dryers often have components that are coated with a higher-end material, like ceramic, which we will discuss later.
2. Ionic Dryers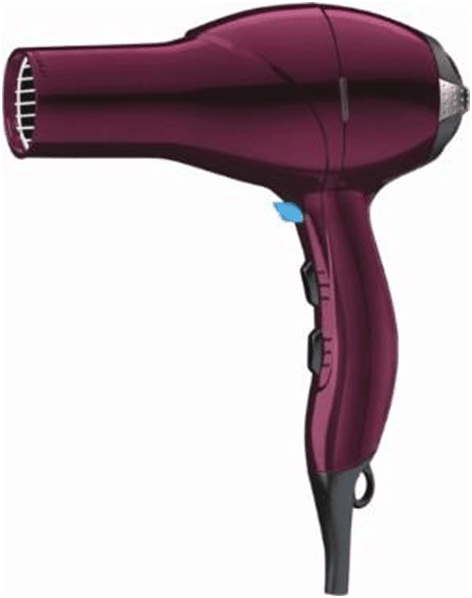 Source: Best Buy
Ionic dryers function by releasing negatively charged ions as they blow air on the hair. Because water molecules are positively charged and easily broken down by the ions, this type of hair styling tool is known for its speed and effectiveness.
Ionic dryers are also known for their ability to battle frizz and uneven texture.
Like the infrared style, ionic dryers may be coated with another material to increase their value. Tourmaline is a material commonly paired with this type of dryer.
3. Hair Brush Dryers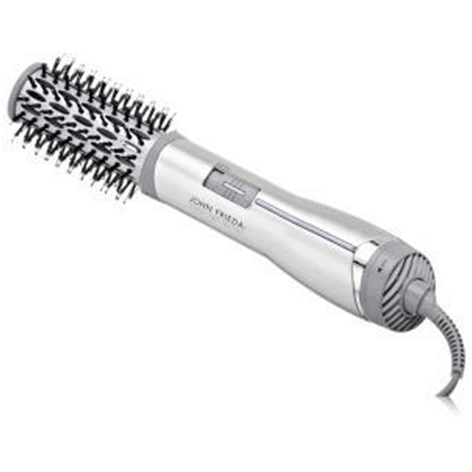 Source: Overstock
Some hair dryers combine multiple tools in one. Instead of the traditional barrel, hair brush dryers release air through a modified hair brush. The air escapes from holes in between the dryer's bristles.
This type of tool allows you to seamlessly brush and style your hair while simultaneously blowing it dry.
4. Bonnet Dryers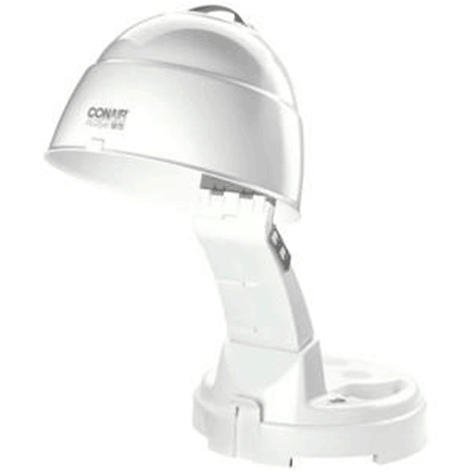 Source: Overstock
Another take on this hair styling tool is the bonnet dryer.
These dryers fit like a cap (or bonnet) over the head, applying warm, drying air from every direction.
Bonnet dryers may come in either a hard form or a soft form. In the hard form, the dryer sits on a stand, positioned over your head as it works.
In the soft form, the dryer is pliable. You stretch and place the cap directly on your head, over your hair.
The dryer makes for easy, hands-off styling, and is often recommended for people with naturally curly hair. However, it will not be the best choice for those who like to have more control over air flow and direction when styling.
If you are thinking about opting for a bonnet dryer, make sure to consider where you would store and use the device. If you have limited space, especially counter or storage space, a bonnet dryer might not be the best choice.
Materials
As mentioned earlier, the heating components within a dryer might be coated with different materials.
The inclusion of these materials has different purposes, including to boost the presence of negative ions or to even out heat dispersion.
Read on to learn about the different materials you will probably see advertised as you shop for dyers.
1. Ceramic
Ceramic materials are a common addition to hair styling tools of all sort. That's because the material is great at dispersing heat evenly and smoothly.
This even dispersion doesn't just mean drying is more effective, it can also mean extra hair protection, too. Even heat means a reduced chance of super hot blasts of heat – an incident that can damage or even burn the hair.
2. Tourmaline
Tourmaline is often included in blow dryers thanks to its ability to boost the presence of negatively charged ions. The extra blast of ions makes for an efficient (although usually more expensive) styling tool.
If ion-boosting power is important to you or if you are concerned about frizz, consider tourmaline. If not, you can probably better devote your budget elsewhere.
3. Titanium
Titanium is another material that is included for an efficiency boost. A titanium coating can help with even heat dispersion, leading to a more effective (and protective) dry.
However, the heat, while evenly dispersed, can get very hot with this metal. For this reason, people with easily damaged or heat sensitive hair might want to skip titanium and shop for another option.
How Materials Have Improved
Blow dryer materials have come a long way since the products were first introduced. When the first of these appliances were sold in 1925, they were made of metals like steel and zinc.
Because these heavy metals formed the base of the dryer, it weighed over two pounds! Plus, the dryer was not very powerful (around 100 watts) took a long time to dry the hair, making blow drying with this heavy tool quite a tiring event!
Motors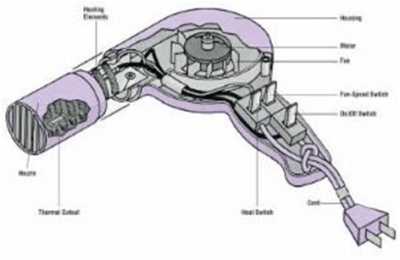 Source: HowStuffWorks
You may have known that you have options when it comes to dryer set-up and materials, but did you know you can decide the type of motor used, too?
Let's take a look at the two options you'll probably encounter in the market place – AC and DC motors.
1. AC Motors
AC motors tend to be quieter than other motor types. A dryer with an AC motor might be a good choice for college students in dormitories or for anyone who might want to dry their hair with minimal disruption to others.
AC motors also tend to be a bit more powerful. This power can translate to a longer-lasting, more durable appliance.
2. DC Motors
DC motors are another common and effective option. One bonus to this type is that DC motors tend to be a much lighter weight.
Because of this lightness, DC motors are a good choice if you have long, thick hair that takes a long time to blow dry. If you find your arms getting tired while styling your hair, you might want to find a model featuring a DC motor.
Attachments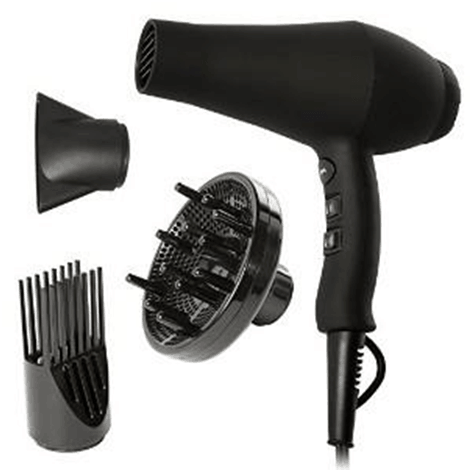 Source: Amazon
Now that we've covered the basics that make up a given hair dryer model, let's take a look at some of the ways you can customize your styling tool to fit your needs.
Many blow dryers come pre-packaged with attachments when you first buy them. For other dryers, there are compatible attachments that can be purchased separately.
You can always add attachments down the road – making them a great way to mix up your hair styling capabilities without having to invest in a brand new hair dryer.
Attachments can be used to make the hair dryer better at dealing with a specific hair type, achieving a certain style, or just easier to use.
Most clip on to the end of the blow dryer's barrel and affect how the air flows out of the machine.
1. Diffusers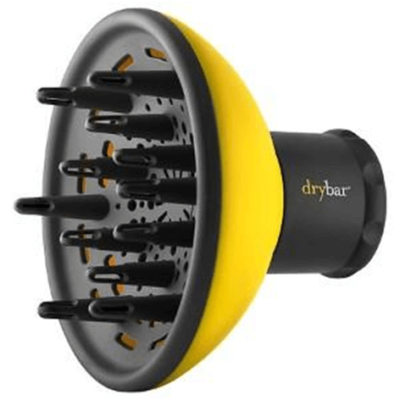 Source: Sephora
Diffusers are a common and popular dryer attachment. The style of these additions varies from model to model, but they usually consist of several protrusions (that tend to look like the teeth of a comb) and many small holes.
A diffuser, when attached to the end of a dryer barrel, helps spread out (or diffuse) the flow
of air around a larger surface area of hair.
This kind of attachment is especially helpful for people with curly hair. The more evenly distributed flow of air is less likely to interrupt your hair's natural curl and less likely to cause frizzy results.
2. Concentrators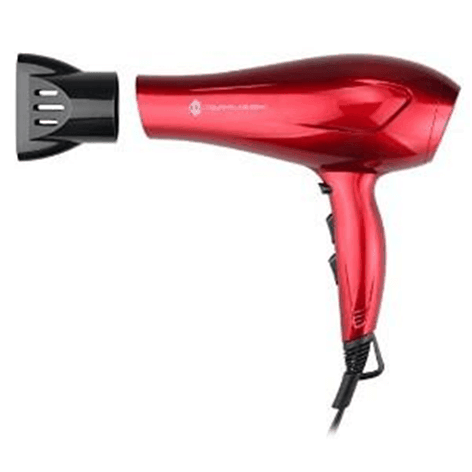 Source: Amazon
You can think of a concentrator nozzle as somewhat of the opposite of a diffuser.
Instead of spreading out the air flow, it concentrates the air on an even smaller region of hair.
Unlike a diffuser, which protects a natural curl's shape, a concentrator will work to straighten hair – making it a good addition for anyone going for a sleek and smooth look.
It also gives you the ability to control your dryer with greater accuracy. This means you will better be able to create a particular shape, if you are after one.
Plus, a concentrator allows you to apply the heat directly to the surface of the hair, without risk of your hair coming into contact with the internal heating components. This helps reduce the risk of heat damage.
A concentrator nozzle is included with many hair dryers that you will find on the market. If you are interested in using a concentrator, there is a pretty good chance that you can find a hair dryer that hits off all your other requirements, plus has a concentrator already included!
3. Hands-free Stands
Source: Amazon
Another attachment option is a blow dryer stand. While, of course, there are other types of stands for storage, the type of stand we are discussing is a bit more functional.
These "hands-free" dryer stands have become popular for their convenience. The stand holds your dryer while it is in use, allowing you to have both hands at your disposal for styling – a great benefit for those of us who don't have the dexterity of a stylist!
Some stands have a short neck and are designed to sit on top of a surface, like your counter or desk. Others are tall stands with a base that sits on the floor and a very long neck.
Still other stands are designed to work from above. This type might be attached to a mirror or light fixture, and have some sort of swiveling neck that can hold the dryer above your head.
4. Curling Attachments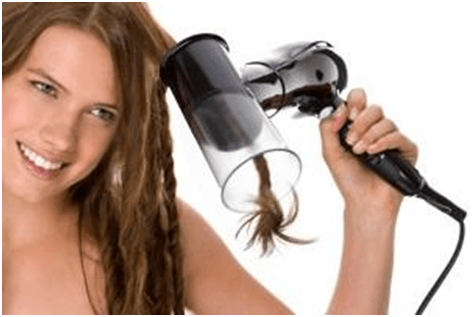 Source: NaturallyCurly
Believe it or not, you can even get blow dryer attachments that can make the appliance double as a curling iron!
While these attachments won't get you the high performance of a dedicated curling appliance, they can still provide some volume and shape in a convenient way.
A spinning curl attachment is a common curling tool for hair dryers. This type clips on to the end of the dryer's barrel and has two open ends. You simply place a section of damp hair in the top end and turn on the dryer.
The dryer spins your hair as it dries, giving it volume and shape.
The shape provided tends to be more of a loose wave than a traditional curl. If you often find yourself trying to achieve this kind of beachy style, then adding a curling attachment on to your dryer purchase could be a great move.
If, on the other hand, you like a curl with a lot of structure and a more ridged shape, you might want to skip the spinning curl attachment and instead invest in a quality appliance dedicated exclusively to curling the hair.
Additional Features
The hair dryers you will encounter in the marketplace will include a variety of other features and details to consider.
Take a second to think about some of the common features we will describe below, and decide which ones sound most important to you. That way, you can easily find a tool that checks off everything on your wish list!
A. Heat and Power Settings
The heat and power required to dry different hair types and to create different styles is not one size fits all. For this reason, you might want to consider finding a dryer that allows you to adjust the temperature and/or the power.
One common use of these settings is to use a high setting when hair is wetter, and then reduce the heat and power to finish up and style the hair as it is nearly dry.
This is not only a good practical tool to help make drying and styling easier, but it can also help protect your hair from unnecessary heat and damage.
And for folks with super fine hair that dries quickly, a low power setting might be where your dryer stays at all time. Having the power to control the force and temperature of the air flow gives you the power to decide.
B. Cooling Option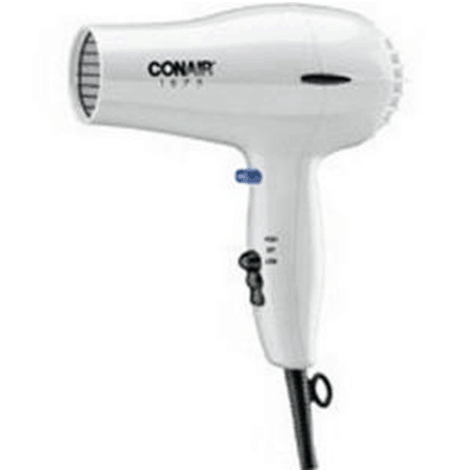 Source: Walmart
Many hair dryers will come with a cool setting, often in the form of a button labeled something to the effect of "cool shot." This button usually stands out and is easy to spot – it tends to be bright blue!
This feature allows you to quickly switch from high heat air to a blast of cool air. The benefit? A shot of cool air can help set the style you've created, giving your look a longevity boost.
C. Wattage
Different hair dryers will come with different wattage options. The range available is pretty extensive, and a higher wattage will mean a higher power dryer.
However, this doesn't mean that everyone should necessarily seek out the highest wattage dryer they can find. Just like we discussed in the power settings, different hair types will do best with different wattage levels.
And plus, a higher wattage dryer could add on to your household energy usage, especially when considering how often you use it, how long it takes to dry your hair, and what setting the dryer is on.
There are even calculators available online that can help you estimate the energy usage and annual cost of running your hairdryer!
For most people, a wattage of 1800 to 2000 will suffice. If you have very thin hair or only blow dry a small section (like your bangs), you might want to seek out an even lower wattage dryer.
On the other hand, if you have super thick hair, you might want to look for something that's got a bit more wattage.
Some professional-grade dryers will have wattages of as much as 3600. These high-powered dryers will allow you to dry your hair in less time, and as such, expose your hair to less heat and damage overall.
Cost and Budget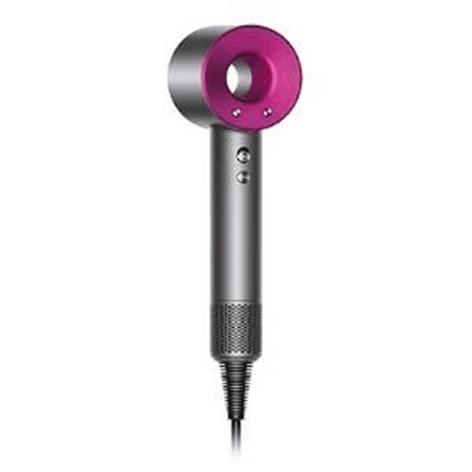 Source: Bed Bath & Beyond
You can find blow dryers that run the gamut of prices. There are models available that will only set you back around 20 bucks, and there are models that are as expensive as $400.
The price you will need to spend should depend on factors like how often you will use the dryer, how long you will want it to last, the number of features and attachments you are after, and how much power you will need to dry your locks.
Will you be relying on the dryer to get you ready in a hurry before work every morning? Or will you just pull out the appliance every now and then to get ready for a special occasion?
Do you have a thick head of hair that will require serious power and wattage? Or fine tresses that dry quickly and require just a tiny bit of heat?
Are you looking for a new dryer so you can experiment with the appliance and see how you like using one? Or are you already a dedicated dryer who is ready to make a serious investment in their hair styling tools?
Do you want a lot of control, through things like detailed temperature settings, attachments, and cooling options? Or do you just need the ability to turn the appliance on and off?
Generally speaking, for most folks, a dryer in the range of $30 to $70 will get the job done with a reasonably good amount of quality.
Dryers that hair professionals seek out tend to be more in the $100 to $200 range.
But as mentioned before, depending on your budget, you can find either budget-friendly buys under $30 or dryers that spare no expense and will set you back several hundred dollars.
The choice is yours! Consider your needs and you can find the best hair styling appliance for you and your budget.
7 Blow Drying Tips
Below is a great video that offers 7 excellent blow-drying tips.
Other Hair Appliance Articles