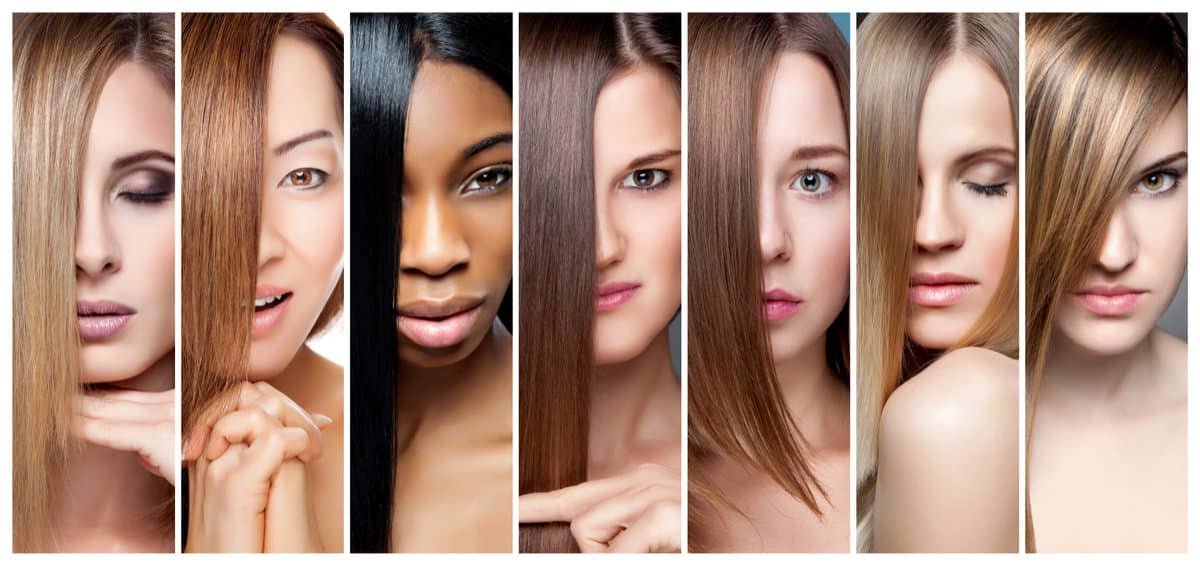 There are a ton of hair straighteners available (as there are for most hair appliances).
When you need one where do you start? Which do you choose?
Not so easy.
We can help.
Here is a good place to start.
We've narrowed down the options to what we consider the best 10. Our list includes a variety based on the different types you can buy.
Introduction to Flat Irons
We kick of our extensive "best flat iron" page with some important information about choosing the best hair straightener for your needs.
You can use the table of contents above to jump to any section including the "best hair straighteners" section.
What Does a Hair Straightener Do?
A hair straightener, or flat iron, flattens kinks in coarse, frizzy hair. Flat irons straighten out naturally wavy or curly hair better than a blow dryer or brushing.
Hair Straightener Sizing
Any flat iron with a width of one inch or less will work on short hair. A one-inch iron is considered optimal for most users (unless you have long hair).
Choose a one-inch flat iron If you will use your flat iron for styling more than straightening.
Use a hair straightening flat iron that's more than one inch wide if you have long hair. Large flat irons lack the precision of smaller irons, but you'll get your hair done quicker with a large iron if you have long hair.
You can still use a large iron if you have short hair, but you won't be able to style your hair as well as you could with a smaller iron.
How We Determined the Top 10 Hair Straighteners
We sifted through plenty of listings for the best flat irons online and narrowed it down to these ten candidates to get straight hair.
After extensively researching the many different types of hair straighteners as well as checking out online reviews and user ratings, manufacturer's descriptions and other information, we selected the best hair straighteners. Our list includes flat irons with many different widths, materials, and designs.
Our picks for the top hair straighteners (in no particular order)
IMPORTANT: We have not tested or tried every single straightener available. That is not possible. In fact, the most important part of this page is our buying guide setting out the 10 types of hair straighteners (see above… it's at the top for a reason). The key to buying the right flat iron for you is know the different types and the choosing from one of those types.
What follows below is a list of diverse list of straighteners that have excellent customer feedback. It's meant to help start your search, but we urge you to figure out the type of flat iron you need for your hair and then researching within that type.
1. Excellent

Titanium Plate Hair Straightener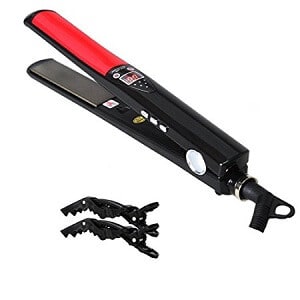 Style: Titanium Plate Hair Straightener
Design: Red and black flat iron with anti-static titanium plate and an ergonomic handle
The titanium plate prevents hot spots and snagging while smoothing even the roughest hair follicles, while the ionic heater boosts negative ions needed to smooth and flatten hair follicles.
This dual voltage flat iron runs on 110-240 volts, so you can use it while traveling without worrying about having an external adapter. It has a 60-minute automatic shut off
The Greedia flat iron's ergonomic handle for a comfortable grip to prevent burns and fatigue, even when you use the flat iron for an hour or more.
The Greedia flat iron comes with two crocodile clips.
2. Outstanding Ceramic Hair Straightener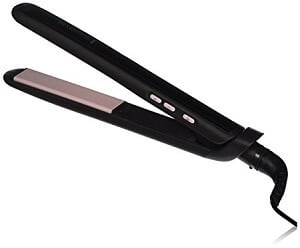 Style: Ceramic Hair Straightener
Design: Slim pale pink and white flat iron with one-inch ceramic floating plates.
The Remington S9500 T Studio Pearl Ceramic Straightener isn't named after its color. This flat iron offers more than the usual ceramic coating. The ceramic is infused with pearl, making the plates harder and smoother than other ceramic plates on the market.
The plates also float to stay in contact with your hair longer to give you the straightest hair possible.
Digital controls and a temperature lock let you choose the right temperature at the right time. This Remington flat iron goes all the way up to 450 degrees to reign in frizzy hair.
There's 60-minute auto shut off to protect the unit from overheating if you have to step away and forget to turn off the flat iron.
3. Pro Infrared Hair Straightener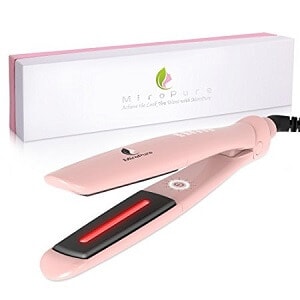 Style: Pro Infrared Hair Straightener
Design: Pale pink flat iron with ceramic plates and curling iron capability
The MiroPure hair straightener uses infrared technology to help your hair retain moisture while smoothing away the kinks. This professional infrared straightener may work for you if you worry about having straight but dry hair after using a flat iron.
You can use this flat iron as a curling iron. Straighten and style with one appliance to save time and money.
Forget about looking for a plug adapter when you're far from home. The universal dual voltage makes this flat iron travel-friendly. It even comes with a travel bag and heat resistant glove.
4. Great Combination Hair Straightener and Curling Iron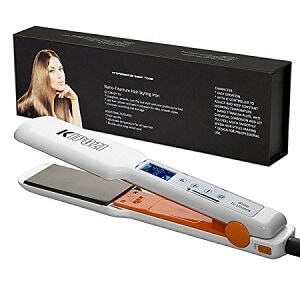 Style: Combination Hair Straightener and Curling Iron
Design: This flat iron is pearl white with nano-titanium plates and digital LCD screen.
A pearl white curling iron and hair straightener, the Kipozi Pro heat up in 30 seconds and has a 1.75-inch nano-titanium plate to keep long and medium hair manageable.
Control the temperature with the LCD screen. This flat iron has a temperature range of between 170 and 450 degrees to handle many hair straightening and styling tasks.
5. Awesome Wet-Dry Hair Straightener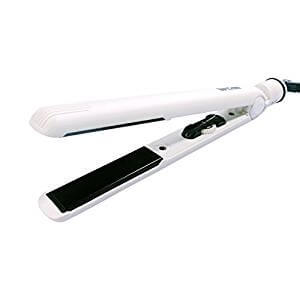 Style: Wet-Dry Hair Straightener
Design: This salon-length flat iron has ceramic plates and 360-degree swivel cord.
For use on slightly wet or dry hair, the DeroTeno hair straightener has an average one-inch nano-titanium plate. You can adjust the temperature from 250 to 450 degrees to straighten, style or flip your locks.
The 360-degree swivel cord makes styling easier regardless of the location.
6. Very Good Ceramic Hair Straightener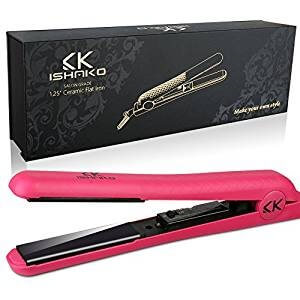 Style: Ceramic Hair Straightener
Design: This hot pink salon-grade flat iron has a one and ¼ inch width, ceramic plates, and a non-slip grip.
The stylish Ishako flat iron has a middle of the road 1.25-inch ceramic plates and can be used for most hair types and lengths.
This iron has a tourmaline ceramic coating offers better protection from damage if you have fine or thin hair, but it works on coarse, hair, too. The range of temperatures – from 140 to 450 – is one of the most inclusive we've found on a hair straightener.
7. Hair Straightener with 3D Floating Plate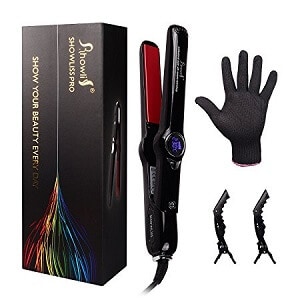 Style: Hair Straightener with 3D Floating Plate
Design: This flat iron comes in purple, pink and a purple/pink color combination.
The Showliss flat iron uses an MCH (a metal ceramic heater) element, which offers faster heat up and is ideal for use with Keratin treatment.
This unit has one-inch 3D floating plates and can be used as a curling iron or hair straightener. Using a 3D floating plate provide flexibility, as it can adjust to your task as you flatten or curl your hair.
8. One of the top hair Straighteners with Titanium Plates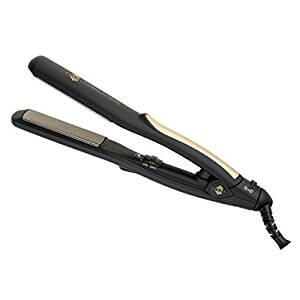 Style: Hair Straightener with Titanium Plates
Design: This dark gray and white portable hair straightener features titanium plates and a 3D floating panel
The Jinri Professional Flat Iron has a 4/5 inch width and titanium plates, so it's the perfect size to straighten short hair. This unit reaches a top temperature of 410 degrees, and the titanium plates maintain temperature well to curl and straighten hair.
The Jinri Pro has a 3D floating panel that automatically adjusts to your hair thickness.
This flat iron weighs only 238 grams (8.3 ounces) and it makes styling easier since it's not clunky, and you can take it with you to work or school.
9. Fantastic Ionic Hair Straightener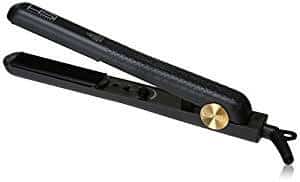 Style: Ionic Hair Straightener
Design: Black flat iron with ceramic tourmaline plates and infrared heating.
The HSI Professional digital hair straightener has an infrared heating technology and an adjustable temperature control which goes from 240 to 450 degrees. Its round body lets you flip and style as well as straighten.
This easy to handle flat iron has ceramic tourmaline plates appropriate for fine or thin hair.
You must hold down the power button for 3 seconds to power and heat up the HIS Professional, which may be a drawback if you're impatient. The LCD screen in the handle indicates the temperature level, and you can change it by using the plus or minus sign.
10. Incredible Ceramic Tourmaline Hair Straightener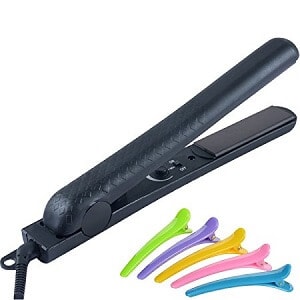 Style: Ceramic Tourmaline Hair Straightener
Design: Black flat iron with floating ceramic plates and beveled edges
The beveled edges give you more styling flexibility since they're wide enough for all types of hair but slim enough to straighten bangs.
This flat iron has 1.25-inch ceramic plates that heat up in 30 seconds and tames hair from the inside out. It is geared towards normal and fine hair, but will also work on coarse strands.
That's our list
Thanks for checking our list of best hair straighteners.
Please, please, please keep in mind this list is our opinion. Always do your own due diligence and buy the best flat iron for your hair.
Next up…
Hair Straightener Buying Guide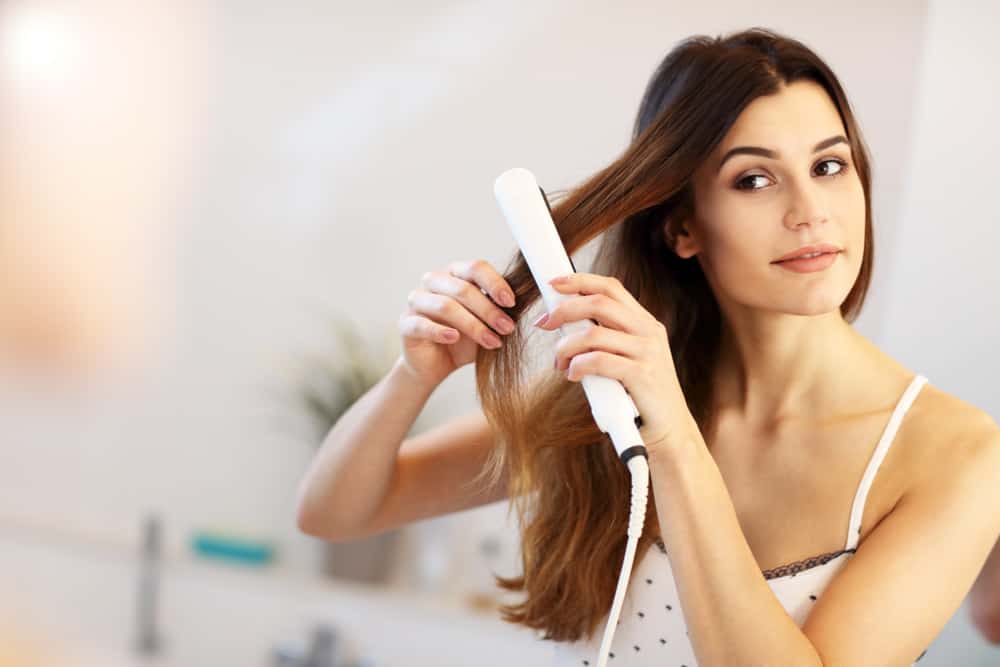 You want to find a quality straightener that will get the job done effectively and without damaging your hair.
Straighteners, or flat irons, use heat to break hydrogen bonds in the keratin of a hair strand. This heat application allows the hair to be reshaped – in this case, into a straighter, smoother shape.
The heat is traditionally applied by two flat irons that clamp together to help compress and re-mold the hair into a flattened shape as it is heated.
While most straighteners operate under these core principles, there are a variety of different designs, strategies, and materials available, all aimed at obtaining straight, sleek hair.
To help in your search for the perfect flat iron for you, we have gone in depth with all the details that you will need to consider.
Let's start with the basics – the different types of straighteners available on the market today.
A variety of different straighteners exist, each with different selling points and benefits. Some are simple and classic in design, others are very modern takes on the classic straightening device. Check out the major straightener types below.
A. Hair Straightener Types
1. Clamp Flat Irons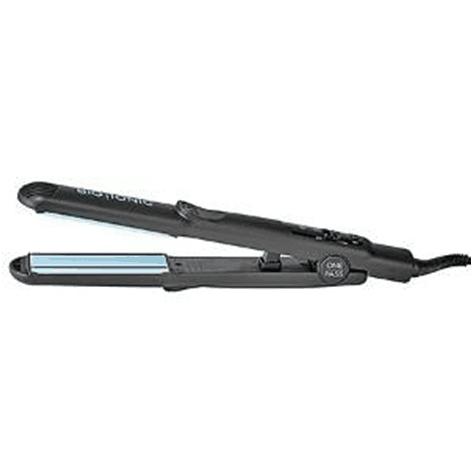 Source: Sephora
Clamp-style flat irons are the most basic and traditional type of hair straightener – they are also the most popular.
These classic irons can be modified with different materials and settings, but the general set-up stays the same – a standard two-iron appliance that clamps together around the hair.
As the user squeezes the tool's clamping handle, the two hot irons come together to compress and straighten the hair as the strands are run through it.
This type of styling tool is popular for a reason – they are simple to use and can be easily modified with materials and features that fit every need and budget.
2. Ionic
Ionic hair appliances have become very popular in recent years.
Flat irons that use ionic technology emit negatively charged particles (ions) as they work to straighten your hair.
Because the ions are negatively charged and water is positively charged, these appliances work to heat and dry hair quickly.
These tools are also good at keeping your hair's cuticle smooth. For this reason, people desiring hair with more shine and less frizz might find success with an ionic straightening tool.
3. Wet to Dry Straighteners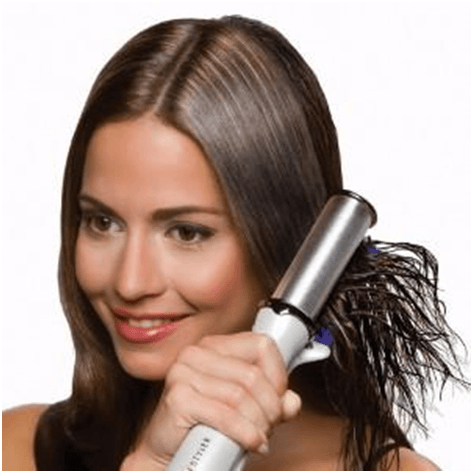 Source: Hammacher Schlemmer
Most flat irons cannot be used on wet hair. The hair must be dried with a hair dryer or allowed to air dry before straightening takes place. Skipping this drying step can mean serious and visible hair damage.
However, wet to dry straighteners were created specifically to be used on damp hair. Unlike their traditional counterparts, they will not damage the moist hair, and instead, work to dry and straighten the locks in a single go.
If you regularly find yourself short on time when styling, a wet to dry model can help save time and get you out the door quicker.
Some of these wet to dry appliances rely on heat alone to dry the hair – but have adjusted the design in such a way that the direct heat is not damaging. Adding ventilation holes for the steam that will form off wet hair is one method.
Other models incorporate moving air, more like a blow dryer. And still other designs use more complicated systems to both dry and straighten hair, including rotating barrels and brush-like bristles.
These are not the only type of straighteners that use brushes to get the job done, as we will see next.
4. Straightening Brush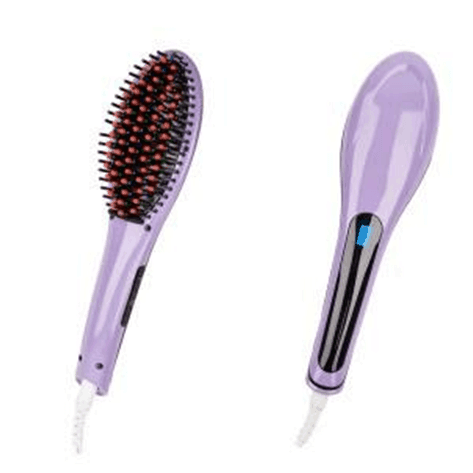 Source: Overstock
Straightening brushes simplify the process by reducing the number of tools you have to manage when styling your hair. Instead of swapping between a brush and a straightener, you can simply use and hold this one device.
The brush can be run through the hair, removing tangles and smoothing as it straightens.
There are several different popular designs of straightening brushes. Some look just like a regular brush, except there is a power cord!
Others look more like a traditional clamp iron, except both flat metal plates have been replaced entirely with bristly surfaces. And some models will retain more of the traditional metal plates, but with the addition of some comb-like teeth.
B. Hair Straightener Materials
We have seen there are different options for the basic set-up and style of a hair straightener. These designs can each be modified even further with the inclusion of diverse materials.
Different flat iron materials will accomplish different things. What kind you should search for depends on your hair type and styling needs.
1. Ceramic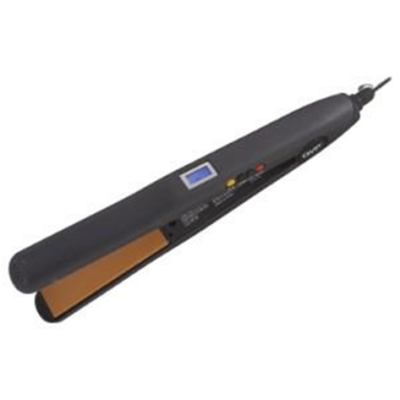 Source: Sally Beauty
Ceramic is a common tool in all sorts of hair styling appliances because of its ability to disperse heat evenly. This ability allows your hair to heat evenly, providing an improved ability to control style while also reducing the likelihood of accidental hot spots that could damage hair.
Straighteners using ceramic materials are also good at not just heating hair evenly, but also at tackling frizz.
Ceramic straighteners can be either solid ceramic or a metal base covered with a ceramic coating.
A ceramic coating will still impart some of the benefits of the material, but may chip over time. Solid ceramic straighteners tend to be a bit higher quality, but as such, will set you back a few more dollars. However, the solid models generally are longer lasting.
2. Tourmaline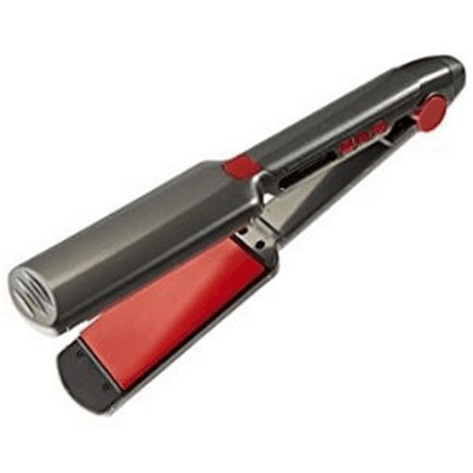 Source: Amazon
Like ceramic, tourmaline is known for battling frizzy hair effectively and heating hair evenly. The material, which is a semi-precious stone, is actually often paired with ceramic to boost the common abilities of these two materials.
Tourmaline also helps create a very smooth and even straightener surface. A smoother surface can help reduce the uncomfortable snags and catches that can sometimes occur while straightening your hair.
3. Titanium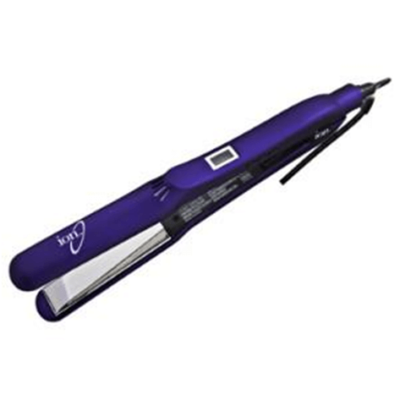 Source: Sally Beauty
If you require high heat to straighten your hair, titanium might be a good option. This metal holds high heats very well.
Plus, it heats up quickly, which means no more waiting around for your flat iron to get hot. You can plug a titanium model in and by the time you grab your coffee from the kitchen, it's ready to go.
People with coarse, hearty hair might find this material beneficial to getting a quicker style. However, this hot-tempered metal might be too much for people with damage prone or ultra fine hair that is more sensitive to heat.
C. Hair Straightener Size
Hair straighteners also come in a variety of sizes. Which size you will choose should depend on a couple of factors, including your hair length and style.
Small Straighteners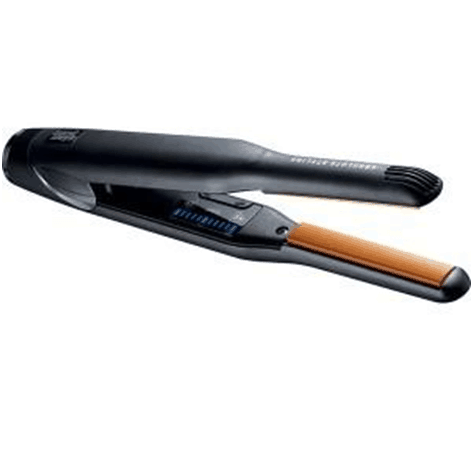 Source: Overstock
Small hair straighteners are best for people with short hair, or people whose main focus is straightening small areas of hair, like the bangs. They are easier to use with more precision and control than their larger counterparts.
Straighteners can be found in as small as a half-inch in width. Generally speaking, any size under an inch would be considered a small styling tool.
Medium-Sized Straighteners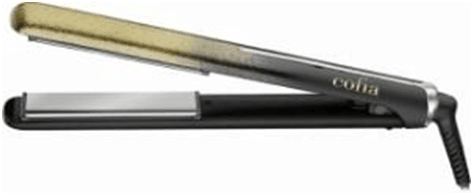 Source: Best Buy
Medium size straighteners are great for a large swath of people with mid-length or slightly longer hair. They allow for variety and ease of use in many situations.
They are small enough to be manageable when straightening shorter hair, but can also still tackle longer hair without it taking forever.
Typical medium straighteners are about an inch to an inch and a half in width.
If you have mid-length hair, or if you change your hair style and length often, a medium flat iron is probably a wise choice.
Large Straighteners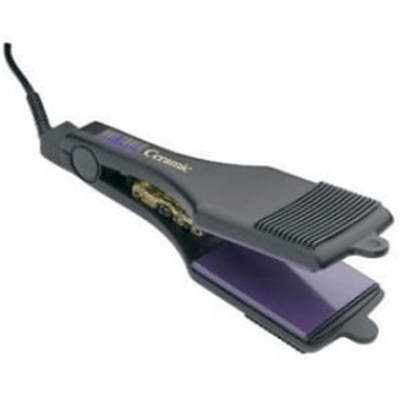 Source: Amazon
Large straighteners are best for people with super thick and long hair. If you have a ton of hair and find yourself always checking the clock when straightening it with a more moderate sized tool, a large size appliance might be a better option.
Straighteners starting at about an inch and three-quarters in width and up can be considered large tools. You can find flat irons that are two and even three inches across.
If your hair is difficult to straighten because there is so much of it, a large flat iron will probably be your new best friend.
II. More Details
Beyond basic style, material, and size, there is a world of other features available to you as you shop for a flat iron. The features (or the combination of features) that will be included in the straightener you decide to purchase is up to you.
It is easy to get lost as you click through page after page of hair straighteners online. And it is way too easy to get distracted by ad copy or flashy design and forget what you were after in the first place!
Focusing your attention in on what you really want and need in a product can make the process more straightforward.
As you consider these other details and features, as well as your overall straightener purchase, there are a few key things to keep in mind that will help you narrow it down:
Your hair type: Is your hair thick or thin, coarse or fine?
Your length of hair: Is your hair short, long, or somewhere in the middle?
Concerns about safety: Do you have kids around? Are you concerned about burns or fire safety?
Time constraints when styling hair: Do you usually straighten in a rush? Are you looking for ways to speed the process up?
Goal budget: How much do you want to spend on a flat iron? Are you willing to stretch the budget for certain features or benefits?
Keep your answers to these questions in mind as we look at some of the other details available in modern hair straighteners.
D. Temperature Settings
Some flat irons will come with very simple controls. In fact, there may only be one setting – on or off!
Other tools will have a variety of heat settings available, and some will even let you input an exact temperature that you want the device to heat to.
If you like a high level of heat control, look for an option that provides a good deal of adjustment capability.
Getting a product with a lot of heat control is a smart move for people with sensitive hair who know they often need to be able to turn the heat down substantially. And it is also a good bet for people who know their locks require a ton of heat to straighten.
E. Automatic Shut-Off
Many modern flat irons will come with an automatic shut-off feature. This safety feature is a great tool for protecting your home, your bathroom countertops, and even your levels of stress!
Basically, this feature shuts the appliance off after a certain amount of time has passed.
Depending on the brand and model, this may be 30 minutes or an hour after the tool was first turned on.
If you are worried about fire safety, this option can provide you with some peace of mind. Even if you do forget to turn the appliance off, the automatic shut-off feature will take care of it for you.
This feature can also help protect the countertops and other surfaces in your home from accidental heat damage caused by a forgotten hair straightener!
F. Steam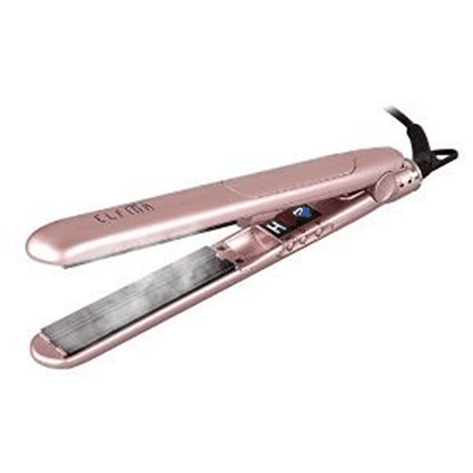 Source: Amazon
Some hair straighteners function by using a steam feature.
While steam will probably be created when you use a wet to dry style straightener, this steam feature is something else entirely.
The steam seen in this type of appliance is not created when heat comes into contact with wet hair, but instead is produced by the flat iron itself.
This controlled amount of moisture can have a protective effect on the hair being styled.
This feature represents a departure from the dry heat present in most styling tools and often associated with hair damage.
And while straightening wet hair with a typical iron can cause damage, this steam component functions differently than exposing soaked hair to heat.
You can think of this function as somewhat of a middle ground to these two extremes – it supplies a bit of moisture while still protecting the hair.
G. Safety Shut Lock
Another optional feature is a safety shut lock. This feature allows you to lock your flat iron clamp in a closed position.
There are a couple of benefits to being able to close your hair straightener completely.
First of all, it makes for easy storage. With the clamp locked closed, the appliance is more compact and easily storable.
Secondly, the lock can help prevent burns. You can close and lock the clamp when you are done using the hot iron. As it cools, it remains shut.
A lock feature can reduce the likelihood that you accidentally pick up a hot iron (expecting it to be cool) by the hot metal plate. If you do grab it and it is locked shut, you should not come into contact with a hot surface!
This safety benefit can be very reassuring, especially if you have small children around or others who might not know to expect a hot iron in the bathroom!
The safety lock feature can also protect your counters and surfaces from damage in the same way. A closed flat iron should prevent contact between the hot surfaces and other materials.
H. Swivel Cord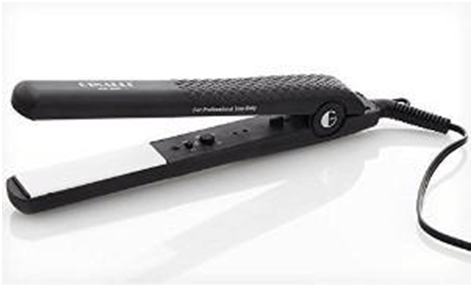 Source: Amazon
A swivel cord is another great feature you can find on many of today's hair straighteners.
Using these styling tools often requires maneuvering them around the head and in many different directions. With a traditional power cord, this can mean tangles, twists, and catches.
A swivel cord allows you to rotate the appliance as freely as you would like. The cord attachment simply swivels and pivots along with the movement.
This means you are free to move the tool with ease as you style your hair, and the power cord remains firmly plugged into the outlet.
It also might mean you are able to reach your hair and still see into your vanity mirror without twisting and tweaking your neck!
I. Cost and Budget
Now that we have discussed the major styles, materials, details and features you can find in modern flat irons, all of these factors must be weighed with one more topic in mind – your cost and budget.
First of all, it is wise to consider whether you want a minimalist tool that gets the job done simply or a more complicated appliance with lots of bells and whistles.
And it is also wise to ask yourself whether you will be relying on this straightener day in, day out for years to come, or if you just want to play around with a new styling tool and try some different looks on occasion.
If you are thinking a budget flat iron is the best fit, you can easily find one for $20, or maybe even less!
However, these models probably won't come with a lot of longevity or very high-quality materials.
If you want something that's of a little higher quality, but still doesn't break the bank, there are lots of options available between $25 and $55.
Shopping for hair straighteners at around the $60 to $100 will get you even more quality, protection for your hair, and likely a more extensive list of features.
If you are willing to spend between $100 and $200, you will get a much higher quality tool – many professional-grade flat irons fall into this price category.
But, if you really want to get the best of the best, there are hair straighteners available that sell for around $400. Such high budget straighteners will not be worth the price for every user, but the materials and features they offer will make the price tag worth it to others.
What is the Most Expensive Straightener?
Source: Lussorian
In fact, you can spend even more than $400 on a flat iron! It has been reported that you can find hair straightening tools that are decorated with diamonds and 18-carat gold.
The straighteners also have diamond material incorporated into the straightening plates. What will such a lavish tool set you back? You're looking at a $17,575 hair styling appliance.
Needless to say, a straightener with this price tag is by no means a necessity to achieving the sleek hairstyle you are after. For most folks, spending between $35 and $80 will afford them a straightener with plenty of quality, longevity, and ease of use.
How to use a hair straightener
Below is one of the best video tutorials on how to use a hair straightener.
Other Hair Appliance Articles