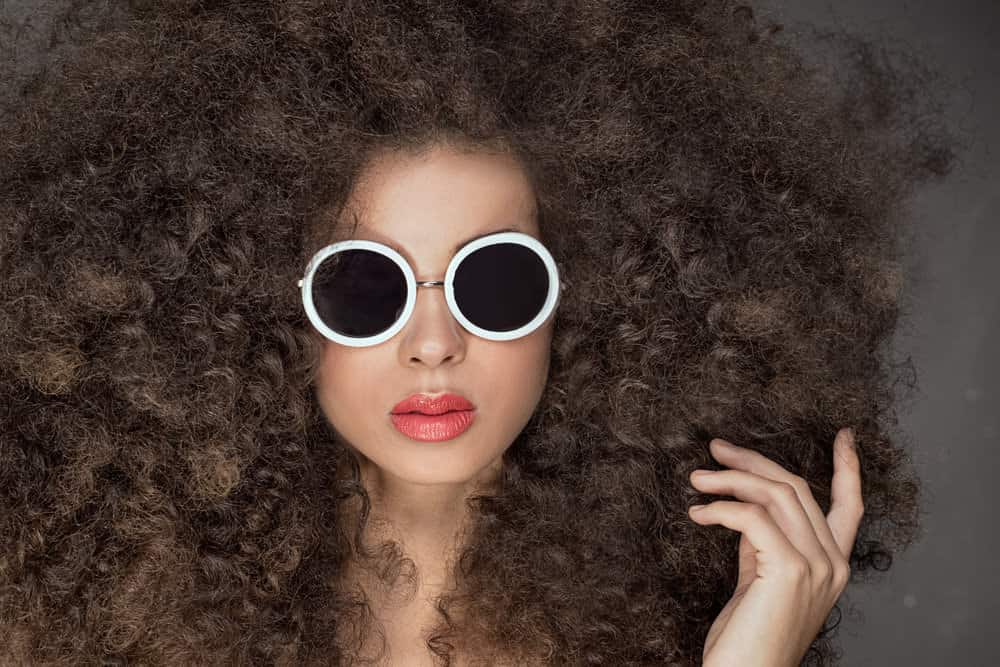 If you don't have naturally curly hair and would like to add some curl to your straight hair, one must have a curling iron.
These days there are some amazing options with respect to features, compact sizes for traveling, designs, etc.
We've sifted through dozens of models and from that analysis put together what we consider the best ten on the market. Here they are.
What to Look for in a Curling Iron
Curling irons do more than simply curl hair. Most curling irons (or wands) have settings that enable you to make loose or tight curls, and better control the size of each curl.
Curling Iron Features
PTC (positive temperature coefficient) heating, the traditional heating mechanism used on most curling irons prevents overheating even if you forget to shut off the iron.
The higher the temperature, the tighter the curls. Some curling irons go up to 400 degrees or more. Make sure your curling iron has an adjustable heat dial. Some irons even have an LCD indicator so you can choose the exact temperature you need.
The curling iron you choose should have a ceramic coating to protect your scalp and hands from the heat. (Many curling irons also include a protective glove as an additional safeguard.)
What the Sizes Mean
The numbers you see in product descriptions refer to the width of the curling iron barrel. Small barrels (1/2-3/4 inch) create tight curls or ringlets while larger barrels ( 1 to 1 ¼ inch) create loose waves.
For natural looking curls, try a barrel that's 1 to 1 ½ inch in diameter. A two to three-inch barrel gives you the loosest, most casual curls.
The size of the curling iron barrel you need also depends on the length and thickness of your hair. If you have super-fine hair, you'll need a different barrel size to achieve loose curls than someone with thick hair.
How We Chose This List
It's important you know that we did not test or try every curling iron available on the market.
The most important part of this article is the buying guide (17 types of curling irons) because that explains the different types so you can figure out category or type of curling iron you need to look for. From there you can narrow your search.
The list of best curling irons that follow below is a convenient list we put together that received top ratings in online reviews, or got many near-perfect reviews, also factored into our selections.
It is not based on our testing of every single model available… it's merely a list of convenience based on customer feedback put in no particular order.
The best curling iron for your hair type and styling needs may require one barrel size or several, so we've included curling wands with detachable barrels on the list.
We hope our list will help you choose the perfect curling iron for your hair.
Our list for the top curling irons (in no particular order)
1.

Outstanding Curling Wand
Style: Kipozi 1″ Curling Wand
Design: Yellow and black curling iron with touch buttons, LED indicators on the handle and fold away safety stand
This smart-looking yellow and black curling wand features a one-inch barrel width and extra long barrel to treat long hair better. The ceramic coating helps control the temperature and prevents uneven heat from damaging your hair.
Reviewers love the touch sensitive face that allows you to slide to the temperature you want. A combination a curling iron and a wand, you can spin it to curl your hair. It has a 360-degree rotating spring clamp so you can style hair any way you want without fancy maneuvering.
2. One of the Top Curling Irons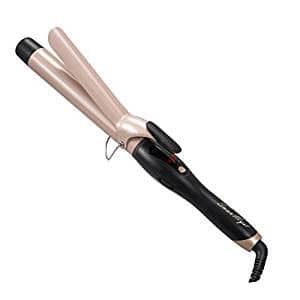 Style: SwanMast Curling Wand
Design: Pale Pink wand with extra long 7.1-inch barrel and eight-foot swivel cord.
An attractive pale pink and black curling wand, the SwanMyst curling iron has a long barrel (with a 1.25 width) to handle short and long hair. The PTC heating technology makes it heat up in 30 seconds so you can fix your hair quickly for a night on the town.
The SwanMyst wand comes with two hair clips and heat resistant glove to save time and make styling safer. The wand also has Smart Knob temperature control and tourmaline ceramic barrel to protect you from overheating.
3. Excellent Electric Hair Curler Brush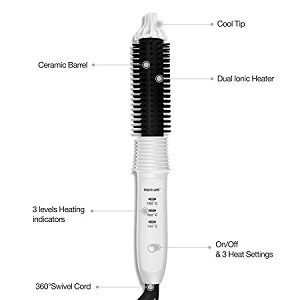 Design: Slim Iron White Ceramic Tourmaline curling brush with one-button control on handle
A variation on the traditional curling iron, the KingdomBeauty curling iron brush has a white hair curling brush you can place over the heating rod. The bristles act as a barrier to the heat and help style your hair better.
The ceramic barrel measures 1.57 inches wide and 4.7 inches long, so it's ideal for medium or natural-looking curls. The brush works equally well on long or short hair, and it's useful for taming cowlicks or smoothing frizzies.
The brush can help you tame problem areas as you curl and eliminate the need to use a separate brush to fix problems after you style your hair.
4. Good Curling Wand Set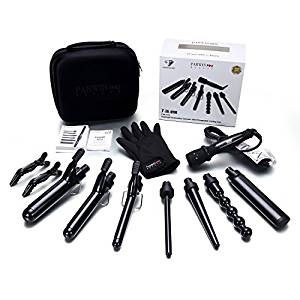 Style: Parwin Curling wand set
Design: Black curling wand with barrels ranging from 13mm to 32mm, plus bubble and oval barrels
The Parwin Pro has seven interchangeable barrels so you can experiment with ringlets, beachy curls, and loose curls without buying a separate barrel or curling iron.
The barrel sizes include 13mm, 19mm, 25mm, 32mm, a Bubble barrel, Oval barrel and 25mm Cone Barrel. You can spirals as well as the usual curls and waves by changing the barrel.
This curling wand is made of diamond tourmaline ceramic to keep heat in check.
5. Awesome Tapered Barrel Curling Iron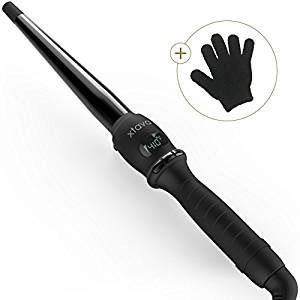 Design: Tourmaline and ceramic barrel with an LCD screen on black handle
A popular and well-reviewed curling wand with a ½ to 1-inch Barrel, you can use the Xtava at 22 different temperature settings, from 200 to 410 degrees for a wide variety of curls and waves.
The barrel is coated in ceramic and tourmaline to keep it from overheating, and the wand has ionic technology to stop frizzing. A protective glove is included.
6. Trèsutopia 1 Inch Curling Wand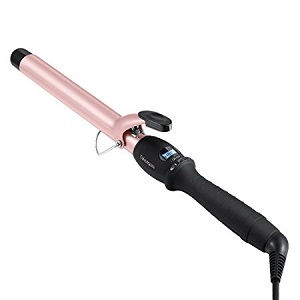 Style: Tresutopia Curling wand
Design: Pale pink wand with ceramic glaze, metal stand and an LCD screen in the handle
The Trèsutopia has a one-inch barrel and is perfect for general styling and medium curls. It heats up in 30 seconds and has a ceramic glaze lock to prevent overheating and an anti-scalding tip.
This curling wand's safety features will keep you cool and safe if you're always in a hurry and occasionally forget to check your wand's temperature.
The 7.28-inch length barrel works on all hair lengths, even extra long.
7. Anjou Curling Iron 1.25 inch with Tourmaline Ceramic Coating
Style: Anjou Curling Iron
Design: 8.27 inch pale pink iron with built-in stainless steel support and power button
Ideal for all hairstyles and types, the Anjou Curling Iron has a 1.25-inch barrel that's a super-sized 8.27 in length. The PTC heating can bring the temperature up to 410 degrees in 60 seconds.
You can adjust the temperature from 200 to 410 degrees to curl normal, fine or thick hair using the power button.
Another top selling point is the 360-degree rotatable power cord, which can stretch up to 2.5 meters or 8 feet.
8. Infiniti Pro by Conair Tourmaline 1 1/4 inch to 3/4 inch Ceramic Curling Wand

Design: No-clamp tourmaline ceramic wand with purple handle and LED indicator lights
Conair is one of the most trusted names in hair styling tools, and the Infiniti Pro ranks as one of the brand's best and most reviewed models. It has a conical barrel that tapers from 1 ¼ inch to ¾ inch for beachy waves.
You wrap your hair around the conical barrel to style. No clamping means your hair will endure less damage and stress.
This no-clamp wand has five settings with a top temperature of 400 degrees and 30-second heat-up. For more protection, it has an automatic shut-off and comes with a heat-resistant glove.
9. Fantastic Steam Curling Iron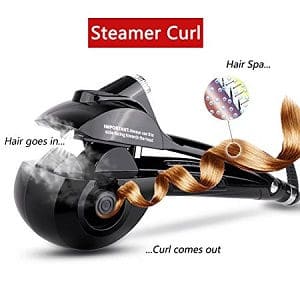 Style: Steam Curling iron wand
Design: Looks like a blow dryer, with a compartment to add water and "jaws" that open up to curl hair
The Arino Ceramic Hair Curler uses both heat and steam to curl hair. Regular curling irons use only heat. Curling irons using steam style hair without the potential damage of heat-only curling irons.
The ceramic heating plates in the hair steam curler heat up fast without hot spots; they can reach 230 degrees in 30 seconds.
The hydrating steam mist nourishes hair as it curls, and that's a big advantage if you have dry hair.
10. Remington CI96W1B T|Studio Silk Ceramic Slim Styling Wand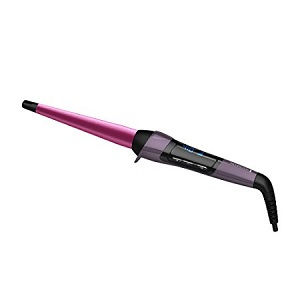 Style: Curling and Styling Wand – Learn more here.
Design: Slim wand with lilac handle and one-half to one-inch silk ceramic magenta barrel
The digital screen and temperature lock ensure the wand stays hot or warm depending on your styling needs. This salon-quality wand can heat up to 410 degrees or more in 30 seconds and is great if you need tight curls.
This stylish Remington curling wand has silk proteins infused into the ceramic coating to help your hair glide along the barrel easier.
After 60 minutes of use, the wand will shut off to prevent overheating. It includes a heat-protective glove.
That wraps up our list. Be sure to check out all of our thoroughly researched and carefully considered hair appliance articles here. For inspiration check out our enormous women's hairstyles galleries here.
Please, please, please do your own due diligence. Our list is merely a guideline to help with your search.
I. 14 Types of Curling Irons

If you haven't looked into it before, you may assume that a curling iron is just a curling iron. How complicated could it be?
The reality is, when shopping for hair styling tools, you will have plenty of options and features to choose from.
There are irons that will give you tiny, frizz-less ringlets, others that will lend beachy waves, and still others that will give you big, gentle volume. Some are perfect for thick, hearty hair, and some are ideal for fine, sensitive strands. You can find irons that come with lots of features and neat tricks, and others that are simple and completely bare bones.
While these options mean you can find the perfect tool for your hair type, desired style, and budget, the sheer number of choices can also make the shopping process more than a bit confusing.
To help make the process simple and clear, we've created a comprehensive guide to curling irons.
We've laid out everything you need to know, from the most basic design types that set different irons apart, to the detailed and unique features you can find on different tools.
A. History of Curling Irons
Believe it or not, curling irons are not a modern invention.
In fact, they've been around in one form or another for hundreds of years. The first patent for a curling iron was awarded in 1866, and the history of curling hair with heat can be traced back even further.
By now, the tools have become the incredibly common and powerful devices we know today – and a multi-million dollar a year business.
In fact, in 2014, curling irons accounted for $261 million dollars of sales in the US. That's a lot of curls!
B. Basic Curling Iron Types
There are three major style differences that separate types of curling irons – whether the tool has a clamp, is a clampless wand iron, or is an automatic curler.
Within these basic types, there are a multitude of styles and options to choose from. Let's start by examining these different types of curlers.
1. Clamp Iron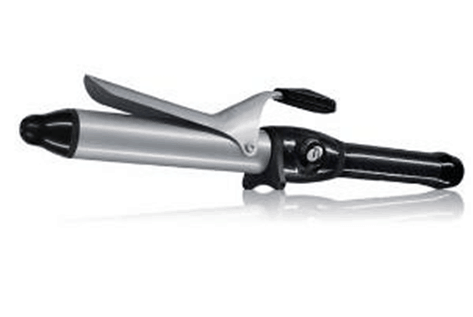 Source: Refinery29
Clamp irons are the classic tool that you probably picture when thinking of a curling iron. They consist of a barrel, a handle, and a clamp.
The clamp can be opened to gather hair around the barrel, closed as the hair is allowed to heat and curl, and finally opened again to release the curled hair.
Clamp irons can come in several varieties, based mostly on the mechanical design of the clamp itself.
a. Spring-Loaded Clamps
Spring-loaded clamp irons are the type found in most homes. The spring-loaded design of the clamp makes the tool easy to use and simple to maneuver.
The user presses down to open the clamp, and it closes automatically. This design makes for an easy to master styling tool.
b. Marcel Curling Irons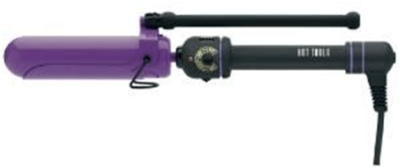 Source: Amazon
Marcel irons, on the other hand, are more common in salons. The clamp on these irons isn't spring loaded – meaning the user has to hold the clamp shut manually. This process makes for a less intuitive movement.
This style of appliance requires a little more practice and dexterity, but it also gives the user more control in the styling department.
2. Wand Irons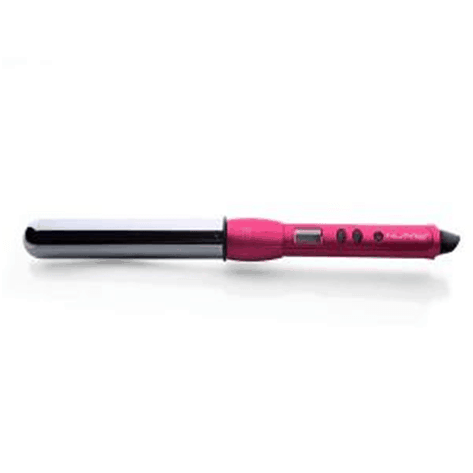 Source: Overstock
Wand irons are a different take on the classic curling iron design, gaining serious popularity in recent years.
These styling tools utilize an extremely straightforward design – a single barrel with no clamping capabilities.
To use these irons, the user simply wraps their hair around the warm iron and holds it in place while it heats. The curled hair is then released.
Because this style of curler relies on a very hands-on approach to styling, they usually come with heat resistant gloves. These gloves allow the user to manipulate their hair around the wand with great ease, but without the risk of sustaining a burn.
Wand irons are also available in various styles – the simple design is a great base for creative designs and has seen a ton of iterations.
The classic design is a simple cylindrical barrel, but the shape of the barrel has been manipulated by manufacturers to help the user achieve different looks.
a. Conical Wands
Source: Bed Bath & Beyond
One popular wand shape is a conical barrel, which starts off with a wide barrel at the base near the handle, before tapering down to a much thinner barrel at the far end.
This style provides you with endless possibilities and easy variation. You can use the base of the barrel for big, loose curls, or the smaller end for tighter ringlets.
b. Bubble Wands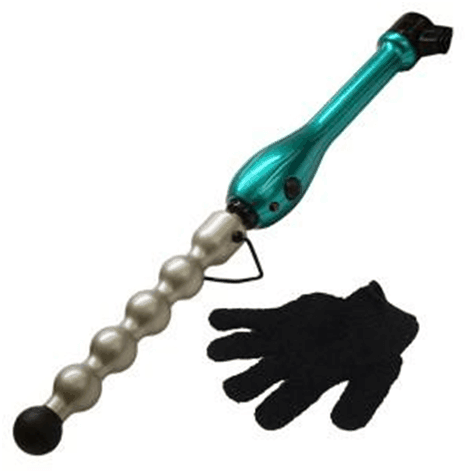 Source: Overstock
Another option is the bubble wand – this tool has a barrel shape that is similar to pearls on a string.
The bubble wand makes curling your hair easier in that its shape provides you with a guideline. As you curl your hair, your locks will fall into place around the bubbles, leaving you with natural looking waves.
c. Spiral Wands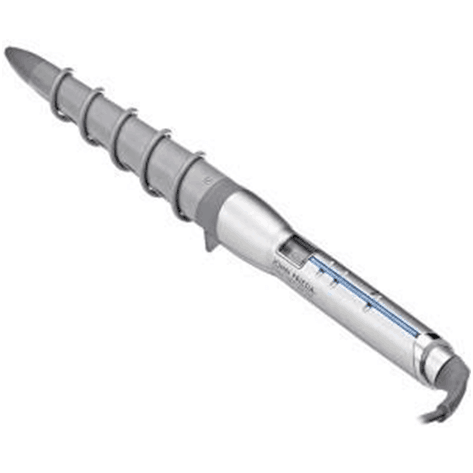 Source: Overstock
Spiral wands are also designed with ease of use in mind. These tools have a classic barrel base but are overlaid with a thin spiral that starts at the bottom of the barrel and wounds around to the top.
To use this style, you use the spiral as a guide and wrap your hair around the base, in between the twists.
d. Double Barrel Wands
Source: Amazon
Double barrel wands are just what they sound like – instead of a single barrel, you get two identical ones!
The idea is to wrap your hair around the wands in a figure eight pattern. The end result is a super wavy look that's pretty easy to execute.
However, this style of wave might prove difficult to use if you have fairly short hair. Since using the double barrel requires a lot of wrapping, you'll need to consider if you have enough length for this type of tool to be effective.
3. Automatic Irons
The last major group of represents the most modern iteration of the classic curling styling tool – automatic curling irons.
These devices take care of most of the work for you. All they really require is you placing your hair in the device, and letting the machine do the rest.
They, in one way or another, wrap your hair automatically around the barrel, putting it in position to be curled.
These automatic approaches to the traditional iron function in different ways, depending on their design. Let's take a look at some of the most popular methods.
a. Rotating Barrel Irons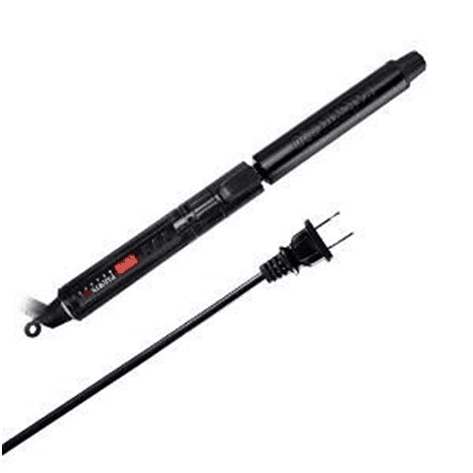 Source: Amazon
The rotating iron is the most simple of the automatic designs. To use one of these tools, you simply clamp your hair and turn on the rotating feature.
The barrel will start to spin, gathering and placing your hair in position. As you reach the root of your hair, you stop the rotation and hold for a moment before unclamping to release the curl.
This design is often very similar to traditional clamp irons, just with the added benefit of a rotating barrel to make the process a little simpler and requiring less acrobatics with the wrist!
b. Internal Automatic Curlers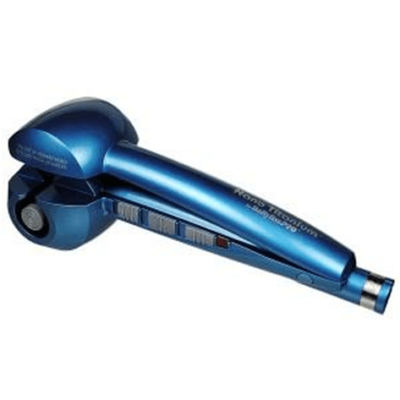 Source: Overstock
The second type of automatic curler represents the farthest departure from a traditional curling iron design.
Instead of a barrel, these products tend to feature a handle with a large rounded curl chamber on the end.
To use the device, you place the base of your hair in the hole in the middle of the iron's curl chamber. The curler then sucks up the end of your hair into the device to be curled.
Typically, the irons will beep when the process is complete, alerting you to release the curl.
Because of the internal, out of view nature of these curlers, they can take a little getting used to. For many users, their first time using an internal automatic curler can be a little unsettling – it can seem like a huge mechanical tangle waiting to happen!
However, they do make for a very easy curl, and as long as they are used correctly and you follow all directions, are perfectly safe.
C. Barrel Materials
As we have seen, the barrel and its design and style is really the foundation of any curling iron. Because of this, the material the barrel is made of can have a huge difference in the effectiveness and longevity of the tool.
There are several regular material options that are used for most of the curlers manufactured today. Let's take a look at
some of the most popular ones on the market.
1. Ceramic
Ceramic irons are the most commonly used by professional hair stylists and known for providing a healthier approach to curling the hair.
Ceramic barrels are great for evenly distributing heat along their surface – reducing the chance of both an ineffective curl and running into a hot spot that might burn and damage the hair.
This material is also known for giving off negatively charged ions, which can have a smoothing, moisturizing effect on the hair's surface.
2. Tourmaline
Tourmaline barrels take the ion emitting power of ceramic to the next level, giving off more of the negatively charged particles and earning even more hair-protecting benefits.
Because of this ability to help smooth hair, tourmaline tools are often recommended for frizzy hair.
But, you can usually expect to pay more for the frizz-fighting boost that comes with a tourmaline curling iron. This added cost might be worth it to those with frizz-prone hair, but might not be worth it to those with naturally smooth locks.
3. Titanium
Titanium curling irons are often sought out for their super smooth surfaces. Thanks to the sleek surface provided by titanium, catches and snags of the hair are kept to a minimum.
Titanium is also known for being a long-lasting metal that can withstand a lot of use, meaning it might add time to the shelf life of your iron. And just like ceramic barrels, titanium irons are great at evenly dispersing heat.
4. Chrome
Chrome is traditionally the budget choice when it comes to curling iron barrel materials, and it is the most common material you'll see on irons.
Most of the styling tools on the lower end of the price spectrum will feature a chrome barrel.
For people who rarely curl their hair or just want to experiment with curling, chrome can be a good, budget-friendly option.
But, the material is not the best at distributing heat evenly and, unlike ceramic and tourmaline irons, puts out positive ions, which can damage the hair over time.
If you curl your hair daily or have sensitive tresses, you might want to spend a bit more to get a higher-end material.
5. Gold
Gold barrels tend to hit a price point somewhere in between chrome and ceramic.
The material heats more evenly than chrome, but without some of the big hair-protecting benefits of ceramic and tourmaline.
Gold is a solid choice if you use an iron more frequently and would like a slight step up from baseline in terms of quality.
6. Teflon
Some irons may incorporate a Teflon coating over a base metal. Teflon is highly effective at preventing sticking, so like titanium, it may help protect your hair and prevent it from getting snagged by the iron.
However, because the Teflon coating is just that – a coating – it can wear off over time. Teflon is often paired with a chrome base, so just be aware that if the coating does wear off, you might be left with a chrome curler.
C. Curling Iron Size
Another main feature that you will have to decide on is the size of the barrel. The diameter of the barrel you choose will have a big effect on the style of curl you will end up with.
The size range available is quite large, ranging from tiny 3/8-inch curlers to large two-inch irons.
Small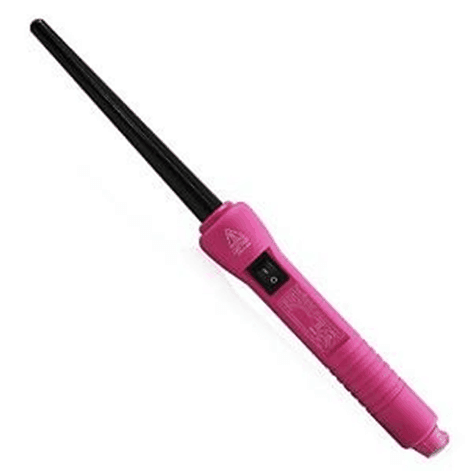 Source: Amazon
A small barrel size will help you achieve the ringlet look. If you want small, tight curls, you'll want to shop for an iron with a small barrel – the smaller the barrel, the more your hair will be able to wrap around it, and the tighter the resulting curl.
The smallest irons are usually around 3/8 inches, but anything that has a diameter less than an inch will typically help you achieve a small curl.
Smaller sizes, like a 3/4 inch option, are also a great styling tool for people with naturally curly hair who just want to add some polishing touches to their look.
Midsize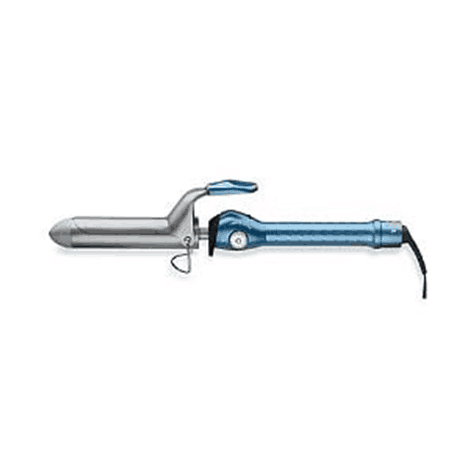 Source: Bed Bath & Beyond
Midsize irons typically include those with one inch or one and a quarter inch barrels. These irons are versatile and can be used to obtain a variety of different styles. They are probably the curling iron size you are most familiar with.
In fact, the one and a quarter inch diameter is the most popular size barrel. So if you want a classic curled look, this size is usually a good bet.
Large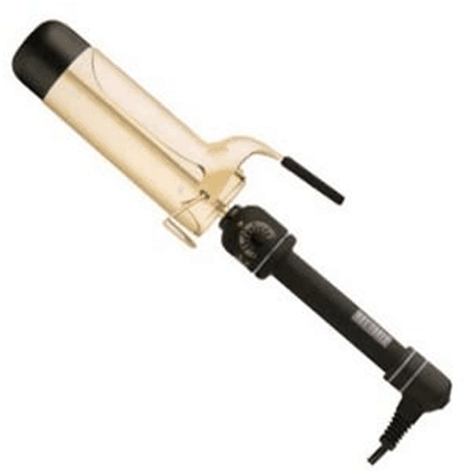 Source: Amazon
Larger iron sizes typically have one and a half or two-inch barrels. These styling tools can be used to create bigger, fuller, wave-like curls.
Two-inch barrels are often used to mimic the look of a blowout – they provide a good deal of volume and body to the hair, but not a lot of traditional curl.
II. More Details
We have discussed a lot of the basic design structures that will help you generally determine what type of iron is best for you.
But today, these styling tools go way beyond basic. There are plenty of other possible features and details to consider when shopping for the iron that will help you achieve that perfect look.
A. Safety Features
One of the most common safety features offered in some irons is an automatic shut-off system.
This system simply turns the iron off after a certain amount of time has passed (often an hour). An automatic shut-off system helps reduce fire danger and the risk of burning yourself on a forgotten appliance.
It is also great at providing peace of mind if you rush out the door and later find yourself wondering if you remembered to turn off your iron. Whether you did or not, if the iron has an automatic shut-off feature, it should turn itself off and begin to cool.
Many irons will also come equipped with an indicator light. An indicator light both tells you when the barrel is hot enough and ready for use, as well as alerts others around that the iron is on, hot, and a danger to touch.
And as mentioned earlier, a protective, heat-resistant glove is important for protecting the hands when using a curling wand. If you decide on this style of iron, make sure a glove is either provided with the iron, or to purchase one separately.
B. Temperature Control
Depending on hair type, different people can require vastly different temperatures to curl your hair effectively.
If you have got super thick hair, you'll probably need high heat to get a good curl. On the other hand, if your hair is thin, temperatures that are too high could damage your hair. You will need a lower temperature setting for styling.
The most basic irons may only have two settings – on or off. Other irons will let you select from a range of pre-decided settings. As many as 30 of these different settings are possible.
Still other tools will allow you to input the exact temperature to which you want the barrel heated.
Consider your hair, needs, and just how much control you would like to have over the iron's heat before you make a purchase.
C. Interchangeable Wands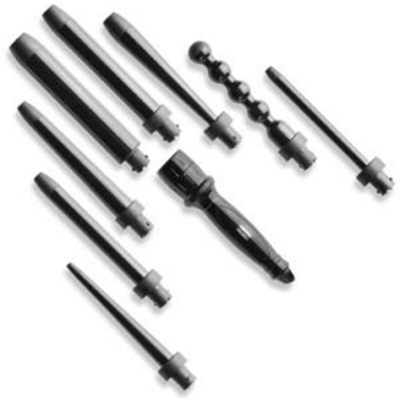 Source: Overstock
If you know that you would like to achieve a lot of different looks and curl styles and are thinking that you will soon have a bathroom cabinet full of curling irons, don't fret. Instead of stocking up on ten different appliances, you can instead invest in a single product that comes with interchangeable wands.
The options vary, but these sets typically include a single plug-in handle paired with different varieties and barrel sizes of both clamp irons and clampless wands.
Having this range of tools at your disposal will give you the ability to experiment with many different techniques and mix up your hairstyle easily.
D. Cost and Budget
Thankfully, the range of curling iron prices is extensive. This means that you will be able to find a hair styling tool, no matter what your budget is.
Generally speaking, the majority of irons fall into the $40 to $80 price range, but tools ranging from $100 to $150 are not uncommon.
And, you can find an iron for as cheap as $25 or less. These irons tend to be basic styling tools made from chrome and without many bells and whistles as far as features go.
On the other end of the spectrum, you can drop as much as $230 on a high-end iron. These irons tend to have a ton of features all in one tool, including automatic capabilities. They also tend to be made from higher-quality materials, like tourmaline and ceramic.
How to use a curling iron properly
Here's a video tutorial that shows you how to use a curling iron effectively.
Other Hair Appliance Articles