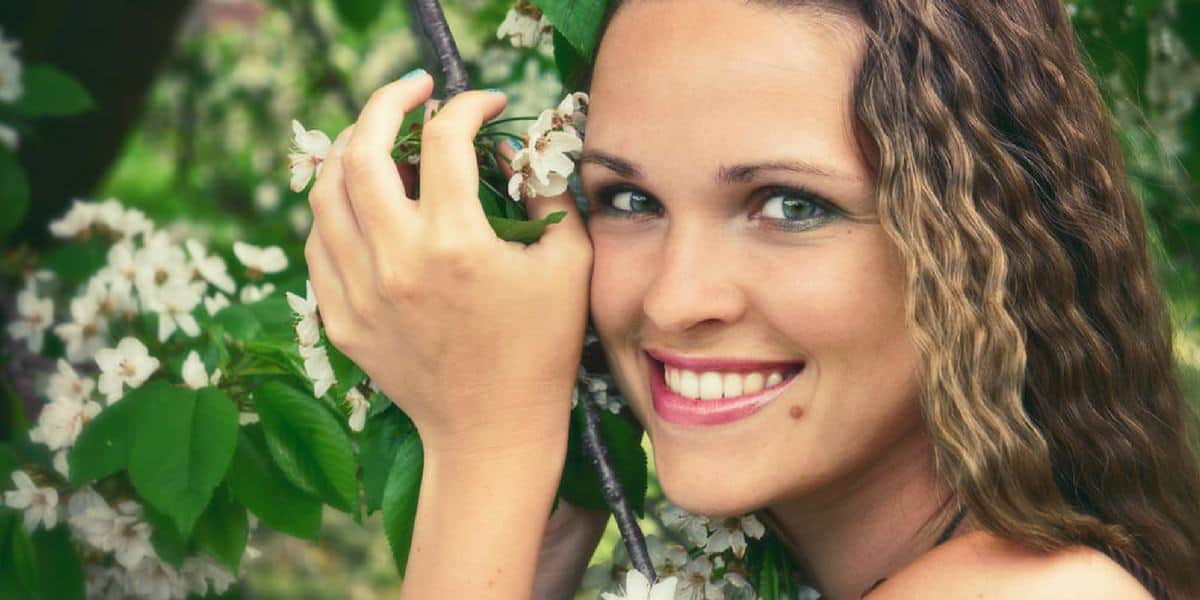 While not the most popular hair appliance, crimpers are still made and sold.
If you want to crimp your hair once in a while, the modest investment is worth it since crimpers don't cost that much.
Below is our extensive hair crimper page which sets out the types of hair crimpers, how to choose and then a convenient list of the best hair crimpers based on customer feedback.
Things to Consider when Searching for a Hair Crimper
A hair crimper is like several hair styling tools such as straighteners and curling irons, so the key attributes you will want to look for is similar to them.
Adjustable Temperature Setting
The temperature setting makes a big difference in how well the crimper is going to work for your hair. Depending on your hair type, you may need to set either a higher or lower temperature so, a crimper with an adjustable temperature setting is ideal.
Ceramic VS Metal
You can usually find metal plated crimpers cheaper, but the ceramic plated ones are much better for your hair. The ceramic plated crimpers help control frizz and cause less damage to your hair.
The Shape and Design
Just like curling irons, you can find crimpers in several different shapes and sizes. The closer together the waves are on the plate the tighter, more voluptuous waves you'll have compared to loose beach waves with a bigger plate.
How We Chose the Best Crimpers for this List?
When we picked the top ten best crimper options for this list, all the key features listed above played a big role. We have compared some crimpers that have ceramic plates and adjustable heat settings, but you may notice that not every single one has these features.
We narrowed it down even further by only selecting products that are highly-regarded as well as factors such as durability and quality.
IMPORTANT: Our list of best hair crimpers below is not based on our testing every crimper available for sale. It's based on customer feedback and reviews. The list is meant to be a guideline only and we also chose to include a diverse selection as well.
Our picks for the top hair crimpers (in no particular order)
1. One of the Best Crimpers with Deep Wave Plates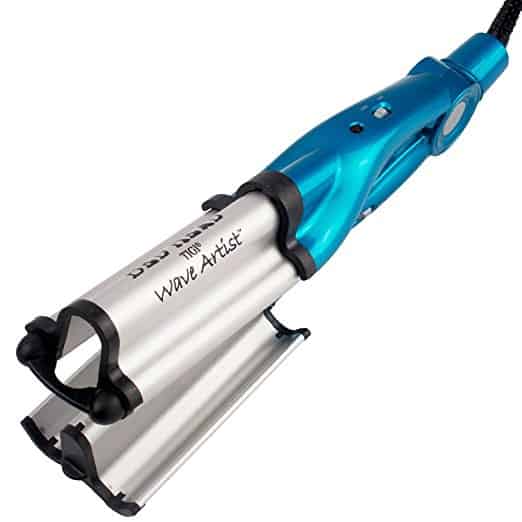 Style: Crimper with deep wave plates
Design: Deep wave plates to create big beachy waves
Another great tool from Bed Head is the Wave Artist Deep Waver that comes in a light teal color. This crimper features one deep wave in the middle of the plate that will create big beachy waves. This crimper has multiple heat settings that go up to 400 degrees Fahrenheit. The Wave Artist also has a ceramic plate that prevents damage to your hair when the temperature is up high. Try twisting your hair before crimping for even bigger and softer waves.
2.

Excellent Wave Crimper (2″)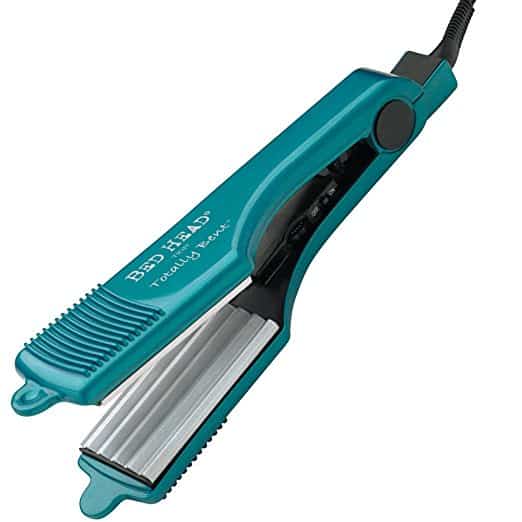 Style: 2" Wave crimper
Design: Blue crimper to create smaller, tighter waves.
Bed Head has a great line of hair styling tools, including crimpers. This 'totally bent' crimper has a two inch base with five small waves inside the plates. The plates make small tight waves in your hair giving you lots of volume.
The plate material is made up of chrome. This crimper is a good option for strong, thick hair because the chrome provides direct heat but unlike the ceramic plated crimpers, it's not the best for thin hair that can be easily damaged. This crimper also has variable heat settings so you can adjust it to the temperature that works best for you.
3. Great Crimper with 'S' Shaped Plates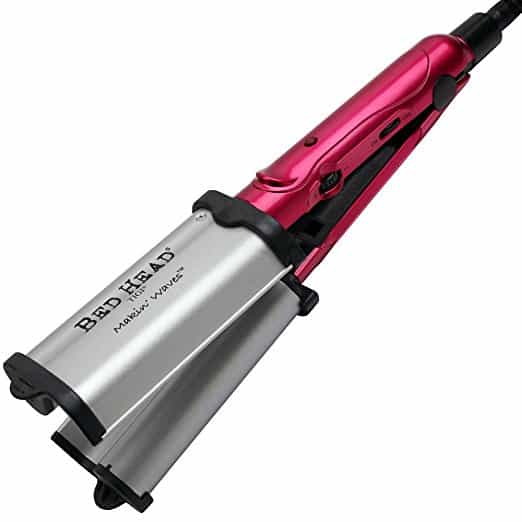 Style: Crimper with 'S' shaped plates
Design: Plates create loose 'S' shaped waves
The Makin' Waves "S" Waver is a high quality crimper from Bed Head as well.
The crimper comes in a pink color, and the shape of the barrel makes for rippling "S" shaped waves.
This crimper has multiple heat settings for all hair types and instant heat recovery to make your results last longer. We've found that this crimper lasts for quite a long time. Many users report using the crimper at least three times a week, and it has lasted them well over three years.
4. Very Good 2″ Three Barrelled Crimper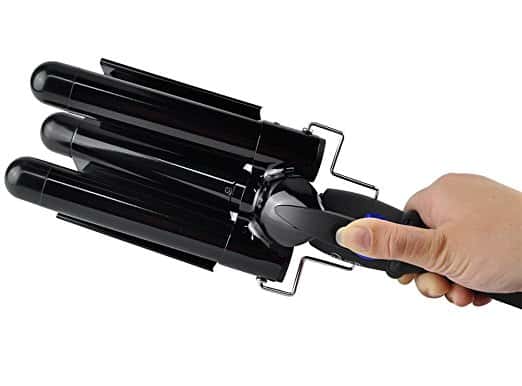 Style: 2" Three barrelled crimper
Design: The barrels create big 'S' shaped waves
The Blue Top Hair Waver is a great barrel crimper. It features three jumbo 25mm barrels to style your hair into big loose "S" shaped waves. The ceramic plates do a nice job of preventing damage.
A unique benefit of this crimper is that is has a PTC (Positive temperature coefficient) heater. This crimper is beneficial because it heats up quickly, uses less power and overall lasts longer. The heater also has adjustable temperatures and a convenient indicator light that lets you know when it is ready.
5. Awesome Vented Crimper (2″)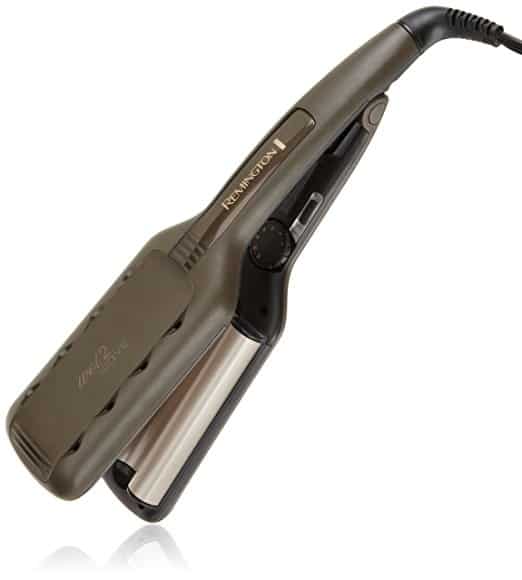 Style: Vented 2" crimper
Design: Crimper dries and styles wet hair into spaced waves
The Remington wet two waves hair waver is a convenient two in one tool for hairstyling. We found this crimper really awesome because you can use it on your wet hair and it will dry and style at the same time. There is a vent at the top of the crimper that lets out the steam as it is drying your hair.
The plates are made up of pearl ceramics that keep your hair from getting any damage while it's wet. The Remington crimper has a feature where it will automatically shut off after sixty minutes. This crimper is a useful safety feature if you tend to forget and leave it turned on.
6. One of the Top 3-Barrelled Crimper (1″)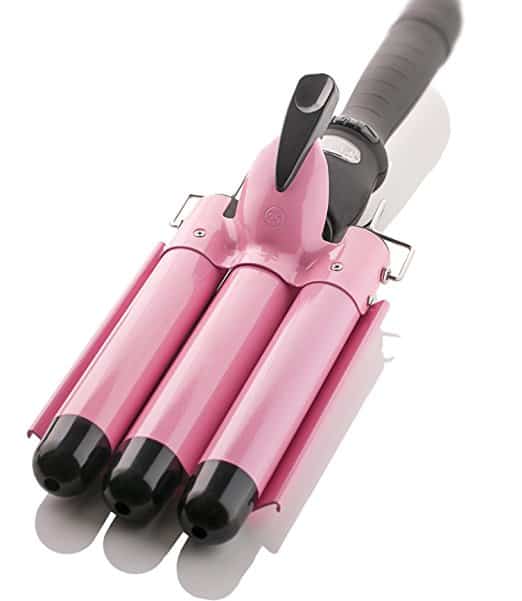 Style: 1" Three barrel crimper
Design: Pink barreled crimper that creates easy tight waves.
The Alure three barrel is another high quality crimper. Unlike the Blue Top waiver, which creates loose "S" waves, the Alure creates smaller, and tighter waves.
This crimper comes with pink high-grade ceramic plates that claim to give shiny waves without any frizz.
It heats up to 430 degrees Fahrenheit within just sixty seconds and also has a LED display so you can easily read the temperature.
Based off of the reviews we've read about this crimper, we've found that this will last you for several years while maintaining the same high performance as the first use.
7. Great Tourmaline Plated Crimper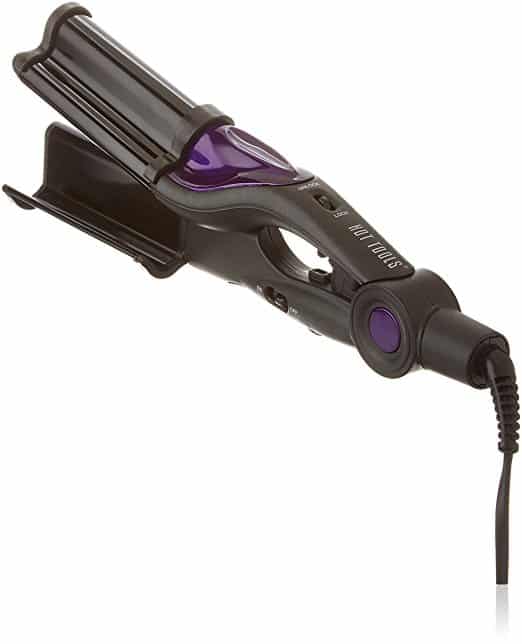 Style: Deep tourmaline plated crimper
Design: The deep tourmaline plates create big shiny waves
The Hot Tools Deep Waver has a similar plate shape as the Bed Head Wave Artist. The single wave in the middle creates soft beachy waves. This crimper is made with tourmaline ceramic that produces ions to seal your hair cuticles and make it shinier.
The Hot Tools Deep Waver also has far-infrared pulse technology to bring it to temperature quickly, and stays hot for a long time. This is a unique feature that's not usually found in a lot of hair beauty tools.
Another convenient feature it has is an extra-long eight-foot cord that swivels all the way around.
8. Excellent 3-Barrel Tourmaline Crimper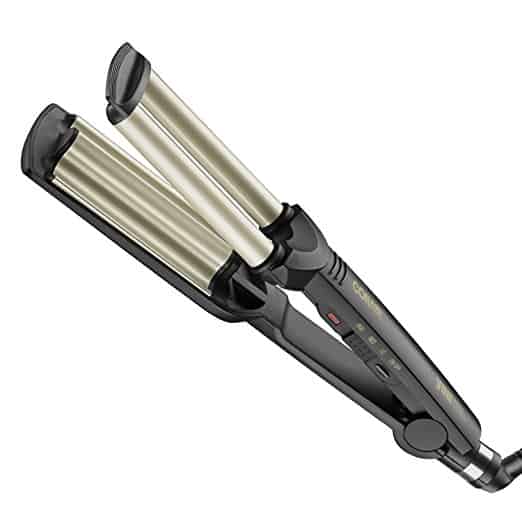 Style: Three barrel tourmaline crimper
Design: Tourmaline barrels create tight shiny waves.
You can purchase the Conair YOU Wave Ultra in three colors, black, teal or pink. The crimper itself has a unique gold ceramic plate shape. It creates a tight beach wave look because it has two barrels, one barrel on top and one barrel on the bottom.
This crimper has the tourmaline ceramic that reduces frizz and prevents static while making your hair shinier.
The crimper features a 30-second heat up and has an adjustable heating setting for different hair types.
9. Amazing Gold Plated Narrow Hair Crimper
Style: 2" Gold plated narrow crimper
Design: The narrow plates create several smaller, tight waves.
The Gold N' Hot Crimping Iron has a two-inch base and five close together waves on a gold-tone plate. This crimper makes really tight small waves in your hair with lots of volume.
This crimper has an adjustable dial to change the temperature and an indicator light that lets you know once it is ready.
We didn't find on the reviews info on how long this crimper will last, but we found that you can purchase a two or three-year protection plan for a couple of extra bucks.
I. Hair Crimper Buying Guide

Looking for the perfect hair crimper to add texture to your hair and give it some volume? There are great products available at a range of prices. Crimpers have a range of functionality with different plates and settings available for users.
Now, more than ever before, the technology exists to try different crimping styles for your hair. No matter the length or texture of hair, a crimper can achieve the look you've been wanting.
From around $20 to in the hundreds, crimpers come in all prices and styles. If you are ready to spruce up your look and stop looking drab, this piece of diverse hair equipment can make all of the difference in style. The products available on the market today do not fry your strands and have the potential to create various styles.
A. How Can a Hair Crimper Benefit You?
When you think of hair crimping, you probably think of the traditional 80s style where the women crimped all of their hair and make it look huge as well. Crimping every section of hair from the top to the bottom layers is a styling option – but there is so much more a person can do with this versatile hair tool. From adding volume to drab and flat hair, this is a classic way to add texture to hair.
Add this essential product to your lineup of hair styling products to change up your look and vary your hair's volume, texture, and style. Whether you go for a travel size crimper or think you need a more professional product, there is an item on the market for you.
1. Add Volume and Lift Roots
It is possible to add volume with hair crimpers. In this video, we see a professional hair stylists use a digital crimper and a mini crimper to add tight crimps to a woman's hair. In this case, he adds the texture to the under layers of her hair, leaving just a bit of crimping texture on her top layer of hair.
Add volume and lift roots by using a crimper close to the roots with texture added to the bottom of the under layer of your hair. There are a number of styles you can try which add volume to the hair and/or life roots.
2. Getting an Even Hairstyle
With a crimper, you can section pieces of your hair easily. This gives you an even texture and a polished look across the top layer of your hair. In a few short minutes, straight hair can have a few extra waves added.
Depending on the product you use, crimps can be tight or loose with varying widths. Crimps add as a nice foundation to a formal hairstyle for events like weddings, birthday parties, proms, school dances, family celebrations, holiday parties, and work events.
3. Mermaid Curls
Do you know the look you see on television when a woman has perfect waves with spacing in between her curls looking flawless? With the right product, you can achieve mermaid curls without using a curling iron! This is a wave you get in your hair, not curls but waves as if you were just out of the ocean.
4. Prepare for Updos
A popular way professional hairstylists prepare for an updo or lasting style is to crimp the hair. This is a commonly used technique to give the illusion of more hair which is thicker and looks good. Whatever look is the goal, a base to the style with crimping helps achieve it.
With the right styling tools, it is possible to achieve beautiful updos without hiring a professional. Crimpers add volume and boost the appearance of your hair.
B. Different Sizes for Crimpers
There are three typical options for crimpers, all of which depends on the size of waves you wish to make. The different sizes for crimpers are the mini, standard size, and wide. These refer the look you are sure to love, no matter which product you decide to purchase for yourself.
When deciding the right styling product to purchase, be sure to consider a few factors. Firstly, think of the style you most commonly want to achieve, a price you are willing to spend, and the type of hair you have.
1. Mini
Looking to achieve mini waves? There are different stylers available in mini sizes but you might see mini referring to the size of the crimp. In most categorizations, minis refer to small stylers which often make use of tight crimps.
If you love the retro look of crimping, check out this tutorial which is short and informative. Toni&Guy created this video. They are an award-winning hairdressing brand with more than 50 years of experience in education, service, and haircare expertise.
2. Standard
The majority of products from this market are available in the standard crimping size and style. Without trying too hard, it is easy to achieve casual waves, volume under your hair, or any other option you want to get. Most professionals use this option in their hairstyling efforts. Typically, the standard size of crimp comes at around the 1'' size.
This gives you the option to create volume and work at the roots or to do a full crimp throughout your head of hair. No matter the preference you have, this size tends to be versatile in its uses.
3. Wide
To be considered a wide style, this type of iron often fits in the range of 1.5'' waves or more. Technically, getting waves is a form of crimping the hair. Made by brands including Bed Head and Revlon, these upgraded devices are a way to add texture without using curlers or a curling iron.
Almost every hair day can be upgraded with a quick use of a wide styler. This look is in for women of all ages and with all hair lengths. Even medium-length hair with a large wave adds texture, volume, and elegance.
II. Hair Crimper Size and Style Types
There are a few different crimper sizes and styles. You'll want to select one that works best with your hair and your goals.
A. Mini Crimper
Achieve a tighter look or add volume with these mini-sized stylers. This designation refers to the size of the product, not the size of the crimps created. Purchase a mini crimper for travel and the look you love.
1. Herstyler Mini Crimper
Committed to the look of tight waves? Aside from an affordable price, this mini crimper is small in size but also makes use of small waves. It does not damage your hair because it uses ceramic plate technology to protect the hair. In addition, this mini crimper prevents frizz with the mini look. Don't let the size fool, even thick and long hair gets a look with this crimper.
This crimping iron size achieves the classic crimping look which was last popular in the 1990s and is becoming more popular now in 2017. Mini irons come in a small size as well.
Other benefits of this styler include the small size which is made for travel, it gives a tight crimp to meet your preferences, and it meets your volume needs. Most professionals use mini crimpers at the root line or under layers of the hair to create volume. Use it for volume to achieve a classic look.
2. VOLOOM Petite Hair Volumizing Iron
Although this is called a volumizing iron, it functions as a mini-crimper. It is small both size and width. Specifically designed for hair that is short or medium in length, this product adds volume and texture. The VOLOOM Petite Hair Volumizing Iron uses patented plates made to separate and lift hair. It works for all hair types including fine or damaged, normal hair, chemically treated hair, healthy hair, and coarse or thick hair. Hair does not get frizzy.
3. Hiliss Hair Weaver Crimping Iron Mini Travel Tools
The hiLISS Hair Weaver Crimping Iron Mini is a travel tool, which is small in size but gives a nice look. It does not give mini crimps, it is more of a wide wave style. Many women purchase this item because it is possible to travel with this crimper without taking up too much space in a suitcase. It only weighs 8.8 ounces!
Just be sure to clamp down on a section of hair, let the heat apply itself, and then move on to the next section. It is not light a straightener, you cannot run it through your hair, it must be applied in sections.
B. Standard
1. Bed Head Little Tease Hair Crimper, 1-inch
Without breakage or causing tangles, the highly-rated Bed Head Little Tease Hair Crimper is one inch in width. The company designed it for adding crimps to sections of the hair, or add volume to a hair style. No matter the preference, this is a versatile product.
Some of its features include heading up to
400 degrees Fahrenheit, multiple heat settings for different hair types, and Tourmaline Ceramic Technology. One reviewer says, "This has changed my life forever!! I will NEVER not crimp underneath my hair again."
A styling tip provided by Bed Head to use with this product is to add texture and volume to hair with this product, prior to putting it in a braid. This gives you a larger braid than ever and adds to your hair's texture.
2. Hot Tools Micro Crimper, 1 Inch
Used by professionals on a regular basis, this option creates crimps of your choice. It provides high, even heat to keep hair in place. The Hot Tools Micro Crimper makes small crimps and heats up quickly. It even has a longer cord than the majority of products on this list, with eight feet of cord which swivels. The name "mini" does not refer to the size of the styler but the size of the waves it creates.
The grooved thermal plates provide heat without damaging hair. You can use styling products to hold your look in place after using this product but it is known for not damaging the hair. Simply section strands of your hair to create your desired look. Hot Tools were developed to be professional-grade styling tools to give "salon-worthy hair results."
3. Abody 4 in 1 Hair Straightener Hair Crimper Waver
There are a number of products on the market which function like a few products at once. By simply sliding up the cover, sliding out one plate, and replacing with another, you have a completely new product.
The Abody 4 in 1 Hair Straightener Hair Crimper Waver with 4 Kinds of Interchangeable Plates Professional Ceramic Styling Iron Smart Temperature Control heats up in 90 seconds. The temperature is displayed on the LCD screen and it provides even heat, all-around. It heats evenly so there is no hot spot where one area of the hair gets burnt or dried out. Expect zero pulling, frizz, or sticking.
C. Wide
More in demand than ever before, the wide crimp irons on the market are designed to work quickly, hold a style, and operate with several settings. The price range for these stylers is affordable for most households. Because these operate differently than crimper products, give the products a try to work on different waves and other styles.
1. Revlon Ceramic 3-Barrel Jumbo Waver
This jumbo waver has wide barrels to give a full wave to a look. Revlon designed this product to create an 'S' wave look rather than a tighter waved look. In just 60 seconds, this product is fully-heated up and ready to style. A customer said, "It does nice waves and it heats up fast so I don't have to wait forever for it to heat up. [It] works well for all hair."
Some of the reasons this product is highly esteemed include:
Creating a laid-back look, adding fun texture to the hair
Not damaging hair without crimping it
Three barrels takes less time to style the entire head
Eliminate needing to wear your hair in a braid at night
2. Bed Head Wave Artist Deep Waver for Beachy Waves
Don't live near the beach but want to get that beachy look? One of the best names in hair care is Bed Head. This innovative company has created a highly-rated hair crimping iron which makes deep waves for a beachy, wavy look.
If you prefer the more elegant look of this type of crimp, purchase this #1 best seller. Bed Head also offers multiple heat settings so you get consistent results. In addition, the six-foot long cord reaches across a large bathroom. Other features include instant heat recovery, multiple heat settings, 30-second heat up, deep waving plates, and a locking switch to hold hair in place.
Customers rate this product to be durable, good quality, easy to use, effective, gentle, and fast.
3. iTech Crimper Professional Hair Crimping Styling Tool
The two-inch wide hair crimping styling tool from iTech is a professional styling tool. You get hot waved ceramic coated plates to help preserve the natural moisture in your hair. It has a convenient digital LCD temperature gauge so you always know the heat being applied to your hair at any point. With a range of 270 degrees Fahrenheit to 450 degrees Fahrenheit, you can set the heat depending on your hair style.
It is a professional-grade tool with a full swivel cord. The iTech brand is made to work for an extended period of time and many users report having this tool for years while also using it daily.
III. Additional Products and Considerations for Hair Crimping
These products keep your hair looking great throughout the day. Whether you use the oils post-crimping or you add a primer to protect your hair against heat, look no further than these styling products. These are highly recommended oils to protect your hair and hairsprays to hold your style.
A. Oils to Protect Hair
If concerned about preserving strength and shine of your hair, you may want to invest in heat protectants and other oils. Professionals often use argan oils to protect hair when applying heat. Coconut oils are used to both protect and repair already damaged hair when applying heat (whether adding crimps, curls, or even straightening). Look for a product with these oils in the base.
1. Hairdresser's Invisible Oil Heat/UV Protective Primer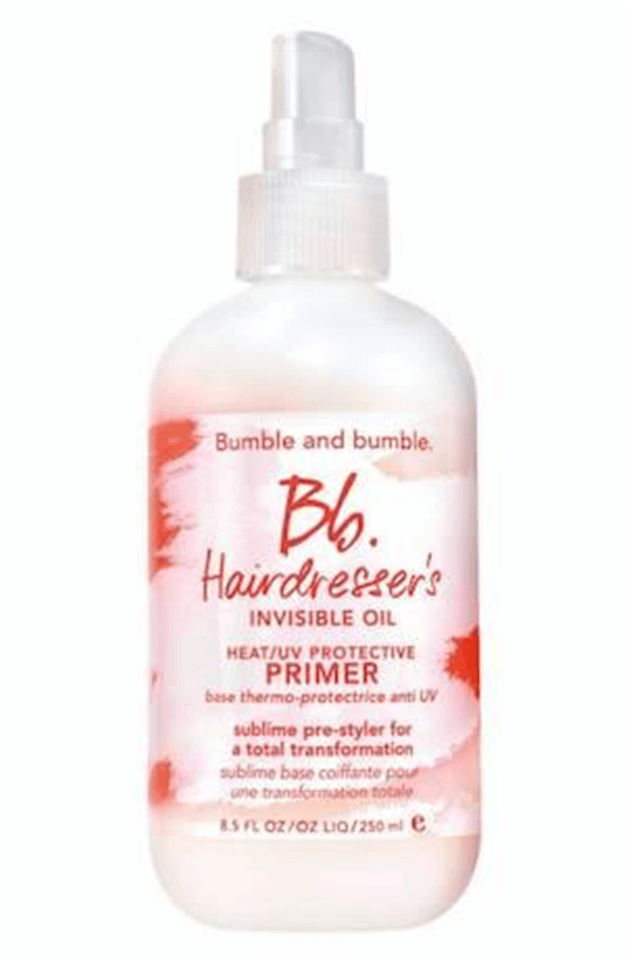 Source: Nordstrom.com
Add this oil to protect your hair, prior to using your new crimping product. One of the most popular oils in the industry is Bumble & Bumble's Hairdresser's Invisible Oil. When applied as a pre-styler, it protects or conditions hair that is dry, brittle, or even coarse. This high-end product also is a heat/UV protectant. Try it once and you'll want to add it to your hair every day. Also, it smells wonderful.
2. OGX Moroccan Argan Oil Weightless Healing Oil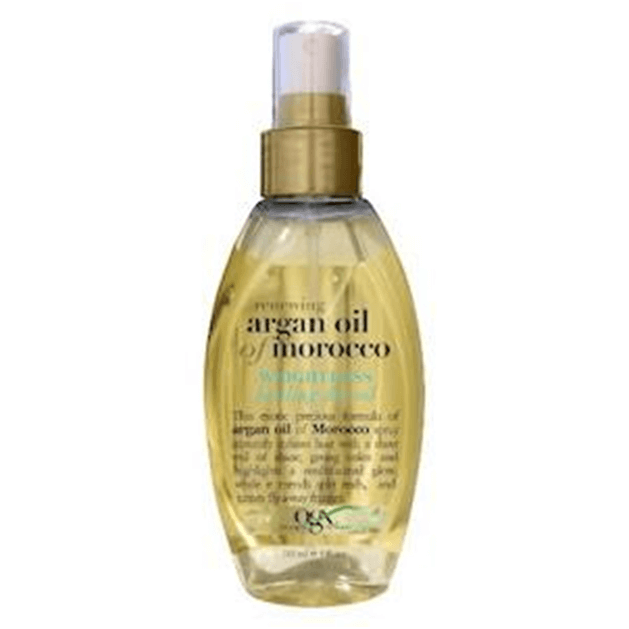 Source: Target.com
This oil is applied in a spray, post styling once you are ready to wash your hair. Not only does this argan oil heal hair, it protects against UV damage and heat. In addition, it provides a healthy feel to your hair. It works well with all hair types, even for those with thin or fine hair. For the first application of this product, try a few hours before showing.
B. Hairspray for Holding Styles
Once you've styled your hair, it is important to keep the style in place. If you want to extend your crimped style, with anything from volume to a professional style, a hair spray can make all of the difference. Hairspray is a classic product to apply to your hair, no matter the style you wish to keep in place.
1. Bed Head Masterpiece Shine Hairspray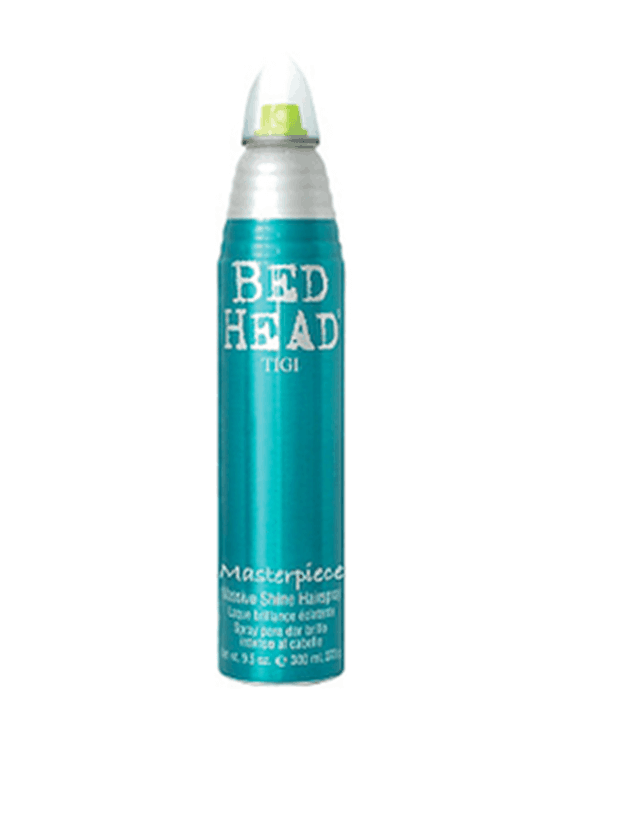 Source: Ulta.com
As mentioned earlier, Bed Head is one of the most established names in hair styling. Their Masterpiece Shine Hairspray makes your hair look and feel healthy while still maintaining a strong hold. It is good at resisting humidity, guarding against dryness commonly associated with hair products, and works with all textures.
This highly rated hairspray has been determined to be easy to use, great smelling, effective, strong at holding, and lightweight by Ulta purchases. It is recommended for daily uses, safe for color-treated hair, and even eliminates frizz.
2. Garnier Fructis Style Flexible Control Hairspray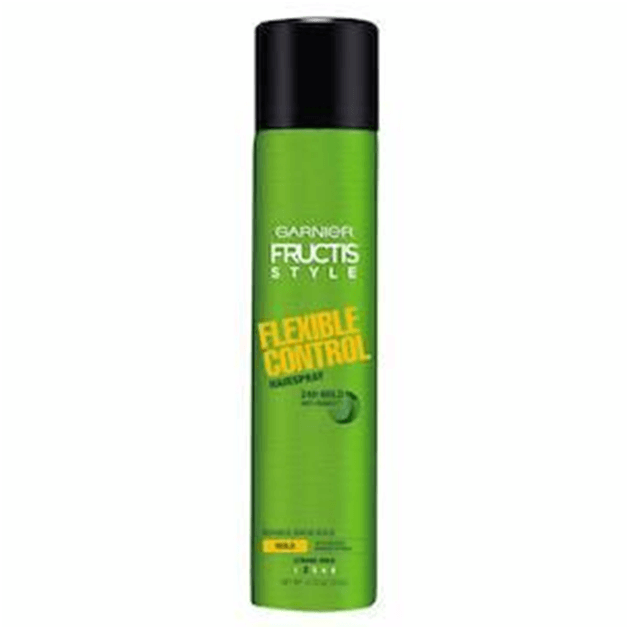 Source: Target.com
Available at an extremely affordable price-point, Garnier Fructis Style Flexible Control Hairspray is highly-regarded among its users. This product offers flexible control, so you don't feel like you are wearing a helmet of hairspray. Garnier tested in conditions with 90-percent humidity where it still held up to the conditions. Say goodbye to crunch and stiffness, but still maintain your crimped look with this affordable hairspray.
Other Hair Appliance Articles