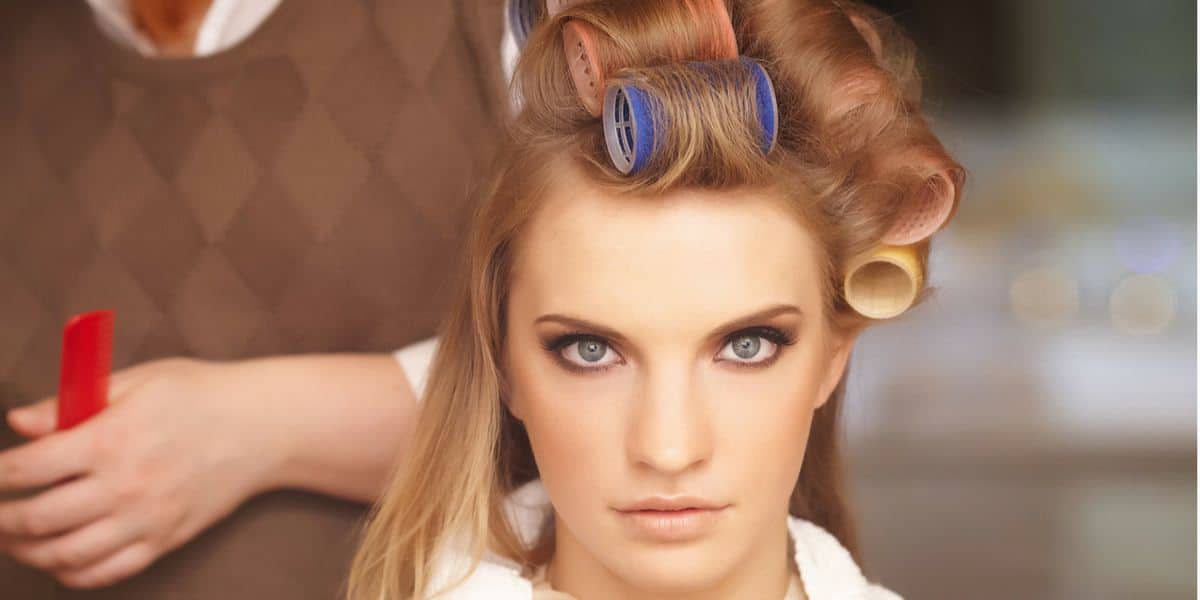 You can find hair rollers in many different types, shapes, and styles. Some work with direct heat, steam, or no heat at all. There are several different benefits for using hair rollers, regardless of type.
Hair Rollers are a lot less damaging. They won't dry your hair out, which will prevent breakage and keep it healthier.
You can get more volume. By keeping rollers fixed up on top of your head, you're automatically creating more volume.
You can easily create different styles. Hair Rollers let you create tight, loose, bouncy, or big curls simply based on the shape and size you pick.
You can multi-task. Once you put rollers in your hair, you can just leave them in and continue doing other things while you wait.
Your curls will last longer. When you put hair rollers in, you can leave them in for a longer time which will help set your hair cuticles and make your curls last all day long.
How We Chose Our Top Ten
Choosing our list of best hair rollers was a long, meticulous process. First of all, we had to do some research on each different kind of hair rollers and how they work. This is the research that went into the buying guide, which is the most important part of this pager.
We discovered that each type of roller works in its own particular way and certain types might work differently on different hair types. We decided to pick the top rollers out of each different type/style.
We did not test every hair roller set available. The list of top 10 hair roller sets we set out below is based on popularity, customer reviews and ensuring we include a diverse set to represent the many categories of hair rollers.
If you're looking to buy hair rollers, we hope this page helps you with the process. We know there is a ton of information here, and while hot rollers aren't expensive (compared to buying furniture, for example), it's always a hassle buying the wrong product.
Thanks for visiting. We hope you find this page helpful.
Our Top 10 Hair Rollers List
1. Absorbent Velvet

Hair Curlers (Great While Sleeping)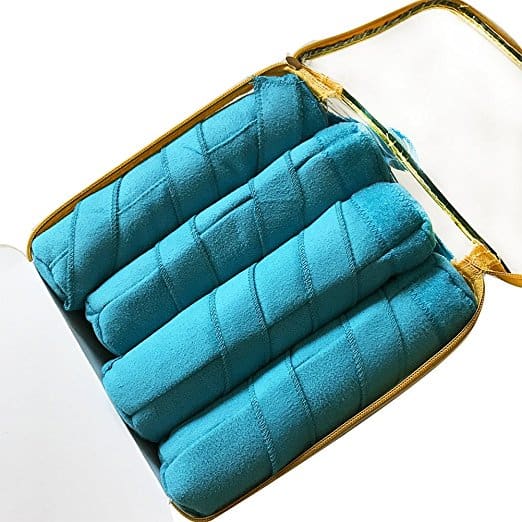 Style: Absorbent velvet hair rollers
Design: Soft velvet hair rollers that you can sleep in.
These sleeping hair curlers work very well with wet hair. Once you wash your hair, you will want to let it air dry about 80%. Then you'll put these rollers in and leave overnight. The velvet and sponge material will absorb the water and dry your hair while you're sleeping.
The package comes with eight hair curlers, but if you have thicker hair, you may want to purchase more. These hair rollers and great for all hair types.
2. One of the Best Large Velcro Hair Rollers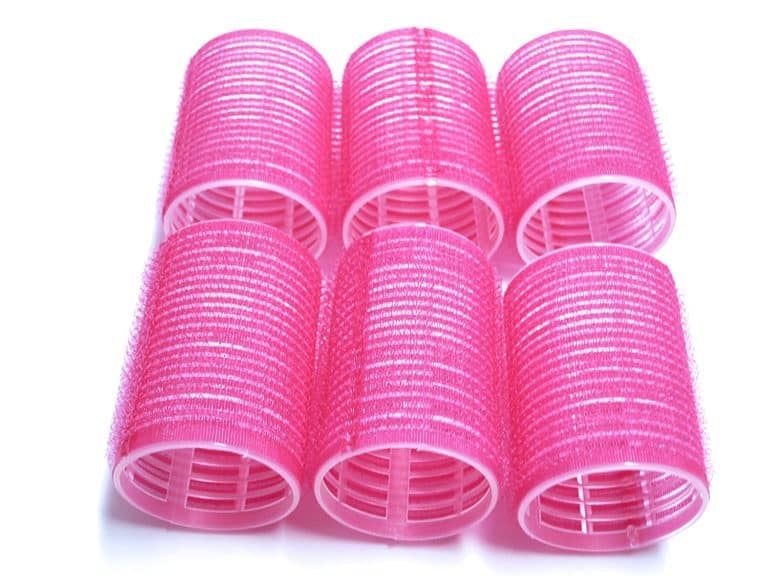 Style: Large velcro hair rollers
Design: Large pink rollers with velcro to hold hair in place.
These rollers from UrbHome are easy to use and put in your hair. The velcro sticks to your hair, so you don't need pins or clips to hold it in place. These type of rollers are known for adding volume to your roots and curls to your ends.
They aren't recommended for long, heavy hair though because they may not stay as well but they are perfect for shorter hair lengths. The rollers have a 40mm diameter to make big loose curls. You can purchase them in either a pack of twelve or a pack of twenty-four and a variety of colors.
3. Flexible Rod Hair Rollers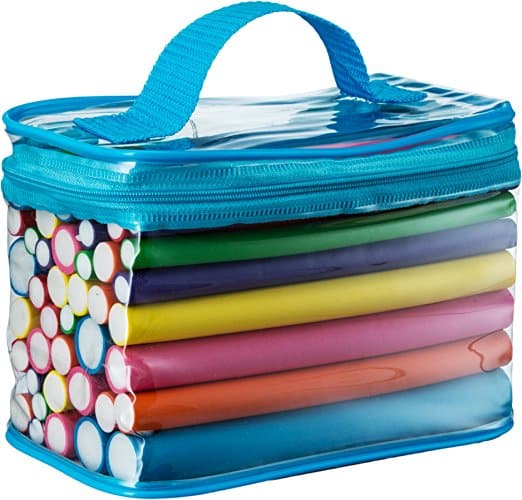 Style: Flexi rod hair rollers
Design: Variously shaped flexi rod rollers for wet or dry hair.
The Tifara beauty pack comes with 42 curling rods in various diameters. You can use the smaller rods to create tight ringlet curls, or medium and large rods to create loose, bouncy curls. You can use these on either wet or dry hair.
To use them just separate your hair into small sections and roll your hair up vertically. If you start with wet hair, just take a blow dryer and make sure you dry each of them well because removing them. These rod hair rollers work well all hair types.
4. One of the Top Steam Hair Rollers
Style: Steam hair rollers
Design: Ionic rollers that create curls with steam.
The Caruso Ionic steam rollers work well with thin and thicker hair types. However, you may have difficulty wrapping all your hair around the roller if you have fairly long hair. The description claims to deliver three times the steam as regular steam rollers. To use these rollers just plug them in and let the steam heat them up.
Then you'll roll up your hair up with them and use the clips to hold them in place. Once the rollers have cooled, you can remove them and rake through your hair with your fingertips. This set comes with thirty steam rollers, in five different sizes and a convenient storage bag to keep them in.
5. Packaged Foam Hair Rollers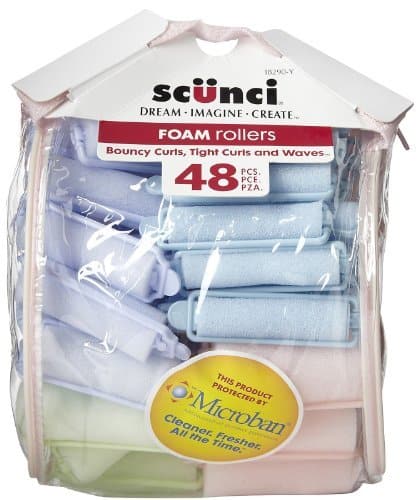 Style: Foam hair rollers
Design: Foam hair rollers in various sizes.
The Scunci foam roller pack comes with 48 rollers in an assortment of sizes. You can use these to get bouncy, tight or wavy curls. These rollers can comfortably be left in your hair overnight as well.
They have outer clips that will hold your hair in place even if you toss and turn during the night. For best results, put them in slightly damp hair, roll them up and let them sit until your hair dries. This brand of foam rollers has a micro ban, antimicrobial protection to keep them cleaner. These work well with all hair types.
6. Magnetic Rollers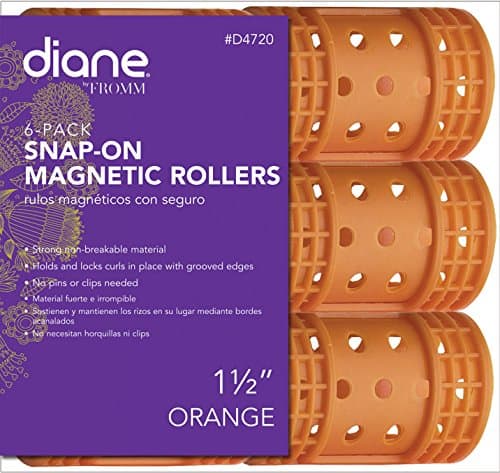 Style: Magnetic hair rollers
Design: Large snap on rollers secured in place by magnets.
The Diane snap on magnetic rollers come in three sizes, either 1 ½" , 1 ⅛" or 1 ¾" . You can use these on dry or wet hair.
These rollers are similar to velcro rollers in shape and the fact that you don't need pins or clips. Your hair is held in place by magnets. These come in a strong non-breakable material so they shouldn't be used to sleep in overnight. This pack comes with six hair rollers. These rollers work best on shorts lengths of hair.
7. Hair Styling Brush Hair Rollers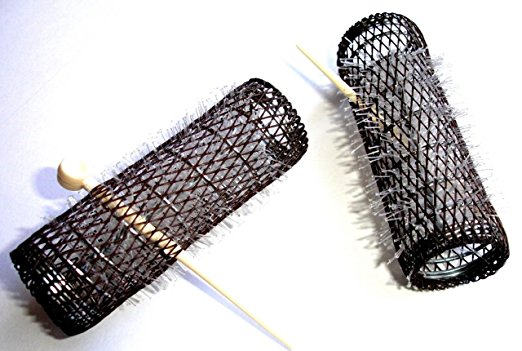 Style: Brush hair rollers
Design: Brush rollers with bristles to hold hair in place.
These rollers come with two packs of six. They come in ⅞" diameter and have 3" bristles to hold your hair in place. These type of rollers are great for thick and coarse hair because the brush bristles keep your hair smooth and prevent it from getting frizzy.
They also work well with naturally straight hair because it sticks well to the bristles. To achieve more volume though, you can easily remove the bristles. This set of rollers comes with plastic pins to hold your hair in place as well.
8. Ribbed Hot Hair Rollers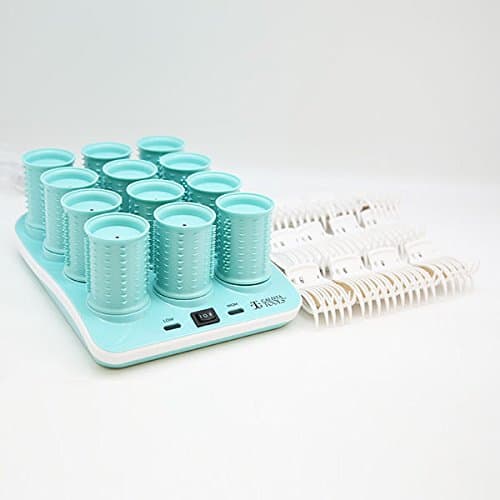 Style: Ribbed hot hair rollers
Design: Heated hair rollers with ribbed edges and clips.
The Calista hot wavers heated hair rollers come in a set of twelve. You can get them in 1 inch and 1.2-inch diameters. These hot rollers have two heat settings and rollers that can create short, long or wavy curls. Each rod has multi-element mineral powders and moisture infusion to give you softer, shinier hair.
They have ribbed edges which help to smooth your hair when rolling it up. These hair rollers are simple to use and work quickly. Once the rollers have heated up, roll up your hair in small sections and put the clip on. After they have cooled down, take them off and shake your hair out. You can use these rollers with any hair type.
9. Flocked Hot Hair Rollers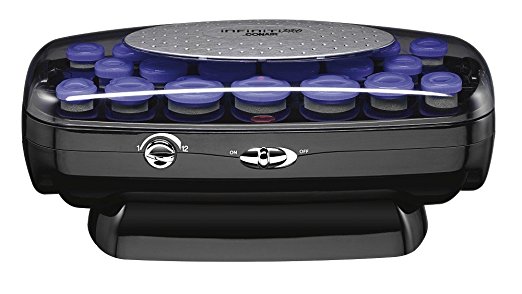 Style: Flocked hot hair rollers
Design: Heated ceramic flocked rollers in various sizes.
The Infiniti Pro Conair rollers come in a set of 20. These are similar to the Calista hot wavers except they have a ceramic base instead of a ribbed one. The ceramic is infused with argan oil to help condition your hair as well as prevent from heat damage and frizz.
The rollers come in three sizes, 1 ¼ inch, 1 inch and ¾ inch. A unique feature of these heated rollers is that they have twelve different temperature settings, so they work on all kinds of hair types.
10. Ribbon Hair Rollers
Style: Ribbon hair rollers
Design: Spiral-shaped curl ribbons for long hair.
The Curlformers come in a kit with forty rollers and two hooks. These ribbon hair curlers work a little bit differently than the others listed. To use, you start by feeding the hook through the middle of the ribbon then use the hook to pull a piece of damp hair through the ribbon. The ribbon automatically makes a spirally shaped curl in your hair.
Finish putting all of your hair in the ribbons and then let it dry completely. To speed up the process, use a blow dryer. Once you take them out, you'll have perfect tight spiral shaped curls. These rollers work best on long hair styles.
8 Types of Hair Rollers

Whether you are a fan of hot rollers, foam rollers, or the classic Velcro option, the right products give you the look you want to achieve for your hair. There are more types of rollers on the market than ever before. These are not your grandma's overnight hair styling options. Hairdressers define the different types of curls a person can have. So, what can you do with hair rollers?
I. Curly and Wavy Hair Info
A. Reasons to Use Hair Rollers
Hair rollers give you the curls you want to achieve. Think about the difference between Shirley Temple's curls and a mermaid's waves. Where does your preference fall on the spectrum of hair curling preferences?
1. Add Volume and Lift Roots
Hair rollers do more than add curls. With a few strategically placed rollers, it is possible to add volume and lift to your roots. This is even effective if you want your look to be pretty much straight throughout the day but you need a bit of volume. Fine and limp hair doesn't have to look that way with the proper application of a few strategically placed curlers.
2. Protect Your Hair
A number of professionals recommend using rollers versus an iron because of the numerous advantages of rollers. One of the biggest reasons to use them is to achieve a longer lasting curl. The hair is exposed to less heat and the heat tends to be more consistent throughout each strand.
If you are worried about protecting your hair, there are several styling products you can use to also protect your hair from damage. Look great with your new curls!
3. Setting a Weave Style
If your weave has a specific look and you want to help it last longer, setting it with curlers on a schedule, it can save money in the long run. A good weave costs so much money, so why not extend its lifetime?
Three reasons to help set your weave with rollers are: preventing break down of your weave by eliminating direct heat from curling irons or flat irons, allowing your actual hair to completely dry while in the set, getting a longer lasting style than with curling iron curls.
4. Adding Curls to Your Limp Hair
Of course, rollers add curls to your hair. Depending on which type you buy and how many you use, you can achieve a full range of curls. You can get a nice wave in your hair, mermaid curls, and even complete twists like a person with natural curls. People with straight, limp hair can achieve a fresh new look with a roller product. Once you find the right set to purchase, you can create a versatile range of styles!
B. Types of Curls
Professionals created a definition guide for curls. This hair typing system classifies different hair textures and curl types. What look do you want to achieve with your rollers? There are four types of hair: Straight Hair, Wavy Hair, Curly Hair, and Kinky Hair. Because you do not achieve straight hair with this product, we will cover the other types of hair.
If you naturally have straight hair, the right hair rollers give you any of the wavy hair types or the curly hair types. Kinky hair is more difficult to work with, but you can make it even and consistent in curl style.
1. Wavy Hair Types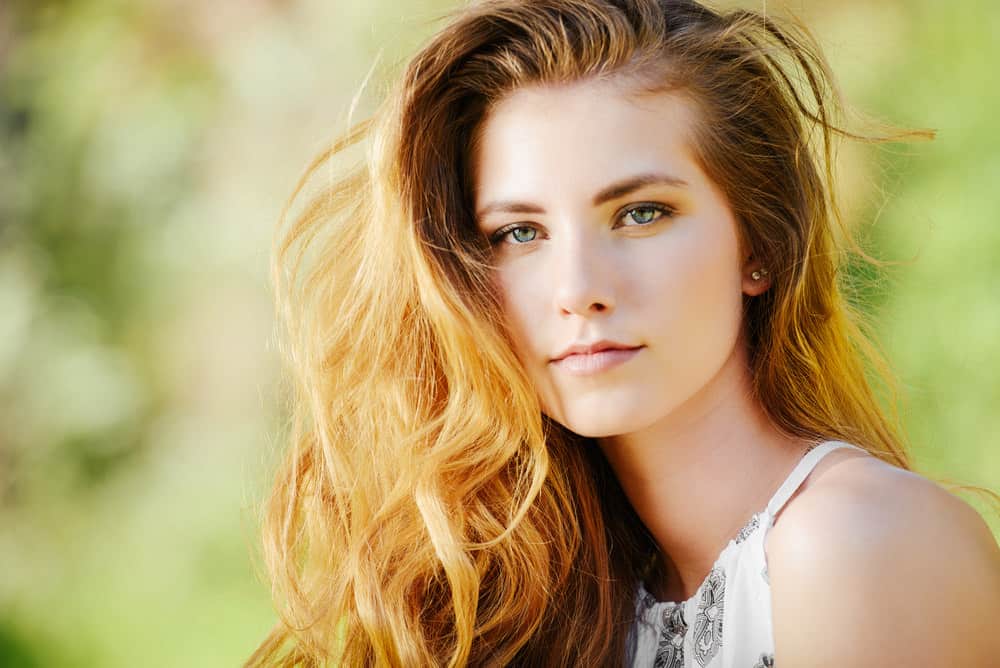 Wavy hair is neither fully straight nor fully curly. Hair professionals have created 2A, 2B, and 2C, all of which move down the spectrum from slightly wavy to almost curly. This type of hair is prone to frizzing, and humidity. Type A waves are easiest to straighten, but types B and C can be tougher to style. This hair type is perfect to enhance with rollers.
For many people, rollers are used to achieve light waves in their hair.
2. Curly Hair Types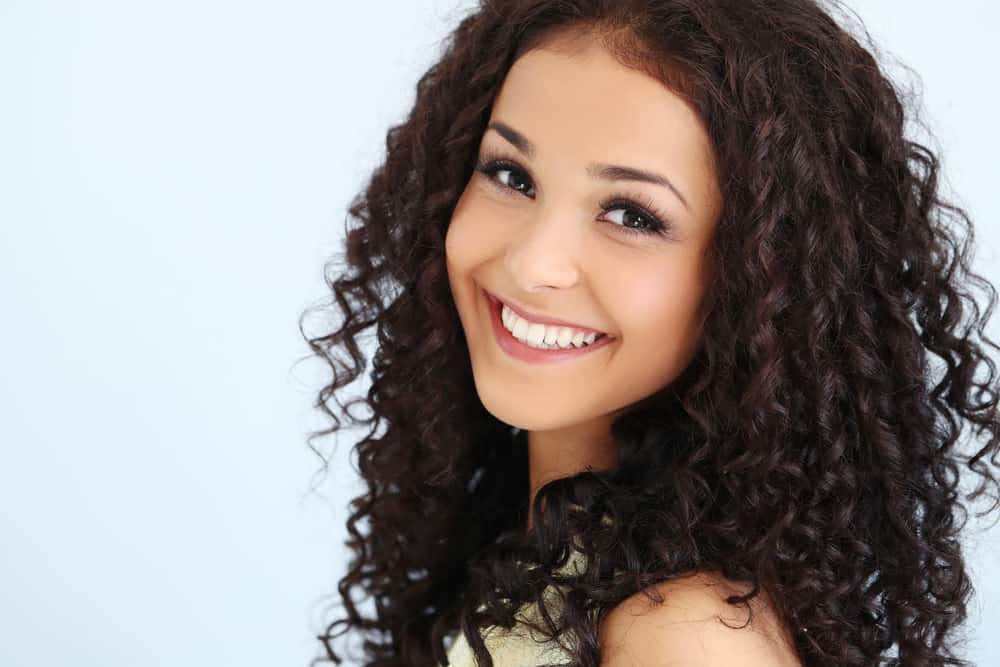 Just like wavy hair, curly hair falls into three categories 3A, 3B, and 3C. The best way to know if you fall into the naturally curly hair category, or your rollers have achieved the look for you, is if you pull a piece of hair from your head. If it has a definite "S" shape, you fall into the third category. Curly 3A to 3C goes from loose to tighter curls.
There are so many benefits of having curly hair. Naturally curly hair can be updated and refined, even with rollers. The benefits of having, or maintaining, curly hair include:
Not needing to style your hair at the beginning of the day
Not being able to tell if it is dirty
Weather conditions don't alter the texture of your hair
It looks like you styled it, even if you didn't
Damaged hair doesn't show as easily
Typically, hair has a lot of volume and texture
Up-dos tend to hold better
It looks good when styled all lengths
3. Kinky Hair Types
Unlike curly hair, kinky hair is tightly coiled and is actually quite fragile. This delicate hair can handle styling with the right type of roller. The best way to determine if this is your hair style is to pull a strand from your head. It should look like a zig zag pattern. Kinky hair comes in type 4A, 4B, and 4C with 4C being the tightest style.
Kinky hair grows but also gets brittle so without proper care and moisture, it is easy to never get past a certain length. Cleansing, detangling, and avoiding chemicals encourages this hair type to grow.
II. Hair Roller Types
As a general rule, the size of the roller determines how much curl or volume is achieved. There are many types of hair rollers, all of which give a whole new look or are made from various materials. Some people call these, "the hair tool of the moment." Whether you fall back on a classic example, decide on a hot roller, or want to try a new innovative idea, give some of these products a try. You'll love your new look! The following products are the best on the market.
A. Classic Rollers
There are a number of hair rollers that have been on the market for some time. The reason these are still popular is simple. They work. Classics get that status for a reason! Velcro rollers are still used in runway shows. Women still sleep in foam rollers simply because they work. Read through these best options and decide for yourself what roller is the right option for you. So, what products should you purchase?
1. Velcro Rollers
Conair Self-Grip Rollers, 31 Count
Source: Amazon.com
No matter your hair type, whether it is fine or voluminous hair, Velcro rollers give tight curls after just a bit of wear. This type is available in a full range of sizes to suit different layers of your hair or to achieve different looks. Velcro rollers create volume, soft waves, and bouncy curls. You don't need heat OR clips with Velcro rollers!
A popular option to choose as your Velcro rollers are Conair Self-Grip Rollers (for about $9). This package of rollers comes in different sizes and has 31 rollers in the pack. With this option, you don't have to use the old-fashioned clamps on your hair (which sometimes cause waves you don't necessarily want).
Use Velcro rollers on drive sections of hair which has been brushed and smoothed. Roll toward the scalp and you can get a style locked in within just 15 minutes of wear.
2. Flexible Rod Rollers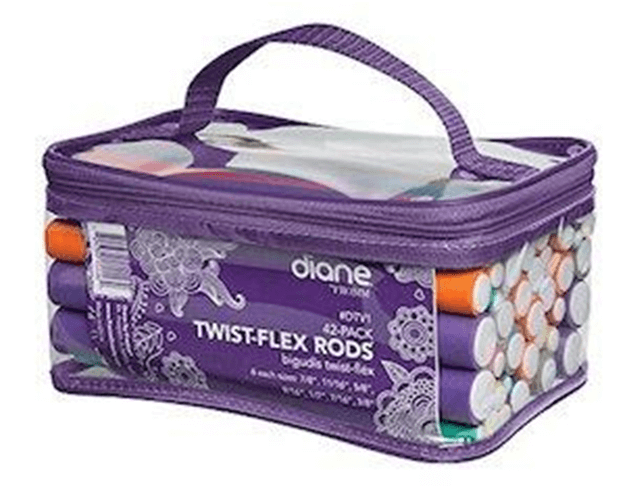 Diane By Fromm 42-Pack Twist-flex Rods
Source: Amazon.com
This type of hair roller looks kind of like pool noodles and are bendable according to what you want to do with your style. You don't need pins or clips to hold these rollers in place. It is important to note; these curlers give you a curl depending on how tight you roll them.
Professionals recommend adding spray, cream, or mousse to dry hair prior to using the rollers. Diane by Fromm 42-Pack Twist-flex Rods are available for about $10 and come with rollers in seven sizes. The flex rods are easy to use whether you leave them in overnight while your hair dries or you wish to blow dry your hair into a style.
3. Foam Rollers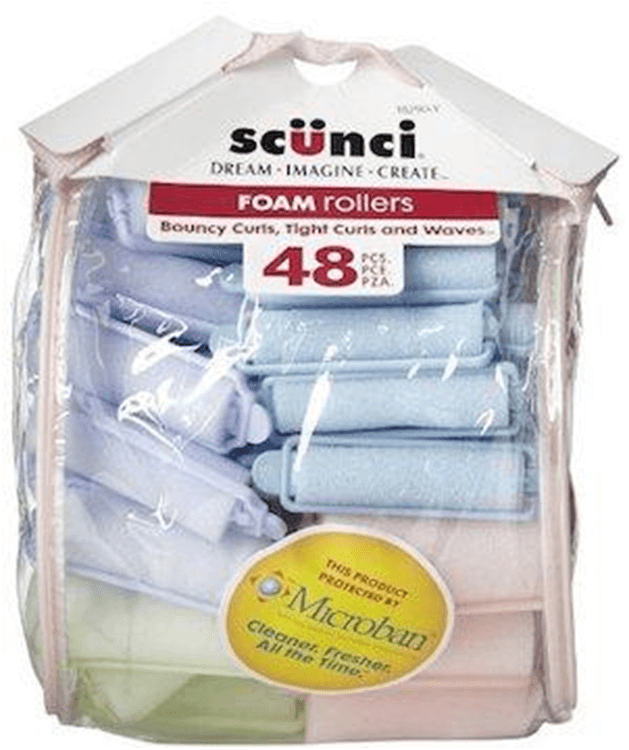 Scunci Foam Rollers
Source: Amazon.com
Foam rollers are perfect for people that don't want to curl their hair when awake. Just twist in these rollers, go to sleep, and wake up with a flawless style. The outer clip of the roller holds your hair in place as your sleep. It is recommended you use this curler on slightly damp hair.
Foam rollers to use in your hair are available in a range of sizes, including variety packs. Try this variety pack made by Scunci for small rollers to create bouncy curls, and larger rollers for texture or waves. Get a 48-pack for just over $10. Reviewers love the convenient carrying case that comes with this set of foam rollers.
B. Rollers that Use Heat
Don't have the
patience to deal with wearing curlers or rollers overnight? A quick and effective way to update your look, without much time, is with hair rollers that use heat. Whether you prefer a jumbo look, a standard curl, or have a steam set, you'll love these kits for all styles.
Using heat in the application of rollers does help the style set and is very fast. The benefits of using this style are the creation of volume, long-lasting curls, allowing you to multitask while you get ready, and not burning yourself like you might with other styling products. Hot rollers are popular for a reason! See for yourself why you'd love them.
1. Hot Rollers
Look like a person with natural curls by completely applying a head full of hot rollers to get a stylish look. Hot rollers are a popular option because they provide instant heating, instant setting, and instant styling. The newest sets are able to heat up in just a few short seconds! Women with very long hair may require two sets.
Most kits offer a series of size options, so you can either get a head full of curls or a couple accent twists around your face. It is highly recommended you secure these curls with a clip and consider using two rollers in your longest strands of hair.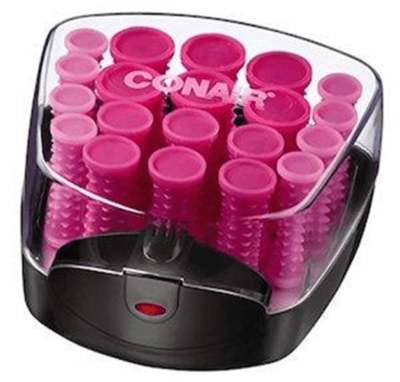 Conair Compact Multi-Size Hot Rollers
Source: Amazon.com
We recommend this set because of its compact size and easy to use features. This is one of the best kits on the marketing, not just because of its affordable price (less than $20) but its patented grip design. Depending on your type of hair, you may not need pins to secure hair in place. Get 20 rollers in three different styles with the Conair Compact Multi-Size Hot Rollers.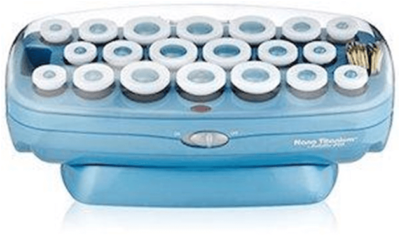 BaByliss PRO Nano Titanium Professional Jumbo Roller Hairsetter
Source: Amazon.com
Purchase a product the professionals use when you add the BaByliss PRO Nano Titanium Professional Jumbo Roller Hairsetter to your styling routine. This set includes rollers in multiple sizes, which lets you do different styles. These rollers are titanium ceramic, which gives you gentle and consistent heat. Get consistent heat to eliminate damage and leave your hair looking healthy.
This kit comes with everything you need. It has an indicator light when heating, pins if you want to use them to hold in your hair, and rollers that are made to last. If you curl your hair regularly, invest in a professional set of hair rollers.
2. Steam Rollers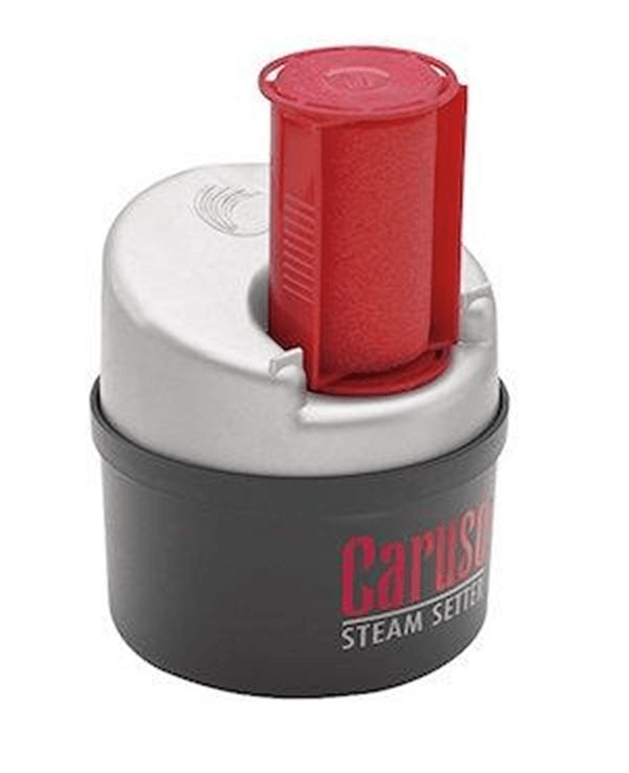 Source: Amazon.com
Steam rollers are available to create nice wave patterns as well as tight curls. With a twenty-minute setting time, you just roll your steam rollers for a safe type of heat styling. You put a curler in the system, it heats the curler, and apply the hot roller to your hair. The heat lightly bonds to your hair, which keeps it healthy, shiny, and in great condition. This is called "steam conditioning."
To speed up the process, put all of your curlers in your hair and blow dry for 30 seconds to set it. Caruso is pretty much the only name worth paying attention to in the steam rollers game. They innovated the process and even have patented the steam drying system!
All hair types can try this system for beautiful curls! Purchase the Caruso Molecular Steam Hairsetter with 30 Rollers for just over $30.
C. Innovative Ideas
Aside from some of the traditional rollers, there has been a considerable amount of innovation in the world of hair rollers. Women are simply tired of feeling uncomfortable for beauty routines. The majority of innovation in the world of hair curling is done in the name of comfort. These product ideas are all excellent options to achieve waves or curls. Just get ready at night, unroll your curlers, and you don't even have to shower to be ready to go!
Try out these options until you find the perfect solution for your personal preferences. None of these innovations use heat, so if you are not willing to apply heat to your hair any of these options will work for you.
1. Curling Flutes by Bukli Haircare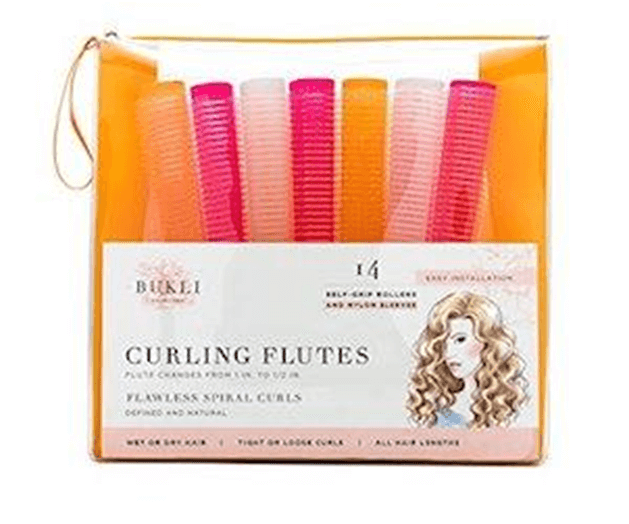 Curling Flutes, Long Self-Grip Rollers for Spiral Curls
Source: Amazon.com
Curling flutes are a patent-pending product and there is only one manufacturer of this product – Bukli Haircare. You roll hair around the long, soft roller barrel and cover it with the nylon sleeve. Get loose waves with the curling flutes, often like the look you get with a hair curling wand.
Bukli Haircare boasts this product as sleep comfortable, easy to install and securely fasten, super lightweight, and safe to use with a flat iron. Perhaps the greatest benefit of curling flutes is the ability to stack the flutes into one another for longer hair. You don't need pins, clamps, or any other accessory to hold your curls in place as you sleep.
2. Ribbon Curlers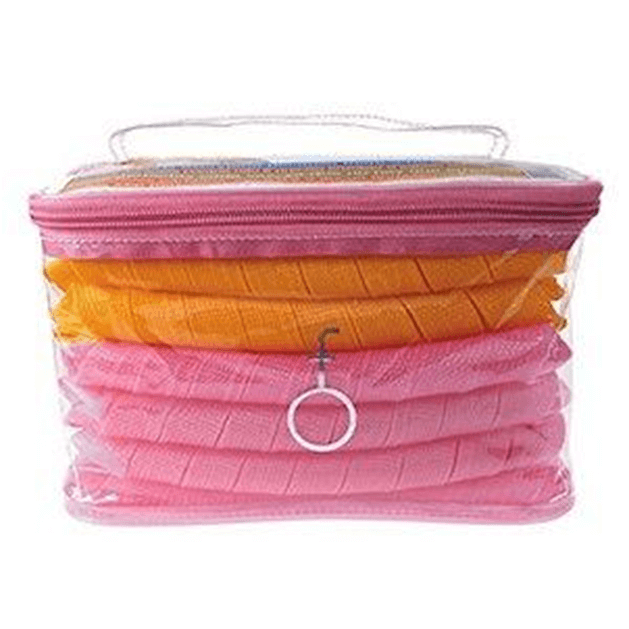 Curlformers Extra Long Spiral Curls Styling Kit
Source: Amazon.com
You've likely seen ribbon curlers on little girls getting ready for cheerleading or dance competitions. This type of curler is best when left in overnight and removed at the last-minute right before you need to leave.
The ribbon curler is pretty easy, just feed a hook into the center of the ribbon curler, connect a piece of hair at the root, and pull the hair through the ribbon. Once hair is fully dry, curls wwill look like they came out of an advertisement!
The biggest name in the industry is Curlformers. They make different ribbon lengths depending on the length of the user's hair. A kit of 40 ribbons for extra-long hair and 2 styling hooks costs just under $70.
3. Conair Pillow-Soft Rollers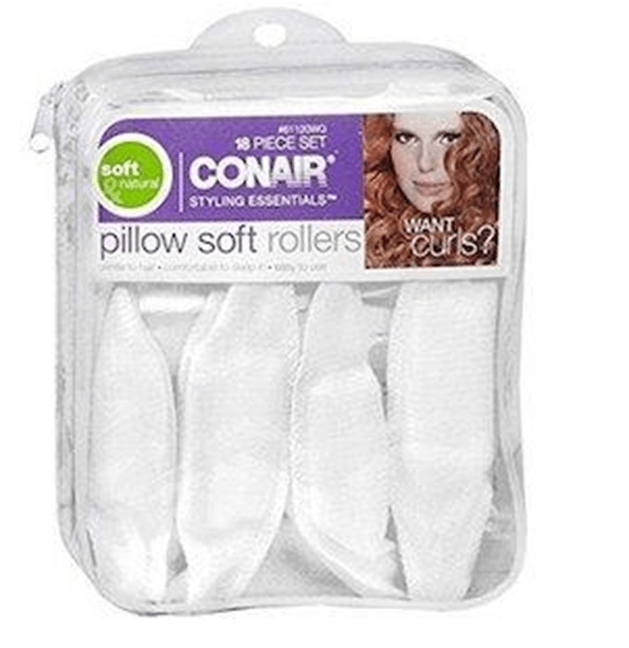 Source:Amazon.com
For less than $20, just twist up your hair into these curling pillows and you will wake up with nice waves or curls. Some women love to sleep in their curlers and prefer a non-heat style rather than applying hot rollers. Pillow soft rollers don't keep you awake because they are simply comfortable.
Conair is the team behind the original pillow option, although a number of companies have copied their idea. If you want the true original, invest in the pillow soft rollers from Conair. Use these on both damp or dry hair.
III. Other Products to Protect Your Curls
Whether used before adding curls or after, you can protect your curls with the right hair products. Even when you go to the salon or a professional for a style, they use some form of hold product to protect your look. So, which products should you use before or after styling?
A. Paul Mitchell Soft Style Heat Seal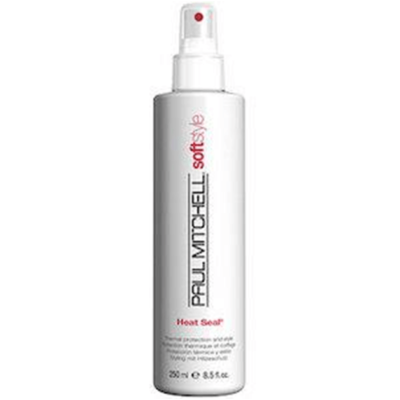 Source: Ulta.com
Prior to curling hair, spray this product into your claim, damp hair. This protects you from damage associated with heat and also seals your hairstyle. Paul Mitchell is highly-recommended by professionals and was previously only available at salons. The spray costs just under $14. You can use this product on a daily basis.
B. Oribe Dry Texturizing Spray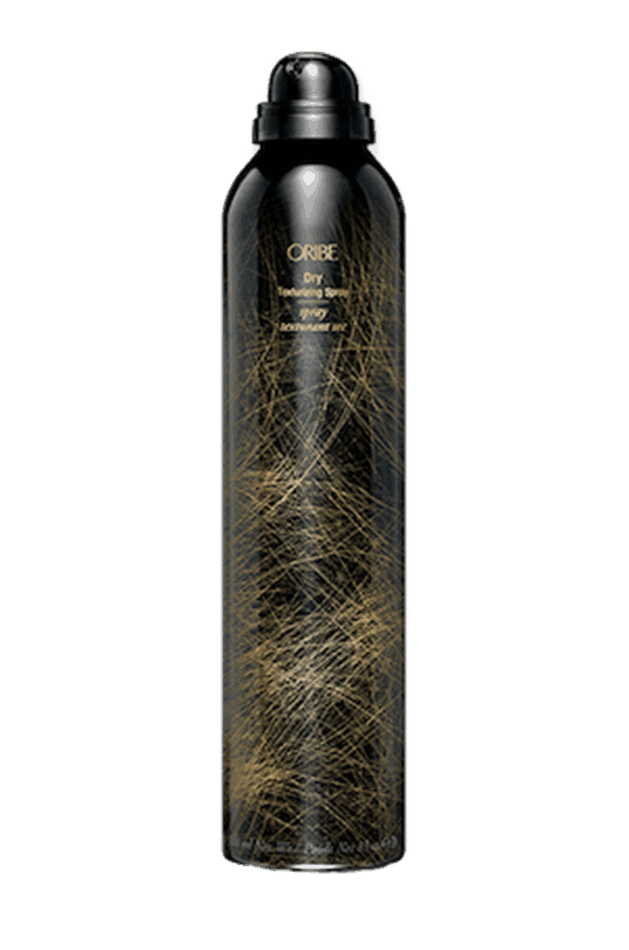 Source: Oribe.com
After styling your hair, or even a few hours after your style has set, be sure to add this dry texturizing spray to your look. It gives you that extra push of volume while also holding your curls in place. Oribe Dry Texturizing Spray has a fresh citrus scent that appeals to all without being overpowering.
This is part hairspray, part texturizing spray. It is also a great alternative to dry shampoo for second-day hair. The dry texturing spray was selected in the InStyle 2017 Best Beauty Buy Awards and Harper's Bazaar 150 Beauty Must Haves for the year 2017. Purchase online for around $45.
C. Ouai Curl Jelly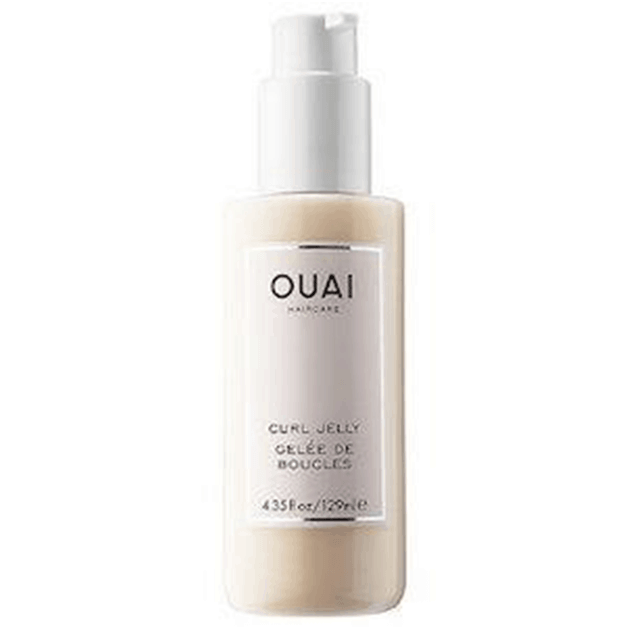 Source: Sephora.com
Do you have the curls you want? No matter which product you used to achieve the look you wanted, apply a bit of curl jelly to your curls. Ouai Curl Jelly is lightweight, eliminates frizz, and gives your hair a silky look that you'll love. Professionals recommend using Ouai Curl Jelly for curly, coiled, and tightly-coiled.
If you use heat styling to get the look you prefer, this jelly also works in restoring moisture if it is lost during heating. Recommended by Elle Magazine, Ouai Curl Jelly has won a number of awards for quality.
Other Hair Appliance Articles