Now this is specific, isn't it? Here's a collection of different types of hairstyles and cuts for women over 50 years of age wearing glasses. Enjoy.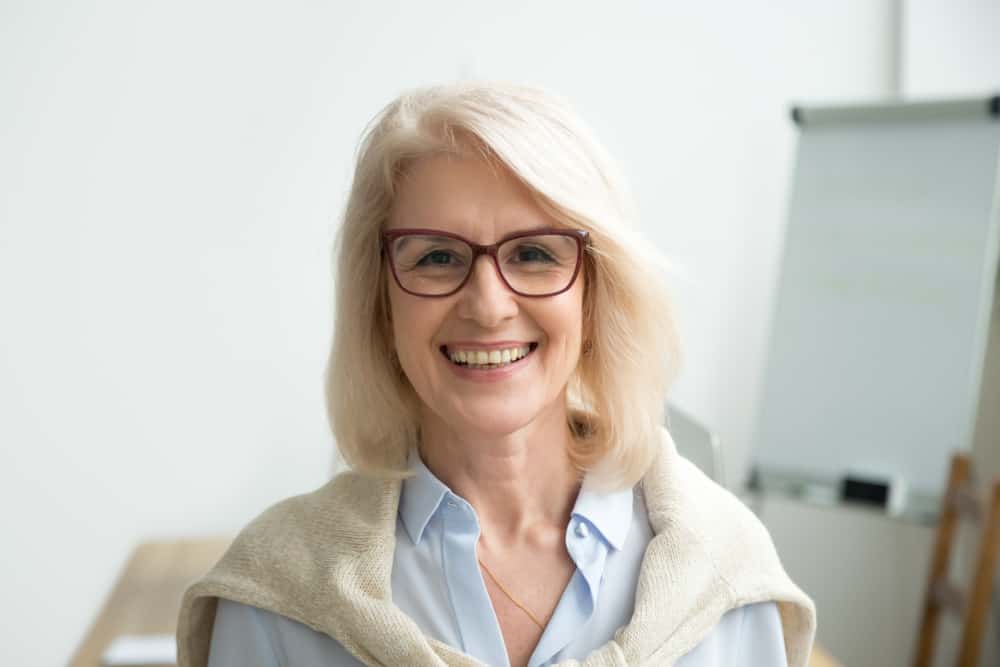 Welcome to our gallery featuring women over 50 wearing glasses.  It includes women with long, medium-length and short haircuts.
While on the face of it you might think spectacles don't make that much of a difference, they do.  I know because I wear glasses daily and my young kids think I look waaaay different without them.
Are your glasses making it hard for you to settle on a perfect hairstyle? Don't fret – we have you covered! First of all, it is important to understand that glasses can change the entire look of an individual. Therefore, when you are aiming for the perfect look, make sure to take all accessories into account, including your glasses. The good news is that there are a number of hairstyles that women over 50 can rock in glasses. All you have to do is figure out which one suits you the best. Take a look at some hairstyles for women over 50 that look phenomenal when you add glasses into the equation!
Photos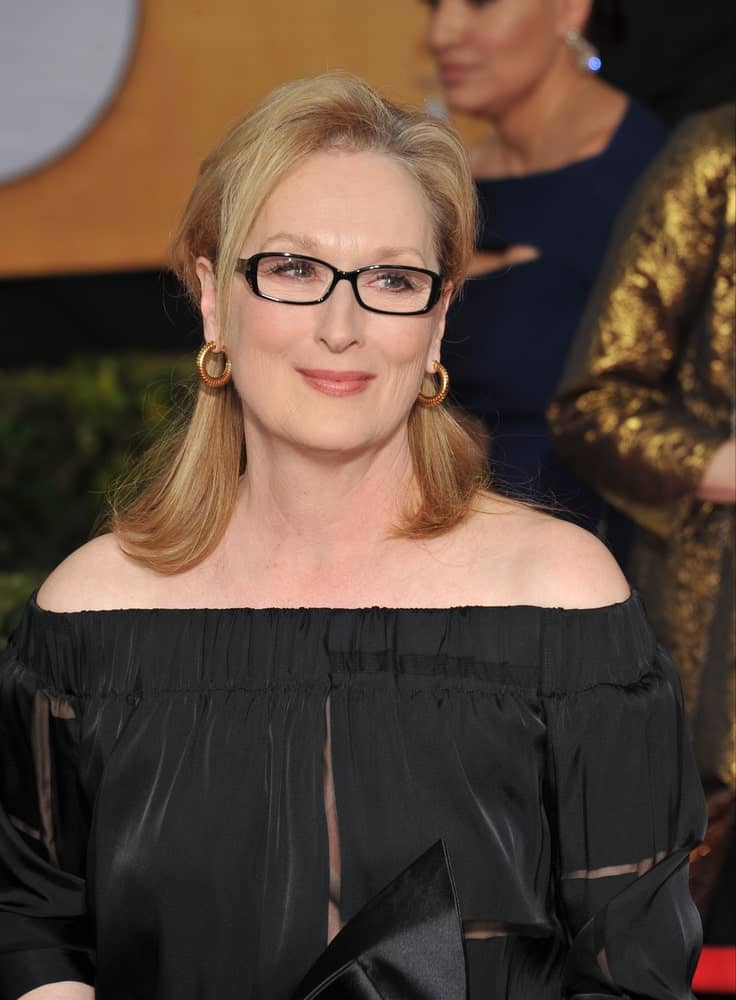 Modeled by Meryl Streep, this hairstyle is perfect for women over 50 who wish to show off their glasses in style. Shoulder-length hair secured at the middle in the back is the oldest hair trick in the book. The look is completed by a lock or two hanging loosely around the face to frame your glasses.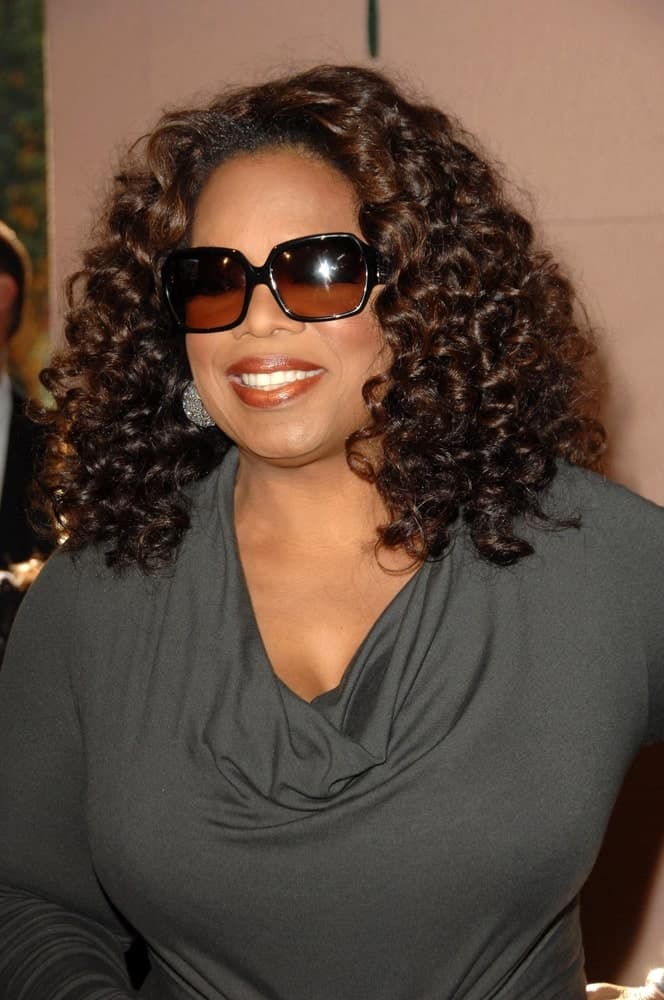 Large-frame glasses look absolutely stunning with curly hair. The tighter your curls and the crazier your hair, the better your large glasses will go along. In fact, one can say it is a match made in heaven! If Oprah Winfrey thinks that, no one shall deny it!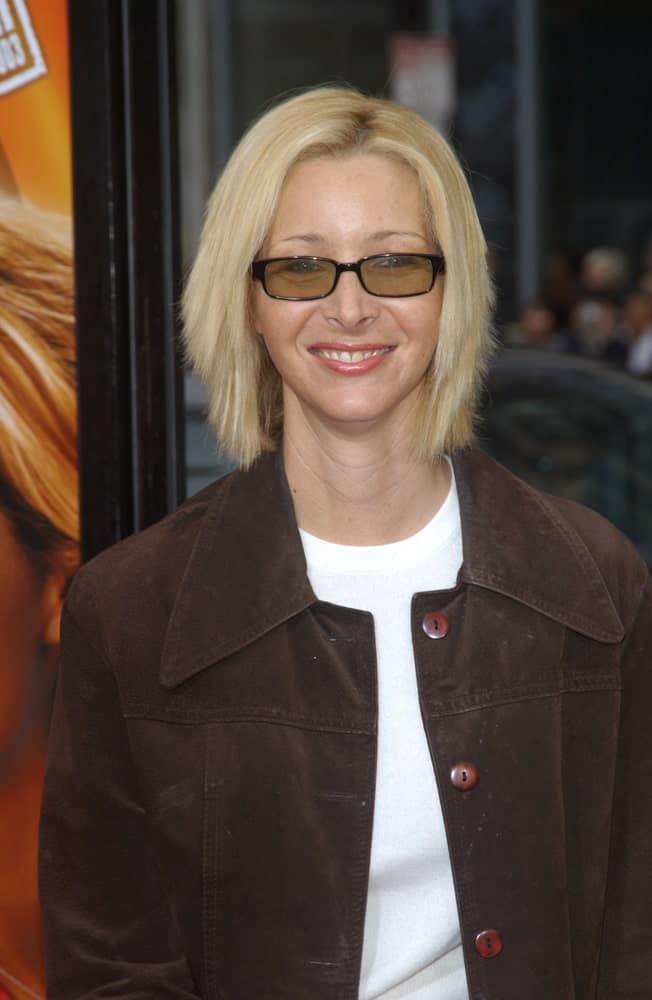 This stunning photo of Lisa Kudrow proves that it is simply impossible to go wrong with a short layered bob. Since a Bob cut frames the face of the wearer, it is one of the best hairstyles for sporting glasses.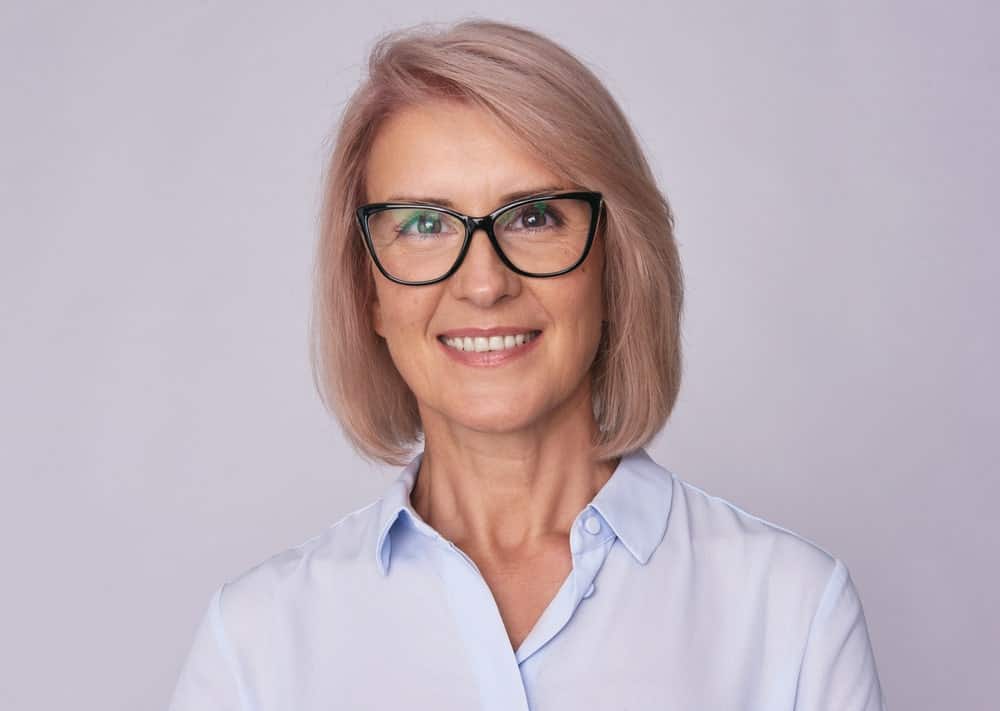 A sweet and simple bob is the easiest way to make sure that your glasses look stunning and suits you. Note how the hair color also impacts the overall appearance when it comes to sporting glasses. Wear glasses that go well with your hair color.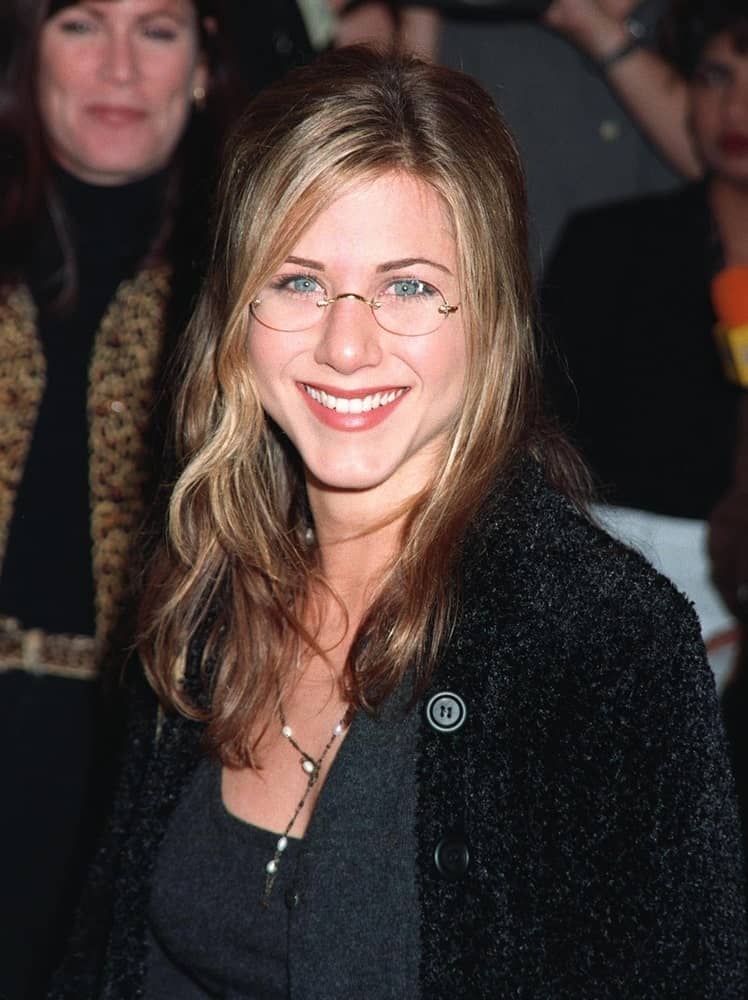 This hairstyle was modeled by Meryl Streep at The EE British Academy Awards. The hairstyle features hair neatly secured at the back of the head while there is an extra volume at the top. Amazingly, the hairstyle goes perfectly with Meryl's glasses, making it one of the best hairstyles to bring attention to your makeup and glasses.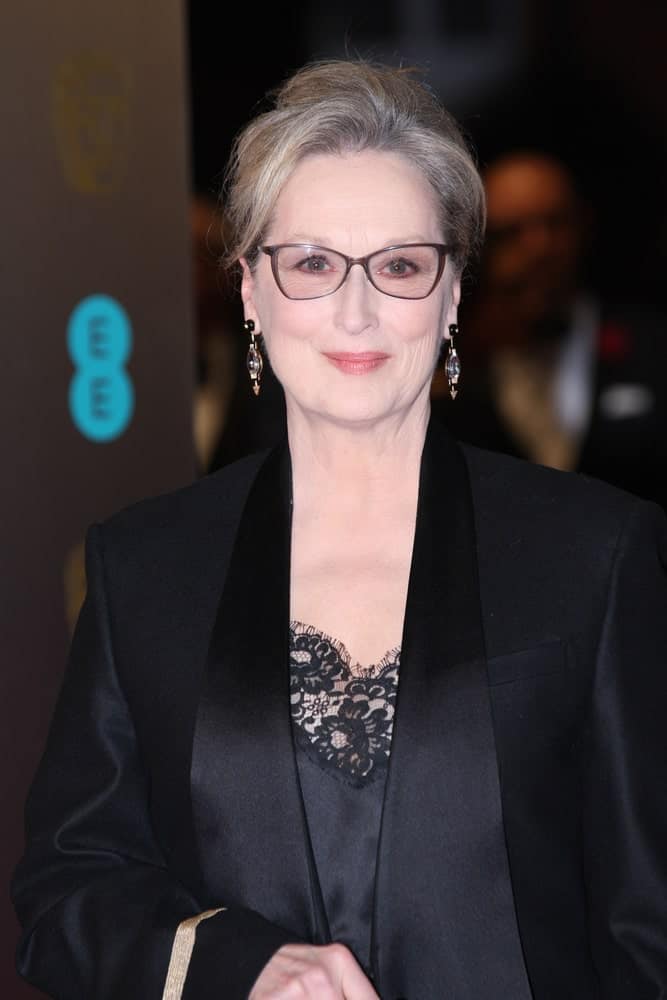 Jennifer Anniston a.k.a. Rachel Green from Friends is sporting a heart-throbbing look in her glasses with a simple yet elegant hairstyle. The hairstyle features a little longer than shoulder-length hair with a slightly wavy texture. Mixed highlights work to bring out the beauty of glasses.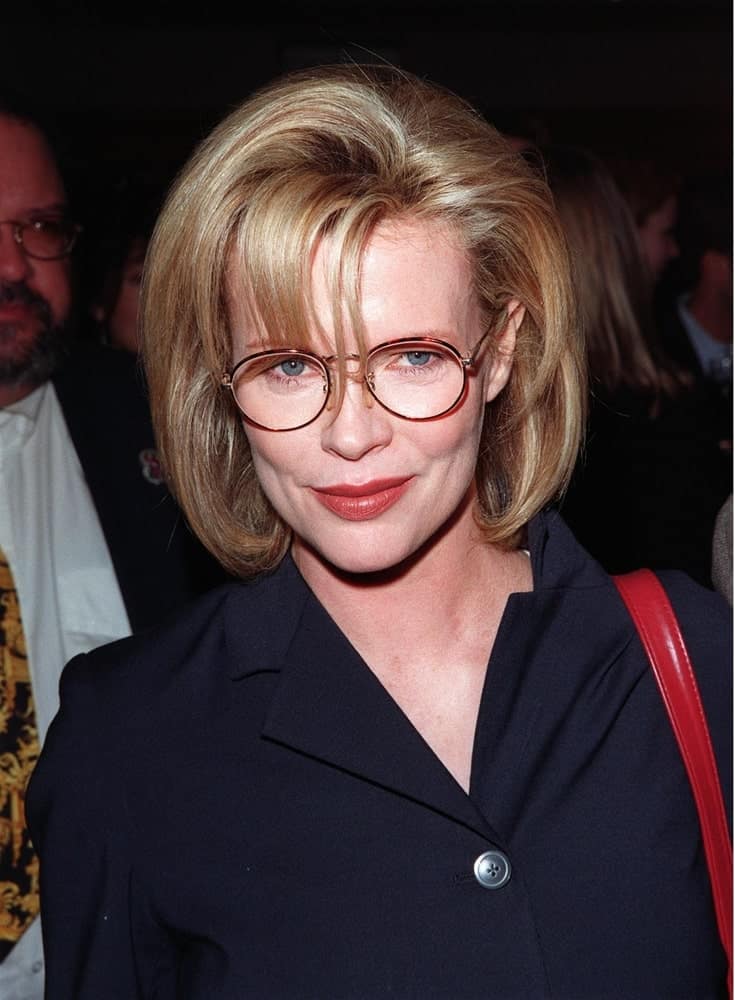 Short hair looks just as classy with glasses as long hair does. This haircut features a short bob, complete with short bangs. While the haircut is short, the hair is still long enough to frame your face around the eyes!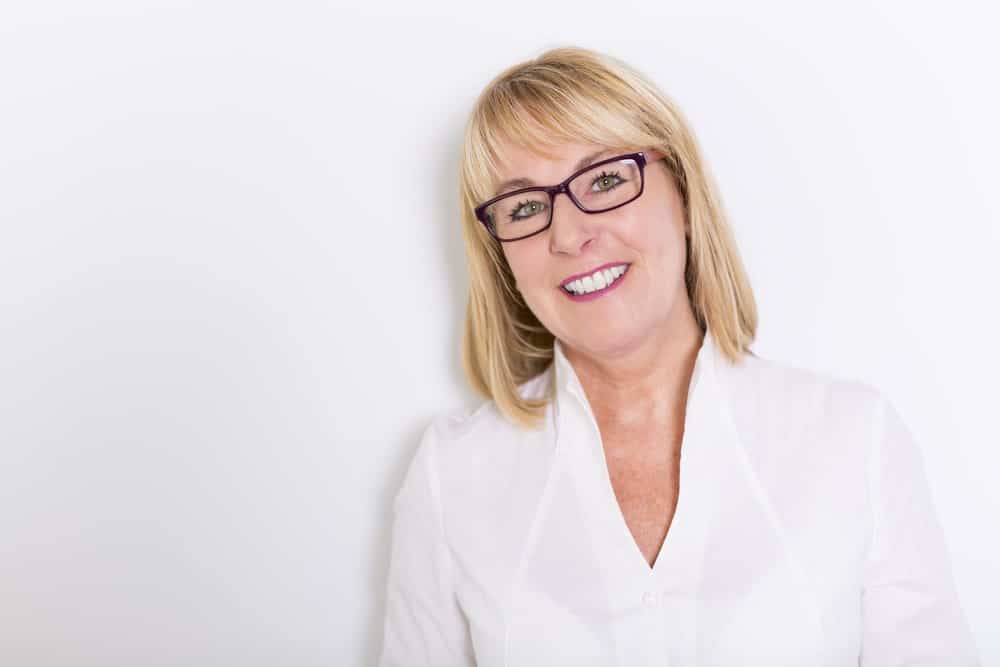 Plain, sleek shoulder-length bob, parted in the middle is a classic hairstyle when it comes to wearing glasses. Not only the hair stays off your face but it looks equally good and helps keep the focus on your lovely glasses.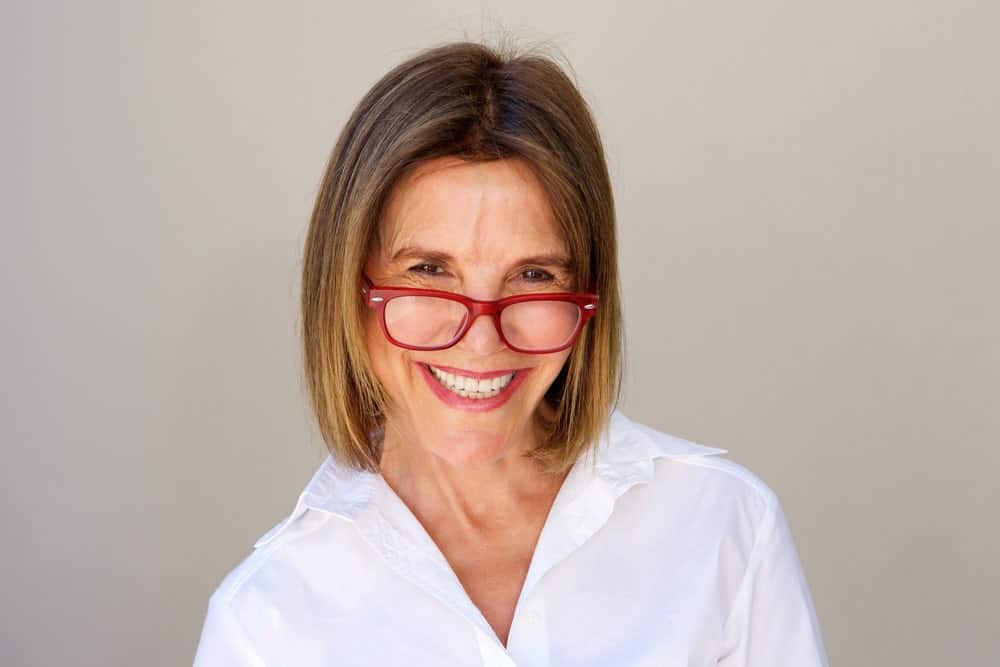 Front fringes and glasses are a match made in heaven! It is the perfect way to make the most of your glasses by balancing them off with your fringes. His hairstyle will give you a cute, intellectual look like nothing else.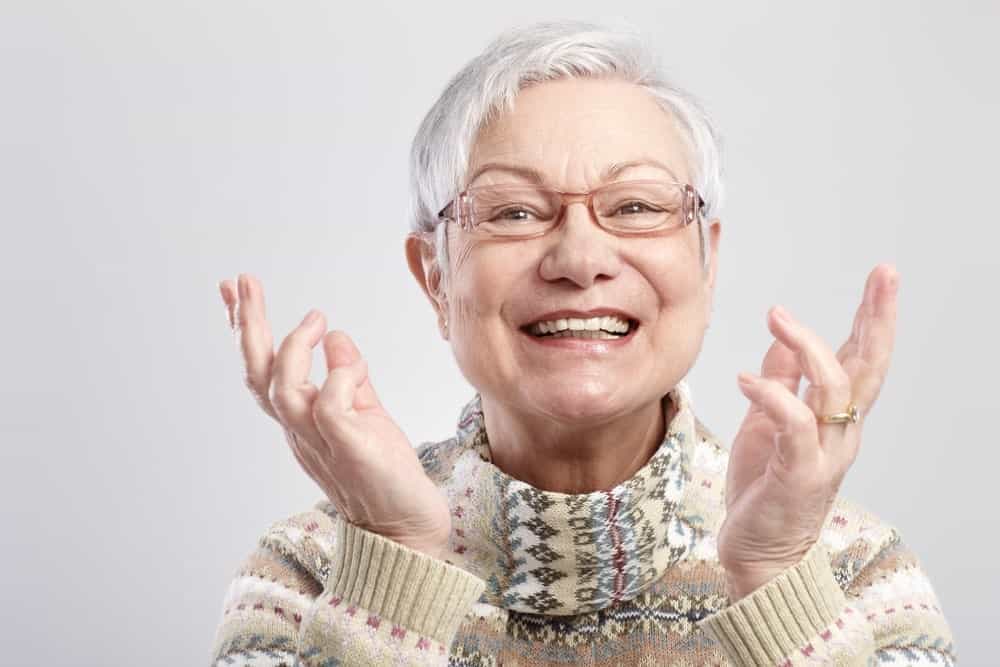 Nothing can beat the style and convenience that this hairstyle offers. This is the ultimate hassle-free hairstyle that can go perfectly with a stylish pair of glasses. Note how the haircut parts hair from one side of the head to let them swipe to the other side.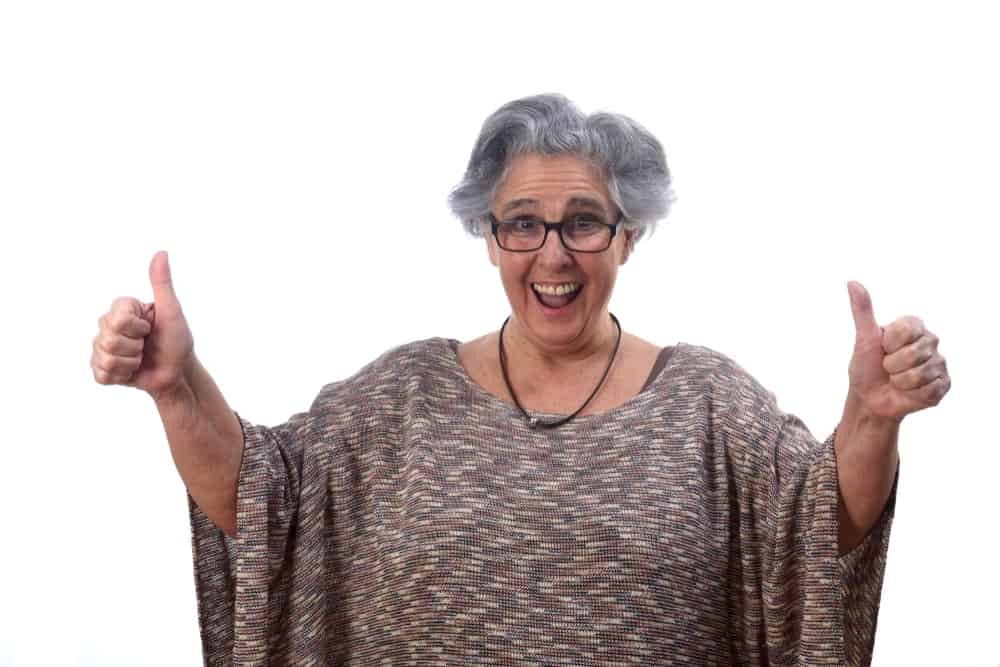 Do you run your hands through your hair several times a day? Do you want the perfect hairstyle to bring out your glasses? Do you crave texture and volume in a hairstyle? If this sounds like you, this hairstyle may be the perfect fit for you!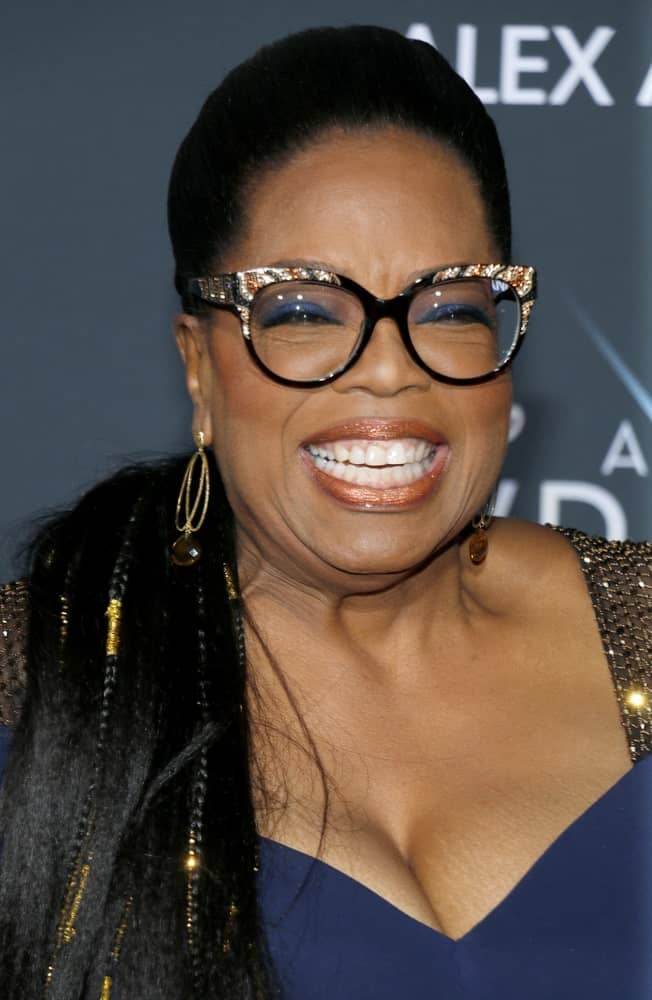 Inward bob, backcombed at the top to give a perfectly sleek look, can look good with almost all kinds of glasses. It also gives you an opportunity to show off your earrings!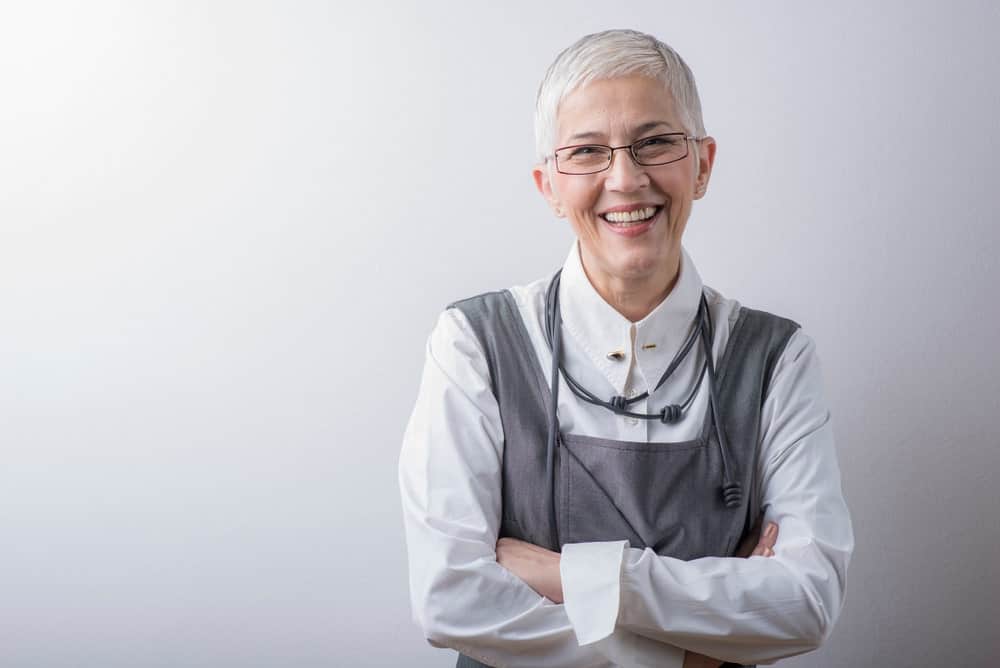 This sleek pixie cut is not only stylish but it is also very convenient in terms of caring for it. However, the part about this hairstyle is that it helps bring the focus to your glasses. Since this hairstyle is itself so chic and stylish, it can add an x-factor to even the most ordinary pair of glasses.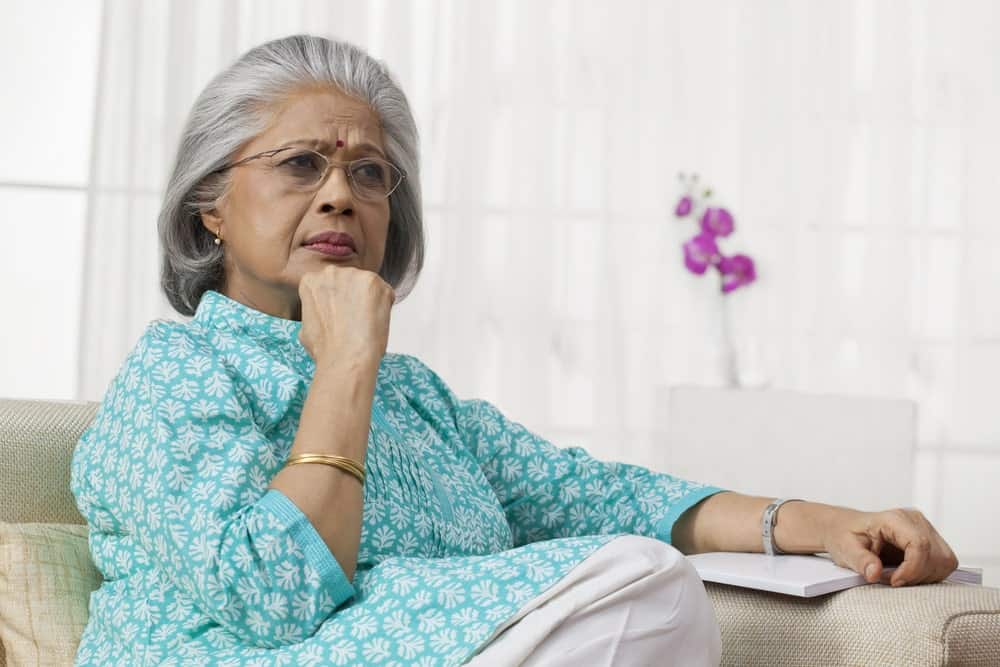 Another splendid hairstyle modeled by Oprah Winfrey to go with her pair of glasses shows how well ponytails can work when it comes to the best hairstyles that go with glasses. The hairstyle features a long ponytail, tightly secured at the back. Also, notice the thin braids that work to add texture to the hairstyle. Surely, the hairstyle looks amazing with the multicolored glasses.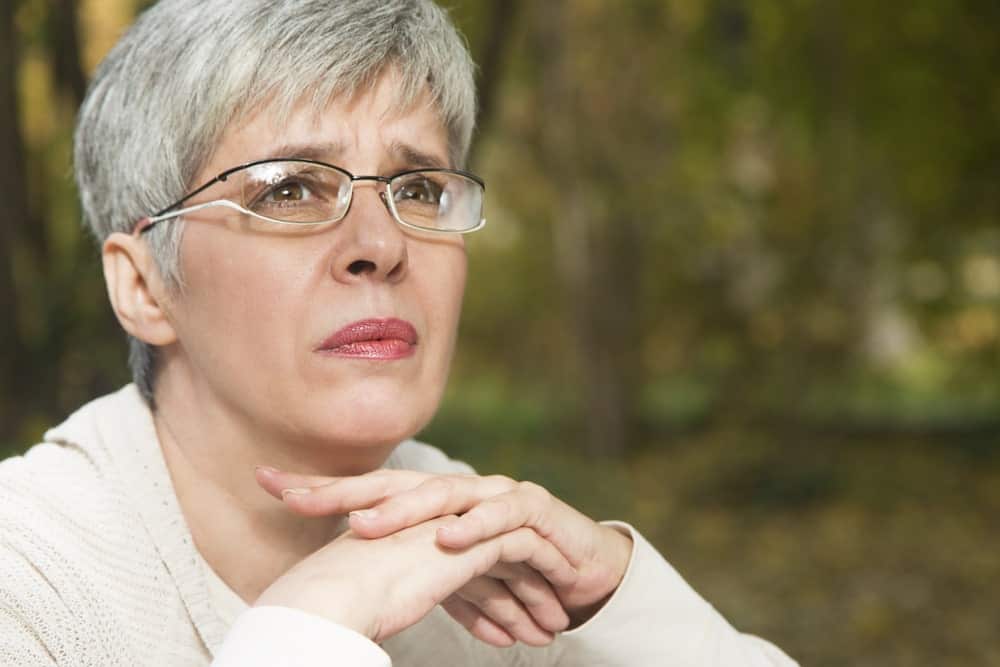 This is perhaps one of the most famous hairstyles among women over 50. Being lighter on the sides and with extra volume at the top, this hairstyle is perfect to support all types of glasses, even the big and heavy ones. It also makes sure your glasses or sunglasses never feel too much or too big for your face.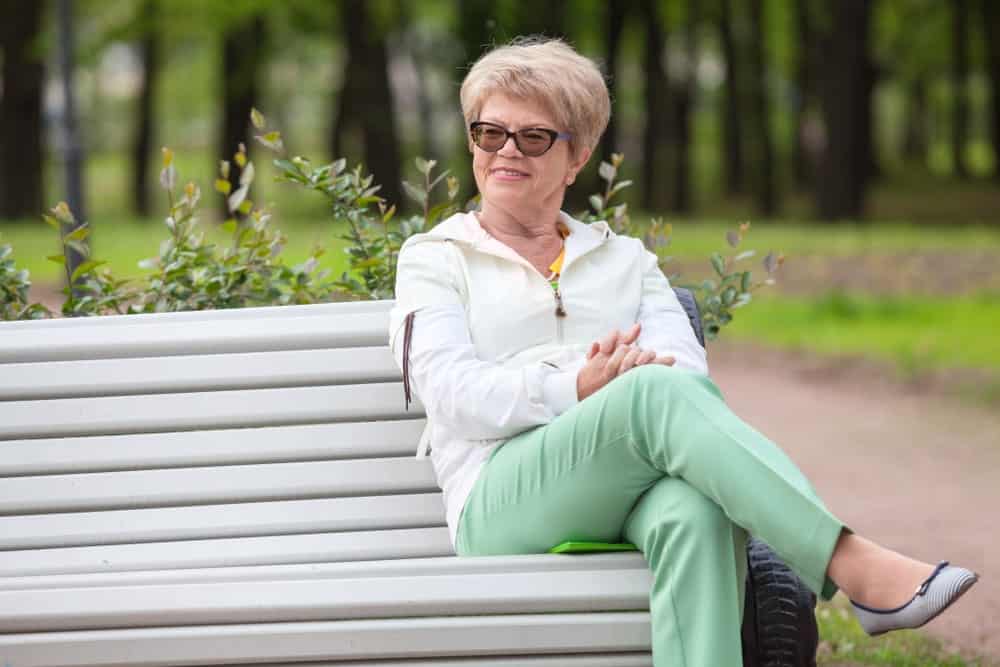 This is a perfect hairstyle to adorn wavy hair and complement the glasses at the same time. The legacy of the actress, Mia Furrow, the hairstyle features full side bangs with chin-length hair. Leave it up to your wavy hair texture to bring the style to your look.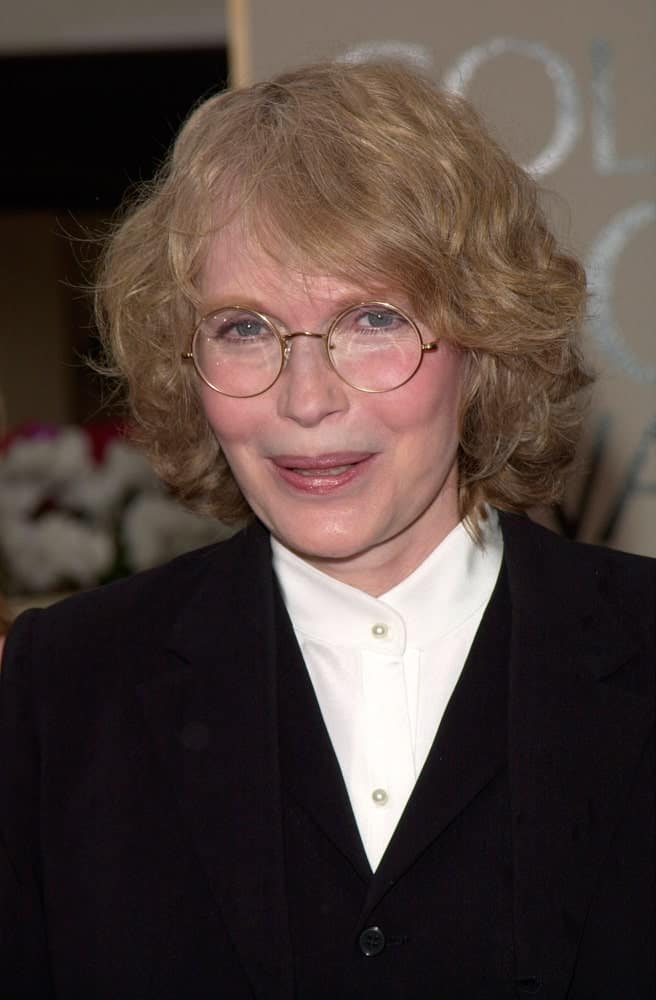 Are you a fan of short hair? This might be your chance to make the most of it! It is a cropped hairstyle that features short hair, with strands of them covering the forehead. When you opt for this hairstyle, your trendy pair of glasses will only add to the already chic look!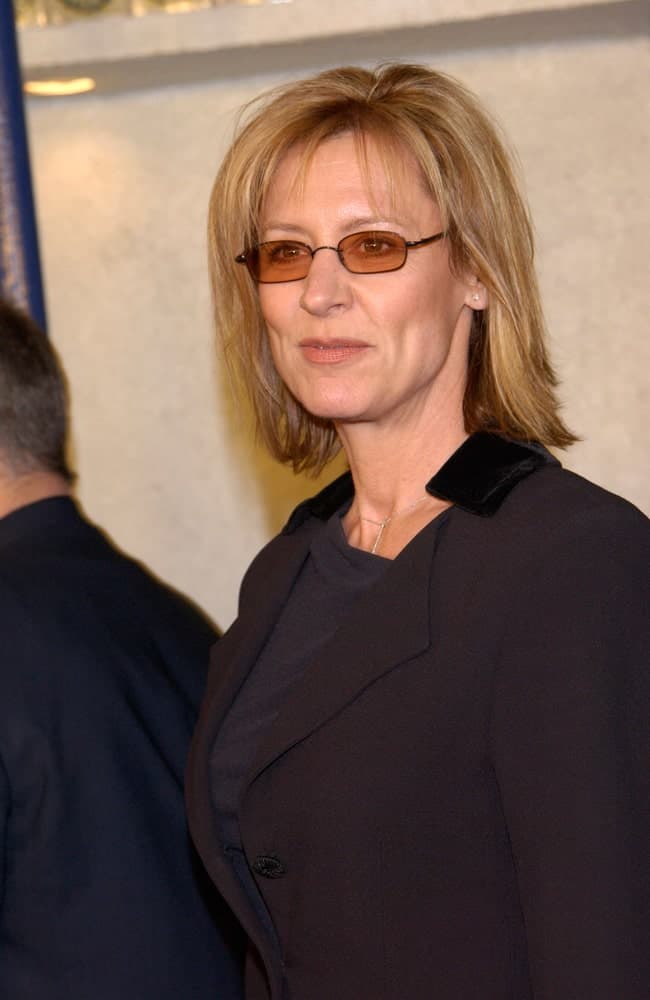 This is a simple, yet one of the most elegant hairstyles that work well for women over 50 and go beautifully with glasses. If you sporting a simple a bob cut, simply tuck the hair at the sides behind your ears and put on your glasses – you are good to go! However, keep in mind that an un-tucked Bob can also look quite impressive.
We believe it is safe to assume that layers are the most popular form of hairstyles all around the world. Almost every woman tries this hairstyle at some point in her life and Penny Marshal is doing the same in this photo. With full front fringes and shoulder-length hair cut in layers, she is sporting a rather simple looking pair of glasses.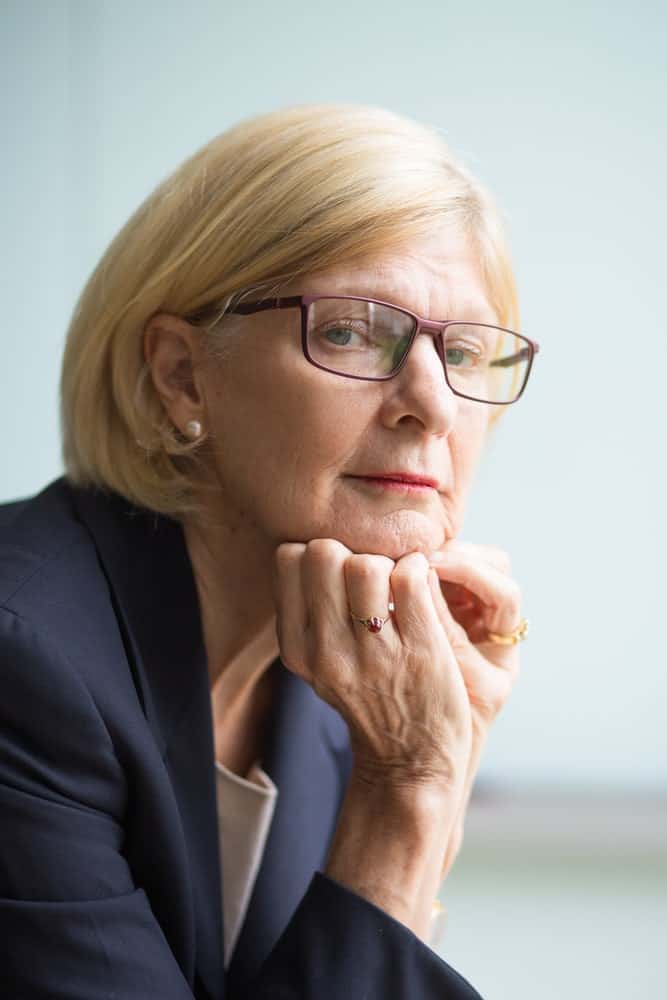 Sure, Ellen can rock any look. However, her wine-colored shades with the cropped pixie haircut simply look out-of-the-world amazing! Notice the texture of hair at the sides and the subtle spikes at the front-top that just makes this look too good to not try! If short hair is your thing, this Ellen inspired look is just too good to miss out on!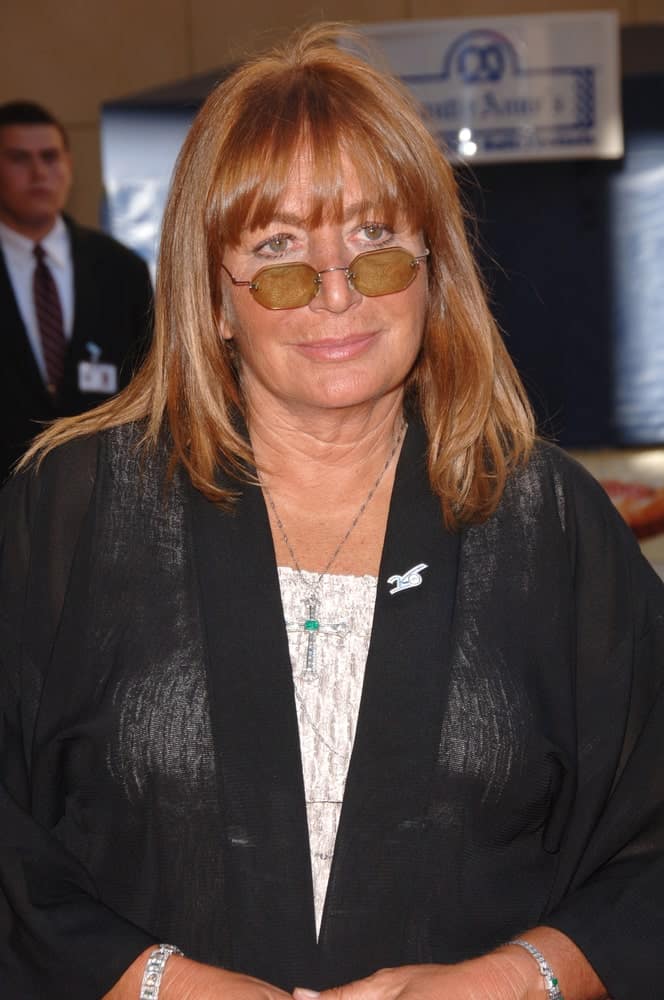 Oprah Winfrey really loves her glasses. Here she can be seen sporting a black pair of thick glasses with medium-length hair. The hairstyle features shoulder-length hair with a slightly curly texture. The bangs have been secured at the back to allow glasses to be more prominent on the face. If you are planning to rock this look, you will not make the most of your glasses but can also forget about wiping any hair out of your face over and over again!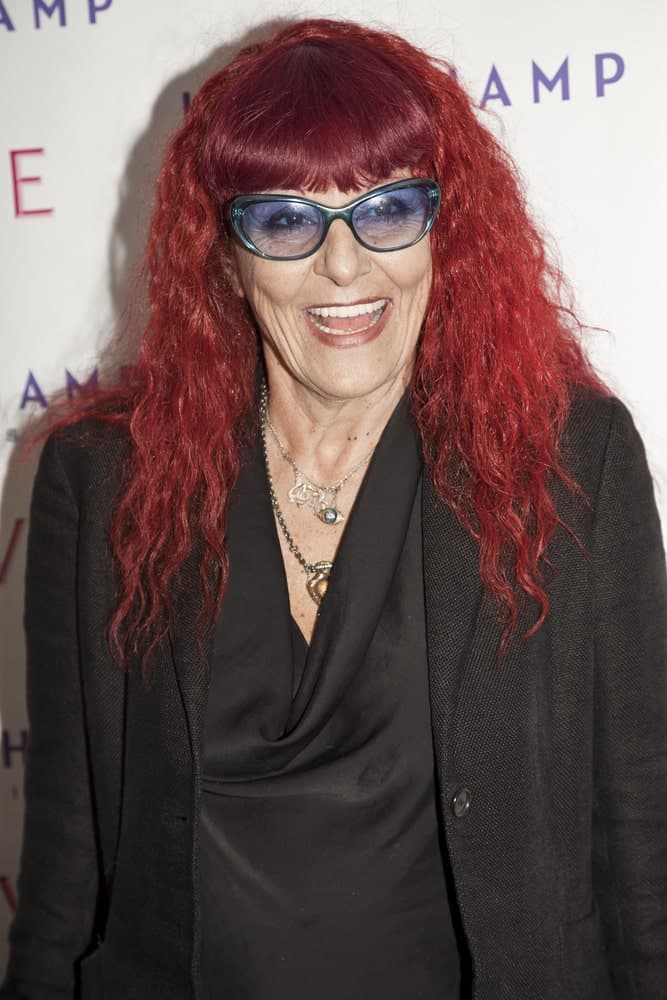 Long red curly hair seems to be working well for Patricia Fields. The best part about this look is that the glasses and the hairstyle can be equally appreciated, both making a strong impact on the overall appearance. To complete the look, add heavy front fringes to the equation.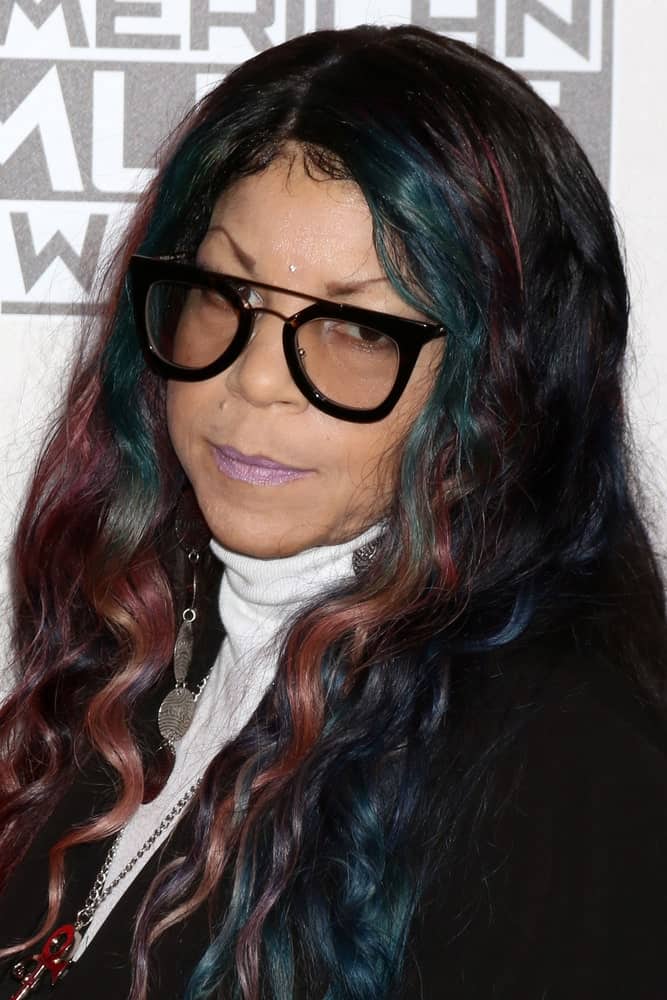 If you are feeling it, try out this amazing look of Tyka Nelson. The long hair framing her face curls softly as they loosely hang down the shoulders. The most distinctive thing about this hairstyle is that it showcases various tints of red, green and purple. Amazingly, it all goes a bit too well with the glasses!
So, which hairstyles do you like that also complement your glasses?