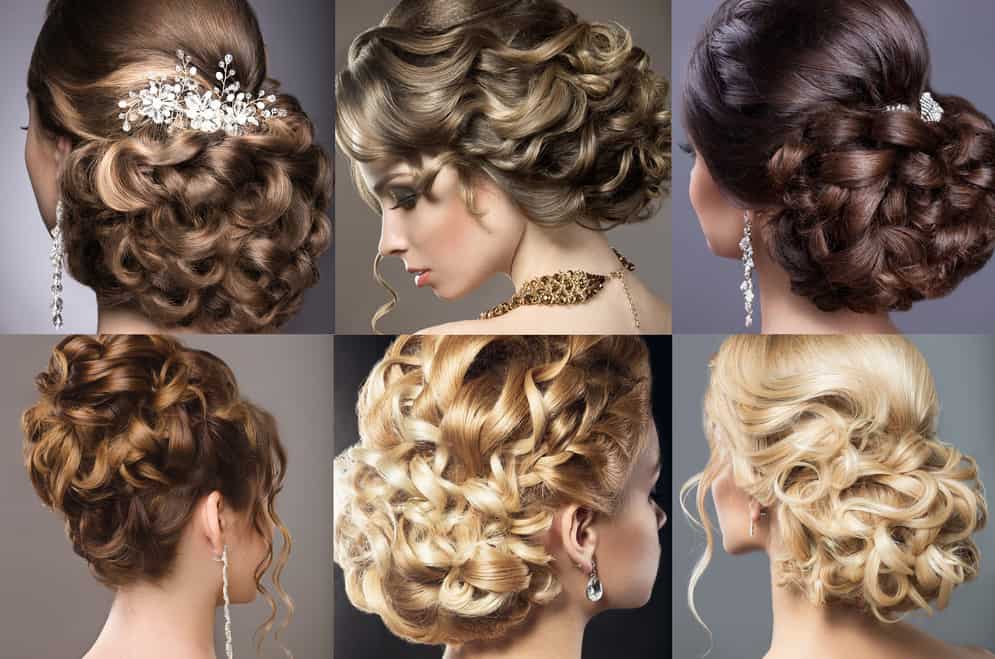 Your wedding hairstyle is not something you want to skimp on.  After all, you're going to have wedding photos for the rest of your life, likely on display, and it's your hair that will stand out as much as your dress.  Wedding hairstyles are worth looking into well in advance of your wedding day.
It's never too soon to plan your hairstyle for the big day. Start getting ideas that work with your hair type, face shape and color.  Discuss best options with a professional.  In the meantime, check out our stunning gallery of wedding hairstyles below (updated frequently).
12 Most Popular Types of Wedding Hairstyles
Here's a list of the most popular options.
How did we put together the list?  In other words, how do we know what's popular?  As a website publisher, we pay for extensive research tools to find out what people share the most on social media and what search words get searched the most.  It's from these tools that we put together this list… it's just pure data which is really interesting.
The following is in order of popularity; the first listed is the most widely searched.
1. Half-Up, Half-Down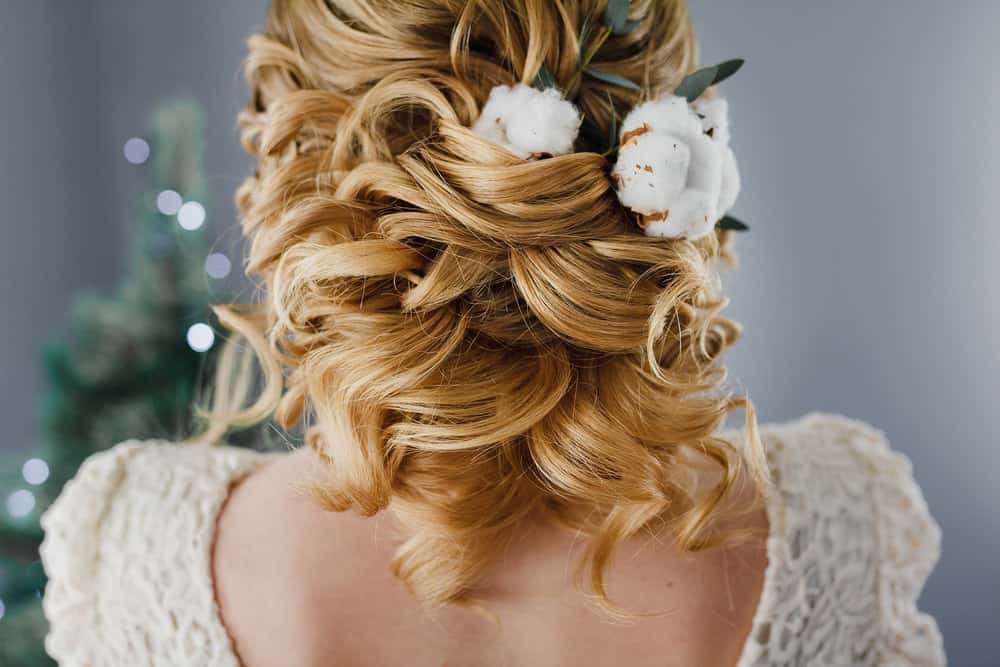 This is a classic elegant wedding hairstyle for women.  It requires longer hair, but it showcases length while adding the elegance that updos offer.
2. Short Wedding Hairstyle

One advantage of a longer engagement is you have time to grow your hair out.  However, it's not always feasible, nor desirable to do so.  If you have short hair, there are plenty of styles you can go with.  Here's an example of a bob cut.
3. Flowers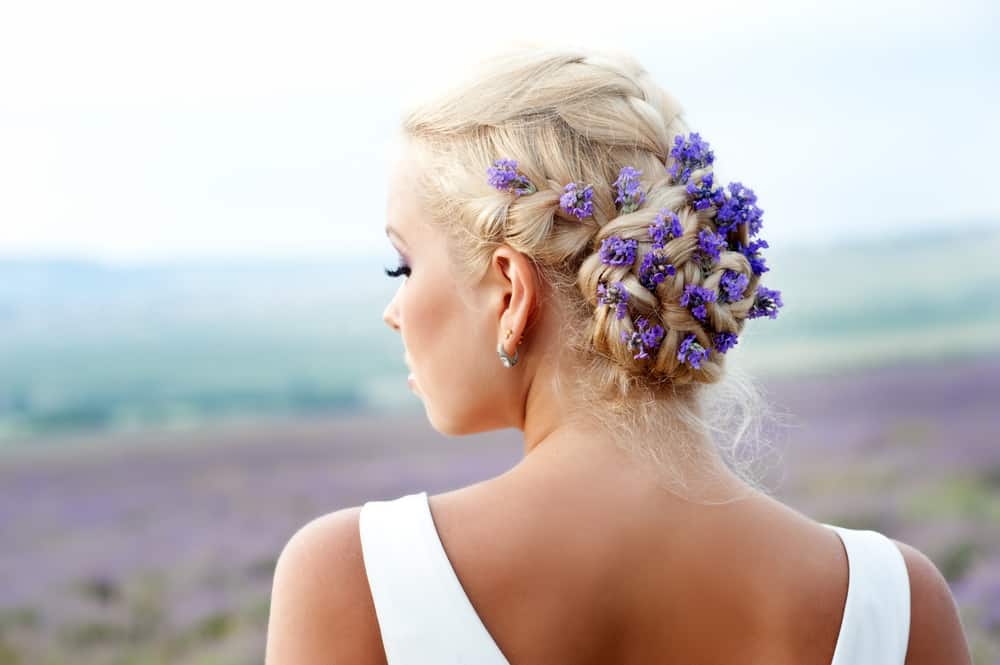 The great thing about styling your hair with flowers is it can be done with any length.  It's a perfect hair accessory for events and looks amazing.  Obviously putting flowers in your hair is totally impractical for everyday wear, it's a nice touch for special events.  The above is an example of
4. Bridal Updo (Upstyle)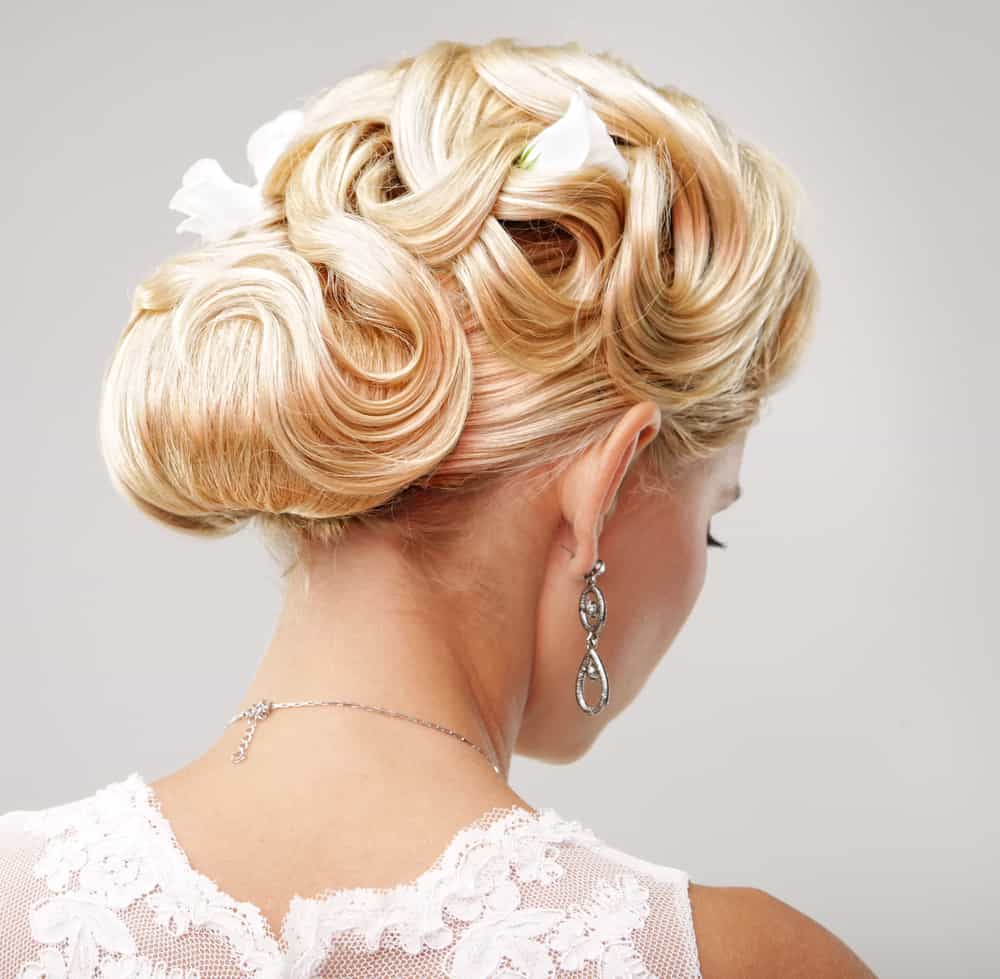 If you like going fully elegant, the upstyle is a great option.  It's a classic look; one I love.  There are many styling options, but it's definitely a style to consider.
Here's a great bridal updo video tutorial:
5. Down Style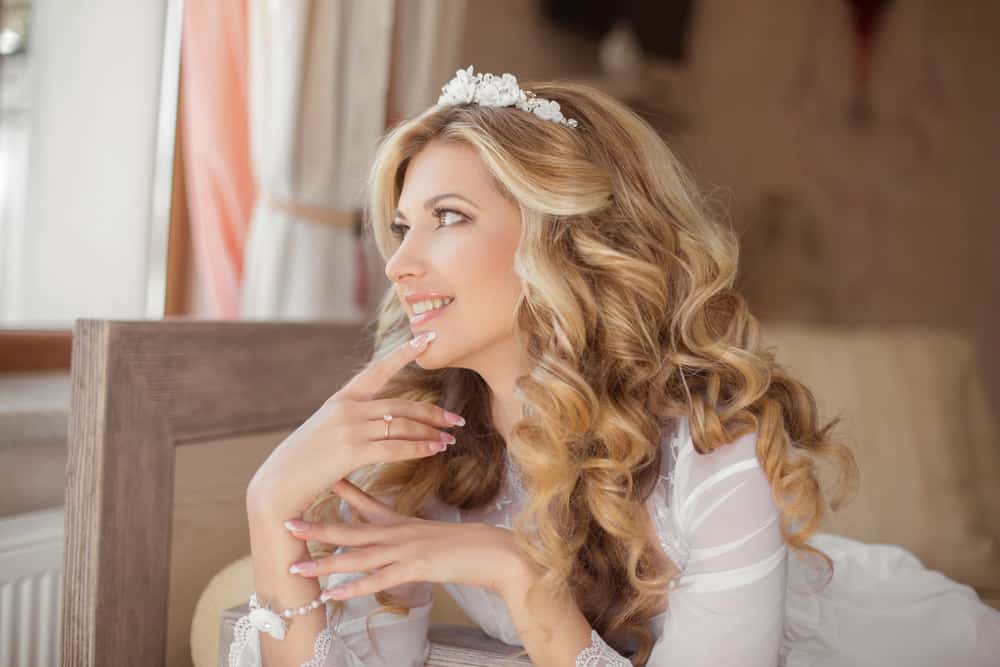 A simpler style is letting it all hang down.  Yes, it needs styling, but it's not quite as delicate as a half-up half-down or full up style.  The photo example above is a gorgeous example of a down wedding hairstyle.
6. With a Veil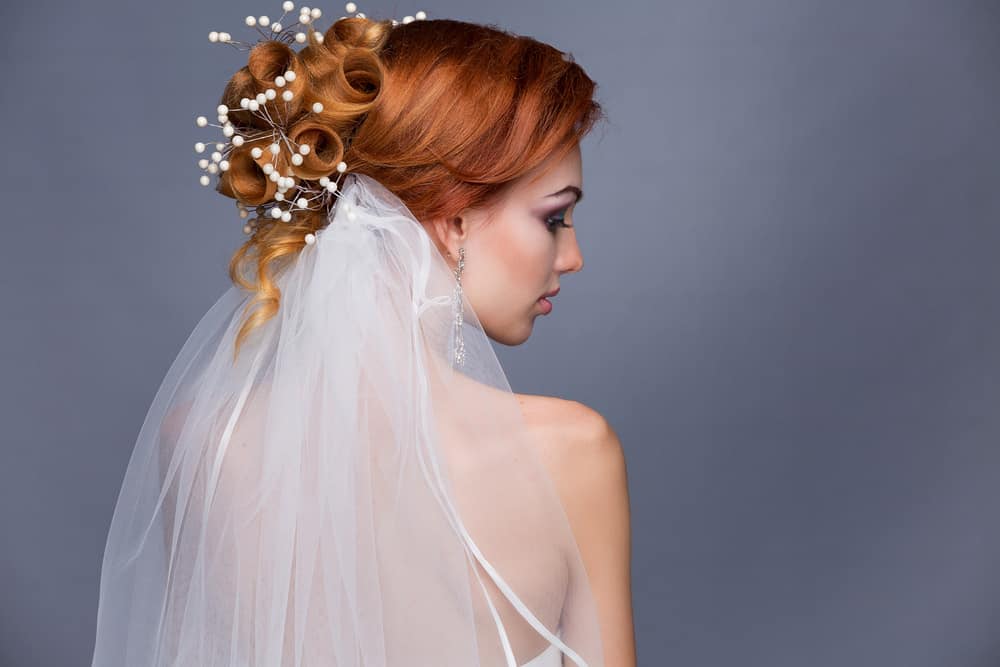 Go fully traditional with a veil incorporated into your hairstyle.  It's a nice way to tie in the hair style with your wedding dress.
7. Bun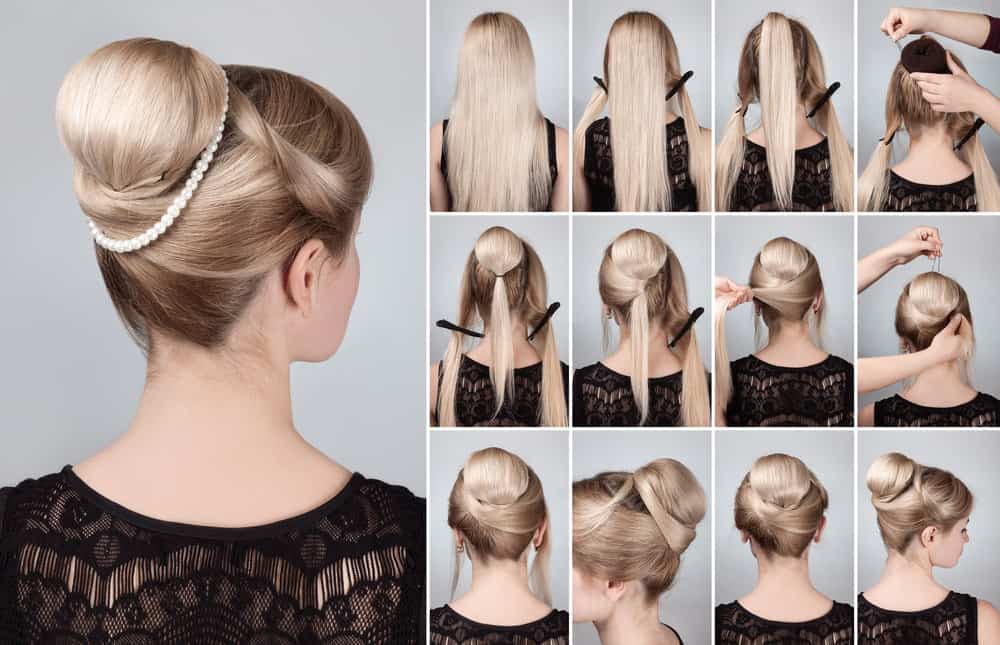 The wedding bun comes in many forms, but it's a simple form of an upstyle.  By simple, I mean it's a simple look; it's not necessarily simple to do.  Above is an example of a plain, but elegant bun style along with a step-by-step tutorial.
8. To the Side (Sweep)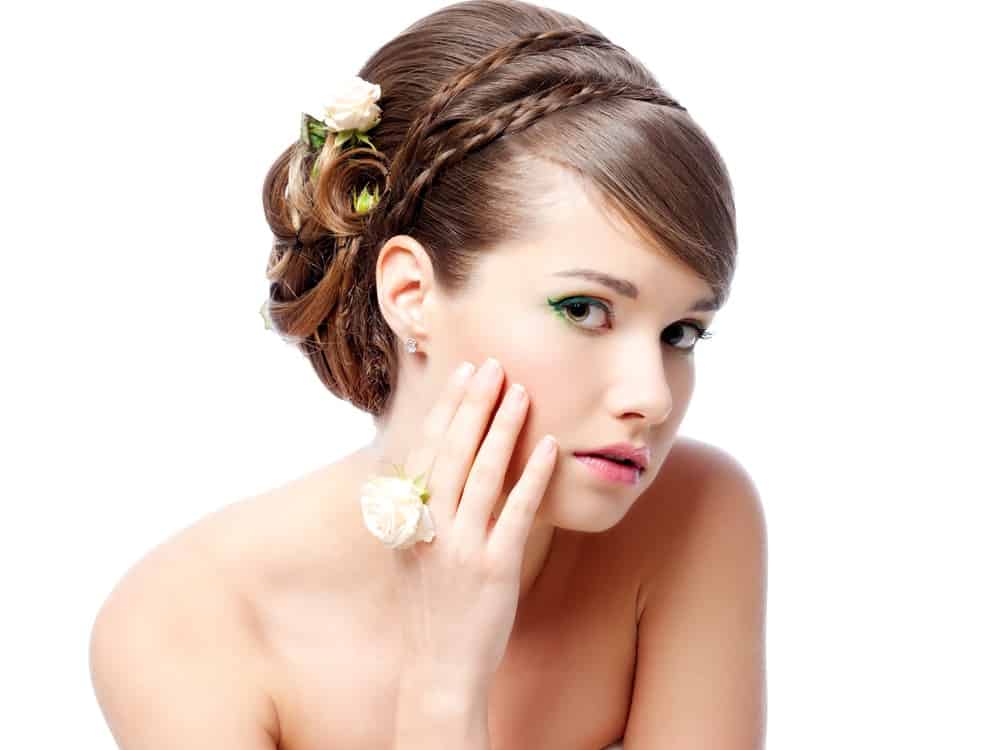 Most of the styles so far deal with the back.  This one addresses a style pertaining to the front and that is a side part or side sweep.  The popular search term is "wedding hairstyles to the side", which could include a variety of side-styles.  The example above is more of side sweep, but you can do a more prominent side part (see below).
9. Side Part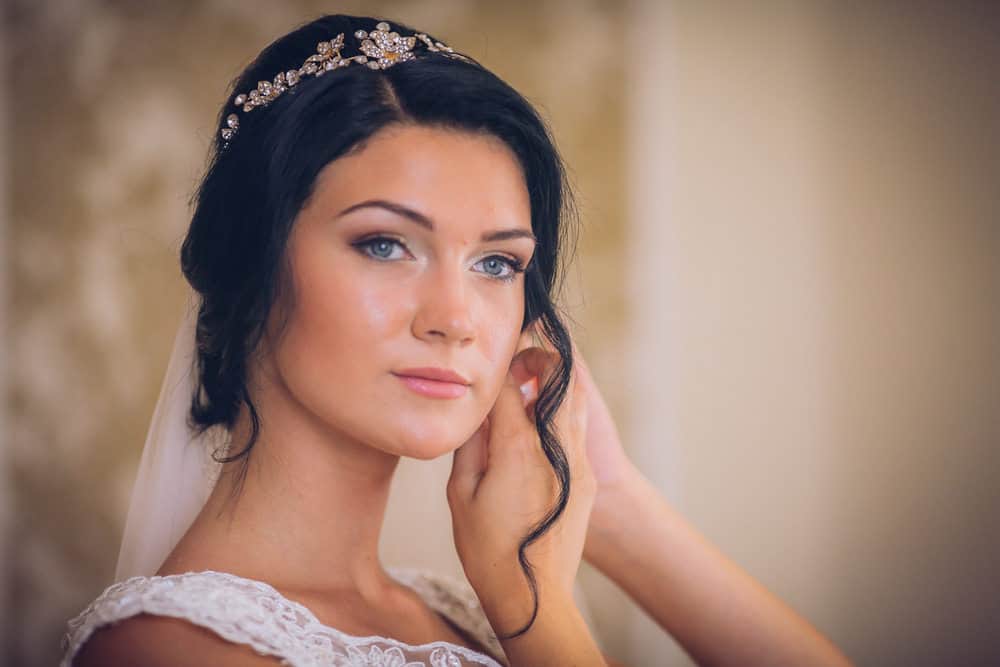 Here's a more prominent "to the side" style.  The part is prominent and the hair is styled high and to the side.
10. Braids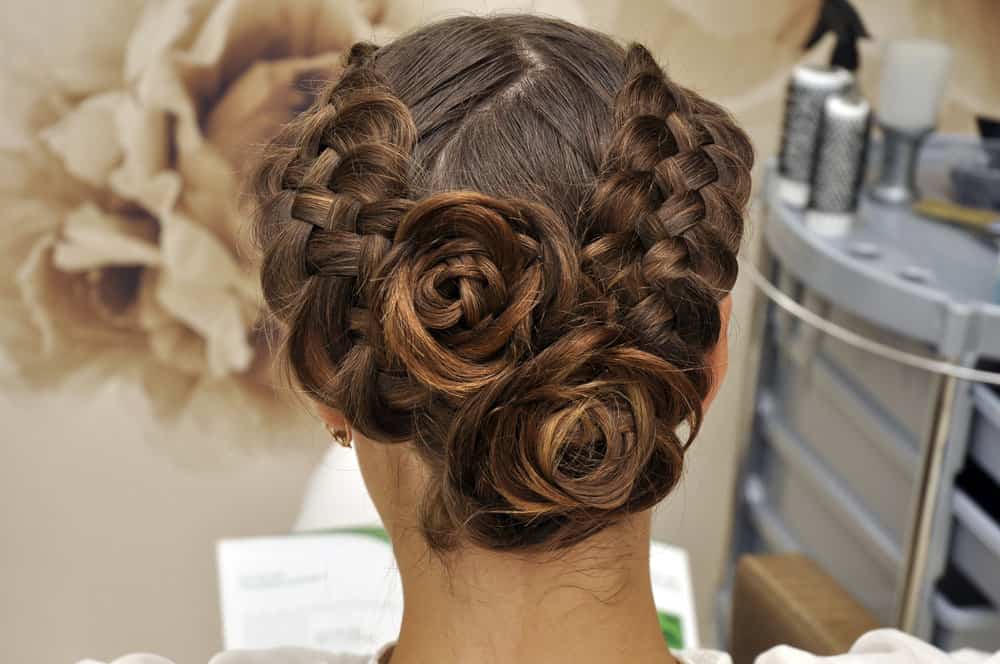 Before doing our research and collecting data on the most popular wedding hairstyles, I thought braids would be close to the top, but it's not.  That said, many people who search for half-up, half-down and updos imply some braiding in those styles.  Nevertheless, braided styles are not directly searched for all that much.
11. Wavy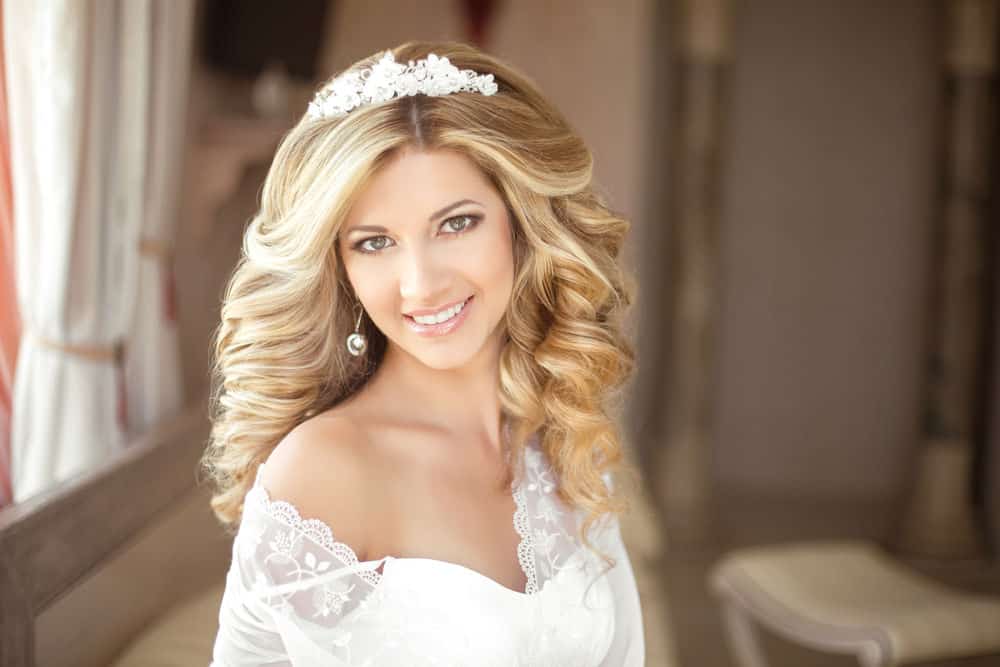 The wavy style falls under the "down-style" but down-style doesn't always mean it's wavy.  Undoubtedly it's a nice natural look that many women opt for.
12. Curls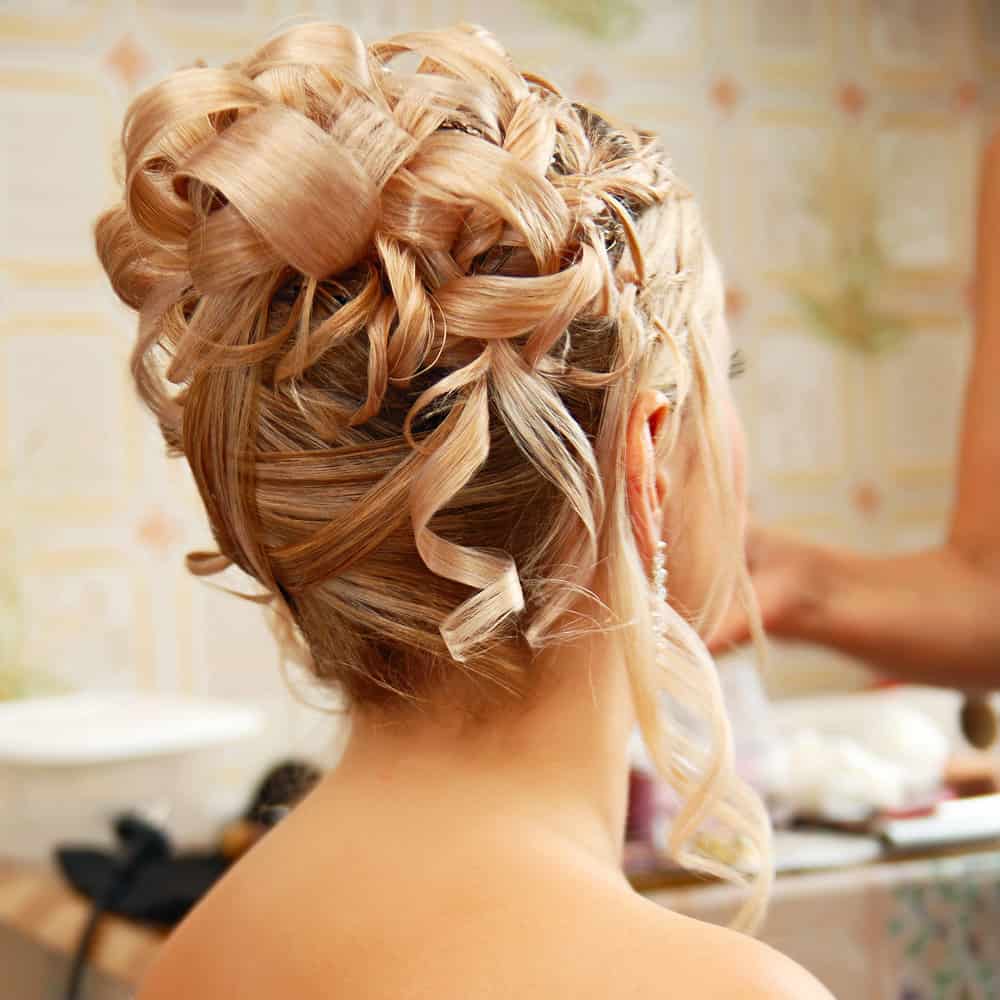 Curls can be incorporated in up-styles, half-up, half-down or down-styles.  The above is an example of amazing curls for an up-style.
That's it.  Those are the most popular styles. It pretty much covers most of the options.  However, within many of the above-listed options there are many sub-styles.  For example, there are many different types of braids.
Wedding Hair Photo Gallery
Here's our bridal hairstyles pictures.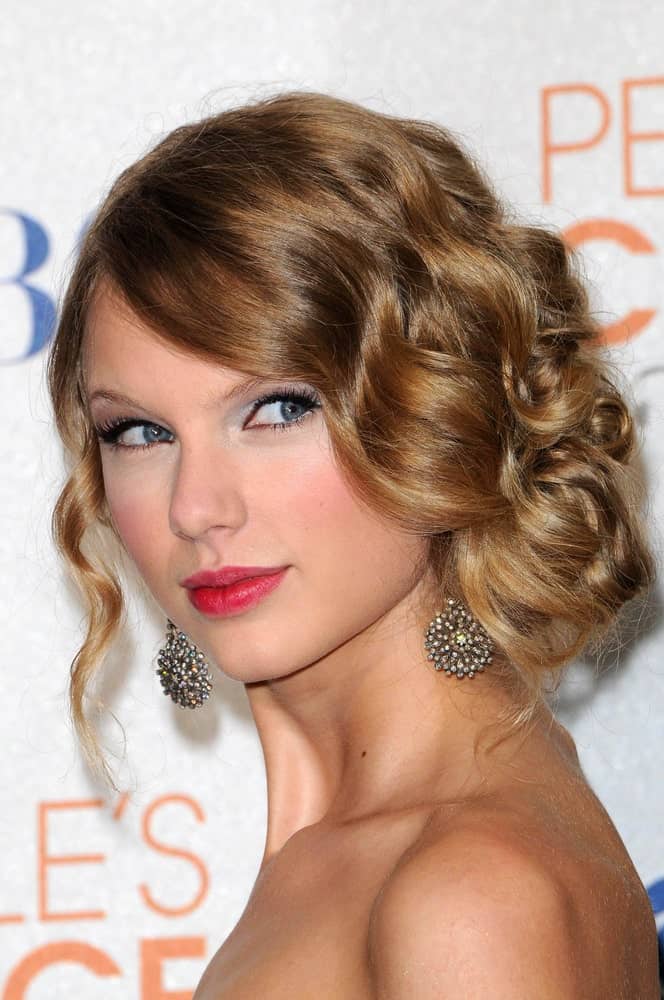 Taylor Swift's sophisticated wedding hairstyle is swift and easy to recreate because all it requires is a bit of excessive curling before twirling the tousled strands into a loose low bun at the side. Let a sole strand hanging on the other side to balance the one-sided bunch.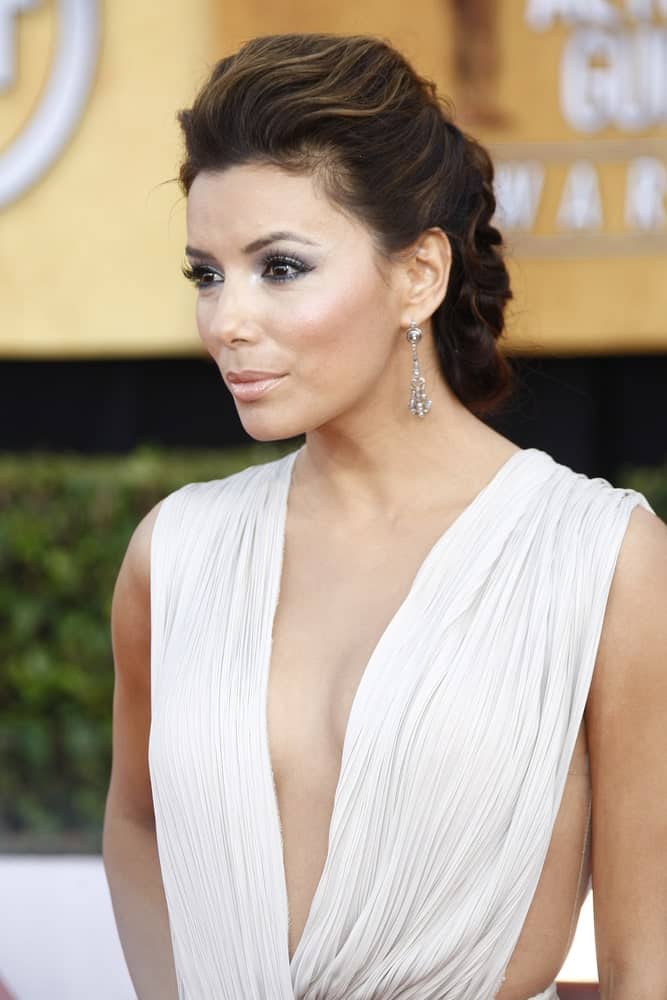 Eva Longoria demonstrates a great style for wedding parties that the bride and bridesmaid would both love to sport. After forming a Dutch braid, she has tucked the end under itself to give her more texture and volume. Babylights help enhance the glam.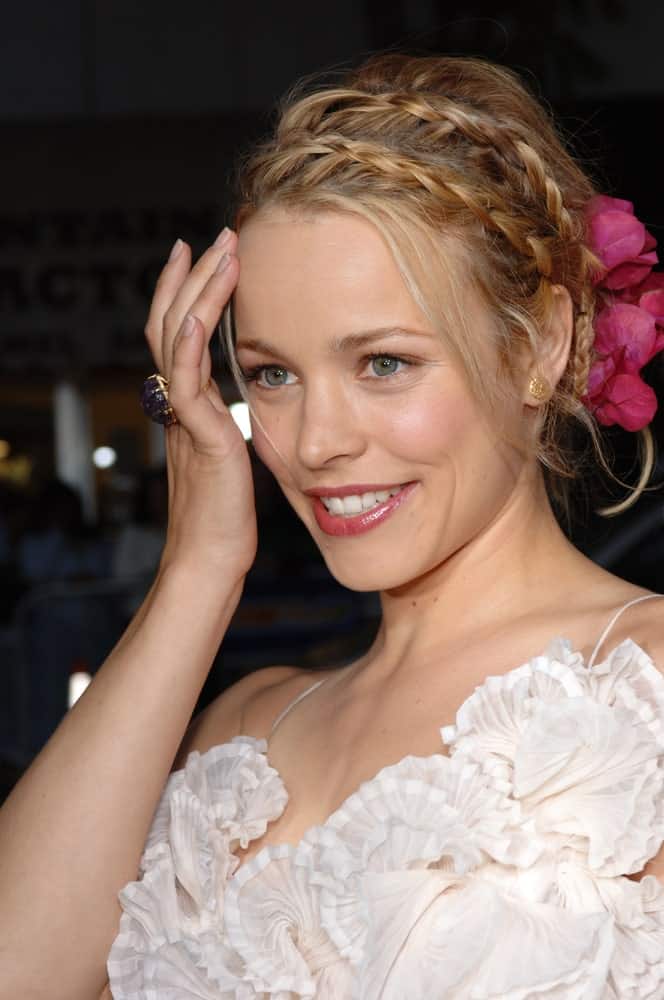 Milkmaid braids are nothing new, but they are a classic plait that never goes out of style and is often incorporated into wedding updos for a soft and fancy finish.  Fashion guru, Rachel McAdams, proves the timelessness of this style by sporting not one, but two milkmaid braids in her caramel brown hair. Fresh flowers further turn the style up a notch.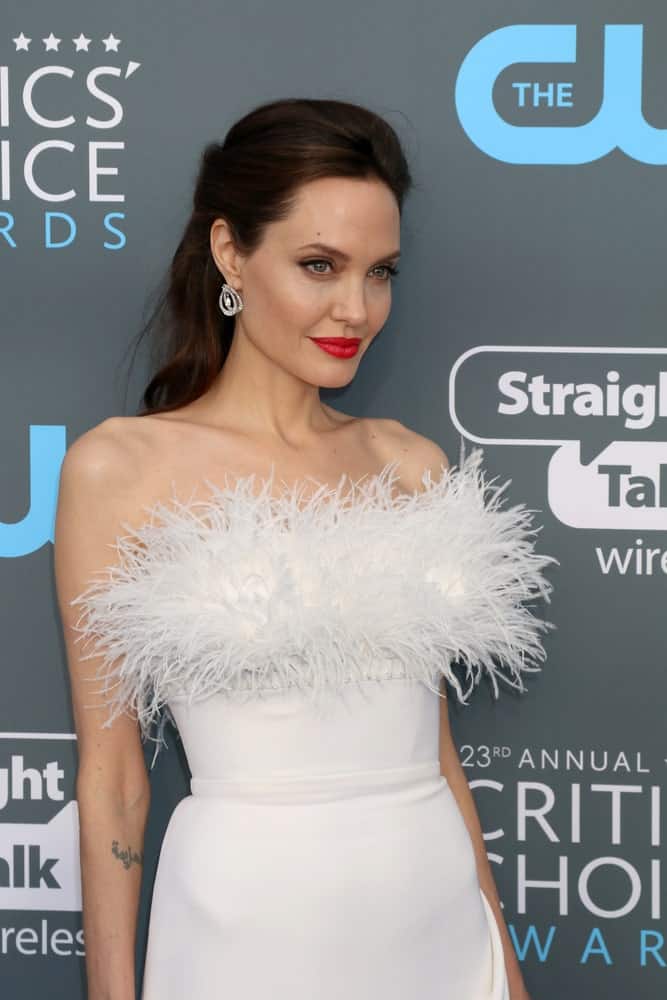 Women who look up to Angelina Jolie for fashion and hairstyling ideas would love to follow this neat wedding hairstyle that looks really mod despite the simplistic approach. Wearing hair in a half-up and half-down style is usually the go-to for brides with thick and long hair.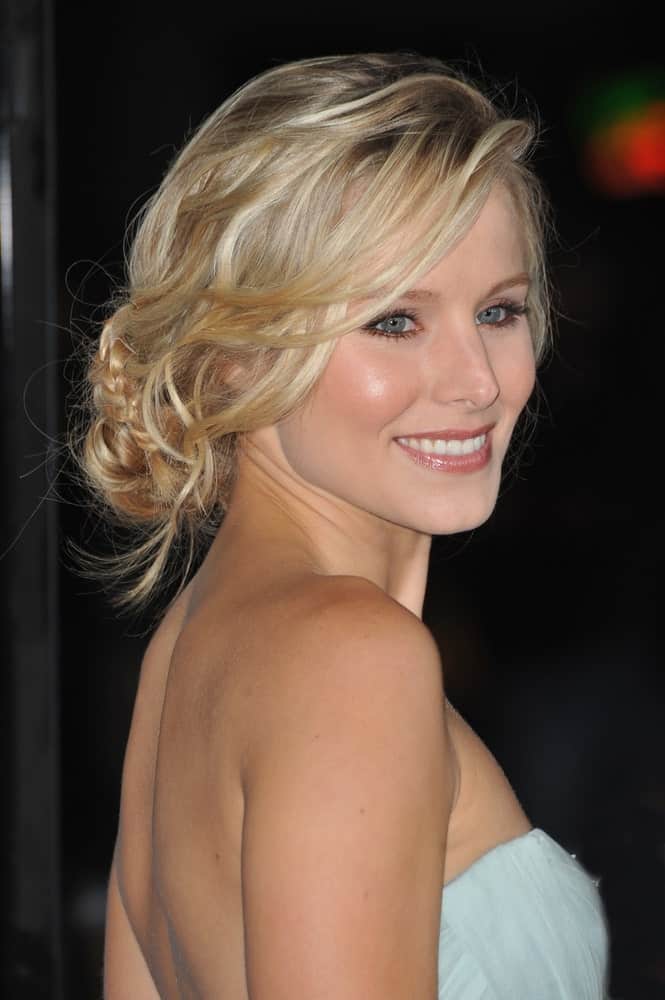 Kristen Bell's low bun might seem casual and messy at first, but it surely isn't tied without thought. After gathering her shiny blonde hair at the nape of her neck, the charming actress has made a thin three-strand braid at the side and then wrapped it around the bun. The resulting hairstyle is the right mix of casual and elegance.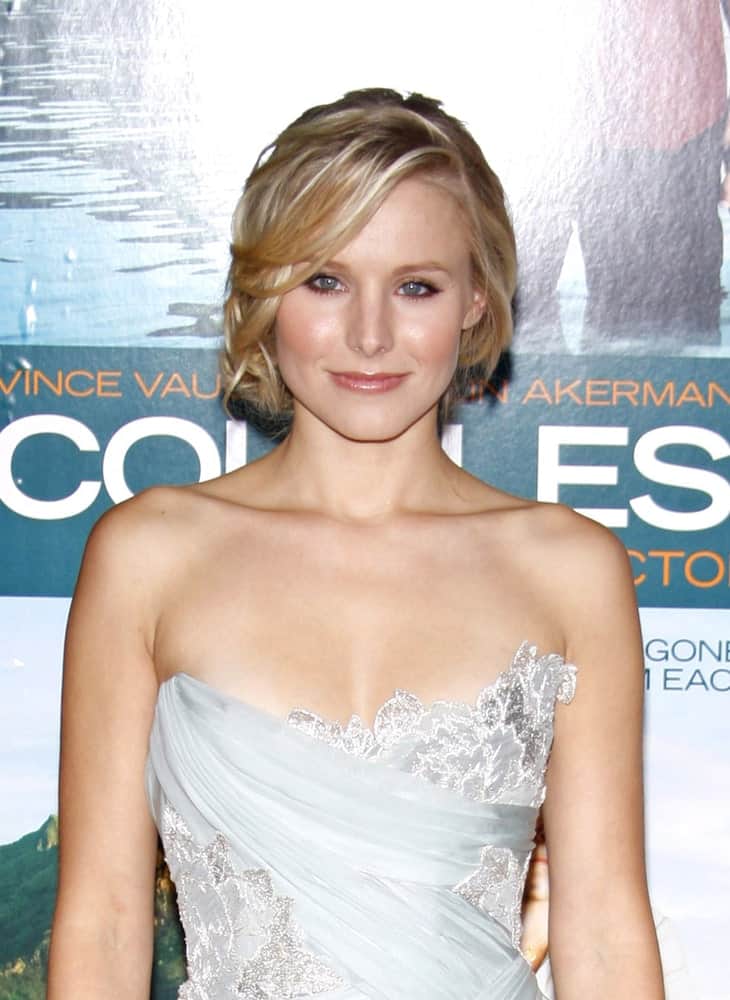 This shot shows the same hairstyle from the front. A few tendrils have been pinned loosely at the side to create faux bangs and prevent the forehead from looking broad and bare.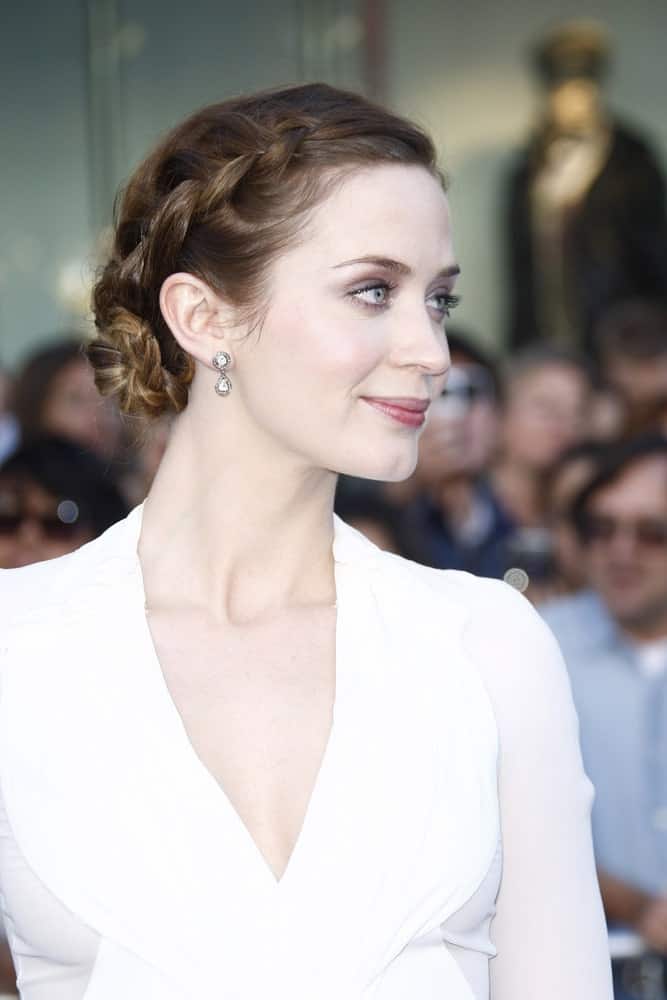 Whether you are one for simplicity or an unfortunate bride whose hairstylist canceled at the eleventh hour, take into account Emily Blunt's organized hairdo that grabs attention with its systematic look. A thick, feathery plait has been formed into a low side-bun to make her look effortlessly stylish.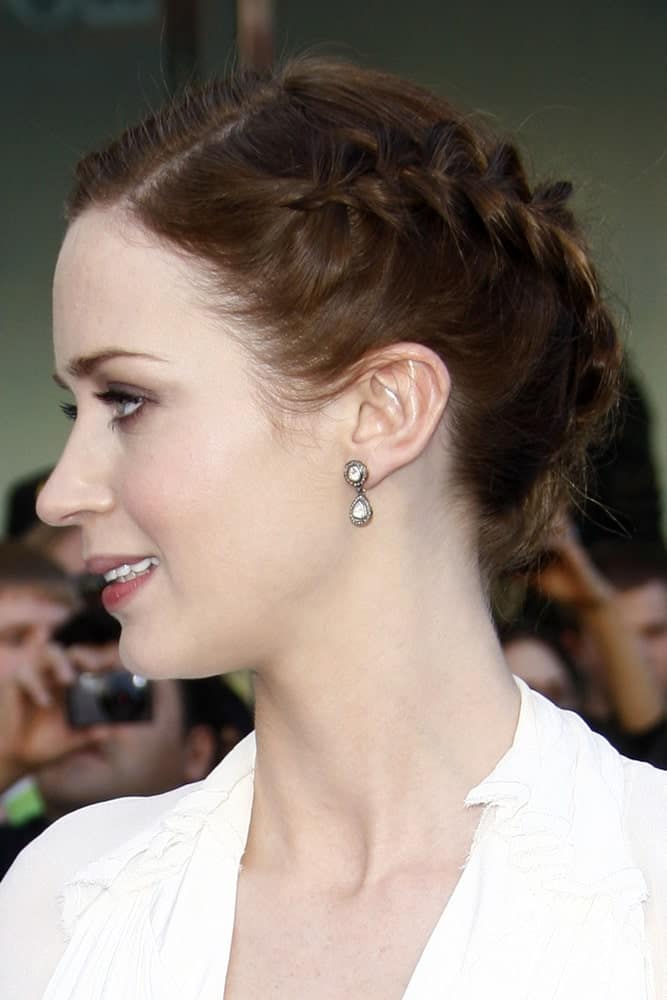 Note that the plait runs all across the back of her head in a diagonal style.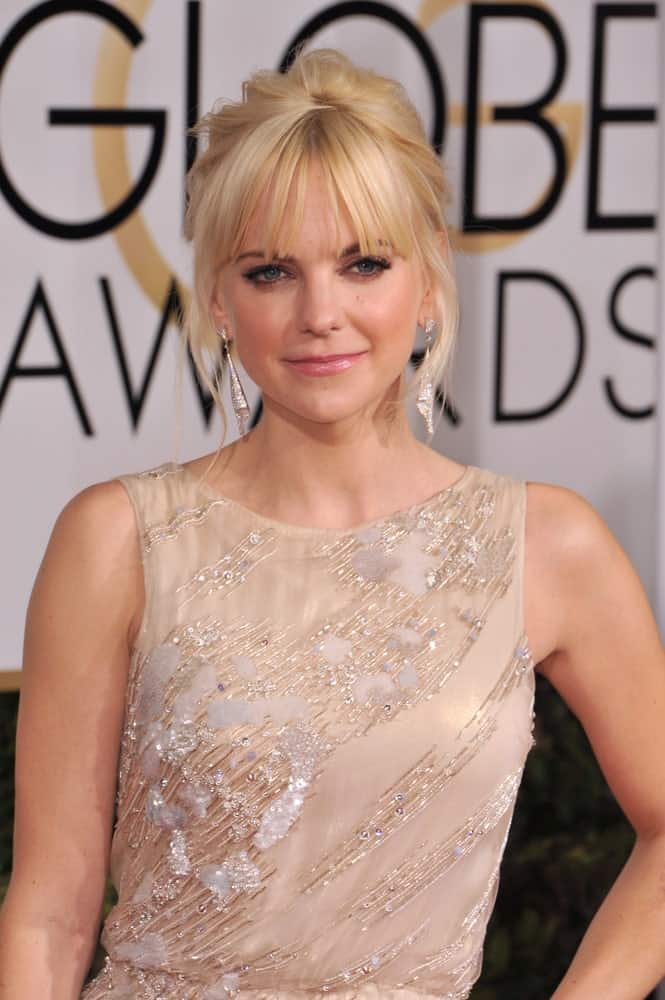 Anna Faris's elegant updo consists of blunt curtain-style bangs backed by a high chignon with some wavy tendrils at the side. This wedding-themed hairstyle will go well on other formal occasions as well.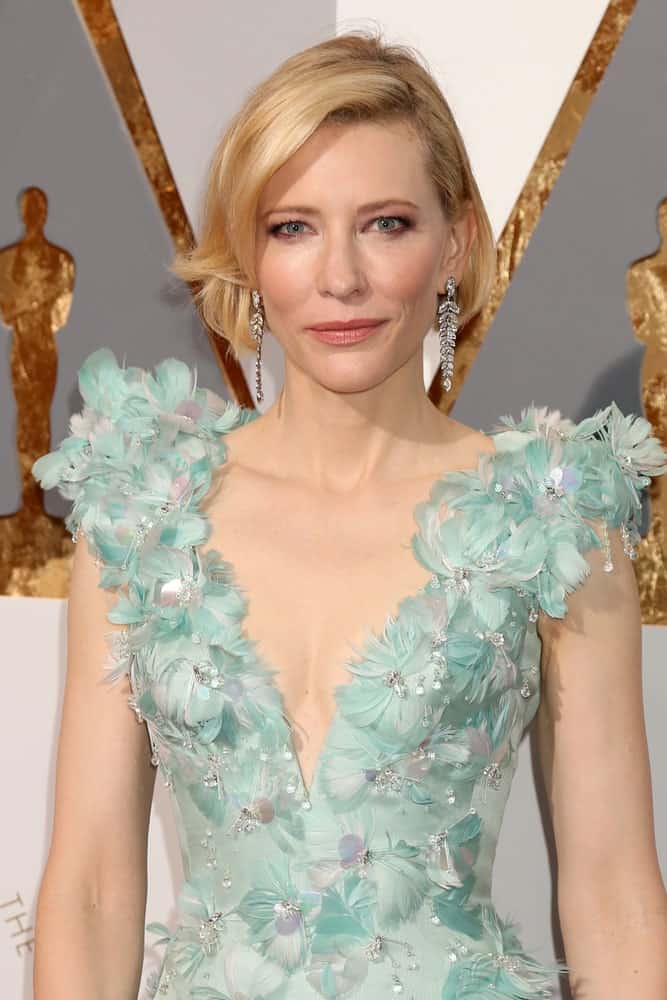 Cate Blanchett's short bob with long and outward twisted tips is ideal for women wearing flamboyant and extravagant gowns because it lets the dress take center stage while giving you a refined look.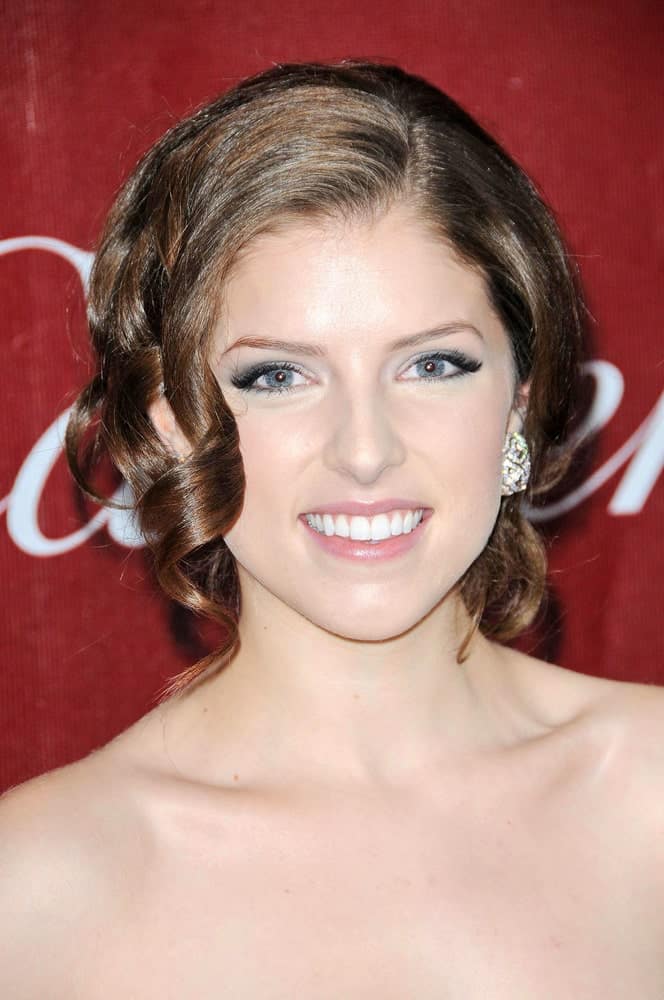 Curly hairstyles always pack a punch and are extremely loved as they amplify the effect of any hairstyle. For instance, Anna Kendrick's tousled tresses will look good whether you have a bob or tie your long hair into a bun.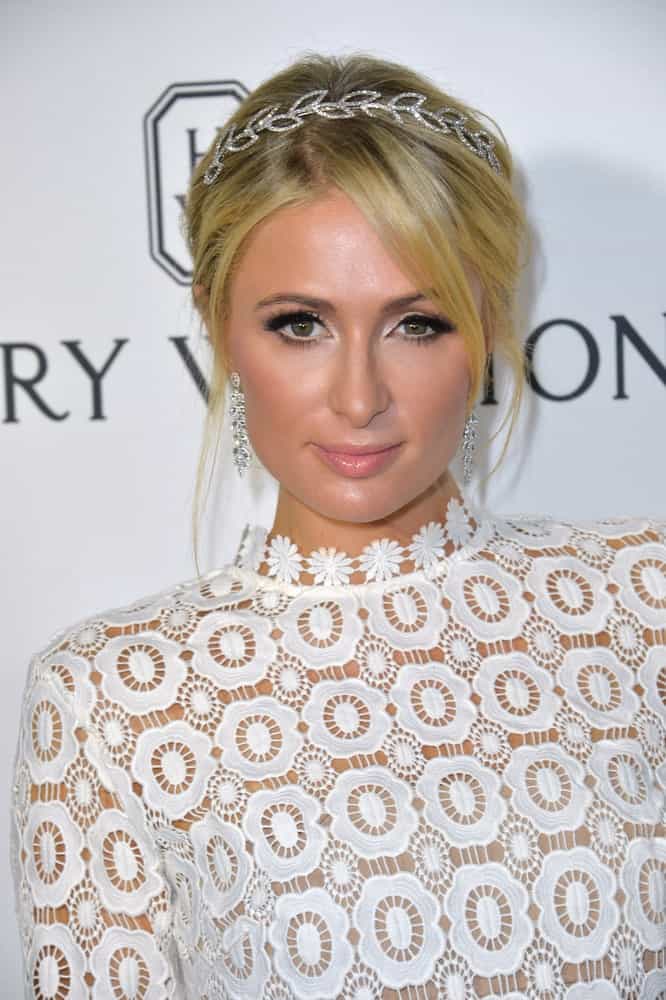 An easy-going chignon adorned with a fine metallic headband is best suited for brides who have a lacy wedding dress because it complements the delicacy and fragility of the gown really well. Don't forget to get matching jeweled earrings to complete the look.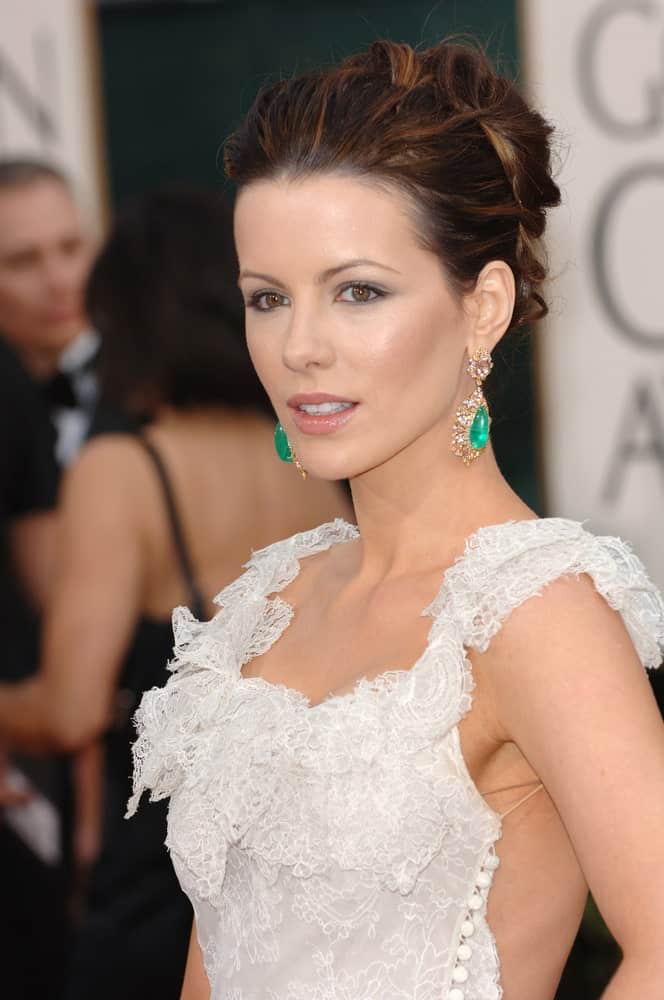 Look exquisite with Kate Beckinsale's brown and black updo that features a high bun fronted with lightly teased strands and a couple of tousled tendrils. This hairstyle is highly convenient and super stylish.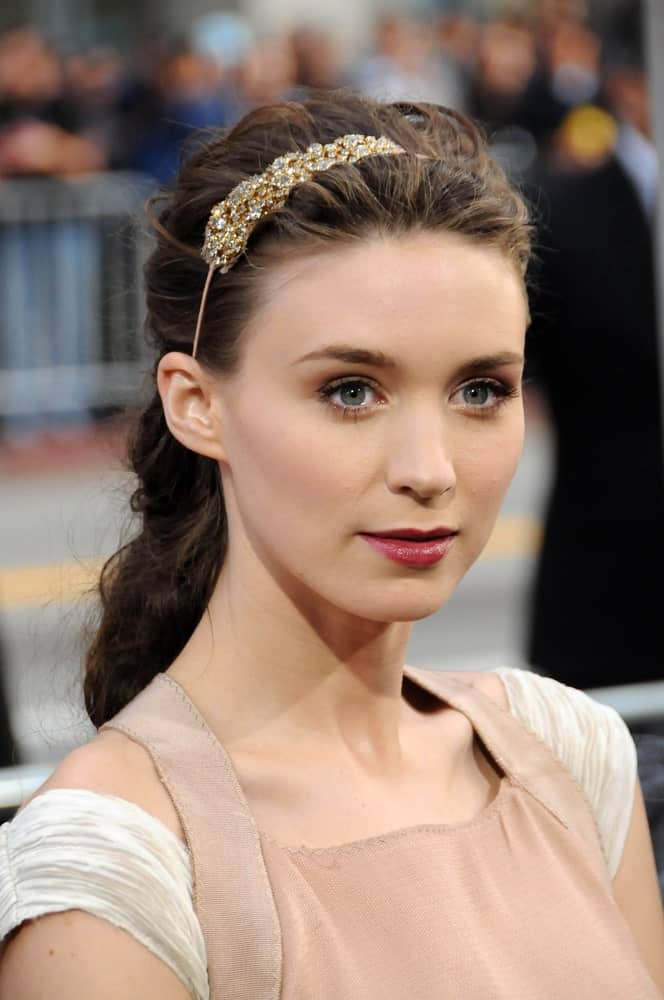 No matter what, half-up-half-down hairstyles will always be in fashion. Take notes from Rooney Mara's impressive hairdo that is suitable for weddings as well. Backcombing her hair gives it more dimensions while a slim and sleek jewel headband exponentially boosts the stunning look.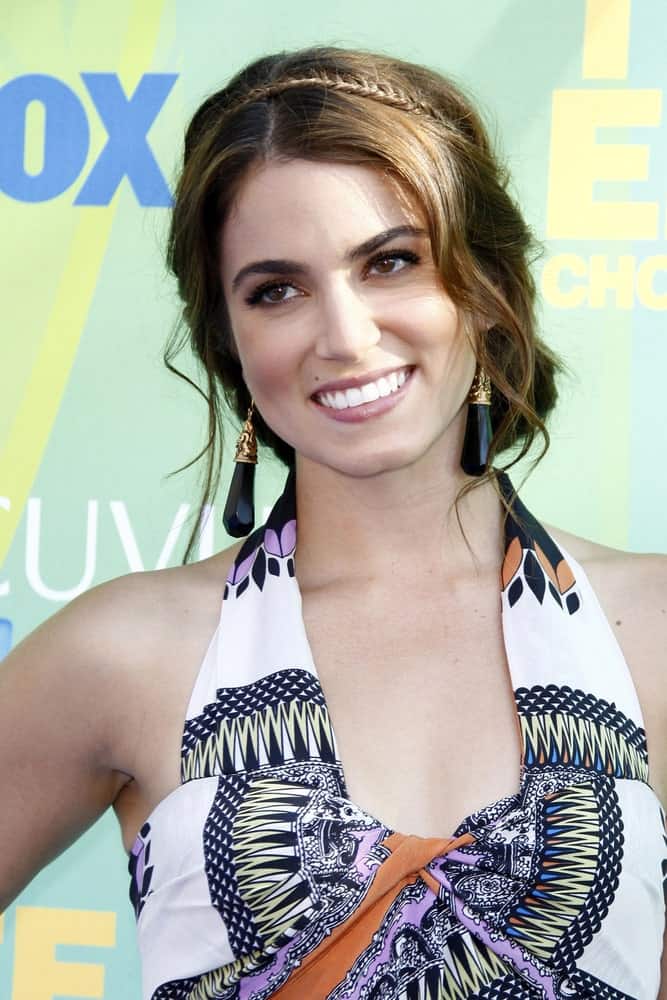 When it comes to accessorizing hair for a wedding party, there are mainly three options – flowers, beads or using a few tendrils as an au naturel embellishment. Needless to say, the third option is usually the best. Don't believe it?  Check out Nikki Reed sporting a thin braid across the head like a delicate headband. Doesn't she look attractive beyond words?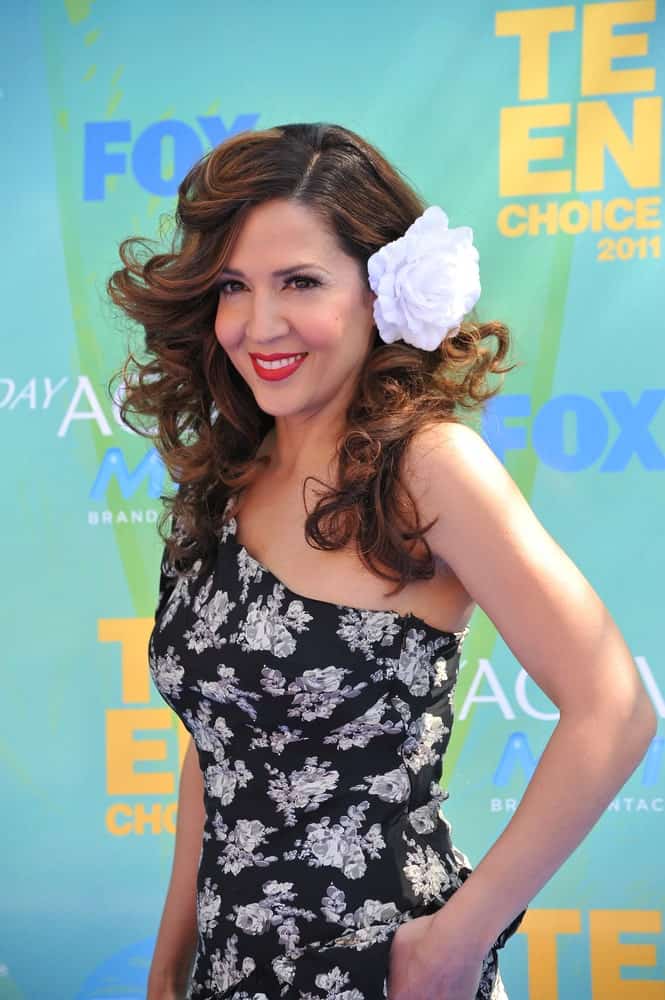 Whether it's a summer wedding or a wedding at the beachside, this cool and relaxed down-style hairdo is your best bet for both scenarios. The extra voluminous curls gelled in place in a blown-back style and the large flower pinned at the side will give you a youthful and free-spirited look.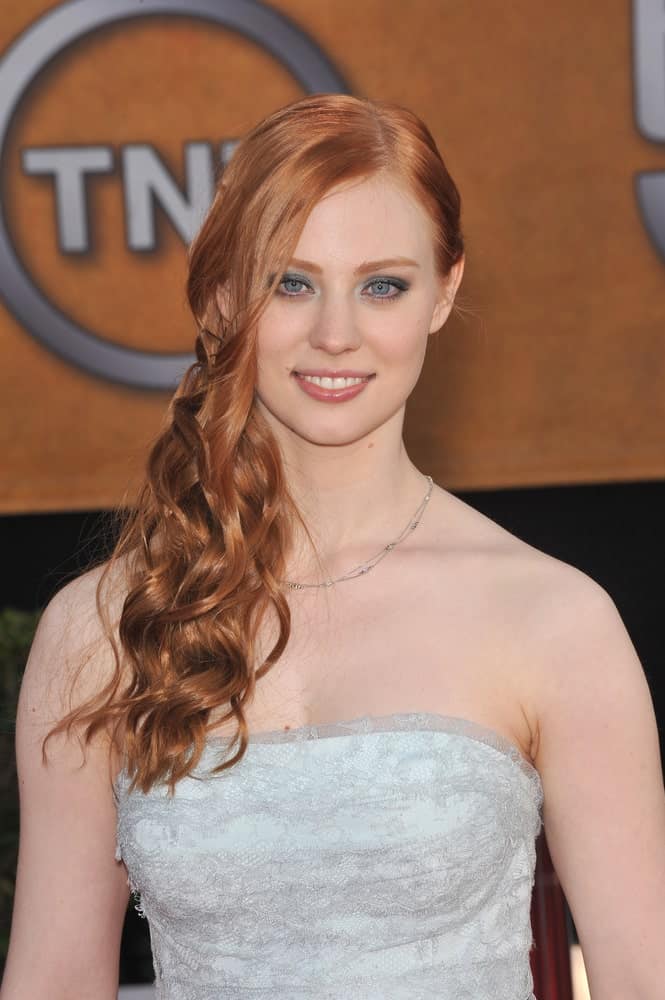 If you have got a hair color as alluring as Deborah Ann's, then a down-style hairstyle is your best bet to let the color gleam naturally on its own. Go for such well-defined curls and sport them all on one side to turn heads your way.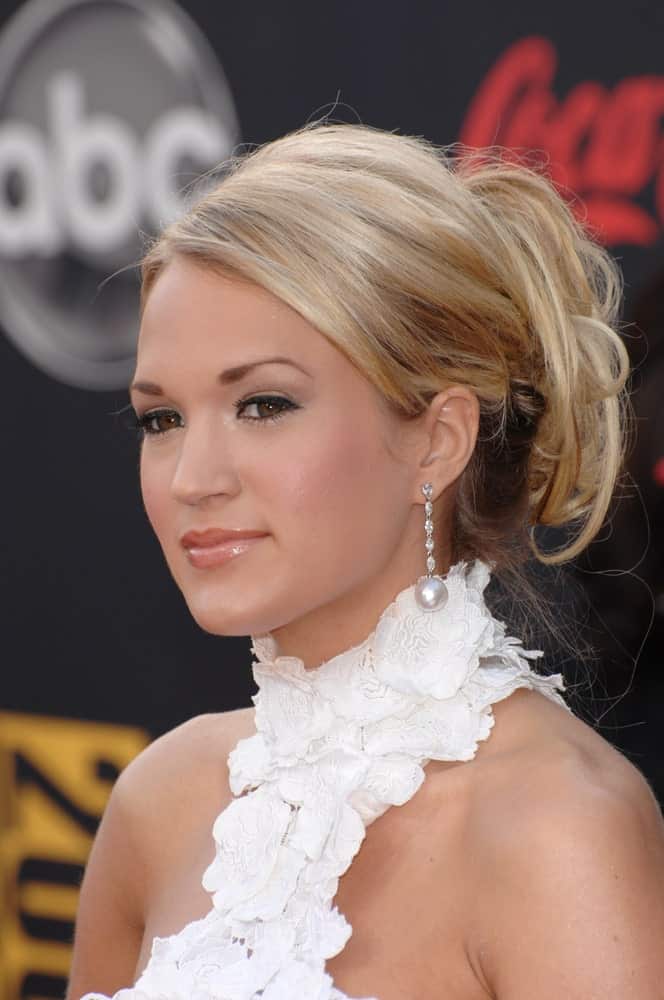 Carrie Underwood's extra voluminous and extra round bun is achieved by forming a high ponytail and then twisting it into circles before pinning. It's exceptionally easy yet still trendy.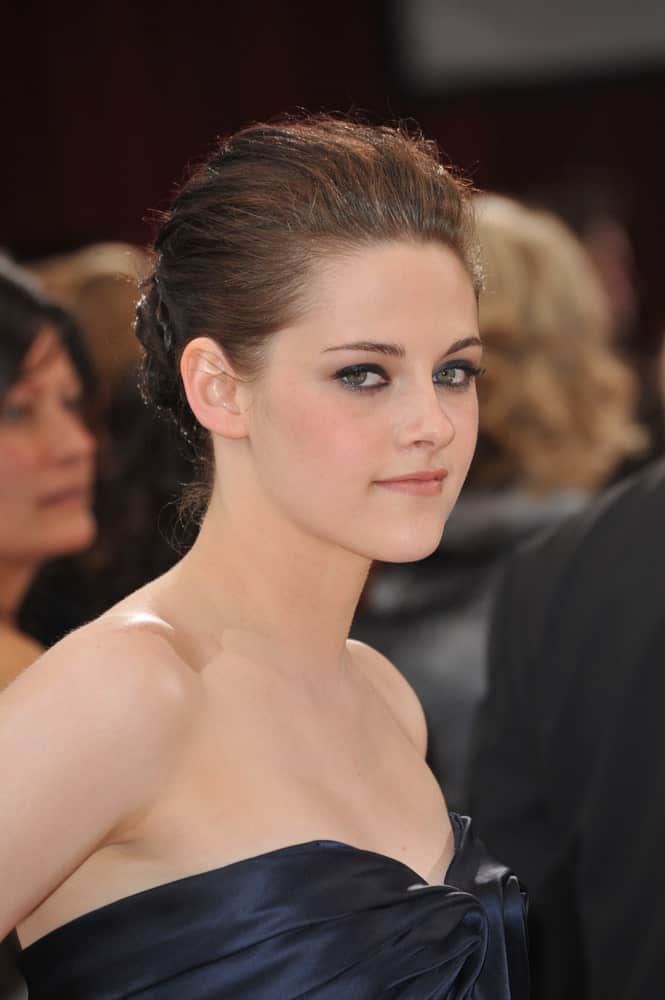 If you are one for minimalism, then consider trying Kristen Stewart's plain French pleat that has been rounded into a bun at the back. This gives you a chic and superior look beside letting your eye-makeup become all the more prominent.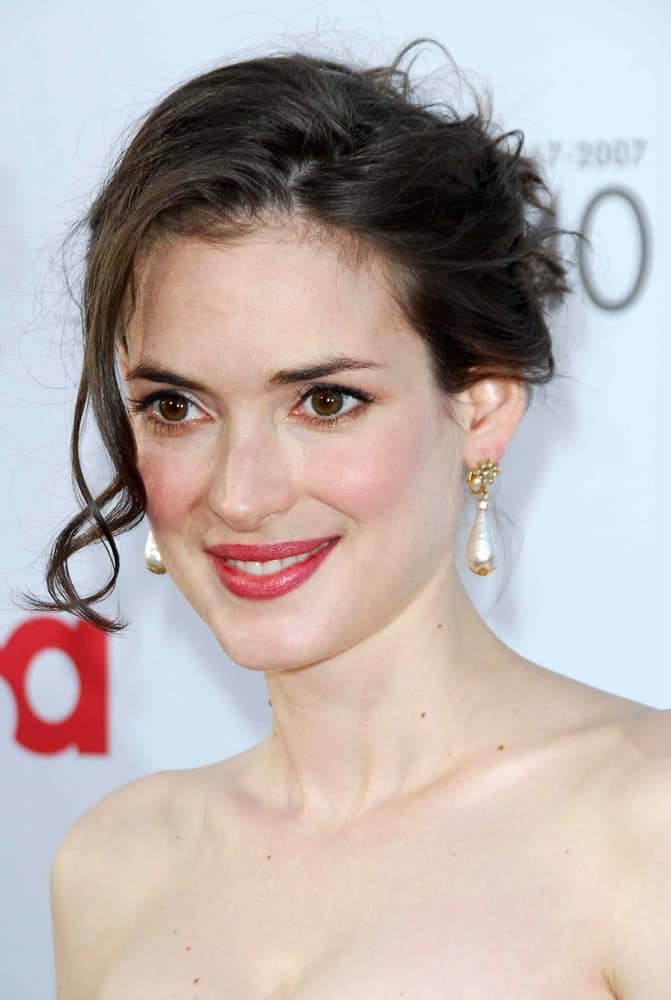 Winona Ryder's wedding hairstyle for women is not very fancy and thus, quite easy to sport. But it is still a good choice to consider if you have got really fancy earrings or perhaps even a necklace that you want to show off at the event.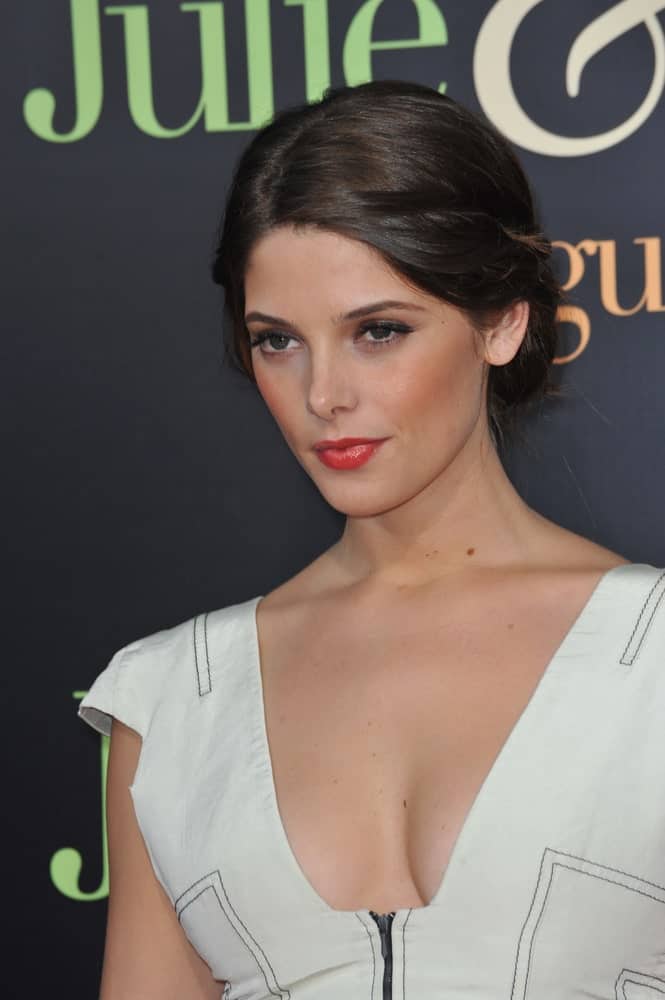 Every woman goes over the top when it comes to looking their best on the big day. But if you are one of the rare brides who's too focused on the new life ahead to pay attention to the small details such as how to style your hair, then perhaps Ashley Green's got the solution for you. An orderly bun at the back coupled with a few tucked-back frontal strands can make you look majestic in a minute flat!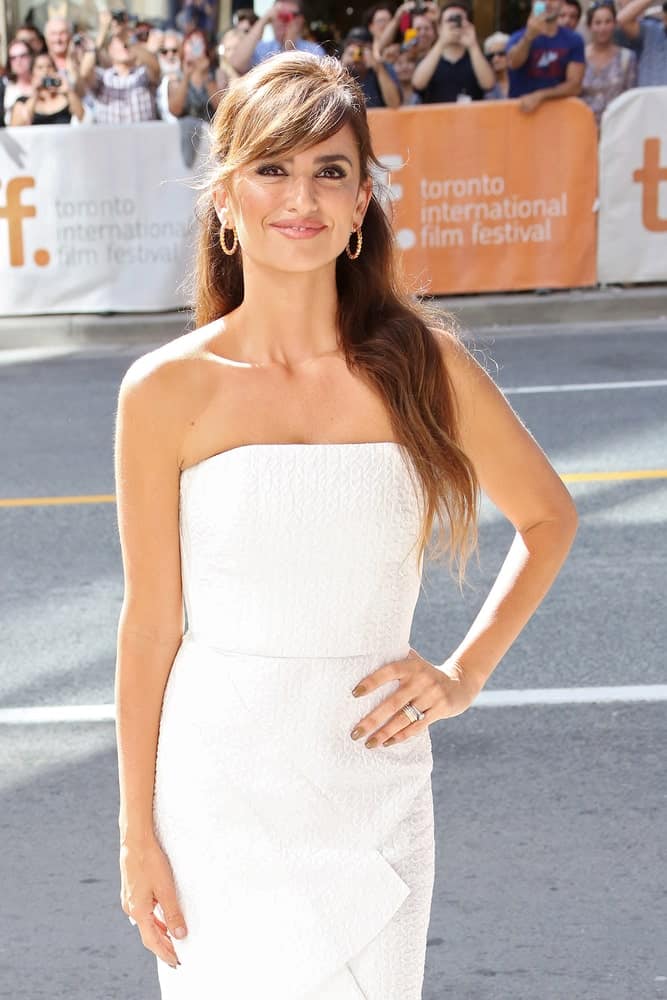 Love to wear your hair down? The choice isn't bad especially if you have got dark hazelnut brown hair like Penelope Cruz because it will make a beautiful contrast against your pristine white wedding dress. Try getting angular or side-swept bangs as they give the hair a structured outlook.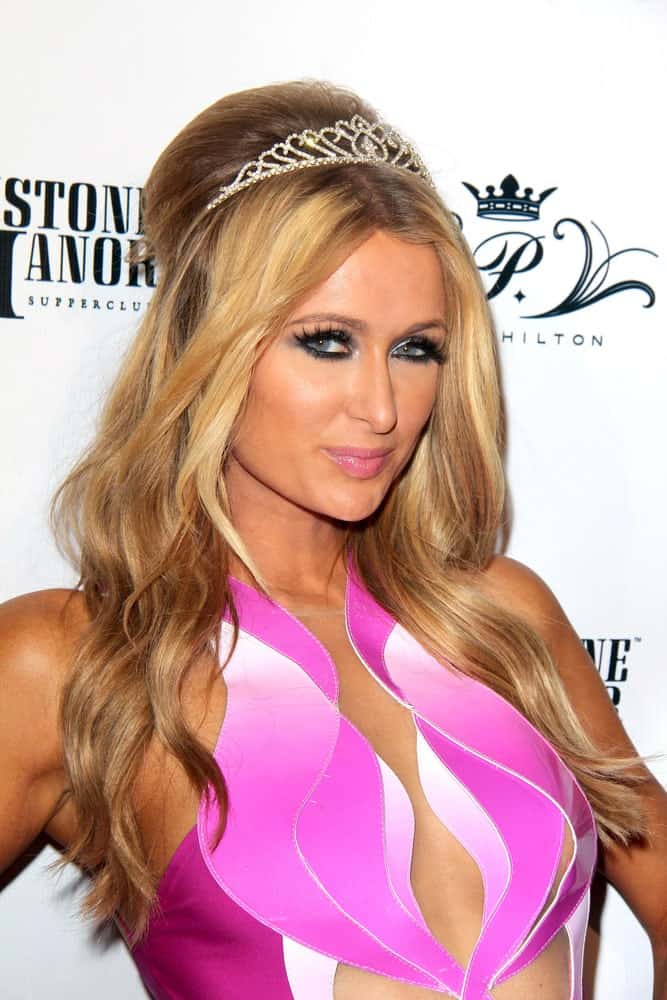 Every girl wants to be treated like royalty once in a while and what better day to feel like a princess than at your own wedding? Take notes from Paris Hilton on how to don a tiara. The key is to make a soft bouffant to support the delicate accessory and add more volume whereas wearing your hair down gives you a more stately feel.
Click here for Paris Hilton's Hairstyle over the years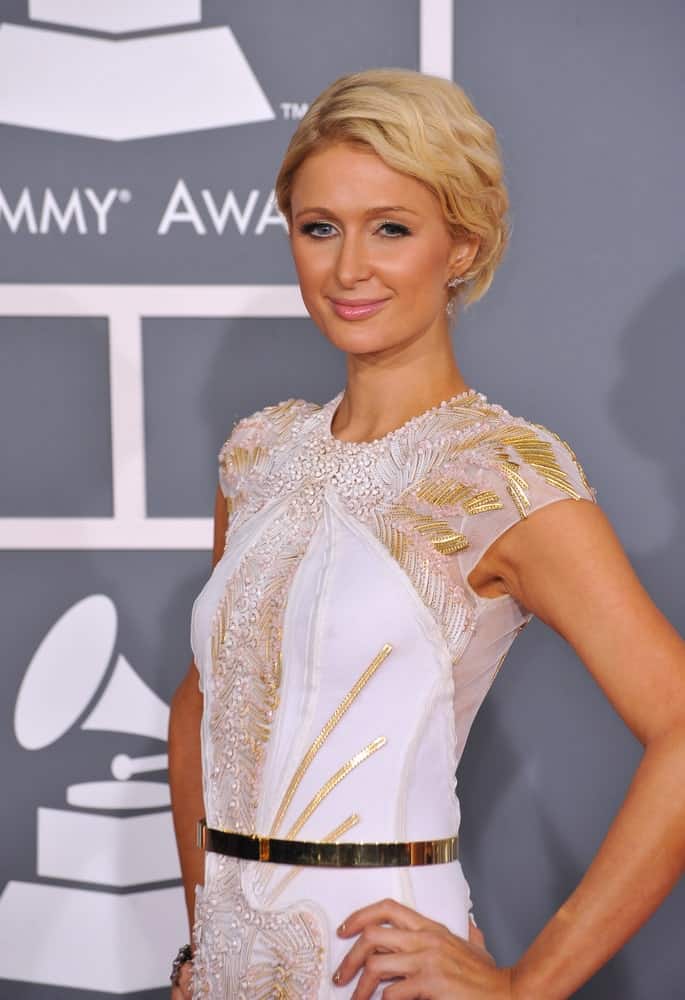 If you are a wedding guest who spent too much time doing their makeup and are now running late for the party, try going for this uncomplicated and trouble-free upstyle hairstyle provided by Paris Hilton. Part your hair at the side, curl it lightly and tie the crimped waves in a bunch. And you are ready to go!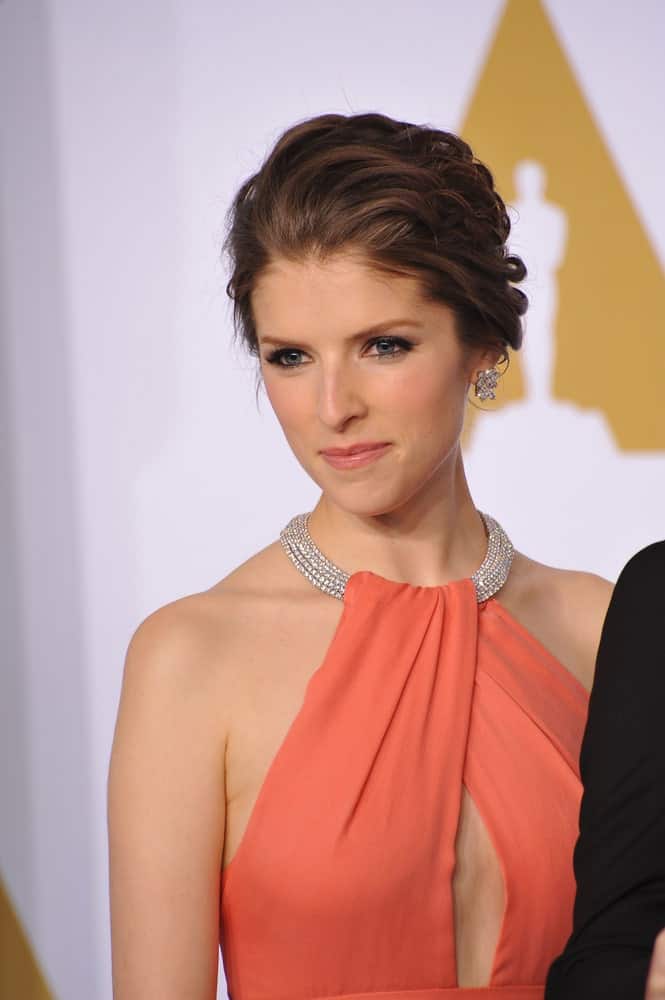 Anna Kendrick's wedding hairstyle for women is oozing beauty and grace with the arranged and orderly updo. The segmented strands that are further accentuated by the caramel highlights make her shine with splendor and finery.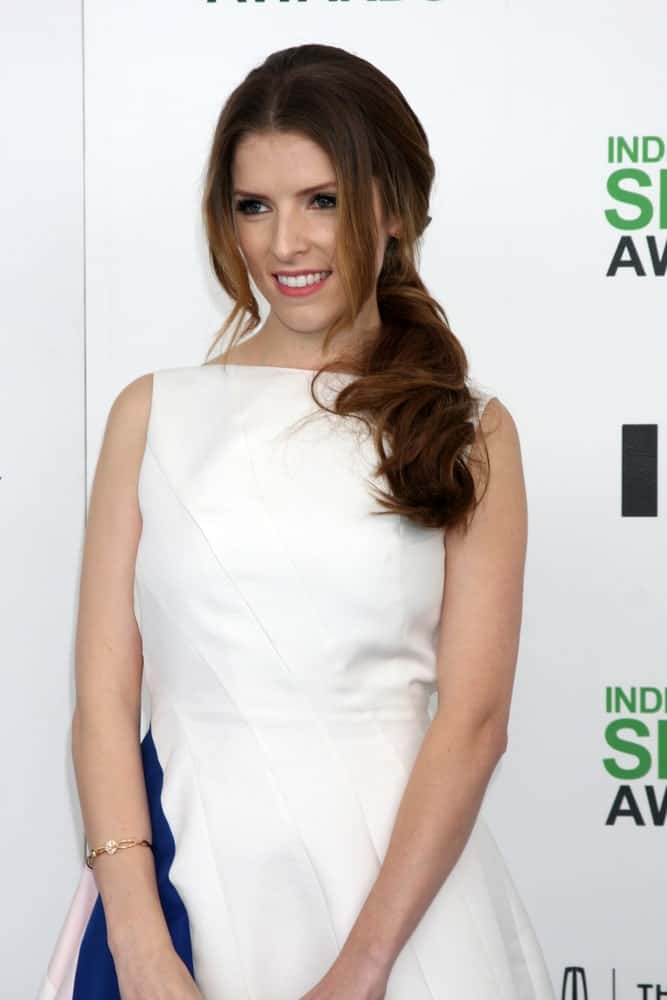 Love ponytail so much that you don't want to part with them even on the grand day? No problem. You can try this minimalistic wedding hairstyle from Anna Kendrick who proves that an over-the-shoulder twisted ponytail looks majestic no matter what. You can add some embellishments for a fancier finish.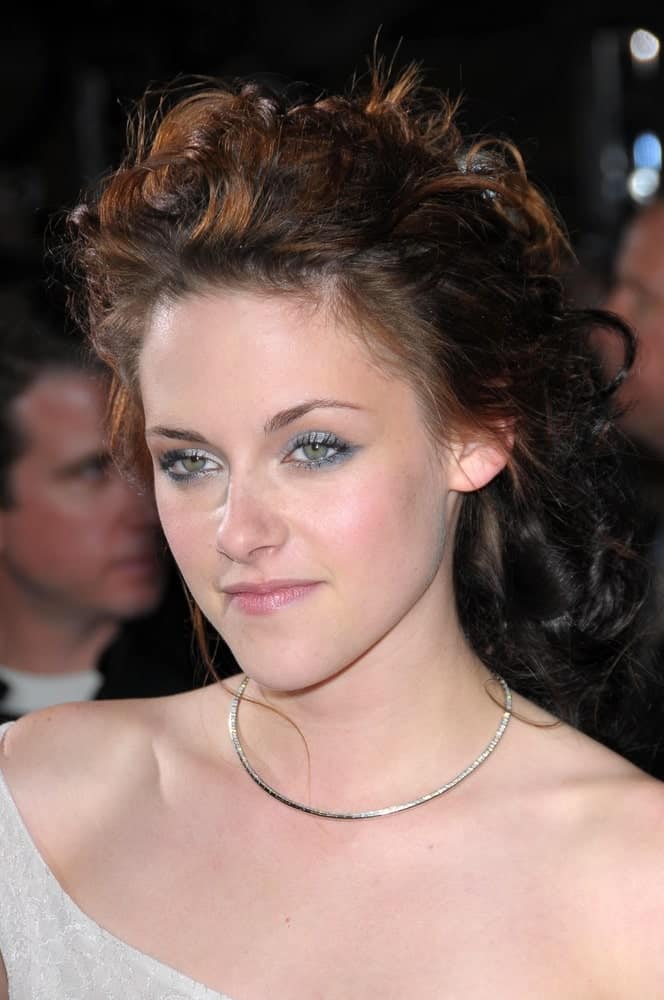 Kristen Stewart's complex half-up-half-down hairdo features lots of strands pinned in a haphazard crisscross manner to create dramatic, eye-catching ringlets at the top.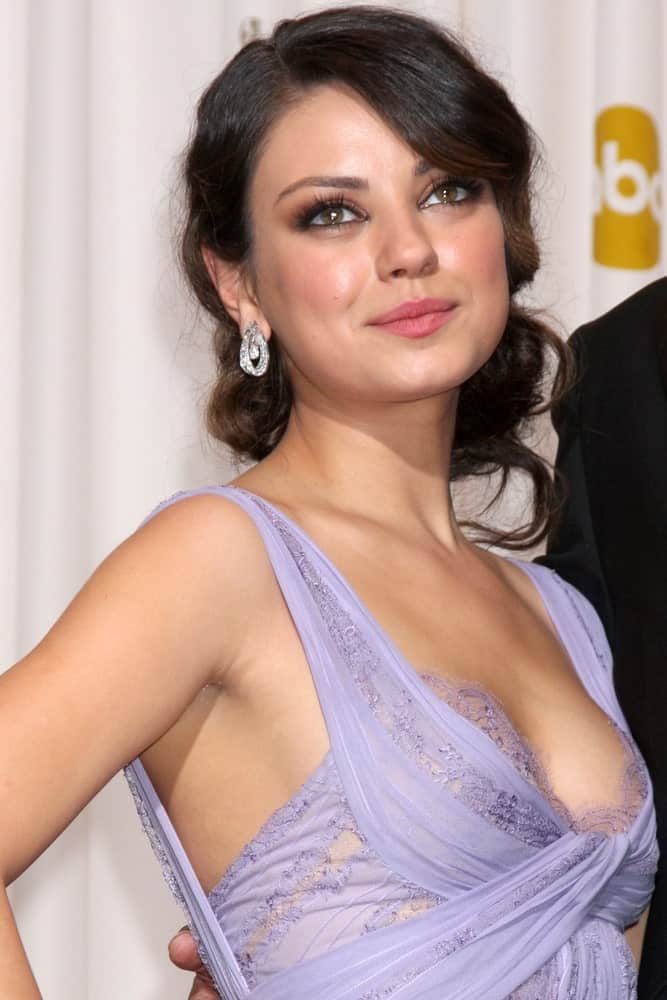 Be it a prom night or a wedding party, Mila Kunis's hanging bun combined with deep, eye-skimming and side-swept bangs will go well on both events.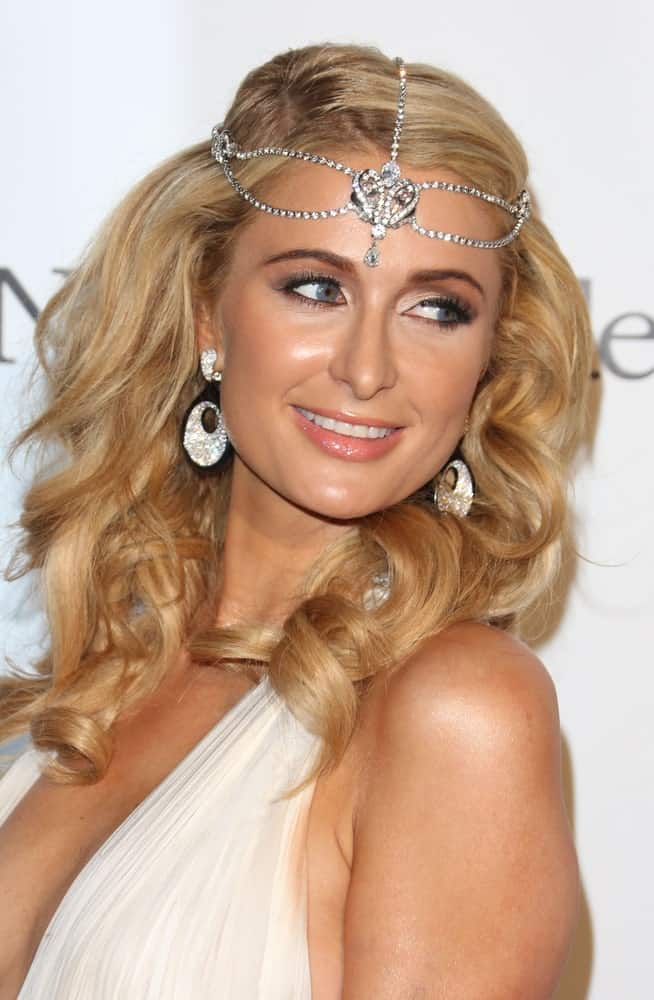 If you love Egyptian fashion then, a lustrous headpiece such as the one sported by Paris Hilton in the picture above is a must-have. Even if you aren't a fan of the ancient fashion vibes, then this style is a good option if you are looking for a quick hairdo (given that you have some luxe accessories at hand).
Click here for Paris Hilton's Hairstyle over the years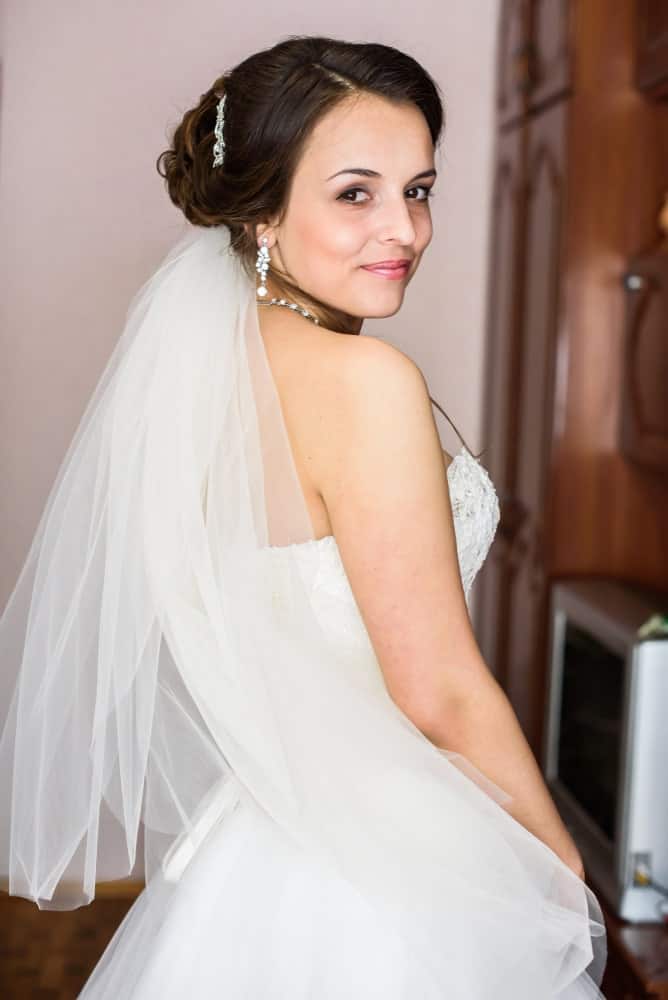 Veils might be an old tradition but there's no denying that brides still want to incorporate one into their hairstyle. For such a case, a sophisticated bun is usually a good choice because it helps to hold the net in place beside giving you an enchanting appearance.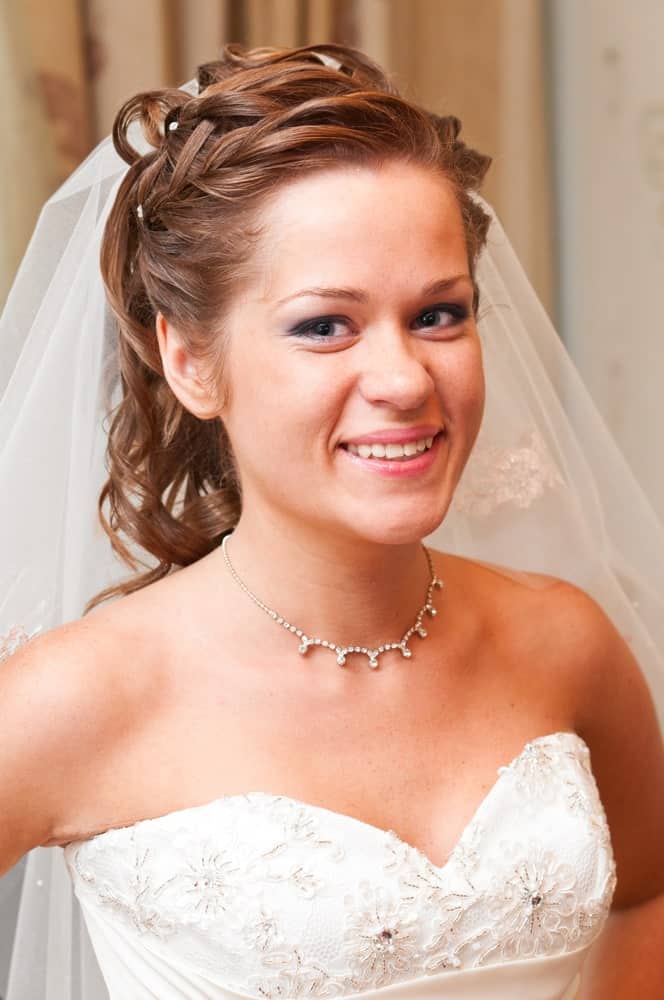 Loose braids that merge into a wavy ponytail and are decorated with a few beads are a classic look that many to-be-brides are a fan of.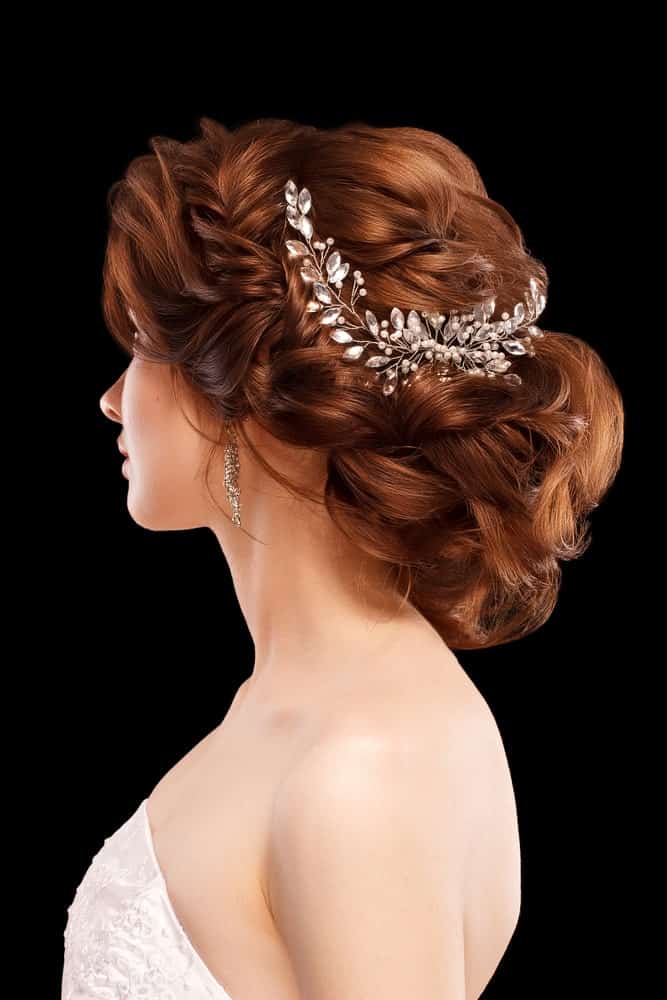 Work of an expert hairstylist, this glamorous wedding hairstyle is truly exceptional with all the intricacies involved.  There's a fish-plait at the side that combined with the thick regular braids before being rounded into a fluffy bun at the back.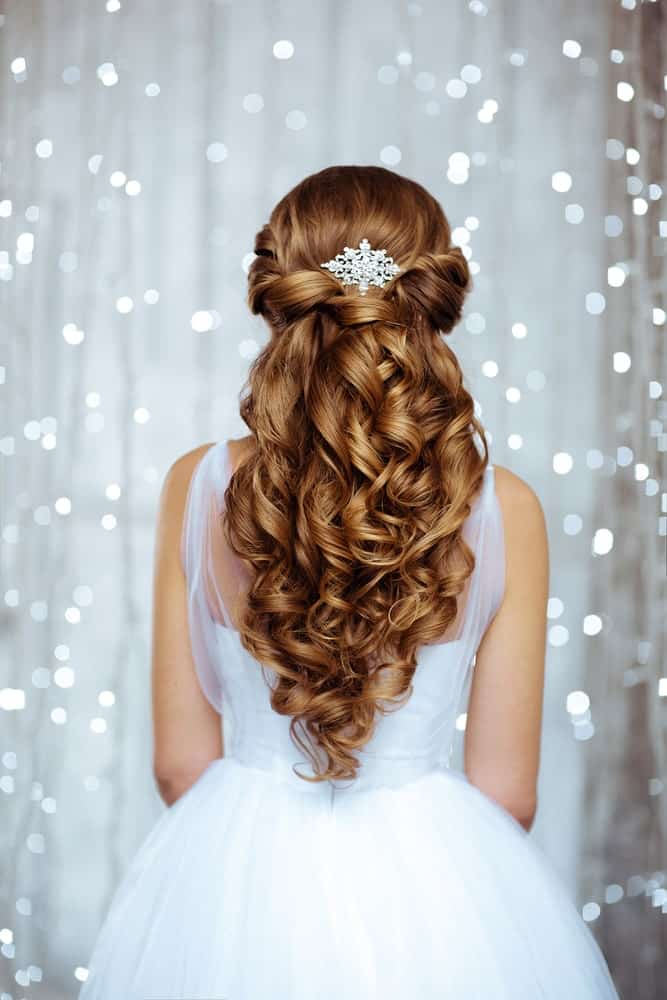 This fancy curtain of red is good for brides who have extra lengthy red or dark brunette hair. Curl them heavily before securing two side-strands at the back with a silver comb. This elaborate hairstyle is bound to stun all guests in attendance.