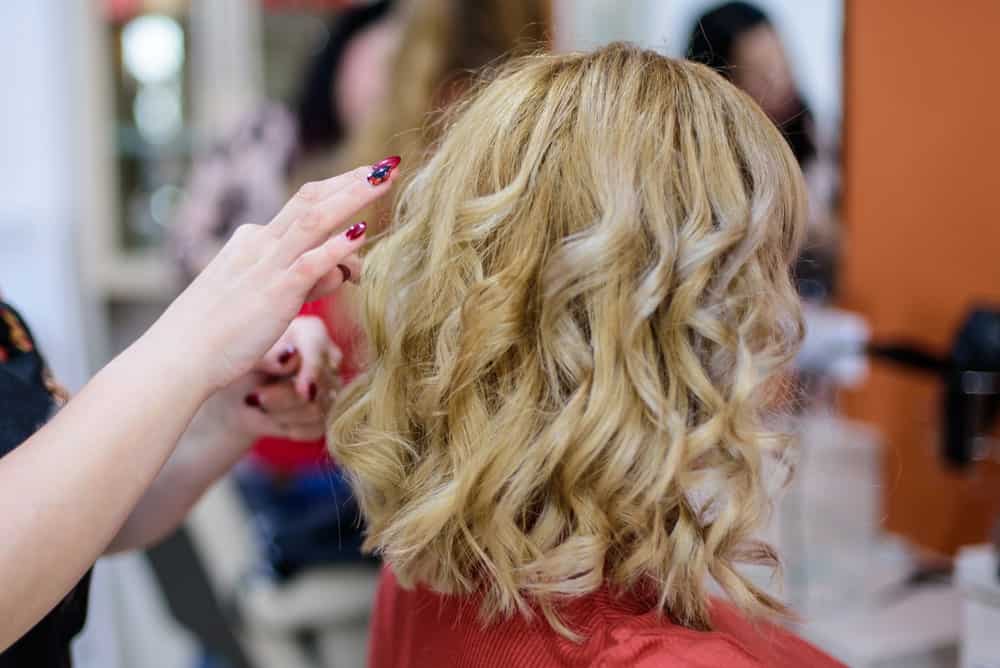 Hair perming can do wonders on your overall look but it can be damaging at the same time. The good news is there are plenty of alternatives if you really want to have that eye-catching wavy hair. These options can be advantageous as well since not all perm results end with the look that we want it to be. So before getting an actual perm, you might want to opt for the alternatives below.
Heated Hair Tools
Perm alternatives include using heated hair tools. Be sure to purchase a quality product, one that will heat fast and hot enough to maintain the curls. Curling your hair with iron often results in the curls lasting for a few hours before straightening back out or turning into a style that's somewhere between straight and curly. To keep your curling iron curls, you'll need to use the right products. Start with a root booster.
This will give you a little extra volume at the roots. Apply it when your hair is wet. You should also add some mousse to amplify your hair and to give it a bit more texture. After applying these products, blow dry your hair. Spritz a little thermal spray to prevent frizzing and to help the curly style last longer. Then, curl your hair.
Be sure to finish things up with hairspray. This will help your curls stick around for a while. Purchase a curling iron according to size. Small barrels will give you tighter curls, but they may last longer than big curls. You can also purchase more than one size and mix it up when creating your curls.
Pros
Flexible since you can give yourself curls whenever you like
Easy to use
Affordable
Cons
Can be time-consuming depending on how much curling you need to do
May does not last as long as you'd like
You can burn yourself if you're not cautious
Velcro Rollers
Velcro rollers are another way to get the curls that you want. This product is best if your hair is over-processed or damaged because you shouldn't expose it to more heat. Velcro rollers are nice because they come in different sizes, so you can get the curls that you want.
When you give yourself a curly hairdo using Velcro rollers, then the style may last longer than a hot iron, but it will depend on the products that you use ahead of time and how your hair handles the style.
To use them, follow the same steps as when you're using a hot iron, so after you towel-dry and comb through your hair, apply products like a root booster and mousse. You may also want to add a leave-in conditioner to help your hair recover. The conditioner may even extend the lifespan of your curly style when you add it before placing the rollers.
Pros
Velcro rollers let you have curly hair without damaging it
They will not burn you when you're using them
They come in different sizes to give you different looks and styles
Cons
You may experience a learning curve to get the style that you want
You may have to sleep in them
Rolling them may be time-consuming
Hot Rollers
Hot rollers have been a perm alternative for years. They work well when you want volume. Getting used to hot rollers takes a little time, but once you get your rolling technique down, they'll go to work curling your hair while you finish your makeup or get your clothes ready. Practice rolling your hair on the weekends.
To save time, wash and dry your hair in the evening instead of when you first get up in the morning. Then, just get up and pop in your rollers. Tips include using around five to eight rollers on the top section of your hair. Follow this up by curling a few larger hair sections with a curling iron and spraying them with hairspray.
Pros
Different sizes are available
Allows you to multitask while the heat is forming your curls
Curls may last longer than other alternatives
Cons
May burn your fingers while rolling
Takes longer than other curling techniques
Harder to store than other curling tools
Hair Extensions
If you don't want to go through the discomfort and smell of getting a perm, then consider hair extensions. Quality options are available, so you don't have to worry about purchasing the shiny, fake-looking ones. You can order or request hair extensions that come pre-curled.
This option saves time since you won't have to take on the curling process every day nor will you be faced with the prospect of learning new curling techniques. The right extensions will blend in with your natural hair. They are easy to use, and they will give you added volume.
There are many hair extension options available, so be sure to research the different choices to get the right ones for your budget and personality. Using them means that you can avoid adding excess products to your hair to get the curly look that you want. If you try hair extensions, then you will need to learn how to care for them properly.
This will make them last longer, giving you a better rate of return on your investment. Care includes deep conditioning your extensions about once a month and combing them out with a wide-tooth comb to prevent tugging and breakage. When you have the right hair extensions that blend seamlessly with your natural hair, then you may feel more comfortable and confident with your hairstyle.
Pros
Affordable and long-lasting when cared for properly
Can help you cover damaged hair
May give you a more youthful appearance
Cons
May make your head feel heavier
You will have to style your hair instead of just winding your hair up into a bun or ponytail
May itch at first
Round Brush
While a round brush won't give you the tight curls that a perm provides, the hair styling tool will give your hair more volume and waves. To go this route, be sure to purchase a natural boar bristle brush. These are sold in different sizes, so you will need to decide how large you want your waves to be. A larger brush will give you larger waves.
Tips for use include towel drying your hair until it's slightly damp. Then, dry your hair with the round brush. To get the best results, separate your hair into at least three sections. Start with one section and roll the brush through your hair, applying heat from a hairdryer at the same time.
Continue this technique until the hair is completely dry. Then, spray a little bit of hairspray throughout your hair to keep the waves. This curling method should help you prevent frizzing and fly-a-ways.
Giving your hair waves with a round brush is less damaging to your hair than a perm, but it can still dry your hair out when you're brushing it with a round brush several days a week. Protect it by using a thermal heat protecting spray before using the round brush curling method.
Pros
User-friendly curling method
Affordable
Allows for style diversity
Cons
Won't be as curly as a perm or other curling methods
May be time-consuming
There is a learning curve
Curling Shampoo and Conditioner
Curling shampoos and conditioners are products that can not only help enhance your natural curls, but they can also help your hair maintain curls that you add using other methods. If your hair has some natural curl, just not as much as you'd like, try using these products.
They may give your hair the enhanced curls that you want. If they don't, then use them and another curling tool like a curling iron or hot rollers. There are many cosmetic manufacturers that sell curling shampoo and conditioner, so you will likely be able to choose products from your favorite cosmetic product company.
Pros
Cost-effective
Easy to use
Accessible
Cons
May not work on their own
Digital Perm
Perm alternatives include getting a digital perm. While this curling method is still referred to as a perm, the processing technique is entirely different. Japan discovered the digital perm, and the technique is making its way to other countries.
This type of hair treatment is designed to give you relaxed, tousled curly waves. Digital perms are nice because they won't damage your hair. Instead, they make your hair soft and shiny. When you get one, your stylist will use a pre-treatment product to protect your hair.
Then, he or she will add a solution to where you want waves. This means that the wave will be at the bottom section of your hair. It will start from the mid-length area and stretch to the ends, giving you a natural wave.
Like a traditional perm, your hair will be rolled into rods. These come in different sizes, which is not an option with a traditional perm. Your stylist will then connect each roller to a machine that controls the heat digitally.
This sets the curl. Once your hair is dry, your stylist will apply a neutralizing solution. The last step is rinsing it out and styling your hair. The curling technique is also a good option for someone who has naturally tight, frizzy curls because it will relax their hair. A digital perm should last for as long as 4 months, and you can have another one at any time without causing damage to your hair.
Pros
Natural-looking curls
Hair stays healthy
Hair is easy to style
Cons
Takes longer to get
Likely more expensive than a traditional perm
May not last as long as a traditional perm