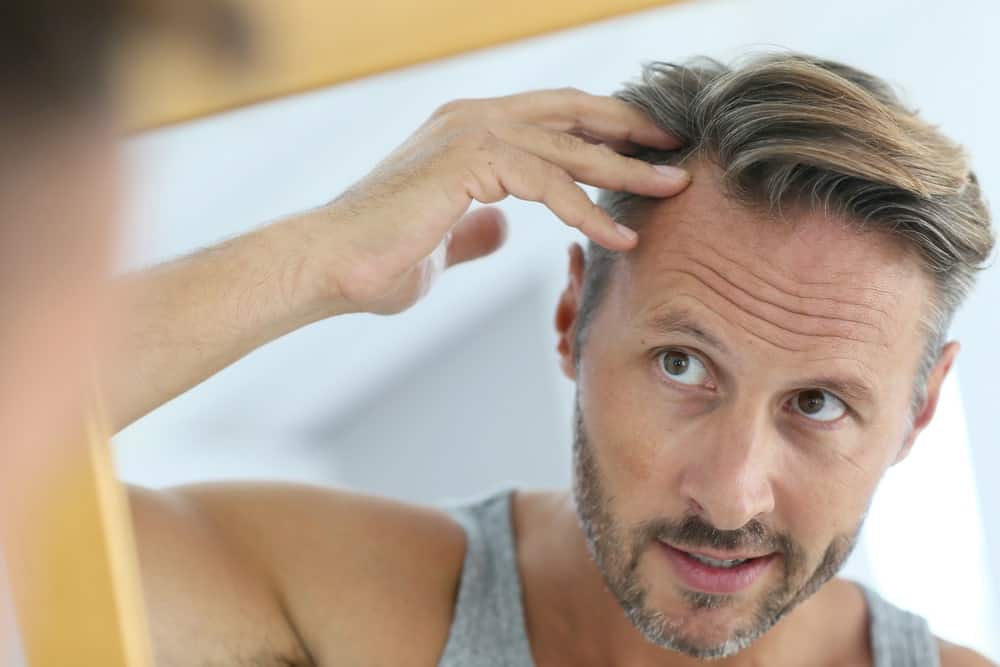 With age, hair tends to get thin and grey, which is why a lot of women prefer to use hair products that are specifically formulated for aging hair and can help hair retain its natural beauty. The reason why hair grows weaker and thinner with age is that the number of follicles in the hair reduces over time. As the growth of new hair declines, the diameter of the hair also shrinks causing them to break easily.
Fortunately, hair product manufacturers have designed a lot of different products that you can use to revive your hair. This will leave it feeling softer and voluminous so that you can continue to feel younger. The shampoos below are designed to protect the cuticle layer in the hair so that no further damage can occur to your hair. They are the ultimate line of defense to protect your hair from roughness, dryness, and dullness.
RevitaLash Thickening Shampoo
RevitaLash has a very unique formula that can help your hair retain its softness and thickness. The formula is infused with phytol which is rich in therapeutic ingredients. It works to encourage optimum scalp health to promote hair growth. It also fortifies the cuticles of the hair so that it remains strong and the risk of hair loss and breakage is significantly reduced. This will ensure that your hair looks fuller and stays thick, healthy, and lustrous.
The shampoo has been tested by dermatologists through clinical trials. It has also been tested for color-treated hair so you don't need to worry if you have dyed hair. Moreover, the shampoo is hypoallergenic and non-irritating which is why it will be utterly gentle on your skin.
All you have to do is to apply the RevitaLash shampoo to wet hair. Spread it evenly through the hair and leave it on the scalp for about 1-2 minutes. Rinse properly, and you will have softer, thicker hair in no time.
Monat Intense Repair Shampoo
The Monat Intense shampoo has been infused with the fresh smell of rosemary and mint. This will surely reawaken your senses and restore your energy. The Monat shampoo is designed to protect your hair from sun exposure damage which can weaken the hair and strip it of its essential oils. Moreover, it helps support the natural re-growth of your hair so that you end up with plenty of hair to replace the old, weakened strands. Your hair will definitely look great after you apply this shampoo.
Aveda Invati Solutions Exfoliating Shampoo for Thinning Hair
The Aveda Invati is an advanced exfoliating shampoo that works wonder for thinning hair. It helps exfoliate and cleanse the scalp to maintain the perfect pH level to support new hair growth. It renews the follicles of your hair with its unique wintergreen-based salicylic acid. This acid can really help your hair grow stronger and longer since it cleans out the buildup of dirt, oil, sweat, and grease that can clog the pores in your hair and scalp.
The shampoo is designed to replenish the nutrients in your hair through its nourishing, color-safe formula. It helps to detangle the hair so that you don't have to deal with hair loss and breakage while washing or brushing your hair. The specially designed formula ensures that you experience fuller, thicker hair after using this hair shampoo.
Briogeo Scalp Revival Charcoal + Coconut Oil Micro-Exfoliating Shampoo
The Briogeo shampoo is a natural formula which promotes overall scalp health. Natural ingredients are gentle on the aging scalp and hair, which promotes thicker hair. It provides relief for the dry, flaky, irritated or itchy scalp by removing the impurities like dirt, grease, and oil from your hair. The shampoo has micro-exfoliates that have been derived from vegetables to remove all the dead skin cells for a clean, pH-balanced scalp.
The formula also has Biotin which is a B-complex vitamin to strengthen the follicles and hair shaft. This makes your hair feel and look fuller. The natural cleansing power of charcoal can help you a lot since it absorbs all the excess impurities and oil buildup from the scalp. It moisturizes the hair so that you can keep it looking soft and shiny. The shampoo has been infused with spearmint and peppermint oil, which has a direct calming effect on people. Furthermore, the tea tree oil in the formula works well with the natural oils to reduce flakiness.
This shampoo has no additives and is completely cruelty-free. 98% of its ingredients are natural and is suitable for vegans.
Verb Ghost Shampoo
The Verb Ghost shampoo is a color-safe and lightweight shampoo that is really affordable. It is the best choice for everyday use and ensures that your hair is cleaned perfectly without drying the scalp. The lather it creates is soft and rich, which feels absolutely luxurious on the skin. The shampoo is designed to return shine and softness to the hair so that the natural color of your hair looks vibrant. It detangles the hair and makes it thicker and stronger.
Living Proof Restore Shampoo
When you dye your hair, it often becomes dry and brittle. Moreover, the adverse effects of aging can also weaken the hair so it is quick to break and fall. This is where the Living Proof Restore Shampoo comes in! It moisturizes the hair to its roots so that each strand becomes thicker and stronger. After just a few washes, it will dramatically improve your hair's shine and texture by slowly promoting the health of the follicles, scalp, and hair strands.
Alterna Caviar Anti Aging Replenishing Moisture Shampoo
The Alterna Caviar shampoo is designed to combat aging hair that has turned limp and dry. The formula is infused with shea butter which has a hydrating effect on the scalp. This, in turn, makes your hair feels softer and thicker to touch. The marine extracts used in the formula promote healthy hair by replenishing the nutrients in the hair so that it can withstand sun damage. The hydrating glycerin washes out the grease, dirt, and oil buildup.
This sulfate-free cleanser protects dyed hair so that it remains a luscious, vibrant color. It also dramatically improves the appearance and texture of brittle hair. It is free from gluten, sodium chloride, paraben, phthalates, mineral oils, and synthetic colors.
Nexxus City Shield Hair Shampoo
The Nexxus hair shampoo is the best way to ensure that your hair remains protected against all kinds of damage. City-life can take a toll on the hair due to the combination of pollution and sun damage. This shampoo will combat all that with its unique lotus extract blend which shields your hair from the sun and environmental damage. It will keep your hair refreshed and manageable all day long. You will be able to try out any hairstyle you want with your naturally shiny and vibrant hair after using this shampoo.
The shampoo has a high-quality formula that is used in some of the best salons around the world. The Indian extracts, elastin, and wheat protein work to ensure smooth and healthy hair. It will definitely help nourish the scalp to its naturally smooth and shiny condition.
Nioxin Cleanser Shampoo for Thinning/Fine Hair
The Nioxin Cleanser Shampoo is the perfect scalp and hair cleanser for hair that has intense aging effects. It has been named as the Favorite Thinning Hair Care product by Chair Stylist Choice Winner for 16 consecutive years!
It works to remove fatty acids, dirt, and sebum from the hair so that the pores aren't clogged. The deeply purifying shampoo helps improve the health and thickness of the hair. It amplifies the hair structure so that there is a lower risk of hair damage and breakage.
J Beverly Hills Rescue Anti-Aging Shampoo
The J Beverly Hills shampoo combats aging damage with its unique blend of grape seeds and blueberry extract. These ingredients also have an amazing, soothing scent that is sure to revitalize your sense and leave you relaxed. It helps strengthen the hair fibers with a combination of wheat amino acids and silk so that your hair feels soft and smooth. Furthermore, it increases the hair shine, elasticity, and strength to reduce breakage and hair loss.
Aging effects can cause your hair to thin out and go dull. They begin to look dry and faded due to long-time exposure to the sun and pollution. However, you can continue to feel young and healthy by using these fabulous shampoos to ensure your hair looks soft and vibrant at all times!