Sport your vibrant blue hair with the help of our recommended shampoos that will maintain your hair color for longer period and prevent it to fade quickly. Check the top shampoo options for color treated hair to achieve damaged-free and shiny hair.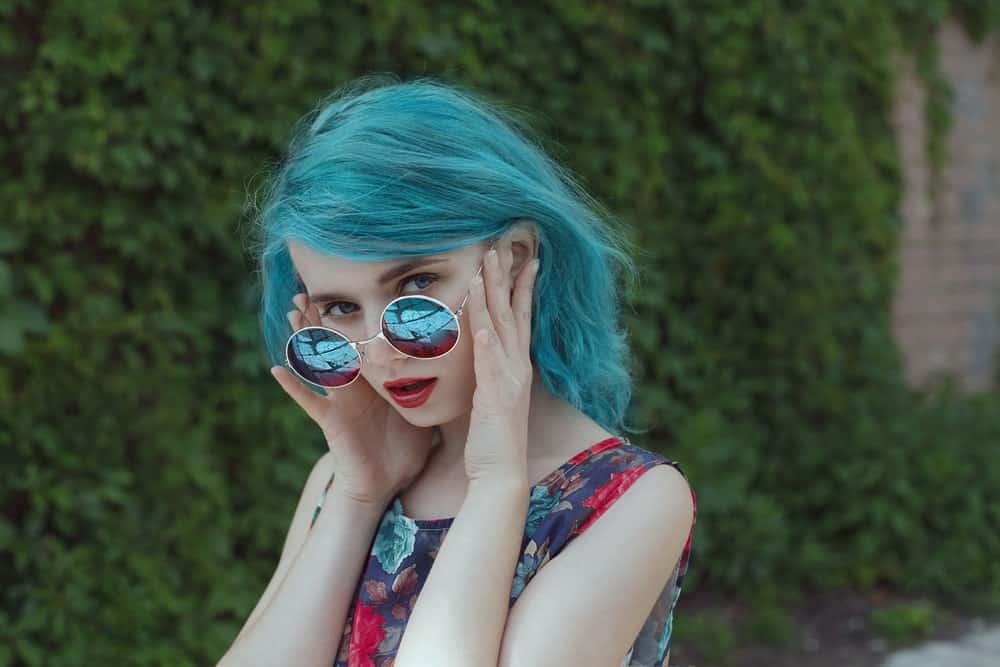 One of the biggest concerns for women who have recently splurged on getting their hair treated is taking their first shower after their color-job. Considering the fact that a good dye job and a haircut can take up a significant amount of your paycheck, it is not surprising that women are concerned about losing the color in just a few washes.
Colored hair can fade very quickly when you are using ordinary shampoos. However, if you want to keep your brilliant new hair, it is time to switch to a color-conserving shampoo. Unlike regular shampoos, these shampoos do not strip your hair of their newly-acquired color, nor do they leave it as dry as straw.
In this guide, we will give you the list of the 10 best shampoos for blue hair. But first, here's what you need to know about the blue color.
What to Expect When Dyeing Your Hair Blue
Bright vibrant shades like electric blue and soft lavenders are the hardest colors to retain and maintain. Blue colors are notorious for fading quicker than other colors, and looking twice as bad as other colors when they are faded. In fact, blue dye often turns into an ugly pale green, which is not a look you want for your hair.
If you are looking to get your hair dyed blue, then you need to invest in color depositing shampoos and treatment so that you can keep the vibrant shade as long as possible. These shampoos come with low levels of cleansing surfactants and special conditioners that coat your hair and prevent the dye molecules from washing away.
Not only do these shampoo help maintain color, but they also ask any damage by making your hair look smooth and sleek.
Now, on to our best shampoos for blue hair…
Top Shampoo Options
Nexus Color Assure Shampoo
If you want your recently-colored hair to remain soft and not dry out, the Nexxus Color Assure Shampoo can help you do that. This shampoo produces a rich, creamy lather that does not just protect hair dye from escaping our hair, but also restores vitality and bounces to your hair.
The Nexxus Color Assure Shampoo makes your hair bonds stronger and nourishes your hair, thanks to its concentrated elastin protein. It is infused with white orchid extracts that not just brings out the color but also protects it from fading. This shampoo is also silicone and sulfate free, making it especially gentle on color-treated hair, which can be prone to breakage.
Aveda Color Conserve Shampoo
The shampoo brand Aveda is well-known for using natural and organic botanical products. If you are looking for a shampoo that does not just conserve your blue color but also prevents further damage and drying, Aveda Color Conserve Shampoo is just for you.
The shampoo gently cleanses your color-treated hair without stripping its dye and leaves hair soft, shiny and bouncy. It is recommended you use Aveda Color Conserve Conditioner after shampooing.
Infused with 100% organic, plant-based ingredients, this shampoo is gentle, luxurious and has a great floral smell. If your hair goes dull and frizzy when using other color preserving shampoos, then Aveda's rich formula is a great alternative.
Redken Color Extend Shampoo
Redken is one of the most popular brands of color-treated shampoo and you may often find it displayed in your hair stylist's shop. If you are looking for a salon-grade shampoo for color-treated hair, Redken Color Extend Shampoo is the one for you.
The shampoo is infused with a patented interlocking protein network and ingredients which prevent color fading. This means that this shampoo will not just extend your color's life, it will nurse your hair back to health. It changes dull, muddy-looking color into a vibrant, shinier shade with added depths and dimensions.
Another plus point is that it never makes your hair feel weighed down or greasy.
Tigi Bed Head Color Goddess
The Tigi Bed Head Color Goddess shampoo is rich with essential vitamins and ingredients which help boost your hair health. Formulated with Vitamin E and Vitamin B5, sweet almond oil, coconut oil, and the hair-saving protein, keratin, this shampoo gently but effectively removes sweat, dirt, and debris from your hair, brightens up its color and protects it from damage.
The protective oils in the shampoo form a defensive layer on your hair that protects the color from the elements and free radicals. If you are one of those people whose hair split and breaks after a dye job, then Tigi Bed Head Color Goddess can help you strengthen it and smooth it.
Briogeo Color Me Brilliant Mushroom + Bamboo Color Protect Shampoo
Briogeo Color Me Brilliant Mushroom + Bamboo Color Protect Shampoo is scientifically proven to reduce color fade by offering natural color protection. Its unique formula contains turkey tail mushroom, a vegan alternative which strengthens hair; bamboo leaf extract, which is a natural source of silica which coats hair, retaining its dye, without weighing it down; and radish root ferment, which is a natural antimicrobial and effectively cleanses hair.
Infused with pomegranate and lavender extracts, Briogeo Color Me Brilliant Mushroom + Bamboo Color Protect Shampoo provides extra shine and keep your color-treated hair brilliant. Plus, it is without sulfates, formaldehydes, phthalates, retinyl palmitate, mineral oil, triclosan, coal tar, hydroquinone and oxybenzonem with less than one percent of synthetic fragrance.
Kerastase Reflection Bain Chromatique Multi-Protecting Shampoo
Kerastase Reflection Bain Chromatique Multi-Protecting Shampoo is a color-radiance shampoo for all types of color-treated hair, be it straight, wavy, curly, coiled or tightly coiled. It coats hair fiber with a hydrophobic layer that shields hair from the damaging effects of water, without compromising on moisture.
Its unique Capture Advanced system captures color pigments in hair fiber, while its chealtor complex fights off hair-damaging factors like water. Vitamin E and UV Filters also offer ultraviolet radiation protection and rice bran oil nourished hair fiber and bring shine to the hair by maximizing light refraction. As a result, color stays true and hair becomes soft and shiny.
R+CoGemstone Color Shampoo
Blue hair requires a lot of attention and maintenance to retain its color and health. R+CoGemstone Color Shampoo offers a long life to your cerulean shade. In fact, it is not just great for color-treated hair, but also works wonders for blondes, brunettes, and redheads, who struggle to prevent their hair from turning brassy and lackluster.
Infused with hibiscus extracts from Egypt, the shampoo protects hair while keeping it conditioned. Pea extracts from India help prevent discoloration and preserve true hair color. Rice extract from Brazil retains moisture, smoothes our hair and gives it a high shine. Golden root extract from Sweden provides protection from UV rays and heating tools.
Shu Uemura Art of Hair Color Lustre Sulfate-Free Brilliant Glaze Shampoo
The Japanese brand of Shu Uemura offers this amazing, color-conserving shampoo, which is not just specifically designed for color-treated hair but for protecting your natural hair hue as well. The Shu Uemura Art of Hair Color Lustre Sulfate-Free Brilliant Glaze Shampoo transforms into a rich, foamy, luxurious lather which is easy to rinse. It is infused with goji berry extracts and musk rose oil which forms a protective layer on your hair and enhances its color and vitality.
Since the formula is free from sulfates, it balances the pH in your scalp without causing hair color to fade. It has a delicious Rose of Japan scent which is made up of floral, fruity and woody notes that can turn your shower into a spa experience.
L'Oréal Paris EverPure Sulfate Free Moisture Shampoo
L'Oréal EverPure Sulfate Free Moisture Shampoo is infused with rosemary with locks moisture inside dry hair, making it sleek, shiny and soft. It effectively offers the special aftercare needed for color-treated hair and conserves hair dye week after week.
This shampoo is 100% sulfate free. Even though sulfates are cleansing agents that break down dirt and oil, they can be harsh and strip your hair of its color, moisture and shine. That's why L'Oréal EverPure Sulfate Free Moisture Shampoo is perfect for blue hair.
It is also free of parabens, harsh salts and is absolutely vegan.
With this shampoo, you can replenish your dry and dull hair with twice as much moisture.
TRESemme Color Revitalize Shampoo
TRESemmé Color Revitalize Shampoo is a shampoo specially formulated for hair that goes dry after being color-treated. Its gentle formula effectively cleanses hair while protecting hair color so that your hair remains vibrant and soft.
Infused with rosemary, green tea, and sunflower extracts, this shampoos locks moisture in your hair and ensures long-lasting color. The shampoo promises to protect your beautiful blue hair for up to 40 washes.
Additionally, it also comes with a heavenly fragrance made up of crisp apples, melons and peach, underscored with hints of rose, jasmine, muguet and white musk scent that is a treat to your senses.
How to Prevent Your Blue Color from Fading
One of the biggest enemies of color-treated hair is water. That means to keep your blue color bright and vibrant, you need to wash your hair less often. Experts recommend not washing your color-treated hair more than twice a week, but it mostly depends on how oily your hair can become. Just take care not to over-wash it.
Also, take care to wear a hat or a scarf when you are out in the sunshine. Exposure to UV rays and heat can bleach the color from your hair and make your strands dull and lifeless. To protect your hair, invest in shampoos and conditioners which come with UV filters.
For that extra zing, get some color depositing or color-toning treatments. They work the same as hair nurturing treatment and are easy to use. They also come with moisture-boosting and hair repairing ingredients, so it is a win-win for all.
Lastly, do not use alcohol-based styling products as they can be very drying and can compromise the strength of your hair cuticles.
Coloring your hair blue can create excitement, drama and drastically change your look. However, maintaining this difficult hair color will require you to get an arsenal of color-depositing shampoos, conditioners, and other products.
But if you carefully maintain your hair, it will stay vibrant and beautiful for longer and is sure to turn heads wherever you go.