Banish the frizz once and for all with these superb 10 shampoos. Try them out to see which one works best for your frizzy hair.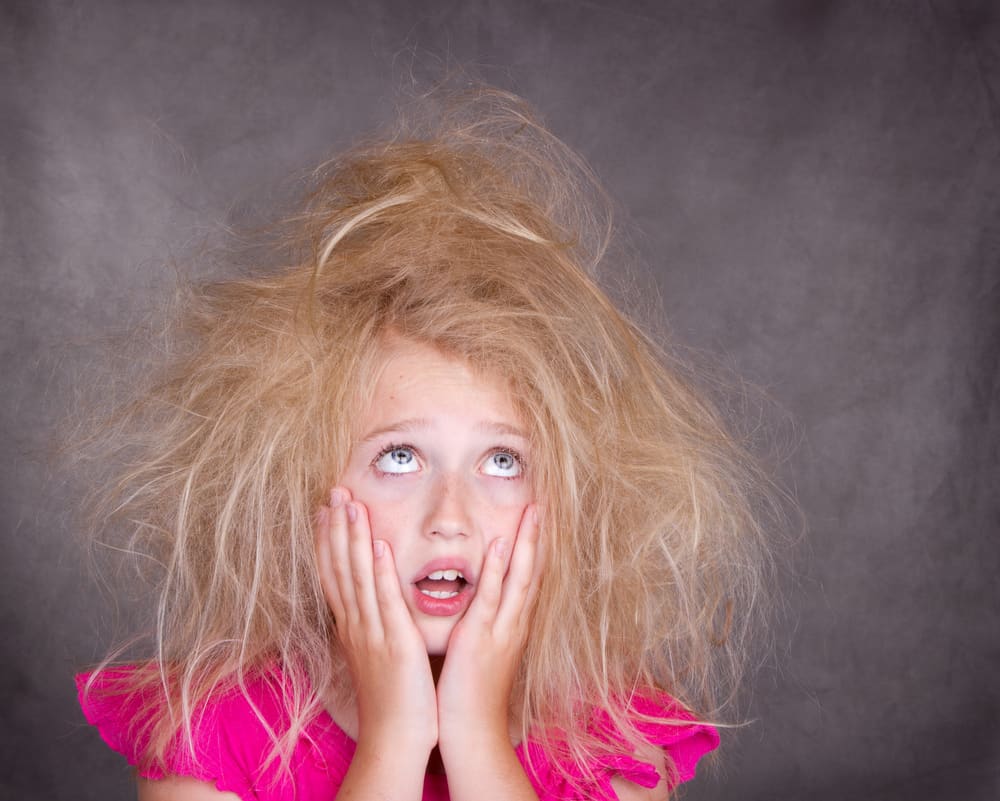 For many hapless souls the nightmare starts AFTER they wake up. A fleeting glance at the mirror reveals a halo of unkempt frizz. In spite of your best efforts the frizz hangs on with unmatched resilience and remarkable tenacity. It's time to end your running battle with unsightly frizz. You need to try out the best shampoos for frizzy hair because they can tame unruly hair very quickly. Frizzy hair is not exactly aesthetically appealing. Your confidence and self-esteem is hit hard. To make matters worse, even the simple act of combing becomes a big pain. You end up damaging and losing your precious hair. Even with a lot of combing, grooming and preening you end up looking disheveled – as if you don't even comb your hair in the first place. How ironic!
You certainly deserve better. The good news is that you don't have to put up with frizz frenzy. You can say goodbye to the frizz without compromising your curls. Curls give great shape to your hair and a full bodied look. There are some really great shampoos out there that can banish the frizz and maintain your beautiful curly locks at the same time.
Specially formulated shampoo is required to quell the frizz riot. Regular shampoos won't do the job. Frizzy hair shampoo should protect and cleanse your hair adequately without drying out your hair excessively. When humidity shoots up, frizzy hair goes from bad to worse. That's because the hair shaft absorbs moisture from surrounding air and that worsens the problem. The right shampoo will coat and protect your hair to shield them from the annoying humidity. This way hair shaft does not suck in moisture and you don't get your hair (or yourself) in a tangle. Problem solved!
The right shampoo will smooth down hair strands to give them an exquisitely neat look. It is the first step in your campaign against messy frizz. You should also use the accompanying conditioner (if any) as well since they help a lot.
You will soon look fabulous with gorgeous, silky and glossy hair.
Have a look at 10 amazing shampoos for frizzy hair:
1. Devacurl No-Poo Decadence Milk Cleanser
This award winning shampoo is very gentle and easy on your hair. The Editor of Naturally Curly chose this cleanser as the best conditioner.  It washes your hair thoroughly to remove all the muck without depleting your natural hair oil. It is gentle enough for daily use on all kinds of frizzy hair, including color treated, damaged and dry hair. It produces zero lather and is completely non-foaming since it does not have harsh sulfates and other toxic chemicals that are used for foaming. These chemicals cause frizz fury.
The formula has exotic natural ingredients like quinoa protein and chufa milk. These provide the perfect level of moisture for your hair that will leave them soft and manageable. The sublimely blissful floral scent is light and refreshing. This shampoo will give the shiny, silky and bouncy curls that you always wanted.
The product is free from silicone, parabens and sulfates. Suitable for vegans, wheat-free and cruelty free.
2. RedkenHair All Soft Shampoo
Check Price
This awesome shampoo softens dry frizzy hair with Argan oil which imparts intense softness and luster to hair. The formula boasts a targeted delivery system which transports the RCT Protein Complex to the core of your hair strand to make them soft and manageable. It also contains arginine which nourishes the scalp to condition hair. Another ingredient sepicap restores damaged ends of the hair shaft.
This shampoo has won the following awards:
The 2018 Influentser's Reviewer's Award for Best in Beauty
Temptalia Editor's Award for Best High End Shampoo
The 2014 Glammy Award for Best Shampoo from a Speciality Store
3. Living Proof No Frizz Shampoo
This great shampoo works because of the patented Healthy Hair Molecule formula. It smoothens brittle frizzy hair, keeps out humidity and protects against dirt to keep your hair clean for a long time. This shampoo is so effective that it has won the following awards:
2015 Martha Stewart Weddings Big Day Awards
2015 InStyle Best Beauty Buys
2014 Simply Her Beauty Awards
The patented formula (OFPMA) has been clinically proven to be 70% more effective than ordinary silicone formulas in repelling humidity.
The citrus scent is light and invigorating. The formula is free from sulfates, parabens, phthalates and silicone.
4. Alterna Bamboo Smooth Anti-Frizz Shampoo
Check Price
This shampoo blends kendi oil (which smoothes hair) and organic bamboo extract (which fortifies hair) for the perfect synergy that will keep your hair healthy and frizz-free.
Hair nourishing bamboo extract is known to increase hair strength and flexibility. The nutrient-rich organic kendi oil will infuse your hair with tocopherol (a powerful antioxidant) and a wide spectrum of essential fatty acids (omega 3, 6 and 9) to protect your hair from the harsh environment.
It employs the Color Hold patented technology to retain color and it is therefore very suitable for dyed hair. This shampoo is free from Triclosan, parabens, GMOs, sulfates, phthalates and synthetic dyes.
5. Biosilk Therapy Smoothing Shampoo
Check Price
Provides optimal moisture and imparts luster to smoothen and straighten out uncontrollable frizzy hair. It has the right mix of organic humectants and B vitamins to do the job. The silk proteins efficiently penetrate hair shaft to condition them and create a brilliant gloss. The UV filters protects fragile hair from harsh and damaging ultra violet rays. For maximum effect use the conditioner as well. The rich fragrant lather will thoroughly cleanse and condition skin and scalp to leave you feeling fresh and clean. The nutrient rich formula is great for restoring damaged hair.
6. L'Oreal Expertise EverSleek Intensive Nourish Shampoo
It smoothens, repairs and enhances hair texture. Uses natural botanicals to nourish hair and leave them silky and manageable. The nutrient rich marula oil is high in essential fatty acids (oleic acid and linoleic acid) and antioxidants (vitamins E & C) which is ideal for optimal hydration and protection against damaging free radicals. The sunflower oil ingredient is excellent for chemically dyed hair and it also nurtures the keratin and protein found in the hair strand. The rich luxurious lather will clean your hair and scalp completely while the rich fragrance will invigorate your spirit. Free from harsh surfactants, salts and sulfates.
7. Moroccanoil Moisture Repair Shampoo
This shampoo controls unmanageable frizzy hair, repairs damaged strands and allows synthetically dyed hair to retain color through its patented COLORLINK technology. The proprietary ArganID blend is non-greasy and penetrates the core of the hair strand to nourish it and support the natural repair process. Argan oil is quick absorbing, leaves hair as smooth as silk and is full of nourishing essential fatty acids and tocopherols. Varisoft conditions hair and protects them from frizz and breakage. Heliogenol protects hair from free radical damage and color oxidation.
It's free from parabens, sulfates and phthalates.
8. Garnier Sleek & Shine Shampoo
This shampoo has advanced Fructis formula that contains plenty of Active Fruit Protein ™. This is a patented blend of proteins from citrus sources, vitamins B6 and B3, plant and fruit extracts and nourishing natural conditioners to give you beautiful and healthy frizz-free hair. The Active Fruit Protein ™ is a key ingredient of all Garnier Fructis shampoos.
The Fructis Sleek and Shine Shampoo also contains Moroccan Argan Oil as the active ingredient. Together with Active Fruit Protein, this oil provides long lasting protection and control over frizz even in 97 percent humidity. This shampoo is paraben free.
Argan oil is well known for its beneficial effects on dry and dull frizzy hair. Being an exotic emollient it additionally nourishes the scalp and strengthens the root of hair follicles.
9. Nexxus Frizz Protection Shampoo

Nexxus Frizz Defy Shampoo comes with a conditioner as well to efficiently cleanse the hair and scalp while keeping you frizz-free. The coconut extract works in conjunction with Moroccan Argan oil to maintain the correct moisture level in your hair and provides effective protection against humidity. You will no longer have to worry about unruly and uncontrollable frizzy hair. The natural extracts adequately coat your hair to provide you day long protection against humidity. The scent is really great and long lasting. And to sweeten the deal this wonderful frizz control shampoo is coming with a FREE 10 ml Starry Lip Plumping Gloss Tube. So get it while you still can and look drop dead gorgeous!
10. Pantene Pro-V Medium-Thick Hair Solutions Frizzy To Smooth Shampoo
Pantene promises to give you hair that is too fit to frizz. The shampoo will super charge your hair to make them strong and smooth. It offers protection up to 24 hours against frizz. It will leave your hair smoother than silk. It hydrates your hair to the appropriate level and locks out humidity which exacerbates frizz. The smooth and sleek formula is a blend of Argan oil and avocado oil. Avacado oil is full of monounsaturated fats and oleic acids. Unlike other oils which simply coat the hair shaft superficially, this oil penetrates the hair strand deeply to nourish the core. That will make your hair strong, smooth and frizz-free from within. It is also wonderful for scalp health.