Have gray hair? Looking for a shampoo formulated for gray hair? Check out 10 of the top shampoos for gray hair here.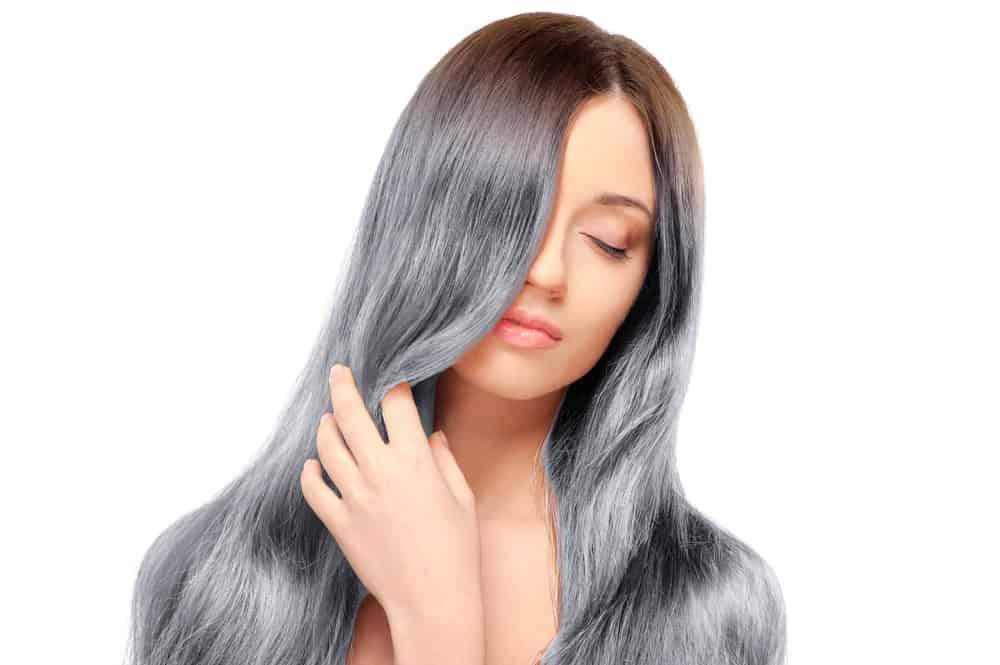 Once upon a time, grey hair was a source of absolute anguish, misery and disheartenment. Imagine waking up one fine morning
breaks loose. You notice this single, obvious strand of grey hair, peering at you from among the other strands of your usual brown-honey colored hair. For a minute, you are all confused, unable to digest the fact that you, who is so involved in hair care and has never used a single damaging product in your hair, has a strand of grey hair.
As exaggerated as that may sound, this scenario rings true for many people out there.
However, where at one point in time the emergence of grey hair was met with shock, depression and a quick trip to the salon, it has now become more of a sought-after trendy look. People are now paying hair artists for getting that salt-and-pepper look. Funny, isn't it?
The Onset of Grey Pride
One might typically assume that grey hair dye is a recent invention of the 21st century. While it certainly has started receiving great hype in this age and date, the fascination with grey and silver-like hair goes back to 300BC. Women in those times were using flower pollen as a means of achieving that light hair color effect.
Fast forward to 2000, the beautiful actress Jamie Lee Curtis went gorgeously grey and has not ever looked back.
Grey hair has now become a glamour focus, much to anyone's surprise.
While you may certainly love the shimmery, silver-grey sheen in your hair, you must take extra care of it to preserve the stunning grey-ness in all its glory.
To keep your grey hair as beautiful as ever, get your hands on some of the best shampoos for grey hair that will protect it from damage and help you maintain its grey vibrancy!
1. Schwarzkopf BC Color Freeze Silver Shampoo
Alt Text: Shampoo for grey hair
Caption/ Description: Freeze silver shampoo for silver-grey hair.
This excellent shampoo from Schwarzkopf is primarily designed to control color fading and helps neutralize the warm tones. It is great at strengthening the hair and works really well at bringing out the grey and silver highlights in your hair.
The formula of this freeze silver shampoo contains violet pigments that make the grey color of your hair stand out by correcting the warm undertones. This significantly helps to add a light shimmer to greyish silver hair that further enhances the metallic tones of your hair.
Made up of a special cell perfecter technology that helps strengthen the roots of the hair, this shampoo is also particularly suitable for cool colored hair or pre-lightened hair. One of the biggest advantages of this shampoo is that the violet pigments present in it seal the vibrant color for a long period of time, keeping the grey-ness of your hair intact.
2. SACHA JUAN Silver Shampoo
Check Price
This shampoo from Sacha Juan brings out the grey pigments of your hair by keeping the gold and yellow tones at bay. It contains a unique formula using violet pigments that help counteract brassy tones in your hair.
It also consists of UV protection that helps strengthen the hair strands with each wash. The main benefits of this silver shampoo include increasing luster and volume, decreasing warm tones in blonde hair and getting rid of harsh colors and highlights from the hair.
The shampoo is void of harmful ingredients like parabens and phthalates and is made with the help of Ocean Silk Technology that hydrates and strengthens grey hair, while giving it an excellent stability.
Miracle of Aloe Softly Silver Shampoo
This is an incredible shampoo for grey hair with 20 percent aloe and panthenol that provide a super moisturizing formula for dry and dull silver-grey hair.
It contains a fragrance-free formula that helps restore the silver tones of your hair by ridding it off of brass and yellow tones. An amazing feature of this shampoo is that its formula nourishes and repairs the hair while simultaneously adding a layer of sheen to the gray tones without making them appear dull or dry.
The excellent formula of this shampoo will add life to your hair and bring out the silver-grey hues beautifully.
3. Klorane Shampoo with Centaury
Check Price
This Klorane shampoo is an anti-yellowing shampoo that is amazing for color-treated hair. It is formulated without any harmful ingredients, such as parabens, SLS and silicon. It consists of centaury extracts that work towards reducing the yellow tones in the hair that make it dull and helps enhance the naturally-occurring radiance of your hair.
The plant-based ingredients present in this shampoo will significantly bring out the natural silver tones of your hair. Furthermore, they deeply nourish the hair and help restore its strength and volume with every use.
4. Jhirmack Silver Plus Ageless Shampoo
Check Price
This has to be one of the most popular shampoos for grey and silver hair. It is used by a large number of people who wish to maintain their silver hair. The shampoo is highly enriched with green tea extracts that help delay signs of aging and also deeply nourish grey and white hair.
The shampoo is particularly designed in a way to combat brass and yellow tones while improving texture and providing intense shine. It contains folic acid, vitamin E, vitamin B12, macadamia nut oil and collagen, all of which work towards bringing out the grey and silver tones of your hair without making it blue like other silver shampoos do.
5. Provoke Touch of Silver Daily Shampoo
Check Price
This daily shampoo from Provoke is a cult favorite especially among those women who love flaunting their grey-white hair. It is rich with sunflower seed extracts and UV absorbers that protect the hair from sun damage and help the grey color stay intact.
The gentle formula of this shampoo provides increased radiance to hair and greatly enhances the silver-grey tones, making them more prominent and obvious.
6. Rene Furterer Okara Mild Silver Shampoo
Check Price
Rene Furterer is exceptionally famous among numerous hair stylists for its amazing hair products. This okara mild silver shampoo provides intense nourishment to grey and silver hair without destroying its shine. It contains soybean, Okara extracts and Hamamelis extracts that help neutralize up to 92% of brassy harsh tones with regular use.
The shampoo consists of a 100% natural formula to keep the silver tones of your hair bright and shiny without bringing out any yellowness.
7. L'Oreal Serie Expert Silver Shampoo Unisex Shampoo
Check Price
This bestseller from L'Oreal Expert series has been specifically designed for grey and silver hair. It is highly popular among a lot of people with grey hair. It significantly works towards reducing the yellowness of the hair while keeping the silver-grey color intact.
The shampoo sports a deep purple color that transforms dull hair into bright silver-grey hair within a few washes. It also contains amino acids that greatly repair and strengthen the hair.
8. Softly Silver Shampoo Plus Conditioner
Check Price
This is an excellent shampoo that acts as a guard against yellow and brass tones in the hair and works amazingly well to bring back the silver and grey highlight of the hair. It is packed with deep conditioning ingredients like aloe vera, panthenol and many others that work really well for damaged hair and greatly add shine and silkiness to it.
9. Phytargent Brightening Shampoo for Gray Hair
Check Price
This is a blue-colored shampoo that helps neutralize brassy and gold tones in both natural and color-treated hair. Its formula contains cornflower extract and a mixture of walnut leaf, rhatany root and broom extracts that significantly enhance the salt-pepper look of the hair and makes it really shiny and soft.
It has gained a lot of popularity primarily because it greatly enhances hair color and prevents it from discoloring.
10. Miracle of Aloe Softly Silver Shampoo
Check Price
This is an incredible shampoo for grey hair with 20 percent aloe and panthenol that provide a super moisturizing formula for dry and dull silver-grey hair.
It contains a fragrance-free formula that helps restore the silver tones of your hair by ridding it off of brass and yellow tones. An amazing feature of this shampoo is that its formula nourishes