Everybody is using hair extensions these days from Arianna Grande to the girl next door. To maintain hair extensions for a longer time, you will need a good shampoo. Check out these excellent options.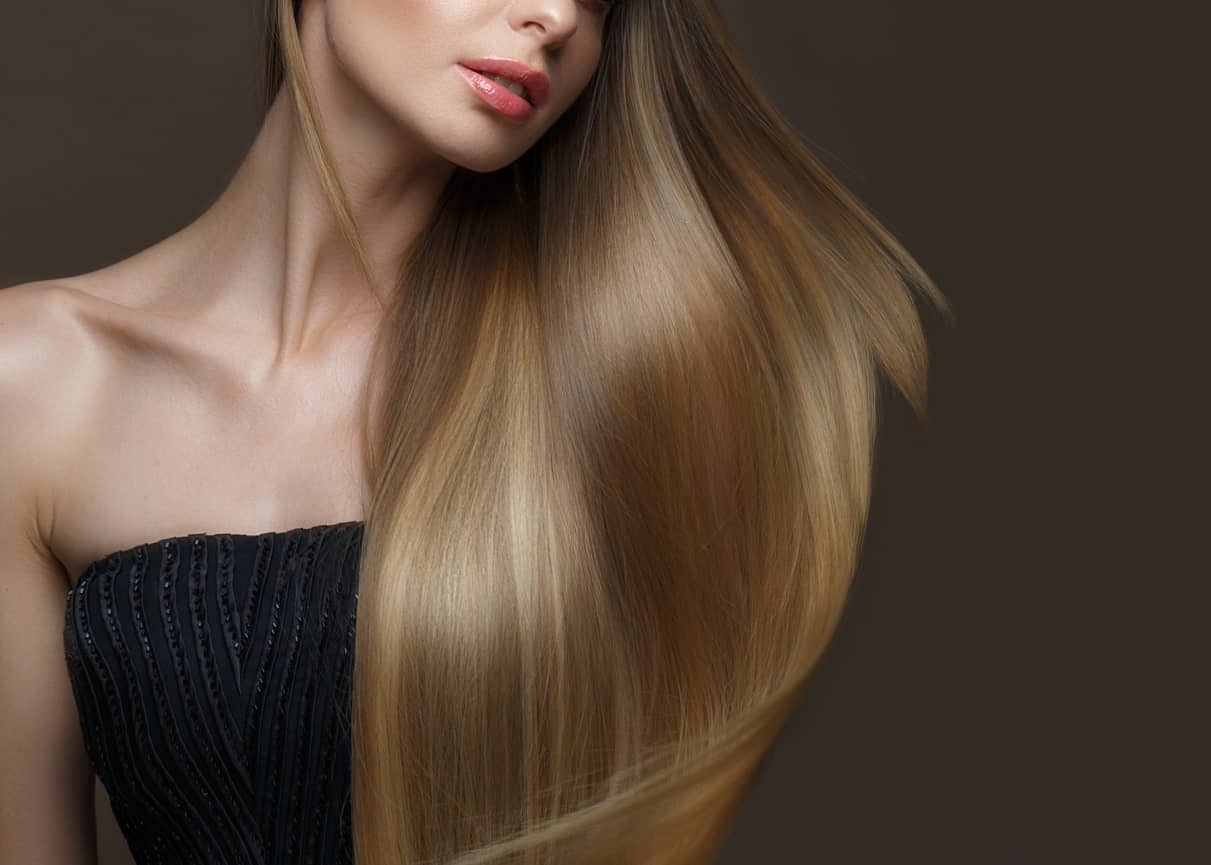 Many people have turned to hair extensions for shiny, long hair. They look absolutely fabulous and can help you get any hairstyle you desire. However, they can begin to wear out after some time if you don't take care of your new tresses properly. If you want to get the most out your new hair extensions, you need to learn how to keep them nice and shiny.
There are many things that can help you retain your new hair extensions for longer periods of time. The first thing to keep in mind, you should wait at least three days after you get them to wash them. Secondly, bathe with lukewarm water since heat can damage the hair. Thirdly, you should make sure you don't sleep with wet hair since that can leave the hair tangled. Lastly, you need to get the perfect shampoo to wash your hair with, so that you don't face any problems. The last pointer is what we will be focusing on today.
Organix Coconut Milk Shampoo and Conditioner
Check Price
The Organix Coconut Milk Shampoo and Conditioner is the best shampoo for curly hair extension. It decreases frizzy hair and makes it easier for you to comb through it. It enhances the shine and smoothness of the hair extensions so that they look outstanding. The combination of the shampoo and conditioner works to moisturize the hair so that you never have to face greasy hair. The creamy and nutrient-rich blend has whipped egg proteins, coconut oil, and coconut milk to hydrate and strengthens your hair.
The shampoo has a relaxing fragrance that leaves you feeling rejuvenated. The shampoo is designed to ensure that you have healthier hair that blends naturally with the shine of the hair extensions. It is designed to make your hair look fuller and bouncier so that it looks perfect with the curly hair extensions you have selected. The Organix coconut milk shampoo and conditioner are great for all types of hair, even if you have color-treated them.
Raw Shea & Cupuacu by Shea Moisture Frizz Defense Shampoo
Shea Moisture Frizz Defense Shampoo is made in a sustainable way from natural, organic ingredients like raw shea and cupuacu butter. It is designed to cleanse even thick, wavy hair of any signs of grime or dirt. This helps eliminate any excess oils on the follicles, which means the hair becomes healthier. It is a sulfate-free shampoo that uses certified organic ingredients like pistachio, Shea Butter, and Passiflora. These help to hydrate the hair so that it doesn't become dry or develop frizzy flyaways.
The rich lather comes out of the hair easily and leaves you feeling fresher. It is color safe and 100% free from sulfate, which makes it the perfect shampoo for hair extensions. The natural ingredients don't harm the extensions and keep them smooth and moisturized. This helps them survive for months, meaning that you can get the most out of them.
Pureology Hydrate Shampoo
Check Price
The sulfate-free Pureology Hydrate Shampoo has a gentle formula that moisturizes the hair thoroughly. It has a rich lather that allows maximum protection for the hair. The shampoo also enhances the natural radiance of the hair so that they look beautiful and smooth. If you have color treated hair, it protects the color for a long-lasting, luscious hair color.
The Pureology Hydrate Shampoo is designed to cleanse the hair of any excess oils that can make the hair greasy. It has a nice moisturizing effect that enhances the healthy sheen hair is supposed to have. The hydrating technology can completely revitalize dry hair so that the hair looks vibrant. It prevents any natural colors and nutrients from being stripped away, which harsher shampoos can do.
Liz Earle Botanical Shine Shampoo
Check Price
The Liz Earle Botanical Shine Shampoo is an organic and natural shampoo that makes it perfect for hair extensions. It uses Shea butter to hydrate the hair and moisturize the scalp. This reduces the chance of rough, dry hair that becomes tangled easily. It also contains apple and orange contracts that nourish the hair with vitamins. They also give the shampoo an amazing fragrance that will soothe and relax you. The Aloe Vera is also the best source of anti-oxidant and boosts the shine of your hair.
It uses a blend of 8 essential oils that give your hair the shine it needs. It produces silky, smooth, and shiny hair without stripping your hair of natural radiance.
Balmain – Dry Shampoo
Check Price
Washing your hair too often and too soon can lead to the glue being stripped away. This will make hair extensions lose and your hair may begin to look uneven. The dry shampoo by Balmain instantly freshens up your look by giving your hairstyle a boost. It absorbs the excess oil in your hair and makes you look perfect without any need for washing it. The shampoo creates full-bodied voluminous hair without damaging the hair extensions by constantly washing them.
It cleans the scalp and leaves behind the signature Balmain fragrance. It also helps to nourish the natural hair while keeping it in a perfect condition. The 'just washed' look no longer needs a gallon of water and a chunk of your time.
BIOLAGE Colorlast Shampoo
Check Price
Color-treated hair needs a lot of care and a gentle formula so that they don't dry up and get damaged. Similarly, hair extensions also need to maintain a certain shine, tone, and color depth so that they look natural. The BIOLAGE Colorlast Shampoo is lauded as a great shampoo for hair extensions since it has a very low pH value. This feels gentle on the scalp and hair, making them look supple and soft. The formula also protects the hair from environmental damage by strengthening it from the root up.
The shampoo cleanses the hair so that no excess oils can clog the follicles on the scalp. This promotes a healthier texture of the hair since it improves blood supply. The gentle, rich lather that it produces also makes it easier to wash the hair without a lot of massaging. It reduces frizz and tangles that can be hard to deal with when you have hair extensions.
The Big Kizzy F.A.T.T Biotin Shampoo & Conditioner Set
Check Price
The Big Kizzy F.A.T.T Biotin Shampoo has been designed by expert hairdressers for a full treatment option. The shampoo and conditioner help increase the volume of the hair and keep them strong. They provide the much-needed care for your natural hair and extensions with accordance to modern hair services.
It prevents any hair loss in the future and promotes hair growth. Hair extensions often need color treatment, blowouts, and keratin treatments to survive. However, you won't need to spend a lot on expensive shampoos when you use the Big Kizzy F.A.T.T Biotin Shampoo. It has vital nourishments like ProVitamin B5, Biotin, and other vitamins to strengthen and repair any damage in your hair. It will make your hair look healthier and feel fuller. The powerful formula will prevent greasiness and excess oils, leaving your hair fresh and clean.
HAIRTALK Arcos Pflegeset Shampoo
Check Price
Hair extensions need a lot of special care and moisture to maintain. The HAIRTALK Arcos Pflegeset Shampoo hydrates the hair so that it can be combed easily. The nutrients in the formula produce healthy-looking, shiny hair that feels great to touch. The formula is designed to nourish the hair from 'the outside' since hair extensions are no longer connected to follicles.
With the help of over 2,500 German hairstylists, the shampoo has a low concentration of oils and alcohol that could dissolve the hair extensions.
Pureology Strength Cure Shampoo
Check Price
Hair extensions need to be protected from any harsh chemicals that can potentially cause them to dissolve. The Pureology Strength Cure Shampoo has a very gentle formula that ensures that no damage can come to your new hair extensions. It works to strengthen the natural hair and give them shine so that they blend well with the extensions.
It restores and repairs your natural hair and makes sure that they don't break. Hair loss can make hair extensions stand out even more, which is why it is important to strengthen your natural hair. The shampoo will moisturize your hair and repair any hair bonds in your hair. It gives you hair a desirable velvety and supple finish that you will love.
Hair extensions are very delicate attachments that can come out too quickly if you don't take proper care of them. Using the right shampoo will make them look shiny and soft -the way you want them to look.