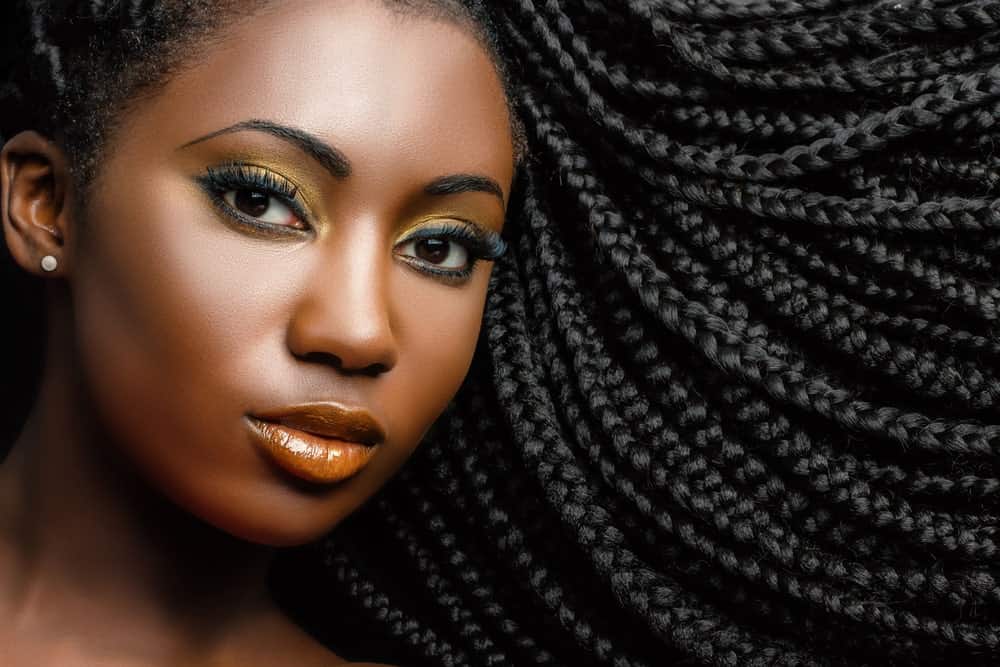 Crochet hair or crochet braids refer to the method of adding hair extensions. It's so-called because it uses a crochet needle to loop the crocheted hair under the cornrows and secure it with knots. It's unlike a weave, however, because it uses loose hair instead of on a weft.
Crochet hair is a growing trend nowadays because it's great for DIYers. It's cheap and available at most beauty supply stores for $3 to $9.99 a pack. Installation takes 2.5 hours which is faster than box braids.
Hair Style
Wavy
If you want your crochet braids to have a little extra movement to them and to appear naturally-styled, then it's time to consider ones that are wavy. These have a little bit of wave to them so that they not only move easily and naturally with you when you move, but they look like you put a lot of effort into styling them in a wavy style without you actually having to put in the work.
Wavy hair tends to look very natural and can make you look a little bit younger, which is why so many people opt for this style when choosing new crochet hair.
While some women want their hair to be straight, when you opt for straight crochet hair, then it is very difficult to style it with a wave.
If you think that you will want the extra movement and bounce that will come from having wavy hair, then it's a good idea to opt for wavy crochet braids right away. They will add a lot of interest to your hair without you having to make much an effort with styling it, which will help you get out of the door even faster in the morning.
Straight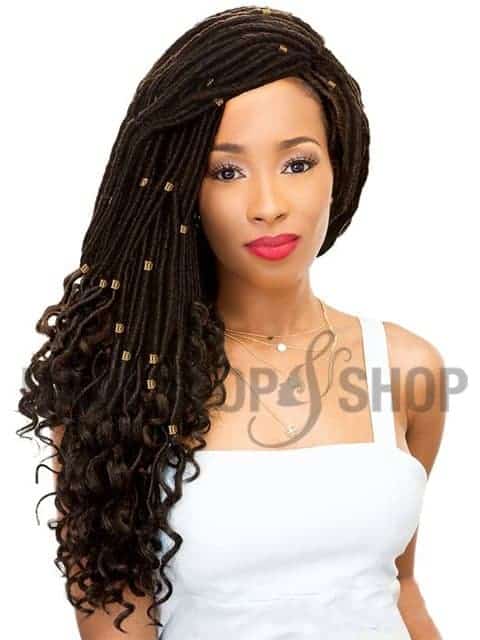 Sometimes you want a sleek and simple look from your hair, and that's when you need to opt for straight crochet braids. While these will be beautifully braided just like curly or wavy crochet braids, they will fall neatly around your shoulders and down your back, depending on how long they are.
They are a great option if you love to put your hair up in elaborate updos, as you don't have to worry about how your hair will look or whether the waves and curls will make it look messy.
No matter how long or short you want your crochet hair to be, when you opt for straight hair, then you can be certain that you will look amazing. This is a great style for almost any woman, and it is very easy to create hairstyles that are fun and funky or a little more serious and professional.
Some straight crochet braids can even be curled if you want to change up your look, but because not all of them can, you need to make sure to research the type that you have, check with the manufacturer, and be careful before using any style implements on your crochet braids so that you do not accidentally damage them.
Curly
For a lot of volumes and visual interest in your hair, you can't go wrong with curly crochet braids. These are going to add a lot of life and volume to your style, no matter whether you want to wear your hair down or pull it back and away from your face.
It can be almost impossible to style your straight crochet braids in a curly way, so if you love the way that these braids look, then you will want to skip the straight hair and choose curly instead.
This is a very fun style that looks great on women of all ages due to the fact that it is so attractive and will make everyone look a little younger. Out of all of the different hairstyles, this is going to have the most volume.
Additionally, your hair will move with you when you choose curly crochet braids, as they will have a lot of movement. This is a great way to ensure that you feel really confident in the way that you look.
Twist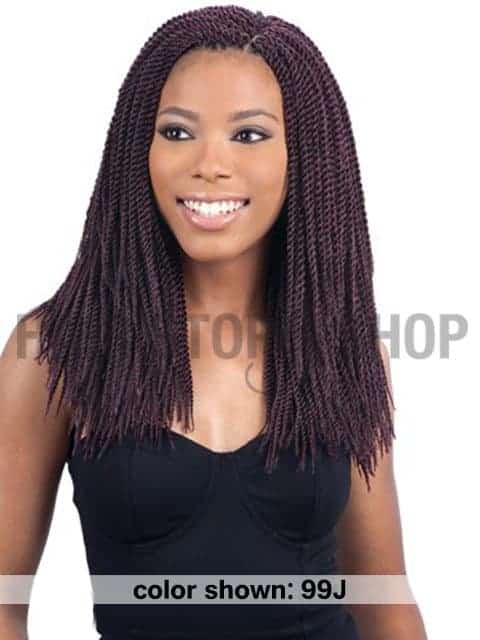 Twisted crochet braids are very attractive and fun. They have a little more interest to them than straight crochet braids do, although they are not going to have as much movement and bounce to them as curly crochet braids do.
They come in all different lengths, which makes it fun and easy to choose the right style for you and to update your look if you want at a later time. While twists do not have the same movement as some of the other crochet braids available on the market do, they are incredibly attractive.
Make sure that you choose twisted crochet braids that are not only the right length but also the right thickness for you. You do not want to have to deal with hair that is so thick that it doesn't move freely when you move your body.
Hair Type
Natural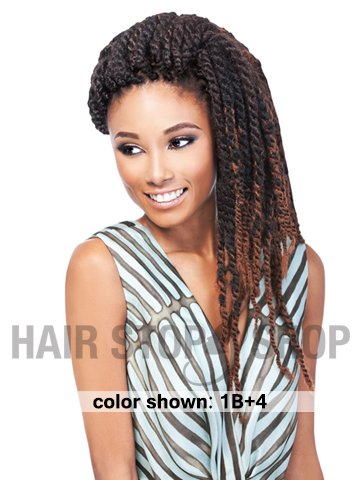 Crochet braids that are made out of human hair have their own set of pros and cons, which means that you need to really consider whether or not this is the right choice for you. These crochet braids are able to be styled in more ways since you can use hot rollers and even curling irons without having to worry about whether or not you are going to damage the crochet braids.
Additionally, natural hair has a very attractive glossy shine that is almost impossible to replicate with synthetic hair. This type of crochet hair is not known for drying out your hair as much as synthetic crochet hair does, which is great if you are worried about the condition of your scalp and deal with dry skin on a regular basis.
Unfortunately, crochet braids that are made from human hair are generally a lot more expensive than ones that are made from synthetic materials. Because the strands won't seal when you use hot water on them, you have to make sure that you knot each end, and some hair won't even seal correctly when you take the time to knot each individual strand.
Human hair isn't nearly as easy to work with as synthetic hair is, and it will tend to slip not only while it is being worked with, but the knots used to secure the hair will tend to slip, as well. When this hair is worn loose, it will tend to tangle a lot more than synthetic hair will, and because of this, it will not last nearly as long as synthetic hair will.
Additionally, washing your hair on a regular basis will cause the knots to loosen significantly faster, which will make it start to fall out. Finally, natural human hair is often so heavily treated with dyes and chemicals to ensure that it has the right texture and color that you can experience a chemical reaction when you swim in chlorine.
Synthetic
When you opt for synthetic hair for your crochet braids, then you will benefit because you have a very wide range of options to choose from, which makes it easy to find the perfect style, color, and length for the look that you want. This helps to ensure that you will feel very confident and comfortable in the hair that you have, which is a huge reason that many women opt for synthetic crochet braids over ones that are made from human hair.
Synthetic hair is also a lot easier to work with, as it is not as slippery as natural hair is, which means that not only can you have it installed easily, but you will be able to style it without nearly as much trouble as you have with human hair. Synthetic crochet braids won't tangle when they are worn loose, and they are not nearly as expensive as human hair crochet braids are.
Finally, because you can seal the braids with hot water, you don't have to worry about tying knots to the ends as you do with human hair. Because synthetic crochet braids are so dense, they generally stay in place very easily, no matter how much moisture is in the air.
This is the opposite of natural crochet braids, which will tend to slip out of place when they have too much moisture on them, which will cause you to have someone repair your style right away.
The major problem with synthetic crochet braids is that they can look either unnaturally dull or unnaturally shiny. This will result in a final hairstyle that doesn't look natural. Additionally, if you are not careful to replenish the moisture in your roots, then your synthetic crochet braids can really be drying. This can cause scalp issues for some women and is something that you need to be aware of and be careful of.
While some synthetic crochet braids claim that you can use styling tools, such as curling iron on them, they are generally very glossy and drying. For many women, being able to curl their synthetic crochet braids is not reason enough to opt for this type of braid, as they won't look natural and won't be very comfortable to wear for long periods of time.
Length
Short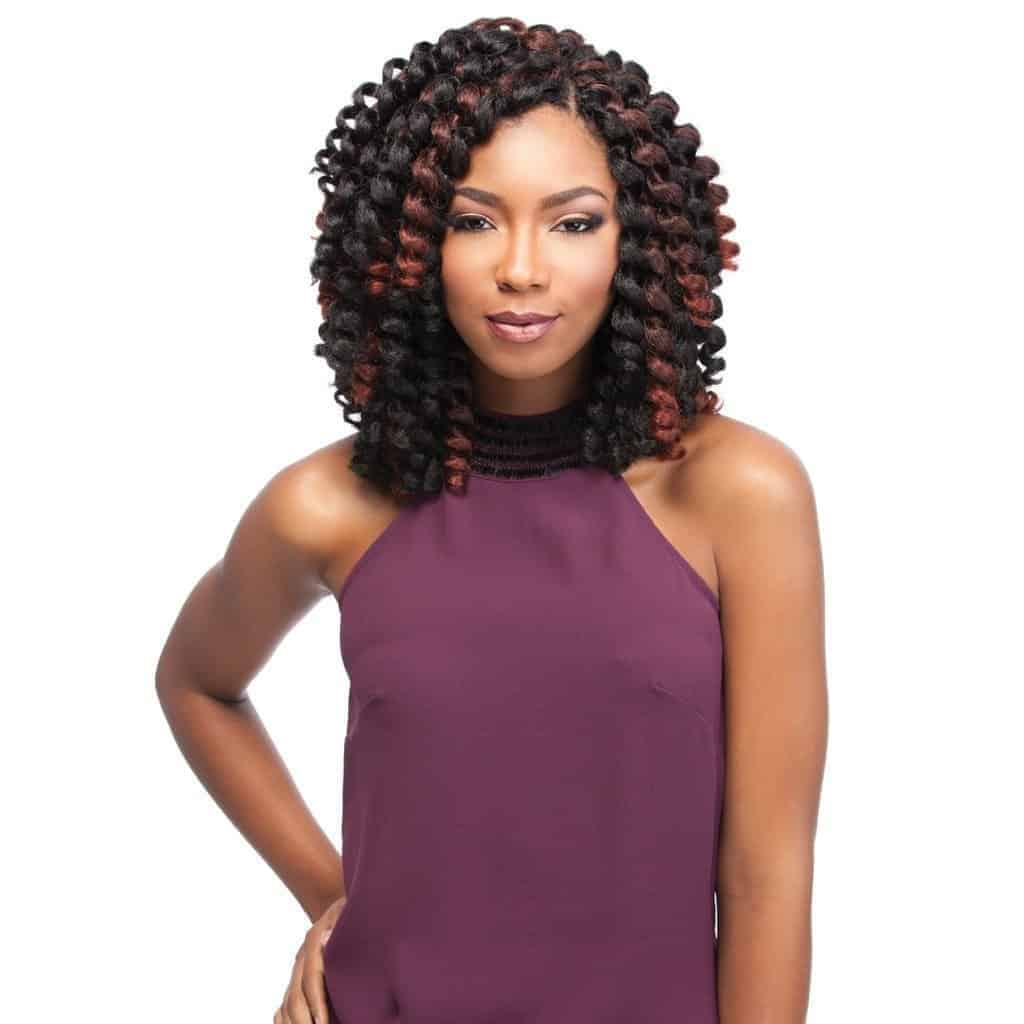 Short hairstyles look great on most women, and if you love the freedom that comes with not having to worry about styling your hair on a daily basis, then it's a good idea to consider shorter crochet braids for yourself.
These are generally around 8 inches long, which may not seem like much, but is definitely long enough for a fun and spunky look. When you look for shorter crochet braids, you will want to make sure that they are thick enough to give you the volume that you want around your face. Because they are so short, they need that extra volume to look the best that they can.
While not everyone loves the way that short hair looks on them, because you can choose between a variety of shorter styles, it's easy to find the crochet braids that will look best on you. Consider wavy, curly, or twisted crochet braids if you want to make sure that you are going to have ample volume.
While straight crochet braids can be cut to shorter lengths, they won't generally have all of the movement and the volume that you want and need to ensure that you look and feel your best. For this reason, it can be a little more difficult to find shorter crochet braids that are also straight, but it is possible to achieve this style if you do have your heart set on it.
Medium
If you are torn between the ease of shorter crochet braids and the elegance that you can enjoy when you opt for longer braids, then it's a good idea to consider a medium length. These crochet braids can be wavy, curly, twisted, or straight, and because they are long enough to accommodate all of the volumes that certain styles can have, they will look great.
Medium braids are generally going to be around 14 inches long, although this can vary, and longer ones can always be trimmed to the right length if you are not happy with the way that your hair looks.
Many people opt for medium length crochet braids because they have enough length so that they can be pulled up into an updo if you want to get your hair out of your face and off of your neck, but your hair will also look equally stunning when left down.
Consider the width of your crochet braids so that you can be sure you have enough volume and movement from your new hair and that you are happy with the way that your new style looks.
If you do not have long hair and are looking to grow yours out or experiment with longer styles then medium-length crochet braids may be a great option for you. They can give you the feeling of having long
hair without the commitment of growing it out or can be used for a special event.
Long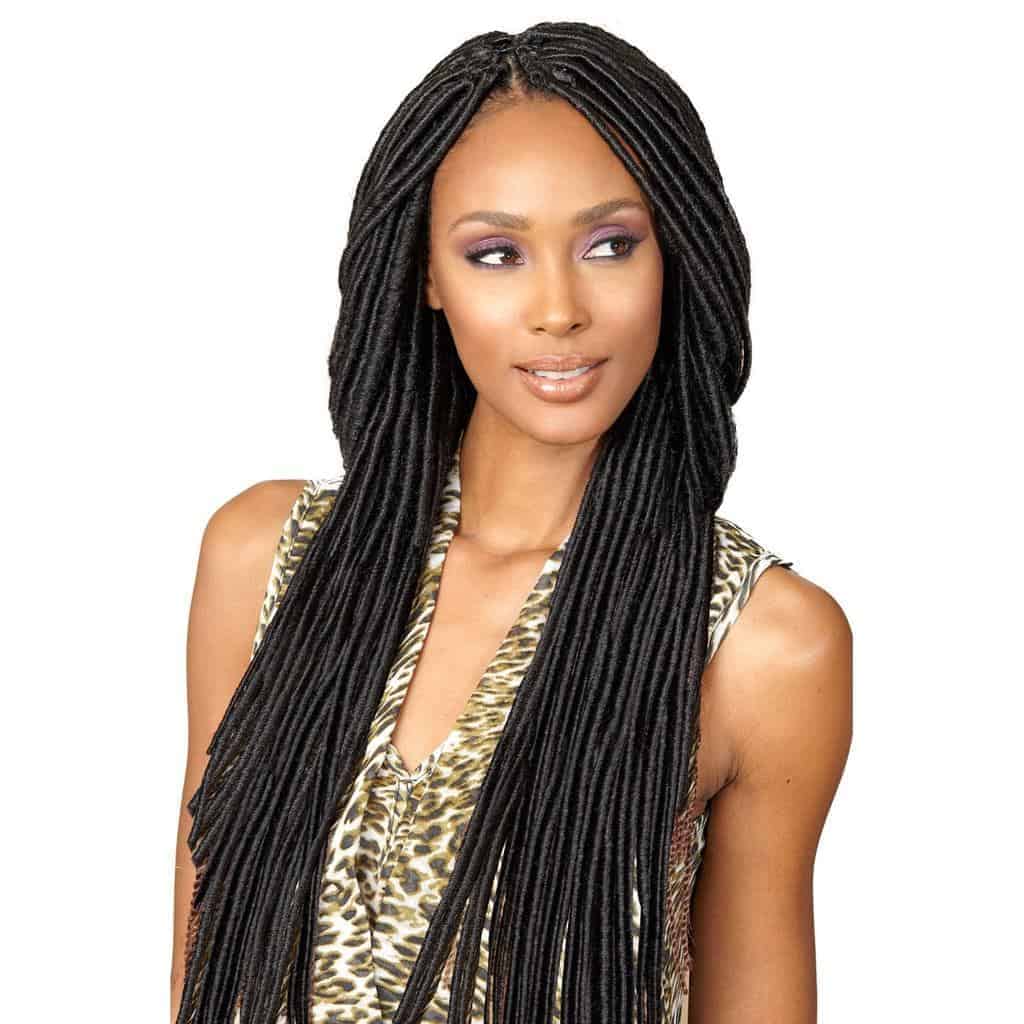 Longer crochet braids are a great option if you have long hair already or if you want to increase the amount of hair that you have, as you can easily cut these braids to the right length. Look for crochet braids that are around 20 or more inches, as this will give you a very impressive length that you can easily work with. One of the main reasons that people opt for longer crochet braids is that you will have a lot more freedom in how you want to style them.
Because they are so much longer, you can easily twist them up and off of your neck, put them into various updos, or simply leave them down your back for a stunning look. Long crochet braids are available in all styles, but straight braids are incredibly popular because they can be so easily styled in a number of ways and look equally stunning when they are left down and when they are put up.
It's important that when you are buying long crochet braids that you make sure that they are very high-quality so that they will look great from top to bottom. The last thing that you want to have happened is to have new crochet braids only to find out later that they are not high-quality and that there is a variance in how they look.
This is why it is so important to make sure that you only buy your crochet braids from a reputable company. These longer braids also take a bit more care to ensure that they look their best, so you need to make sure that you understand what goes into caring for them and what steps you need to take to keep your braids looking clean, healthy, and natural.
One of the reasons that some people opt for longer crochet braids over shorter ones is that it is easier to find long crochet braids in different colors. Dyed crochet braids look great, and when you opt for long braids that are dyed, then you can really experience a wow factor. This is because there is going to be a lot more length in the braids for the color to show, so they can really make an impact.
Color
One-Color
Some people prefer crochet braids that are all one color, as they tend to look very natural and attractive without being plain, and great, no matter what event you are going to. If you want to get crochet braids that are going to be very low-maintenance and that you don't have to worry about a change in the color, then it' time to consider ones that are all one color. These will look great for as long as you wear them, as long as you take care of them the way that you are supposed to.
Some people like to opt for one-color crochet braids that are the same color as their natural hair, as this will ensure that you don't have to worry about how your new hair will look with your skin tone and your eye color. Others like to choose a color that is a little different so they can change up their style and their appearance without opting for wild and crazy colors that you can buy when you opt for dyed crochet braids.
Multi-Color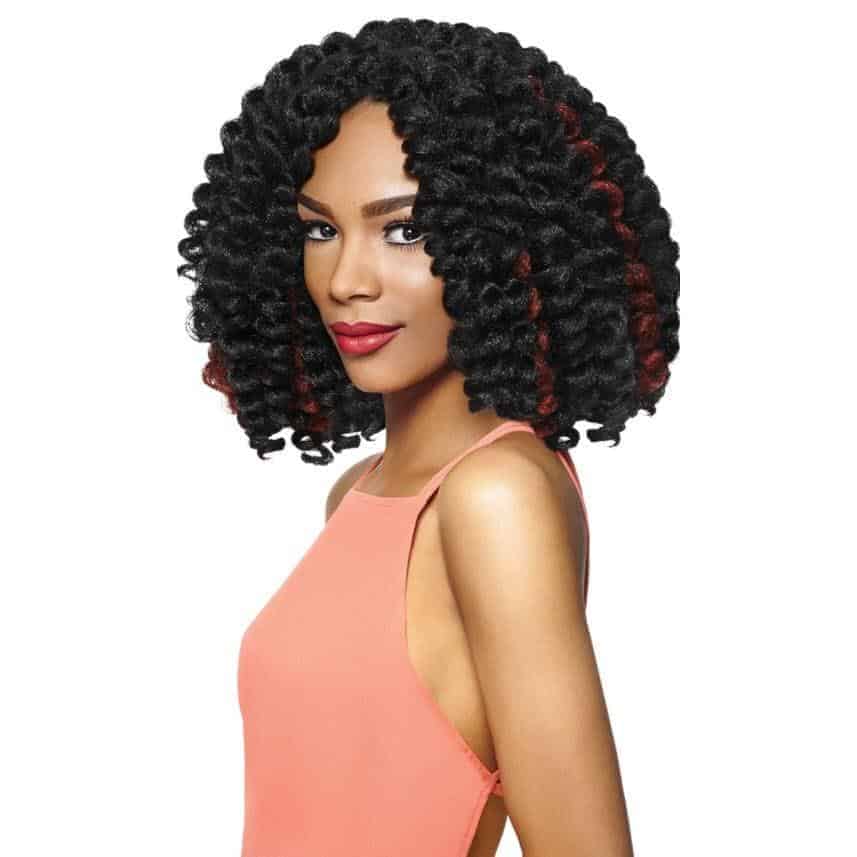 Whether you want an ombre look or simply crochet braids that have a bit of a highlight towards the tips or roots, this style is fun, updated, and will look great on most people. Make sure that you really take into consideration the colors of the crochet braids that you are opting for, so you can be sure that you will be happy with the way that they look when you wear them.
Some crochet braids that are ombre or multi-color will tend to make the wearer look a little younger and can look a bit more natural. This is because hair tends to lighten naturally in the sun, and you can get the same effect when you buy your crochet braids.
Natural
Natural colored crochet hair will come in a variety of different colors and hues, but they will all look great on you. The reason that many people opt for crochet braids that are a natural color is so that they don't have to worry about how their hair will look, particularly at their job. There are some companies that do not allow their employees to have dyed hair, in which case choosing natural colors for your hair is going to be very important.
Before opting for a natural color for your crochet braids, you will want to consider the dyed colors available to you and see if one of those will work best with your personal style. Before committing to any color at all, you need to consider your style, where you work, and if there are any restrictions on what you are allowed to do to your hair.
Dyed
Dyed crochet braids are a great way to add a pop of color and interest to your style. Since they come in so many different colors, it's generally easy to find one that you will love. There are a few different styles that you can choose from when you opt for dyed crochet braids, including ones that are all a single, unnatural color, ones that are ombre, and others that are half a natural color, half a dyed color.
While not everyone likes the way that these crochet braids look, they are a lot of fun, and since they are not permanent, are a great way to experiment with a different style that you may like. It is important that you take into consideration the color that you choose so that you choose one that you really like and that will look great with the majority of your outfits.
Also make sure to take into consideration the style of crochet braids, as some dyed braids are straight, while others are curly or wavy. It's important to take into consideration the overall effect that your new crochet braids have so that you can choose the style and color that will work best for you.