Always struggled to find a good hair brush? Take a look at the important details and why they can make or break your good hair day.
Finding the right hairbrush isn't always easy. Sometimes you try an all-natural brush hoping it will go easy on your hair, only to discover that it takes you twice as long to brush it every morning. Or maybe you've resorted to a standard drugstore brush just to find out that it was no match for your hair, and the handle broke off while your hair laid claim to the paddle. Maybe this has happened to you more than once… Whatever the reason for the continued search, the perfect hairbrush is out there. There are many different choices; take a look through them to see what combination may work best for you for both everyday use as well as styling for that special occasion.
Materials
The most important feature of a hairbrush is the material used for the bristles. They need to be strong enough to both detangle hair and distribute natural oils, but not harsh enough to damage hair. Thinner, less textured hair can usually get by with softer, more natural bristles, but thicker textured hair may need something more durable to get the job done. All hair is different–finding the right combination for you will help your hair be the softest and healthiest it can be.
Boar Hair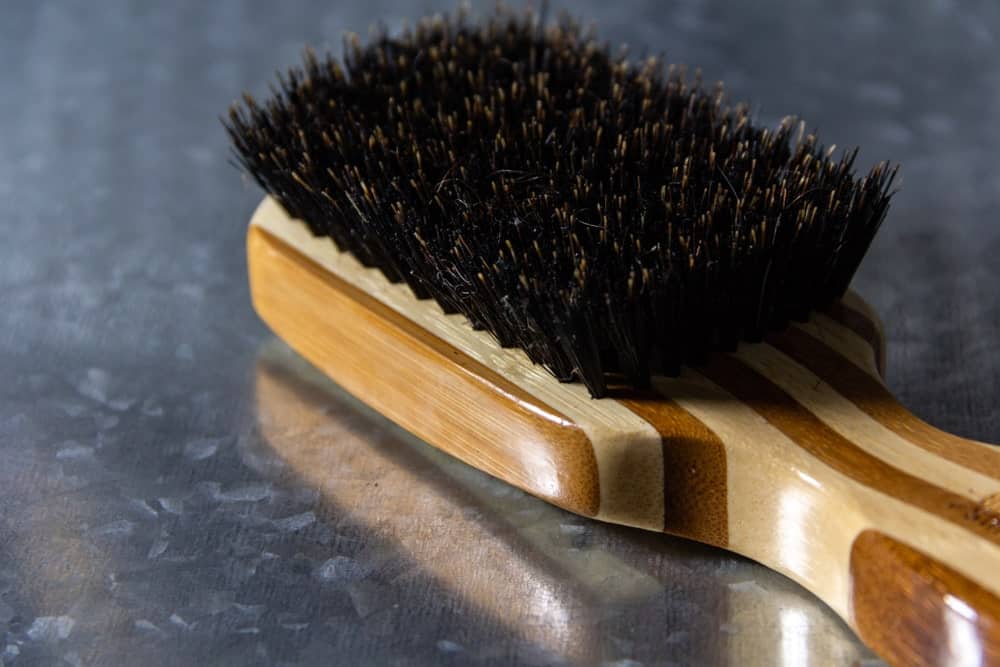 Boar hair is the most natural common option for bristles in hairbrushes. It is stiff enough to effectively distribute oils throughout the length of hair but doesn't contain any harsh chemicals or plastics that risk breakage or other damage. Boar bristles work best on fine to medium hair. Because they are soft and more flexible than other options, these bristles need some extra help to get through medium or thick hair–reinforced boar bristles are an option for this, where a brush is made up of mostly boar bristles but has other synthetic or metal bristles throughout. Either way, boar bristles on any brushwork to naturally condition and add shine to most hair types, but they shouldn't be used extensively on wet hair. Boar bristles are also a good choice for damaged hair, as their distributing powers help restore hair to a healthier state.
Synthetic Nylon
Nylon bristles are the only option that can effectively work on thicker hair. They function similarly to the all-natural boar bristles but are stiffer and capable of penetrating truly thick hair, offering you more control. Nylon is a better choice for hair that often gets seriously tangled–it will save you loads of time over using a boar brush. It can also be a good option if you suffer from dry, frizzier hair. Nylon works to smooth flyaways, and it works wonders to reduce frizz and contain unwanted poufy hair.
Metal
Metal bristles are good for tackling stubborn, seriously tangled hair. These may or may not have plastic tips to reduce the sharper points. Metal bristles are also a good choice to comb through hair without killing styled texture. Other bristles are too rough on styling, pulling out the shape you worked so hard to create. Be careful using metal bristles on roots, though, as these brushes can be on the harsh side for your hair itself, and avoid using them with heat as the bristles would get too hot and damage hair (and skin).
Wood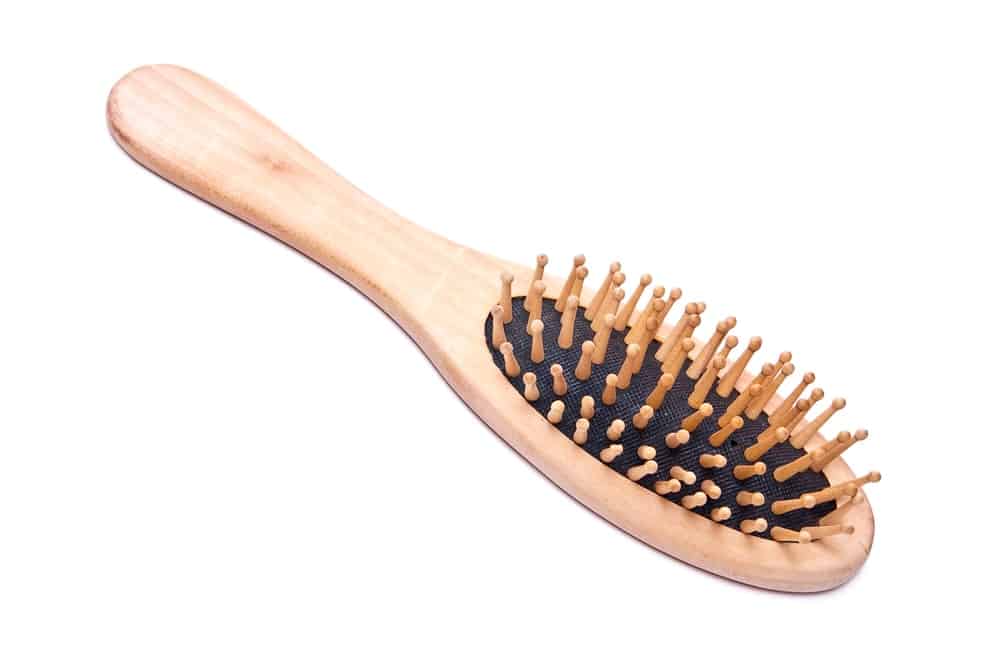 A few brushes feature wooden bristles, with the specific focus of maintaining styled hair without ruining the said style. These are gentle on dry or brittle hair, as well as curly hair that very few brushes would otherwise be able to tackle.
Some brushes use a combination of natural and synthetic bristles. This can be ideal for those of us who prefer the way natural bristles work with our hair, but who also need something a little sturdier to work through it. Normal-to-thick hair often benefits from a mix of nylon and boar–the stiff nylon bristles work to detangle and reach through the depths of hair, while the boar works to smooth hair and distribute essential natural oils from your scalp down the length of your hair, giving you well-maintained, healthy hair. Combination brushes are also great on round brushes to achieve the softer texture of boar without sacrificing the ability to focus on detangling and good control over style.
Shape and Size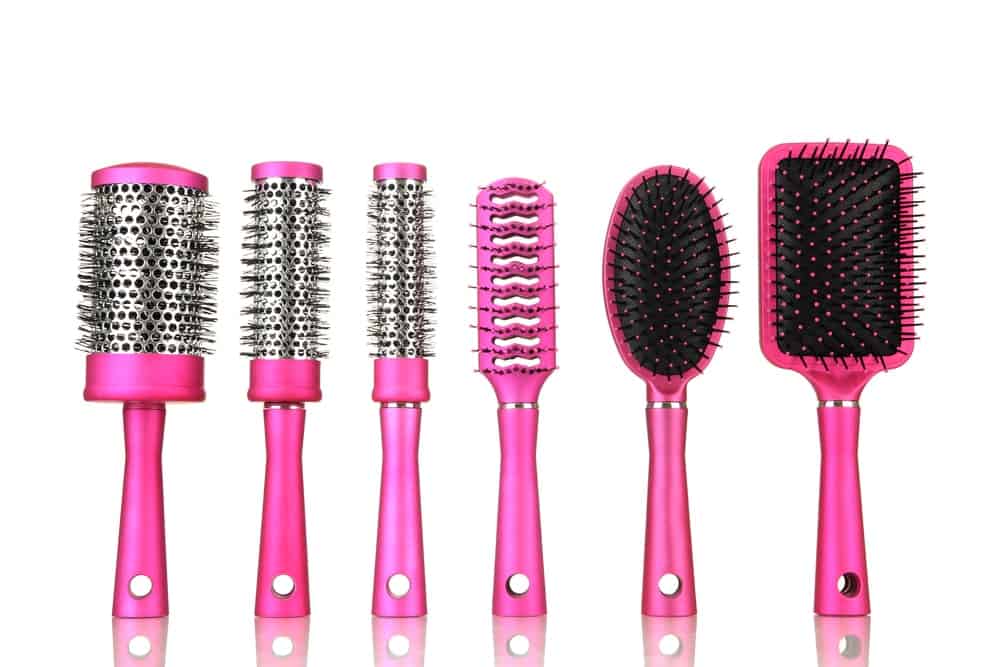 Hairbrushes come in many, many different shapes and sizes. Often, this variation is meant to change the function of the brush for styling purposes, but it can also come down to personal preference.
The smallest brushes, for example, are usually designed to be used on-the-go, whether you need it while traveling or to freshen up after work. Some of these are small enough to simply fit right into your bag, and some are larger but are designed to fold in half to save space.
In terms of standard, drug-store hair brushes, the overall function of the majority is simply as an everyday brush. The choice still remains for what bristle material, but the shape and size don't make a huge difference until looking for styling brushes; the main point is to find a brush that can manage your hair the way you need it to. If you have long, thick hair, a large paddle brush is probably best, as they cover a large surface area and generally have long bristles to reach all the way to your scalp. On the other hand, excessively fine hair will benefit much more from the smoothing ability of natural boar bristles.
Some brushes are curved, better designed to distribute your hair's oils from the scalp. Many of this design, as well as some other paddle or smoothing brushes, have gaps all along the back. These vents are particularly ideal for quickly drying your hair. Some brushes are even designed to fit in the palm of your hand. These brushes are great for detangling since they usually have rigid bristles and give you more control, making them great for thick, curly hair. Most other differences in size and shape are for the purpose of styling, with designs meant to help with everything from reducing frizz to creating voluminous curls.
For Styling
Paddle Brushes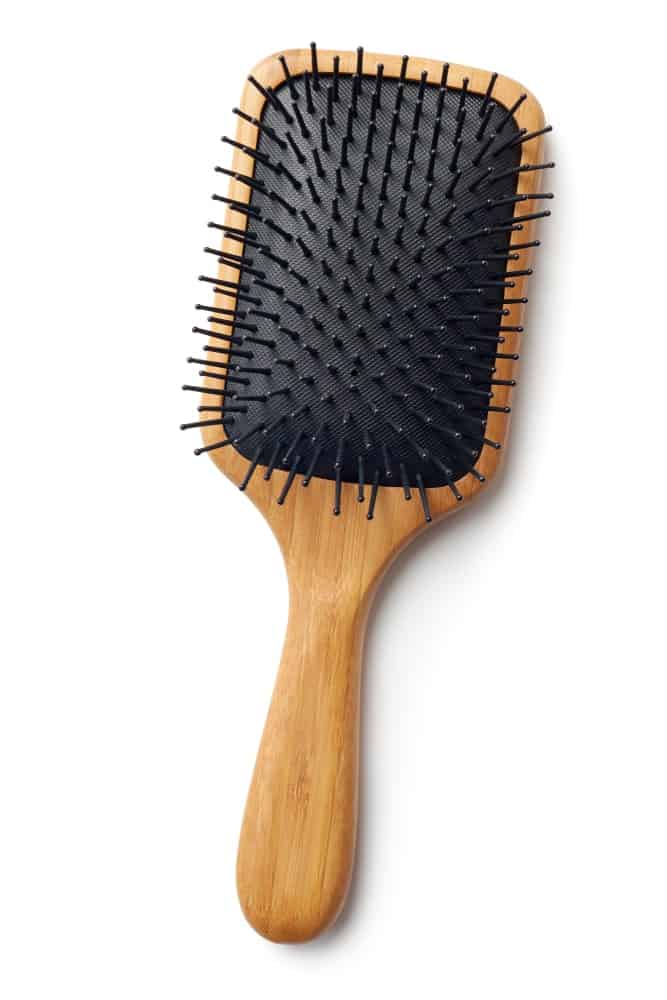 These standard brushes have many options for both boar and nylon bristles. While boar bristles are ideal for long, thinner hair to produce smooth results, nylon bristles are always the better choice for thick hair. These are a good go-to for detangling hair of any length, and they can also be used to assist in blow-drying.
Smoothing and
Detangling

Brushes
Smoothing brushes are some of the most standard brushes on the market. Their multifunction paddle is designed to smooth, detangle, add shine, and stimulate the scalp. For the best of these results, a boar-bristle smoothing brush is recommended. Detangling brushes are very similar but are often found with synthetic bristles that work better to focus on knotted hair. To tackle seriously knotted hair, take a look at a brush dedicated to the task–these usually are rigid plastic paddle brushes that fit in the palm of your hand to give you the most control. It is ideal for all hair types and is a pain-free method of smoothing wet or dry hair without causing breakage. Some detangling brushes are designed specifically to be used in the shower, to tackle particularly stubborn hair. These ones have rigid but gentle plastic bristles that won't pull, tug, or snag wet hair.
Round Brushes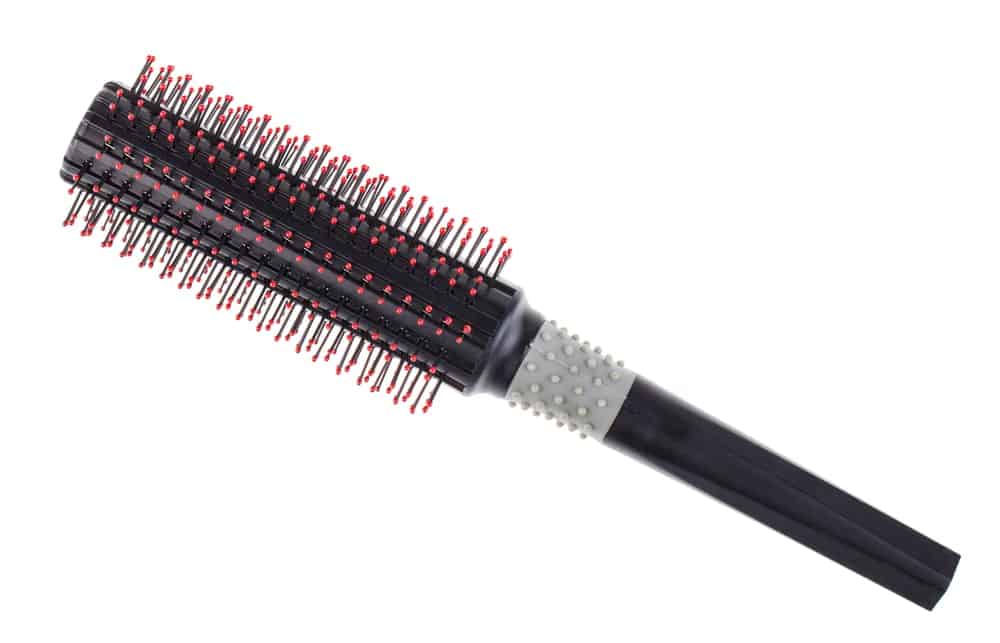 Round brushes are a great go-to choice for styling. They simultaneously smooth and style, and work well to tame thicker hair. These can be found in both wood and metal; wood options with boar bristles focus more on smoothing and adding volume. Metal options work well on wet hair–combine with heat, and the metal options work wonders to style hair and achieve an at-home blowout. Some round brushes are infused with ionic technology to improve your blowouts and reduce frizz. These brushes exist in a huge variety of sizes, meant to tackle any length and thickness of hair–try the smallest barrel for the perfect styling tool for bangs.
Sculpting and Cushion Brushes
Sculpting brushes are best used on wet hair, or when doing a blowout. They are a good choice when round brushes aren't an option, and they work to soften hair and reduce static. This may be the brush your dad has in the back of his drawer, and while it works well to detangle short hair, it also combs wet hair more gently than a wide-toothed comb. Cushion brushes are also a good bet for hair prone to static–their design works well to combat frizz and leave your hair silky smooth.
Wooden-bristle Brush
These brushes are exactly what they sound like, and are designed to tackle curly hair. While curly hair shouldn't be brushed extensively, these widely-spaced wooden bristles keep curls in good shape without separating them or generating static.
Thermal Brushes
Thermal brushes are an all-in-one blowout brush. They are connected to power and heat your hair from inside a barrel while detangling and smoothing hair–all at the same time. These are great if you often go for a blowout, but would rather obtain the look right at home. Use a rounded barrel for volume and wavy blowouts, or a flat paddle for hair that perfectly mocks a flat-iron look without sacrificing volume. Thermal brushes work well on most hair types, simultaneously smoothing hair while styling.
Teasing Brushes
Teasing brushes work well on any hair type and are made up of different levels of staggered boar bristles to best boost the volume. These are meant to be used on dry hair.
Edge Brushes
These brushes resemble toothbrushes, and actually replaced the use of toothbrushes to tame baby hairs. Edge brushes are ideal for settling the details of an updo or controlling flyaways on any style.
Finishing Brushes
While finishing or shine brushes can be used to detangle, they are meant mostly to add that perfect shine to styled hair. They enhance luster and smoothness, and a double set of bristles also work to brush out curls without separating them.
Features
Set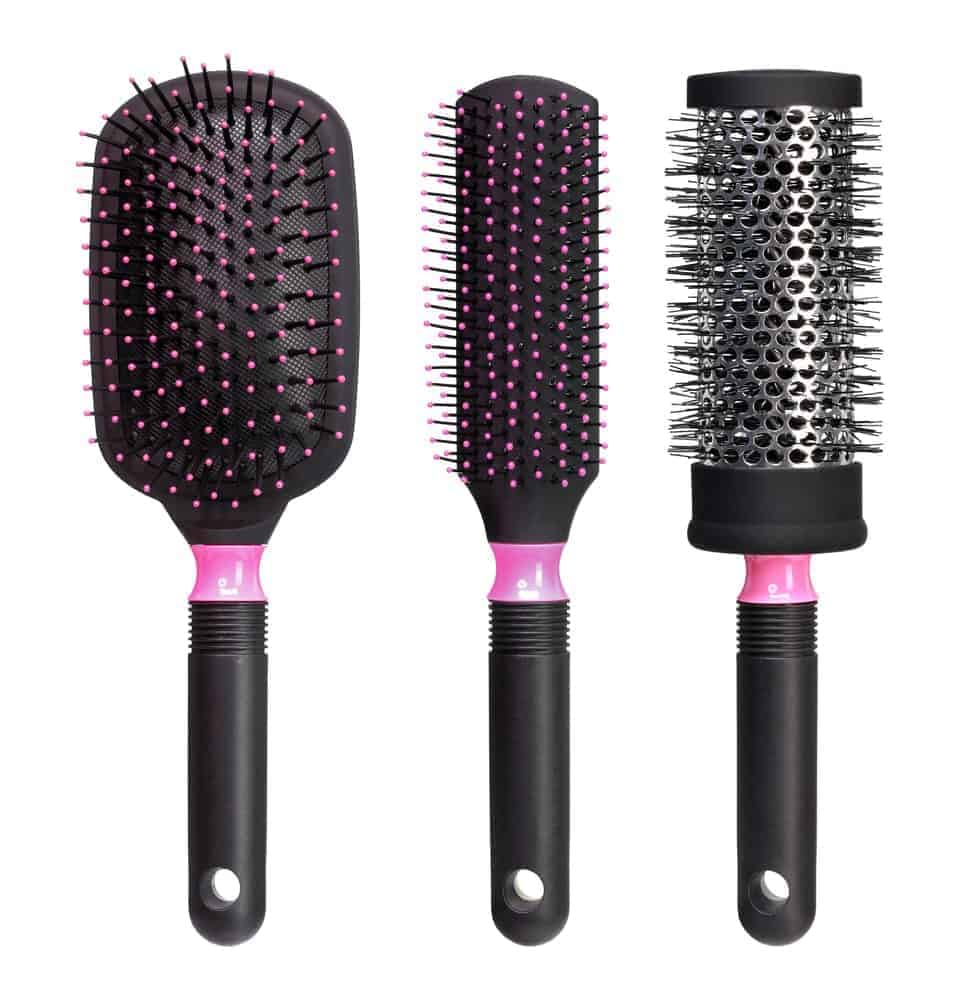 One great way to make sure that you will have the right brushes for when you are going to style your hair is to buy them in a set. This is a great way to get a few different types of brushes so that you don't have to worry about buying individual brushes. When you opt for brushes in a set, make sure that you buy from a reputable company or else you will end up with a number of lower-quality brushes that you don't want to use.
Look for a set that has a round brush, a vented brush, and a paddle brush in the set, as these three main types of brushes are the ones that you are going to use most often. While you may want to buy additional brushes in the future, if you have these three brushes, then you will be able to style your hair in a number of different ways.
Protected Bristles
While some people do not mind using bristles that are sharp or hard, if you have a sensitive scalp or are worried about your hair getting tangled when you brush it, then you will want to consider using a brush that has protected bristles.
These have bristles that have very small balls of plastic on the tips, which ensures that you will not accidentally get hurt when you use your brush. After a long time of using these brushes, it is very normal for the balls to pop off of the bristles. When this happens, you will likely notice that your hair is snagging more when you brush it, which means that it is time to buy a new brush with the balls on the bristles for the best protection and care.
Ergonomic
If you are going to be using your hairbrush for extended periods at a time, or if you are worried about your hand cramping or becoming uncomfortable when brushing your hair, then you will want to opt for an ergonomic brush.
These are specifically designed to be very comfortable, no matter whether you use them for hours a day while at work or just to brush your hair in the morning. By opting for an ergonomic hairbrush, you won't have to worry as much about whether or not you will hurt your hand or wrist when taking care of your hair.
Other Perks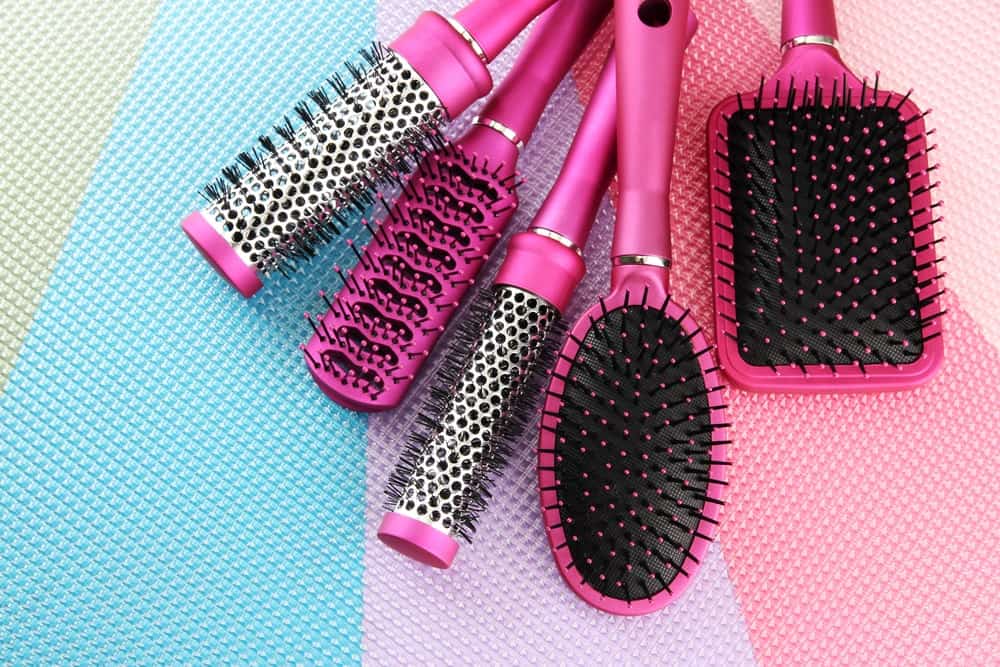 There are other perks that some brushes feature, aside from the functional parts like bristles and shape. Namely, brush handles can be made from many different materials to enhance comfort and grip or to reduce environmental impact. Plastic handles are the most common, though ceramic is also popular. Ceramic bodies heat up when used with a blow dryer, and can help build curls other shape depending on how you use it. Bamboo handles are also a solid option, and they are the most sustainable option.