Ponytails are classic, stylish, and convenient. These hats are perfect for wearing with a ponytail. Baseball caps, sun hats, and beanies now come with a hole for your ponytail. Stop using the hole in a ball cap for a ponytail. Once you see these, you'll never look back.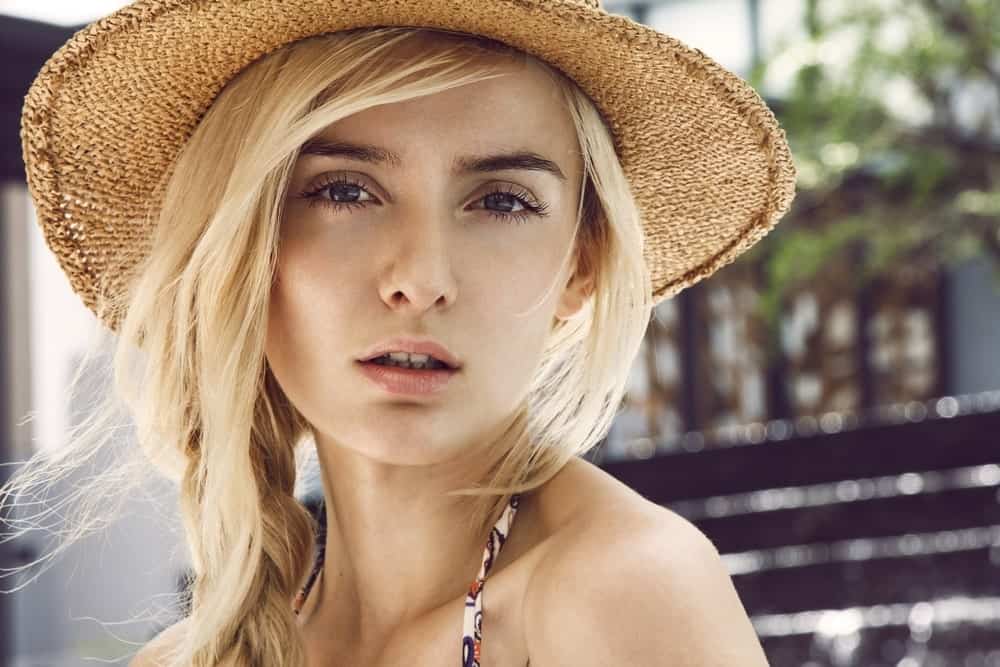 Ponytails and hats are a lot like suspenders. 90% of the time it doesn't look good, but it's convenient so the trend sticks around. You like hats. You like ponytails. However, they typically do not go together like peanut butter and jelly.
More like peanut butter and mashed potatoes. They are both good on their own but put them together and it just doesn't work. Don't worry. You don't have to end your love affair with combining these two items. I'm here with the solution to all your problems, or at least one of them.
The Problem With Ponytails and Hats
The most obvious problem with a ponytail and hat is that a good ponytail will go where your hat also goes. A ponytail shouldn't just be a way to keep your hair out of your face. It should look good. It should make a statement.
Most hats will hide your ponytail and be difficult to wear with it. There's a simple fix to this though, right? Just put your hair into a low ponytail. Really low. Or put on a snapback hat. They already have a hole for a ponytail, right? No. Just no. There are better ways!
Baseball Caps
Baseball caps are cute. They are fun. And they can keep the sun out of your eyes on a hot summer day. What's not to love? If you have long hair, the fact that your ponytail will never truly look good with it. Until now.
Generally, a high ponytail looks better. It's more secure, and cooler because it keeps your hair off your neck and shoulders. High ponytails aren't an option with a traditional ballcap, but now you can get hats designed especially for your ponytail.
Funky Junque
Funky Junque is a style of pony cap with a Crisscross back. This gives you several heights to put your ponytail. They come in a wide variety of styles and colors, and the Crisscross design adds a little femininity to the "dad hat" for an adorable casual look. The material is 65% cotton 35% polyester. They are one size fits all, with a circumference between 20-24 inches.
C.C.
I'm a big fan of the criss-cross design, but if you aren't, this hat is for you. The C.C. hat has a cut out for a ponytail. It comes in a wide range of distressed colors, and it's 100% cotton. If you are going for a super casual style, it's a good option, although less trendy than the Funky Junque cap.
High Ponytail Hole
The High Ponytail Hole cap design has a hole, similar to the C.C. cap, but it's higher up on the cap. If you enjoy rocking a high ponytail, this is a great option. Colors are limited. It's available in white, black, and red. You can also choose between solid cotton or mesh design. This hat is advertised as unisex and would work well for men and women.
Beanie
Ponytails aren't just for baseball caps anymore. A ponytail beanie is creative and unique, and it will help keep you warm on a winter day. Grab a cozy sweater and rock this style.
Alepo
Alepo offers an adorable ponytail beanie in a variety of colors. They are made from acrylic, and the ponytail hole is elastic to accommodate different size ponytails easily. This can also help keep your ponytail in place. They are designed to be comfortable and versatile. I think they are a must-have winter accessory.
Jazmiu
This Jazmiu ponytail beanie has a visor, giving you the best of a ball cap and a beanie. It looks super cozy and is a fashion statement all its own. It comes in white, gray, black, and burgundy. If you aren't a fan of the visor, it comes in traditional beanie style as well. The ponytail hole is high and looks great on anyone.
Sun Hat
Our list wouldn't be complete without a look at sun hats for ponytails so you can wear your ponytail all year round! Keep yourself cool and look great doing it with this style. It's perfect for fishing, swimming, or any other outdoor activity.
Ponytail Sun Hat
This wide brim ponytail sun hat gives you UV protection, making it a great choice for summer activities. It has a chin drawstring so it will stay on while you are active, as well as a drawstring to adjust the fit of the hat. It folds up for easy packing, so it's easily portable. If a cowboy hat is more your style, the sides fold up to create that as well. It's available in pink, red, blue, and green.
LCTZN Kids Ponytail Sun Hat
Kids need ponytail hats as well! The LCTZN kids ponytail hat provides the sun protection kids need with the ability to wear a ponytail. It's available in two sizes to fit younger or older children. It also has an adjustable strap on the back of the hat for a better fit and a chin strap.
Wear it as a sun hat or a cowboy hat. It folds up so you can take it anywhere, or stick it in your bag when your child decides it's time for it to come off. It's available in purple, pink, red, blue, and gray.
DIY Ponytail Hats
If you enjoy creating your own fashion accessories, there are a few ways to make a DIY ponytail hat. The first option is to simply grab your favorite hat and cut a hole for a ponytail. I wouldn't recommend just cutting a hole in your hat.
However, you can simply remove the seam on the back of your hat. To create a larger opening, simply fold both sides of the seam over and sew them. You can do this with a needle and thread or fabric glue.
Another option is to crochet your own ponytail beanie. If you want to create one, you can find lots of patterns at DIY.com. You can also create matching hats for the entire family or give them as gifts around the holidays.