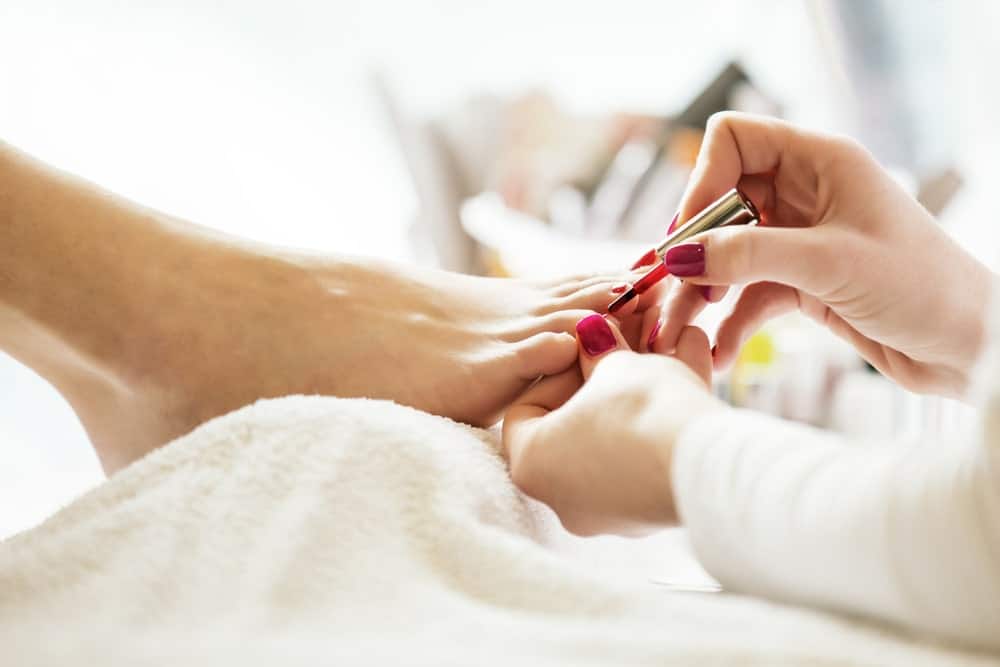 While self-caring people of today are thoroughly invested in all sorts of skincare, it goes without saying that feet are often a part of the body that need and deserve the most attention. Your feet take you everywhere you need to go, settle for the most uncomfortable footwear for the sake of your fashion; this is why it is important to treat them to a nice and soothing pedicure once in a while.
Today, salons offer several different kinds of pedicures depending on your individual needs and the current condition of your feet. Personal product placement is also taken under consideration and the color you want painted on your fingernails is exactly what you get.
If you are considering giving your feet a vacation in spa world, here is a detailed list of pedicures you can opt for to decide which pedicure will be best suited to you.
Source: Megan Ann Blog
What Happens in a Pedicure?
First things first, when you go in for a pedicure, the dead skin that has accumulated over and under your foot will need some scrubbing and soaking exfoliation. As weeks pass by, our skin sheds off old cells to make room for new ones, this keeps all the hard skin at bay by bringing out a new one that is fresh. This should be done at least once a week whether you go for a pedicure or not.
Next, your foot is masked with a cream or a gel that is suited to your needs, and different products are used depending on what you choose and how much you pay. Then your nails are clipped, shaped, and painted.
Types
Regular Pedicure
The pedicure people most commonly go for is the regular one. This method first lets you soak your feet in hot water, followed by a foot scrub that takes away all the dead cells clinging on to your toes. Then, after the pedicurist is sure all dead skin has been scrubbed away, they follow it by clipping the nails to your desired size, shaping them according to your preference, the pushing of the cuticles, and the polishing of the nails. Then the foot is moisturized with oil or water based cream.
Some places offer a foot massage too before applying a nail paint of your choosing. This method is suitable for people who are looking for a simple and direct maintenance treatment.
At-Home Pedicure
A pedicure does not necessarily have to be at the spa or salon. You can give one to yourself! Make sure you have the appropriate tools and ingredients needed to make this pedicure as effective as a professional one. The instructions are otherwise simple: soak, scrub, clean, moisturize!
French Pedicure
French pedicure has been a trending hype among women. While the rest of it is similar to a regular pedicure, what makes it different is the style of application of nail polish.
​ First, a clear or nude base coat is applied, followed by a solid white colored nail polish. This classic nail trend has been around for a long time and its popularity is owed to the fact that it can make your feet look clean, chic, sophisticated, and stylish at the same time.
Source: Foot Files
Gel Pedicure
If you would rather go for a treatment that lasts longer, a gel or shellac pedicure may be more your thing. In a gel pedicure, the same method and standard is used as a normal pedicure. What makes it special and different however is the UV light that is used to help cure the gel or nail paint after each coating. This prevents chipping and helps the results last longer.
The classic spa procedure is followed in such a pedicure except that the nail technician uses gel polish if requested. This polish is specially designed to go two weeks without chipping, making it an excellent choice in manicures and pedicures. The not-so-fun side effects include dry nails after acetone removal etc.
Paraffin Pedicure
For feet that need tough love, a paraffin pedicure is the best option. If your feet are dry and cracked, you will be able to see amazing results. In this method, feet are dipped into paraffin wax which helps immensely in softening and moisturizing skin. The paraffin mixture is made of alkaline wax infused with hydrating properties.
Before treatment, your feet may be wrapped in plastic so the paraffin wax opens up the pores of your skin and helps nourish it. For those who are looking to have young and soft looking feet, this is the best deal.
Hot Stone Pedicure
Pedicures are not all aesthetic. There are some kinds, like the hot stone pedicure, that can help soothe the tired muscles on your feet. The method follows a regular pedicure routine followed by body polish on the feet and legs. The mask sits under a warm towel for five minutes to provide that steam therapy.
Then your legs are rinsed and pat dried before oil is applied and massaged for at least 20 minutes using hot stones on pressure points. Then it is followed up with a standard massage
Source: Leaf.tv
Spa Pedicure
The spa pedicure comes with additional services and benefits; that is what makes it special. You can choose between an exfoliating scrub, hot towel wrap, hydrating mask, paraffin waxes, and a lot of other treatments. You can pick and choose which treatments you like and avail yourself of them at your leisure. The more treatment you add, the more expensive it gets. A spa pedicure can play a huge part and relaxing and rejuvenating your feet after a long day.
Fish Pedicure
These may be the most famous kinds of pedicures. You have probably heard of this many times. A fish pedicure is an unconventional method of giving your feet what they need. In this, you will be dipping your feet in an aquarium filled with tiny fish.
You read it right! The fish will swarm around your feet and eat away all the dirt and dead skin cells that were sticking around. Treating your feet this way is natural, sustainable, and does not harm the fish! In fact, the little creatures will also enjoy this pedicure since you are giving them a source of food.
It may not be for everyone, but a fish pedicure is definitely worth trying. Who knows, you might just end up finding it enjoyable and entertaining- a good memory if nothing else.
Source: Fish Pedicure Franchise
Ice Cream Pedicure
A couple of years ago, this type of pedicure gained recognition. Oddly enough, it starts with a foot soak that has an ice-cream shaped fizzing "bath ball." This bath ball is chock full of vitamins, minerals and aromatics that help soften the feet.
Next, a foot scrub is applied with"ice cream sandwich" pumice for calluses or a vanilla or chocolate foot scrub. The ice cream theme is continued when a "foot icing" moisture treatment is applied using whipped lotion. The deal is sealed off with red nail polish — to represent the cherry on top, of course!
Source: The Health Site
Salt Pedicure
Salt is a great mineral to use as a scrub, and a salt pedicure takes advantage of that. It uses salt and rock to successfully scrub off dead skin to reveal newer cells. This step replaces other exfoliation processes in this pedicure. After soaking feet in water, rock and salt as used to vigorously remove the dirt on your feet.
Milk and Honey Pedicure
The milk and honey pedicure can be difficult to find but it is usually worth the search. One your feet have been soaked deeply in hot water, they are given a milk bath. Then, an exfoliating sugar scrub and a honey mask are applied which moisturize the feet to their cores.
Some milk and honey pedicures also include a paraffin wax treatment which makes it a super hydrating and softening experience.
Chocolate Pedicure
For those obsessed with chocolate, this pedicure is a dream-come-true. Every single procedure and product used in this treatment is derived from the world of cocoa. It has everything from a chocolate foot soak to a cocoa moisturizing lotion.
Chocolate has healthy foot benefits, including the fact that cocoa firms the skin as well as acting as a powerful antioxidant and moisturizer for the skin.
Margarita Pedicure
Don't your tootsies ever deserve a party? We say they do! The margarita pedicure does not exactly involve a margarita, but a lime footbath, a salt scrub, a lime-based massage oil and lime-scented moisturizer. If your spa is cooler than ours, you might even get a shot of tequila while you chill!
Athletic Pedicure
The athletic pedicure is quite similar to the classic one with a twist; cooling aromatics are added to the procedure to soothe the tired and aching muscles that athletes usually complain about. The scents can be fragrant with peppermint, eucalyptus or cucumber. This option is for those people who want the intense caring without luxuries; especially those who suffer from ingrown toenails, stubborn calluses or other foot issues. Athletic pedicures give you that serious tender loving care you need.
Source: ManiPedi Sugarland
With so many treatments now on your radar, we can guess you feel a little spoilt for choice. All of these pedicures seem so soothing and relaxing, don't they? Maybe you should book one for yourself today!